24 Apr

A Thorough Handbook to visiting Pai, Thailand

A few years ago, nobody talked about Pai. It was just another village in the hilly interiors of the northern highlands of Thailand. Sure some people stayed there, but no one will go out of their way to visit Pai. Forget about then, even now the locals don't care much for the place. But it is a place whose popularity caught flame with word of mouth amongst foreign tourists.

If you have a good amount of time in your hands, consider taking the extra mile. I am writing this as tourism in Thailand has plummeted in recent months. And the empty cafes, deserted roads, and vacant tourist attraction will make this place feel like the unspoiled small town as it was before the tourist crowds came in.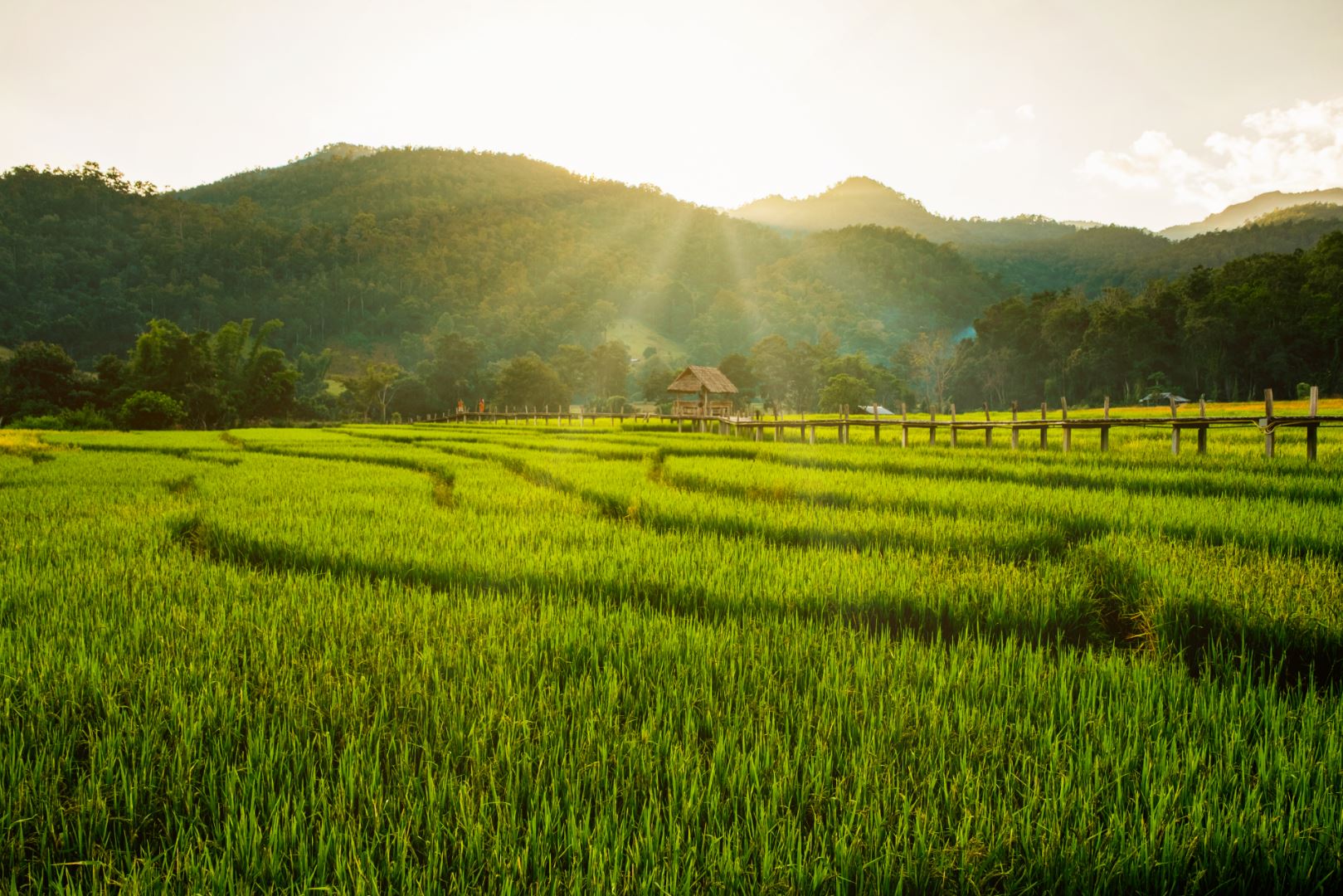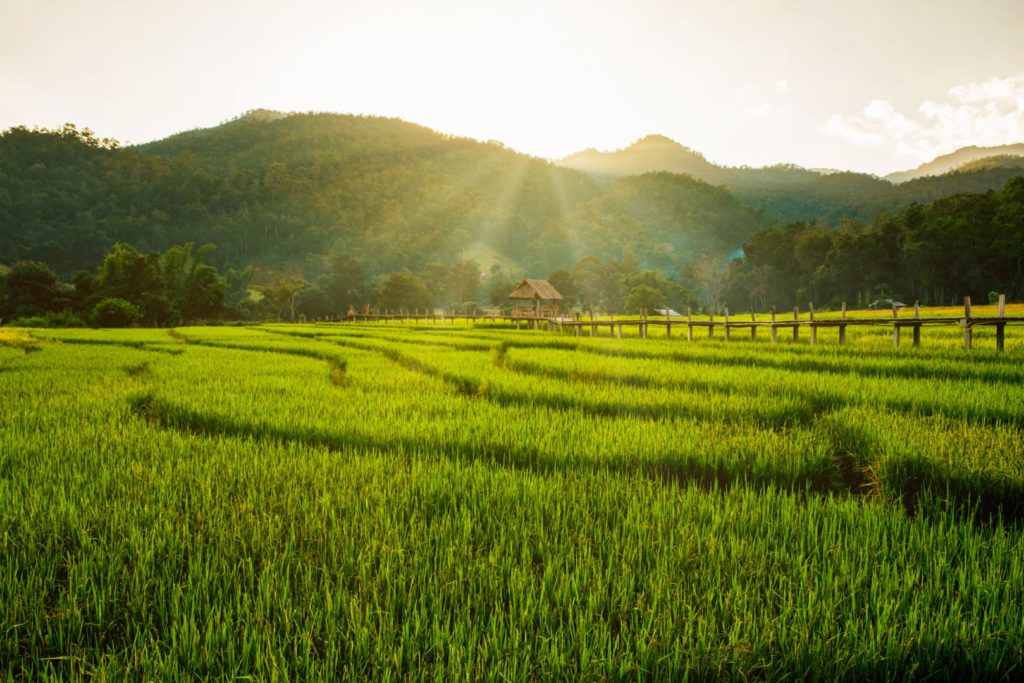 Why is Pai famous?
Pai initially got famous in Thailand because of the movie 'Pai in Love' and 'Rak Jung'. It was the pairing of slow romance with the charming countryside. But over time, Pai got its name associated with foreign 'hippie' culture. The town is cheaper to live in and is surrounded by bountiful paddy fields. As its popularity grew with word of mouth, cafes, pubs, bars, street markets, and hostels popped up.
You will love it if you can associate it with the vibe. There are travelers from across the world. And even if you don't love to party out in the bars, a quite bone fire in your hostel with late-night chat with fellow travelers will also leave you happy and connected. Another reason I loved Pai is that many restaurants offer vegan and vegetarian options that you rarely find in Thailand.
Traveling to Thailand? Here are 101 Things To Do In Thailand From My Bucket List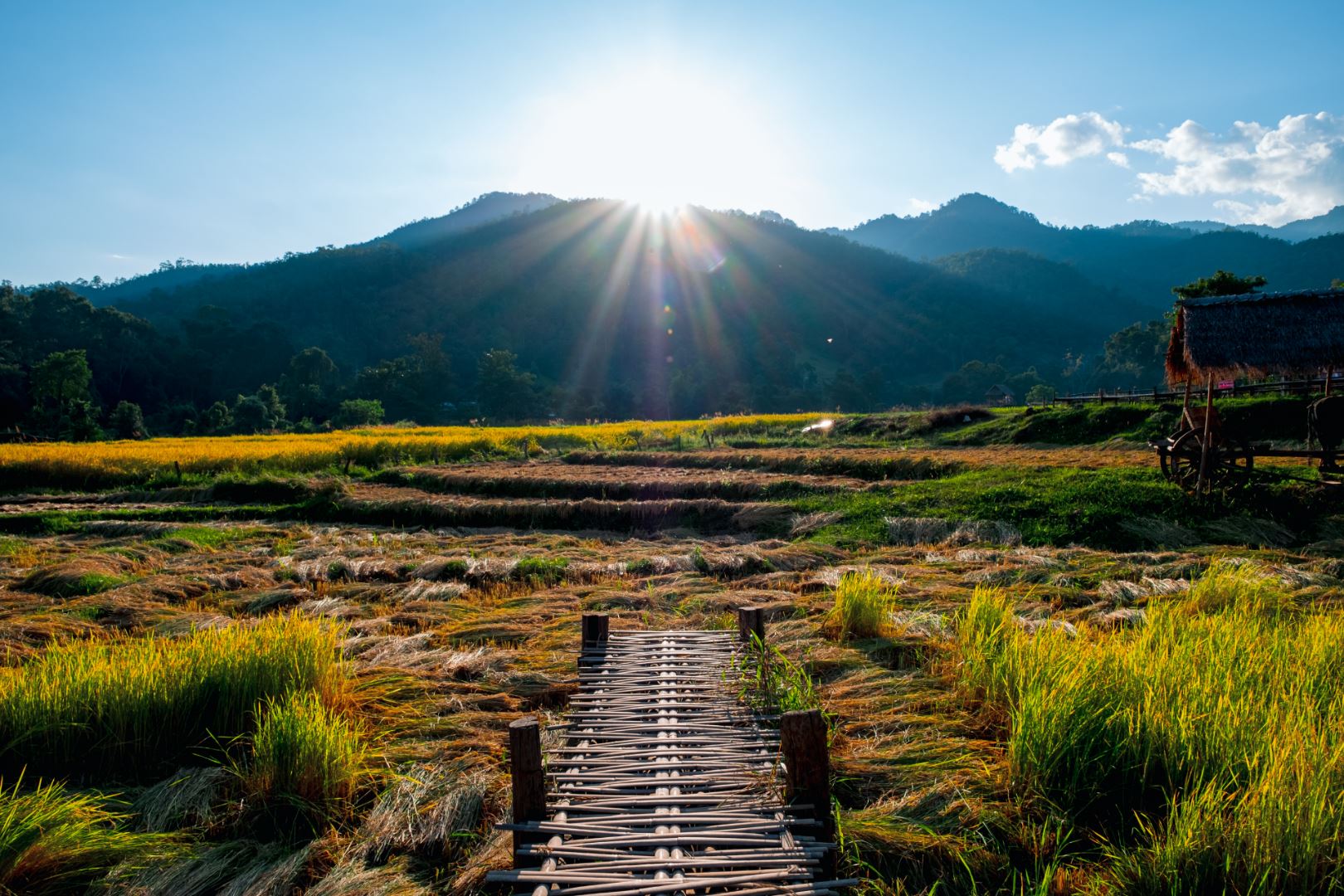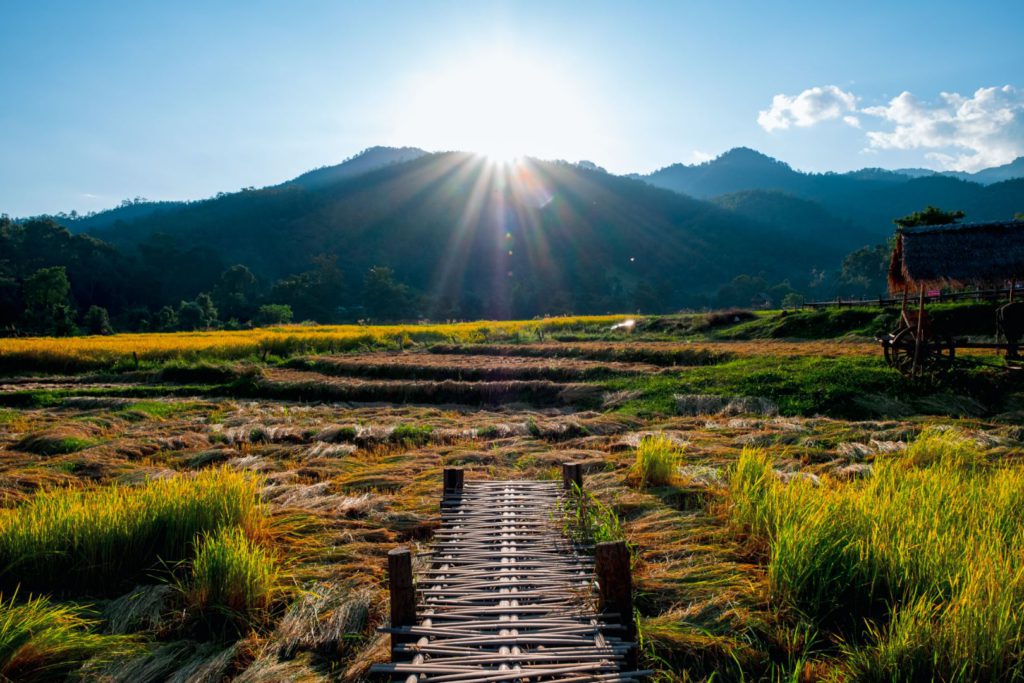 Where is Pai?
Pai is the farthest town in the north-west of Thailand before the border of Myanmar. Pai town is located in a plain stretch in the middle of the highlands of northern Thailand. It is around 130 km from Chiang Mai city and takes around 4 hours to cover. Chiang Rai is at a distance of 305 km. The town is located at an altitude of 508m or 1669 feet which is a little higher than Chiang Mai which attributes to its cool weather.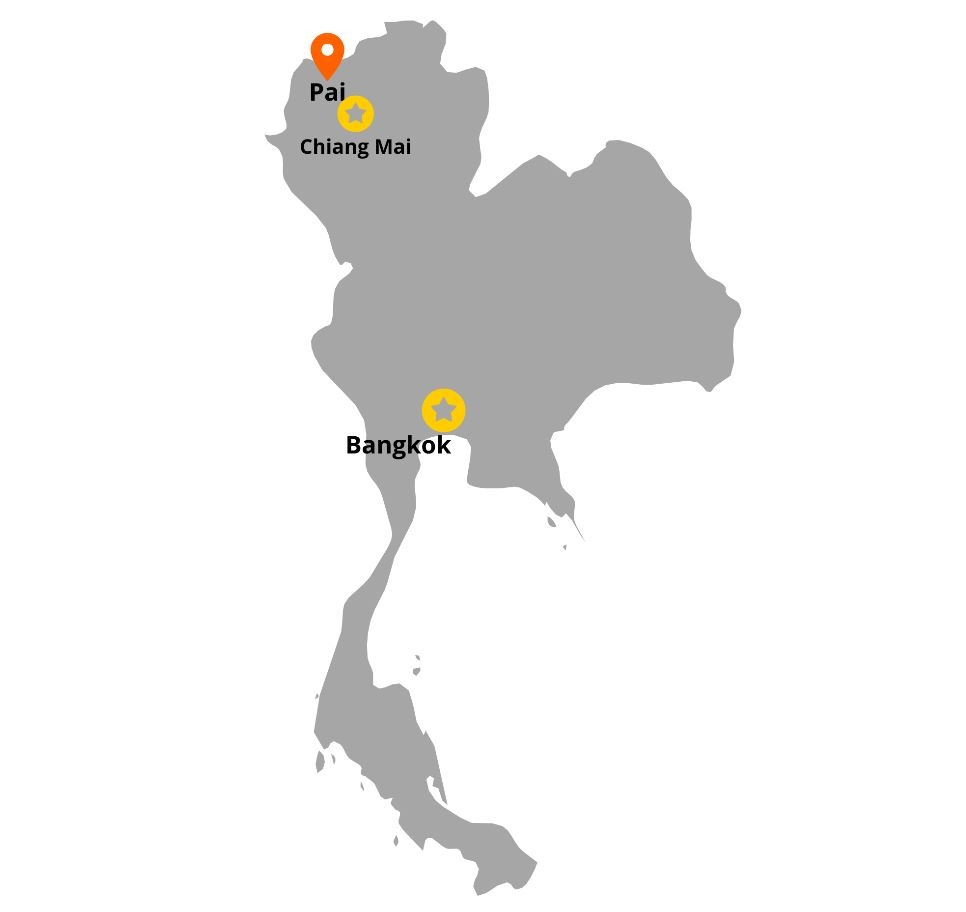 Best time to visit Pai
Best time – Winter (November–February): The best time to visit Pai is in winter months. The end of December and January starting can get really cold at night. So make sure you have some warm clothes with you. The days are still sunny but not warm. Rainfall is very less. The tourist crowd pours in at its most during this time. So book your accommodation well ahead.
Bad time – Summer (March-May): This is the hottest time not just in Pai but in the whole of Thailand. There are frequent cases of forest fires in the north and that can create a smoky cloud over some cities. Chiang Mai is one of the worst affected. But if you do find yourself here, you can spend the noon hours indoors and enjoy the outdoors in the evening. Public pools also offer some relief.
Monsoon (June–September): I think it is a lovely time to head north. The forest around is lush green and tourists are at a minimum. The humidity can be overwhelming at the time, but rain does lower down the heat. August and September will be more pleasant. There is always a looming doubt over outdoor activities and hiking. Some national parks around may be closed. River rafting is a good sport to enjoy during this time.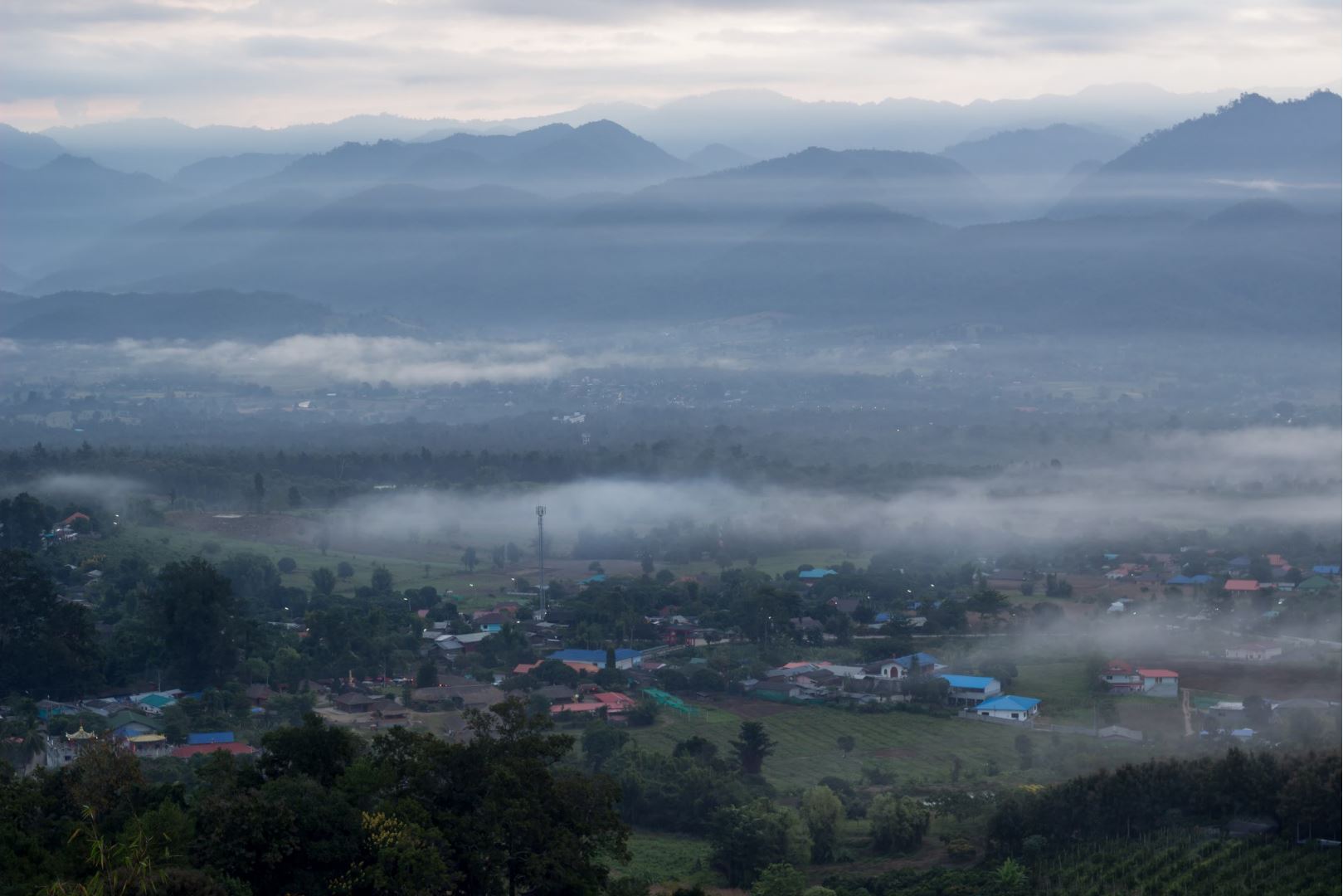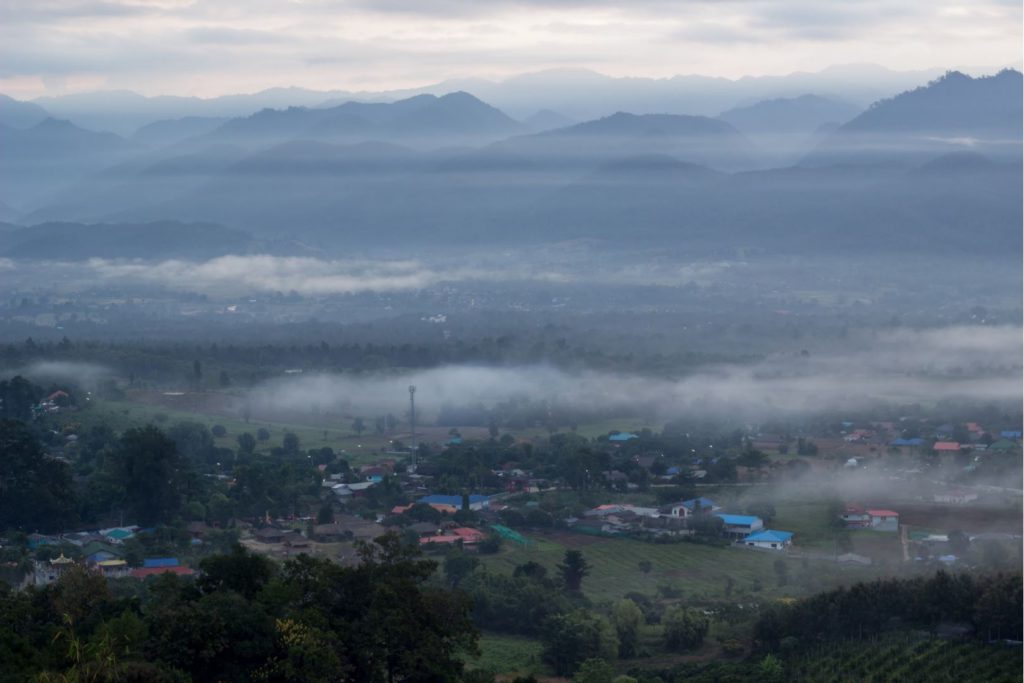 How to reach Pai
Minivan: This is the fastest and most convenient way to travel to Pai from Chiang Mai. You can get a minivan from Chiang Mai bus station.  It costs 160THB one way per person for the ride. The journey of 4 hours can be exhausting because of the extremely curvy roads.
If you suffer from motion sickness, better empty your stomach before you start. Do not eat a heavy meal before your ride. The minivan stops in between for rest. You can book a ticket at busonlineticket.co.th or 12go.asia. You can also speak to the travel agents around the city for a minibus to pick you up from your hotel directly.
Bus: There are fewer public buses from Chiang Mai to Pai. They cost around 90THB per person one way. They are not air-conditioned and can be old and rickety at times. The buses take longer than the minivans to cover the journey
Self-drive: Many choose to pick up a car or a two-wheeler on rent to cover the journey from Chiang Mai to Pai. While a car is a good idea, I will not suggest a two-wheeler if you are not used to driving on mountainous terrain. Also driving on Asian roads isn't something everyone is used to. If you do plan to do it, make sure that you have layers of clothing since it can get warm in the afternoon and cold during morning and evening times. Don't do it if you don't have travel insurance.
You can rent a car from kayak.com or rentalcars.com from Chiang Mai airport. You can rent a two-wheeler from any of the rental shops in the city. Make sure you pick one with higher motor power and helmets that are not just decorative. A bike costs between 250-300THB per day without the fuel in Chiang Mai. A passport or security deposit is required. Let the rental shop know beforehand that you plan to take the vehicle to Pai and if there are any documents you will need.
If you are looking to do a road trip, you can also check out the Mae Hong Son Loop. This route goes from Chiang Mai to Pai till Mae Hong Son. You return via Mae Sariang with a stop at Doi Inthanon. The whole route covers more than 600 km and is one of the best ways to see this part of Thailand in my opinion. Here is our complete guide on the road trip to Mae Hong Son Loop.
Taxi: A private taxi is the most convenient option if you are okay with the cost. It is the best one in case you are travelling with your family. A one-way trip will cost around 4000THB. You can book a taxi from one of the many city service providers in Chiang Mai.
Book a private car: Full-Day Pai Private Car Charter From Chiang Mai
Day tour: If you are really short on time and are okay to see Pai in a day, you can still do a day trip from Chiang Mai. I will warn you though; it can be extremely exhausting including the ride and back.
Book a day tour: Pai Highlights Private One Day Trip From Chiang Mai
Flights: There are no direct flights available to Pai. There is no airport either. All of them fly via Chiang Mai to Mae Hong Son (HGN) airport. It is 107 km and more than two hours away from Pai by road. You can take a cab from the airport to cover the distance to Pai.

How to go around in Pai
There is no public transport in the city of Pai. Therefore, you cannot rely on a bus or even songthaew to take you around. The town is small enough to cover on foot. That will include all the hostels, cafes, bus station, convenient stores, and walking street. But most of the interesting places to see lie outside the city for which you will need some vehicle of your own.
Motorbike: You can rent a motorbike right next to the bus station in the middle of the walking street. The motorbike can start at a rate of 150THB per day and upwards depending upon the type of vehicle you want. Some people suggest that you learn to ride a motorbike here if you don't already know it.
I will strongly suggest against it. People have suffered serious injuries doing so and have lost a large part of their savings on medical assistance. Also, there is not a lot of medical facilities available in the town.
Bicycle: If you know how to ride a bicycle, this can also be a decent alternative. You will have to ride long stretch of lengths at a time though. But the weather is pleasant and the scenery lovely to help you out. Park your bike at the bottom of the hills and walk or hitchhike to viewpoints where the terrain is too steep. You can get a bicycle even at 50THB per day. Ask around your hotel or hostel for it.
Taxi: This is great for families and large groups. Booking for the whole day may cost around 3000THB. But getting a taxi inside the town can be a little difficult. If you are traveling to Pai by taxi from Chiang Mai, you can probably ask him to stay over and show you around. Negotiate well with the local travel agents for a good deal.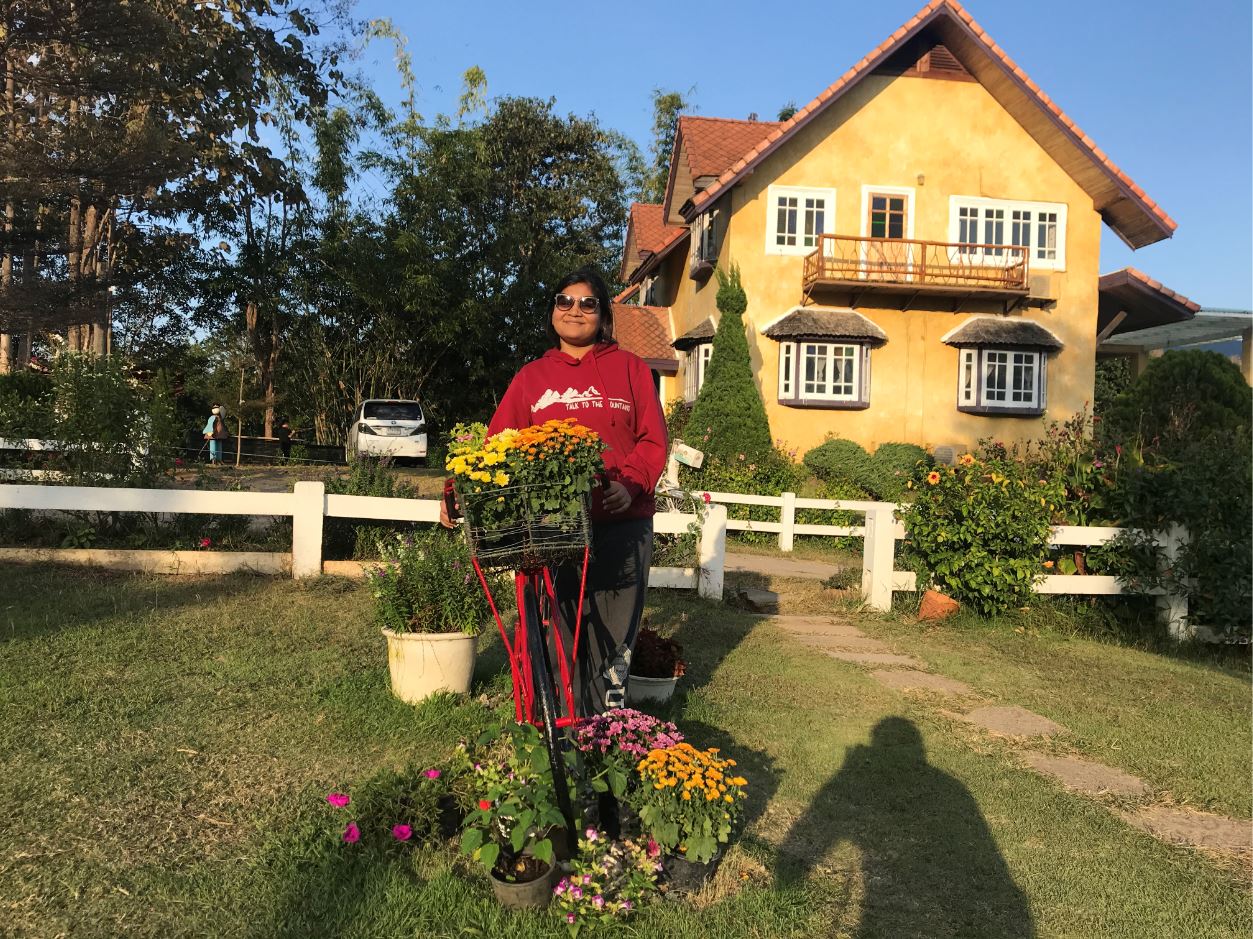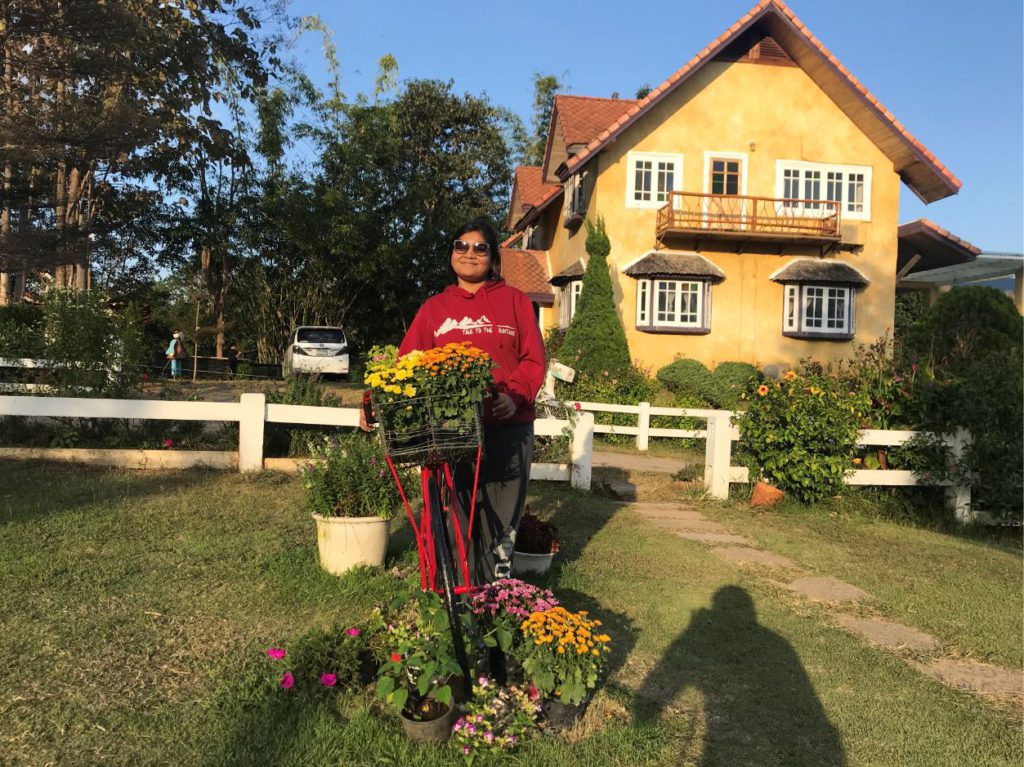 What to do in Pai
Santichon Village
It is my favourite place in Pai. It is a small (very small) village built by the Chinese immigrants of Yunan. A dragon statue will greet you as you enter. Soothing traditional instrumental Chinese music was playing in the background at one of the restaurants. The restaurants serve authentic food from Yunan with herbal tea. If you are with one of the tour groups, a tea ceremony will be included in it.
The centre of attention is a small fort-like building with many levels. We got lovely views of the surrounding hills standing on the rooftop on a cool afternoon. There is also a ferries-wheel run manually by locals which is where a lot of tourists cluster with excitement. And then we decided the do the most-touristy thing ever!
We rented out some Chinese clothes and took some darn amusing photos. I have to say, it was funny! Especially, if you are so obviously Indian. There is free parking outside and the entry is free. The village is 5km from Pai town and you will need a personal vehicle to get here.
Santichon village timings: 7 am to 6 pm every day of the week
If you like this place, you can also look at visiting another Yunan settlement at Thailand – Myanmar border called Ban Rak Thai. It is bigger and a natural village (not a tourist attraction). However, it is pretty hard to reach. Check out our blog article on travelling to Ban Rak Thai.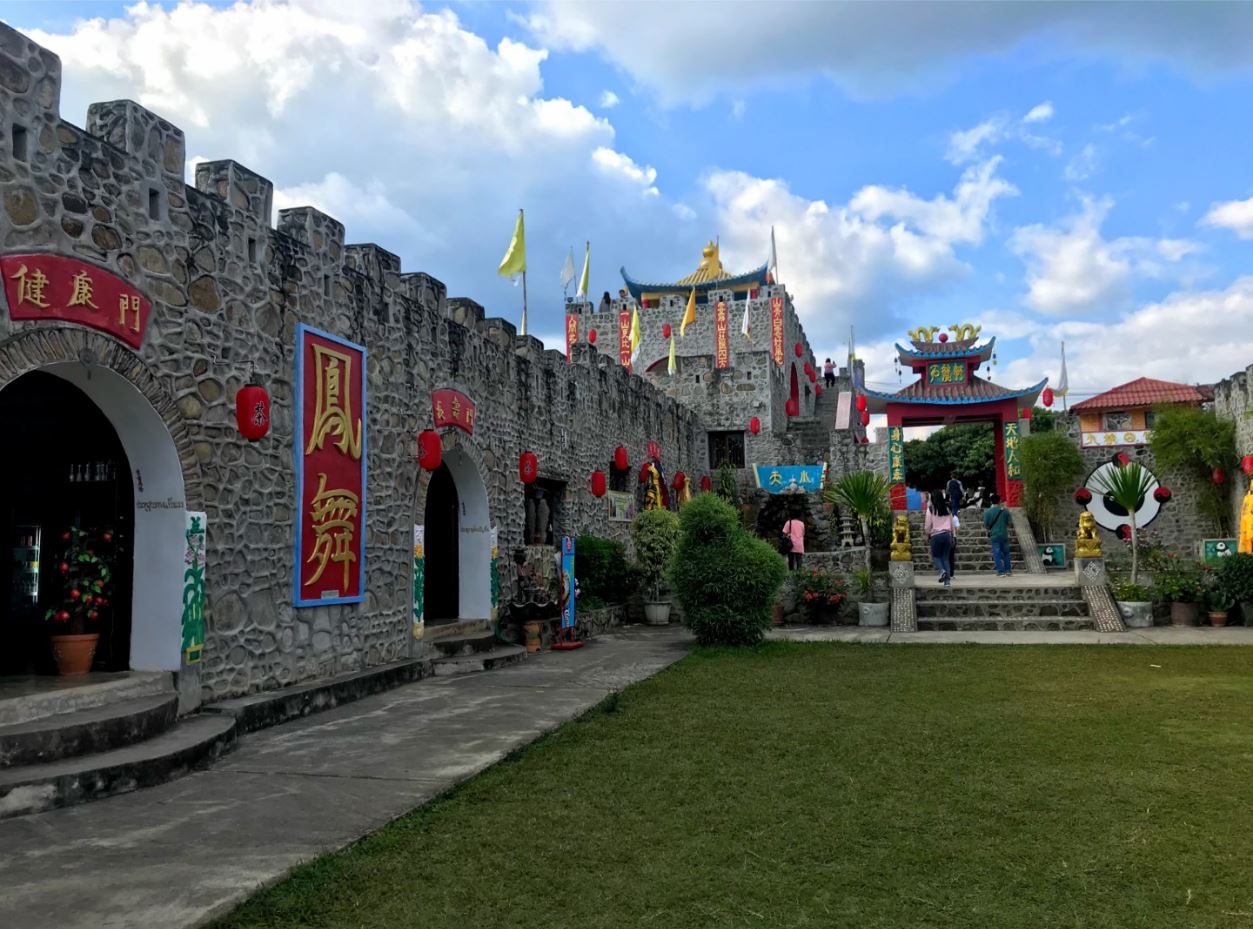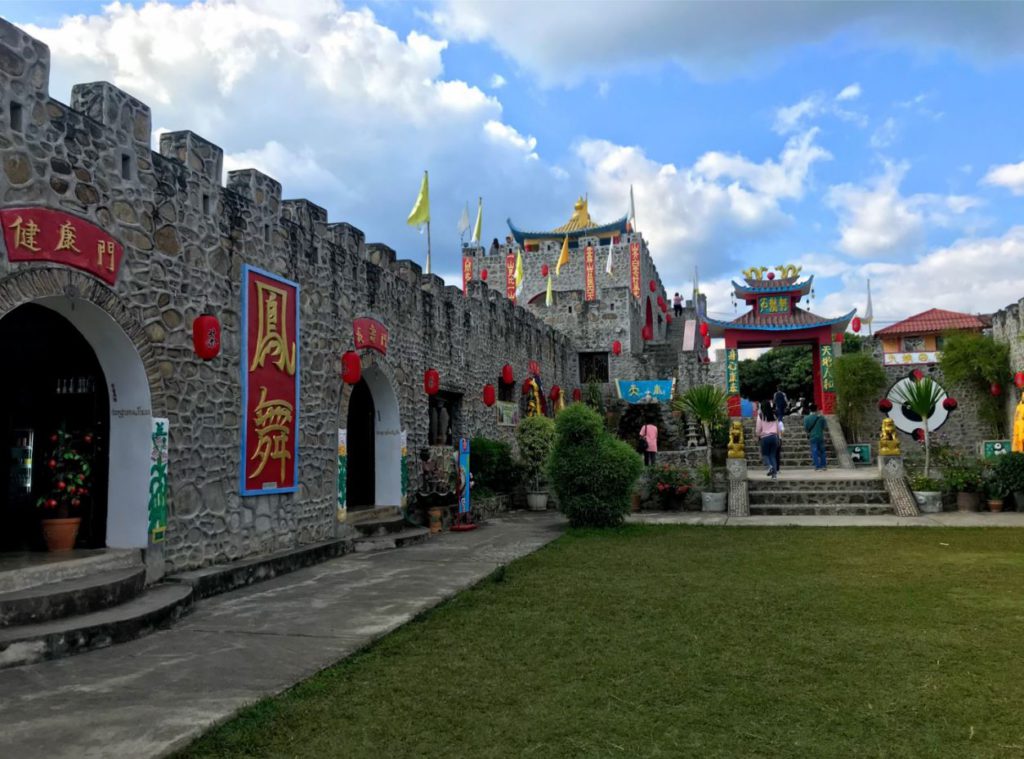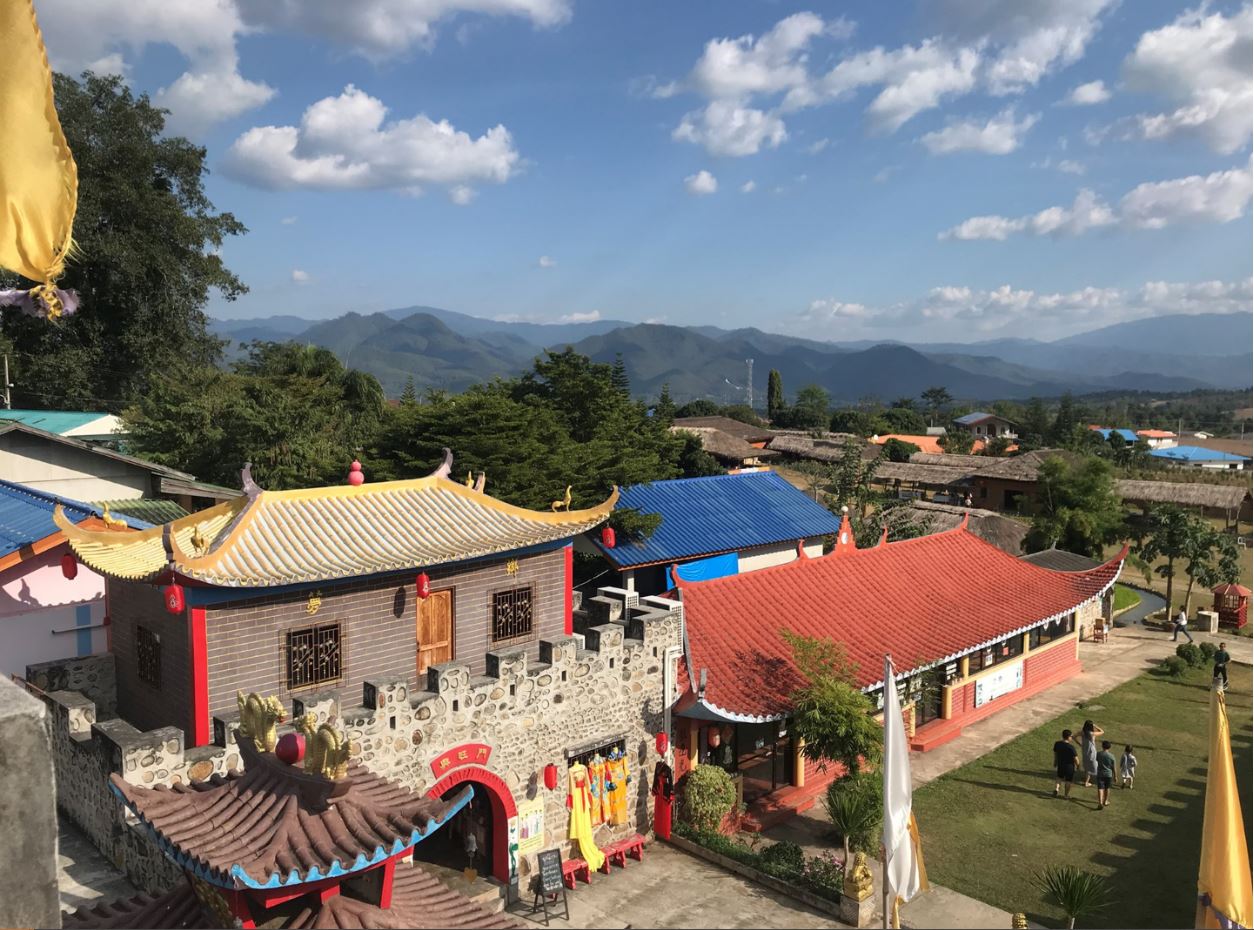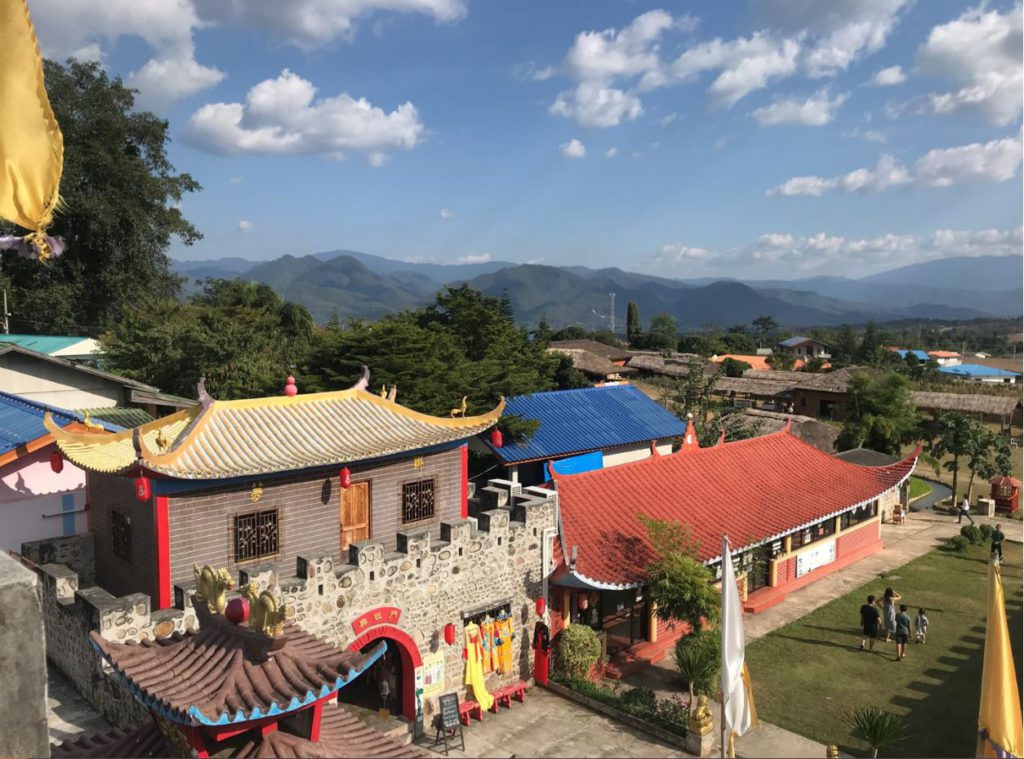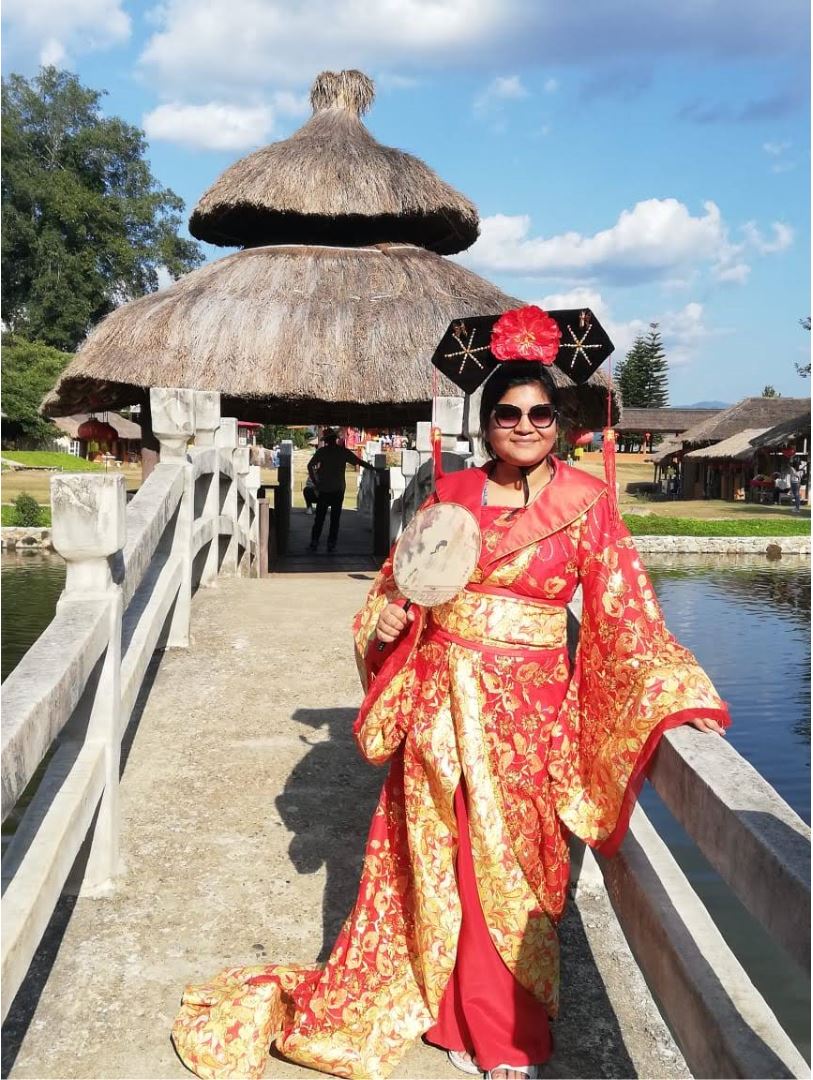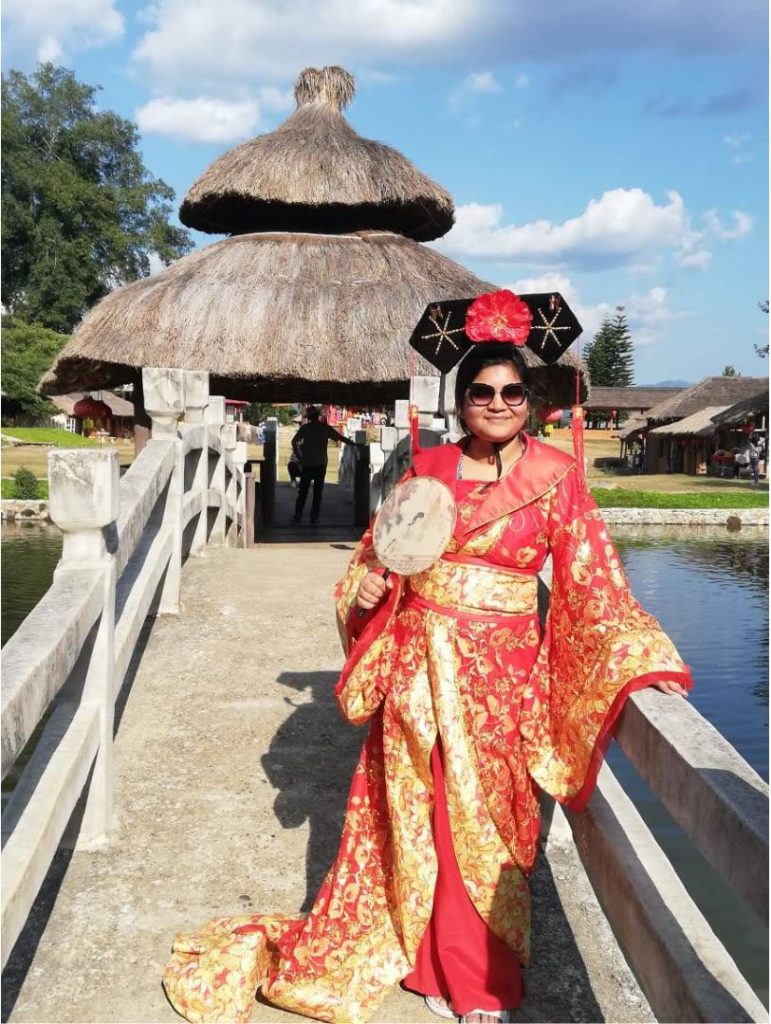 Yun Lai Viewpoint
Just a little ahead of Santichon village you can ride a little uphill to reach Yun Lai viewpoint. The viewpoint is the best in Pai. It gives a lovely view of the whole valley, Santichon village, and Pai town on a clear day. The path to the viewpoint is lined with Chinese lanterns. The top has a tiny shop that serves Chinese buns, green tea, and some snacks. The wind is cool up there so carry a light jacket with you.
There are also camping grounds on top which I think is a lovely spot to enjoy the sunrise. You cannot get camping gear in Pai itself. So get your own or rent some in Chiang Mai if you plan this. Toilets are available just next to the premises. Again, you will need a personal vehicle to reach here.
Yun Lai viewpoint timings: Sunrise to sunset (although the official timings say 8 am to 5 pm)
Yun Lai viewpoint ticket price: 20THB per person for foreigners and locals alike.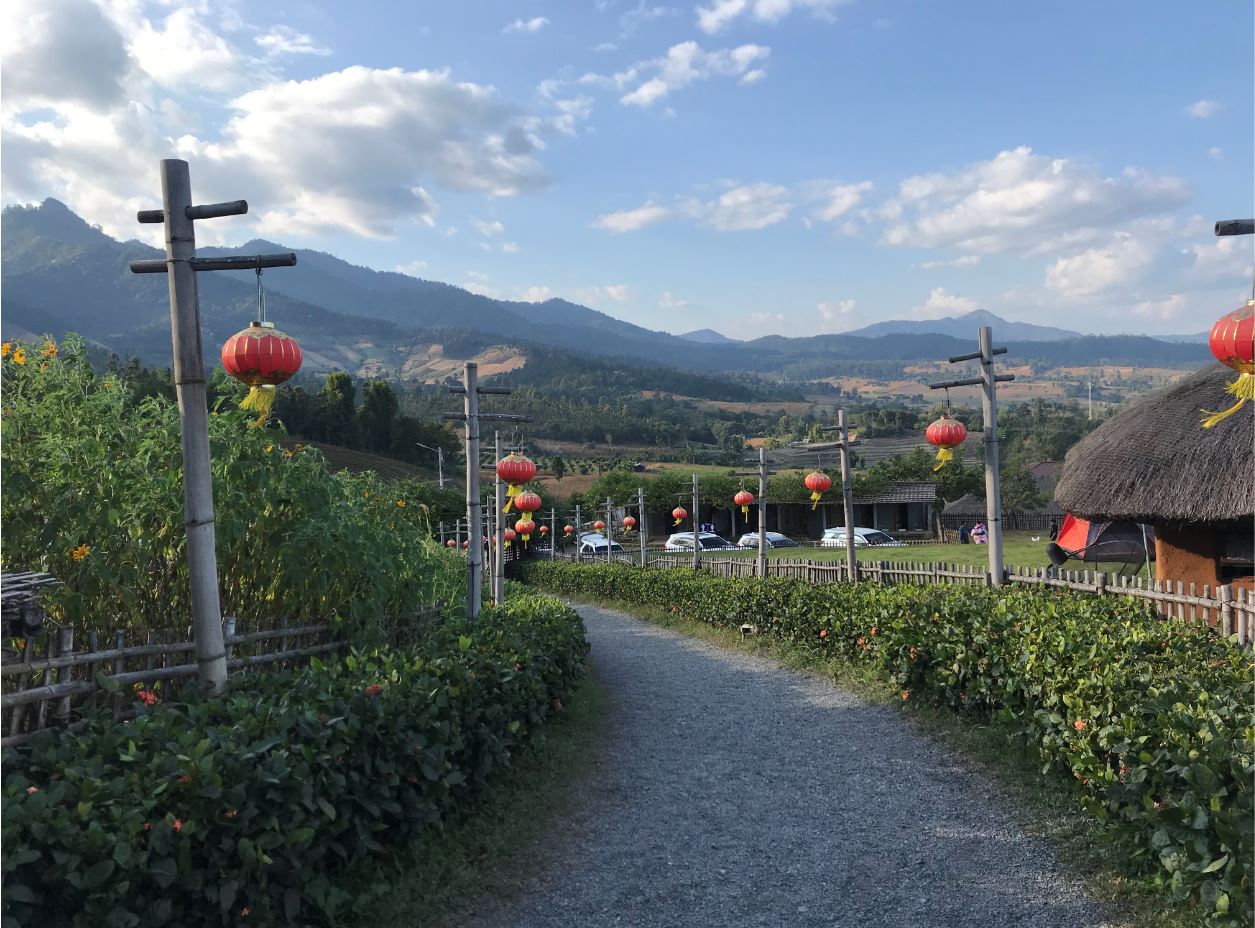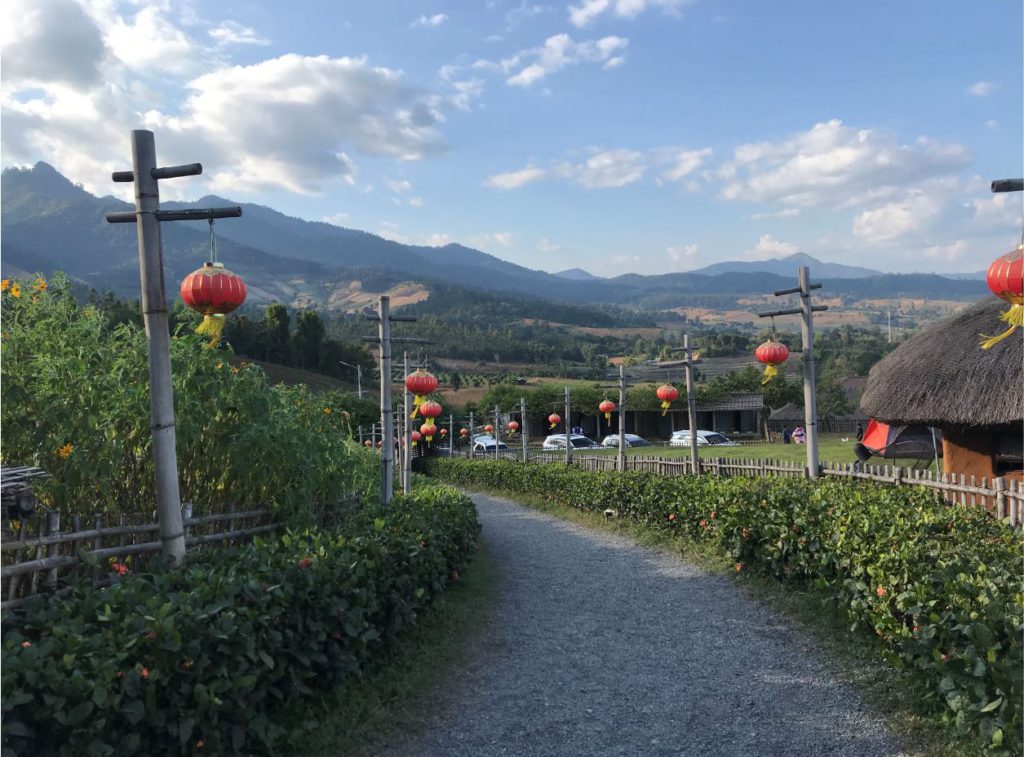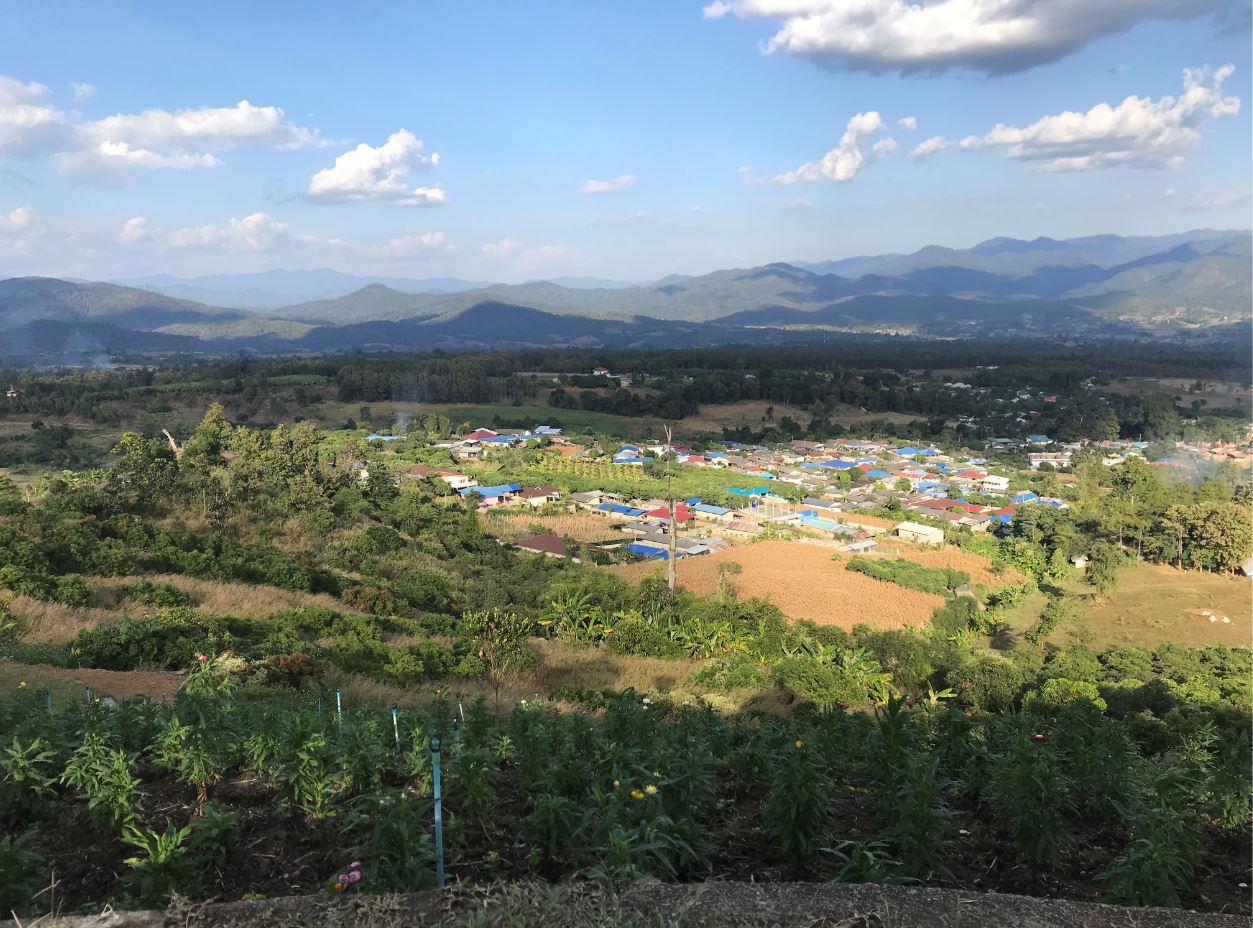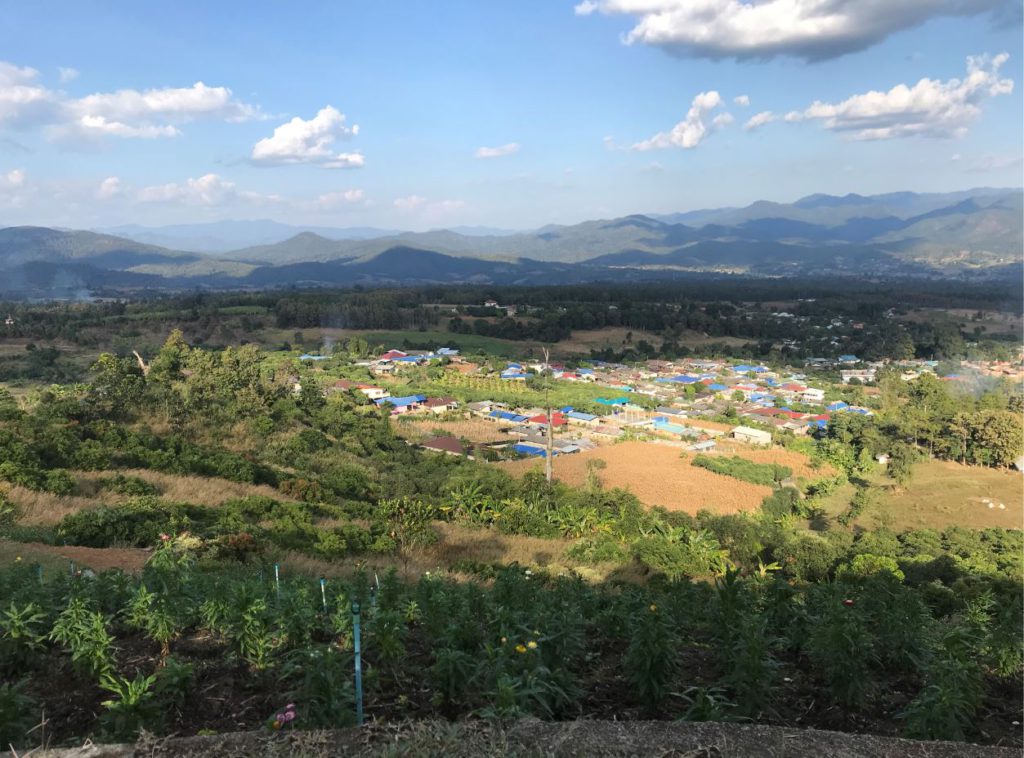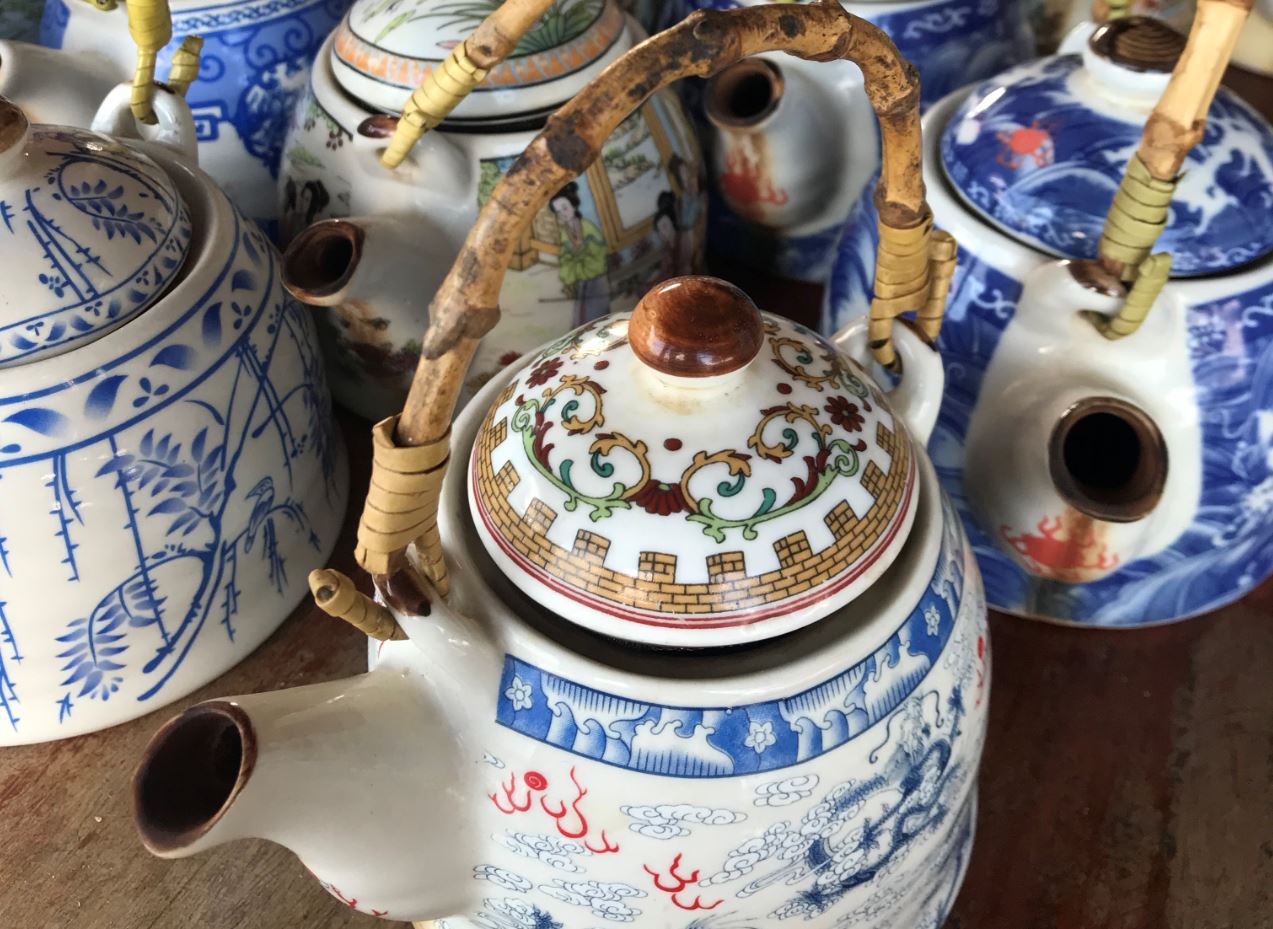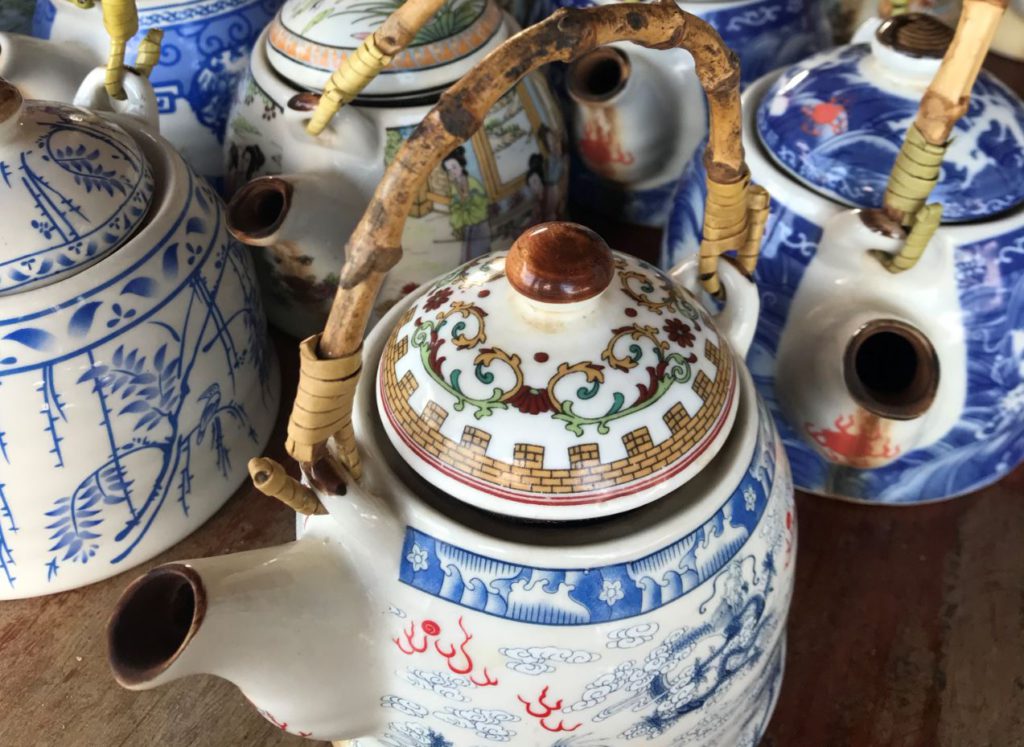 Pai Canyon
Pai Canyon is loved by some and not so much by people like me. Perhaps it has much to do with the weather. I think early morning and evenings are the best time to go. Afternoons are scorching hot, even in the winter months. The formation of Pai canyon is just a miniature but still interesting. To reach the canyon you will have to hike via cemented steps for 10 minutes. At the top, you find small cliffs connected to each other through narrow strips of bridges.
It is exciting for those who like to take risks in the outdoors. Note that there are no safety nets around and your safety is in your own hands. Take some water and a pair of hiking shoes. There are a few shaded benches to relax and just take in the view if you are not that excited to jump around.
Avoid going to the canyon during the rainy season for the risk of accidents due to slippery grounds. Pai Canyon is 8km outside the city and you will need your own vehicle to reach. There are no entry fees or official timings.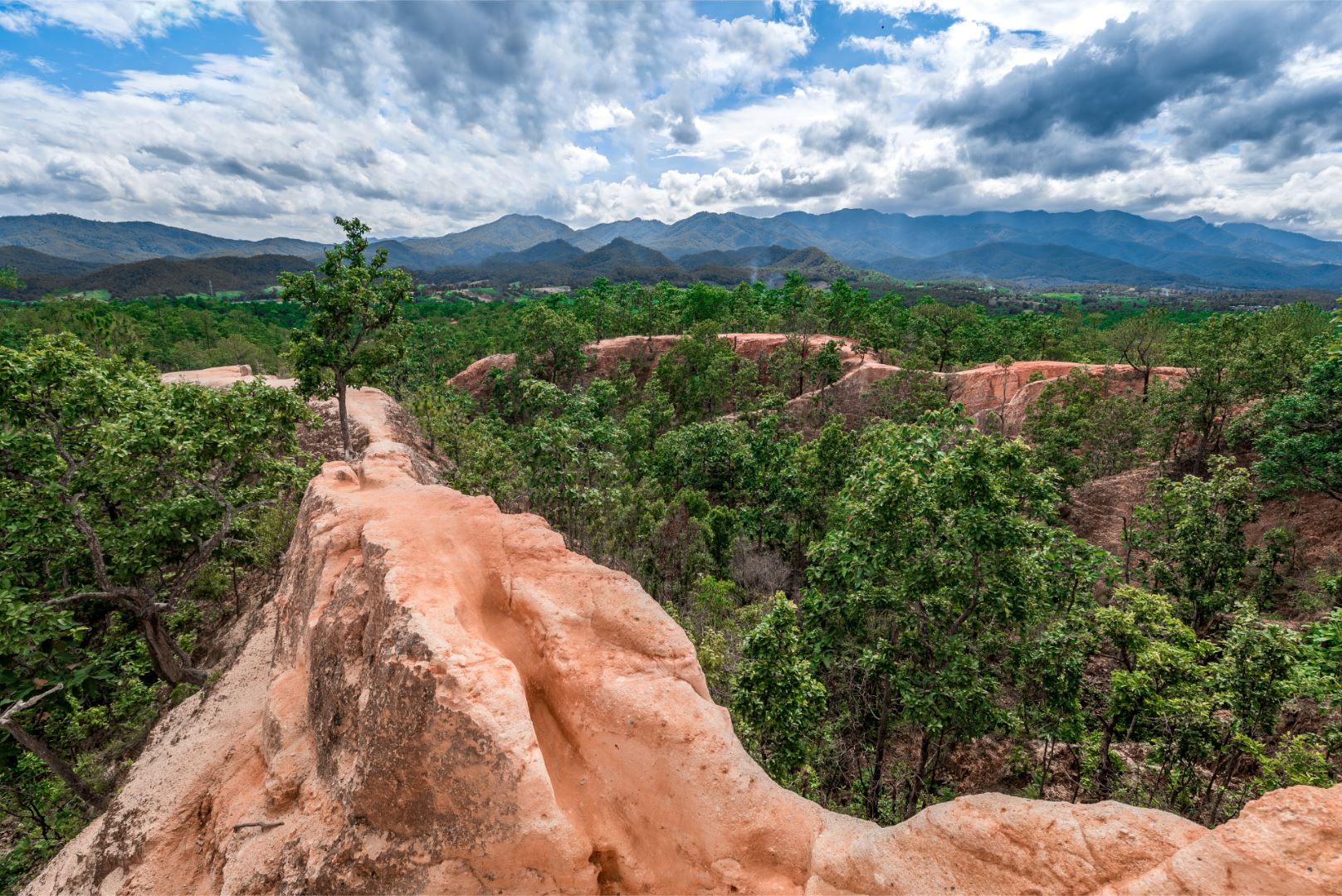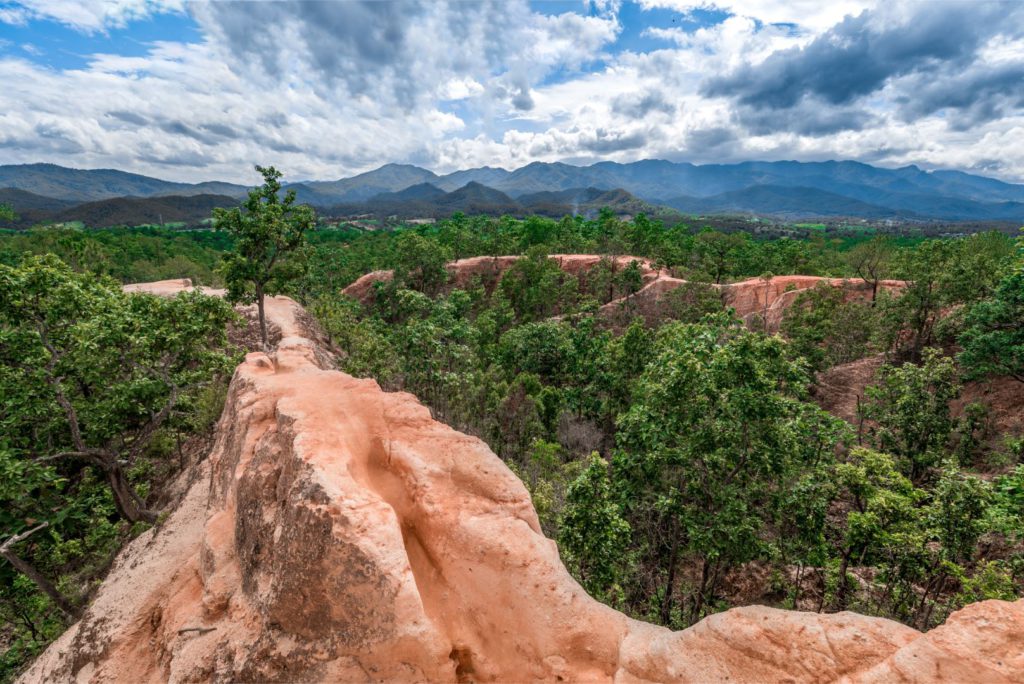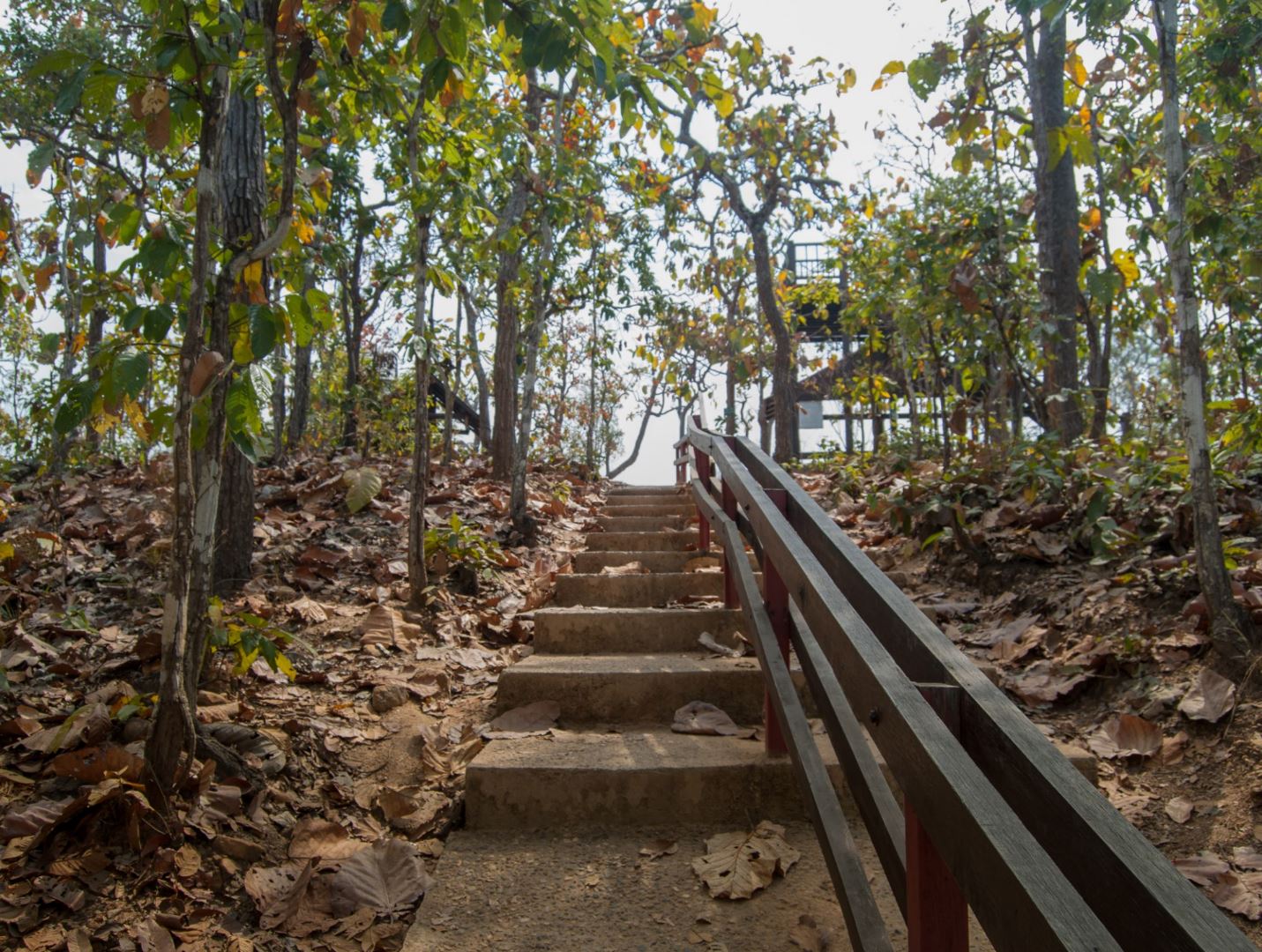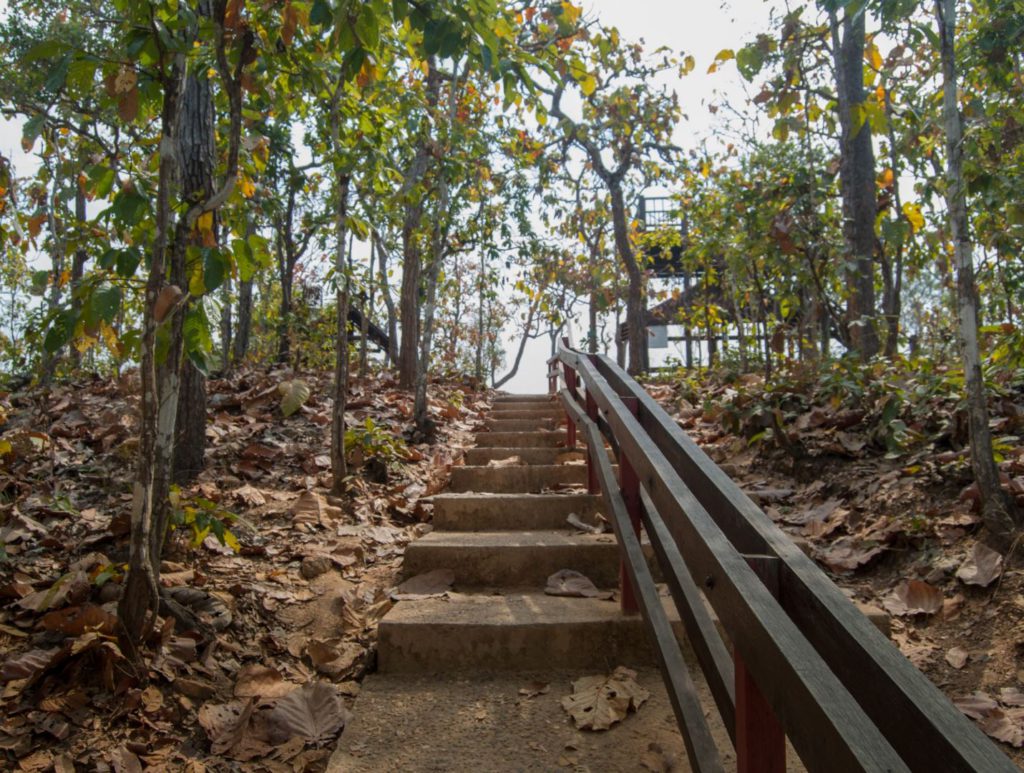 Pai Bamboo Bridge
Pai Bamboo Bridge or Bun Ko Ku So is an 800-meter long bridge made of woven bamboo supported by bamboo and iron frames. The bridge's name translates to 'the bridge of merit'. The locals made the bridge for the local monks. Before it was made, the monks had to walk 6 km from the temple to the local village to collect alms in the morning.
The bridge goes through lovely green paddy fields. At some points, the locals have constructed swings for tourists to take a photo. A walk around the bridge in the evening hours will be very enjoyable. It ends at the Buddhist temple on the other side.
There is also a point where you can contribute some money, pick some pellets, and feed the fish in a small pond in the middle of the field. Or you can simply watch the farmers going about sowing, harvesting or weeding out paddy farms.
Pai Bamboo Bridge ticket prices: 30THB per person
How to reach Bamboo Bridge: You will need a private vehicle to cover the distance. This is 11 km south-east of Pai and the roads are not very easy or convenient to drive on. Be extra careful since sometimes insurance on the vehicle isn't covered in this area.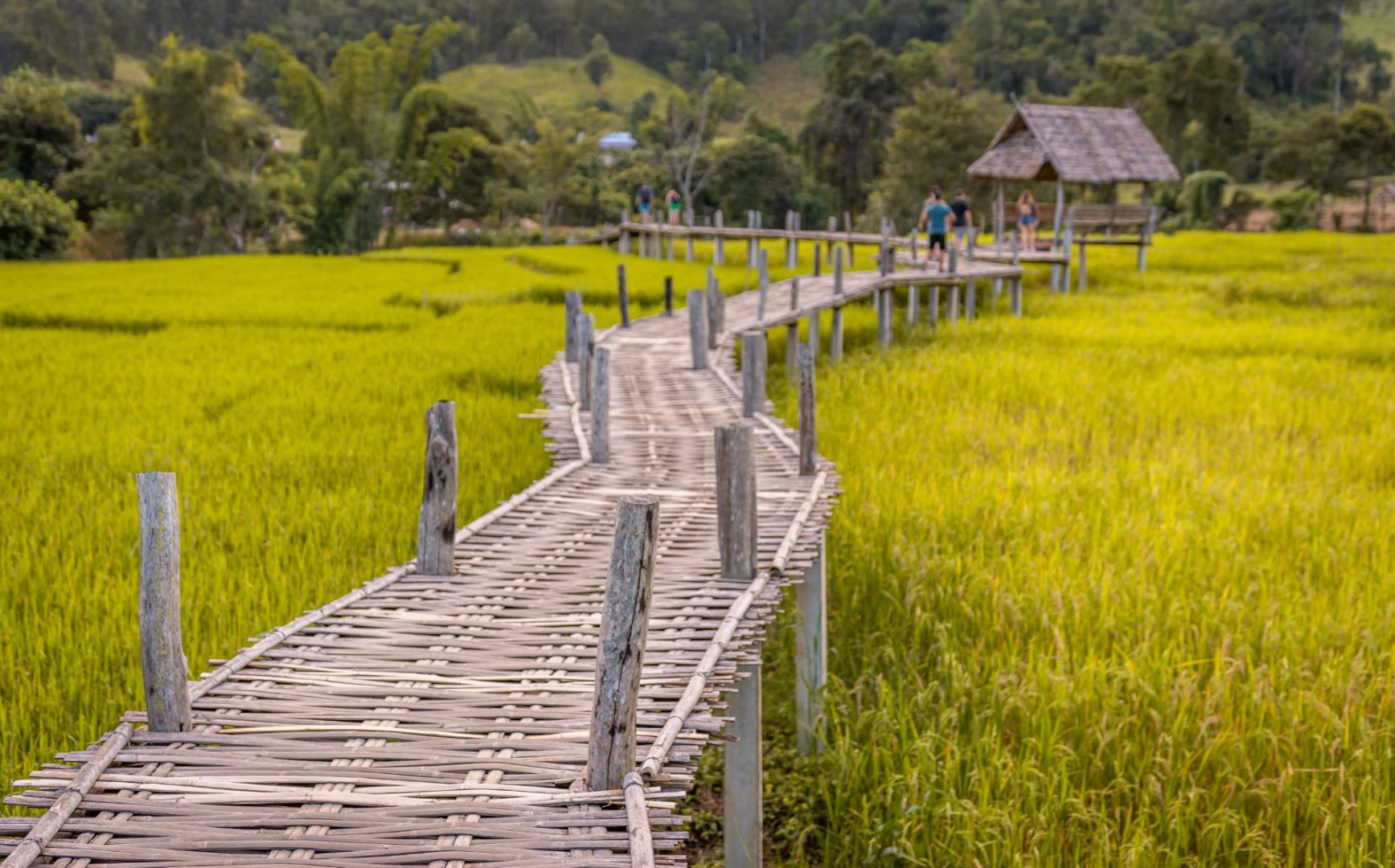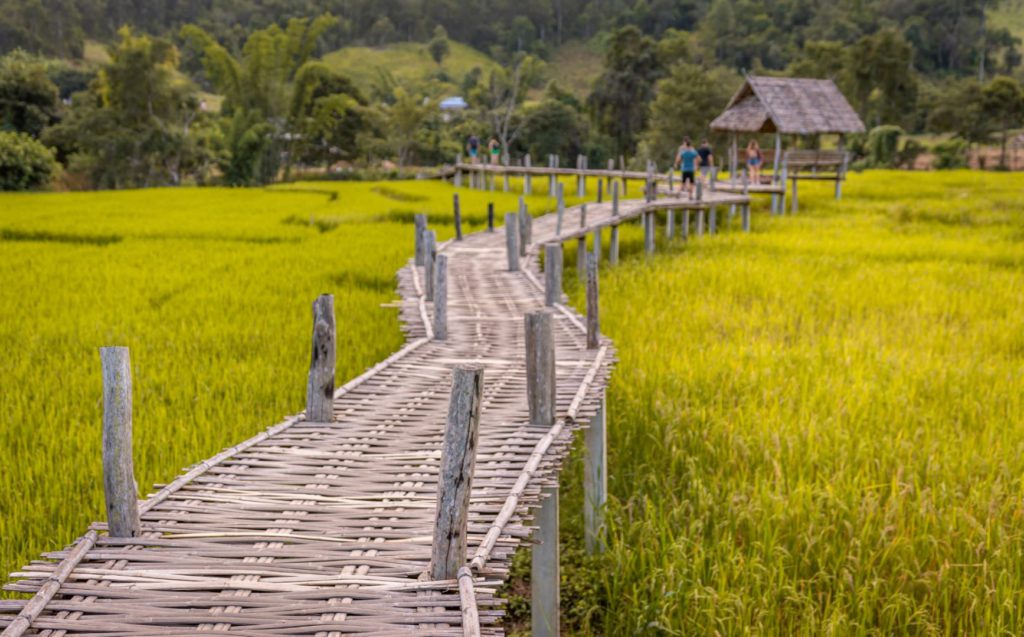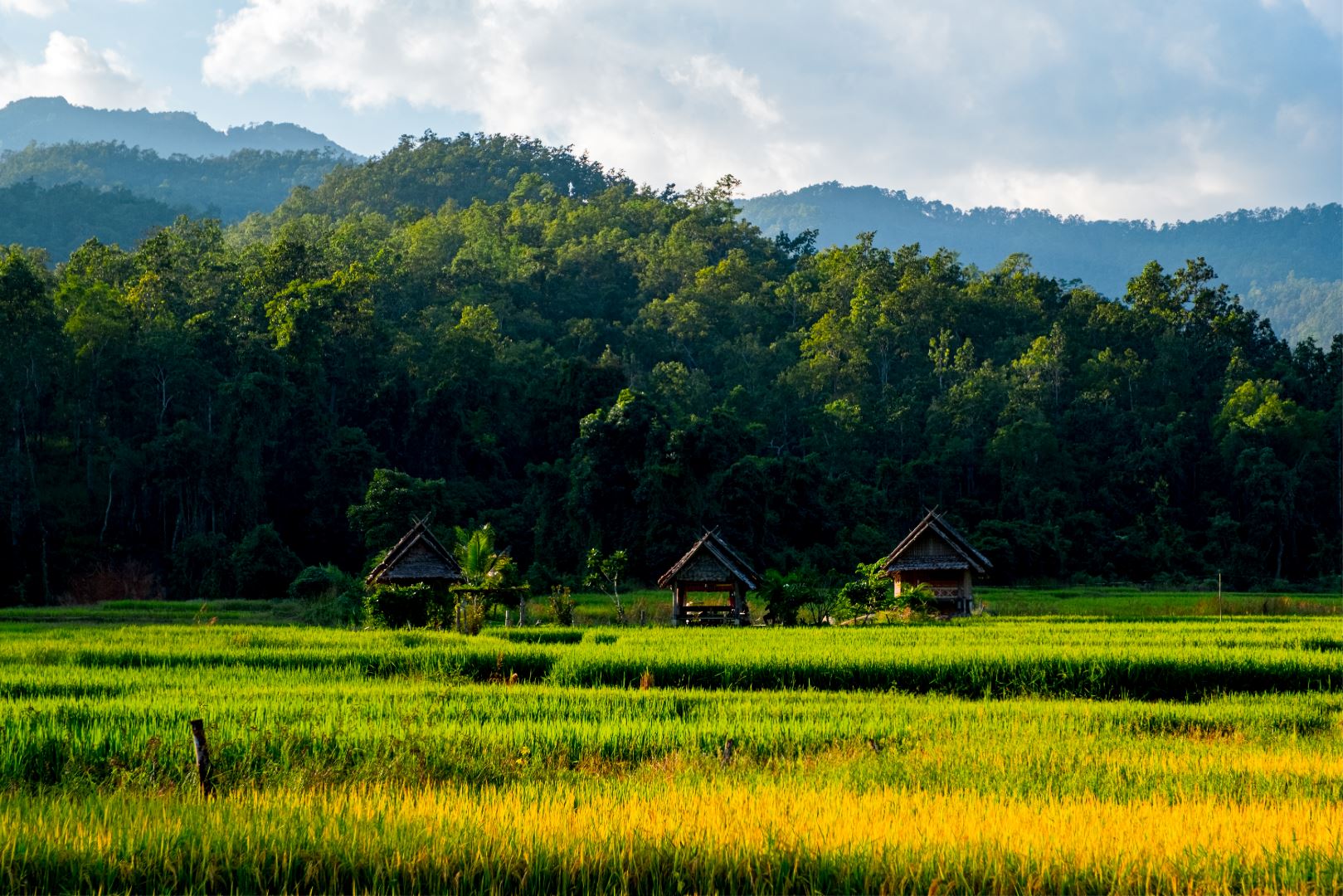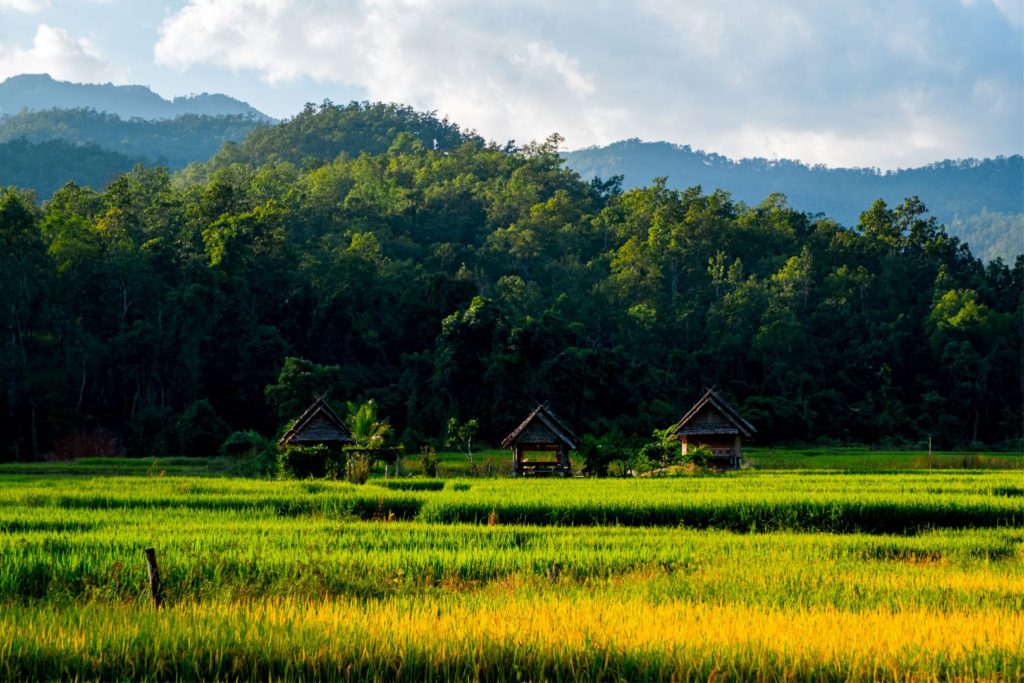 Chedi Pra That Mae Yen
If you are in Thailand, you know there has to be a temple in the list of popular places to see in Pai. For the matter, choose Chedi Pra That Mae Yen because it offers great views as well. The temple is quite outside the city and in-fact gives a semi-aerial view of Pai town.
To reach the pure white large statue of Buddha, you will have to climb 353 steps accompanied by giant statues of sacred snakes. If you are not in the mood for the exercise, you can also drive uphill from the other side.
There are a few golden chedis at the start. There is no evidence of any history of the temple. After you are done enjoying the view, you can relax and have some coffee at the few local shops right next to it. Cover your shoulders and legs till knees while visiting the temple (use a sarong). There is no entrance fee or any set timings. You will need a private vehicle to reach the place.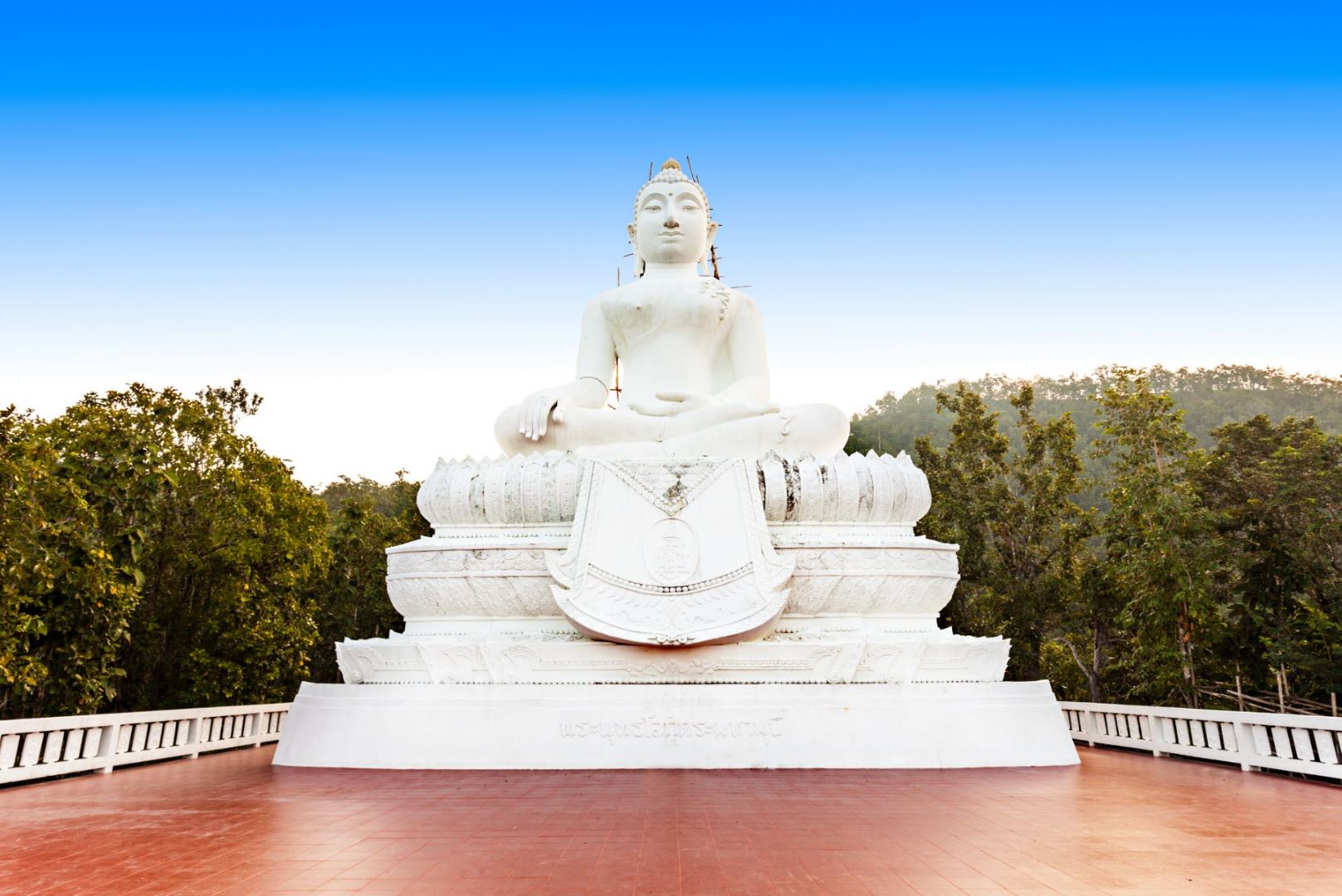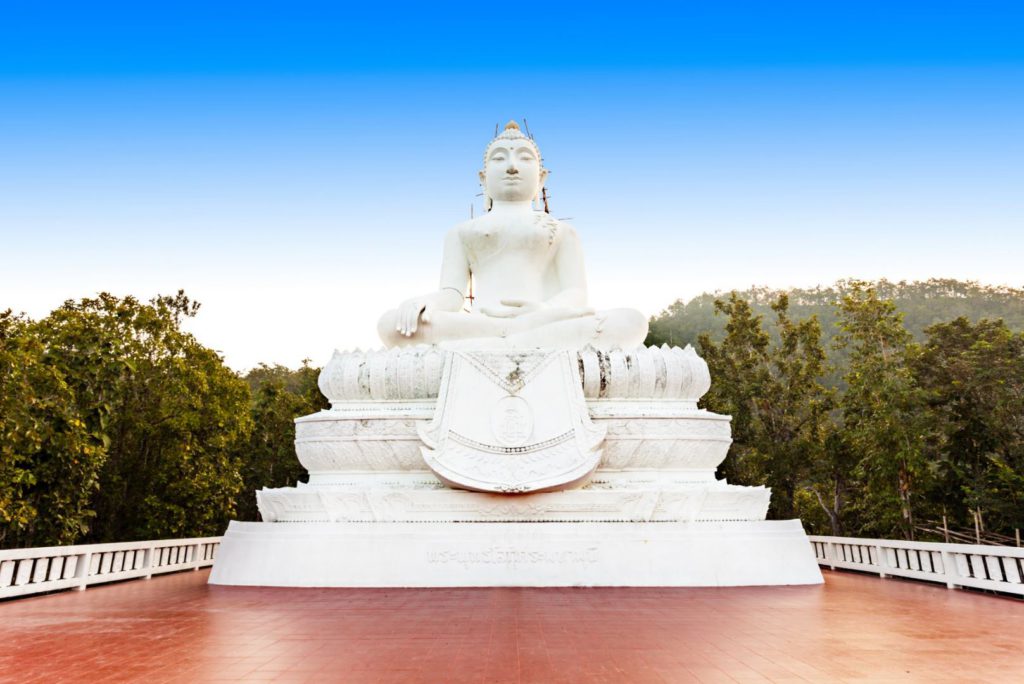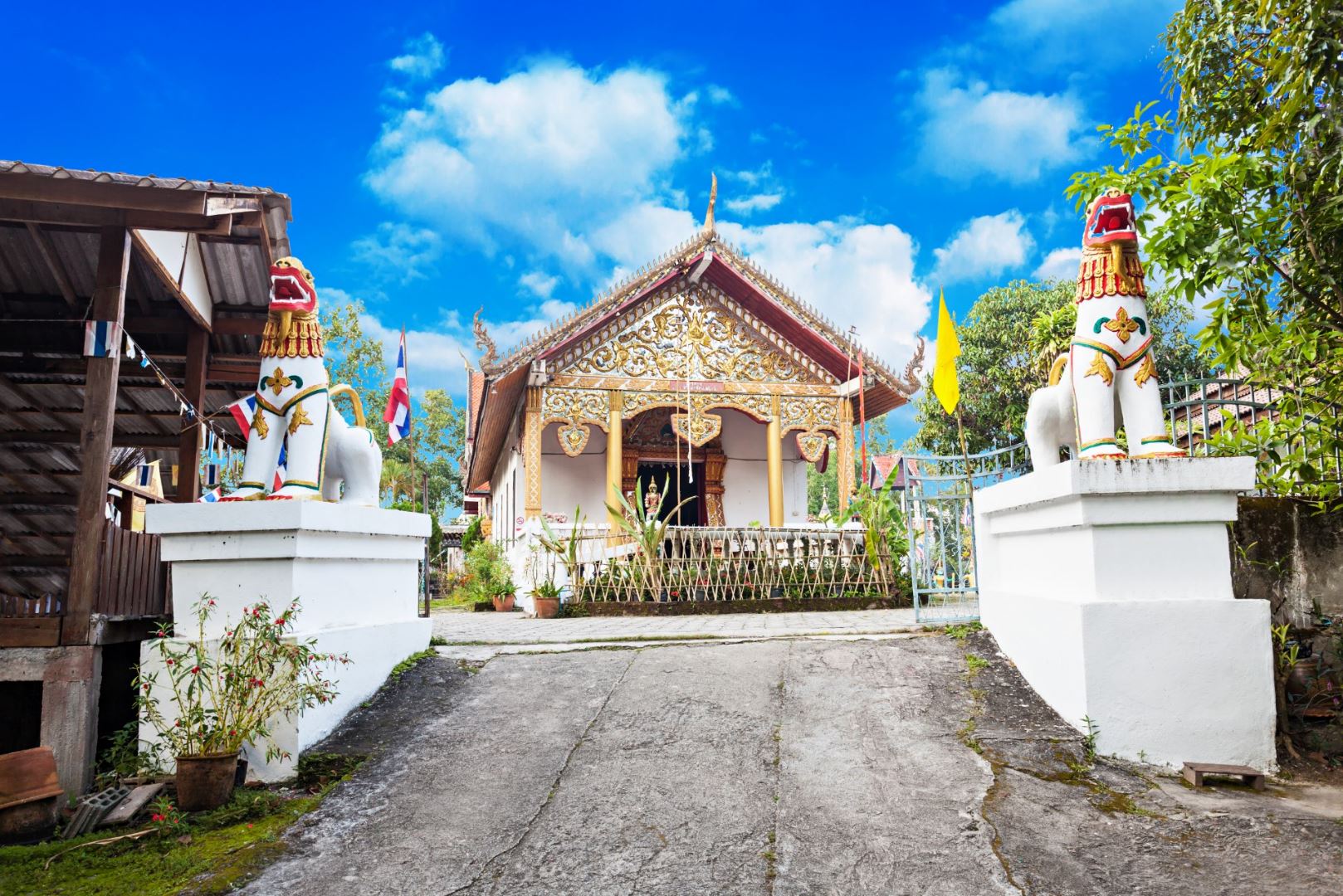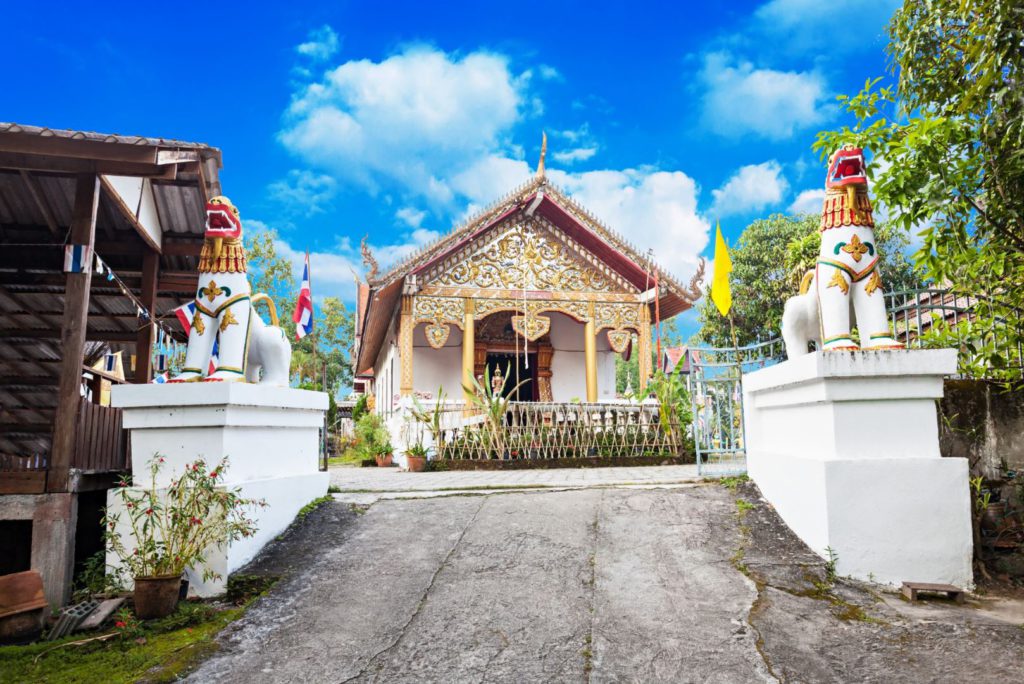 Pai Historical Bridge
Ta-Pai Bridge is more of a historical significance than anything else. The original was a wooden bridge. It was built by the local villagers using elephants forced by the Japanese army. During the Second World War, the Japanese army made Thailand their base to attack and conquer the neighbouring countries. The bridge was ordered to be made to march into Myanmar which was a British Territory at that point in time.
After the Japanese left, they destroyed the bridge. But the villagers came together once again to reconstruct the bridge for their use. In 1973, the bridge was again washed away in the floods. On the request of locals, a steel bridge was put in place that stands even today on the Pai River.
You will find a lot of tourists taking selfies in awkward positions and costumes. A popular local dress up as Jack Sparrow every day and poses with tourists for a fee. The bridge is open for everyone at all times.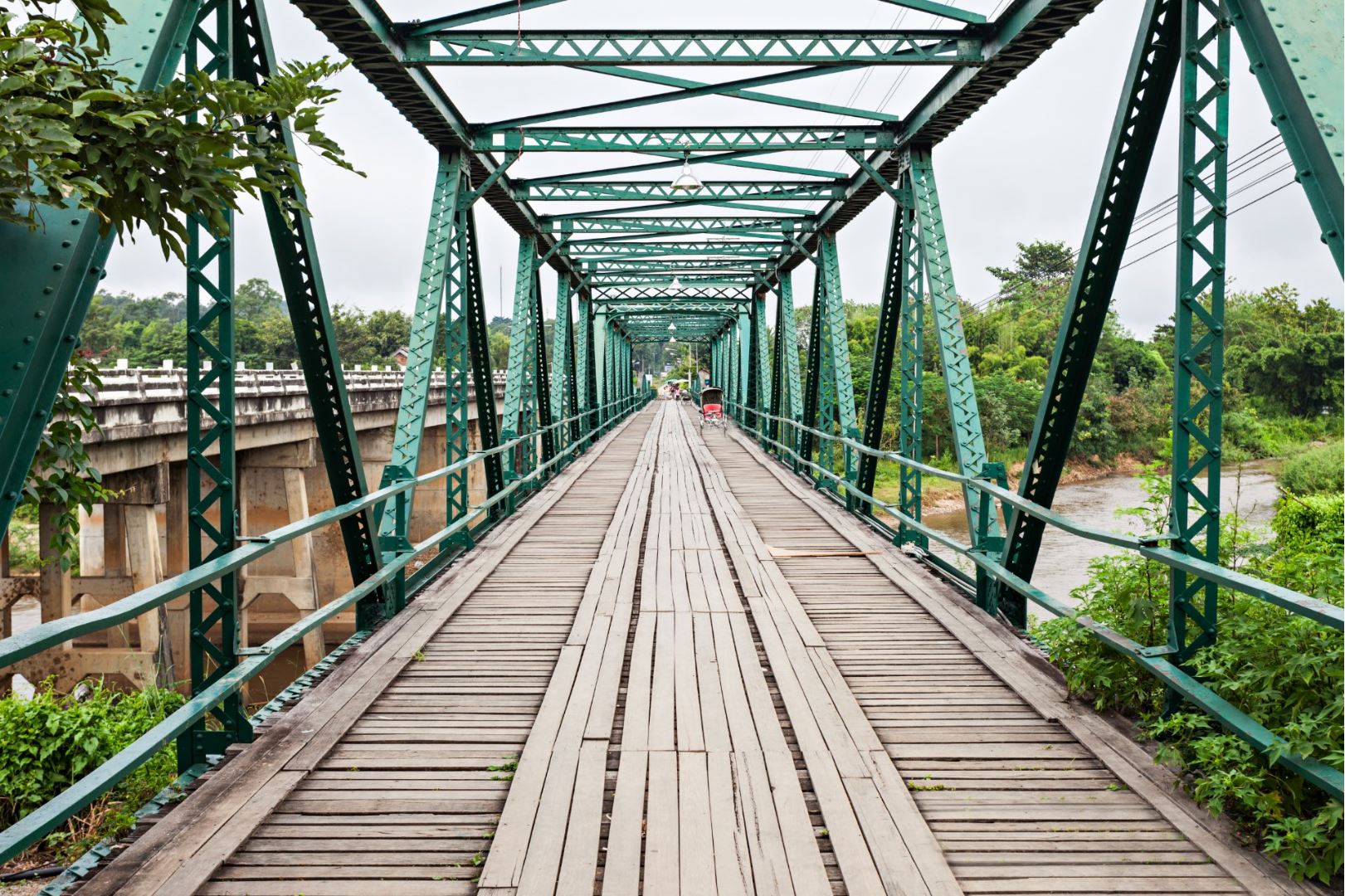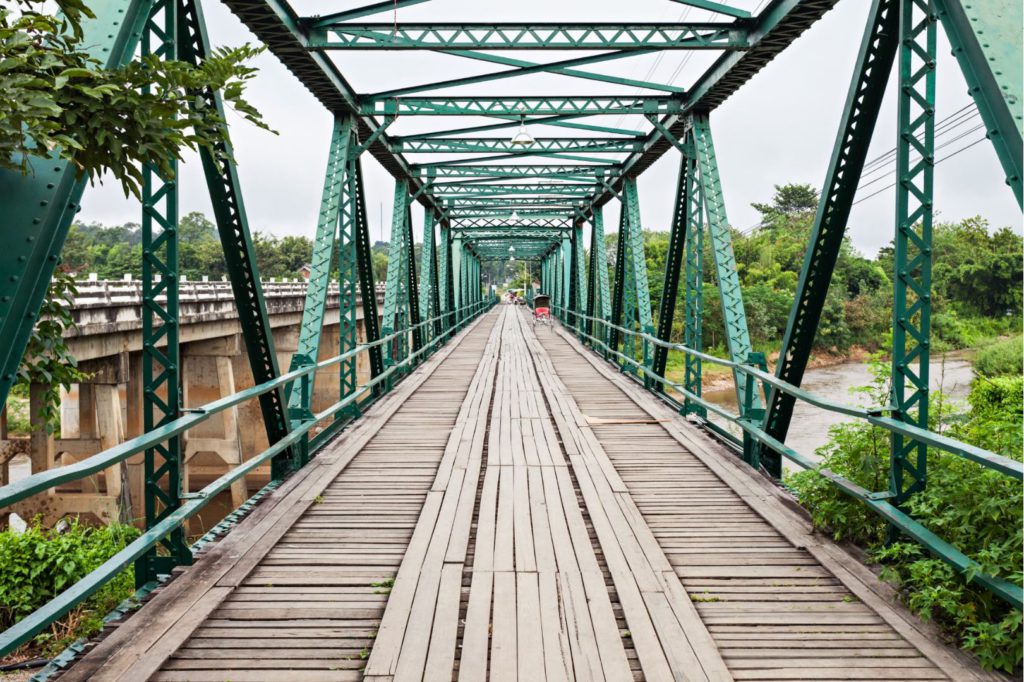 Pai Walking Street
Pai waking streets like all walking streets in Thailand is the bustling market and centre of important business activity in Pai. It is located in the centre of Pai town. The walking street opens up only in the evening and goes on till late at night.  Walking street in Pai has some unique sellers of arts and crafts that you won't see in other parts of Thailand.
We also find food and drinks that are closer to the tastes of foreign tourists. Mexican, American, European, Lebanese, Arabian, and Malaysian stalls selling food that are mostly light takeaway. We also found a lot of vegan and vegetarian options.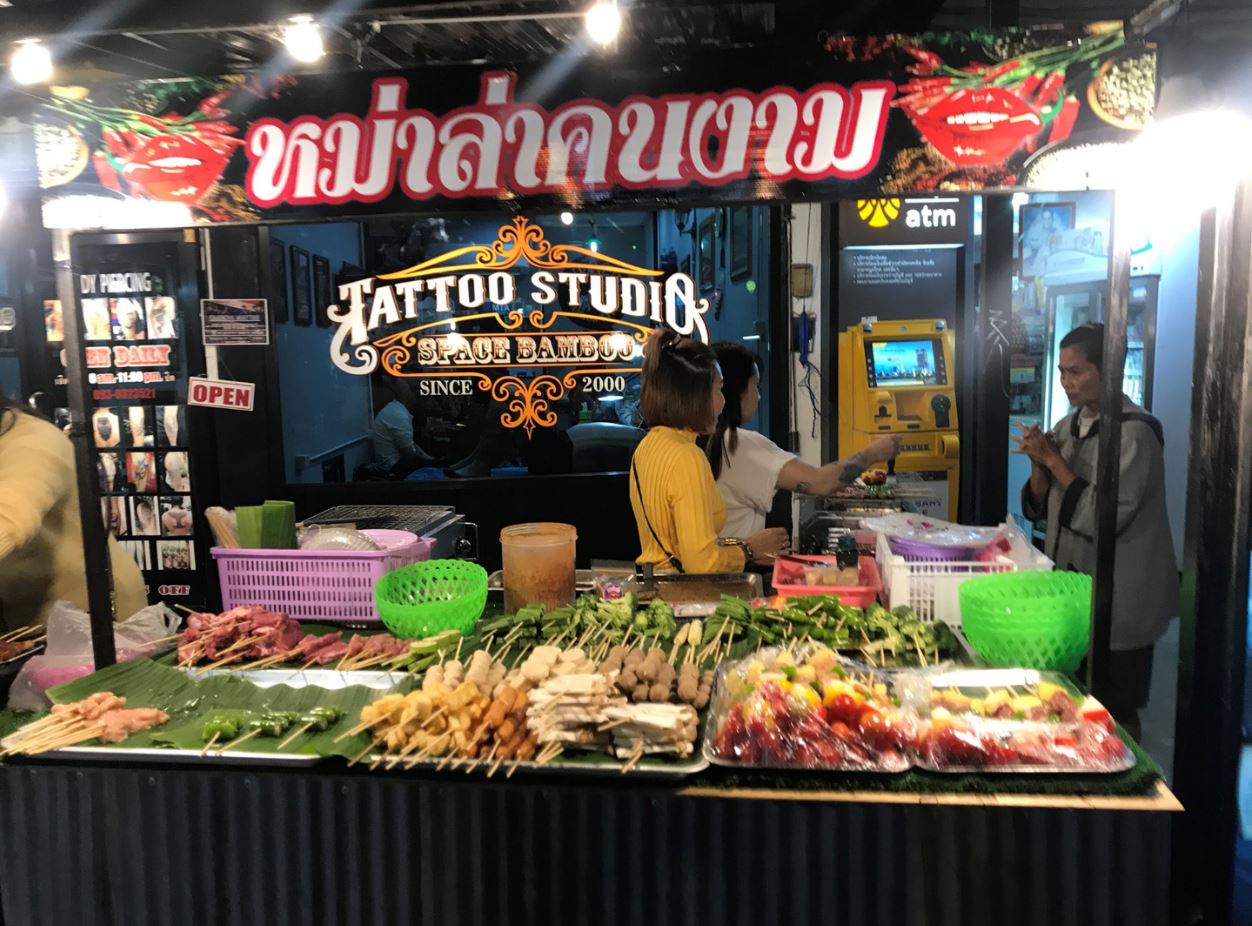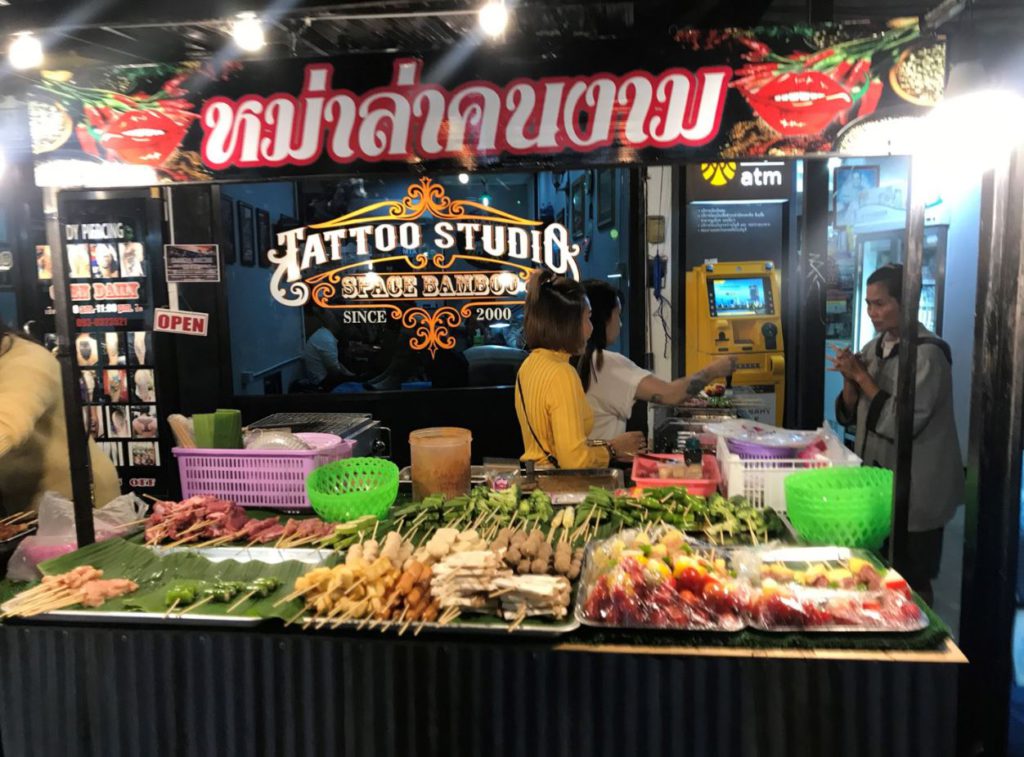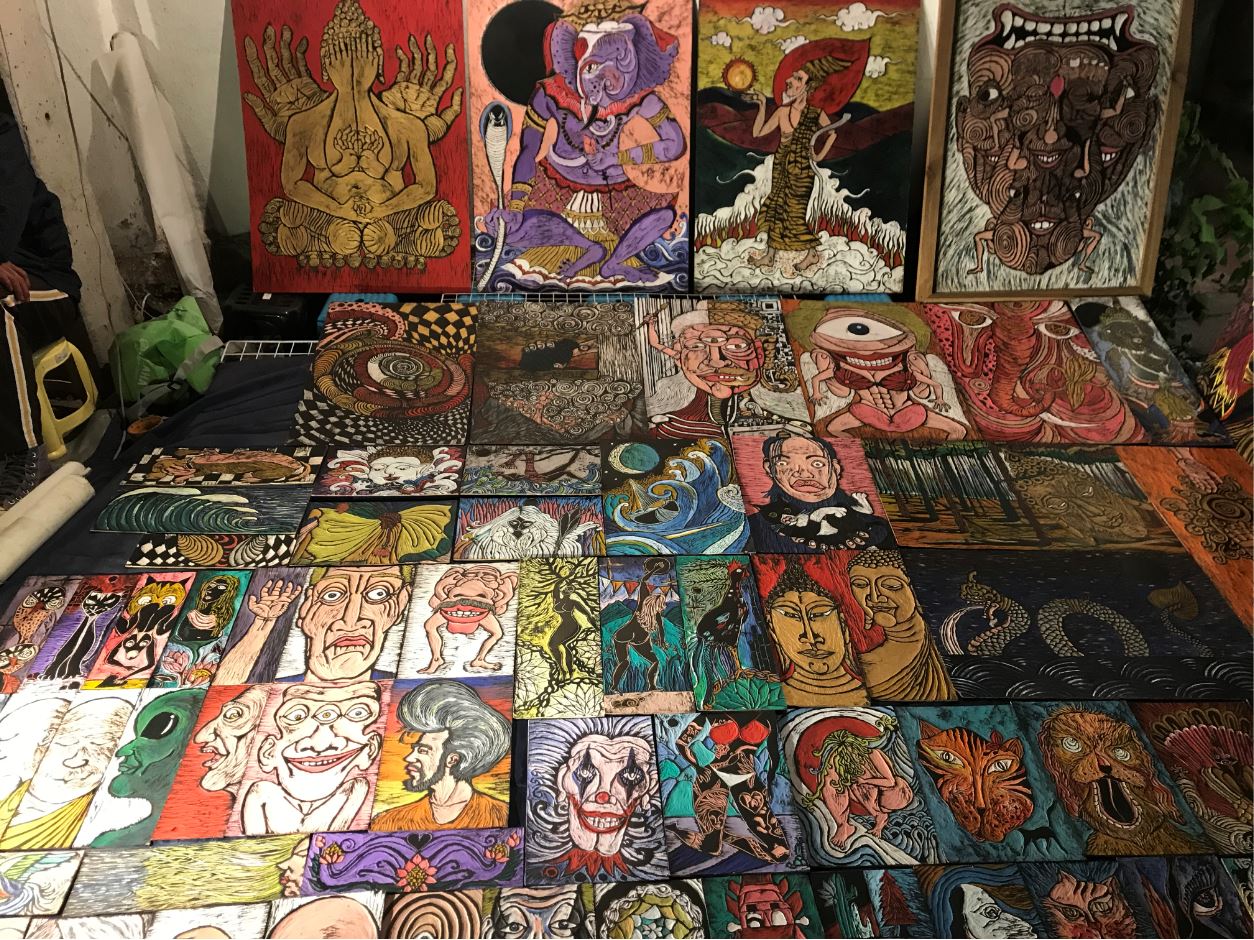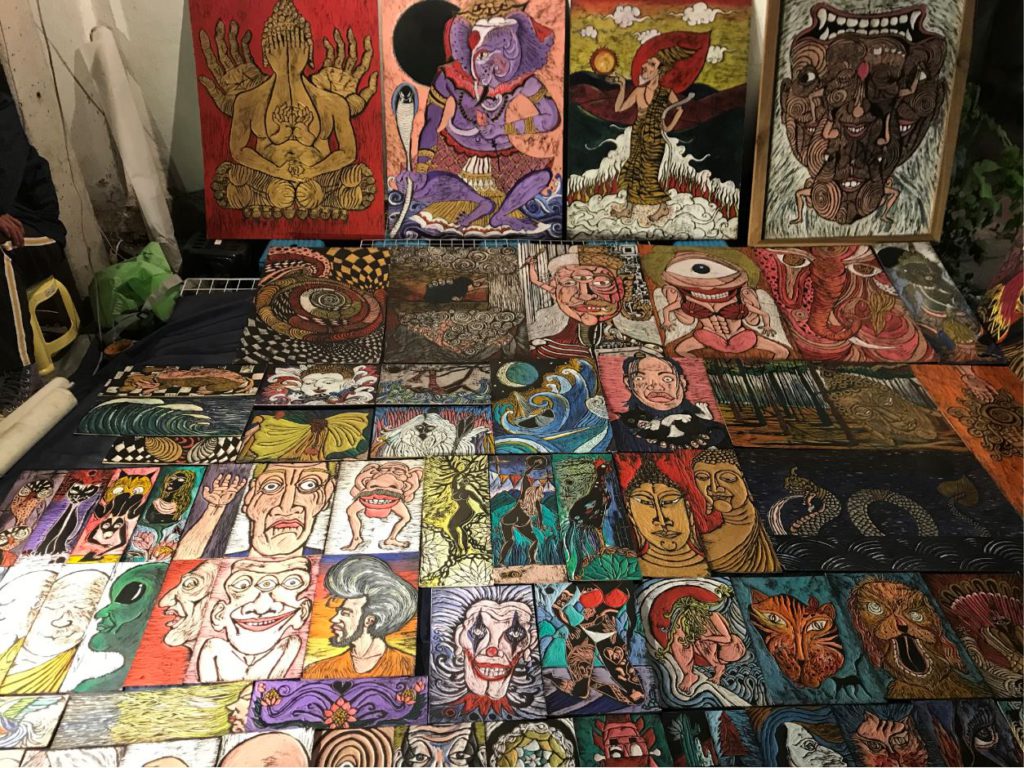 Tham Lod Caves & Adventure activities
If you move a bit more outside Pai, you can find activities in the wild with a rush of mild adrenaline. Tham Lod Caves in Mae Hong Son district, 35 km outside Pai are definitely worth seeing, but only if you have a spare whole day.
The caves have some ancient paintings with stalactites and stalagmites which can be accessed on a bamboo raft on a water body that flows through it. You can hire a guide and a raft near the caves. Apart from the gorgeous formations, the caves are also important after the discovery of coffins with human remain dating back 1,400 years.
Check out our detailed blog post on visiting Tham Lod Caves from Pai.
River rafting and Tubing are other adventure activities that have opened up recently. The guides are great and the quality of equipment is well up to the mark. Most of the time, the activity lasts up to 2 days with camping, trekking in the jungle, bird watching, visiting the local tribes, and of course rafting across 60 rapids.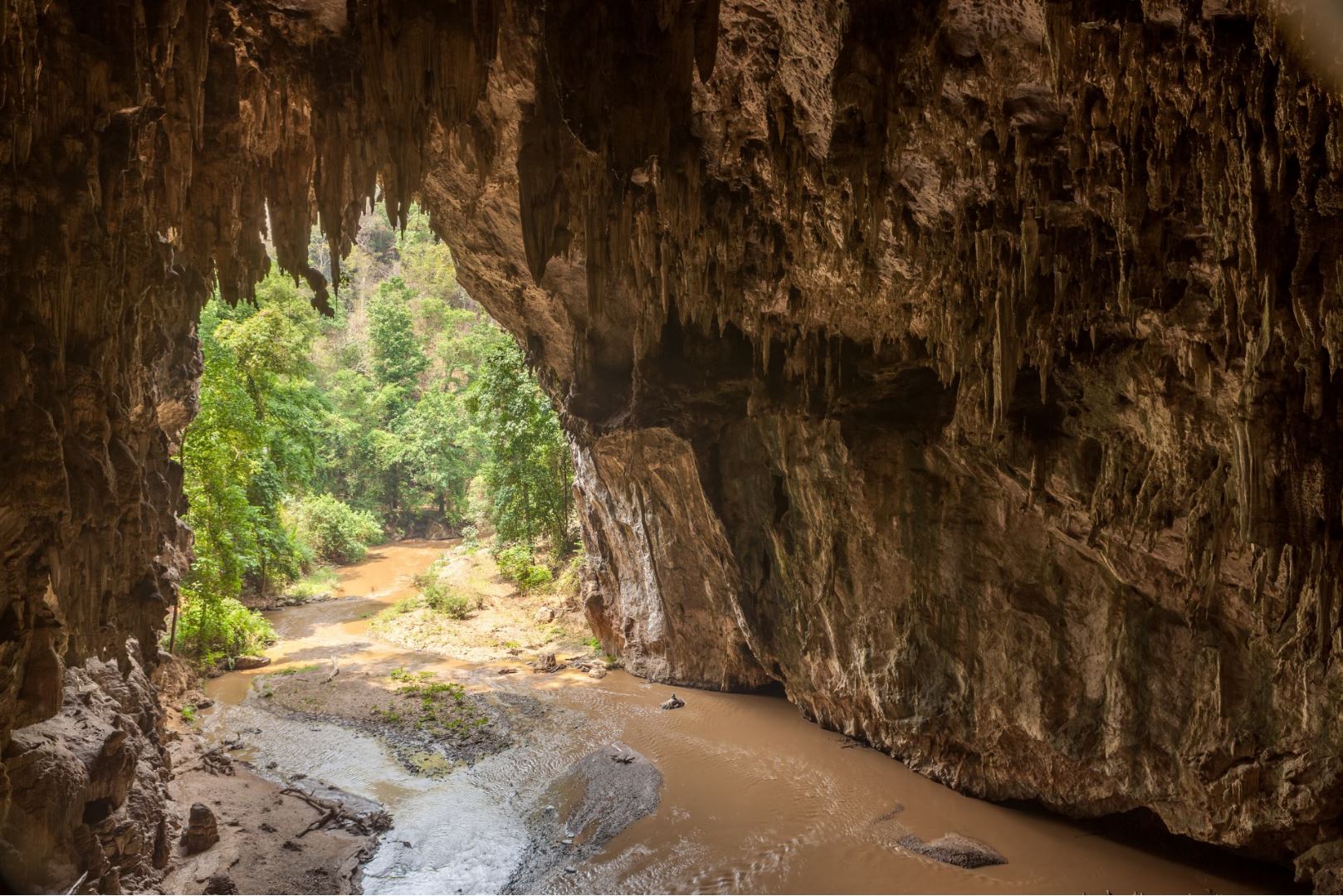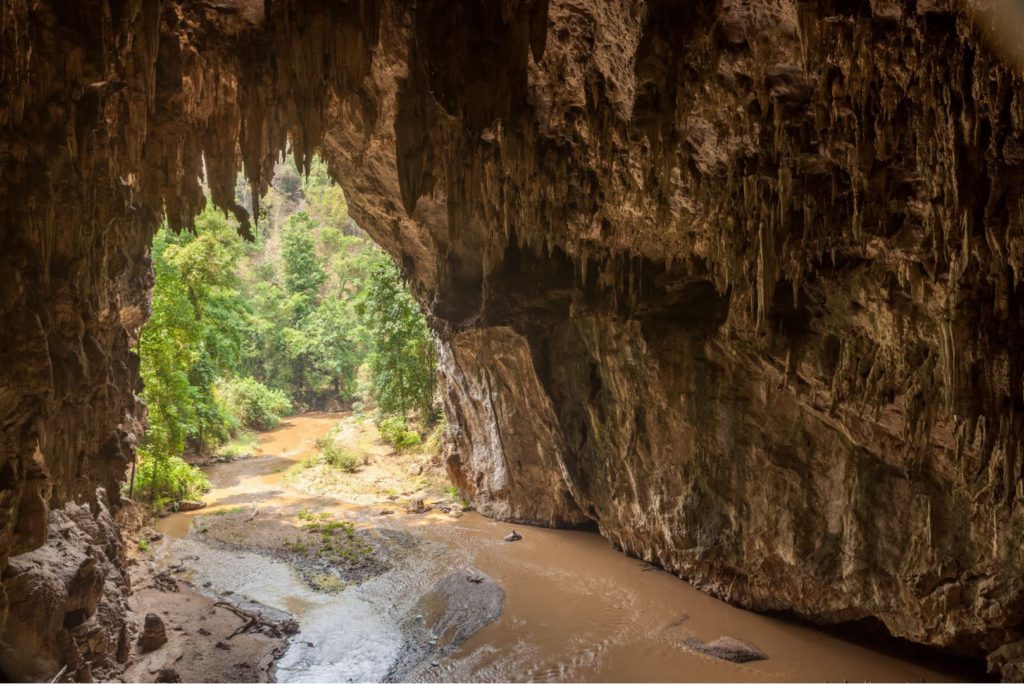 Tha Pai Hot Spring
It would totally depend upon you if you would like to go to a hot spring in a hot country like Thailand. But many find it enjoyable. There are a few hot springs at various levels with different temperatures. The ones at the top feel cleaner and have fewer people. The locals believe that water has therapeutic properties. Some locals also boil eggs here.
I will suggest you start super-early in the day for cooler weather. One of the springs also feeds thousands of people in the village so check the signs before you dip yourself in. There are toilets, bathrooms, and camping grounds inside the park. The hot springs are 8 km outside the city and you will need a private vehicle to cover the distance.
Tha Pai Hot Spring timings: 7 am to 6 pm every day of the week
Tha Pai Hot Spring ticket price: 200THB for foreign tourists to enter the Park, 100THB for children. Additional 20THB for the Hot springs. 20THB for parking a vehicle.
If you are extremely fond of thermal baths, you can choose to enjoy it at Pai Hotsprings Spa Resorts. They have their own hot water baths that you can enjoy at only 100THB with a lovely rural view. Free for hotel guests.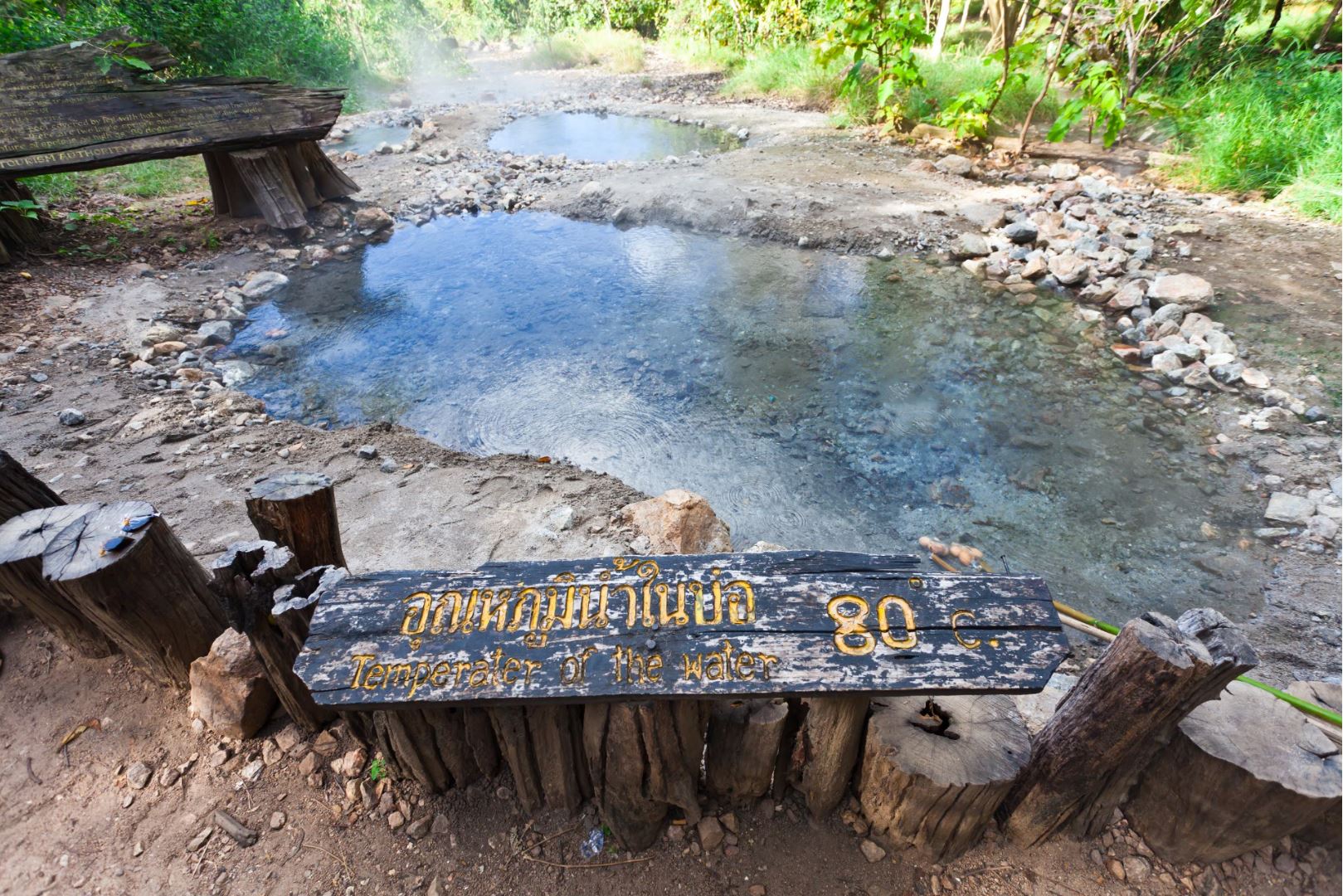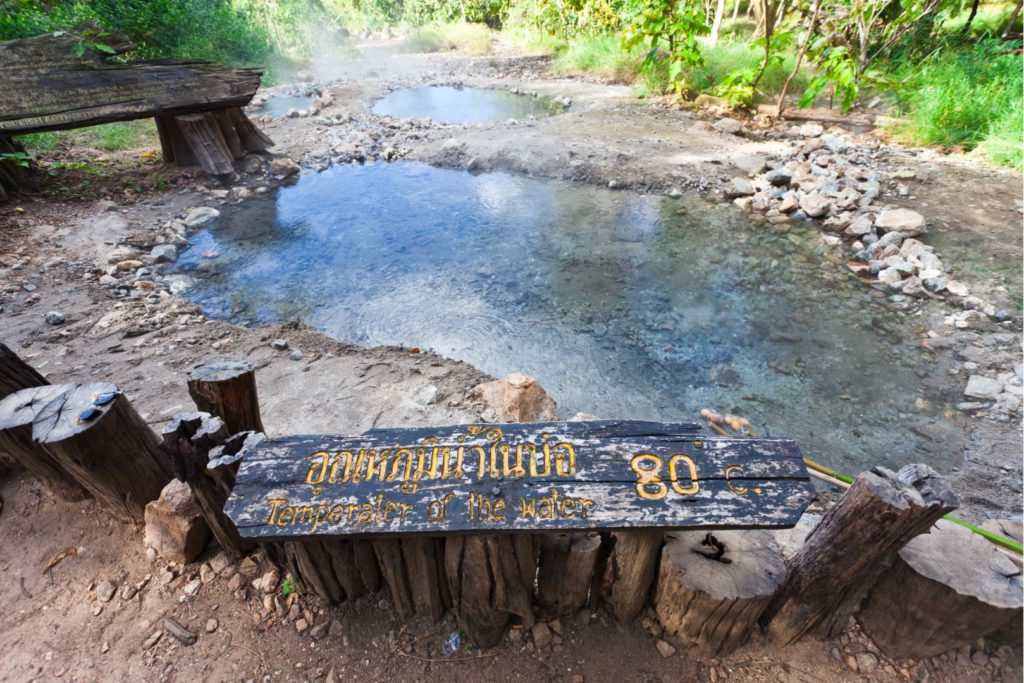 Love Strawberry Pai
It is as mainstream as it gets. And the crowd of Chinese tourists can be a nightmare. But it is here because they do have the best strawberry milkshakes fresh out of their farms at most times.
You may even get lucky to find is deserted or the opportunity to pluck strawberries (which you need to pay for). It can still be worth a visit. Also, it is on the way back from Pai canyon and historical bridge, so you can halt for a smoothie.
Where to Stay in Pai
What not to do in Pai
I can only request this to fellow travelers to not entertain any kind of tourism practice that has animals involved. While some of them seem harmless, most of us do not know what goes on behind the scenes. Even though elephants are treated well, they are caught, brutally trained, and even rebuked when they don't behave to get friendly with tourists.
People also consider catching pirana as fun since you don't really kill them. But encouraging these activities may lead to more of them popping up. Enjoy the nature, the weather, the landscapes, and the food and don't involve other living beings.
Read more on 13 ways to practice sustainable tourism
Is visiting Pai worth it?
I think Pai is worth a visit. It is our favorite place in Thailand, but I have to say we did not encounter an overwhelming crowd that a lot of other tourists talk about. A day trip is also possible. But if you can, stay there for 2-3 days and enjoy the slow life.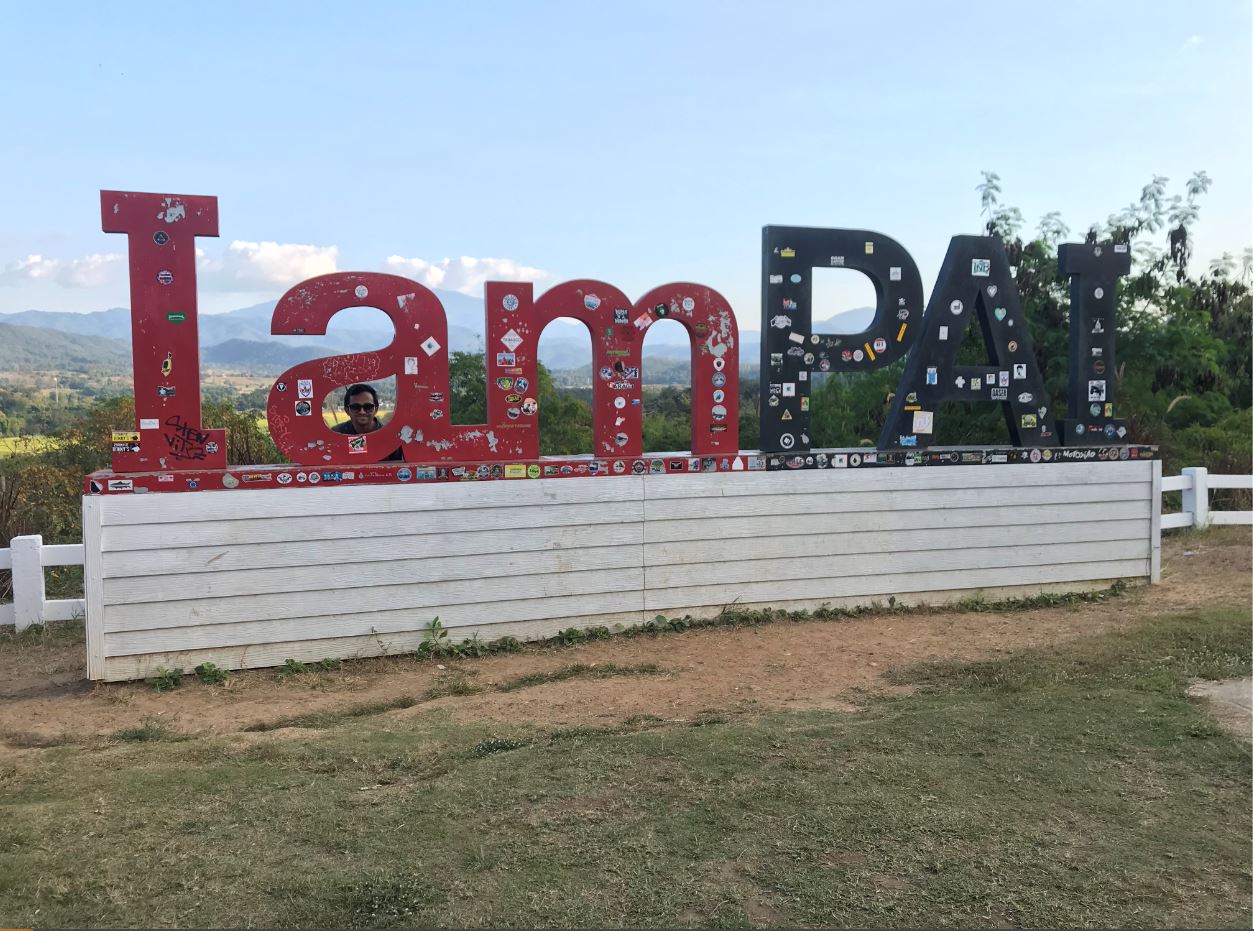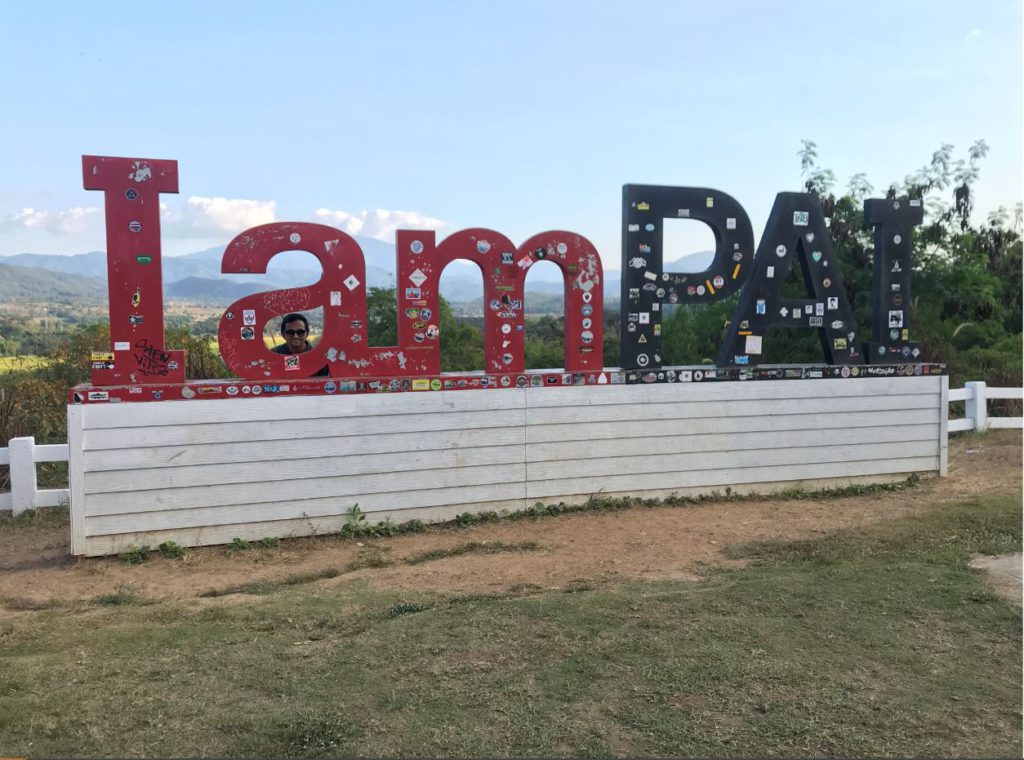 Save On Pinterest


Related Articles