25 Dec

Things to do in Mae Hong Son, Thailand

I have expressed my love for mountains repeatedly in so many other blogs that I wrote. But life has a twisted sense of humour. And I have been living in Thailand for some time. The world knows about Thailand's gorgeous beaches and there are so many of them.

But the longer I stayed; I longed to see different terrain. Thus after drooling over some photos on the internet, we started exploring North Thailand. I had already done Chiang Mai, Chiang Rai, Nan, Pai on different trips. But I wanted a reason to go back again.

So I decided to go far deep in the north. Mae Hong Son is the last province in northwest Thailand bordering Myanmar. And honestly, I could hardly get any information on it. Very few tourists go so deep north. On top of everything, the pandemic shut tourism down in Thailand.

In my head, I knew it was going to be a fantastic trip!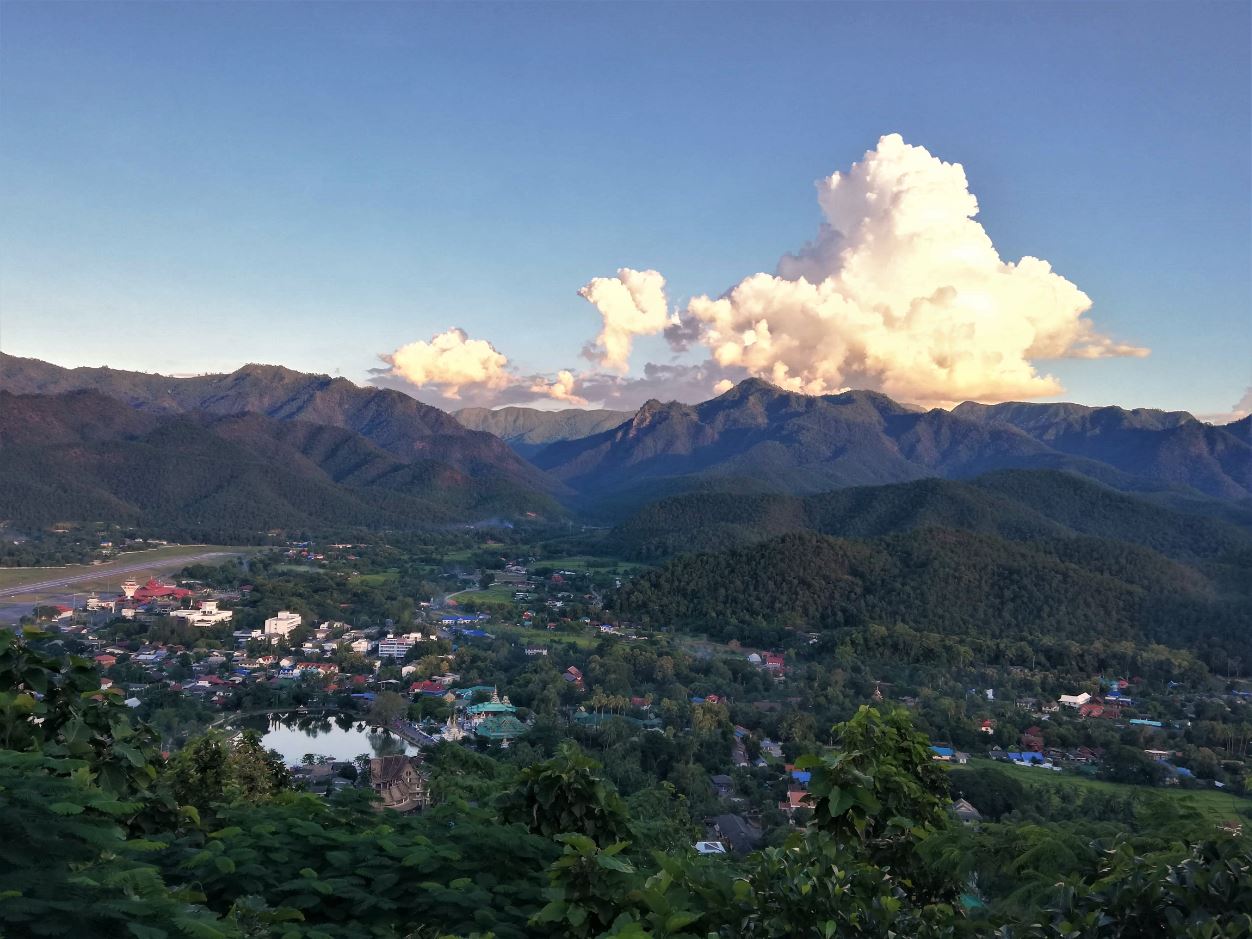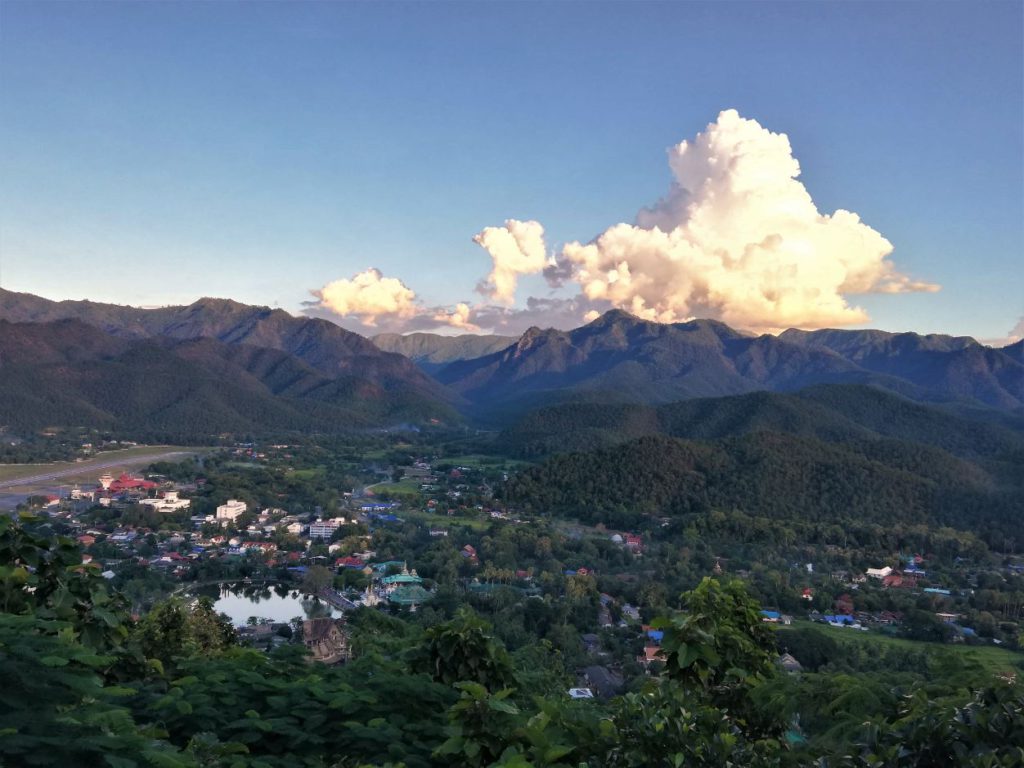 Why travel to Mae Hong Son
If you have travelled well in north Thailand before then you will not feel an extreme difference in the culture and people of Mae Hong Son. Although the closer I got to the town, I did notice a slight difference in the architectural style of the temples in the area. They had a bit of Burmese influence I have to say.
Mae Hong Son is pretty much just like other small Thai towns. But far smaller than any provincial capital I have seen. It makes it even more intimate to travel to. The weather is pleasant too. But the most amazing part is the ride to Mae Hong Son.
The drive from Pai or Chiang Mai is filled with fresh green paddy fields and numerous viewpoints. We stopped at so many places just to take in the view, breathe the fresh air and, of course, click a lot of photographs.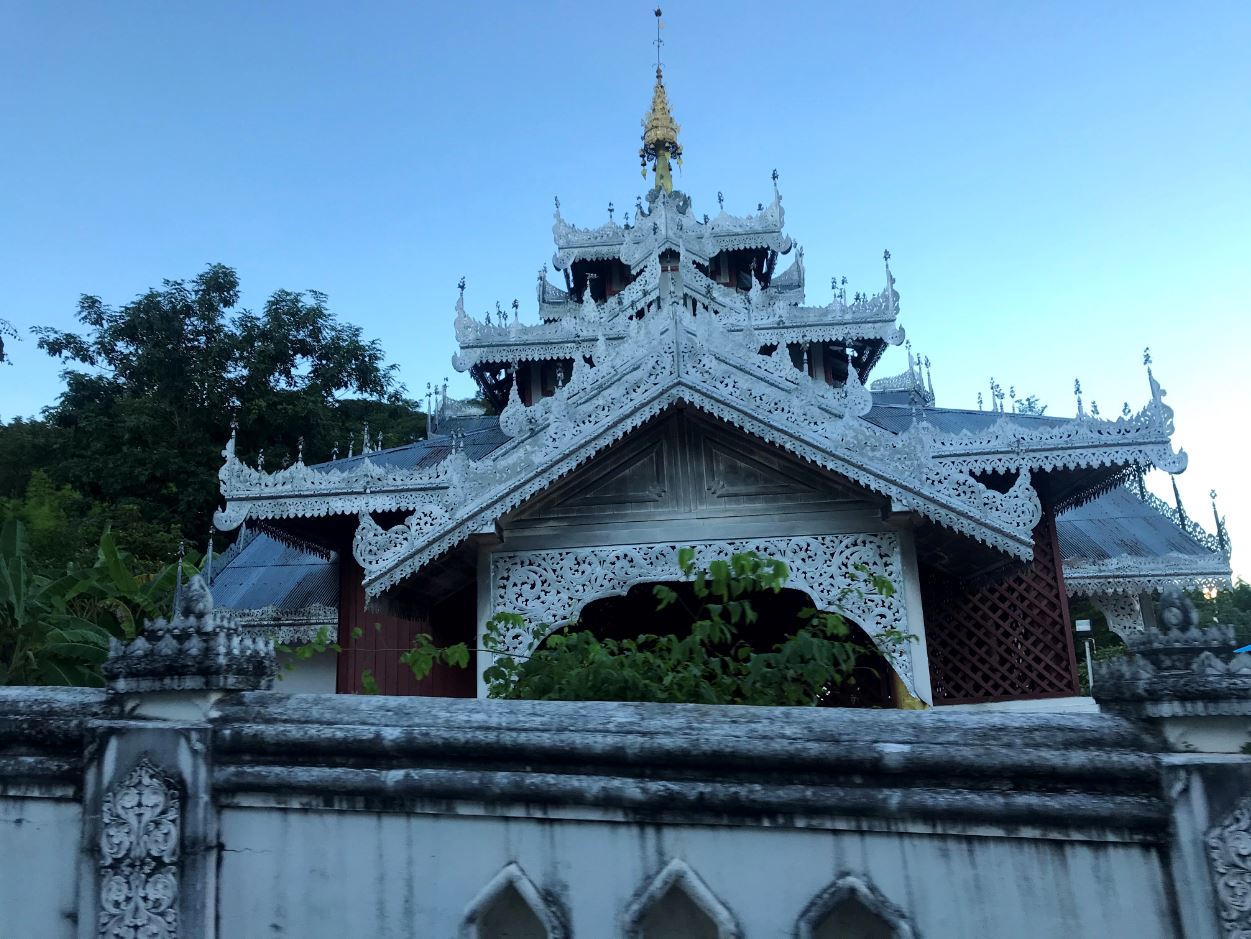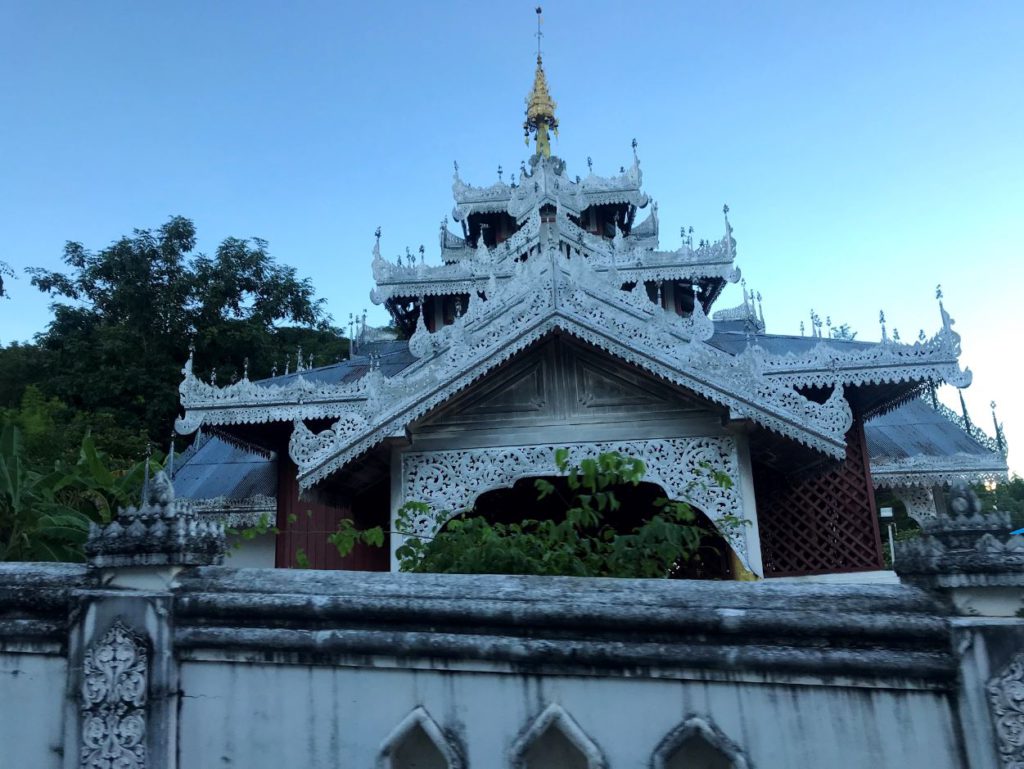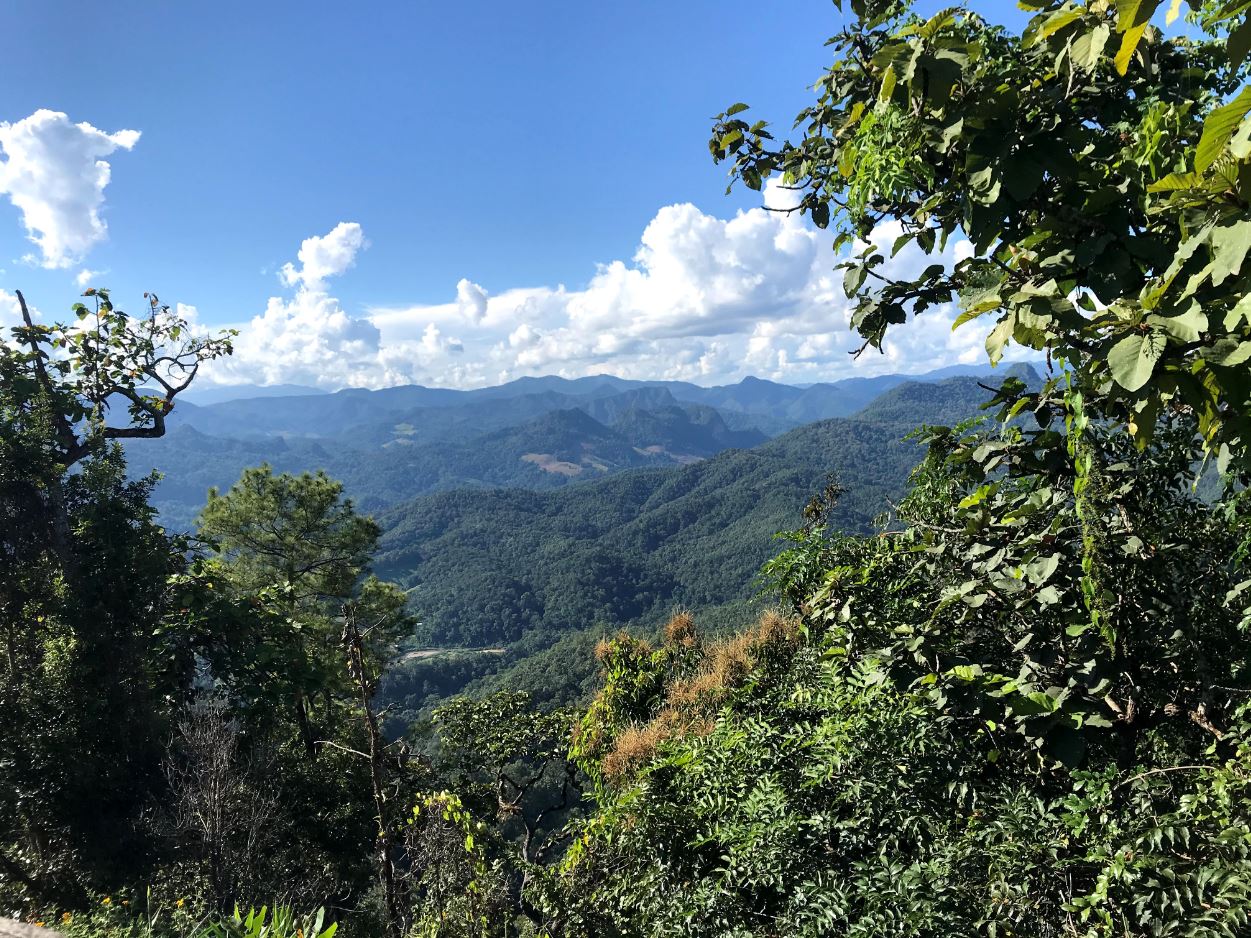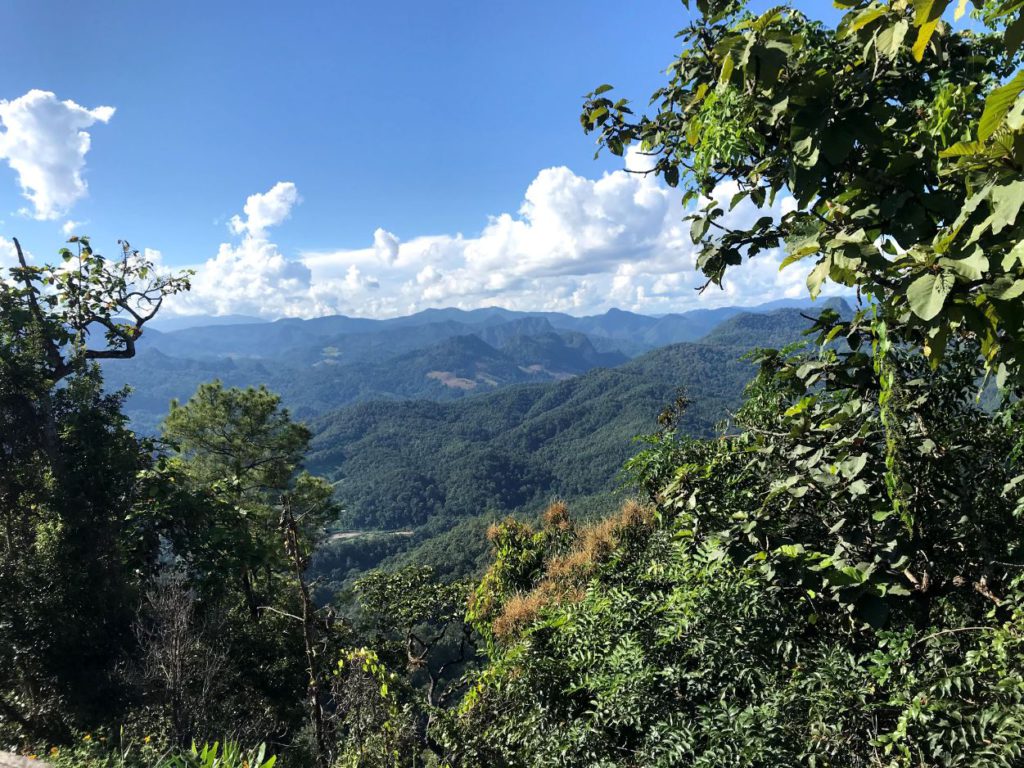 The Mae Hong Son Loop
But travellers decide to go to Mae Hong Son for the drive. Popularly known as 'The Mae Hong Son Loop', the drive starts from Chiang Mai, heads to Pai, covers some popular tourist spots on the way to Mae Hong Son, towards Mae Sariang and goes back to Chiang Mai after halting at Doi Inthanon.
The drive is unbelievably gorgeous. You will go through dense jungles of Thailand, small local towns and villages, royal projects, miles of tropical mountains and of course, innumerable waterfalls and caves.
I feel obliged to tell you that although the roads are in good condition, there are thousands of bends and dozens of hairpin turns on the way. I will not suggest anyone take up the trip who hasn't driven at least a few hundred kilometres on the roads of Thailand.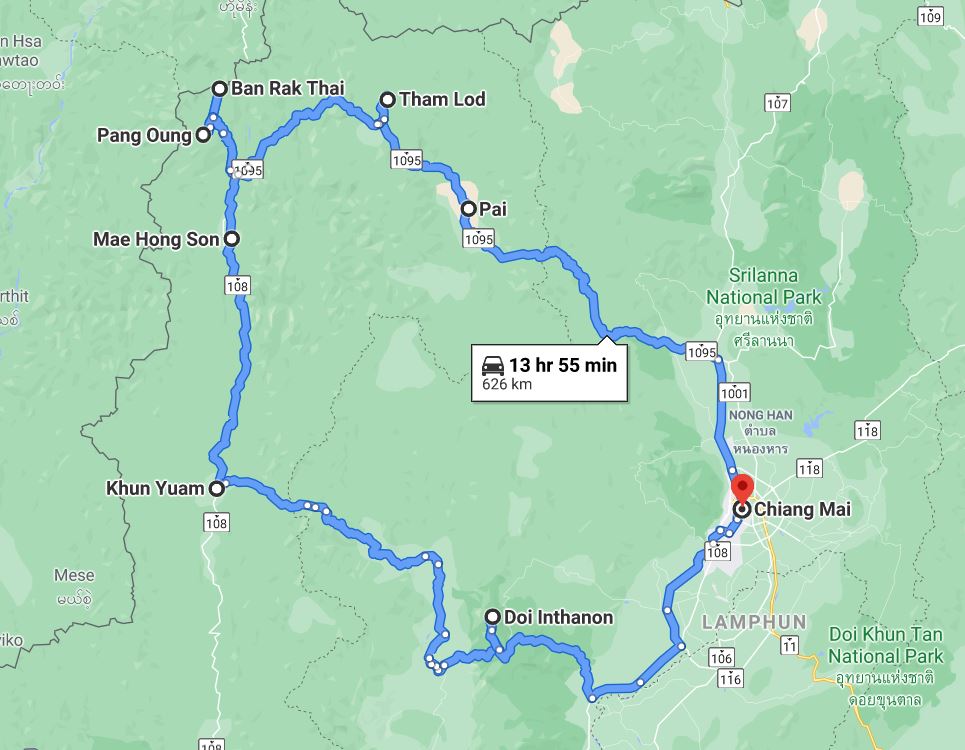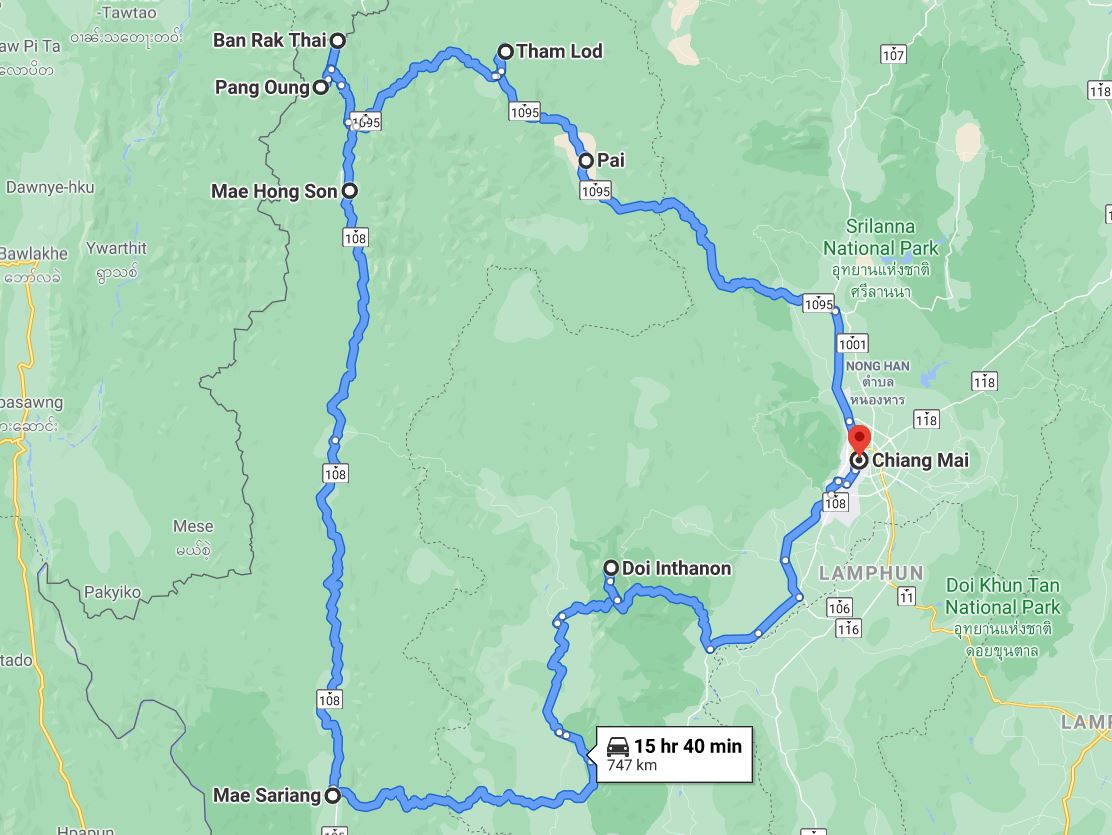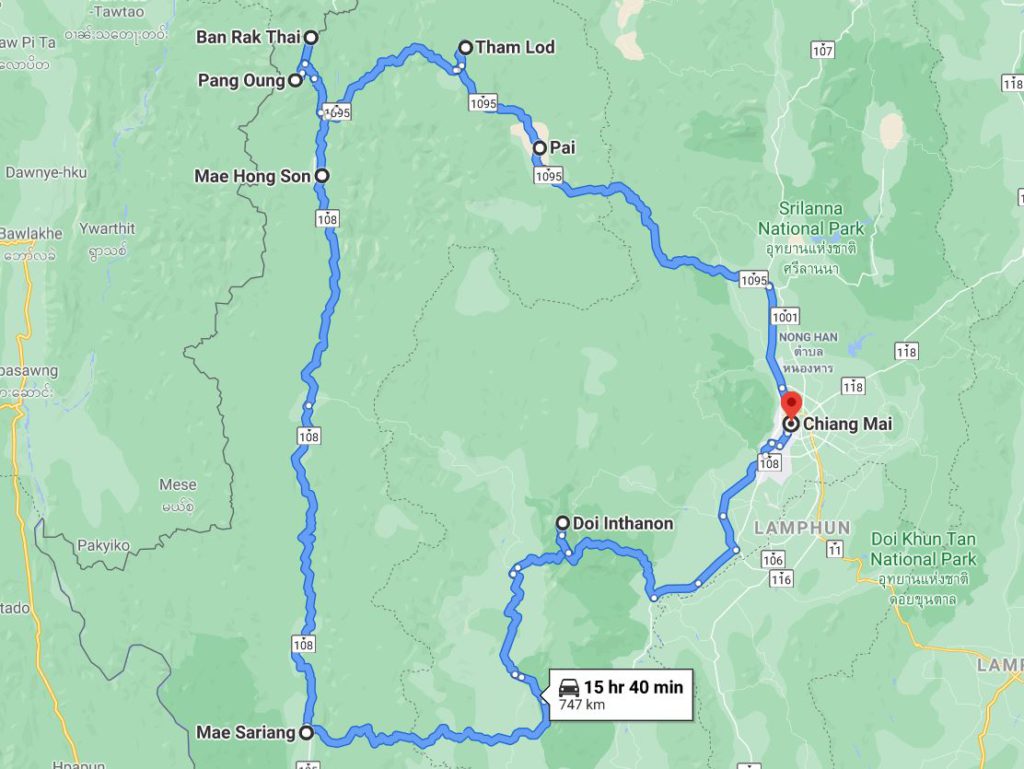 How to visit Mae Hong Son
You can visit Mae Hong Son by following ways:
Air: If you don't want to make that long road trip, you can always take a flight to Mae Hong Son (HGN). Flights are available from Bangkok to Mae Hong Son at least once a day. Although they are not as cheap as the ones to Chiang Mai and Phuket.
Mae Hong Son Airport is right in the middle of the city. You can just get out and find a hotel and a guest house. You don't even need to travel much although cabs are available just outside the airport.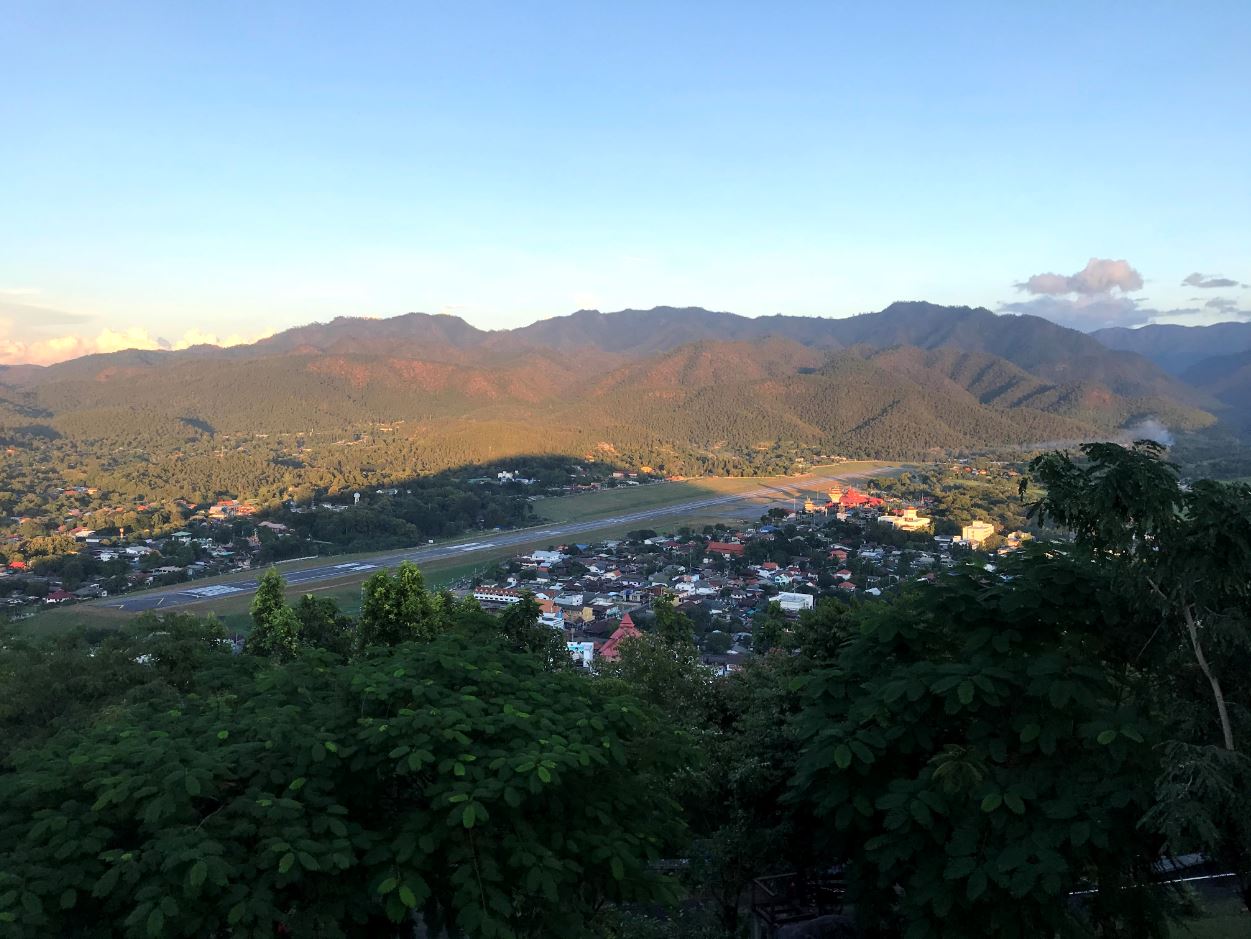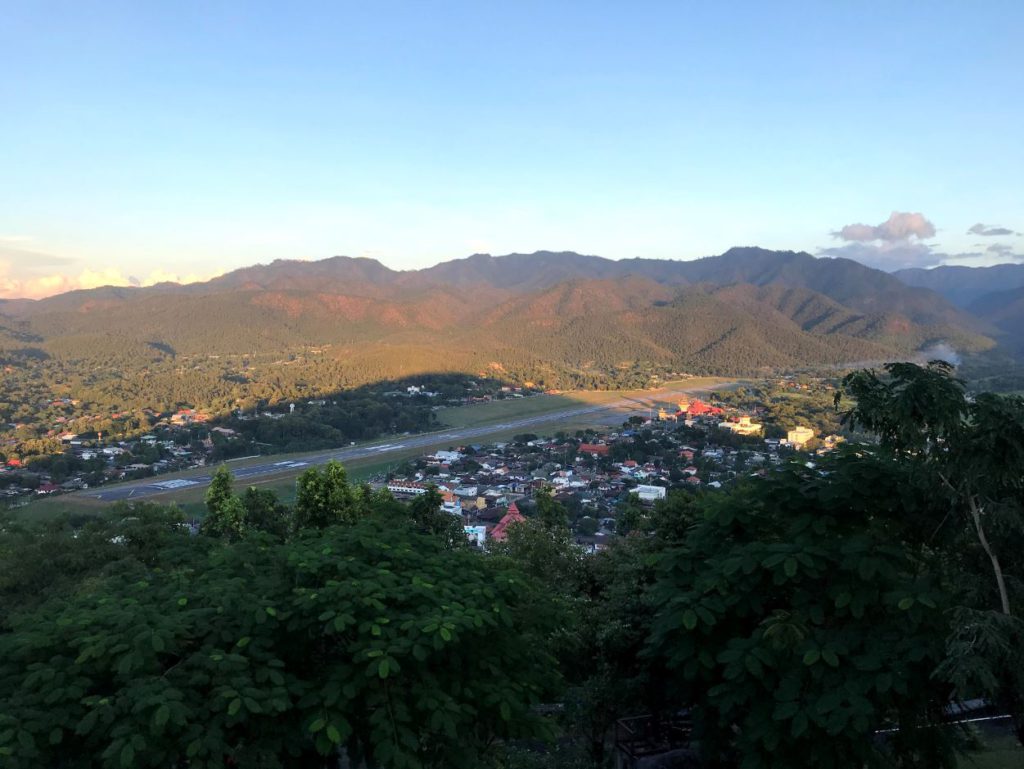 Bus/minivan: Bus are also available from Bangkok to Mae Hong Son directly and from other northern towns like Chiang Mai and Pai. Although the drive from Bangkok to Mae Hong Son directly can be really long and can take up to 16 hours to reach. I will suggest you break your journey at one of the towns up north like Chiang Mai or Pai and enjoy the place before heading ahead.
I did not find any large-sized bus on the route ahead of Chiang Mai. Most probably, you will have to move to a smaller van or minibus at some point in time on your way. The journey ahead of Chiang Mai is full of turns, so it can get difficult for someone prone to motion sickness. Make sure you don't eat a large meal before leaving.
A minivan to Mae Hong Son from Chiang Mai costs THB 300 and is the cheapest way to travel. You can book your ticket on busonlineticket.com or 12go.asia.com.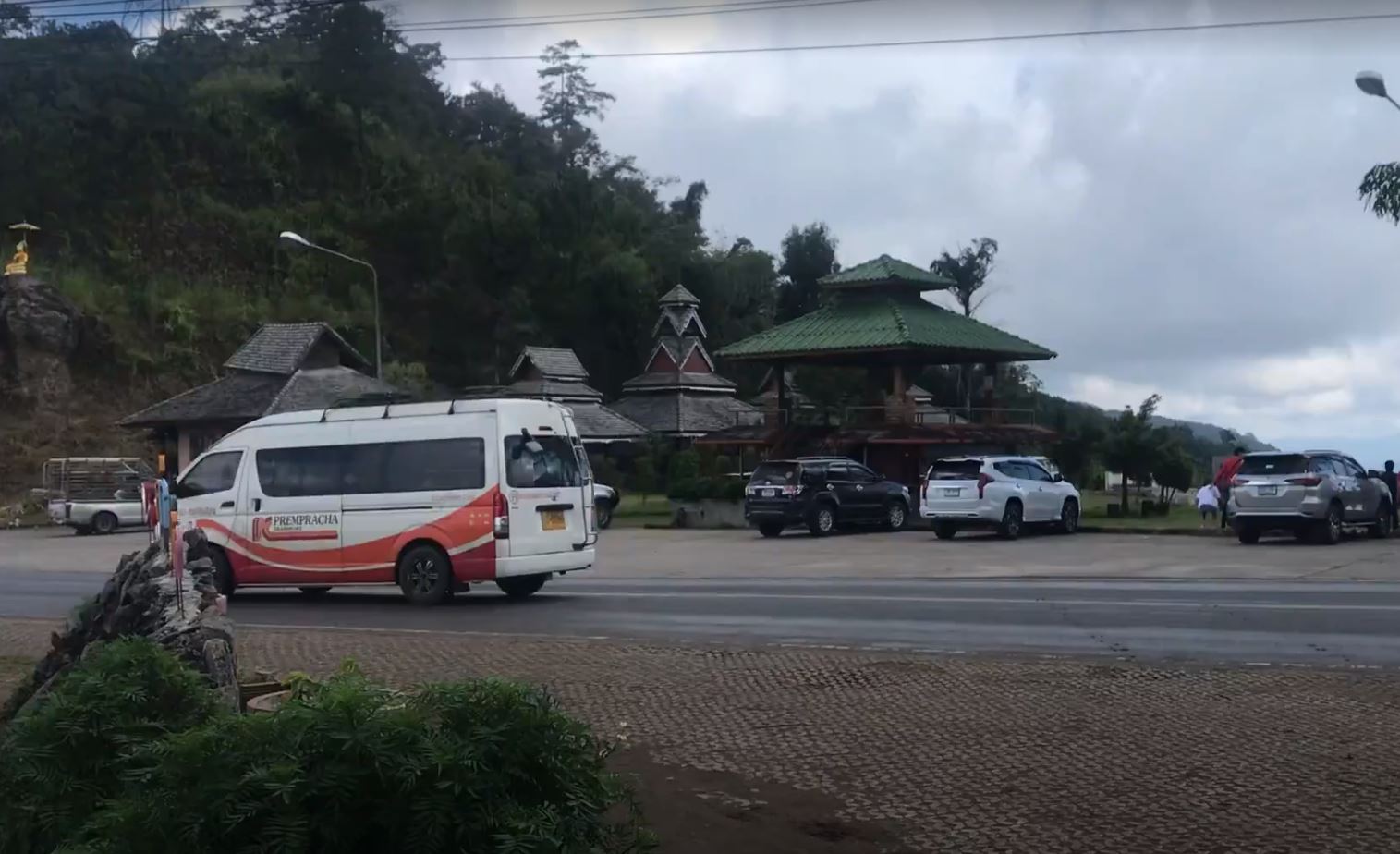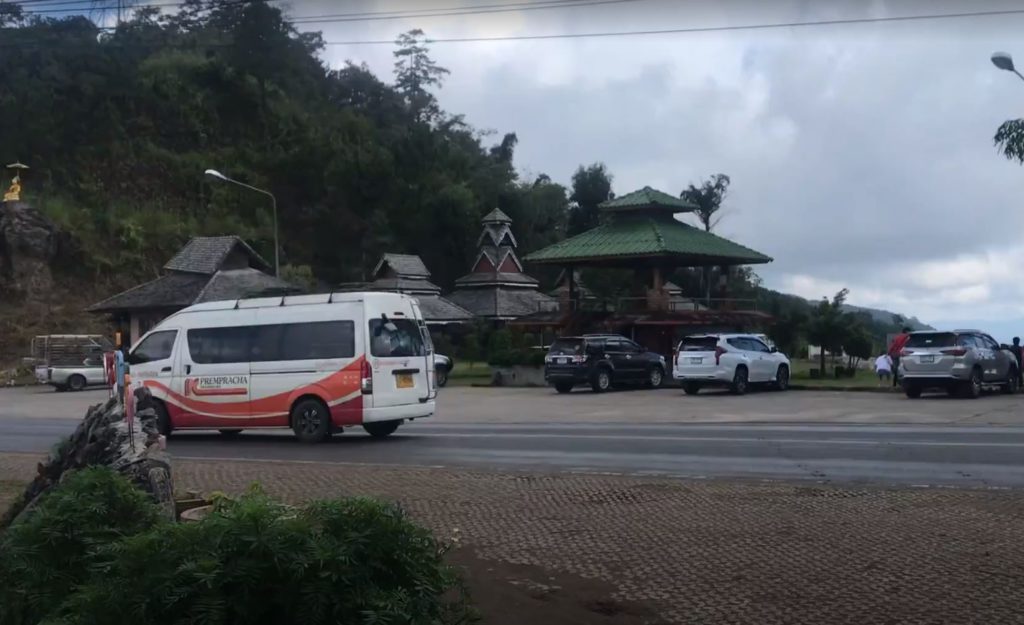 Taxi: You can always find a taxi from Chiang Mai or Pai to Mae Hong Son. A taxi is a good way to travel if you are in a group or a family. Check with a local taxi service in any of the above cities. Although flights would still be cheaper and more comfortable.
A taxi from Chiang Mai to Mae Hong Son costs THB 5,800 and upwards one way for the trip. The journey can last between 5-6 hours.  You will have to check the taxi prices at Pai to Mae Hong Son since most drivers will charge you a return journey as they will claim that they won't get customers from Mae Hong Son.
Self-Drive: If you can drive and are (very) comfortable driving on Thai roads, you can look into renting a two or a four-wheeler for the drive. Although I will emphasize again that there is an insane number of turns and hairpin bends on the way. You need to be very skilled at driving.
You can rent a motorbike either in Chiang Mai for THB 250 a day or in Pai for THB 150 a day. If you love to ride, you can opt for a heavy motorbike (in Chiang Mai). These are usually not very popular with local Thais so there are only limited shops for it. You will need a minimum power of 125cc for the roads here.
If you want to rent a car, you can always find a shop in Chiang Mai town or at Chiang Mai Airport. Cars are great if you want to camp on the way (great idea). You can rent a car from THB 1000 a day or upwards depending upon the car.
You can refer to our blog on Mae Hong Son Loop for more details on self-drive and our experience of it. Check out online rentals like catmotors.net, kayak.com or rentalcars.com for great deals.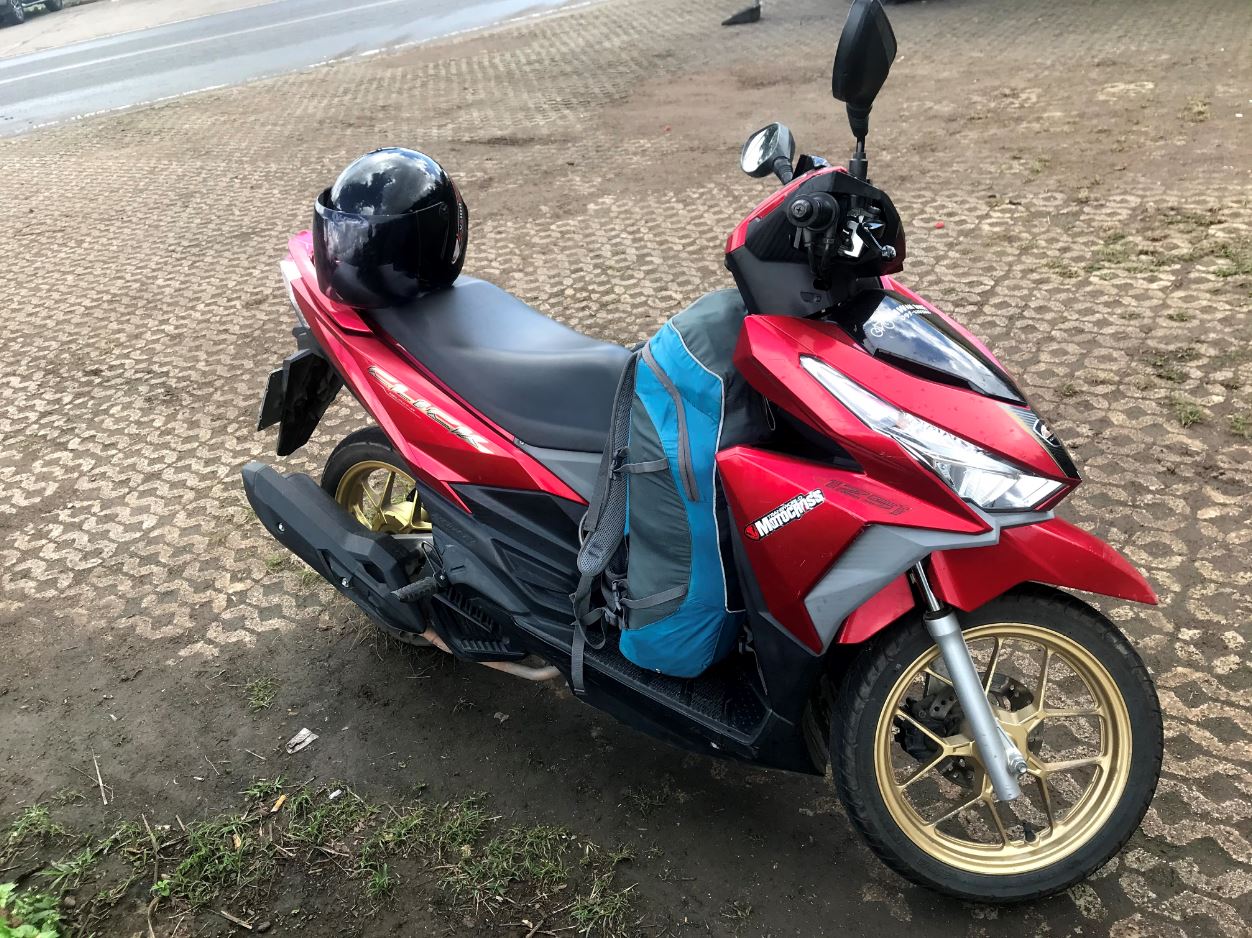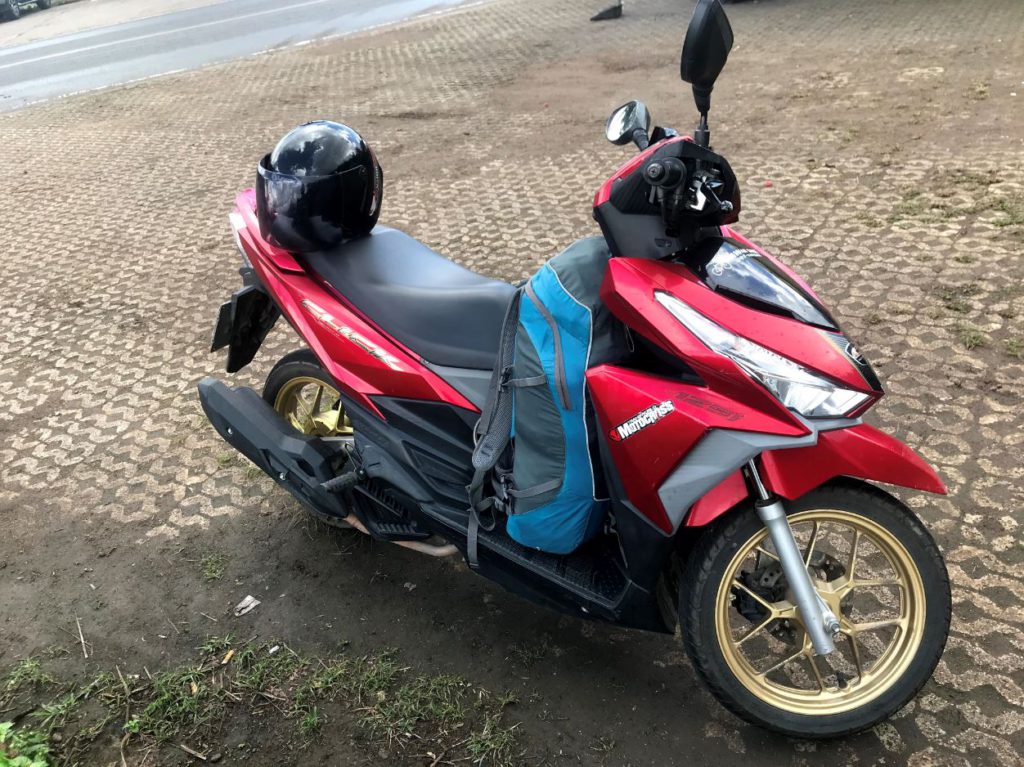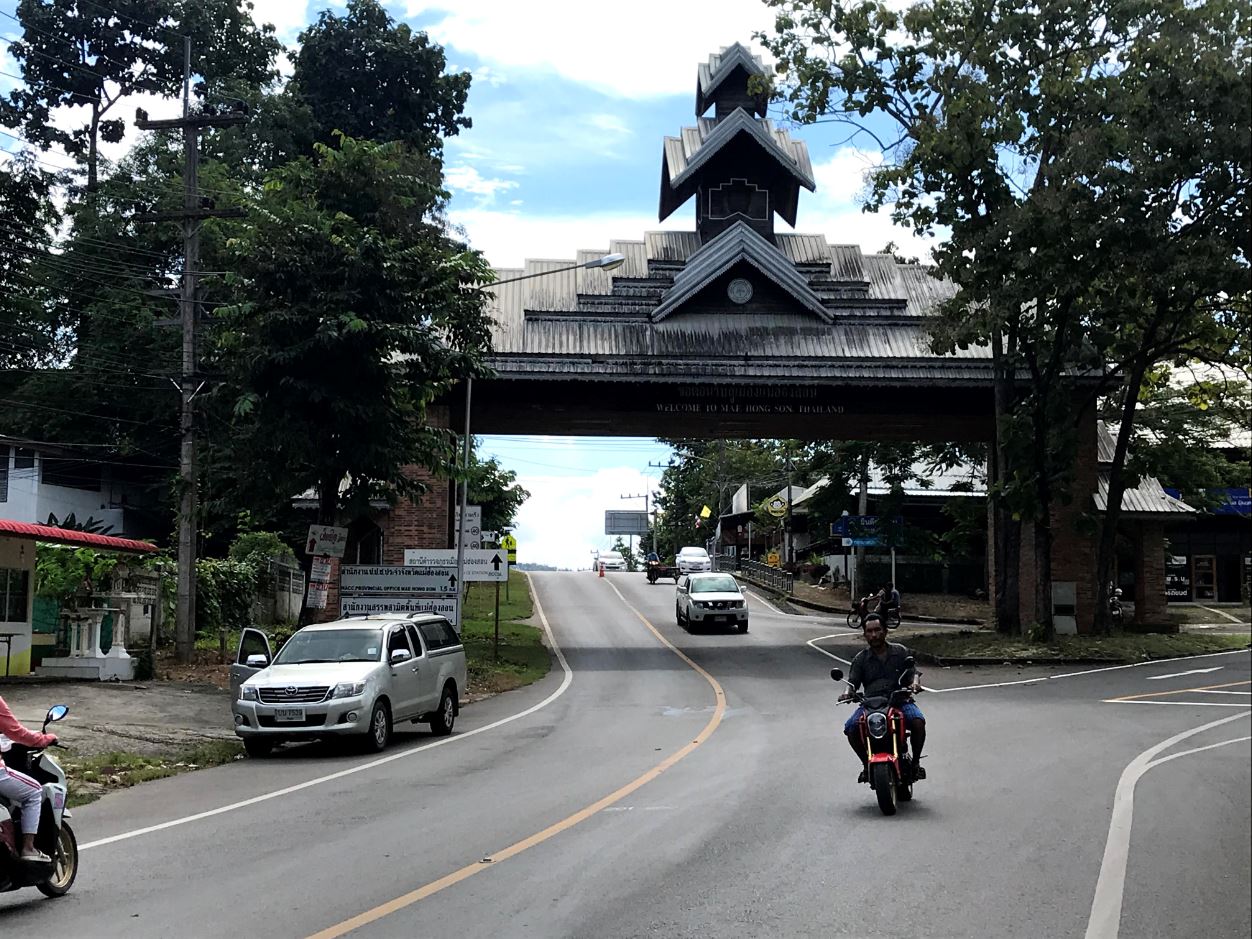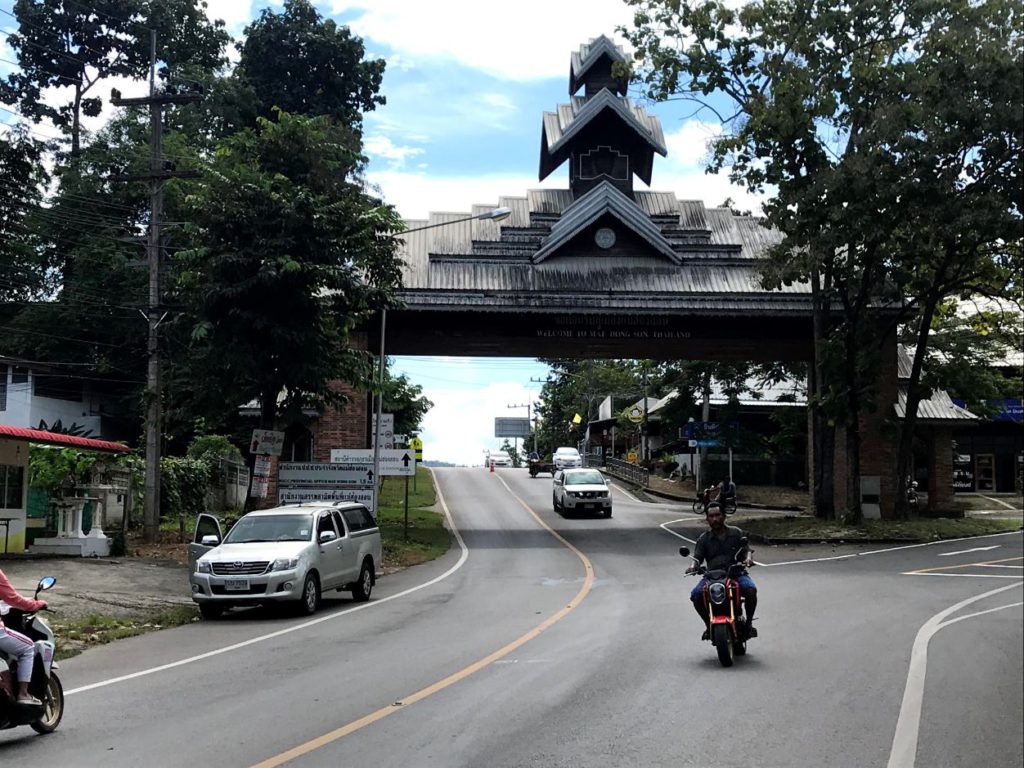 How to go around in Mae Hong Son
You will have to look for a private mode of transportation inside Mae Hong Son. Being a small town, there are no public buses that go around in the town. You may find some songthaews to tourist attractions located outside the city from the city centre.
On Foot: Mae Hong Son is a small town. And if you are staying somewhere near the city centre, you can easily cover most of it on foot. Now there isn't too much to see inside the town itself. But it can still take you half a day or more to cover the few temples, lake, the city park and the night market.
I will recommend an early morning walk to the farmer's market and Wat Phrathat Doi Kongmu. The temple is popular with joggers and walkers alike and makes for great morning or evening workout.
Two-wheeler: Again, this proves to be the best way to travel around Thai cities. There are a few tourist attractions around Mae Hong Son but are located quite far from the town. Rent a motorbike in town and you can travel to these places at your time and convenience if you already don't have one.
Motorcycle taxi/tuk-tuk: You can definitely find some motorcycle taxis if you want to go around the town. They charge pretty much like other Thai towns. Expect to pay THB 10 per kilometre. You may also find some tuk-tuk in the town that you take you a little outside the city too.
Taxi: If you want to visit places outside the city and don't have a private vehicle it is best to rent a taxi for a day. You can give them a list of places to go or take suggestions from them. You can find some local service provider in the town. A half-day rental costs THB 1,200 and a full-day is around THB 1,800. It can increase depending upon your schedule and destinations.
What to see in Mae Hong Son
Wat Phrathat Doi Kongmu
While there are several temples in and around Mae Hong Son, I suggest you pick only the important ones. Wat Phrathat Doi Kongmu is the most popular in Mae Hong Son. Not just it has a religious significance, the temple is located on a cliff that gives a bird's eye view of Mae Hong Son town and surrounding valley.
A Burmese temple constructed in 1860, it is home to the ashes of Phra Moggallana, a revered monk and a dedicated disciple of Buddha. A smaller chedi also holds the remains of the first mayor of Mae Hong Son.
The temple premise is calm with very few visitors. Just behind the main chedis goes a road upwards where there is another smaller temple with a standing statue of Buddha. This place gives a 360° view of the valley. Both sunrise and sunset are spectacular to see at this point.
The temple is open from sunrise to sunset and there are no fixed hours. There is no entrance fee.
How to reach Wat Phrathat Doi Kongmu: You can take a bike or a car to the temple. There is a well-maintained motorable road to the top. You can also walk to the temple and then climb quite a few stairs to the top. Makes up for a moderate workout.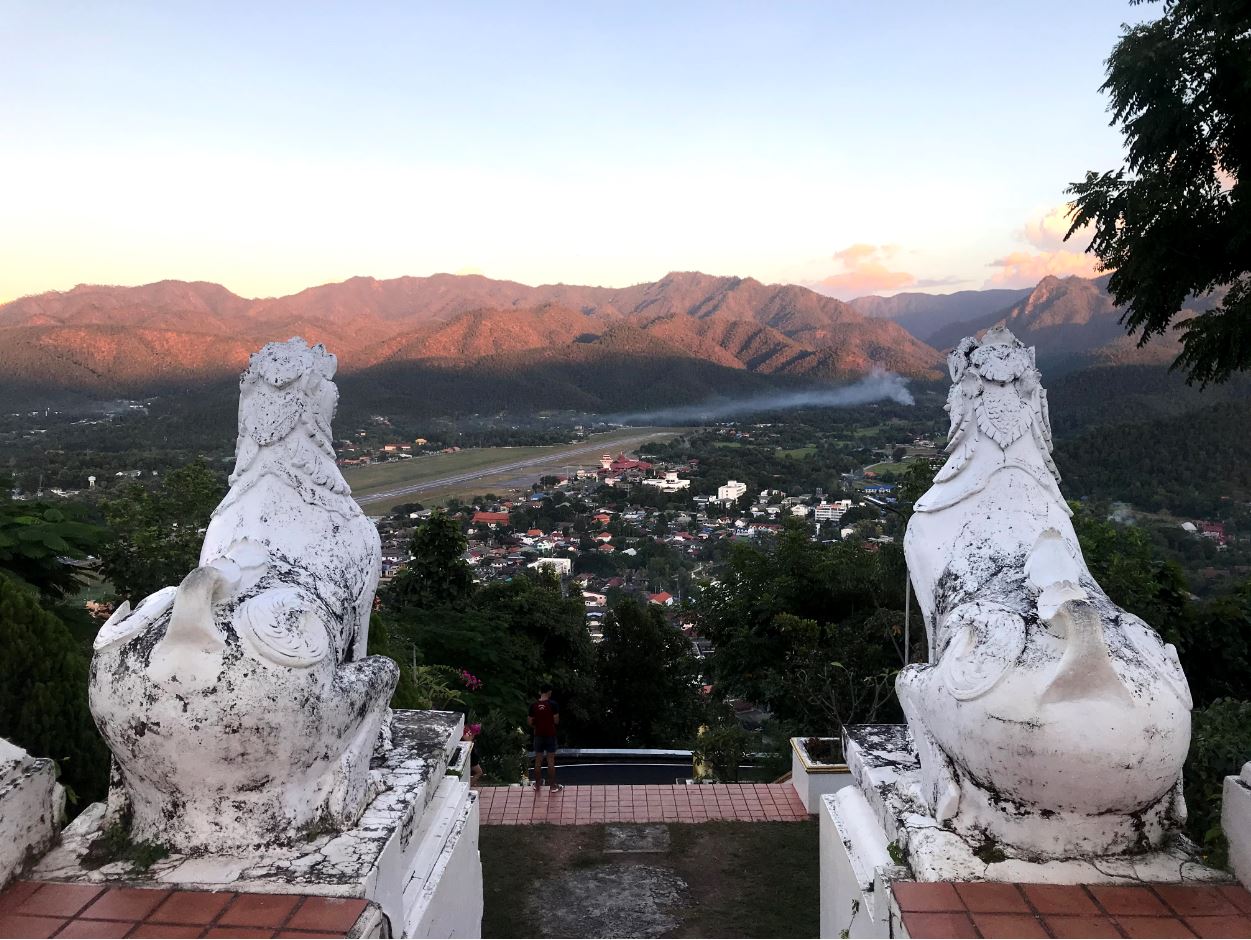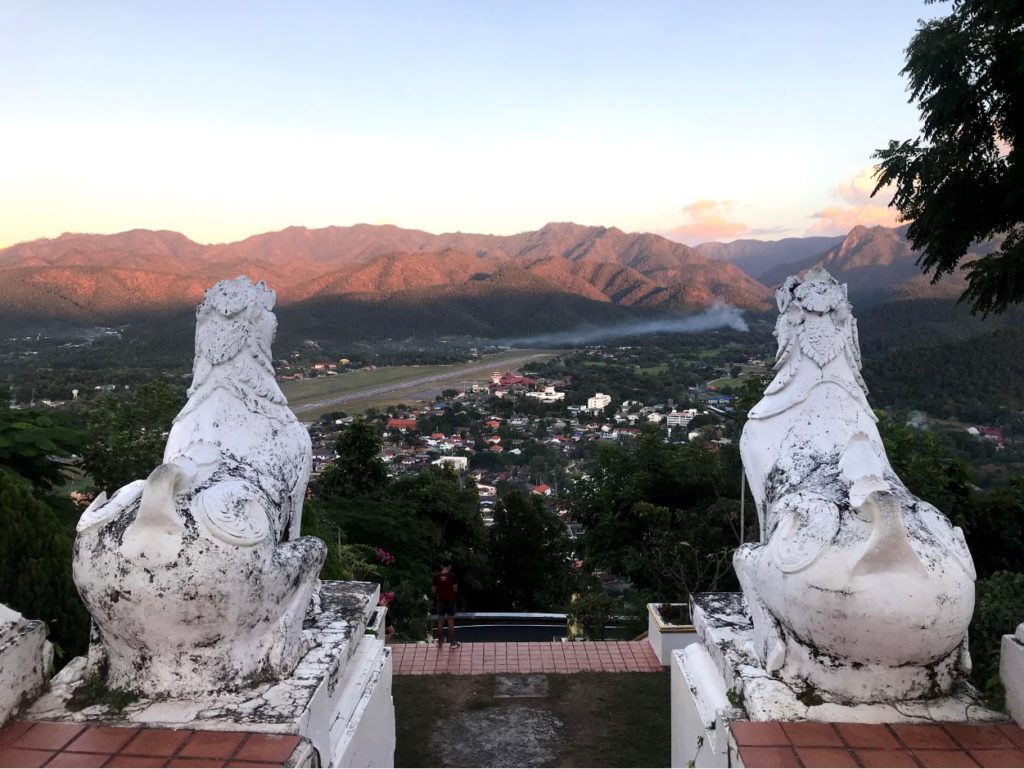 Wat Chong Kham
Located in the heart of the city, Wat Chong Kham is the other important temple that you should not miss. Wat Chong Kham is located right next to the Chong Kham lake. The water reflects it and gives it an even greater appeal, especially at night when it's lit.
The temple was built in 1827 by the Thai Yai community or the Shan People (from the Shan province of Myanmar). They make up for half the population of the Mae Hong Son province. The temple has a distinctive Burmese style of architecture with a seven-layered pagoda with silver embellishments on the sides.
As you walk inside the temple, you will find several old paintings depicting the previous life of Lord Buddha. These are over 100 years old and were brought here from Burma. There are also a few unique traditional style wooden dolls made by the local craftsmen.
You can just walk to the temple if you are living inside the Mae Hong Son town. There is no entrance fee.
Wat Chong Kham timings: The temple is open from 6 am to 6 pm. Although you can still enter the main premises afterwards.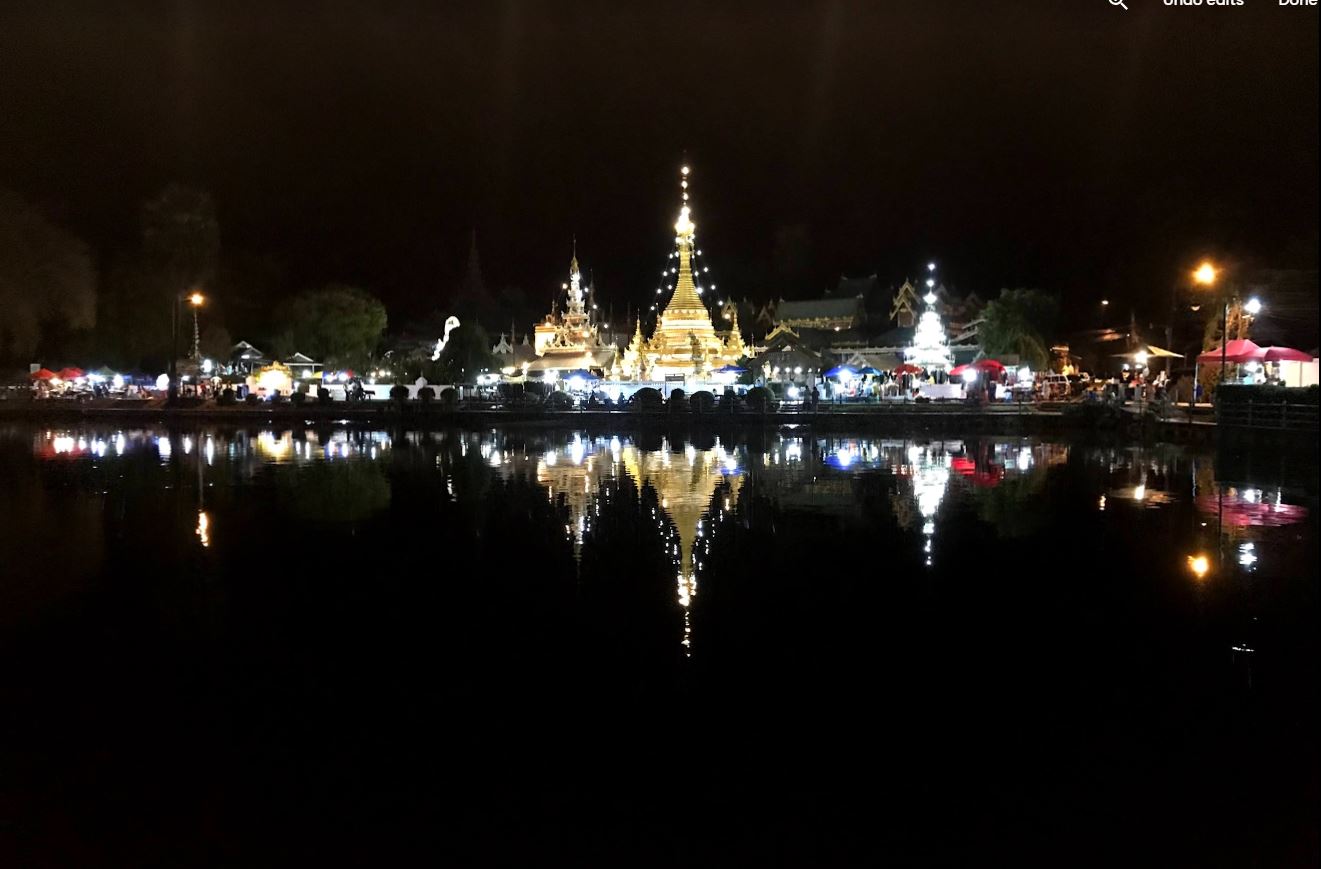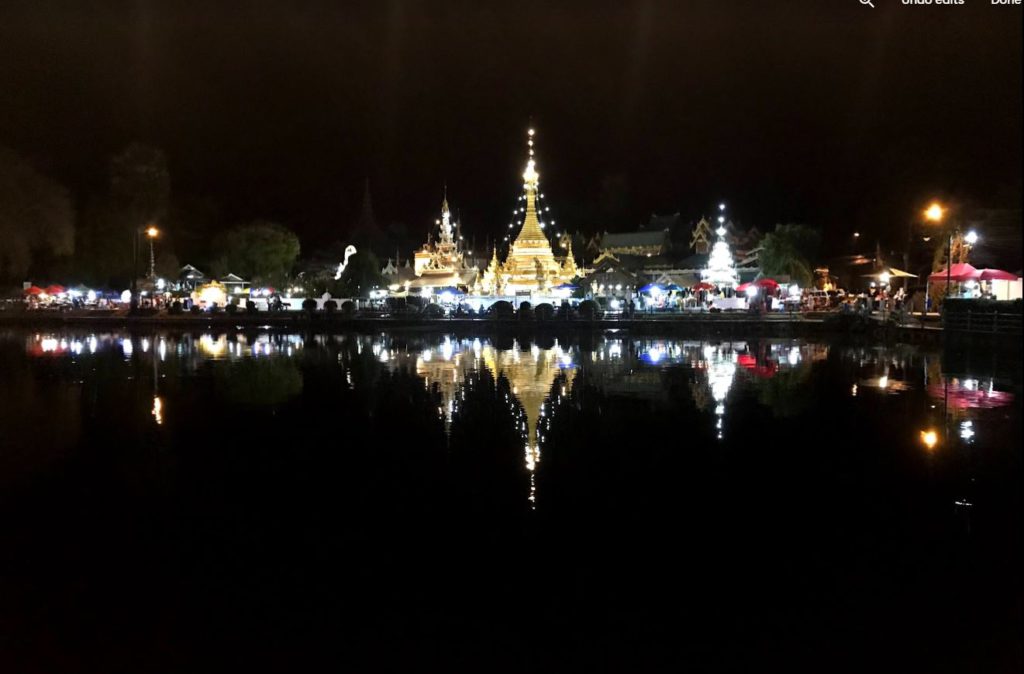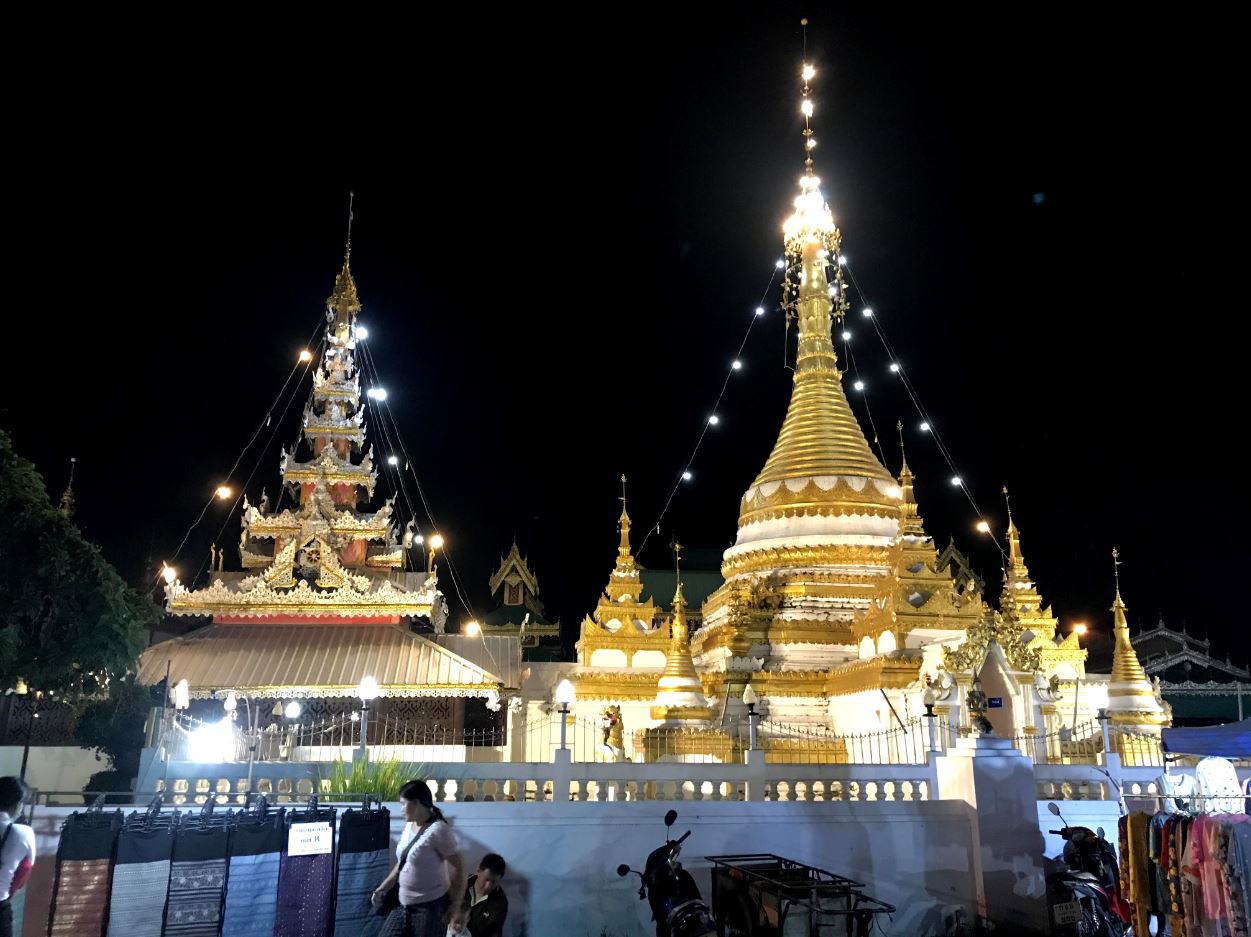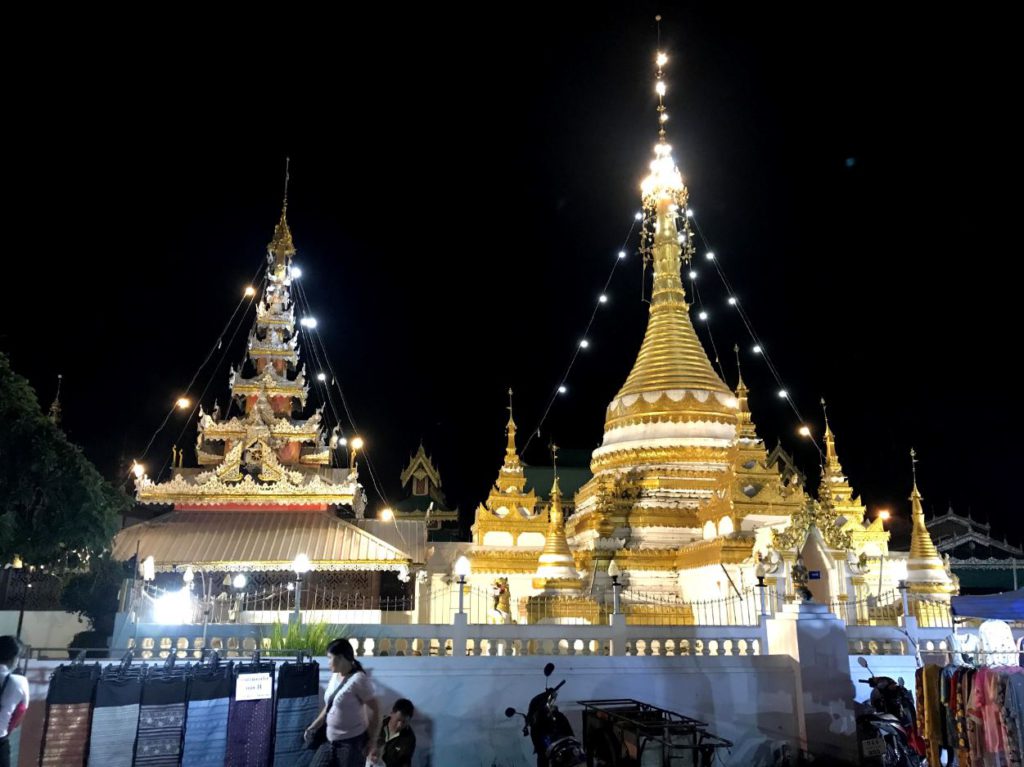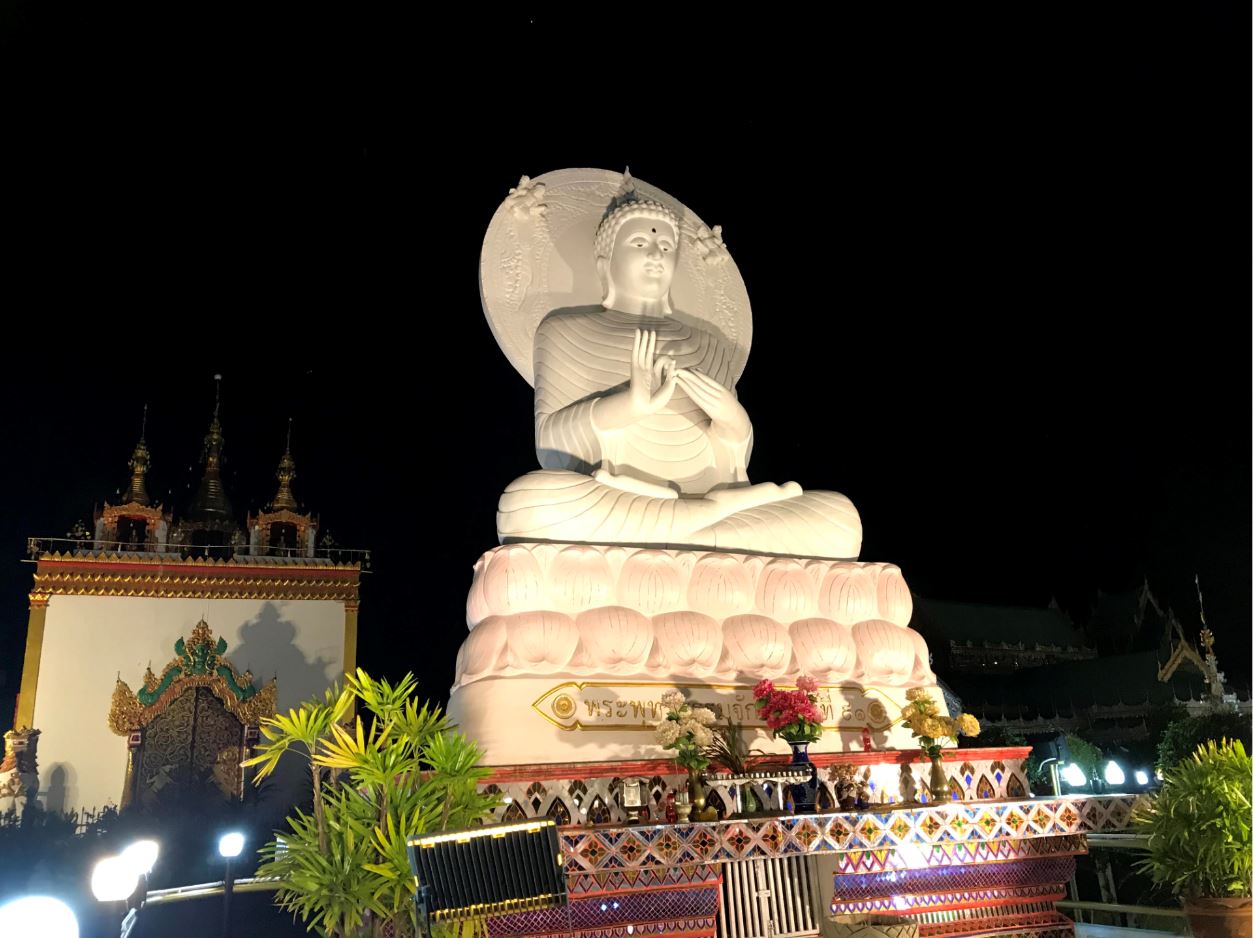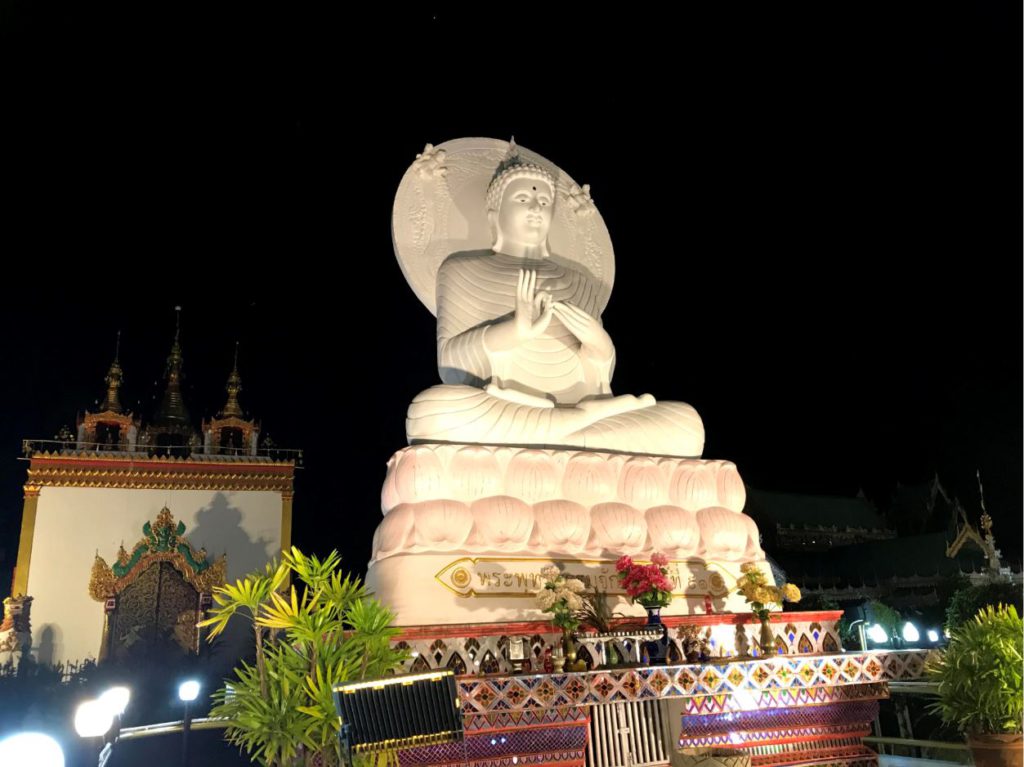 Chong Kham Lake and Park
If you are already at Wat Chong Kham, you will cross the Chong Kham Lake. It is a small lake that marks the cultural centre of Mae Hong Son. There is a small park right next to the lake where you can find people walking especially in the morning.
This area is especially striking in the evening. The night market nearby, the lit temple, the wandering youngsters and lit gazebos right next to the lake make it the place to be after sunset. I will suggest you either have dinner in the area or go for a walk after your meal.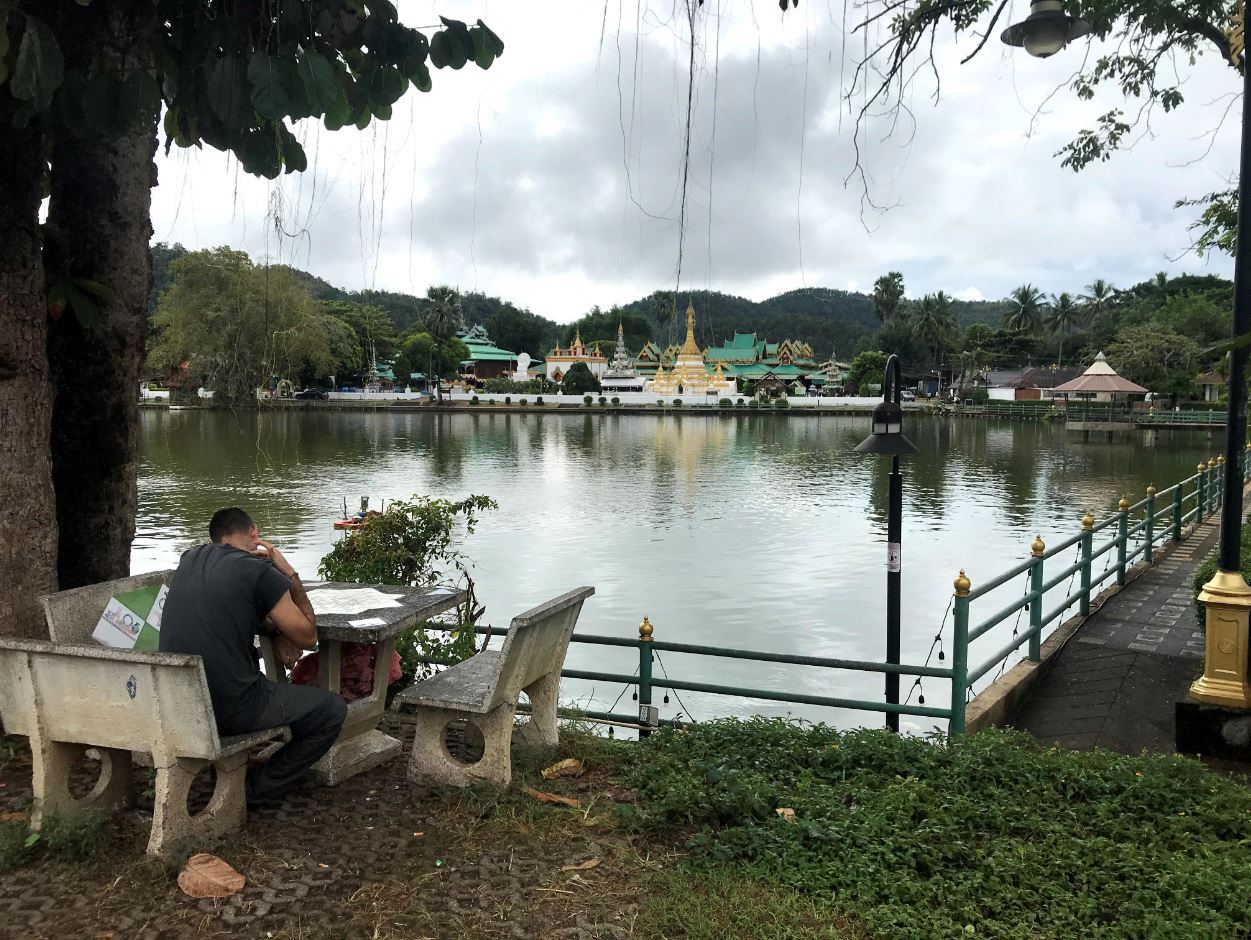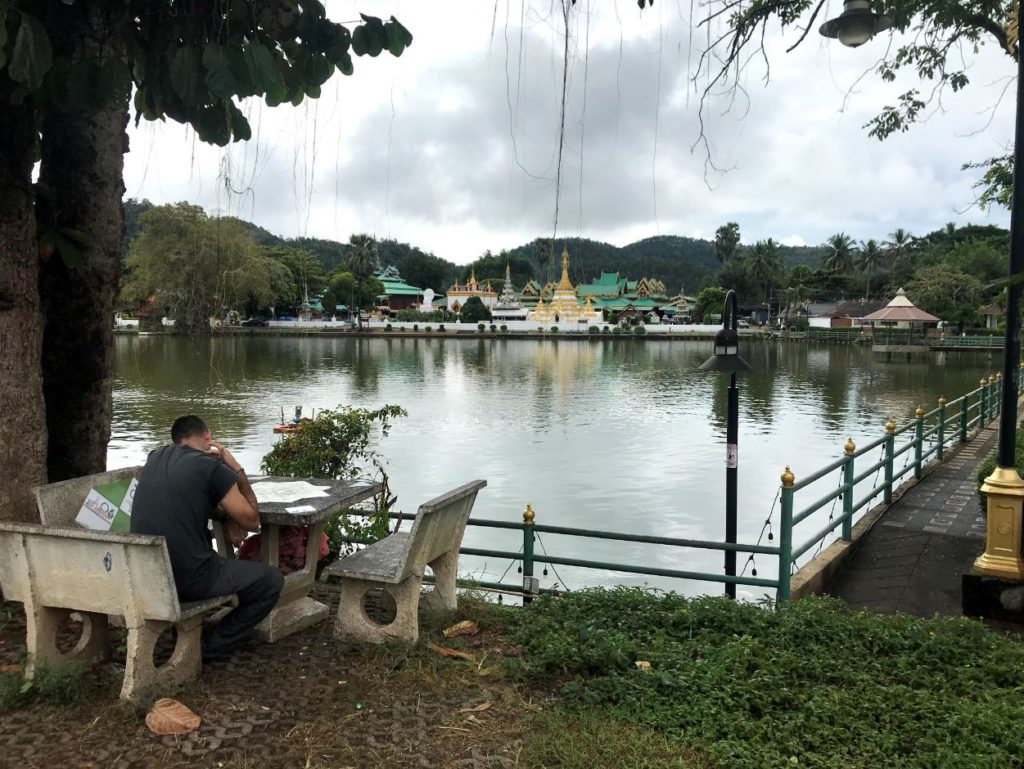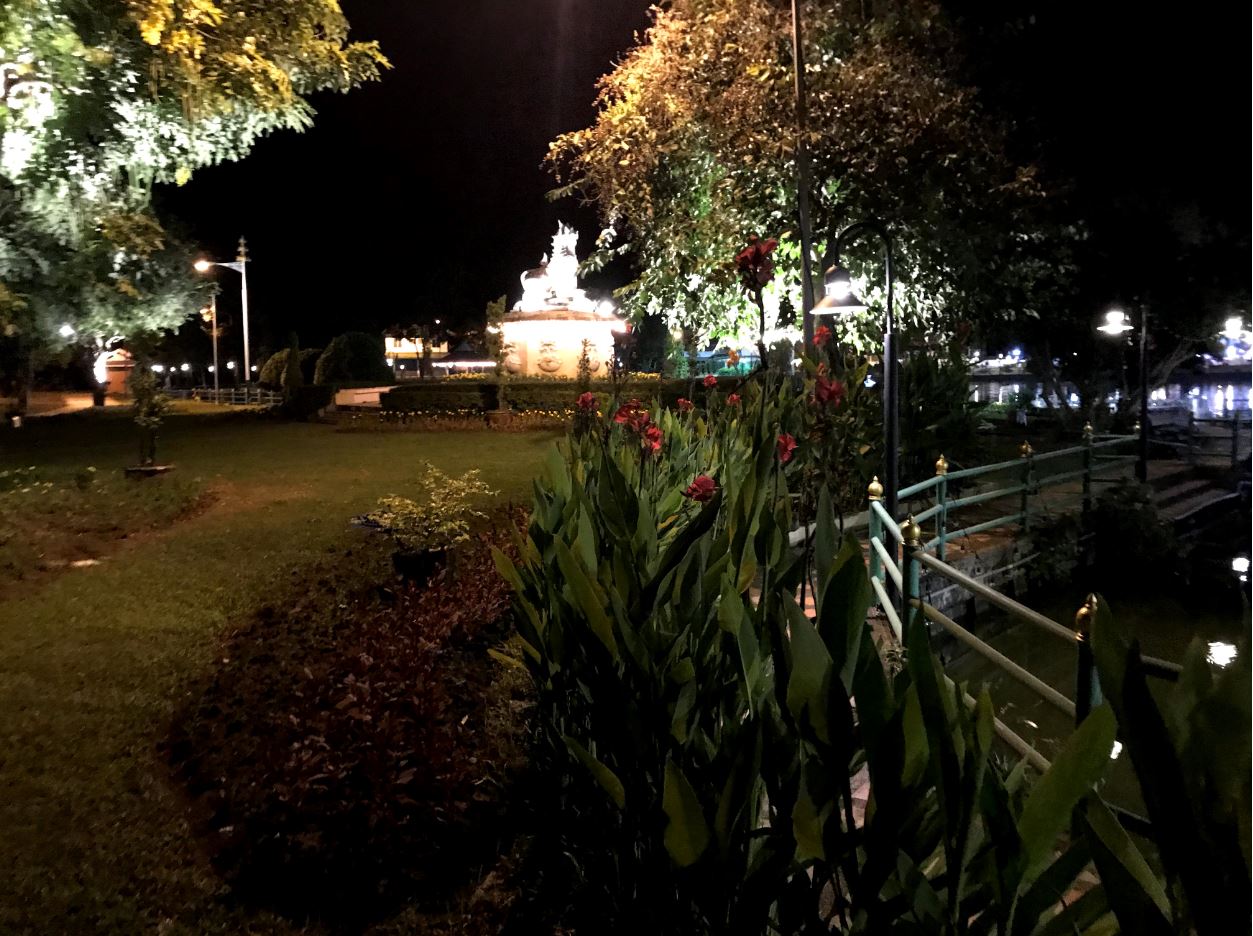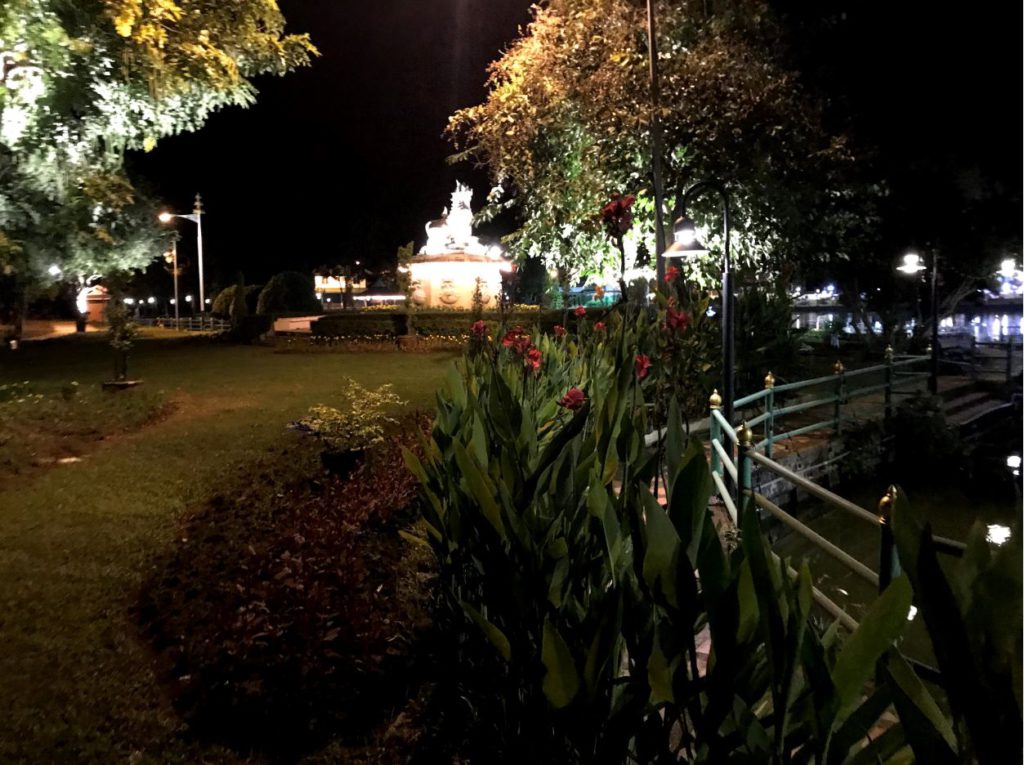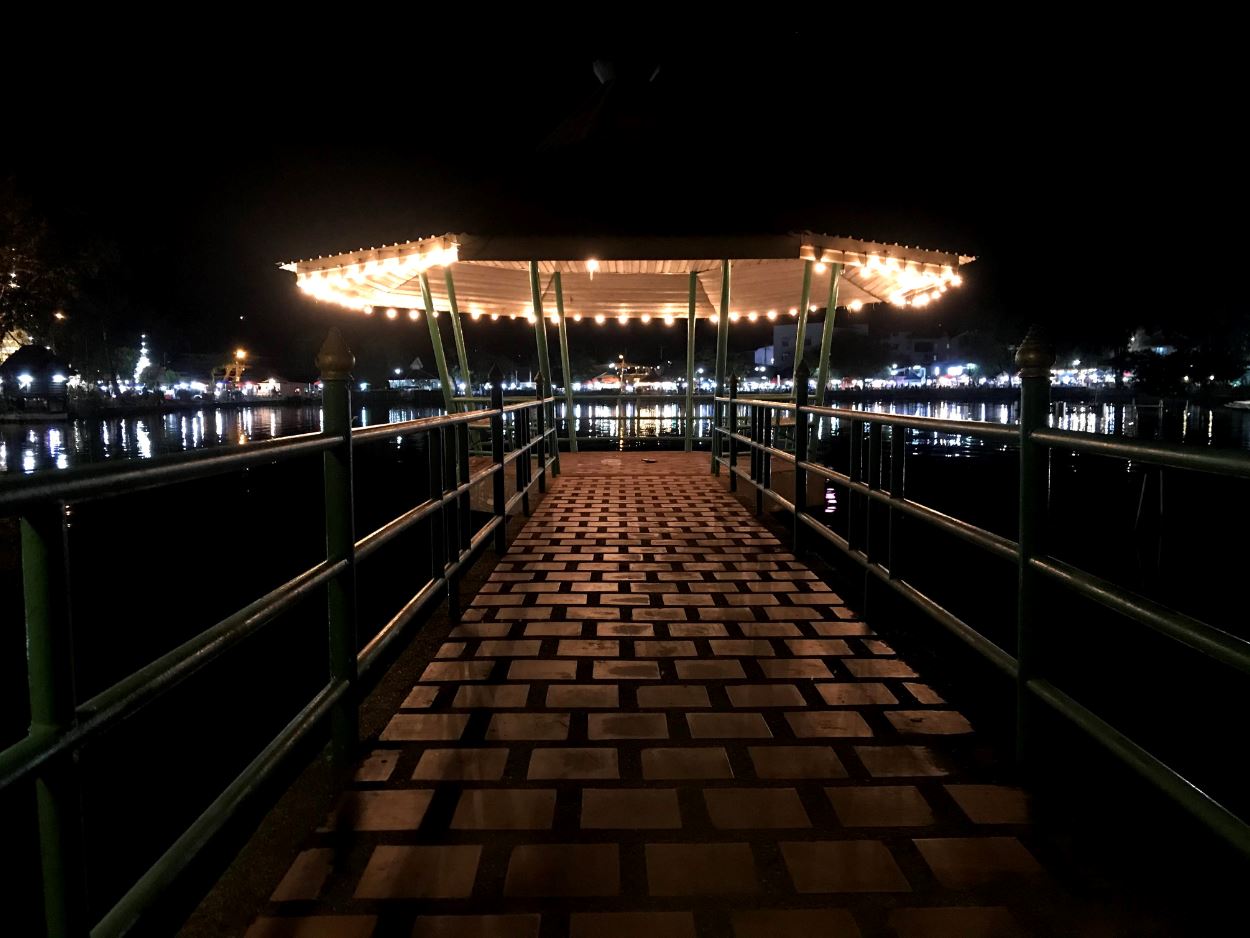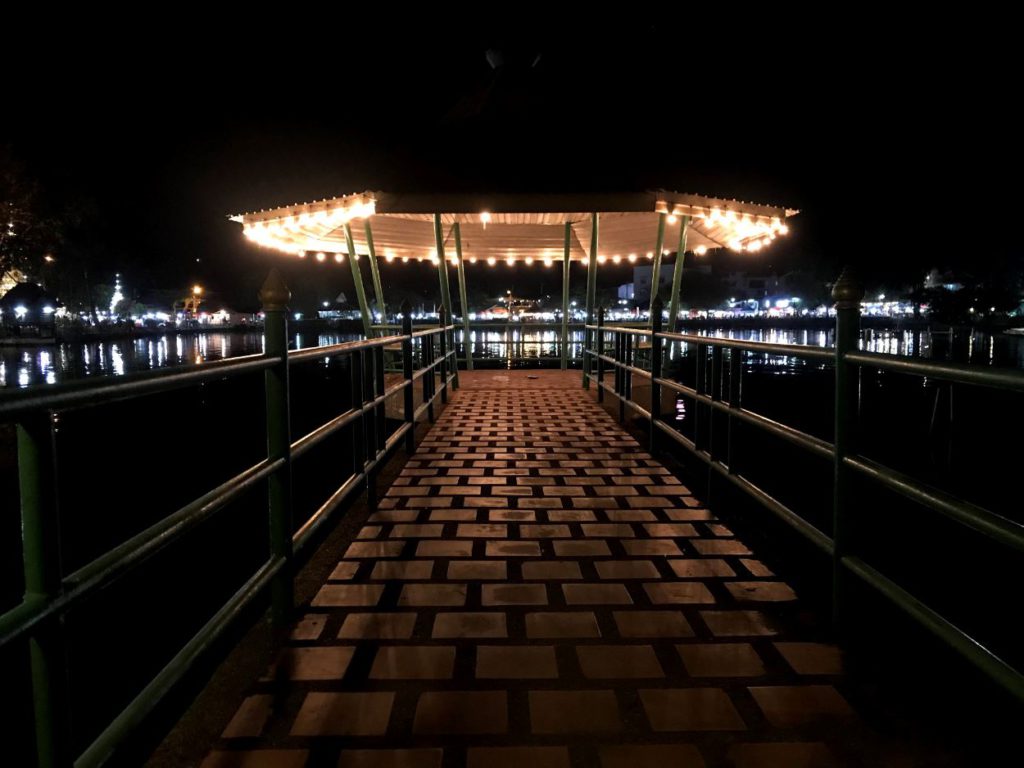 Mae Hong Song Night Market
Like all other Thai towns, Mae Hong Son also has its night market that is the economic centre of the town. The Night Market assembles right next to the Chong Kham lake. It fact, it's pretty much around it.
You can find traditional style paintings, clothes in the classic northern Thailand weave pattern in bright colours that also extends to bags and home accessories. There are a lot of food stalls on one side selling mostly Thai food. I found European style food pretty much non-existent in this part of Thailand.
The market starts right after sunset but closes way early than other Thai cities. The town is super quiet by 10 pm.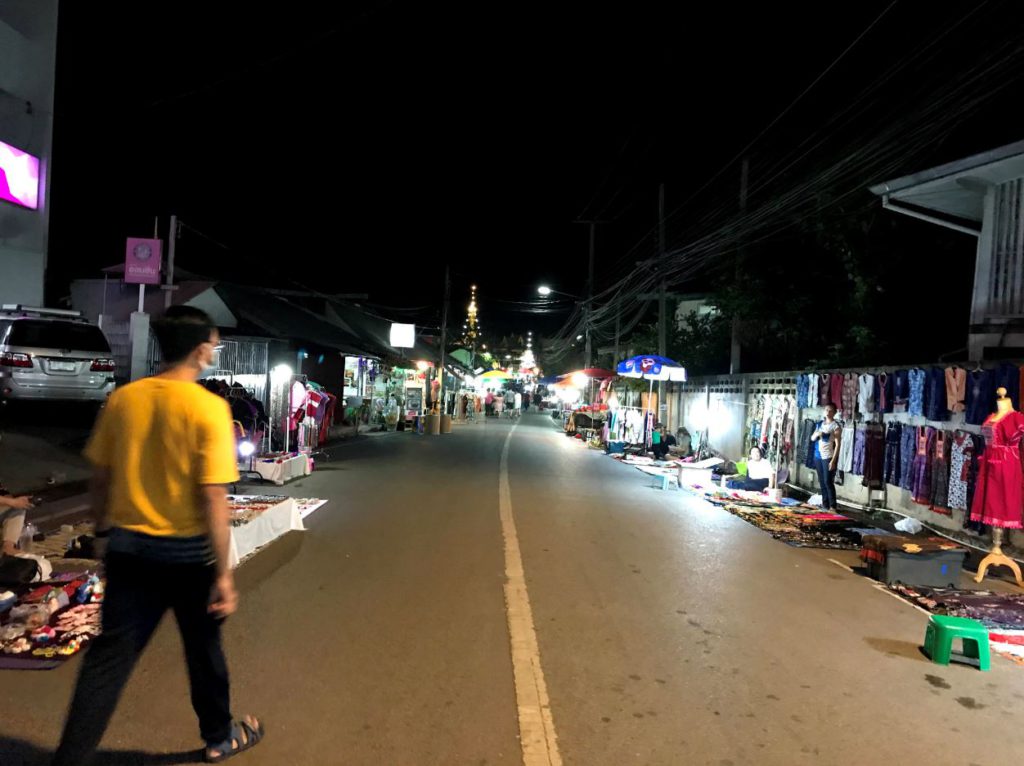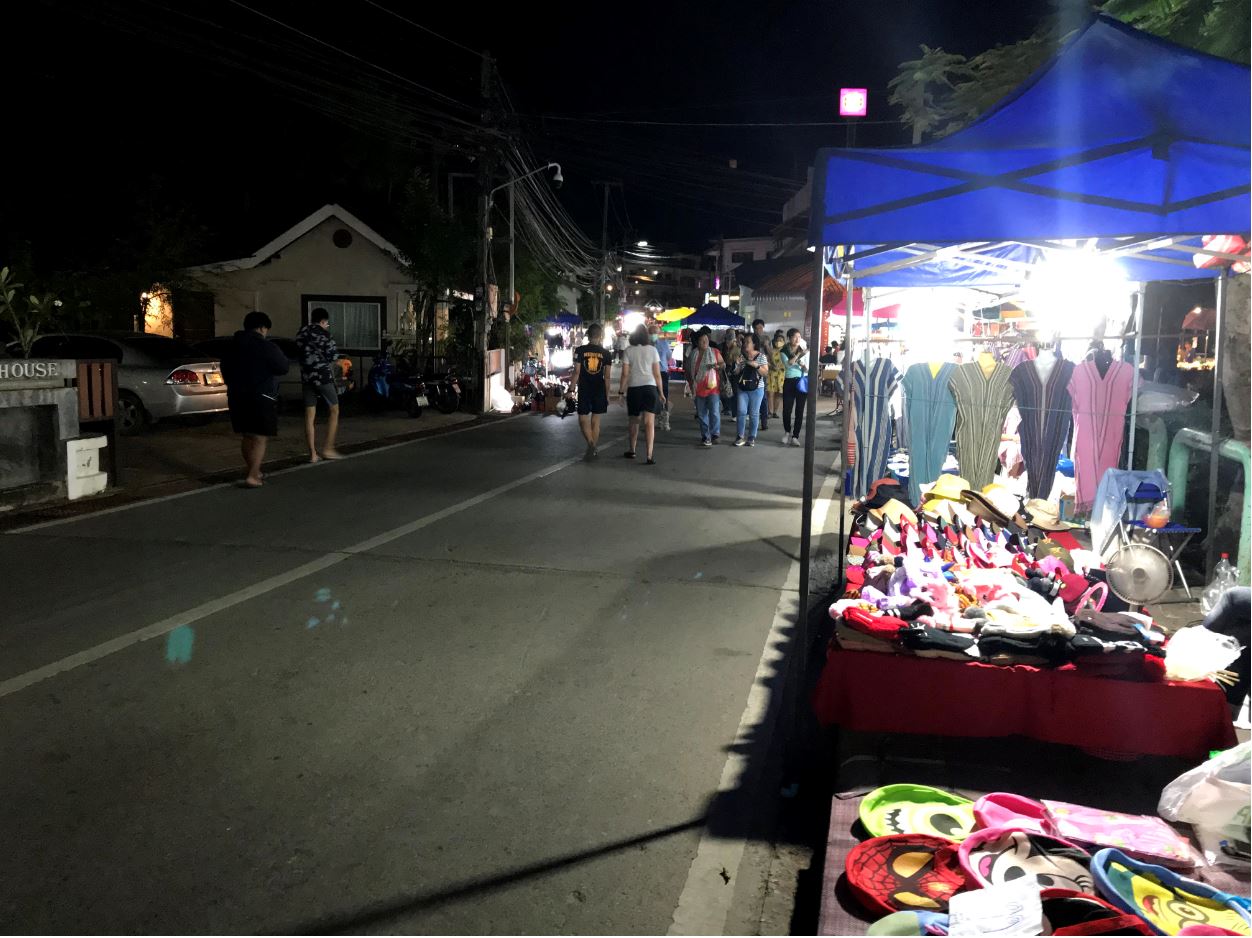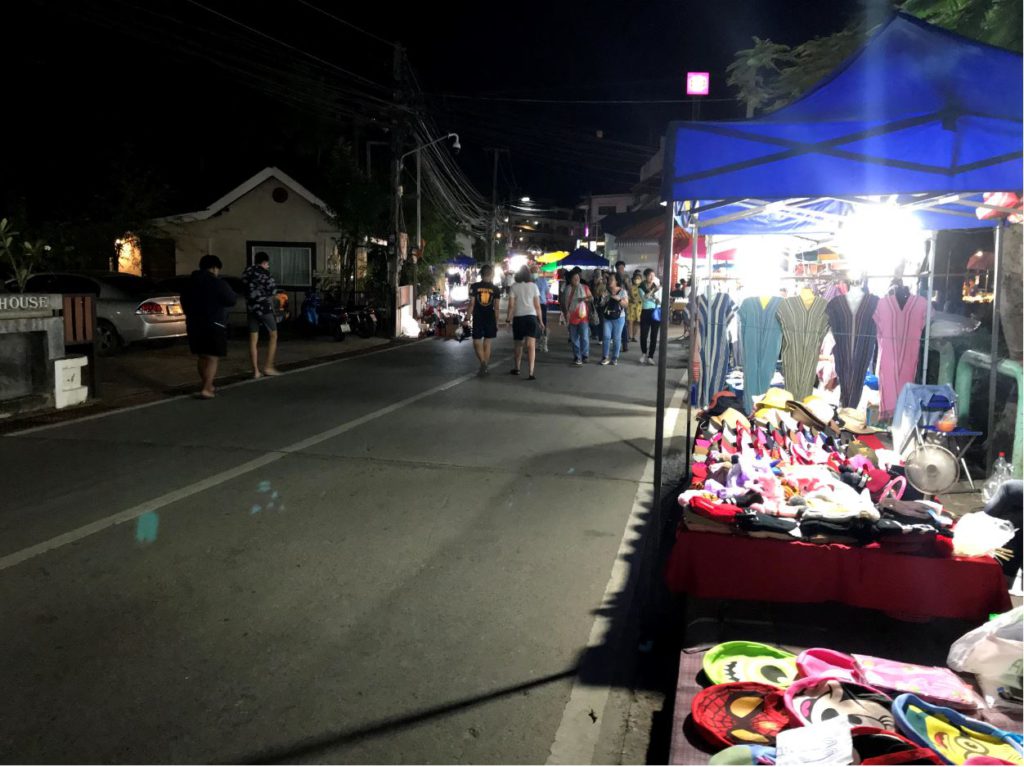 Long Necked Tribes
Travelling in Thailand, I had the opportunity to see the photos of the women from long-necked tribes several times. These are small tribes called the Kayan or Karen tribe settled in villages in the north and western region of Thailand. They have migrated from across the border from Burma.
The women are especially notable due to a neck ornament that we wear on their neck made of heavy brass to make their neck long. A long neck is a symbol of beauty to them. However, in recent years these villages have become pretty much a tourist attraction in Thailand.
There are quite a few long-necked tribe villages in northern Thailand. You can find one in Doi Inthanon, near Pai, 3-4 villages near Mae Hong Son and more. You can head over to Huay Pu Keng, a village around 30 minutes south of Mae Hong Son town.
There is usually an entry fee (THB 100/200) to the village. That really doesn't include anything. But you can enter and roam around the village freely. Depending upon the village there can be restaurants, handicraft, garments and souvenir shops selling products depicting the life and style of these tribes.
You can bargain on the products and souvenirs to some extent. I found the price quite high. While it was surprising to see these women, to me it felt cold and unwelcoming. However, things may not be the same for everyone.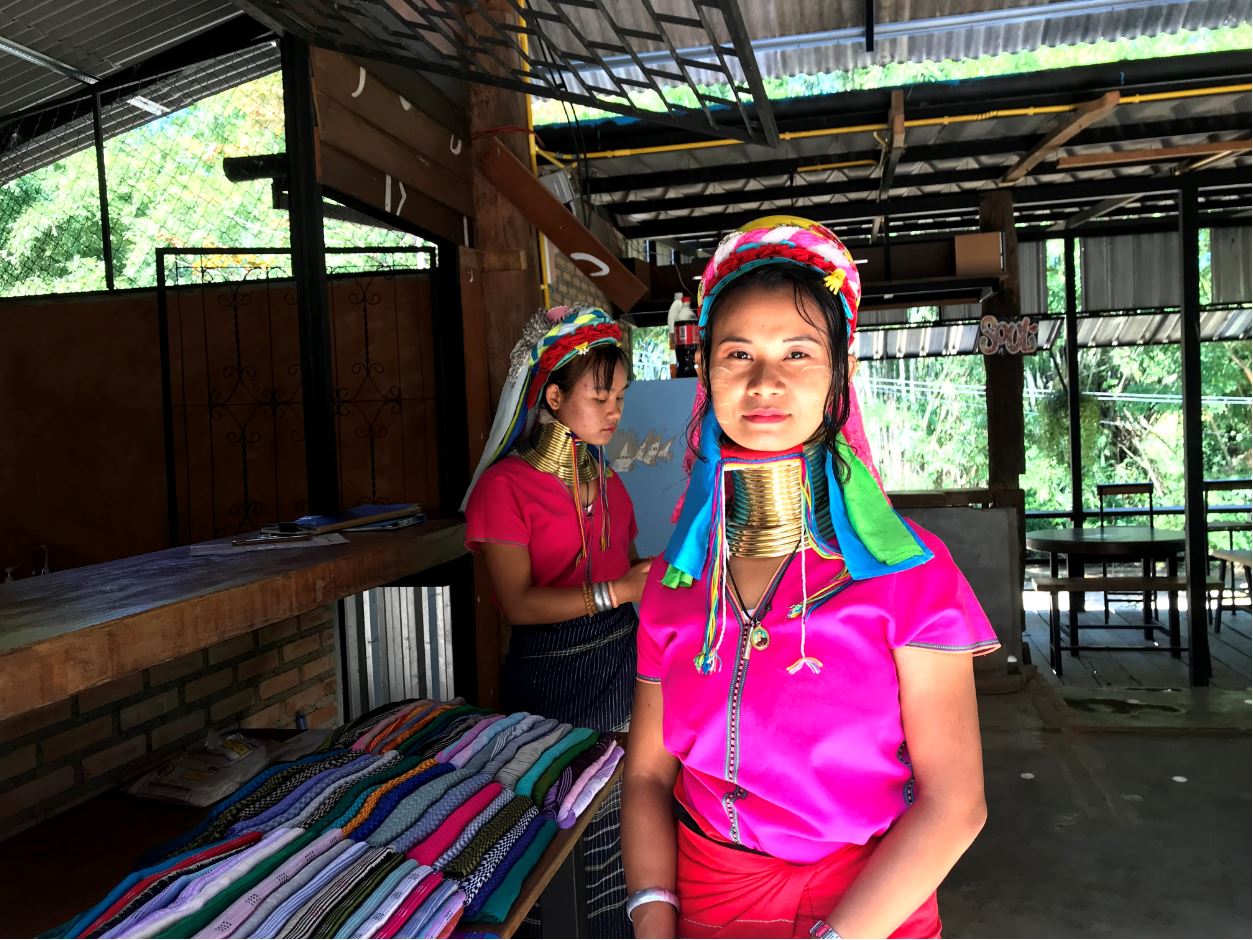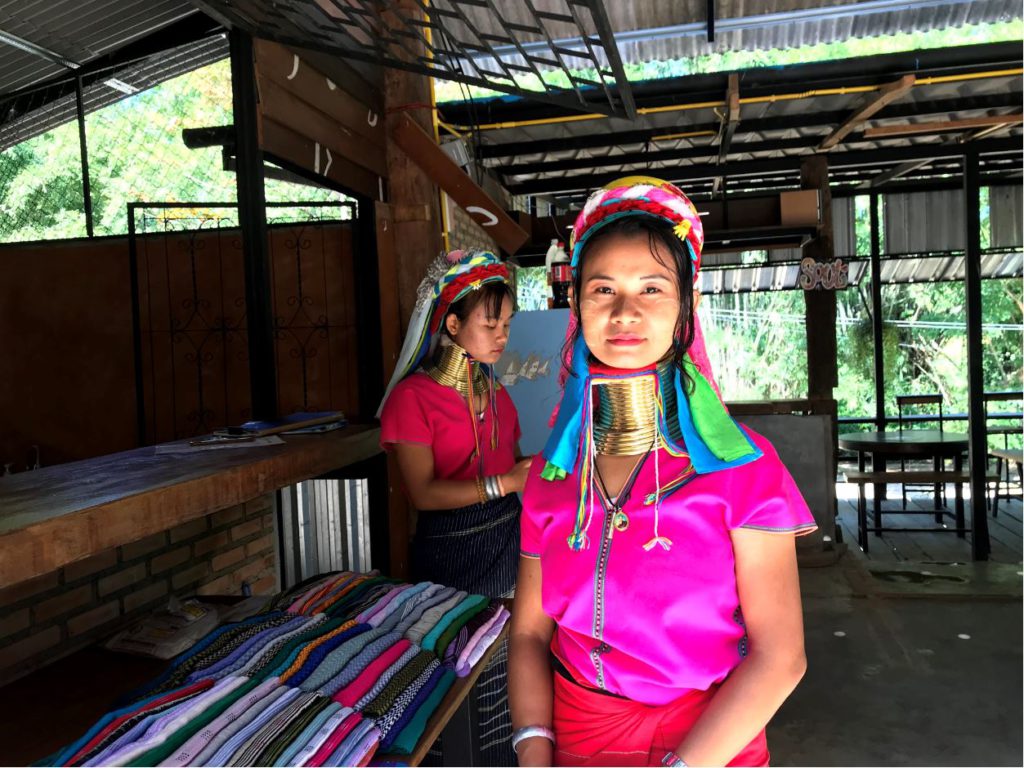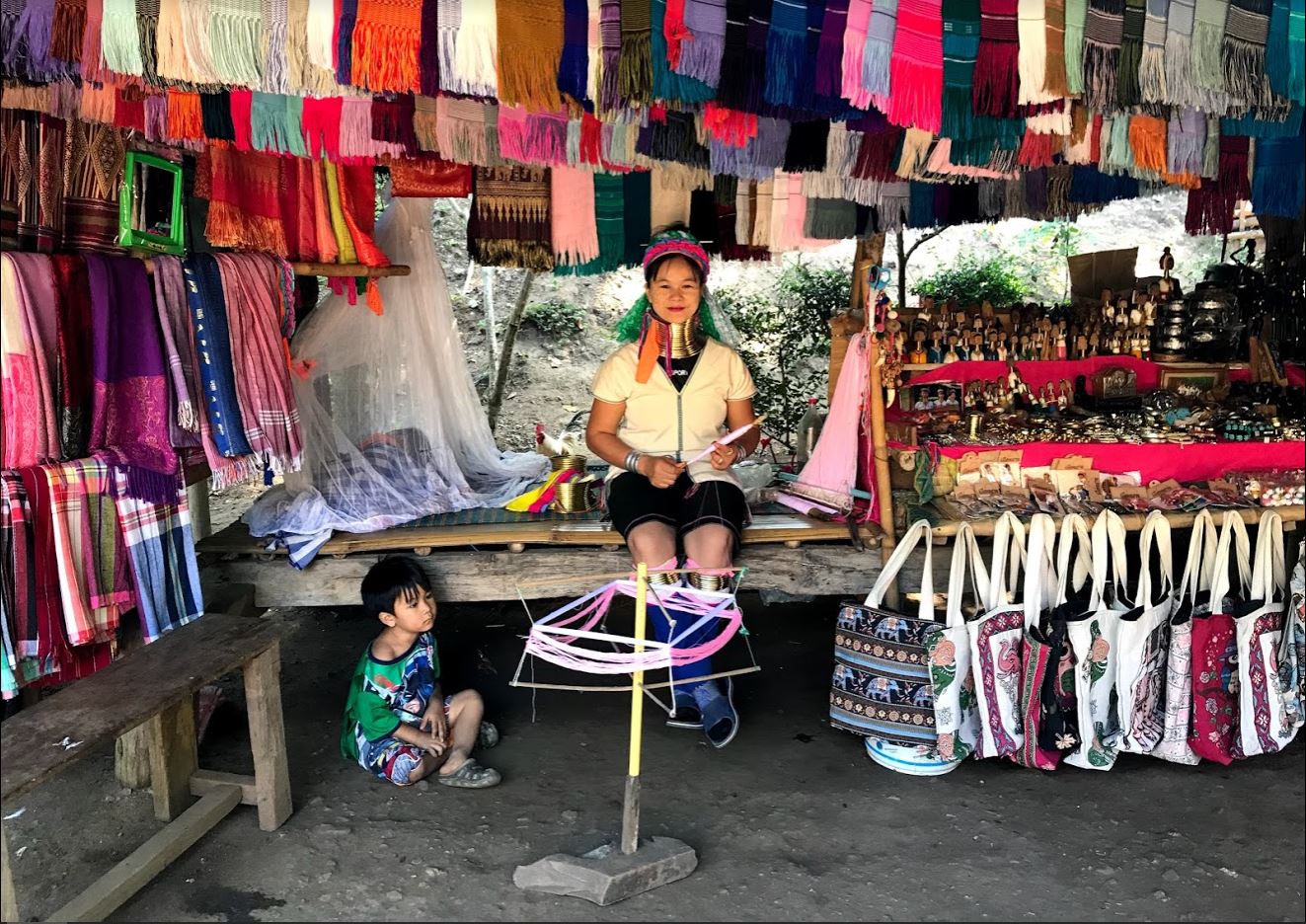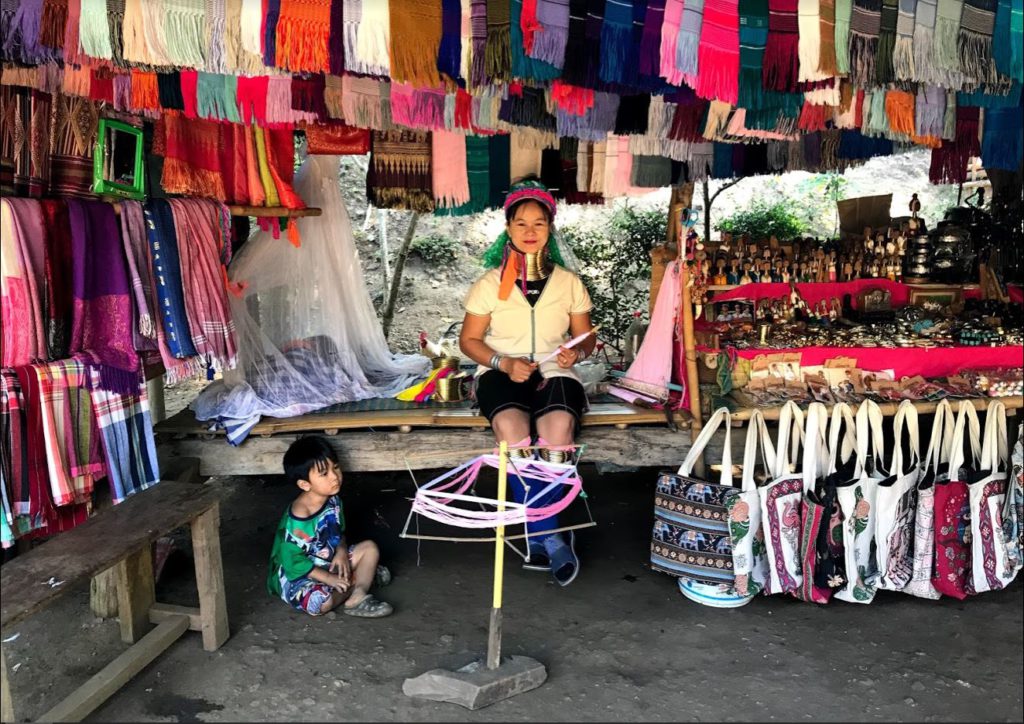 Hot Springs
If you drove across the countryside to Mae Hong Son, I am sure you must have spotted several hot springs and geysers on the way. Now you cannot go take a dip in anyone you like. Hot springs vary in temperature and you need a rather mild one for humans to enjoy. Geysers are just too hot or inconsistent to bathe in.
Just 10 km south of Mae Hong Son town, you can find Pha Bong hot springs. It is much like a public bath with a huge pool in between. There is hardly ever any crowd here. You can choose to relax in the public pool, take a mineral bath, a Thai massage or also rent a private bath.
The prices start from TB 10 per person to just go in the pool and more for services. You can even set up your tent in the area for THB 100 or rent a room that starts from THB 500.
For something more comfortable and family-friendly head to Phu Klon Country Club hot springs in the north towards Ban Rak Thai. They also have a mud pit and facilities that you could upgrade to if you like. The hot springs charges starts at THB 60 per person.
In case you are travelling Pai, you can also stop at Sai Ngam hot springs that are free to enter. Take a change of clothes with you. I am sure it will help relieve the long drive ahead.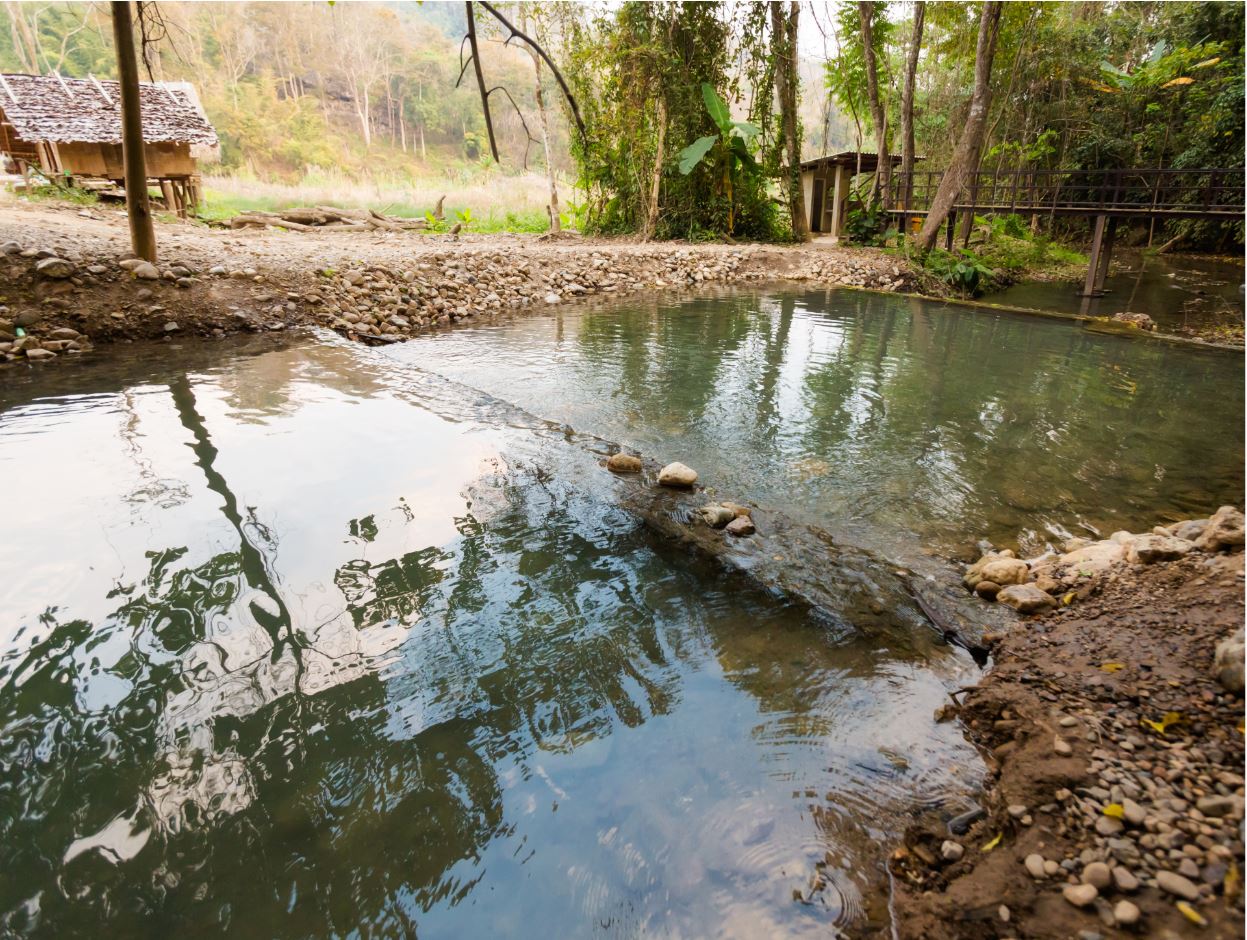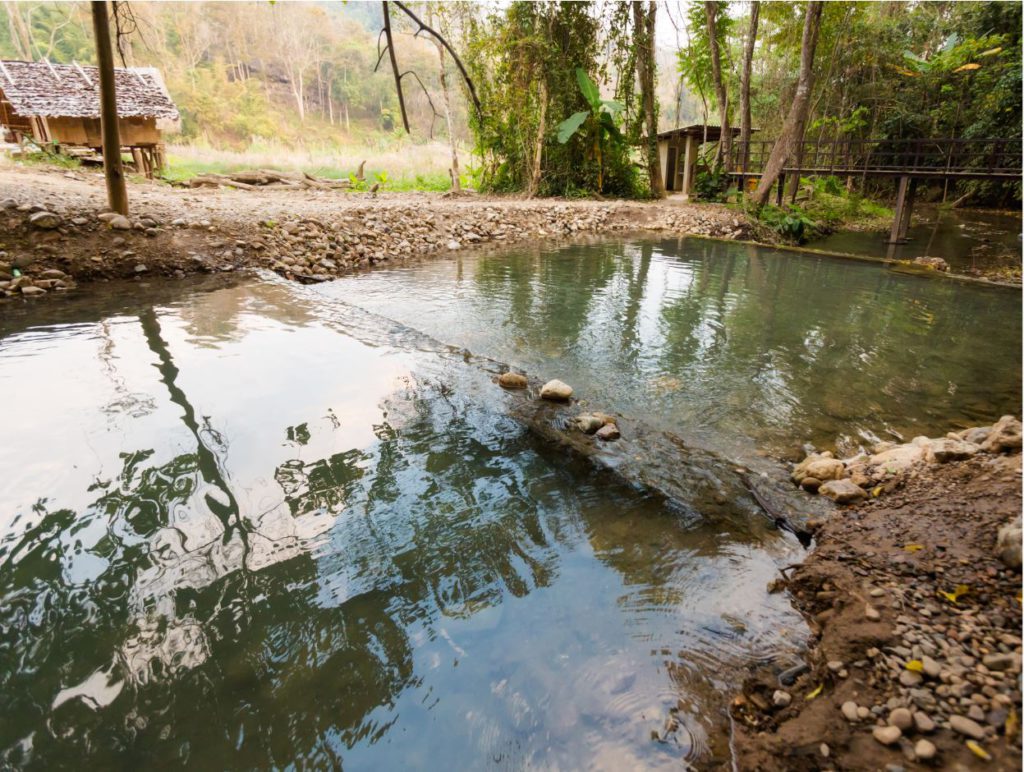 Su Tong Pae Bamboo Bridge
Su Thong Pae is a bamboo bridge made completely out of woven bamboo and is also the longest bamboo bridge in Thailand. The bamboo bridge crosses several paddy fields and a running stream on its way. The bridge is especially important during the monsoons when the rain floods the paddy fields.
If you are there early in the morning, you will find monks walking towards a neighbouring village to collect alms in bright orange robes. It was built to serve the monks for an easy way to cross the paddy fields.
If you have been to the Pai bamboo bridge, you can probably skip this one. It is a very similar experience. Since this place is well ahead of Mae Hong Son town (10 km), you can stop at this place on your way to Pang Oung, Ban Rak Thai or on the way to or from Pai.
There is no entrance fee to the place. You can enter anytime between the sunrise and sunset.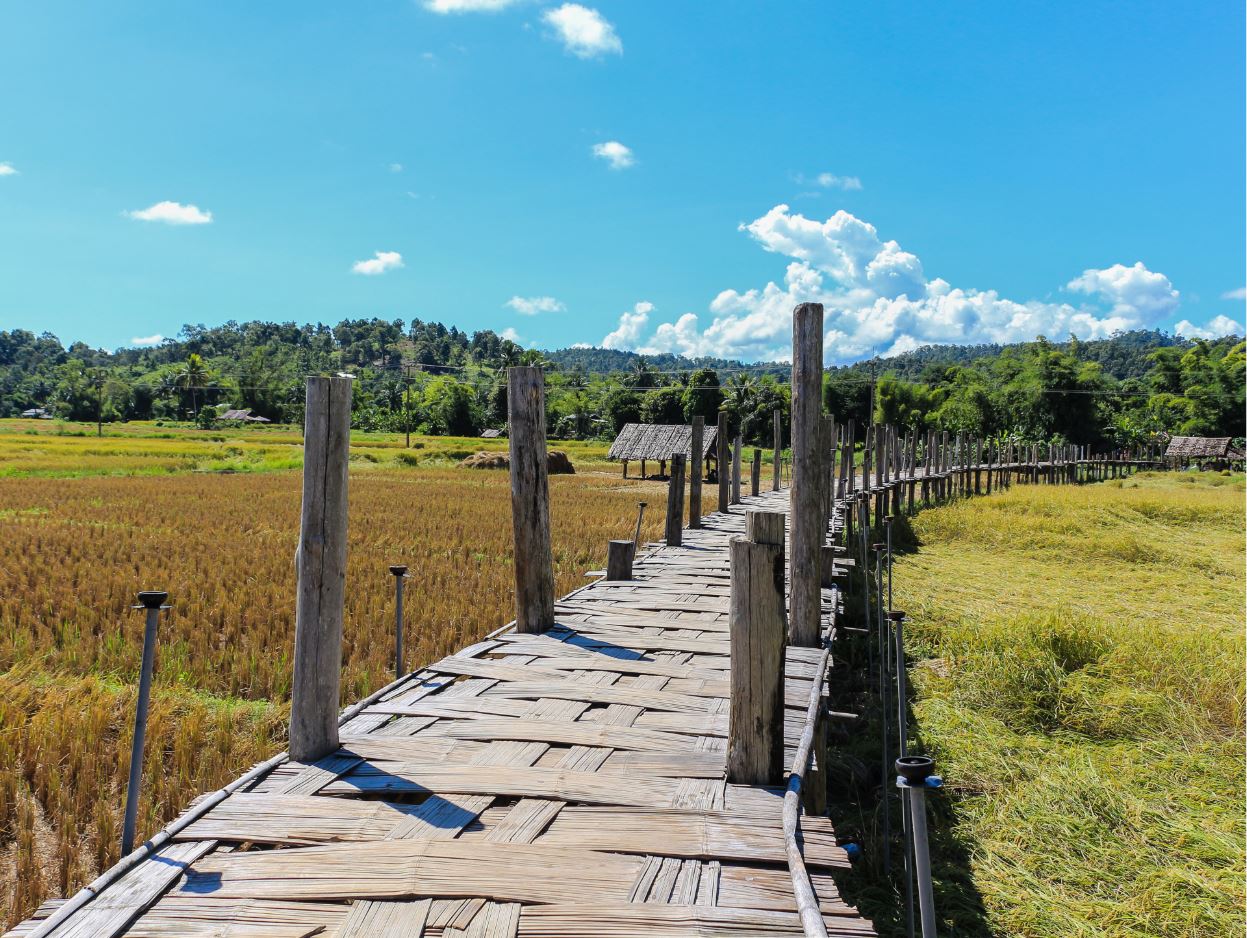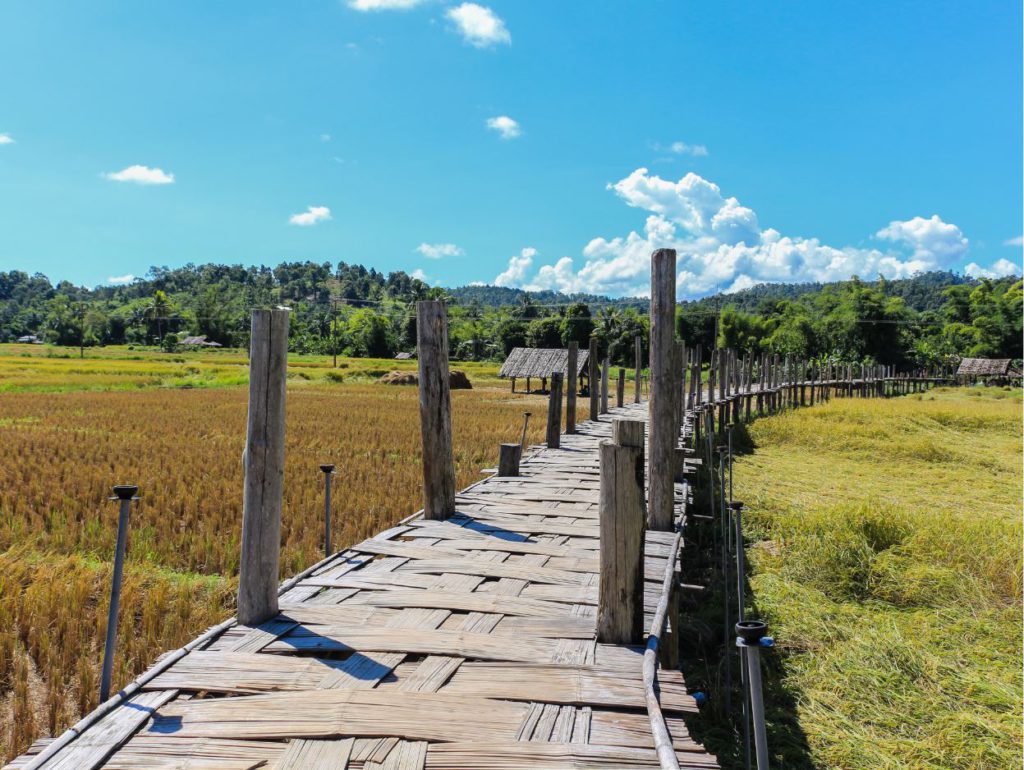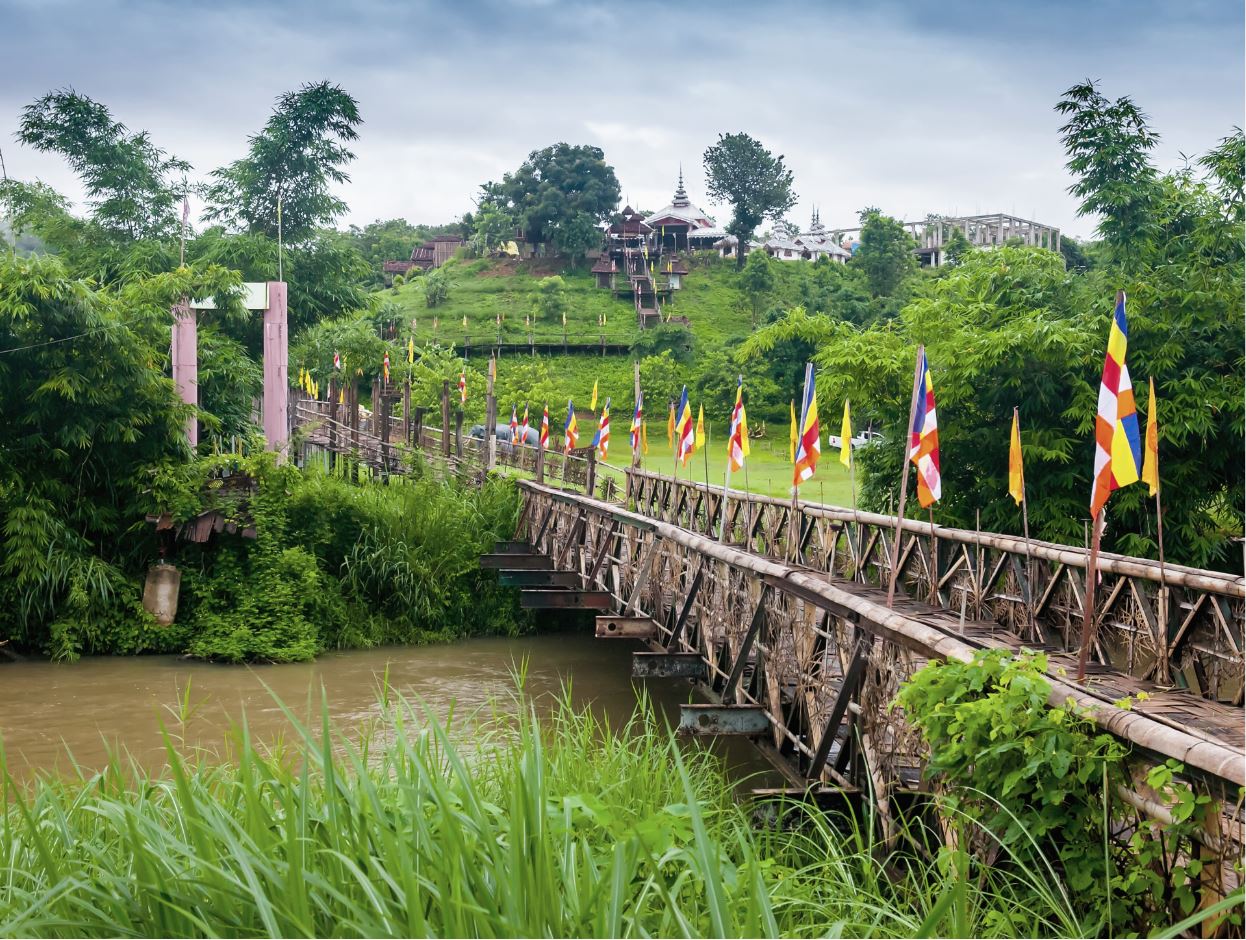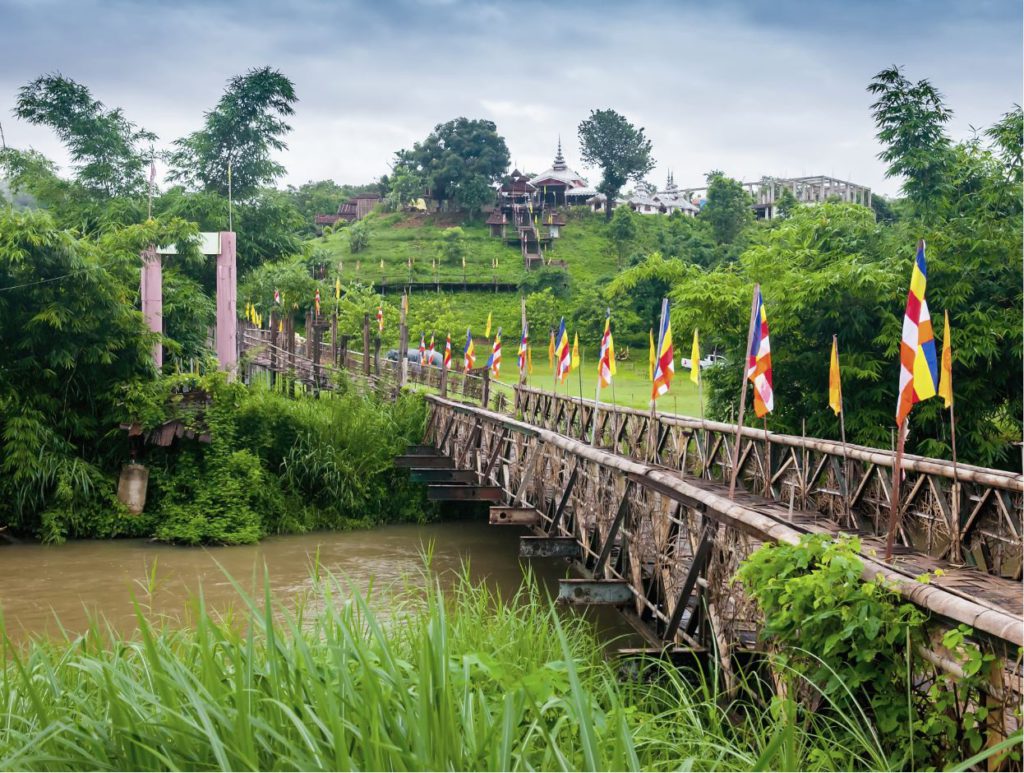 Tham Pla Caves Pha Suea National Park
These are the second most popular caves right after Tham Lod caves in the area. However, I wouldn't exaggerate any special features. Tham Pla directly translates to 'Fish Caves'. So practically, these are natural cave formations with a large number or unusually large fish.
The caves are part of a National Park area called Tham Pla Namtok Pha Suea National Park. Other than Tham Pla caves, there is also Pha Suea waterfalls where you should make a stop on the way. The drive in this area is breathtaking. Su Tong Pae Bamboo Bridge is also nearby.
Tham Pla Caves ticket Price: The ticket price for foreign tourists is THB 100 per person. However, the ticket also includes the entrance to Pha Suea Waterfalls and Pang Oung Lake.
Tham Pla Cave timings: The caves and national park area is open from 8.00 am to 6.00 pm every day of the week.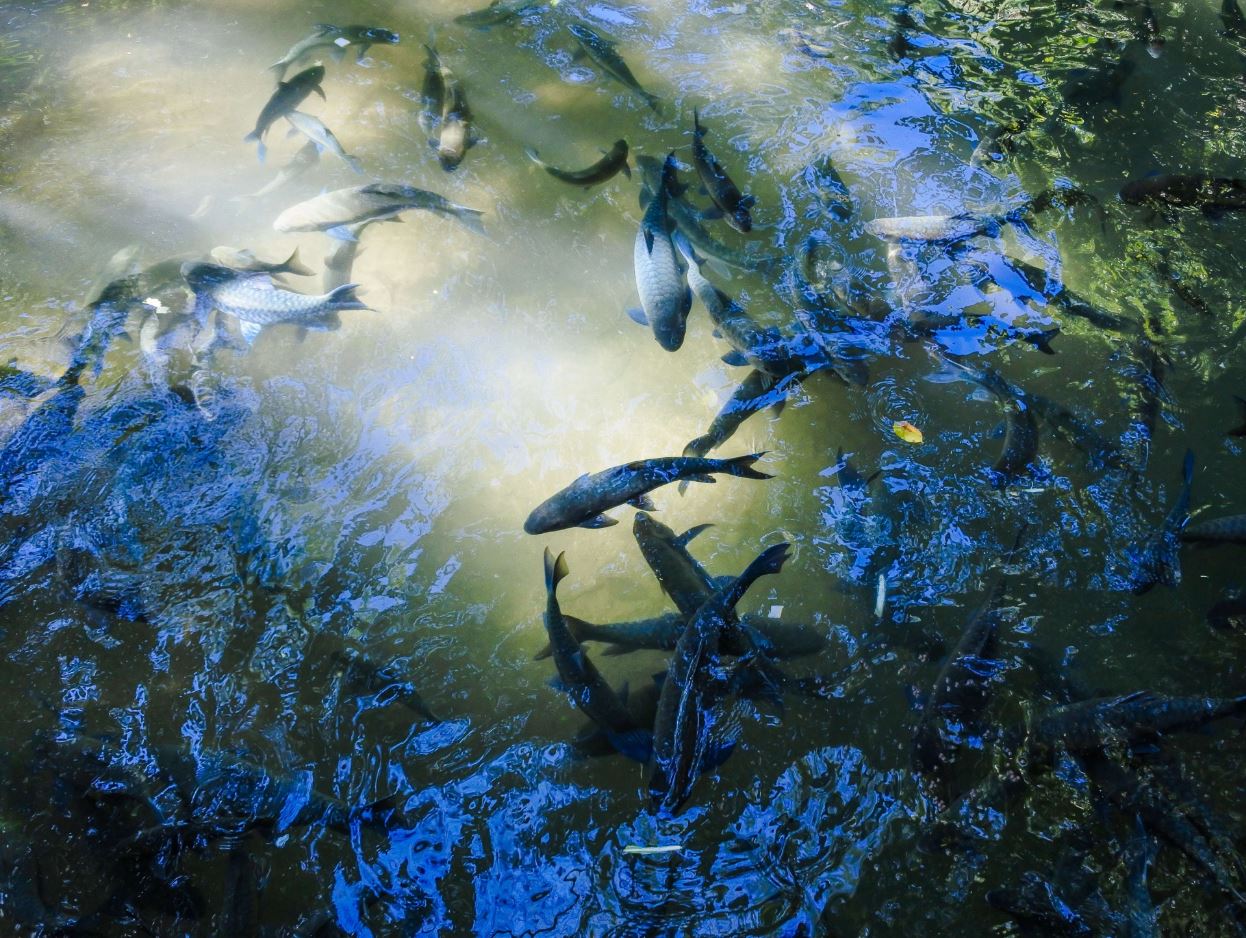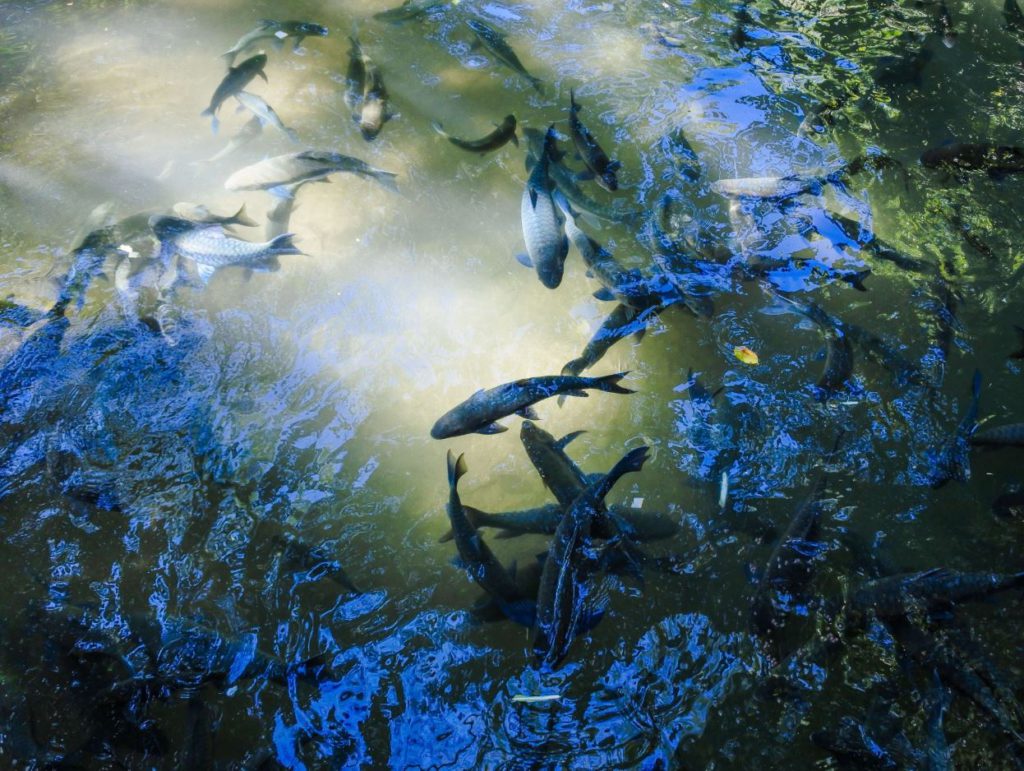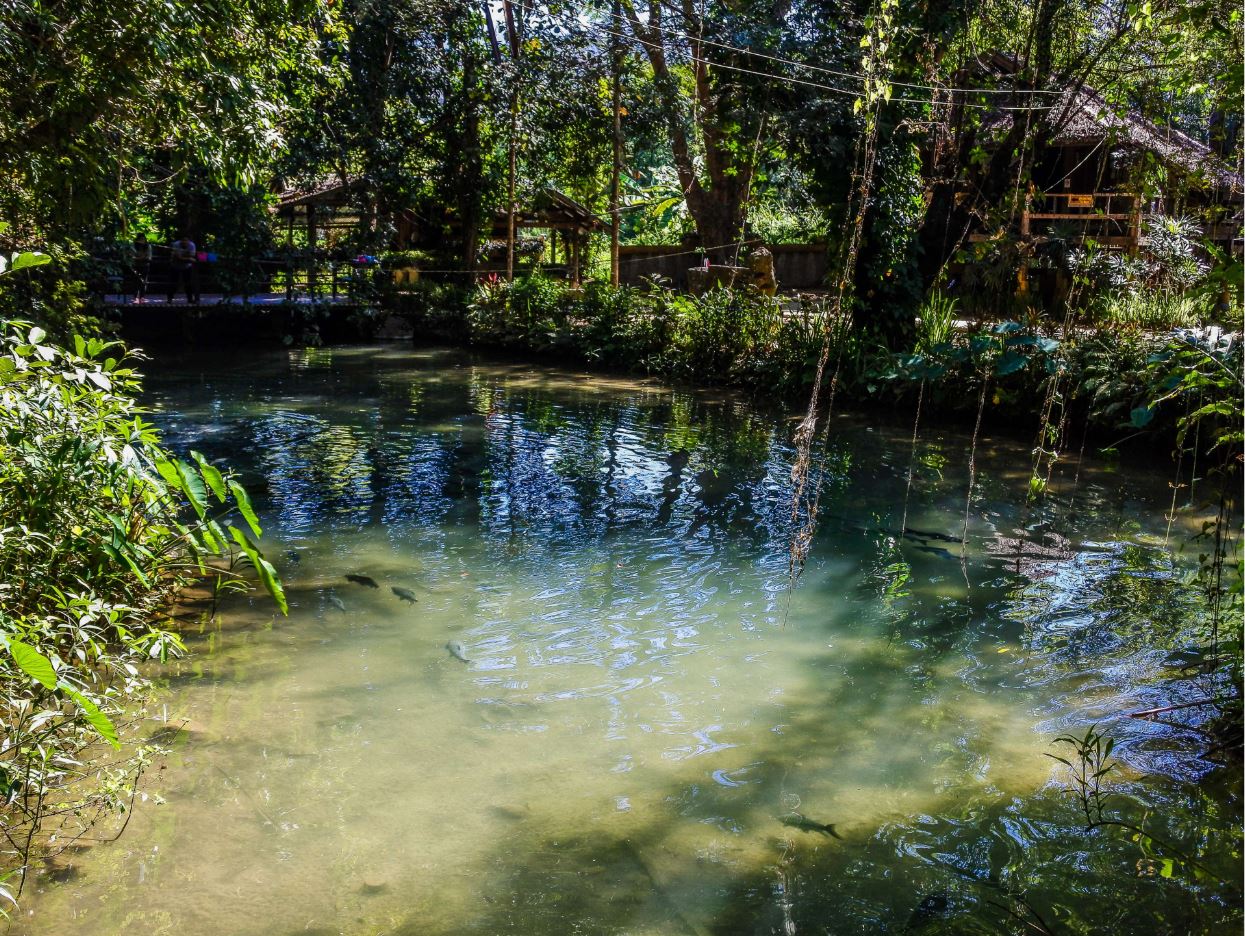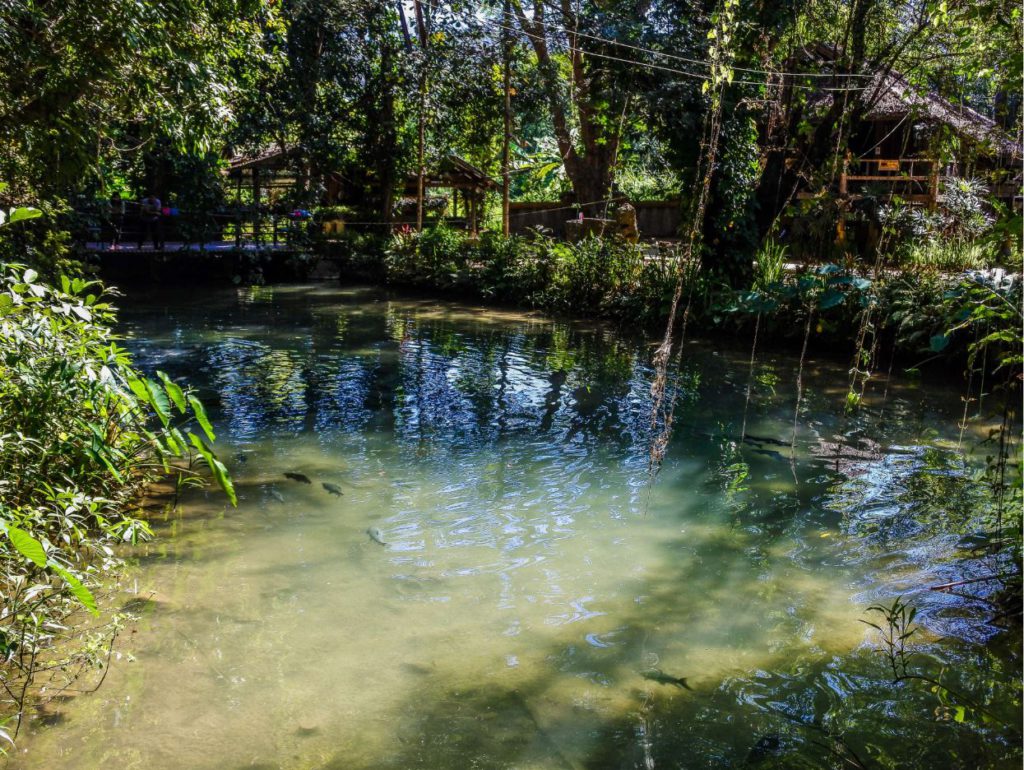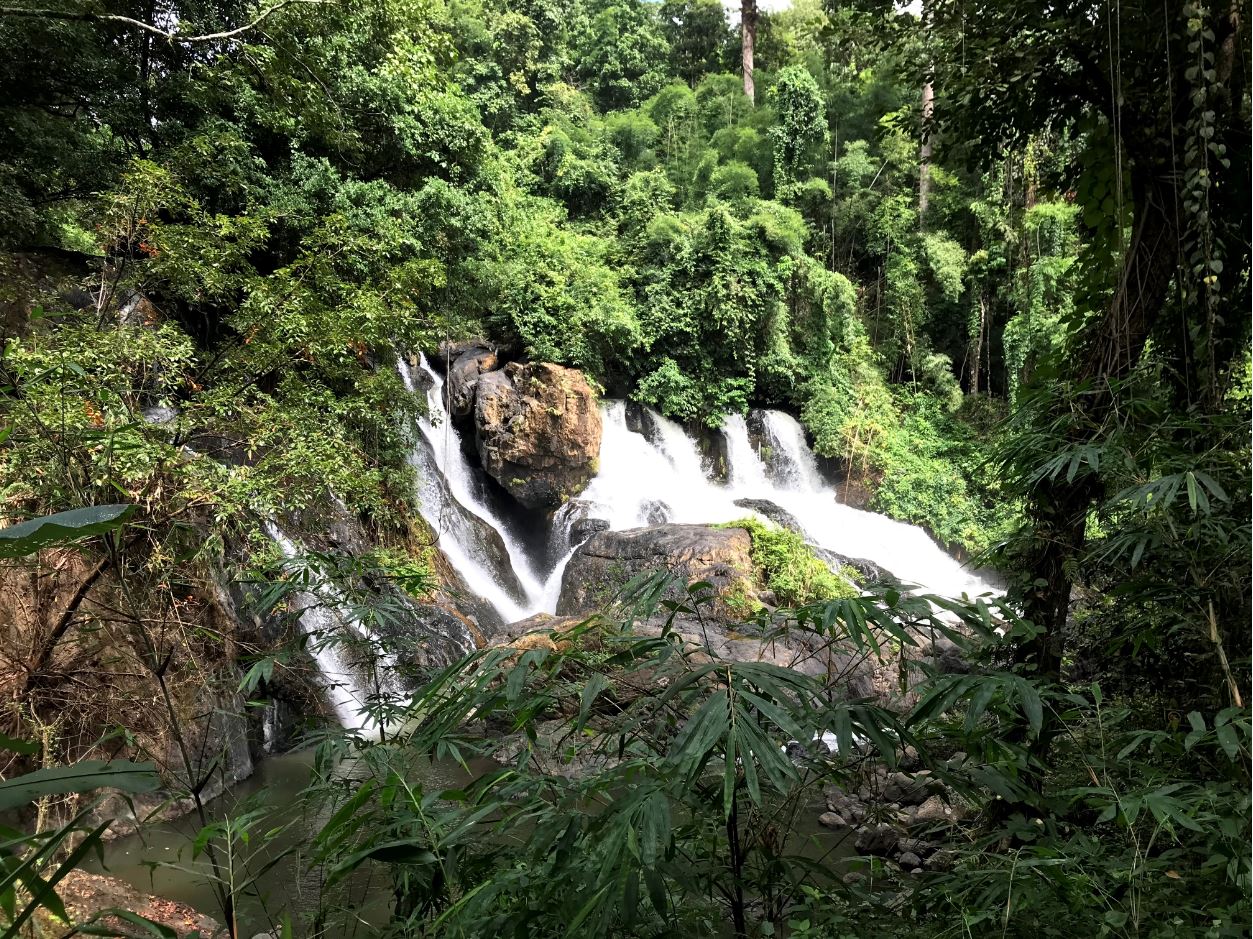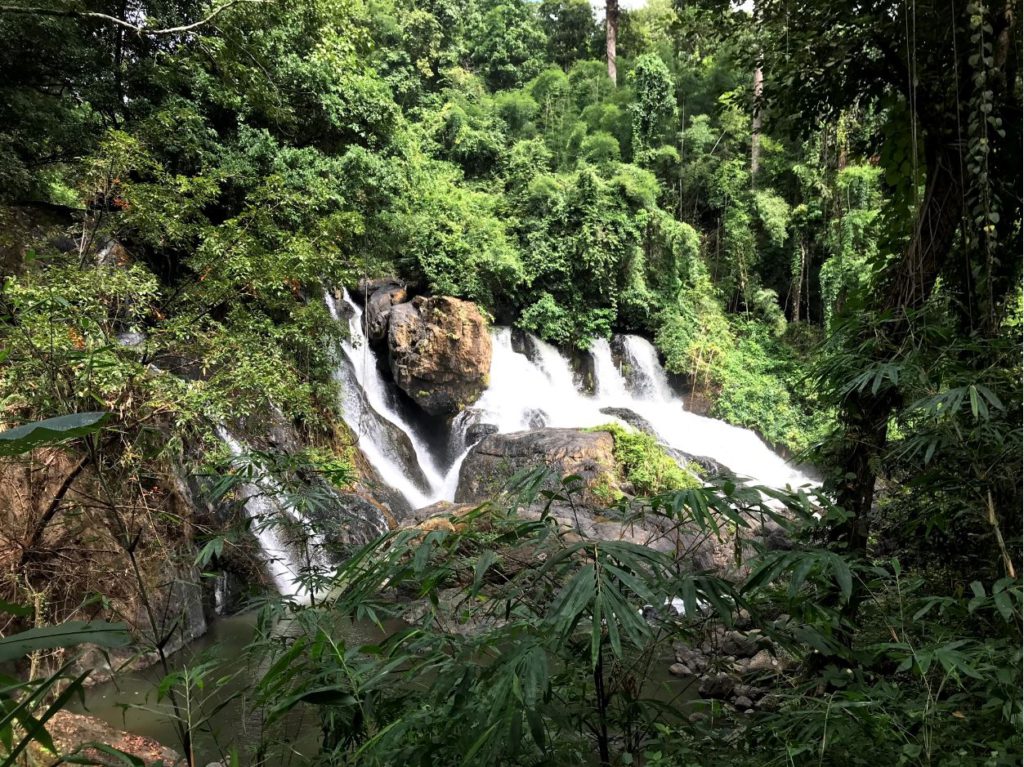 Pang Tong Palace
Just to be clear this is not a palace. It is more like a farm. As you travel towards Pang Oung and Ban Rak Thai you will see a signpost to this place. It reminded it of the many royal projects across the country.
As you enter, you will find a large expanse of gardens with colourful flowers, greenhouse farms and grazing areas. You can stop at the many gazebos and explore the area on foot but it's enormous. It is better to use your vehicle to explore this place where you will find dozens of sheep and horses happily grazing in the countryside.
There are a few hotel rooms and stay areas on the premises. I am not sure if they are all open to tourists. And if they are, its during the peak season only. A good stop for not more than an hour I would say. There is no entrance fee.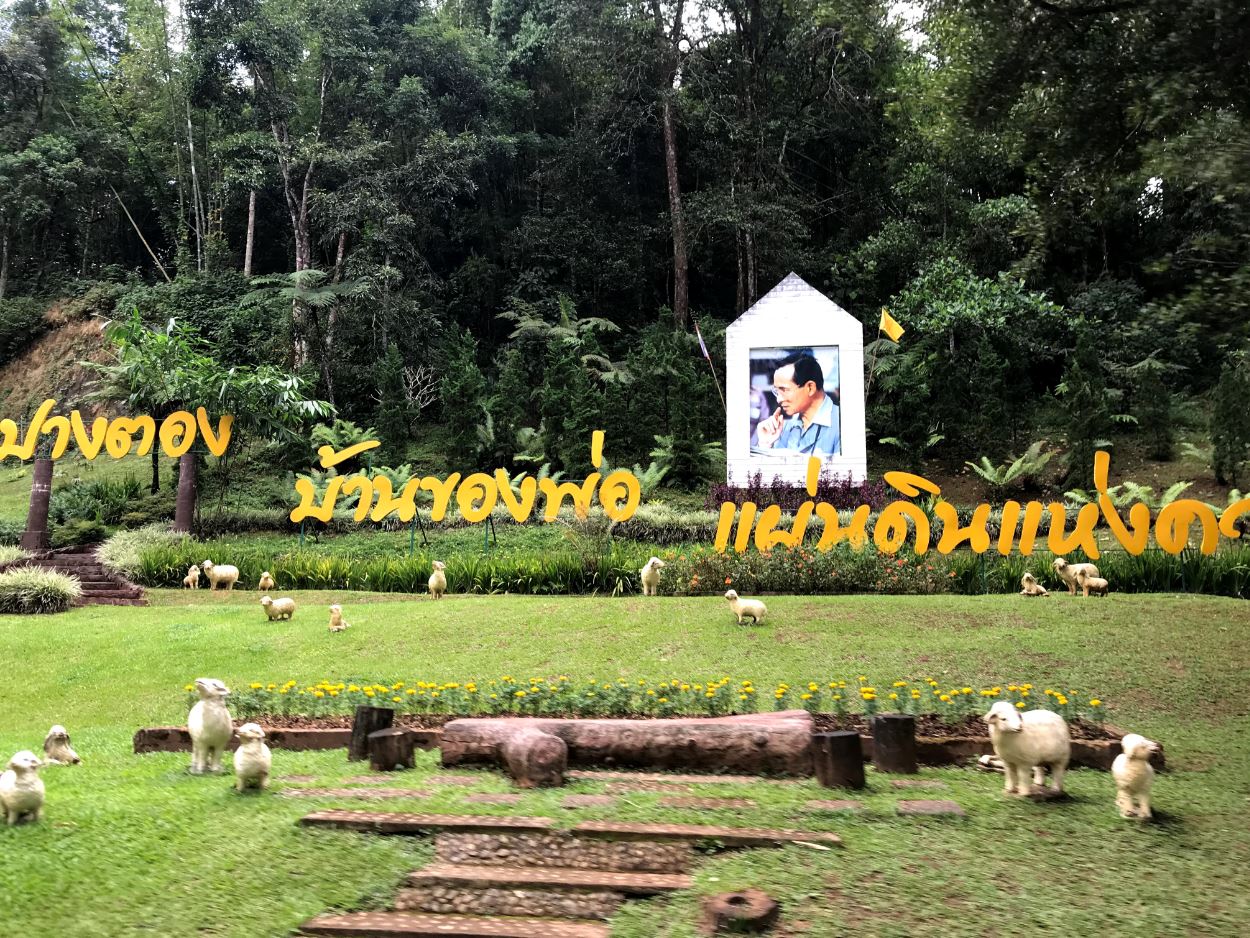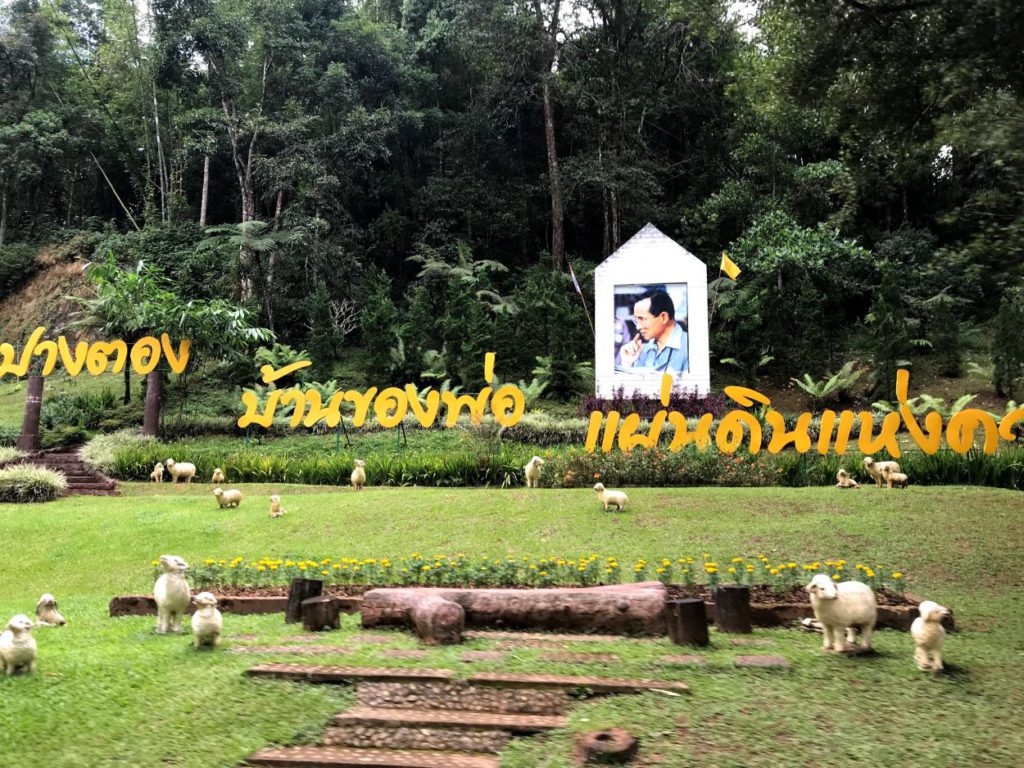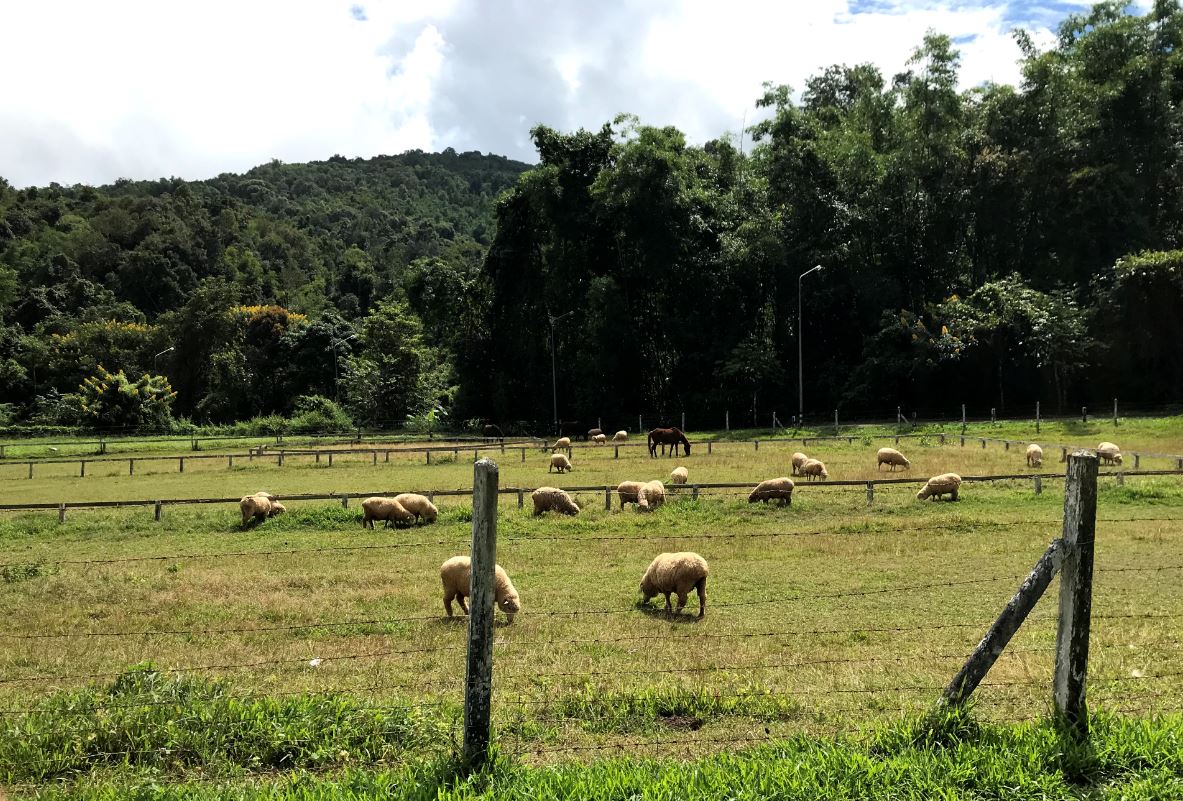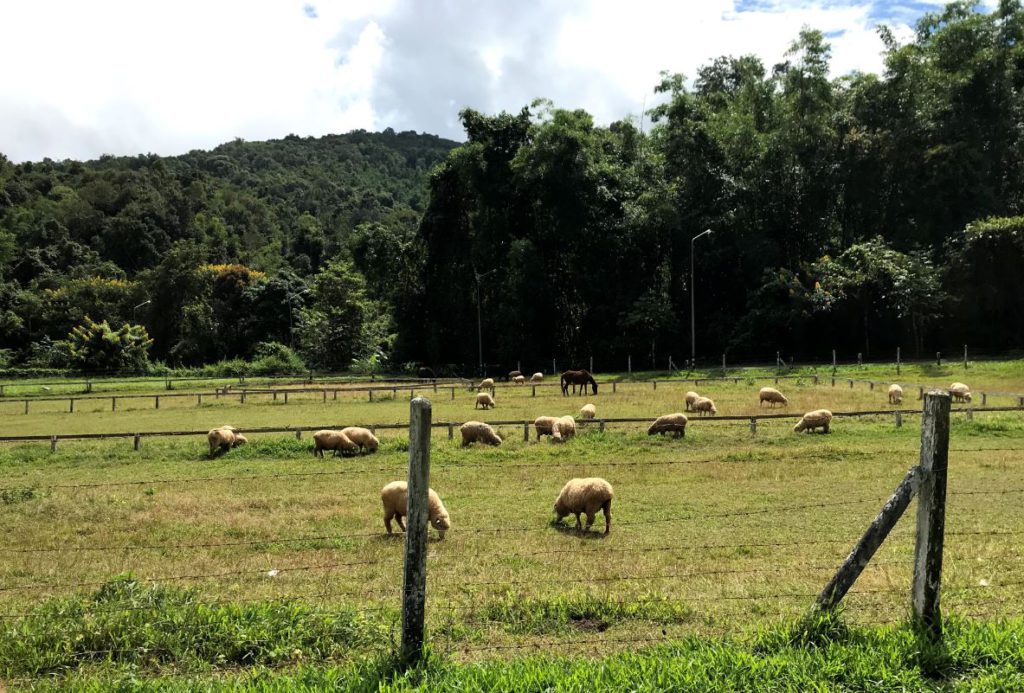 Pang Oung
This is the other royal project other than Pang Tong Palace. The late king and Queen developed this place building a reservoir and encouraged the locals to cultivate crops like avocado and pear. Today, this place is fondly called as 'the Switzerland of Thailand'.
This place is usually quiet, even during the weekends. There are only a handful of people and the temperature drops to single digits during the winter months. The camping grounds are open to the public to camp and enjoy the place.
There are also stay options and rooms available directly opposite to the lake but you cannot book them online. Check with them at the spot. There are bamboo rafts available for boating for THB 150 an hour. If you haven't been to one, I suggest you experience this.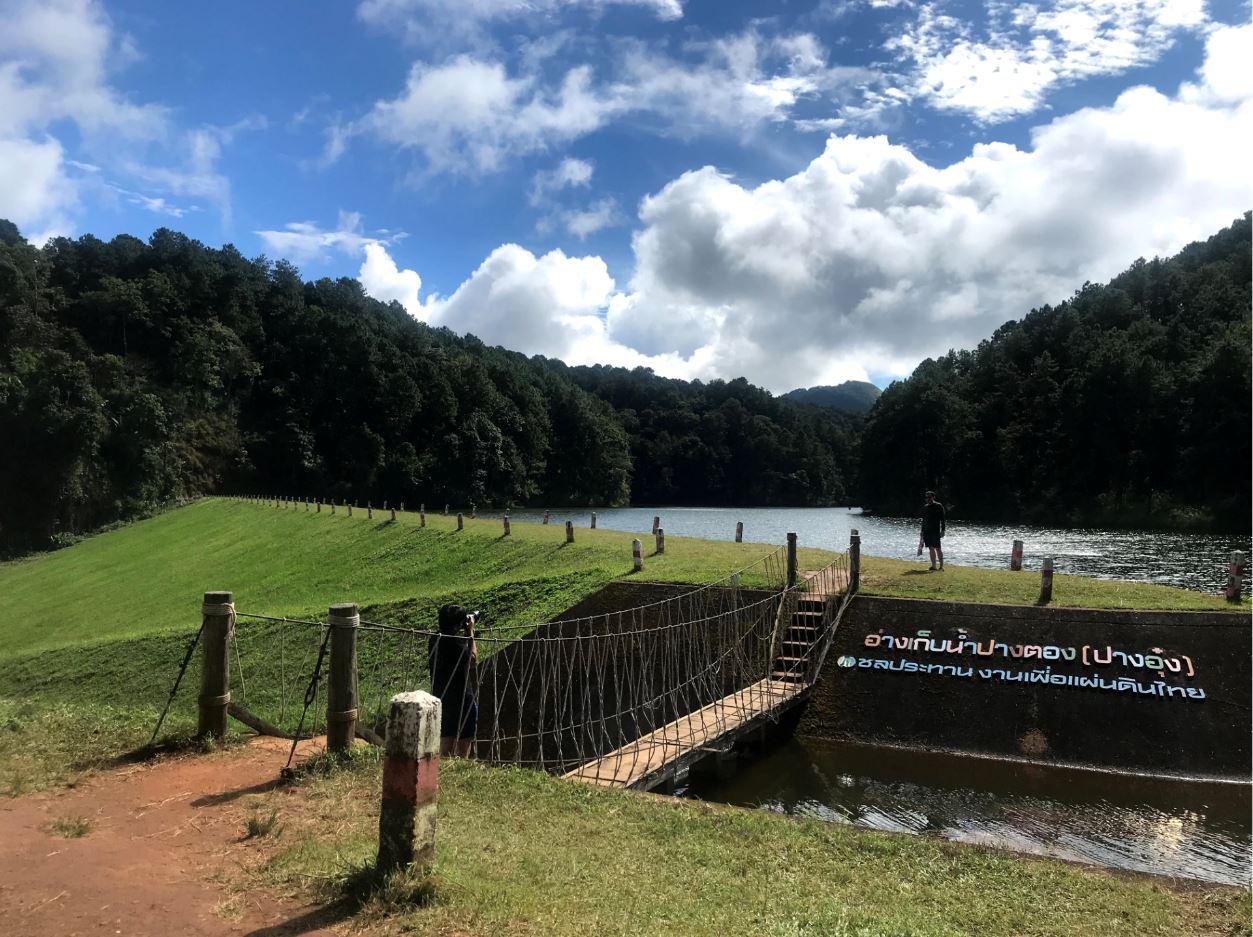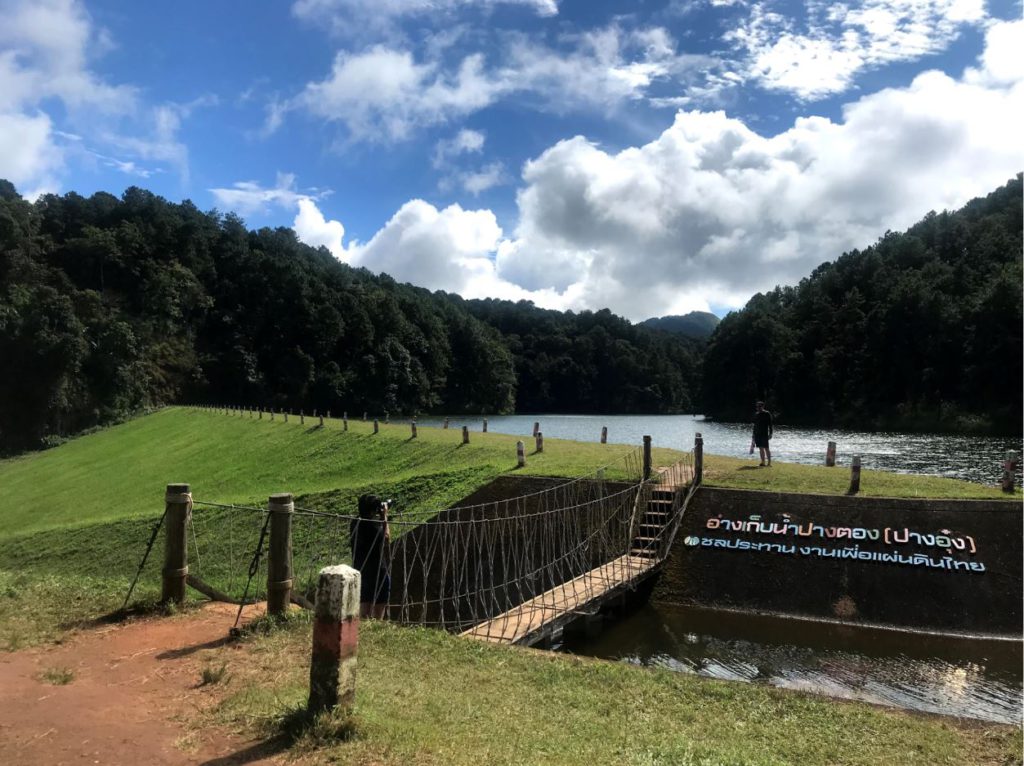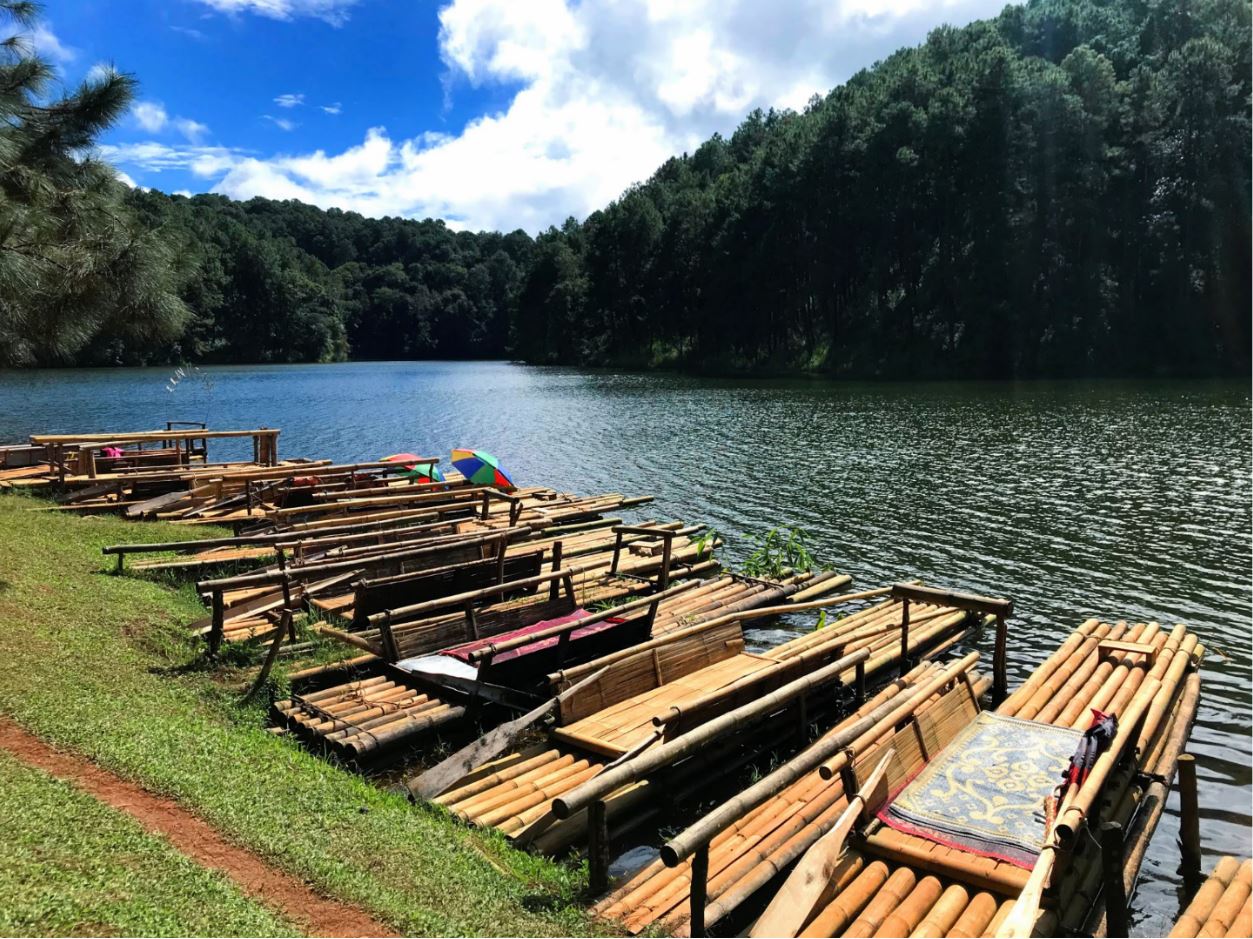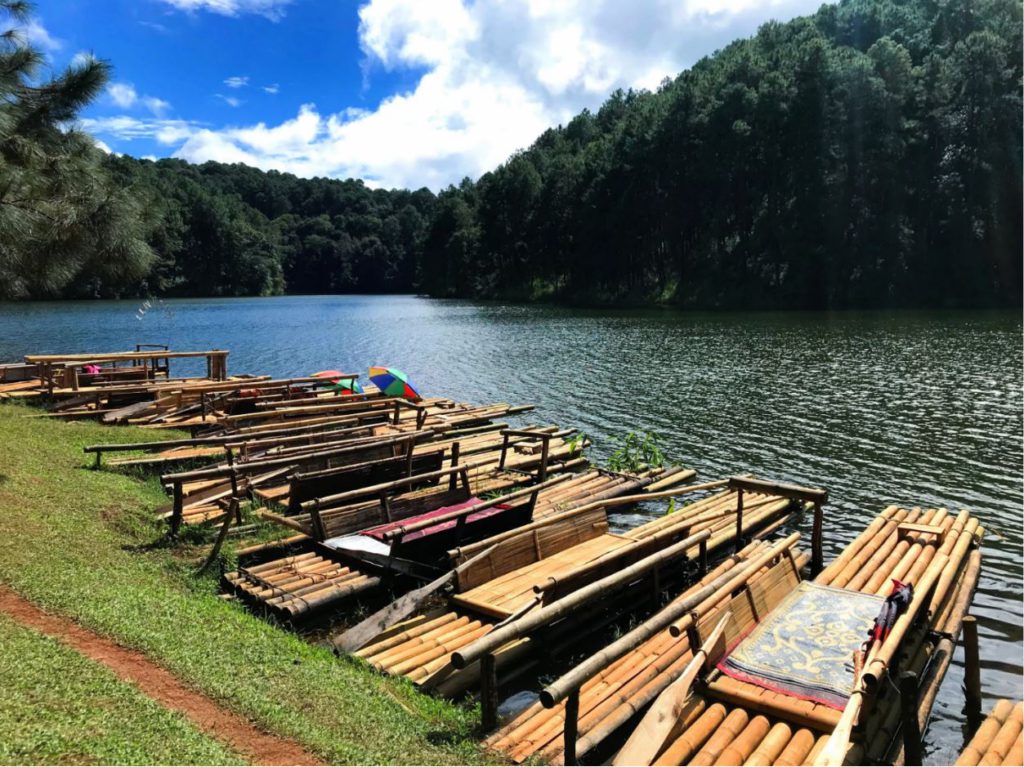 Ban Rak Thai
This is my favourite place in Thailand. Ban Rak Thai is a small village built by Yunan settlers as they fled China during the rise of Communism. The village is also called 'Mae Aw' and has a heavy Chinese influence. It is located at the Thailand – Myanmar border.
The centre point of the village is a lake that sits in the middle while the villagers settled around it. There are so few people that they will be able to recognise you if you stay for more than a couple of days. The temperature usually drops to single-digit (up to 3-4°C) during the winter months.
If you are in Mae Hong Son, don't miss this place. Ban Rak Thai also has fantastic tea products that are cultivated and sold locally. We stayed here for 2 days and I felt that I could easily stay for a month here. Check out our blog post on travelling to Ban Rak Thai.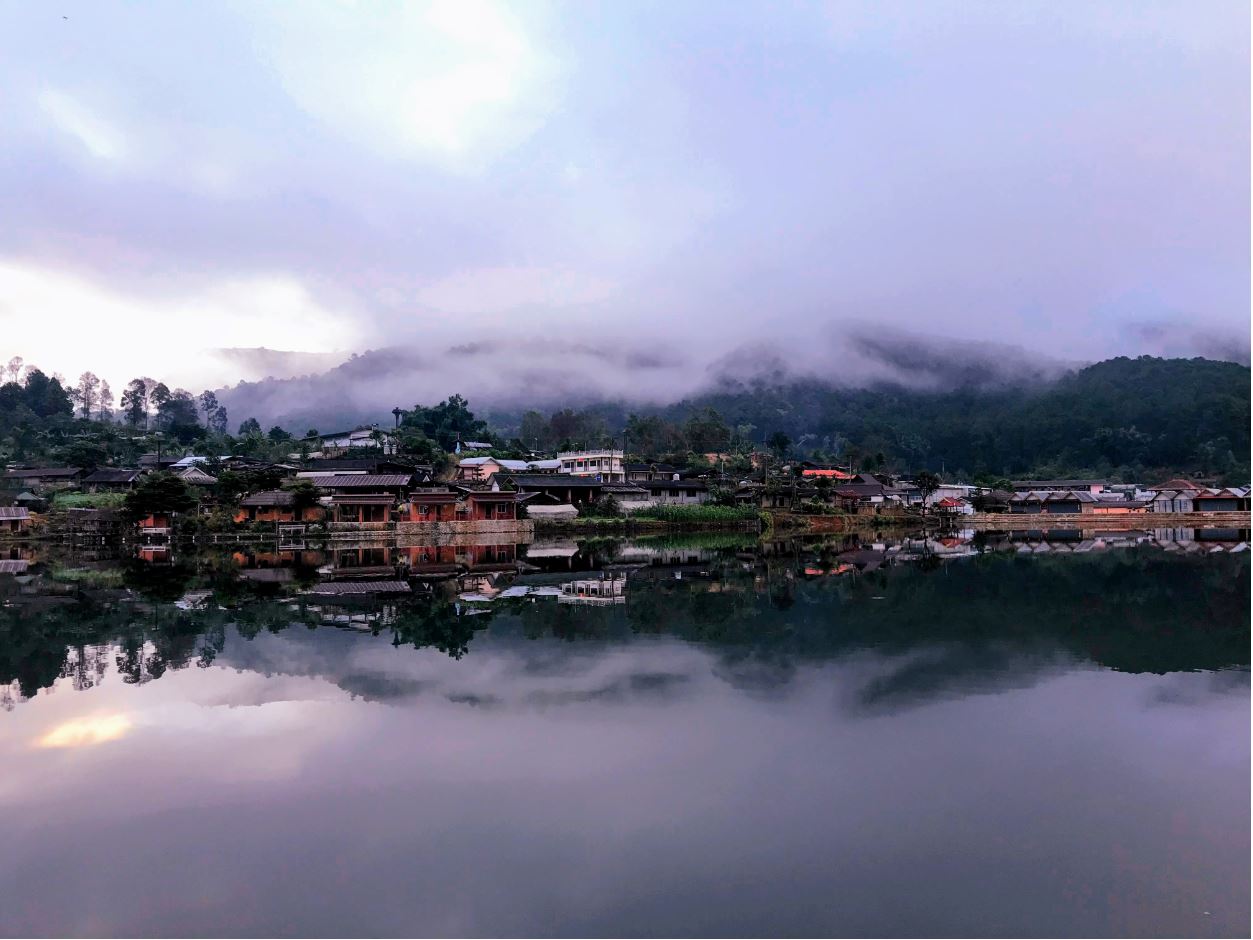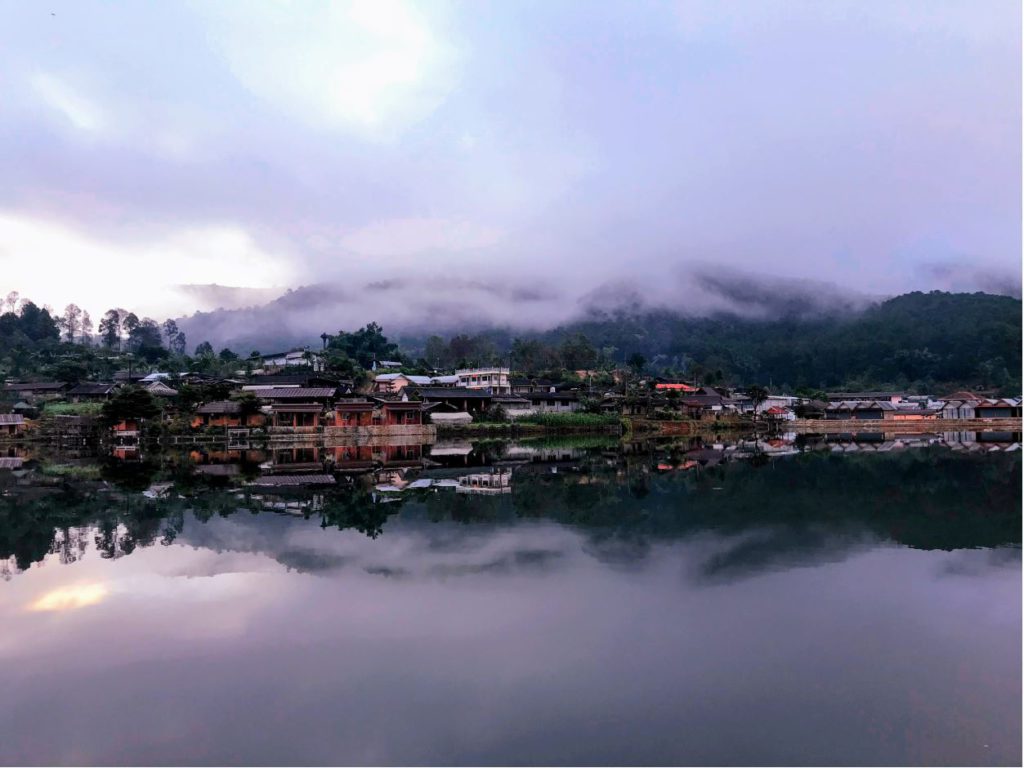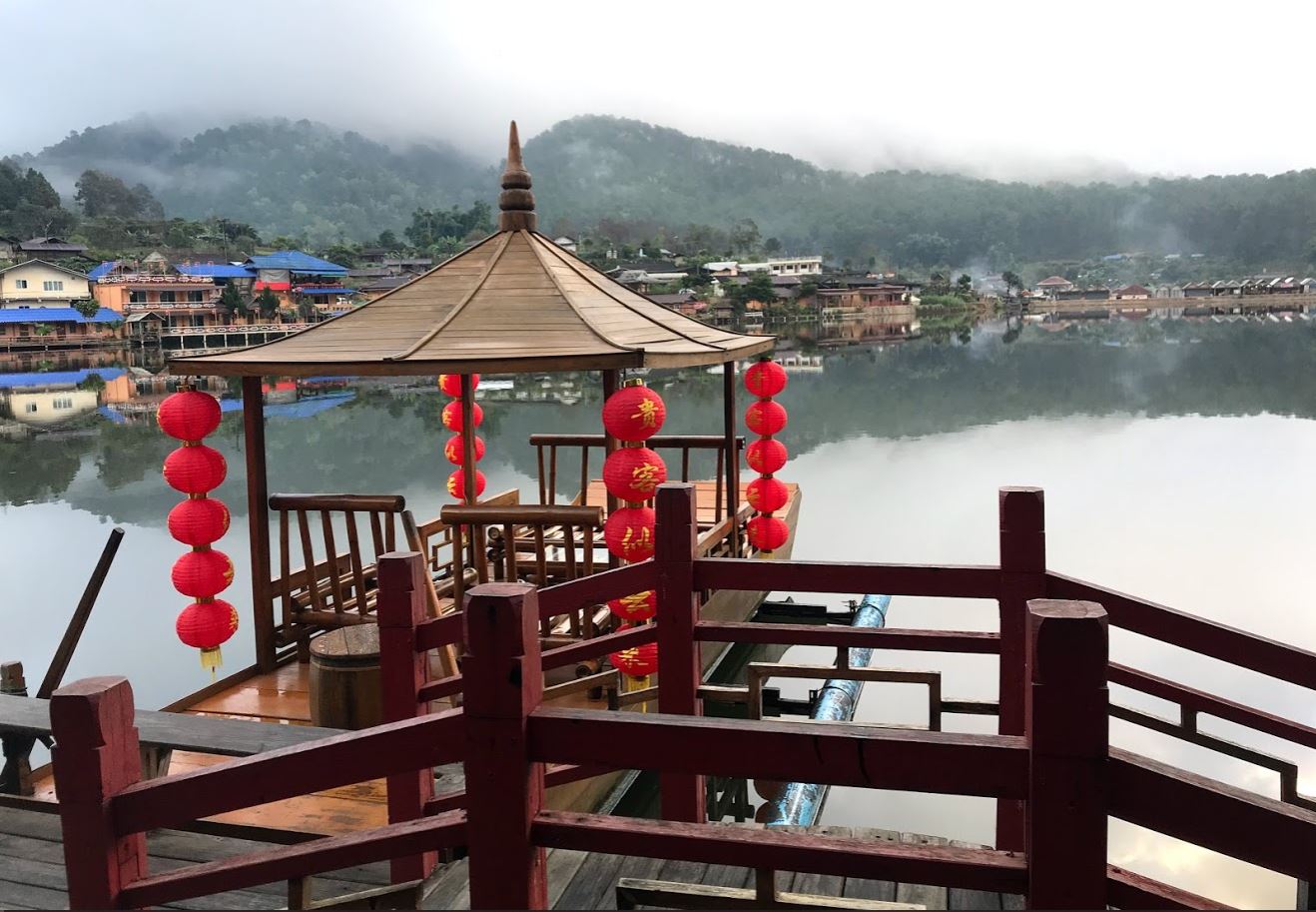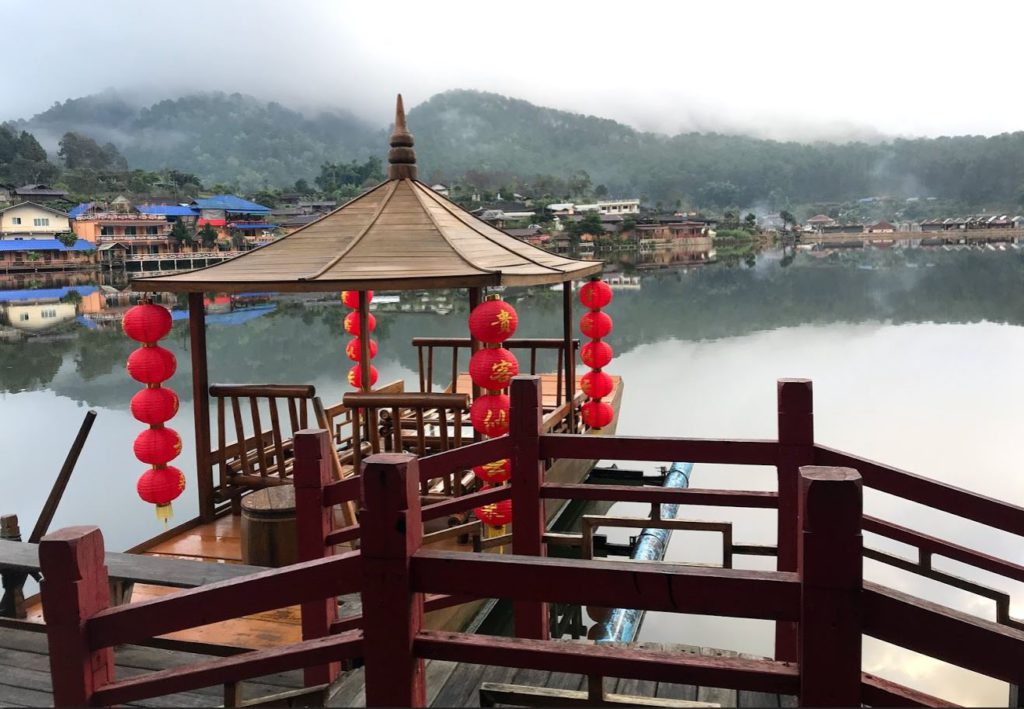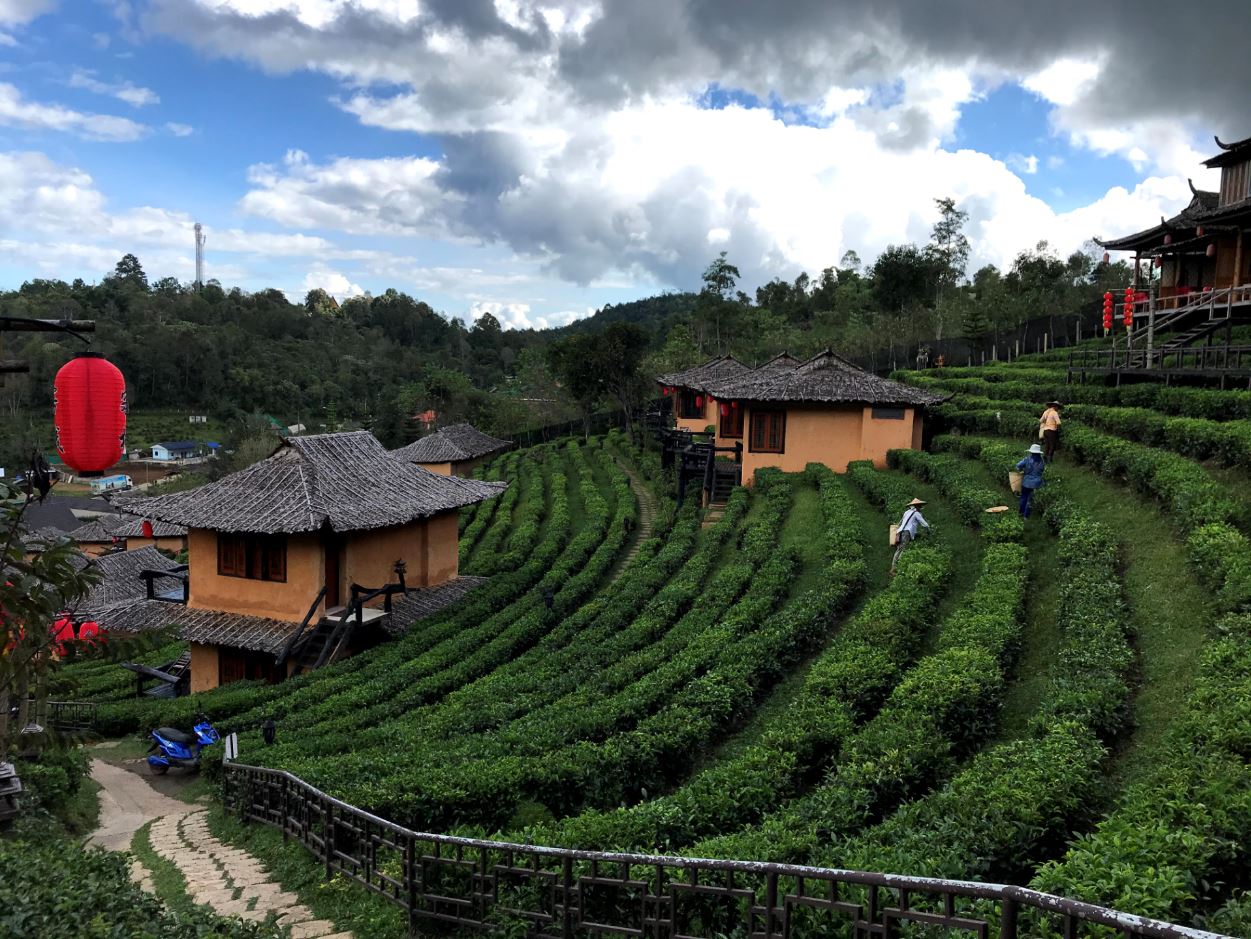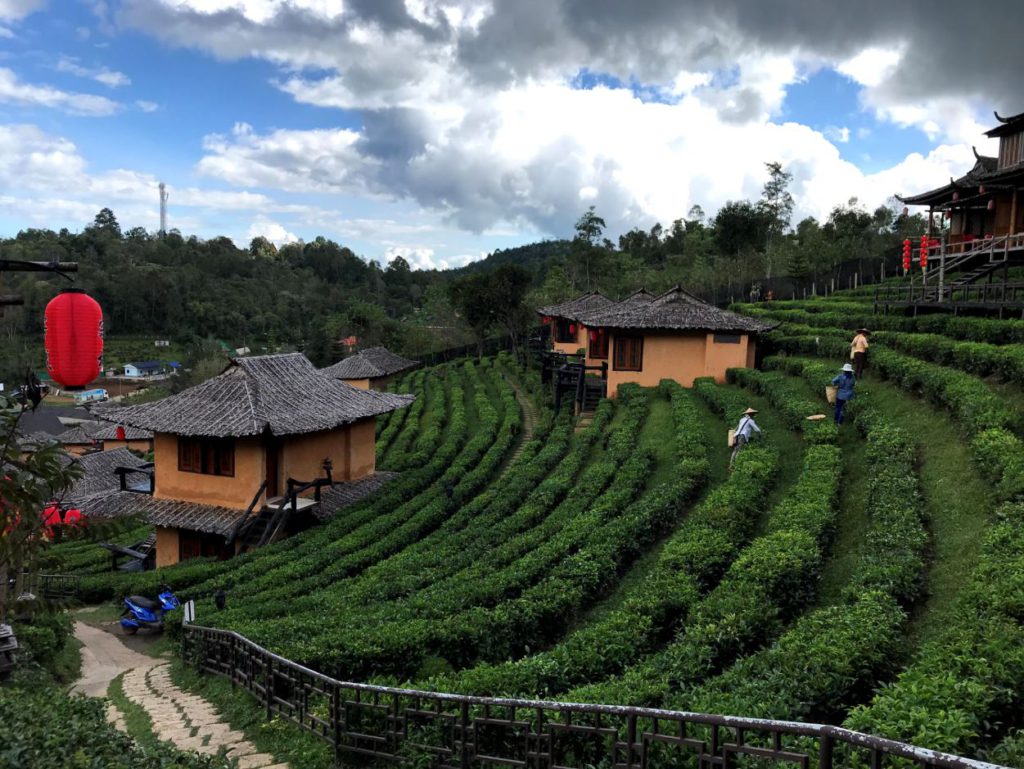 Namtok Mae Surin (Waterfall)
The next place is on the other side of Mae Hong Son as you travel down towards Mae Sariang. You will have to stop for a while for this. The drop of the waterfall is steep and although you must have seen a lot of waterfalls in Thailand by now, this will still impress you. Unless you are here in the peak of summer.
The entrance fees to the national park area is THB 200 for foreign travellers that I feel is steep for the view. Although if you are driving on the Mae Hong Son loop and looking for a stop, I will suggest you stop here.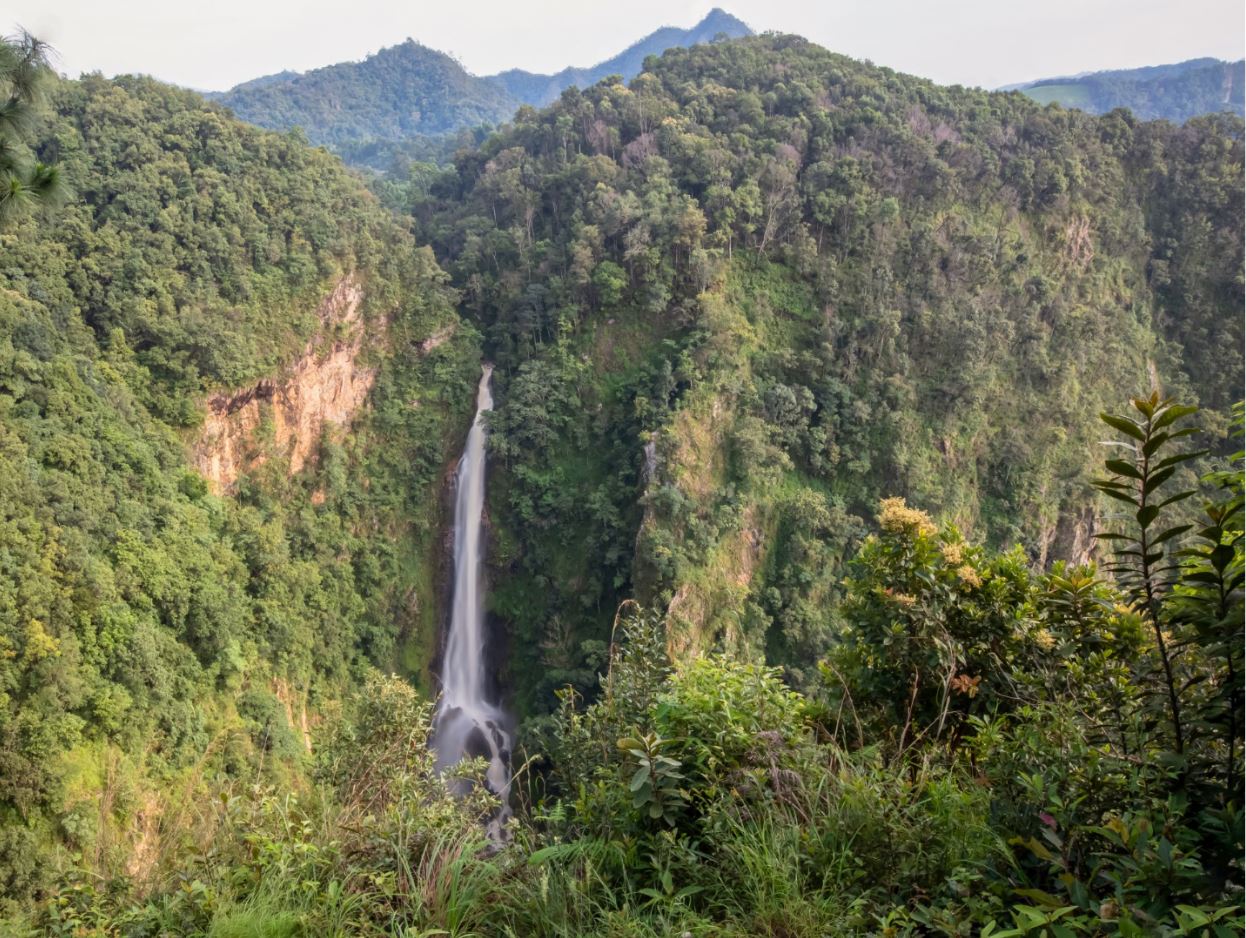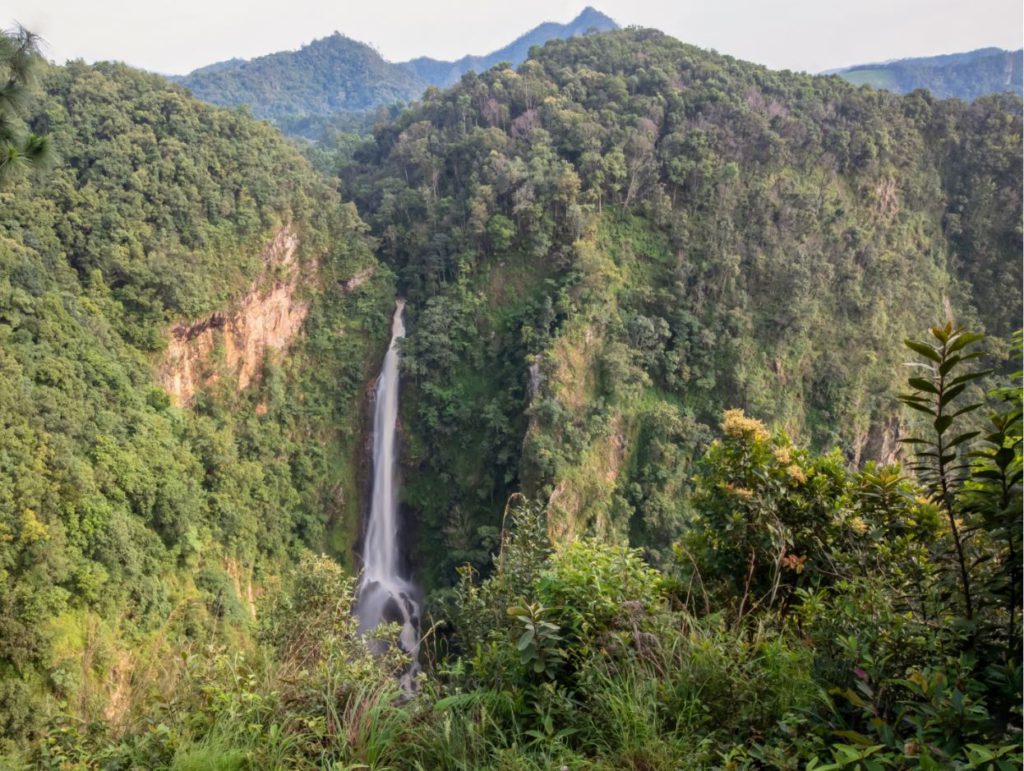 Thung Bua Thong Fields
A little ahead of Namtok Mae Surin, you will find a vast expanse of yellow flowers that you should not miss if you love to take photographs. These fields are full of Bua Thong flowers. Ideally, these flowers grow in Mexico, but you can spot them sometimes in Thailand too.
While these flowers are beautiful, they sometimes hurt the ecological balance. Therefore, these are grown under strict supervision. The view although is unbelievable. The bad part is, you can find them only in winters. So you can skip the place otherwise.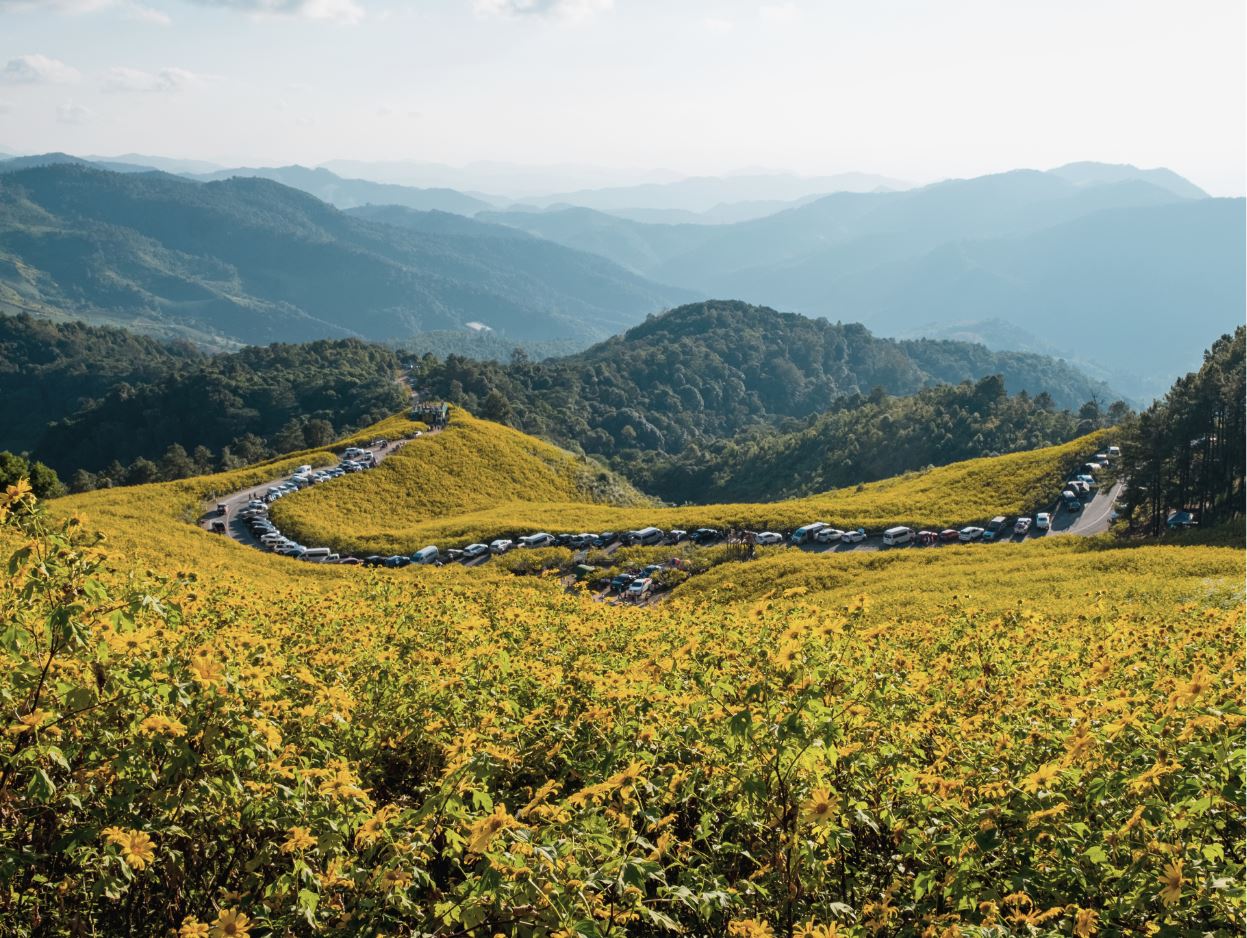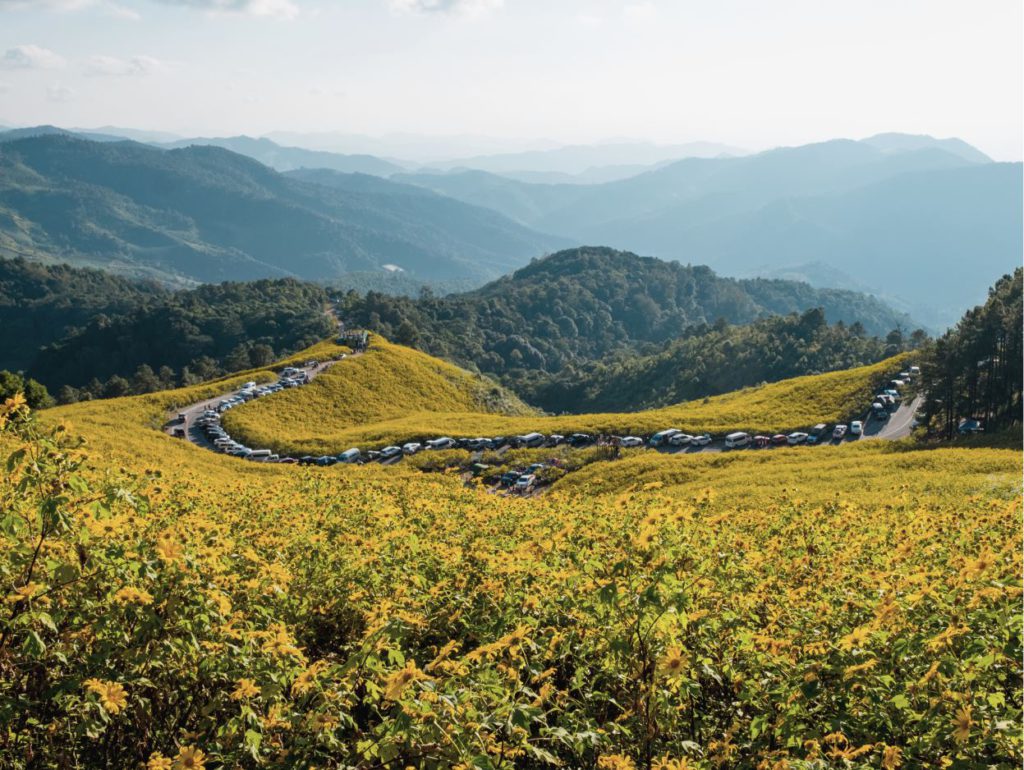 Where to Stay in Mae Hong Son
I will suggest you stay in the main city of Mae Hong Son if you want to go around town often or want to explore it on foot. The town is small so it doesn't matter where you live. It is especially good if you are taking a flight to Mae Hong Son.
Here are a few budget hotels inside the city: Good View 2019 (Hostel), B2 Mae Hong Son Premier Hotel, Boondee House, Sarm Mork Guest House
There are a few hotels a little outside too. I think they would be great too if you are looking for a quiet time or some privacy. But you need your own vehicle to travel around. Food options outside the town could also be limited but you can always eat at your hotel.
Check out these resorts outside Mae Hong Son: Fern Resort, Banviewnam Camping & Resort, Banphumontalang resort
Best time to visit Mae Hong Son
The best time to visit Mae Hong Son and nearby areas is definitely winter (November – January end). The weather is pleasant, even cold on some days and the sky is clear. The flowers bloom in the surrounding areas and paddy is freshly cut. You need to carry some winterwear though. If you are driving, make sure you have a warm jacket other than a sweatshirt.
Monsoons are beautiful but I will not suggest driving on the perilous roads by yourself during monsoons. The rains may hinder your outdoor plans, especially if you plan to go trekking or want to explore caves in the area.
The summers are a bad time to travel. Forest fires are frequent in north Thailand. There are also chances of catching a heat stroke if you are out in the open for a long duration of time during the day.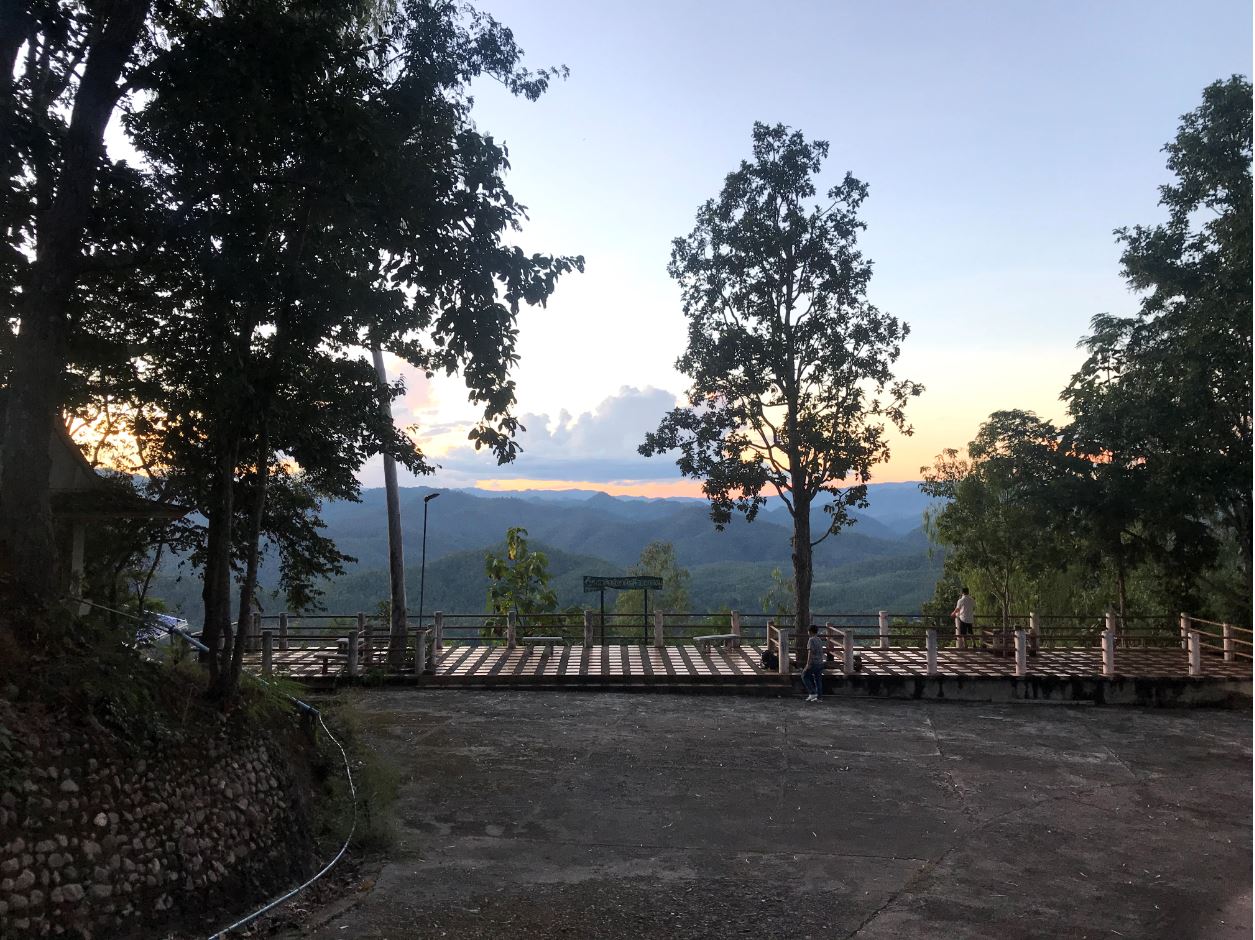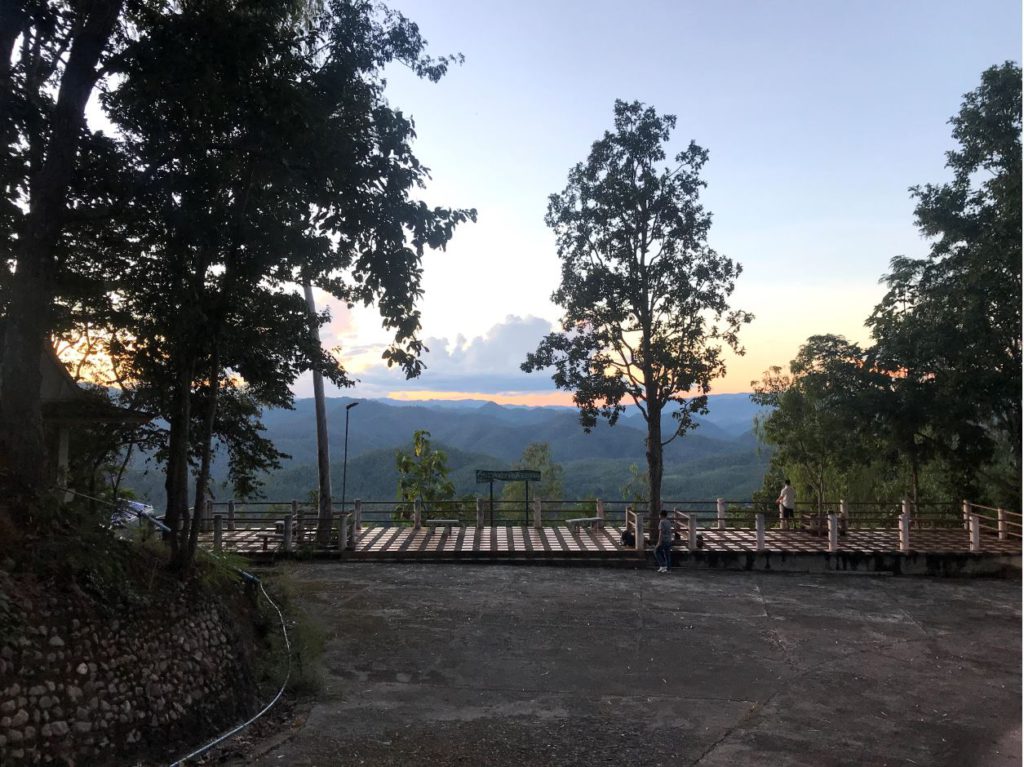 Save On Pinterest


Related Articles