26 Dec

Visiting Ban Rak Thai, a Chinese village in Thailand

Ban Rak Thai is my favourite place in Thailand till now and I can say I have travelled quite a bit. I saw the photo of Ban Rak Thai at the bus station in Pai. The photos was that of Chinese style houses sitting on a hill surrounded by green tea gardens and decorated with bright red Chinese lanterns.

It captivated me instantly. But I did not know where it was and how to reach this place. I decided to come back the next year.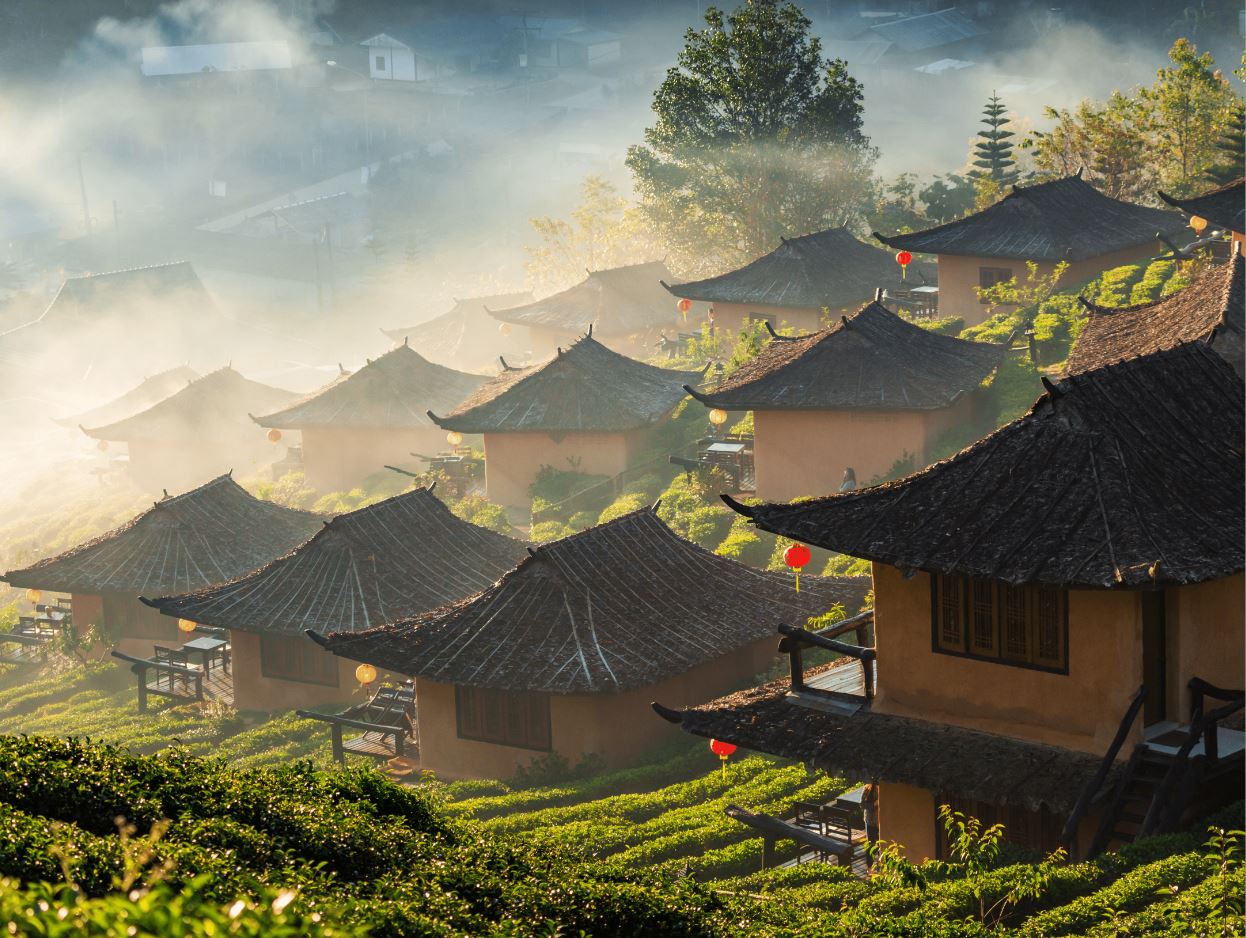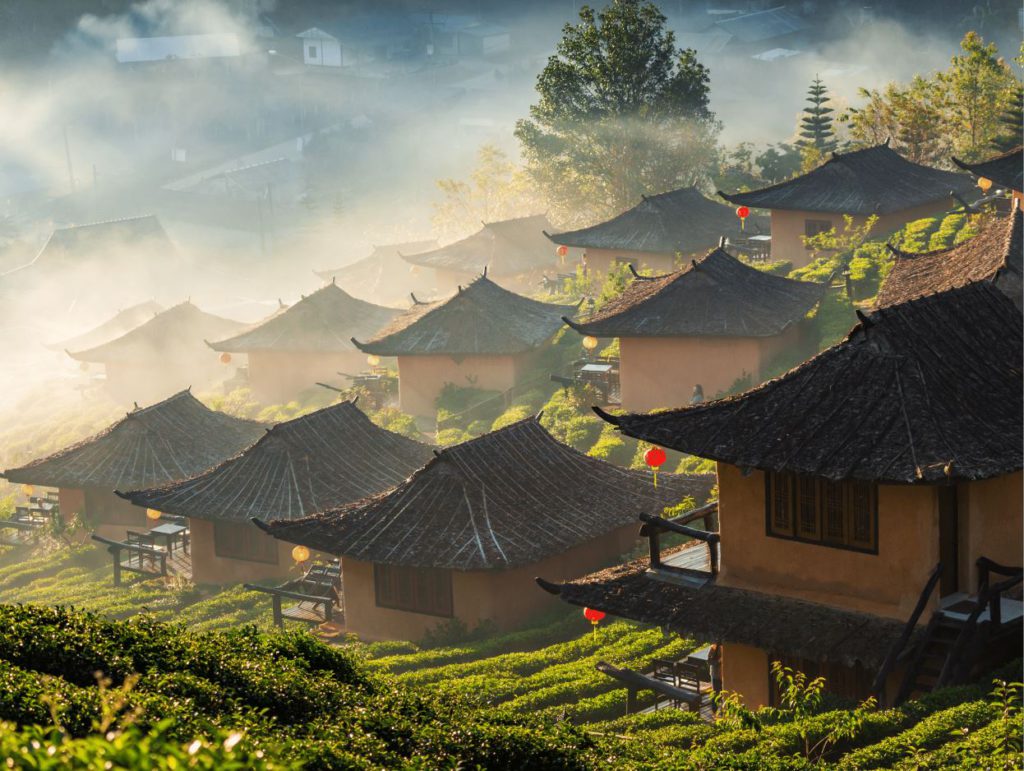 Fast forward, we planned to do the Mae Hong Son Loop and include Ban Rak Thai in our itinerary. It is one of the best trips of my life. You get to see northern Thailand that only a handful of tourists must have seen. Plus if its winter, oh you cannot forget the feel of cool wind on your face after a long hot year in Thailand.
While I will suggest anyone to visit Ban Rak Thai in Thailand, I have say, it is pretty hard to reach. I guess that makes it special too. Fewer tourists have left the village with its natural essence. And in winters, it is a paradise.
Here is what you need to know to travel to Ban Rak Thai.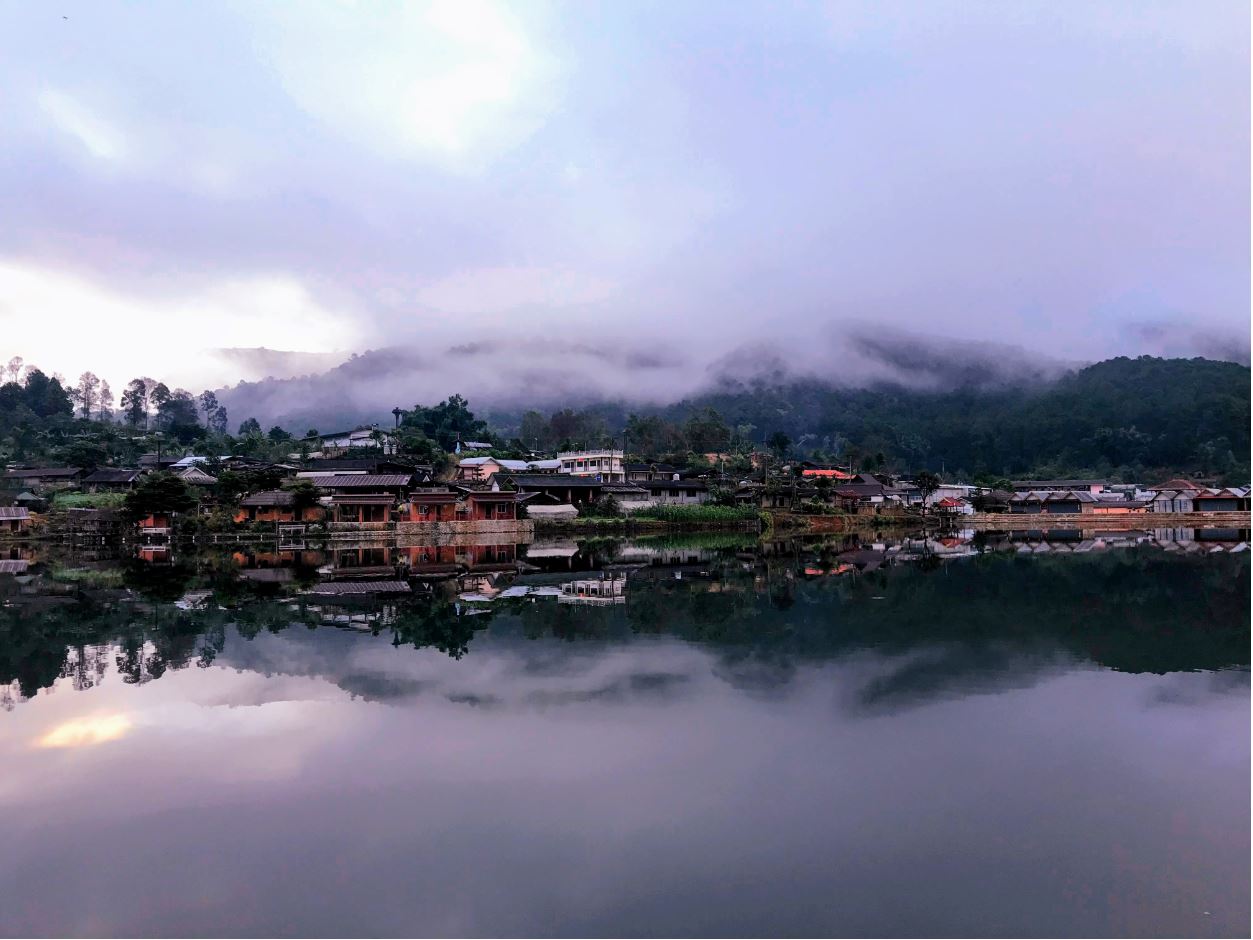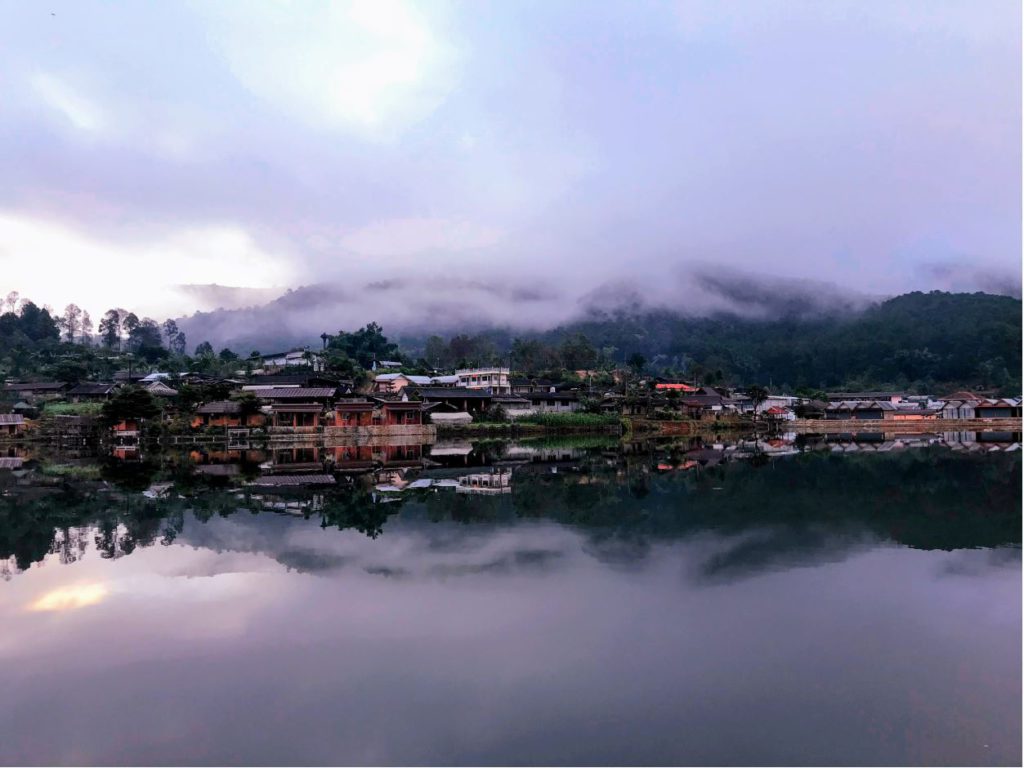 Where is Ban Rak Thai
Ban Rak Thai or 'Mae Aw' is located on the Thailand – Myanmar border around 44 km north of Mae Hong Son town but inside Mae Hong Son province only. It is 118 km from Pai and 246 km from Chiang Mai in extreme northwest Thailand.
So I have to say its pretty remote. Ban Rak Thai is 1,800 meters above sea level. So it is usually cold during the winters (an unusual thing in Thailand).
There is another place in Google map in Phitsanulok (in central Thailand) that points to the same village. The result is wrong and there is no such village there. This can be misleading.
How to reach Ban Rak Thai
There are no trains, buses, minivan or flight to Ban Rak Thai. Yes, it is that remote. So you will have to go to greater lengths to reach the place. Here is how to go to Ban Rak Thai:
Day tour/Taxi: If you don't want to stay in Ban Rak Thai for more than a day, you can take a day tour to Ban Rak Thai. Many operators provide this in Mae Hong Son and Pai. If you are a family, I suggest you book a full vehicle and customize your itinerary to spend more time in the village.
Unfortunately, there are no tours available online as a package. You can go to the local tour agents and negotiate a price in both these towns. A day will suffice to explore the small village and spend some quality time.
If you want to spend a few days, you can always take a taxi to Ban Rak Thai. But in most cases, the driver will charge you all the way to Ban Rak Thai and back claiming that he will not get any customers on the way back. It is not more an hour's journey from Mae Hong Son. I think it should not cost you more than THB 600 for a one-way journey.
In Mae Hong Son? Check out our travel itinerary on what to do in Mae Hong Son
Songthaew: A songthaew (yellow Thai minibus) leaves from Mae Hong Son twice a day at 8 am and 11.15 am in front of Mae Hong Son food market. It is near Wat Huan Wiang. This is a good way to reach Ban Rak Thai if you are on your own or don't want to drive by yourself.
I will still suggest you cross-check with your hotel owner or a local for the availability of this bus. Also arrive a bit early to get a seat. It costs around THB 120 for the journey.
Self-drive: You can always rent a scooter or a car in Mae Hong Son or Pai and cover the distance yourself. We started our journey all the way in Chiang Mai and covered many places on the way. I should sternly warn you that the roads in the area are not easy to drive.
Countless turns and hairpin bends and makes even a seasoned driver nervous. So don't decide to DIY this unless you have a lot of experience on Thai roads (on islands and hillside). Keep it slow and follow a car if unsure.
The drive is exceptionally beautiful though. You can also stop at places like Pang Tong palace, Pang Oung lake, Tham Pla caves and more on the way.
Take a scooter with a minimum power of 125cc that should cost you around 200THB in Mae Hong Son town, THB 150 in Pai and THB 250 in Chiang Mai. A car will cost you THB 900 and upwards a day depending upon the vehicle. You can find these shops in the city.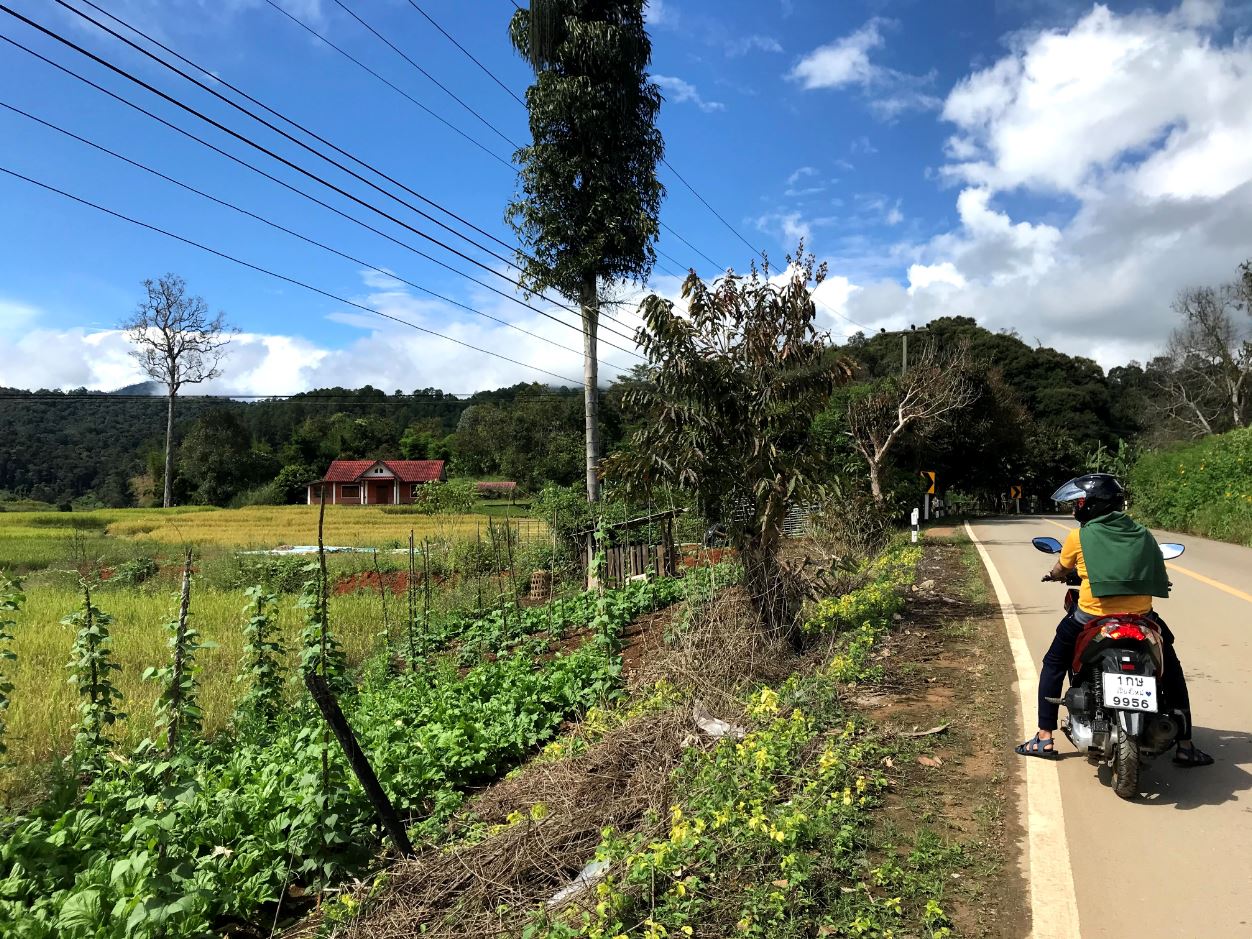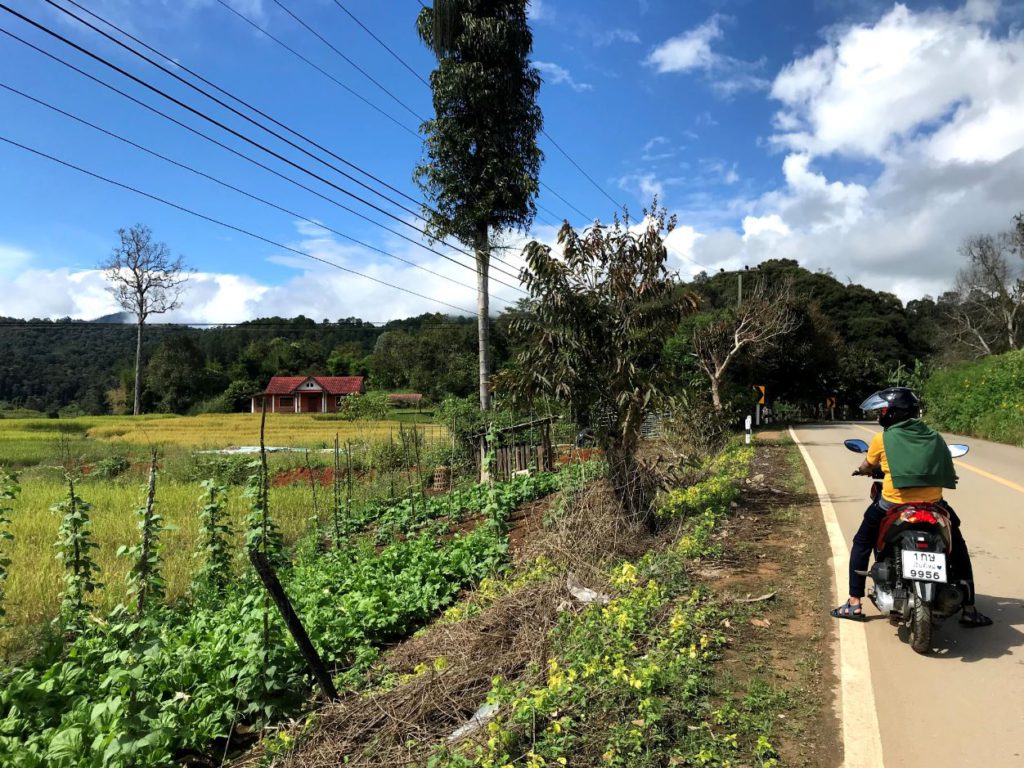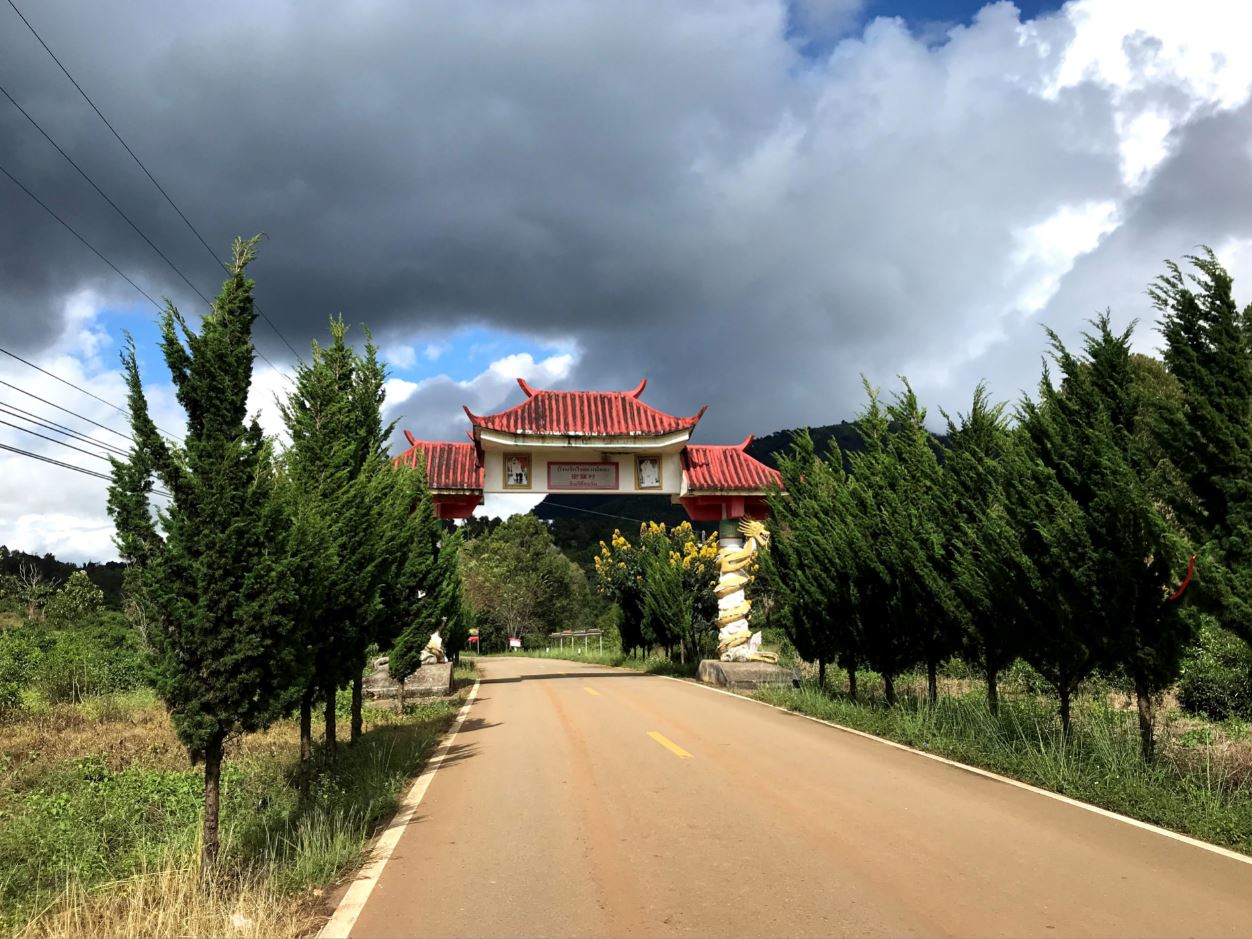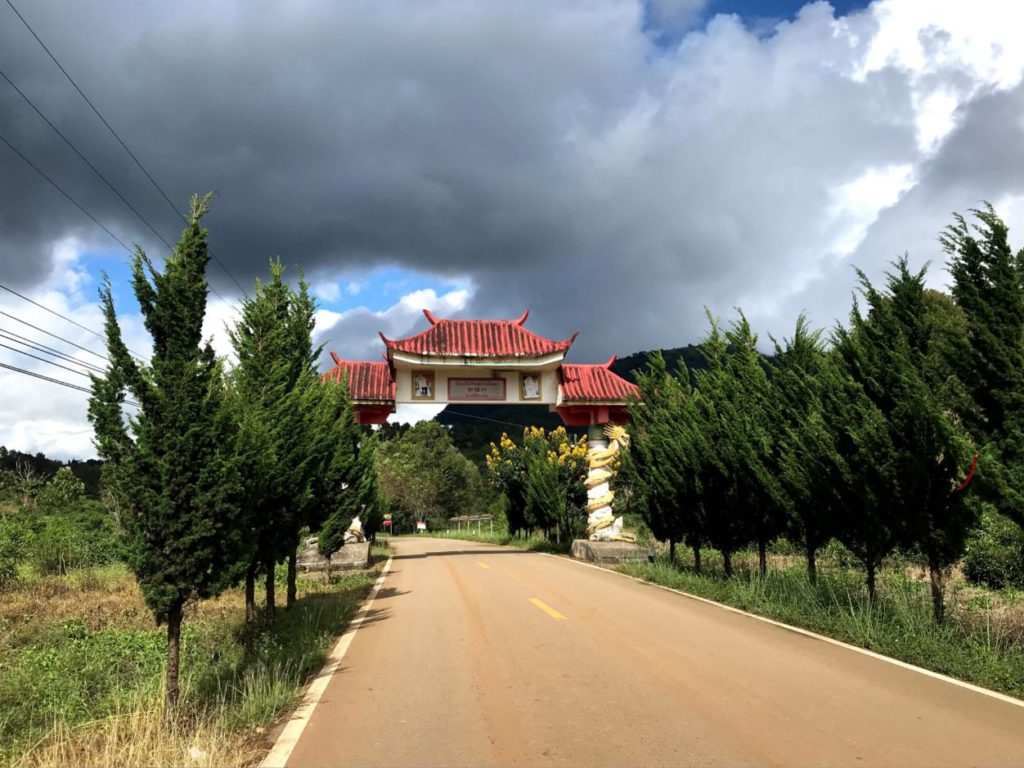 How to go around in Ban Rak Thai
If you have your own scooter or a car than it would just be added benefits. However, you don't really need any of it. Ban Rak Thai is small enough that you can cover it on foot. In fact, it is best covered on foot.
Take a walk across the lake in the middle and stop at several restaurants to try local dishes and talk to people. There are a few places that are a couple of kilometres away from the village but you can still cover them on a relaxing morning or evening walk.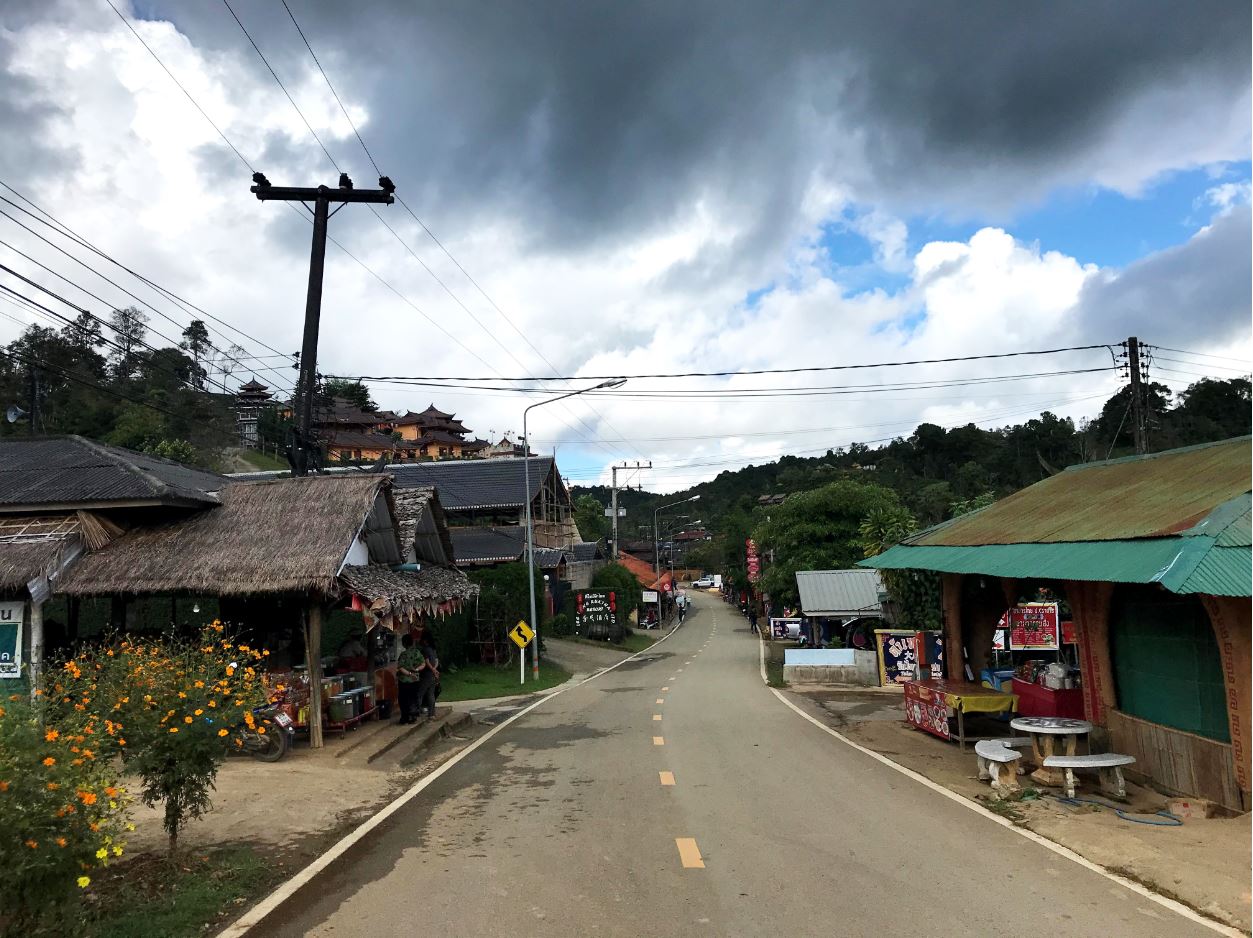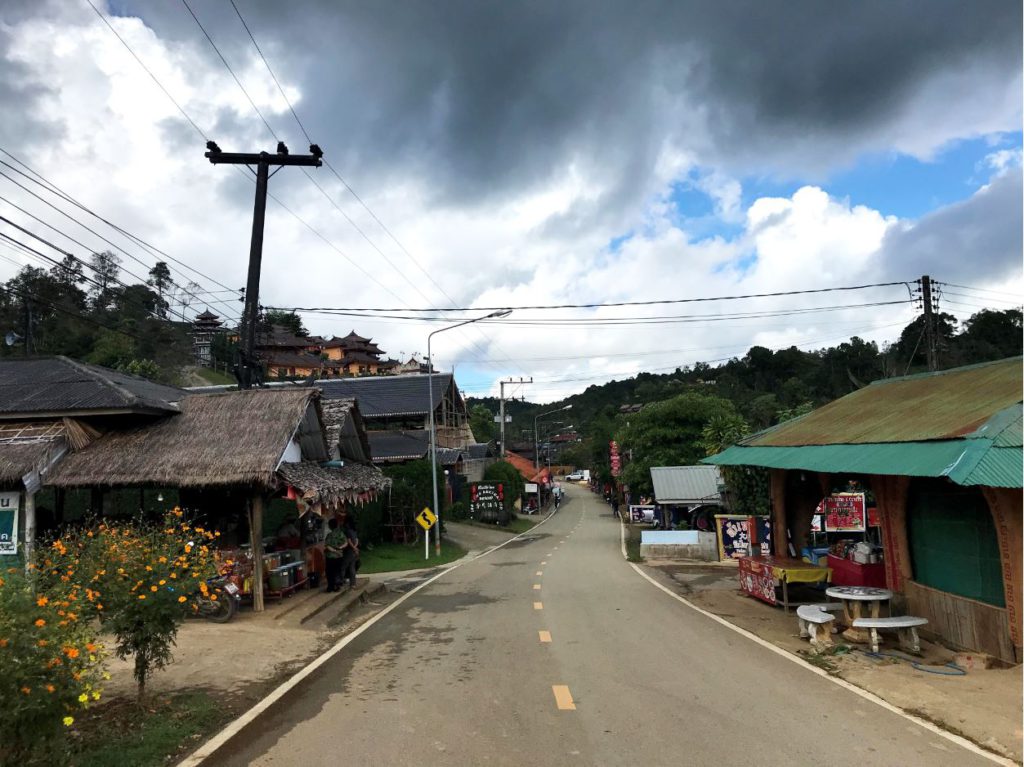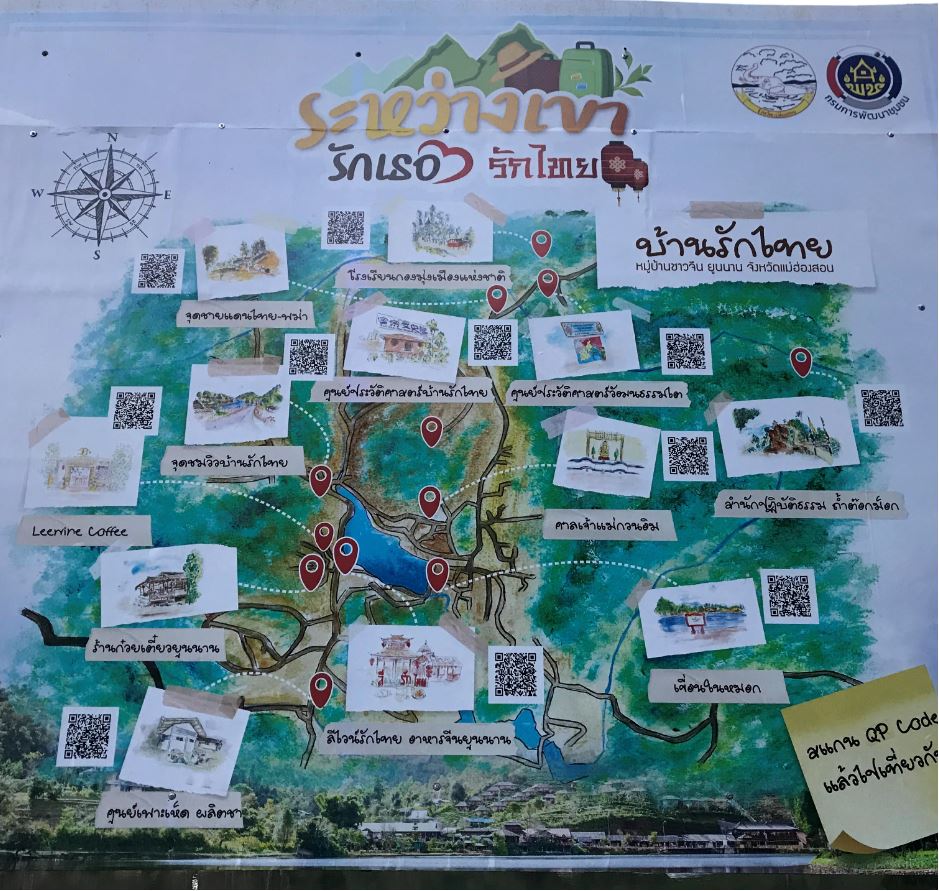 Best time to visit Ban Rak Thai
Winters are undoubtedly the best time to visit Ban Rak Thai. If you have been in Thailand for long and yearn for some cold, this is the place to be. The temperature drops to 3-4°C during December end and is in single digits during most of the winter months.
On top of that, the lake has a beautiful view of radiating mist in the early morning hours. It looks surreal. Make sure you pack super warm clothes for the coldest day. A sweatshirt will do on other days.
Monsoon would be a great time too but the roads to Ban Rak Thai and the surrounding areas are treacherous and I will not suggest driving on wet terrain. Also, too much rain will not let you roam around freely.
Avoid summers. I don't feel you will be able to experience the best of this place during that time. Forest fires are also common in northern Thailand in summers. So I don't recommend it.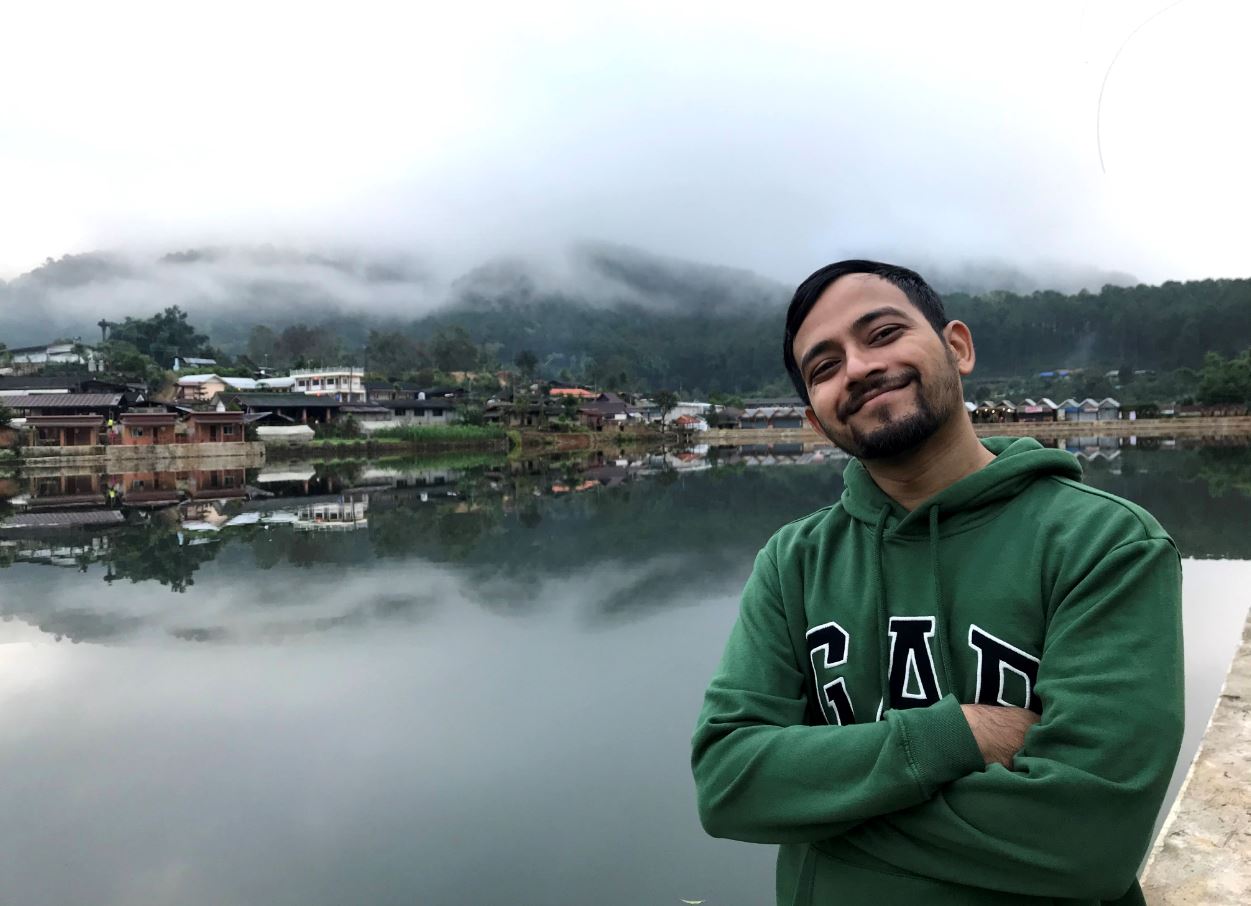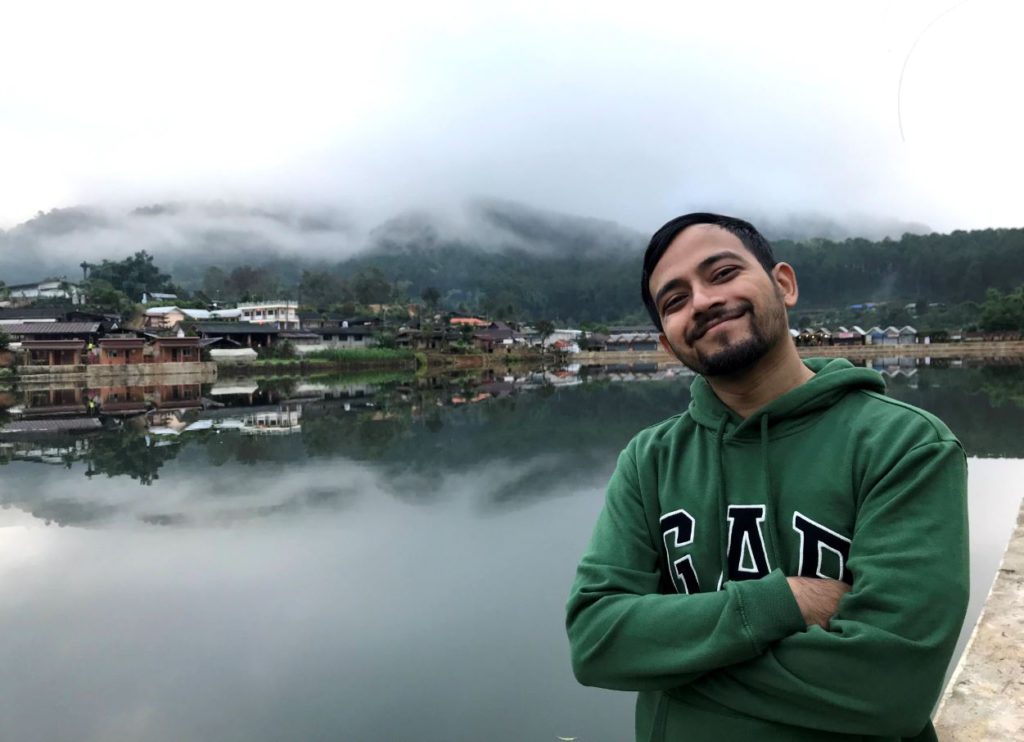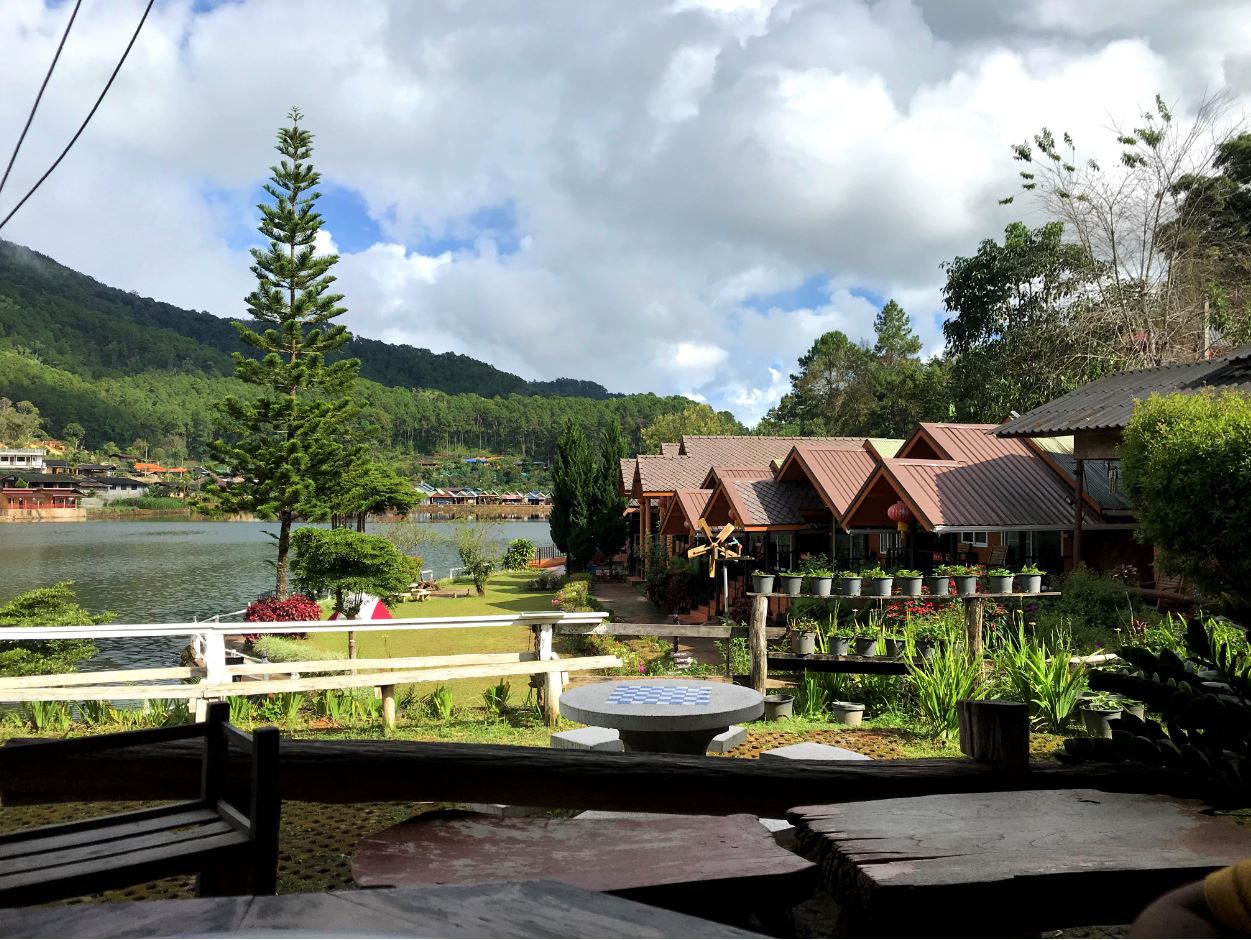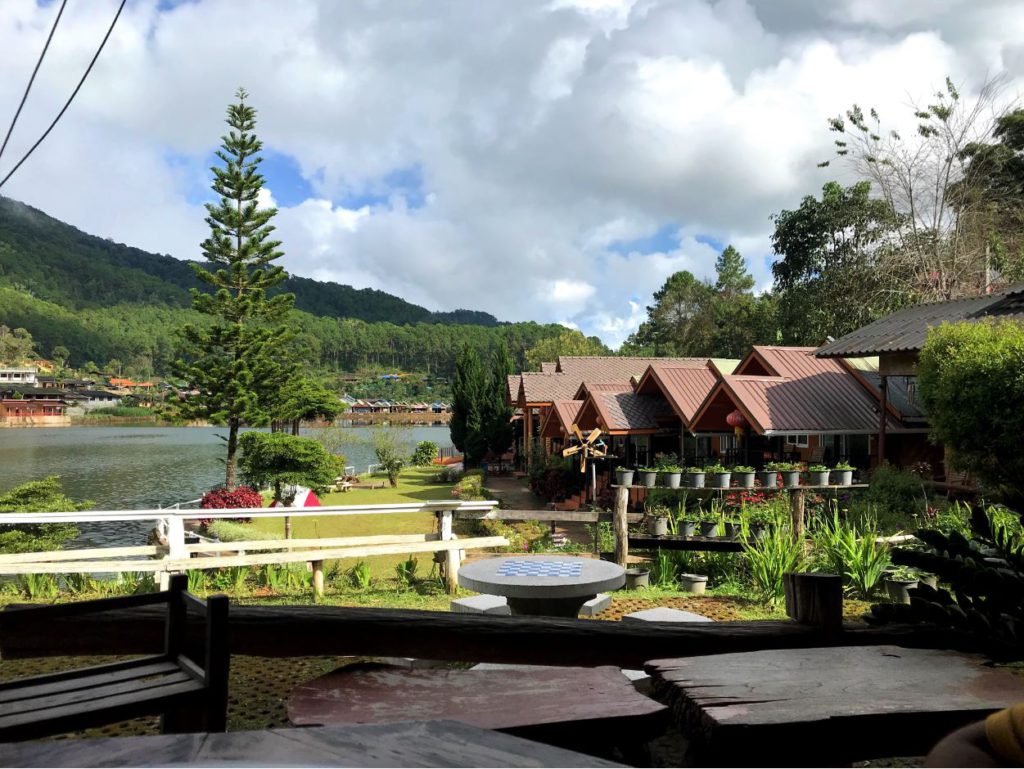 Things to do in Ban Rak Thai
Ban Rak Thai was settled by immigrants from the Yunan province of China. The first generation residents were nationalist fighters who had to flee during the rise of communism in China. Thai government later allowed them to settle here and also patrol the border area. Their children and grandchildren have now adopted Thai life where most people speak native Thai language now.
The name of the place in itself translates to 'village loves Thailand'. So it's surprising to see a place with a completely different cultural identity inside Thailand.
There isn't a lot to do in Ban Rak Thai. And that's the beauty of it. If you are used to fitting in a lot of activities in a day (like me), it will be a nice change. Although there are still some things to do to fill in your day(s).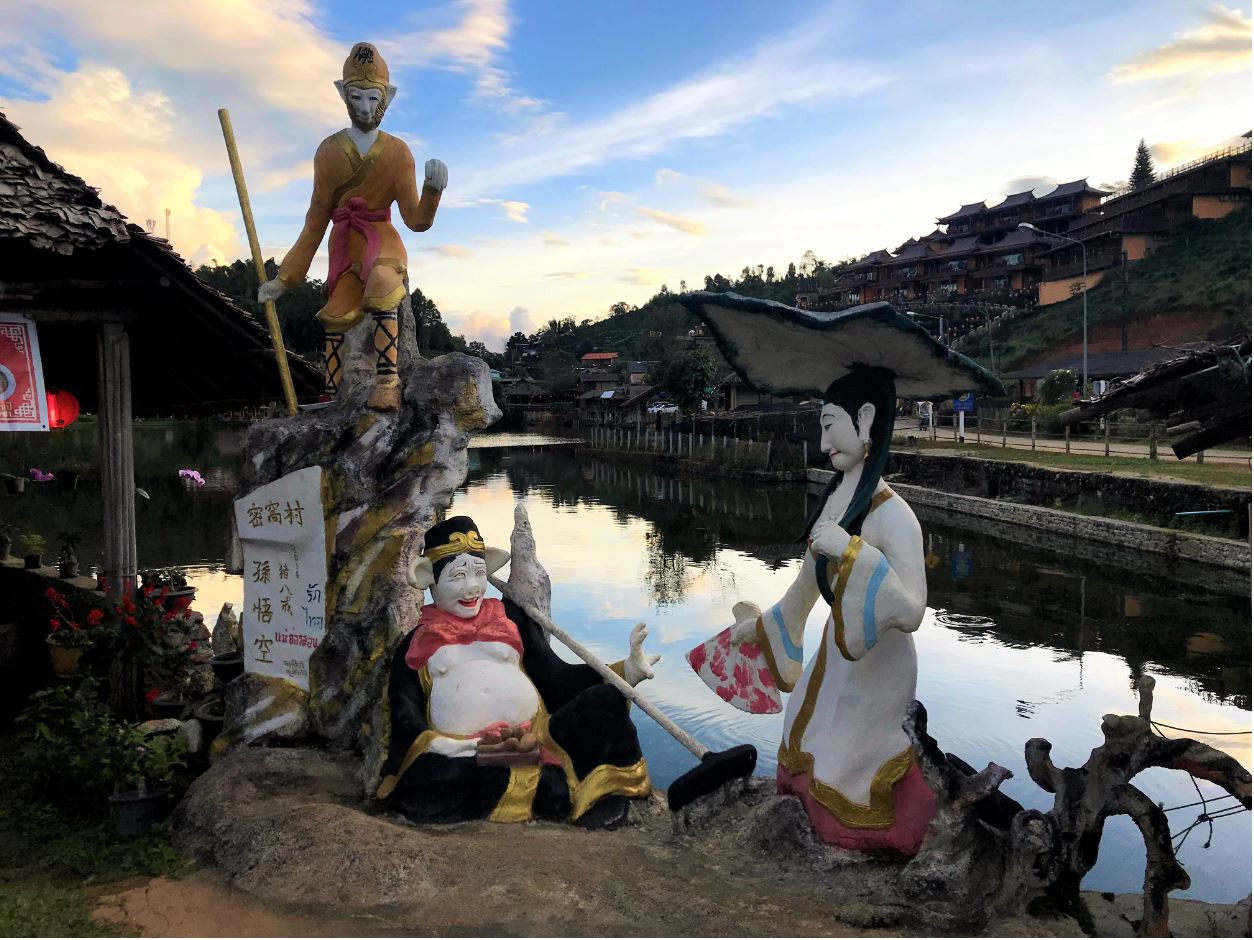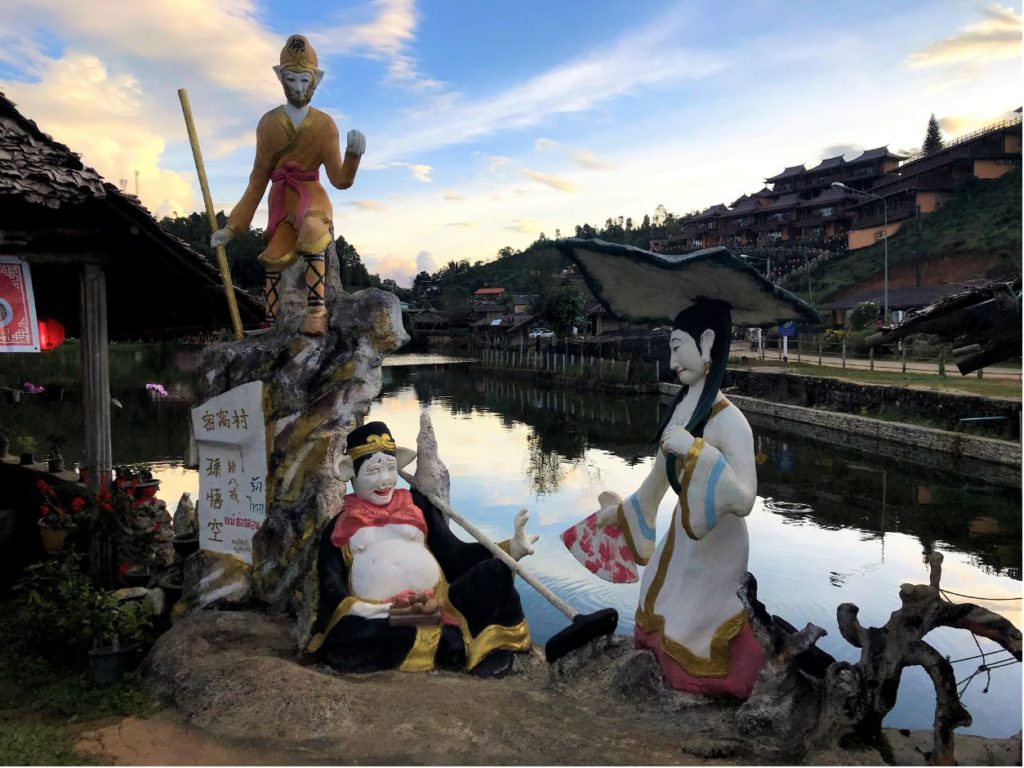 Boating in Ban Rak Thai Lake
It does sound like cliché but I saved my entire trip's boating for this. At first glance, it is just a regular activity but look at the boat. They have redone the boat in traditional Chinese style decorated with red lanterns.
It particularly looks beautiful early in the morning. As you sit in the middle of the lake, mist surrounds you. In fact, it surrounds the whole valley until sunshine shoots it down.
The boating starts from 7.30 am in the morning till the sunset. You have to talk to the staff of Lee Wine Café for this. The cost for this is THB 350 per boat for around 40 minutes of the ride.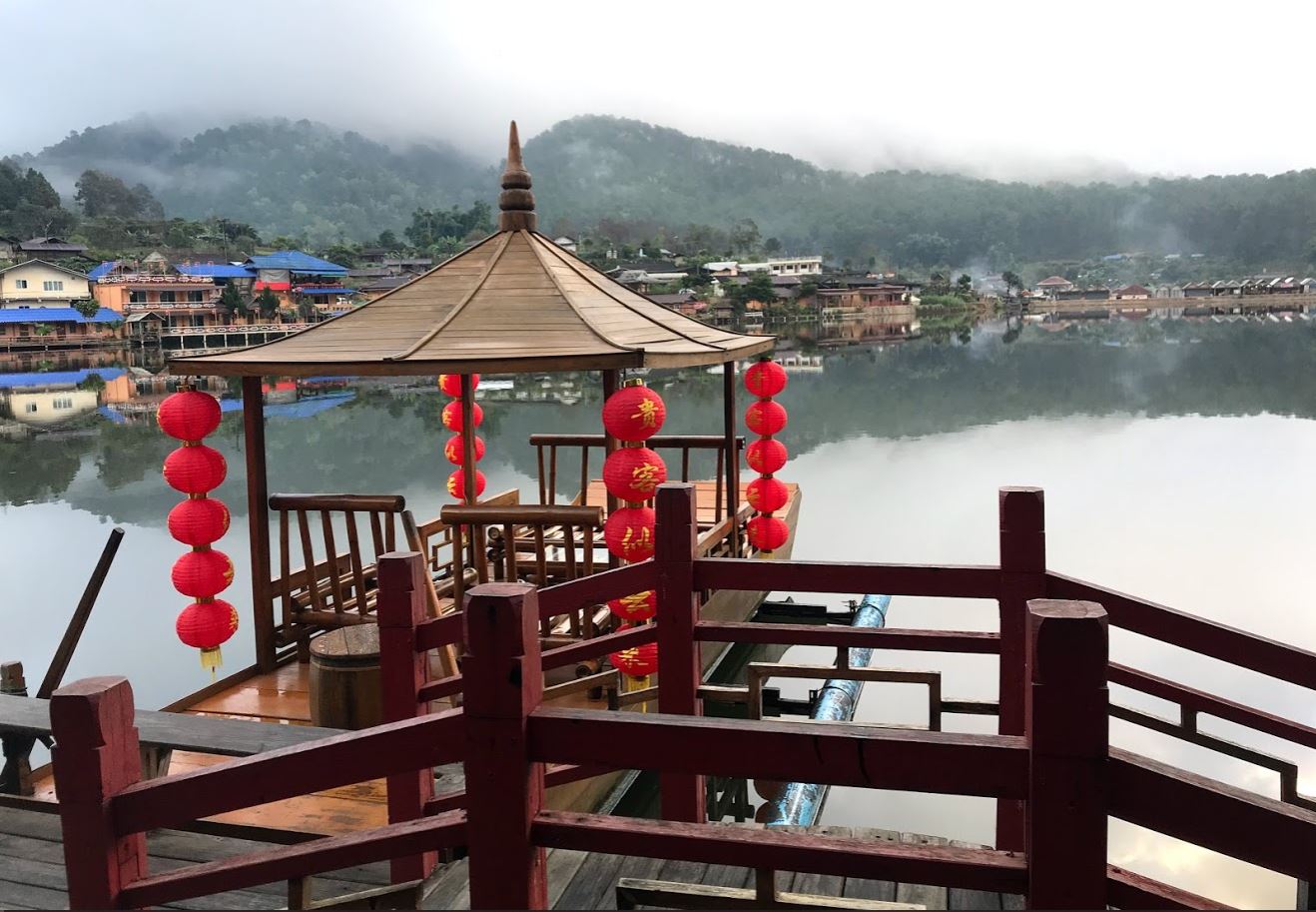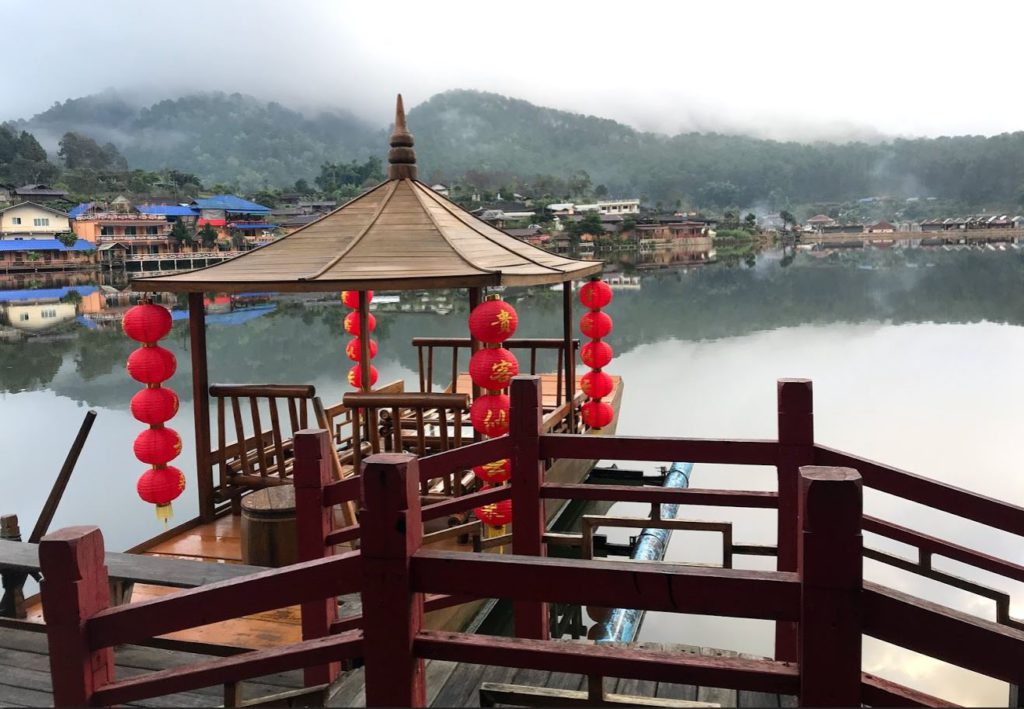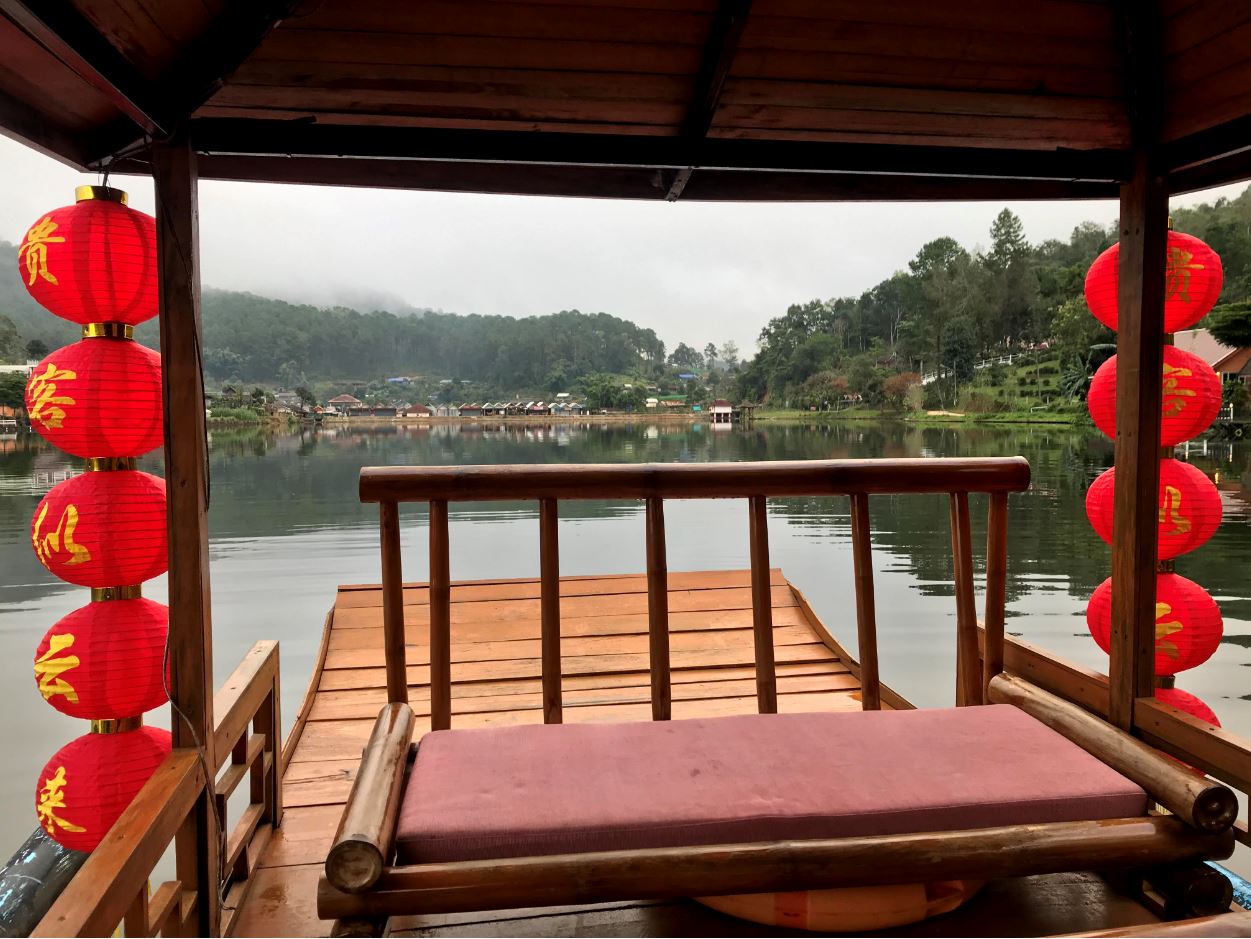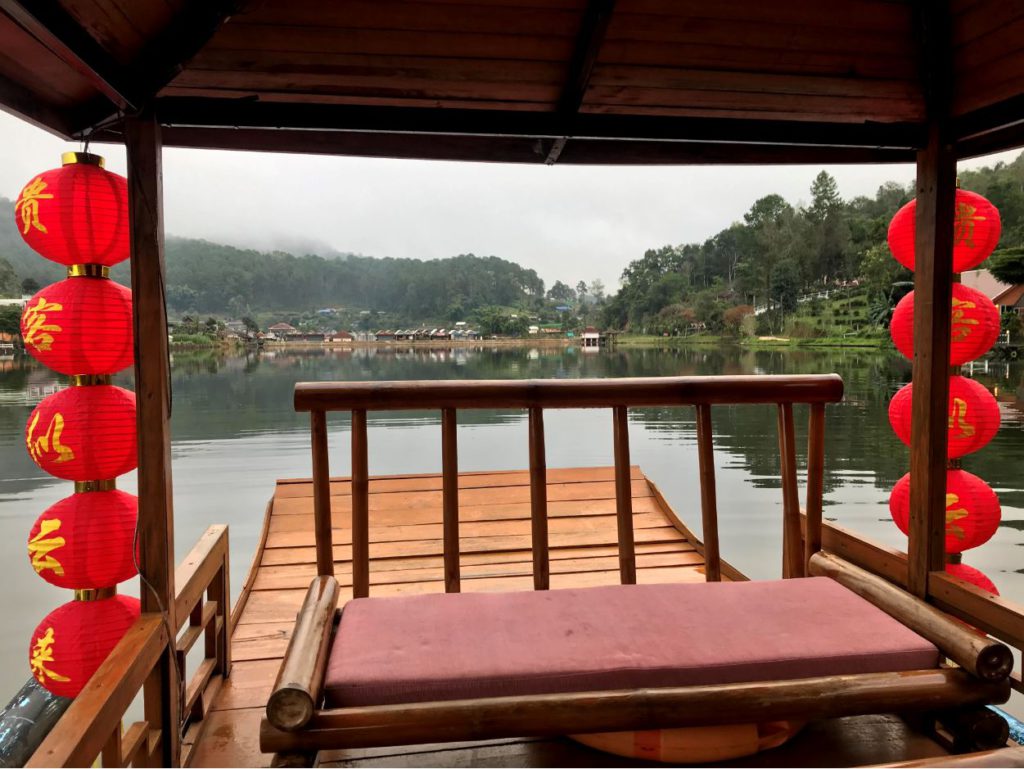 Visit the Tea Gardens in Lee Wine Resort
You may have seen these photos of Ban Rak Thai. In fact, that's the one they use all across the internet to promote the village. The photo is actually of Lee Wine Resort and these houses are hotel rooms.
It's a nice little place located on the hillside. The resort welcomes you with lamp posts decorated with red Chinese lanterns on both sides. As you climb up, you will see the view of the village with the lake in the middle. I would say the view is great but I will prefer living next to the water.
The resort is free to enter for the tourists but only between 10 am to 5 pm. It looks particularly fantastic when the place is covered in mist. If you want to stay here, keep reading.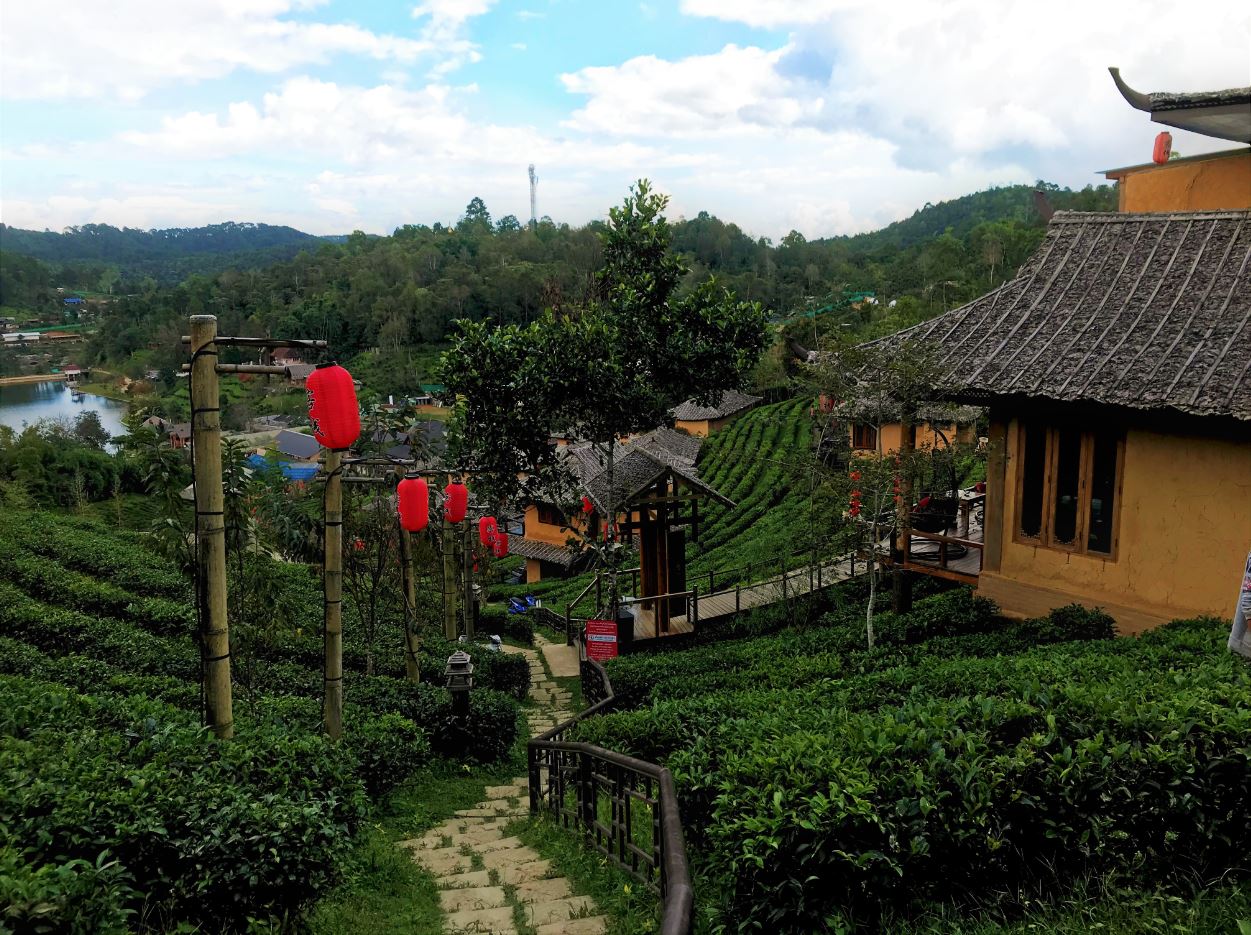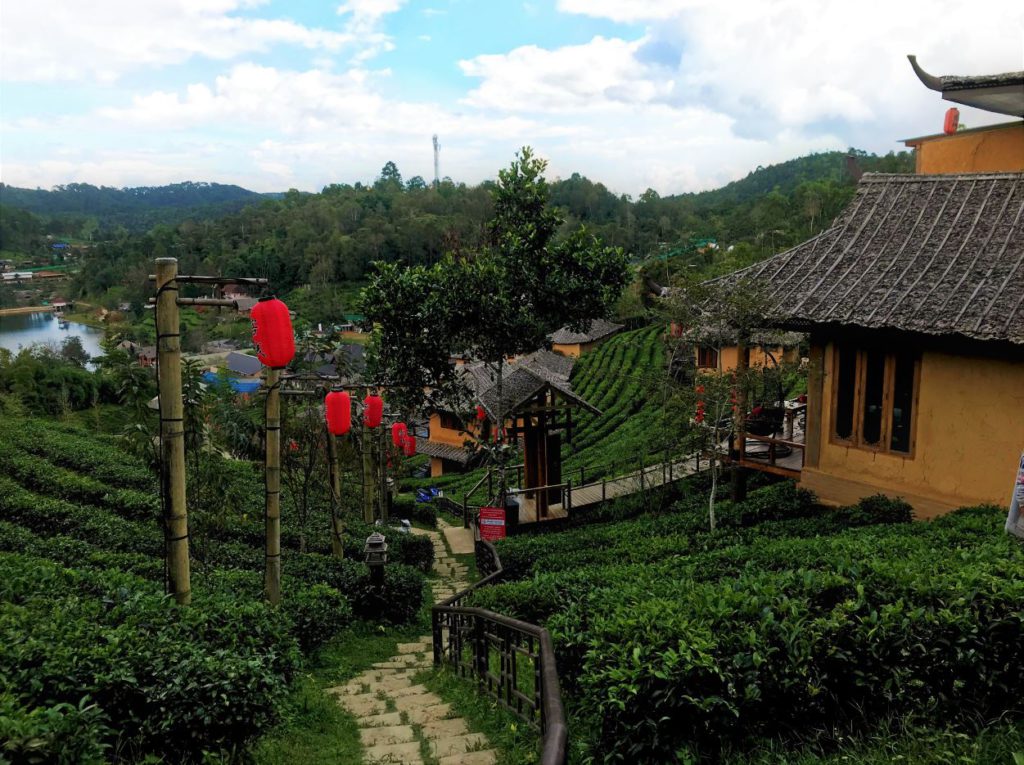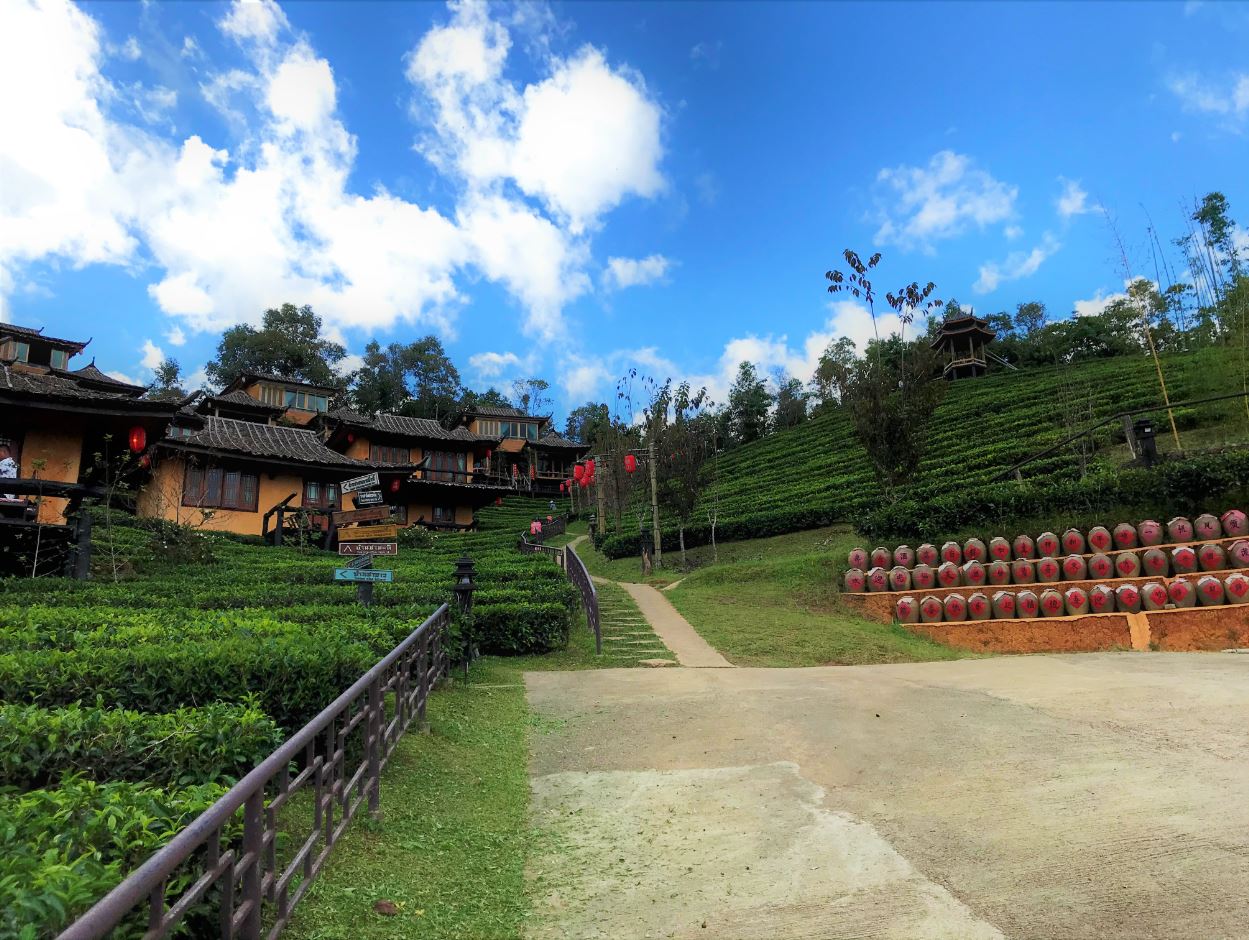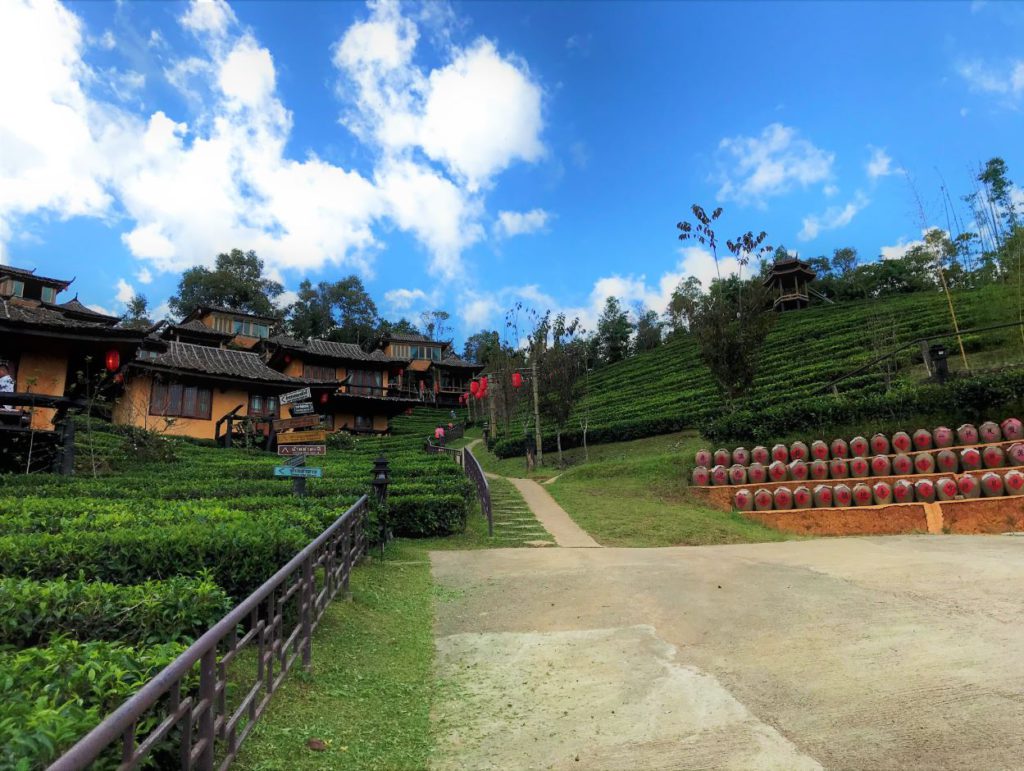 Check out the Myanmar border – Mok Cham Pae
The Myanmar border is less than 2 km ahead of the centre of the town. Actually, there are quite a few roads leading to the border from the village but most of them are dirt roads that get lost into the wilderness. A well maintained motorable road leads to Mok Cham Pae.
At the border, you will find policemen from the border control unit patrolling in the area. I suppose you can also cross it to some extent and visit a temple and a museum on the other side. But you cannot go further. It is a long walk to the border but a great one in the morning or evening. You won't find many people on the way but it can be eerily quiet after sunset.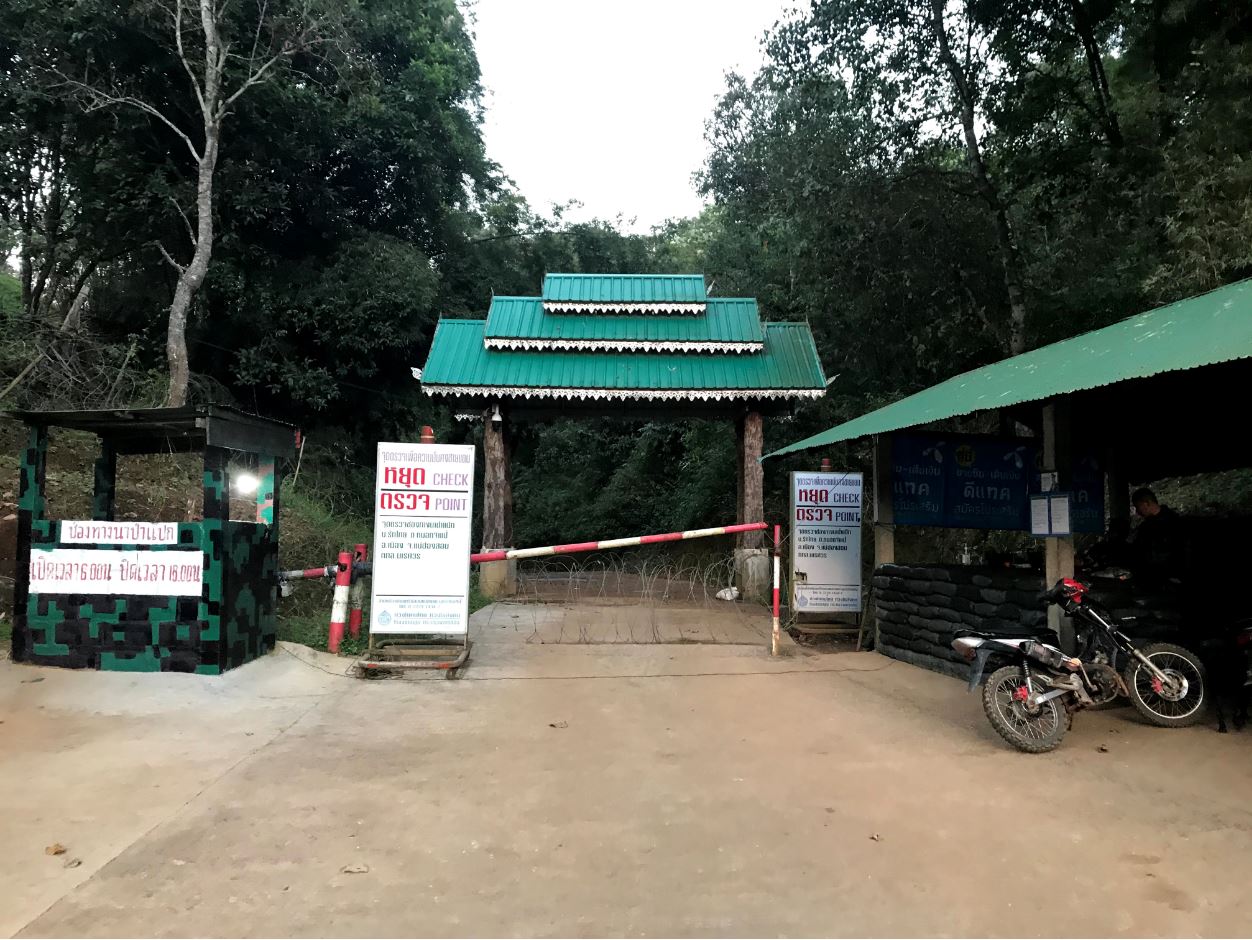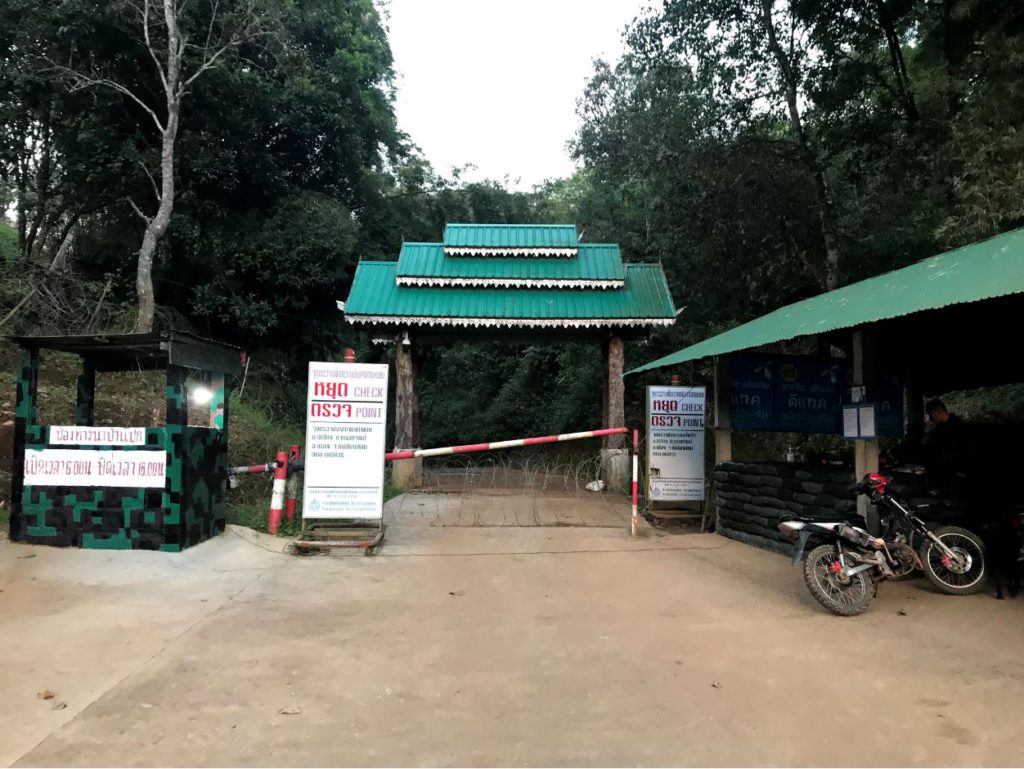 Eat a traditional Yunan meal
The Yunan settlers brought their cuisine with them and passed it to the next generation. But being in Thailand it got mixed with the local flavours. You can find cuisines both from Yunan and Thailand. I especially have been a huge fan of their rice buns. You can have it THB 15 per piece for both steamed and fried.
If you eat meat, you should try the famous ones of pork ribs cooked in Chinese herbs and spices and stir-fried pork belly. We tried stir-fried noodles and egg soup. I also found a couple of shop serving ham sandwiches and the regular Thai soupy noodles.
Lee Wine Yunan restaurant is one of the most lavish and good ones in the area with a wide menu and a great view. But they are usually full and busy with customers. So the atmosphere may appear cold and indifferent at times. You can head to other local shops around the lake. People have more time and are happy to chat with customers as well.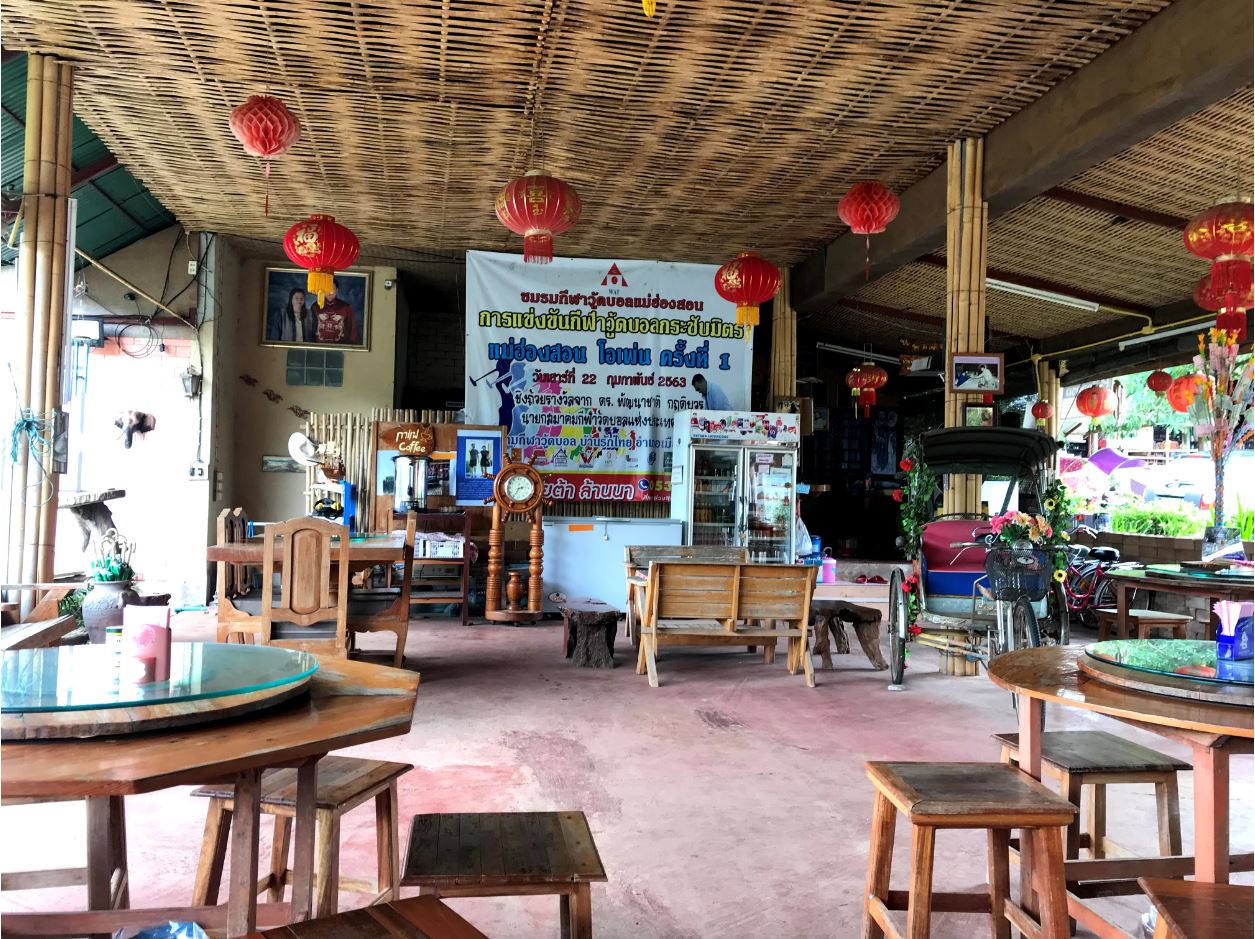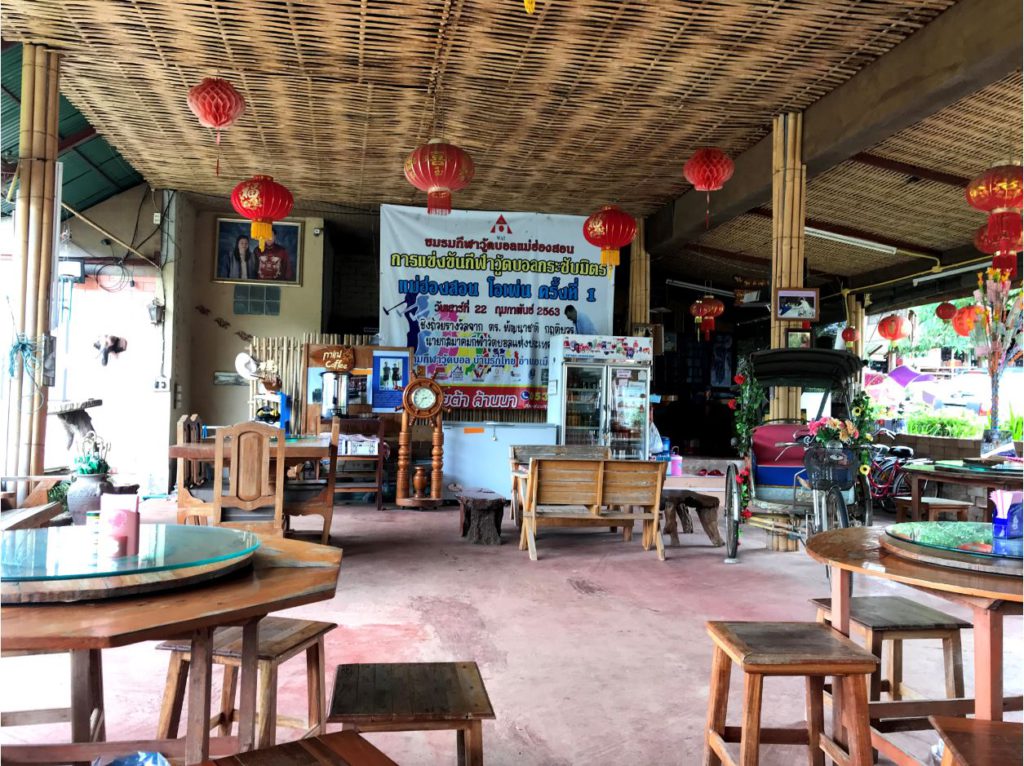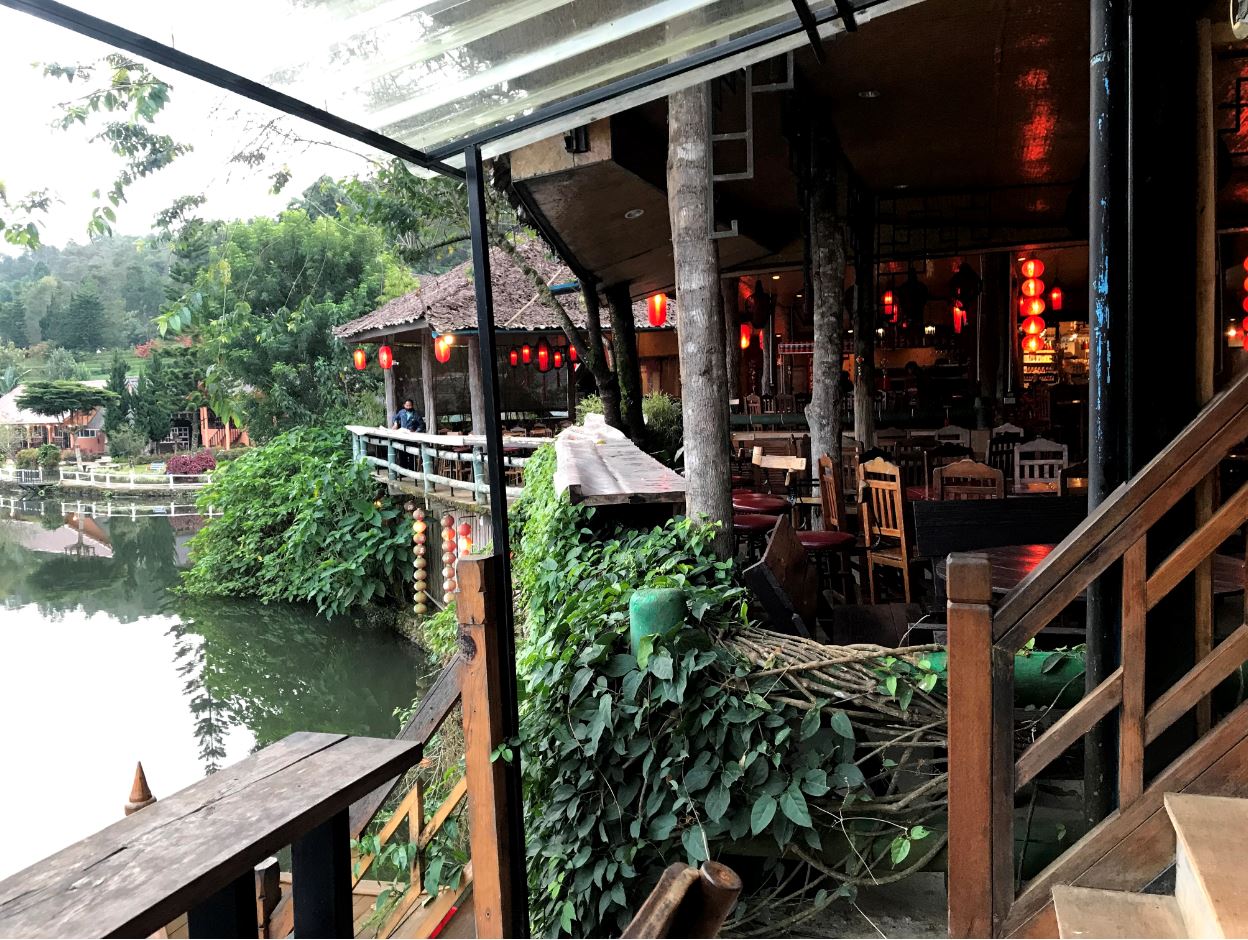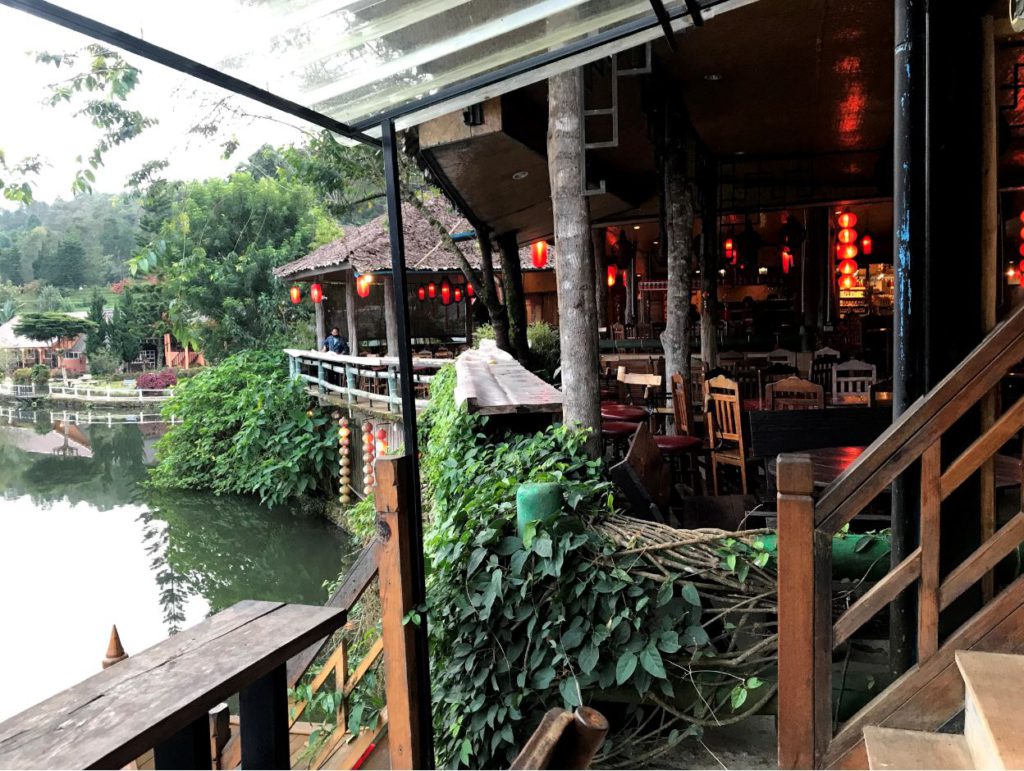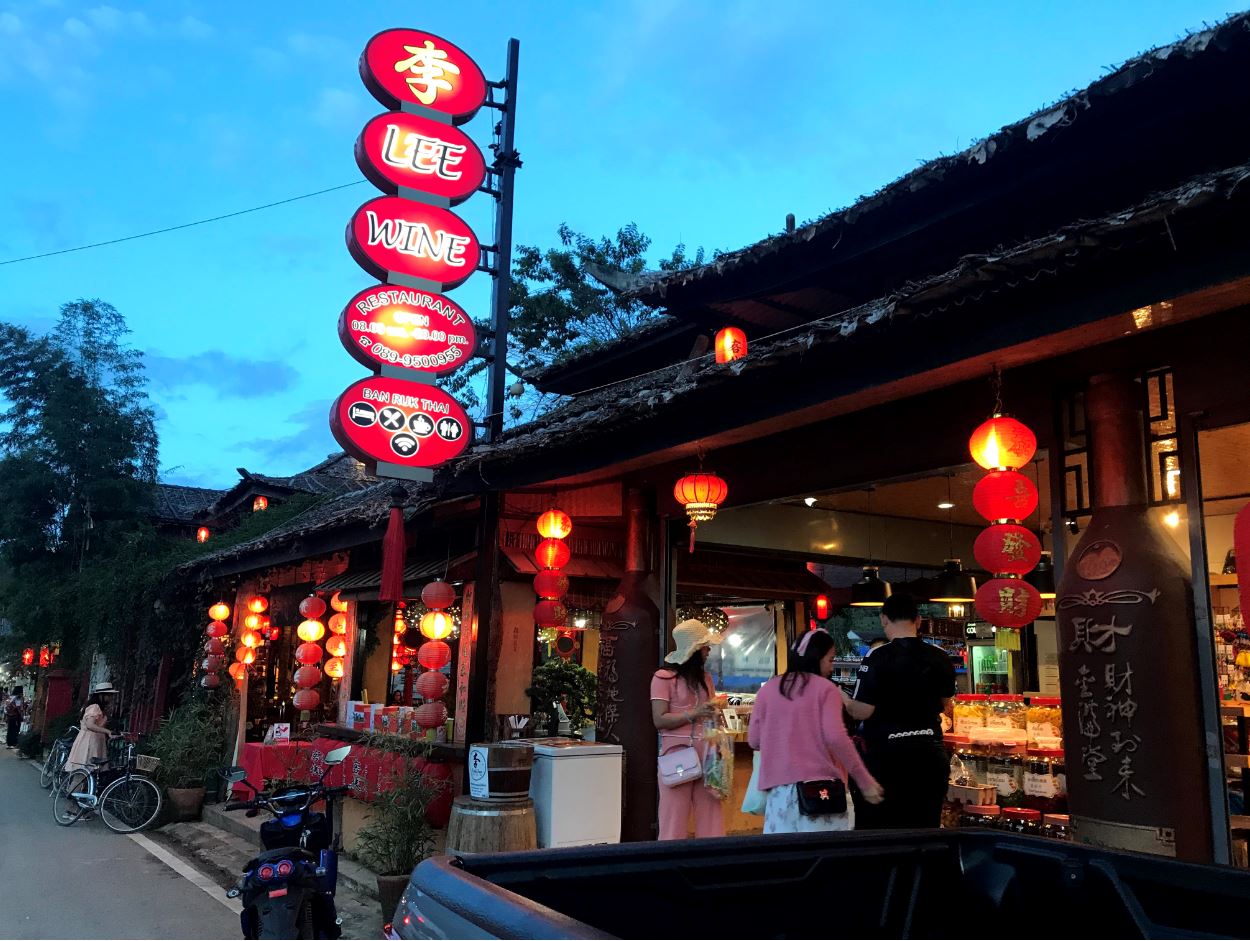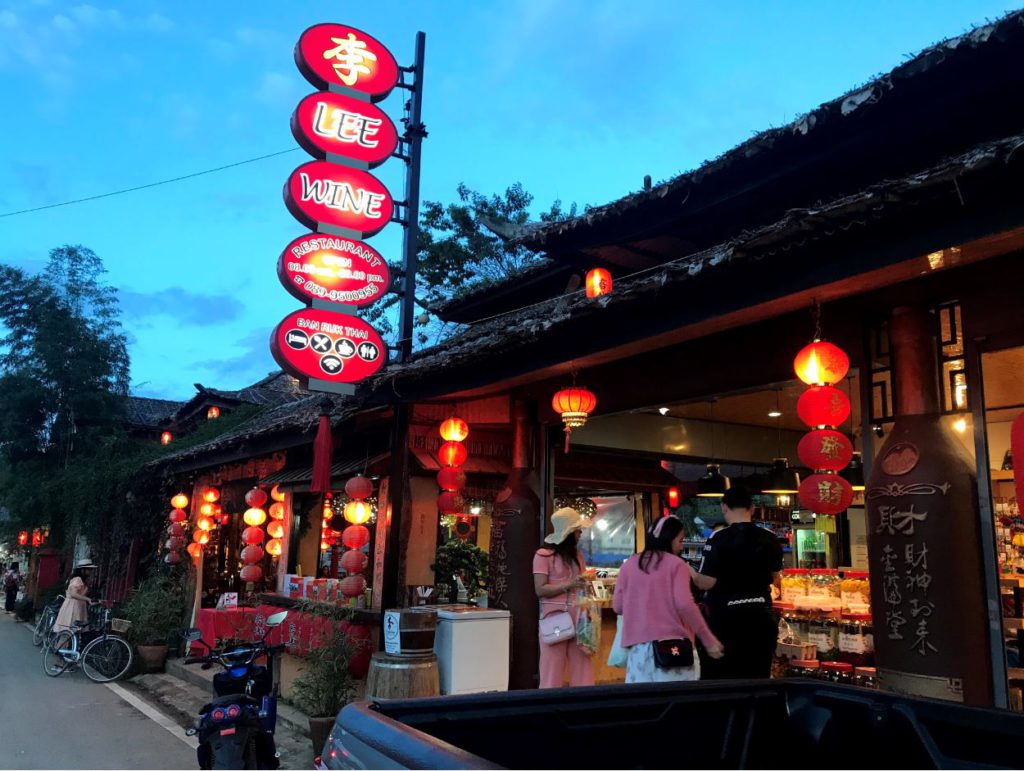 Hike for a view to the campsite
There is a camping ground inside the village itself but not very popular with day tourists. You just keep walking on the road perpendicular to the road with Lee Wine Restaurant and you will see a board on the right-hand side. Travel up the mud path (it is a bit of a hike) and you arrive at a vacant patch.
You need to go here even if you are not camping here. If you get the chance, visit early morning. You get a breathtaking view of the whole valley. The air is cool and pleasant and you can see the mist rising up from the lake and surrounding the valley.
There is also a small shop on the top selling cold coffee and other drinks. It is open during the day but not early morning. I would love to camp there but you need to get your own gear.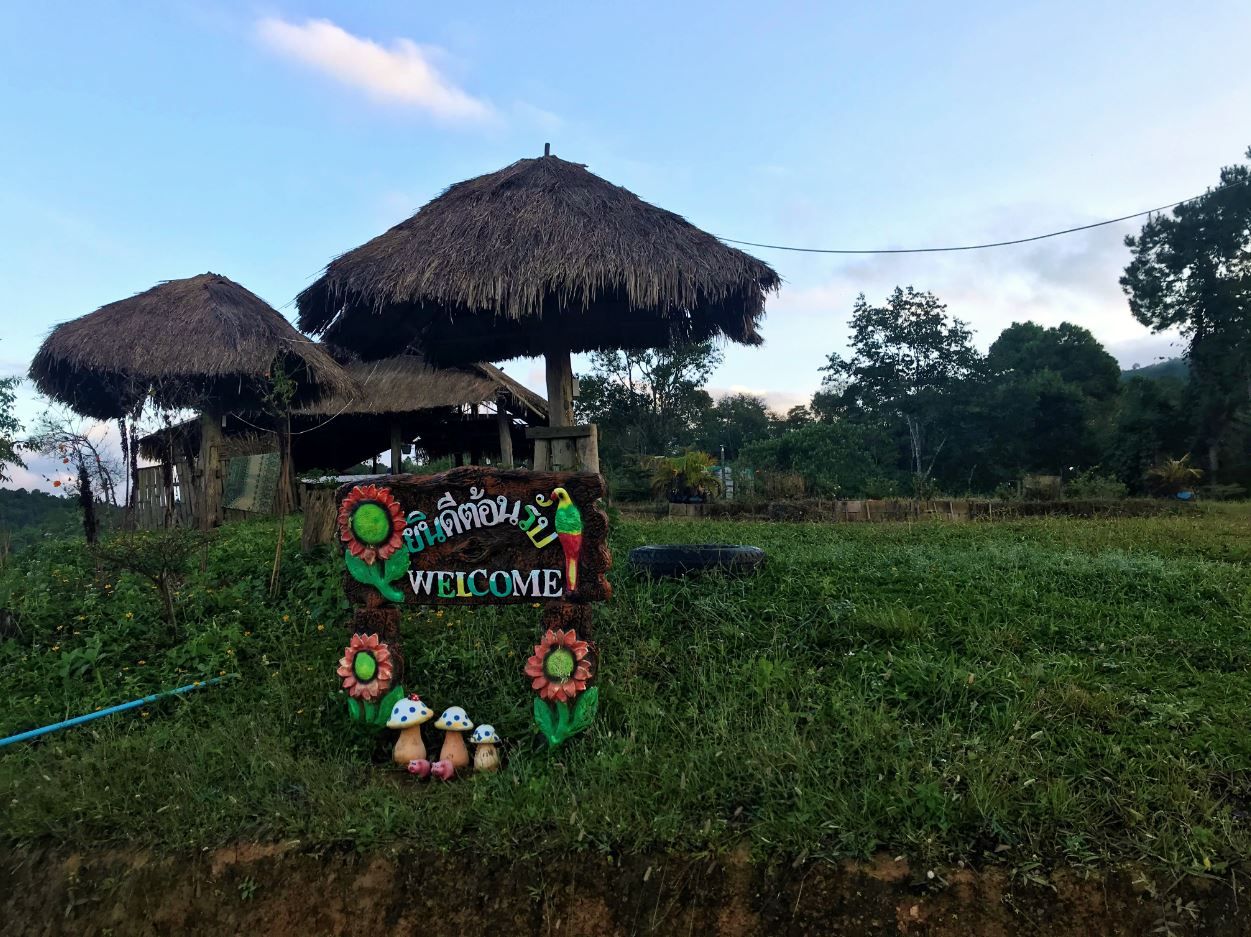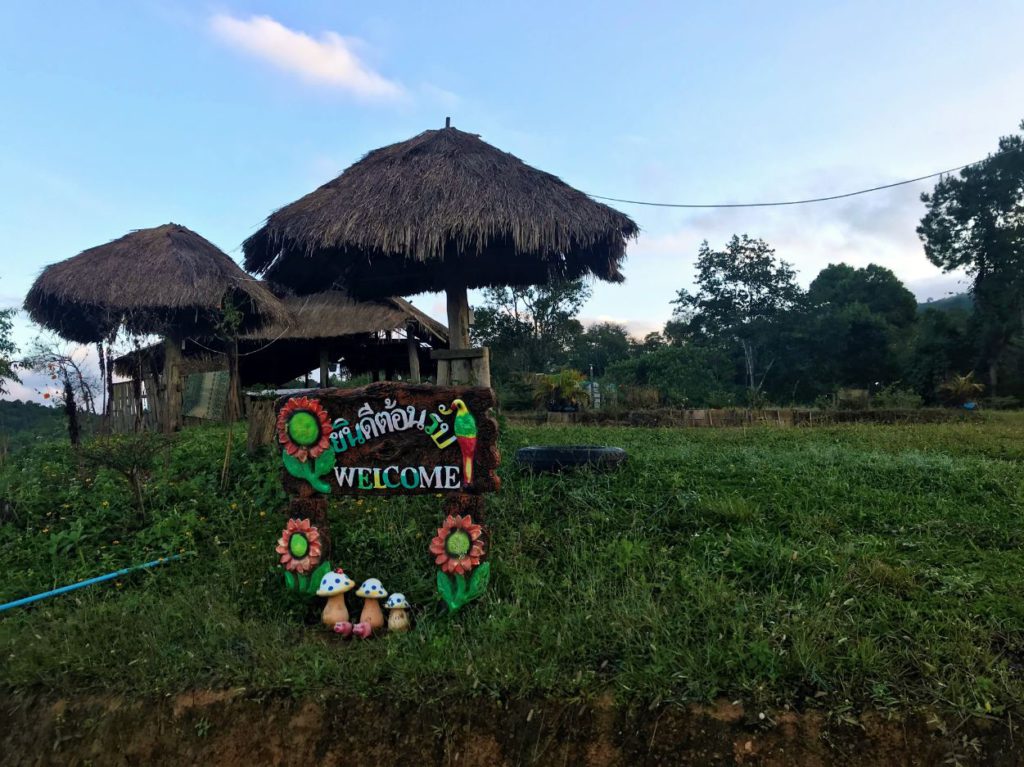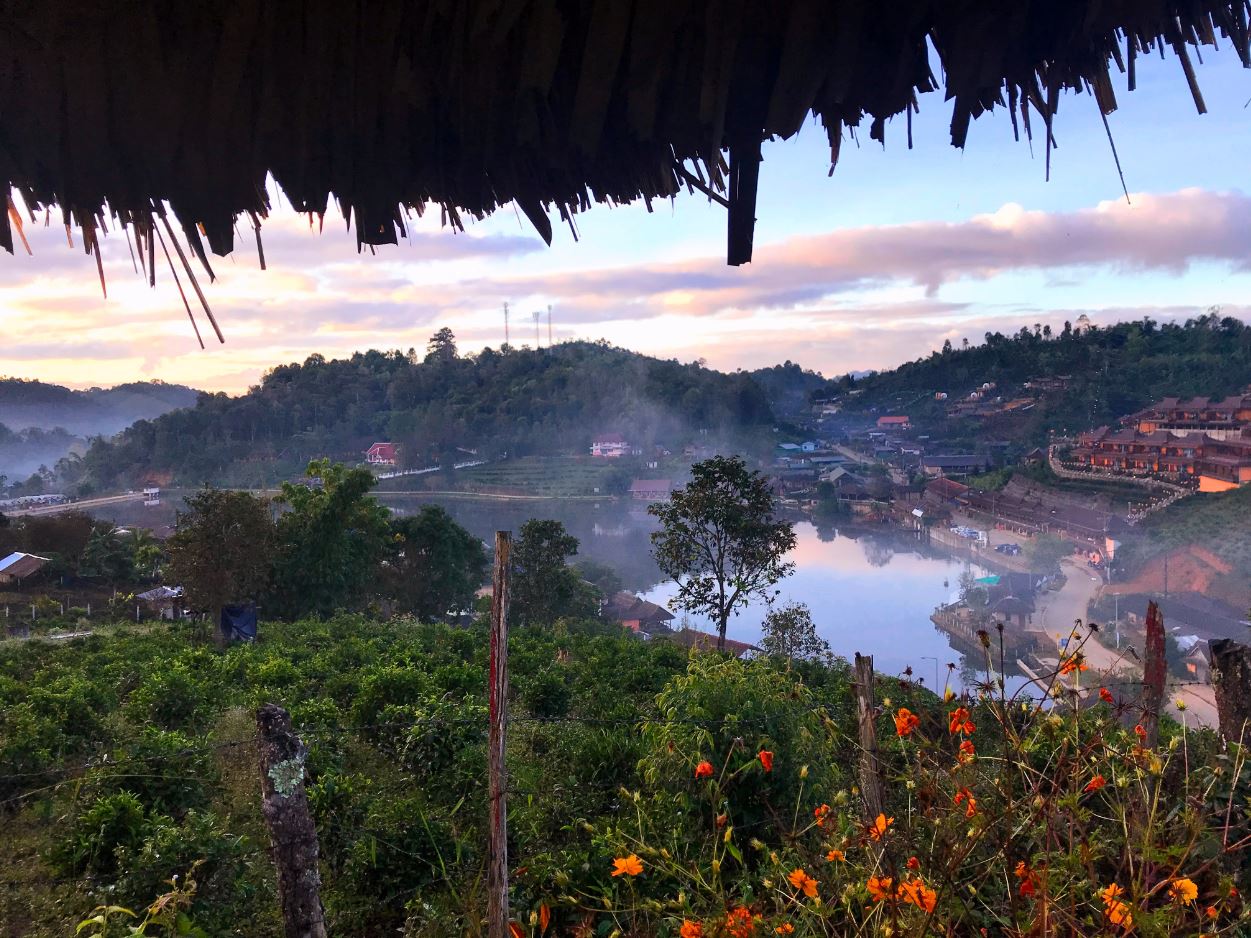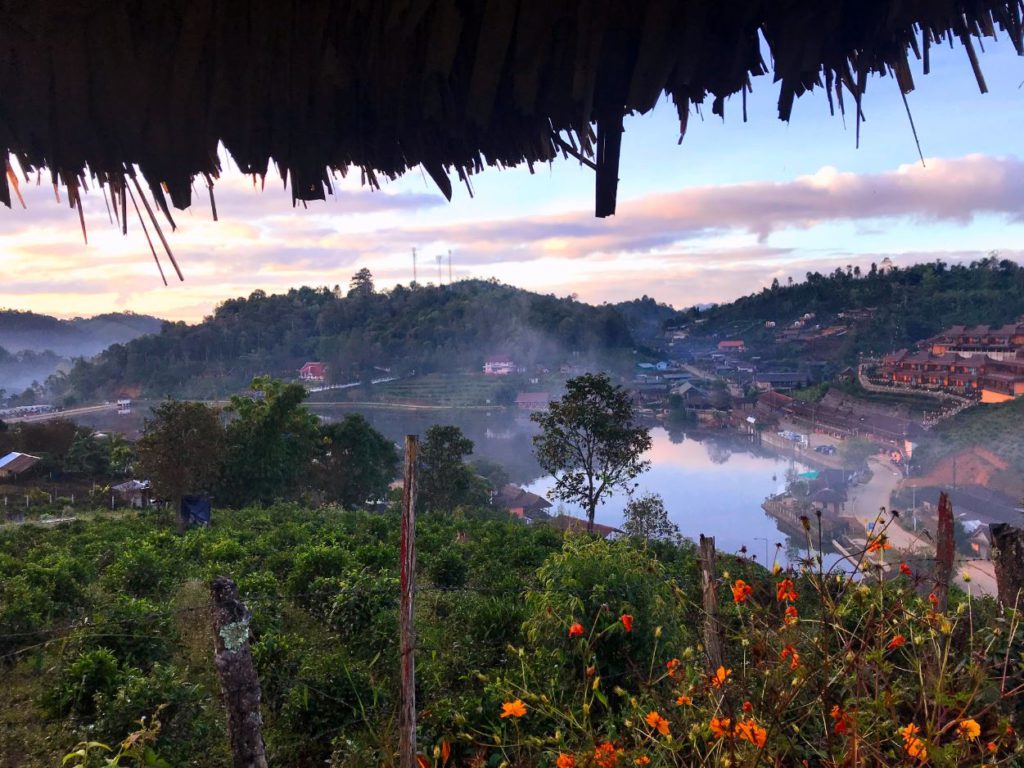 Try out the local fragrant tea and dried fruits
The location and the altitude of this village make it the perfect place for growing tea. Although I am not an expert of tea, I found the one I drank here full of floral flavours. I took several packets home. Most of the shops in the village sell this tea and you can try them before you buy. In fact, all restaurants serve complimentary tea with the meal.
Most shops also sell dried fruits sweetened with sugar syrup. You can find them in large jars in the centre of the shops. There are dried mangoes, guava, pear, several types of plums, palm seeds, apples and even some that I had never seen before.
These are really affordable and you can take taste them before you buy the quantity of your choice. Make sure you pack them nicely if you are carrying them home since the sugar syrup can ruin your clothes.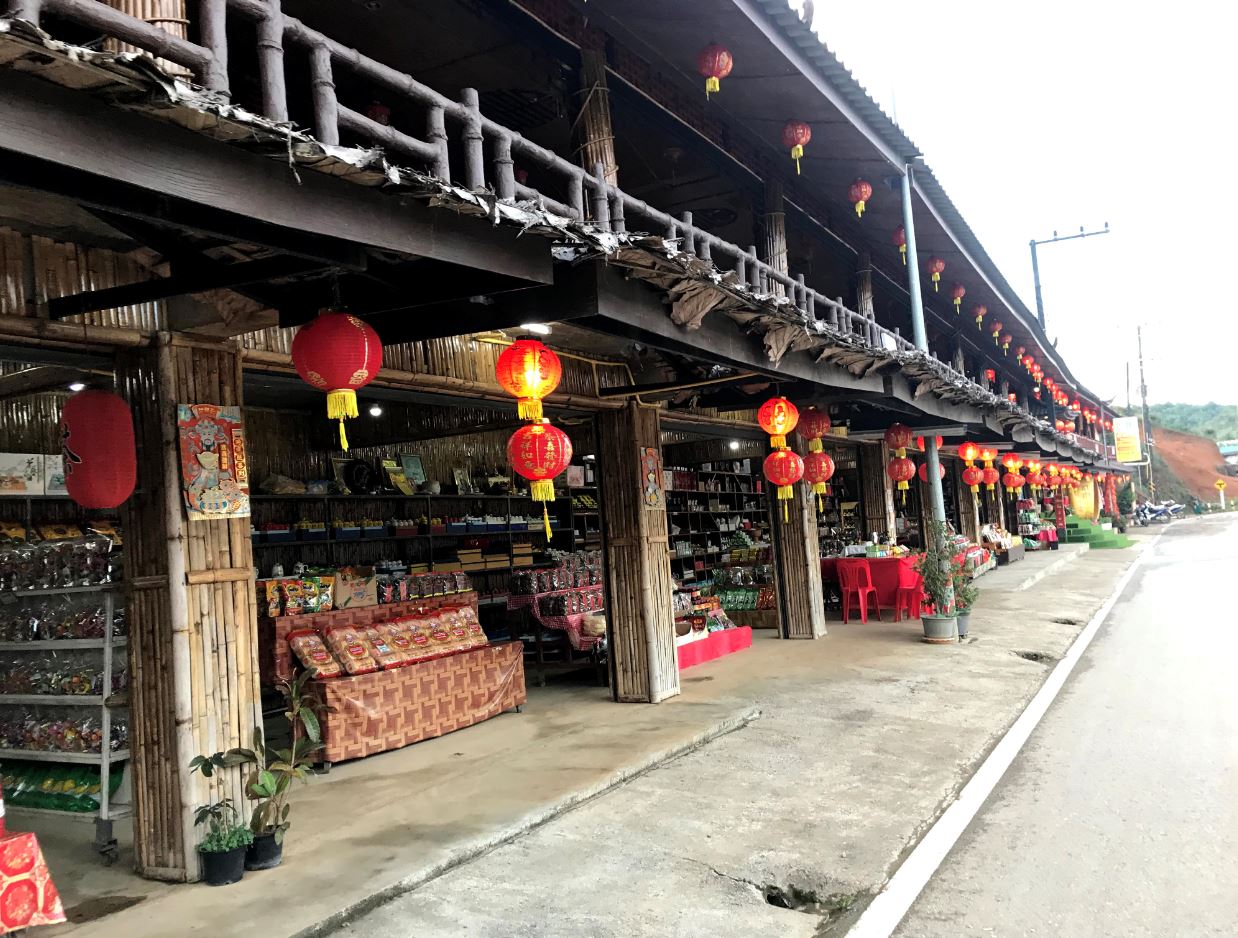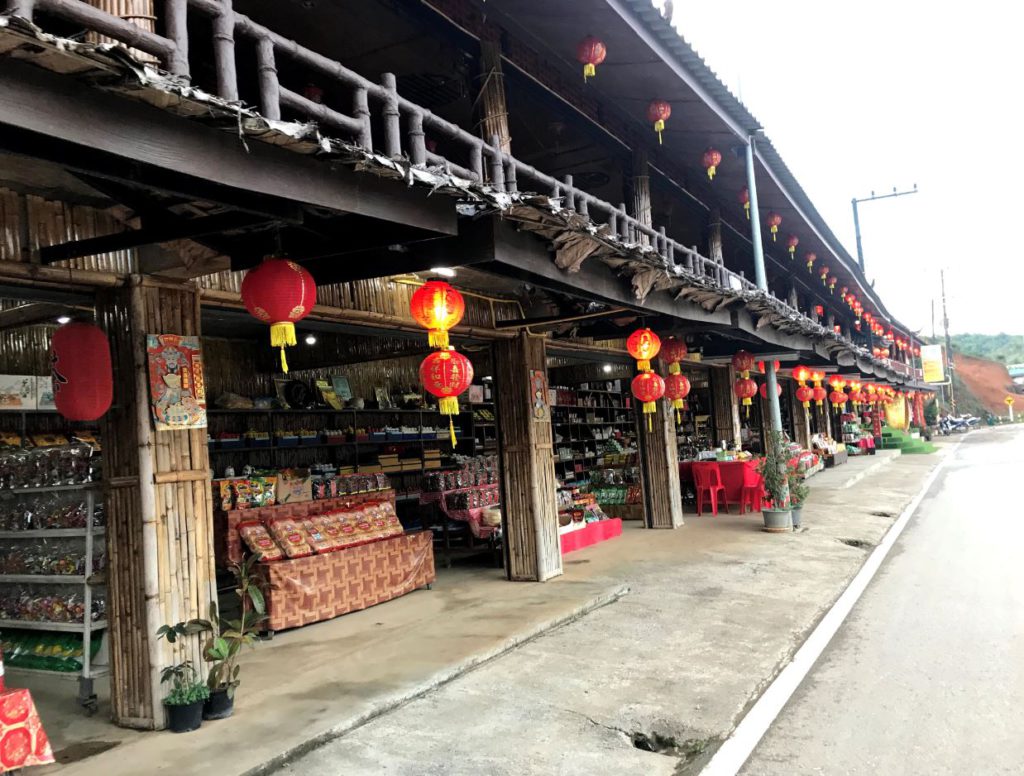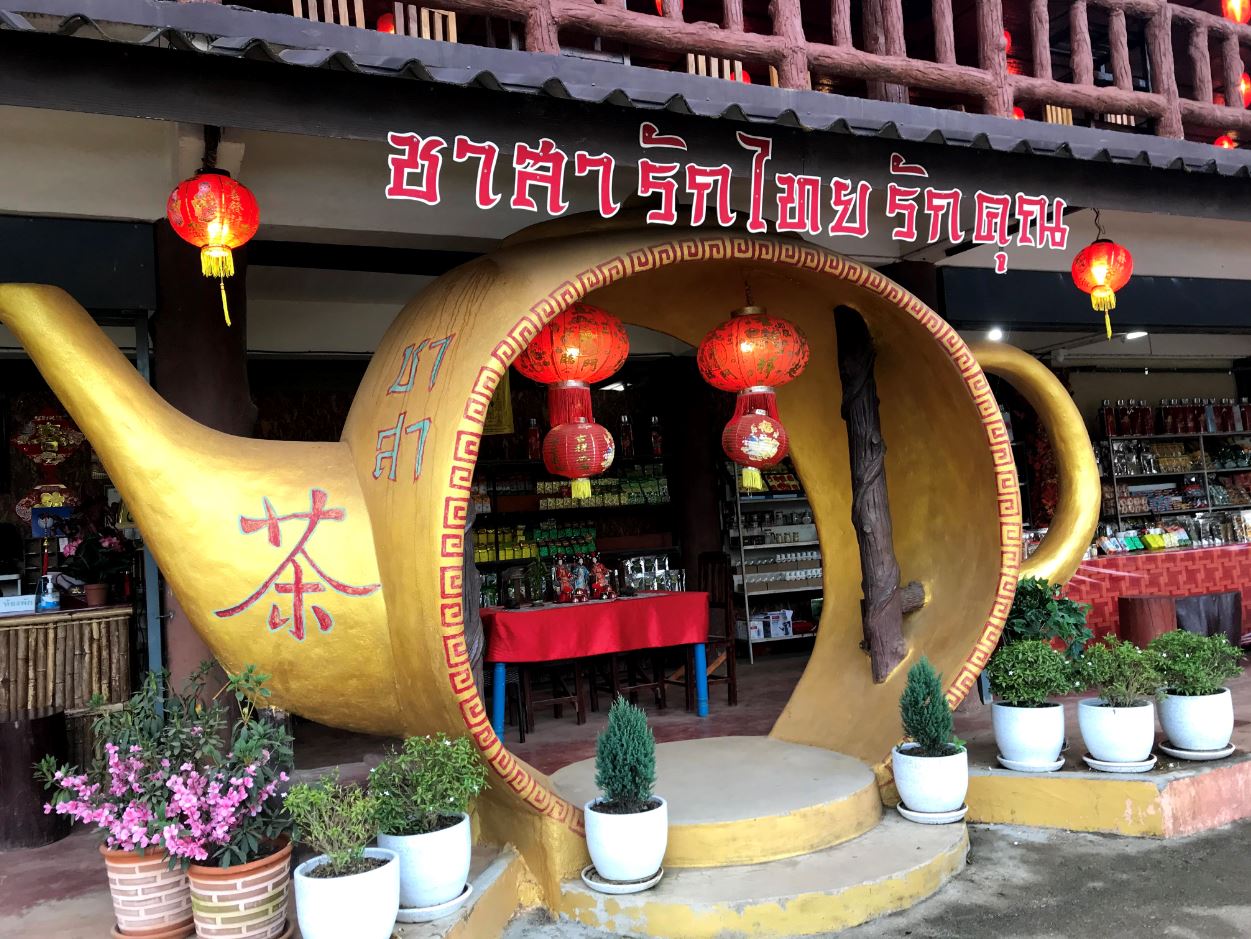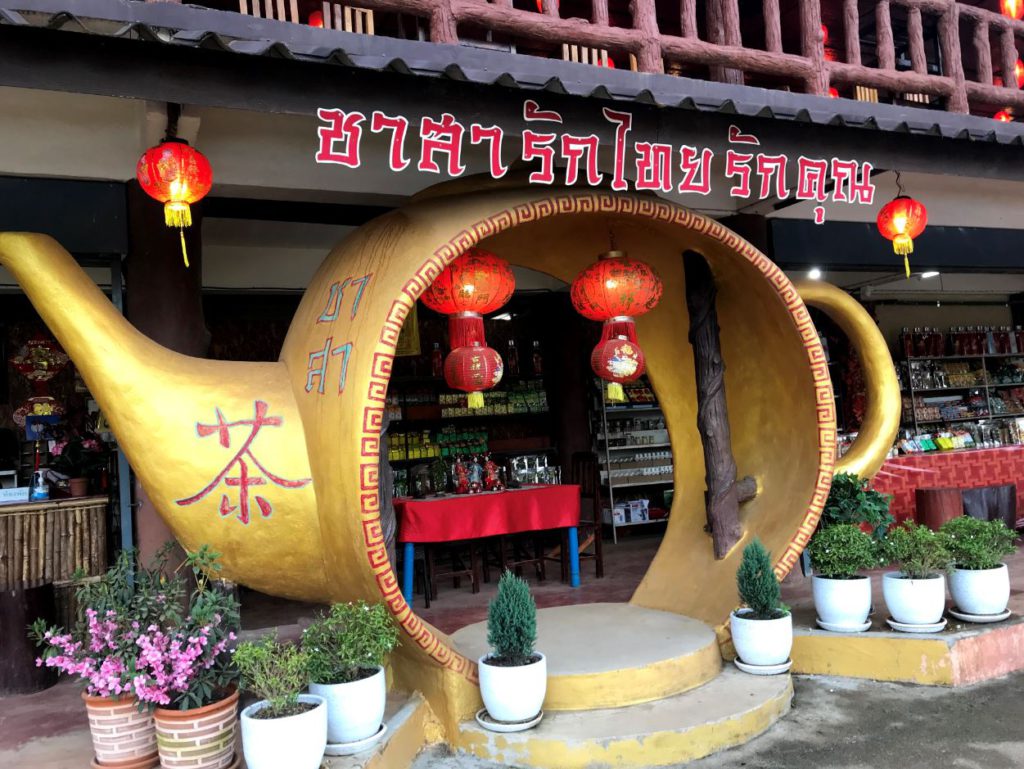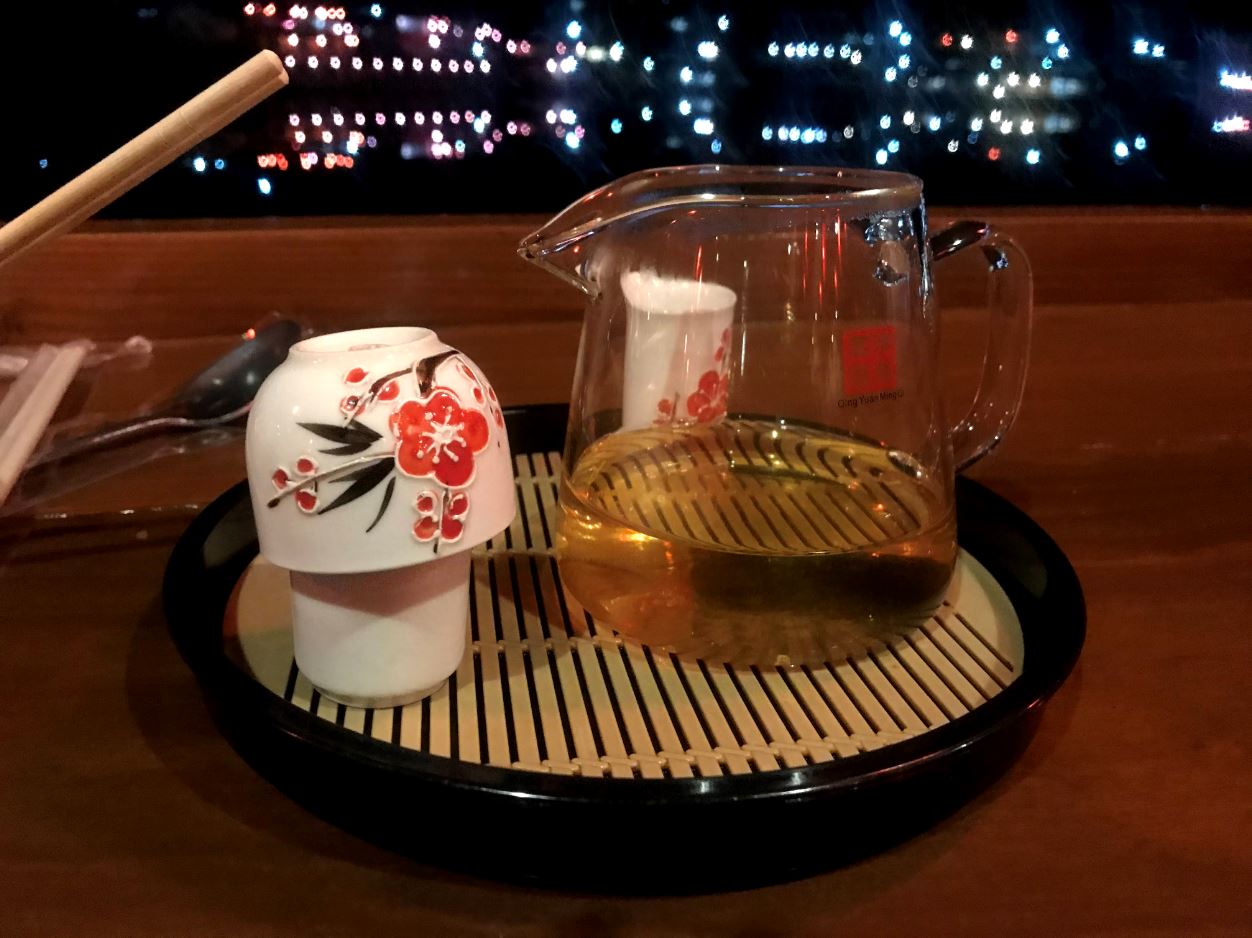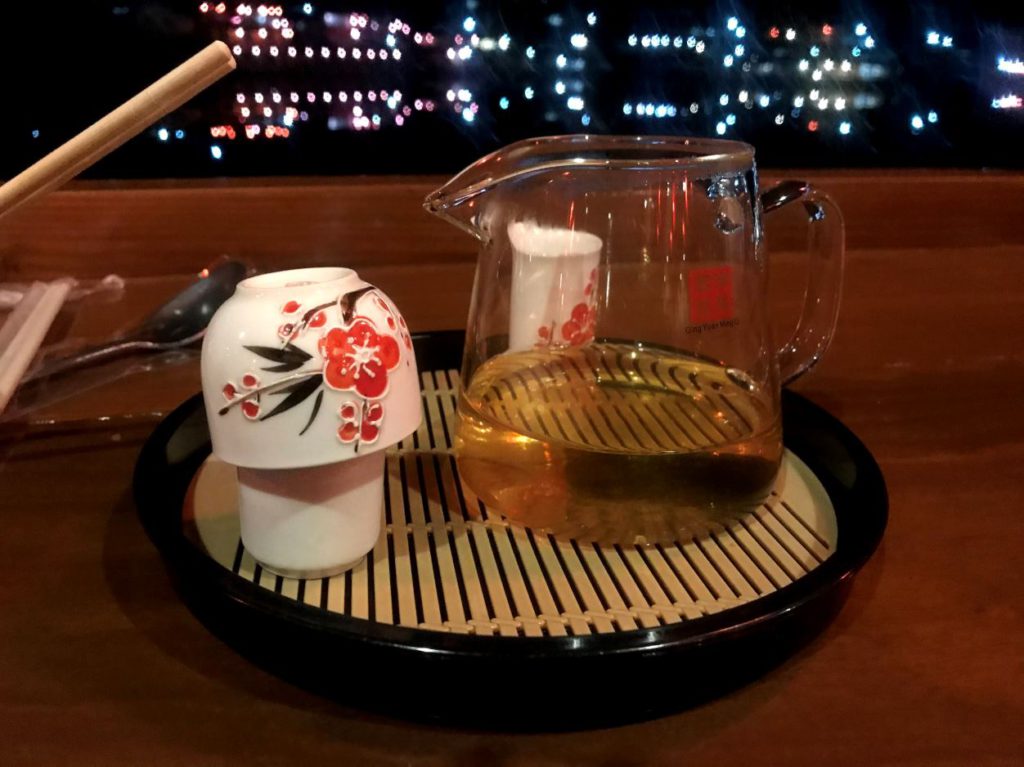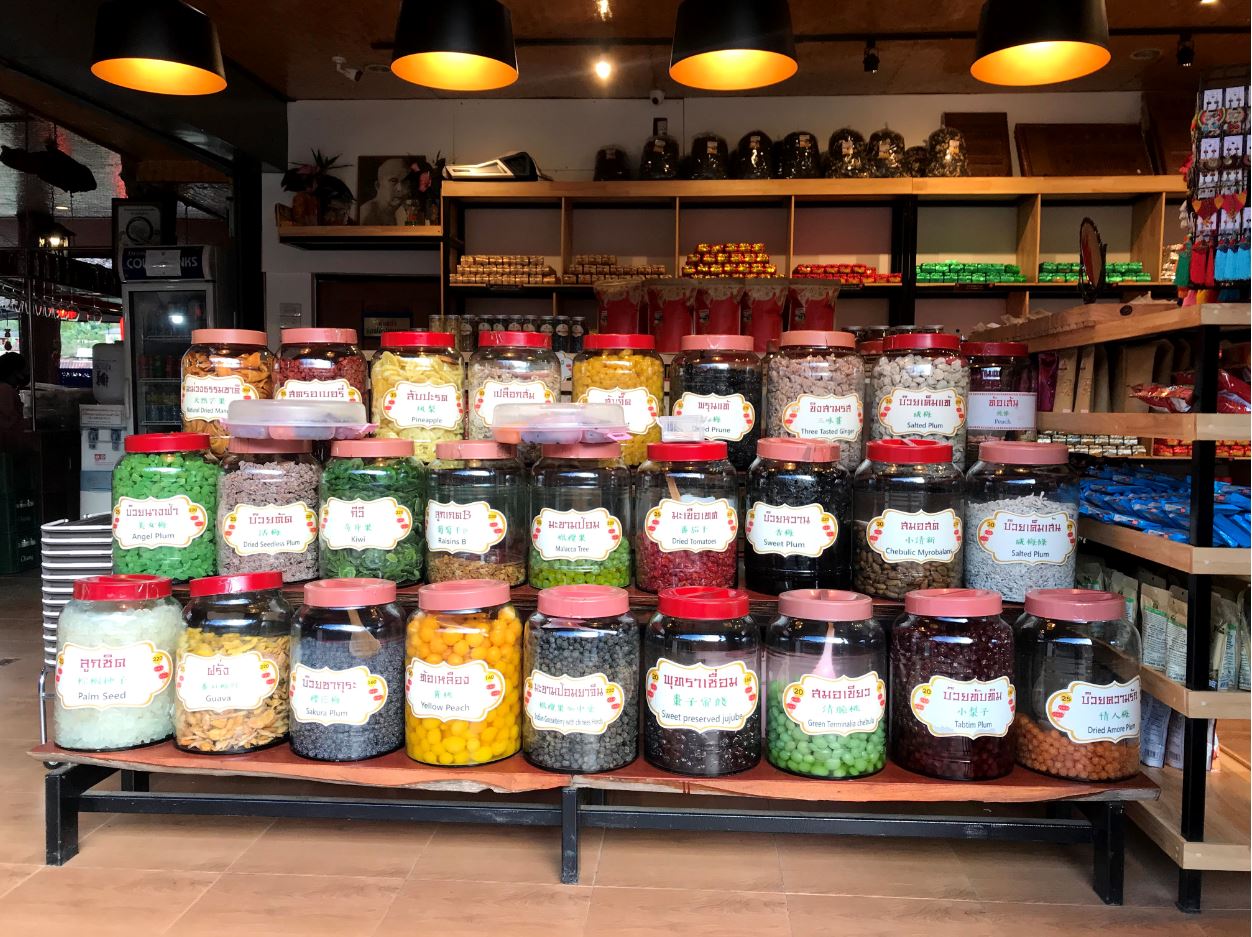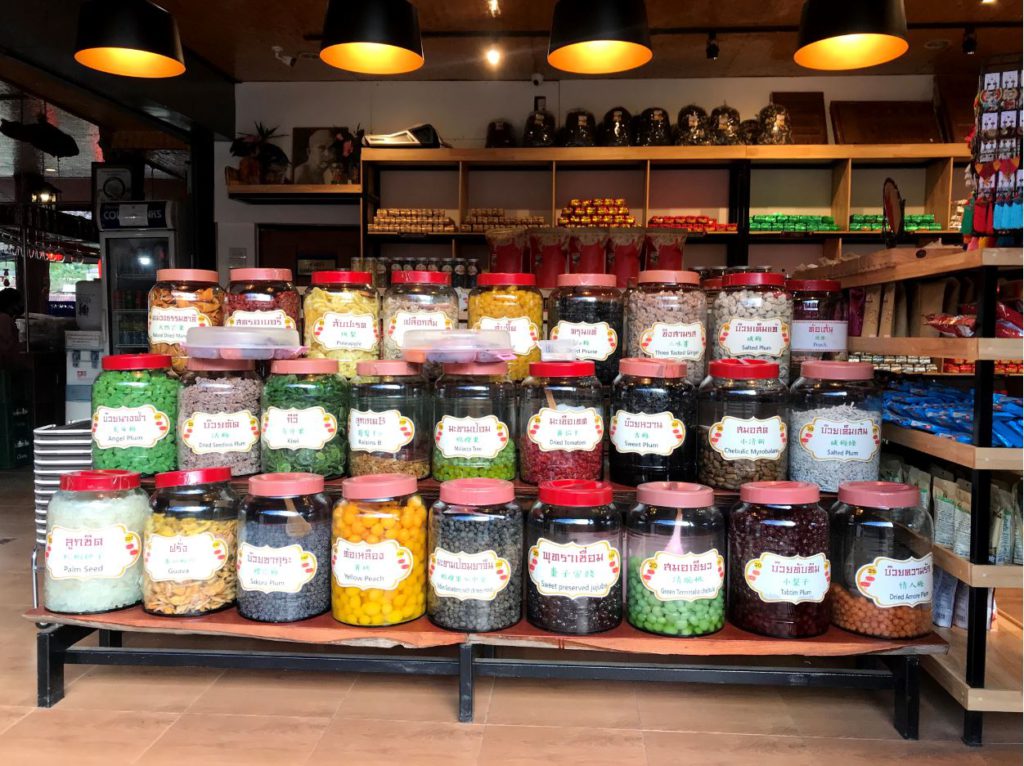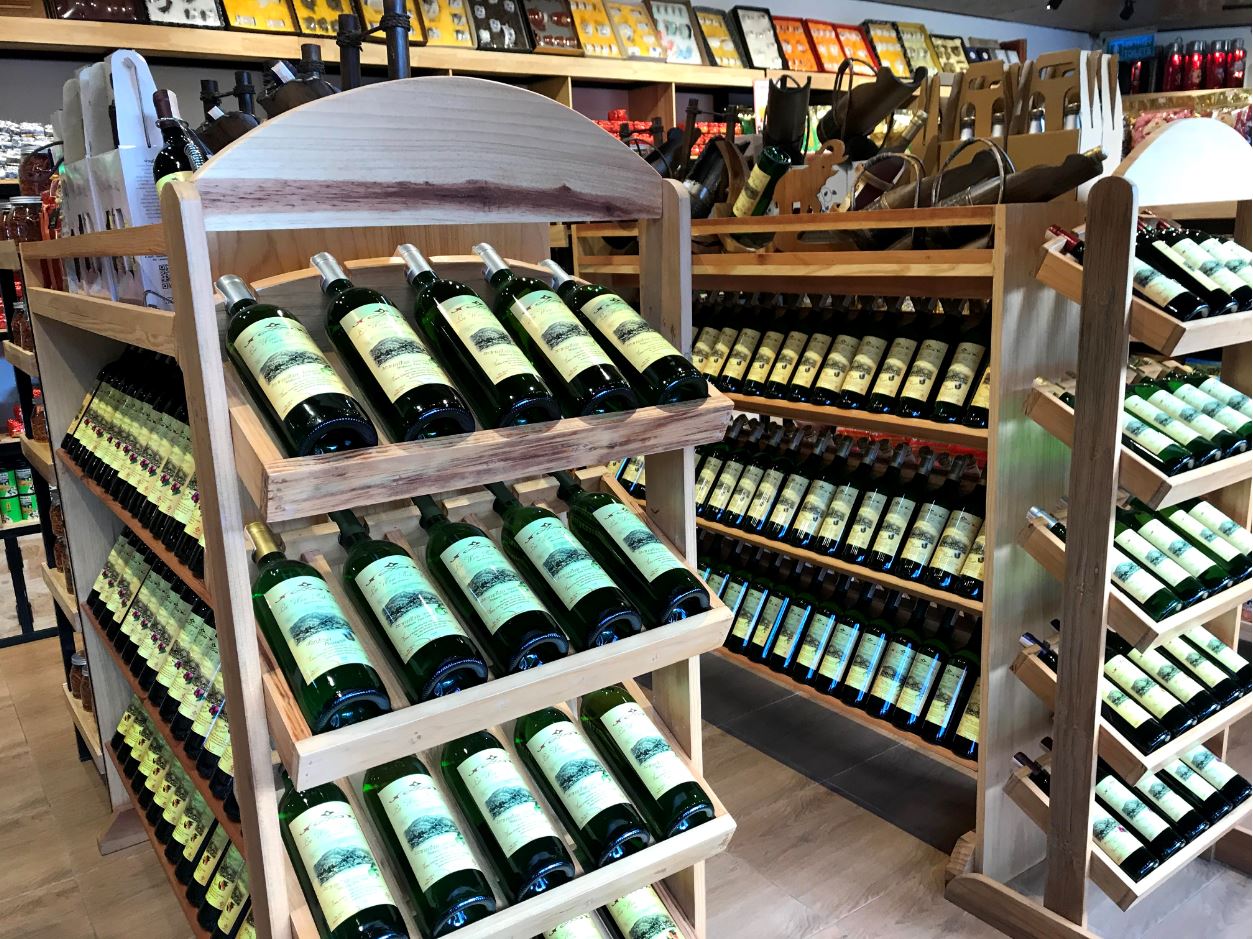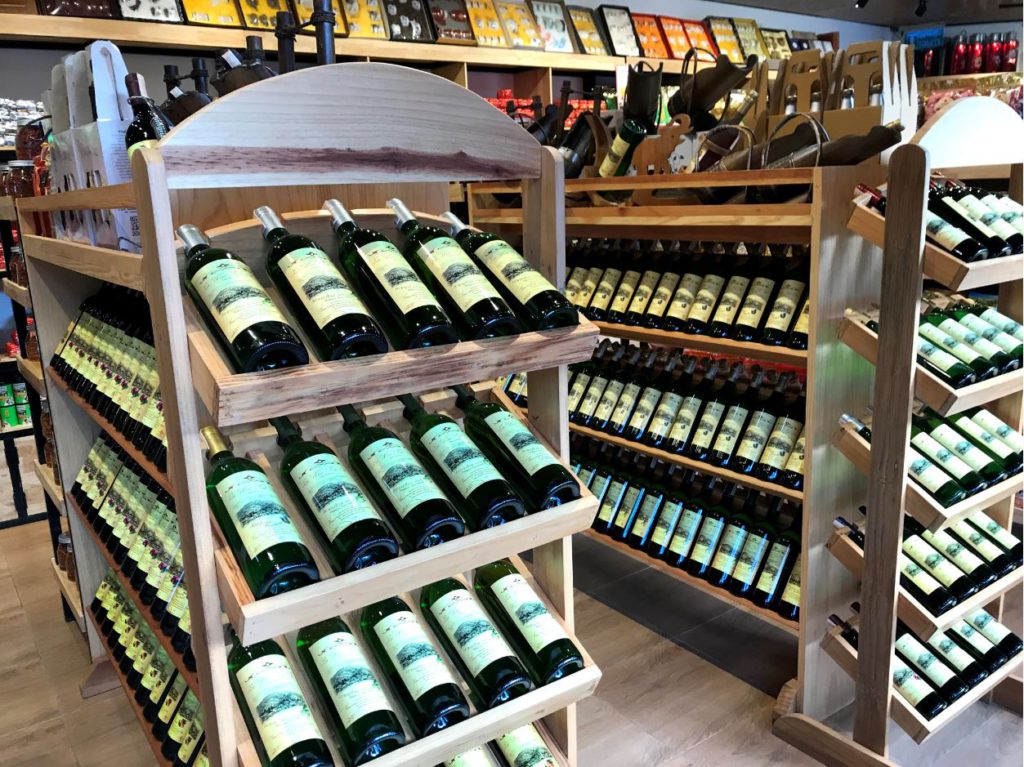 Check out the Walking Street
I couldn't believe my eyes that even this small village had a walking street. This is located right opposite to the Lee Wine resort and restaurant next to the lake.
It is actually just a bunch of shops lined next to each other. Most of these places sell tea, teapots, dried fruits, Chinese herbs. there are also a couple of restaurants here. We came here to find some vegetarian food and got a Thai noodle place. Delicious and so cheap!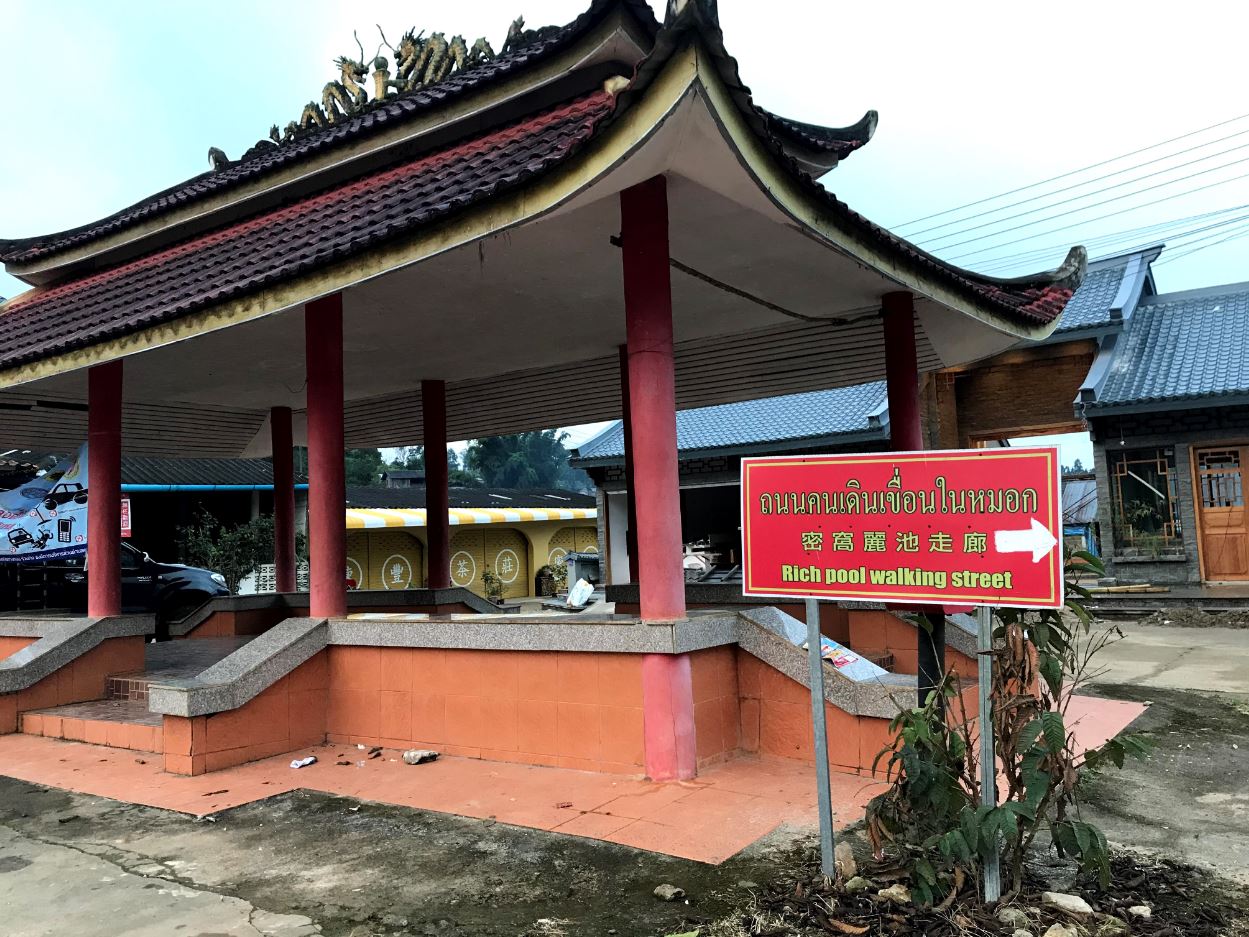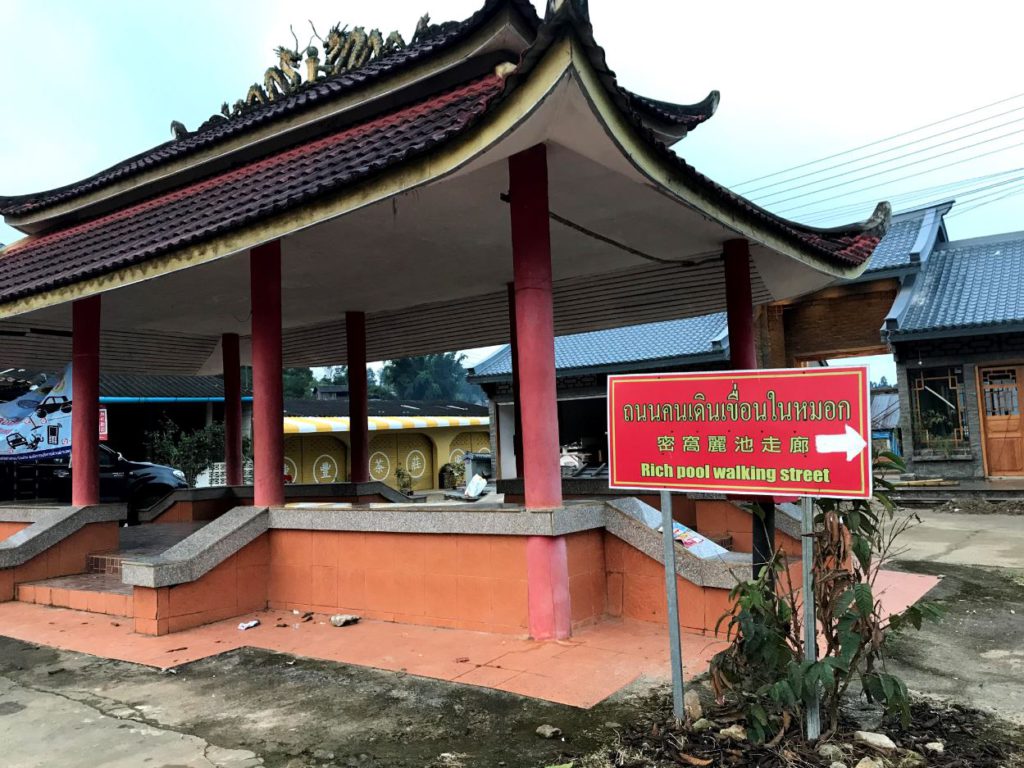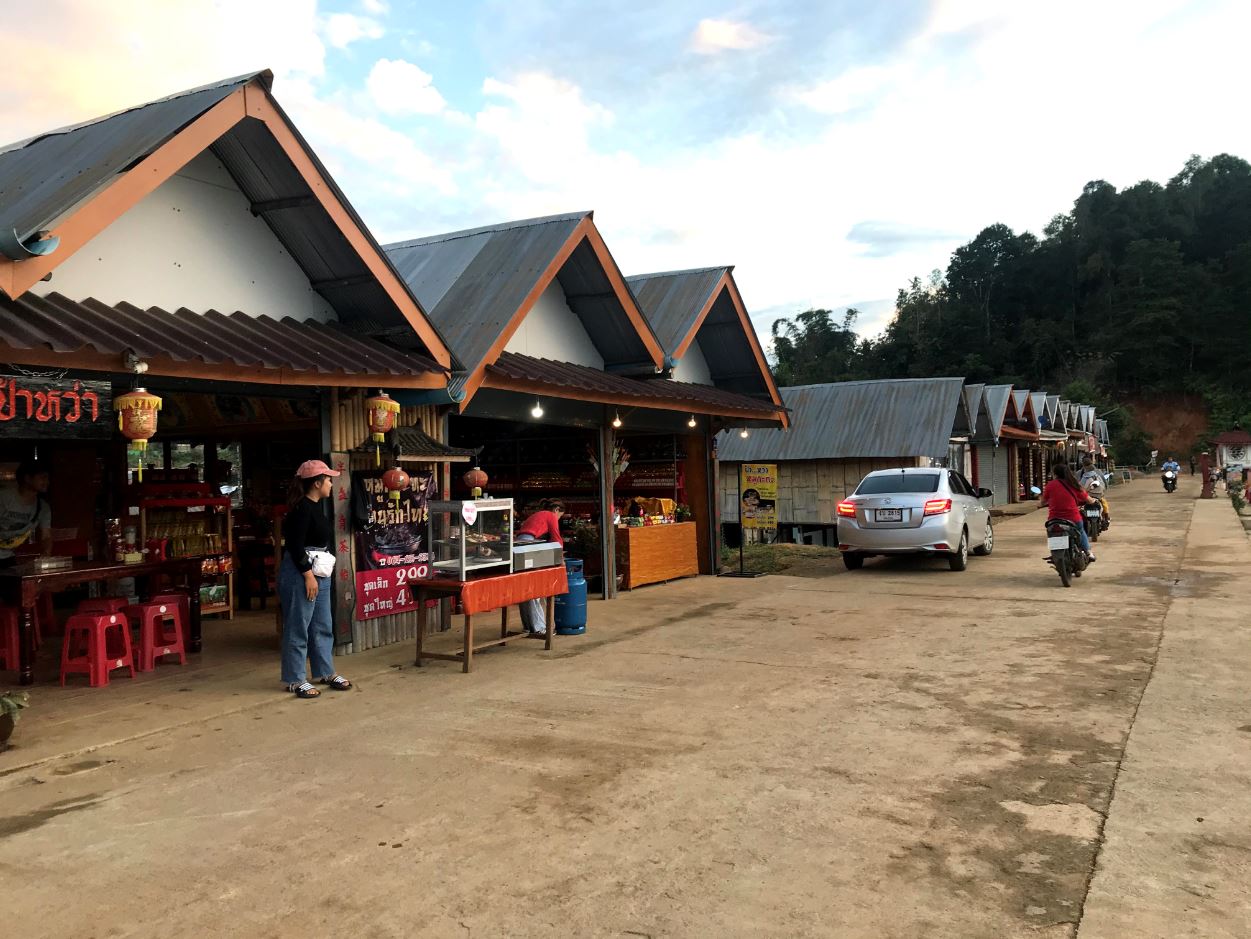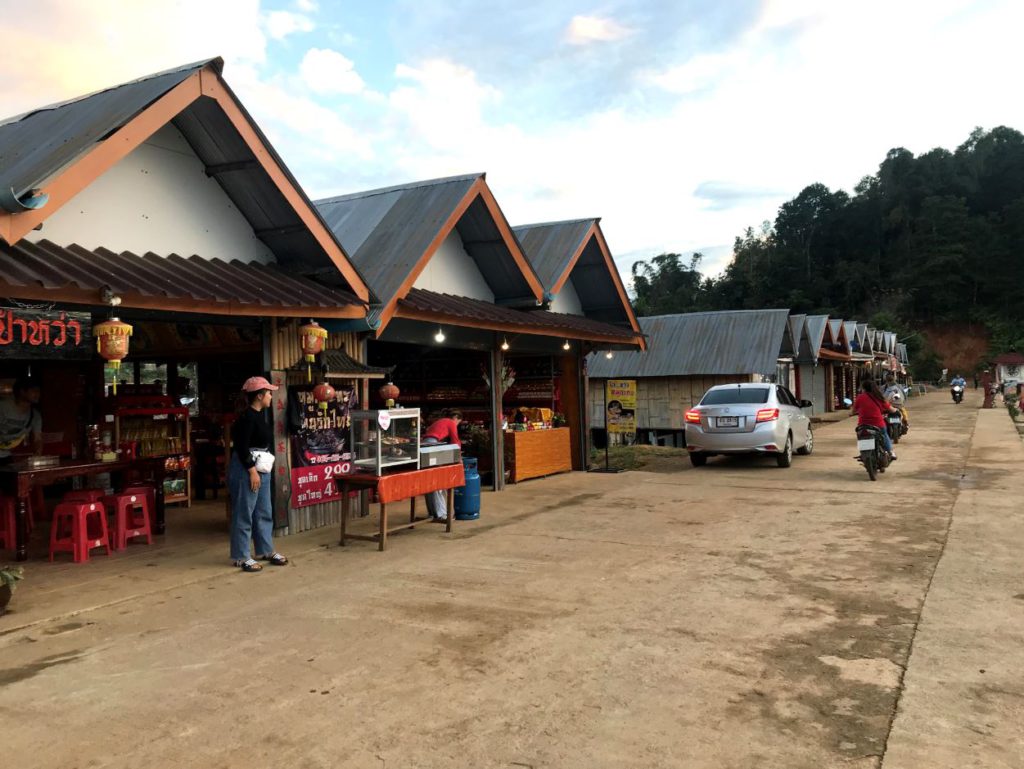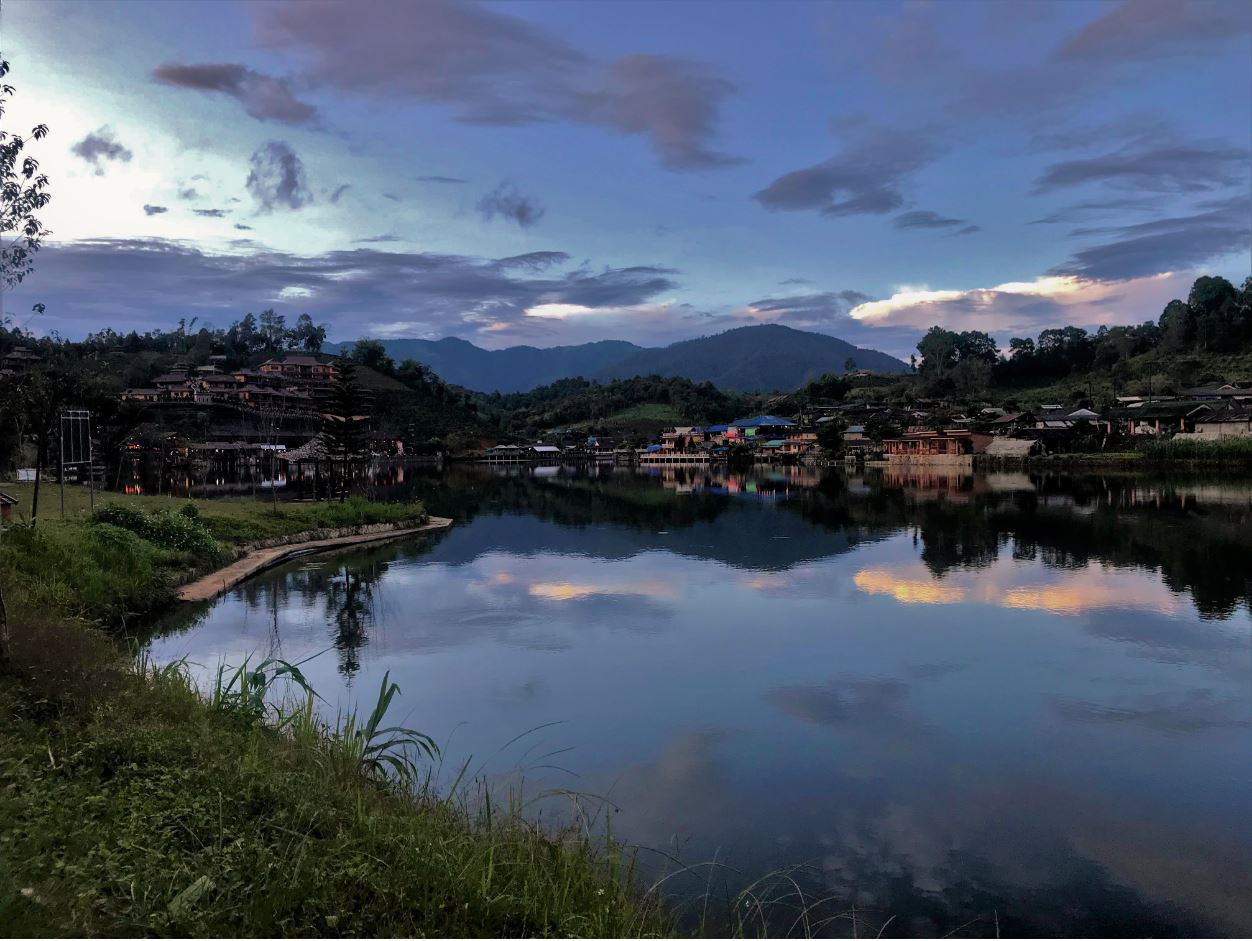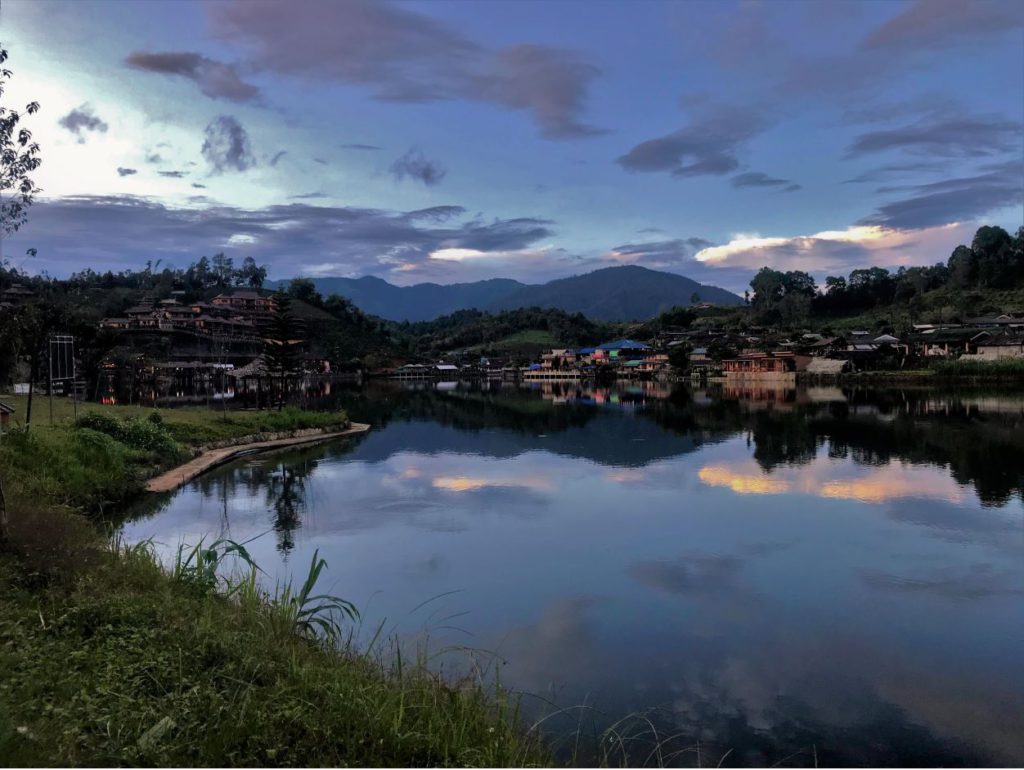 Ban Rak Thai Hotels
Surprisingly there are quite a few places to stay in Ban Rak Thai. Since its popularity with the tourists, many people in the village have converted their homes into a homestay.
The bad news is you can hardly find them online. If you are looking for something lavish or want a unique experience, you can book the Lee Wine Resort. However, sometimes they do not take booking during the off-season. You can also find them on Lee Wine Facebook page.
We booked a place (Talao Chuerak Thai Resort) right next to the lake facing the water body. I think it was amazing. This resort has 3 types of rooms ranging from THB 500 – 2,600. However, no matter what you pick, the rooms are still basic and only the most expensive one has water heating. They also allow camping on their site. Talk to them on their Facebook page (you may have to translate to Thai and transfer money through a Thai bank account to book).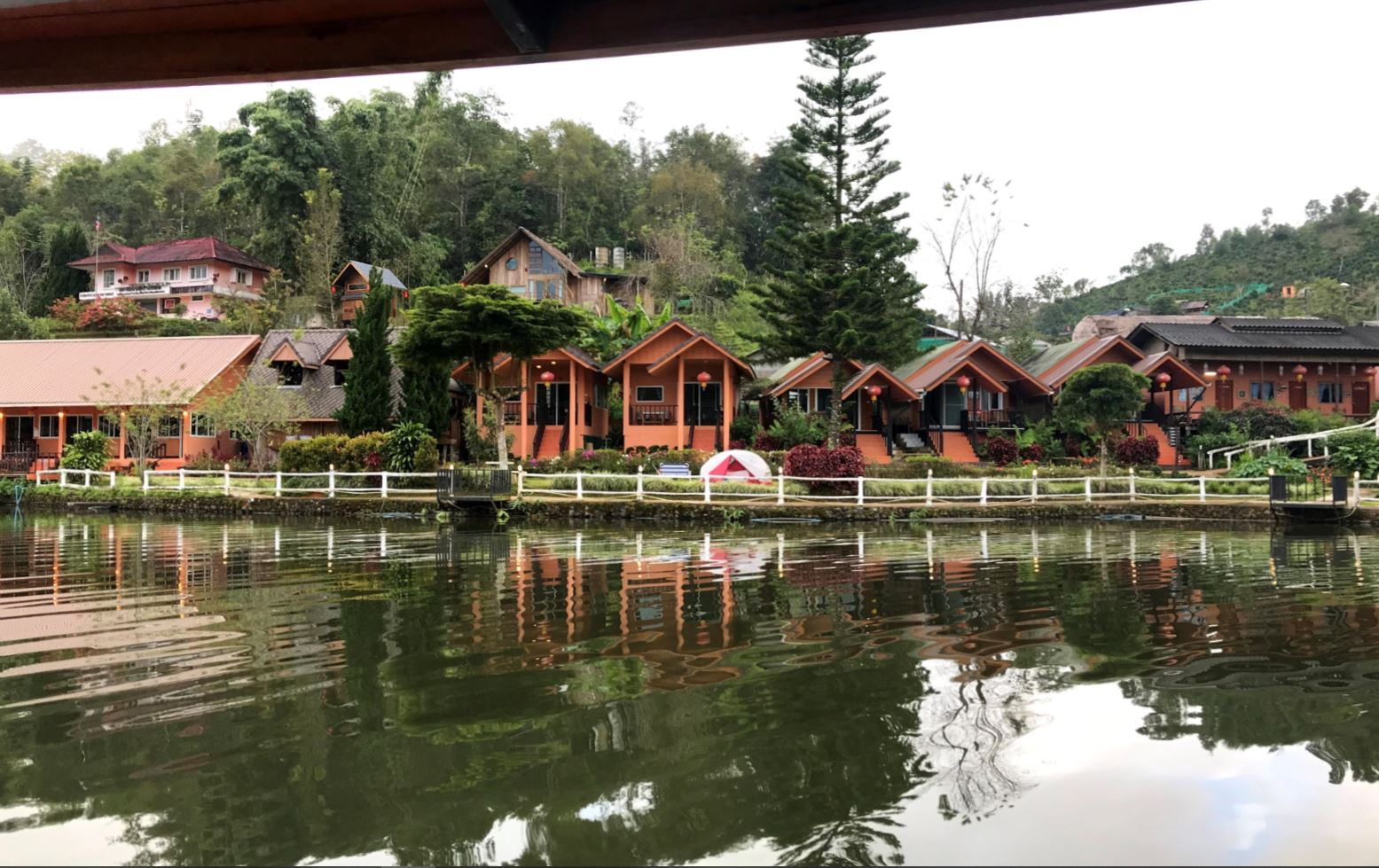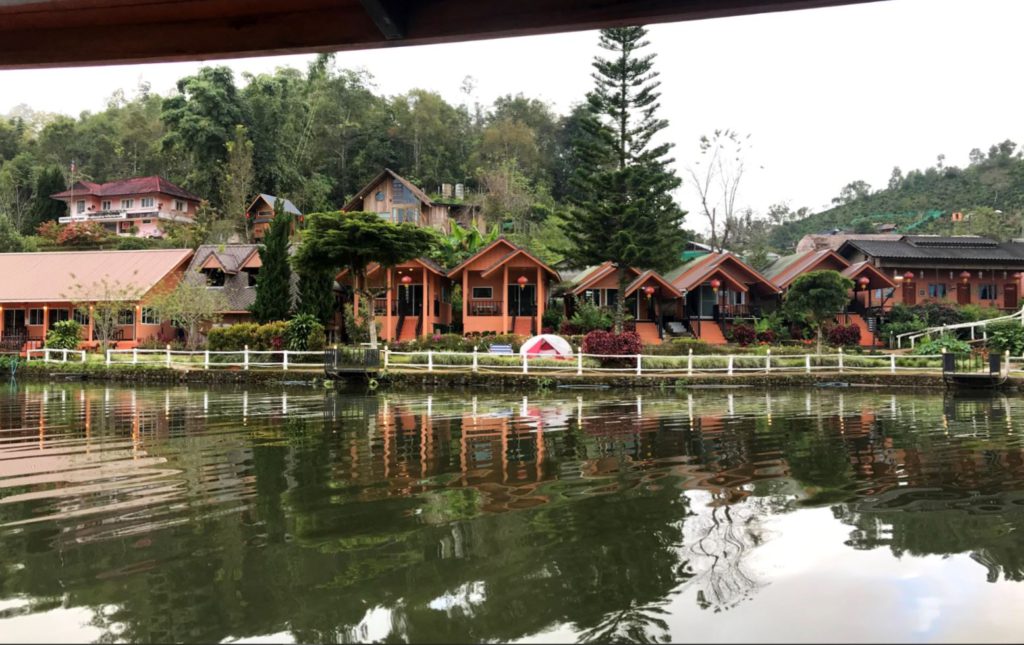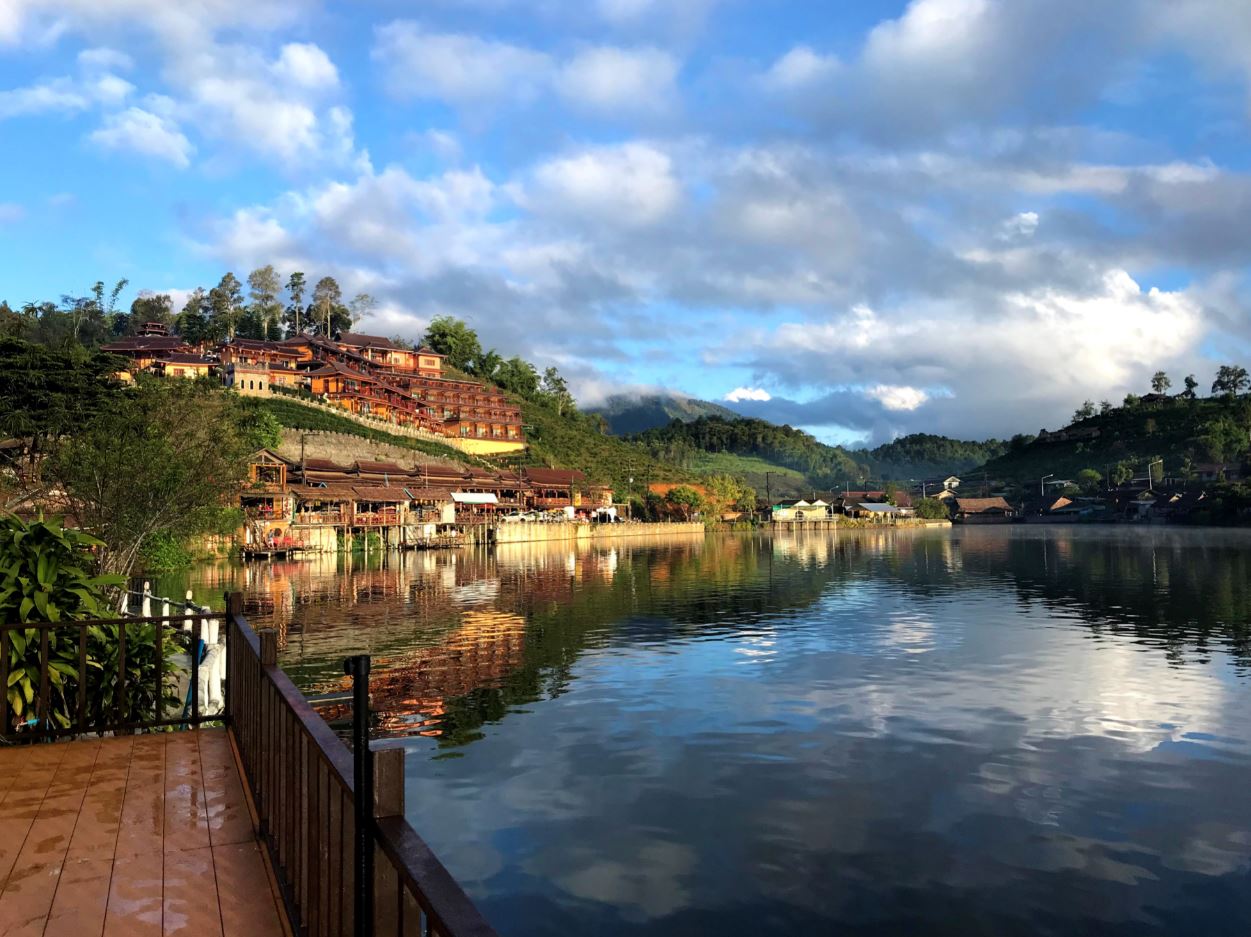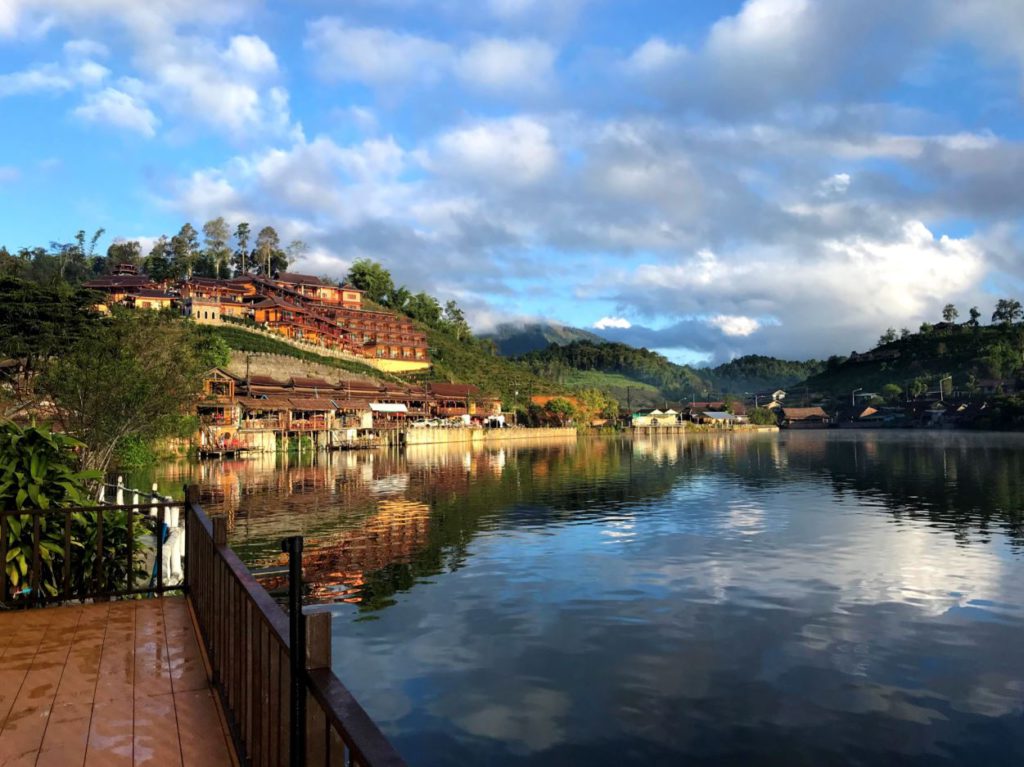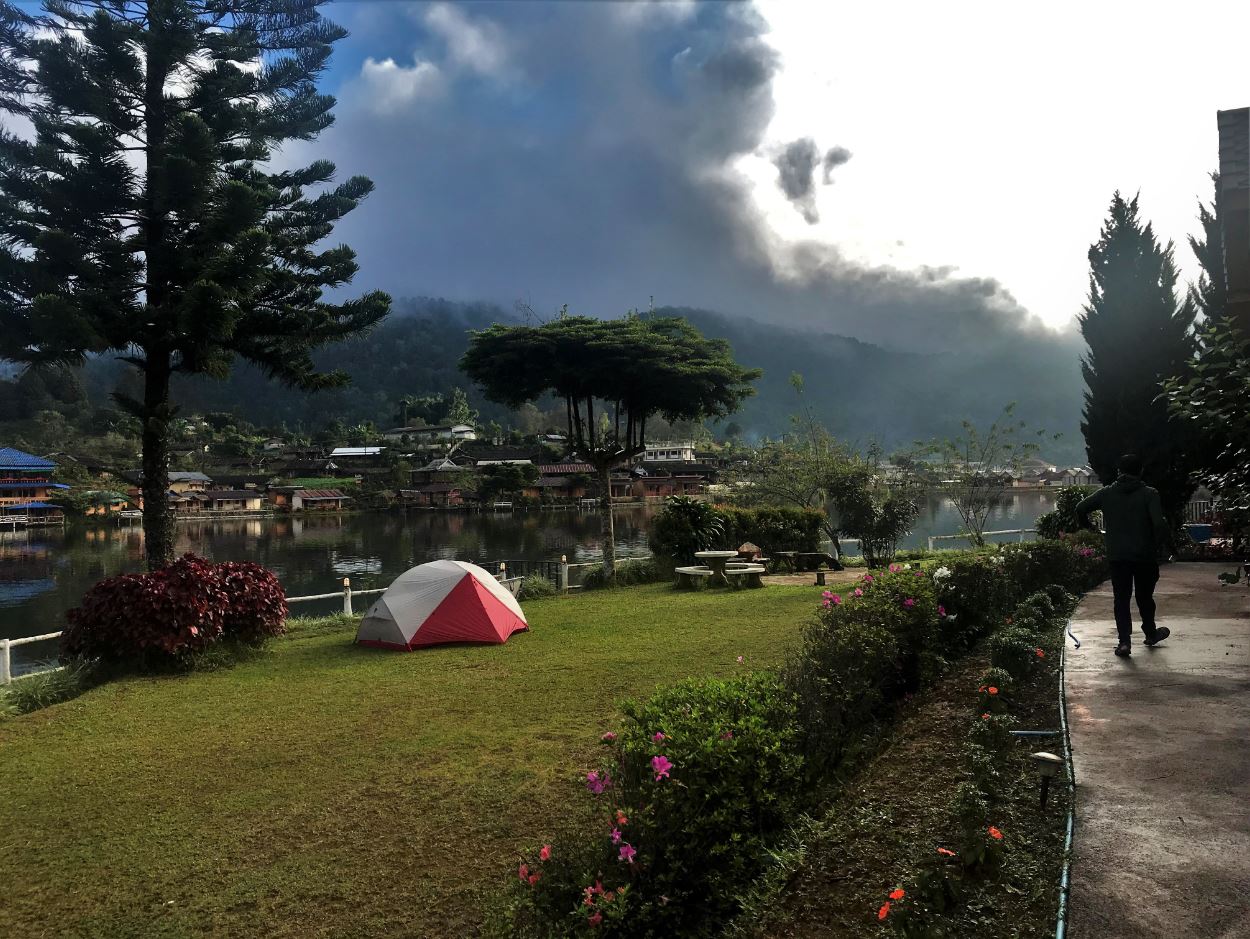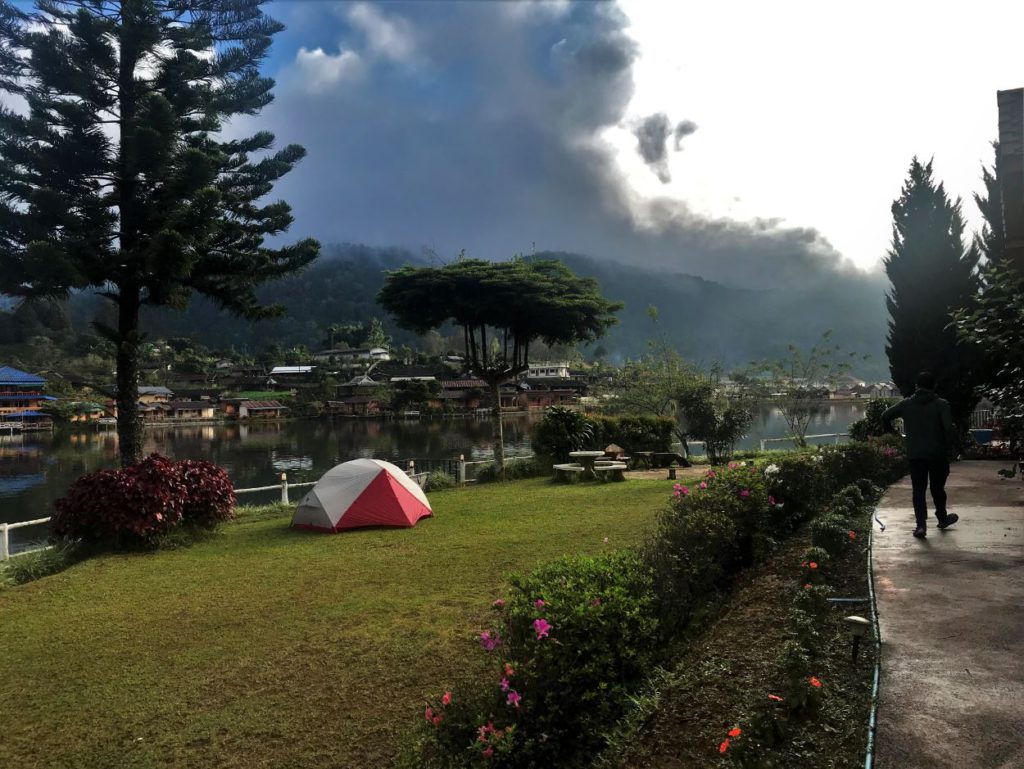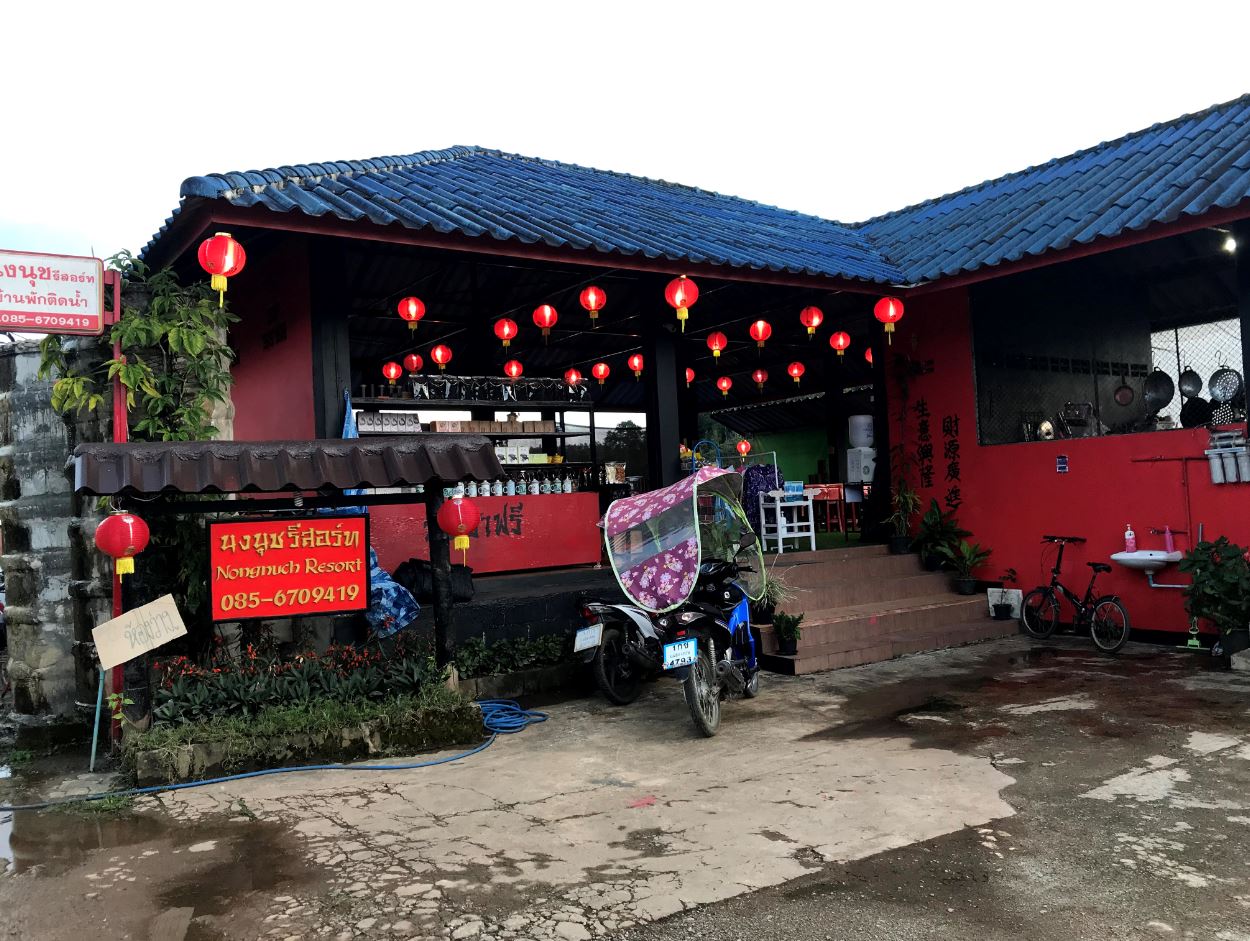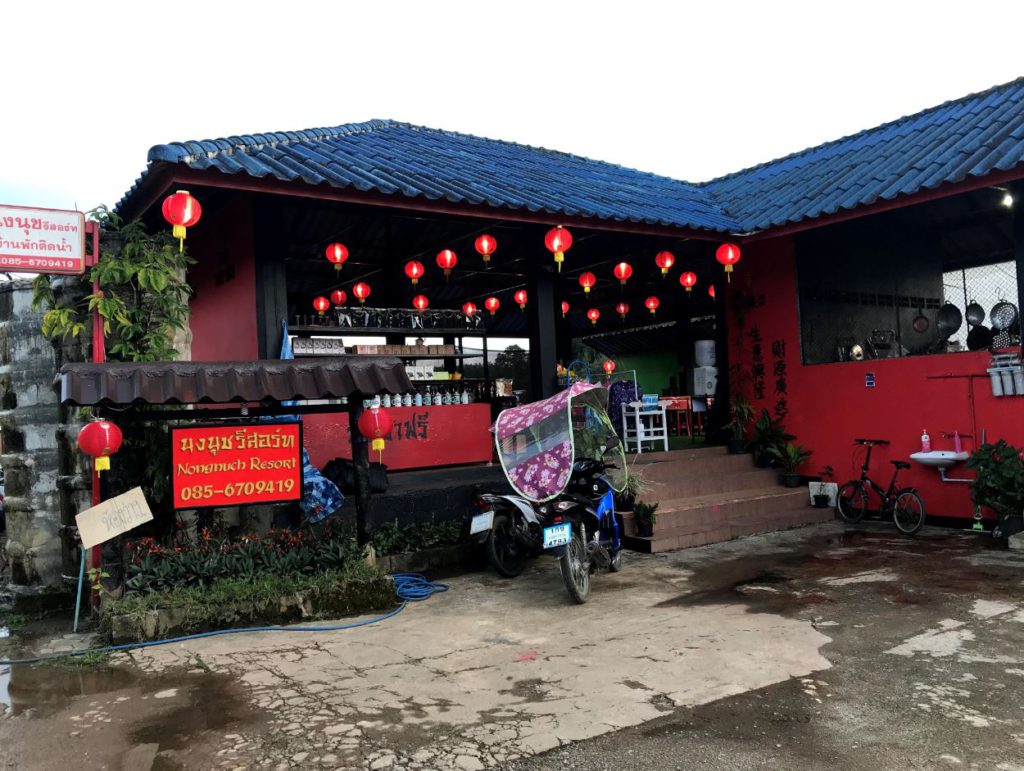 Facilities in Ban Rak Thai
This is the only village in Thailand I have travelled to that does not have a seven-11. Although there are mom and pop shops that sell the basic utilities like water bottles, snacks and hygiene products. I will still suggest you stock up your stuff or anything you may need before going.
The telephone network in the village is excellent (4G is available) and you can work remotely without any glitch.
There is a small self-serving petrol pump inside the village. The fuel is more expensive than other Thai town but I guess you can understand why.
Also, don't depend on an ATM or cash machine in the village. I couldn't see one (but I am sure it's there) and there are definitely no banks in the village. So load up the local currency before getting there.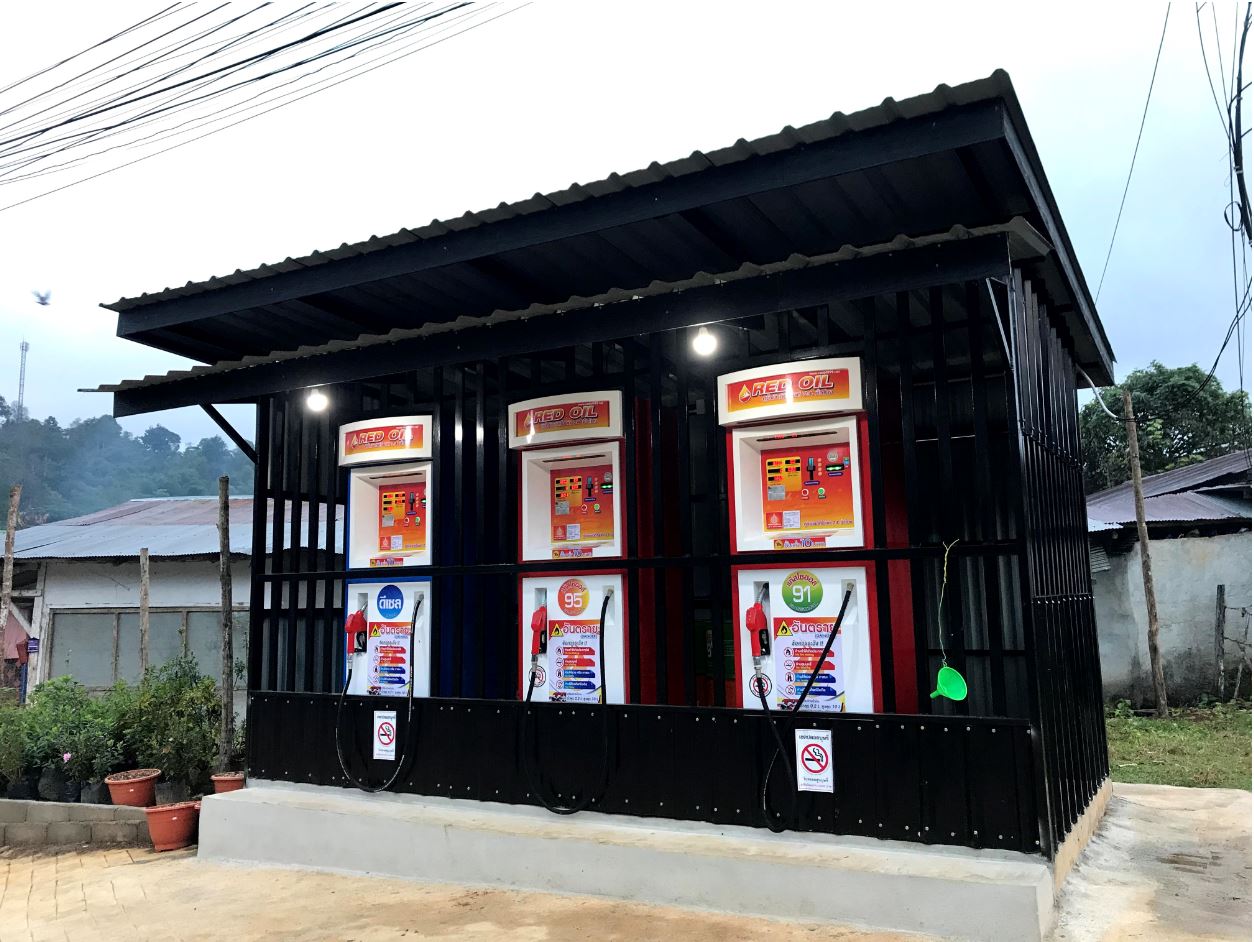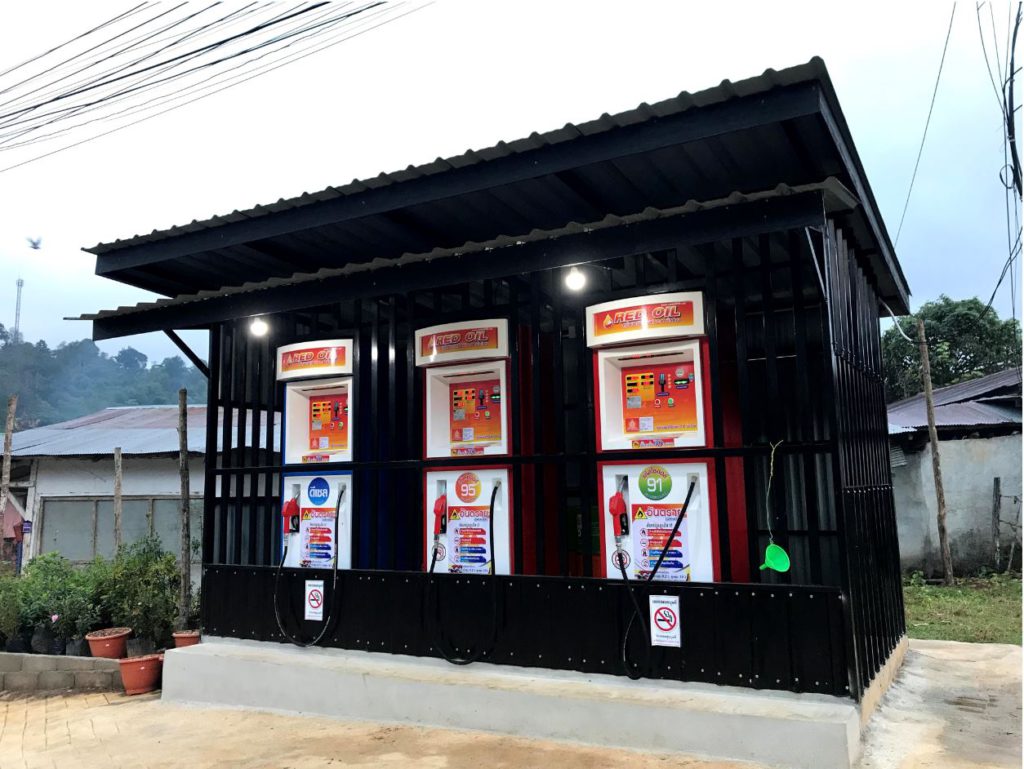 Save On Pinterest


Related Articles