24 Dec

How to get to Tham Lod Caves from Pai, Thailand

If you are looking for ways on How to get to Tham Lod caves from Pai, then you are already aware of this cave system. At least, you know they exist and a popular tourist attraction in the area.

But I didn't really understand their significance until much afterwards. And I think we would not know about them completely for a few decades in the future as well.

For now, Tham Lod caves remain a mystery to mankind. But also a great tourist attraction. You need bamboo rafts to enter the caves and then you come across these insane natural formations of stalagmites and stalactites. To me, it looked like a great adventure just out of a thriller movie.

So let's start from the beginning. I will take you around everything you need to know to visit Tham Lod caves.

Oh, and also check out our blog post on what to see in Pai if you are planning your vacation.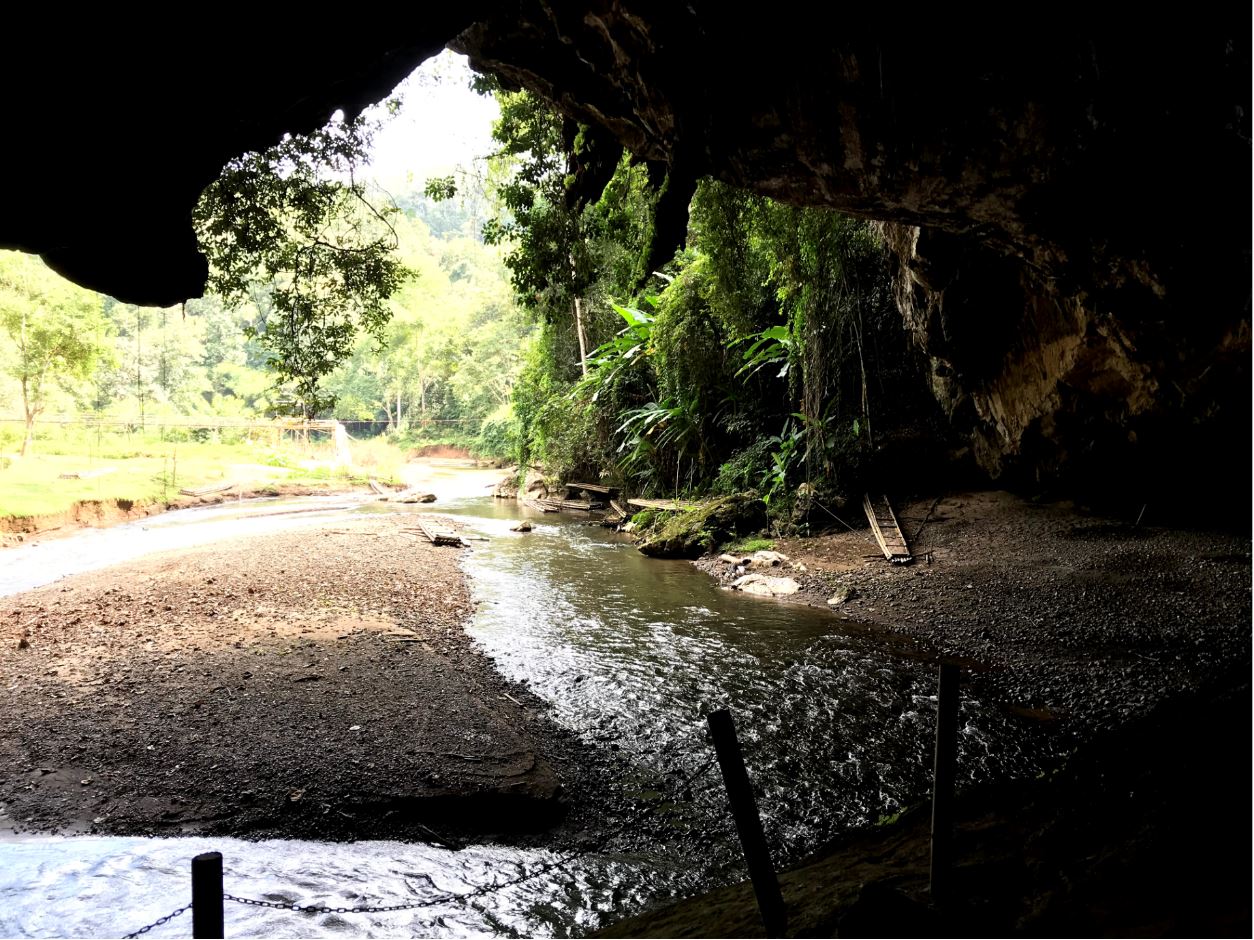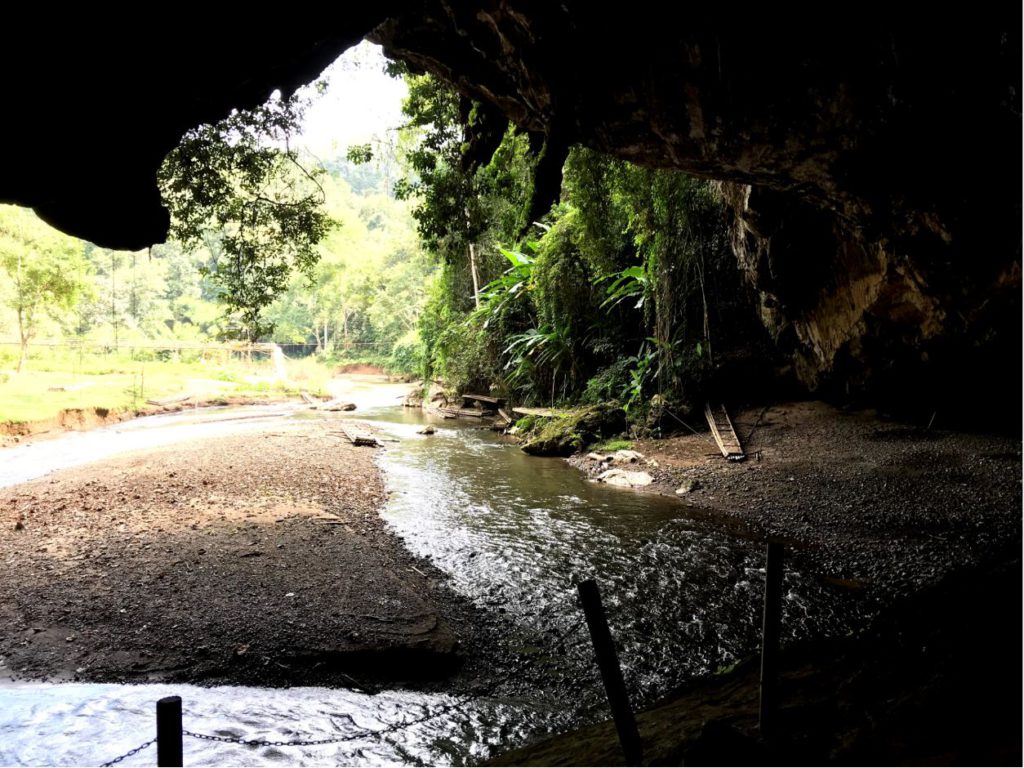 Where are Tham Lod Caves Located?
Tham Lod or 'Tham Lot' caves are a cave system located in northern Thailand in the province of Mae Hong Son. The caves are located 50 km north of Pai town, 180 km from Chiang Mai and 75 km from Mae Hong Son town.
Tourists who visit Pai often look to cover the caves as a day tour from Pai town. It takes around 90 minutes to reach the caves by road. You can also visit the caves on your way to Mae Hong Son from Pai or Chiang Mai.
How to get to Tham Lod Caves from Pai
There is no public transport that goes to Tham Lod caves. Therefore, you will have to arrange private transport only. Here are some options:
Group tour: If you are travelling solo, it is a good way to visit these caves in a group. That will divide the cost and the tour company takes care of the transport from your place and drops you back. It is also safe to have other people for company.
If you haven't travelled much inside Thailand or don't speak Thai, I think it's a good option.
You can book a tour to the Tham Lod caves online beforehand or you can ask around at the tours and travellers in Pai. You could always get something near or at the bus station in Pai. It is also where you will find the night market.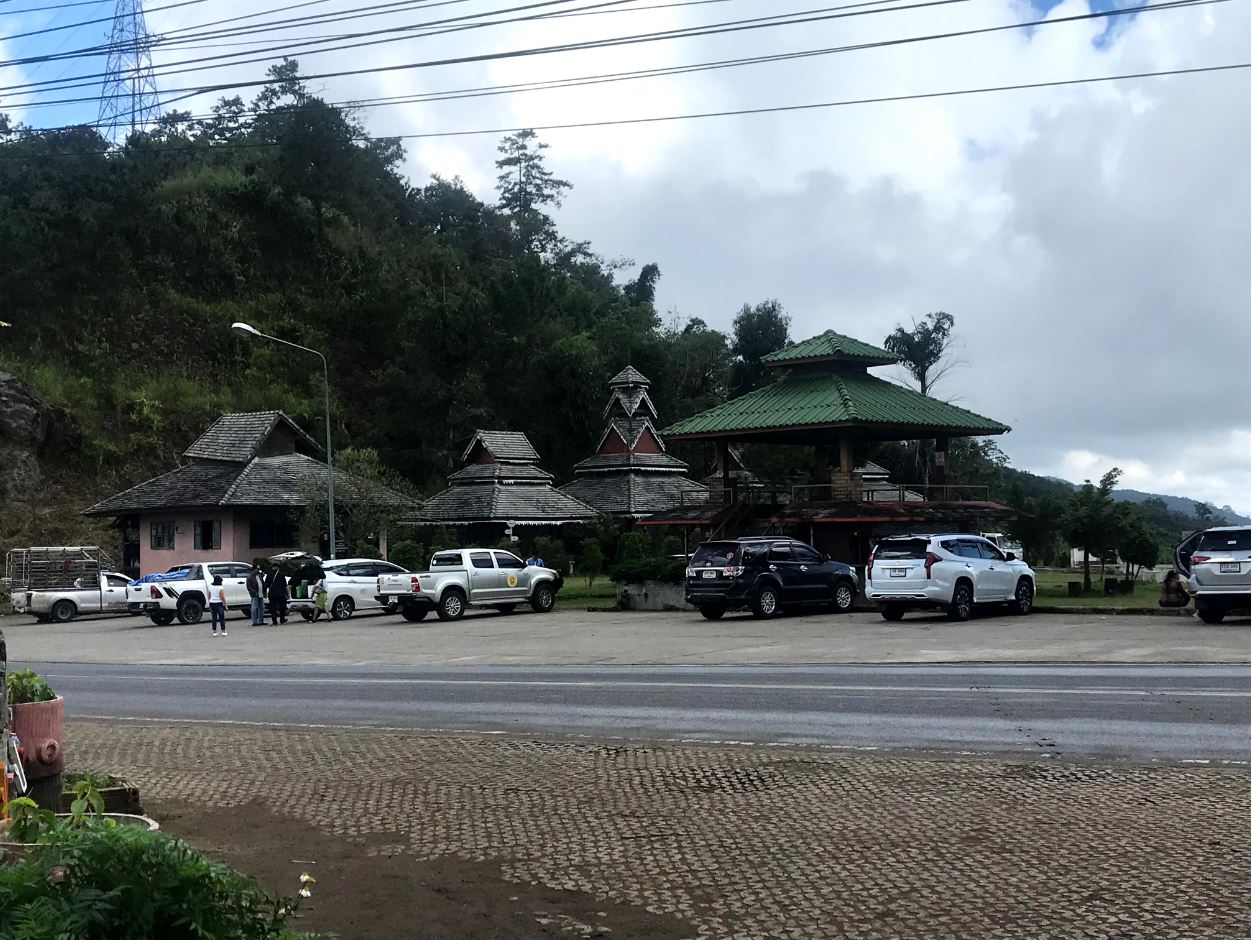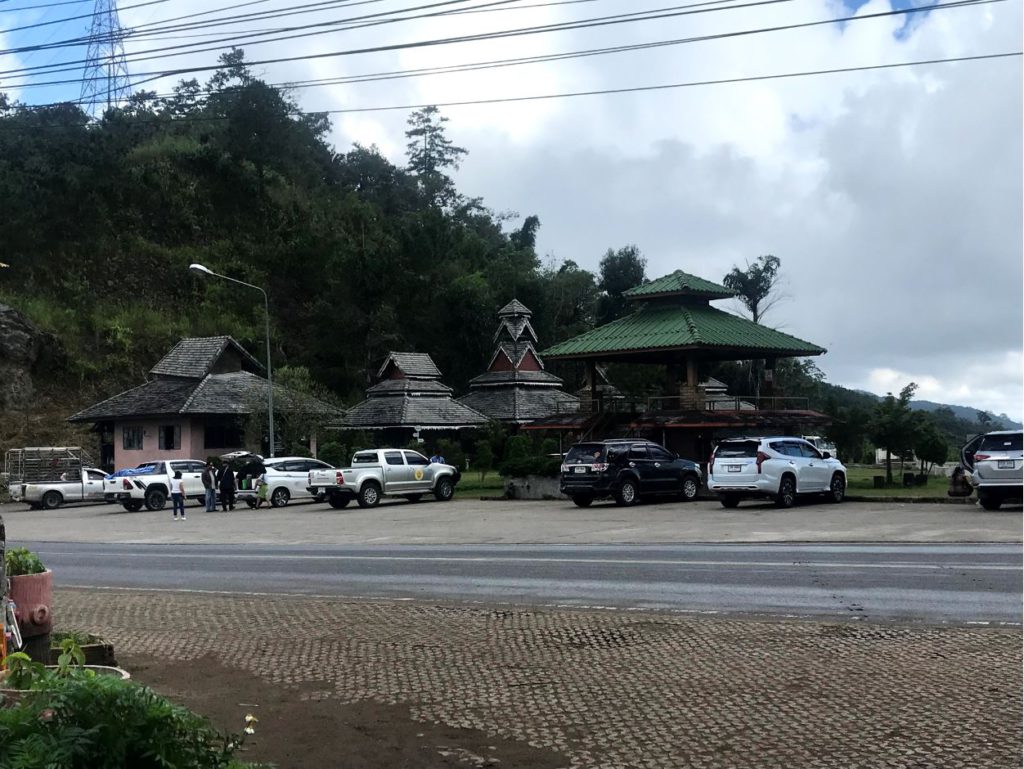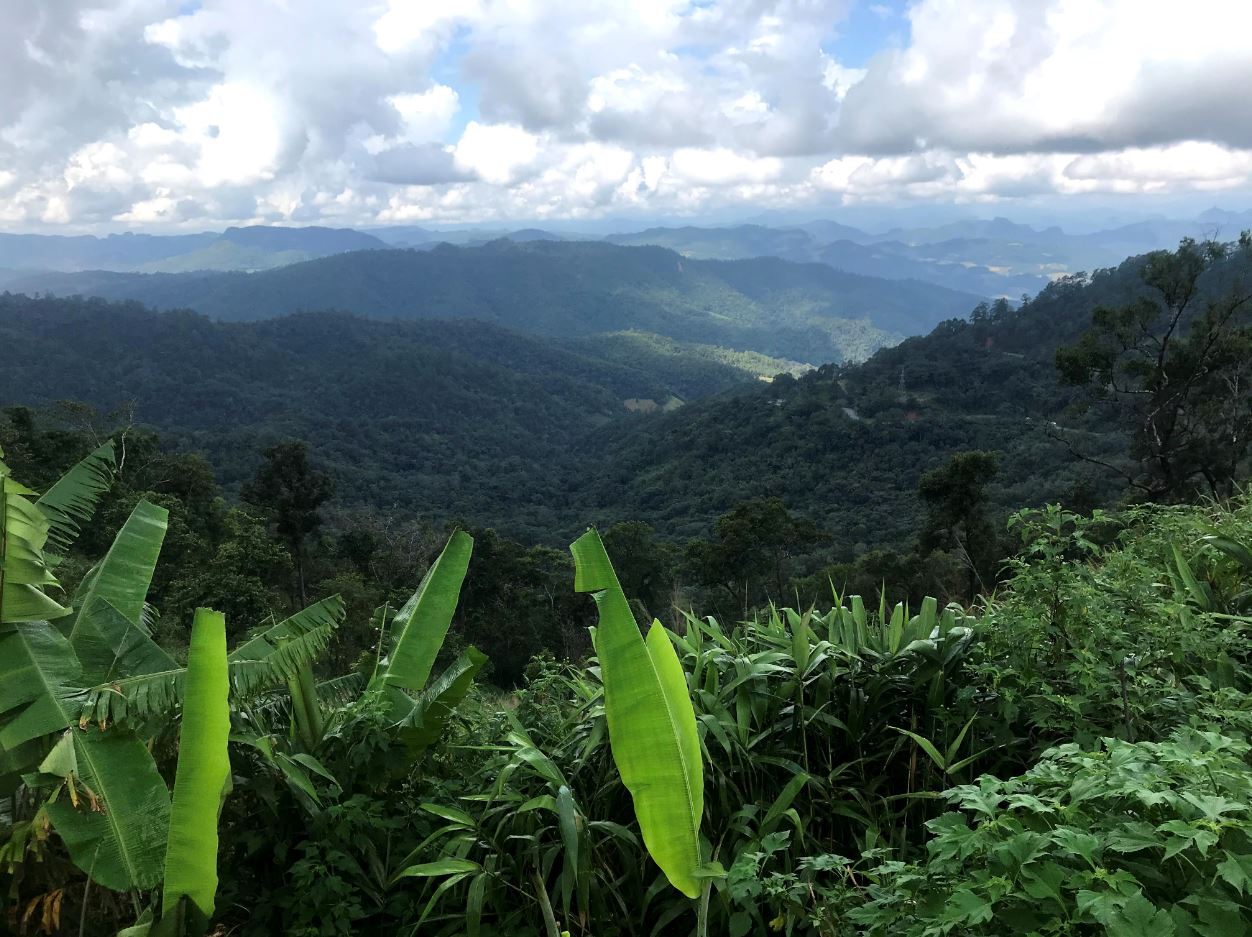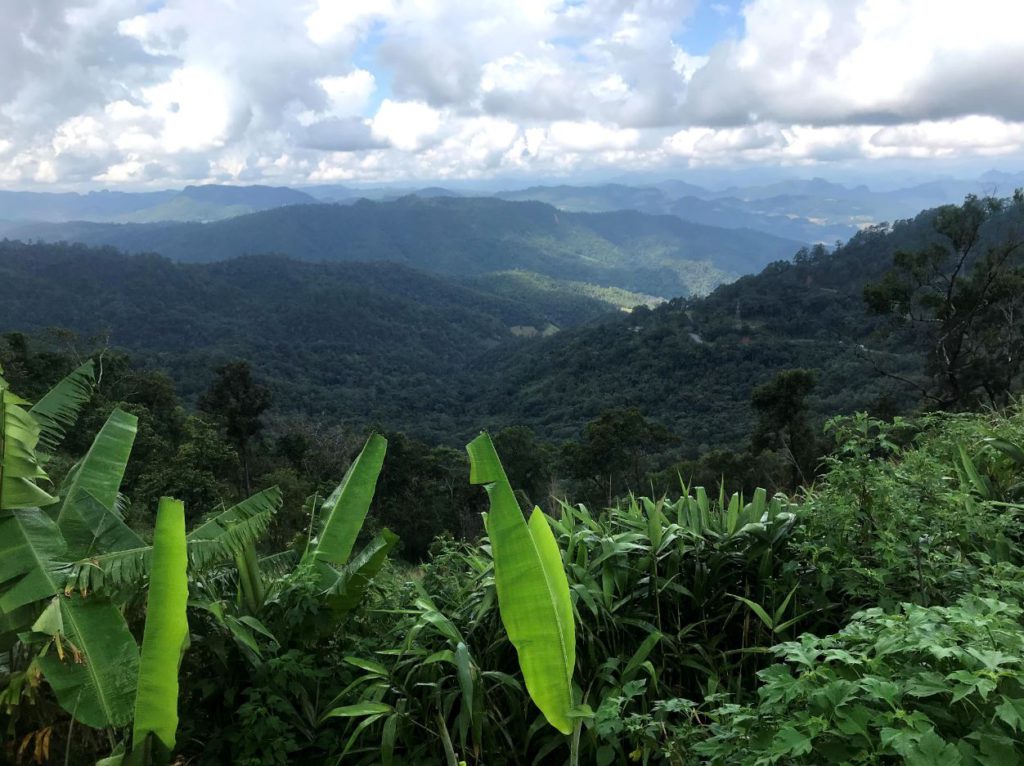 Private taxi: It is common to bump into other travellers in Pai. In fact, people call Pai a backpacker's town. You can either ask them for the company or can go ahead with it if you already have company. It is also a better (and cheaper) way for families to travel.
Hire a half-day cab from Pai for this. A cab costs around THB 1,800 for the round trip. If you split it, it's a sweet deal. It takes 90 minutes to reach, 1-3 hours to visit the caves and then back on the same route.
Self-drive: You can also drive to Tham Lod caves yourself. But driving to Tham Lod caves isn't anything like driving in and around Pai. The highway has several steep curves including insane hairpin bends.
Avoid driving by yourself if you aren't used to driving on Thai roads. Don't do it either if you haven't driven a few hundred kilometres in Thailand or on hilly terrain.
If you do decide to drive, you will have to take a turn at the highway that mentions the way to Tham Lod caves. From the highway drive around 8 km inside. The roads are in good condition and fully motorable till the end. Just follow the google maps and you will be fine.
If you already don't have a vehicle, you can rent one in Pai town for THB 150 per day. You will need a high power vehicle (choose minimum 125 cc) for the mountainous roads. You can also rent in the town starting THB 800 per day although it may be a bit more difficult to find a shop.
We included Tham Lod caves in our itinerary covering the Mae Hong Son Loop. This starts from Chiang Mai to Pai and goes all the way up to Mae Hong Son. We stopped at Tham Lod on the way. From Mae Hong Son it goes further down to Mae Sariang and back to Chiang Mai via Doi Inthanon.
It was one of the best road trips to do in Thailand. You can check out our detailed guide to it on our blog on the Mae Hong Son Loop.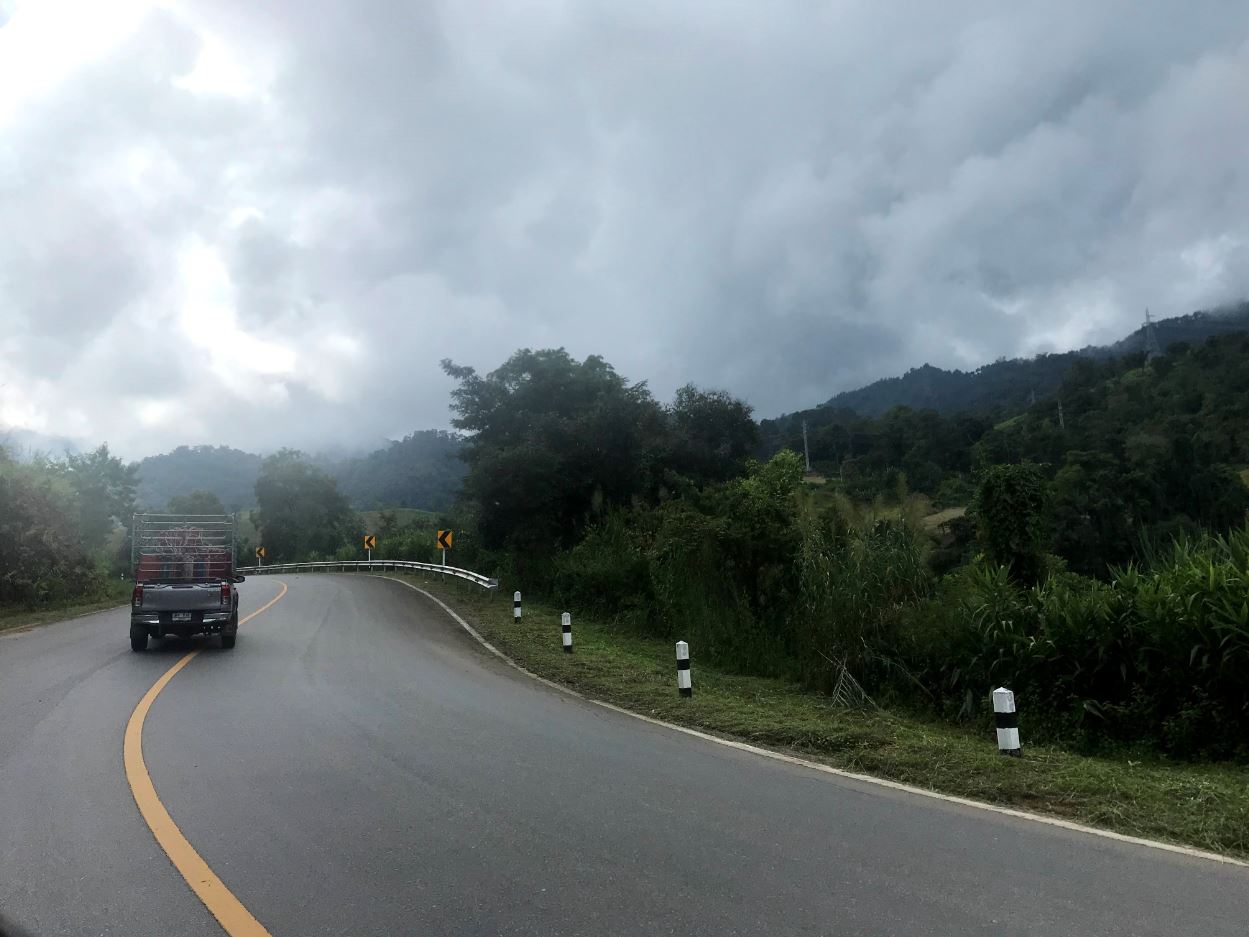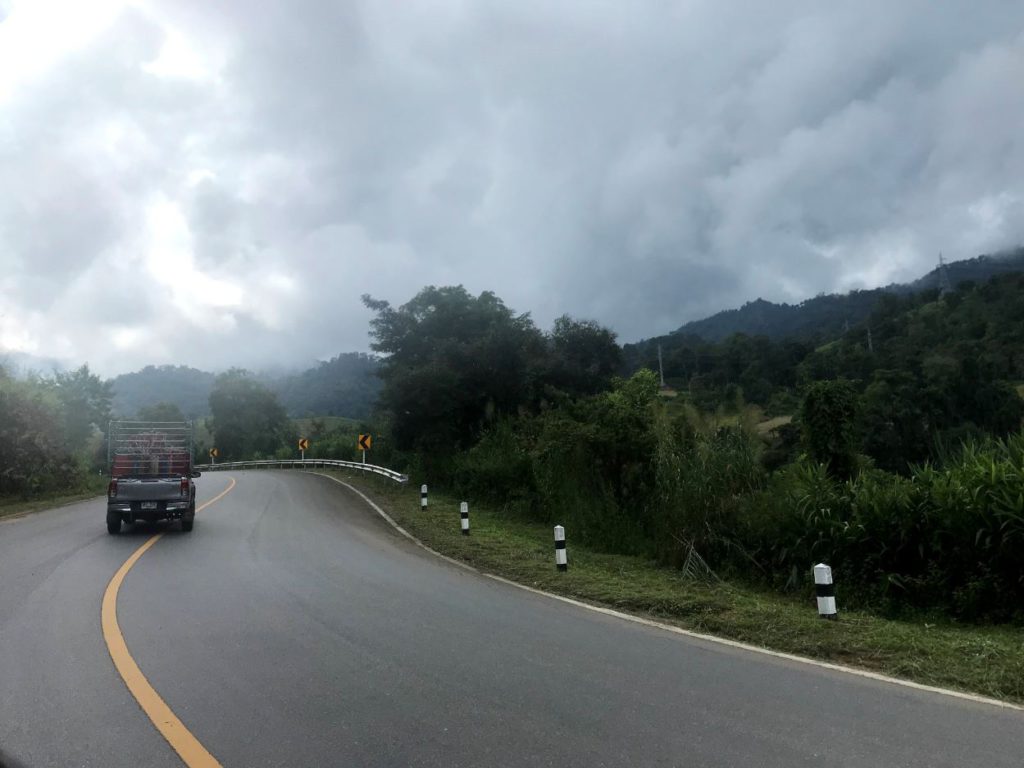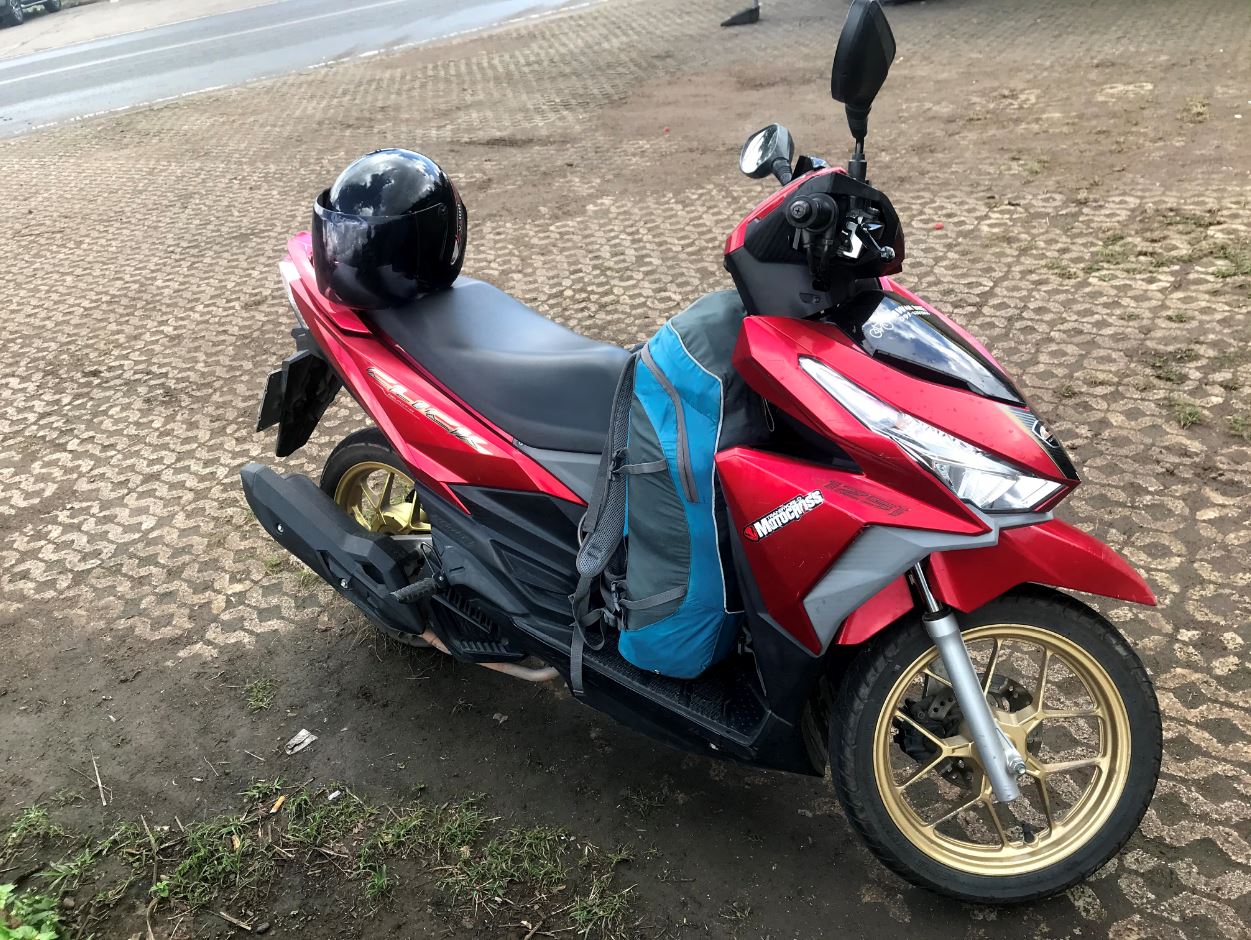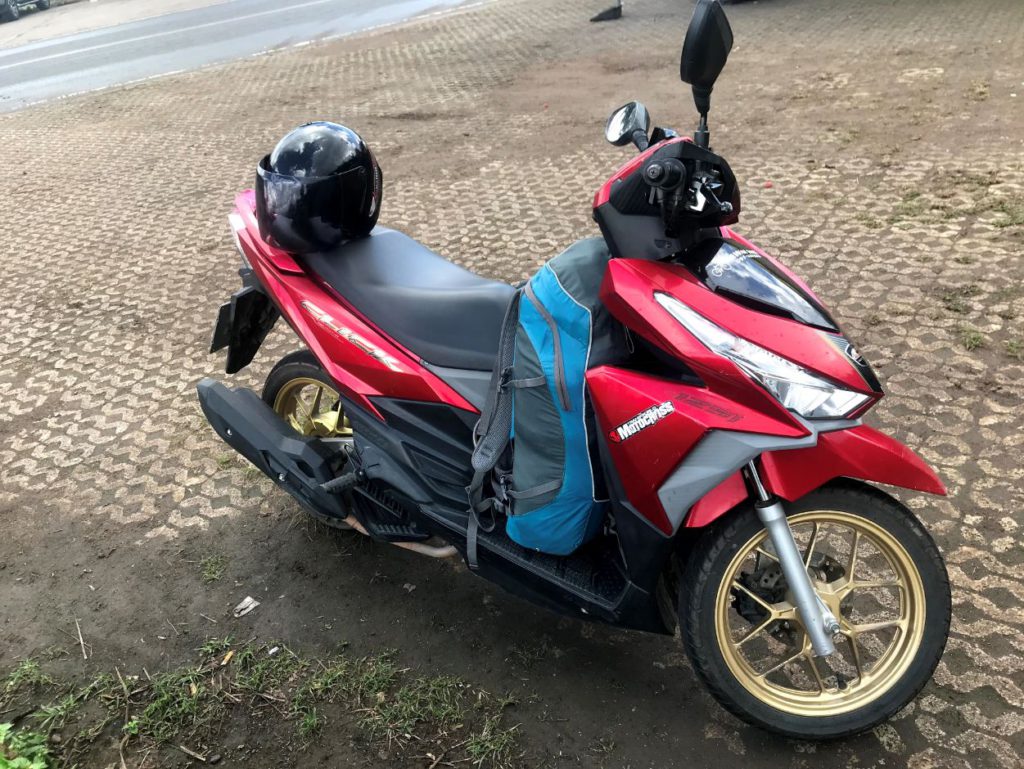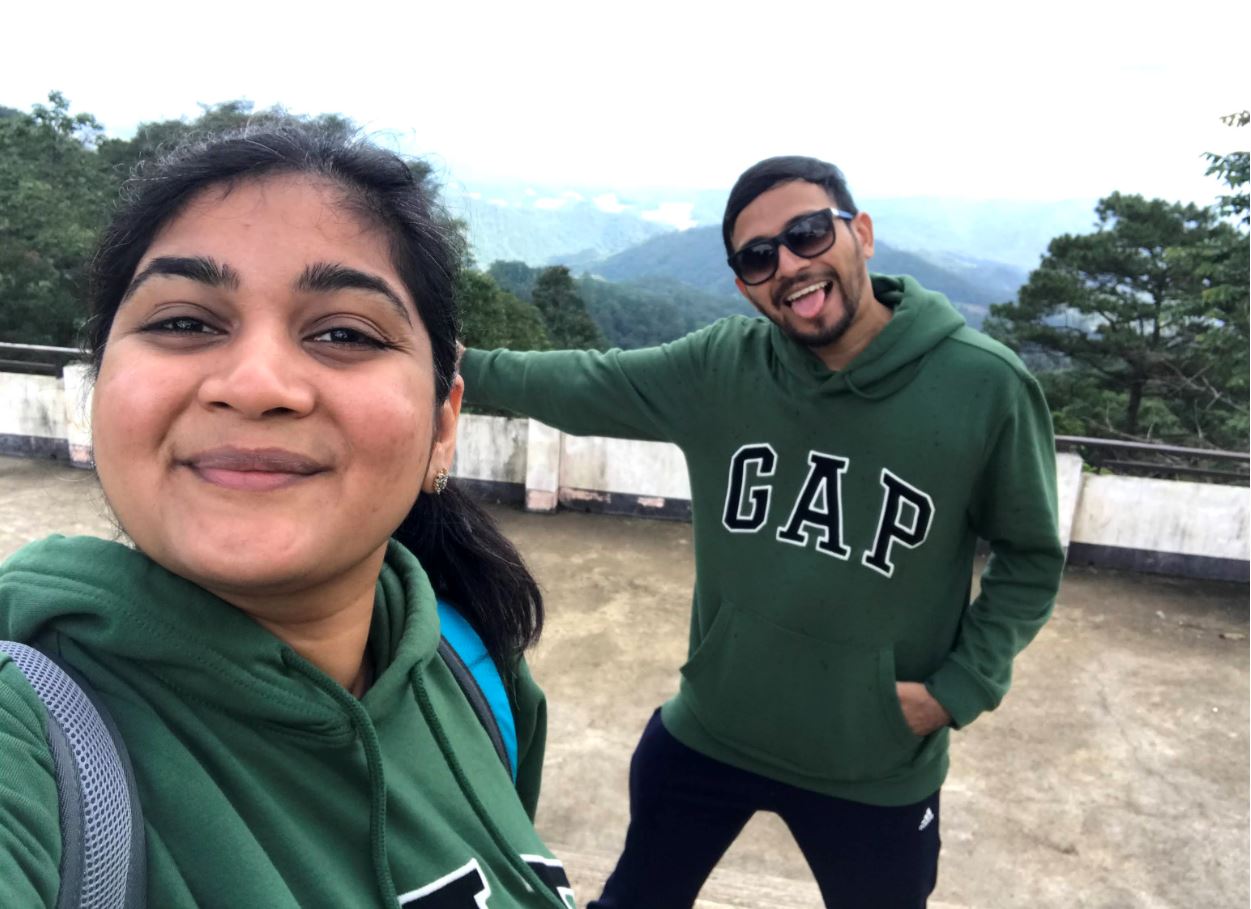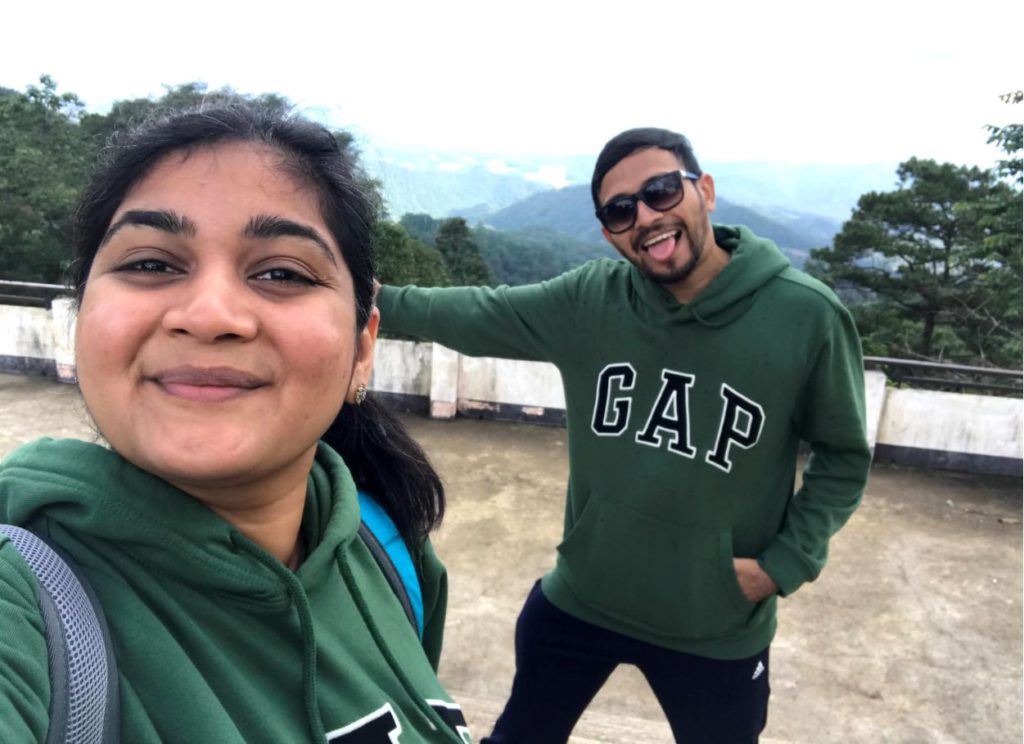 When to visit the Tham Lod Caves
Time is important regarding your visit to Tham Lod Caves. While I know that you will not change your full itinerary for this, at least you will be aware of what to expect.
There are three caves that make the Tham Lod Cave complex. And they are prone to waterlogging. You cannot enter the caves if they are filled with water. Therefore, during monsoons (July – September) all caves are usually out of limits. Yet you can still stop and check if the weather has been clear for a few days.
As the skies clear and time move towards the winter months (November – January), the water subsides. The Big column cave is the first one to open even if the other two are inaccessible.
As the water subsides during the winter and summer months, all the caves open up. The guides at the park entrance will let you know about the situation while buying a ticket. Do not insist or try to enter the caves without a guide.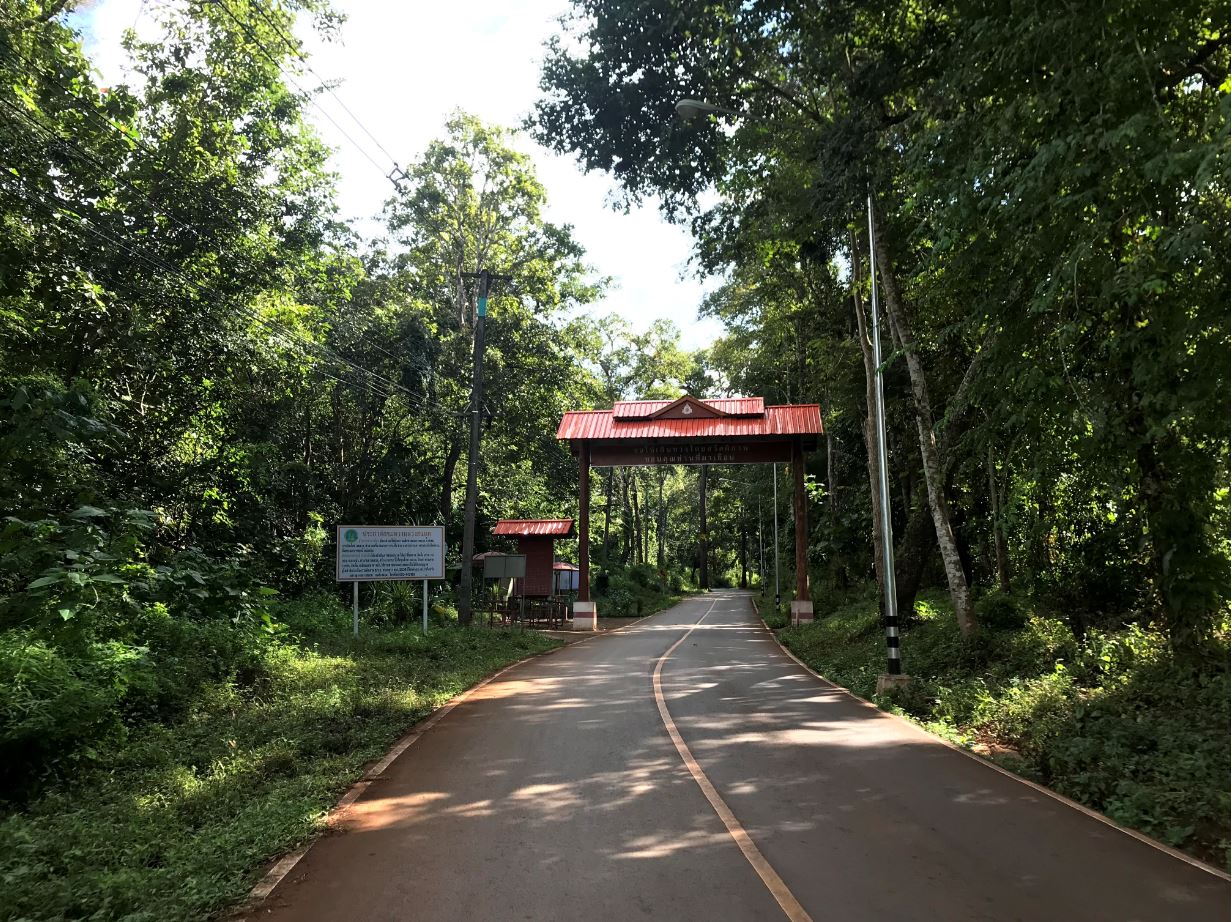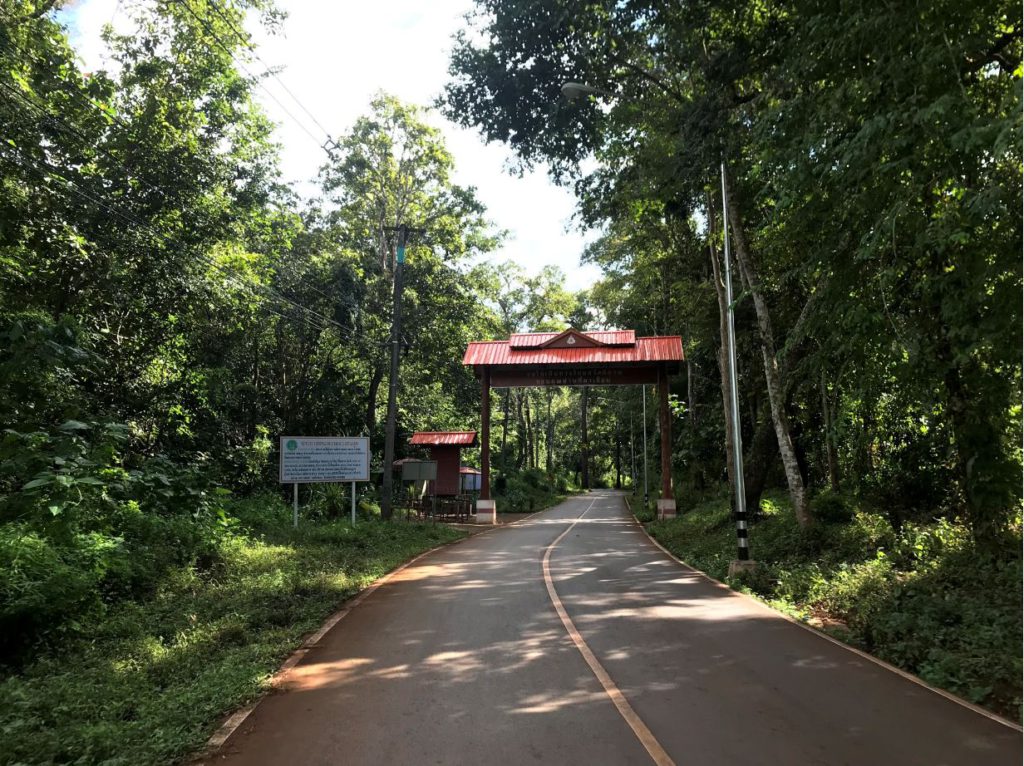 Historical Significance of Tham Lod Caves
Till now the areas of South Asia and Far East Asia were mostly considered significant in terms of archaeological findings and early civilisation. Therefore, Southeast Asia never really got a lot of funding or limelight. However, the finding in the caves could change that.
In the last 3 decades, a lot of Early Metal age sites were found in northern Thailand. Tham Lod caves are themselves extremely significant after the findings of  the buried human skeletons here. They date back to Holocene period (9,700 BC onwards).
In fact, some historians claim that the caves were inhabited by early homo-sapiens and hunter-gatherers between 40,000 – 10,000 BC. Several simple tools were recovered from the caves suggesting that the caves could be a trading point of trade for tools with the neighbouring clusters of civilisations.
In 2006, a Thai archaeological team retrieved skeletons of a woman from the caves and tried to rebuild a structure around it in a lab. The burial of individuals in the wooden caves may depict a high status in the hunter-gather society, perhaps that of an accomplished hunter.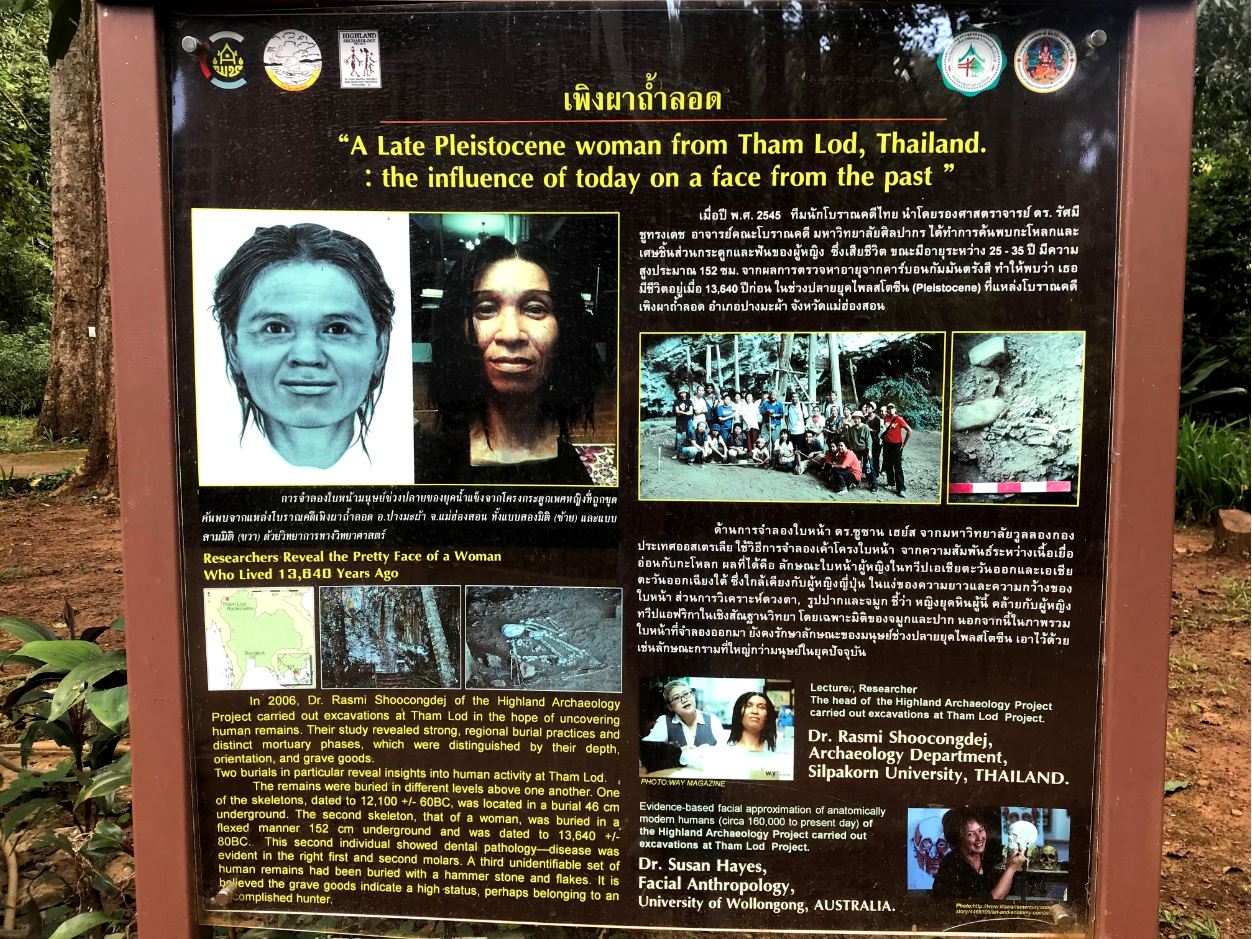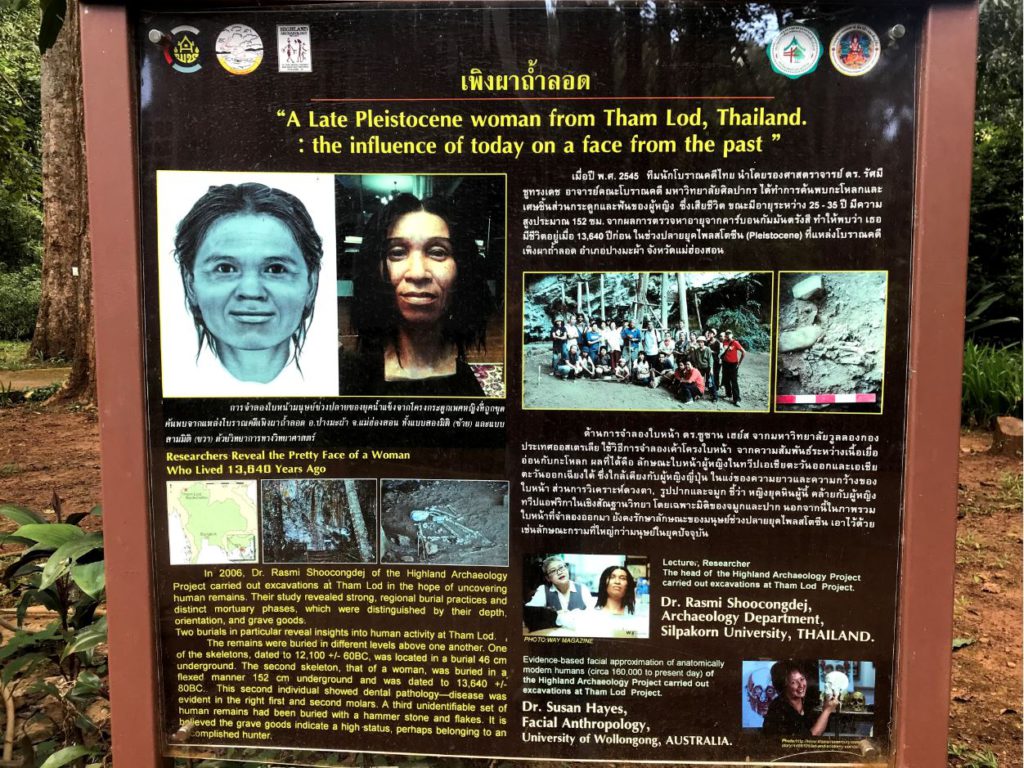 Tham Lod caves ticket price and opening hours
Tham Lod Caves Opening hours: The caves are open from 9.00 am to 6.00 pm every day of the week.
A good time to visit could be between 5 pm – 6 pm after the bats and swiftlets move out of the cave for their nocturnal life. Otherwise, the bad odour is overwhelming at points (but manageable).
Tham Lod Caves ticket price: THB 200 per group for 1 cave (Column Cave), THB 250 per group for two caves (Column and Doll caves), THB 500 per group for all 3 caves (Column, Doll and Coffin Caves).
A group consists of not more than 3 people. Bamboo rafting included in this. You can, of course, tip them which I think you should. You don't need to book the ticket beforehand.
The local Shan people (an ethnic group from Myanmar) operate these caves who also act as guides. They built and maintain all the wooden structures inside the caves. I would say it's a pretty sustainable ecosystem.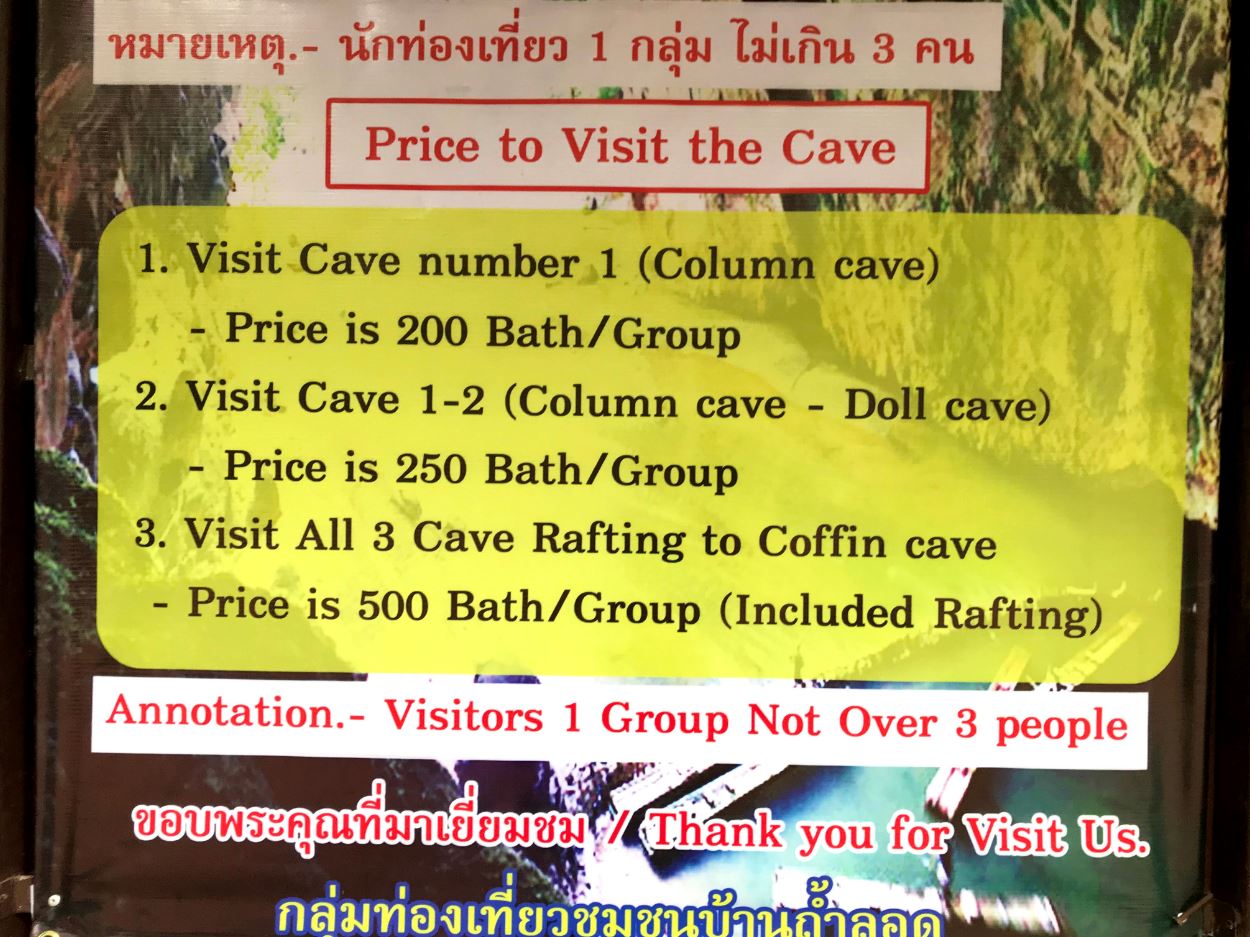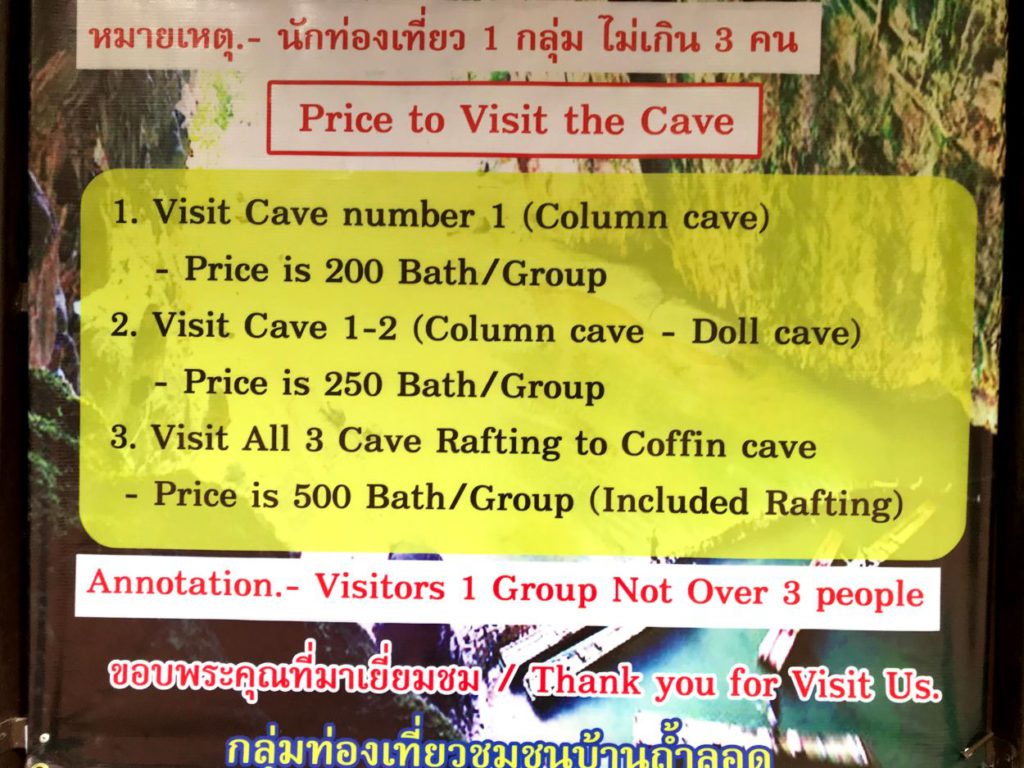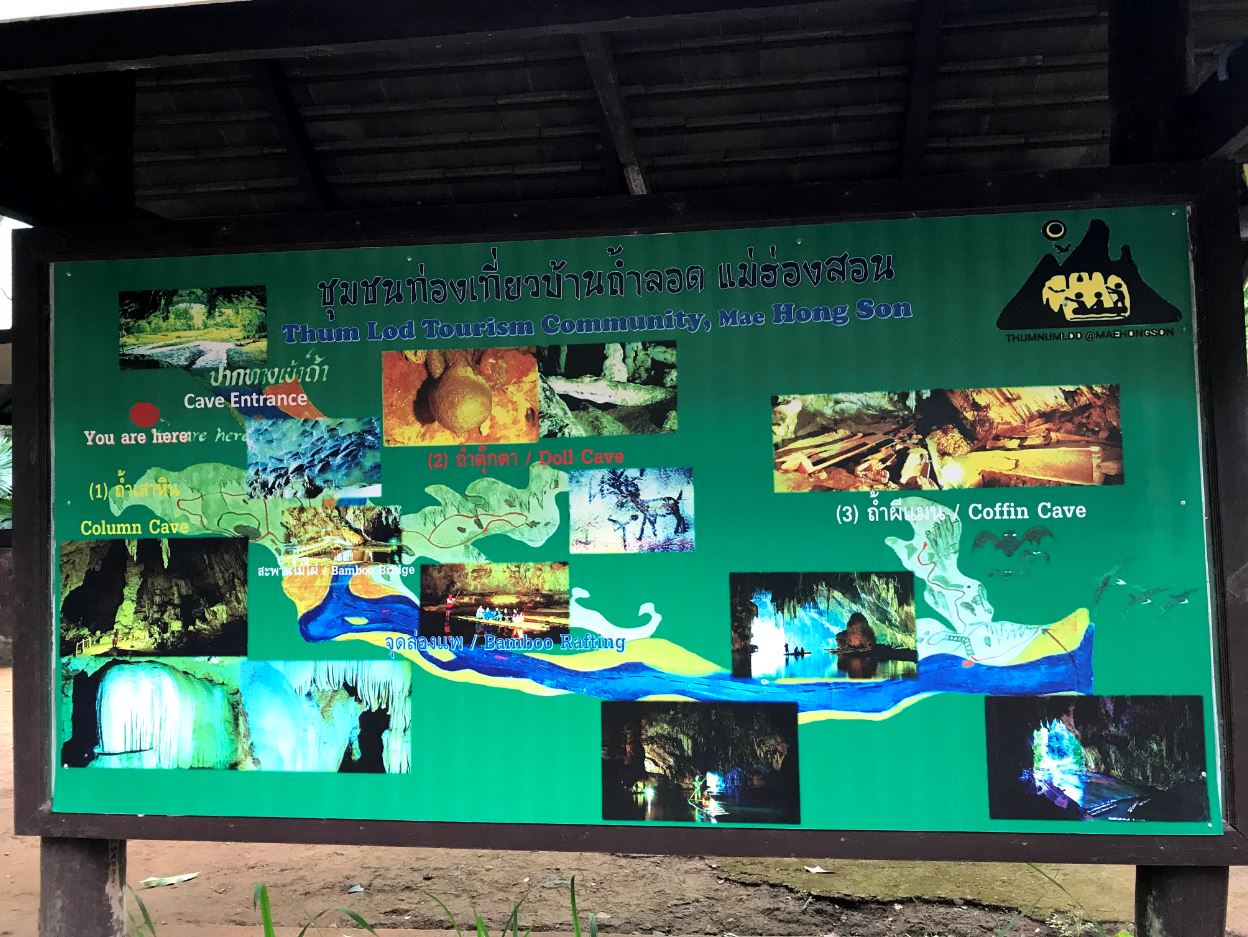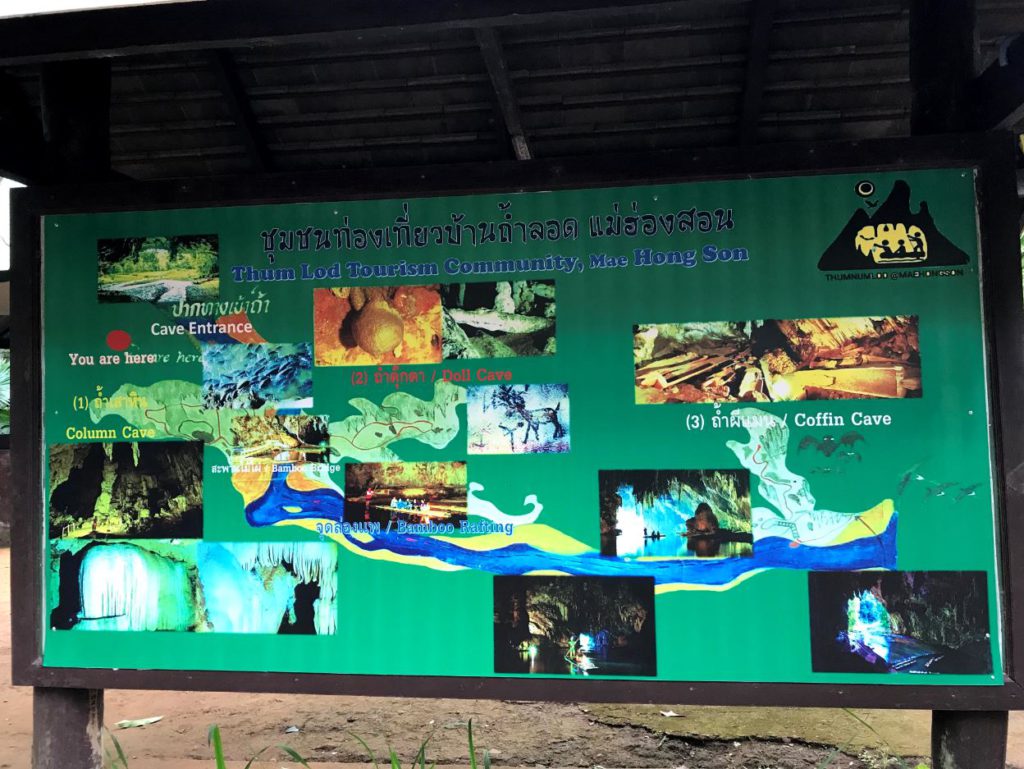 Visiting Tham Lod Caves
As you reach the main gates of Tham Lod caves, you will realise the area looks exactly like any other national park inside Thailand. There is a large premise with wooden benches, huts, camping area, local restaurants and visitor's centre and an accommodation area.
Ticket Counter
You will have to buy a ticket and tell the women sitting at the counter of your choice of caves you want to visit. Of course, it will depend upon what's open. But if all three caves are open to visitors, do not miss them.
After you buy the ticket, the lady at the counter will allot a tour guide to you and your group. You can keep your bags and belongings at the counter if you have a lot of stuff with you.
Our guide then took us on a short hike of 15 minutes to the caves. While a lot of the way is marked, it is easy to get lost for a first-time traveller.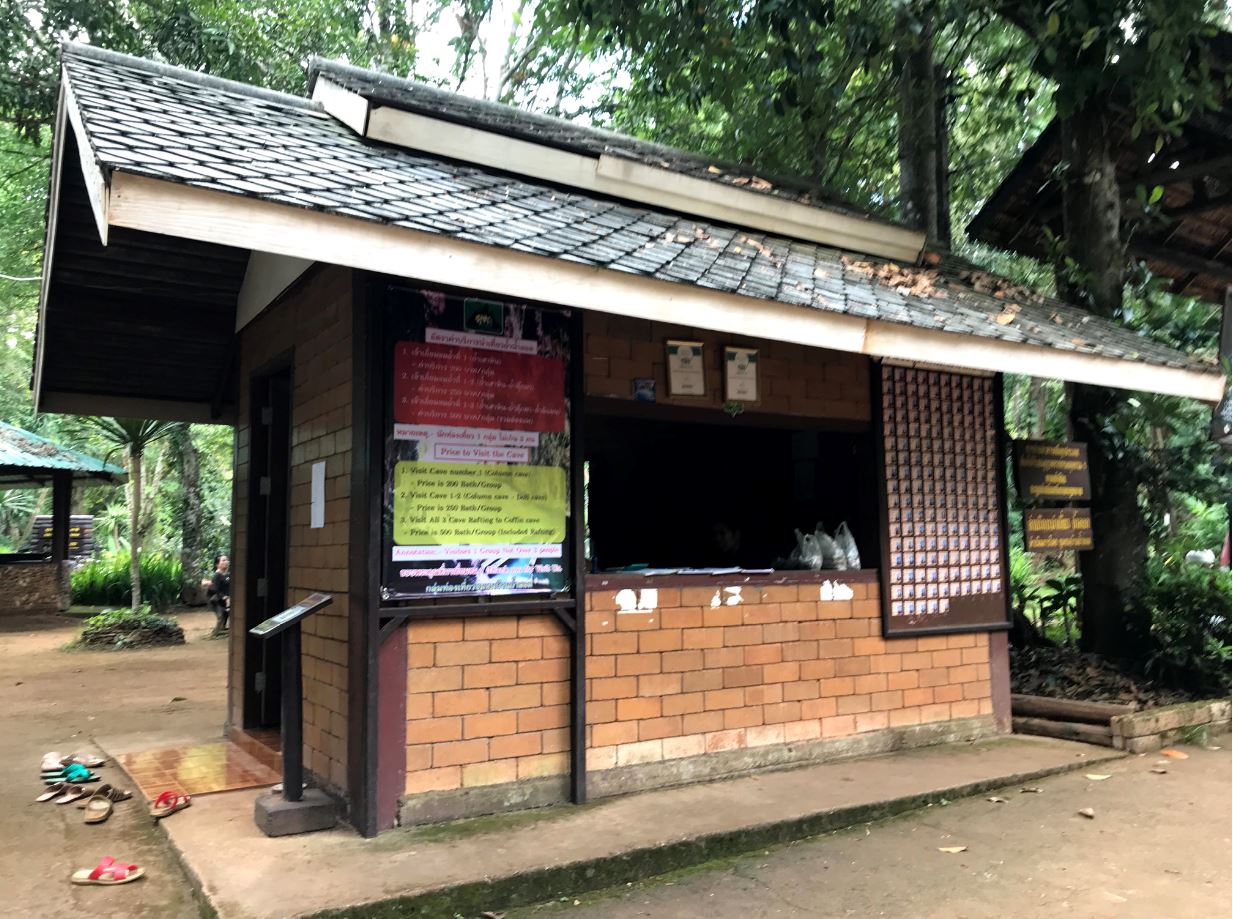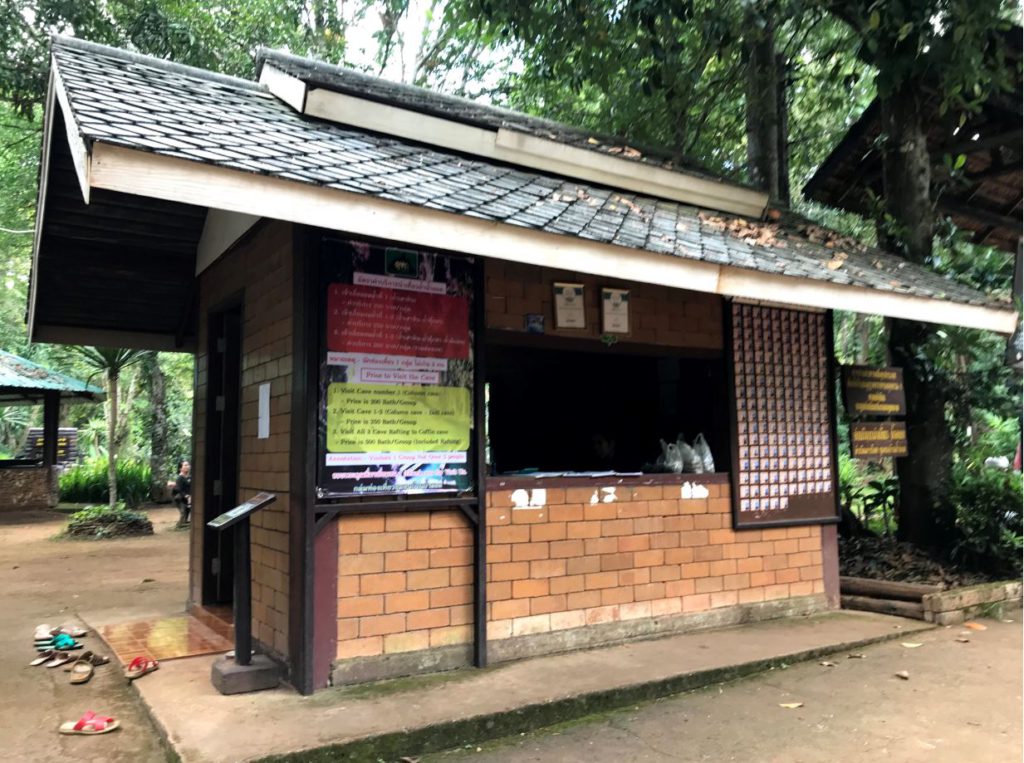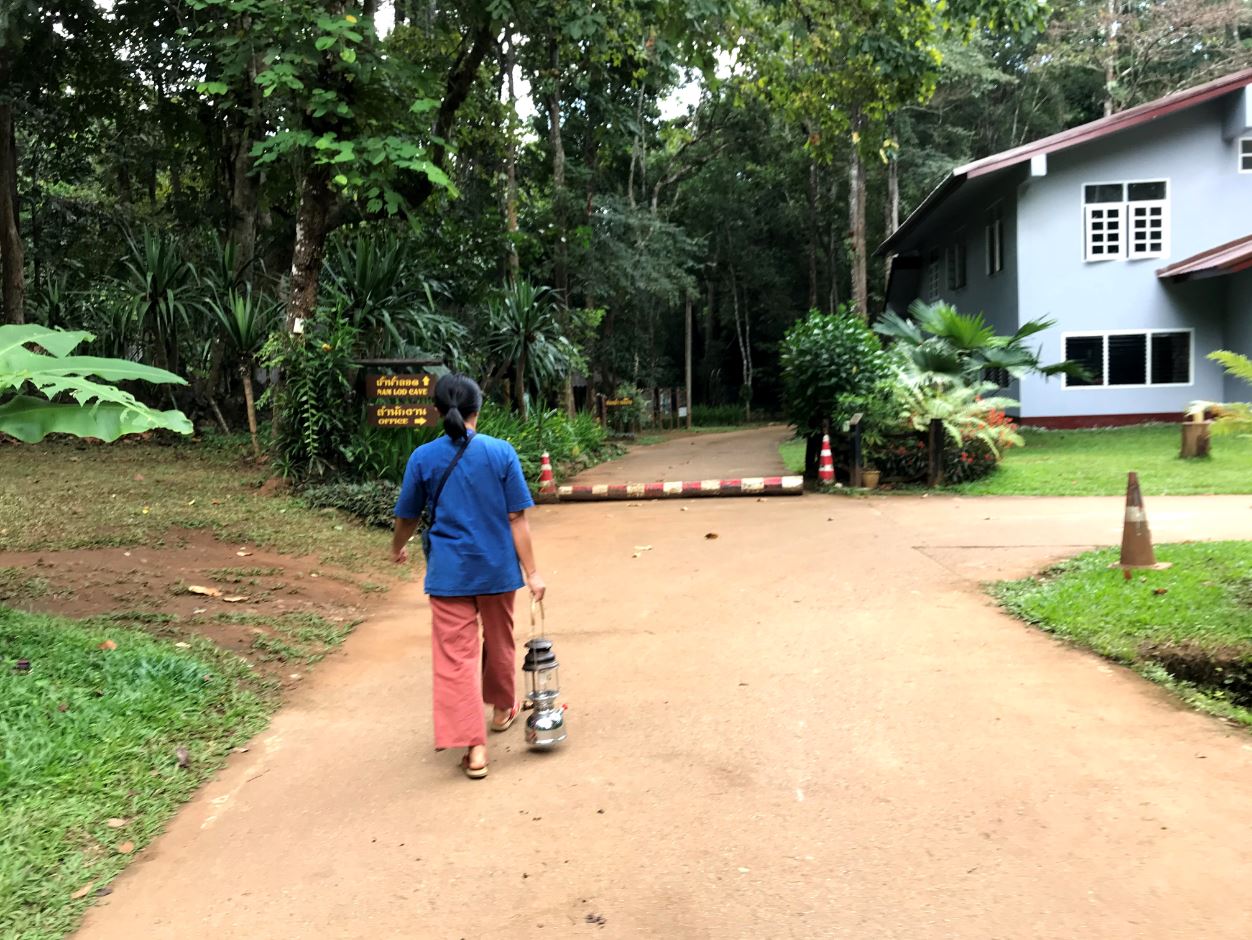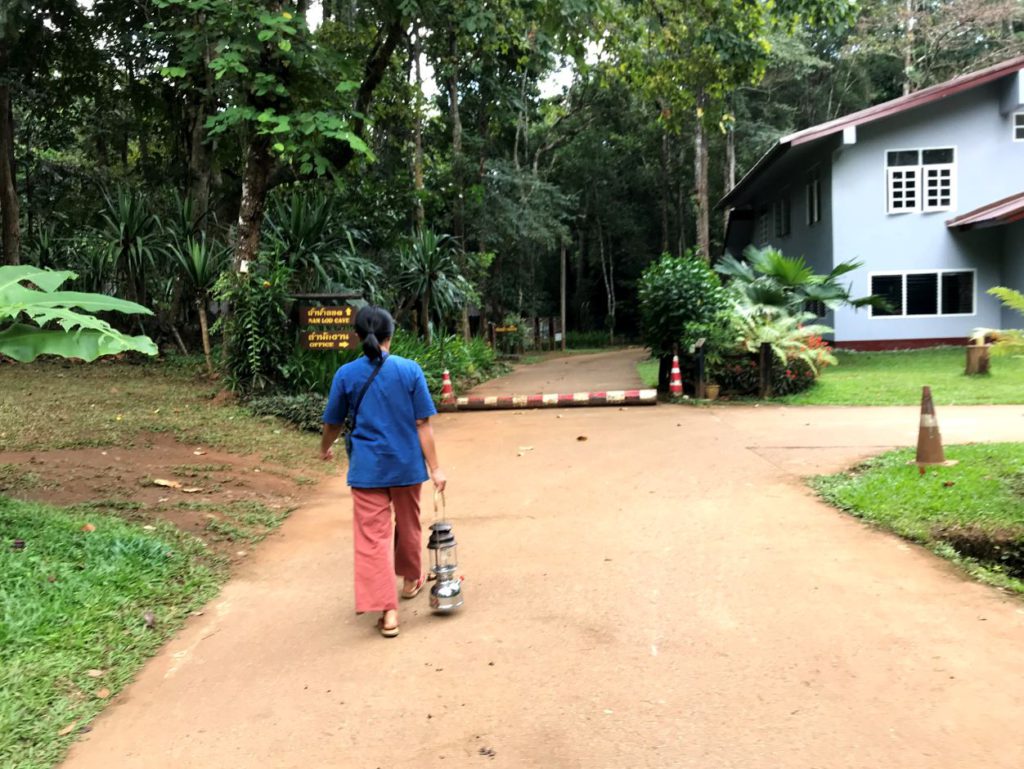 Bamboo Raft
As we walked towards the entrance to the caves, the guide told us that quite a few movies are shot in this area. The recent one was Bollywood. That's when I remember a friend in Chiang Mai mention the shooting of 'Thugs of Hindostan' in the caves. A large part of the second half of the movie was shot in and around here.
Once you reach the entrance, the guide took some time to light up her kerosene lamp. You will need some reliable light system to guide your way inside.
Thereafter, you walk ahead and sit on a bamboo raft. The raft will take you inside the caves to the other end where you will be exploring the caves on foot. It is hardly a 5-minute ride.
The bamboo rafts are narrow and quite scary, to be honest. Too much wobbling may capsize the raft and I am sure you don't want to deal with what's under the dark mysterious waters of these caves.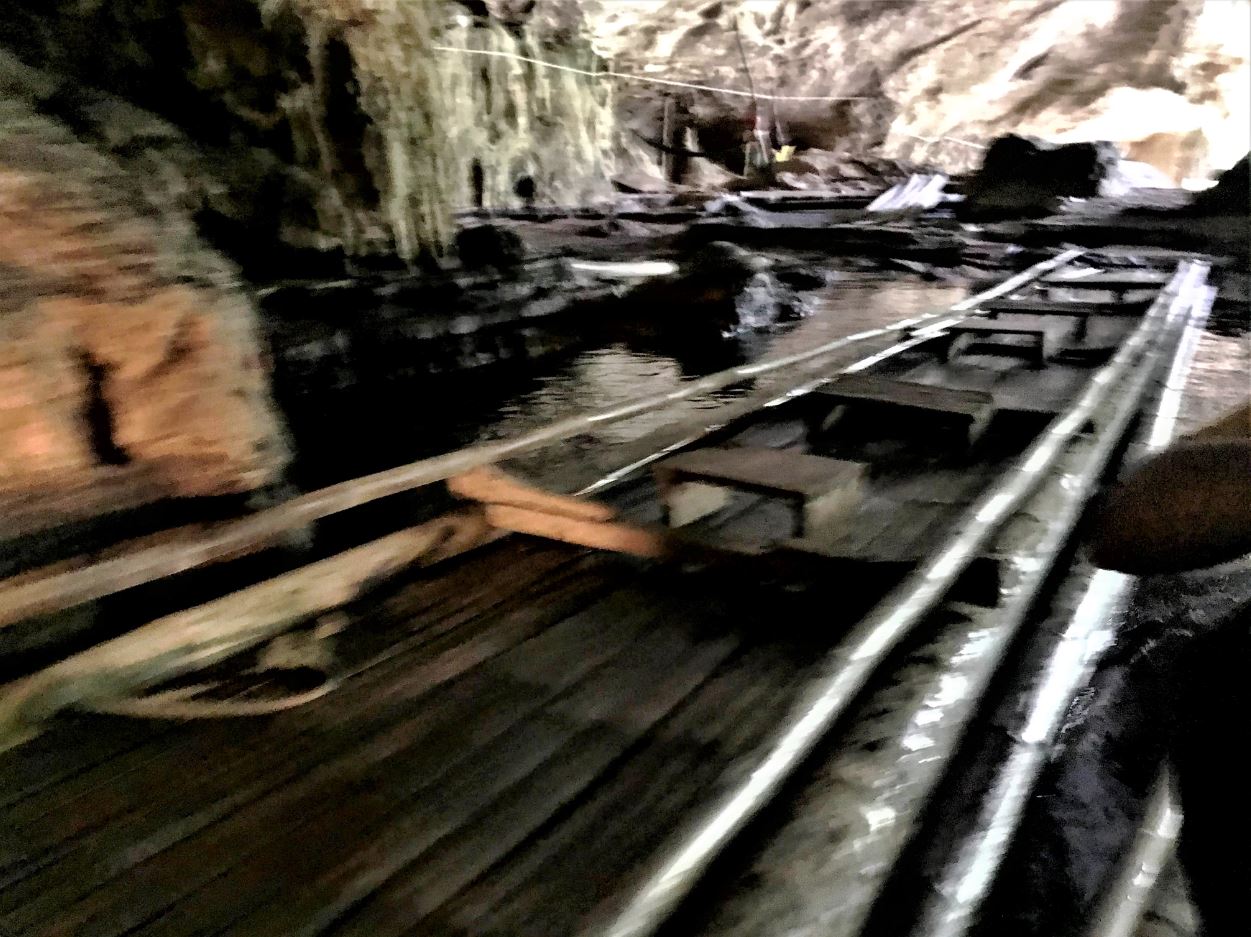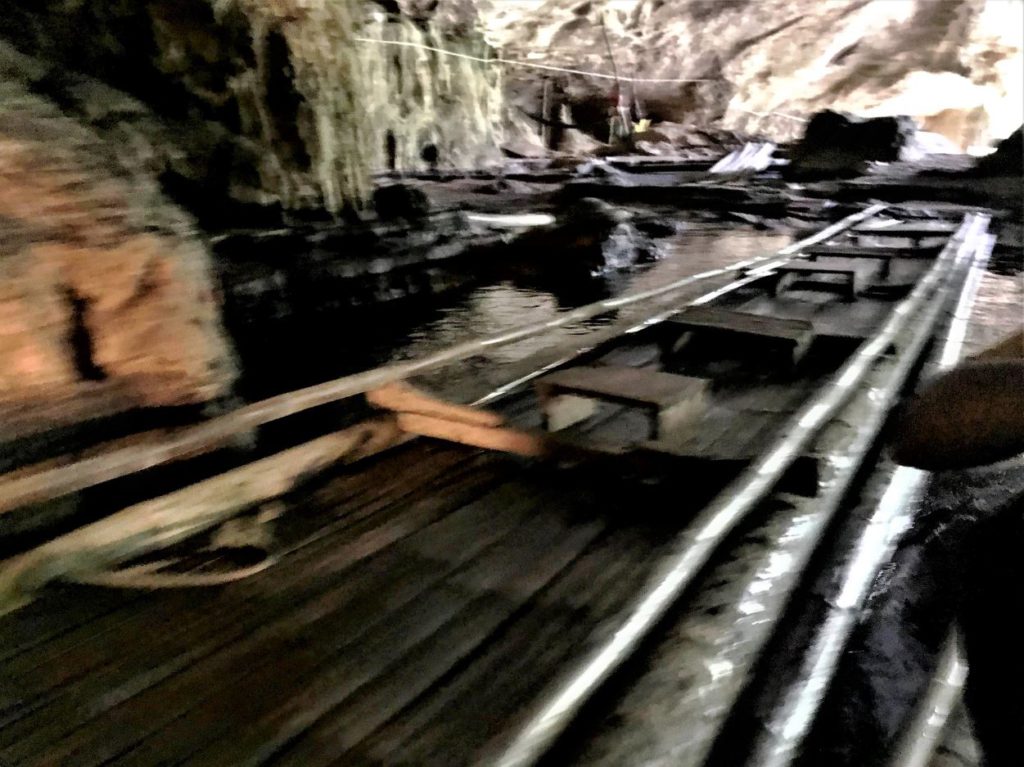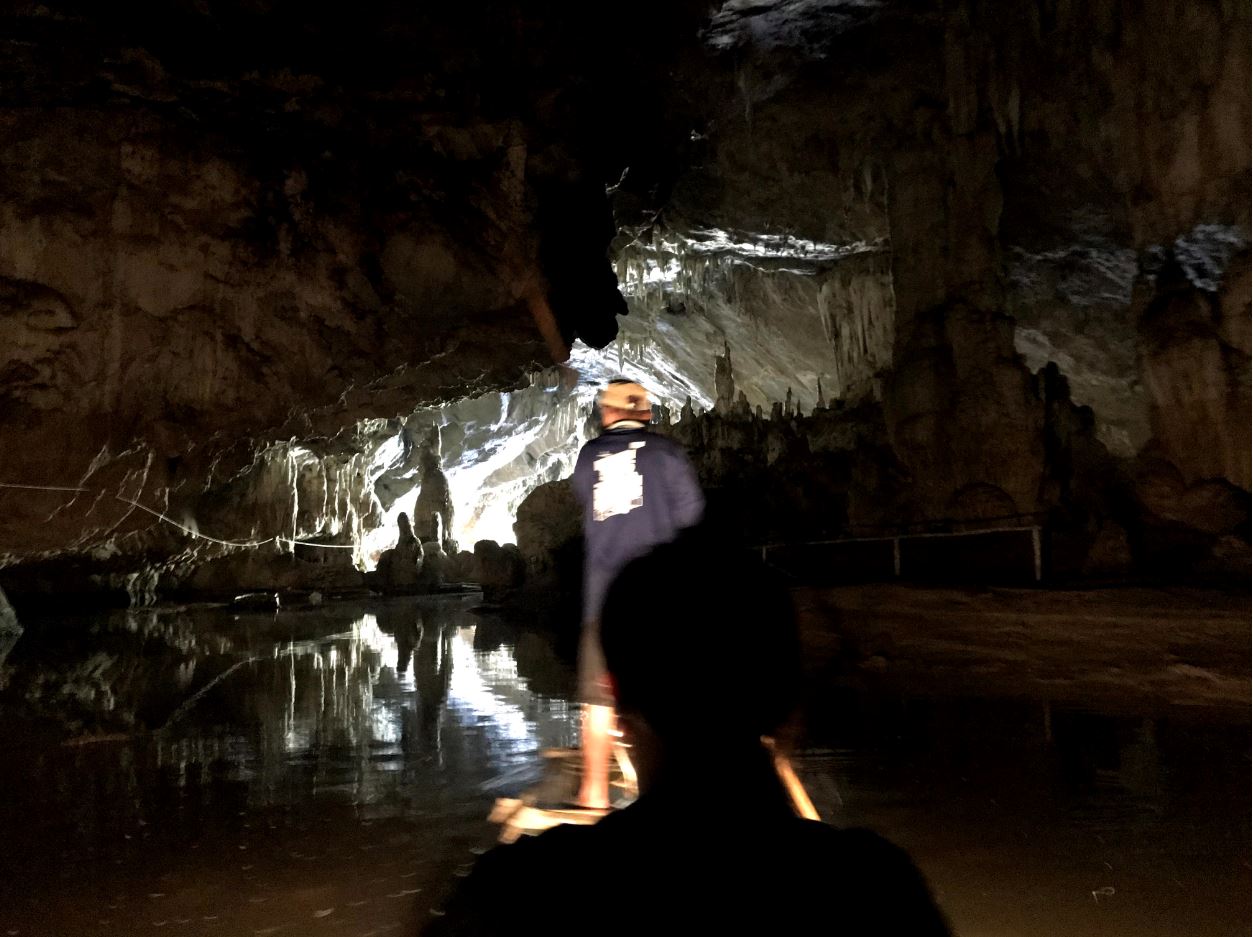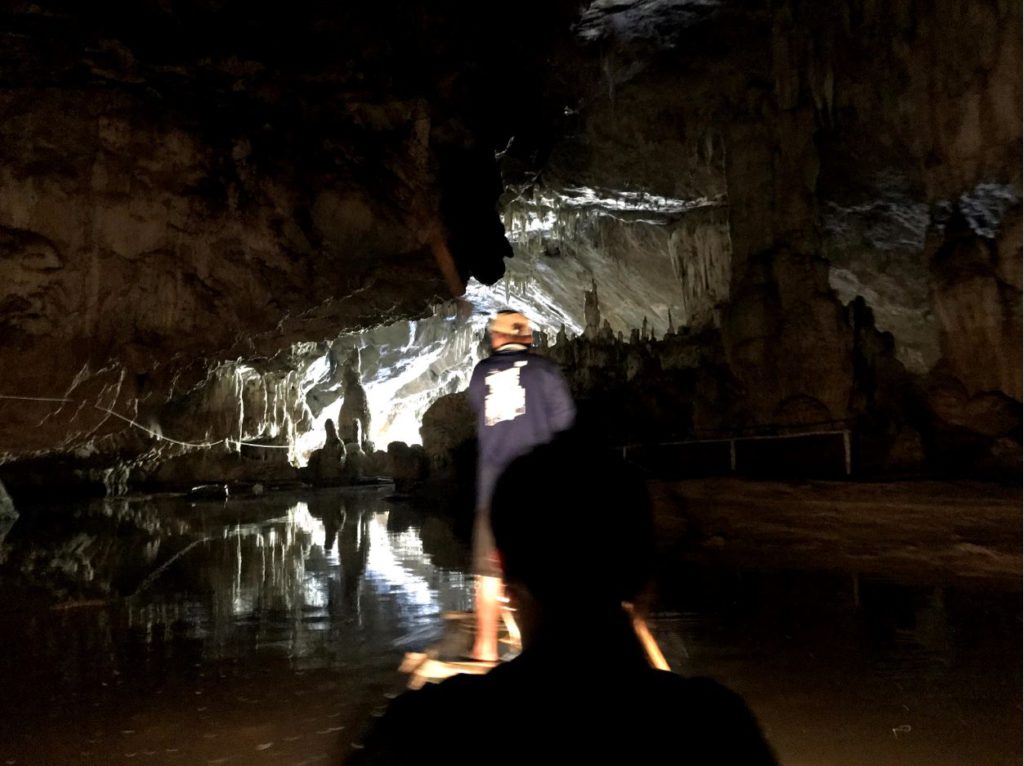 The Caves
Since we were here right after the monsoon, only one cave was open to tourists. It is the column caves. However, both column and doll caves have similar overall structures and features. The most striking things inside these caves are the formations of stalagmites and stalactites.
Of the name 'Tham Nam Lod', the word 'Tham' means 'caves' in the Thai language. And 'Nam Lod' translates to 'a river that flows through it'. So the full name means something like 'the caves through which a river flows'.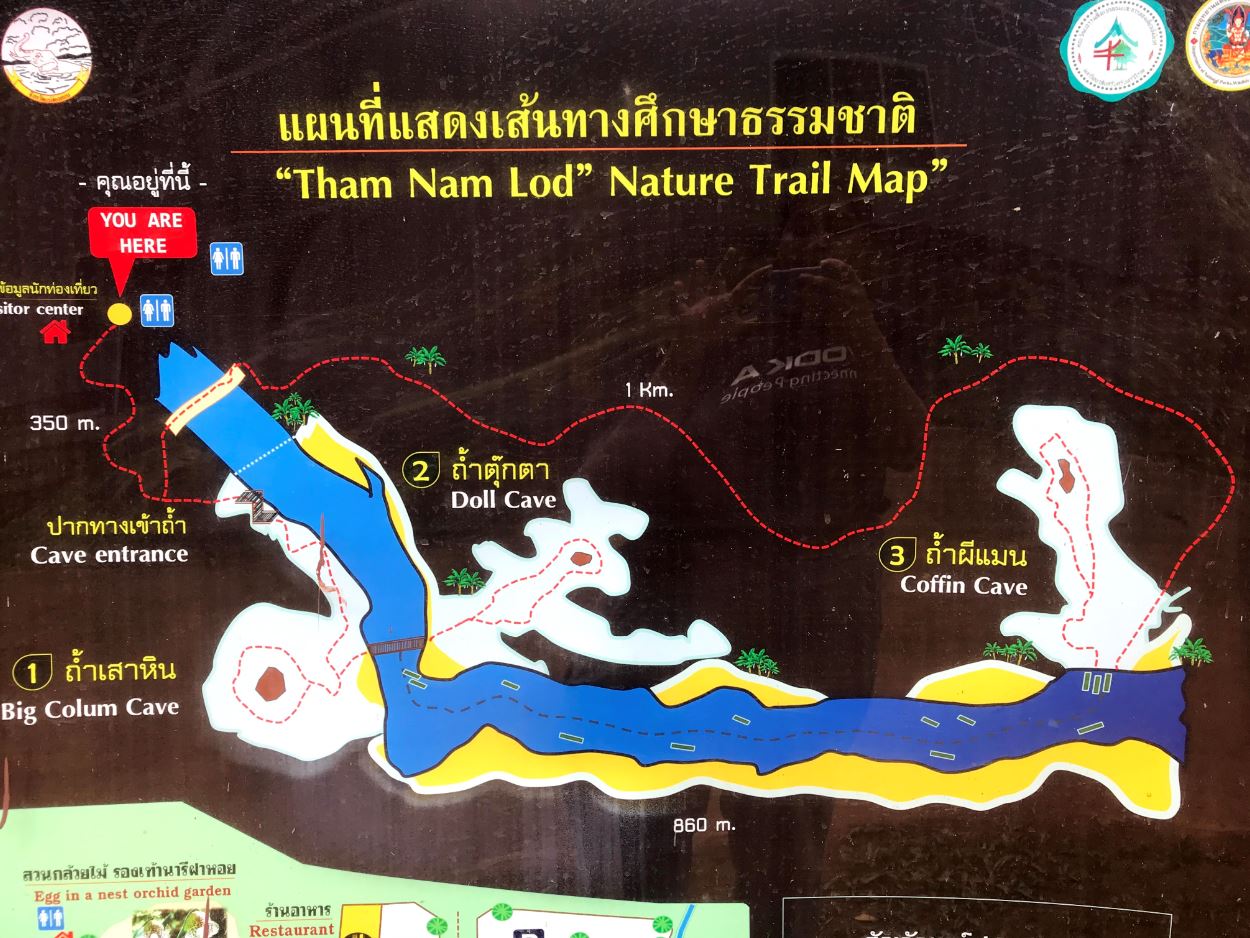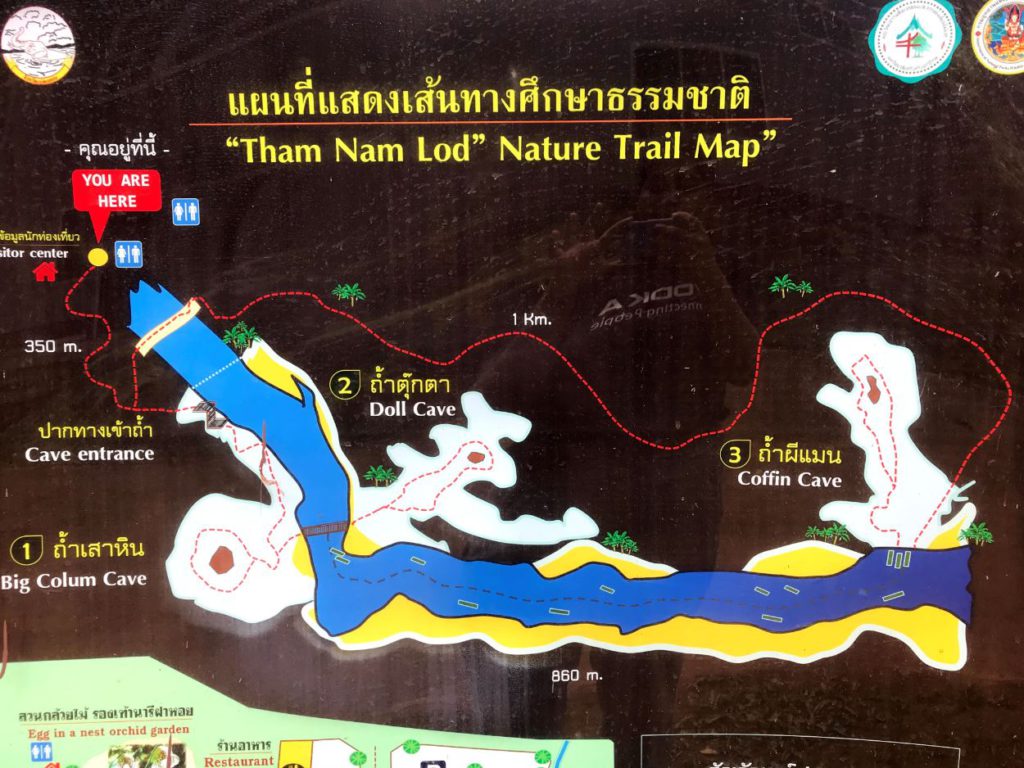 The locals have given names to these formations on their looks. Therefore, the name 'column caves' comes from a formation in the shape of a cylindrical column rising from the ground and goes all the way up to the ceiling of the cave.
You will be walking through a rusty staircase to reach the interiors of the caves. The caves aren't big enough for you to lose your way. However, it is hard for outsiders to know what to expect. There are certainly a lot of reptiles in the caves along with the bats. So don't wander off by yourself.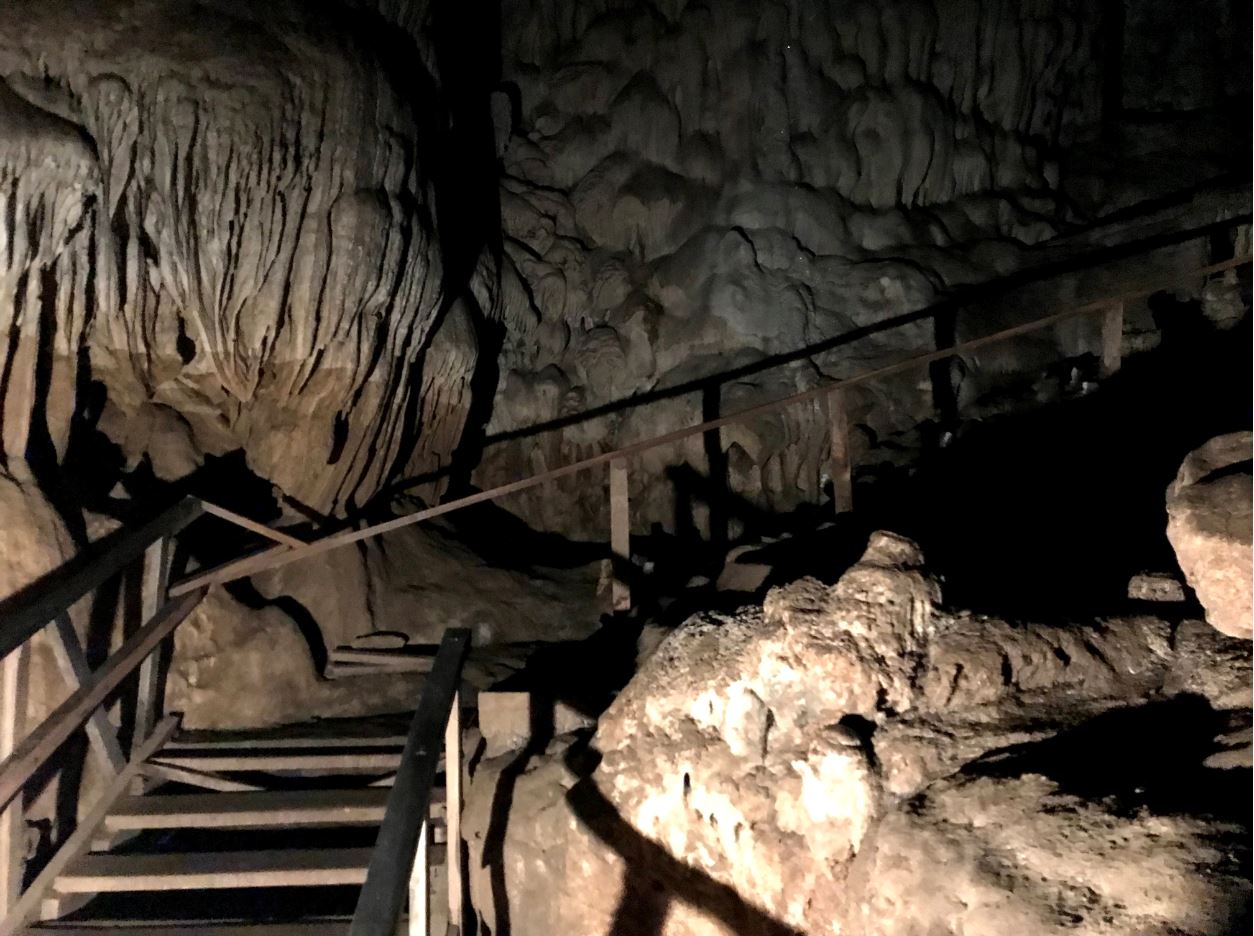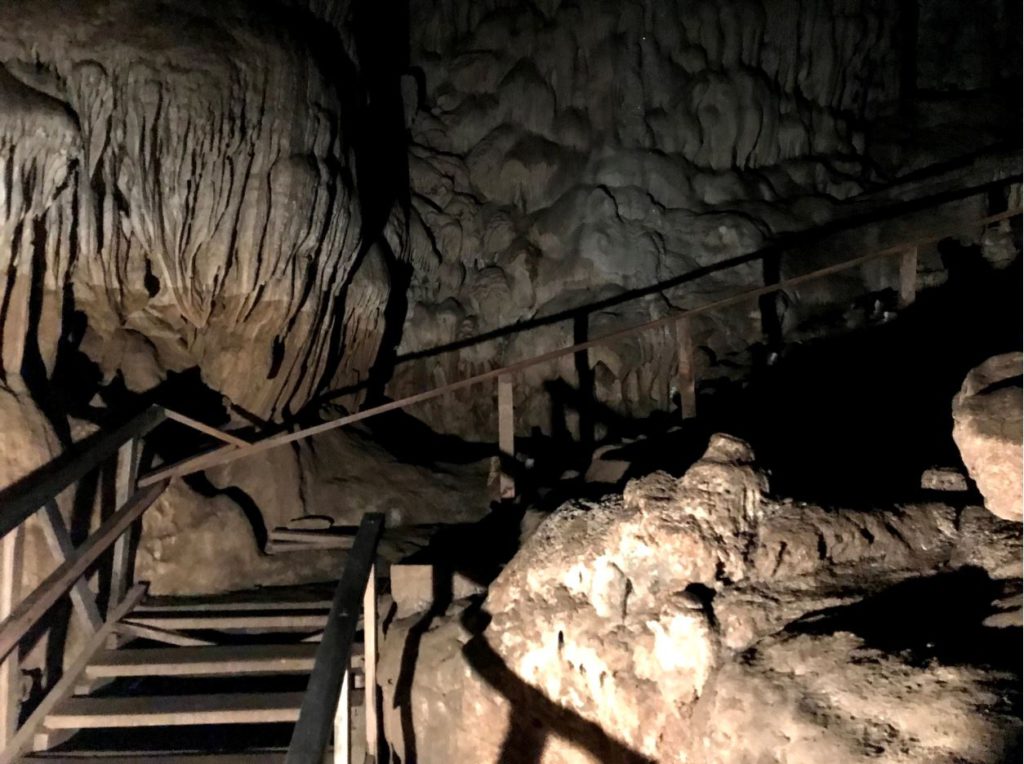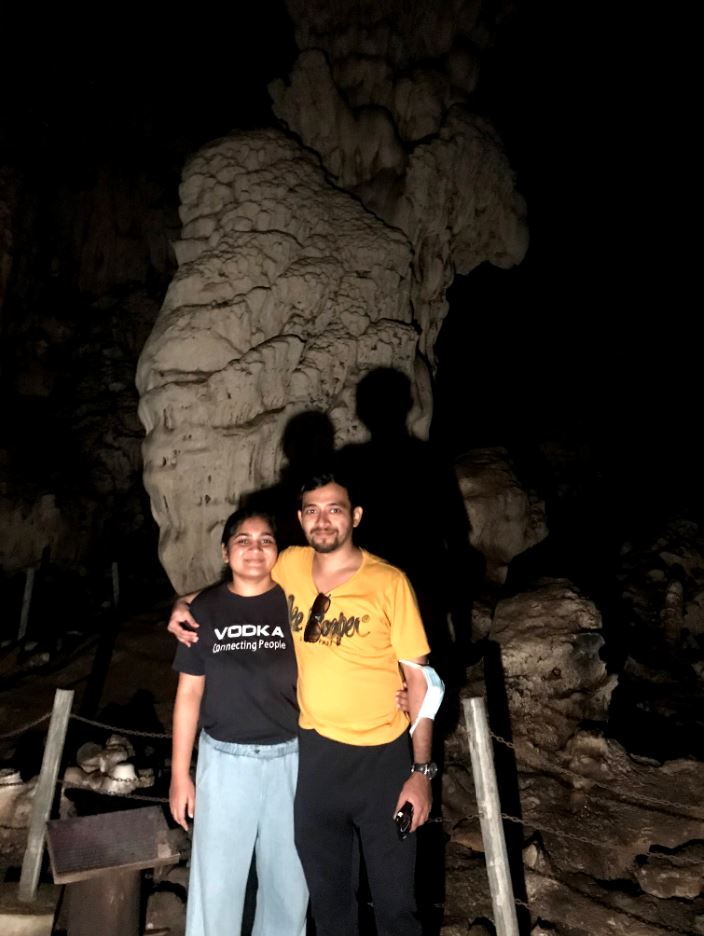 There a lot of other formations that the locals have identified as popcorn wall, waterfall, a stone that looks the Hindu god of hanuman (popular in Thai legend).
The guide took us around and told us what she could in limited English. We spoke to her on some subjects what we could in our limited Thai.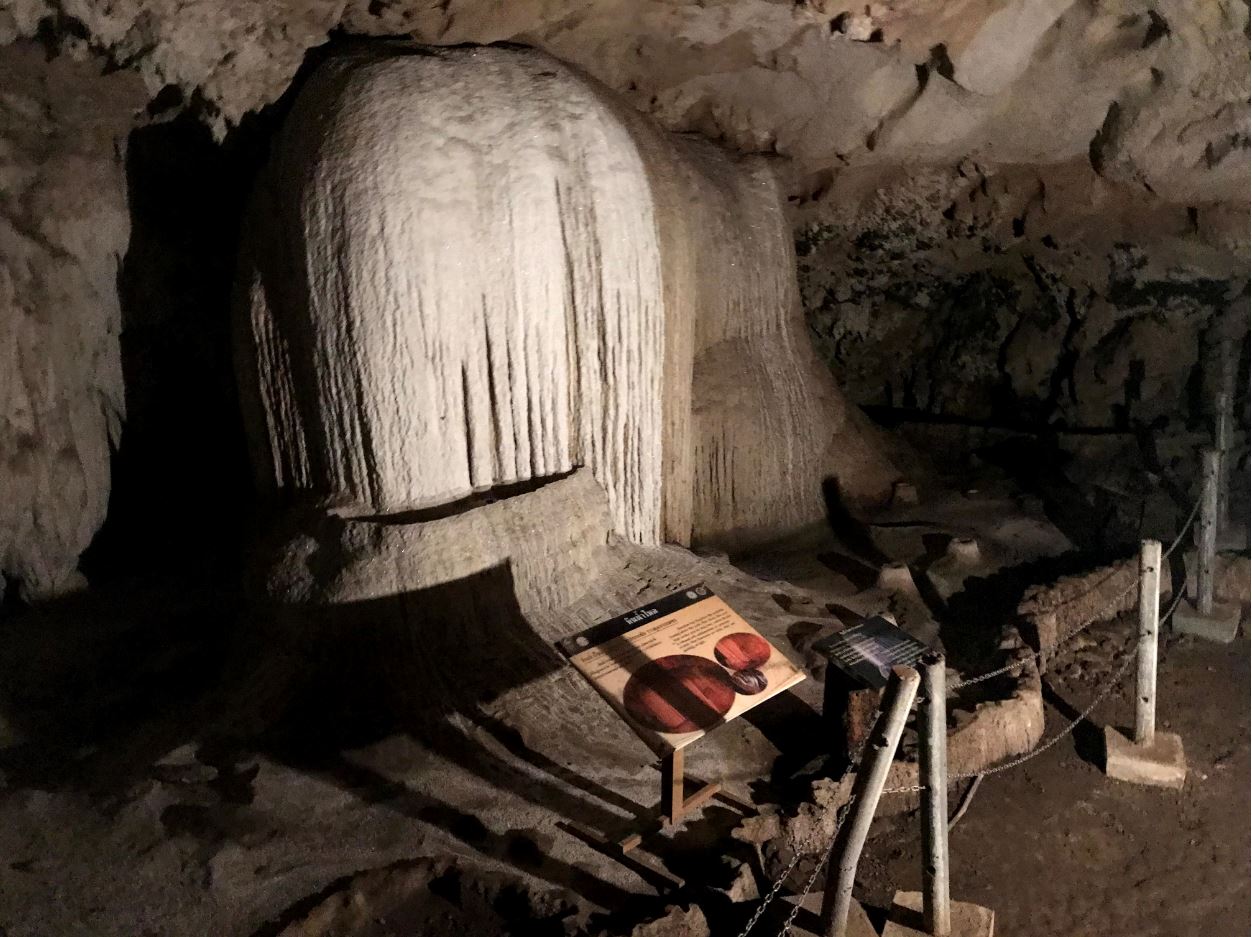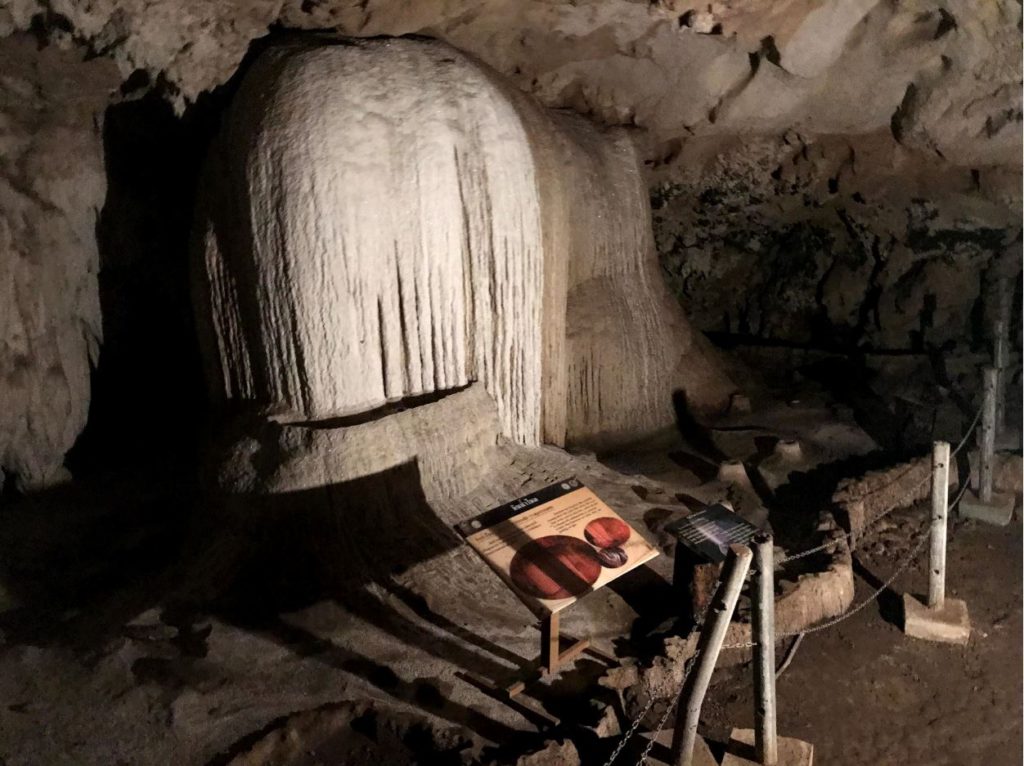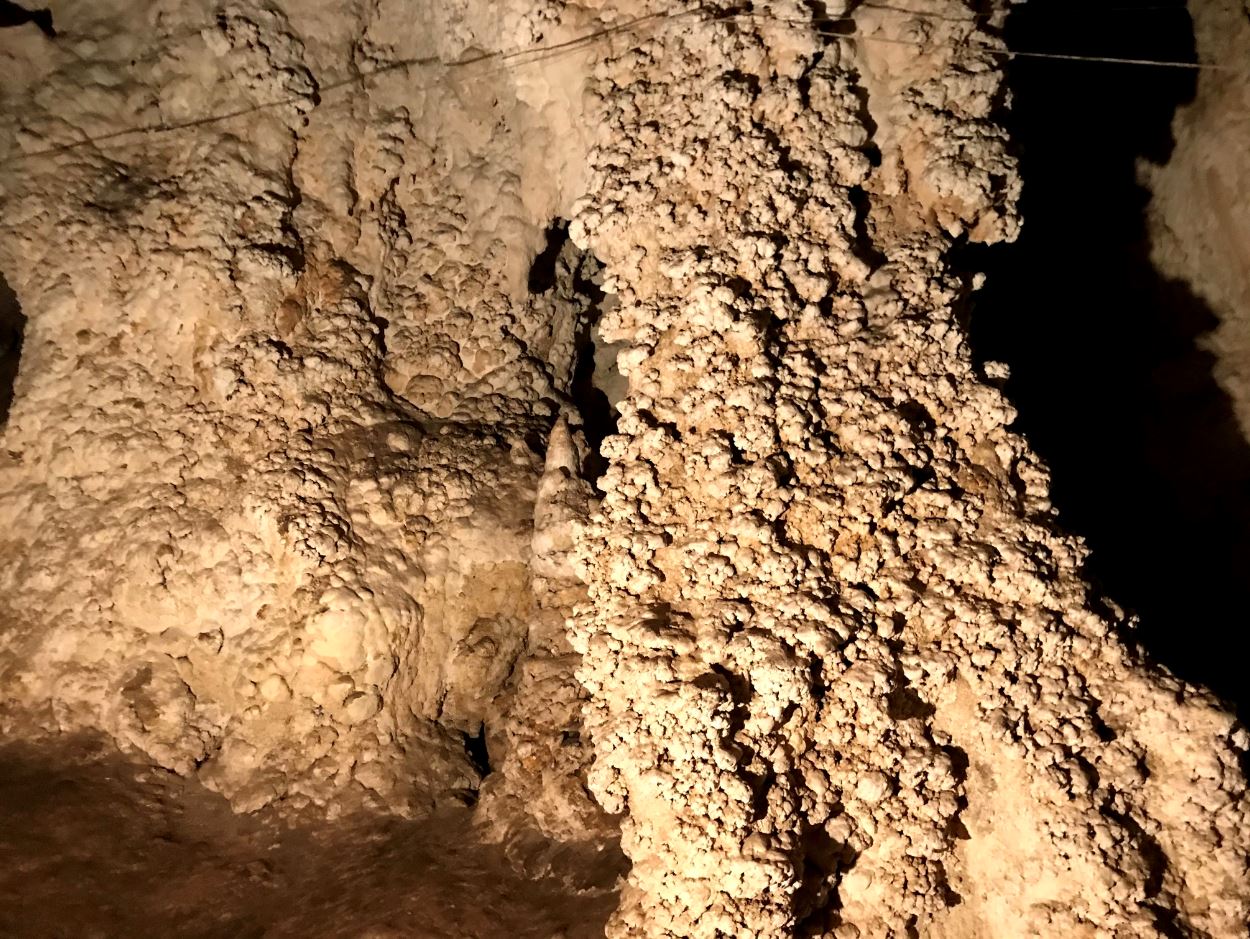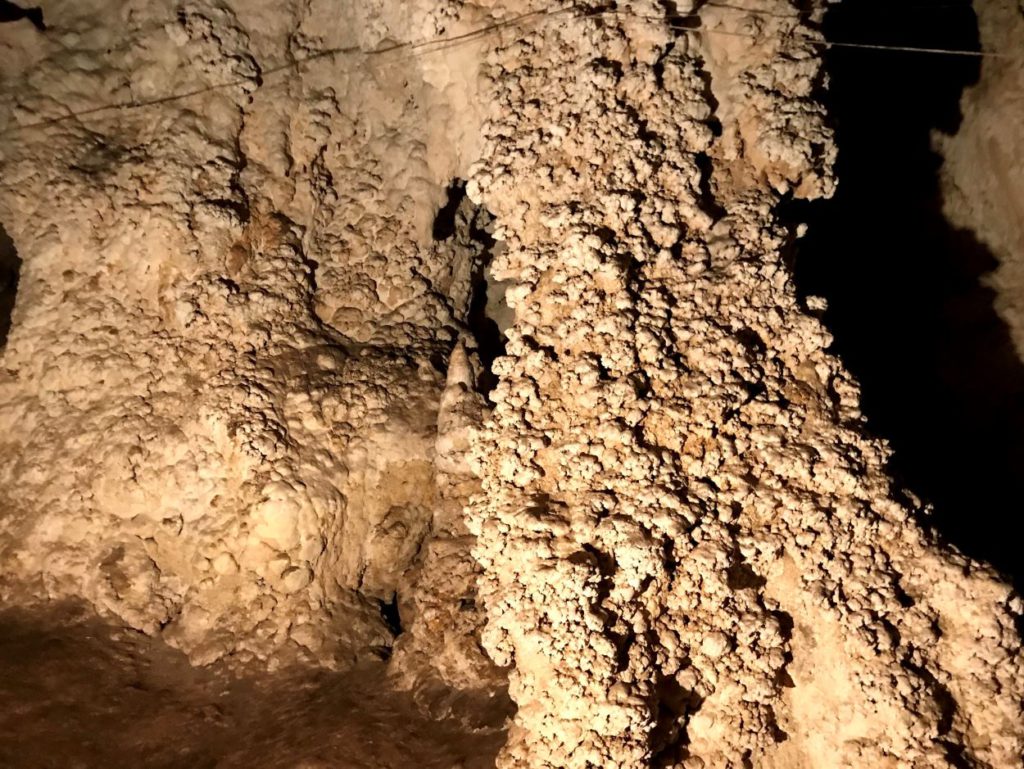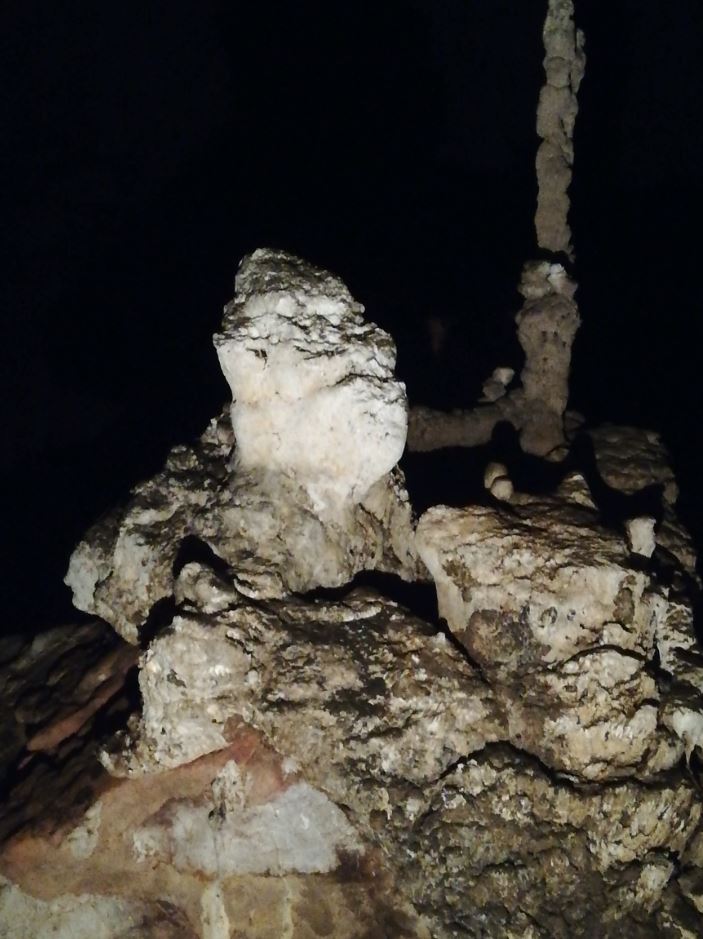 For Doll Caves, you come right back to the main staircase and cross a wooden bridge to the other side of the river. The name of the caves come for similar stone figures that look like several dolls, crocodiles and other interesting objects on the cave floors. There is also a painting from the prehistoric time dating back 2,000 – 3,000 years.
Of all the caves, the coffin caves are the most interesting and significant. The caves are called 'Pi Man' in the Thai language. The locals believe that the spirits made these caves. Don't let this idea shock you too much. Thai people deeply believe and associate their life with spirits and afterlife.
You travel to these caves by bamboo rafts only. It's a long sail to the other end. So sit tight in the dark and avoid using your phone's flashlights up on the ceilings. Flashlights disturb the bats and you will not find it a great experience if get caught in an accident on a raft.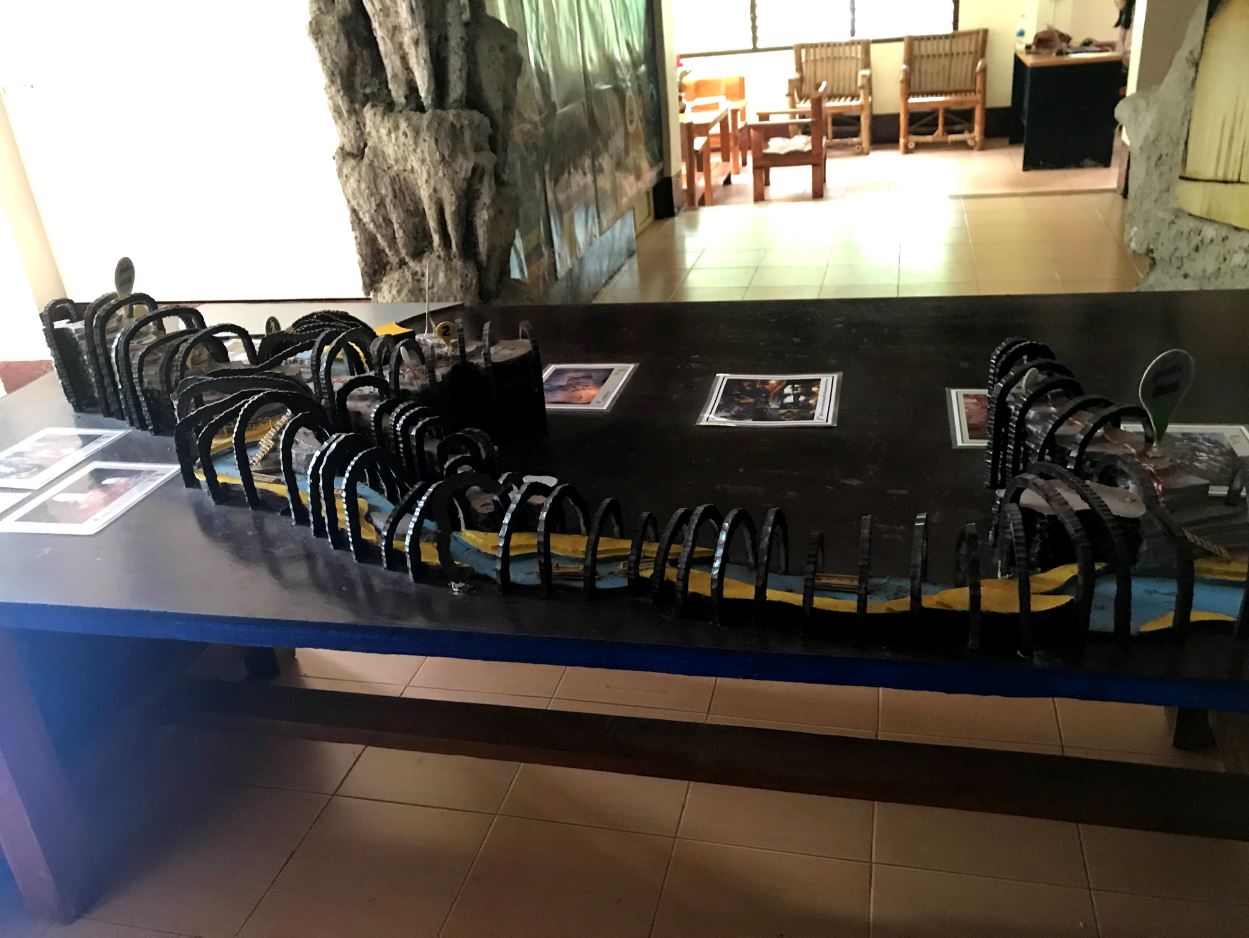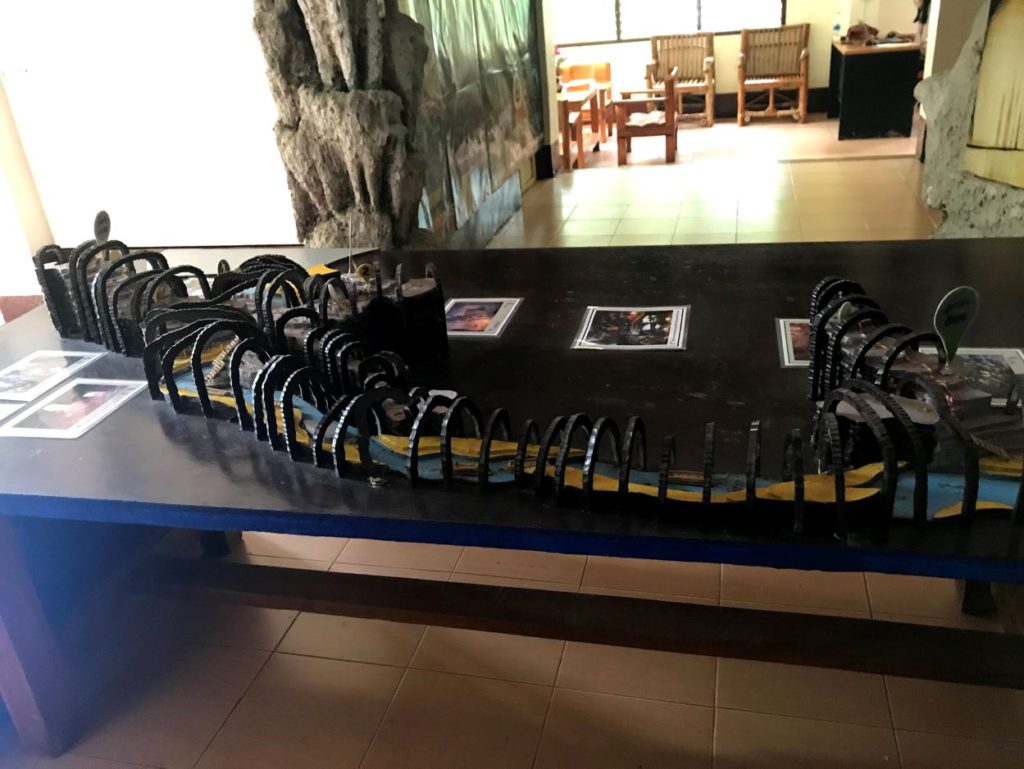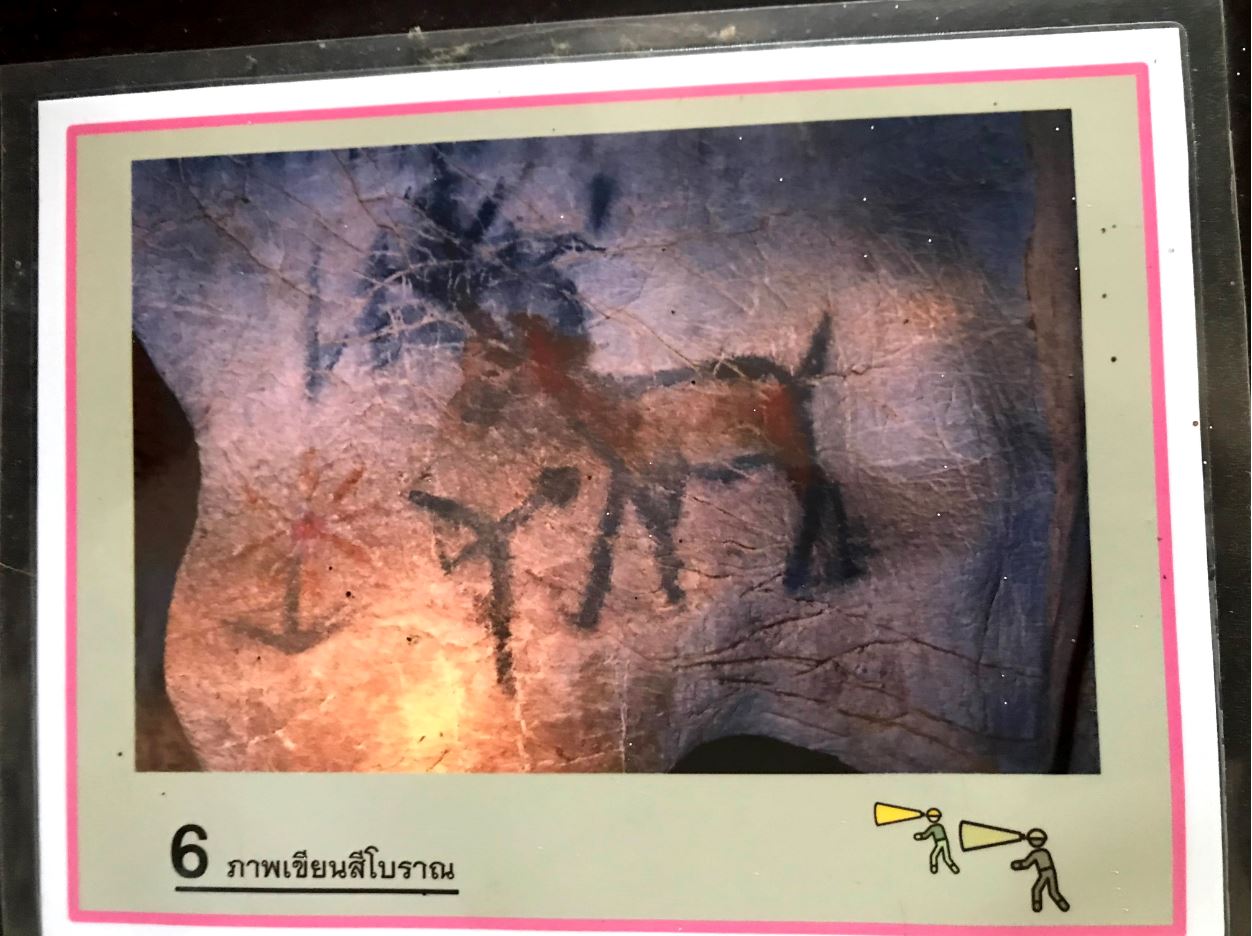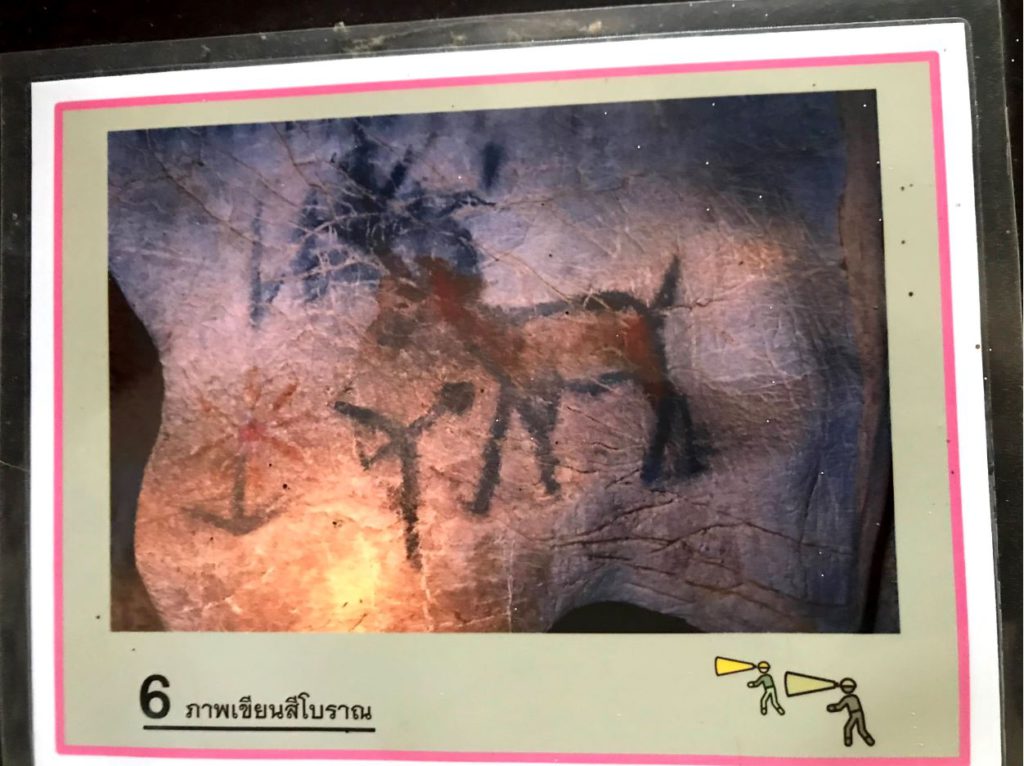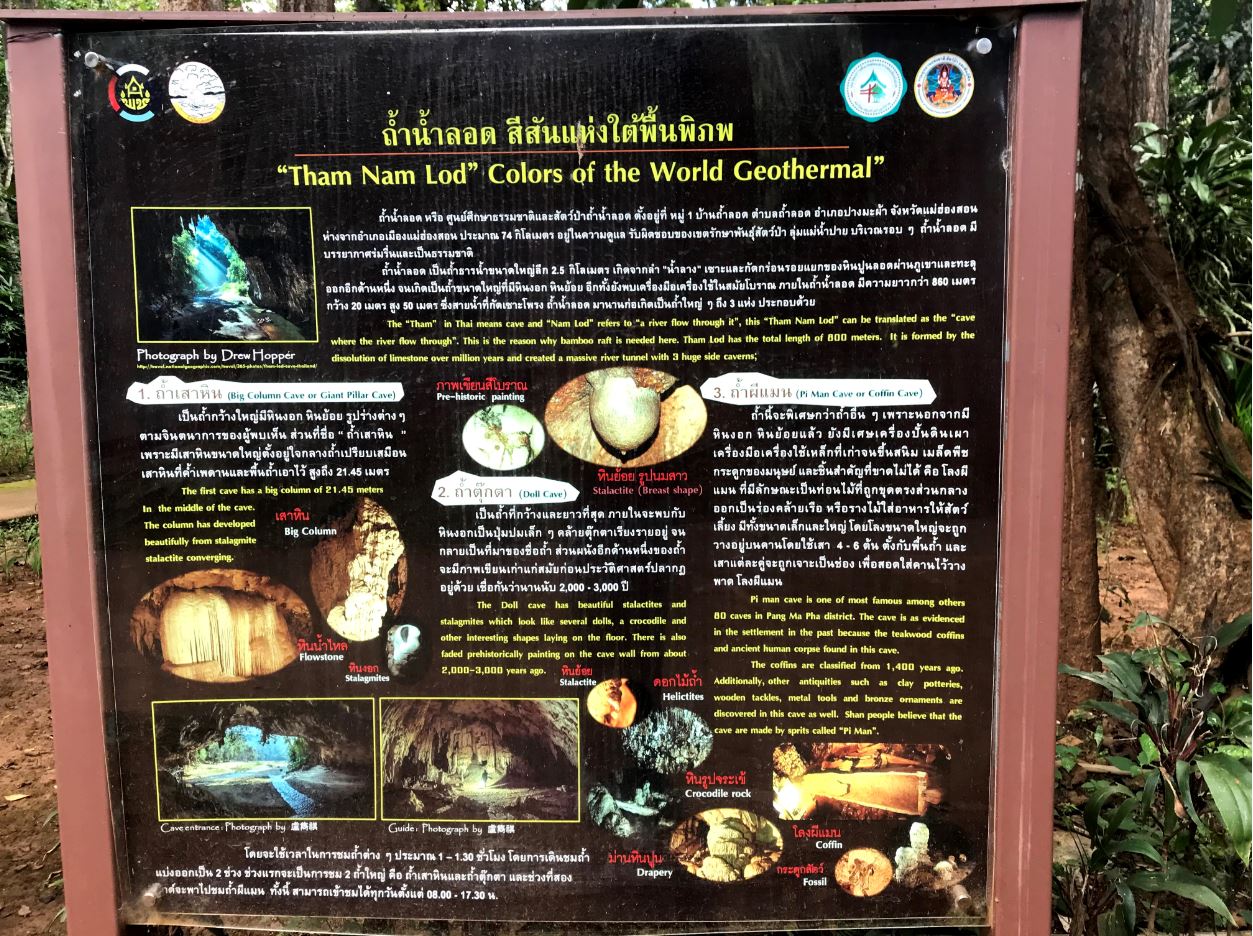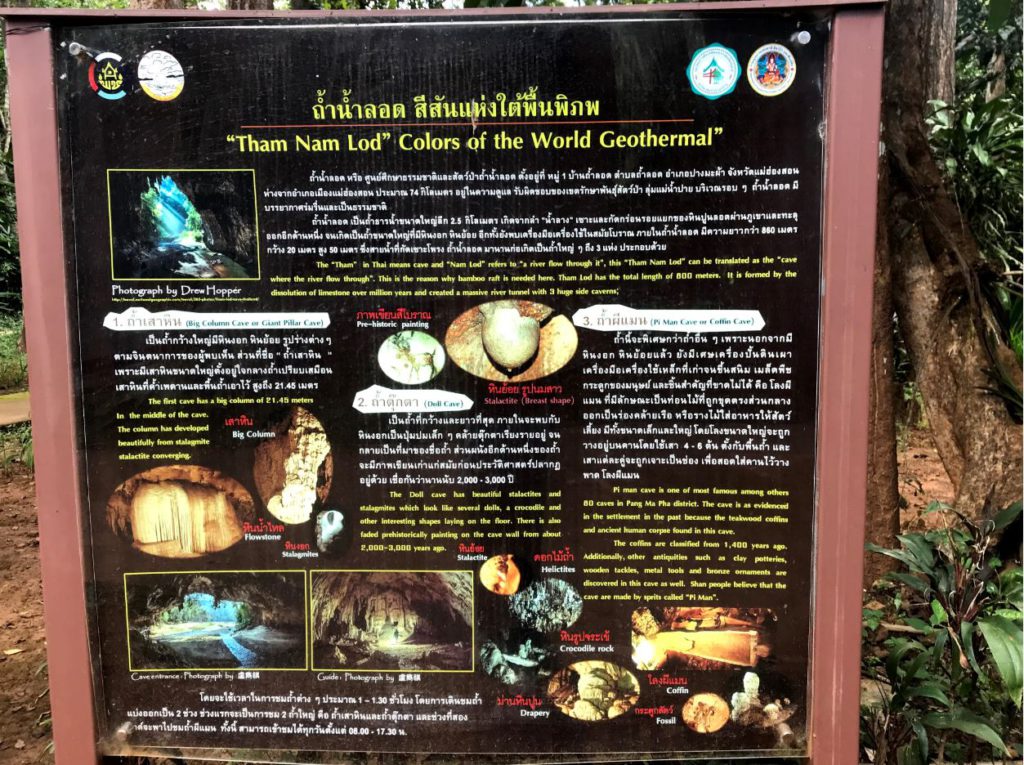 The name coffin caves come from the several teakwood coffins. These were found buried in the caves along with human skeletons. After the excavation and examination, they are estimated to be around 1,400 years old. Other than those people also found bronze jewellery and metal tools suggesting a small tribal settlement in the area.
Archaeologists removed the coffins from the caves for more investigation. Several more caves in the area were found in the recent past. Together, they may give a lot of information about the history of human evolution in Southeast Asia.
The walk from the coffin caves back to the entrance is a lot longer than the walk to the first caves.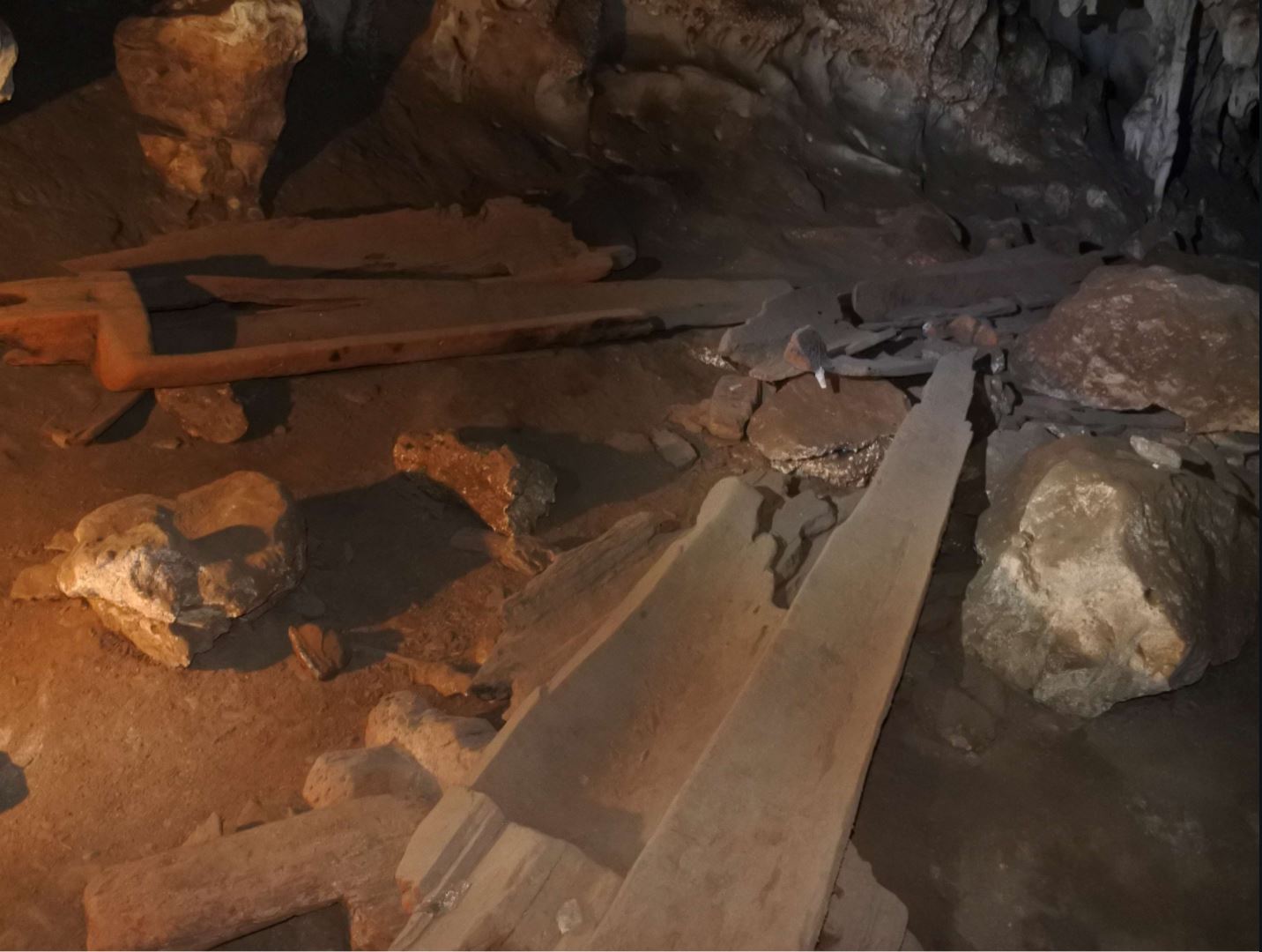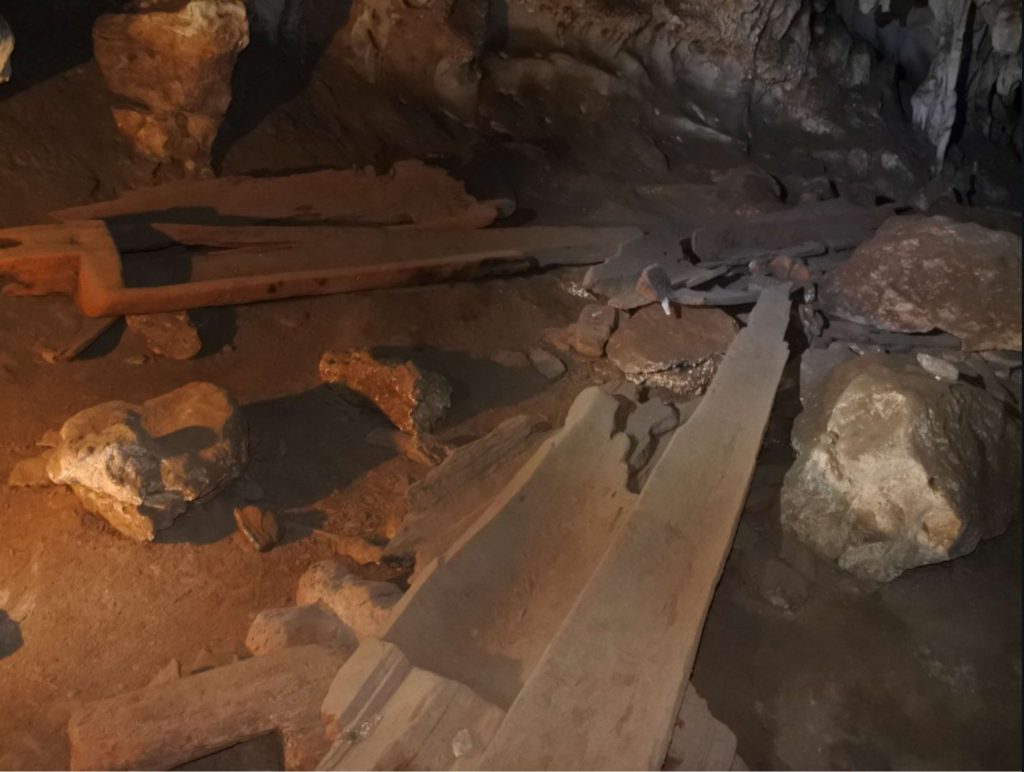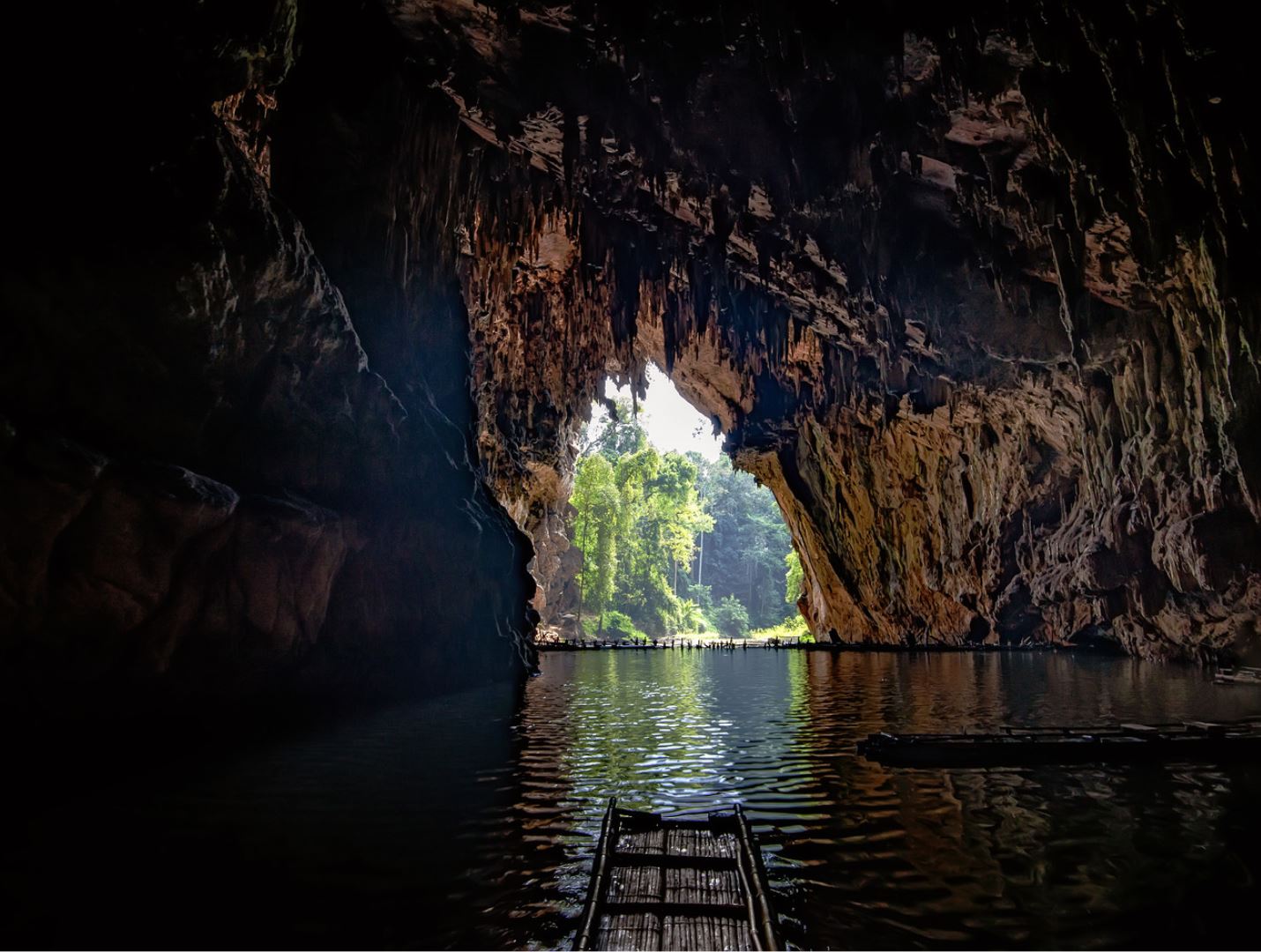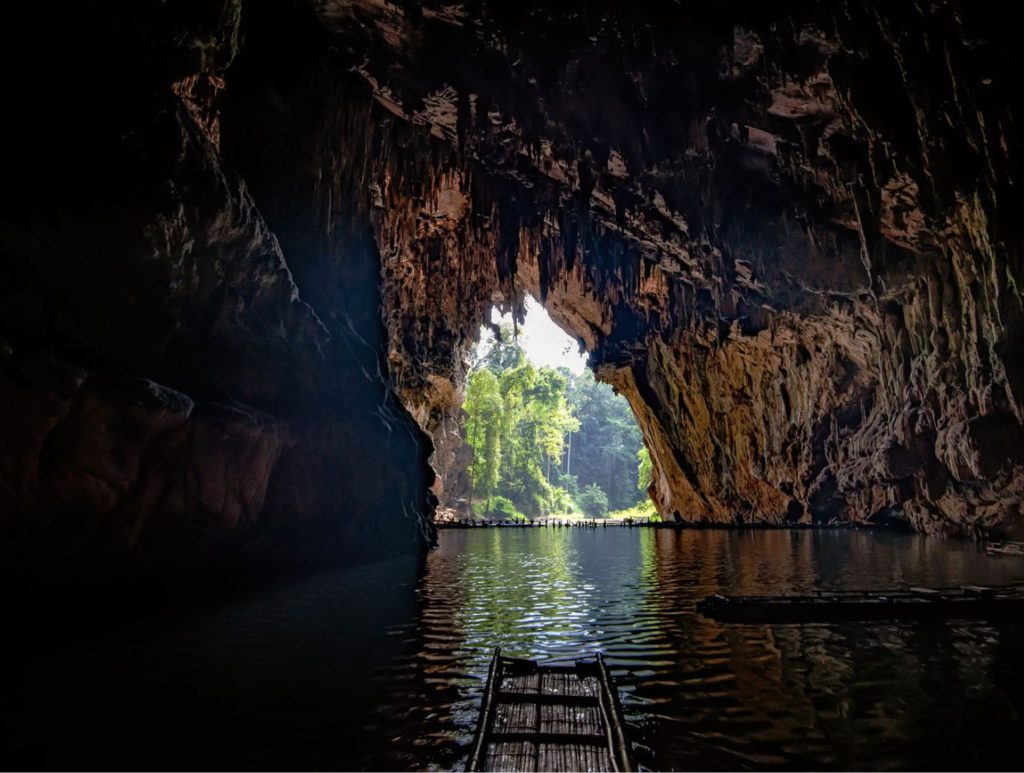 Where to Stay near Tham Lod Caves
If you are interested or have a lot of time, you can always stay somewhere near to the caves. There are a few guesthouses inside the premises but they are not always available for tourists.
I am not even sure if you can book them directly online. But you can mail on the below email address or call on the phone number to book the accommodation. Take the help of a Thai local to talk to them since they hardly speak any English. To pre-book, you may also have to do a bank transfer available only with a Thai bank account.
Email address: thamlod@hotmail.com
Phone no.: +66 053 617218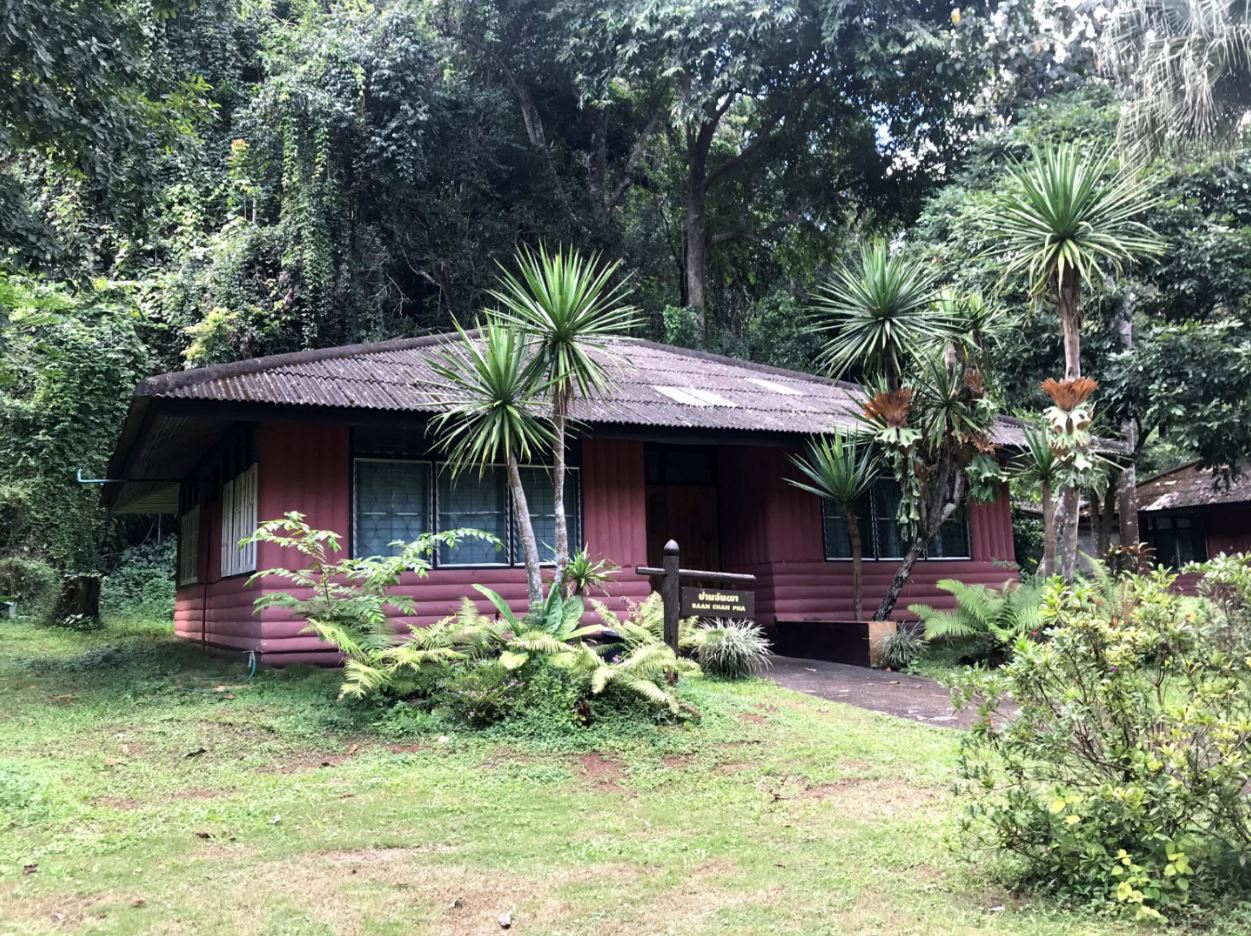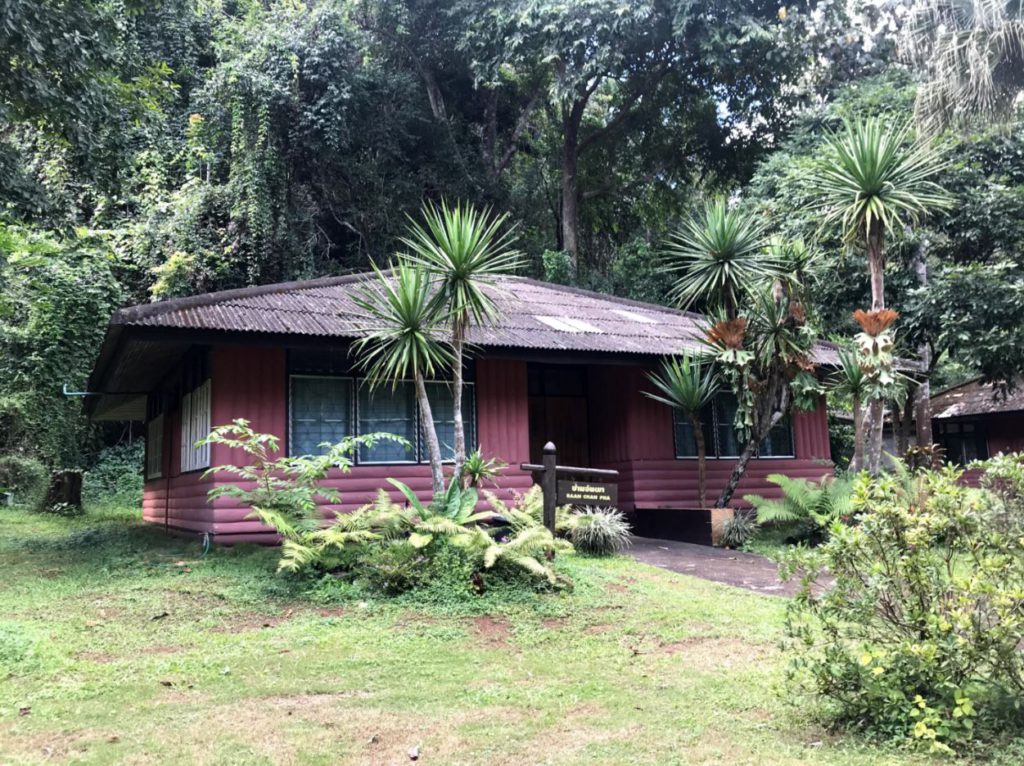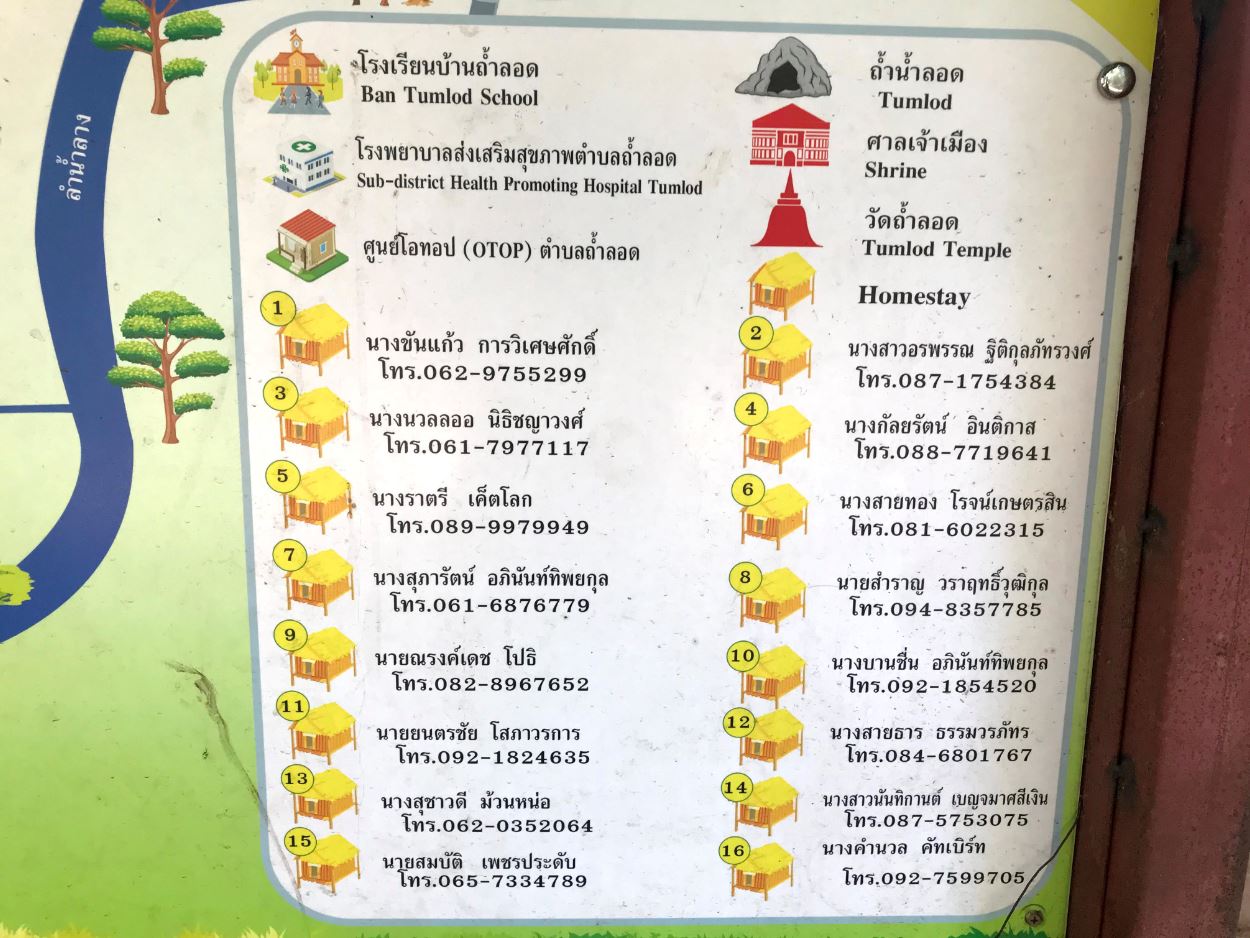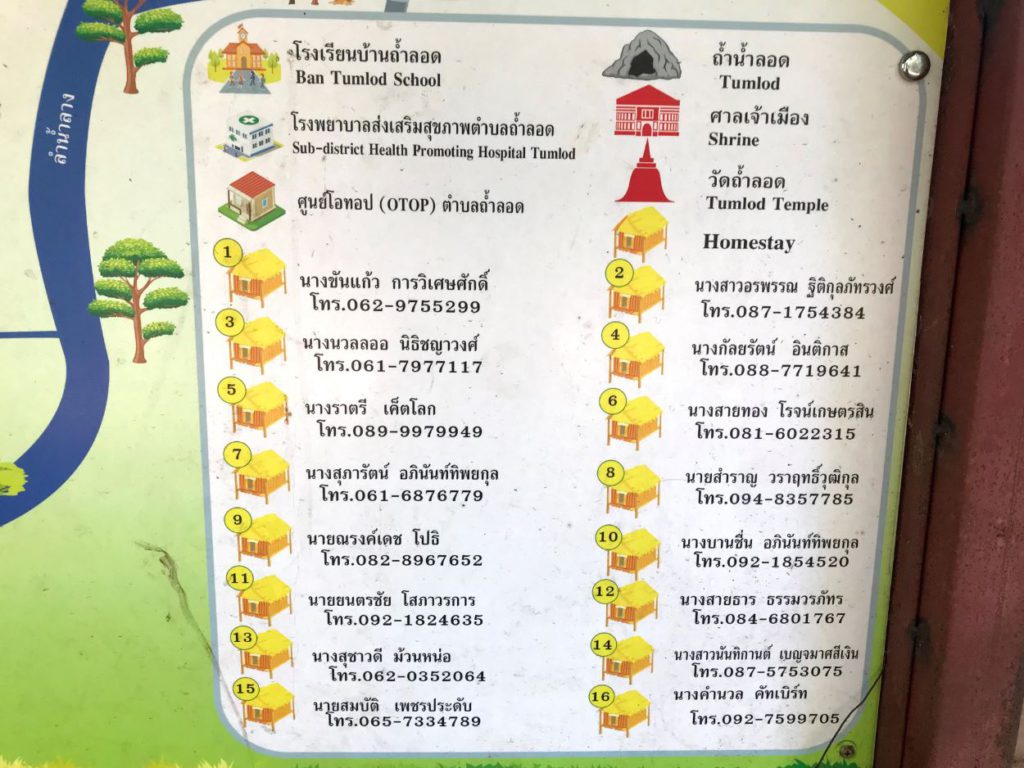 These rooms are also far pricier than the ones you can find outside the cave premises. So if you want something cheaper, you can look for the rooms in a nearby village.
Check out these homestays near the caves: Cave Lodge, lovely wooden cabin and lush garden, Thamlod Home stay, Pencave Homestay
You can also book these homestays at the village near the highway, 8 km from Tham Lod caves: Ban Keawmora, Little Eden Guesthouse, Jungle Guesthouse
The phone signals are excellent inside the cave premises and in some areas. But they are completely absent in others. So if you plan to work remotely, make sure you have a Wifi connection at your hotel.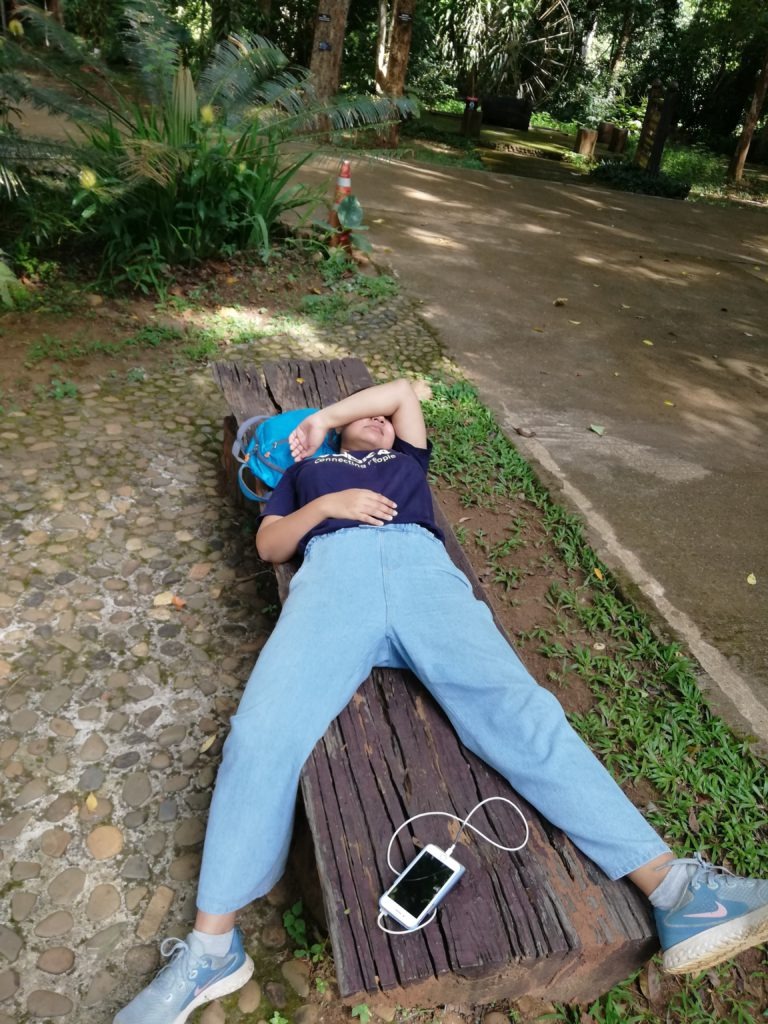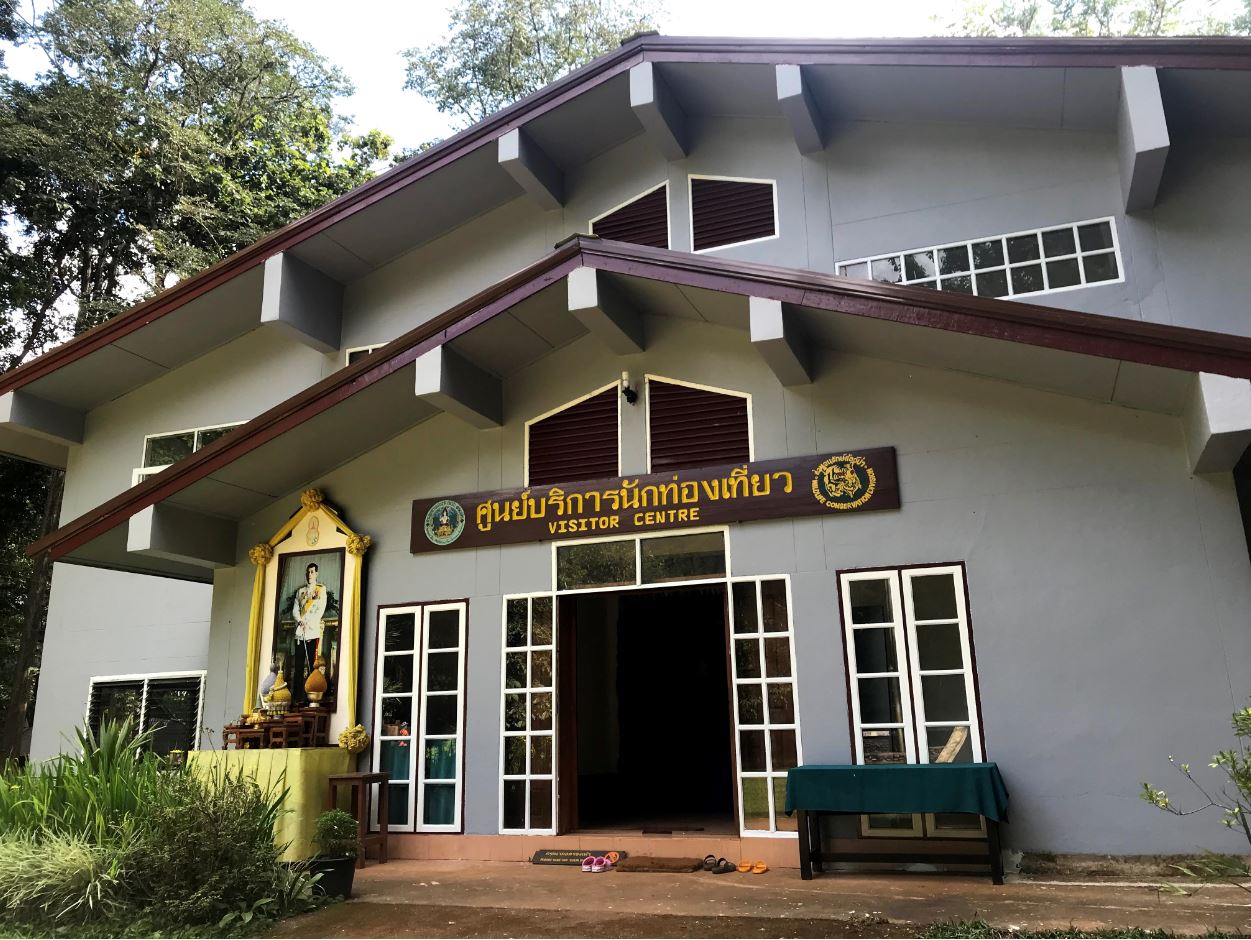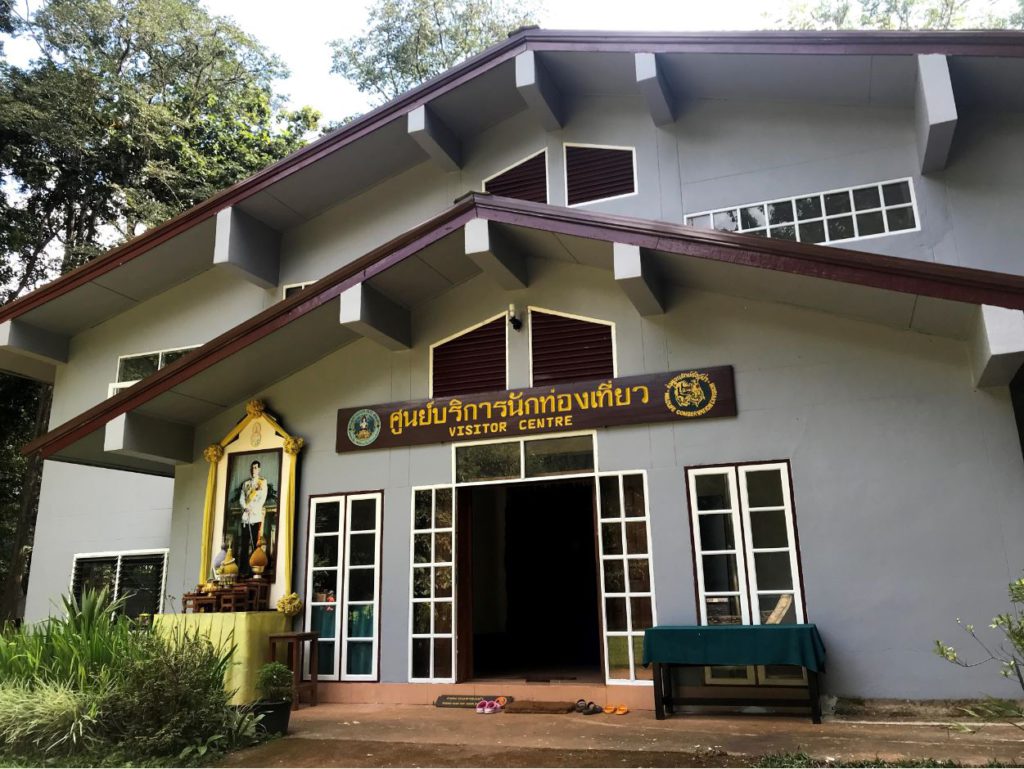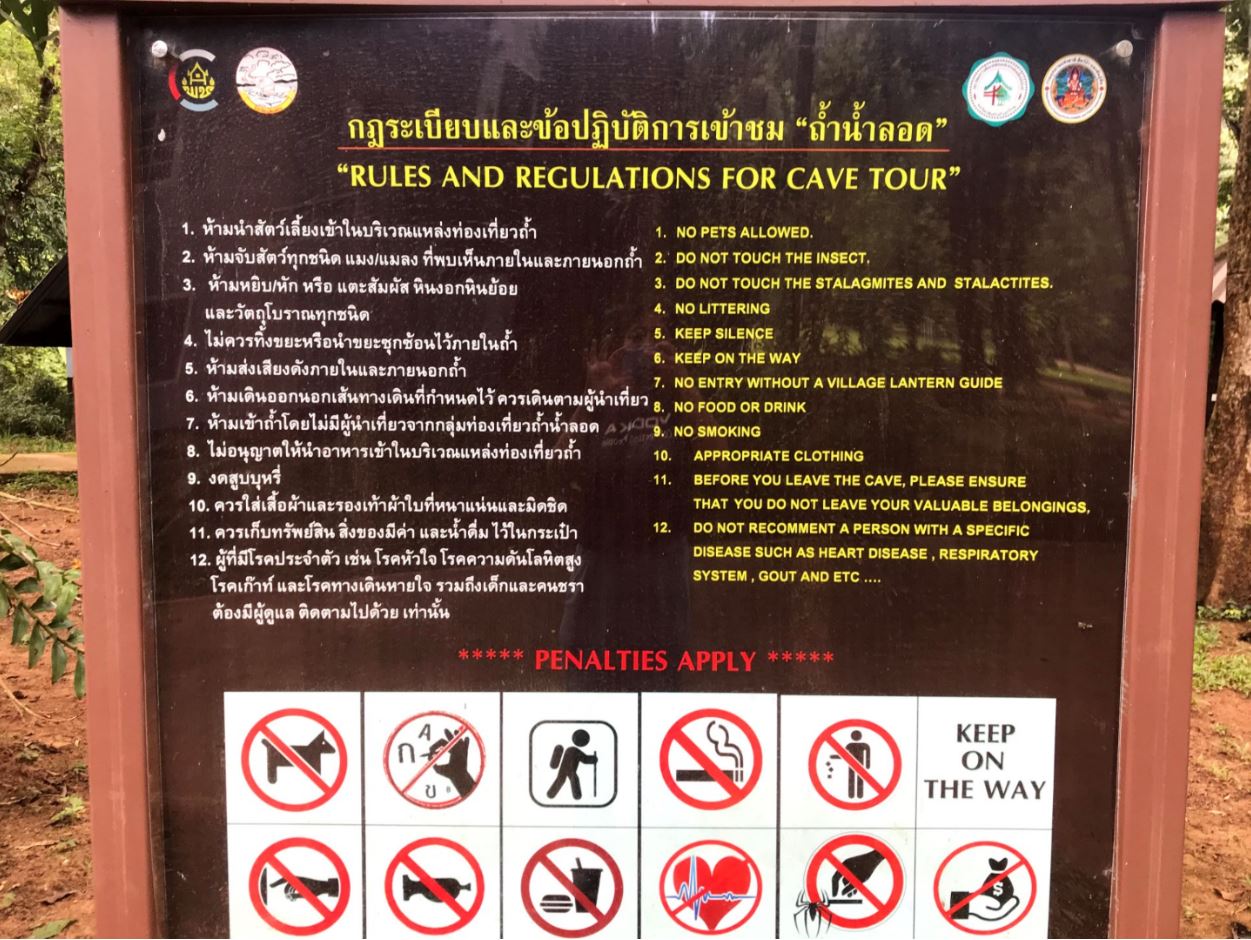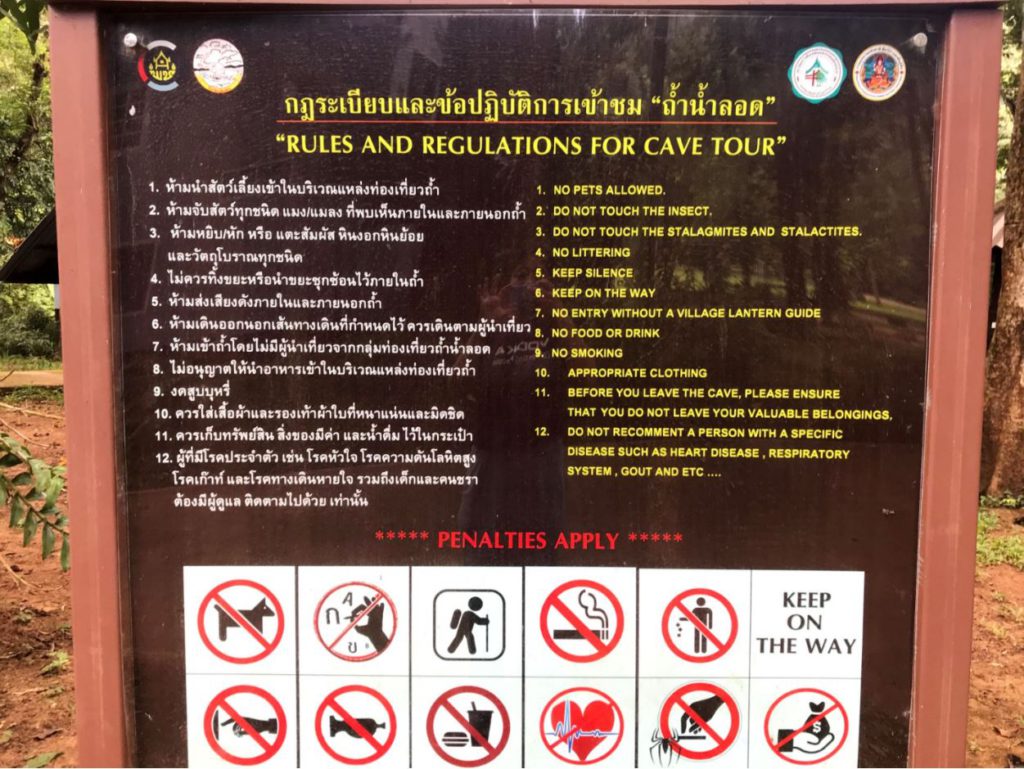 Save On Pinterest


Related Articles