03 Jul

Top Things to do in Ko Phi Phi, Thailand

In June 2018, Maya Bay, an island in southern Thailand was closed to tourists indefinitely. It got its raging popularity from the movie 'The Beach' starring Leonardo Dicaprio.

Maya Bay was a popular spot for a day trip from Ko Phi Phi. But just like the island of Ko Phi Phi, the place was swarmed with tourists due to its online popularity.

I am not saying that these places aren't beautiful. They are beautiful as hell!

But you can say it is one of the most popular islands in South-East Asia. So you can expect a lot of souvenir shops, European restaurants, loud parties, and travel tour packages.

It is everything Thailand is popular for – gorgeous beaches, clear water, and boats decorated with tropical flowers.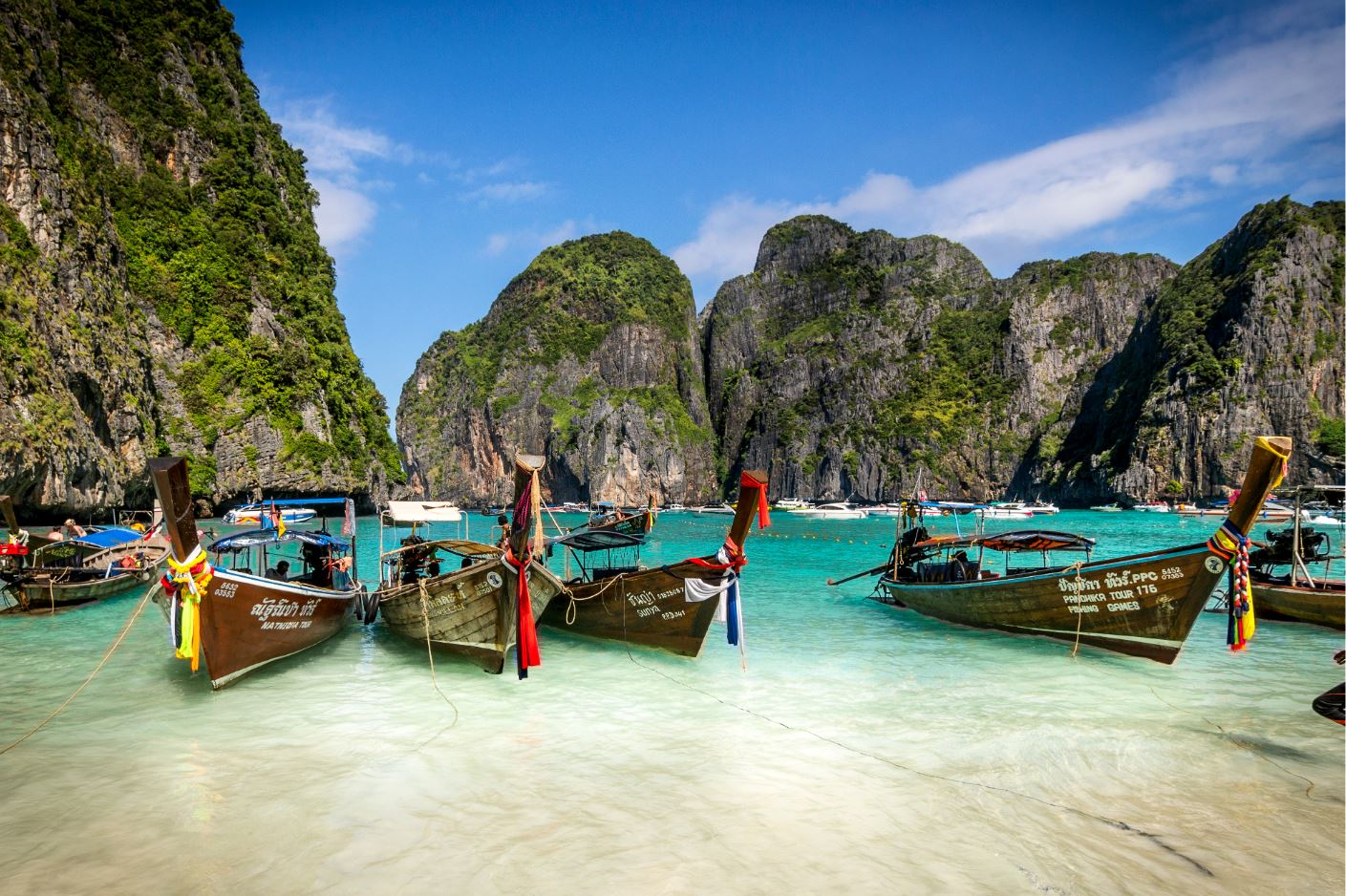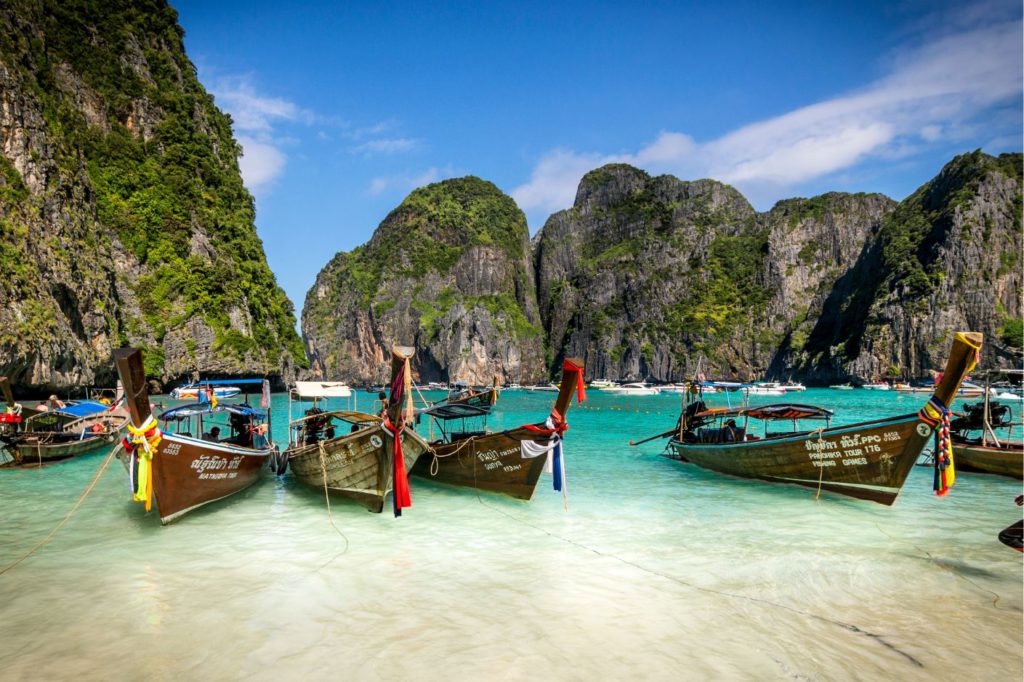 Why is Ko Phi Phi so popular?
Apart from the fact that Maya Bay, an island off the coast of Ko Phi Phi was made popular by the movie I mentioned above, Ko Phi Phi has a great location.
You can say it is almost mid-way between Phuket and Krabi. You can easily travel the trio of Phuket, Ko Phi Phi and Krabi in a week and experience the best of Thailand.
On top of the white sand beaches, frequent wild beach parties at night make Ko Phi Phi so attractive to foreign tourists.
These are not like the Full Moon Party that takes in Koh Phangan. But the ones on the beaches of Ko Phi Phi are pretty amazing too.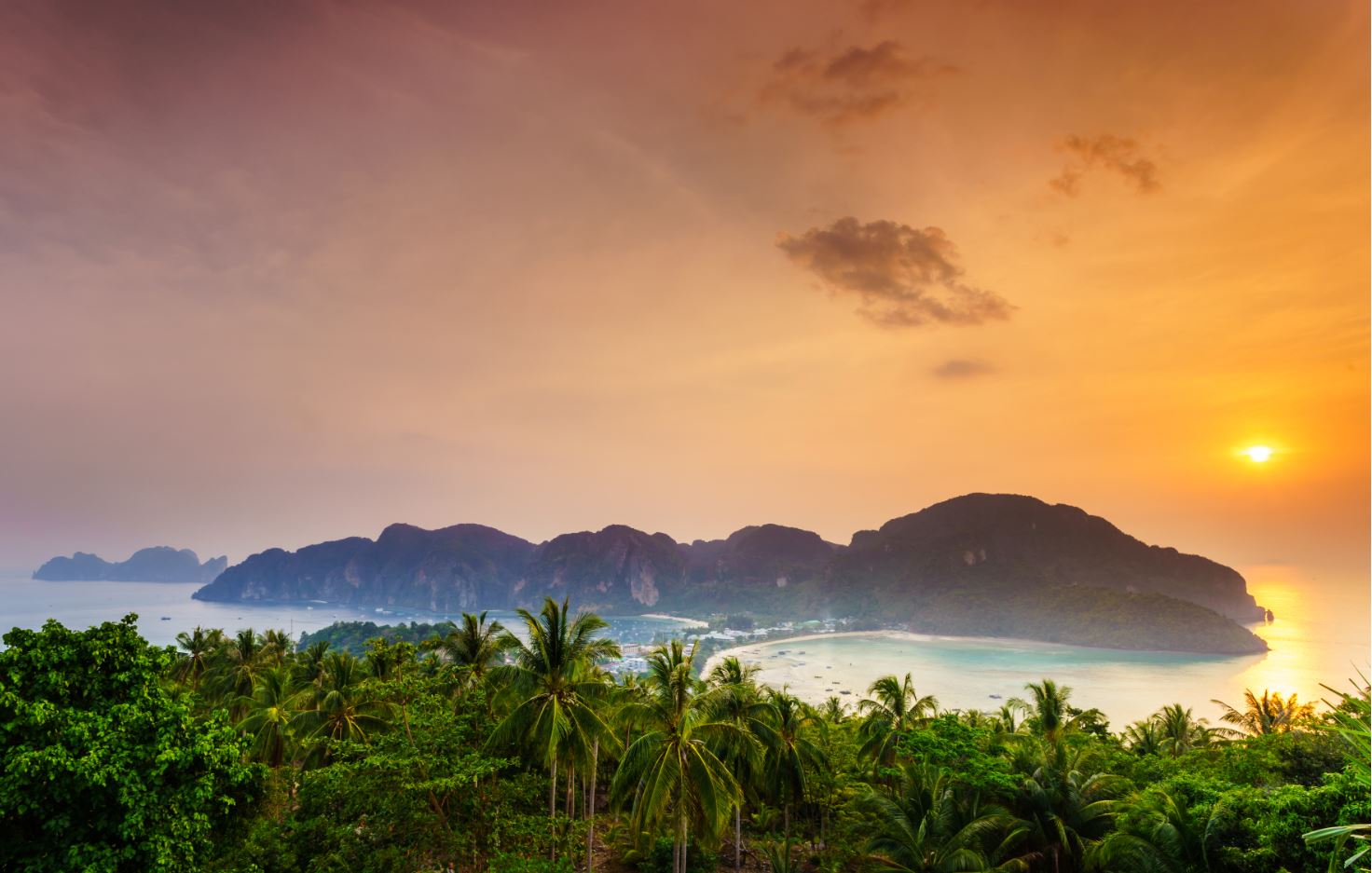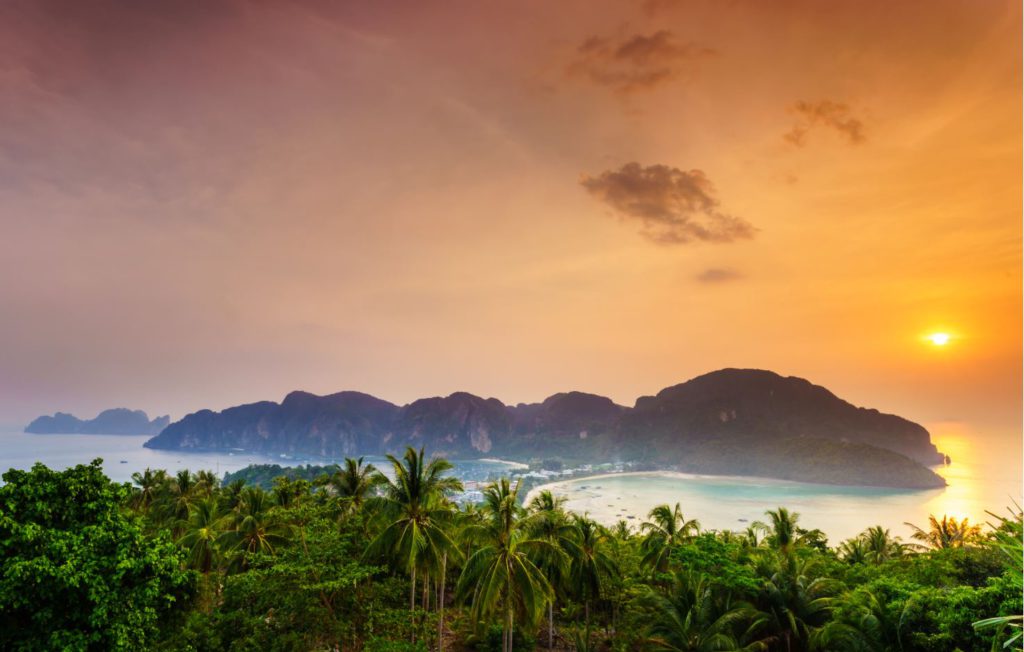 Where is Ko Phi Phi
Ko Phi Phi lies on the east coast of Phuket and the west coast of Krabi. It is administratively a part of Krabi province. The islands lie in the Andaman Sea and a part of Strait of Malacca.
Ko Phi Phi is actually a set of islands. The main island usually referred to Ko Phi Phi is technically Ko Phi Phi Don and the one known as Maya Bay is called Ko Phi Phi Lee.
Heading to Krabi? Here is our detailed 3 Day Itinerary at Krabi
Best time to visit Ko Phi Phi
The best time to visit Ko Phi Phi is similar to that of Phuket and Krabi. The winter months make the best time and the monsoon season doesn't fare too well.
Winter (November – February): As the best months to visit Ko Phi Phi, the weather is comparatively cool, the humidity is manageable and the skies are usually clear. Occasional showers may surprise you but are rare. The average temperature hovers around 26°C. It is also the most crowded time.
Summer (March-May): While these are the hottest months in Thailand, it isn't too bad at the shore. Mid-day can get hot but the morning and evening time are still pleasant. Skies are usually clear but humidity can get uncomfortable at times. The average temperature is around 30°C.
Monsoon (June – October): Some months are wetter than others. July and September see the highest level of precipitation. Tour activities can be unavailable on some days and the beaches can be closed due to a rough sea. Carry your raingear and make sure your luggage is waterproof.

How to reach Ko Phi Phi
There are no airports in Ko Phi Phi. So the only way you can reach this island is via ferry. Here is the ferry schedule.
From Phuket: You can take a ferry or a speedboat from Rassada Pier in Phuket Town. The Pier is an hour's drive from Phuket Airport. A ferry takes about two hours to reach Ko Phi Phi. A standard ferry ticket will cost you between THB 350 to 450. You can easily buy the ticket at the pier. Or you can book one ahead on websites like Phuketferry.com or Bookaway.com.
Book Tickets Online: Ferry Transfer Phuket To/From Phi Phi
From Krabi: You can take a ferry from Klong Jilad Pier in Krabi. A ferry takes around 90 minutes to reach Ko Phi Phi and a one-way standard ferry ticket will cost around THB 450. Again, you can always buy the ticket at the pier or book one ahead online.
Day tours: If you are not planning to stay in Ko Phi Phi, you can take a day tour from Phuket or Krabi. Your experience of day tours may depend considerably on the size of the group. If you are on a budget and don't mind the crowd, a big group will suit you. However, if you are looking for some privacy and a more intimate experience shell out some many and choose a small group (8-10 people).
Book a Day tour from Phuket: Phuket: Phi Phi, Maya, Bamboo, and Maiton Island Day Trip
Book a Day tour from Krabi: Krabi: Phi Phi Sunrise & 4 Islands by Speedboat with Lunch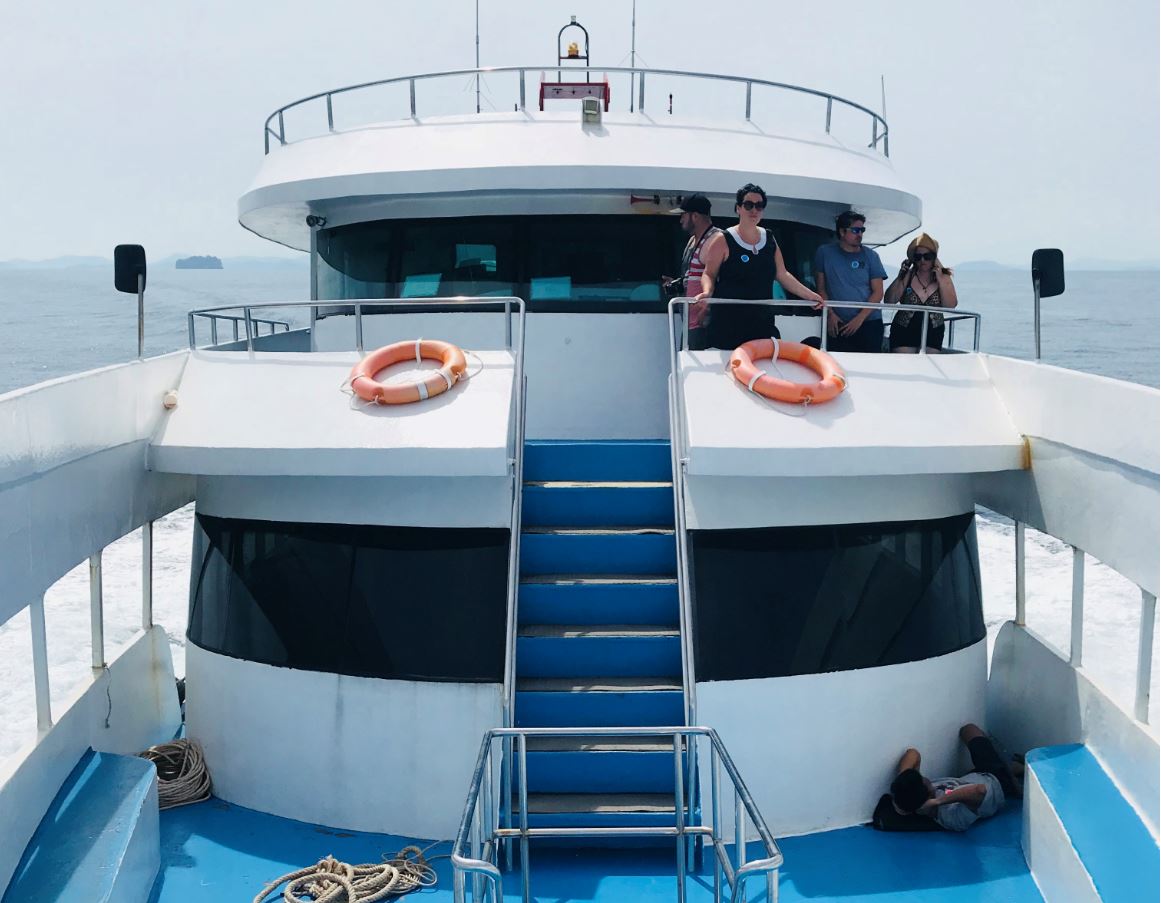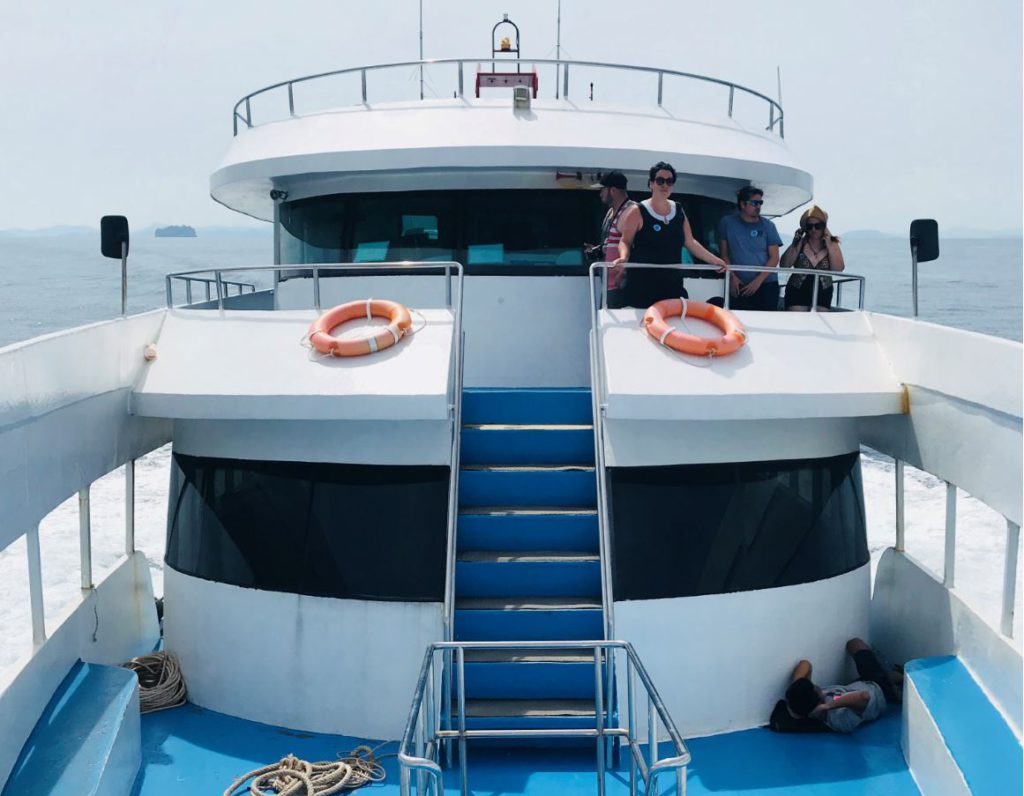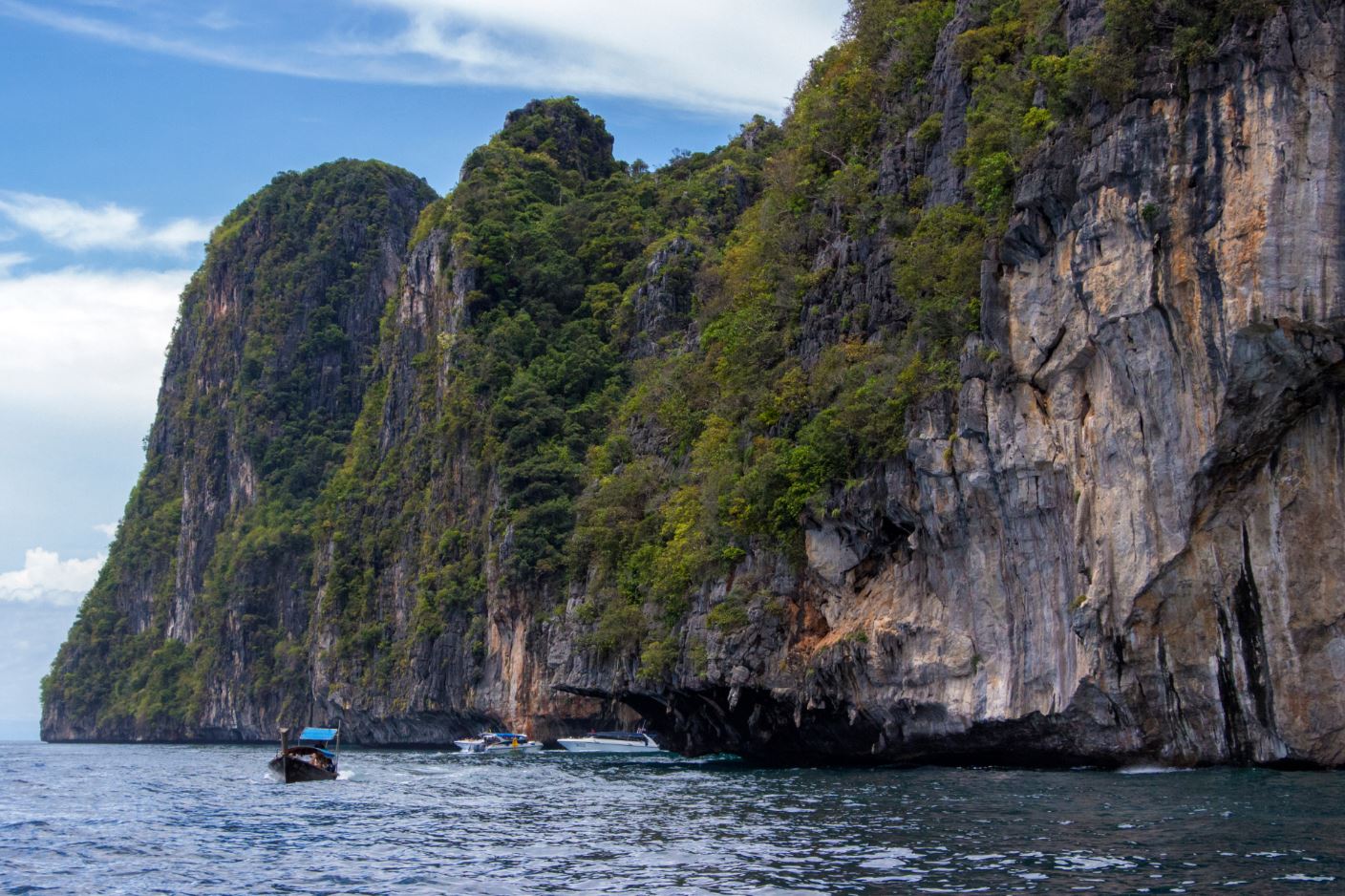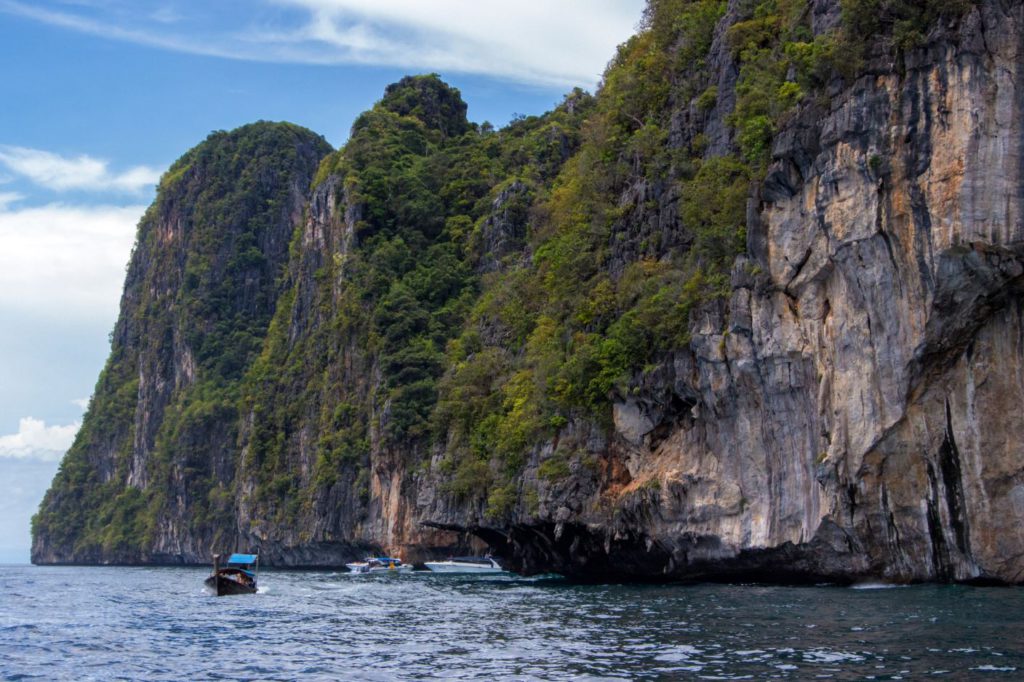 How to go around in Ko Phi Phi
On Foot: If you are staying inside Koh Phi Phi, you can easily cover the whole island on foot of around 3 km. Yes, it is that small! In fact, it is the best way to do it. On top of it, there is no public transport available inside the island. Skip the heels though.
Bicycles: You can rent bicycles on the island if you want. Although, I will not say that it will be a much-added advantage. The streets are usually crowded and no clear lanes are available. It is hard to find a rental shop on the island. Since most of the bicycles are owned by locals, you can ask the owner of your guesthouse or hotel for one.
Day tours: Day tours on boats are the best way to do it off-the-shore. The boats pick you up at a designated point to start the journey. The trip usually includes a few beaches and nearby islands like Bamboo island, Mosquito island and if open, Maya Bay. Snorkeling and sometimes a lunch are also added in the tour.
Morning Tour to avoid crowd: From Phi Phi: Beat The Crowds Island Hopping Day Trip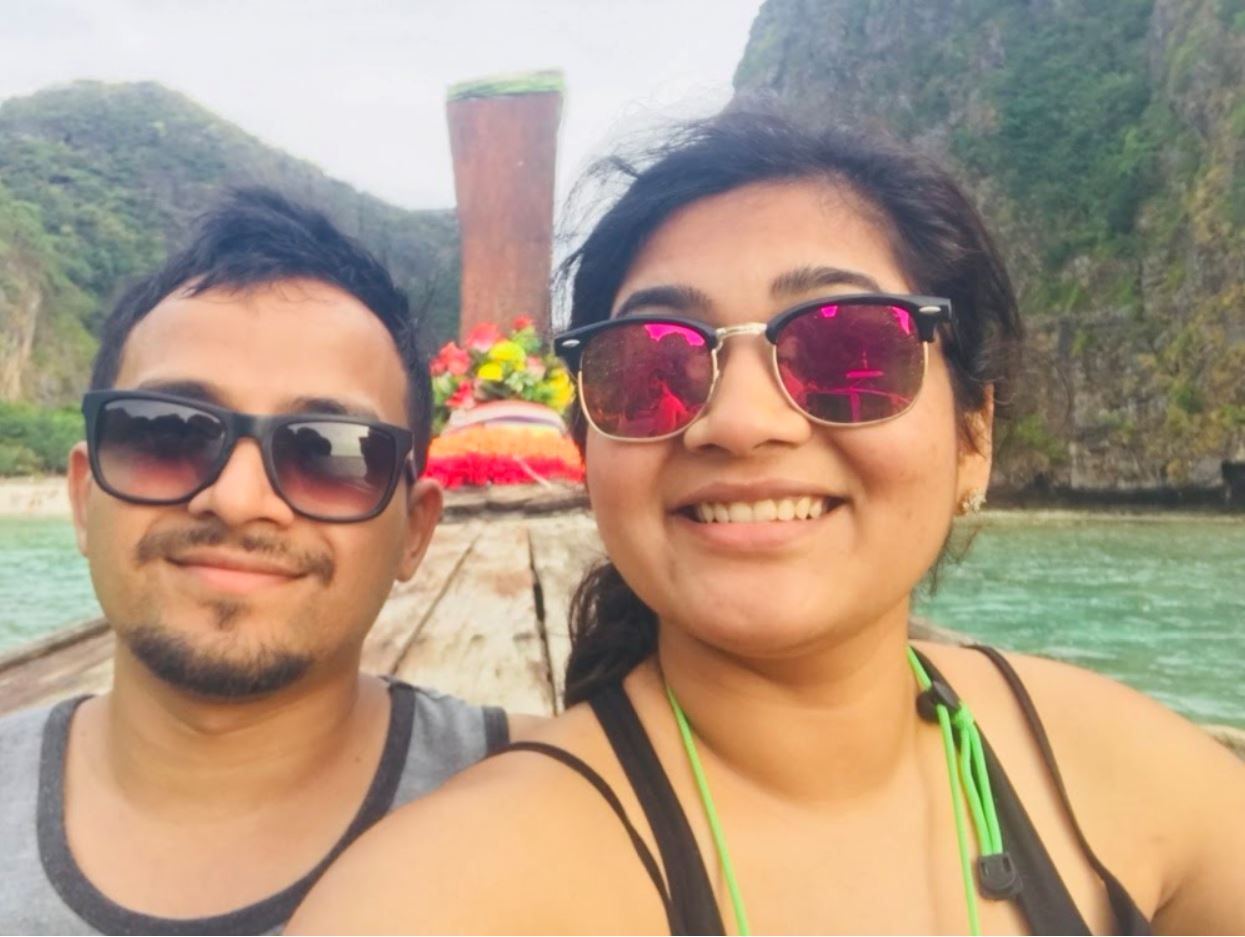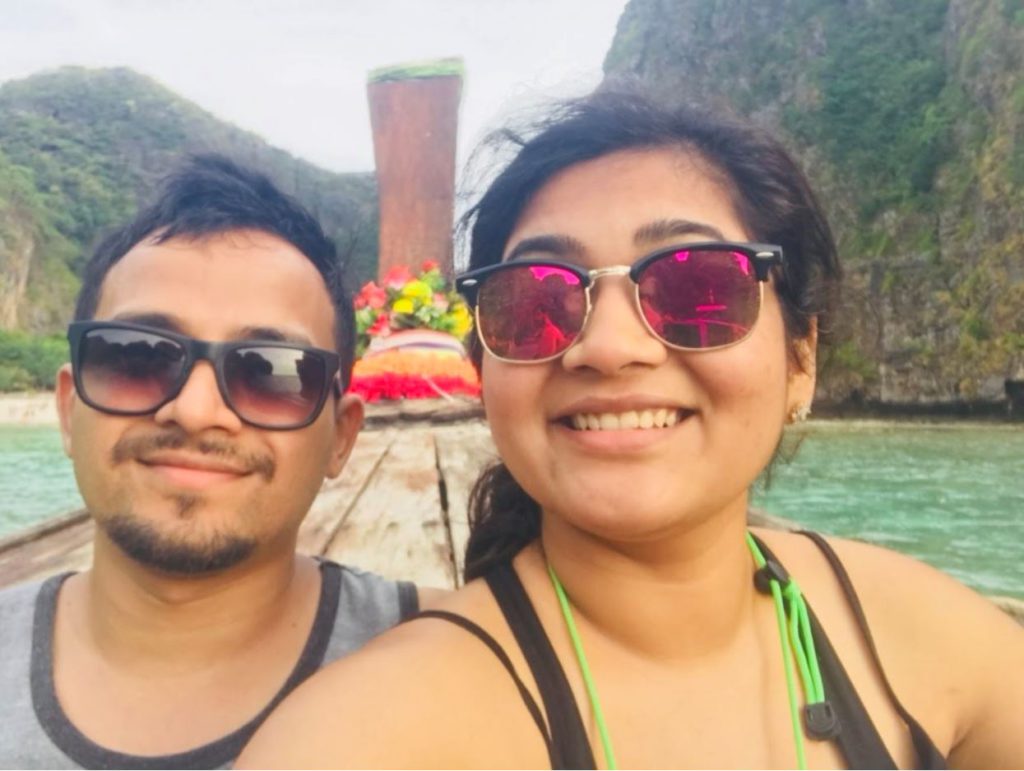 Best Things to do in Ko Phi Phi
1. Chill on Ton Sai Beach
Ton Sai Beach is the beach where you arrive next to Ao Tonsai Pier. People flock to the beach to relax, swim, and rock-climbing. You can find some tour guides or agencies that will assist you in adventure activities.
Although I would say the pier looks pretty good too. You get a great view of the long-tail boats harboured next to each other. The pier is busy till mid-day till the time ferries arrive. However, after 2.30 pm, after the departure of the last ferry, the place becomes calmer, lazier, and far more relaxed till the day's end.
There are quite a lot of restaurants on the beach along with convenience stores, travel agencies, and even a McDonald's! So if you've got your towels, you can really hang around the place for the whole day. FYI, complete nudity is not appreciated by locals on the beach or anywhere in Thailand.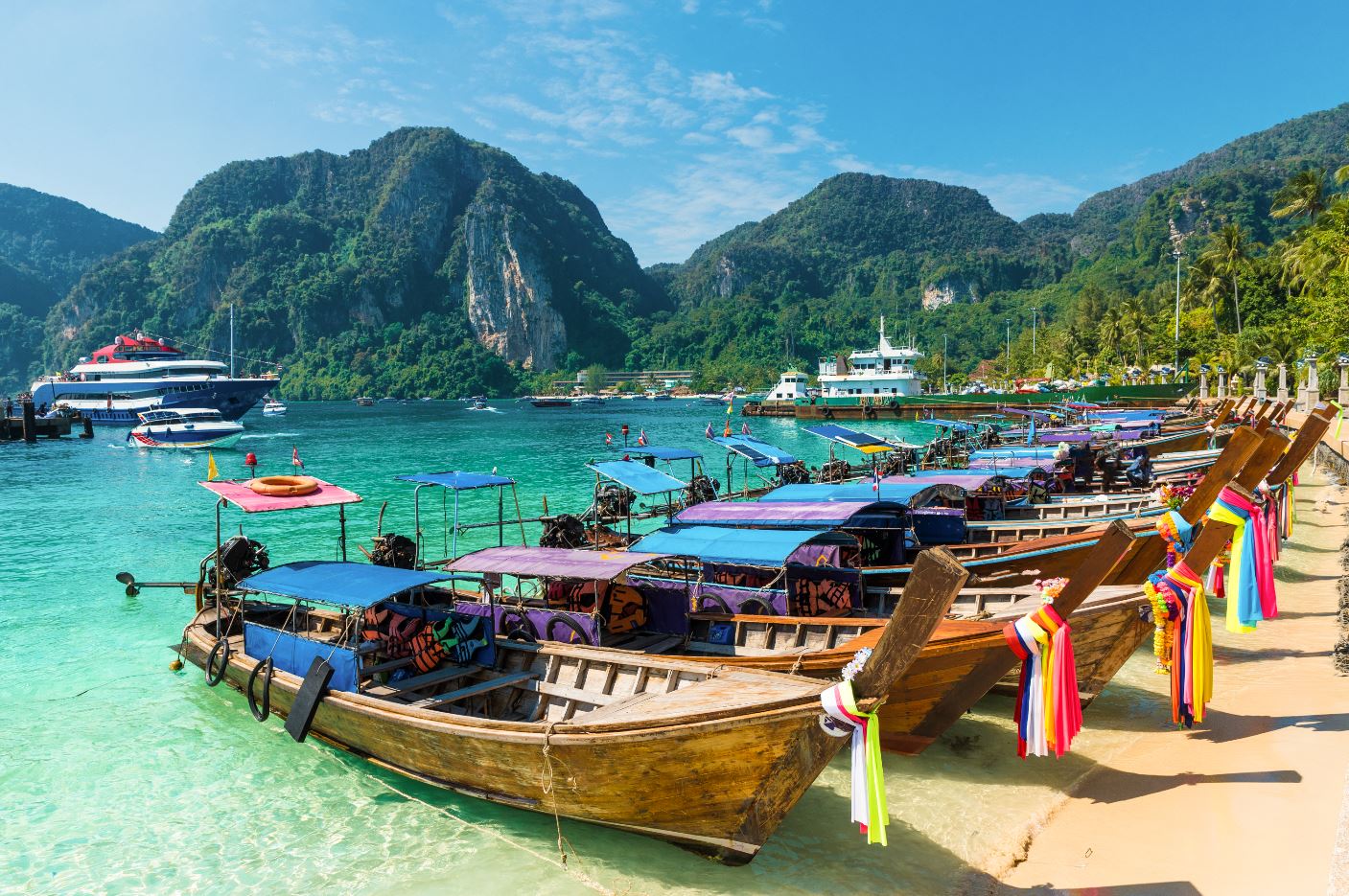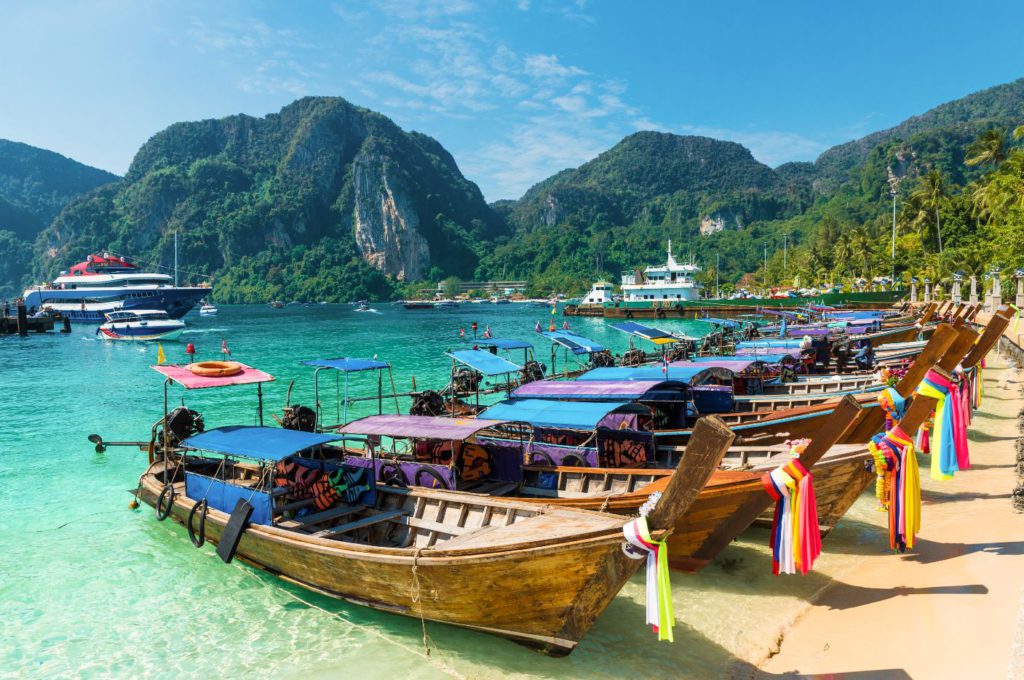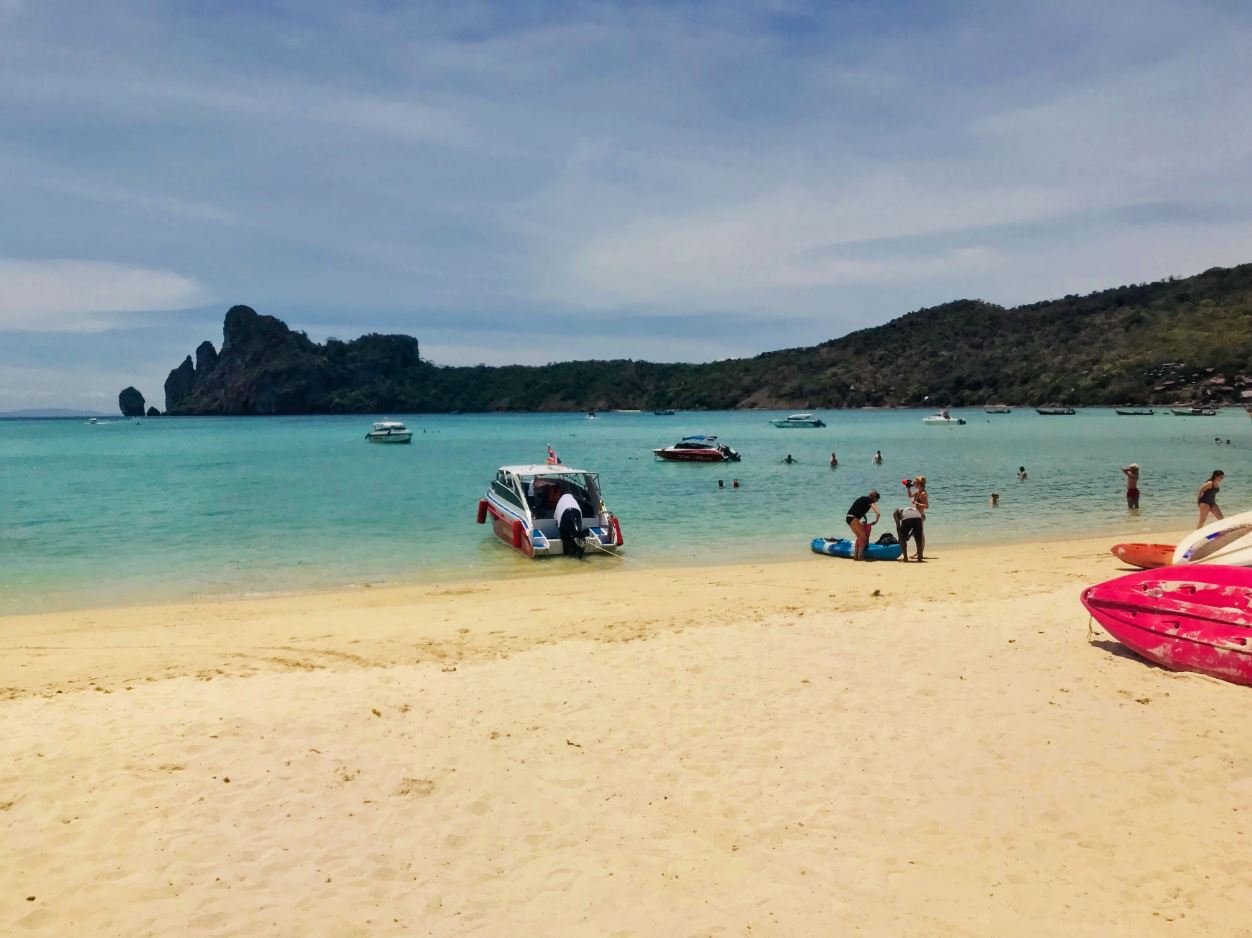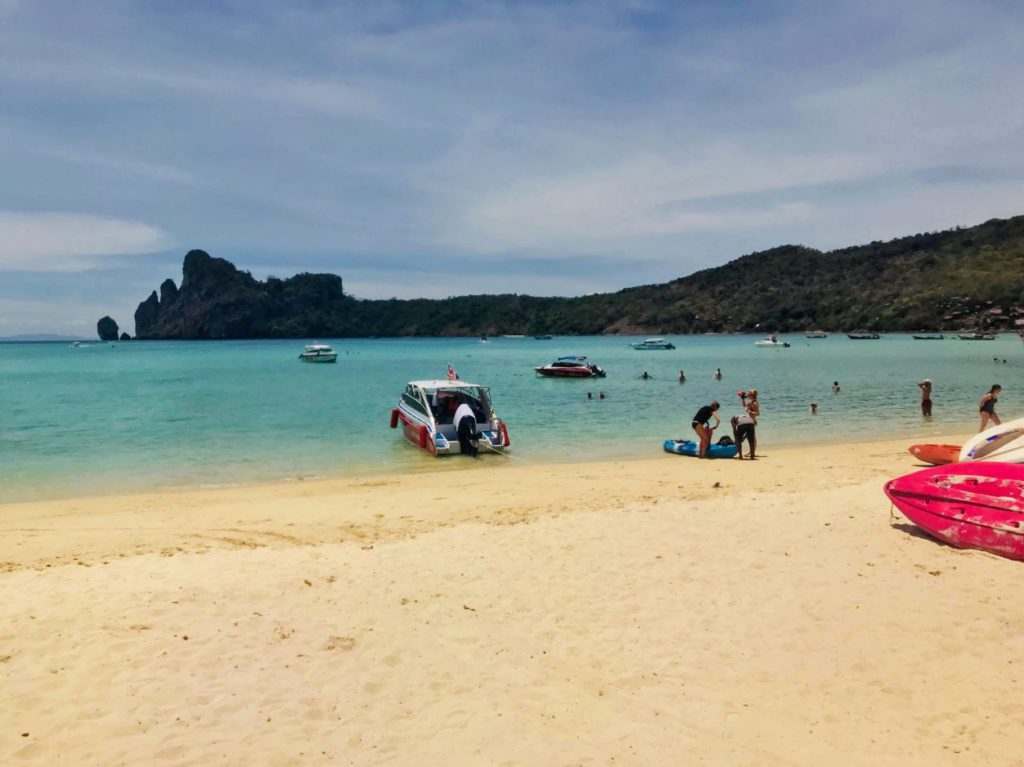 2. Visit Maya Bay
Maya Bay is located on Koh Phi Phi Lee. Although closed for now (2020), it is one of the highlights of visiting Phi Phi. The place is popular for a bay which is surrounded by Limestone Mountains on all sides with a passage in-between to the main beach.
But most of the tour operators take you through another way. The boat is parked on the other end of the island. You then trek a little through the rocky formations, climb on a wall of rope; walk past a wooden bridge, climb down some steps, and walk through a short jungle to get to the beach.
There were barely any shops or restaurants here. But there were sure a lot of people. A number of long-tail boats and commercial ferries float on the pier to take you back. It is a shame that tourism drove the place to shut down.
Maya Bay is a National Park and there is a certain fee that you need to pay. Most of the time, it is added to your tour. Speak to your guide to confirm.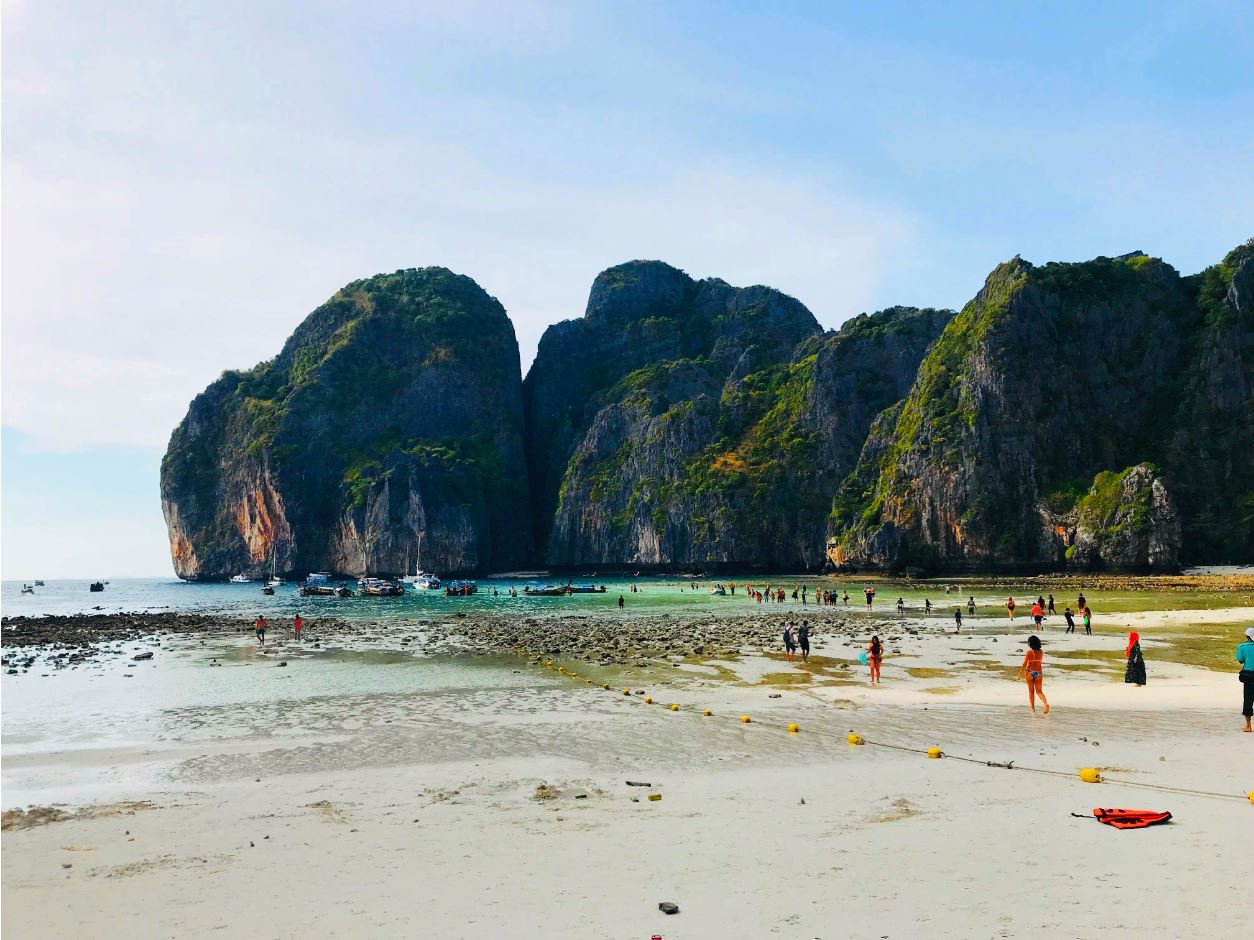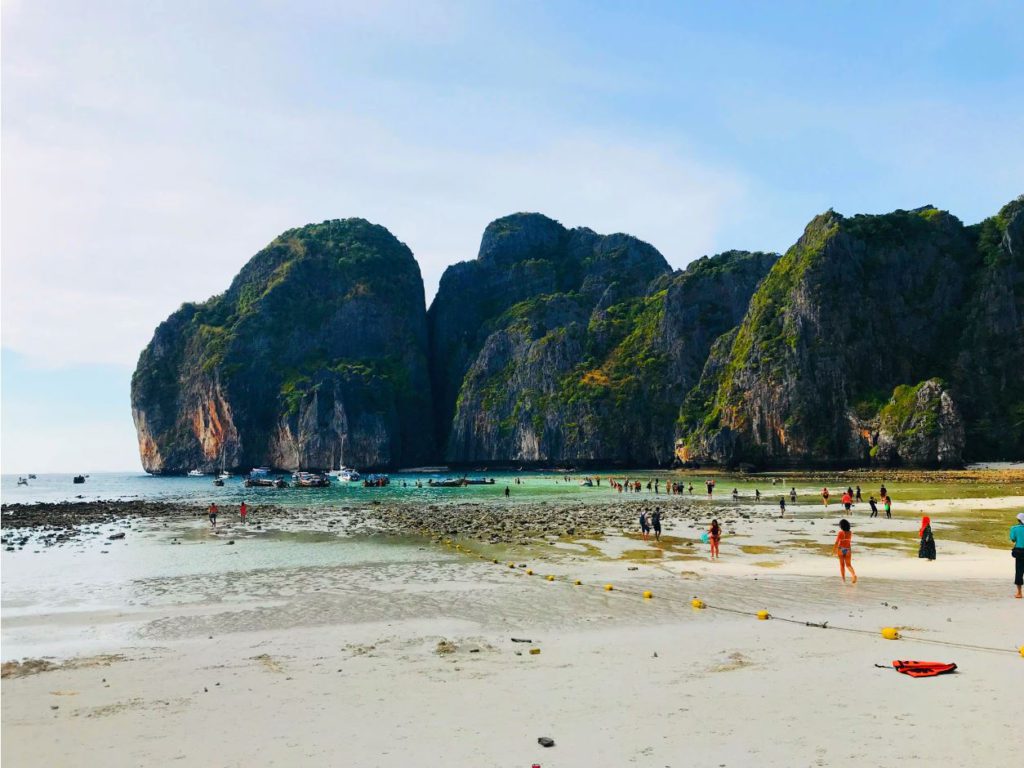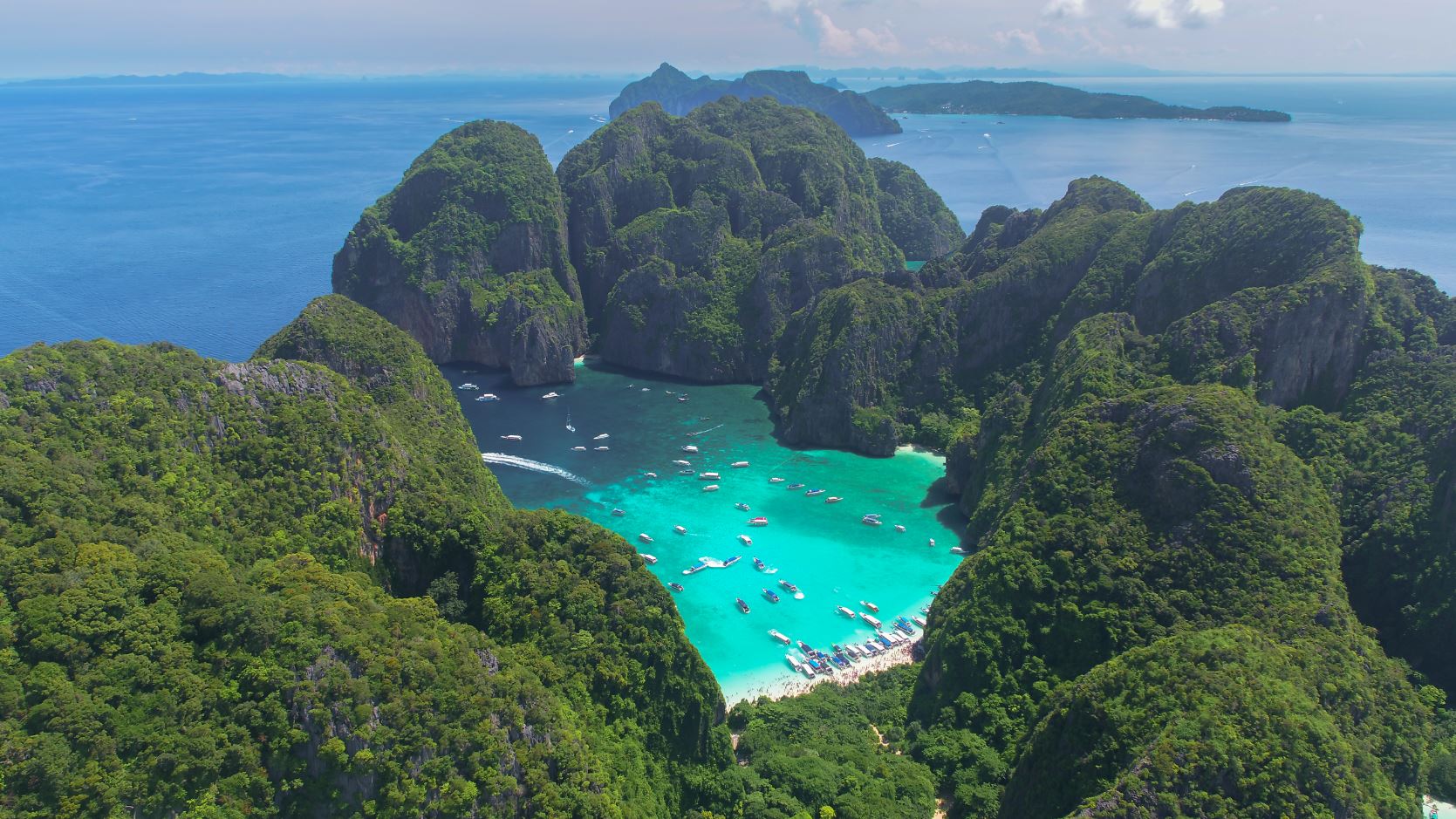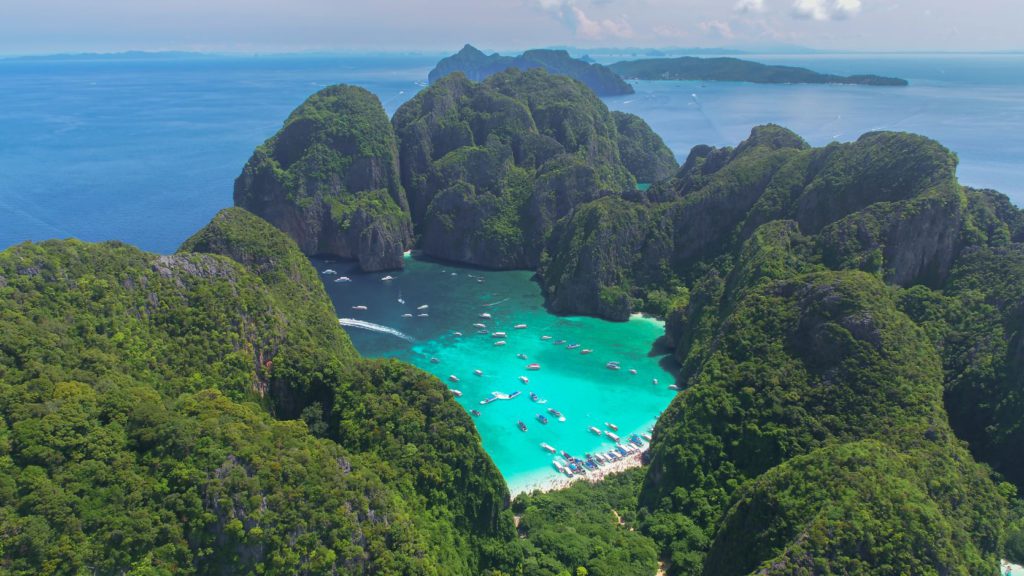 3. Monkey Beach
Monkey beach is literally a beach full of monkeys. There are not the usual monkeys that we see around the tourist attractions in South-East Asia. Contrarily, these are silver-haired monkeys with blackface and skin with long tails.
Plus these are the most fun, sweet and well-mannered monkeys that I have ever seen in my life. They love to be around tourists and will hop on your hand or your shoulders if you seem inviting. Just get down and reach out to them with your arm.
Again, many tourists arrive at the beach and leave behind plastic bottles and waste that the monkeys pick up and sometimes consume. Don't do this. And don't let others do it if you see them.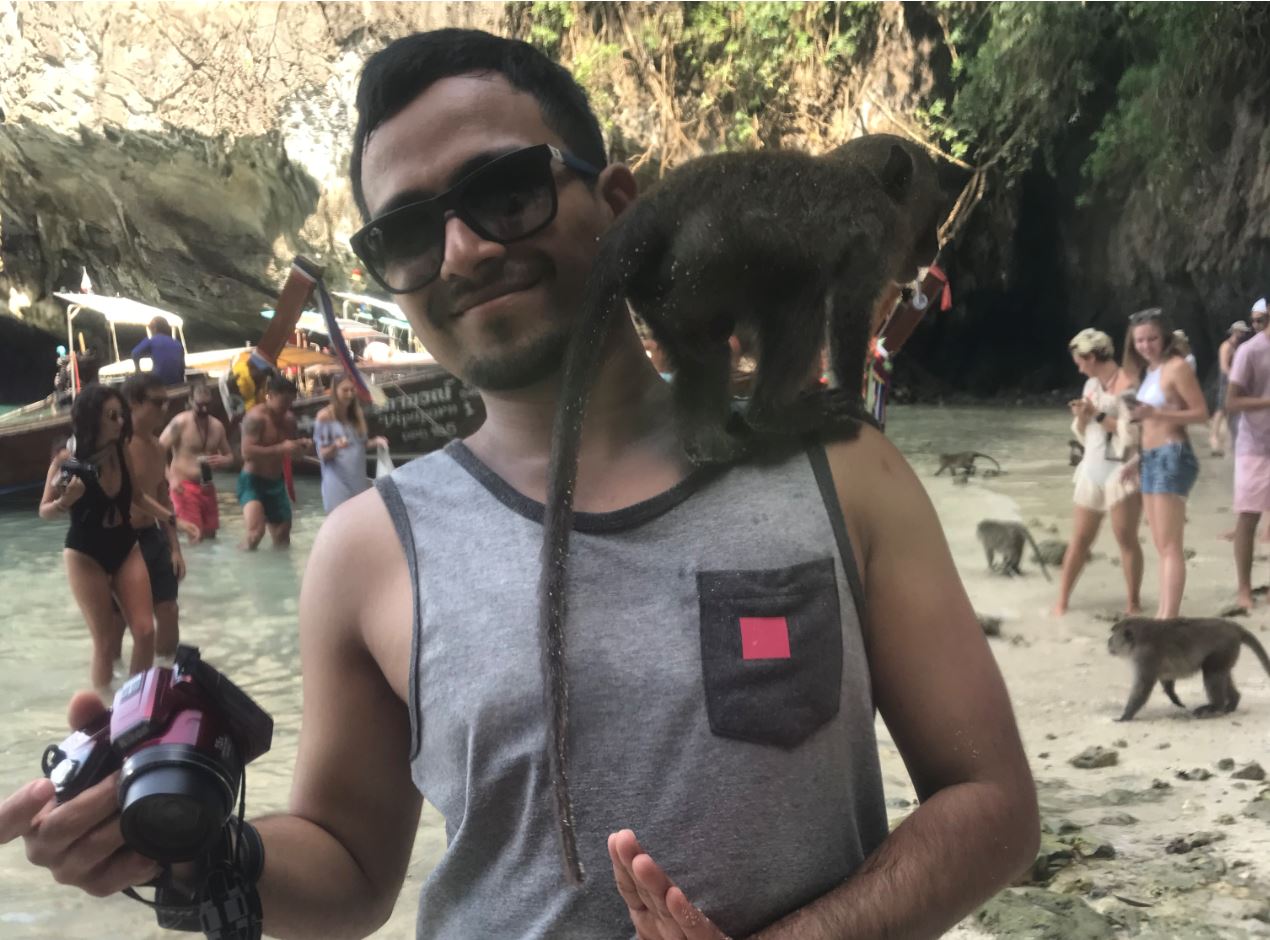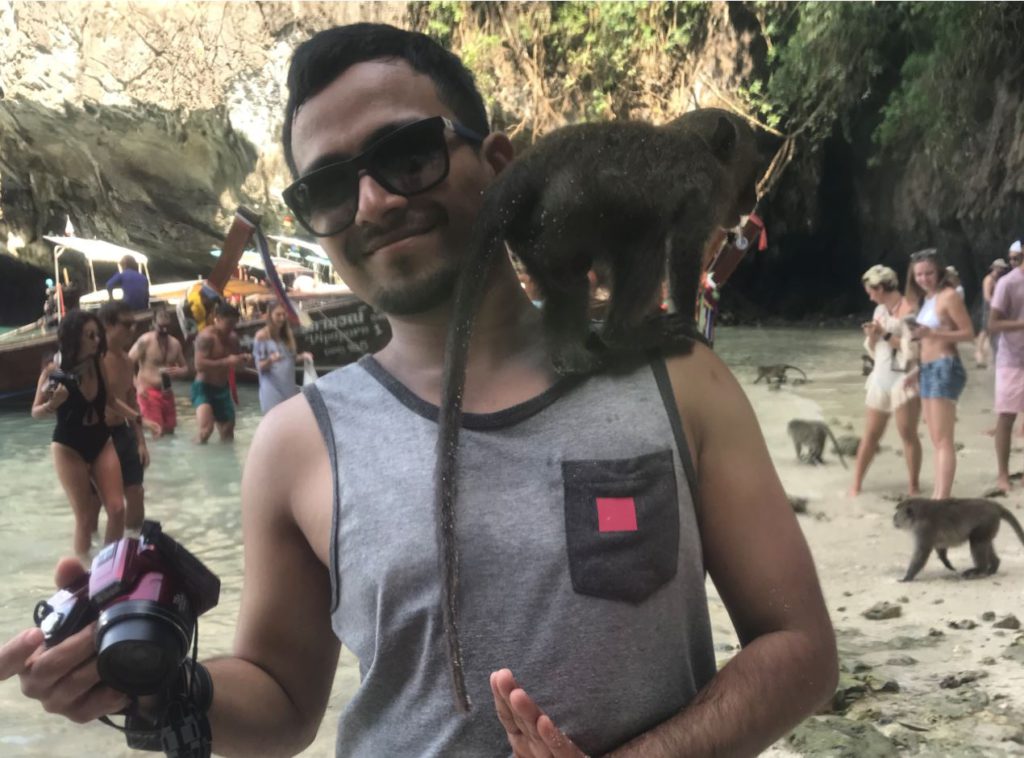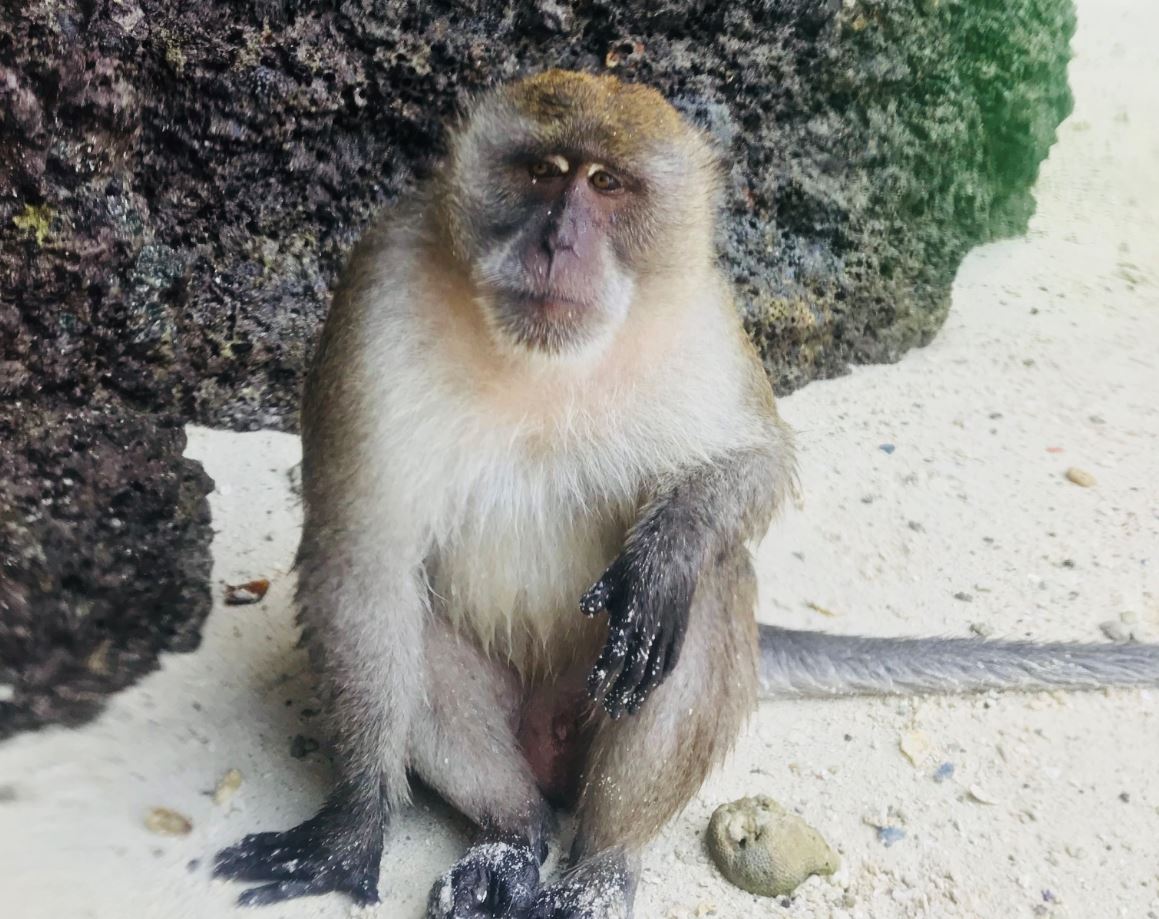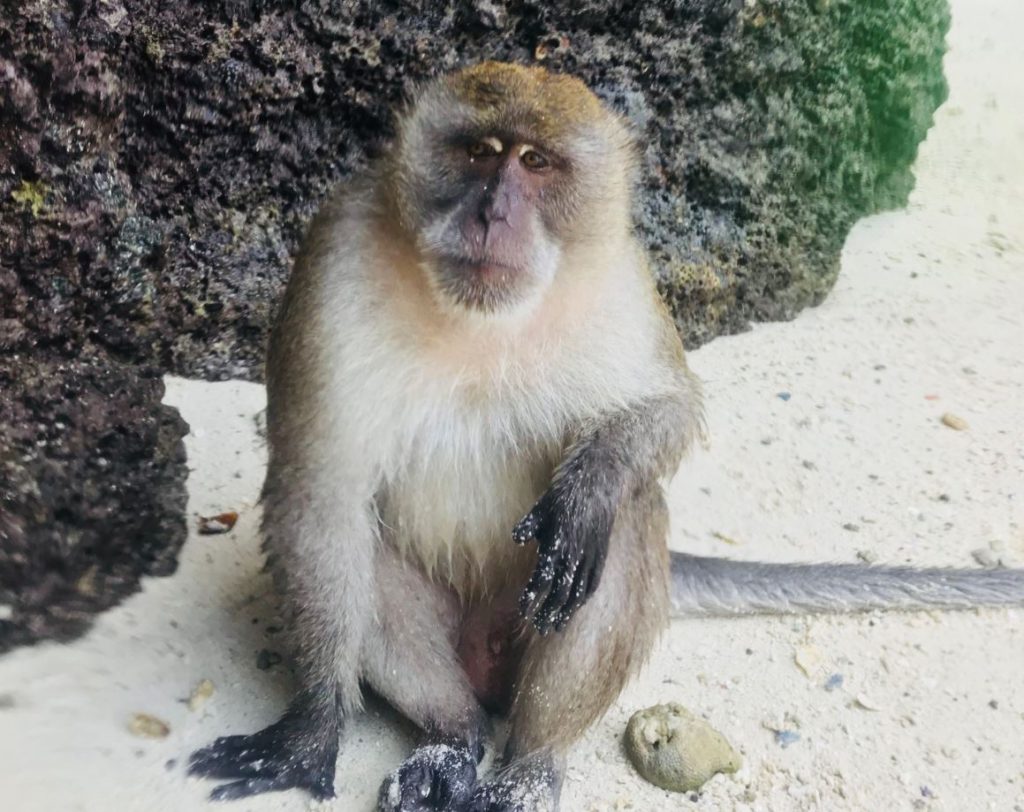 3. Viking Cave
Ever heard of the 'caviar of the east'? It is the nests of the swiftlet birds that sell somewhere between USD 3000-4000 a kilo, almost half the price of gold. It is very popular among the Chinese for its nutritional value and is served as a bird's nest soup.
These birds make their nests in dark places that are highly inaccessible. Viking Cave is one such place. Humans harvest these birds by tough and dangerous methods using scaffolding.
While Viking caves are inaccessible by tourists, the boats slow down in the area to give you a good view. The caves also became popular due to cave drawings assumingly made by Chinese sailors stuck in the caves around 400 years ago.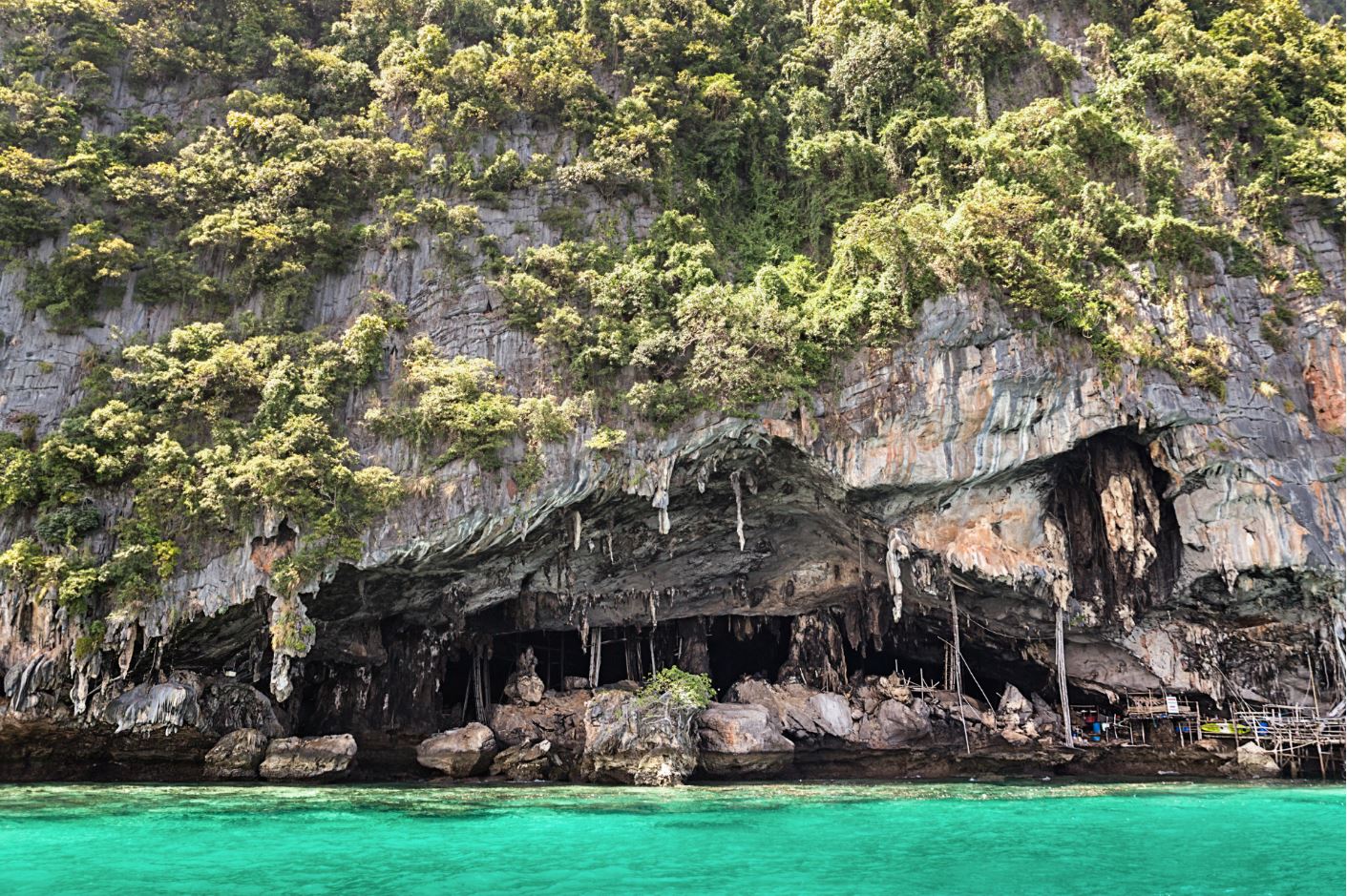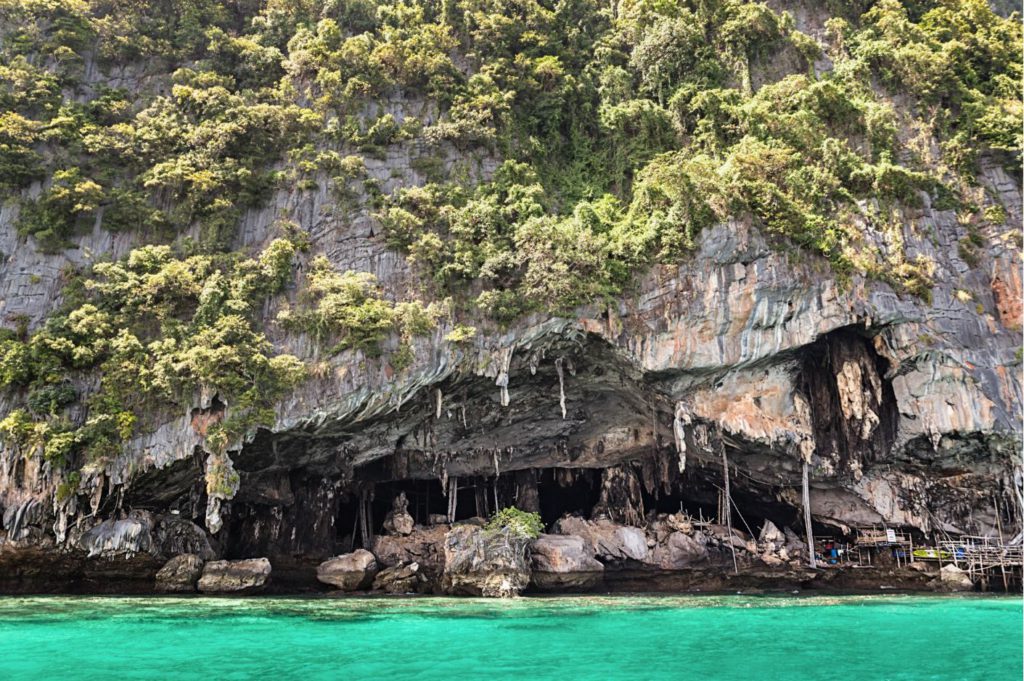 4. Go Snorkelling
Snorkeling is the most popular activity around Ko Phi Phi. The shallow waters with lovely coral reefs and marine life make the place extremely suitable for the sport.
Most tour agencies that take you for island hopping have snorkeling added in their itinerary. The staffs on boats have snorkeling equipment that you can use. They also look out for you, so it's best to go with a group. Life jackets are available onboard if you do not know how to swim and still want to get into the water.
The best diving sites are off the main island from Koh Phi Phi. If you do not want to club it with the full-day island tour, you can hire a private boat between THB 1500 (a traditional longtail) to THB 2500 (motorized boat).
Group Tour on traditional Longtail Boat: From Phi Phi: Islands Half-Day Long-Tail Boat Tour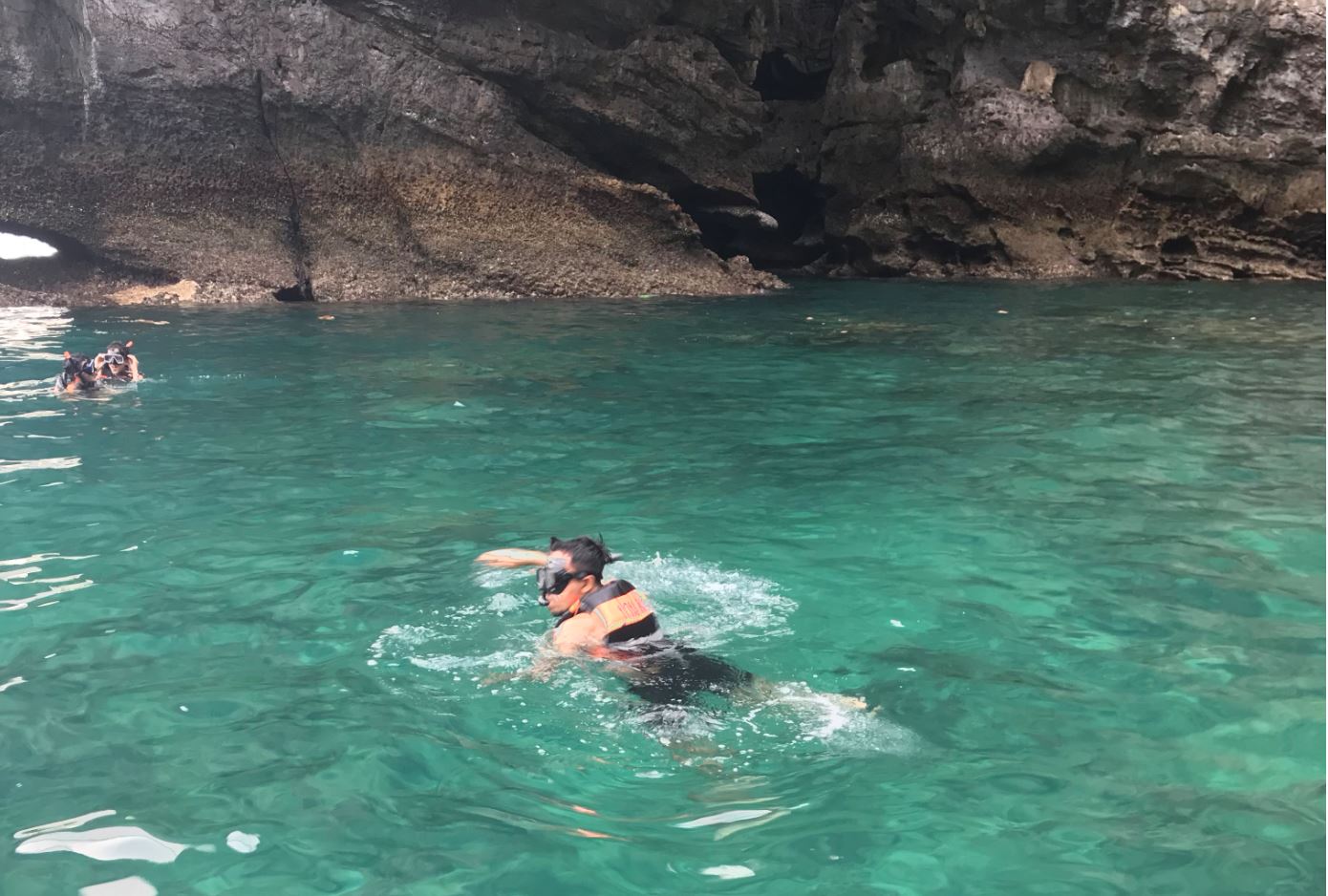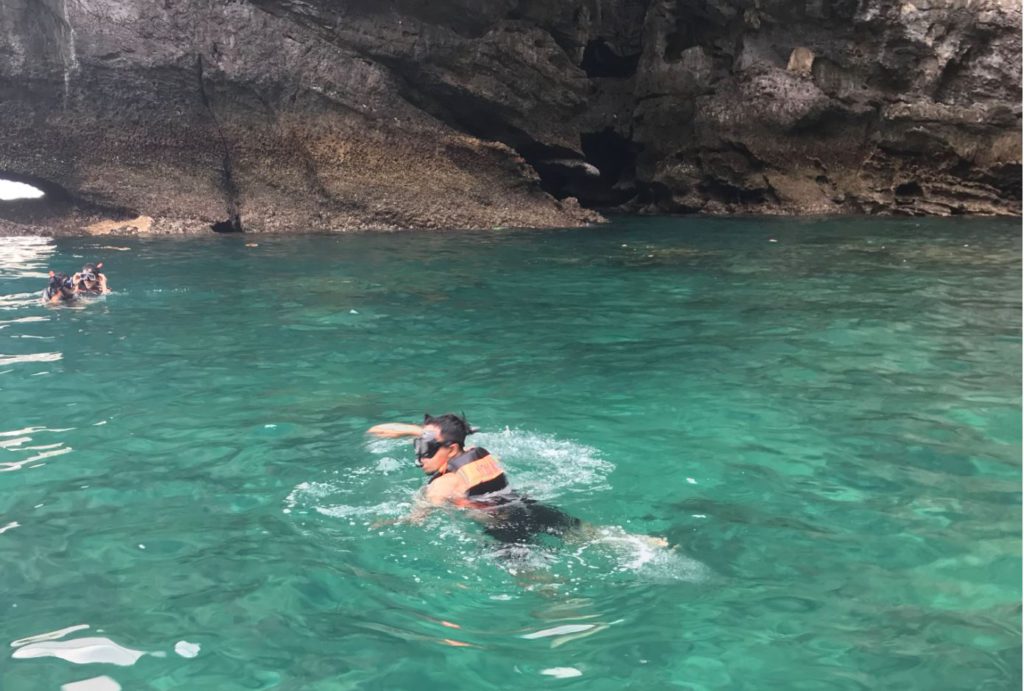 5. Party in the best bars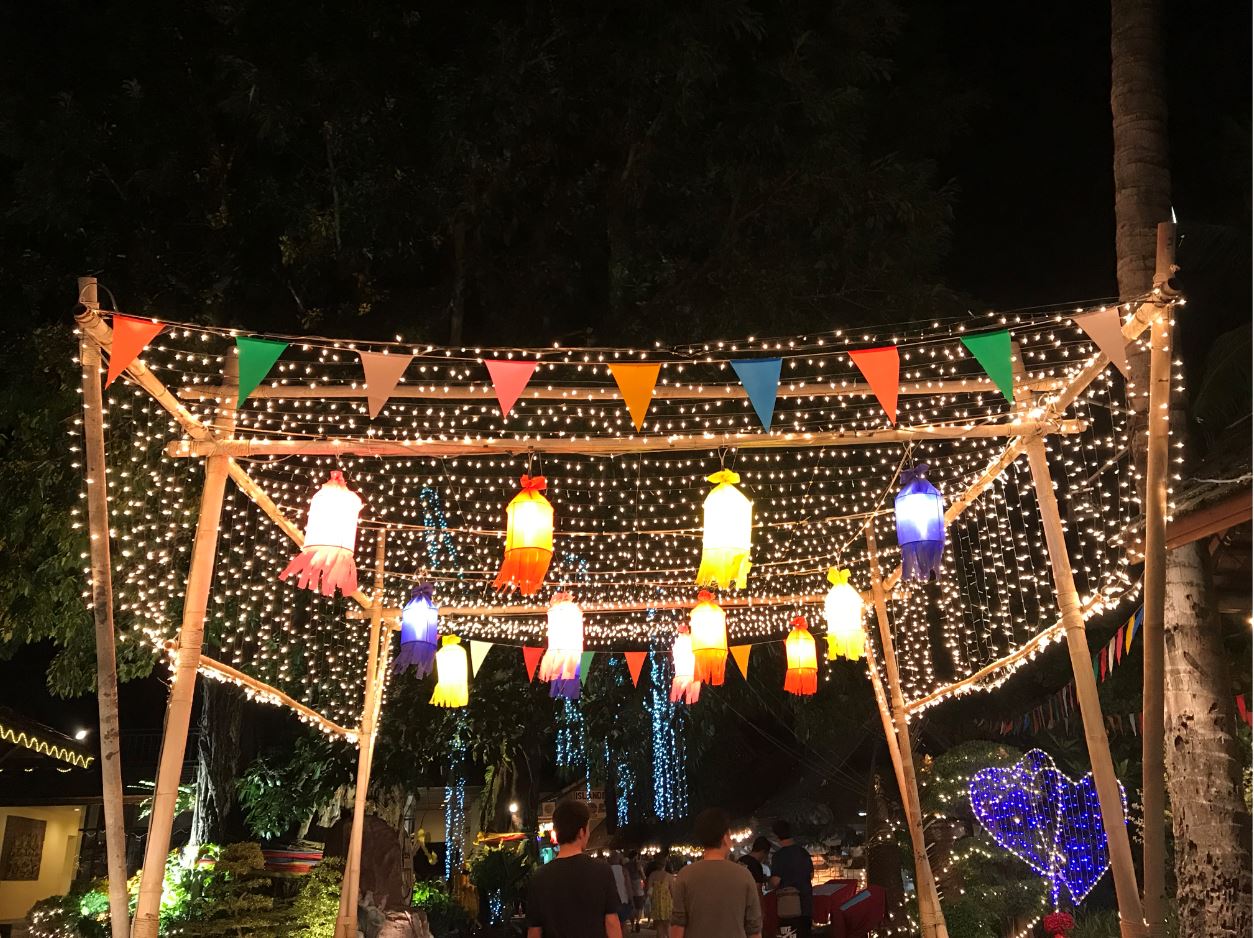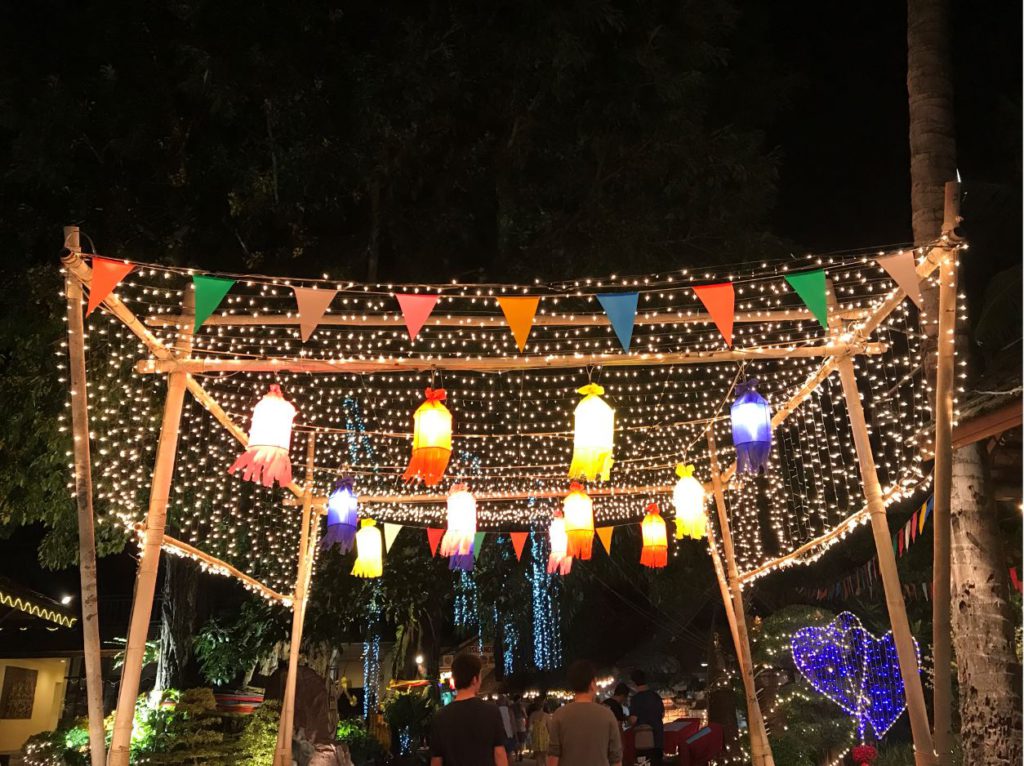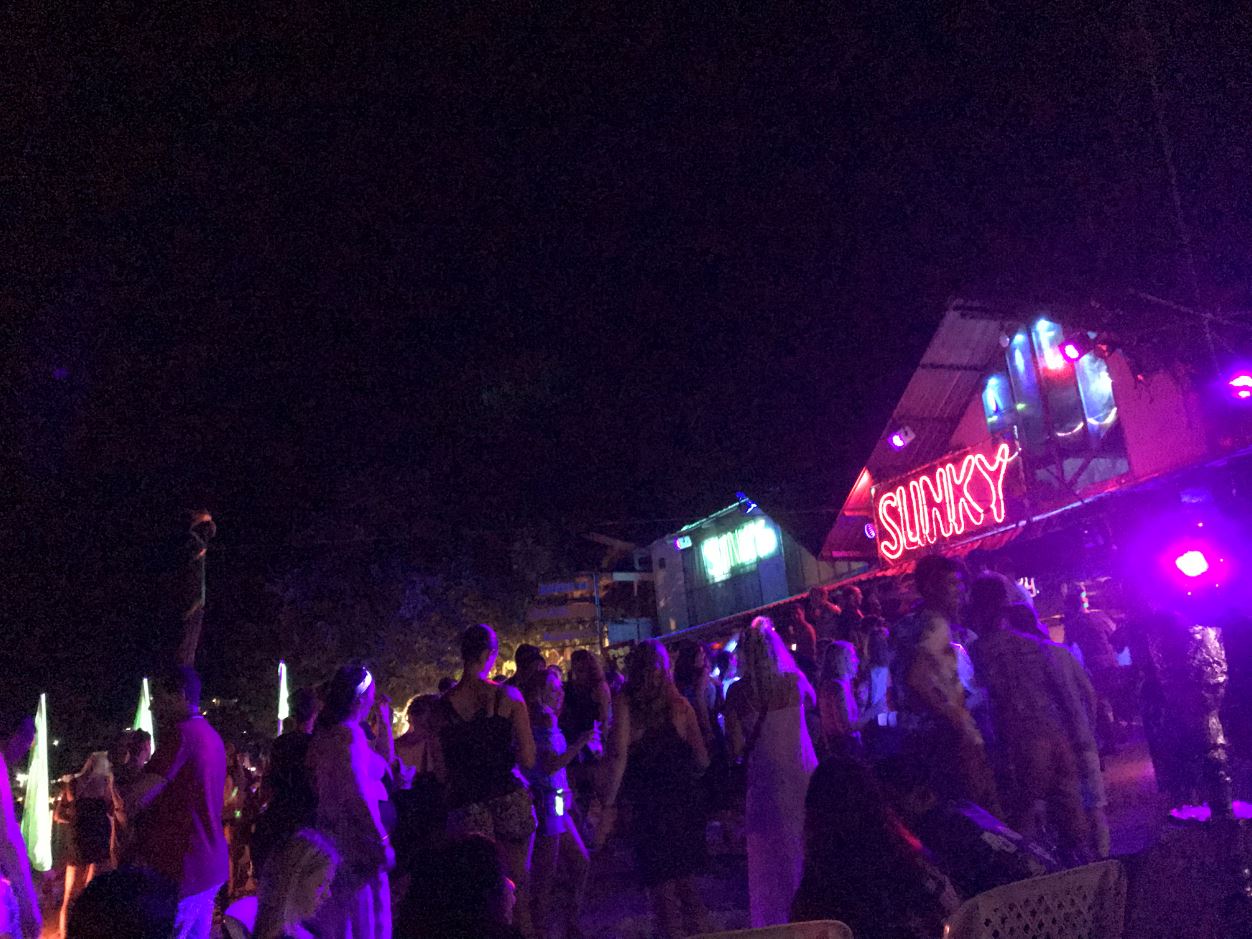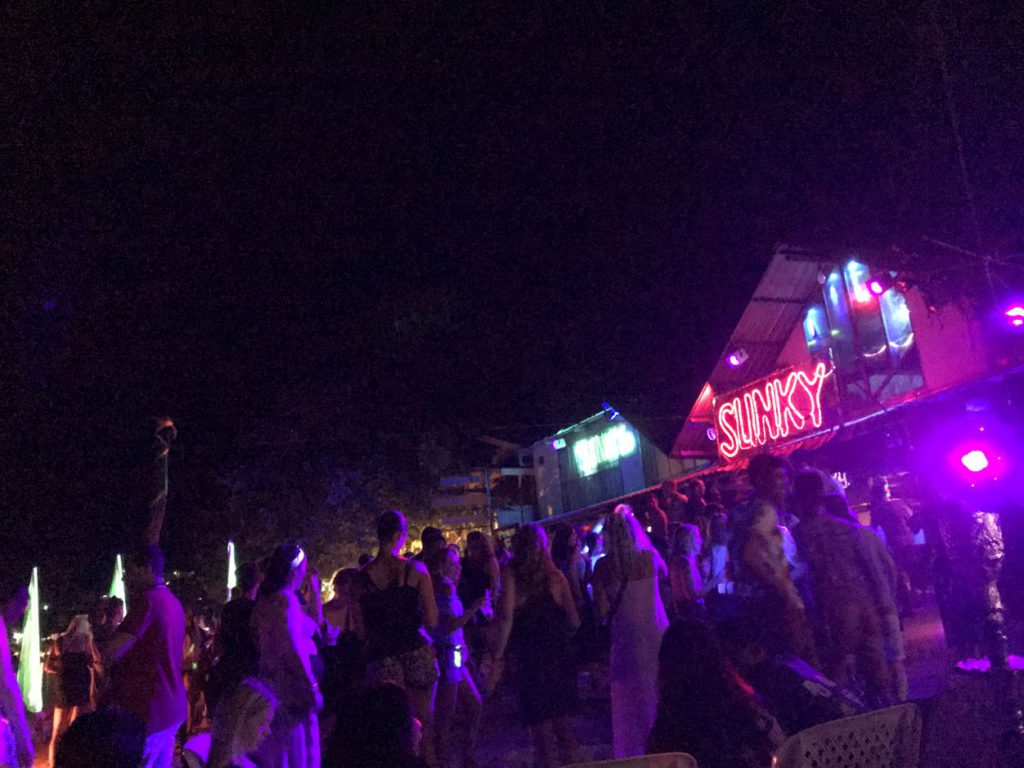 6. Watch a fire show
Since you are in the area, don't forget to catch a fire show. There are cool fire shows at most beaches with a beach party in Thailand. But the ones at Phi Phi are feisty.
These boys do some excellent stuff that includes swinging, juggling, and rotating flaming sticks. You don't need to go inside the pub or bar for this. They do this on open platforms on the beach and anyone can watch. Although it gets hot up close.
The fire show starts at 8.30 pm and you can find them walking between Slinky Bar and Sunflower Beach Bar in the main area of Phi Phi island.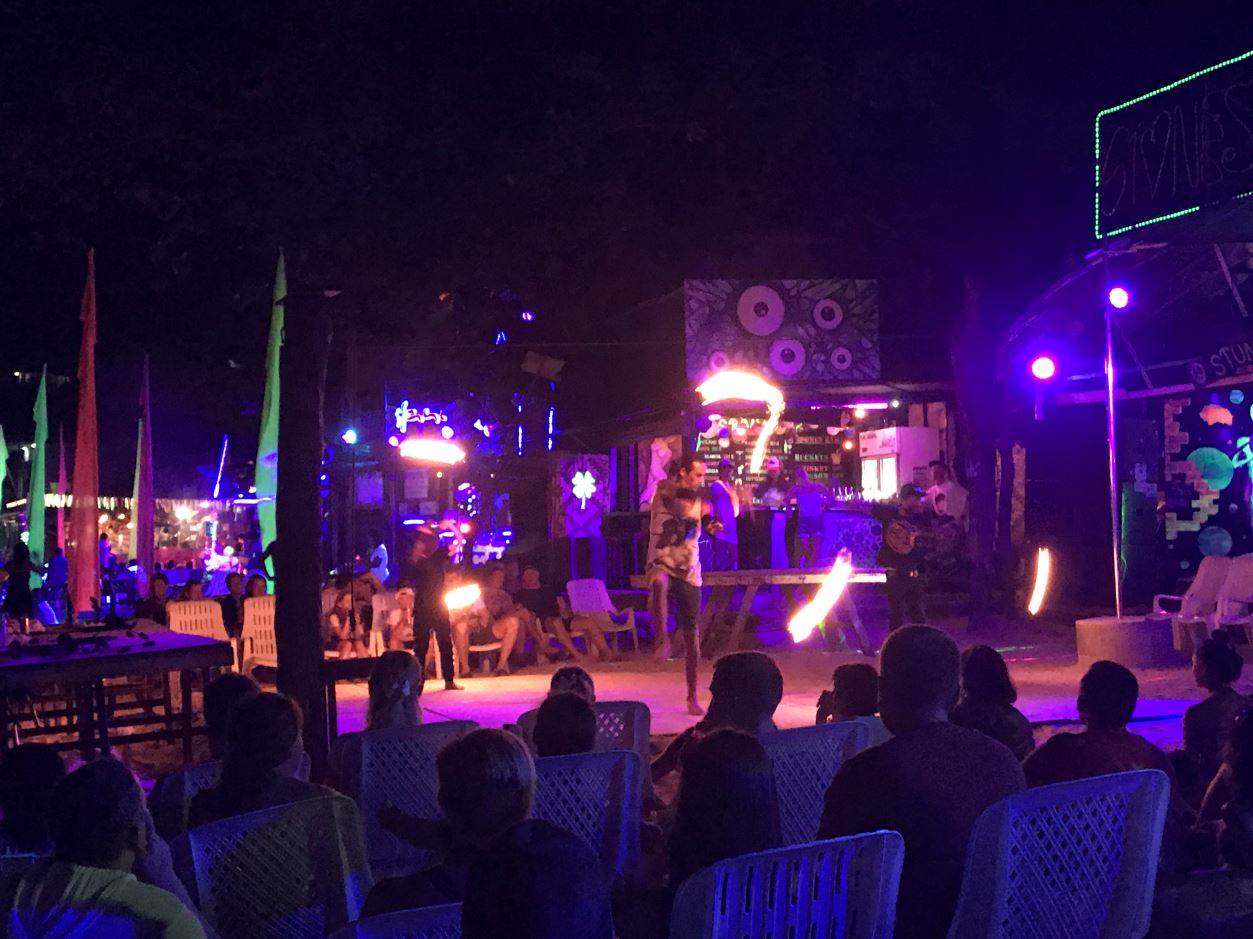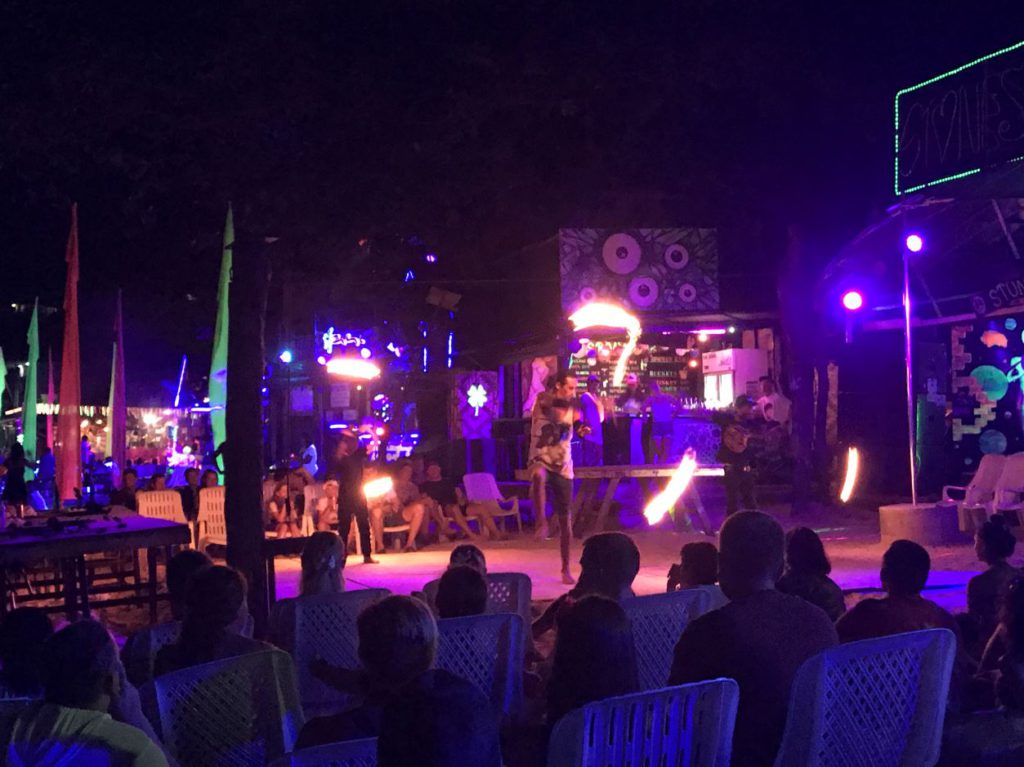 7. Hike the Phi Phi Viewpoint
You must take the pain to hike to the best viewpoints of the island. Cannot afford to come this far and not get to see an aerial of the place.
The viewpoints that are easily accessible to tourists are Viewpoint 1, Viewpoint 2, and Viewpoint 3. Head to the Tonsai village that connects them with concrete staircases. There are signboards that will lead you to the top that you can spot easily.
It takes somewhere between 30-45 minutes to hike to Viewpoint 1 and another 15-20 to Viewpoint 2. There is a small restaurant and a shop with refreshments at the top to help you cool down. Try to catch the sunset here but climb down quickly thereafter. You need to pay THB 30 to enter.
If you are spending a few evenings on the island check out this blog from backpackbob with a list of fantastic sunset spots in Phi Phi.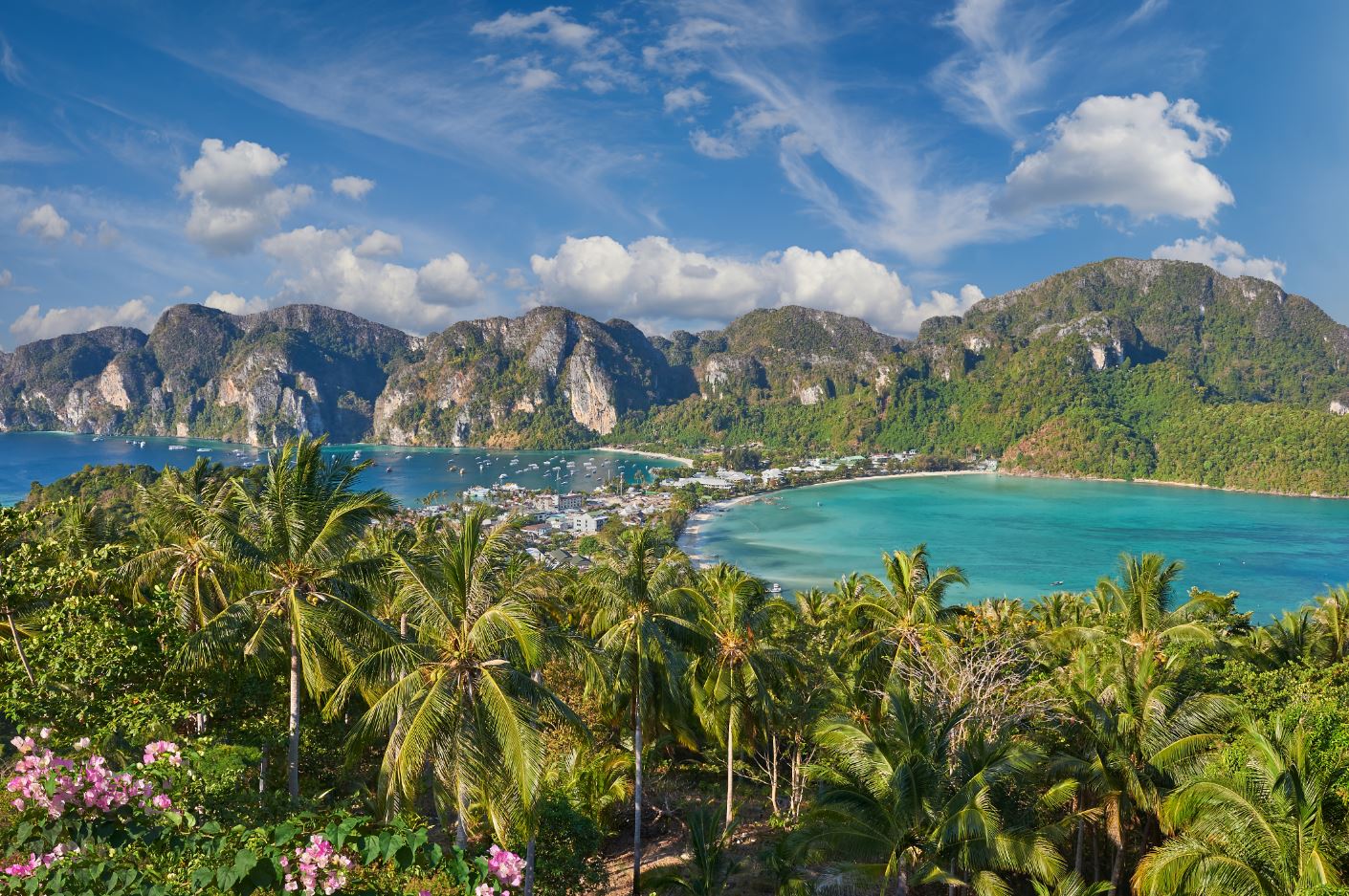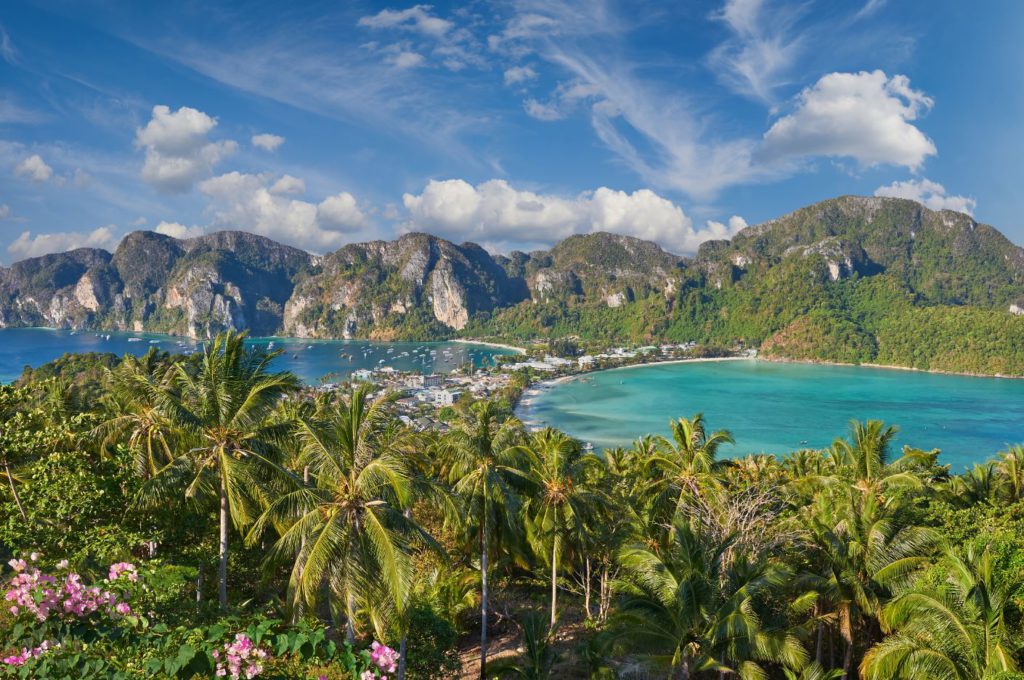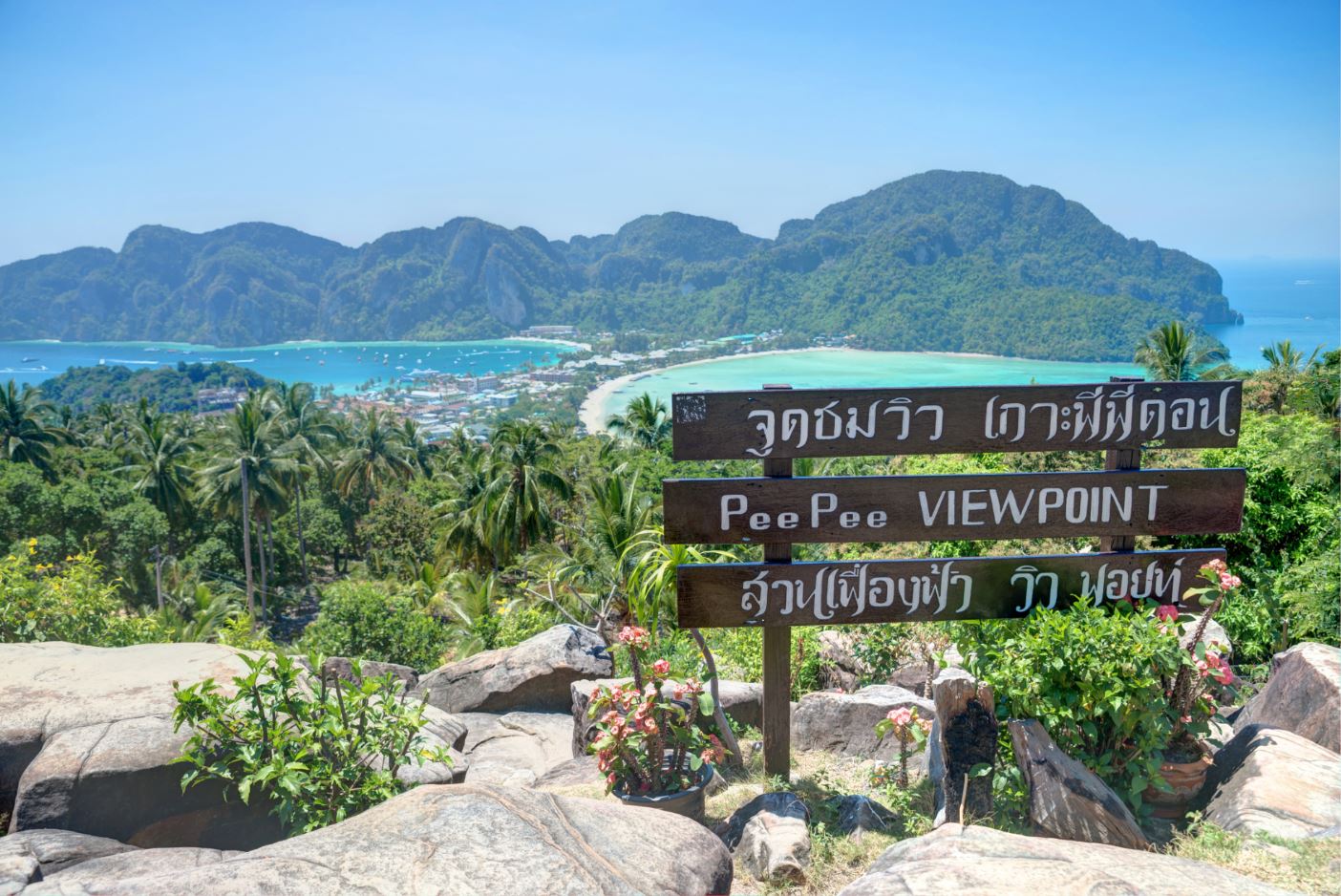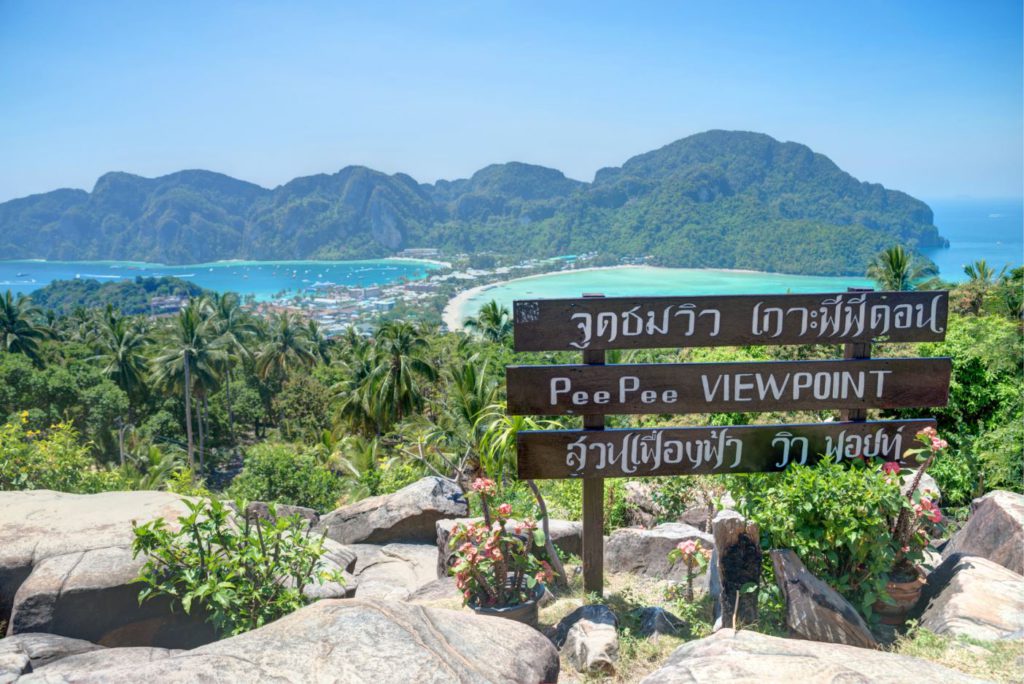 8. Watch a Sunset on the water
If you are going on an island tour starting early in the day, the chances are there that you will be back by afternoon. If you are heading out in the second half of the day, you will be able to catch the sunset on the water.
And it's beautiful! Our guide took us right in the middle of the sea and put the boat on halt, just floating naturally. And you watch the sun go down. If you are lucky, you may be able to spot some dolphins in the sea as well.
Book Evening tour with Sunset: From Koh Phi Phi: Island Hopping and Snorkeling Tour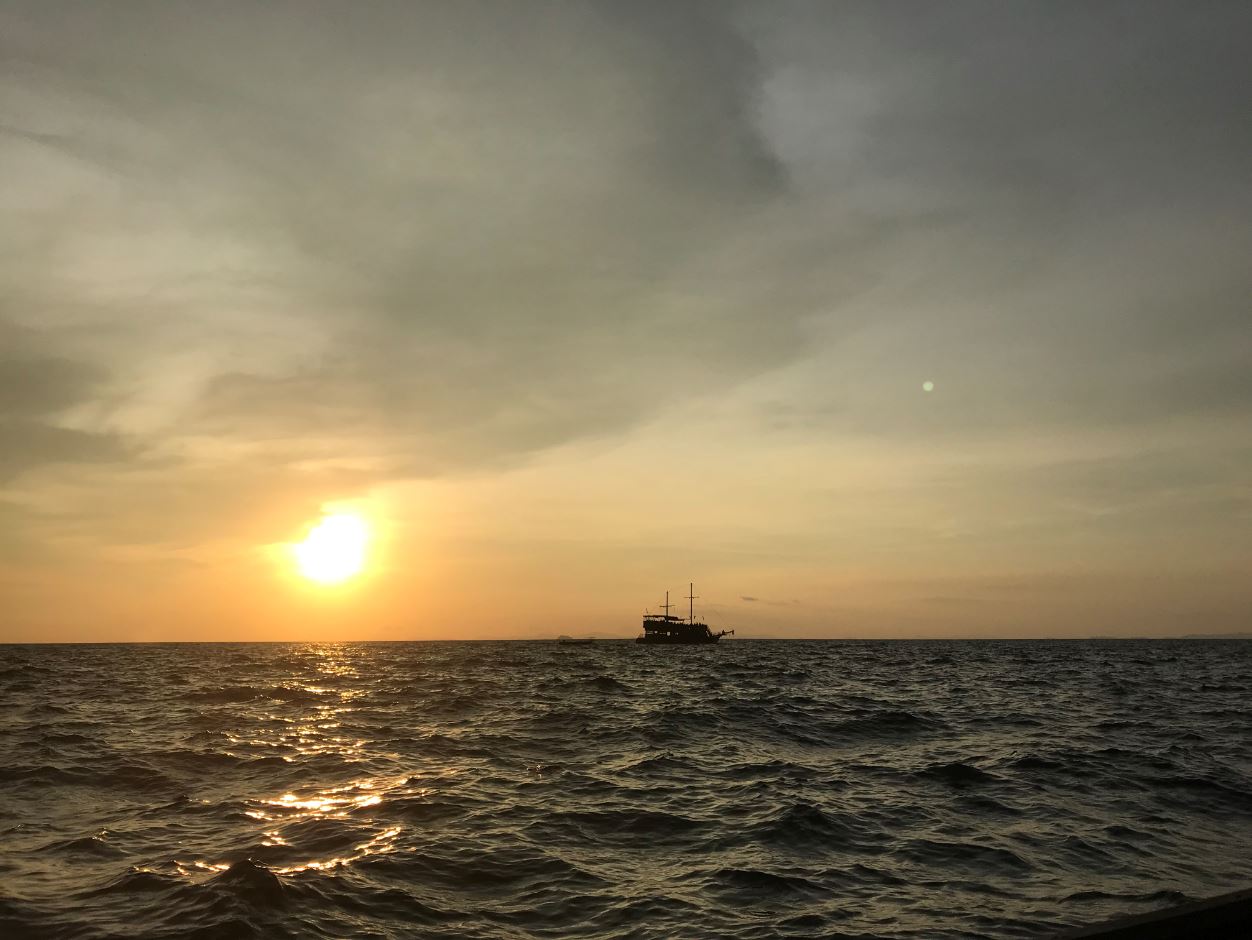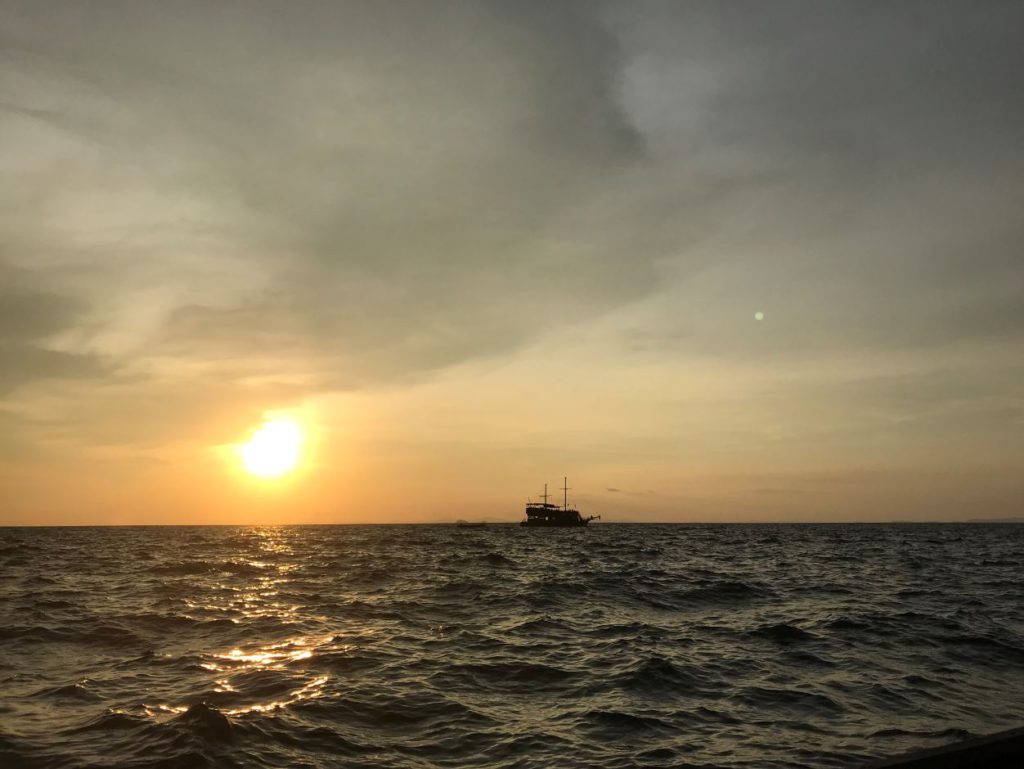 Where to Stay in Ko Phi Phi
There is no best place to stay in Ko Phi Phi since you can easily walk around the island regardless of where you stay. But if you want to be in the centre, pick a hotel near the Ao Tonsai pier. There are a lot of resorts, villas, and hostels in the area. Book ahead if you are here during the peak season.
There are quite a few hostels in Koh Phi Phi starting from THB 350 a night. You can prebook most of them online. Try hostelworld.com specifically to look for quality hostels.
Budget hotel prices range between THB 800-1500 a night. I suggest you book your hotel in Koh Phi Phi via agoda.com since they give deep discounts across most hotels in southeast Asia. Another website is booking.com.
Ko Phi Phi has some wonderful luxury and mid-budget resorts. They may even have private beaches. But with limited connectivity to the main marketplace. If you have a lot of luggage ask them to send a porter or private ferry to pick you up. You can also book island tours with them directly for a more private experience.
Mid-Budget Hotels: PP Insula Hotel, Phi Phi Indigo Hotel, P2 Wood Loft, Phi Phi Maiyada Resort
Luxury Resorts: Phi Phi The Beach Resort, Phi Phi Island Cabana Hotel, Viking Nature Resort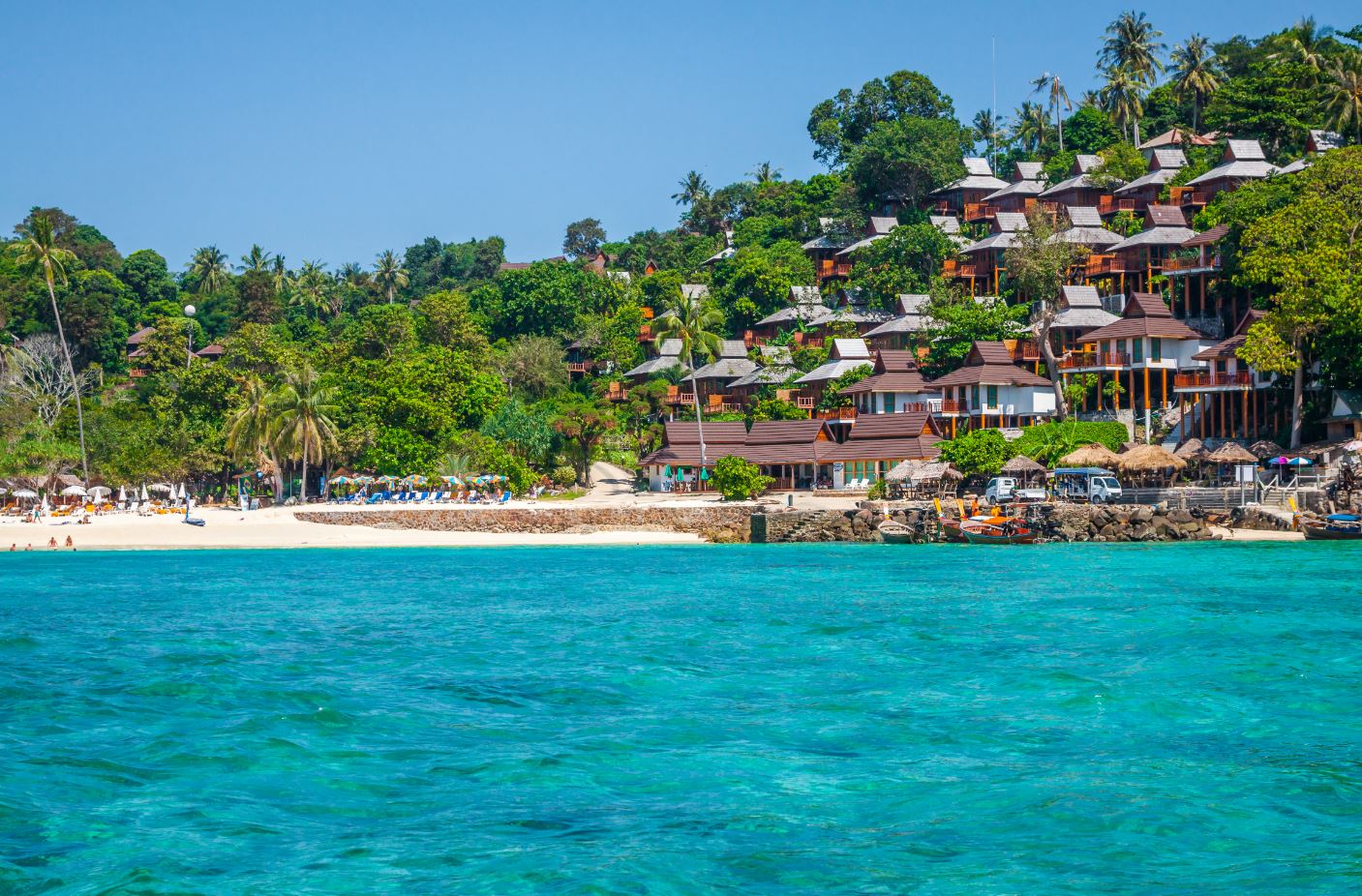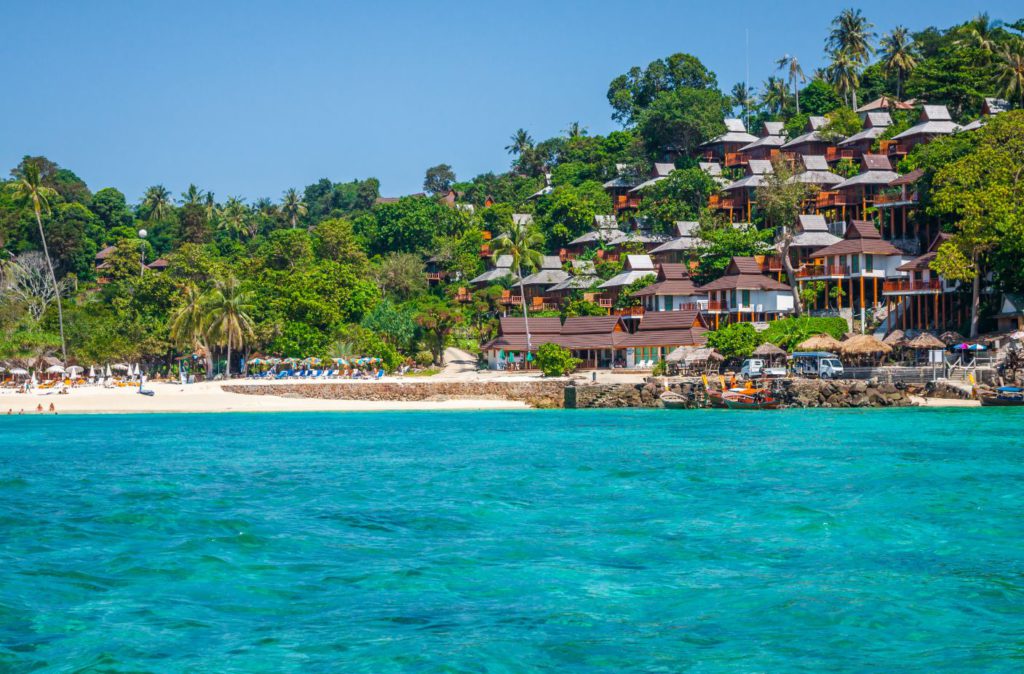 Facilities in Ko Phi Phi
Ko Phi Phi is an island and is at a good distance from main Thailand. Therefore, facilities are limited in some aspects.
Ko Phi Phi has convenient stores and you can find almost everything like in a regular 7-Eleven but pricier. There are a couple of ATMs in the main area but carry a good amount of cash with you since most hotels do not accept cards. Banking facilities are not available on the island.
Many parts of the island have limited electricity supply since they produce on the island using generators. Make most of the daylight. Charge your phones and electronics by night.
There is a medical center on the Ko Phi Phi Island that can handle minor emergency situations. But in case of a serious situation, they can arrange a speed boat to Phuket to a better-equipped hospital.
You can also find a couple of Pharmacy in the main area. However, if you have prescribed medicines carry enough with you and don't count on buying them on the island.
Save On Pinterest


Related Articles