17 Aug

Best Things to do in Koh Chang, Thailand

Koh Chang is another of my favourite island in Thailand apart from Koh Samet in Thailand. That's because not many tourists go that way. It is more of a local hotspot than an international destination.

But you will find all the throbbing pubs, bars, a raving nightlife, busy restaurants and of course, paradise-like coral beaches with white sand for miles.

We meant to visit the island for 3 days over the weekend but ended up staying for a week. And boy, we did not want to come back at all.

Here is our complete guide to Koh Chang, Thailand.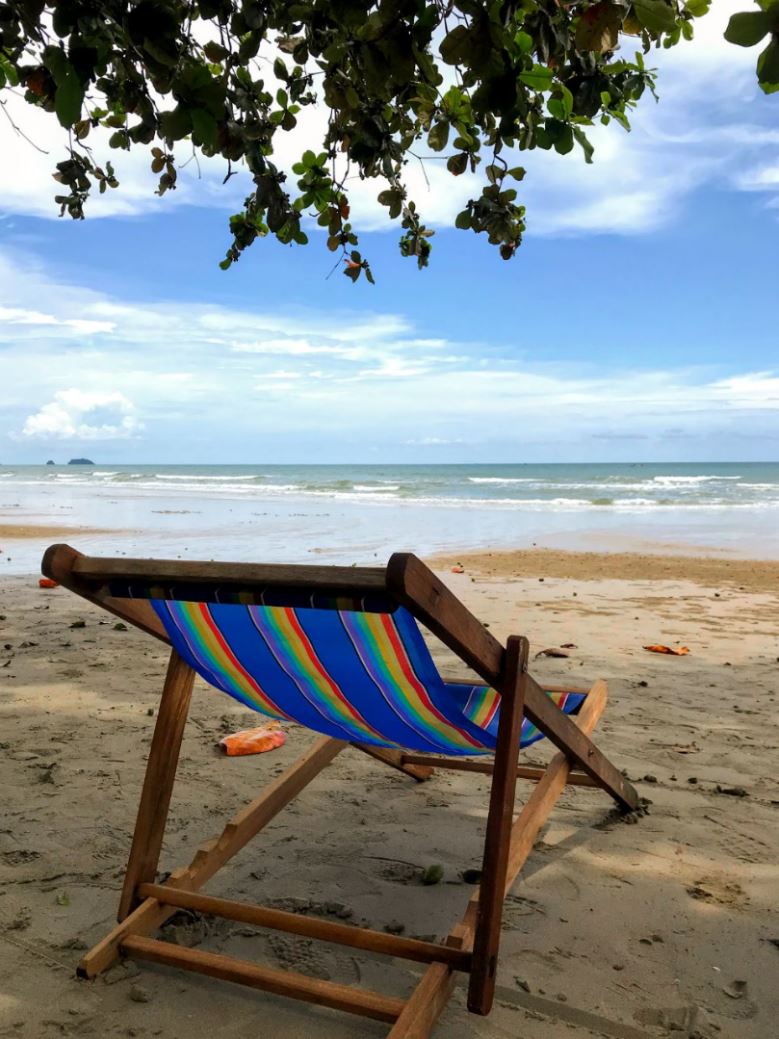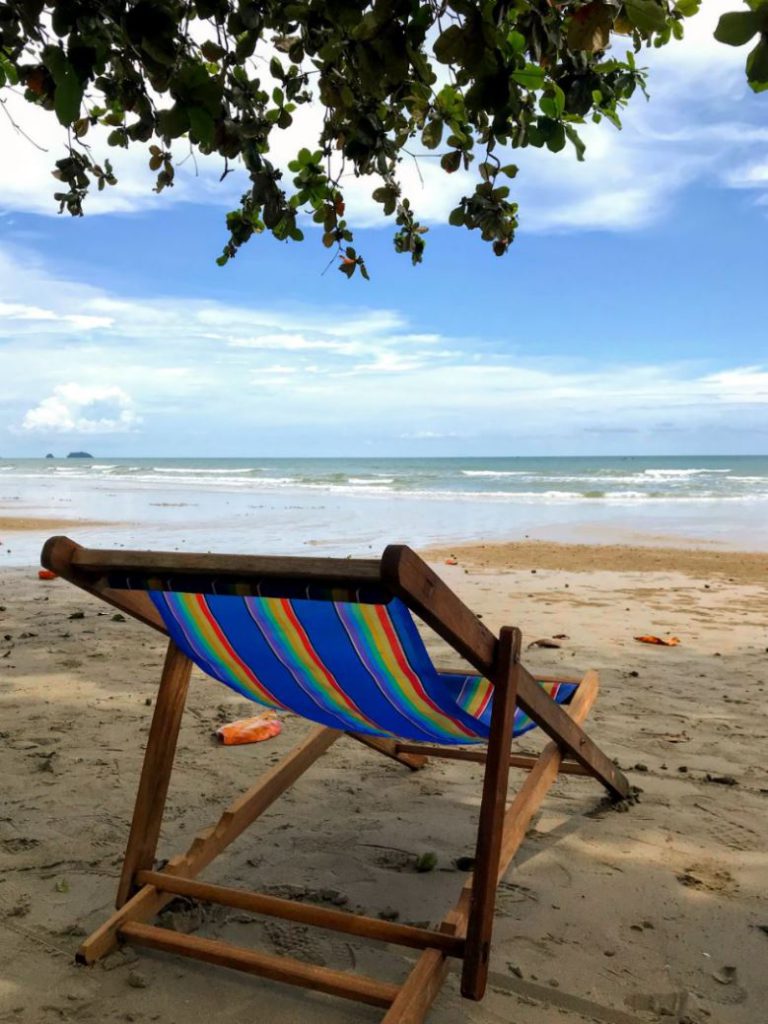 Where is Koh Chang
Koh Chang is located in the Trat province of Thailand on the far east coast bordering Cambodia. It is approximately 350 km from Bangkok that includes an hour of ferry ride from the mainland shore.
Best time to visit Koh Chang
Best time – Winter months (November – February): The best time to visit Koh Chang is during the winter months. The sky is clear, humidity low and the weather is as pleasant as it could be. All activities are open and the beaches are buzzing with people with great nightlife. Koh Chang is never too overcrowded with tourists, even during the peak season.
Summer months (March – May): Summer is scorching in Thailand as well as in Koh Chang. There are almost no showers during this time. Therefore, mid-day can get extremely hot and temperature can rise up to 32°C. However, the mornings and evening are still pleasant to move around.
Monsoon (June – October): Koh Chang receives regular rainfall during this time. However, the shows occur intermittently while the rest of the day is free to enjoy. Tourists are low, so many activities and restaurants are closed during this time. Hotels and tour operators offer a great price for stay and activities during the low-season.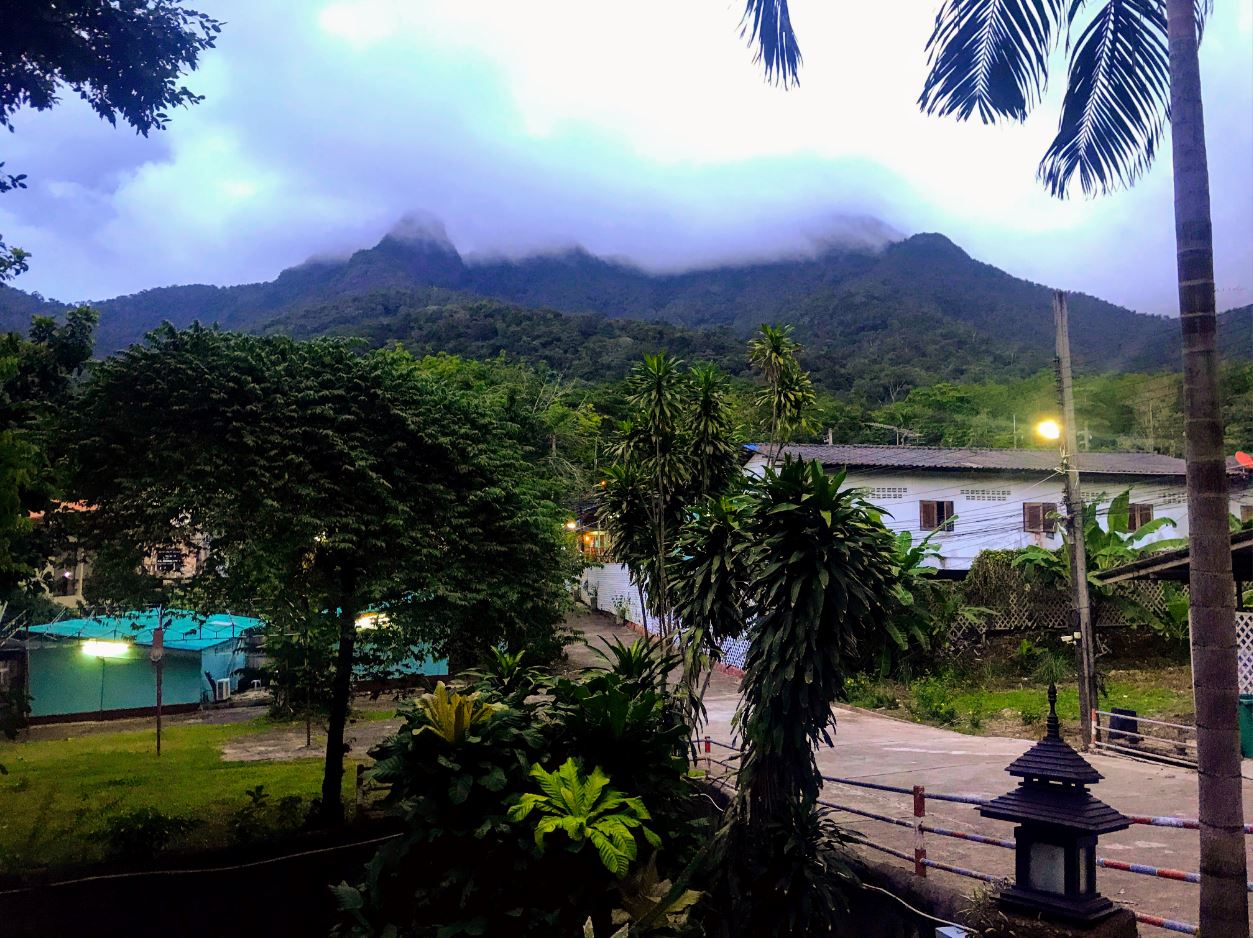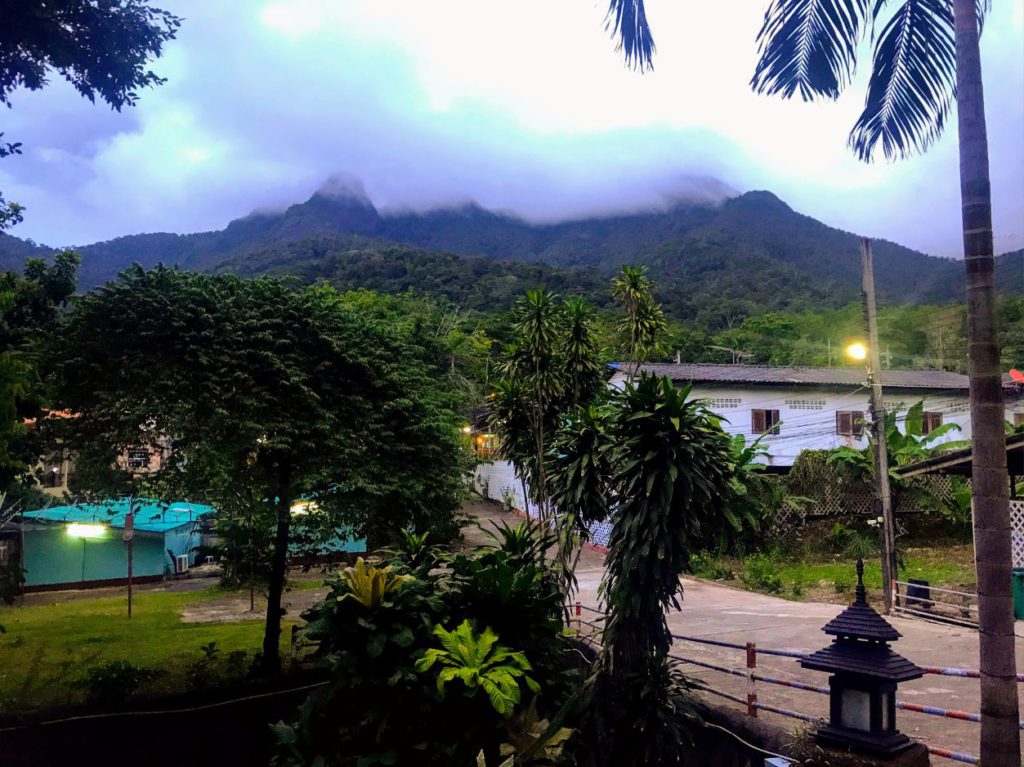 How to reach Koh Chang
To travel to Koh Chang, you need to break your journey into two parts – the drive to the pier and the ferry from the pier to the island.
Bangkok to Pier: If you are travelling from Bangkok, you can take a direct bus from Ekkamai Bus Terminal to Ao Thammachat Pier. Another pier is Center point ferry Pier which is a little ahead of Ao Thammachat. Sometimes you may get an included ferry ticket at the counter, do enquire which pier it goes to.
There are two bus services Tanakawee or 99 Express that directly leave from Bangkok to the pier. The buses start at 7.45 am and 9 am from Ekkamai Bus station to the Piers. They return at 2.30 pm and 4.30 pm from the piers. It takes around 6 hours for the journey. Minivans are available from Pattaya and Rayong as well.
If you do not get a direct bus to Ao Thammachat, you can also take a bus to Trat bus station, take a songthaew (available at the bus station) for 80THB per person. The songthaew will drop you to one of the piers. You can buy the ticket to Koh Chang from there if you haven't bought one already.
Both buses and minivans are available for the journey. While minivans are faster, buses are more comfortable. You book your ticket at bookaway.com, busonlineticket.co.th or 12go.asia.com
Pier to Koh Chang: The boat ride to Koh Chang is easy and uneventful. You will be able to get a great view of the island from the shore itself. If you are hungry, noodles and some drinks are available onboard.
As soon as you get down at the pier, you will be able to find a songthaew (the driver will probably approach you anyway). You tell him your destination and he will quote you a price (usually non-negotiable but fair) and he will drop you there. The fare will probably range between 40THB to 120THB.
Both Ao Thammachat and Ferry centre point have different corresponding piers on the Koh Chang island. Ferry centre point is 3km from the other pier. You can easily find a ride from both.
Self-drive: A far more convenient way to visit Koh Chang is drive all the way. You can carry your car across the water on the ferry to the island. It is a great option since there aren't a lot of options for public transport on the island.
Flight: You can also take a domestic flight from anywhere inside Thailand to Trat airport and then take a cab to either Koh Chang pier (and take a ferry) or take a cab that goes to Koh Chang directly travelling across the water.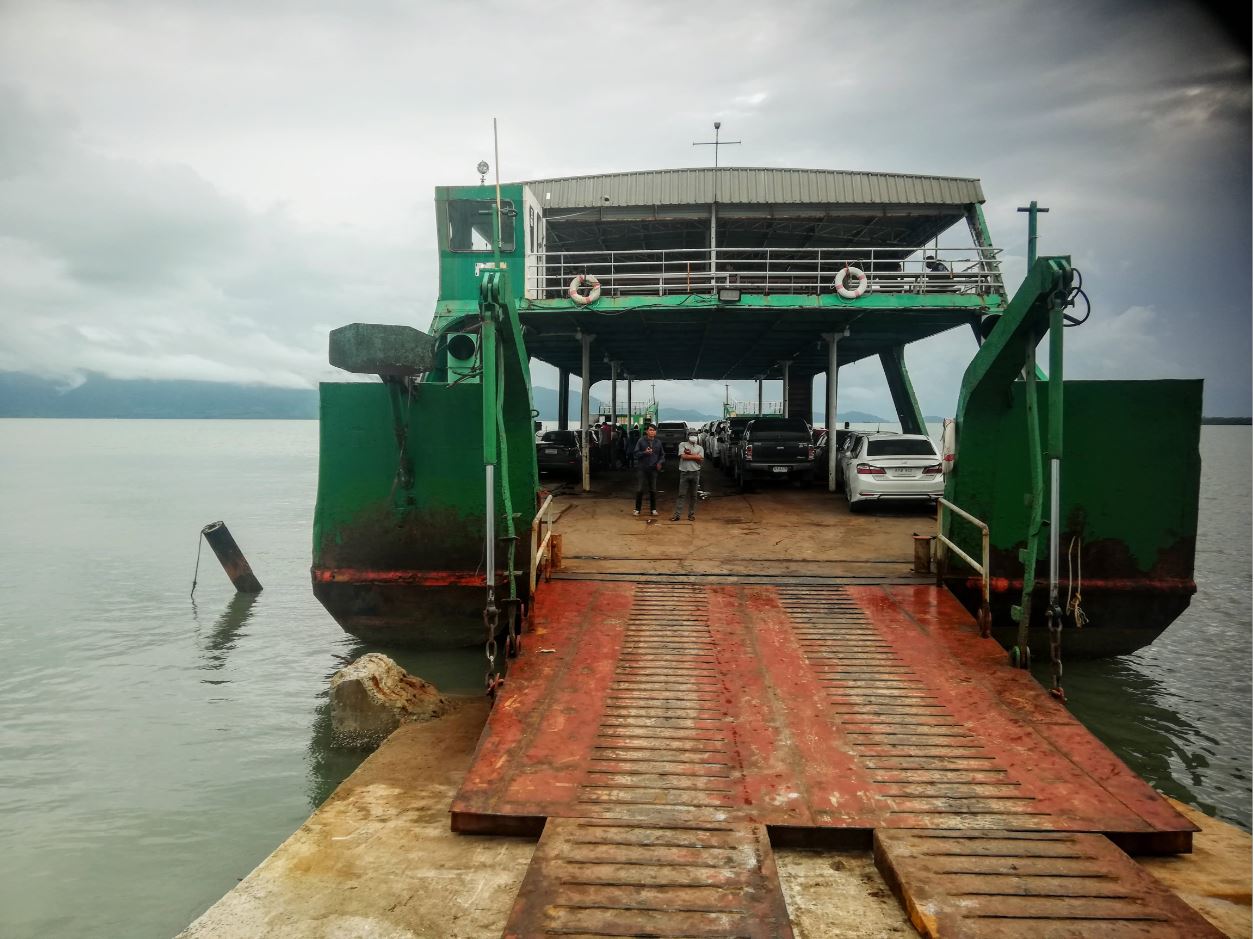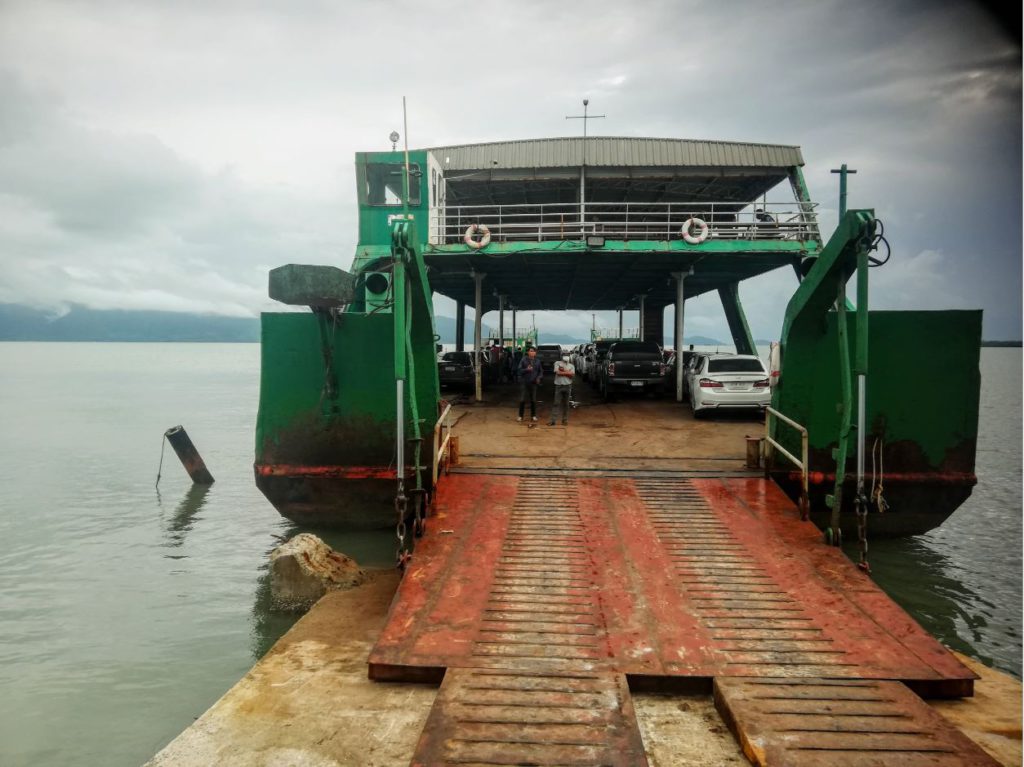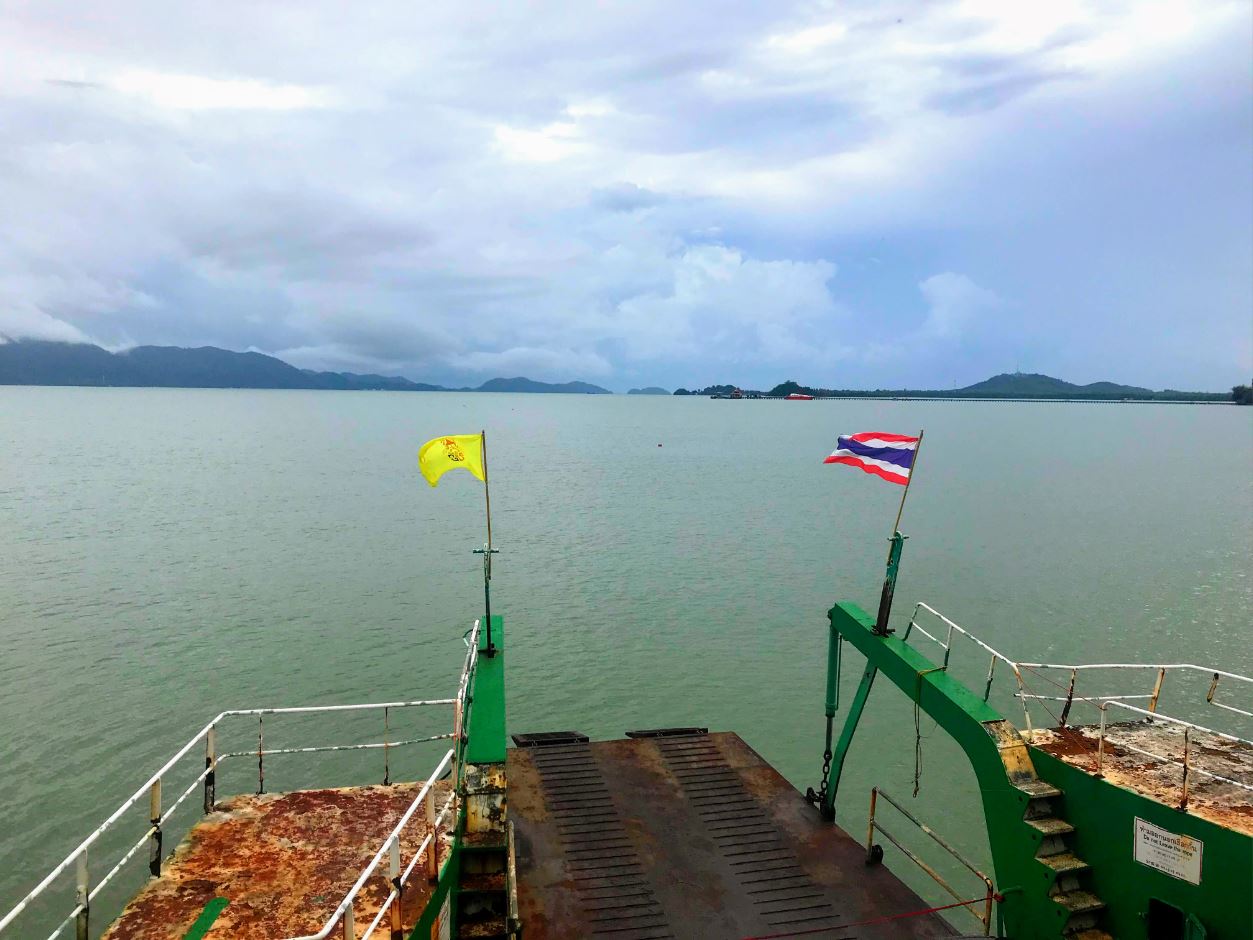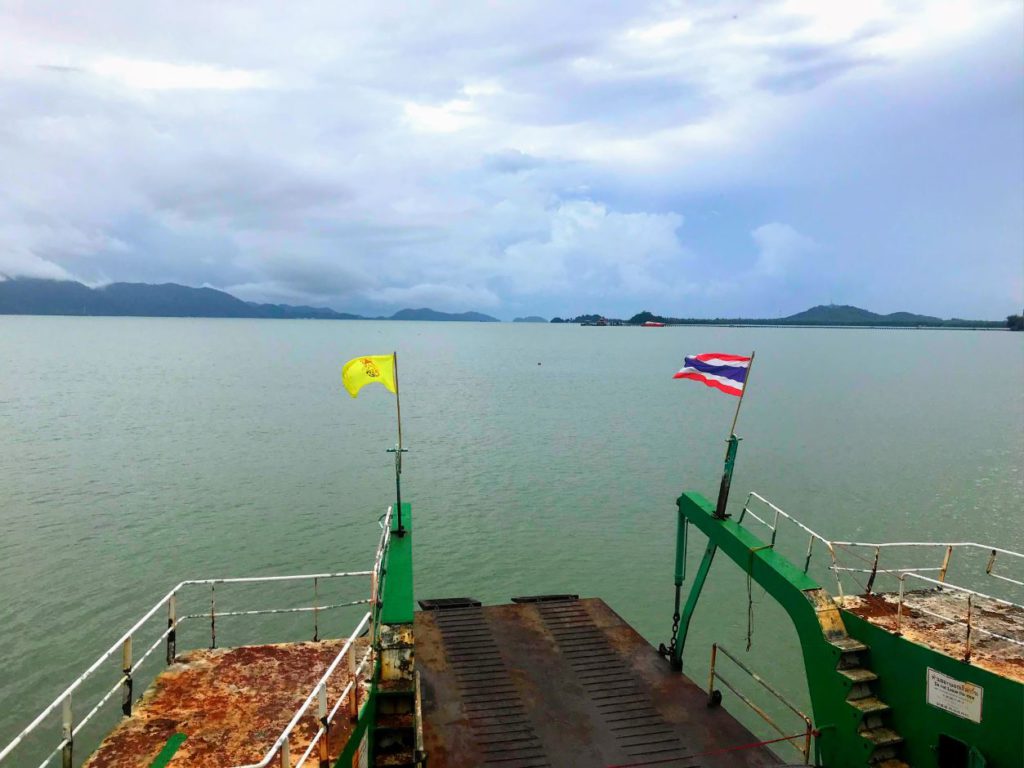 How to go around Koh Chang
Koh Chang is huge! Therefore, you will not be able to cover the island on foot. You use one or a combination of following options to go around the island.
Songthaew: Songthaews are available in Koh Chang around the island on major routes and main roads. But their timings are fixed and you may not be able to hail one at your convenience.
You can get one to-and-from the pier to any part of the island. For other places, it is best to talk to a local like your hotel staff to know their schedule ahead of time.
Motorbike: A two-wheeler is probably the best and most affordable option on Koh Chang. A day's rent starts from THB 150 a day without the fuel. While refilling stations are sparse, you can get fuel at any of the rental shops. The rentals usually take the copy of your ID (like a passport) or a security deposit. Driving around the island is easy but if you aren't used to it, avoid the steep curves and terrain.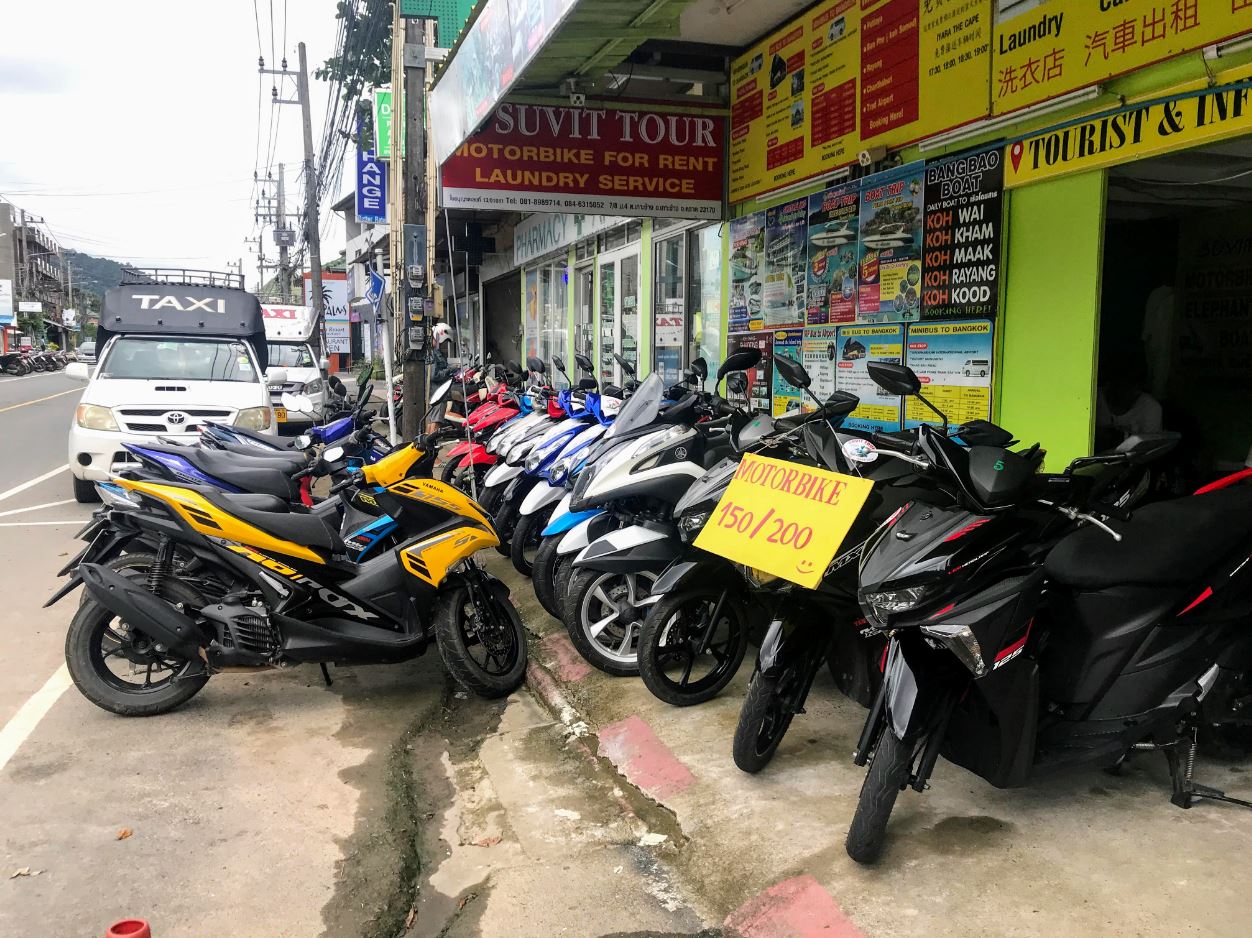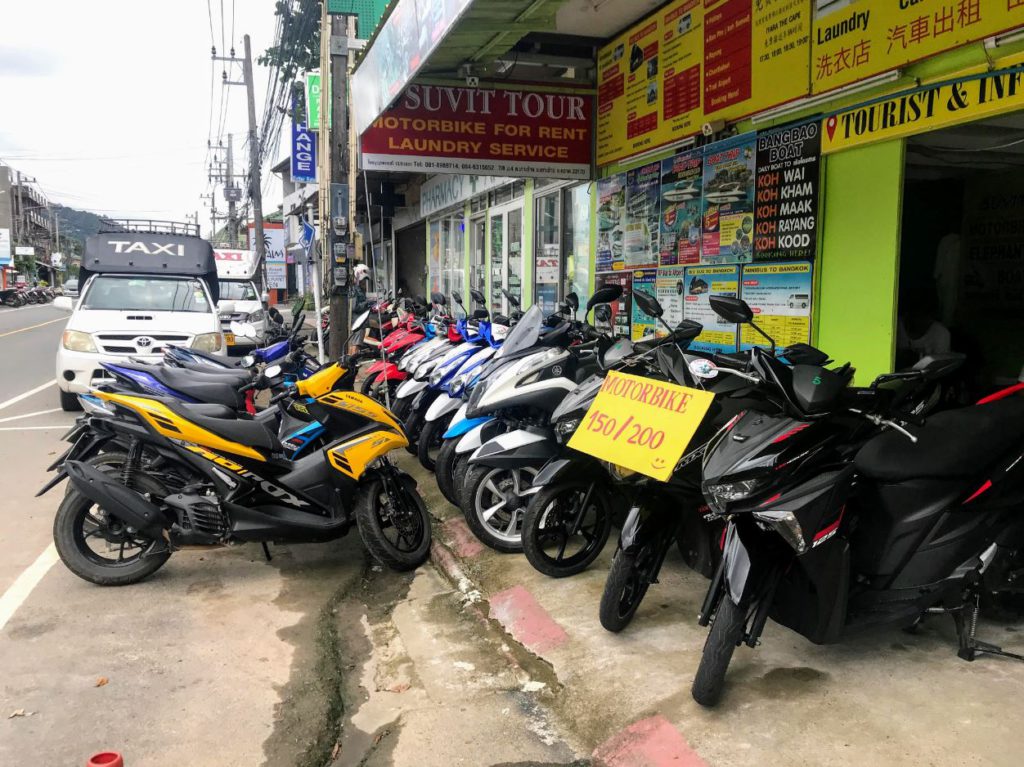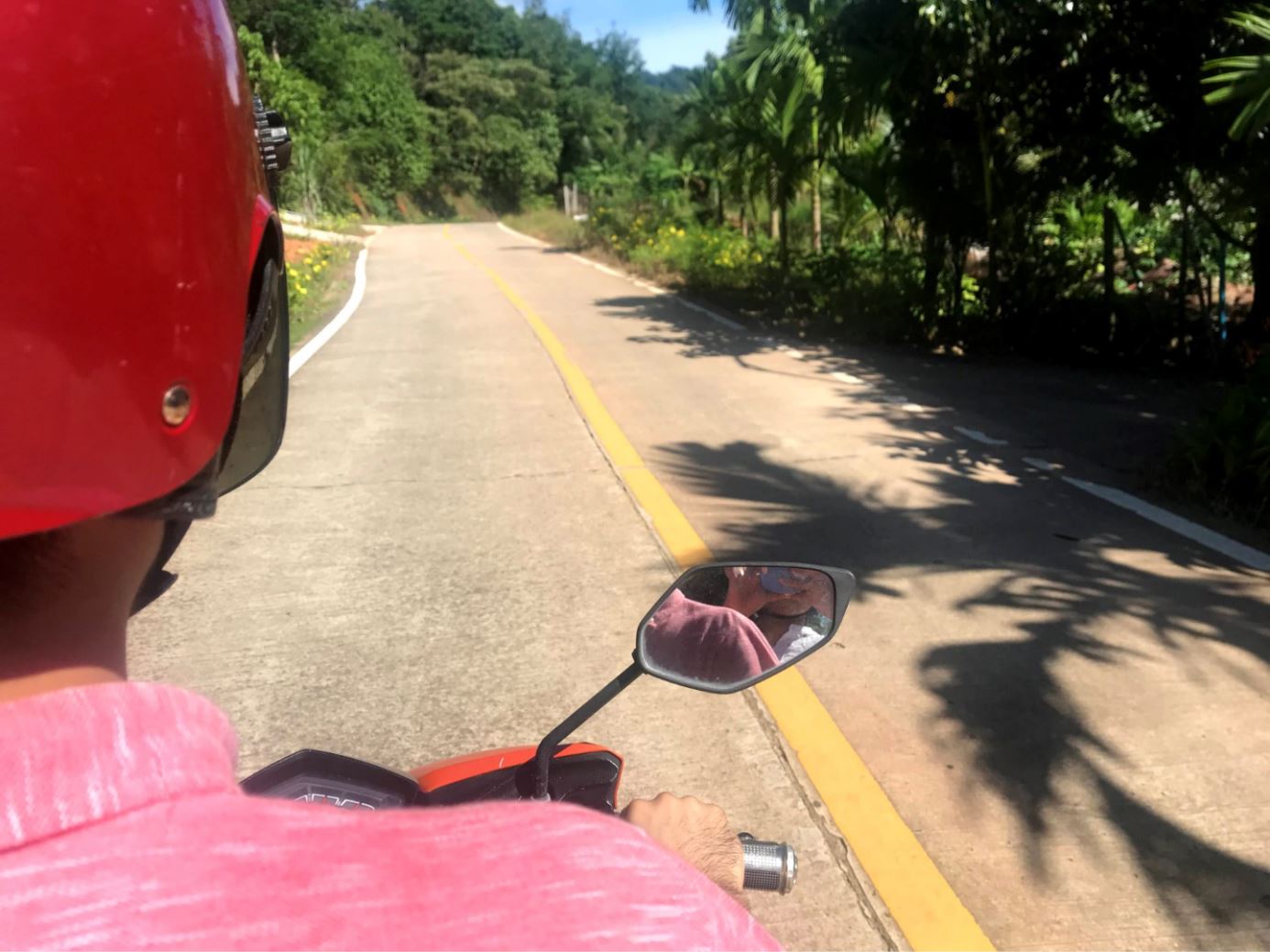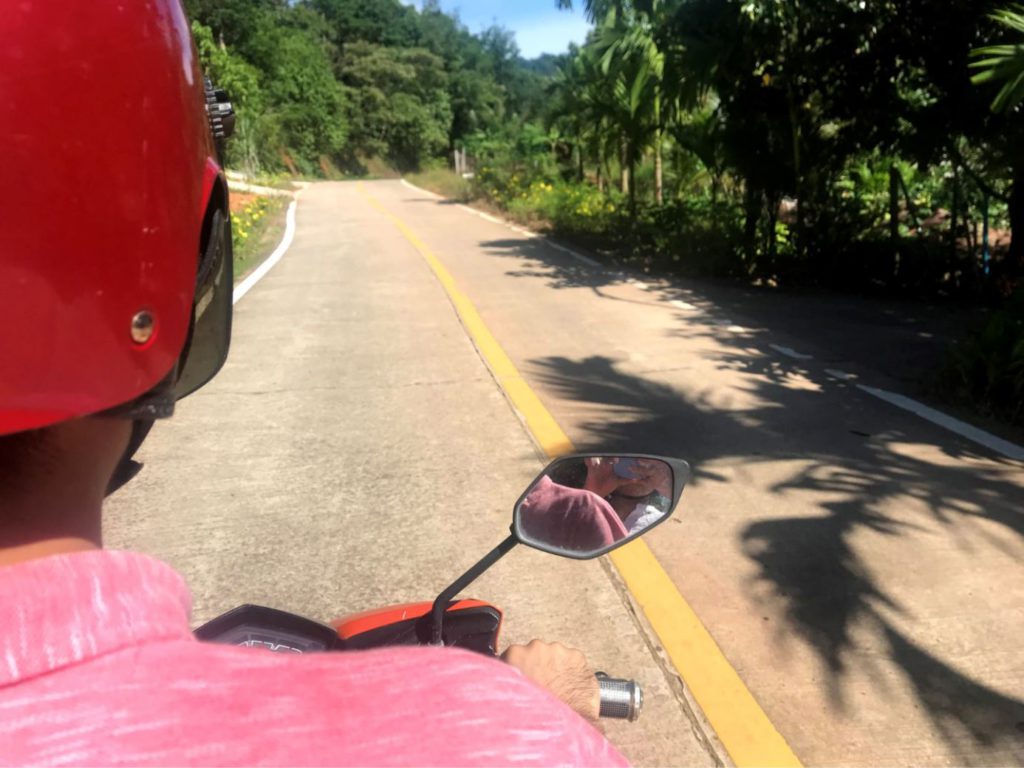 Daytour: If you are travelling in a group or with family, a day tour is a great option. There are numerous travel agents around the island that provide full or multiple day tours that take you around the island. The vehicles are comfortable, the driver is much like a tour guide and you get to chat with a lot.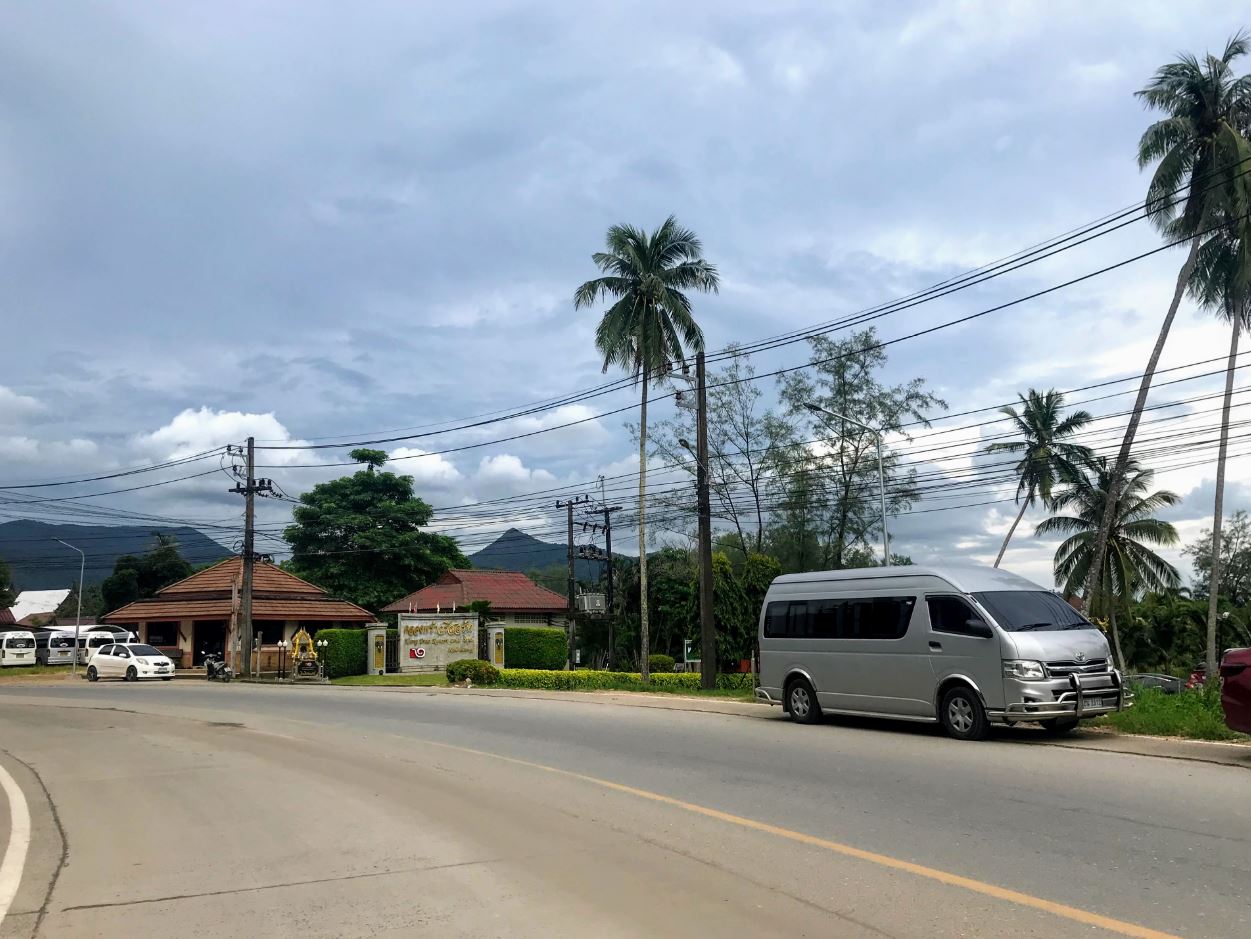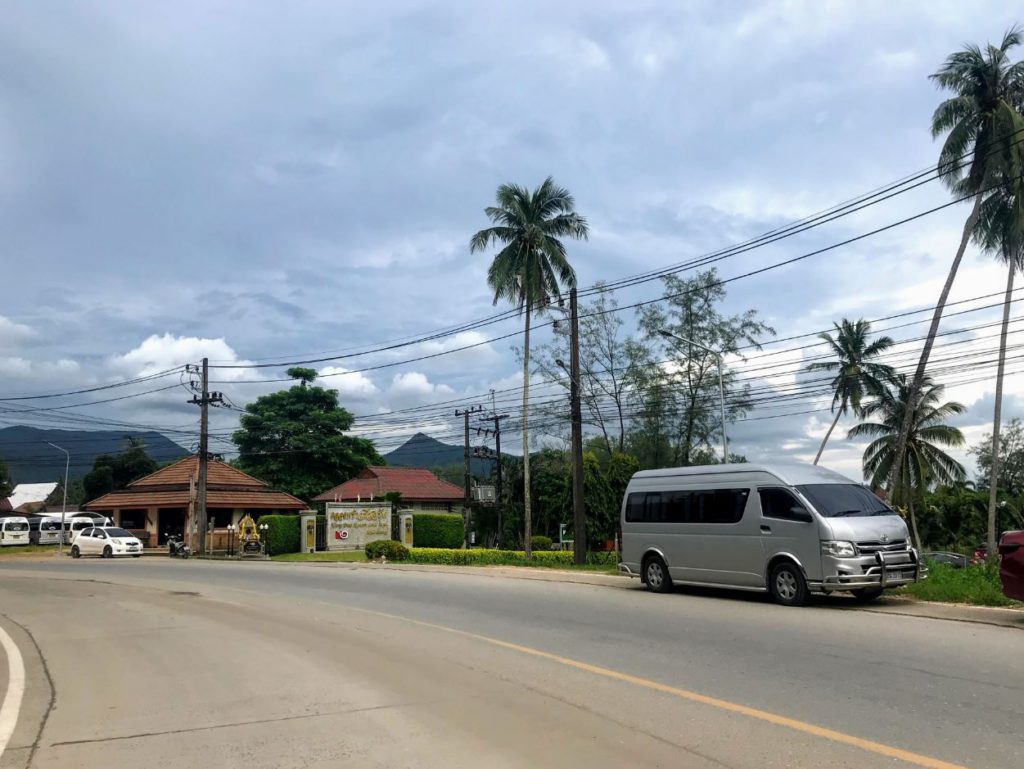 Things to do in Koh Chang
1. Beaches
You come to Koh Chang for its beaches. And there are plenty of them. If you can, stay at one. Many resorts give a spectacular view of the ocean right from the window. Here are some of the popular beaches that you can put on your list.
White Sand Beach: White sand beach and the area around it is one of the most happening areas of the island. The beach is lined with dozens of seaside resorts and restaurants with deck chairs on the beach.
During the day the beach is buzzing with tourists and activity. Various tourist operators provide options for water sports like jetski, kayaking and banana boat rides. Tubes and inflatable floating are available at many shops around the beach.
On the other side is a street lined with a flea market, souvenir shops, pubs and restaurants. It also makes it a good place to stay.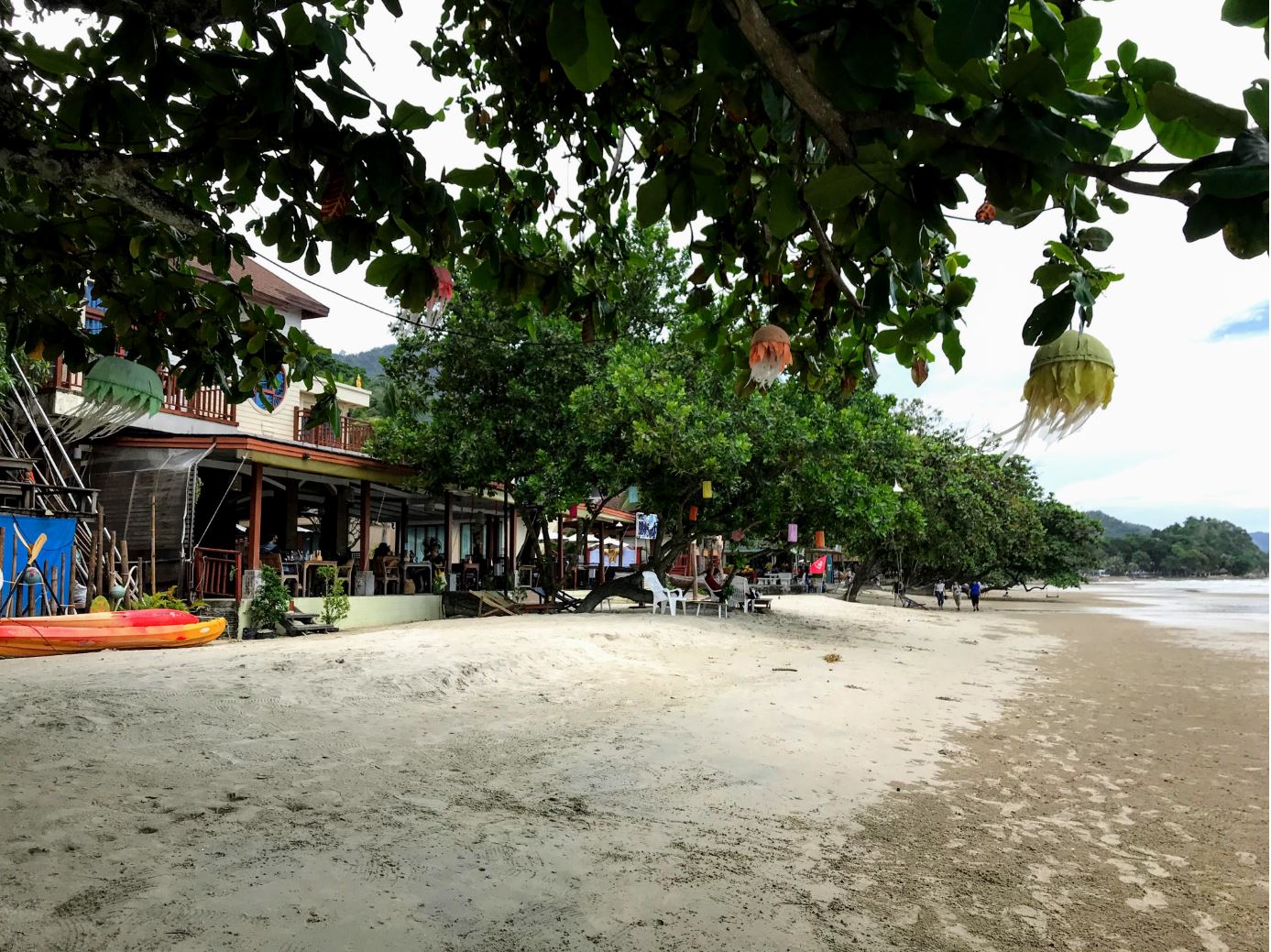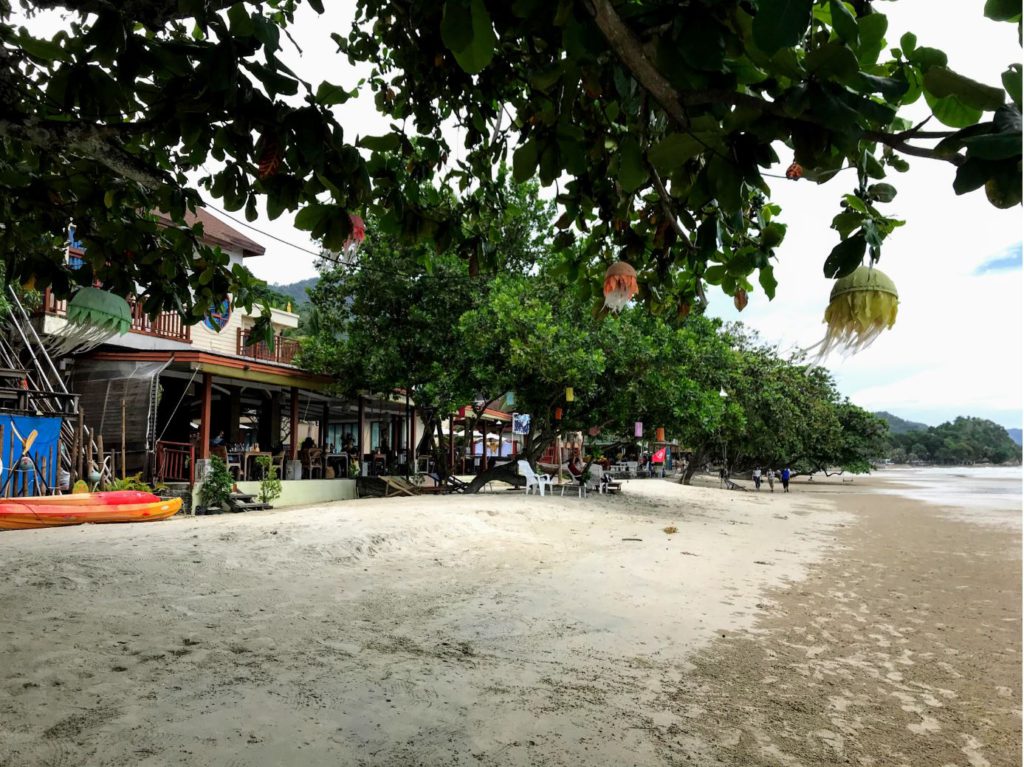 Lonely Beach: Another one of the popular beaches, the lonely beach is located further south. The area near the lonely beach is extremely lively with restaurants and pub of international cuisines and theme bars. You will find Italian, American, European, Mexican and many other themed restaurants.
Although the beach in itself is slightly secluded and there are not a lot of restaurants right on the beach. You can find some great beach resorts to stay here as well.
Other Beaches: Hat Kai Mook (Pearl Beach), Kai Be, Chai Chet, Klong Prao
Love Beaches? Here is What you will find at Koh Phi Phi in Thailand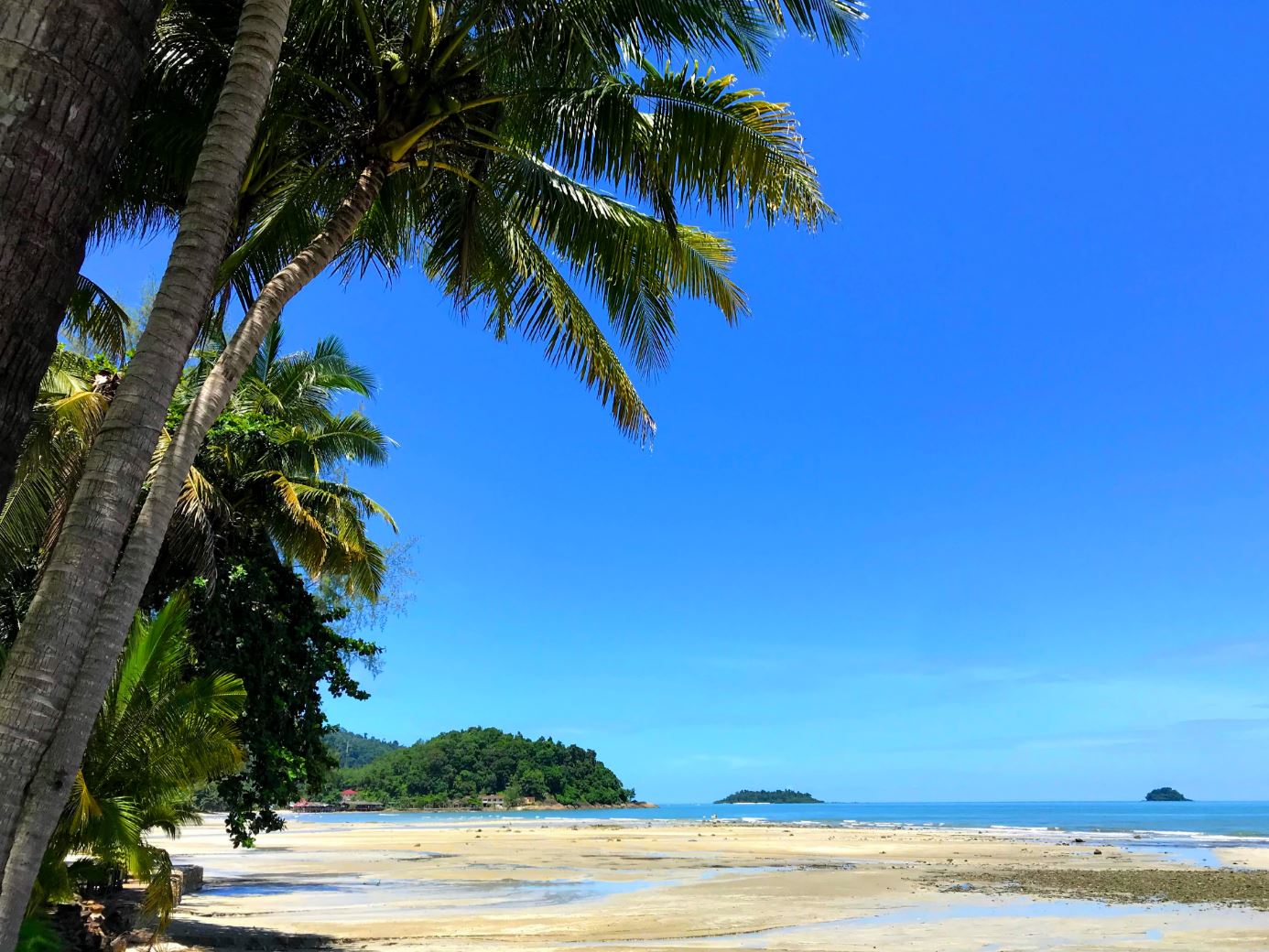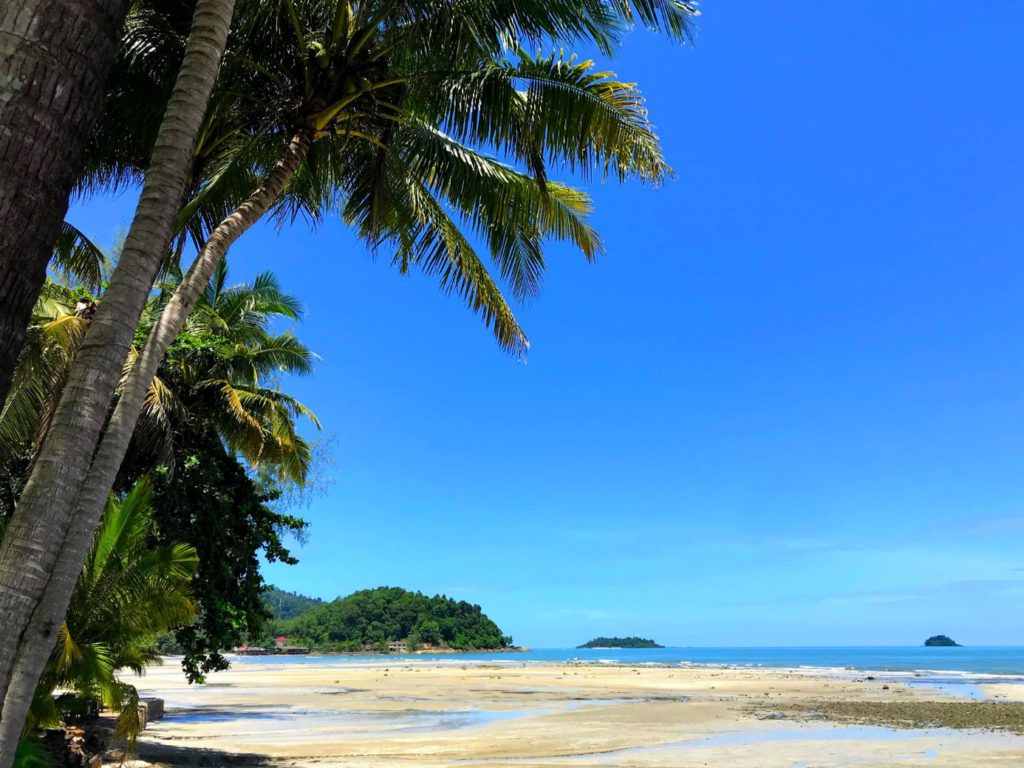 2. Activities
Snorkelling: While the beaches offer little opportunity for snorkelling, you can catch sight of some good corals and plenty of fish off Hat Kai Moon (Pearl Beach). Other than that, there are some fantastic diving sites a little off the shore from Koh Chang.
You can take a group tour with one of the tour agencies. The tour usually includes snorkelling gear, a crew that takes you around at least 3 diving sites, a few beaches and a great lunch buffet with snacks.  You can book a group tour at one of the tourist agencies on the island, check with your hotel for one or book a tour online.
Book a snorkelling tour: Koh Chang: Full-Day Reefs or Wreck Sites Snorkeling Trip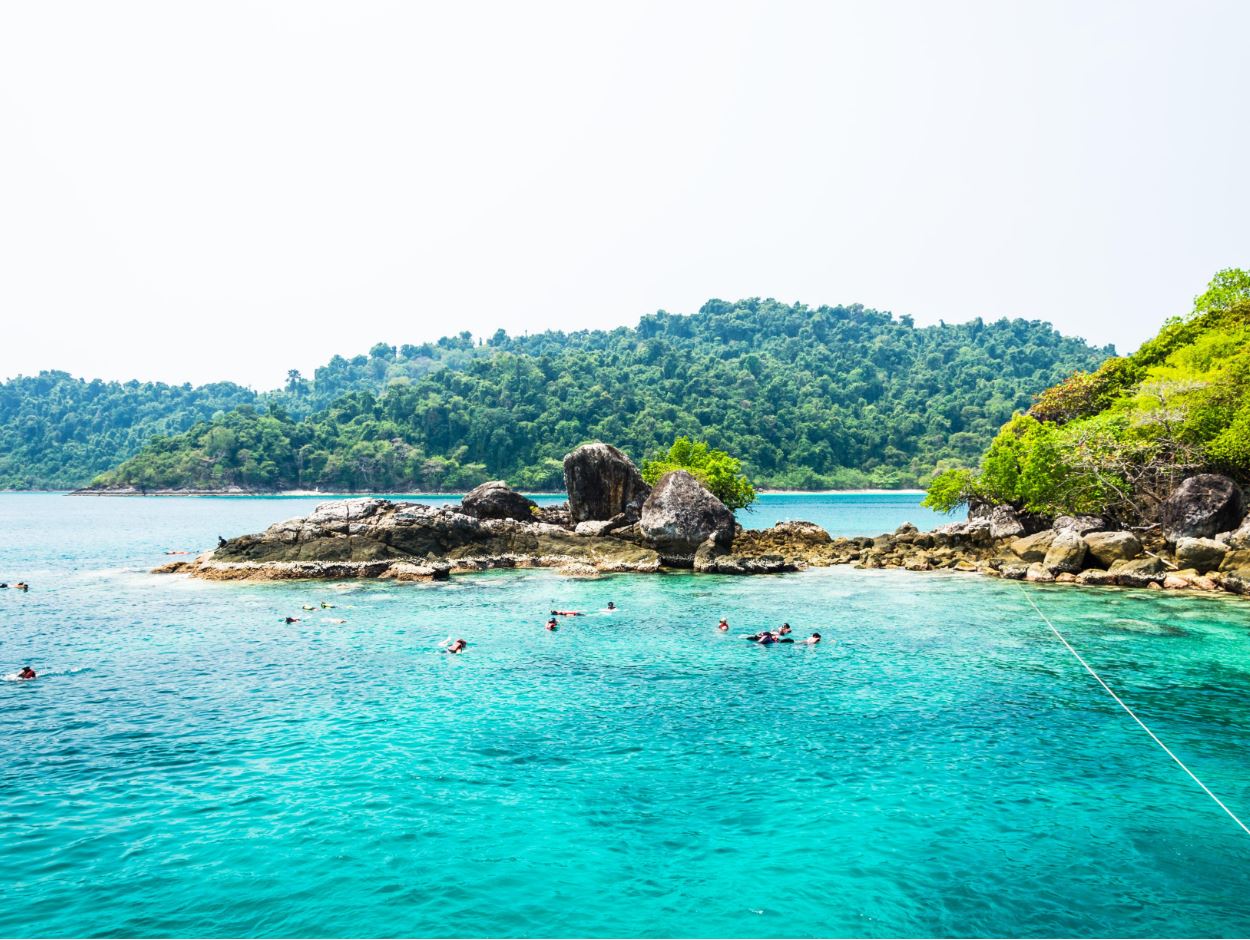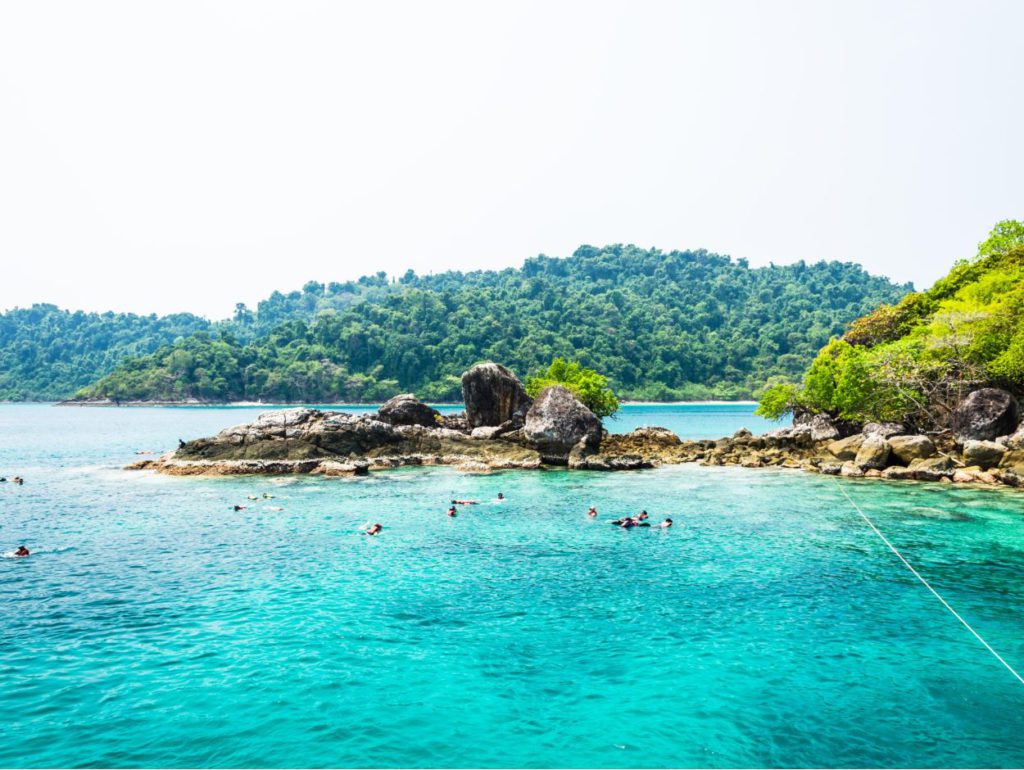 Scuba diving: If you are interested in scuba diving, you can enjoy it in two ways. If you are a beginner and want to enjoy the day, you can take a one day trip off the coast of Koh Chang where they take you to 2 diving spots in a day with a professional diving instructor. Lunch and snacks are included.
In case you want something more advanced, you can take a full 3-day scuba diving course with PADI certificate. It will include a lot of information about marine life, fish and corals. There are two sites in Koh Chang with shipwrecks frequented by open water divers.
This one is a lovely experience where you learn to grow corals with local divers on Koh Chang.
Stand up Paddling (SUP): Stand up paddling is a fast-growing water sport that is now available in Koh Chang. A SUP station next to Iyara Seafood is a great spot at the mouth of Klong Prao River. SUP Adventure Asia is a business located on Klong Koi Beach who can teach and take you on tours in the area or provide boards if you want to go by yourself.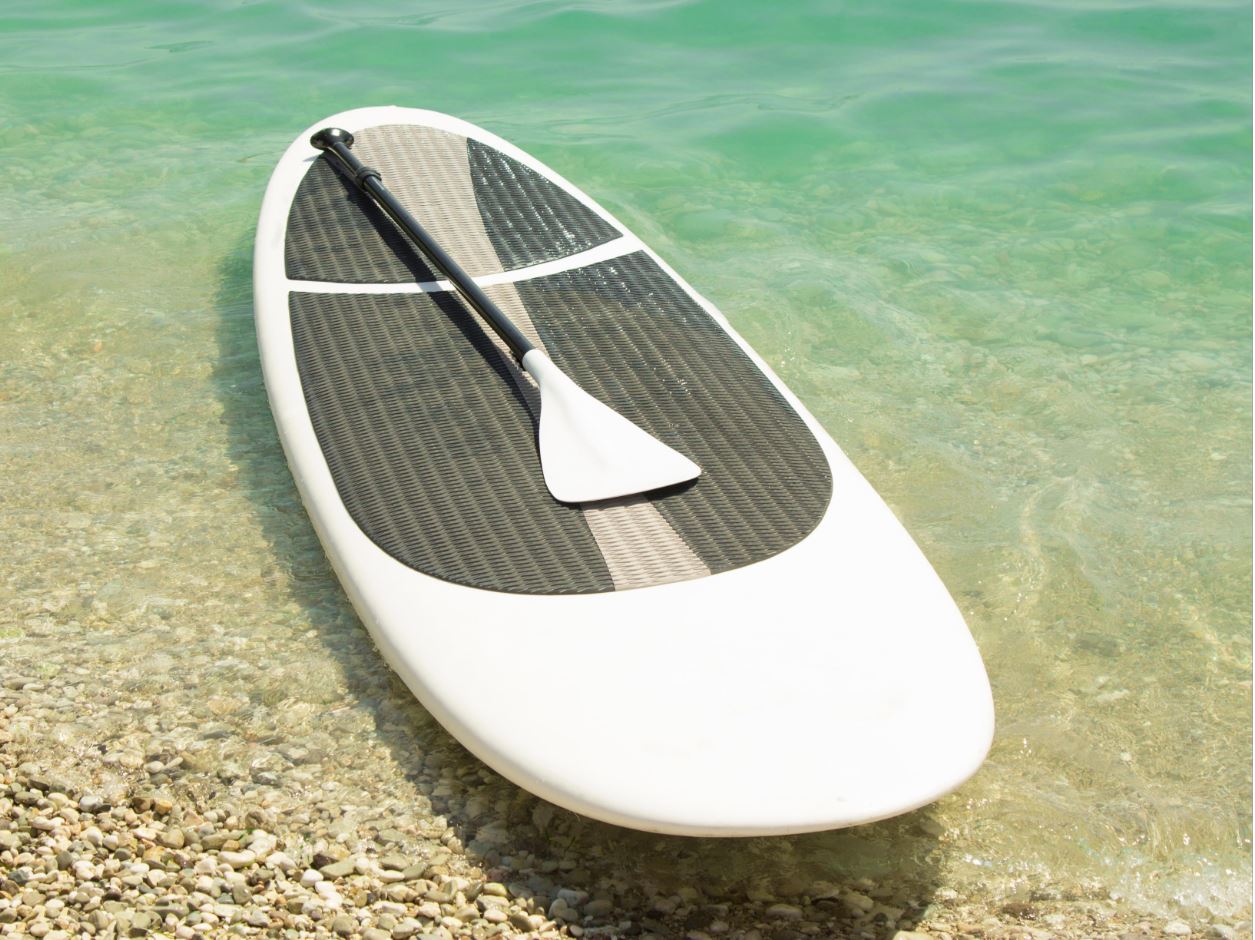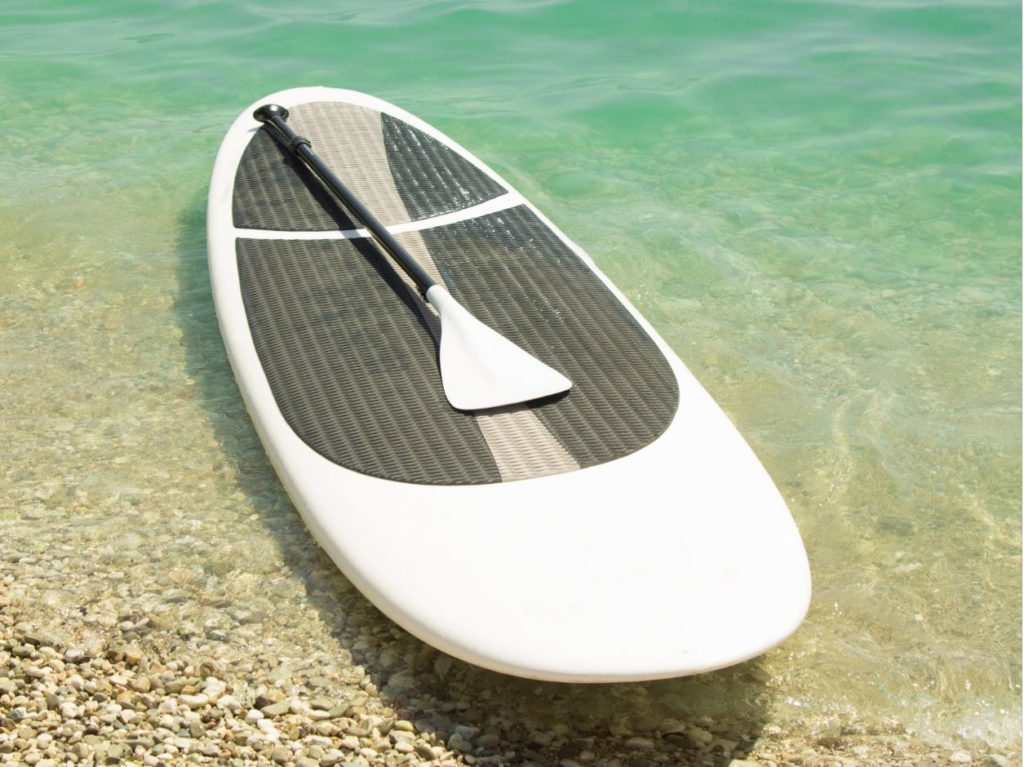 Ziplining: Koh Chang is thick with mangrove forests and thriving wildlife. In the middle of the jungle are activities like rope bridges, Tarzan swings, flying skateboards, and giant zipline offered by tour operators. Check out the activity here to book online.
ATV: An interesting activity in Koh Chang is riding the ATV through the thick forests across water streams that takes you up to some great viewpoints on the island or a trek to a waterfall. A guide usually leads the way. The ride lasts between 60-90 minutes and can be intense. Check out ATV activity in Koh Chang here.
3. Waterfalls
There are definitely a lot of waterfalls in Koh Chang. Some are well, just streams of flowing water. Others are gigantic drops of gushing water with a strong current.
The biggest waterfall is Khlong Phlu waterfall near Khlong Prao beach. You will need to trek for 10 minutes to reach the waterfall. There are areas where you can take a bath and enjoy the water safely. The ticket price is 200THB per person for foreign tourists and 20THB for Thai nationals.
Another popular waterfall is Khong Chao Lueam waterfall near the piers in the north part of the island. The entrance is free.
If you are travelling on the east coast of Koh Chang, there are at least 4 waterfalls on the stretch. These are usually secluded and you will hardly find any tourists on them. These are Khlong Nonsi Waterfall, Than Mayon Waterfall, Khlong Neung Waterfall and Khiri Phet Waterfall.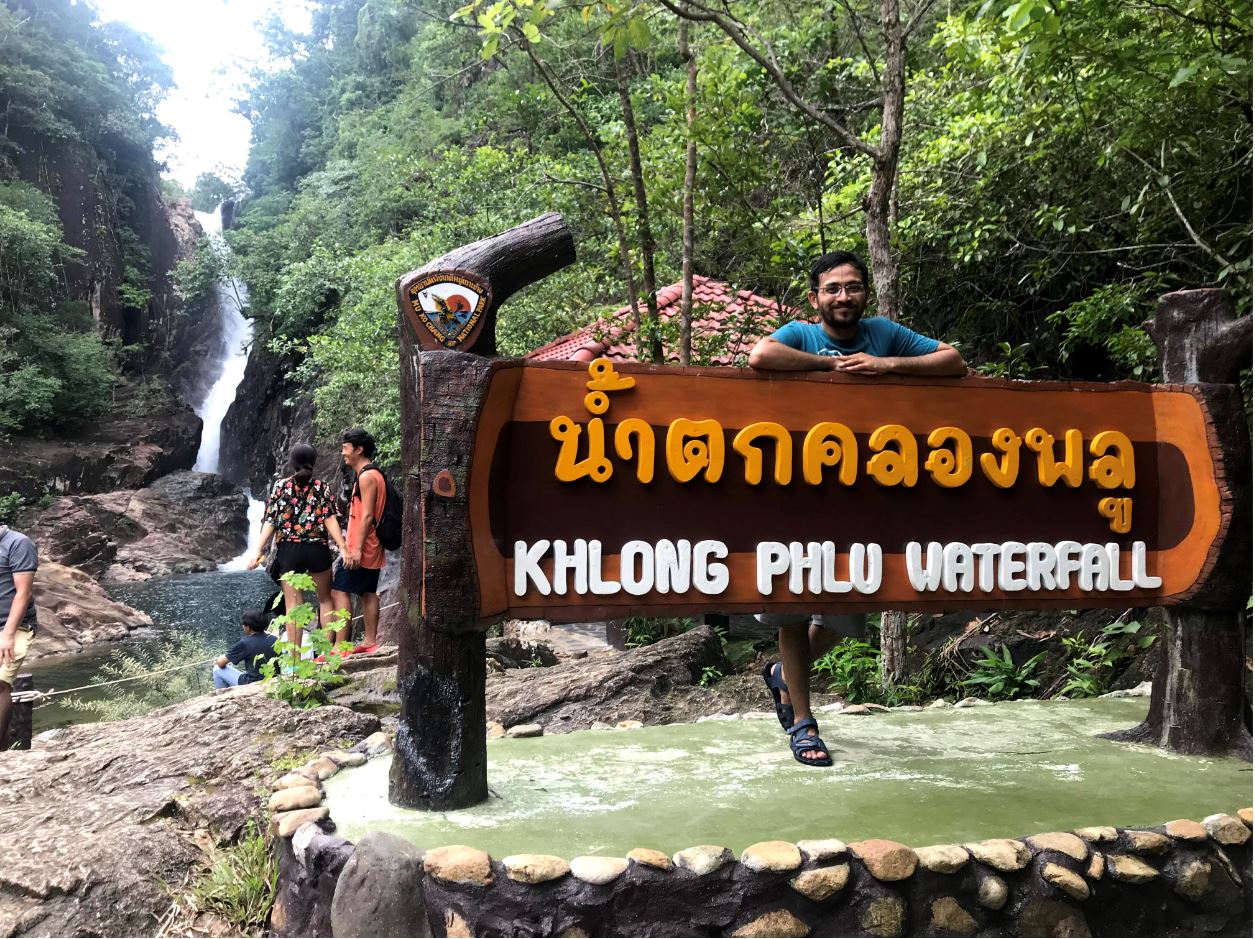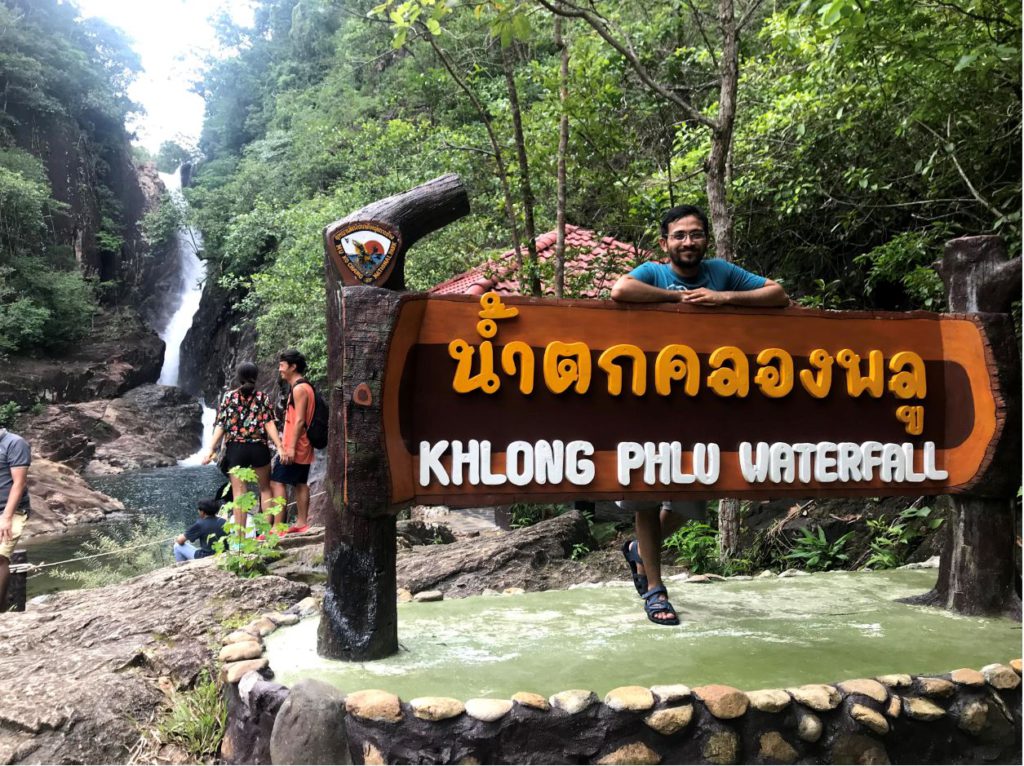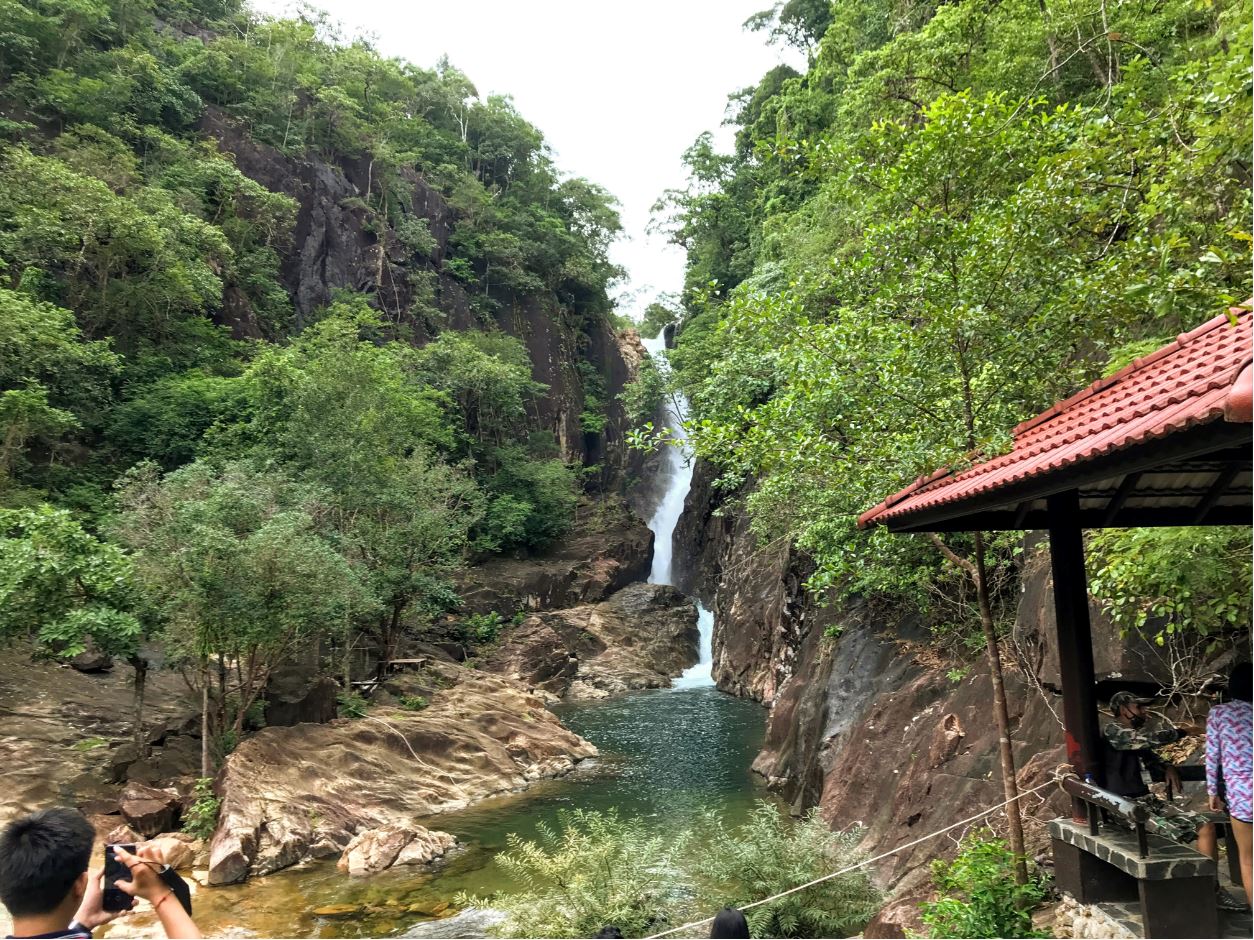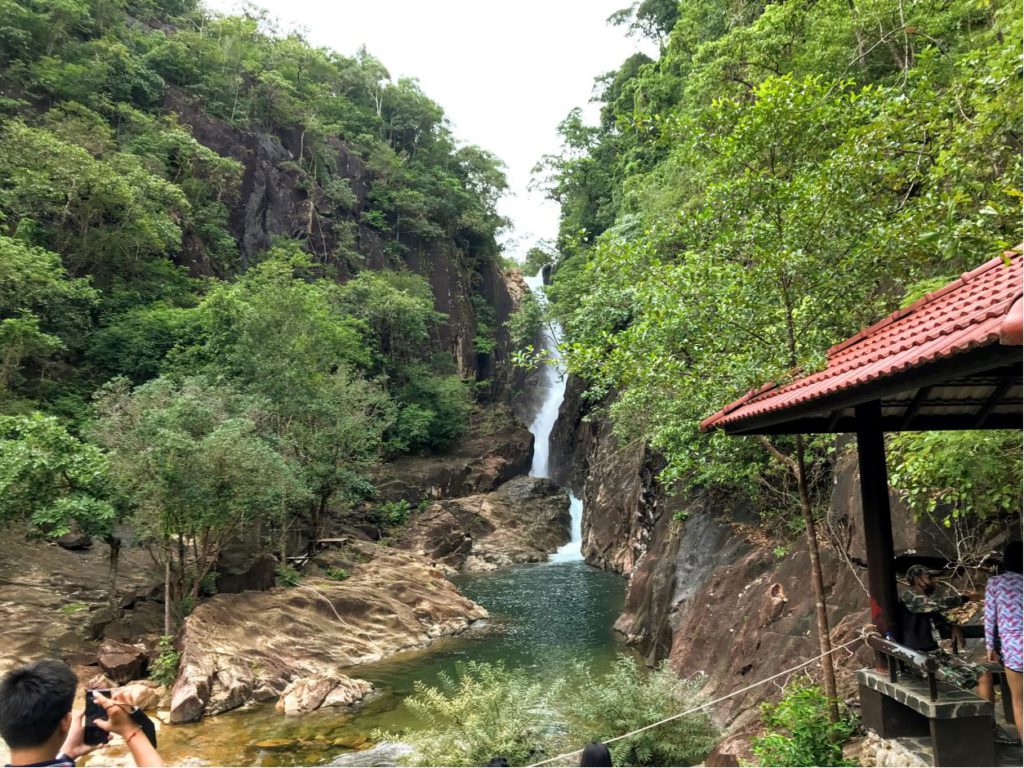 4. Island Tour
The island tour is probably one of the most popular activities around Thailand's shoreline. And you cannot deny that these are not beautiful.
If you are in Koh Chang for a weekend and would like a peek around the islands, I will suggest you take a one-day tour. These are usually single-day tour that starts in the morning, take you around some lovely white sand beaches, halt at a couple of snorkelling sites, take a tour of nearby islands paired with a lunch and some snack.
Here is a popular 4 or 5 island tour from Koh Chang
Another way to explore the islands is to go live on them. However, there are only two main habitable islands near Koh Chang that have enough facilities for tourists. Direct boat from Koh Chang to these islands run throughout the year except during monsoon from June to October.
Koh Mak: Koh Mak is a small low-lying island of only 16 sq. km on the south-east coast of Koh Chang. Unlike Koh Chang, its terrain is flatter that gives way to coconut and rubber plantation. The life is much slower on this island with only 800 inhabitants. You can expect a long stretch of beaches with no human intervention. Resorts are available on the island and you can rent a bike to move around.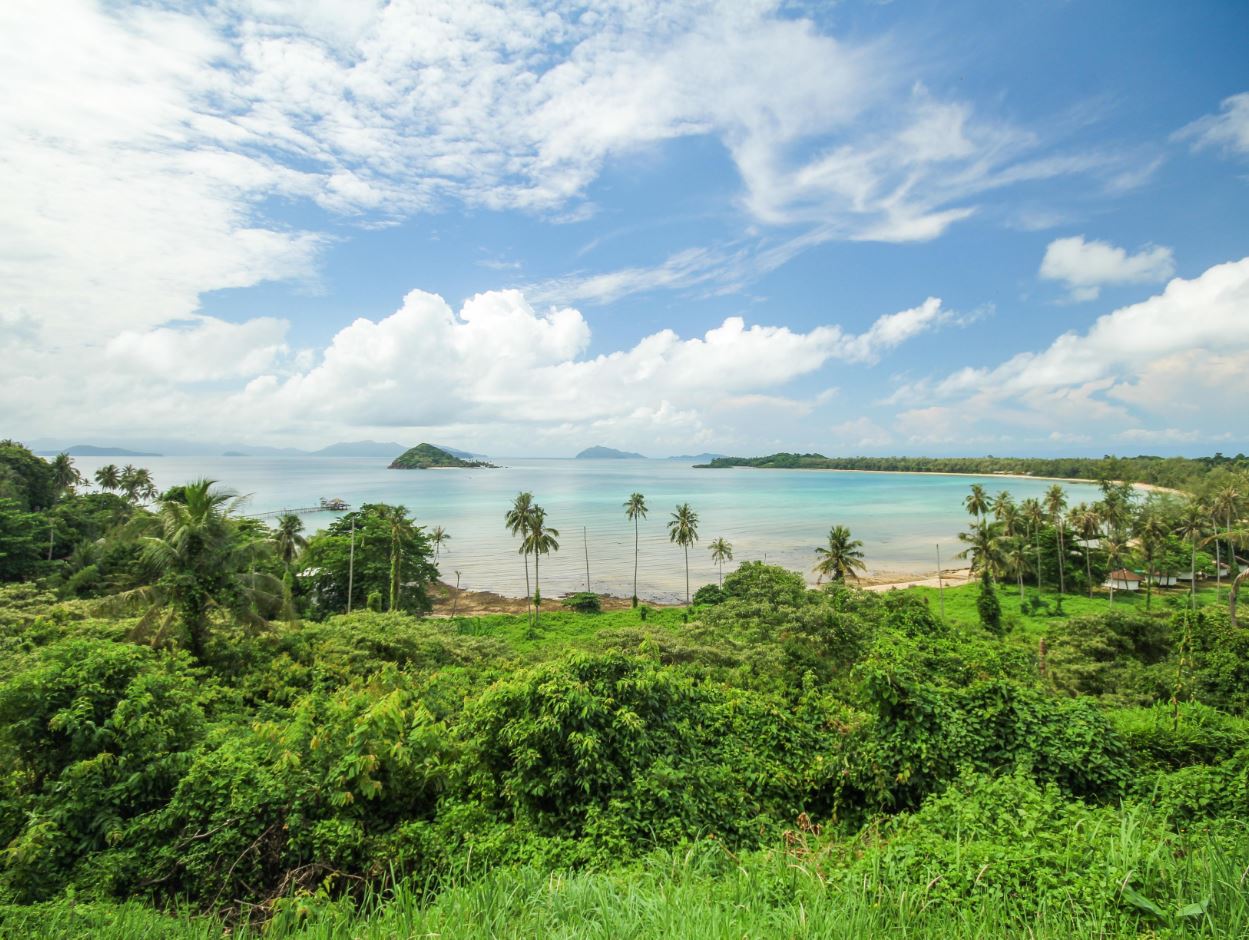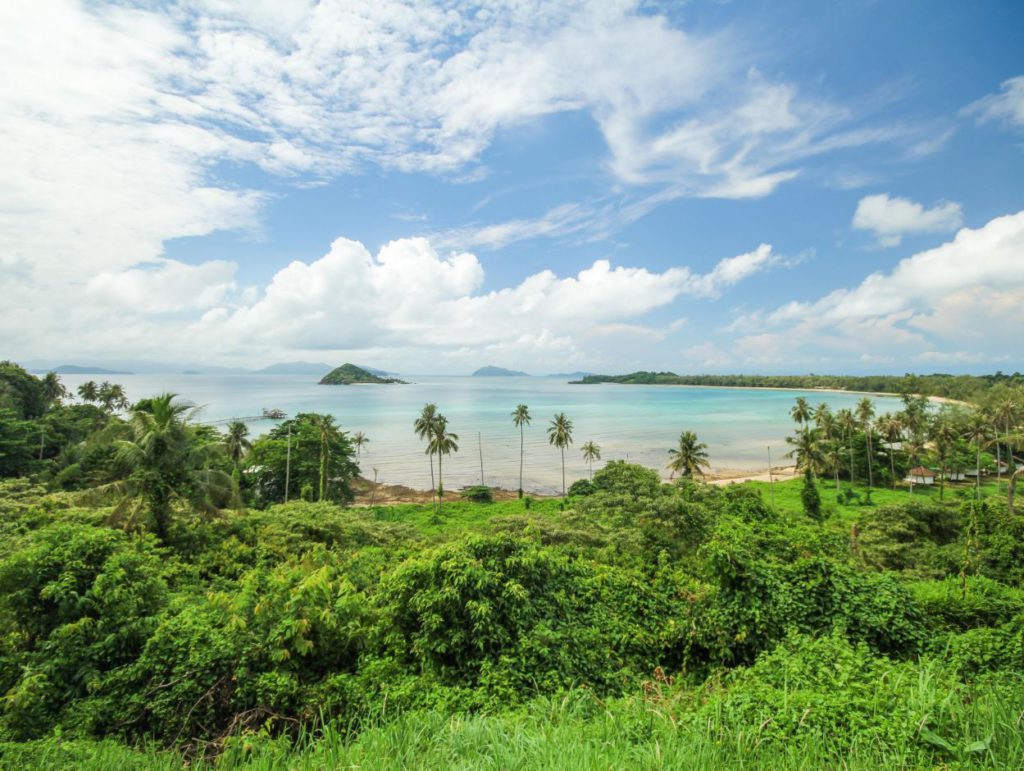 Koh Kood: Koh Kood is the next biggest island in the Koh Chang archipelago and the fourth biggest in Thailand. Contrary to its size, it is still fairly remote but the terrain is similar to that of Koh Chang. You can reach Koh Kood from the pier in Laem Sok on the mainland in Trat.
There are many beachside resorts in Koh Kood and local restaurants around the island. Although, you will be disappointed if you are expecting a raging nightlife. While the island still runs mainly on local agricultural and fishing activities, tourism has been booming over the years. Look to spend some quiet time here.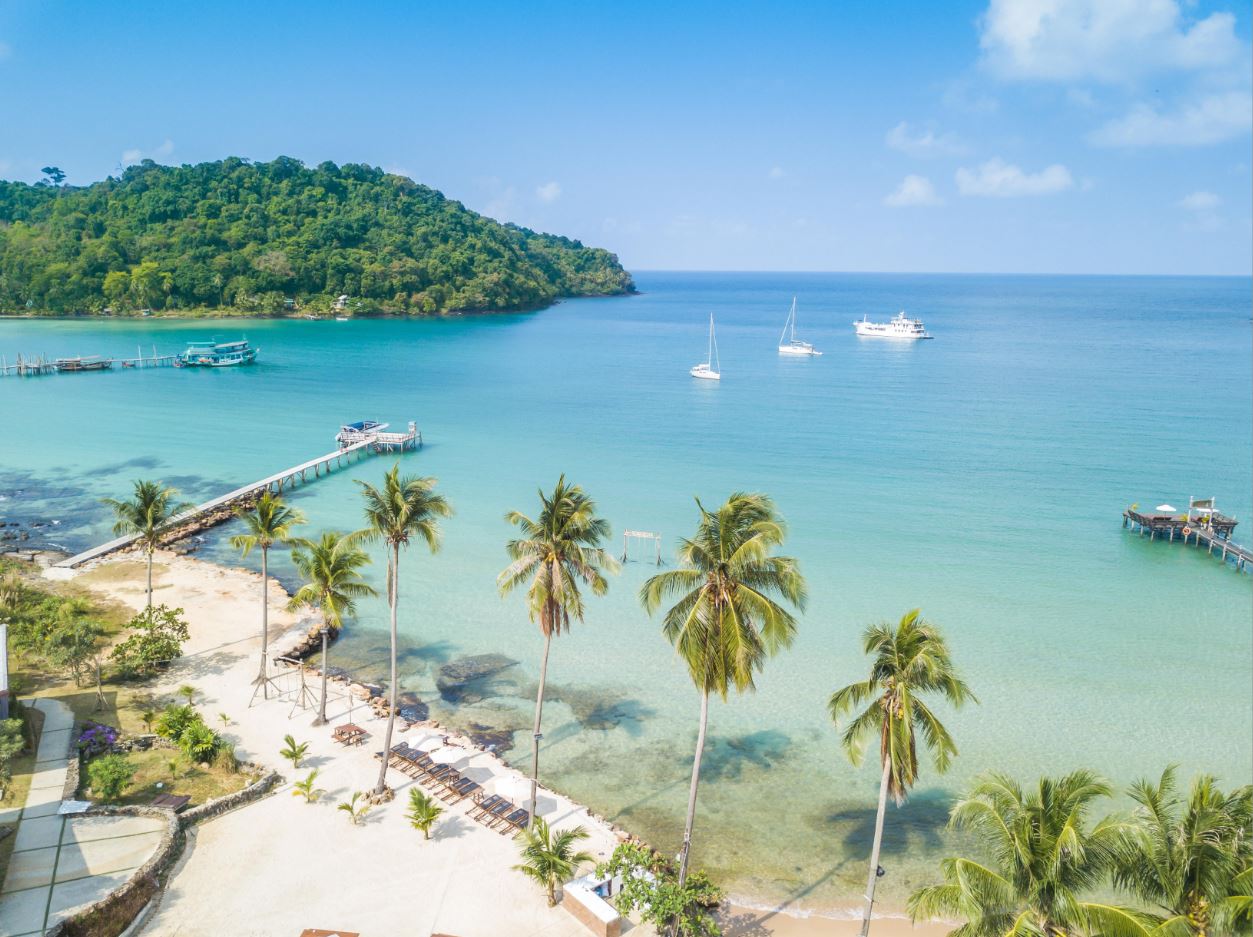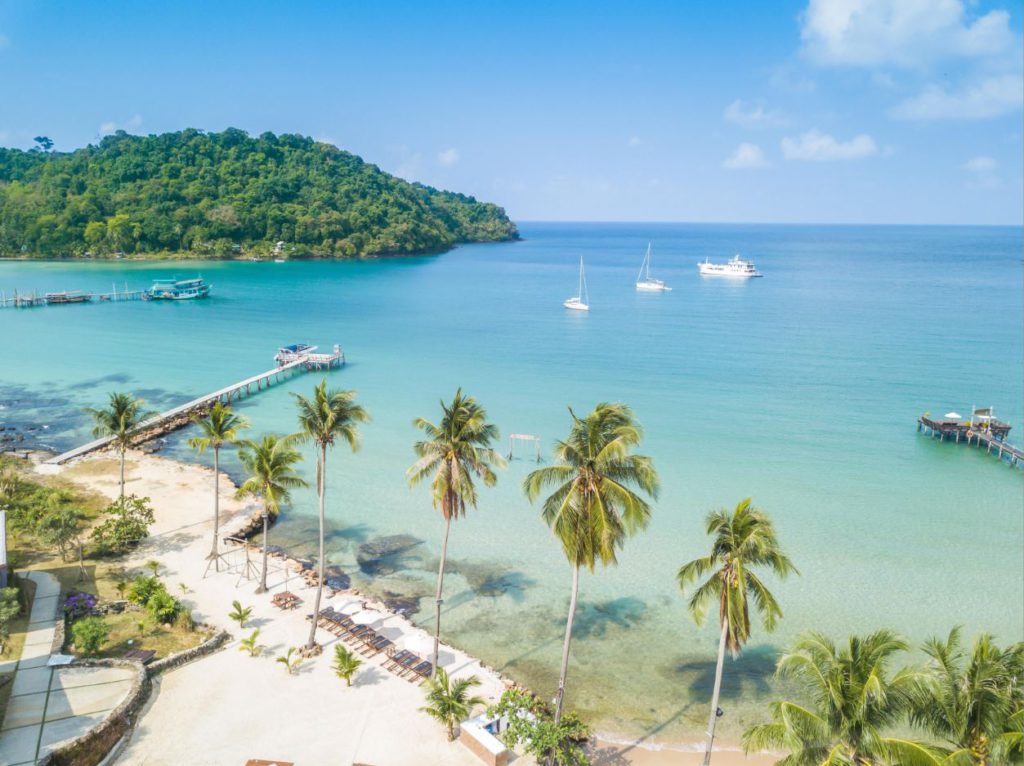 5. Local Villages
I will suggest that you clear out a day and drive around the island to explore some of the local villages on the island of Koh Chang. The local communities live a far different kind of day compared to that of the people you see every day.
An interesting place is a floating village near Bang Bao Pier in the southern tip of Koh Chang. You can see people sort their catch of the day, go around feeding animals and tending to their boats. The lighthouse on the edge makes a picturesque view.
Salakok fishing village on the west coast of Koh Chang is located at the bay surrounded by mangrove forests. You can visit the place and ask the locals for a paid tour around the area or just see them going about their daily life.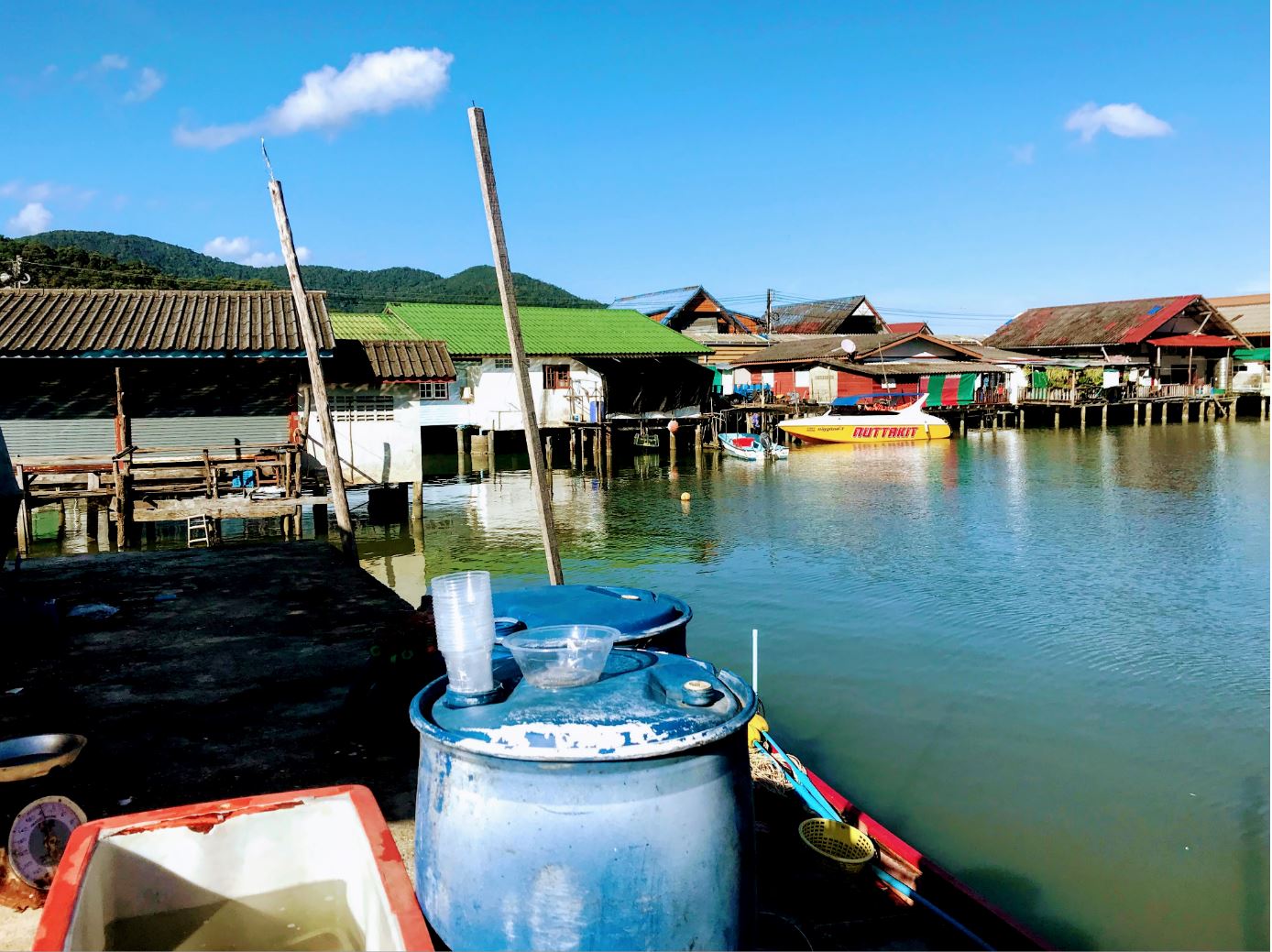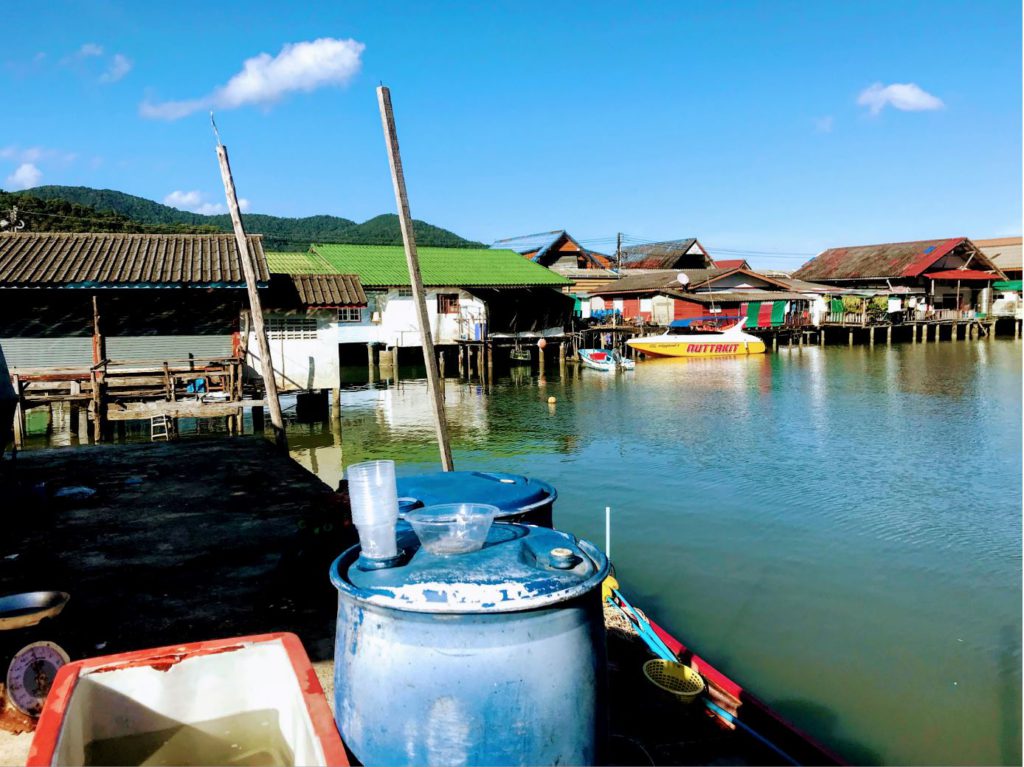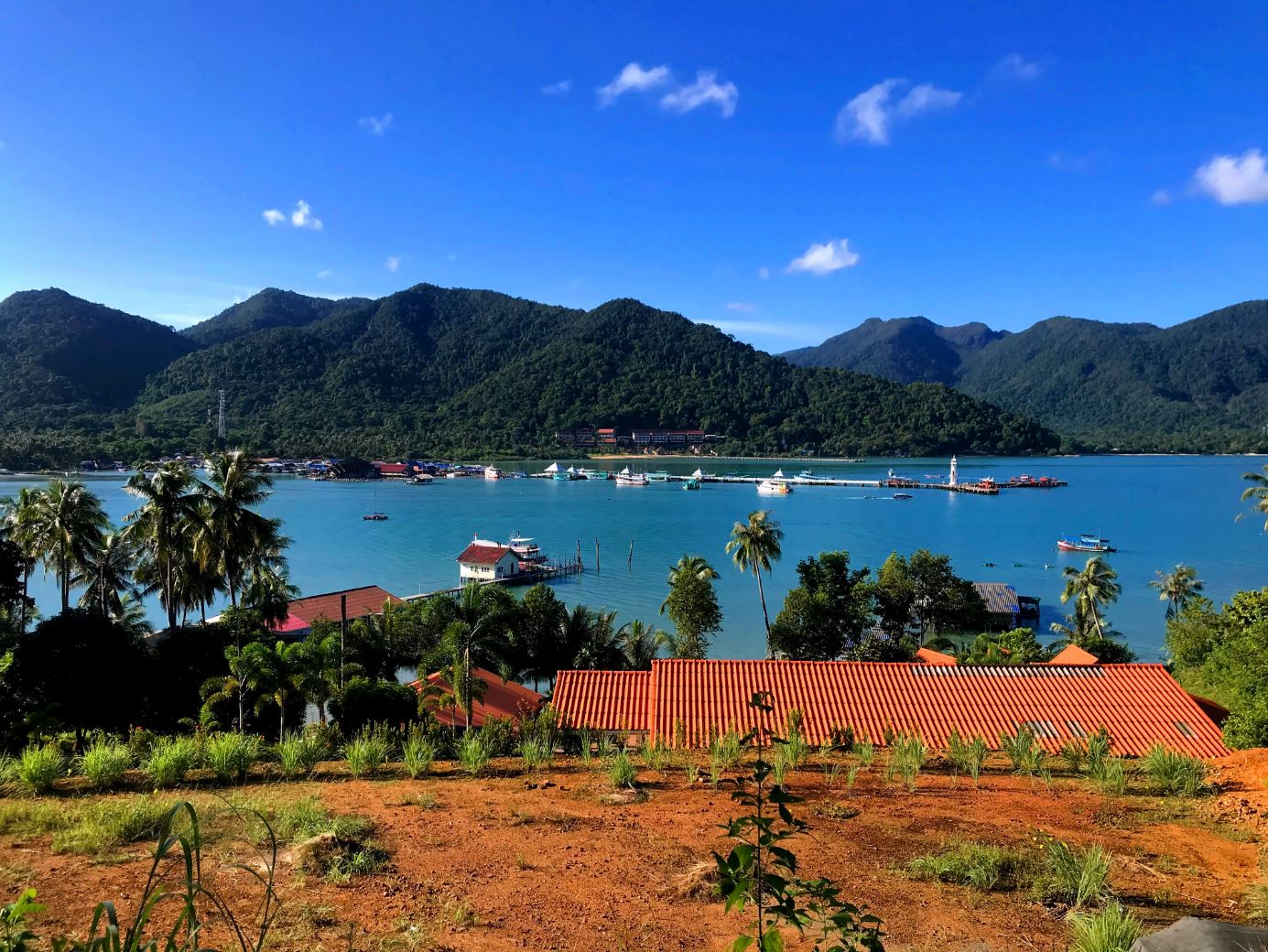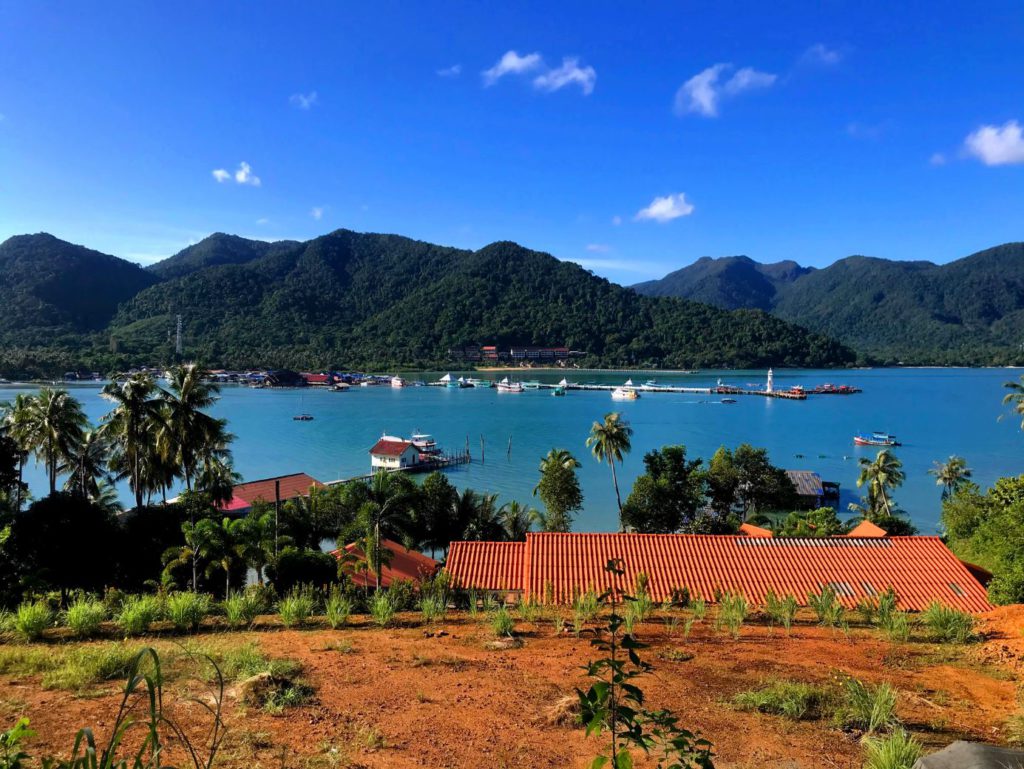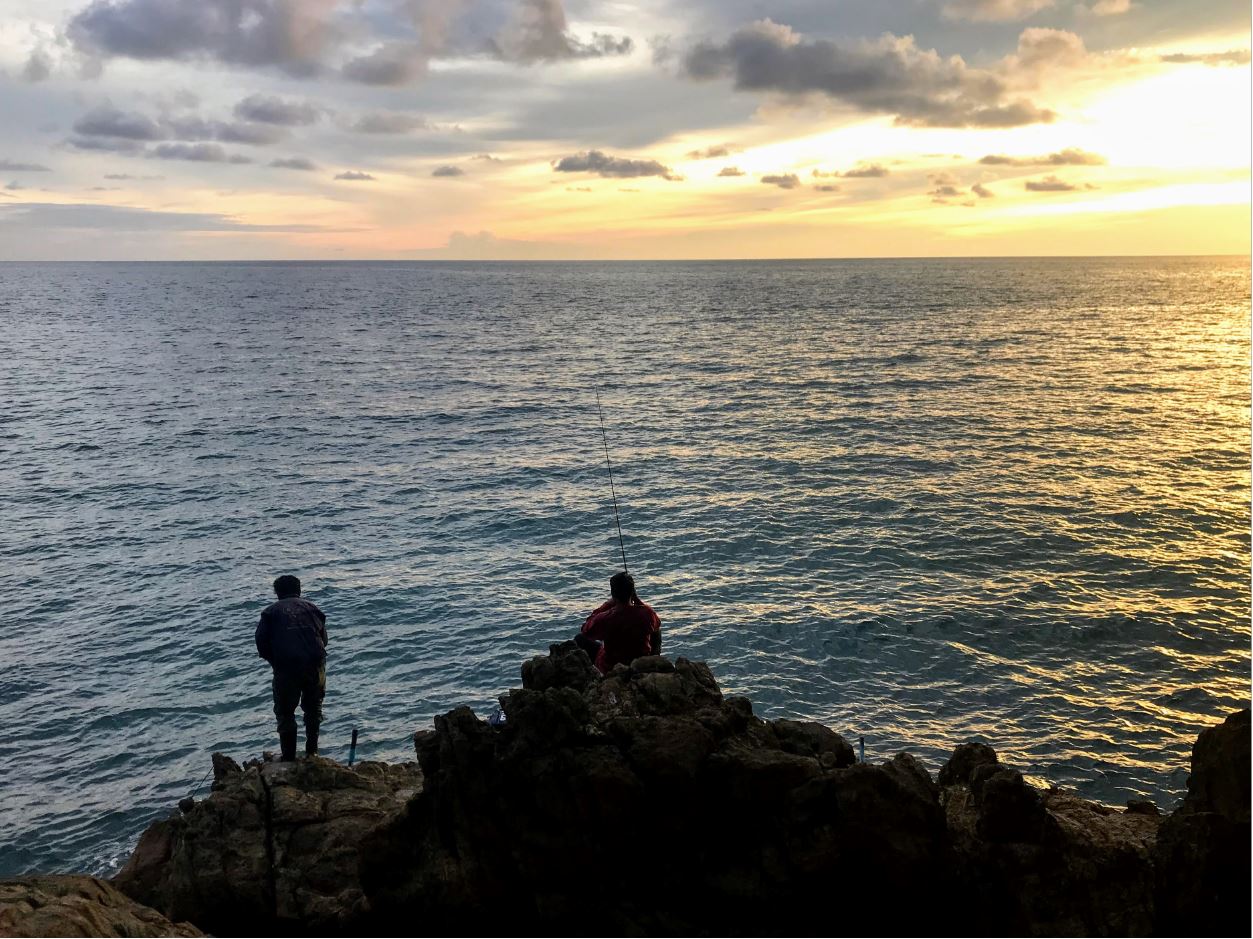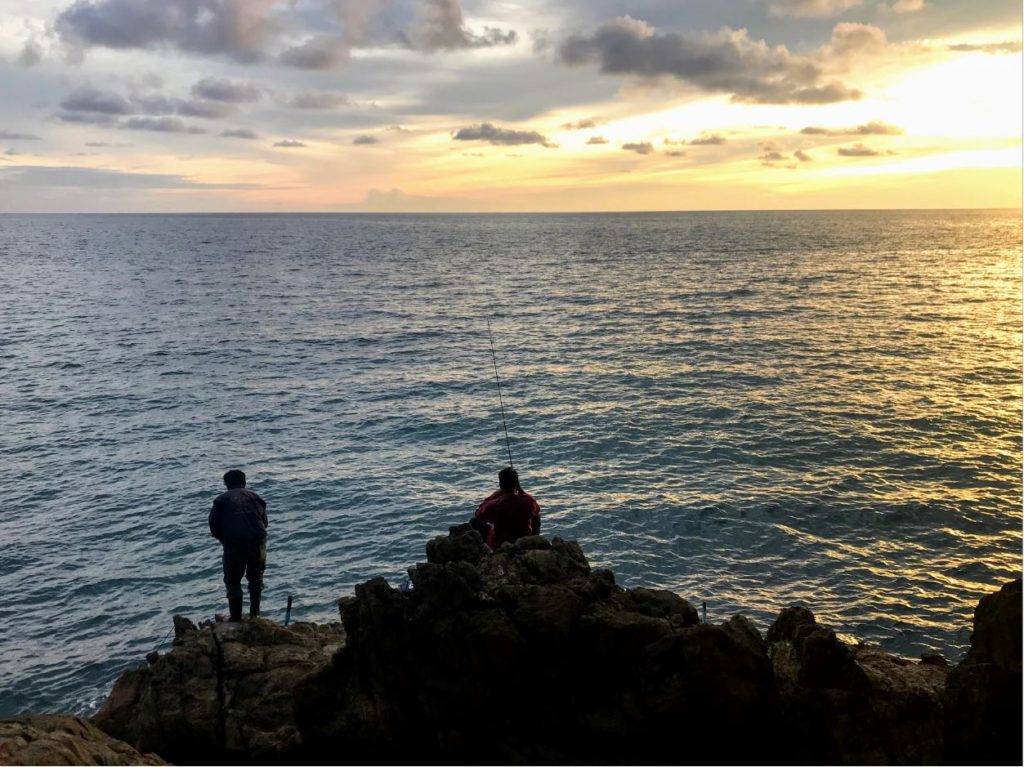 6. Wat Salak Petch
A sweet temple in Koh Chang is Wat Salak Petch. Small compared to most of the other temples you have been to in Thailand, it is still worth a visit. Contrary to the traditional Thai style of architecture, the temple is colourful with two large serpents welcoming on the handrails. Make sure you cover your knees and shoulders while entering.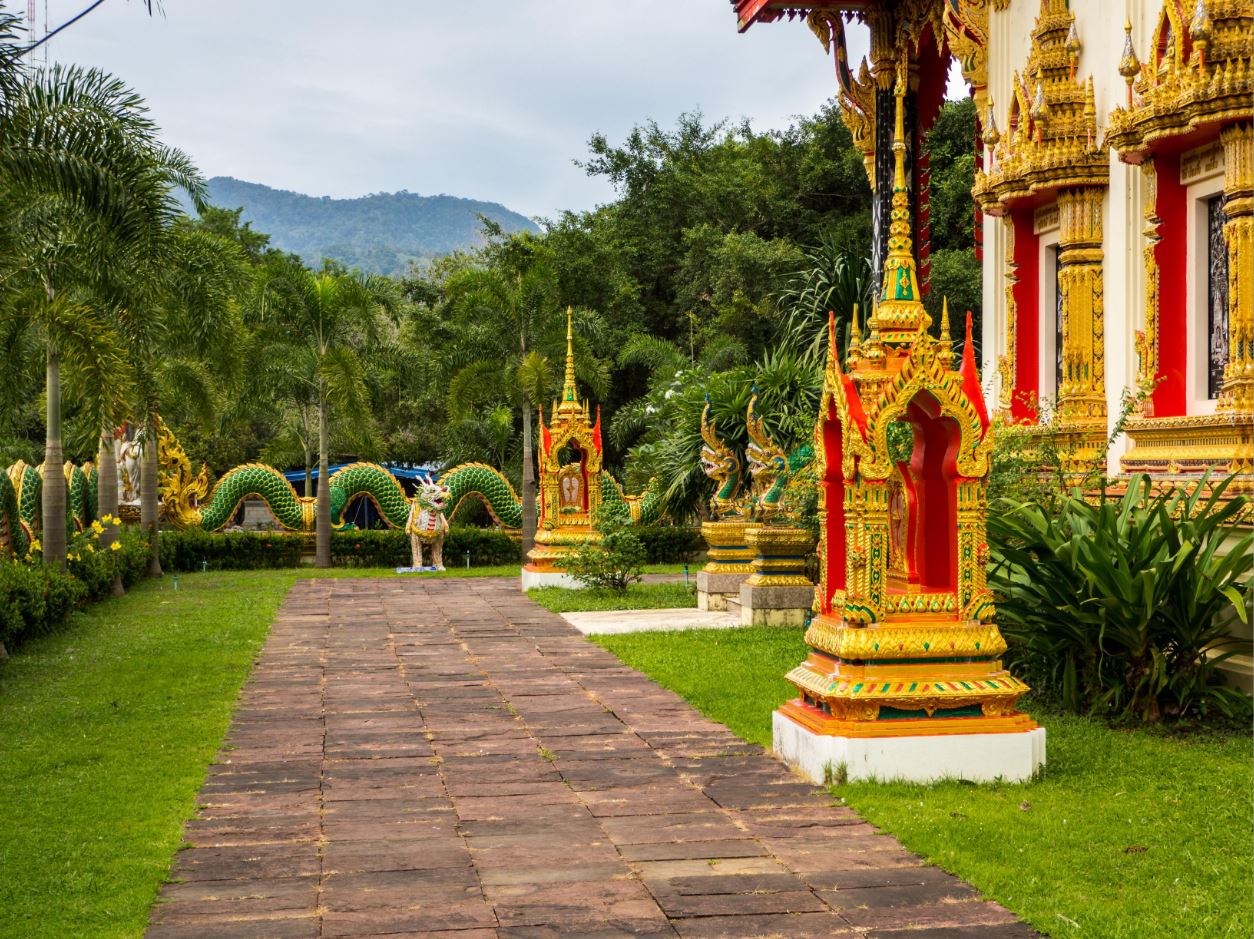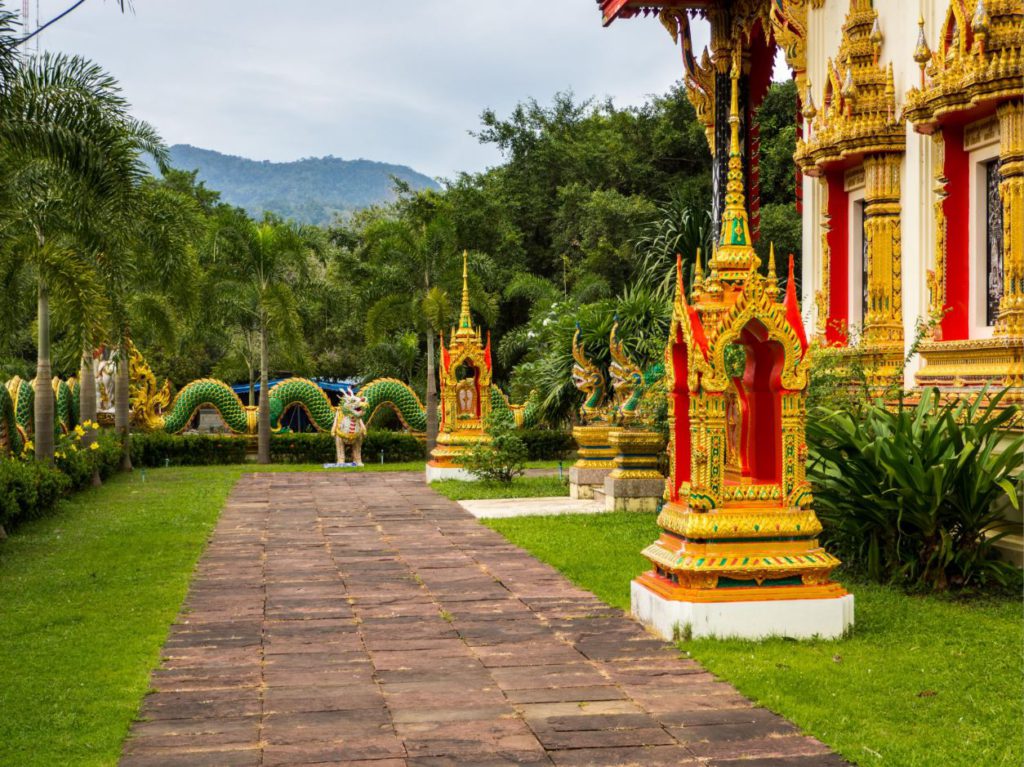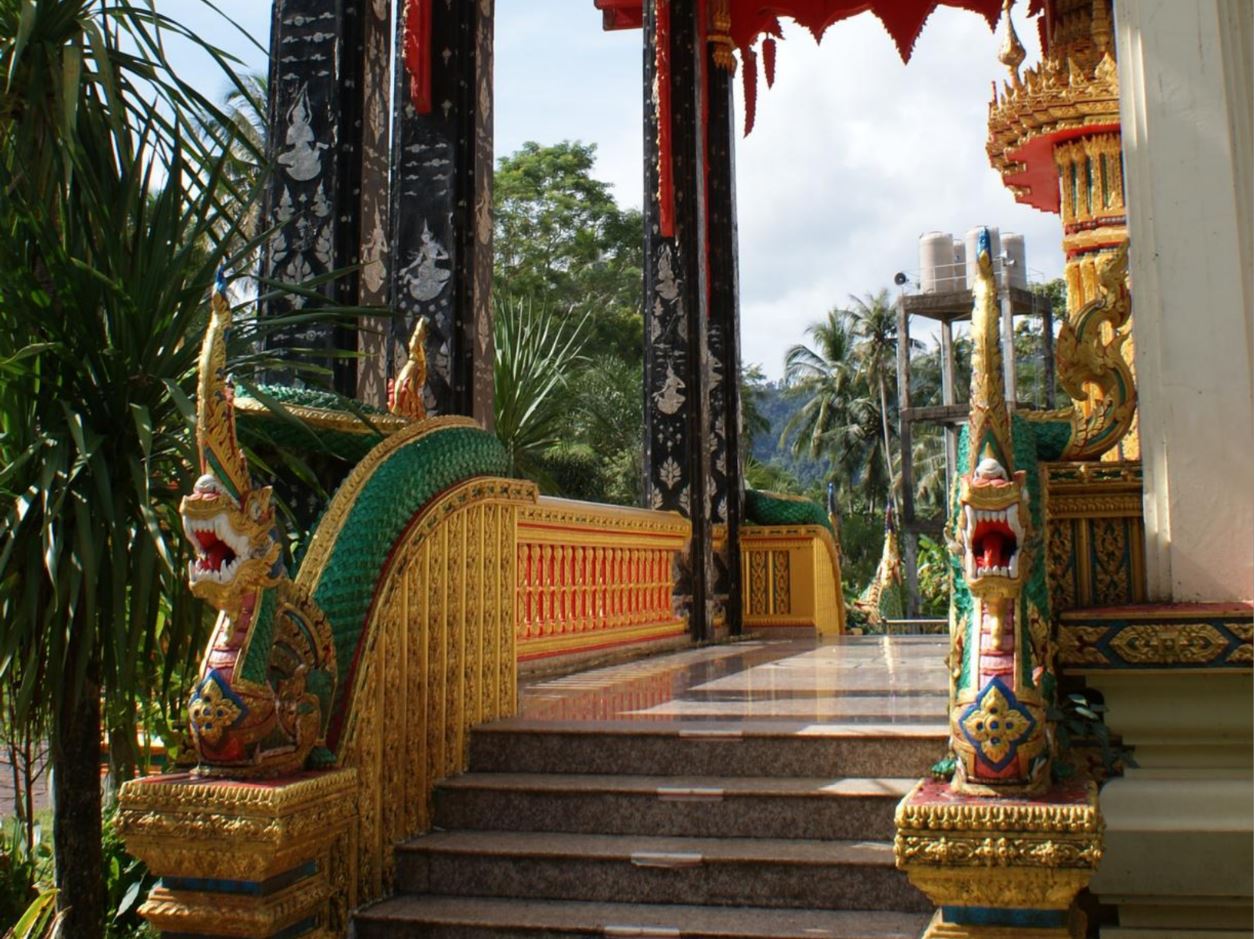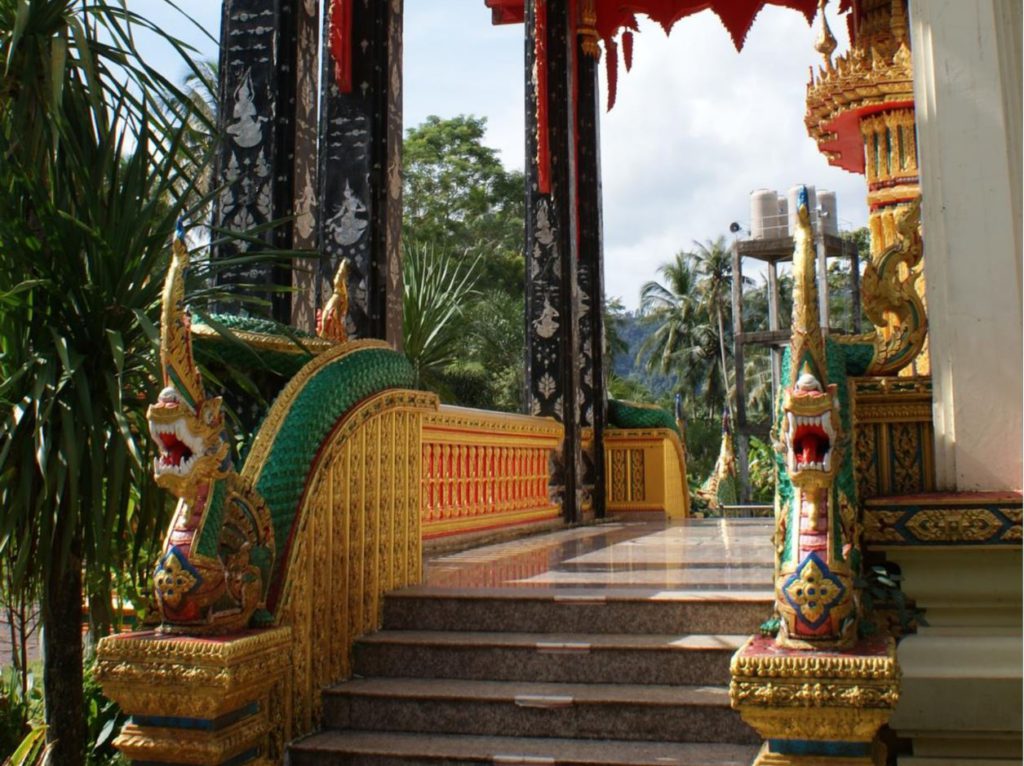 7. Mangrove Walkaway
A little drive ahead of Wat Salak Petch is a mangrove forest. It became a tourist area when a walkway was built over the surrounding forests that give an aerial view of the area. The walkaway is especially great for a photo and usually deserted. A small coffee place provides a resting place after the walk.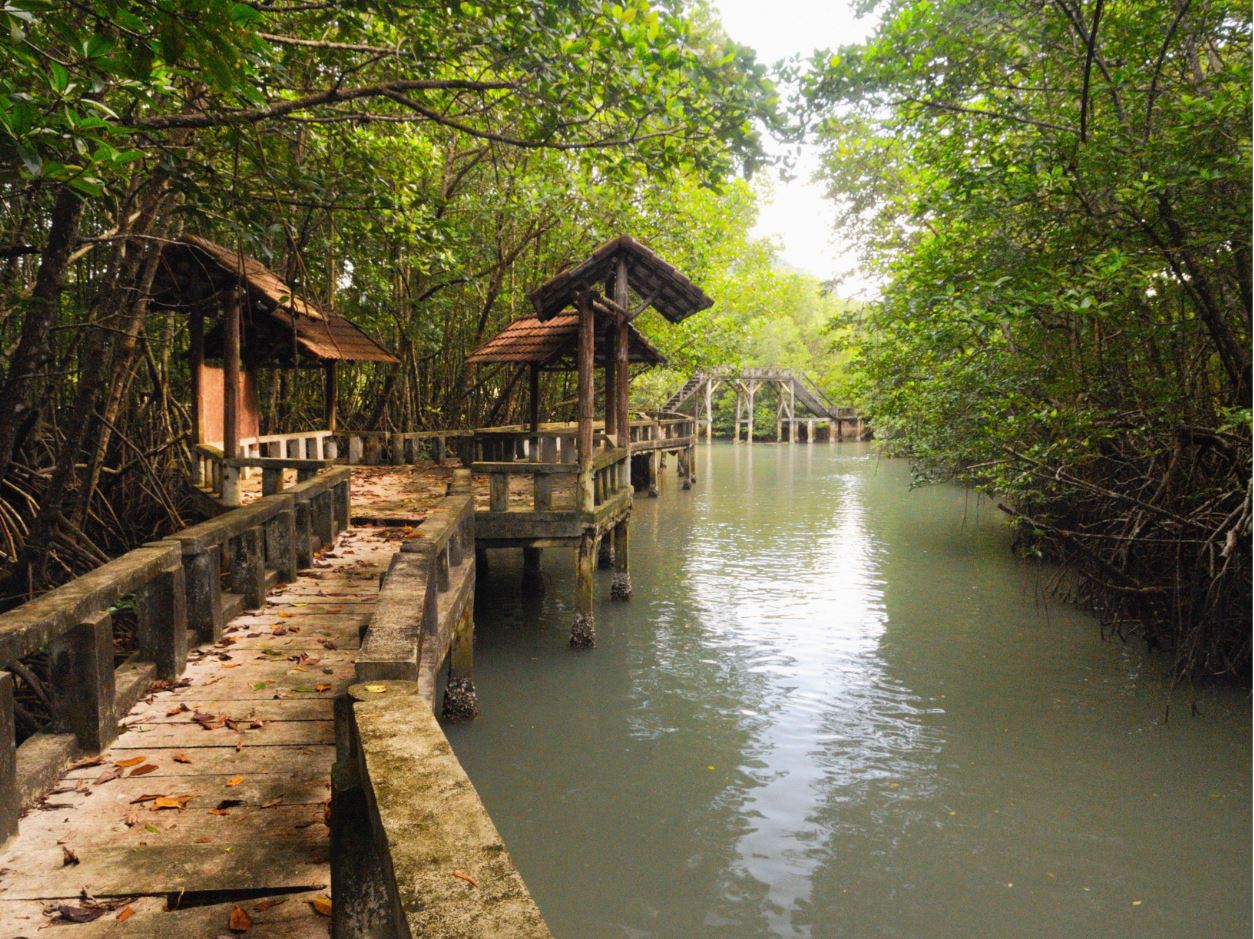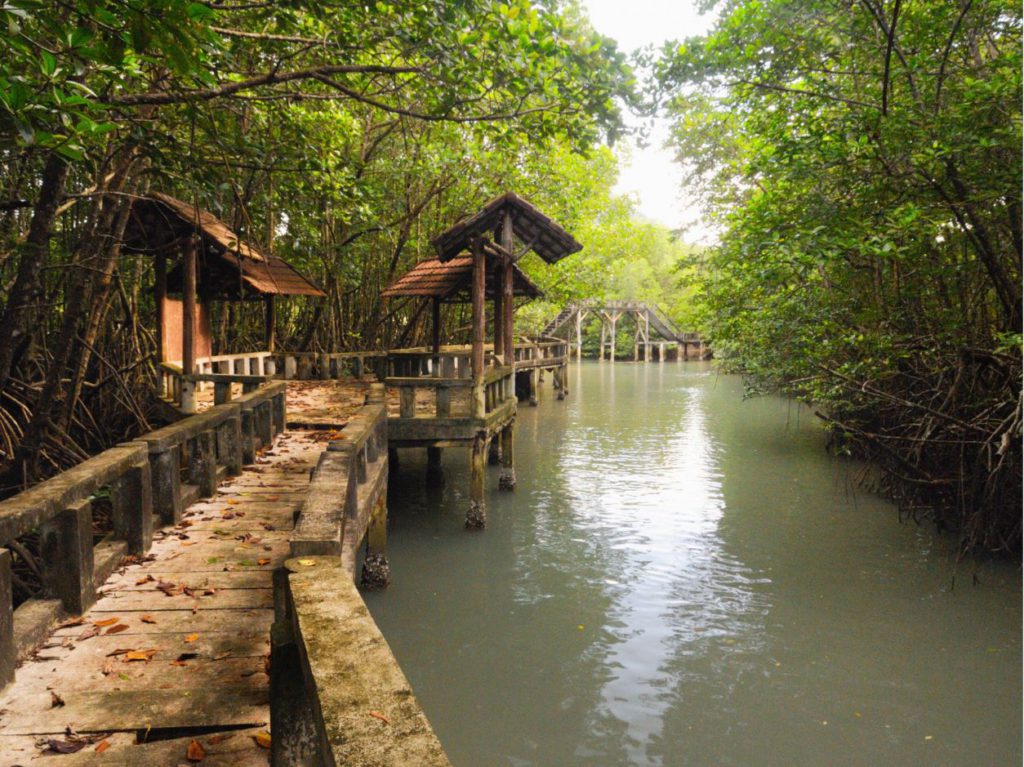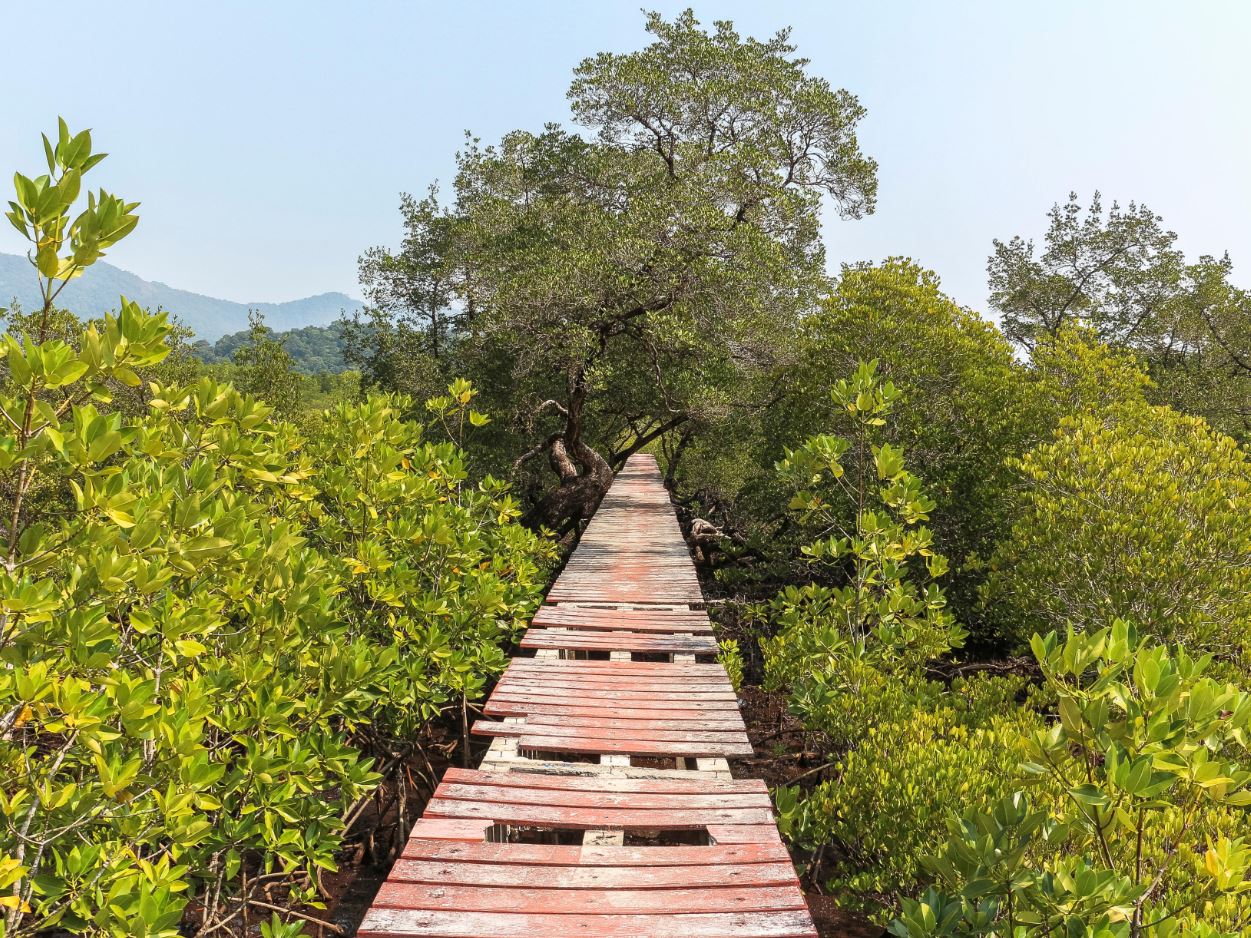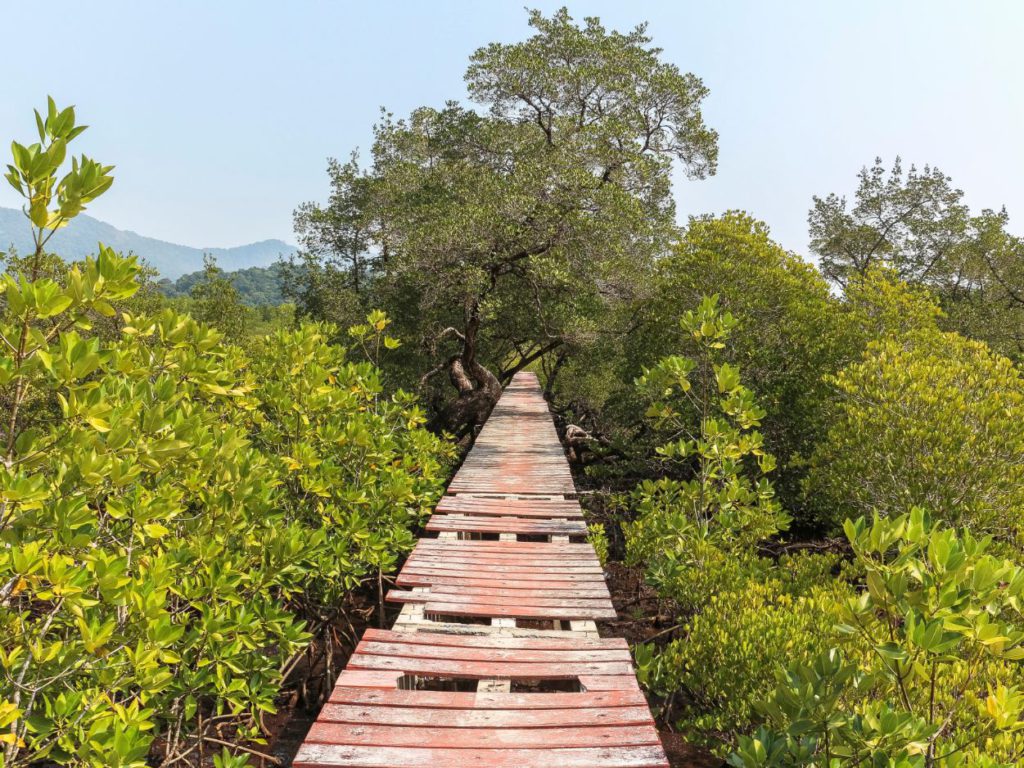 8. Nightlife
I cannot say that Koh Chang has a dazzling nightlife. Even less so during the off-season. But you can still find some great restaurants and bars across the island. The two main areas for this is White Sand Beach and the area near Lonely beach.
A row of fine-dine restaurants is present on the white sand beach with outdoor seating and candlelit dinner. Fire shows take place around 8 pm in the evening almost every night.
Head to the area a little ahead of Lonely beach if you are looking for dancing, groovy music, ping-pong bars and European food.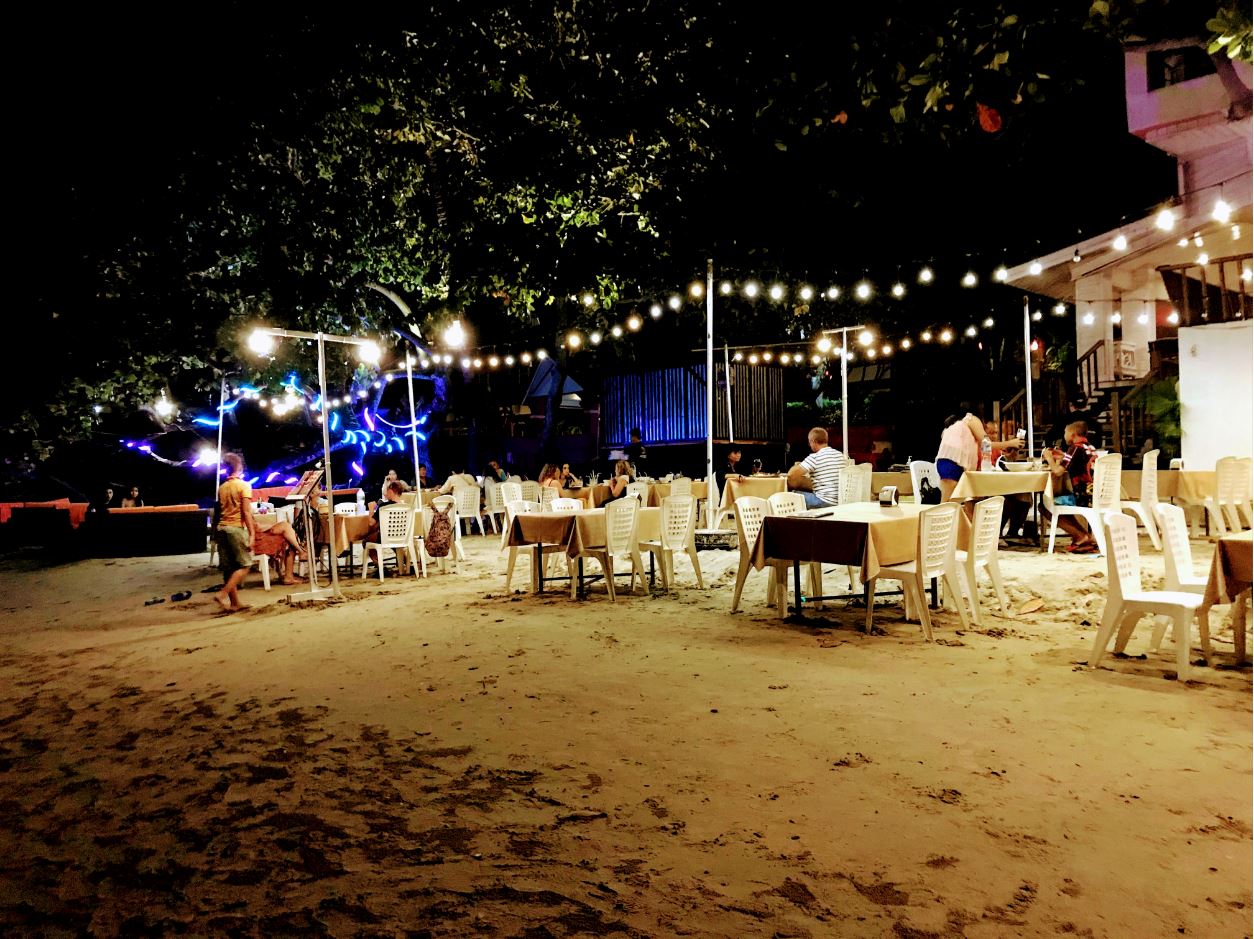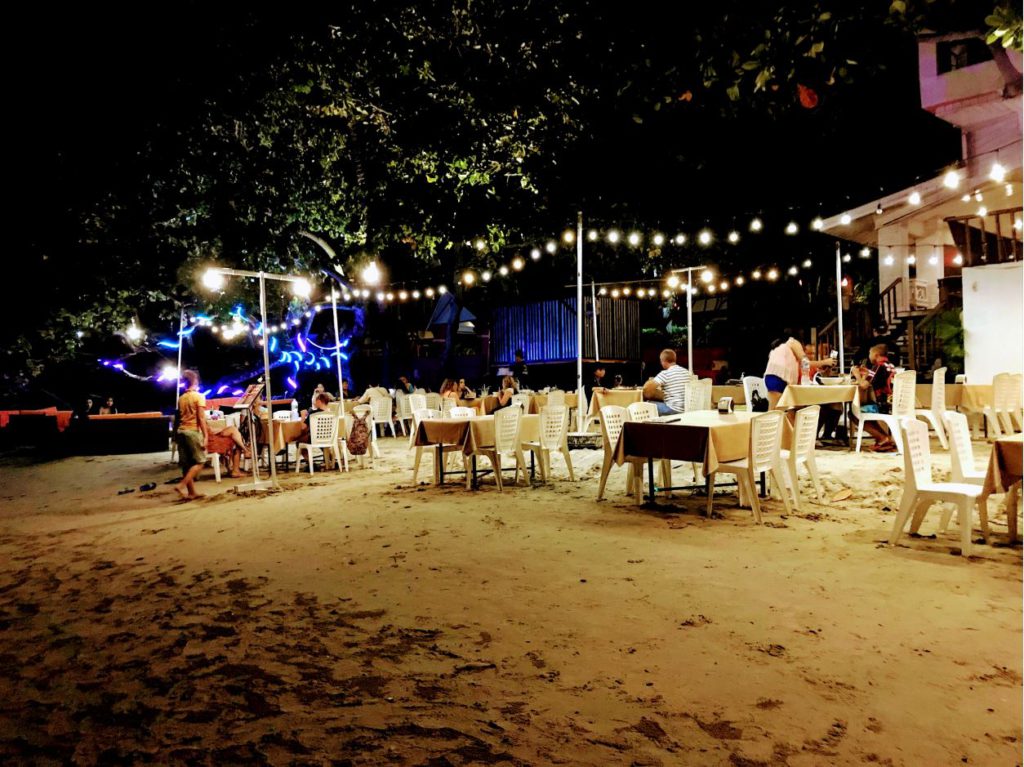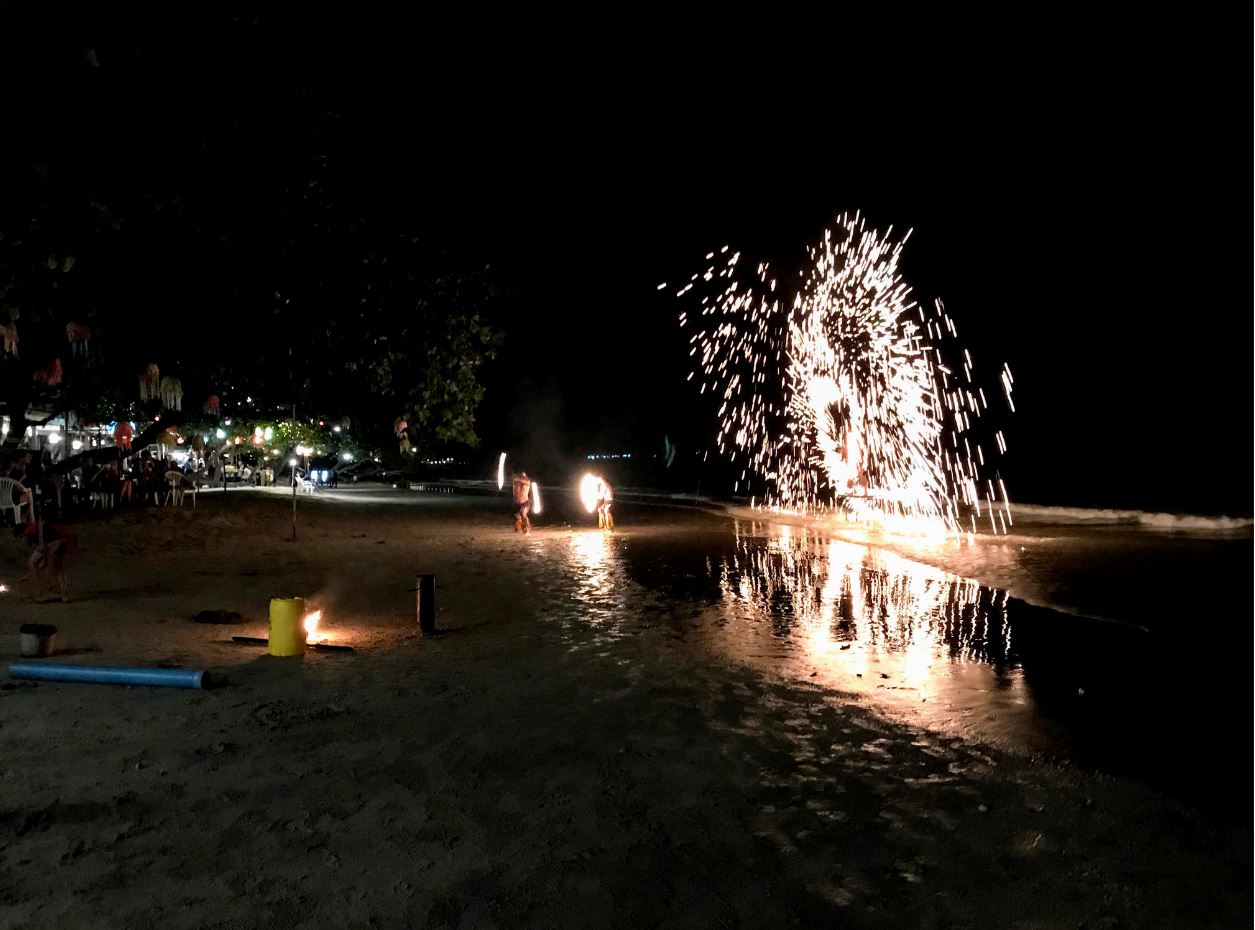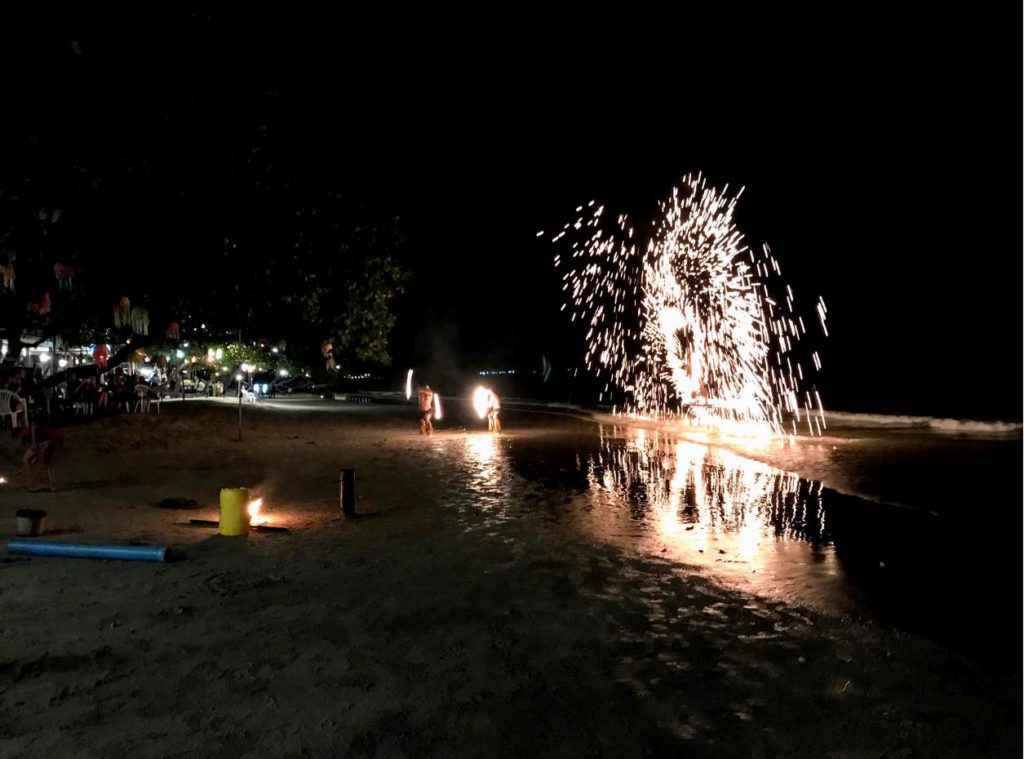 Where to Stay in Koh Chang
There is an insane number of resorts and hotels across Koh Chang. And your pick will depend upon your budget the facilities you would like. It is fairly easy and affordable to get a beachside resort in Koh Chang. Head over to agoda.com for some great deals on that.
The best areas to stay in Koh Chang is White Sand beach, area near Khlong Prao beach and area near Lonely beach if you are looking for a busy place. Wherever you are, make sure you have a 7-Eleven nearby that will make your life so much easier.
We stayed at Chang Cliff Resort which was great. Breakfast is included and there are a lot of peacocks roaming around the resort. It can be a little pricey but make sure that you get a Seaview room here. The view from the rooms is jaw-dropping. They even have a pool with an ocean view.
I will definitely recommend using agoda.com to book hotels in and around southeast Asia. They give crazy discounts. For a hostel, head over to hostelworld.com although a few of them are available on agoda as well.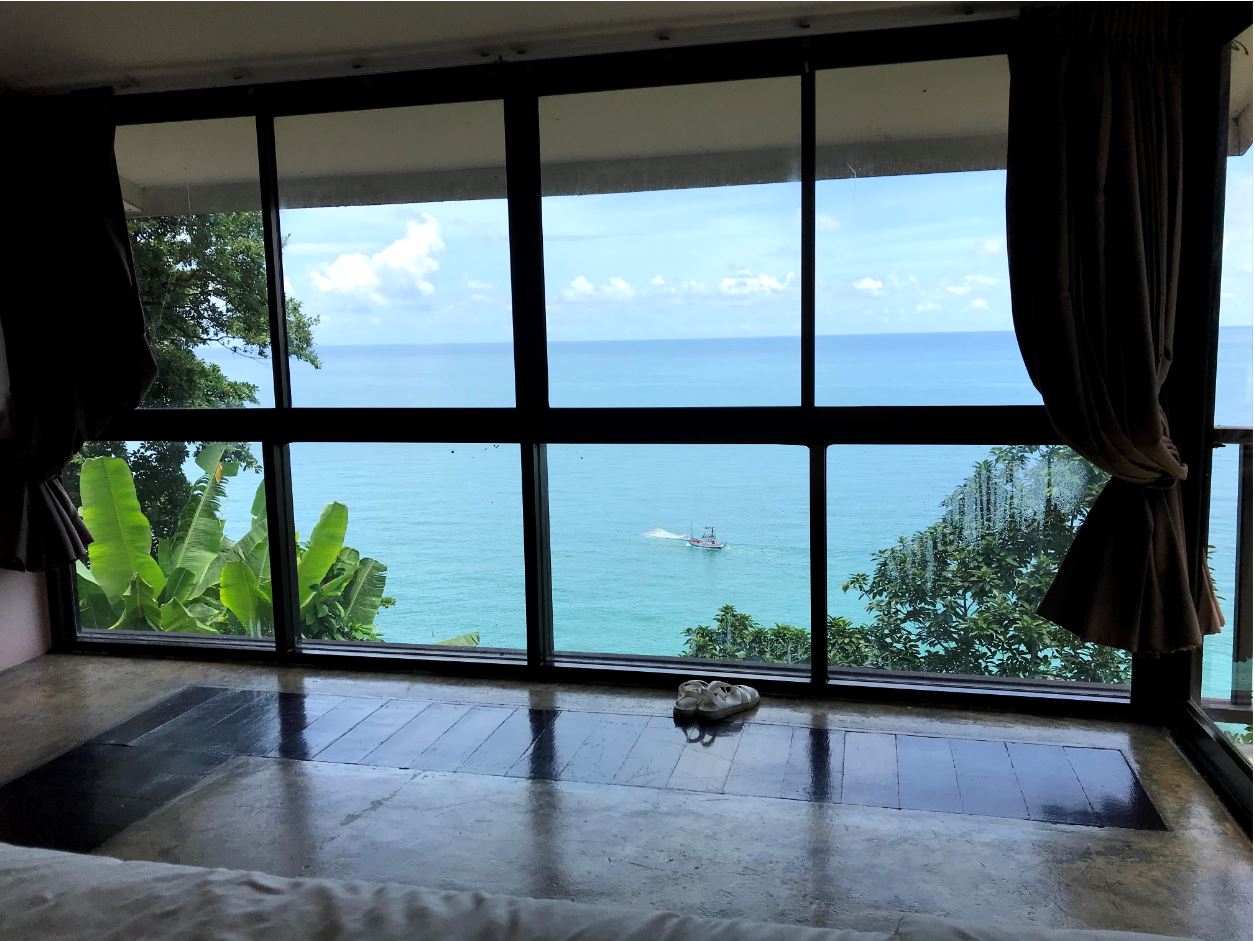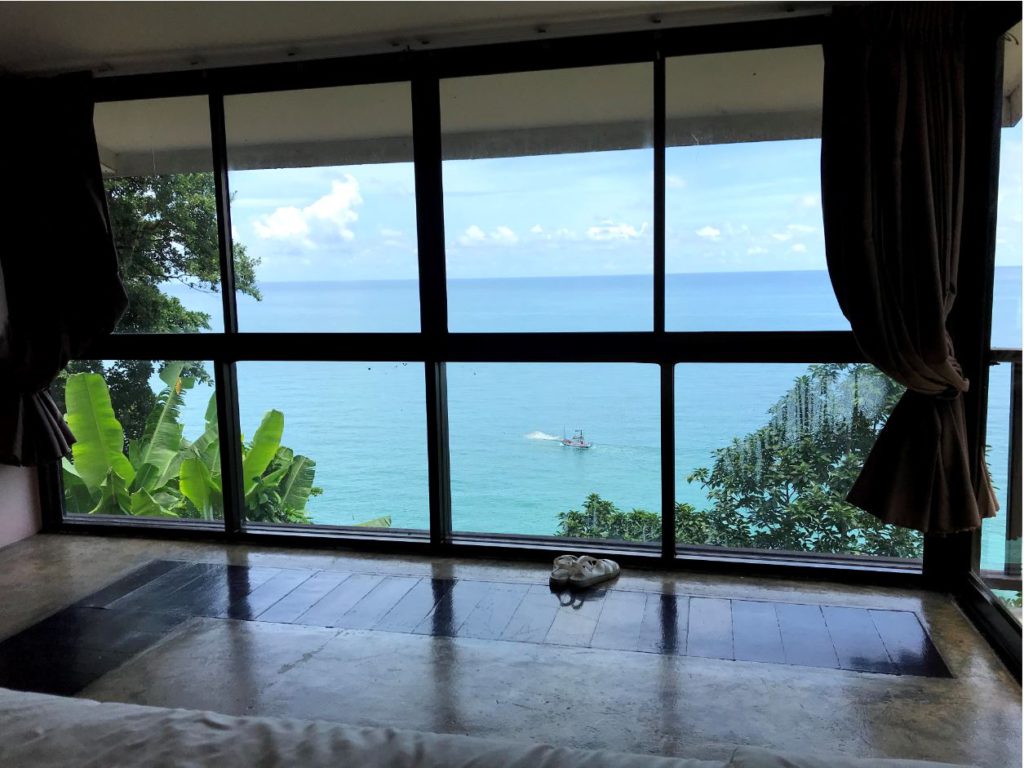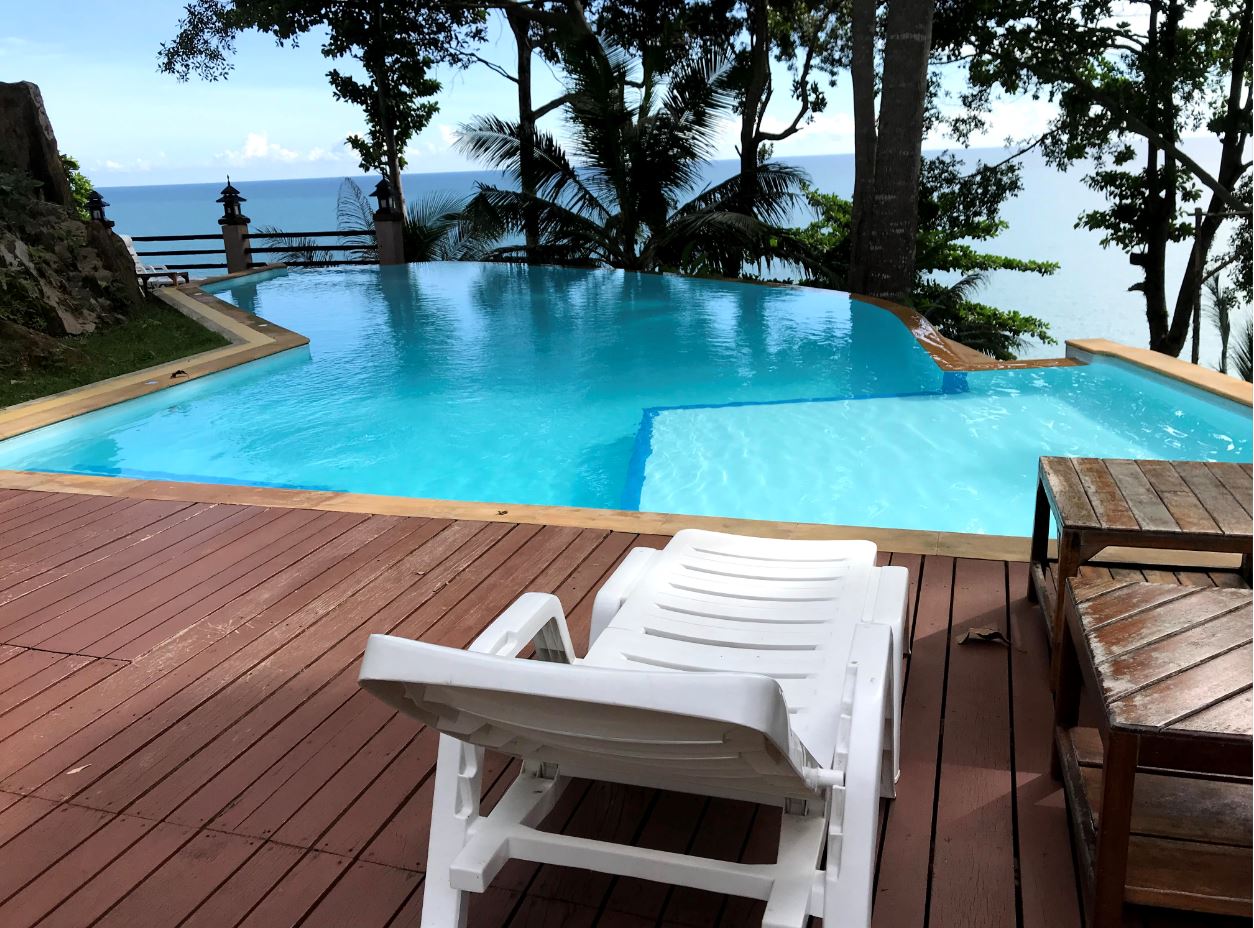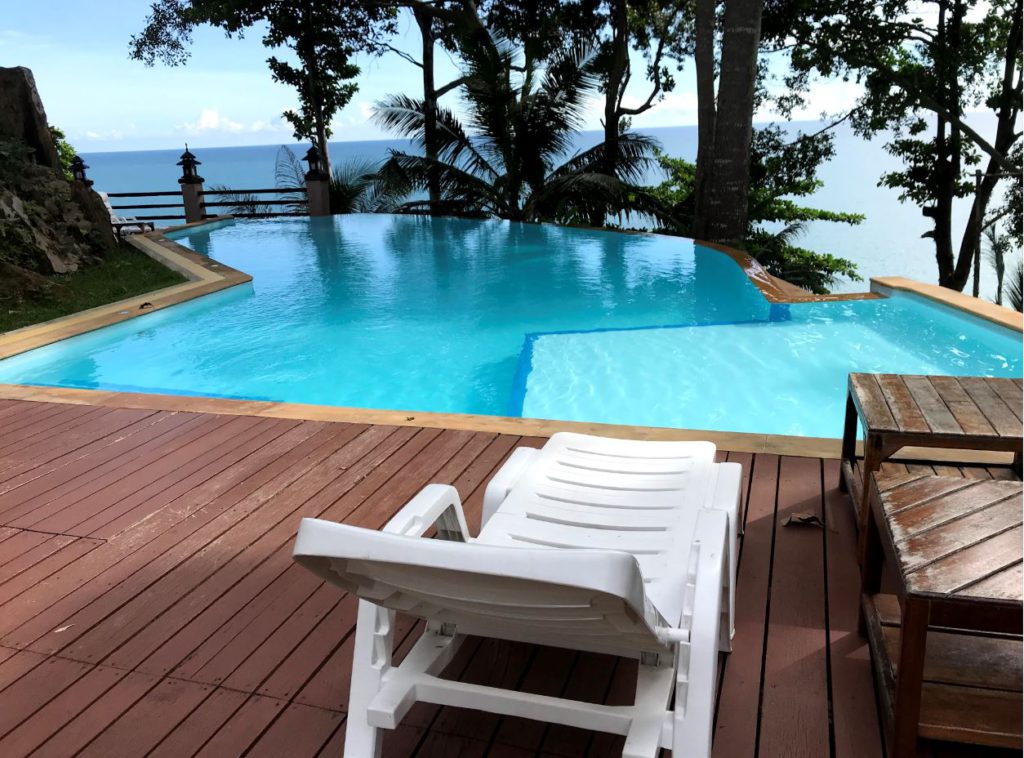 What not to do in Koh Chang
If you aren't aware, Koh Chang literally means 'Elephant Island'. And while it can be attributed to the island's shape, it is very common to see elephants on the island used for tourism.
I can only urge my readers to not engage in tourism activities that include elephants or other animals. While it may look that they are happily domesticated, it takes years of mistreatment to make them at ease with human beings. Injured and tortured elephants are often reported across Thailand.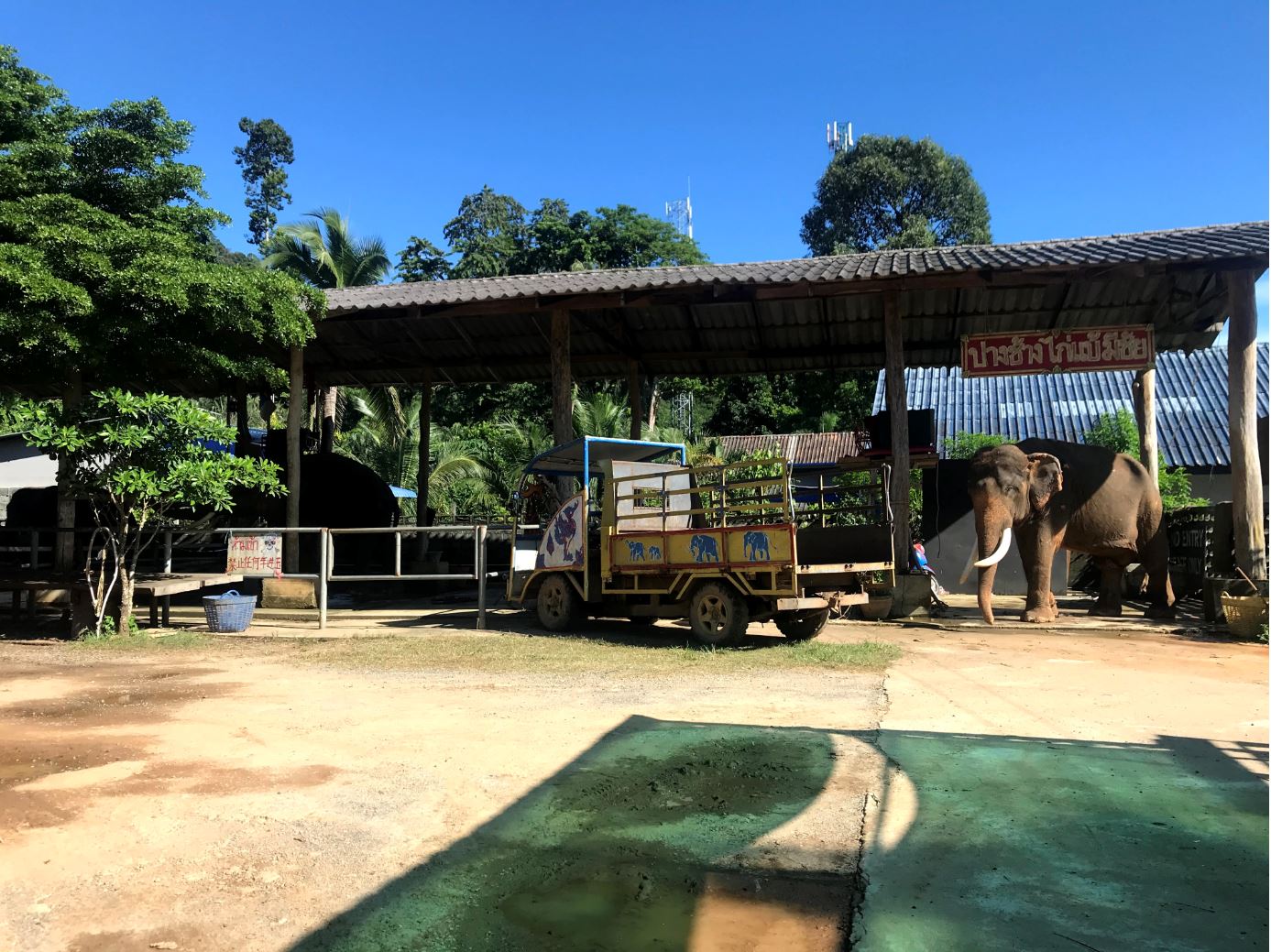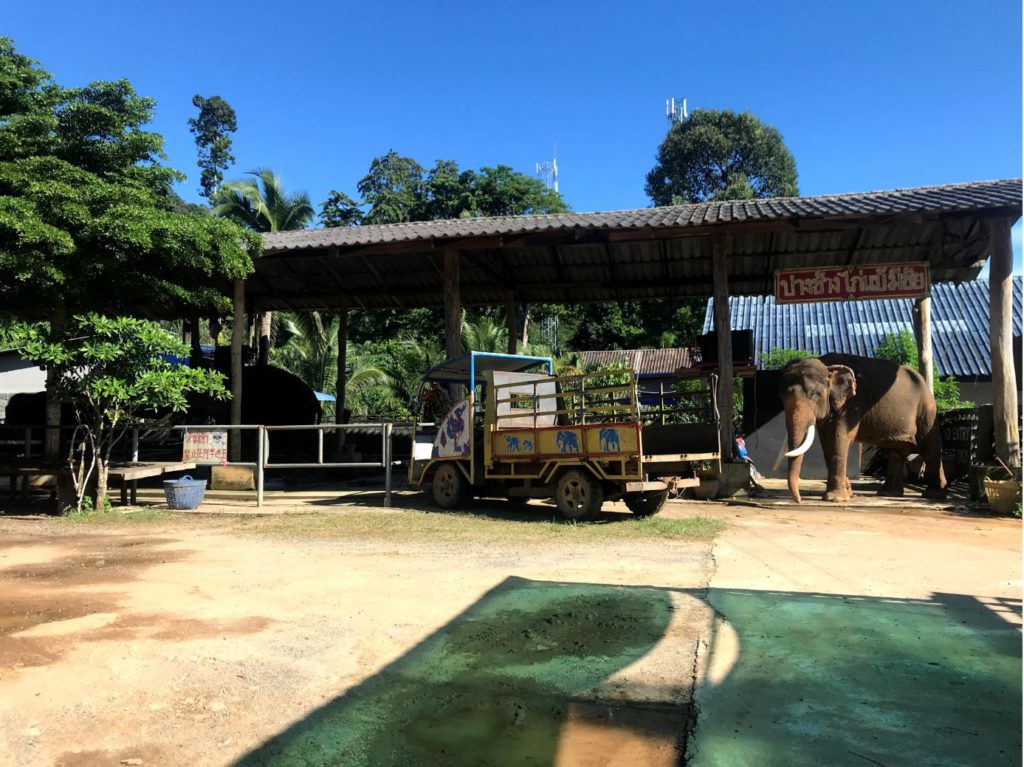 Facilities in Koh Chang
While you can find almost everything you need on the island, make sure you have every specific need with you.
Apart from 7-Eleven, there is Tesco and Big C on the island that can cater to all everyday needs. There is a police station and a small medical unit as well. However, in a serious situation, you may need to rush to the mainland for better facilities. Pharmacies are also present but carry any prescribed medicines with you.
ATMs are located in major areas on the east coast of Koh Chang. You can almost always find one in front of a convenience store or supermarkets like 7-Eleven or Big C. Cards are accepted but not too widely. There can be an additional charge for swiping a credit card.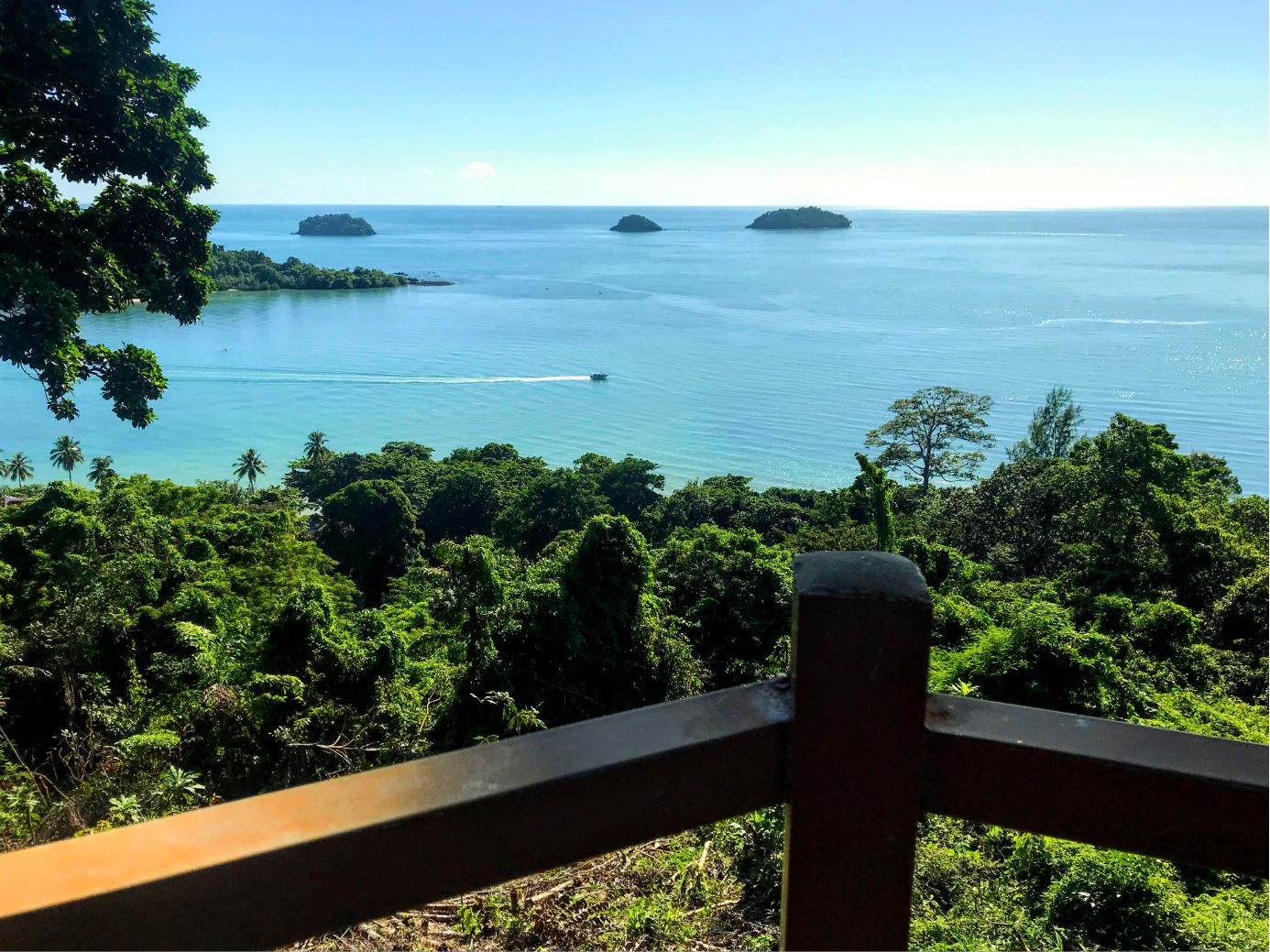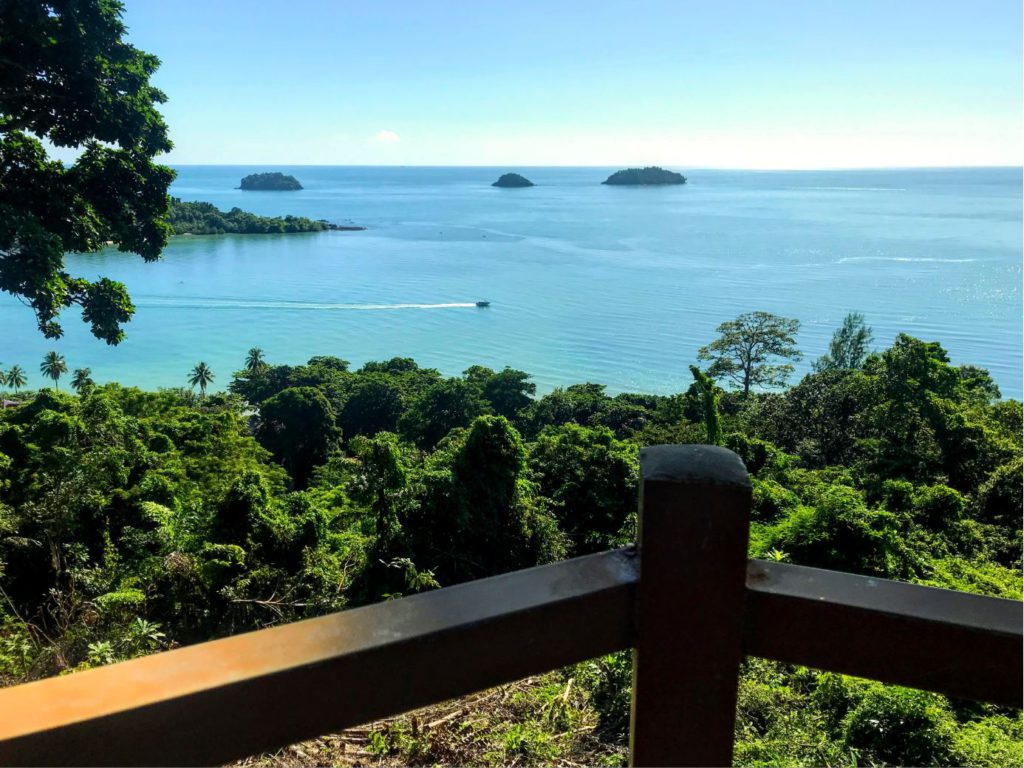 Save On Pinterest


Related Articles