02 Aug

Desert Safari & Belly Dancing in Dubai

It may look like all is lost to the glitz, glamour, and skyscrapers today. But this is not what aboriginal Dubai was like. A desert safari in Dubai will show you the other side. In fact, Dubai was no more than a bunch of tents put together by a fishing tribe which hunted for pearls.

In the late 1920s, Dubai, along with others suffered from the great depression with the arrival of artificial pearls in the market. Things changed for this village for bad. But with the discovery of oil in the 1960s, Dubai's fate took a U-turn. They went to being extremely poverty-stricken to be one of the richest cities in the world.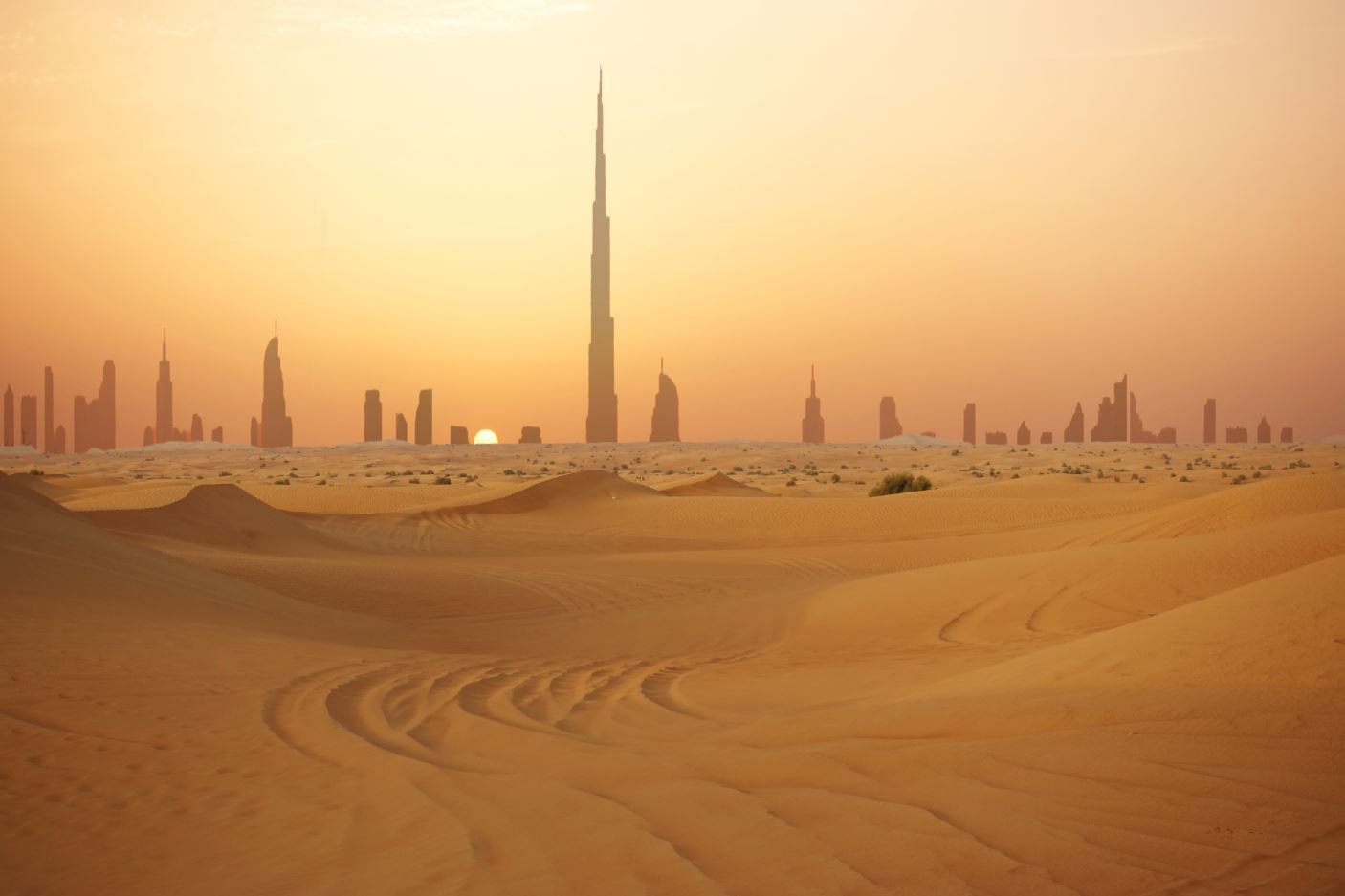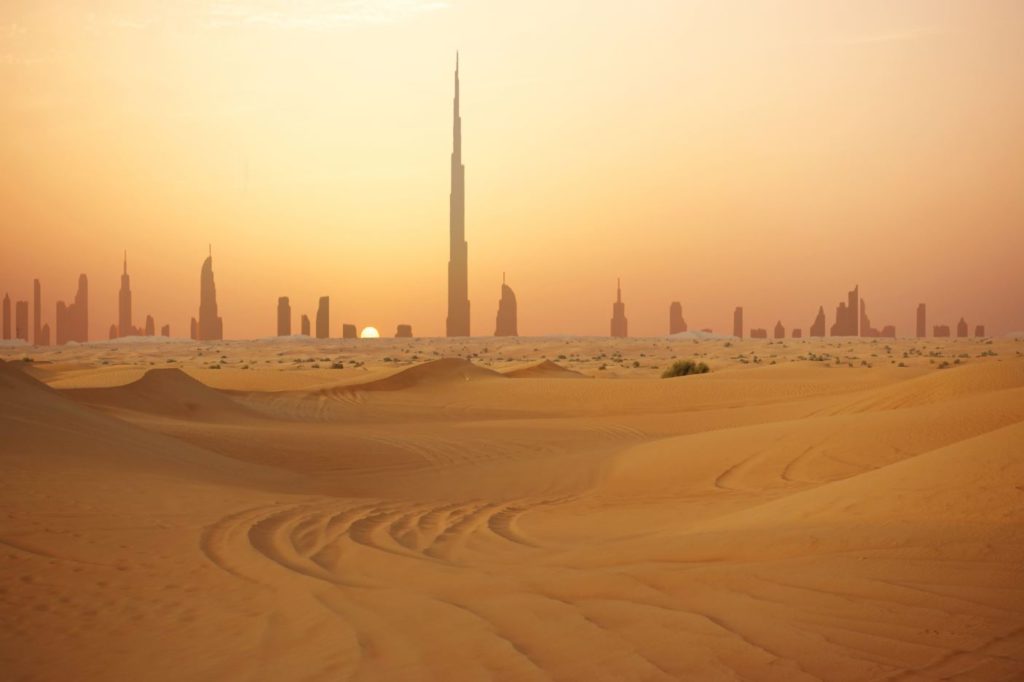 But along with the villages, what else perished? What was there when there were no skyscrapers? What did they eat? How did they travel? And how did they entertain themselves? As much as you can read about it, you can never feel it if you have not seen it with your own eyes.
A completely different world from the turquoise blue beaches of Thailand, the culturally rich European cities with renaissance style museums and snow-capped mountains of Himalayas, this is not something you see every day. Dubai is a part of a huge desert and a city built from it. The desert is harsh and so was the lives of the locals long before urbanization hit them.
You can get a glimpse of this life with a desert safari in Dubai. The local tour companies organize these in Dubai. Not only it gives you an insight into the topography of the place. But it also shows you how the people led their lives with rural setup and traditional dances from the UAE.
How To Book A Desert Safari Tour?
The tours for Desert Safari in Dubai are available online. You can choose to book them from several slots of time. These range from morning, evening and even night tours. They also come in a range of the luxury package you want to enjoy on the basis of how much you would like to spend.
From the usual group activities starting from $40 to being treated like a king in the middle of the desert. It goes up to hundreds of dollars. But in this case, I am talking about a medium-budget generic group tour. I will also suggest taking an evening or night tour since it can get extremely hot during the day time.
You can also book this with your hotel at the front desk. Most hotels have tied up with one or more agencies for this.
Book a tour Online:
Premium Red Dunes & Camel Safari with BBQ at Al Khayma Camp
Dubai Desert Safari Red Dune: BBQ, Camel Ride & Sandboarding

What To Expect
The tour starts with picking up the group or an individual from their respective hotels (if that is included in your package). If you are staying in a hotel in the middle of the city, it is very likely that this service is available.
For groups, it is available in most areas in Dubai. An SUV, most probably, a Land Cruiser will be the one which will be your vehicle for the tour for. You will be riding the same vehicle for dune bashing.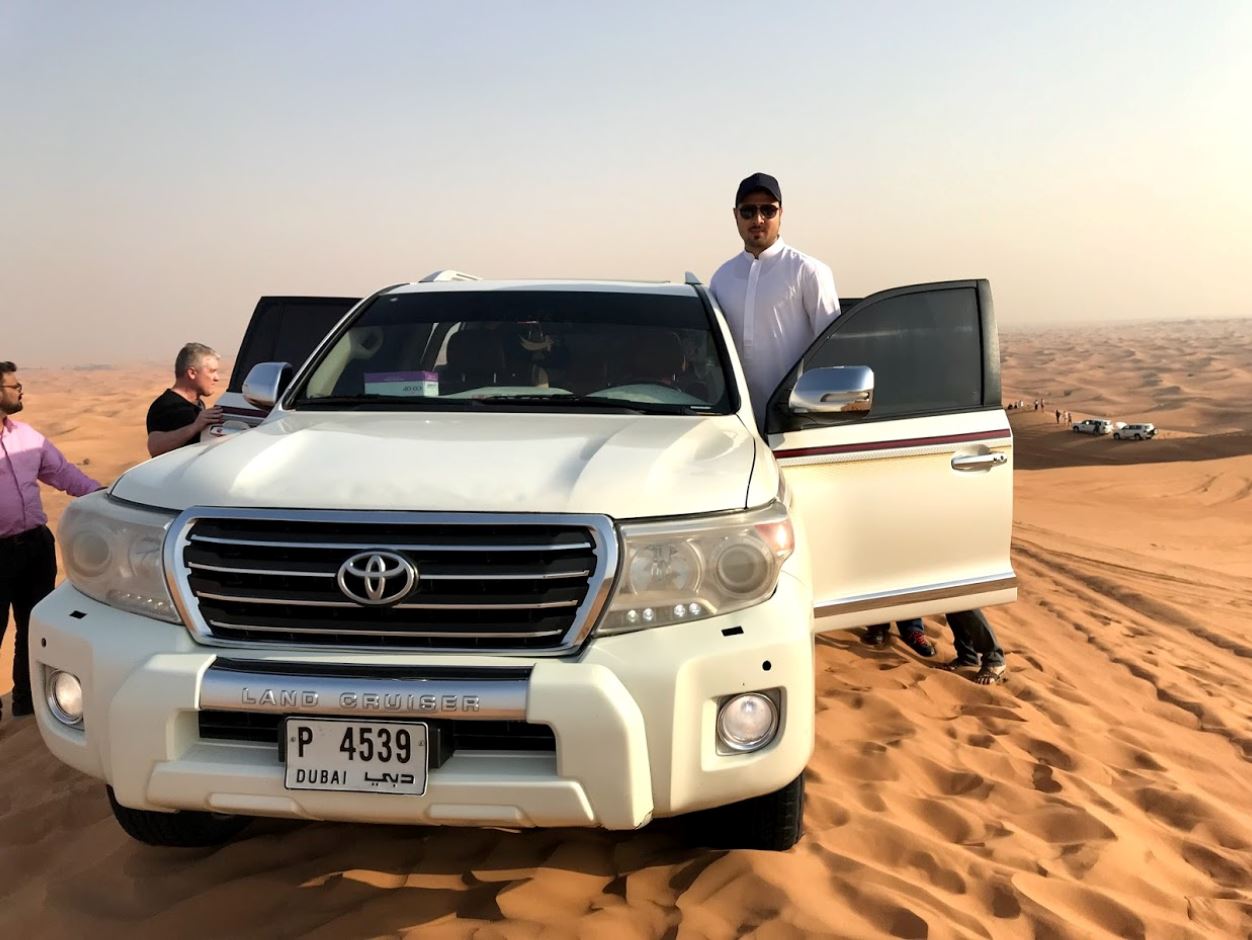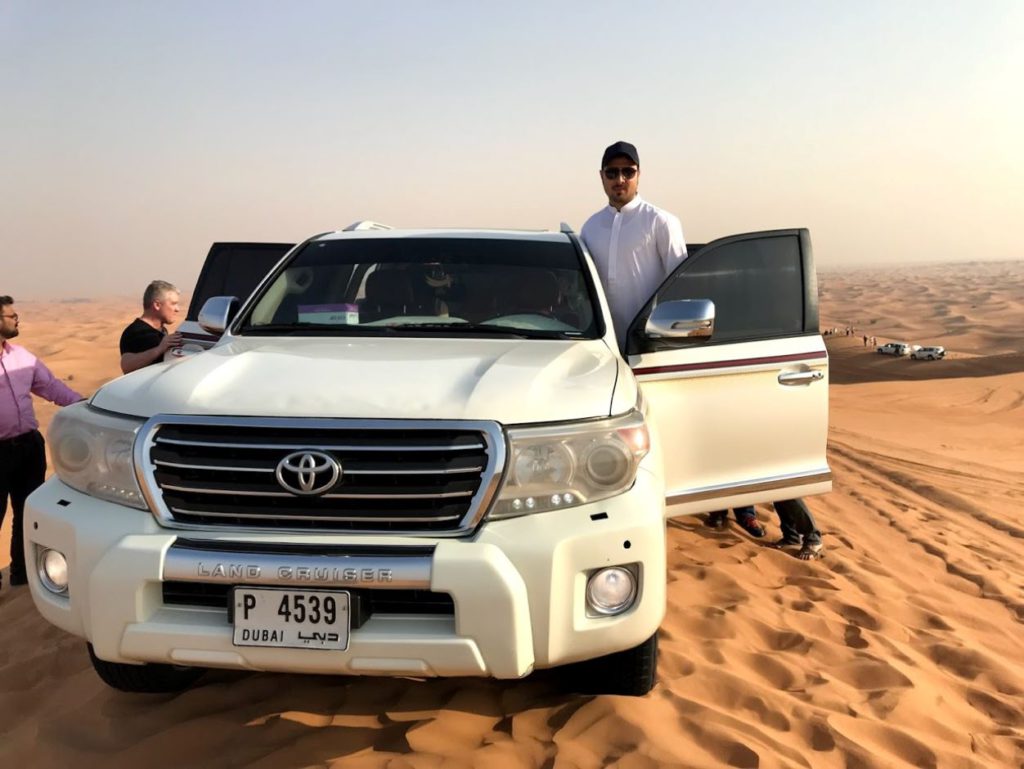 The travel guide, also your driver will drive you to a checkpoint way outside the city. This is where you enter the deserts for Safari in Dubai. You may have to wait for some time till all people with reservations arrive. This activity takes places in a group of vehicles carrying around 80-100 people at once in total.
So you will have to chill out by the time everyone arrives. By the time, there is an option of trying out some quad bike riding into the desert with additional charges. If you want, you can take only a quad bike desert tour in the early morning as well. It lasts up to 45 minutes along with Sandboarding.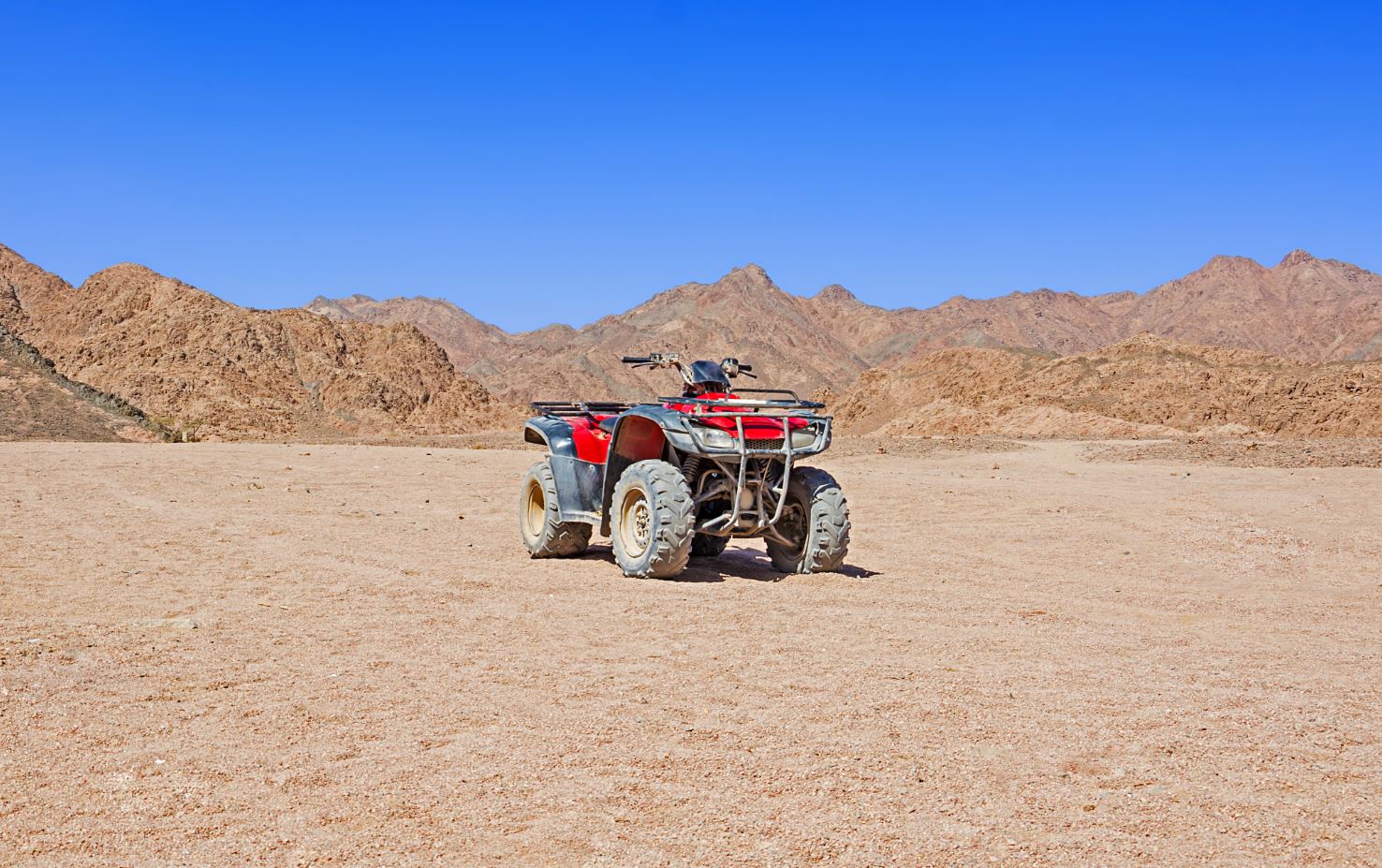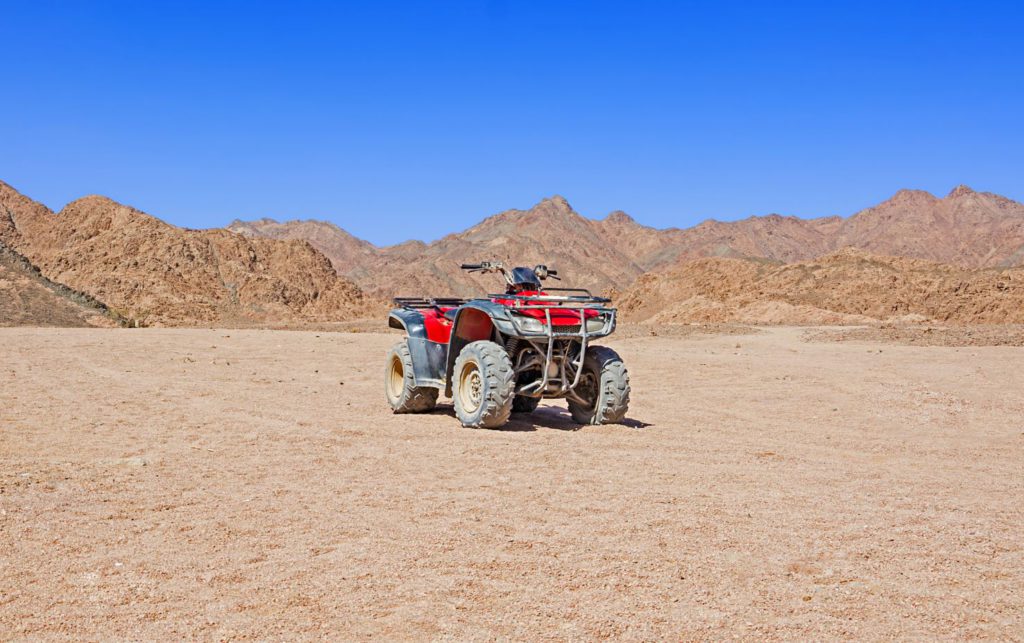 What Is Dune Bashing?
Once everyone arrives the drivers will call you to your respective vehicle to start with Dune bashing. Dune Bashing is driving on the sand dunes with increased and decreased speed. The sand will keep shifting from underneath the vehicle and thus takes special skills to do this. The air from the tires is usually punctured out for this activity.
It is a fairly intensive activity and you may feel like a rag doll in the car tossed around thoroughly. I will suggest not eating at least 2 hours before you start dune bashing. Also, it is a strict no for pregnant women, children below 5 years, people with advanced motion sickness or anyone with even minor back or heart problems.
This lasts for about 45 minutes to one hour where the vehicles move in a convoy to ensure safety. You will halt at multiples points in your journey to get down and enjoy the desert view first hand. If your package includes Sandboarding, this is where you will get to glide on the sands.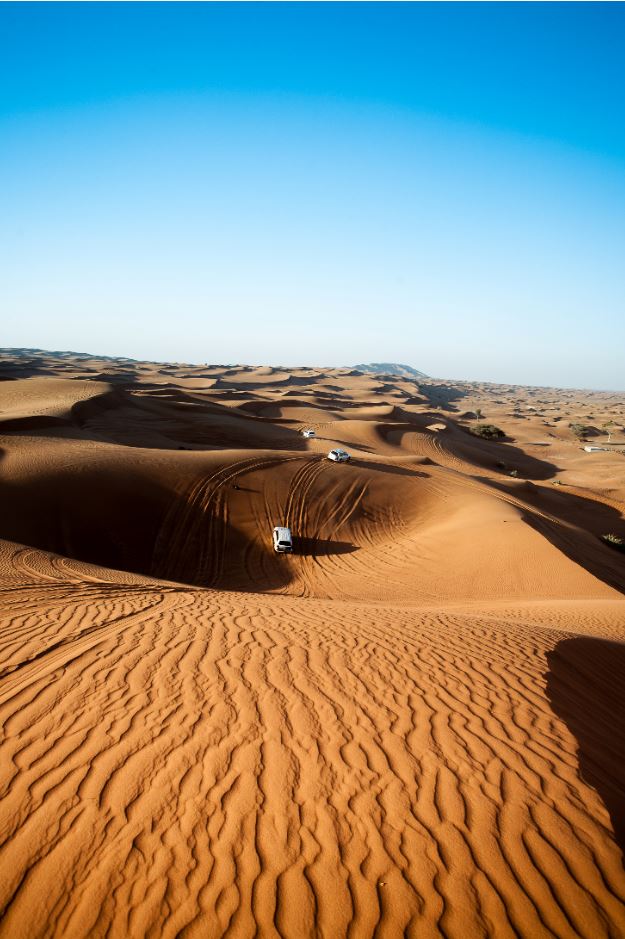 Next Stop In The Desert Safari
Before heading to the stop which is the traditional Bedouin camp, your car tires need to be pumped up with air again. Buy a few knick-knacks or water bottles at the market place where it stops. You may be quite dehydrated by now.
A few minutes of driving will take to a campsite with a flock of people to enjoy the evening activities. The campsite looks simple made out of wooden structures, low lying wooden tables with traditional Arabian carpets to sit on. You may get a few pillows to sprawl on more comfortably.
The whole area is open-air and an orange sky during sunset makes it a really outstanding experience.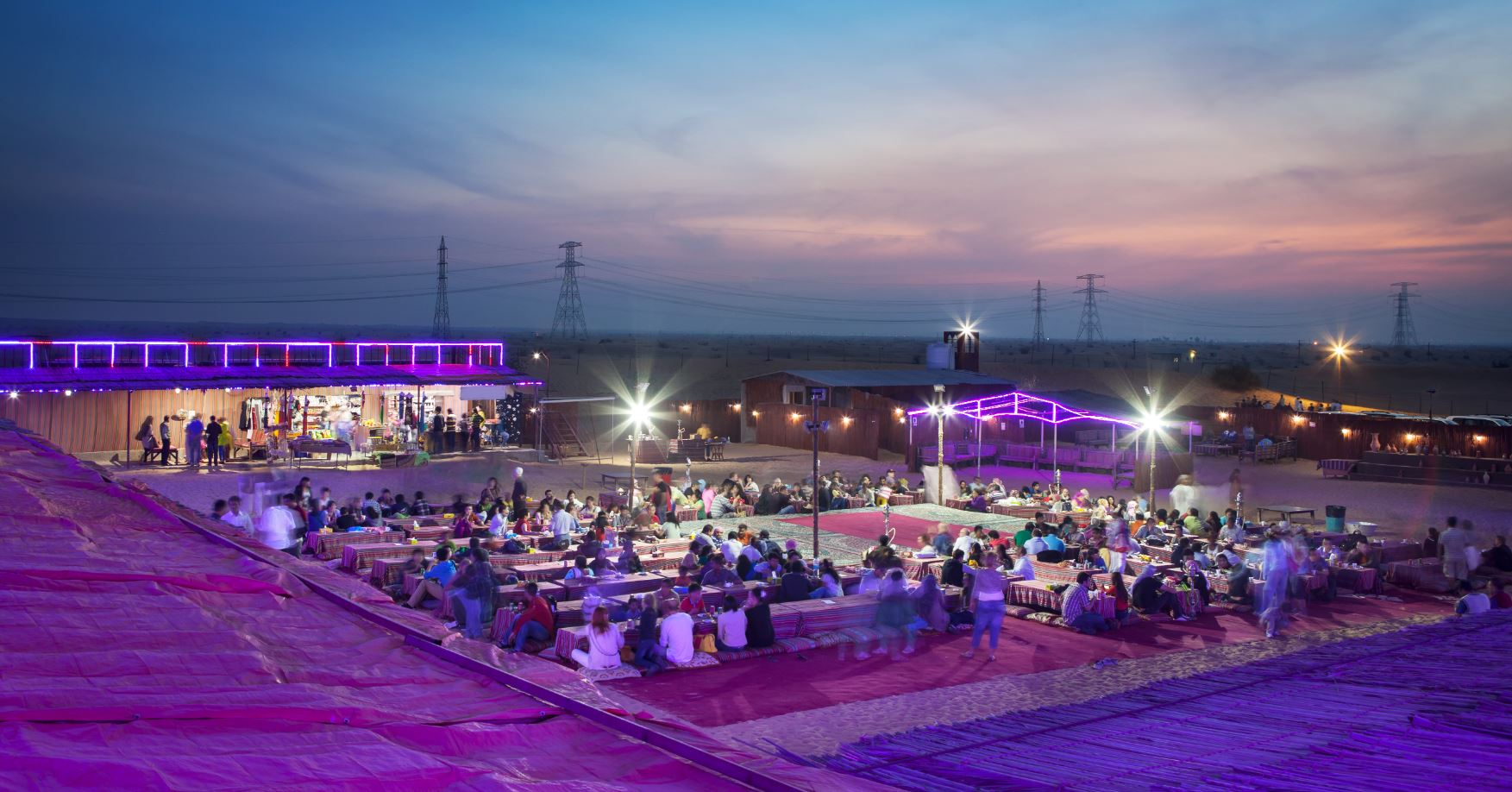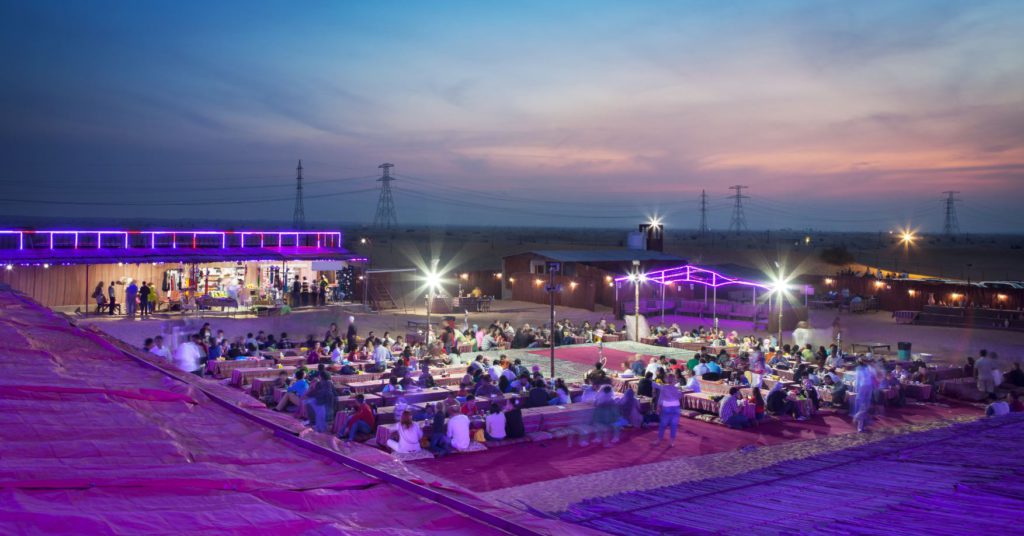 Camels And Henna
As a part of the package, you can also take a camel ride for a few minutes outside the main area. Although, you will have to wait for a while for there is usually a long queue for this. If you really like it, you can join the queue again for the second time. Don't forget to take pictures!
Women can also get their hands painted with henna in the camp. If you haven't tried henna in your life then you must know that it a thick paste that comes by grinding the leaves of the henna plant and then put into designs on your skin with conical tubes and may have a very strong odour for your liking. Check before you try.
Also, you will have to keep the henna on for 3-4 hours before you scrape or wash it off, so putting henna on the inside of your palms may not let you eat or use your hands with ease for a while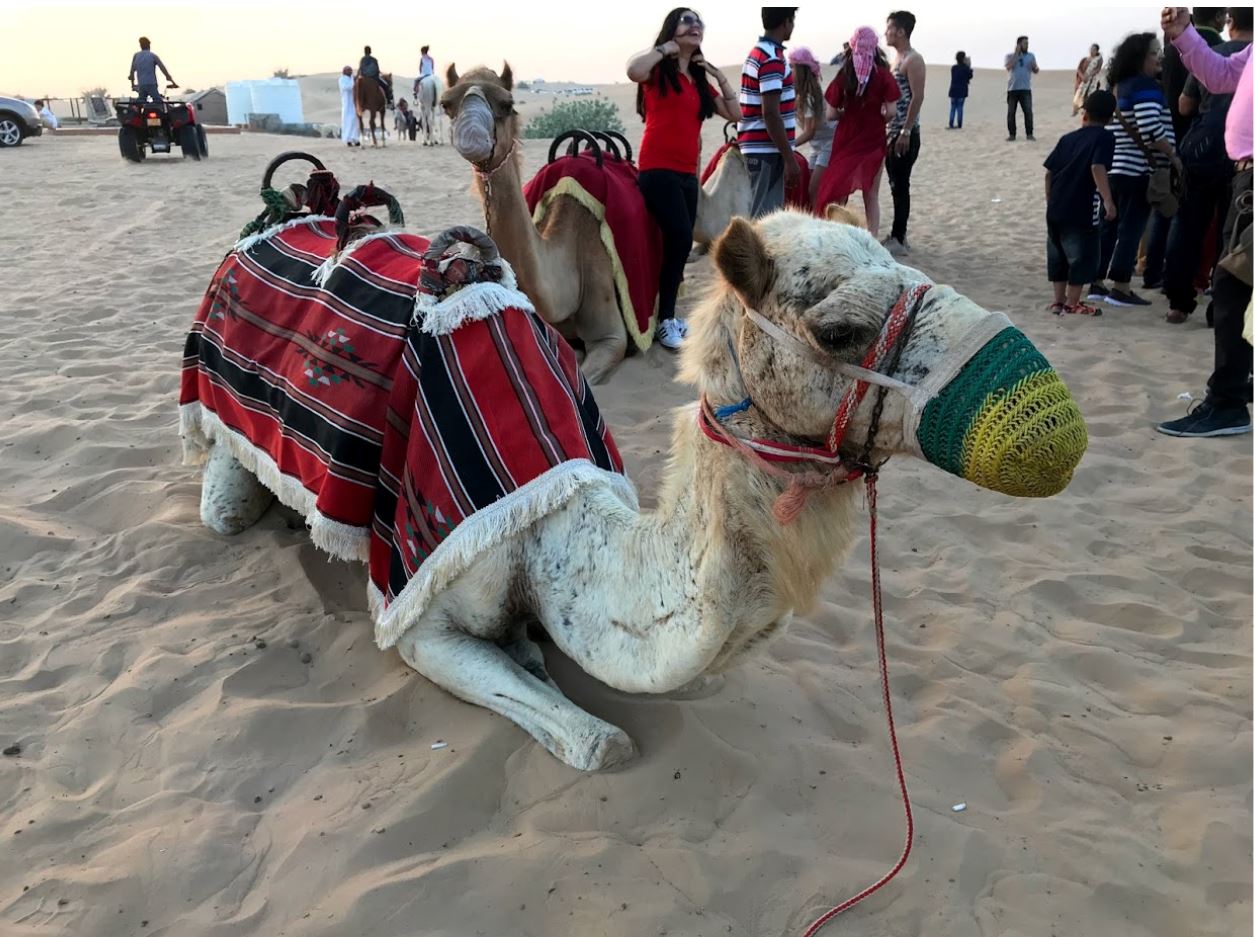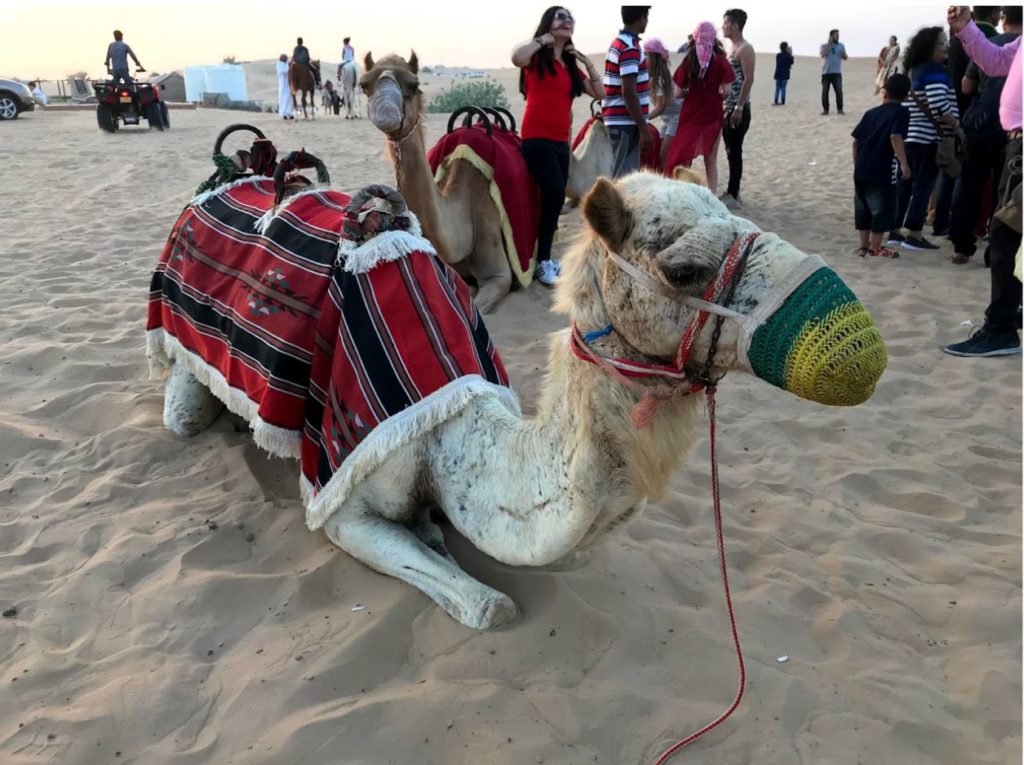 Traditional Arabic Dance
Now comes the most awaited part of the tour. With the onset of the evening, starts a series of traditional Arabic dances performed by the local artists.
It usually starts or ends with a fire show where a man showcases various acrobatic stunts with the fire. It includes juggling objects on fire, blowing fire to make patterns and quite a lot more which will give you quite a lot gasps in the moments of the spectacle.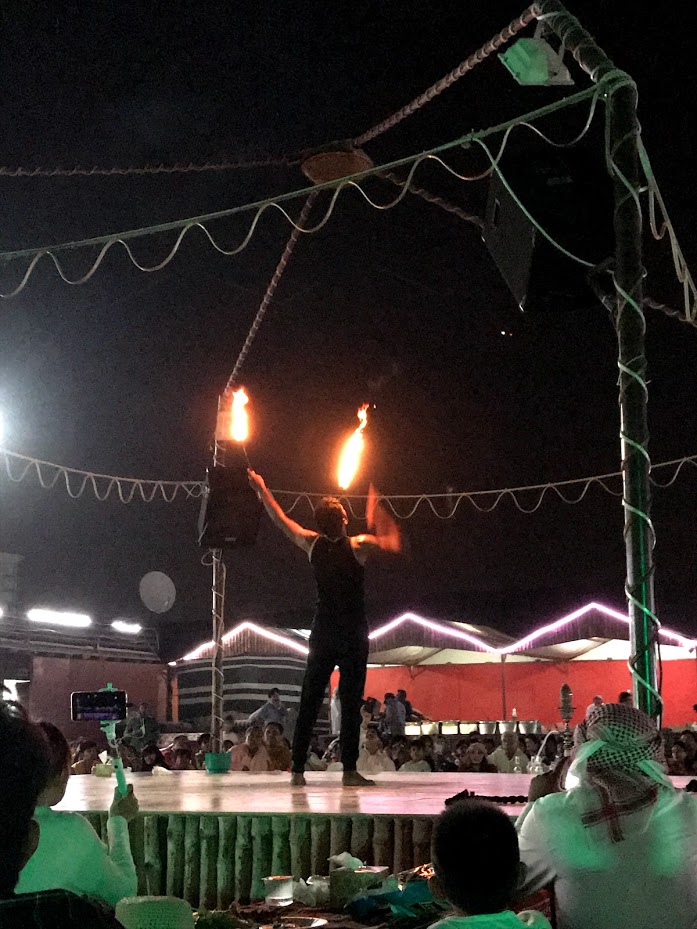 The most popular of all is the belly dancing with lovely women dancing on the traditional Arabic songs swaying their hips and moving their bellies gracefully. Apart from the dancing they will also use a few props like swords or sticks and use them for performing balance-related acts. It is often infused with a Khaleegy style of dance, with a lot of head and hair movements.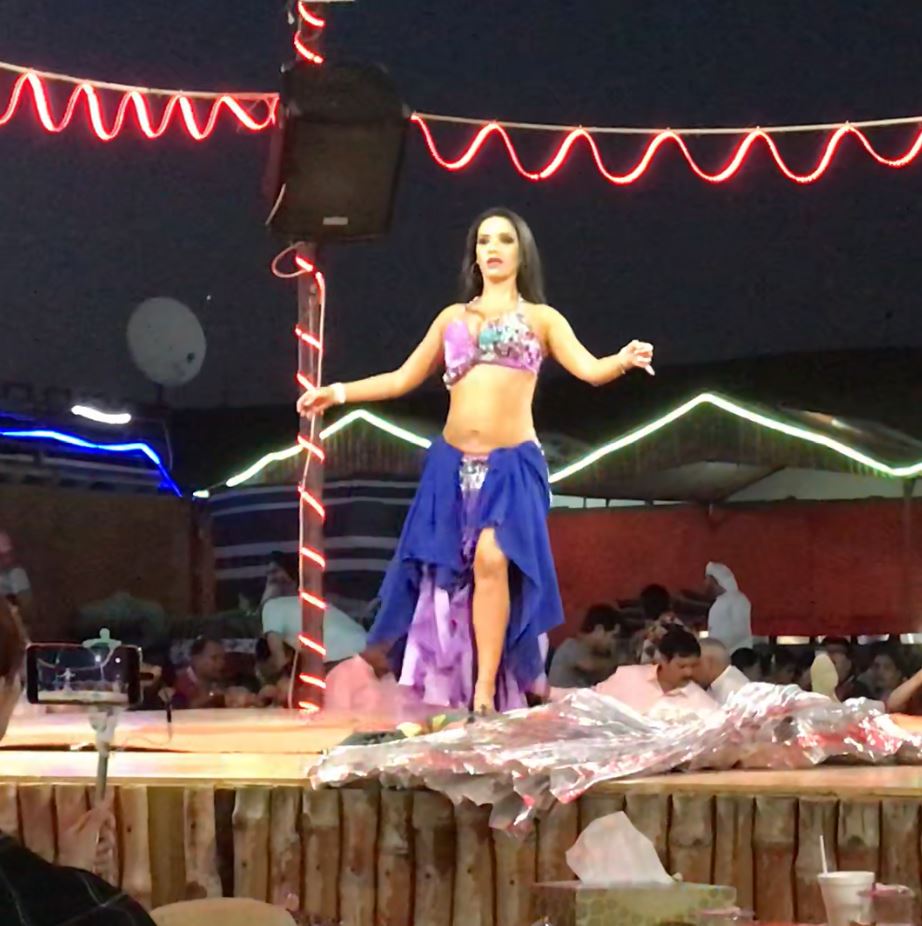 The most astonishing of all for me was Tannoura. It is performed by men. They adorn heavy round skirts where one colour representing each Sufi order. During the whole act of 4-5 minutes, the dancer dances continuously dances in a circle which may even make you feel dizzy. After a few acrobatic displays, their skirt light up in multi-colours and it is an astounding sight to see
Desert Safari Food
The Food served during the desert safari in Dubai is definitely something to look forward to. But don't expect to be treated like kings if you have not paid for it. You will have to wait in lines at all counters for starters and drink. These are not served at your table unless you have taken a VIP tour.
The main course is served as a buffet and again, you will have to stand in lines to get yours. I will suggest starting a little early, as soon as the dance finishes to avoid a long queue.
The food includes the traditional Mediterranean and Middle Eastern cuisines that include meaty Shawarmas, grilled chicken, mutton seek kebabs, many types of Salads, vegetarian curries, local flatbreads or naan, hummus, and aerated drinks to go on the side. Coffee and dates are served as soon as you arrive. But again, you will have to get it on your own.
You still may have to buy some foods in the camp. Some vendors set up a food stall which is not a part of the package. They are often overpriced. Check with them before you order. Sheesha or Hukkah is also available in the Sheesha area if you would like to smoke a traditional Arabic way.
VIP Or Regular?
One of the realities of Dubai is that there is always a regular and VIP segment. If you can pay more, you will get better treatment and it is a part of all their services. And it certainly is fancy.
These tours also have a VIP and a regular service. A regular service will include sitting on mats on the floor around the main stage. The food quantity is limited which you need to get on your own. Additional perks are also limited. VIP, on the other hand, get the seats with the best view. Often perched on a floor above with a view of the sunset. Also, unlimited food is delivered at their table.
I honestly feel that if you can spare a few bucks more, choose a VIP over a regular for a very special experience
What To Wear?
You would like to be comfortable during your desert safari in Dubai. Wear cotton or loose clothing, preferably in light colours to avoid overheating and sweating in the Dubai heat. Try to avoid fancy shoes since they will be filled with sand in it while you walk in the desert. Do not wear heels at all. If its summer, definitely cover your shoulders and arms to avoid a disastrous sunburn.
If you wear contacts, I will suggest avoiding them here and simply put on your glasses. The fine sand easily penetrates your eyes and will cause irritability. Carry sunglasses to protect your eyes. Also, carry a headscarf to wrap around your head to avoid the heat the scorching air.
If you plan to ride the quad bike, I will suggest avoiding wear skirts and full-length dresses. They may pose difficulty while riding.
Save on Pinterest


Related Articles