19 Mar

The Complete Guide to Badrinath Dham, India

A visit all the way to Badrinath Dham is a milestone in the life of many. And rightly so, it is not so easy to come. Although it is still easier to travel to Badrinath compared to Kedarnath dham, even though people tend to visit both of these places together. Both of these places are located in the heart of the Himalayas, a place almost hostile to humans even if we have overrun it with roads, helicopters & buildings.

The cold weather conditions, the altitude and the long arduous journey to Badrinath make the journey a pilgrimage on its own. And it's best to be as prepared as possible. In this blog post, I have shared all I know about my journey and more and hope this will help you plan yours as well.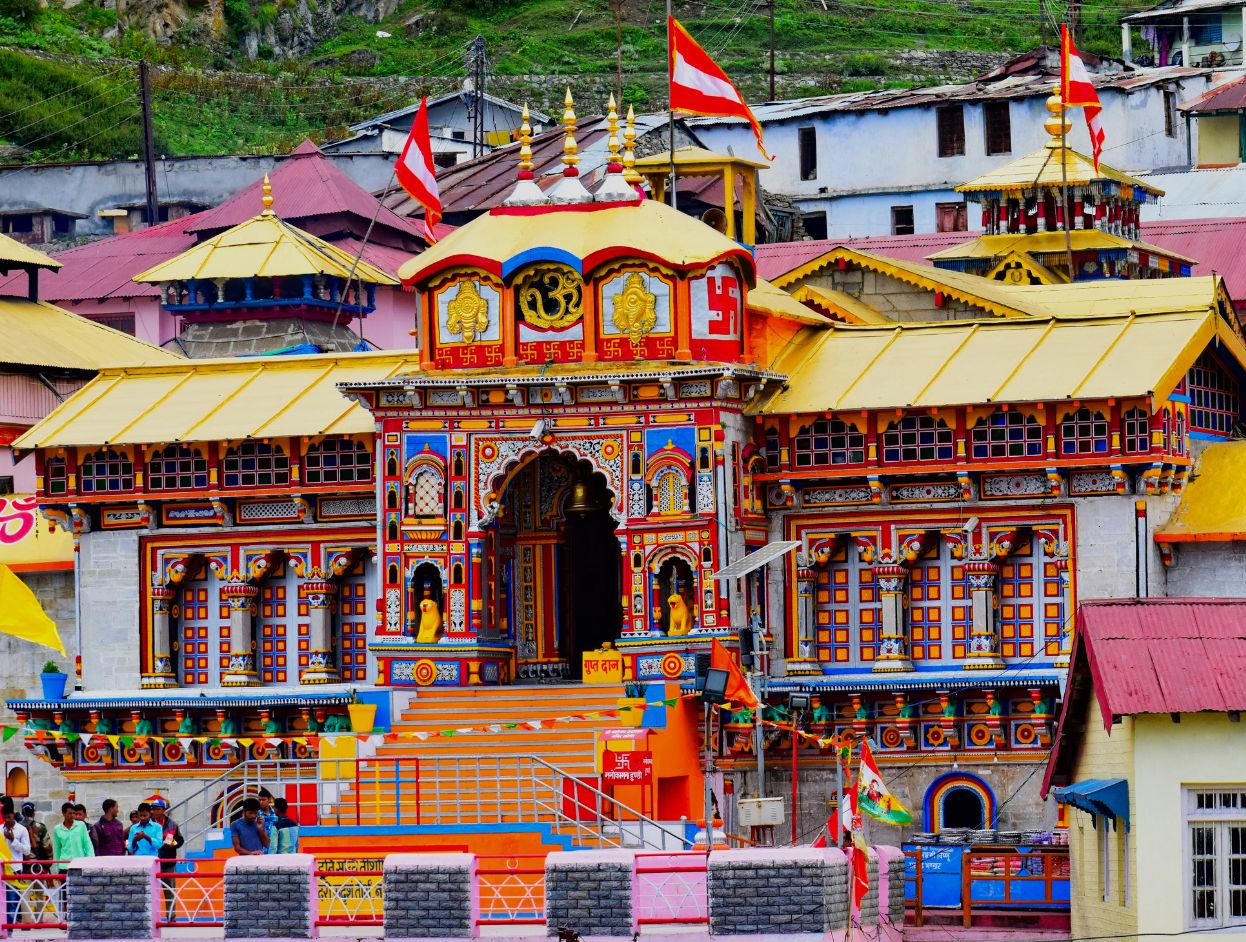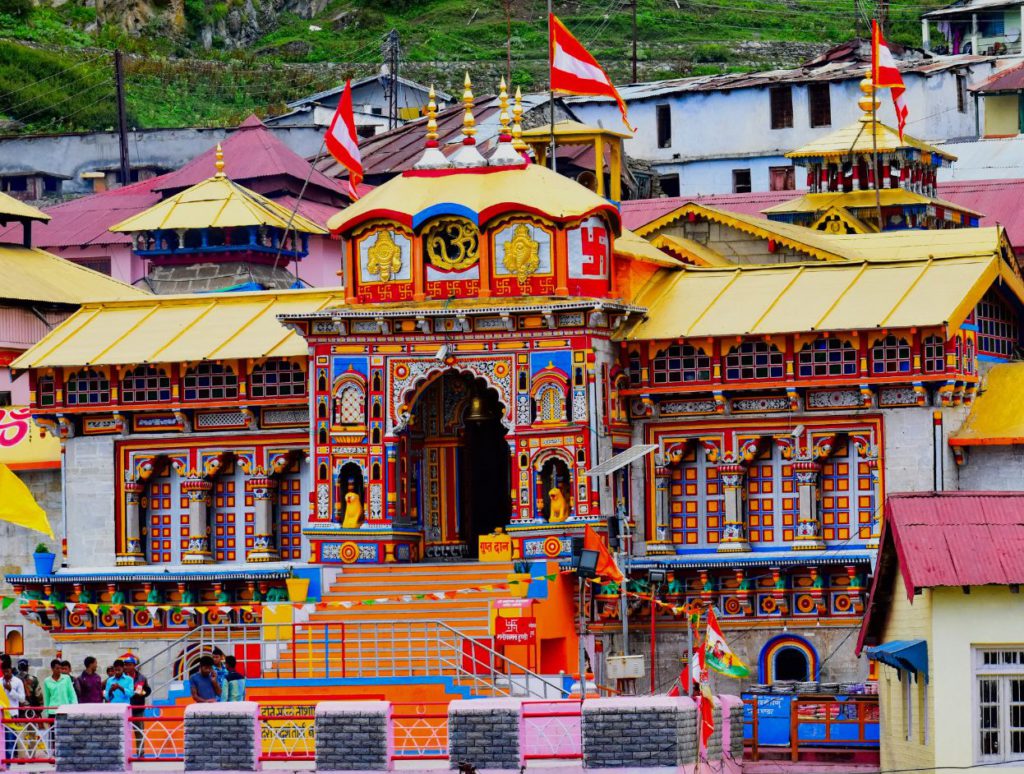 The Importance of Badrinath Dham
Badrinath Dham is considered a very important temple. It is one of the original 4 Dham – Badrinath, Dwaraka, Jagannath Puri and Rameshwaram. It is also one of the four Chota Dham of the north – Gangotri, Yamunotri, Kedarnath and Badrinath.
It is not as much the temple that is pious as the land itself. Often referred to as Deva Bhumi, the area of Badrinath holds several snippets from Hindu mythology and is significant where many deities meditated.
It is the seat of Lord Vishnu that is mentioned in Bhagavad Purana, Skandha Purana and Mahabharata that makes it so special. The place is also mentioned in Padma Purana as very spiritual and special.
Visiting Badrinath Dham? Here is our guide to visiting Kedarnath Dham as well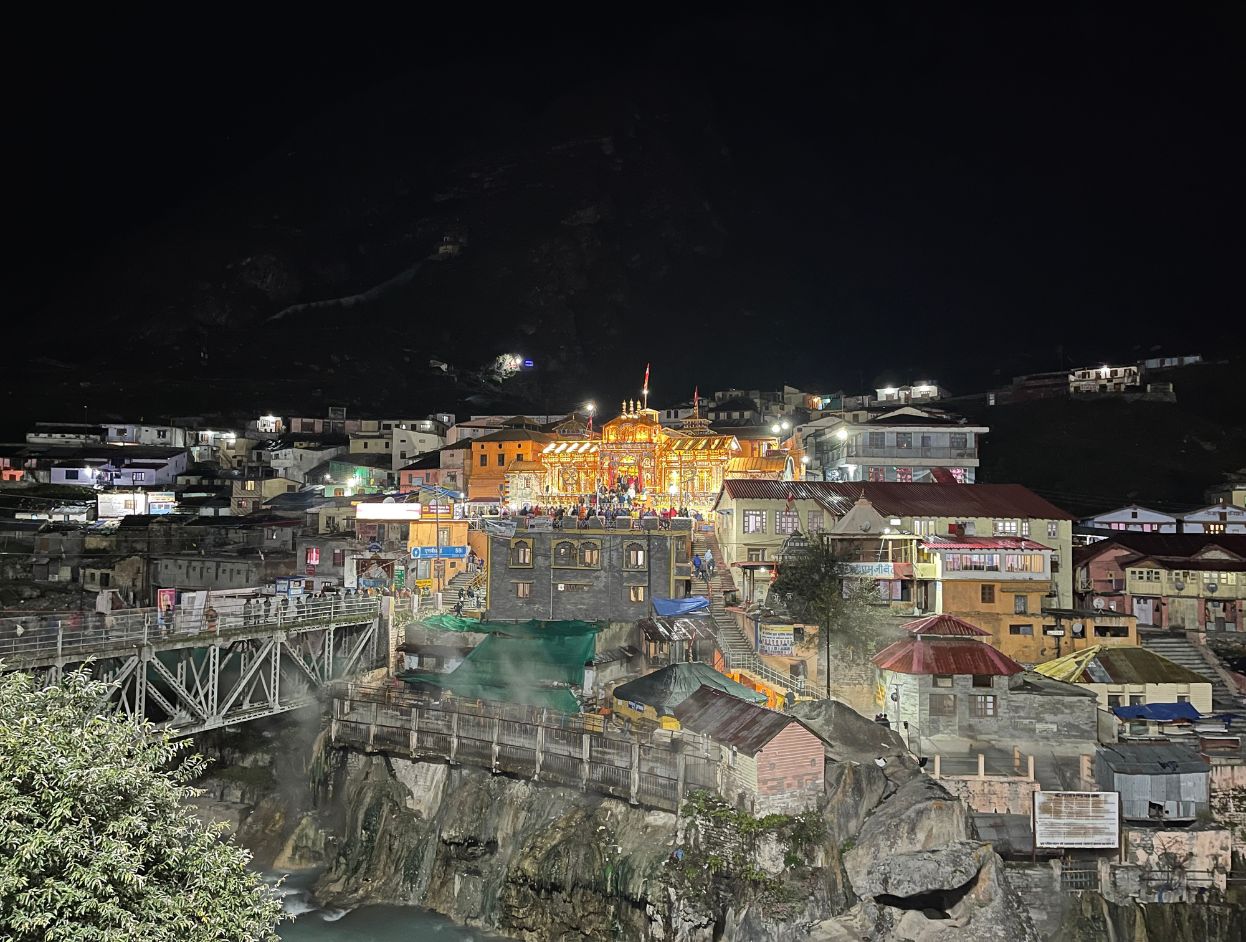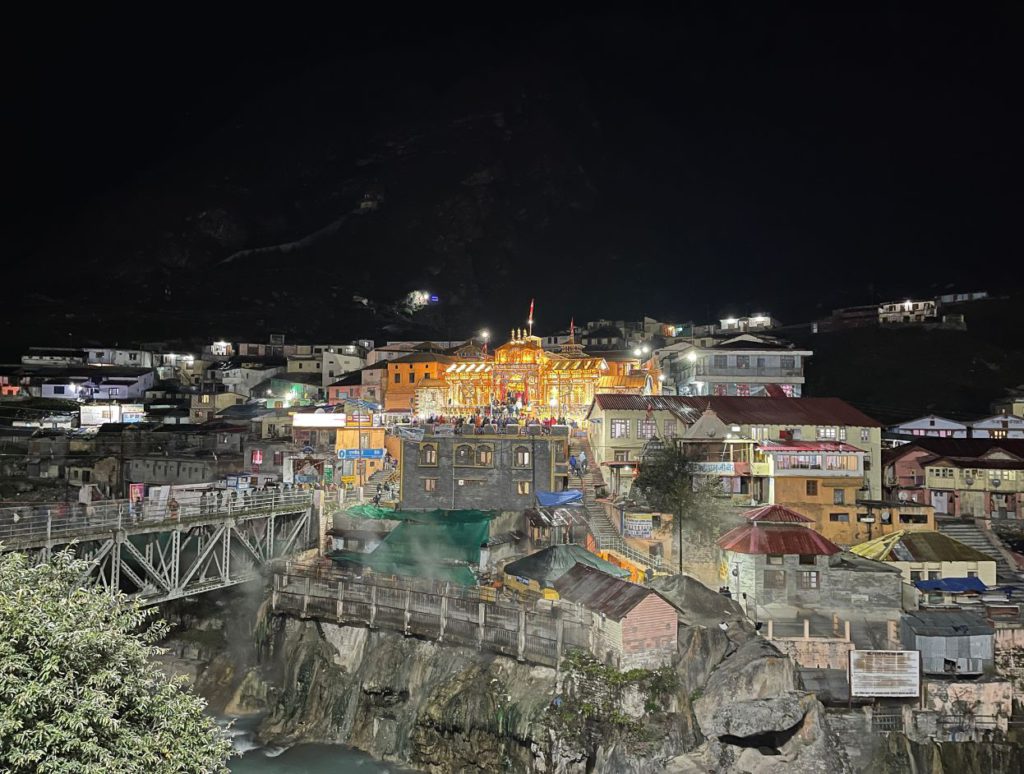 History of Badrinath Dham
Now there are several legends about Badrinath Dham – its origins and several events that took place in these valleys that span centuries. But let's start with the origin. It is when Lord Vishnu sat in meditation in this place. He was unaware of the extremely cold conditions, so his consort, goddess Laxmi transformed herself into a Badri (Indian Ber fruit) tree, grew around him and protected him. He was so pleased with her devotion, that he named the place Badrika Ashrama.
As per Hindu mythology, Badrinath was re-established by Adi Shankaracharya to revive the lost prestige of Hinduism against the growing popularity of Buddhism in the region. He took it upon himself to bring back the glory of Hinduism in this region and established several important temples and shrines dedicated to Lord Vishnu and Shiva.
This place is also where many great sages have come to perform penance including Nara and Narayana, known as the last avatar of Vishnu. A little ahead, near the village of Mana is where the Pandavas and Draupadi went on their last pilgrimage by ascending the slope of a mountain called 'Swargarohan Marg' or the Way to Heaven. Those are some of the many tales around this place.
Where is Badrinath Located?
Badrinath is located in the deep interiors of the Garhwal region in the Chamoli district in Uttarakhand, a little before the Indo-Tibetan border. It is around 291km from Rishikesh, and 46km from Joshimath. Badrinath is located at a height of 3,100m or 10,170ft and you can reach it by either a helicopter or by roadways.
While Kedarnath and Badrinath are usually visited in a pair, they are not so close. Badrinath is around 182km from Guptakashi and can take upto 8 hours to make the journey by road. Although they are geographically pretty close to each other.
When to travel to Badrinath
The town of Badrinath is open to tourists and pilgrims from April/May till October. This is when the Badrinath shrine is also open and people can visit for darshan. The temple closes on Vijayadashami and opens on Vasant Panchami and the dates are available on the official website. The months of July-August of heavy monsoon do come with some perils since landslide is frequent in the area. Try to avoid peak monsoon.
The months of April, May, June, September and October are great for visiting. After the gates close for the winter in October, most people move out of the village since heavy snowfall makes the place very hard to reach and inhabitable. The temperature drops to sub-zero. The shrine priests also move to a village at a lower altitude.
The temple priest lights up a lamp called 'Akhand Jyoti' before closing that lights up for the next six months. It is this lamp that attracts a large number of pilgrims on the first and the last day of the opening of the shrine. As many as 20,000 pilgrims visit the shine on these days.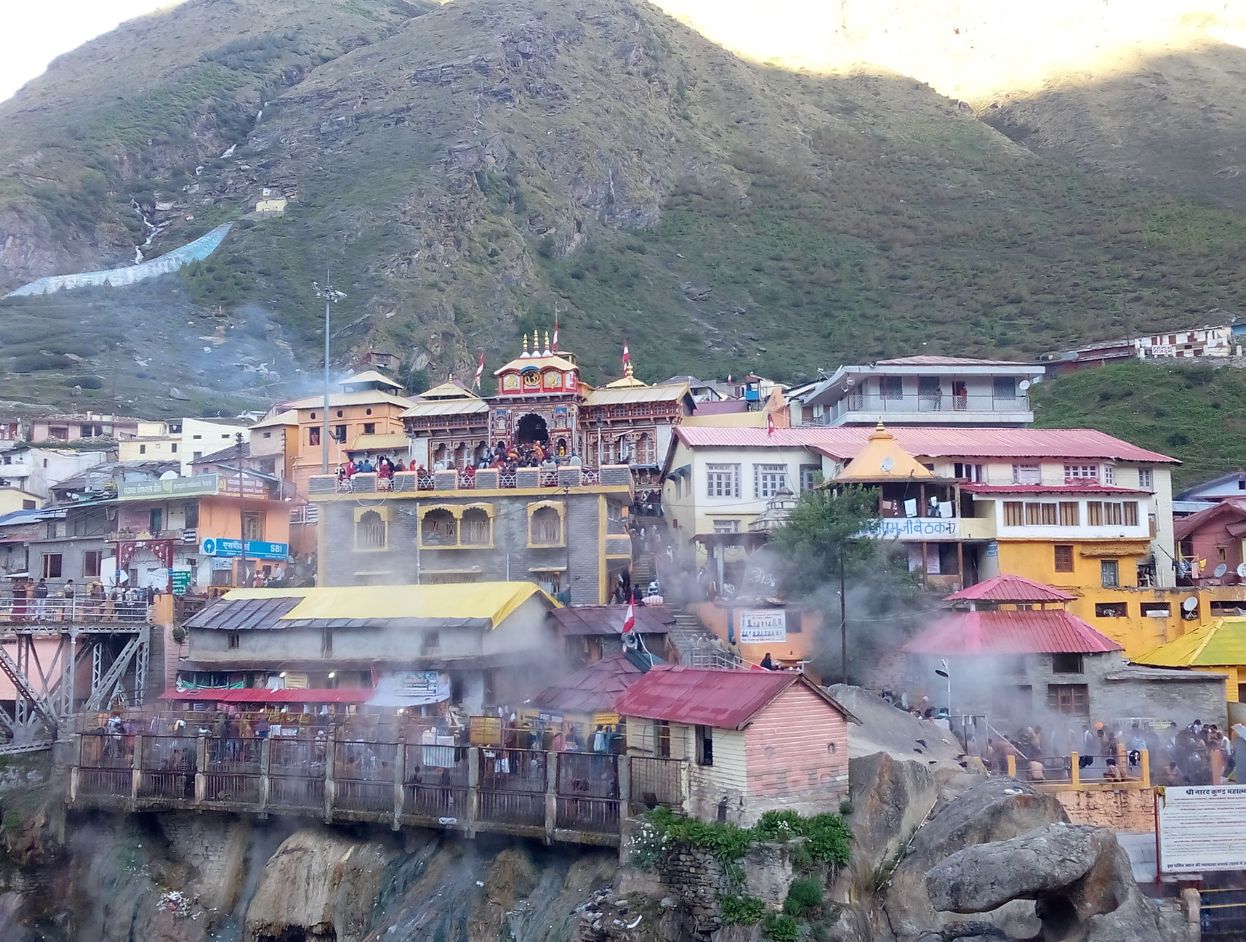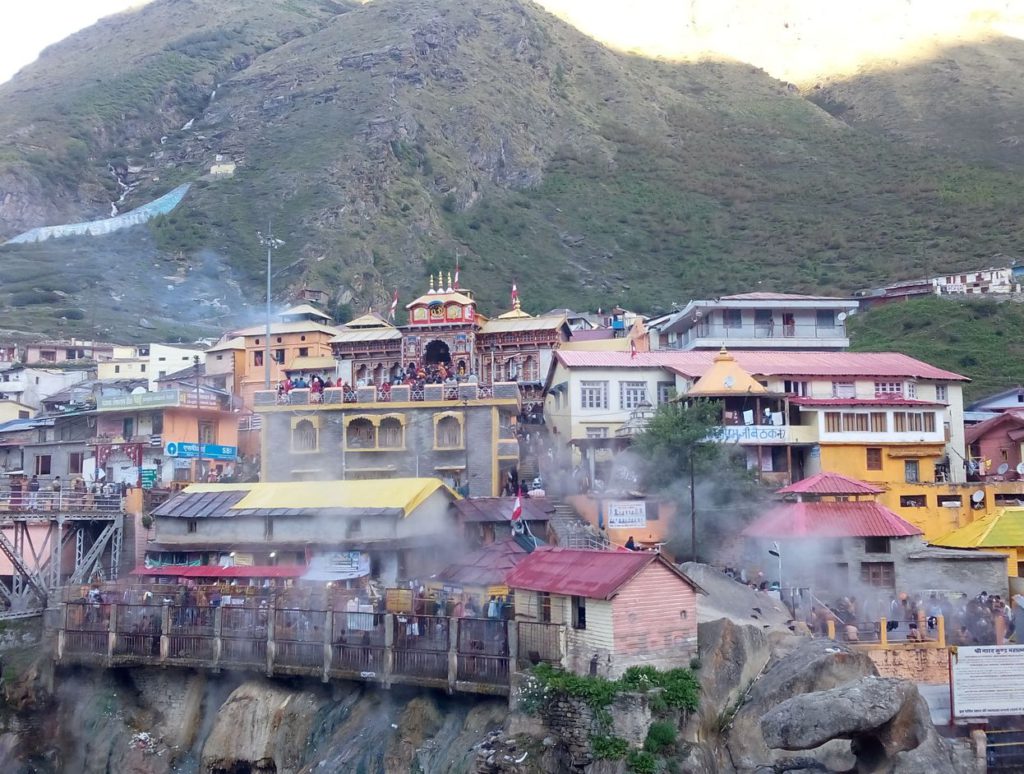 How to reach Badrinath
You can reach Badrinath by either road or using a helicopter (see below). But you can cover the first leg of your journey by reaching the nearest railway station (Yog Nagri Railway Station) which is in Rishikesh.
If you cannot find a direct train to Rishikesh, reaching Haridwar is a great alternative. The nearest airport is Jolly Grant Airport in Dehradun. From there, you need to hop onto a road vehicle to cover the next leg of the journey.
By Private Vehicle/Taxi/Minibus
The most convenient way to reach Badrinath is by using a private vehicle. Now, If you are not living in the region, I do not suggest you rent a car and drive yourself. The roads in the area are treacherous and accidents are common. Hire a tour operator who can give you a package for your whole trip depending on the vehicle you need.
The cost of a 4-wheeler taxi can start from ₹3,500 per day depending upon the vehicle. A tempo traveller will cost around ₹6,000 per day. The cost usually includes parking and the driver's pay. You don't need to pay anything extra unless you are moving out of your pre-determined itinerary. 
This is the most common route from Haridwar or Rishikesh : 
Haridwar – Rishikesh – Deoprayag – Kirtinagar – Shrinagar – Rudraprayag – Gauchar – Karnaprayag – Nandprayag – Chamoli – Birahi – Pipalkoti – Garur Ganga – Helang – Joshinath – Vishnuprayag – Govindghat – Pandukeshwar – Hanumanchatti – Shri Badarinathji
Here are a few car rental services online that you can check for a package:
https://www.haridwartaxi.com/haridwar-to-badrinath-taxi.html
https://www.rishikeshtaxiservice.com/rishikesh-to-badrinath-taxi.html
http://carrentalinharidwar.com/haridwar-to-badrinath-taxi-fare.html
By Bus
Buses are probably the most affordable option on this route but it is a hard long journey. Buses are available during the summer months when the shrine is open all the way from Rishikesh to Badrinath. They start from Rishikesh bus station between 4 am – 6 am.
All buses leave before sunrise. It can take between 10-12 hours to reach Badrinath and buses are not allowed to travel from Joshimath onwards after sunset. So they need to cover this journey before the sun sets.
If you are unable to catch the early morning bus, you can also break your journey and continue the next day. Consider taking a bus to Rudraprayag, Chamoli, Joshimath or Govindghat and then take another bus, shared jeep or a private taxi to Badrinath the next day.
You can look for a ticket directly at the bus station, check out with one of the tour operators in Rishikesh or you can also book from an aggregator website online. See below
Guided Tour Package
Now, a really great option is to get a guided tour package for the whole trip. This works especially when you are alone or for the elderly who would like some assistance to navigate through this journey. 
While there are quite a few tour packages available, I think it's best to see what facilities are available, how comfortable they are and read some reviews of the tour operator before booking. From my personal experience, the services in the area are usually poor compared to the price pilgrims end up paying.
The most popular one is the tour package from GMVN. Since the stay is usually in GMVN guest house, you can expect the facilities to be basic, but comfortable. Here are some of the tour package websites you can check out.
https://gmvnonline.com/tour-package-booking
https://www.euttaranchal.com/tourism/badrinath-tour-packages.php
Helicopter
Darshan Registration & Timings
Registration for Badrinath
In light of the mishaps that happened in the area in the past, all yatris are required to register beforehand to travel to any of the char dhams including Badrinath. You can register on their official website https://badrinath-kedarnath.gov.in/. Make sure to download or print your registration copy with a QR code and carry it with you.
Although it is quite uncommon for anyone to ask and check for your registration, you do not want to be stuck there in case it is required for darshan.
Badrinath Temple Timings
The temple opens in the morning from 4.30-6.30 am for Abishek Puja. It is probably the grandest event of the day. If you can, do attend the puja since very few people will be around and you will able to get the darshan quickly.
Otherwise, the temple kapat are open for pilgrims from 7.00 am to 8.00 pm during the day. They close in the afternoon between 1.00 pm and 4.00 pm. The kapat closes after Shayan or evening aarti that takes place between 8.30-9.00 pm.
If you wish to take part in the aarti or dedicate it to someone, you can request it online. Here is the list of pujas with prices that you can book on their website. You need not be present for the puja.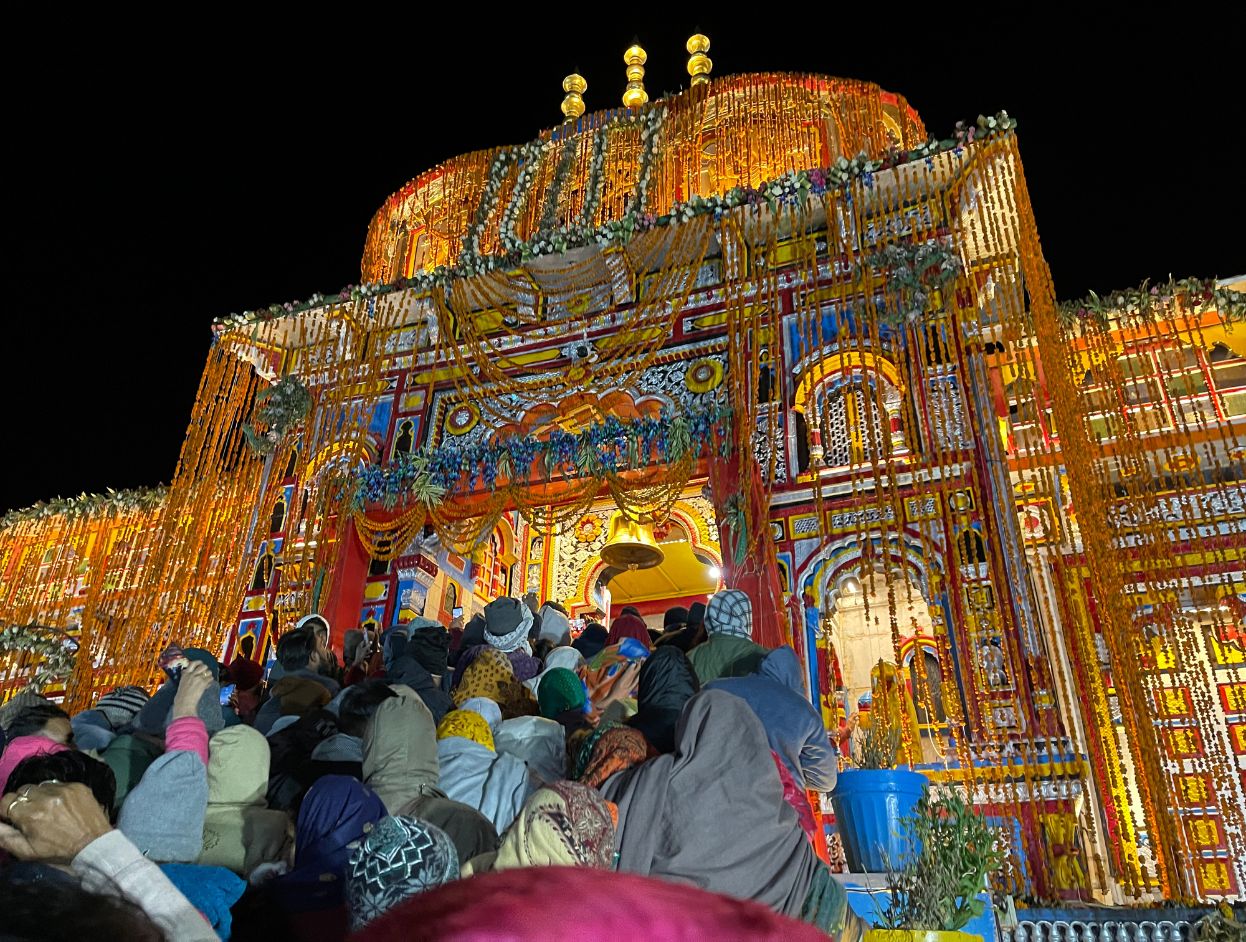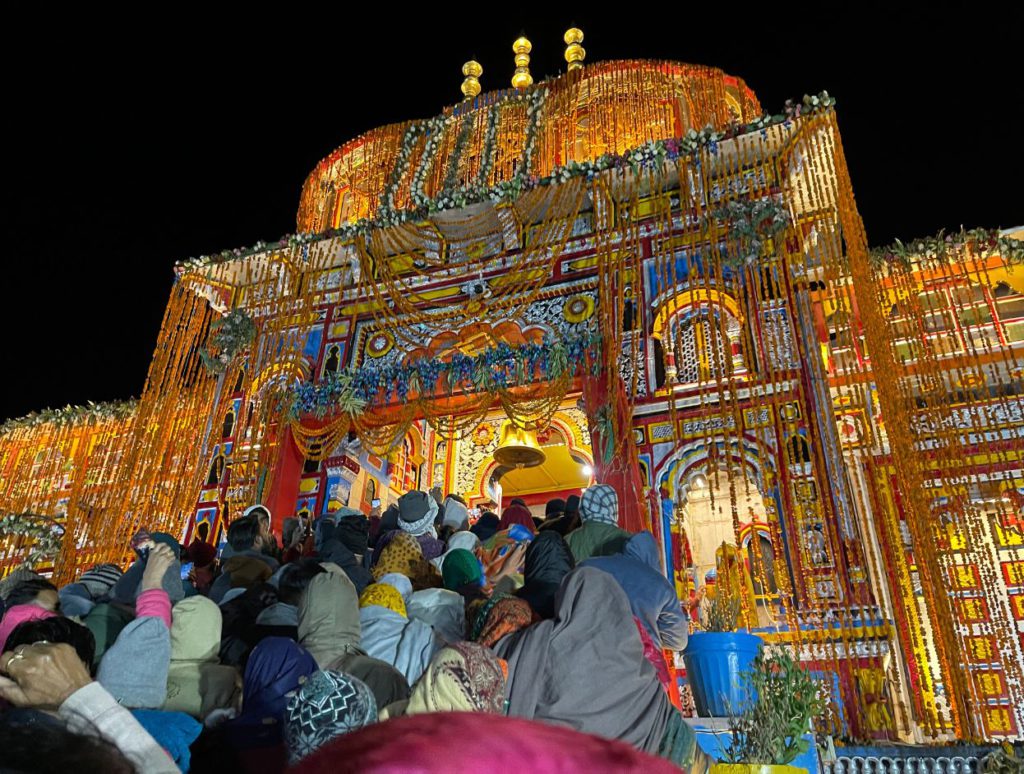 Where to Stay in Badrinath
There are quite a few stay options in the town of Badrinath ranging from comfortable hotels to simple but efficient dharamshalas. It is a small town, so most of them are located within a walking distance from the shrine.GMVN guest houses are also a fantastic option to stay in. However, they get booked fast.
You can find a few options on Booking.com or Makemytrip.com during the visiting months. You can also head to the official GMVN website to book a guesthouse. Here are a few more options of simple basic rooms that you can book at Badrinath.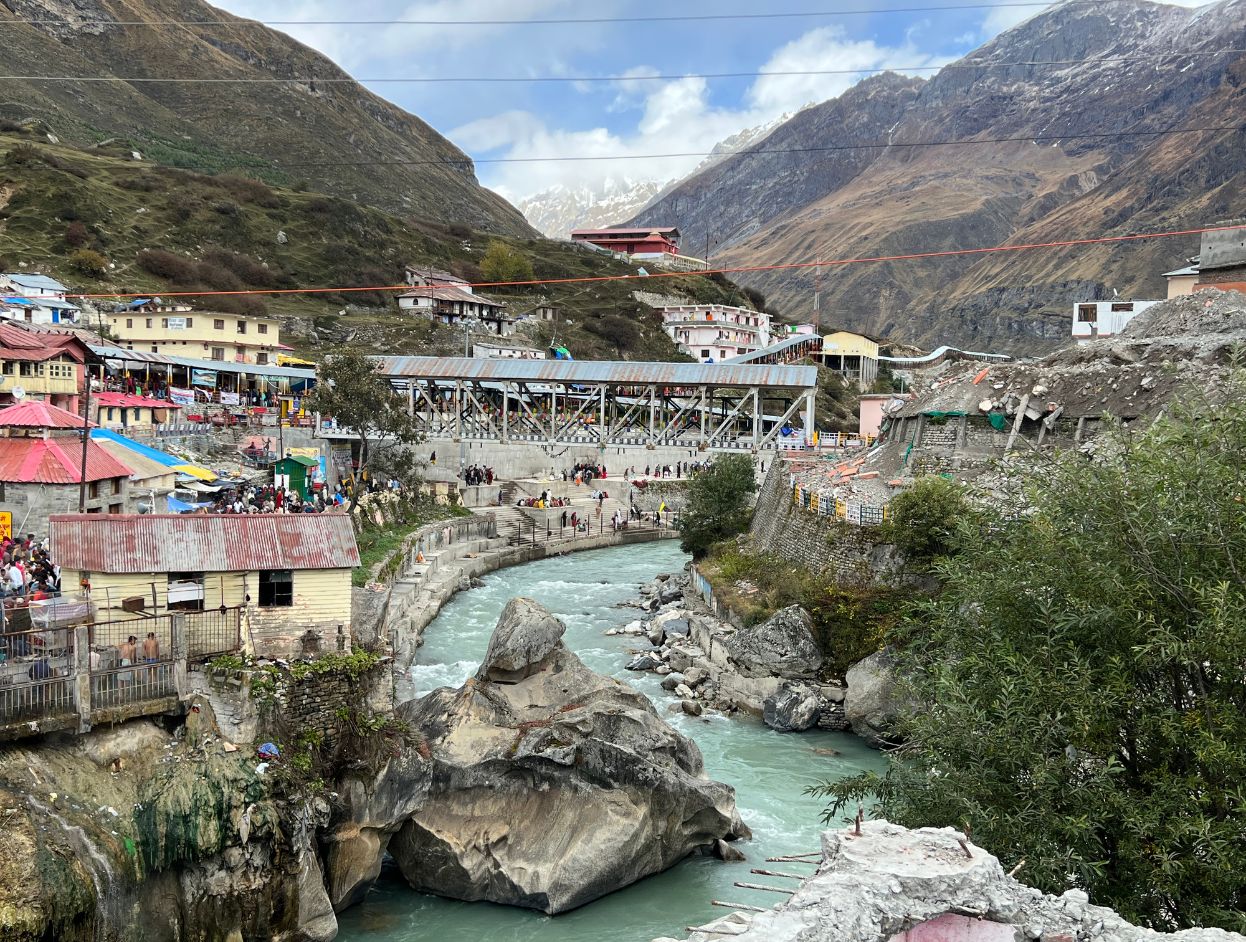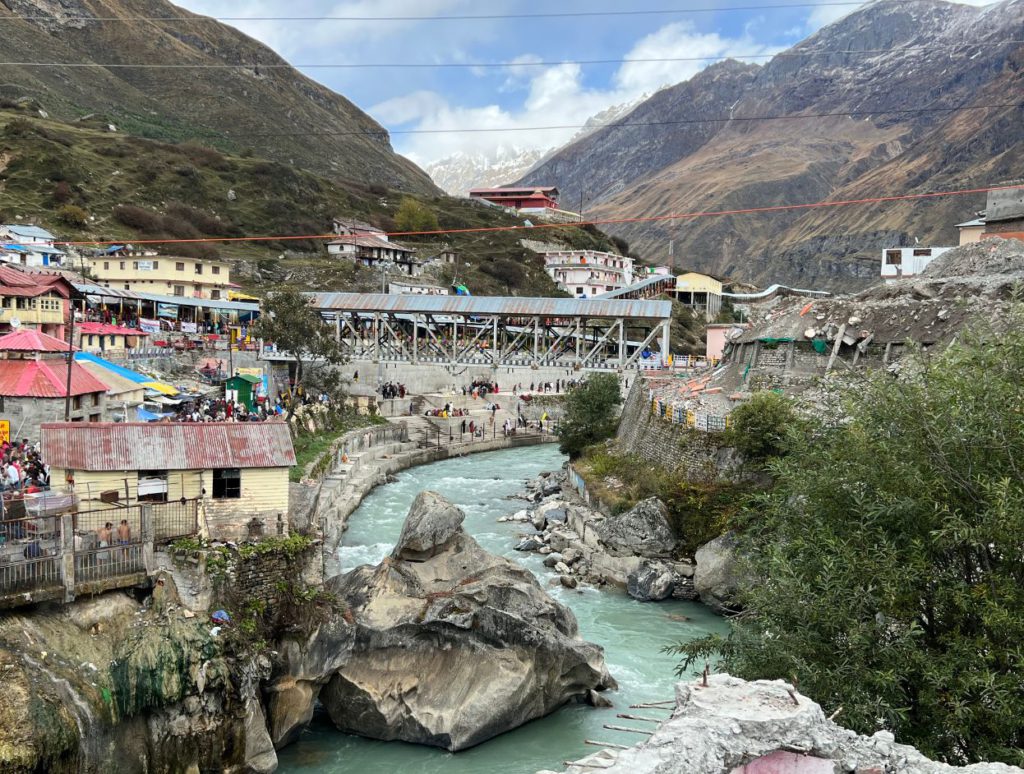 Our experience of visiting Badrinath Dham
We started our journey to Badrinath by road from Kedarnath early in the morning. It took us good 10 hours to reach Badrinath and we reached it after sunset. The town was freezing in October with the temperature hovering around 2°C. However, I have to point out that it was very festive.
Since the town is pretty small, you can walk to your hotel. Vehicles and cars often cannot drive all the way to the dharamshala since these are walkable streets only. So you may have to carry your luggage yourself. You can even hire a pitthu to carry your luggage for you.
Our dharamshala was near the shrine and we can even see the temple from our window. We changed and headed over for darshan the same night at around 8 pm. While it was quite crowded, we just needed some patience to reach the main sanctum.
You will have to remove your shoes and walk around on an extremely cold and wet floor. You can wear your socks but they will probably end up getting wet. So brace yourself.
If you are visiting during the day, you can also cleanse yourself in Tapta Kund. As per Hindu religious beliefs, you can wash away all of your sins with a bath in the holy hot spring. Different kunds are available for men and women. Changing rooms are also available.
You just get a minute or two in the main sanctum and probably just a few seconds of darshan. Try to get the prasad and move out as soon as you are done. There are a few smaller shrines inside the main temple complex with many stories associated with them. Things are rushed but you can take your time.
If you are willing to get up early, come for the aarti in the morning. You will find a handful of people in the temple and much more time for darshan.
The town is packed with shops and restaurants selling food, clothes and souvenirs. So if you are looking for warmer clothes or pooja articles, you are covered. Food is fantastic, or maybe it seemed to me because I was cold and tired. But I bet you will enjoy it much more than usual.
I think you just need half a day for the darshan and you can either relax for the rest of the day or head out to a few other places in the area that are worth visiting.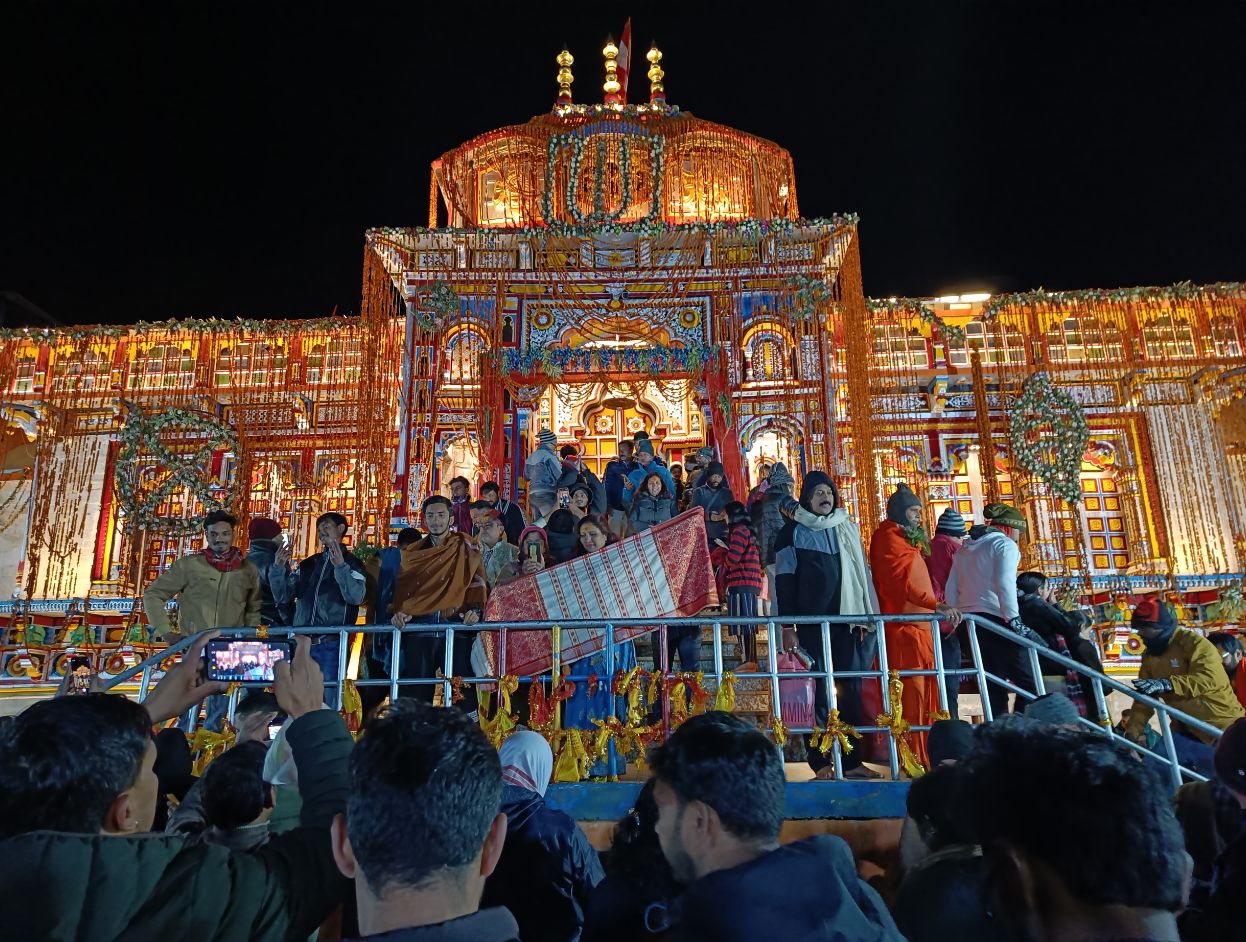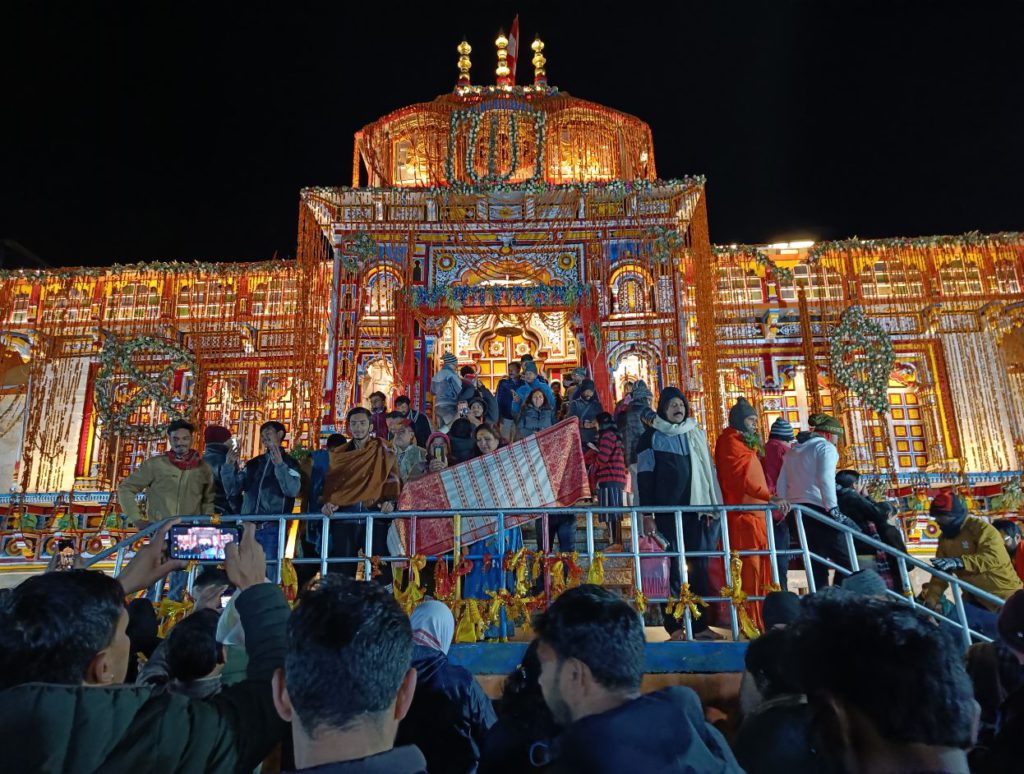 Places to visit near Badrinath
1. Hemkund Sahib
Hemkund Sahib or Gurudwara Sri Hemkunt Sahib ji is a gurudwara located right next to Hemkunt Lake at an altitude of 4,329m. The place draws thousands of pilgrims every year. This place is mentioned in the holy Grath Sahib as the place where Guru Gobind Singh meditated at the serene banks of this lake. But you need to trek to this place since it is not accessible by road.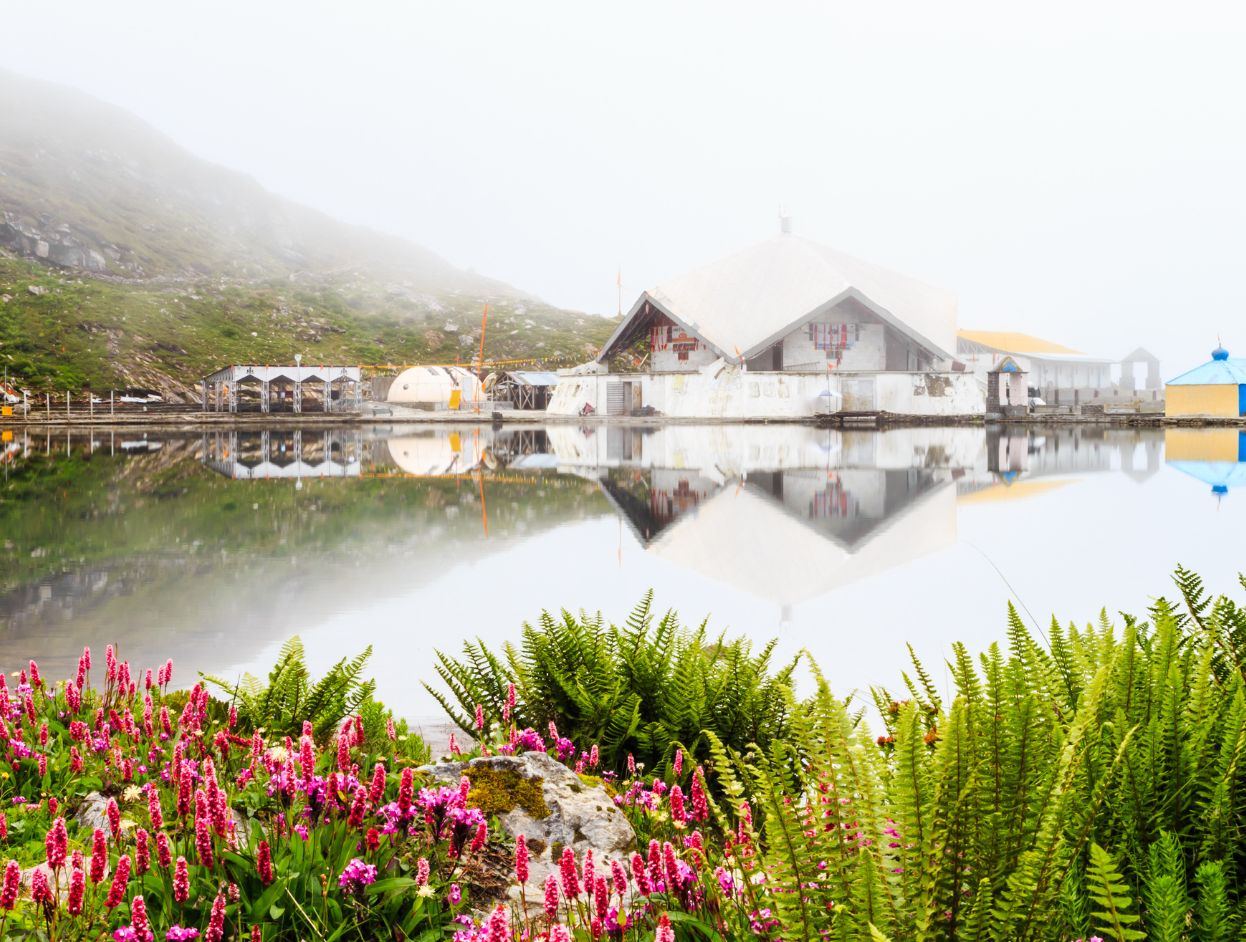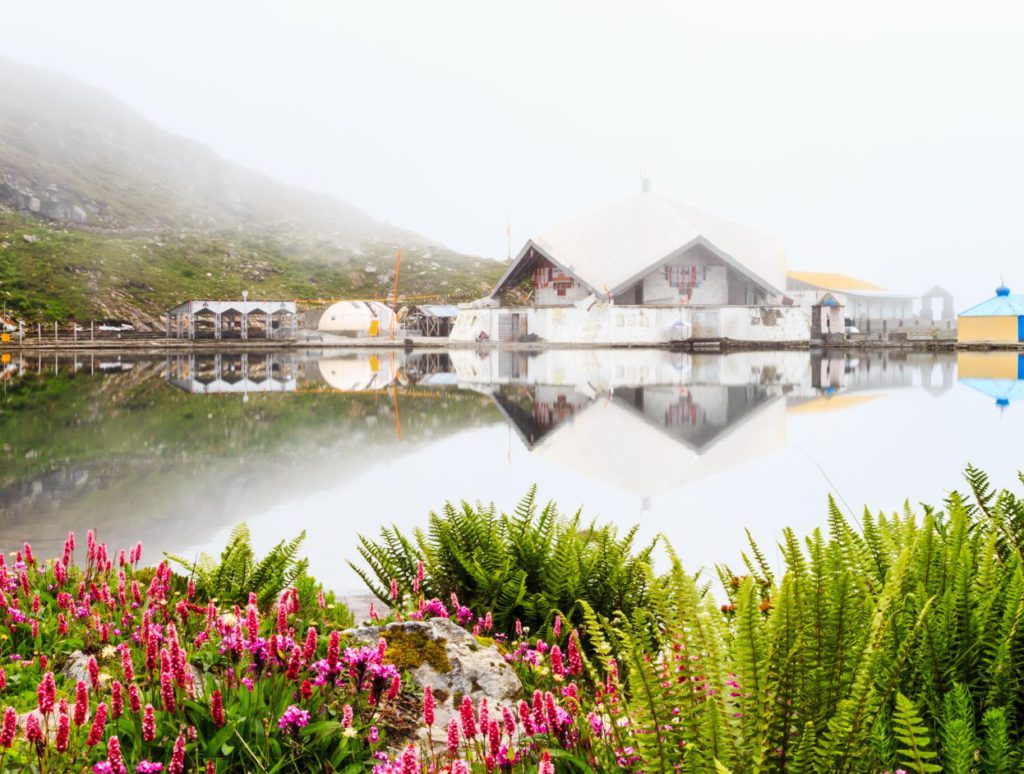 2. Mana Village
Mana is a small village located just 4km north of Badrinath. It is the last habitable village before the border of Tibet. The place is considered holy as it is home to Ganesh Gufa (cave) and Vyas Gufa. This is where Ved Vyas narrated the Mahabharata that was scripted by Lord Ganesha himself.
This is also the place where you can get a glimpse of the Saraswati river before it disappears. Another important landmark is Swargarohini or the gates to heaven that the Pandavas and Draupadi took in their last pilgrimage.
Planning to visit Mana? Check out our blog on visiting Mana village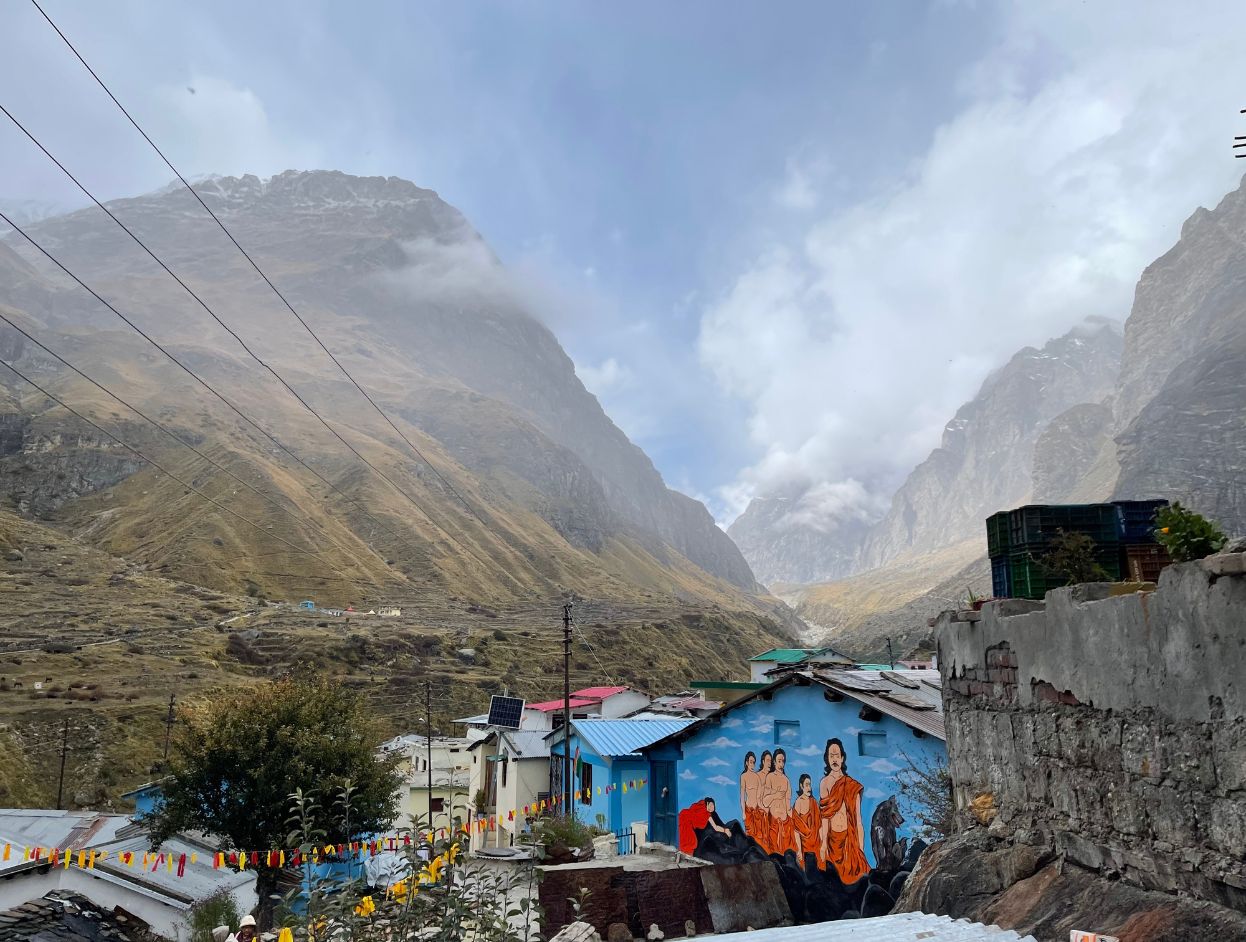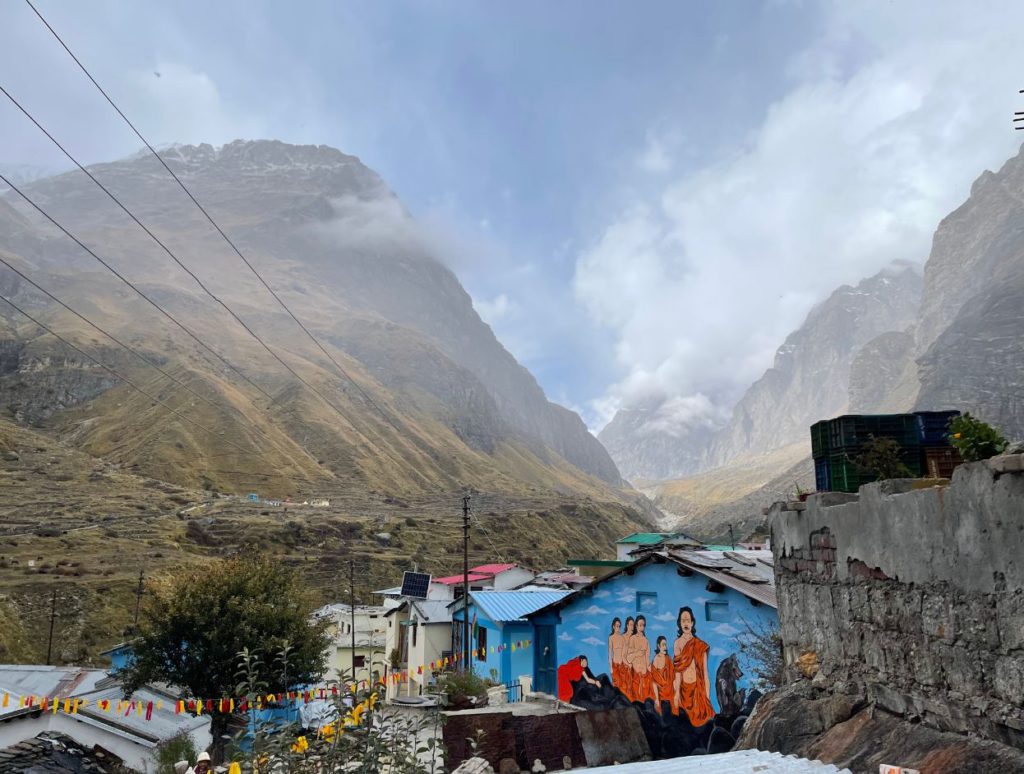 3. Auli
Auli is a beautiful ski resort near Joshimath. You can drive to Auli by road, or better take the ropeway to it. The meadows, surrounded by snow-capped mountains are absolutely gorgeous.
During the winter months, the gentle slopes of Auli are perfect for skiing and attract a number of ski enthusiasts. The peak Gorson Bugyal is 3km from Auli and has some of the most beautiful views in the area that you can trek or reach by a pony.
Looking to relax? Here is our travel guide to visiting Auli, Uttarakhand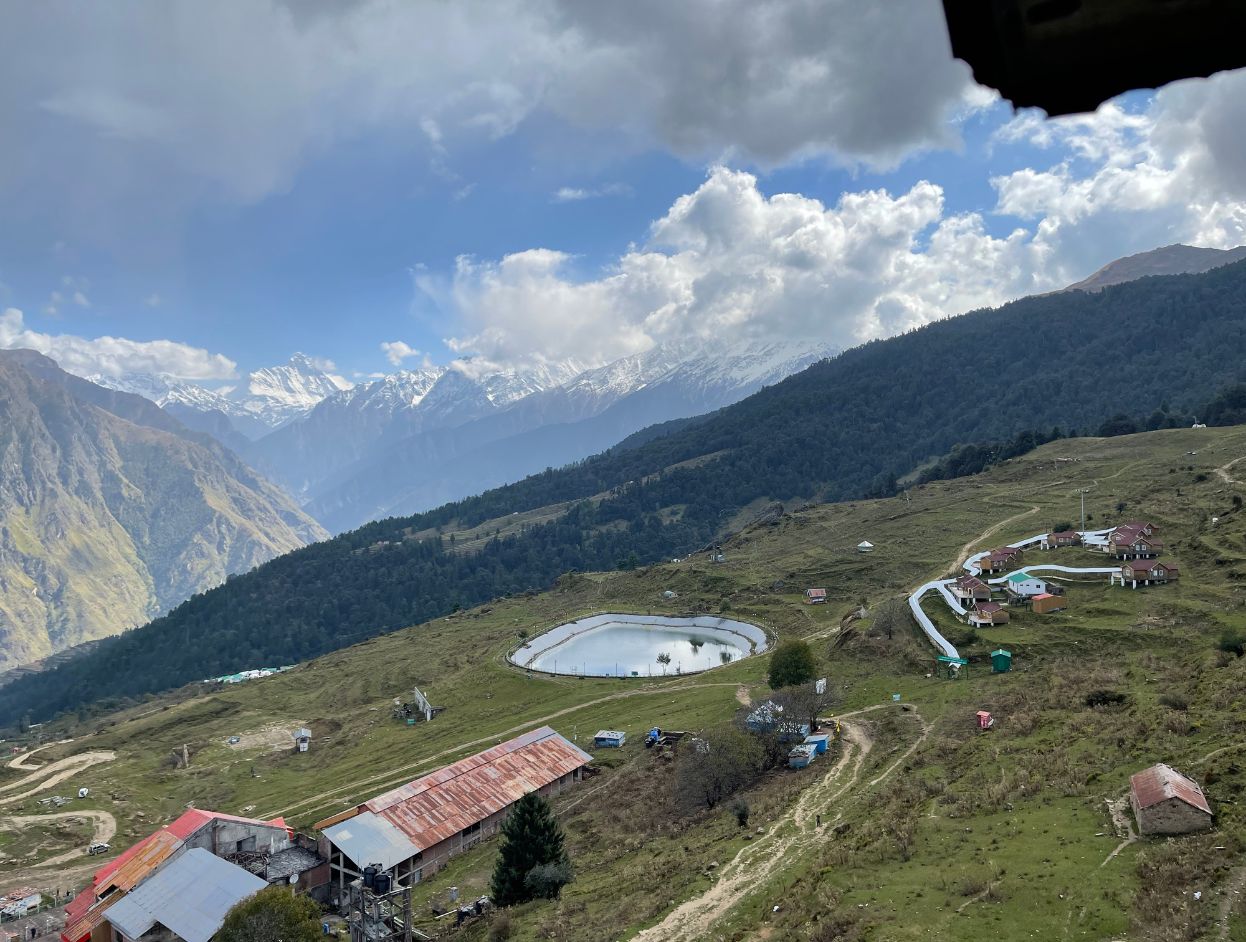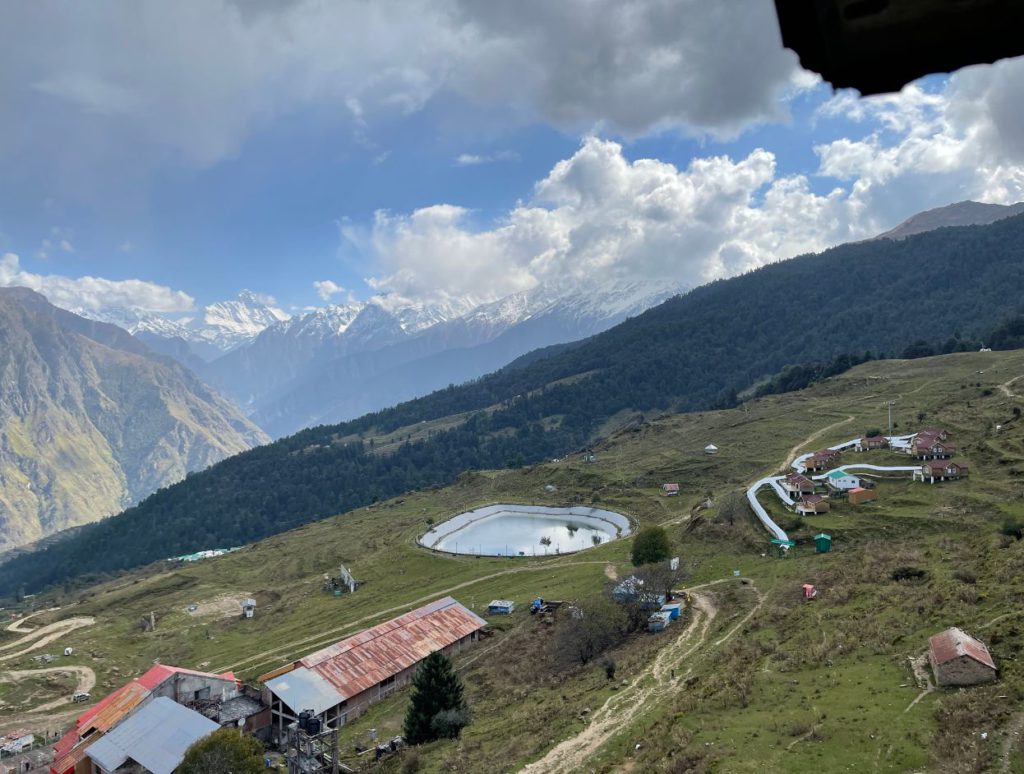 4. Valley of Flowers
The Valley of Flowers is a trek route deep in the Himalayan wilderness that only a few take. The trek goes through dense forests, open meadows, bridges, streams and glaciers. In the end, you will find gorgeous meadows filled with alpine wildflowers, especially breathtaking during the spring season. The place is also a listed UNESCO World Heritage Site today.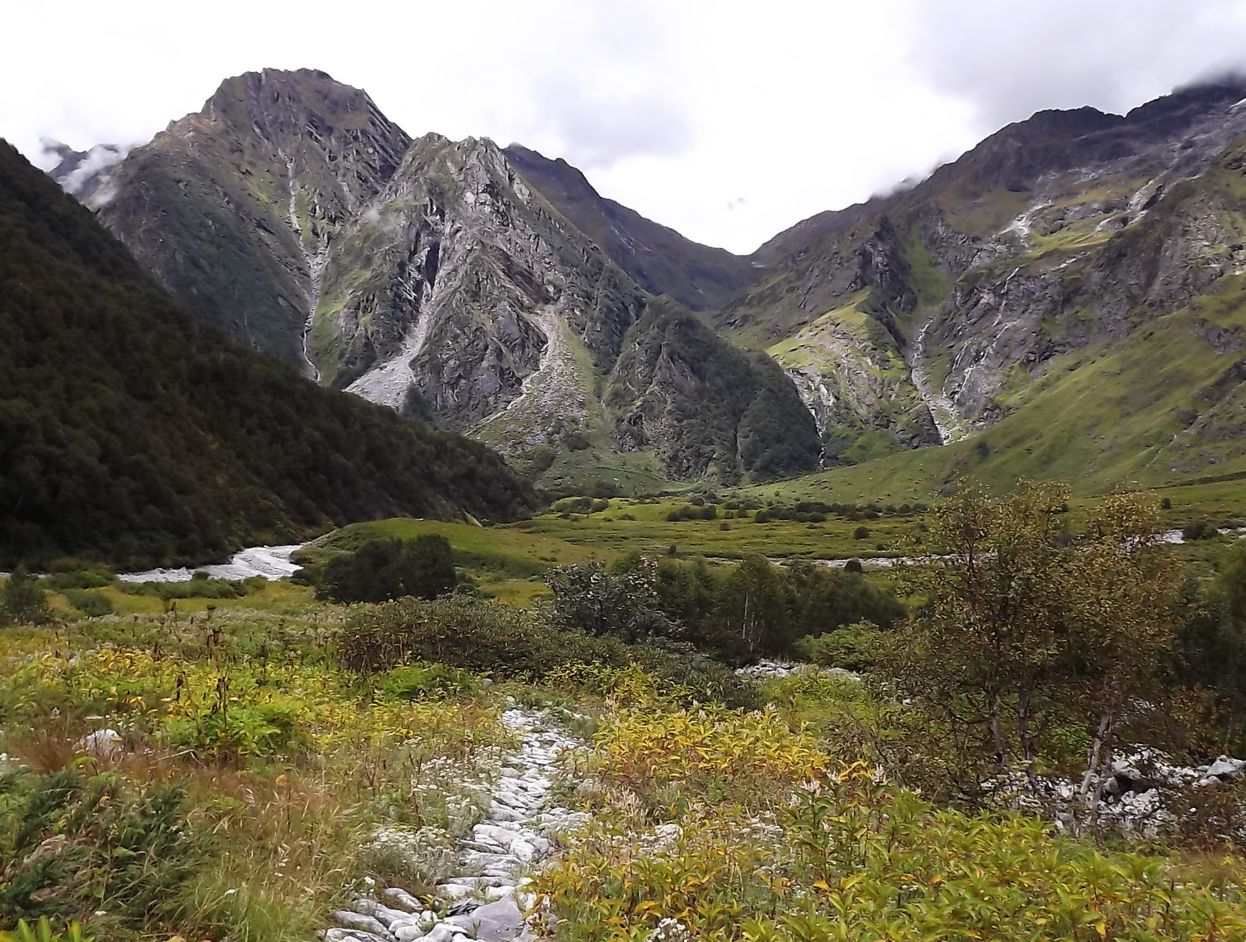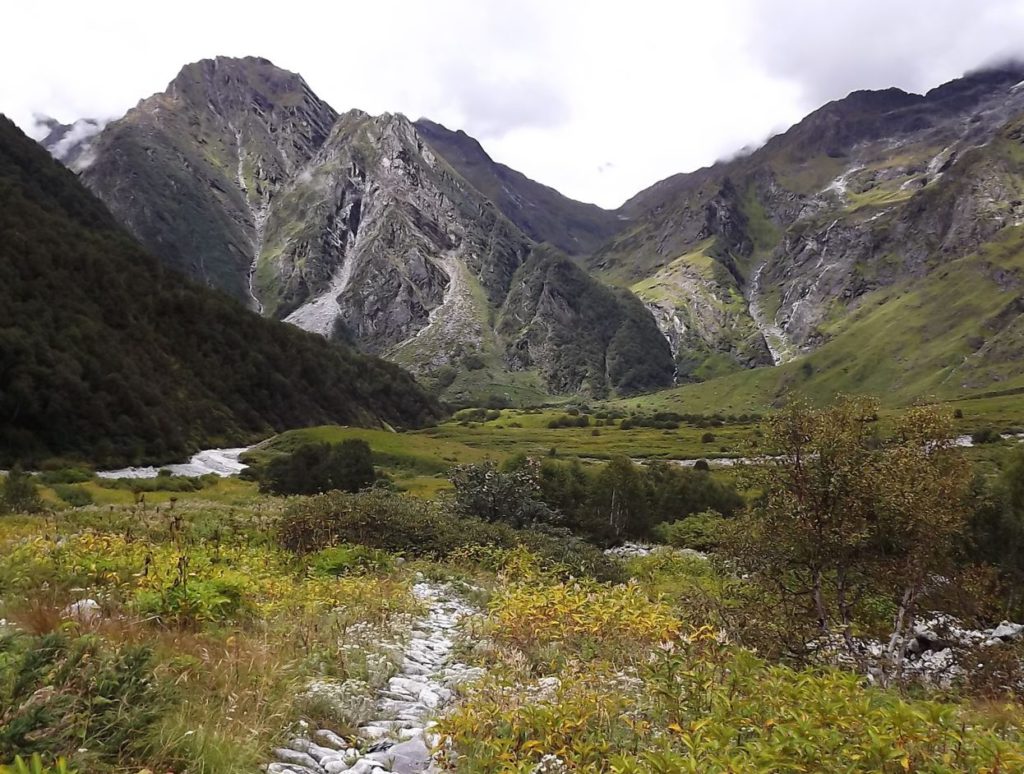 What to pack for the trip
If you have looked up the average temperature of Badrinath, you know it's cold. Super cold if you are not used to it. So pack well and pack warm. Get your hands on some thick jackets suitable for sub-zero temperatures and scarves, shoes, socks and caps to go with them. Definitely take one or two pairs of thermals for both top and bottom.
Most places will provide you with thick bedding and warm blankets, so you don't have to worry about it. Definitely take your important medications since you won't be able to find them there. There are a couple of ATMs in the town, but best to keep some cash with you before you start.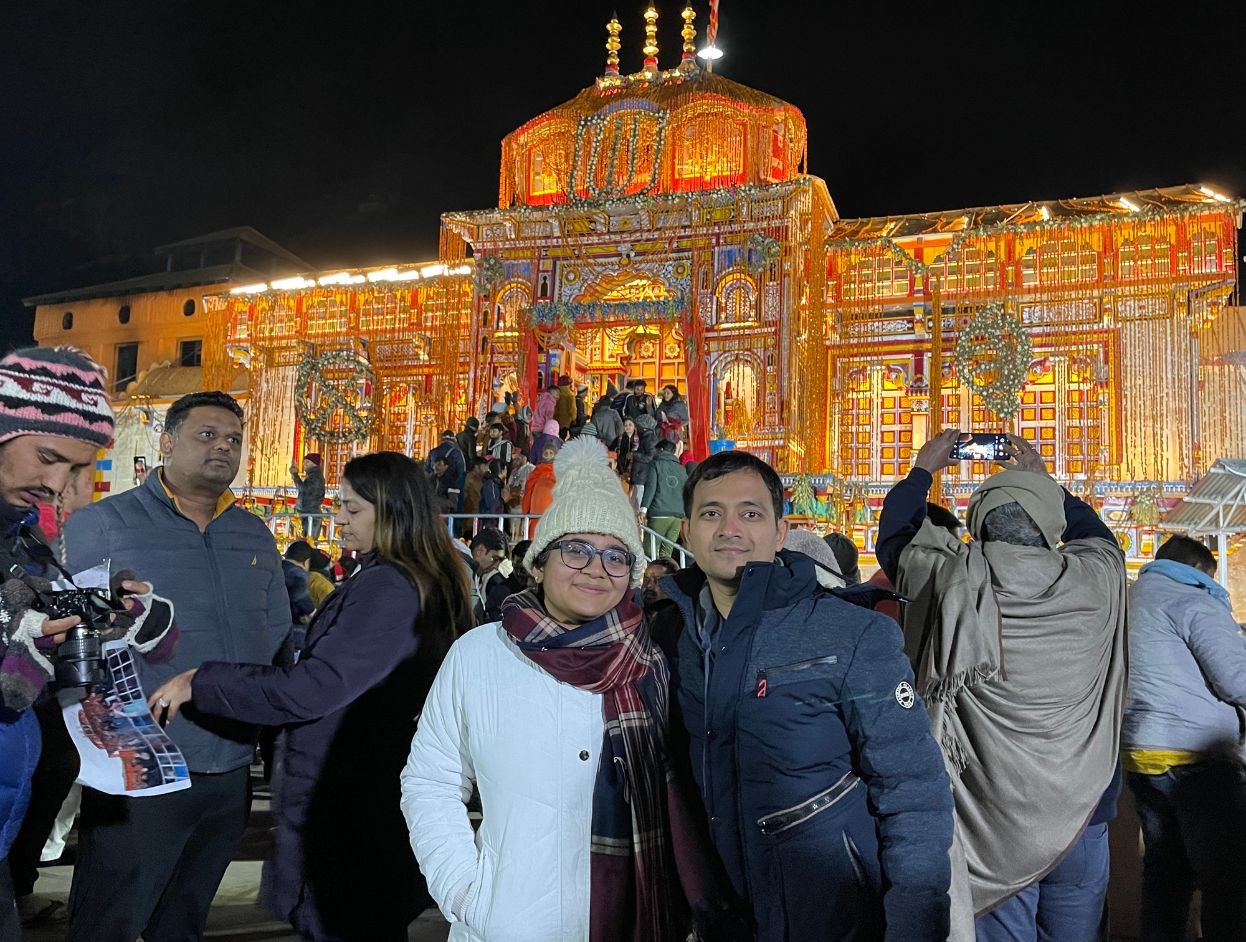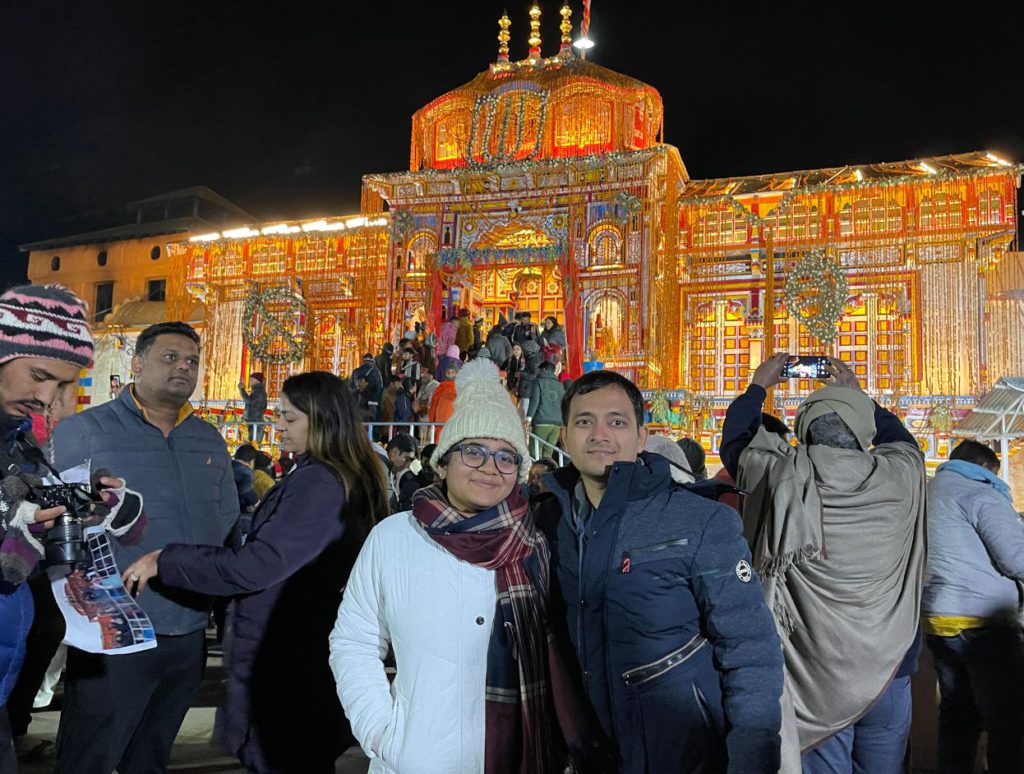 Related Articles