26 Dec

The Best things to do in Dalhousie, Himachal

It is not often that people hear about Dalhousie and even rarer to go there. After all, why go all the way up there if you can visit the more popular destinations in Himachal like Shimla and Kasauli. And while Shimla and Kasauli do offer a promise of a colonial-style summer and postcard lookalike winters, it can also get very crowded.

Dalhousie on the other hand still doesn't see a hoard of tourism, still unblemished by over-popularity. So what is Dalhousie? And why does the name sound so weird (or familiar)?

Dalhousie is, in fact just a tiny little town in Himachal Pradesh. Dalhousie borrows its name from its founding father, the British Viceroy Lord Dalhousie. The tiny hill-station was once a favourite among the elites from Lahore and lost its popularity post-partition.

However, the beauty of the place never faded. But it did not reach the same amount of fame as its nearby cities when it came to tourism. It's a rather great thing. Do not expect a hillside city bustling with people and tourist shops in every corner.

And you even may have to walk a few kilometres to get to the main market if you are living in one of the nearby towns.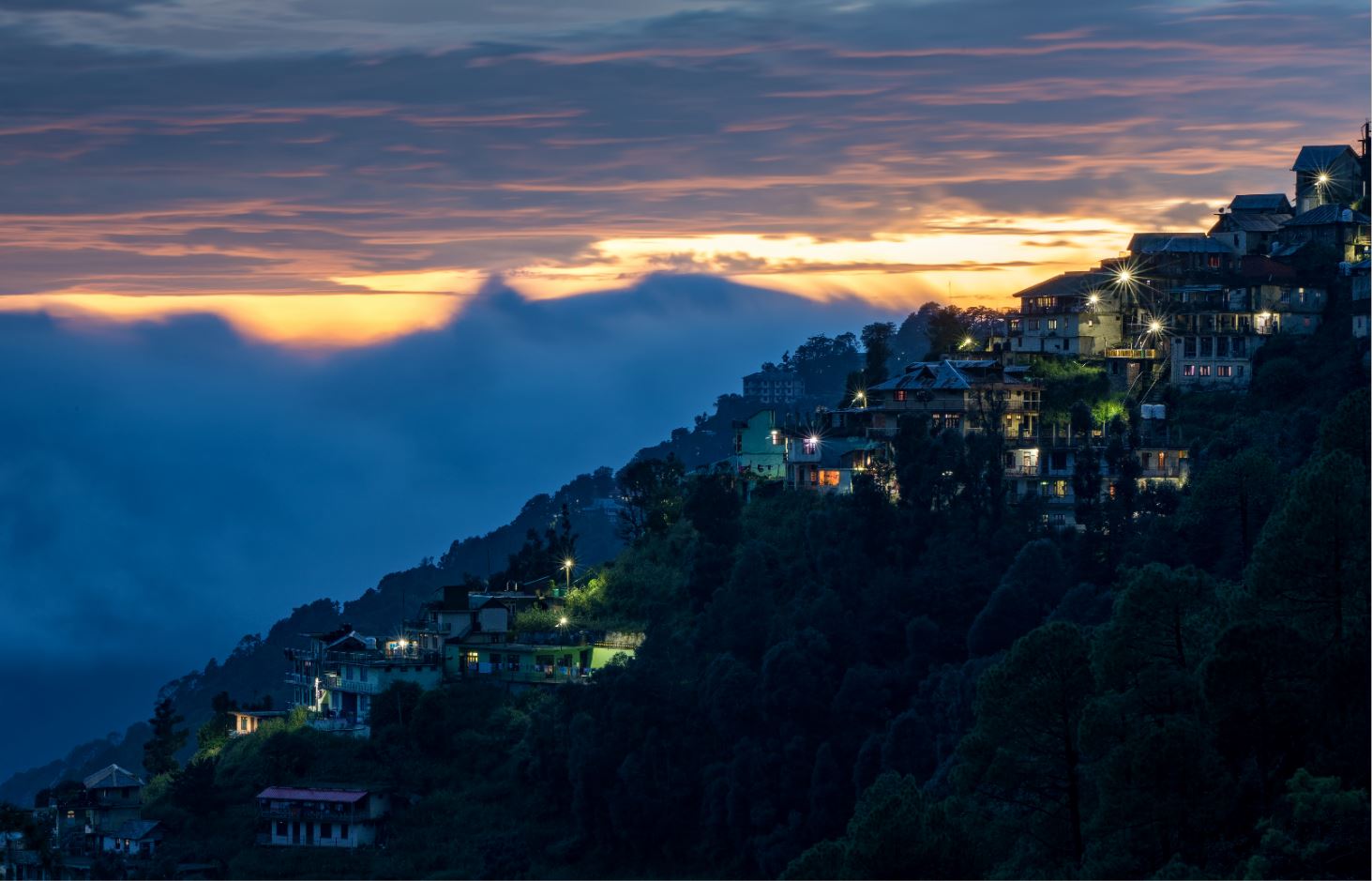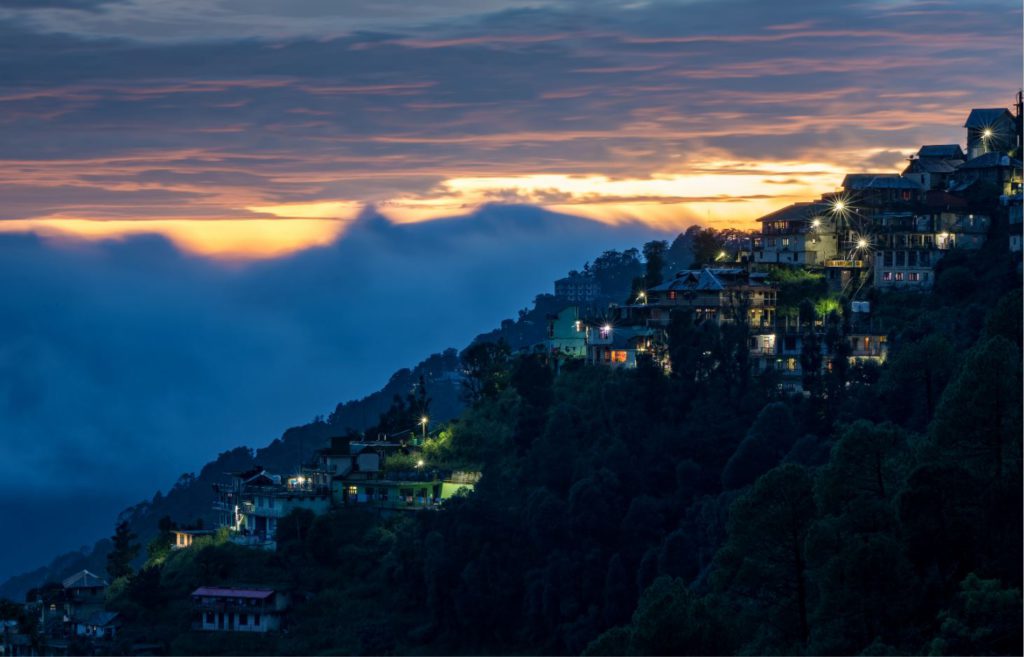 How to reach Dalhousie?
The distance from Delhi to Dalhousie is 560 km and 313 km from Chandigarh. It is located in the district of Chamba at an altitude of 6,463 ft. You can reach Dalhousie by bus, car or any private vehicle. Although the closest airport is in Gaggal, the one at Chandigarh has better connecting flight options.
The closest railway station is in Pathankot at a distance of 80 km. From there you need to switch to roadways. I feel this is also probably the best option if you are travelling from Delhi.
You can get a cab in Pathankot or at Chandigarh. The cab can simply take you to Dalhousie and drop you. Or you can book it to tour around the area as well.
Private City Transfers between Amritsar and Dalhousie, Shimla, Manali, Dharamshala or Bir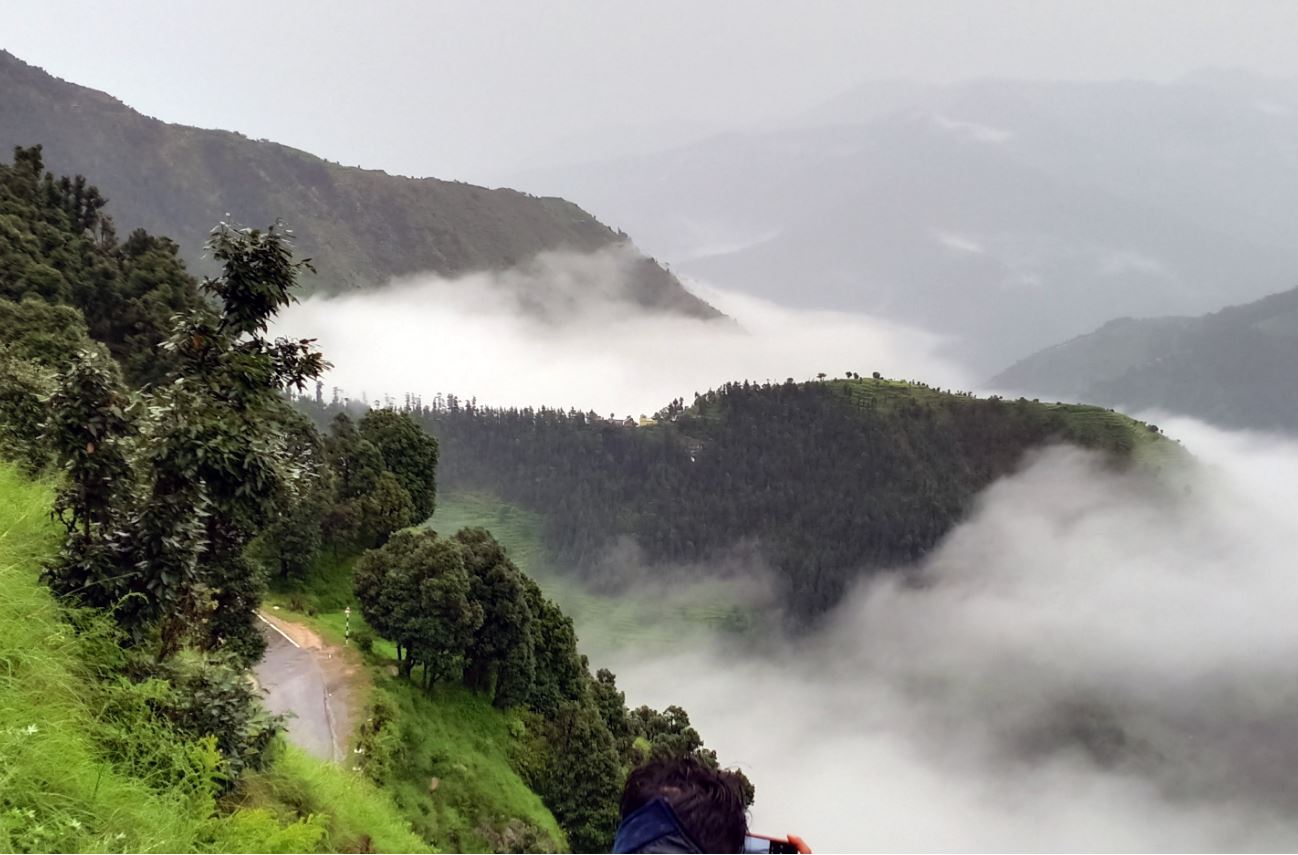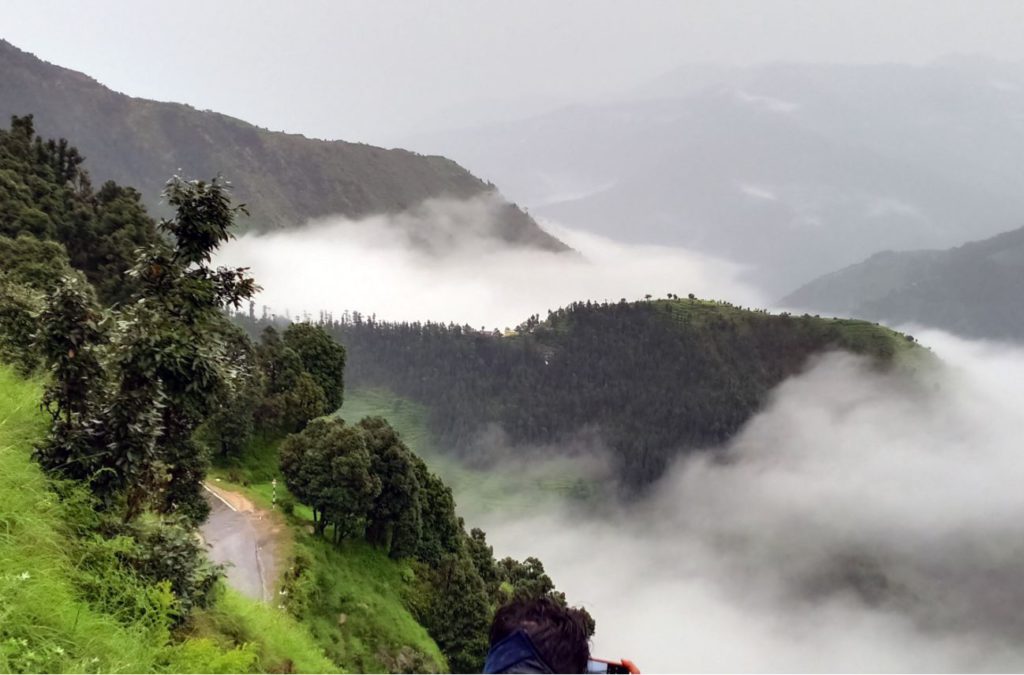 Best time to visit Dalhousie
The best time to go to Dalhousie is from March – June. It will also see a decent amount of footfall in terms of tourists during the summers. If you are looking for some snowfall, try visiting in October – November. The temperature during this time lies between 10⁰-25⁰C.
December – January gets extreme in temperature. Travel during winters if you are fond of cold or want to enjoy snowfall. It may not be a great time for sightseeing and outdoor activities.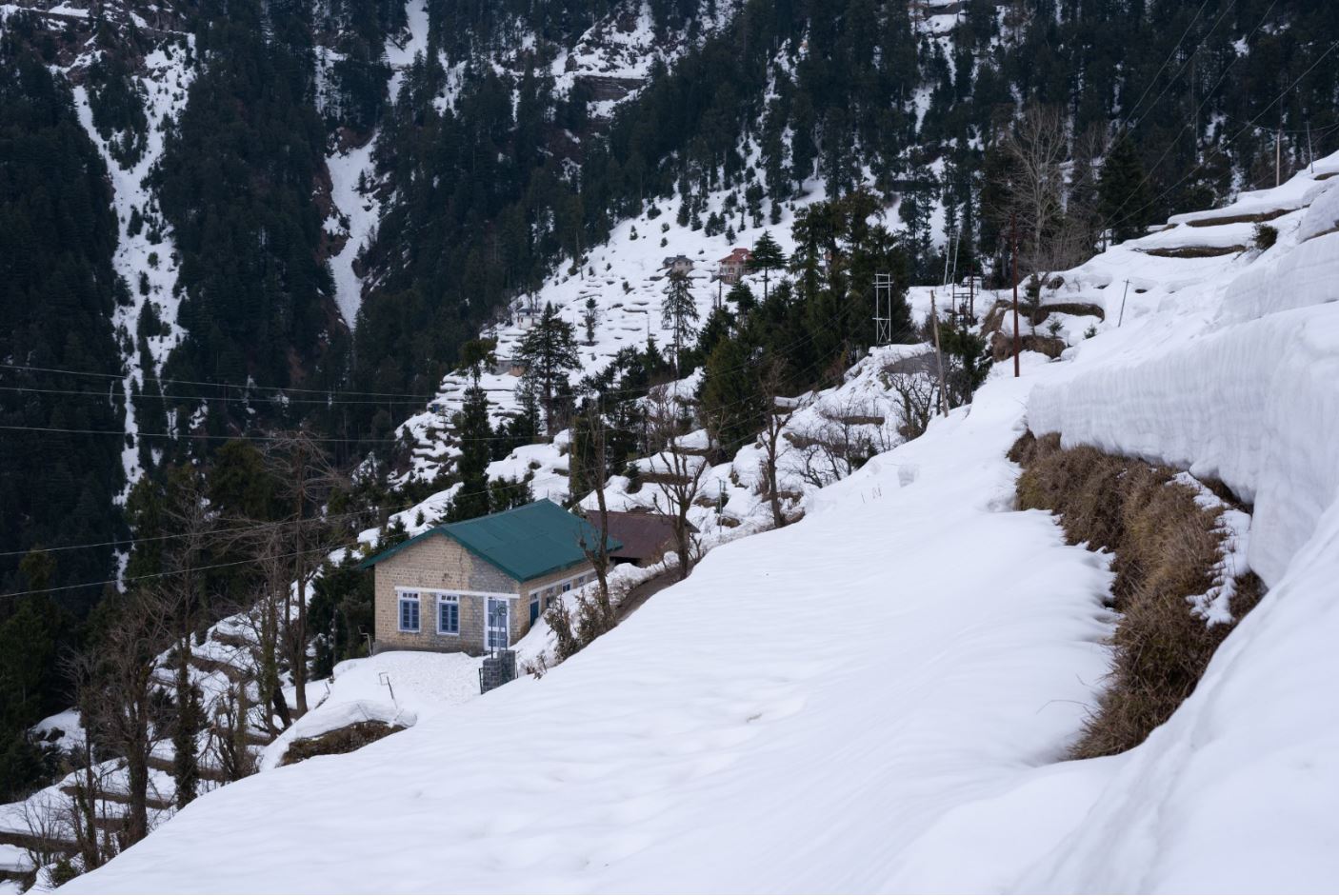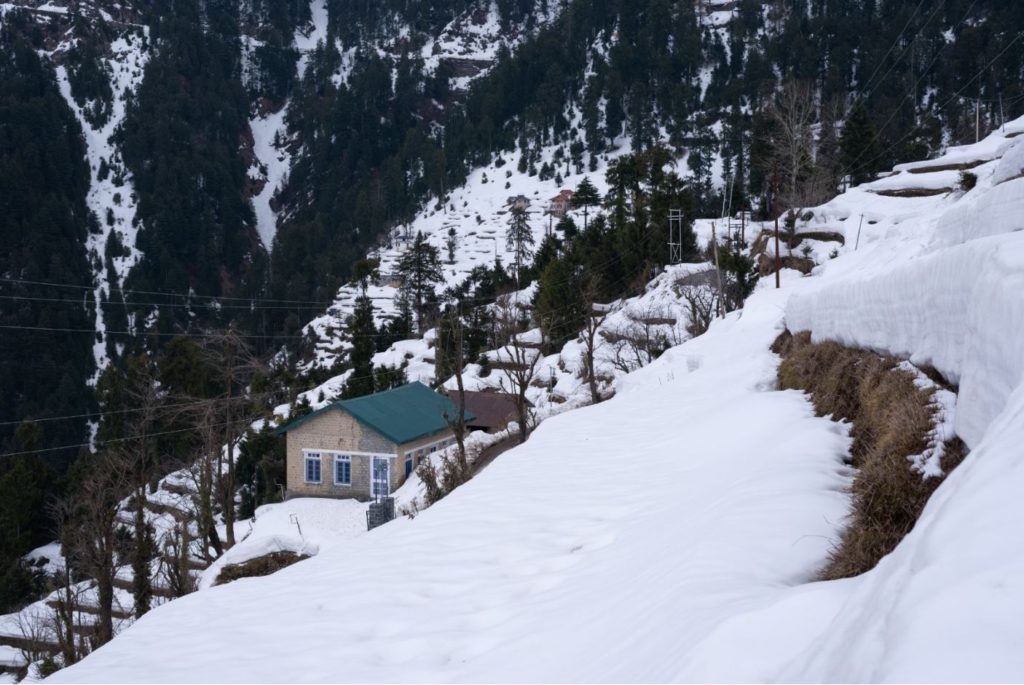 Where to Stay in Dalhousie
Dalhousie does not have extremely cheap accommodation, mostly because it is not very popular for backpackers. Dalhousie has always been a destination for family vacations. Therefore, you may have to look at a mid-range option to be quite comfortable. If you are looking for a hostel, check out goStops Dalhousie (Hostel).
You can look at resorts or hotels via agoda.com (great discounts) or www.booking.com which I feel should suffice your requirements. If you are going anytime after September, also check if the hotel has room heaters since you may need one at any point in time.
You can look at staying a little off the main town if you want to spend a more peaceful time and enjoy going on long walks. If you are planning to use public transport, take a hotel near Gandhi Chowk.
Here are some hotels you may like:
Mid-budget: Grand View Hotel, Snow Valley Resort, Sagrika Resort Dalhousie
Luxury stays: Elgin Hall, Brijvilla, JK Clarks Exotica Hotel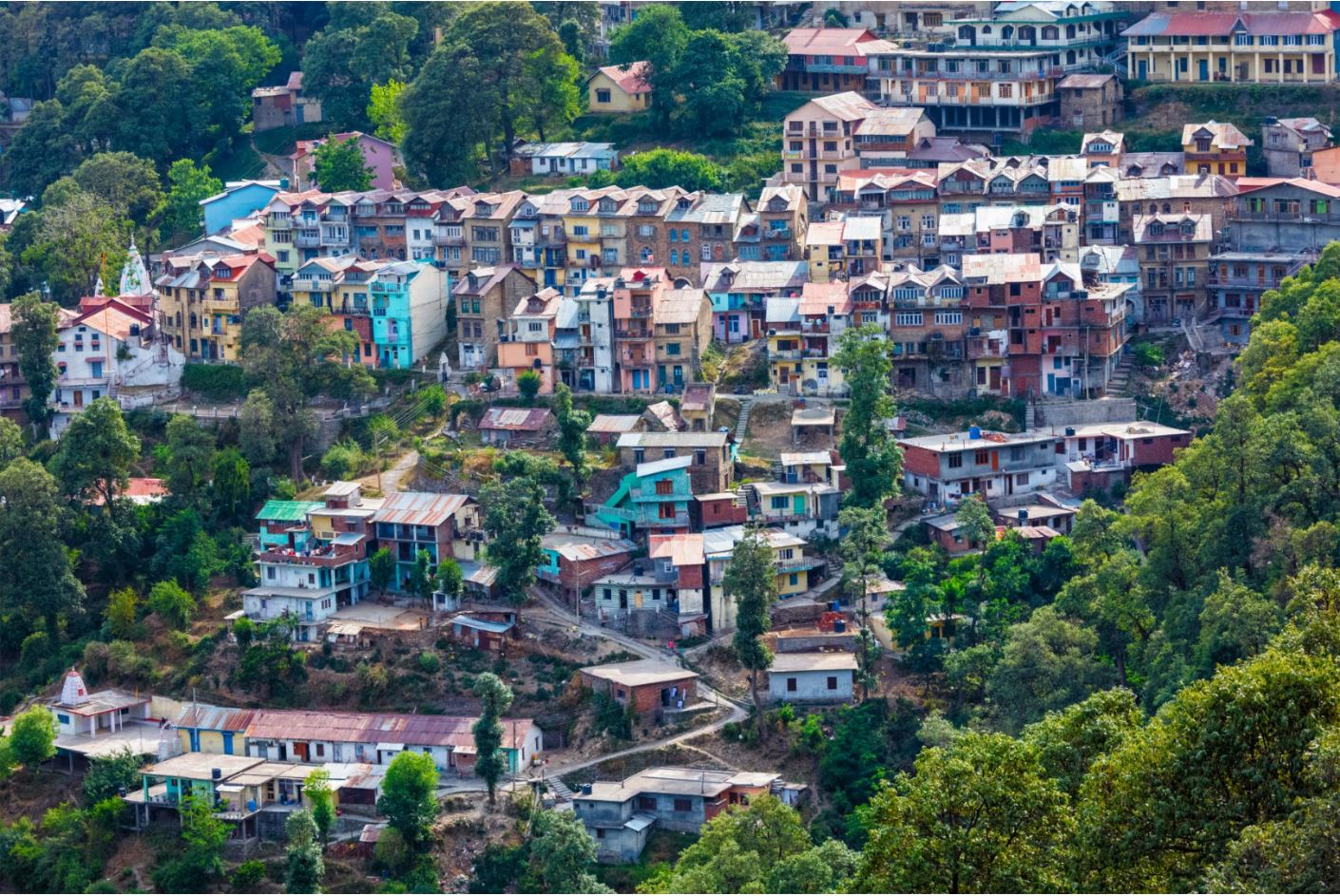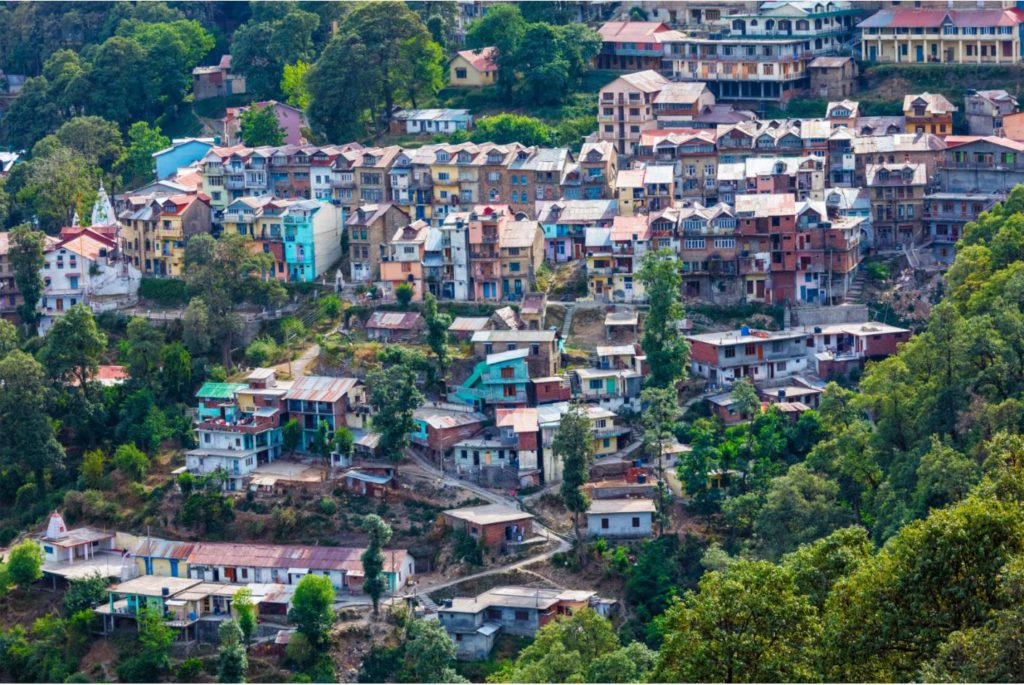 What to do in Dalhousie
Dalhousie in itself is a simple settlement known for its Victorian architecture, English charm. Additionally, some of the best schools and universities are also located in the area. Dalhousie is popular for long-term stays.
You can easily partake enjoyable evening walks and appreciate the sunset in the valleys. But if you do want to do check out some places and activities around the area, here is a list of things to do in Dalhousie:
1. Tibetan Market
Like most of the Himachali hill stations, Dalhousie has its most popular lane of tourist and economic activity – The Tibetan market. You can also mark it as the centre point of the town. The lane comprises numerous shops selling local handicrafts and food items.
If you are looking to buy souvenirs from local artisans, you can pick them up here. Shopkeeps are usually okay with the practice of bargaining. It also has many restaurants and local stalls selling. You can pick up food like momos, boiled eggs, sandwiches, fries, burgers, pizza slices & hot tea or coffee.
Serving alcohol is usually not very common. If you want some, you can buy one at a nearby shop opposite to the lane.
2. Thandi & Garam Sadak
If you are already around the Tibetan market, also look at talking casual strolls. Two great places for it are Garam Sadak (Warm Road) and Thandi Sadak(Cold Road). The funny name suggests that the road receives sunlight directly for the most part of the day.
It is a place to go to soak in some sun in the winter months. Shops and hotels line both the roads along with occasional views of the valley. They both connect to the main square of the city – Gandhi Chowk. Great for a day walk, however, if you are looking for something more adventurous, this can take a backseat.
3. Churches of Dalhousie
Since Dalhousie has been established by the English viceroy, it is imperative to carry on their legacy. And hence, its semblance of the local architecture to the European counterparts. There are two main churches in Dalhousie – St. John and St. Francis. Both of them are relatively small but intimate places of worship.
St. John is located in the middle of the deodar forest and is also the place of burial of Lord Elgin. His wife donated the Belgian stained glass window as homage and also the centre of appreciation for most tourists. The church holds mass every Sunday in both English and Hindi. St. Francis is built in an English style where stone and glasswork decorate the interiors.
St. Francis is the distinguished monument of Lord Dalhousie, the godfather to the settlement and is greatly respected. The priest's abode is also right next to the church known as 'Alverna'. The locals often call the Alverna as 'Lambe Chohle wale padre ki Kothi' (The abode of the priest with the long garb).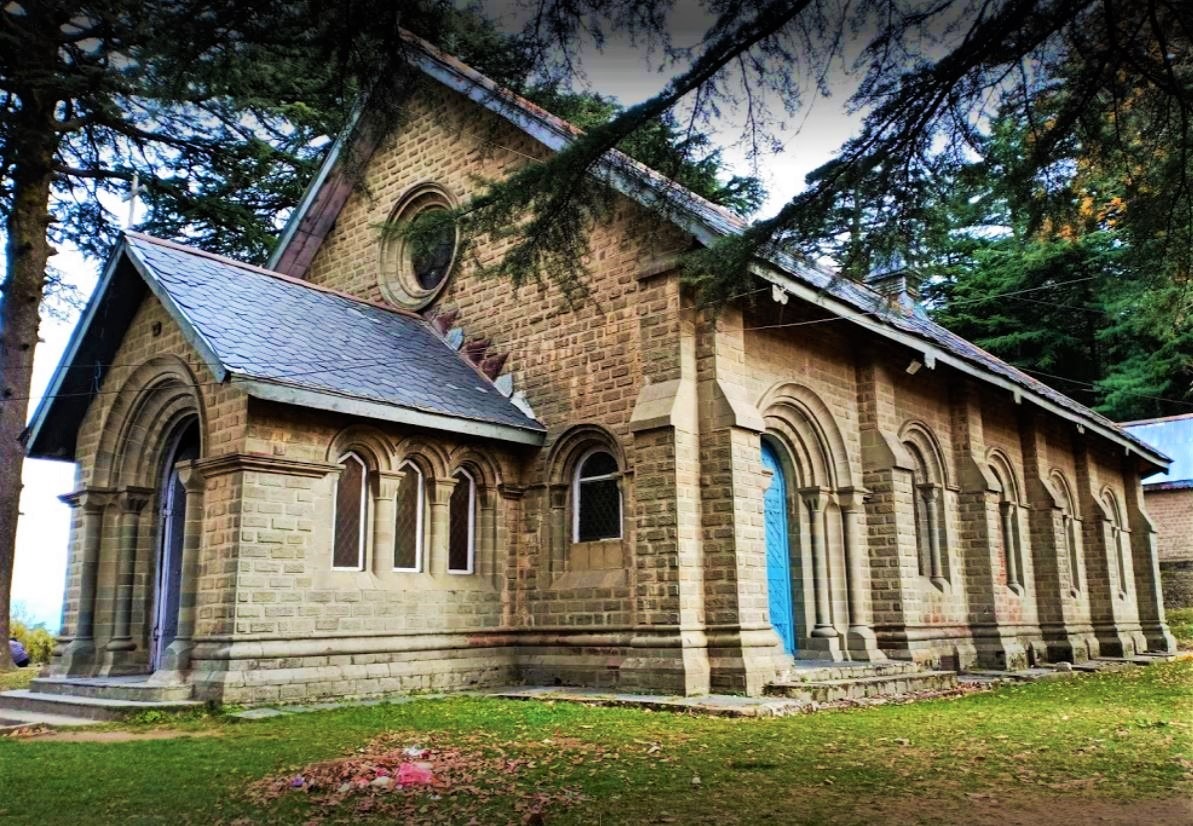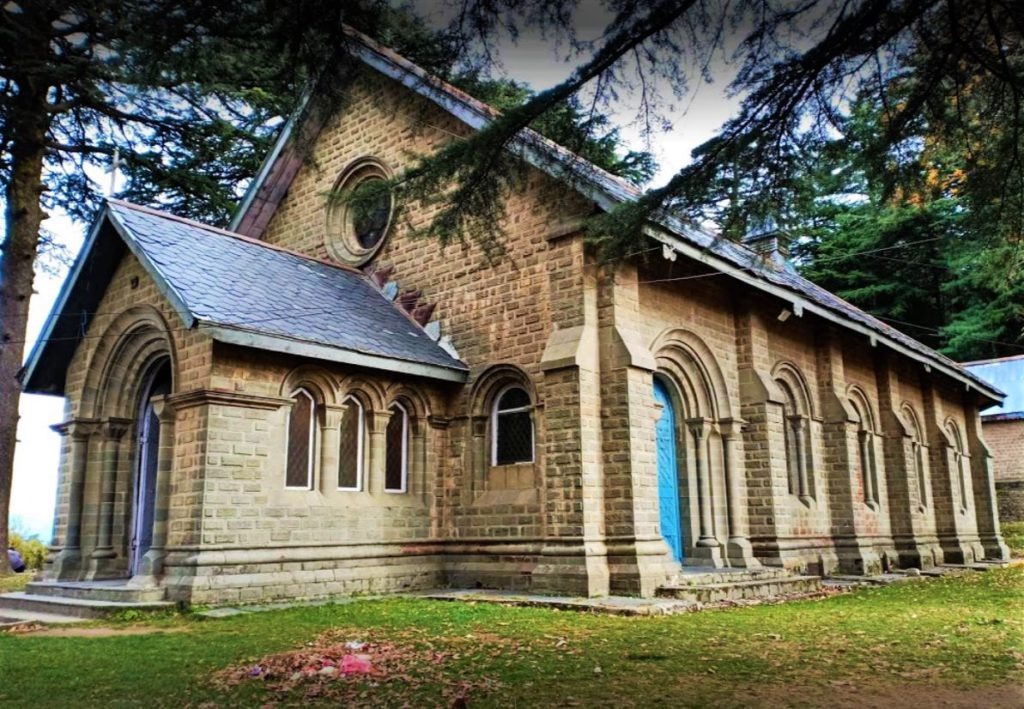 4. Chamera Dam
The Chamera lake or Chamera Dam stands on the river Ravi that supports the hydroelectric power plant in the region. Mountains, with a view of the Pir Panjal range, surround the lake. The drive along the lake on the road to the water activities is often described as extremely picturesque.
However, the lake is around 60 km from Dalhousie. It can also be fit in if you are travelling to or from Pathankot or Jammu.
Since the lake is devoid of water animals, it is used for water sports of various kinds. You can enjoy rowing, motor boating, paddle boating, sailing, canoeing, angling and kayaking. Houseboats and Shikaras are also available.  Swimming is the water is prohibited.
A speed boat is a great way to take a tour of the lake. Warm clothes are advisable since the water can be icy cold coming directly from the mountain glaciers. Water sports are not available during monsoons.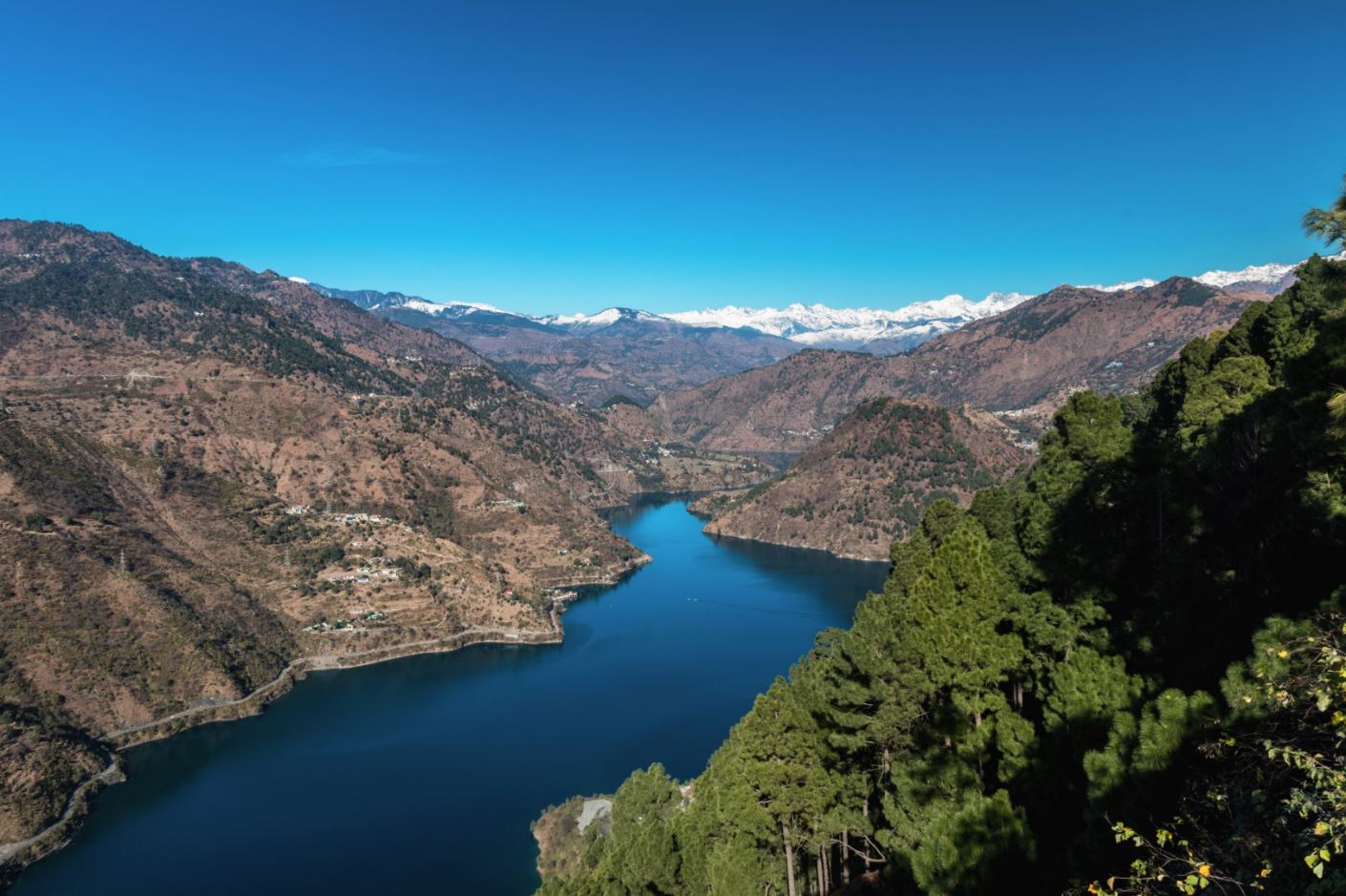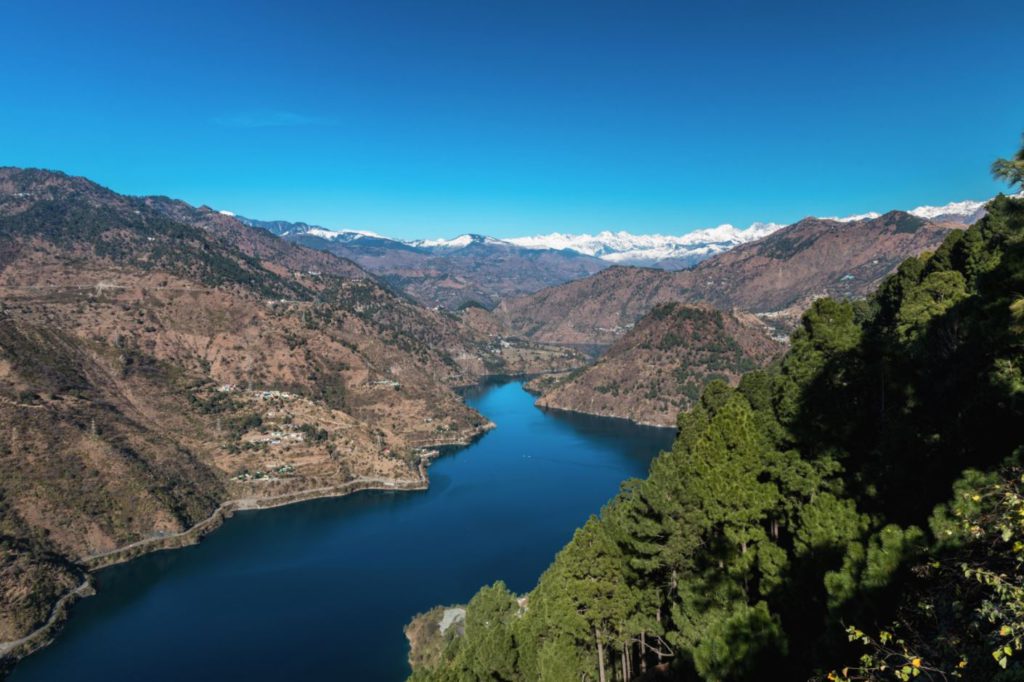 5. Khajjiar
If you are not yet familiar with this lovely little town, let me introduce you to the 'mini Switzerland of India'. A Swiss counsellor took a stone from the little town to make it part of the stone collage of the Swiss parliament.
It signified acknowledging Khajjiar's topographical resemblance to Switzerland. Khajjiar's centre of attraction is an enchanting meadow with surrounding pine trees and then the snow-capped mountains.
Khajjiar is a little less than 30 km from Dalhousie. The meadow is used for many adventure activities like Zorbing and horse riding. Whereas, paragliding can be experienced with a short hike uphill that also gives a great aerial view of the valley.
The Khajjiar lake and Khajjinag temple in the meadow are of great significance importance to the local Hindu mythology. You can enjoy a slow pace of moments with grazing cows and families enjoying a picnic lunch. In hindsight, it may give you a fleeting experience similar to those in the photos of the famous 'Switzerland'.
Planning to visit? Read more about What to do in Khajjiar here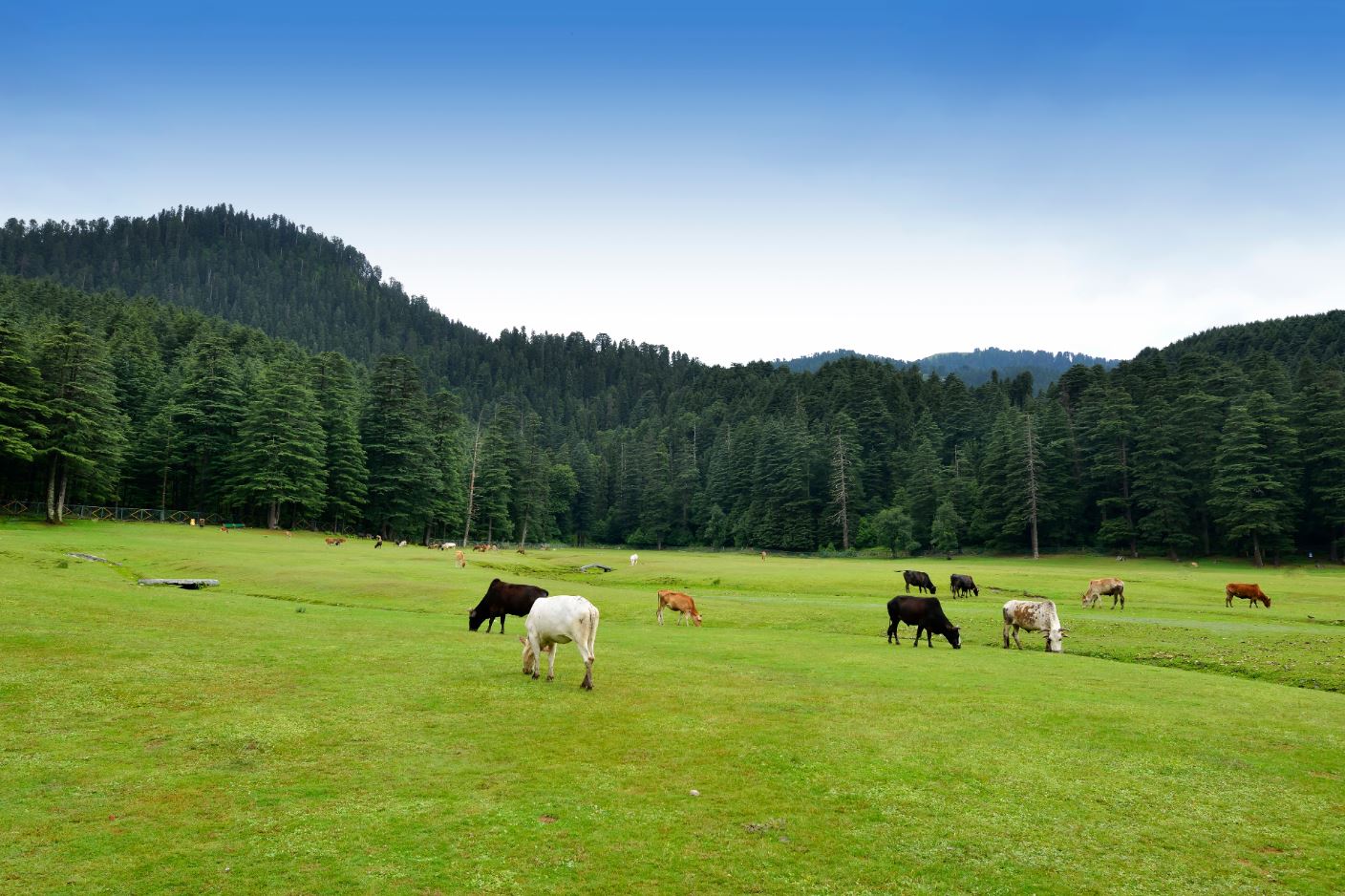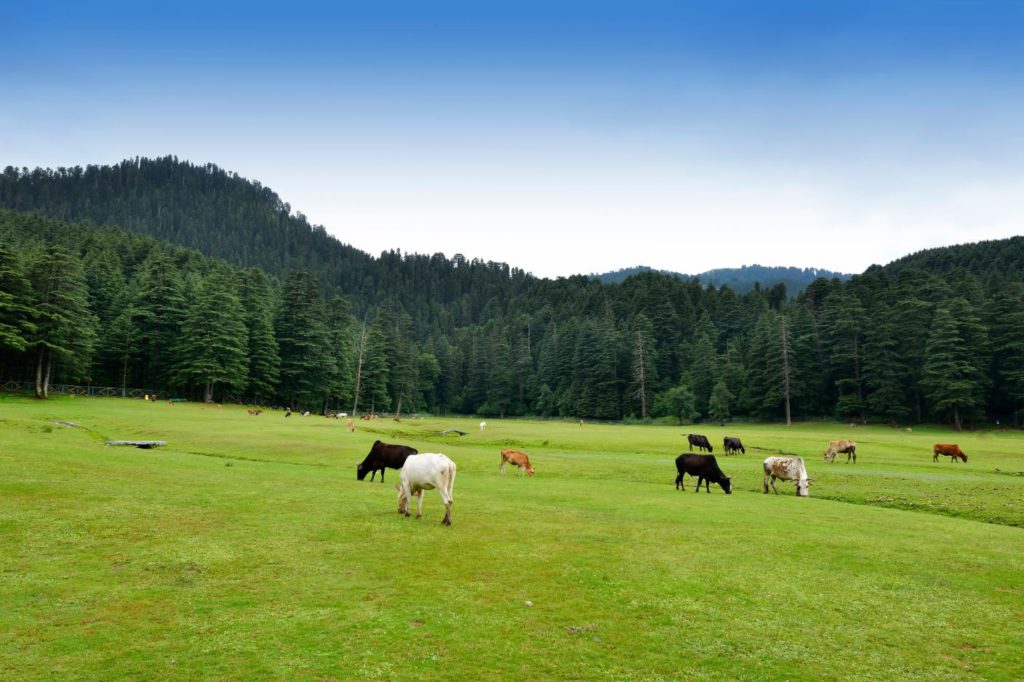 6. Dainkund Peak
Dainkund peak is a must-visit spot is you are in the area. Dainkund's name informally translates to 'city of witches' in Hindi and which means 'the abode of witchcraft'. Dainkund peak is the highest point in the Dalhousie area. It will give you a breathtaking view of all the surrounding mountain ranges.
You can reach the lowest point the peak could via a motorable road. From there you need to trek for a couple of kilometres to reach the first checkpoint. Stone stairs facilitate most of the trail. This would also be the highest point and offers the most beautiful view of the Dauladhar range.
If you aren't tired till this point, you can also continue the journey for another two kilometres. At a relatively flat terrain, walk across to a small local temple known as Pholani Mata temple, decorated in vibrant colours. Towards the end, you can further get a glimpse of Mani Mahesh peak.
You can also find some tea and noodles at a small stall in the area. The peak received the highest amount of snowfall during winters and it can get really cold at the top. If you are planning to see the sunset here, make sure you climb down right before the dark. The surrounding areas are home to a large number of black bears.
You can also check out organised trek in the area: Dainkund Peak Trek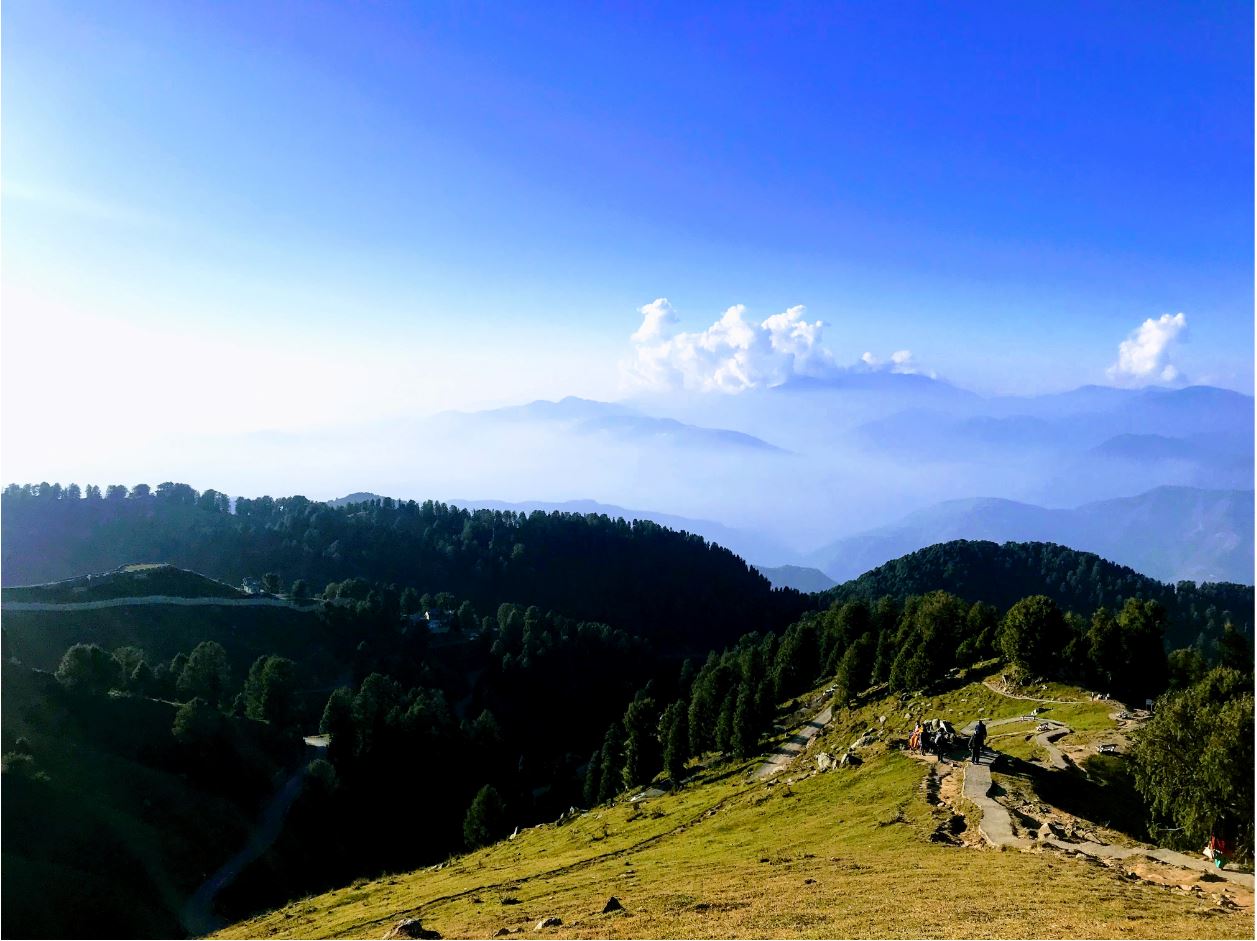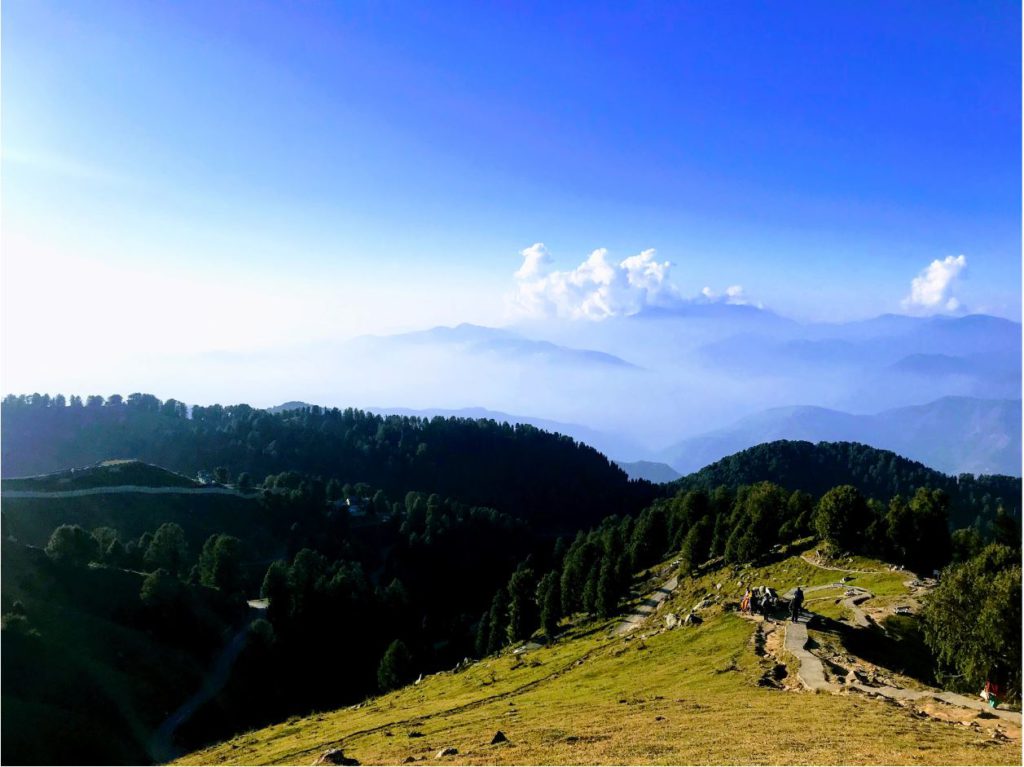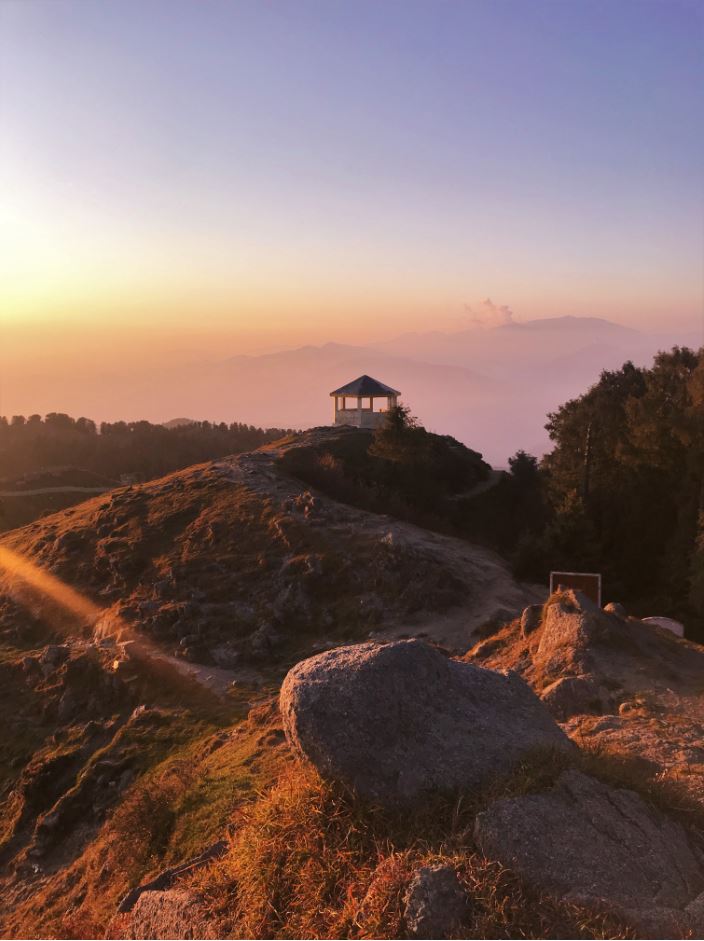 7. Kalatop Sanctuary
Kalatop is a wildlife sanctuary located 6 km from Dalhousie. The sanctuary is the home to many Himalayan wildlife animals and birds. Some of the animals are Himalayan Bear, Himalayan Black Marten, Leopard, Deer, Barking Goral, Squirrel, Serow, Jackal, Langur, Himalayan Tahr, Goral, Ibex, Himalayan Squirrel, Muntjak, etc.
The sanctuary especially preserves the native Himalayan serow. Other birds protected in the area are Black Headed Jay, Chestnut Billed Rock Thrush, Blackheaded Jay, Grey Headed Cannery Flycatcher, etc.
To reach Kalatop you can take a cab from Dalhousie. However, the sanctuary collects toll for vehicles to enter the and the terrain isn't great to drive. It will be better to start your trek from there. The trail to trek is well defined and you can simply follow it to some unbelievable views.
It is very rare to spot animals but the joy of hiking in the midst of nature is incomparable. The air quality is clean, forests quite dense, that sunlight is scarce. The guest house in the forest is also available if you would like to stay in the sanctuary for the night.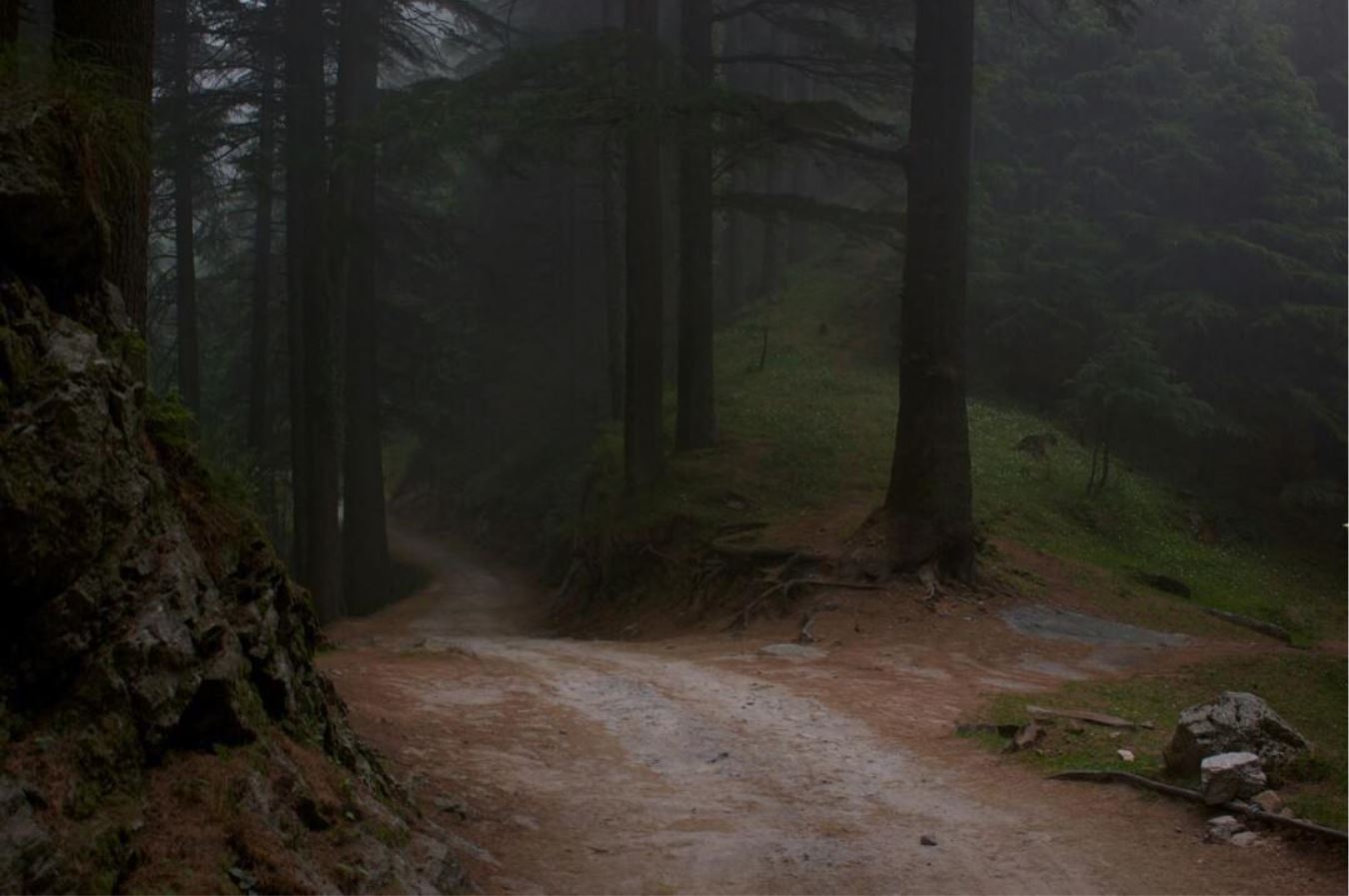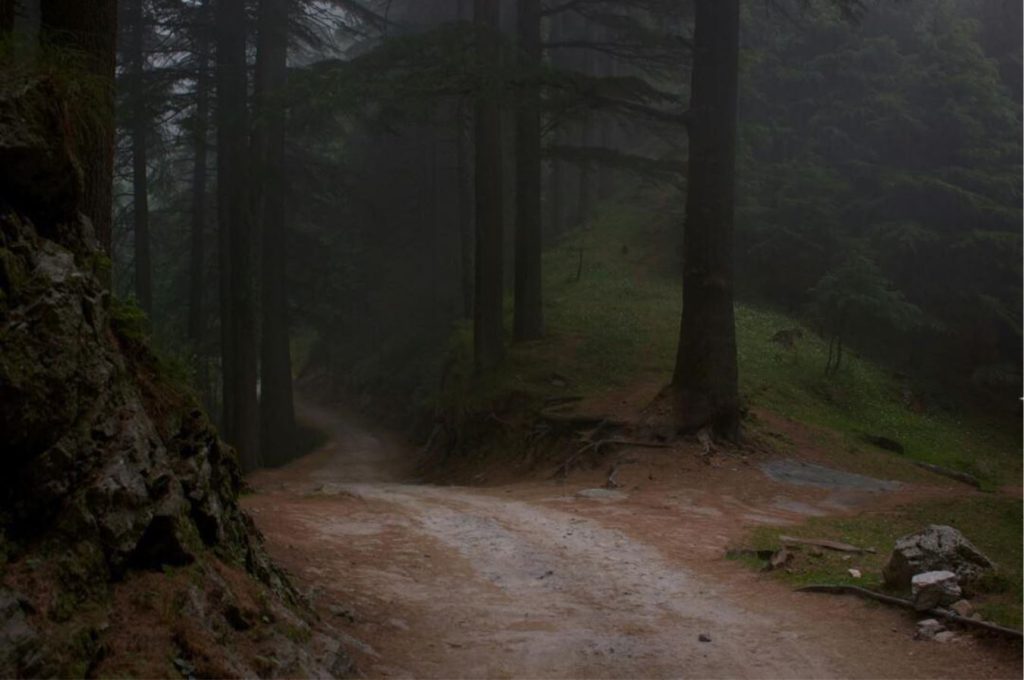 8. Panchpula & Satdhara Falls
The Panchpula waterfalls in the Dalhousie area is popular with the tourists as a scenic point. The gushing waterfalls and the area can give tourists a great place and time for some picnic and photography. Located in the middle of deodar forests, it's a must-visit place during and right after monsoons.
Although, summers and winters may leave a tad bit disappointed since the outflow of water would have decreased considerably. Popular amongst tourists, it may also get a little crowded on weekends.
On your way back from Panchpula to Dalhousie, you can also stop at Satdhara. Satdahara, when translated to Hindi, implies 'seven falls or springs'. Hence, the place is a collection of seven miniature falls popular amongst nature lovers and tourists alike.
The falls are known to contain 'mica' in their water which has medicinal properties and is great for the skin. You can take a dip in the pools formed at the base of the waterfalls but there aren't any arrangements for a change of clothes.
My Experience of Dalhousie
I personally travelled to Dalhouse with a huge family and enjoyed it thoroughly. Having been to most of the hill-stations in the north-India, I found Dalhousie still quite untouched. The cold does seem to add a little flavour to the whole experience. Summers could be a really popular time and see an influx of a lot of tourists, so plan your trip a little later in the year.
If you are fond of adventure activities, Dalhousie, Khajjiar, and Chamba have a lot to offer. Living a little outside the town but still, at a walkable distance seems like a good balance for a vacation far from the noise. Look at hiring a personal vehicle for transportation since public transport is infrequent and may not serve off-beat locations.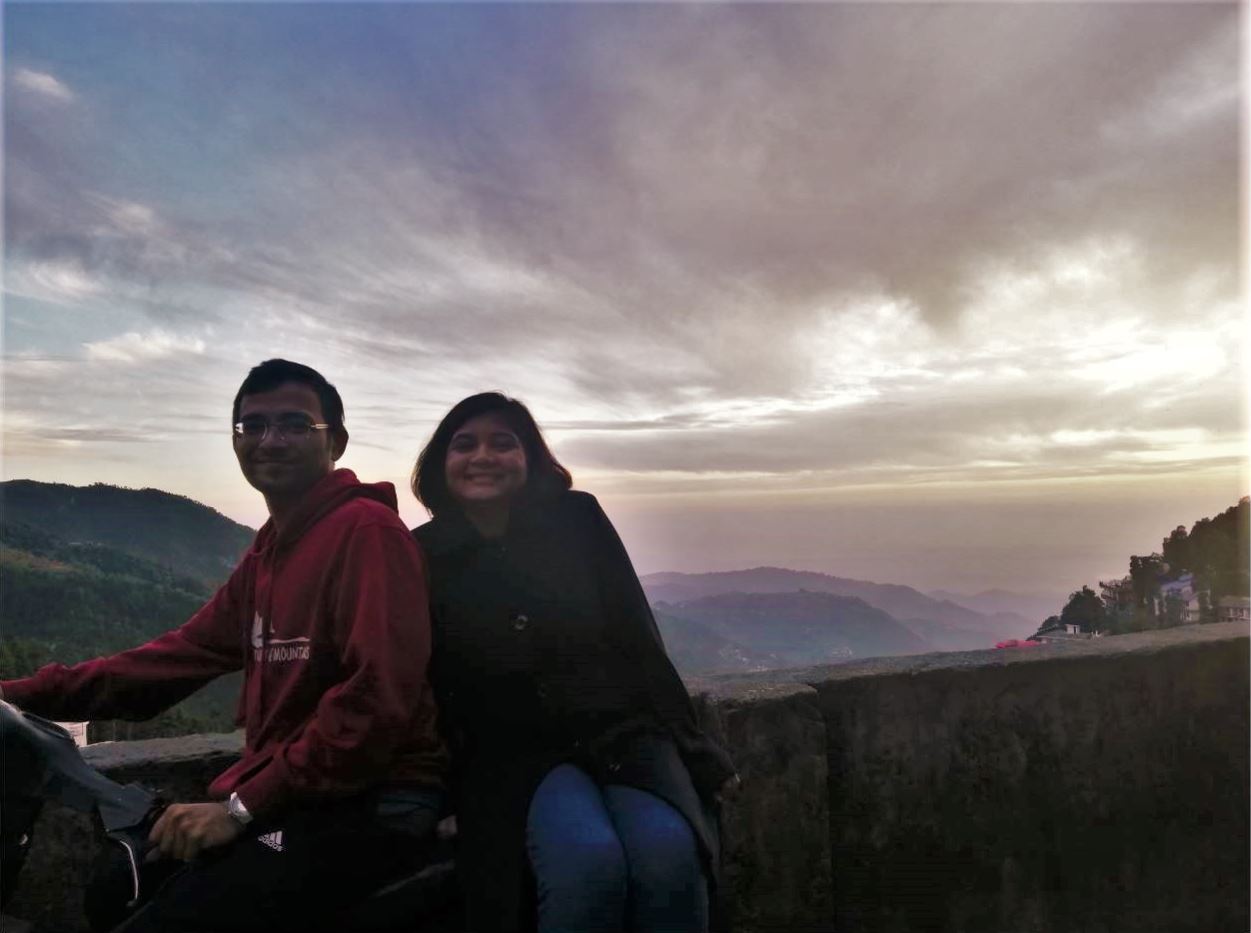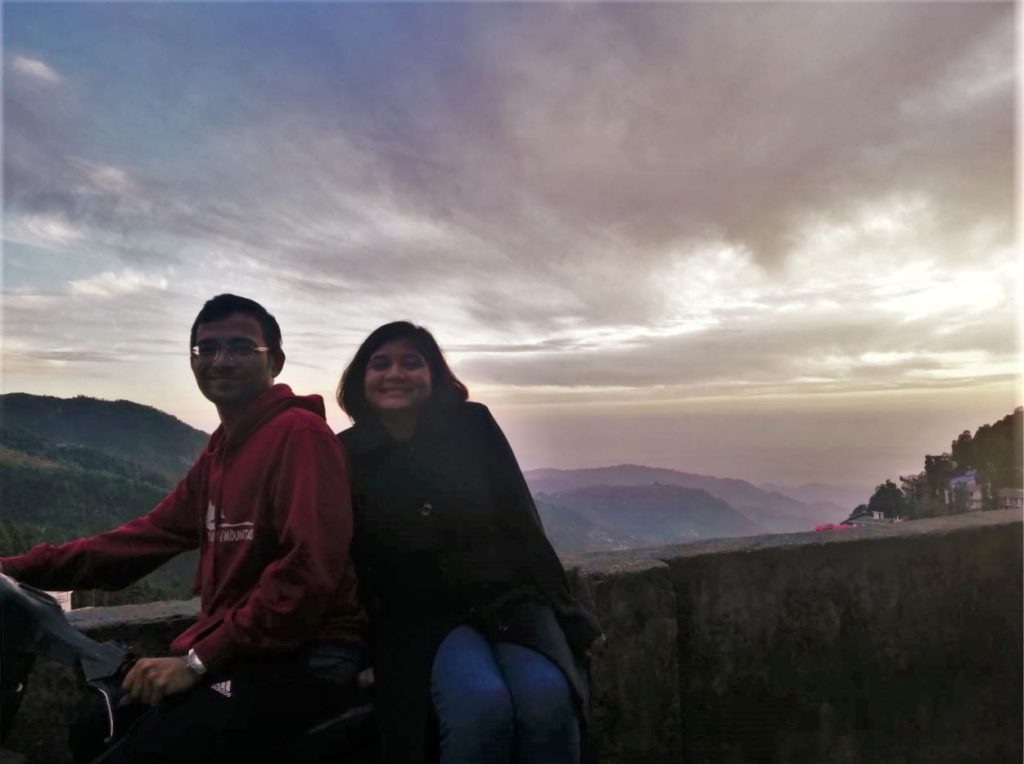 What to wear
If you are visiting Dalhousie in the months of March-August, you can expect the place to be mildly cool during mornings and evenings. In this case, a sweatshirt or a cardigan should do the job. In case you are visiting after September, take a couple of warmer woollen winter wear options more since the weather can be quite unpredictable.
Carry heavy winterwear if you plan to visit between December and January. If you are planning to trek around the areas, you need to equip yourself with layers. The afternoon can be warm and evenings windy and chilly. In case you feel a need for more, head to the Tibetan market to check out some local fashion.
Save on Pinterest


Related Articles