16 Mar

The Places to see in Da Lat, Vietnam

While I was looking for the best places to see in Da Lat, it came as a pleasant surprise. If you have been travelling around Vietnam for a while, you know how it's like. There are lush green paddy fields with farmers working with a straw hat on. The heat is of course, sometimes unbearable.

Then you pass the traditional multi-floored narrow Vietnamese style buildings. You walk into busy market areas that sell street-style food. All of which they cook fresh, in front of you. That's usual Vietnam.

If you only share the pictures from Da Lat, very few people can say that it is in Vietnam itself. A bit more shocking was that when I was doing my research on Vietnam travel itinerary, very few people suggested this. Perhaps, it is more of a local delight. But it was great that we found so fewer tourists, even during peak season.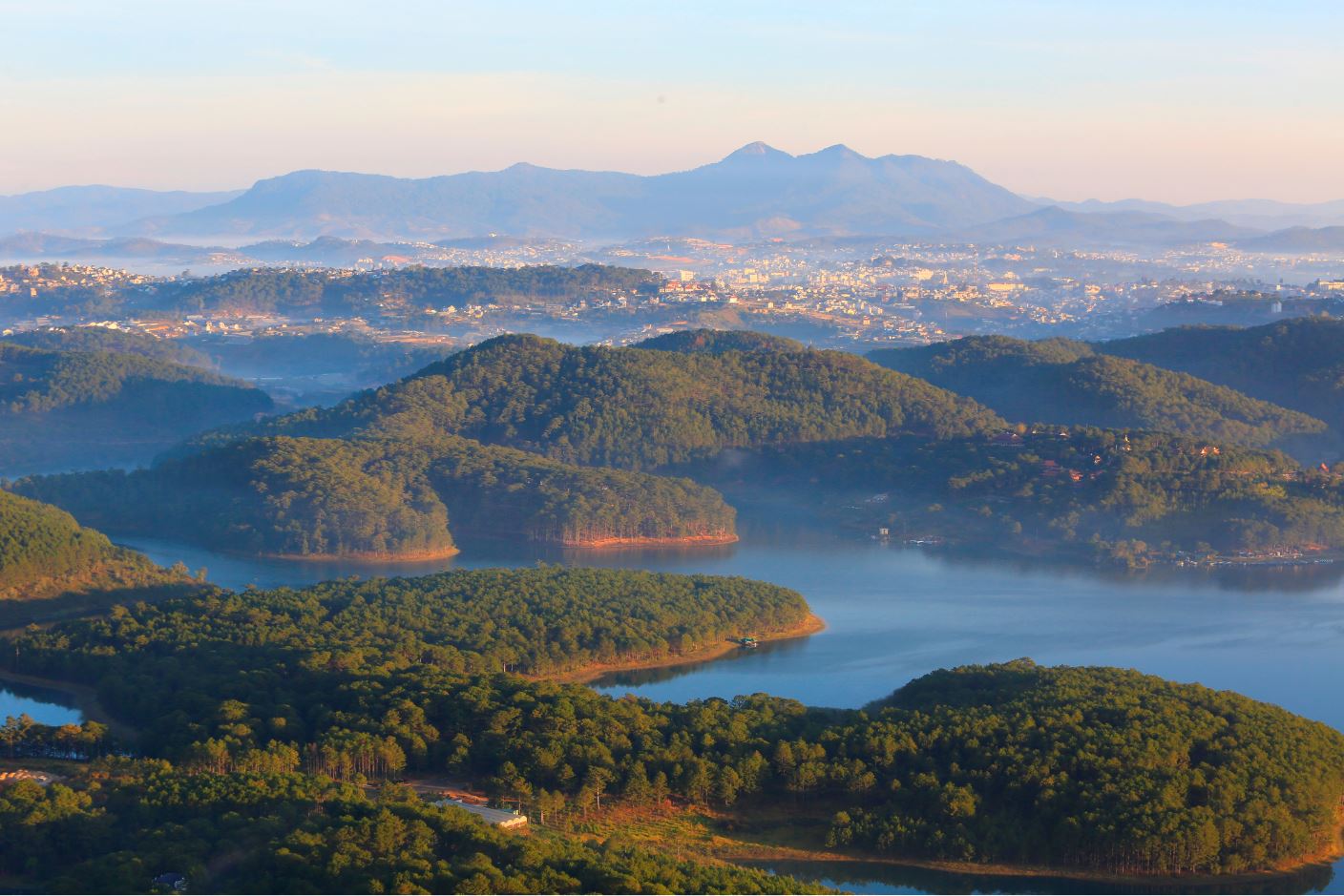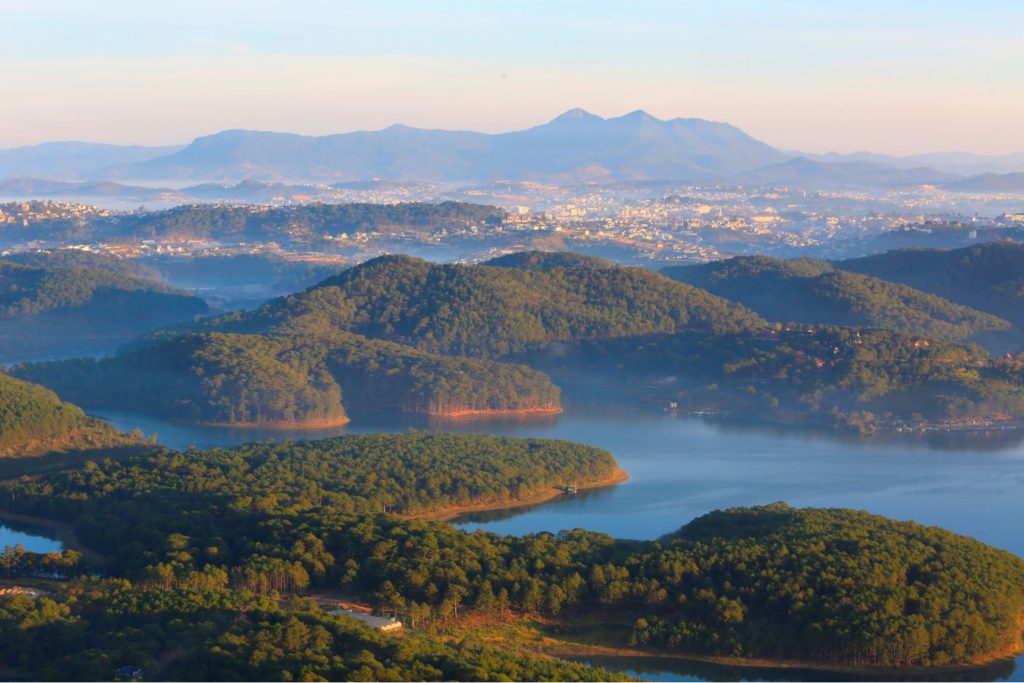 Why is Da Lat Popular?
Da Lat is popular as a local hill station, mostly amongst the honeymooners. Da Lat has some spectacular flower gardens, waterfalls, and many lakes strewn around and outside the town. The surrounding forests and farms are a source of fresh food and fruits which are rarely found in other parts of the country.
It looks like a French resort town with its European styled homes and laidback lifestyle. It is also often referred to as 'little Paris' due to the resemblance of its skyline with some aspects of the French city.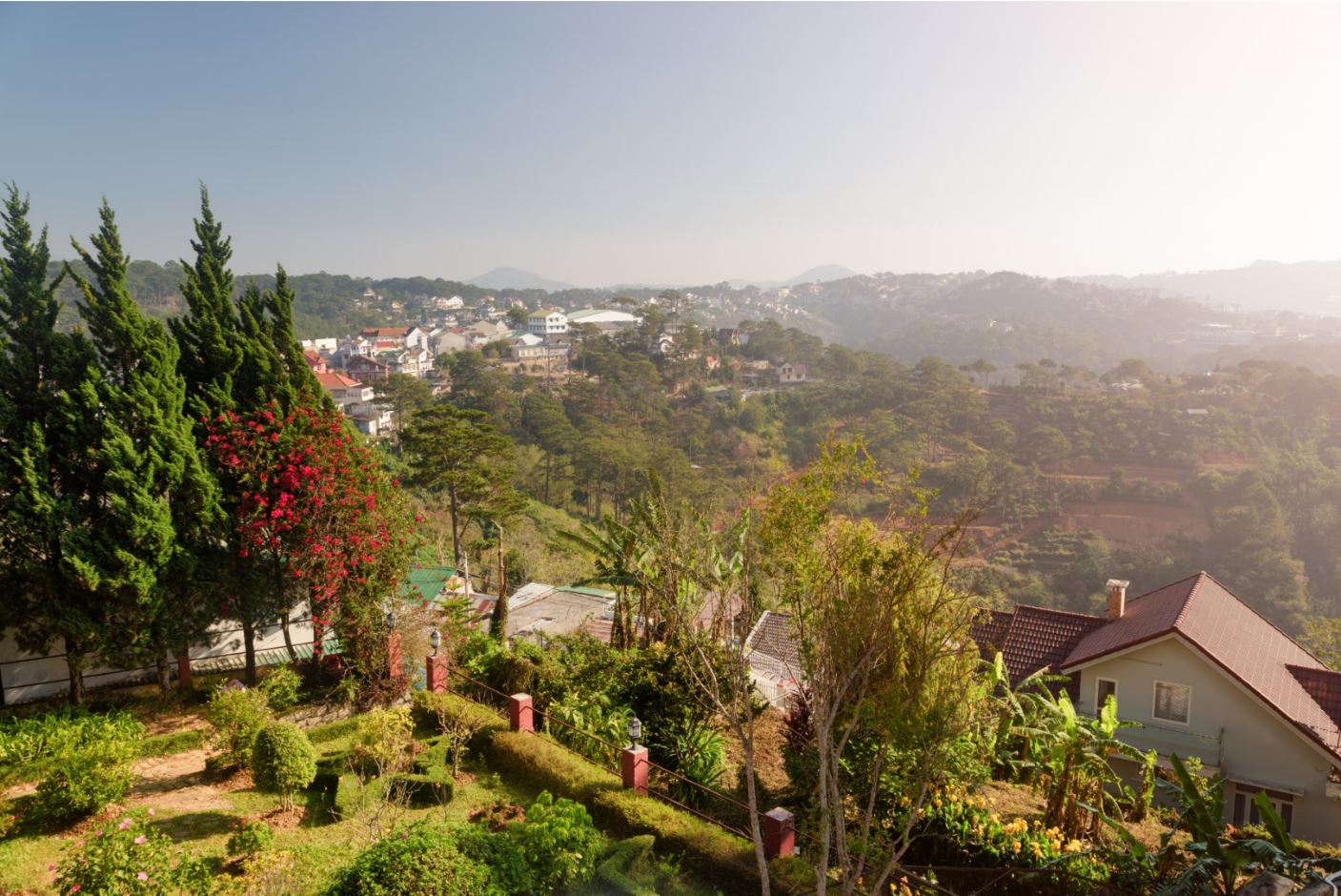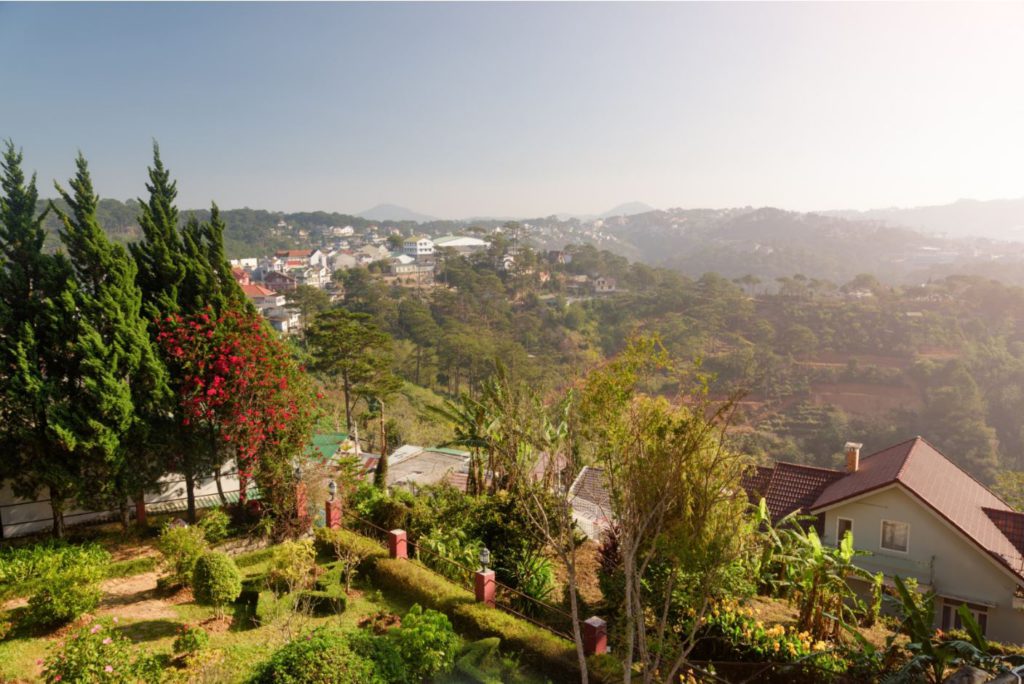 A Brief History of Da Lat
Da Lat literally means 'Stream of the Lat', after the local ethnic group of Lat. But the urban Da Lat started as an agricultural research station. But later in the 1890s, the French discovered the 'Land of Eternal Springs' and converted into a French-style resort. Most of the families of the French dignitaries lived here. Thus the alpine-style town has cafes, hotels, resorts, boarding schools and spas, all European style.
Dal Lat was barely touched by the Indochina or the Vietnam War. Therefore, this hill city is filled mostly with lovely memories and charming days from the colonial time. Around 2,000 villas made in French style still sit in the city, rather deteriorated. But the locals seem to adapt much of the style and continue building homes in the same silhouettes to date.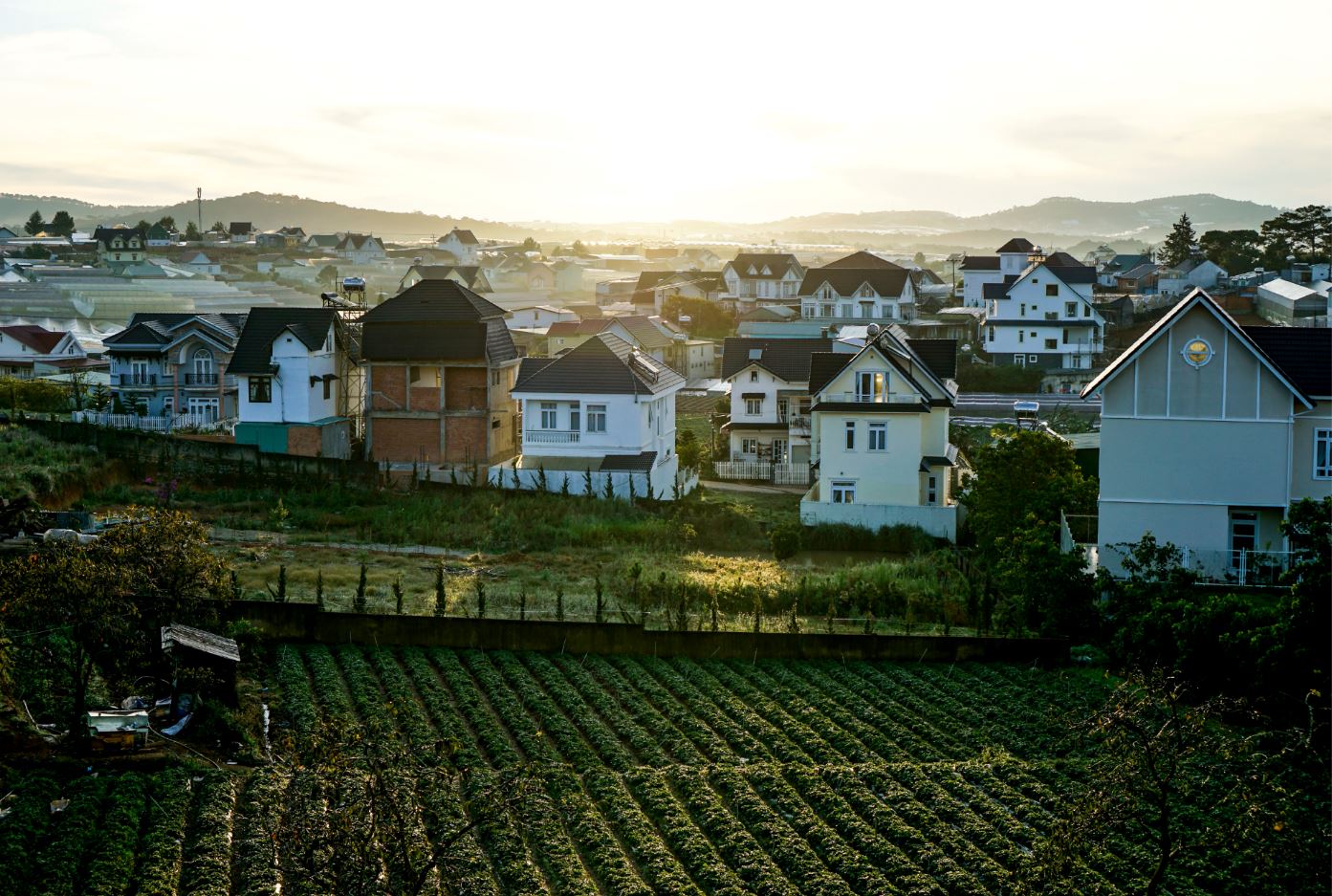 Where is Da Lat Located?
Da Lat is located in the southern part of the central highlands of Vietnam. Somewhere where the central Vietnam ends and the South starts. Da Lat (On Google Maps) is at a height of 1,500m or 4,900 ft which gives it the advantage of cooler weather throughout the year. Da Lat is around 300 km from Ho Chi Minh City and 140km from Nha Trang.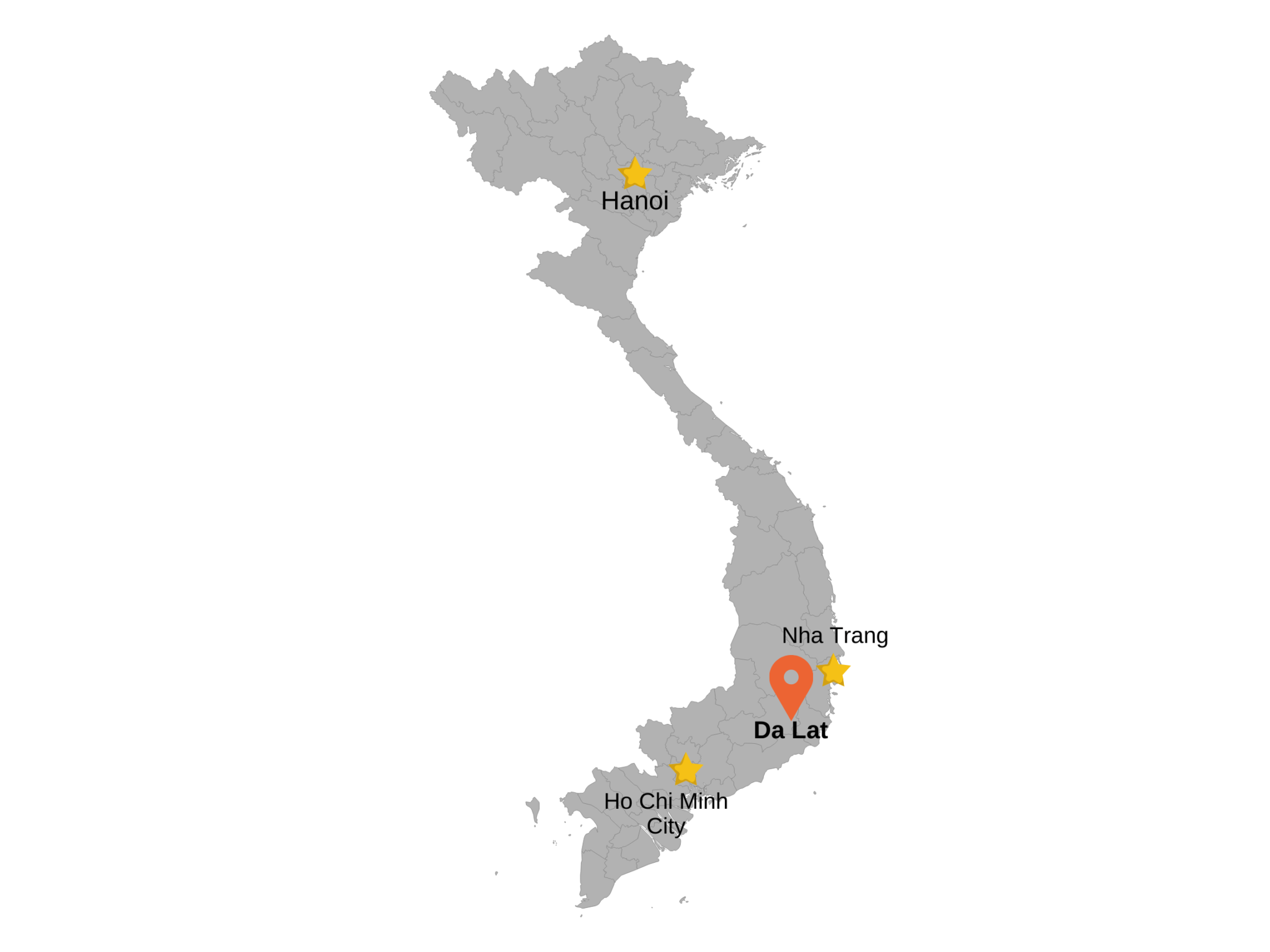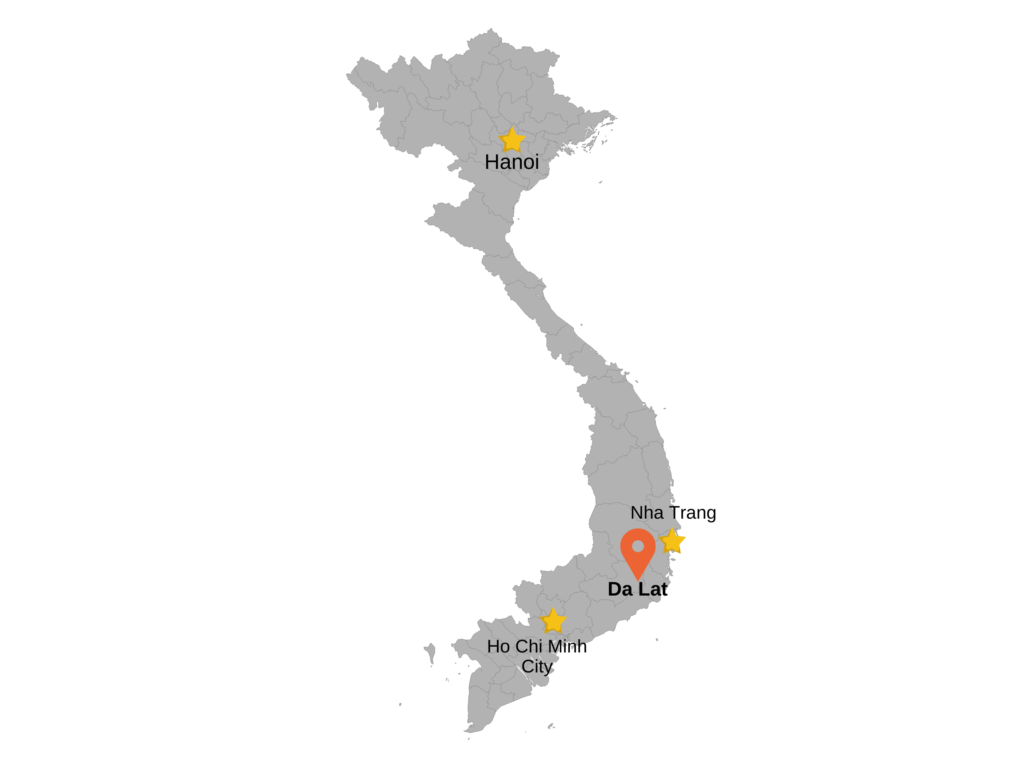 How to reach Da Lat?
You can reach Da Lat either by Air or by Road. Railways are not available from the city.
Flight: You can take a flight from Ho Chi Minh, Da Nang, Nha Trang or Hanoi. This is an extremely convenient option if you are flying from Hanoi or Da Nang since the travel time by other routes is too much. The direct flight also operates on some international routes.
Most flights are serviced by Vietjet Air or Vietnam Airlines and are affordable. The Airport is only 30 km outside the city and you will have to take a private taxi to travel that costs around 400,000VND. Airport shuttle buses are also available at around 50,000VND.
Bus: Buses are an extremely convenient option to travel from Ho Chi Minh City and Nha Trang along with other nearby places. However, the buses are not all that frequent. So you better check the schedule beforehand if you are not booking ahead of time. The bus services can range from average to super-luxury (which is still quite affordable). Book a bus from Bookaway.com or Baolau.com
The time taken by the bus from Ho Chi Minh City is around 7 hours in the day time and only 5 hours at night. In case you take a night bus, you will probably reach in the middle of the night, way before the mentioned time.
Minivan: Minivans are faster than the bus. And if you take a limousine, they are way comfortable as well with your own charging station. They are quite affordable as well. A great part is that some companies offer to pick you up from your hotel if you are staying in the downtown area of the city. It is great for a ride to and from Nha Trang as well as from Ho CHi Minh City.
Book Minivan To or From Nha Trang
Book Minivan To or From Ho Chi Minh City
Bike: You can also hire a bike or a bike rider from Nha Trang and drive on the pleasant road to Da Lat on a two wheeler. A one-day tour to Da Lat is available on a motorbike with a driver where you can enjoy the journey on the backseat.
Book Tour Online: From Nha Trang: Da Lat Full-Day City Tour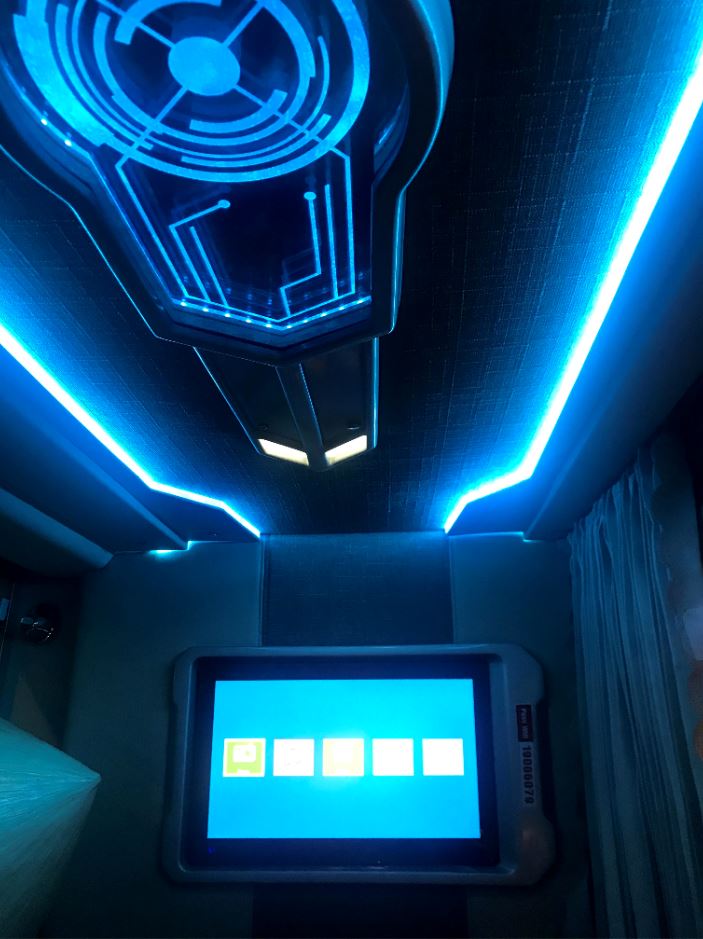 Best Time to Visit Da Lat
The temperature in Da Lat is ideal to visit whole year long. Temperature varies between 16⁰C to 26⁰C on an average. But the best time to visit Da Lat is between December to March. This is when their flower gardens are in full bloom and they are showcased spectacularly. The temperature is also at its lowest during this time making the evenings chilly.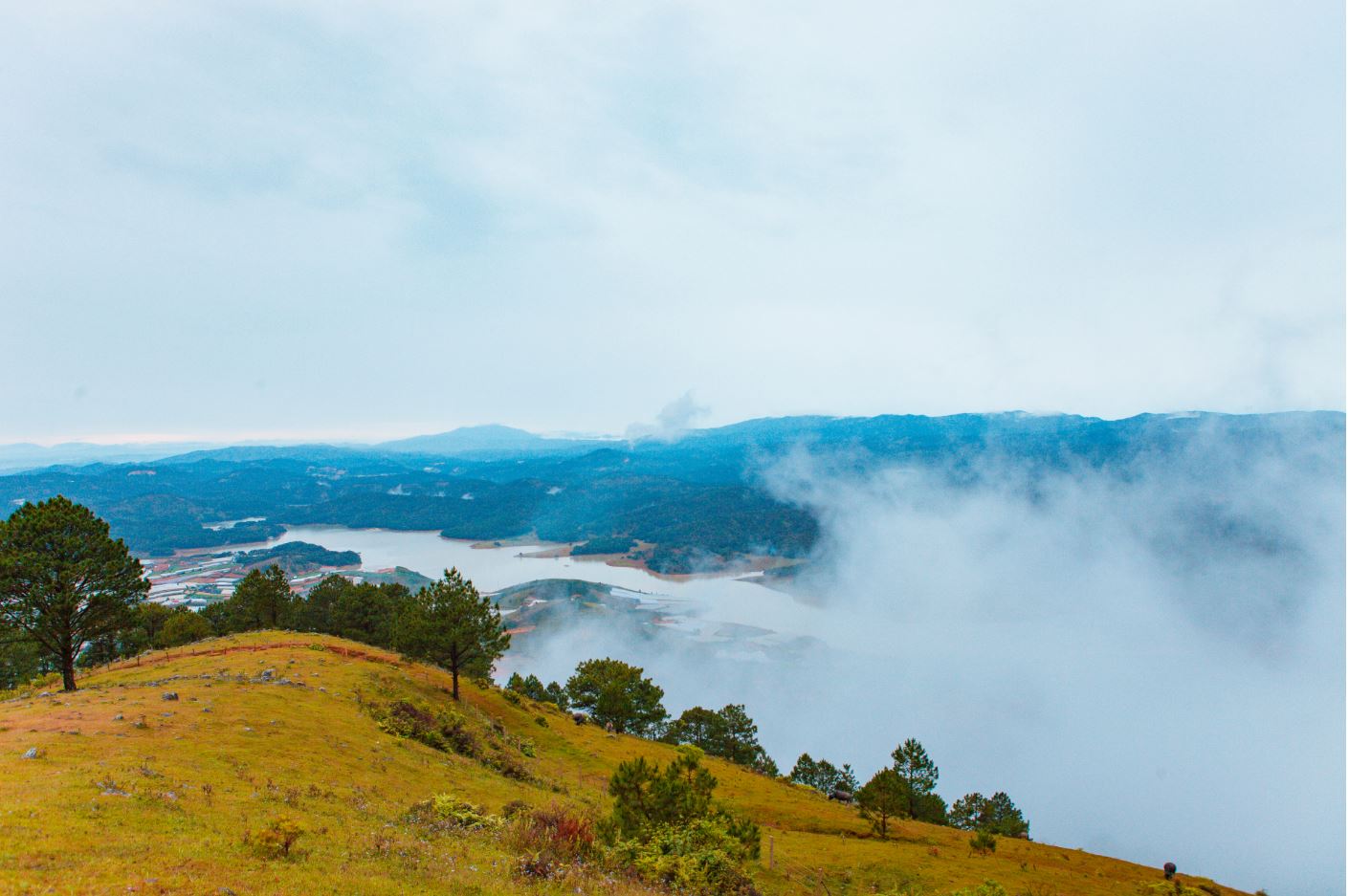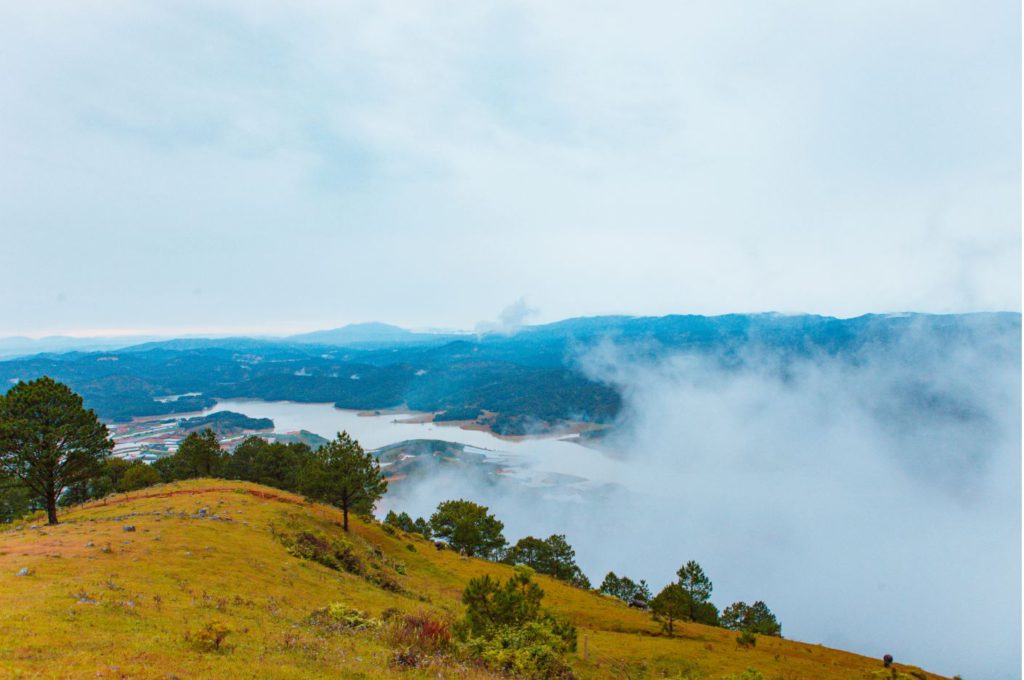 Where to Stay in Da Lat
The best, definitely the best place to stay is near the city center (the area between Phuong 1 and Phuong 2). Otherwise, all the areas around the Xuan Huong Lake are well connected. The benefits of staying around the city center will include closer proximity to city attractions, markets, restaurants, and access to bus stations and running cabs.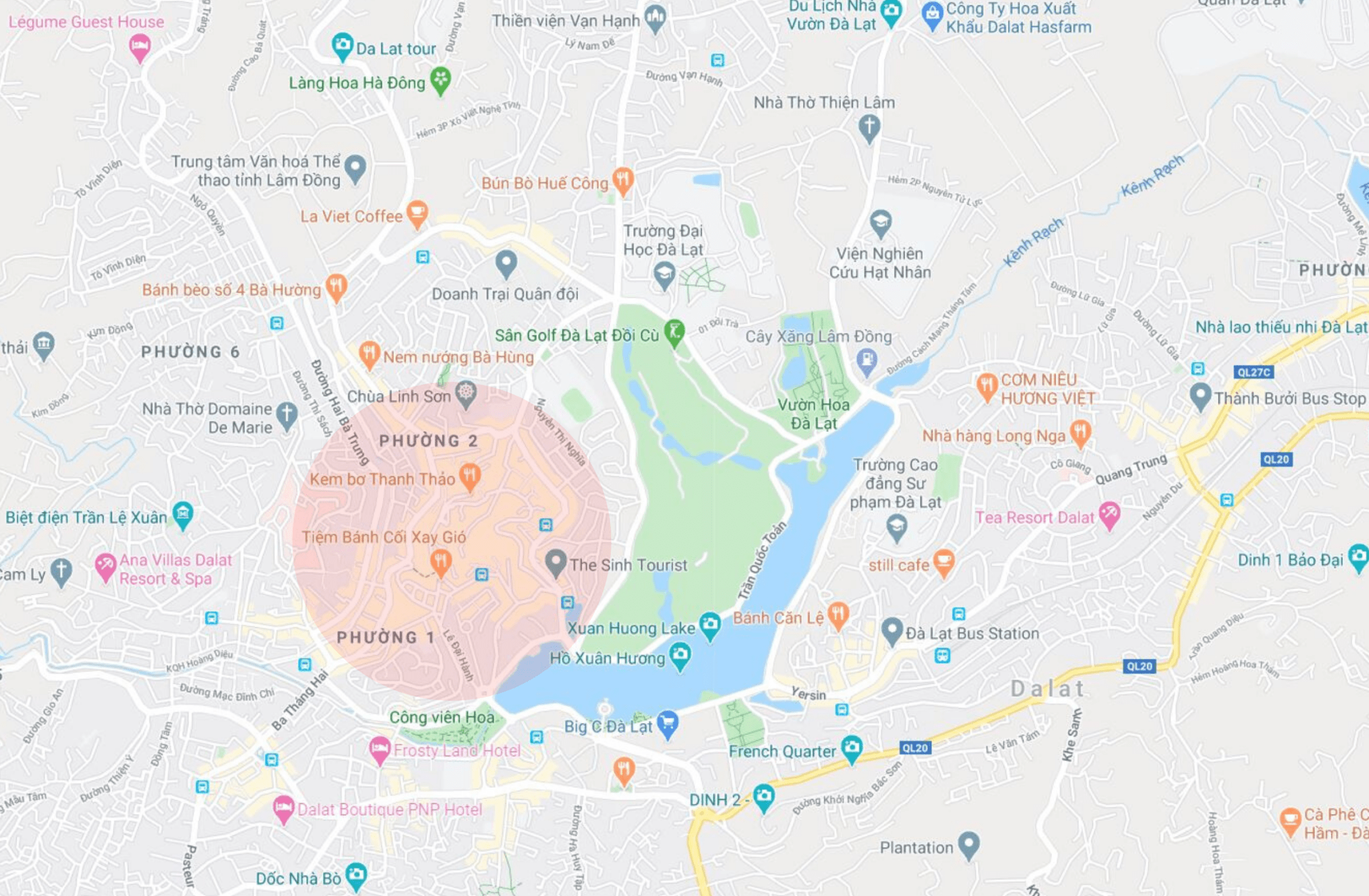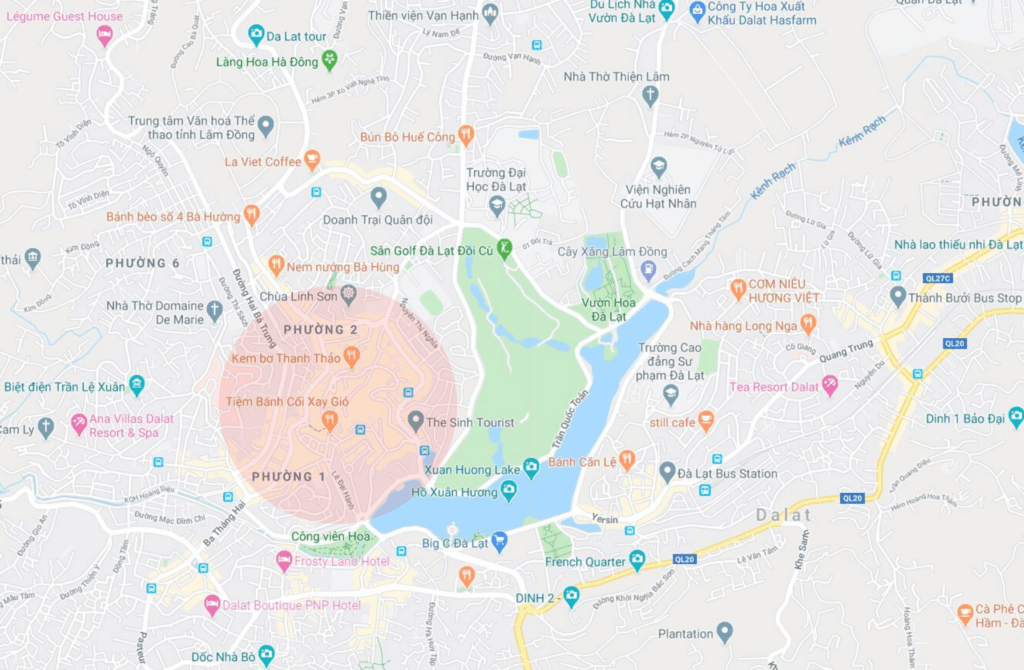 There are some fantastic hostels in Da Lat that are well equipped. You can even get a dorm bed starting USD 5 per night (dirt cheap!). You can book them ahead on hostelworld.com.
If you are looking for hotels, I will suggest using agoda.com. I personally use it since it has great discounts on hotels not just in Dalat but in the whole of Southeast Asia. You can even find some affordable luxury options too.
On the other hand, for comforts like home or long term stay, definitely look through Airbnb. Apart from great options you get a chance to talk to locals and know about this place in depth.
How to Go Around in Da Lat
Walk – If you are staying around the city center, you can walk to many places on foot. With a pleasant climate, long walks are enjoyable and let you cover some of the best places to see in Da Lat on foot your own pace. Saves a lot of money as well.
Day tour – Da Lat is a town where most people work around its well-developed tourism industry. If you are traveling with a large group, definitely book a private vehicle online or through one of the local travel agents. If you want to see a lot in a day at affordable prices, book a group tour. They take care of all the transportation with a tour guide and offer to pick you up from your hotel (if around the city center).
Cab – You can find regular cabs around Da Lat, although they are not very common. The most reliable local taxi brands are Dalat Taxi and Mai Linh (check it one the ID on the car dashboard). These are great for a one-way trip since they usually don't wait. If you do need to book one, use Grab for more reliable prices.
Motorbike – If you know how to drive a two-wheeler and are comfortable driving in Asia, definitely look at renting a motorbike. The roads in Da Lat are great and not as congested as cities like Ho Chi Minh City or Hanoi. In most cases, you don't need a driving license but they may insist on keeping your passport. Helmets are again very ineffective. A full-day bike will cost you around 300,000VND excluding fuel.
Motorbike taxi – Now that's a fantastic option in all of Vietnam. Also, the motorbike taxis are not as conveniently available as other cities but they are still a cheap and fast option if you are traveling alone and light. A unique way to see Da Lat is by booking motorbike taxis for a whole day. In the cool weather, you don't need to bother about other things and just enjoy the ride. A local company called Easyriders provides these services.
Book EasyRide Tours:
Dalat City and Silk Village: Full-Day Easy Rider Tour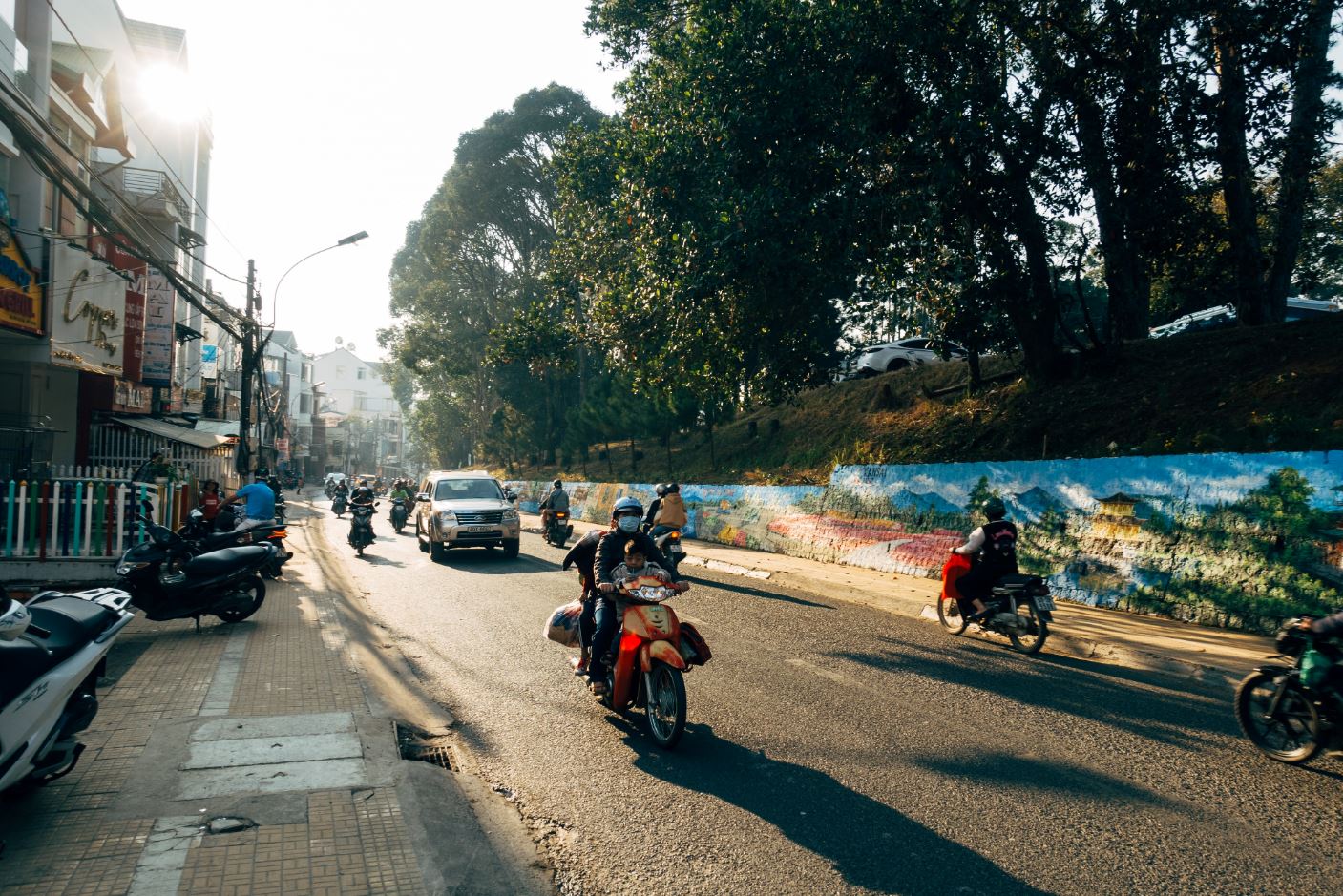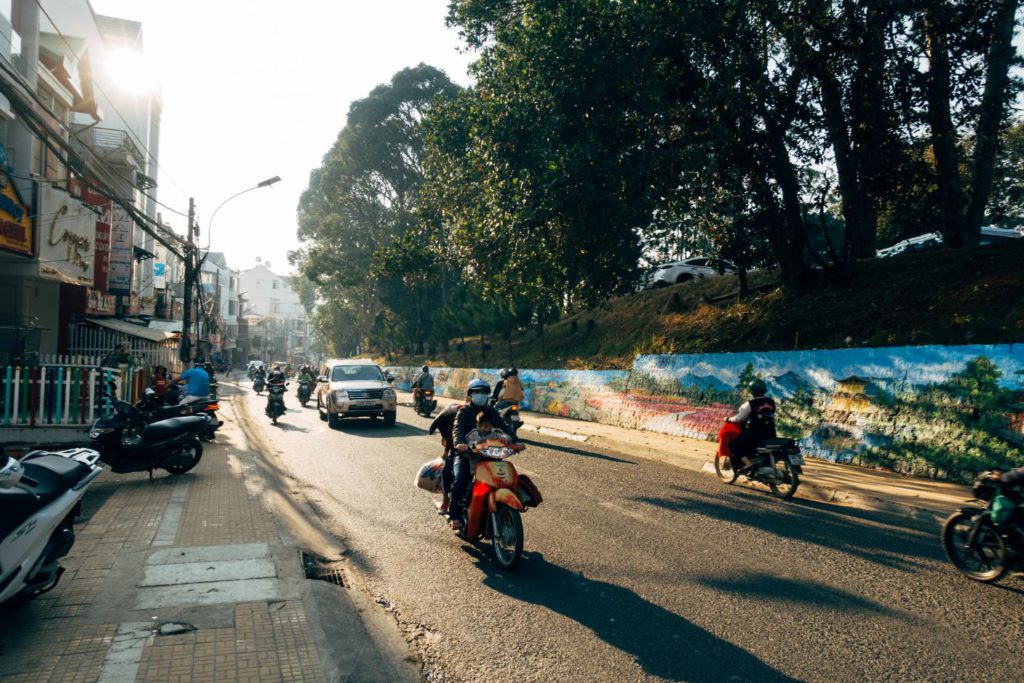 Best Places to See in Da Lat
1. Crazy House
The Crazy House in Da Lat lists as 'one of the 10 most bizarre buildings of the world'. It truly is extremely weird. It started as a personal project by a local Vietnamese architect but as she needed more funding she opened it to the public earlier as a guest house, now a museum.
In fact, the city administration wasn't very keen on its construction and the plans passed after many revisions. It is located in the middle of the town and can be reached on foot. The building is massive with random stairs going and coming out of unexpected places. There are themed galleries but mostly it looks something out of a movie set.
You can explore the place for a couple of hours and catch some stunning views from its tallest points. If you are staying in it, the place will be swarmed with tourists in the mornings I guess. But it is definitely one of the best places to see in Da Lat.
Crazy House timings: 8.30 am to 7 pm every day of the week
Crazy House ticket prices: 60,000 VND per person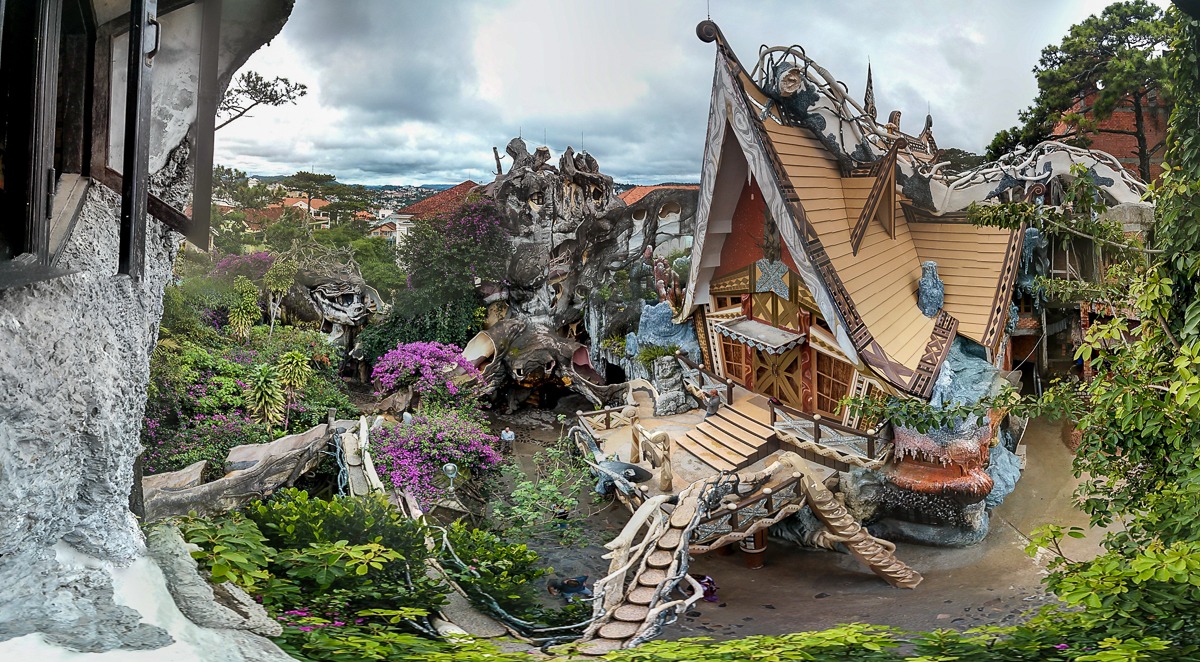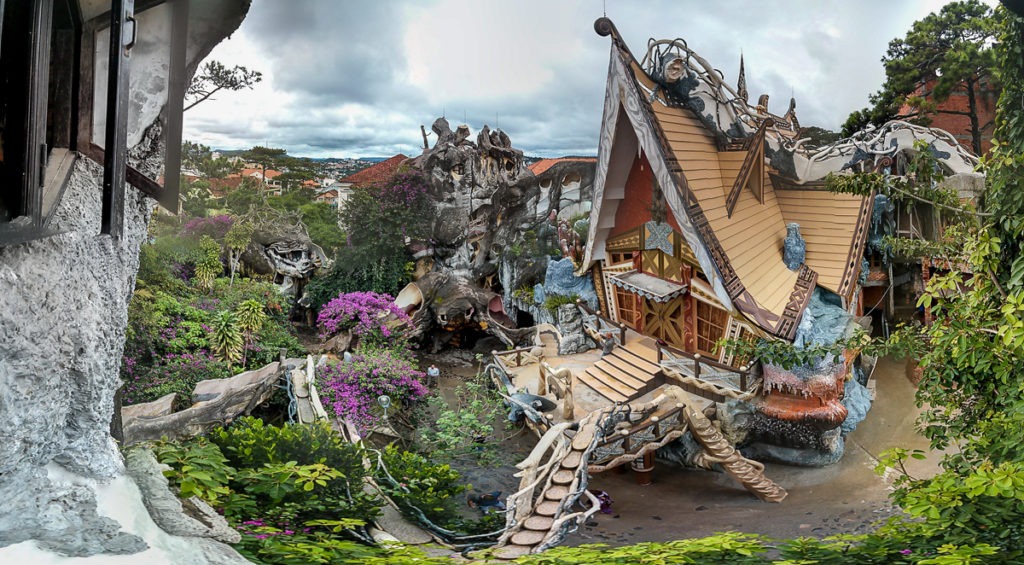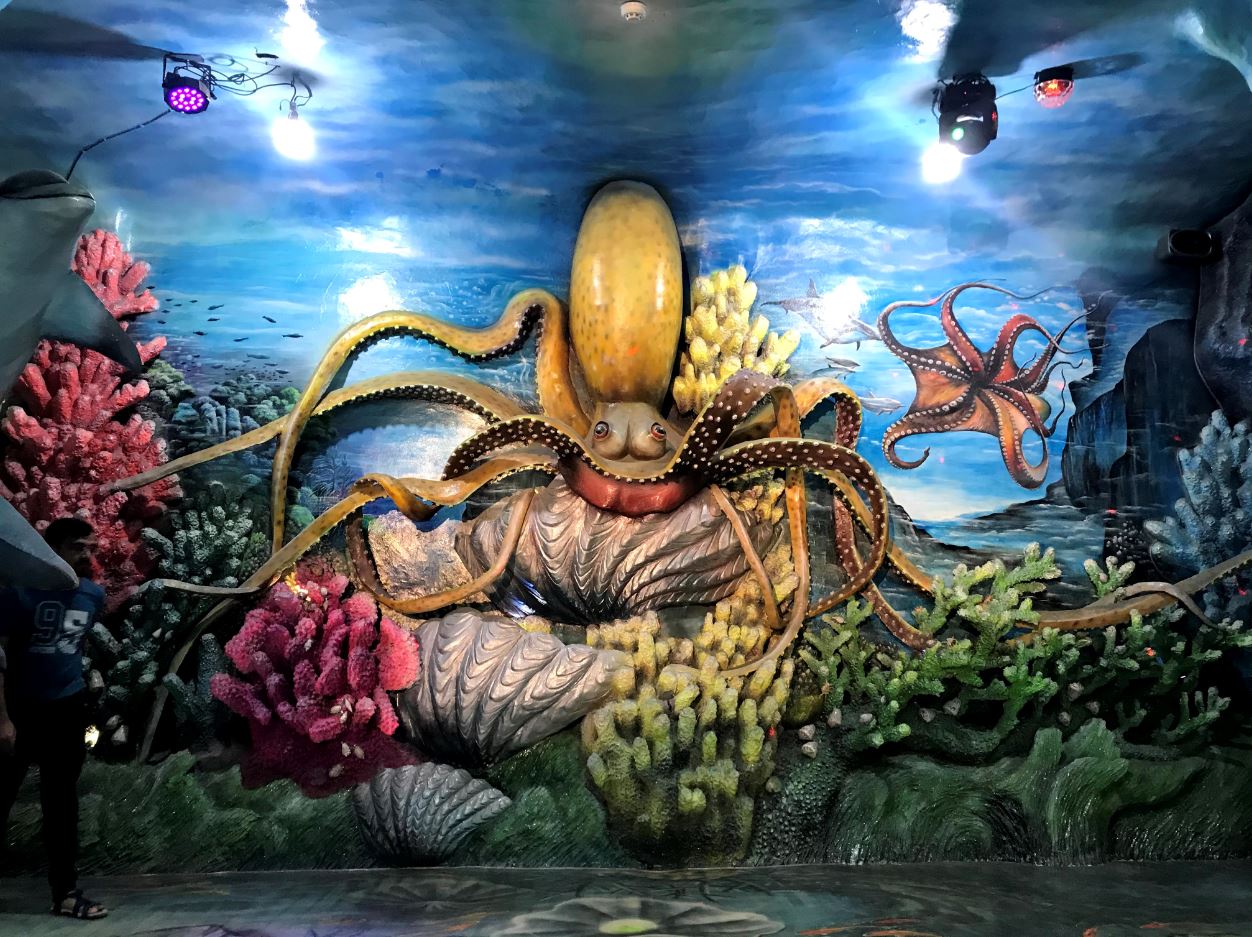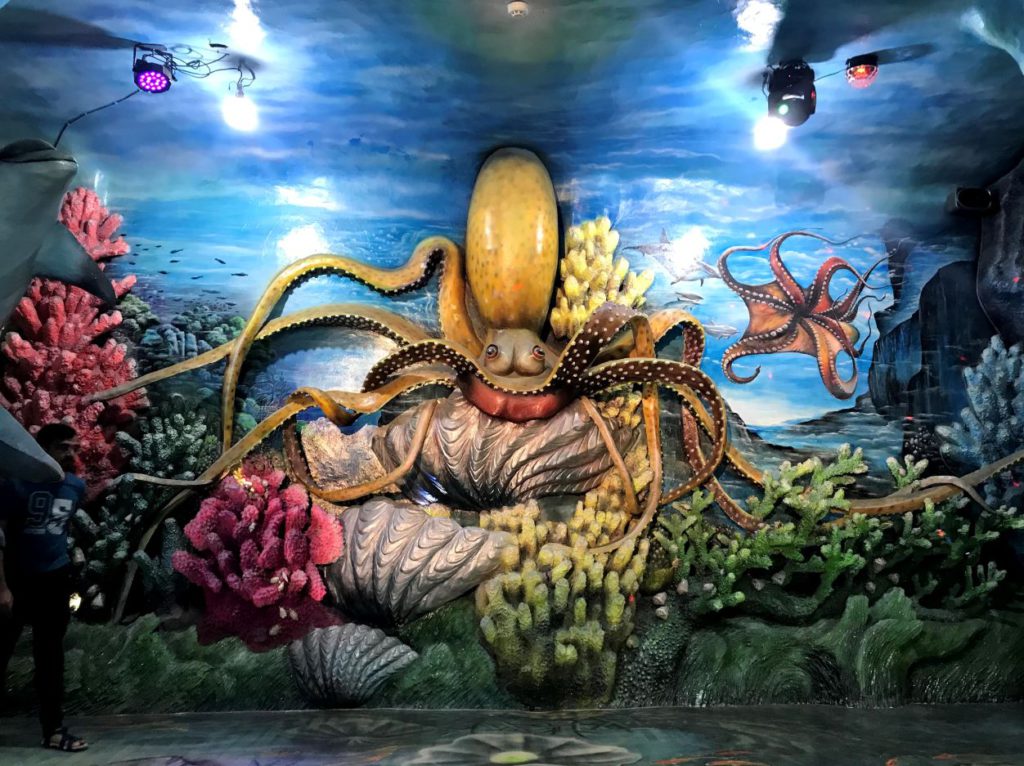 2. Xuan Huong Lake
Xuan Huong Lake is the main lake in Da Lat and is you will definitely come across it while going around the town. The interesting part is that it is all man-made. Today you will see it bustling with activities where honeymooners and families love to take out a boat for paddling. The lake is also the venue for the annual bicycle race performed by Ho Chi Minh City T.V Station.
The lake is surrounded by cherry and willow trees amongst others. If you go around December, you may be able to witness blooming cherry blossoms. And if you get to see pink flowers floating against bright blue water, you will never be able to forget that. We found some floating topiaries on the water. A horse ride or a carriage service is also available and I bet it will be a far cheaper deal you can find compared to any other place.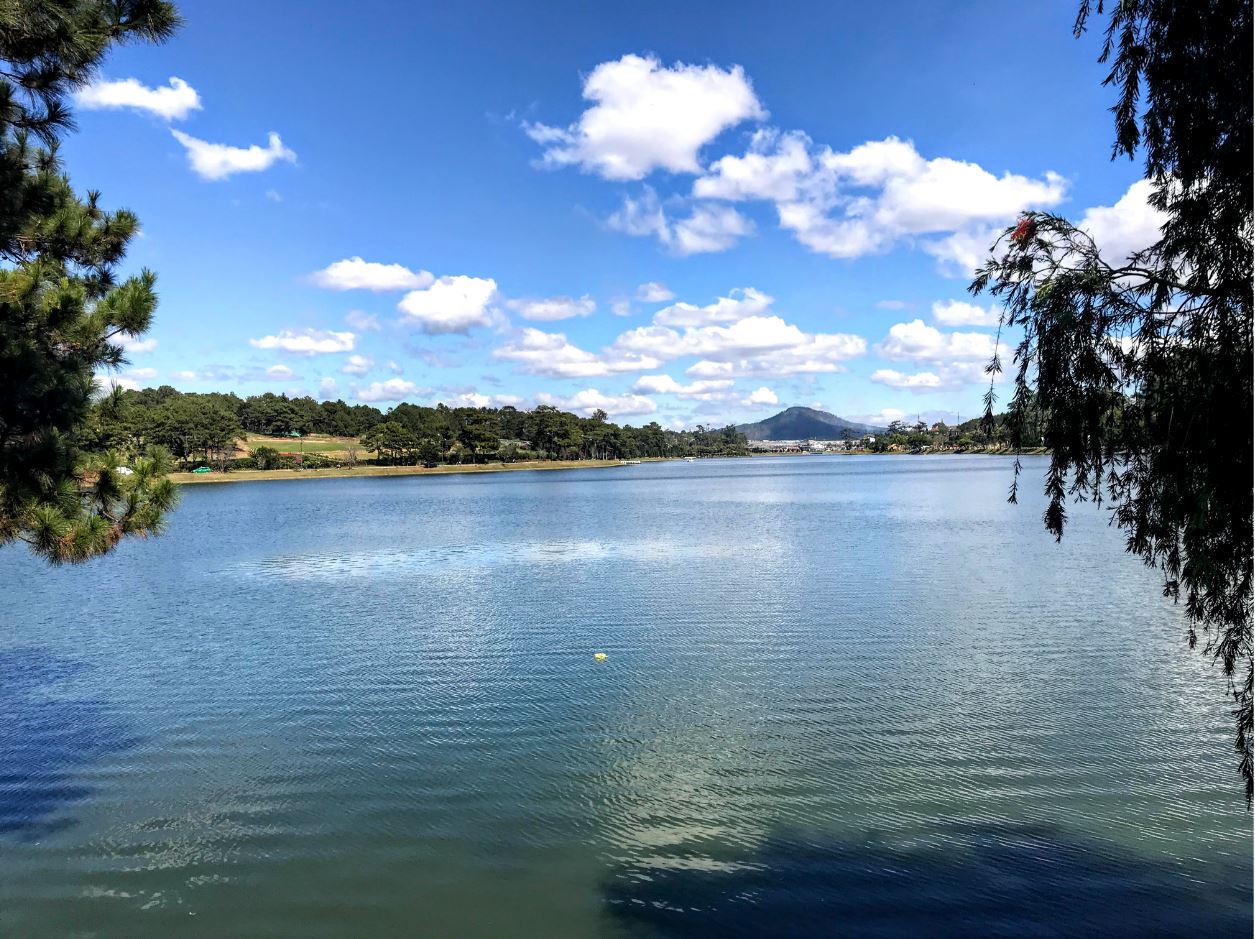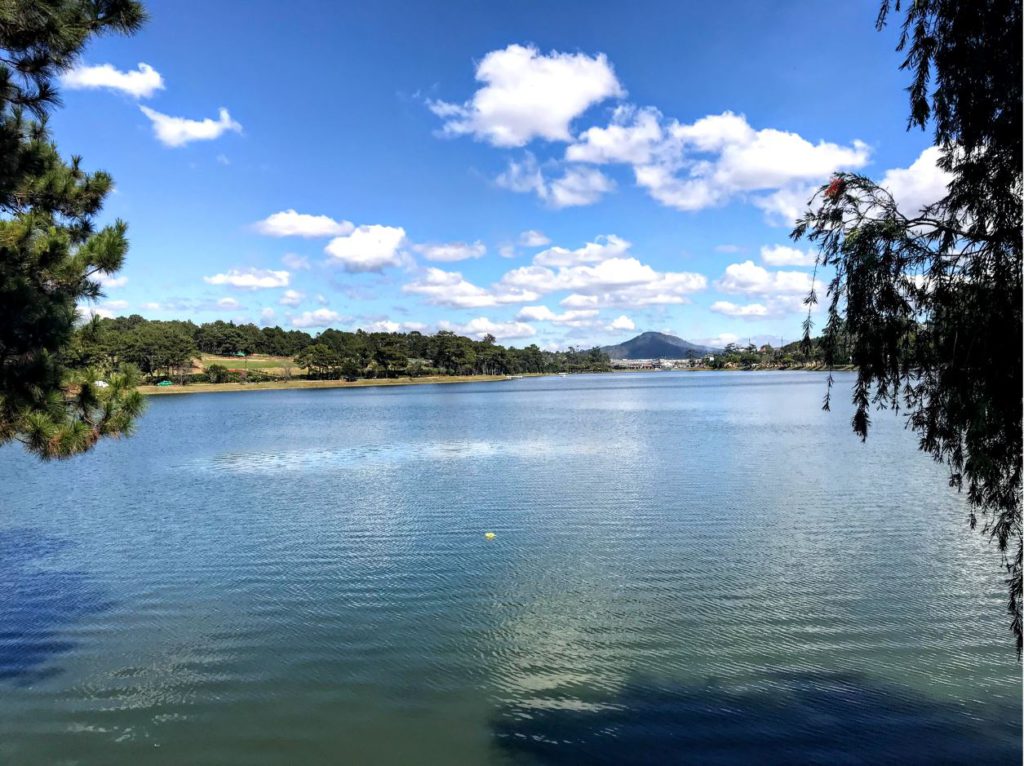 3. Da Lat Flower Park
I guess a lot of this place will depend upon the time of your visit. We visited around New Year's time and the park hit us hard with splendid sights. The park has around 300 varieties of hydrangeas, orchids, tulips, roses, bonsai, mimosas, pansies and a lot of topiaries. Not just that, there are just a lot of delightful elements around the park to spark a feeling of delight while you walk around.
The best time to visit the park in the evening when the wind is cool and the sun not too bright. During the season the park commemorates many small festivities and various flower exhibitions. Or you can simply pack some snacks in a bag and go to a DIY picnic around the place.
Other than this, Da Lat has atleast 3 more gardens around the main city. From strawberry farms to Hydrangea Flower Farm, each place is more instagrammable than the other. If you want to see all of them in a day, consider booking a tour.
Book Tour Online: Gardens Day Tour From Da Lat
Da Lat Flower Park timings: 7.30 am to 4 pm
Da Lat Flower par ticket price: 40,000 VND/20,000 VND for Adults/children respectively.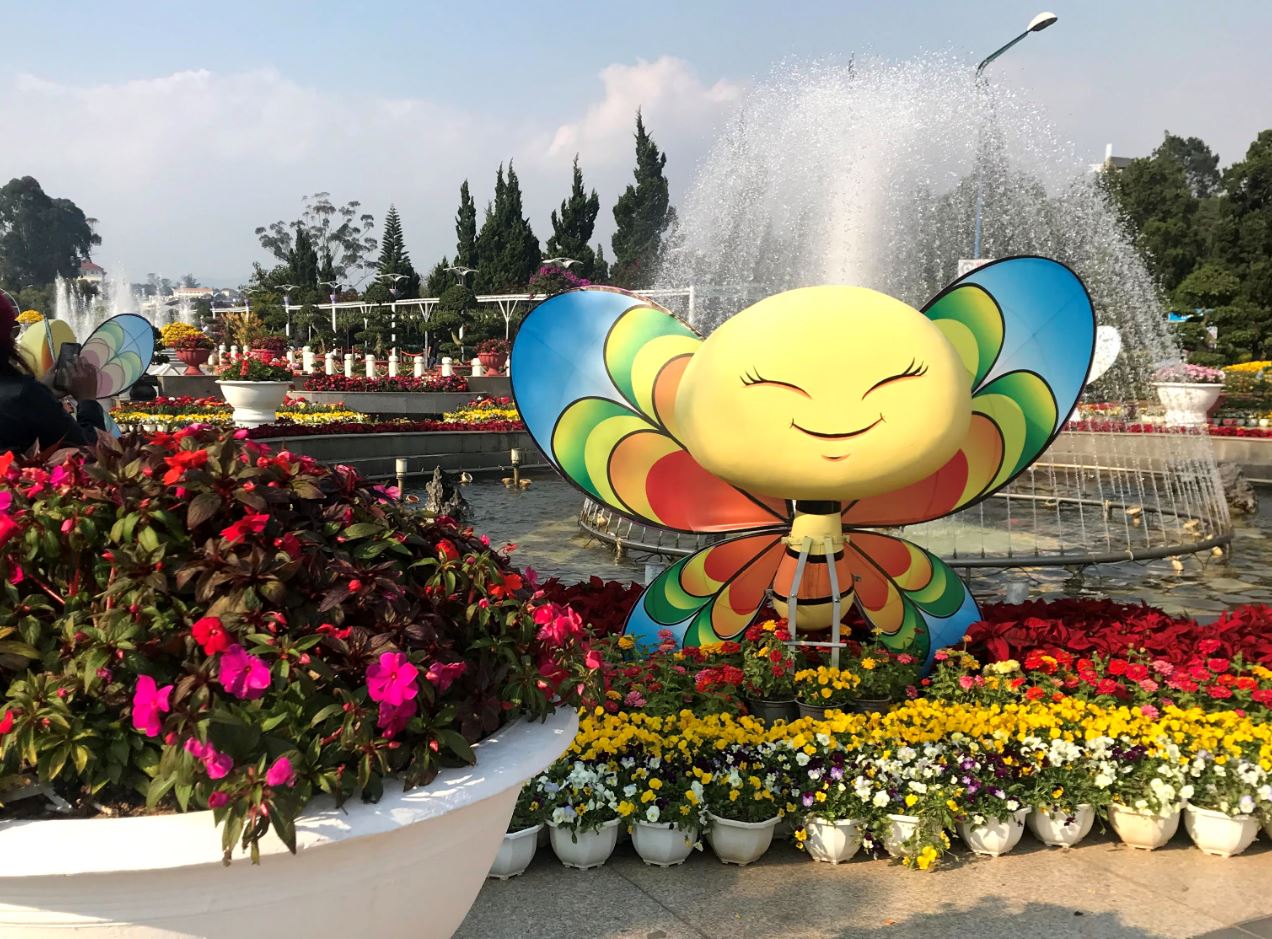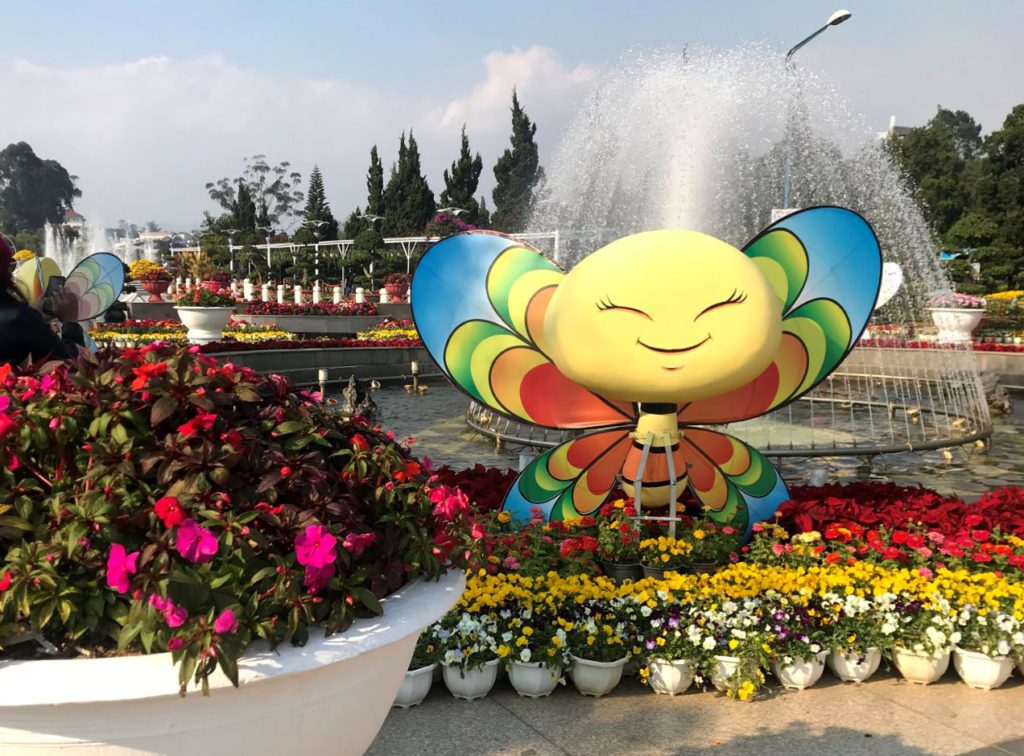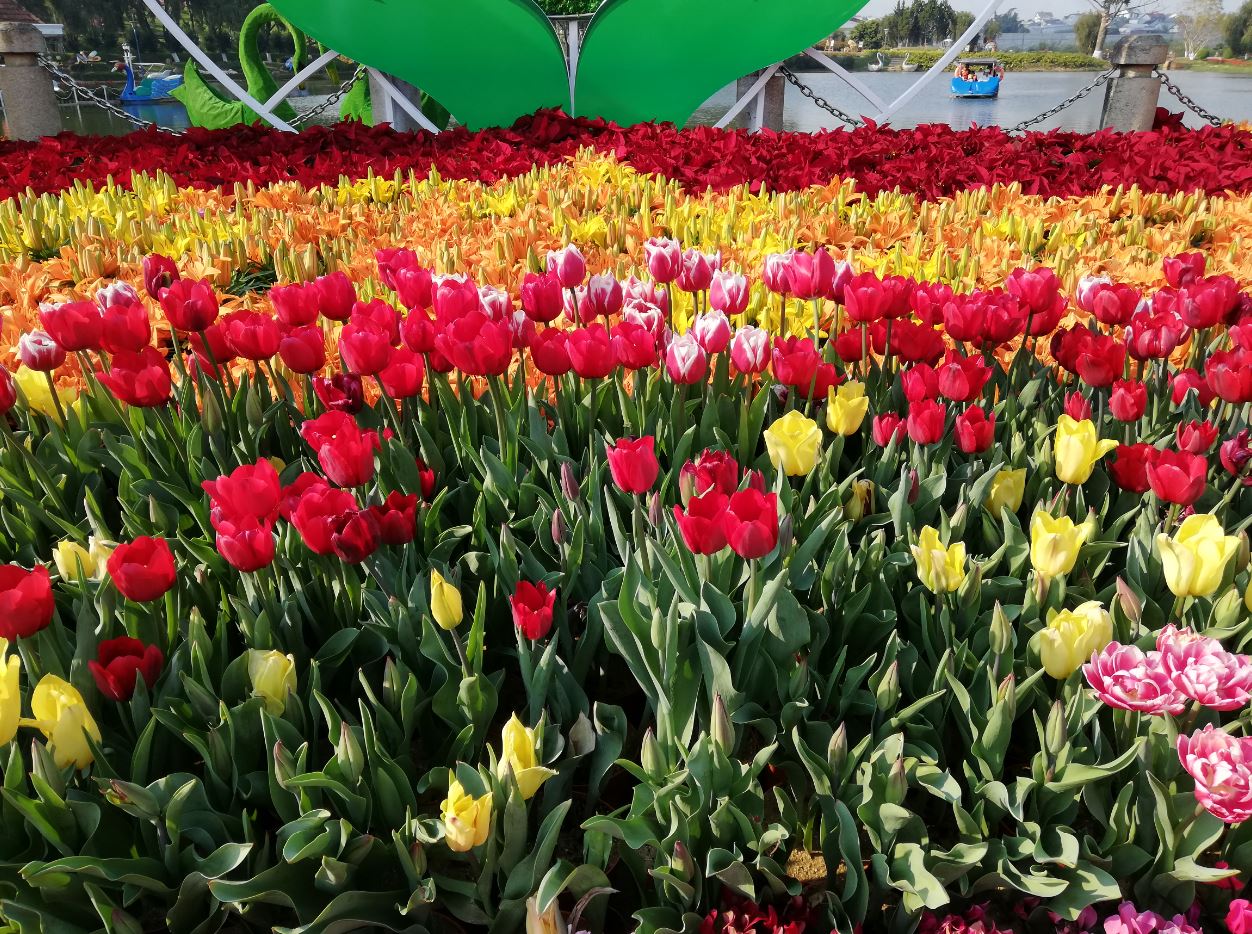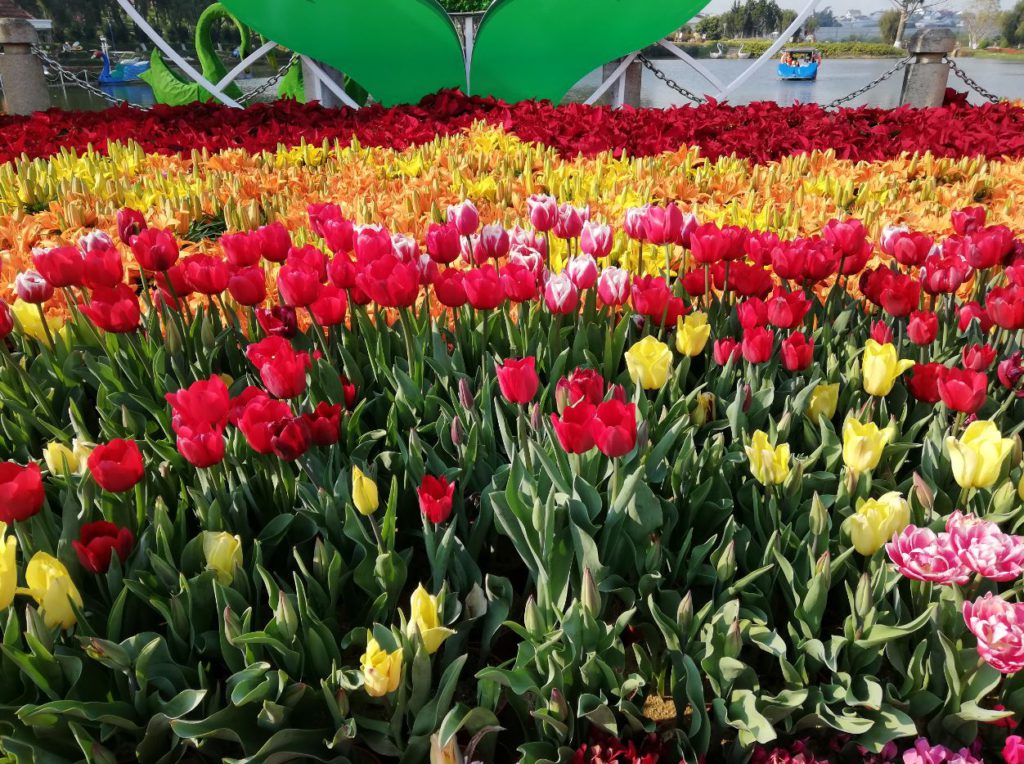 4. Tuyen Lam Lake
Tuyen Lam Lake is located a bit outside the city. A drive of around 6km will take you here. It is astounding how little you have to travel to suddenly find so much peace and beauty. Tuyen Lam is not touched by urbanization and you will find it surrounded by hills and dense forests. A ride on the adjoining road on a two-wheeler will be the best experience you can ask for.
If you love photography this is a lovely place to shoot. Incidentally, the lake is popular with Vietnamese couples looking for pre-wedding shoots and shooting for movies. A lake-facing restaurant on the way is a great way to chill and relax with a meal.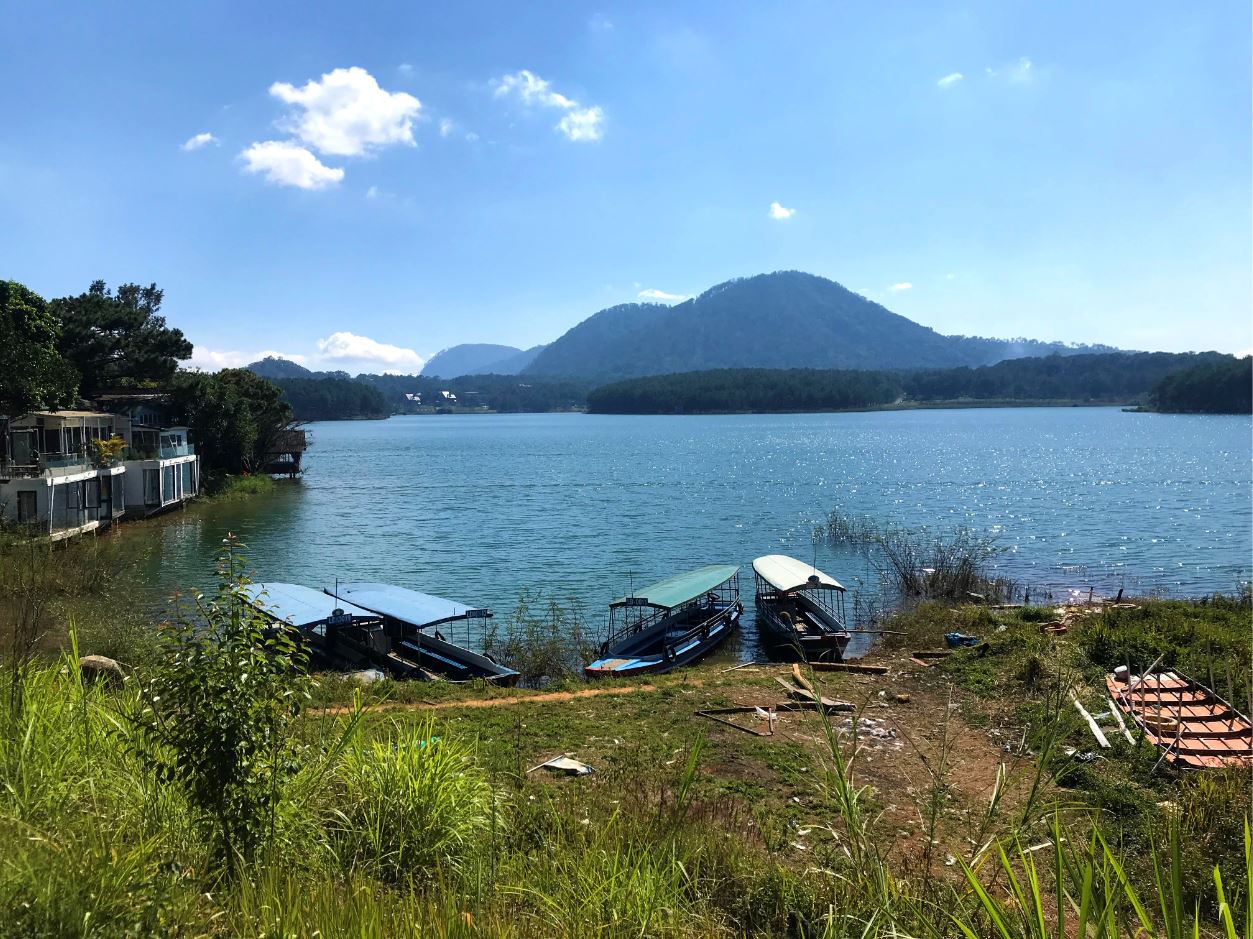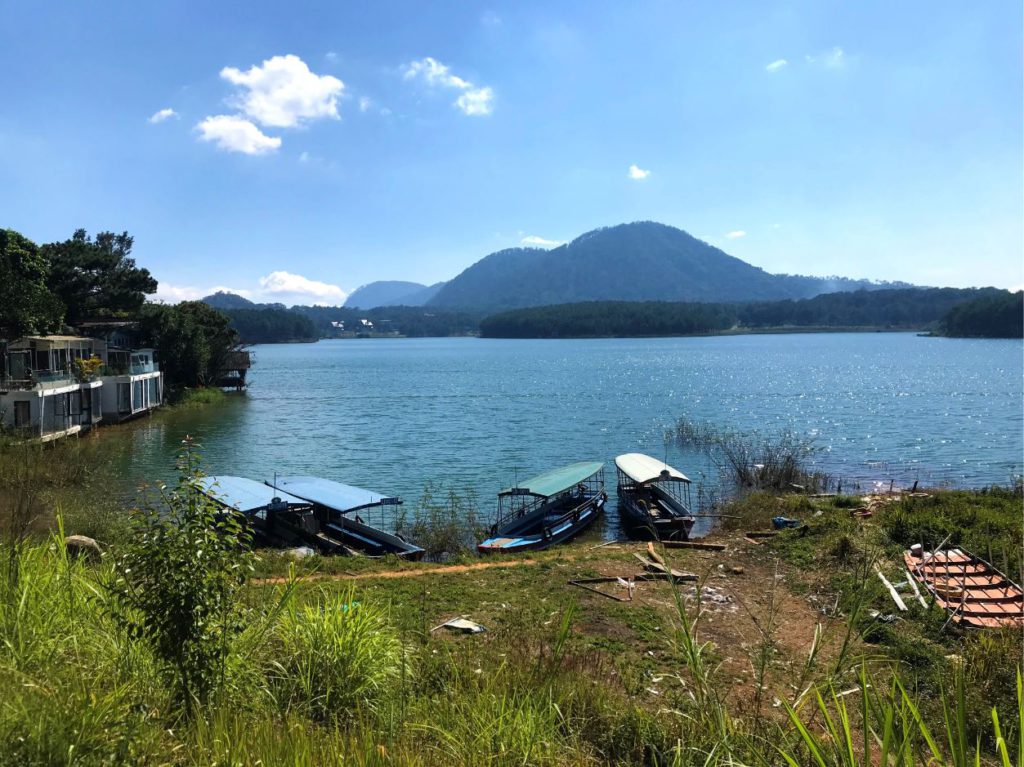 5. Truc Lam Temple
The Truc Lam Temple is located a little outside the city. In fact, it is right opposite to the Tuyen Lam Lake on a hillside and you have to drive uphill a bit. There is not a clear signboard and you may miss it while driving. The Pagoda is built in traditional oriental style. There are many buildings in the premises that include offices, living quarters including the main temple.
The temple is built to recreate the spirit of Zen Buddhism. With its location way outside the city, you will not find a lot of tourists and makes it truly peaceful. You will have to climb around 300 total stairs to reach the top. The courtyard opposite to the main temple opens up to surrounding valleys and a view of Tuyen Lam Lake which is breathtaking. You can also take a cable car to the temple.
Book Cable Car Tickets Online: Robin Hill Cable Car in Da Lat
Truc Lam Opening timings: 9 am to 5 pm every day of the week
Cable Car to Truc Lam temple: Take a cab to Robin Hill where the cable car to Truc Lam monastery starts. The round ticket costs 20,000 VND.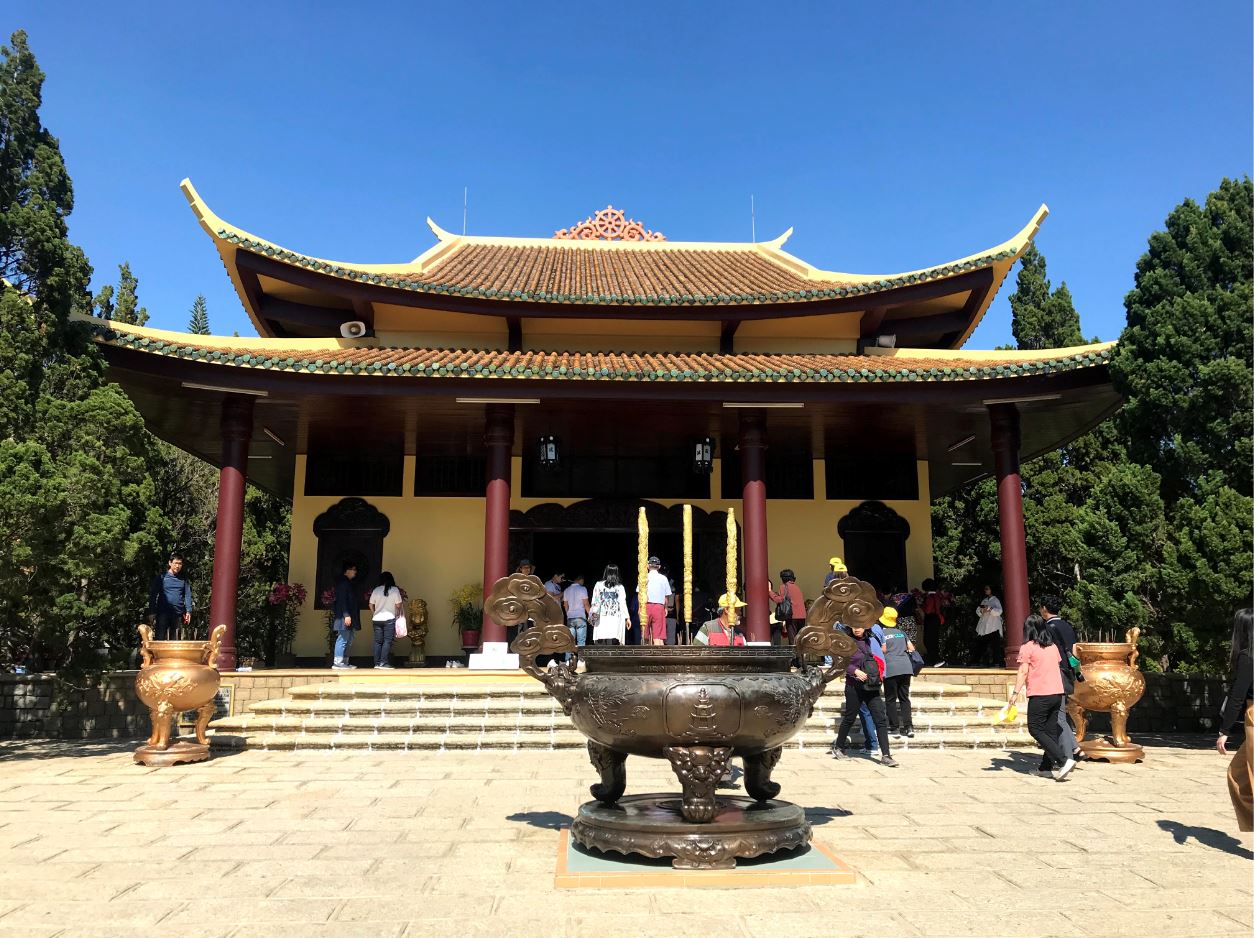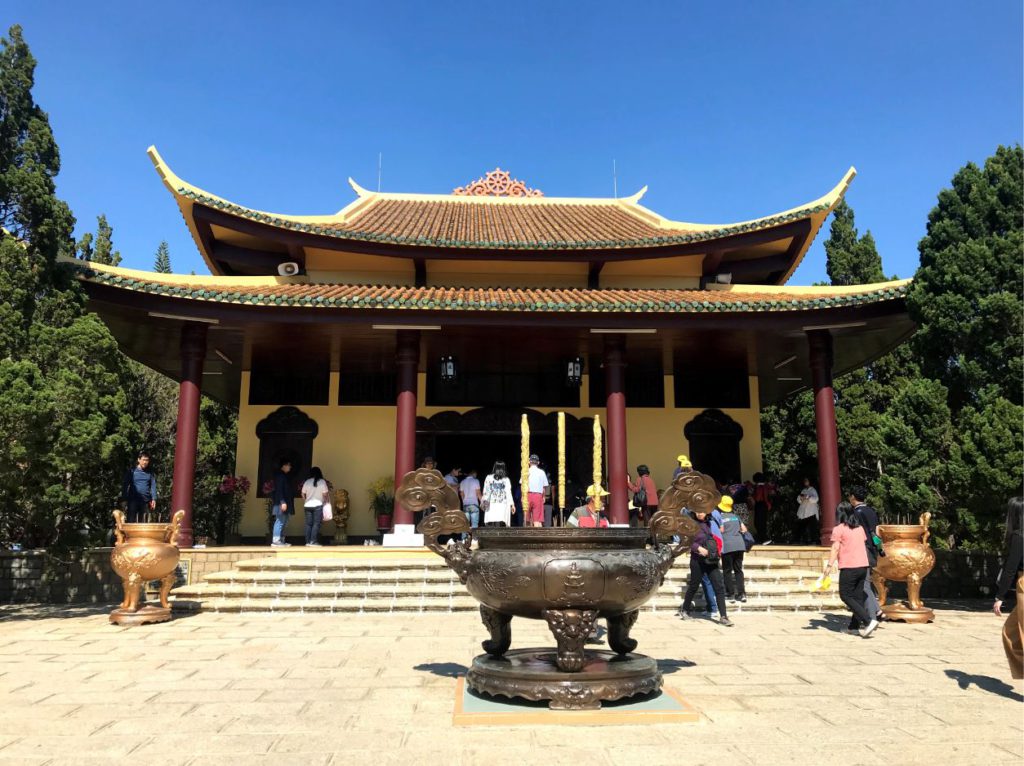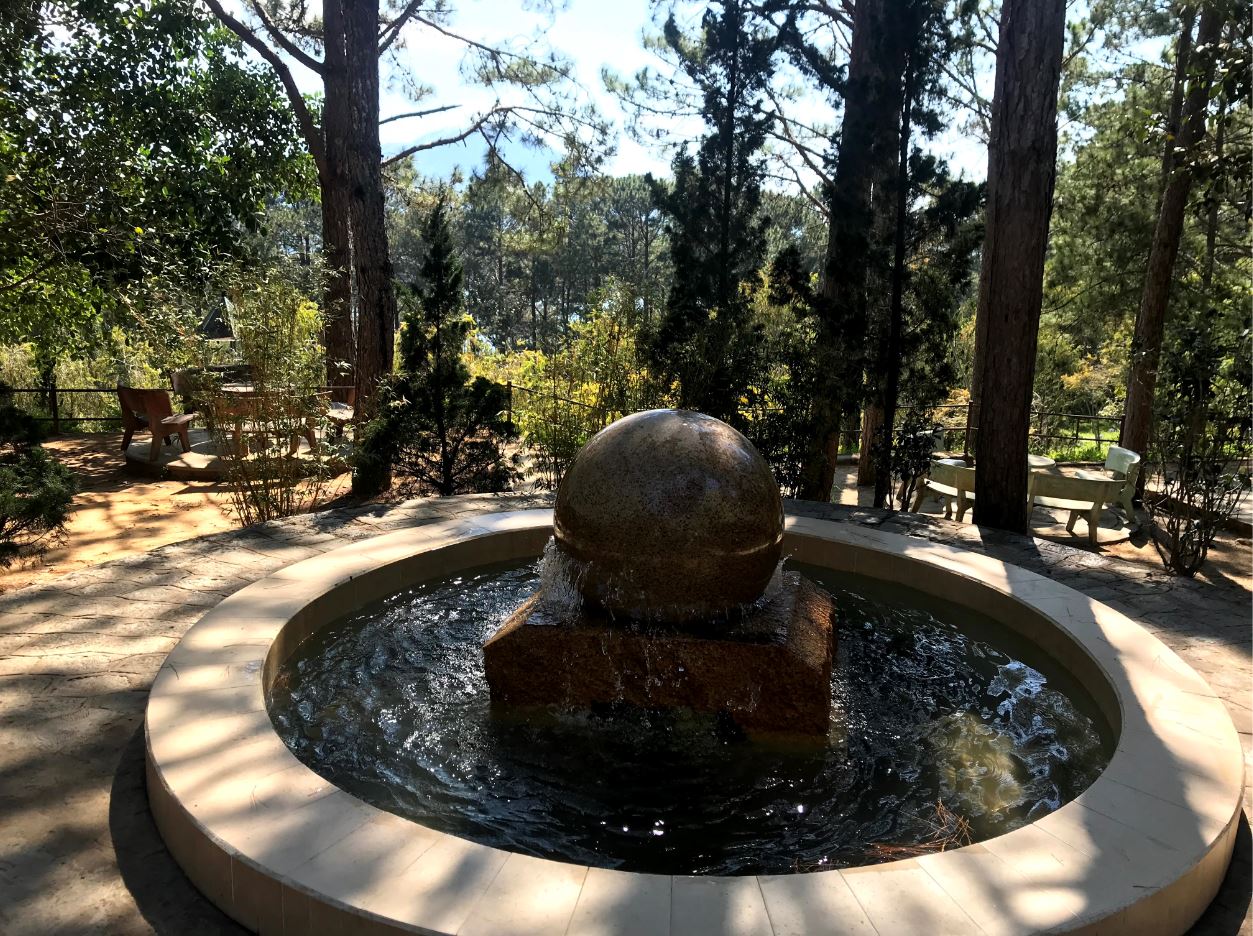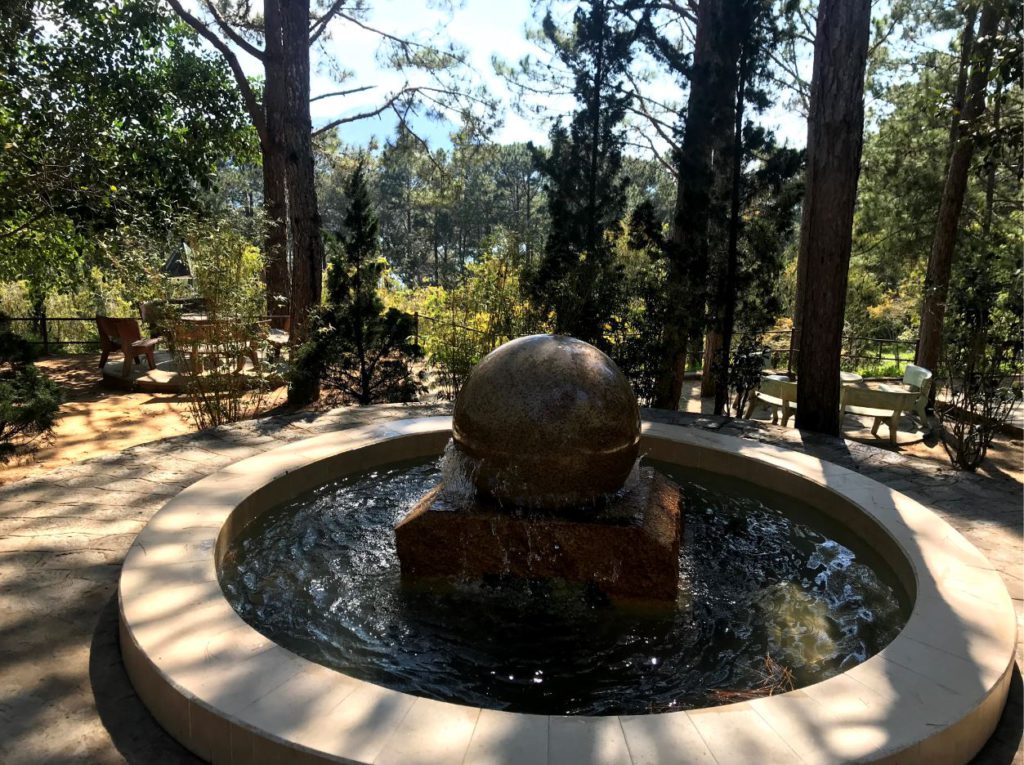 6. Valley of Love
Da Lat, being a French establishment had always carried the romantic air. But then in an attempt to lure the local honeymooners, the town was developed for them. Valley of Love is something like a park, garden and recreational grounds built around a lake in between the surrounding lush green hills. It is located around 5 km north of Da Lat.
The Valley of Love is a place where you can relax and enjoy the cool amorous air. The lake which is right in the middle of the park is where you can rent a paddleboat and enjoy boating for a while. This place gives a European feel with buggy rides, horseback riding and an archaic train that offers you to give a tour of the place. I think this is a must-visit place for honeymooners.
Valley of Love timings: 7.30 am to 5 pm every day of the week
Valley of Love ticket prices: 100,000 VND per person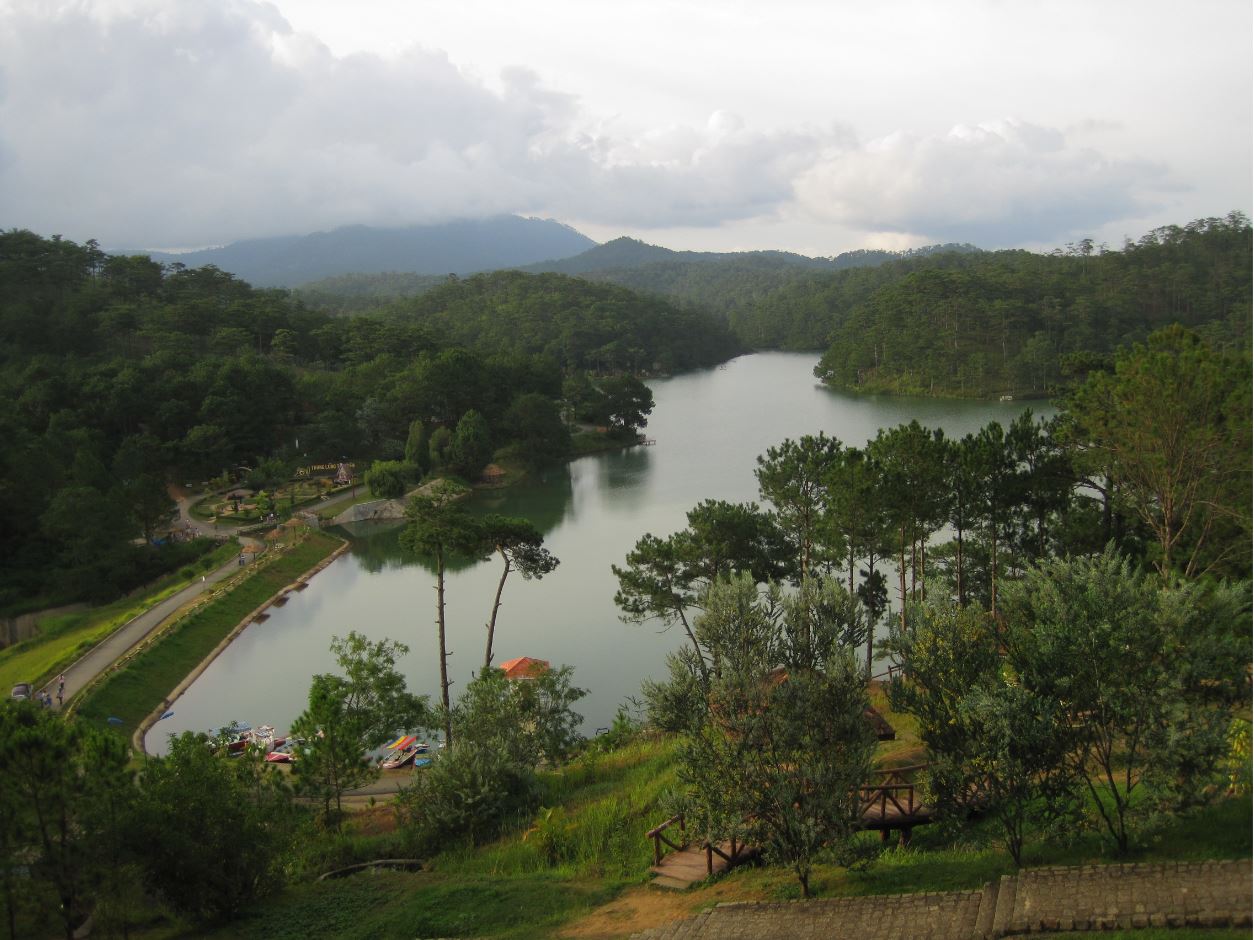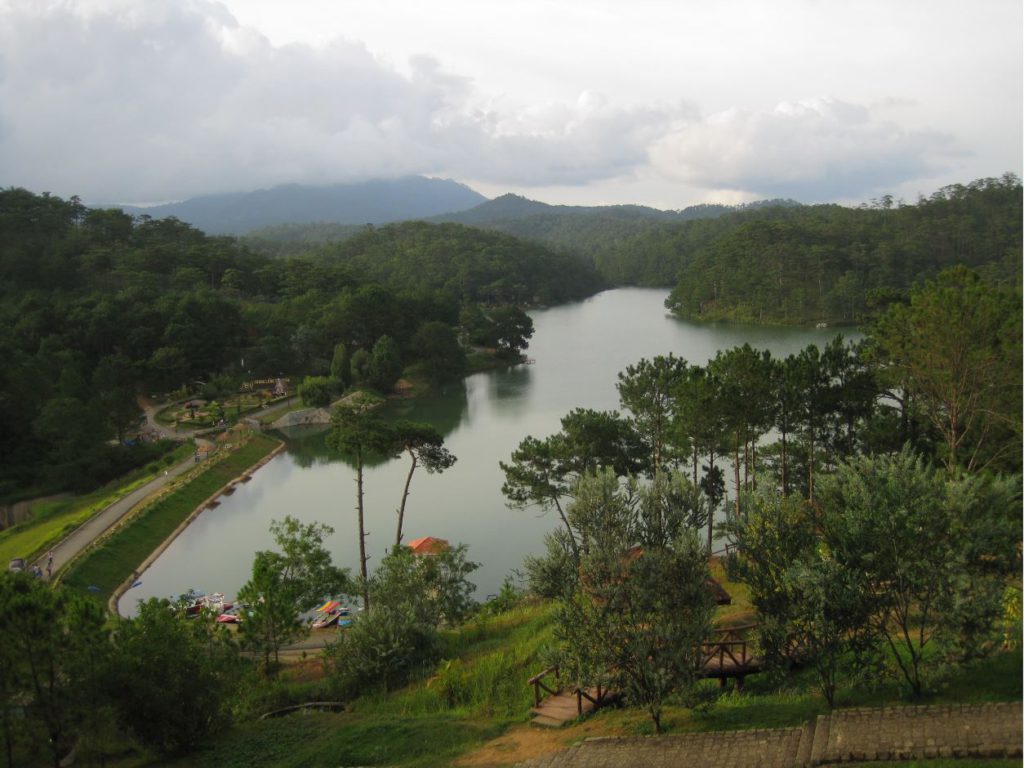 7. Datanla Waterfall
Datanla Waterfall is 6km outside the city and is probably one of the most touristy places. If you happen to go at the wrong time, you may find the spot a bit crowded. The waterfall is a series of cascades at its best version after the wet season. If you are in Da Lat and want to see at least one waterfall, this is a good option.
Other than that you can do a number of activities here. You can take a ride on an alpine roller coaster, rappel on the rocks right next to the waterfall or simply take some photographs in the costumes of a native tribe. All of these are additional costs of course, but mostly reasonable.
Book Roller Coaster Tickets: Datanla New Alpine Coaster Experience in Da Lat
Datanla Waterfall timings: 7 am to 5 pm every day of the week
Datanla Waterfall ticket price: 30,000/15,000VND for Adults/Children respectively.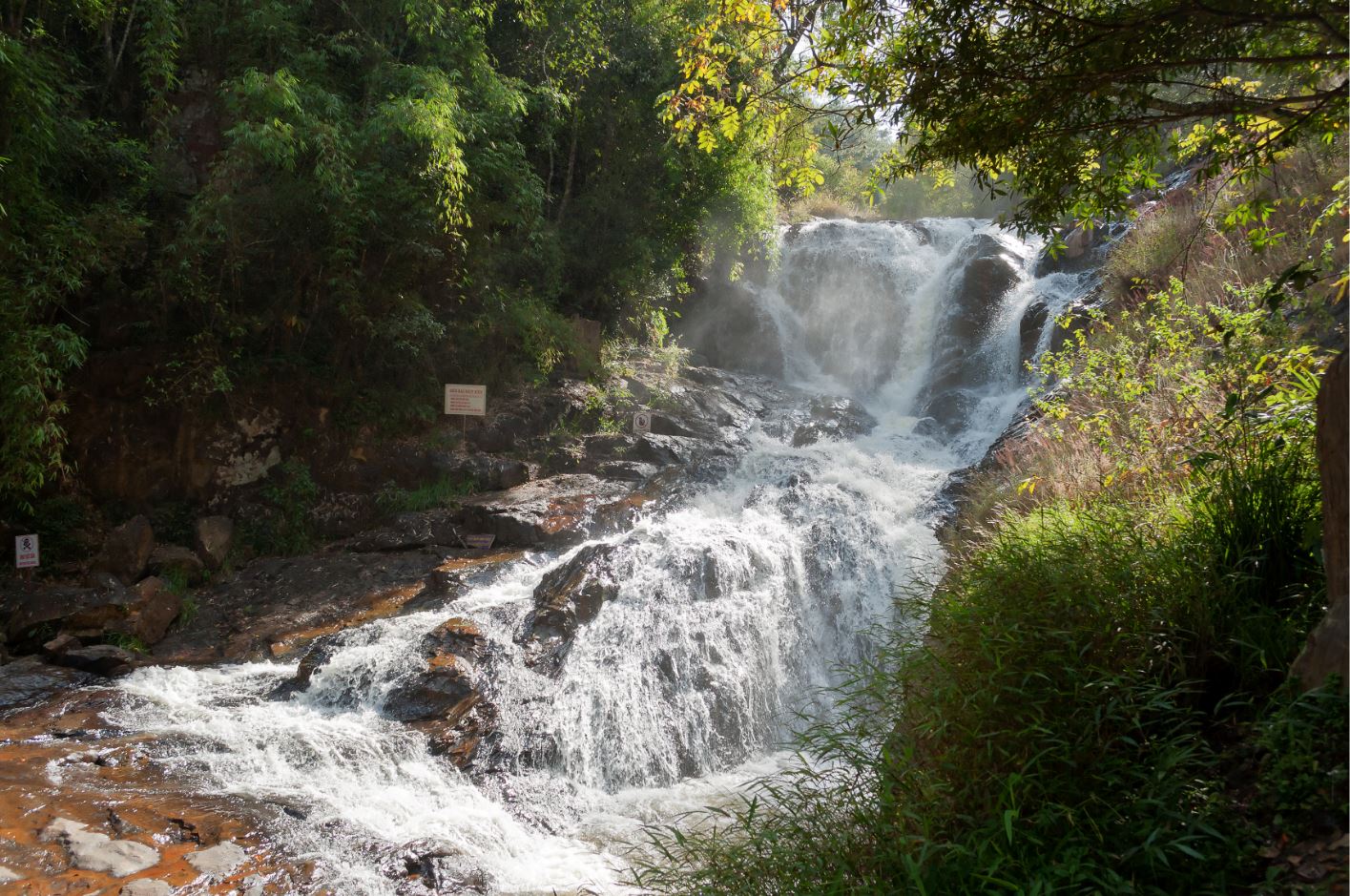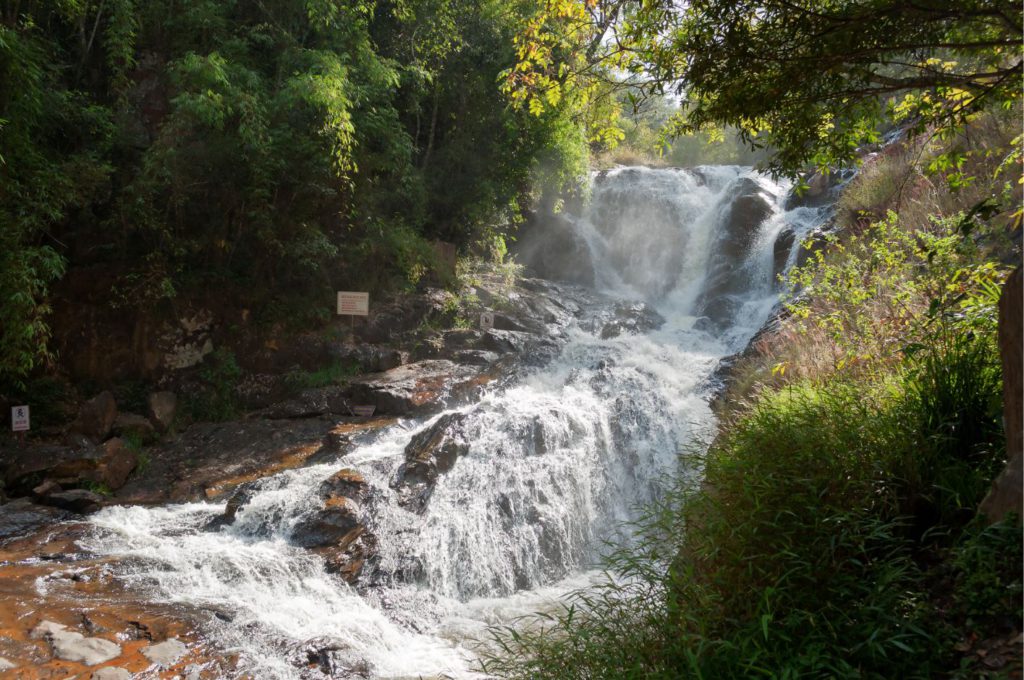 8. Da Lat Railway Station
It can surprise you to find out that Da Lat, in fact, has a railway station. But to clear your doubts it is mostly decorative. The original 43km railway line from Da Lat to a nearby town was subject to heavy bombing during the Vietnamese war. That was never rebuilt.
Instead, a 7-km railway track was built to the town of Trai Mat. Although the railway station building seems to come just out of a French town. You can enjoy a slow scenic ride on an archaic train through the valley.
Ticket price of the train to Trai Mat: Return tickets cost 135,000VND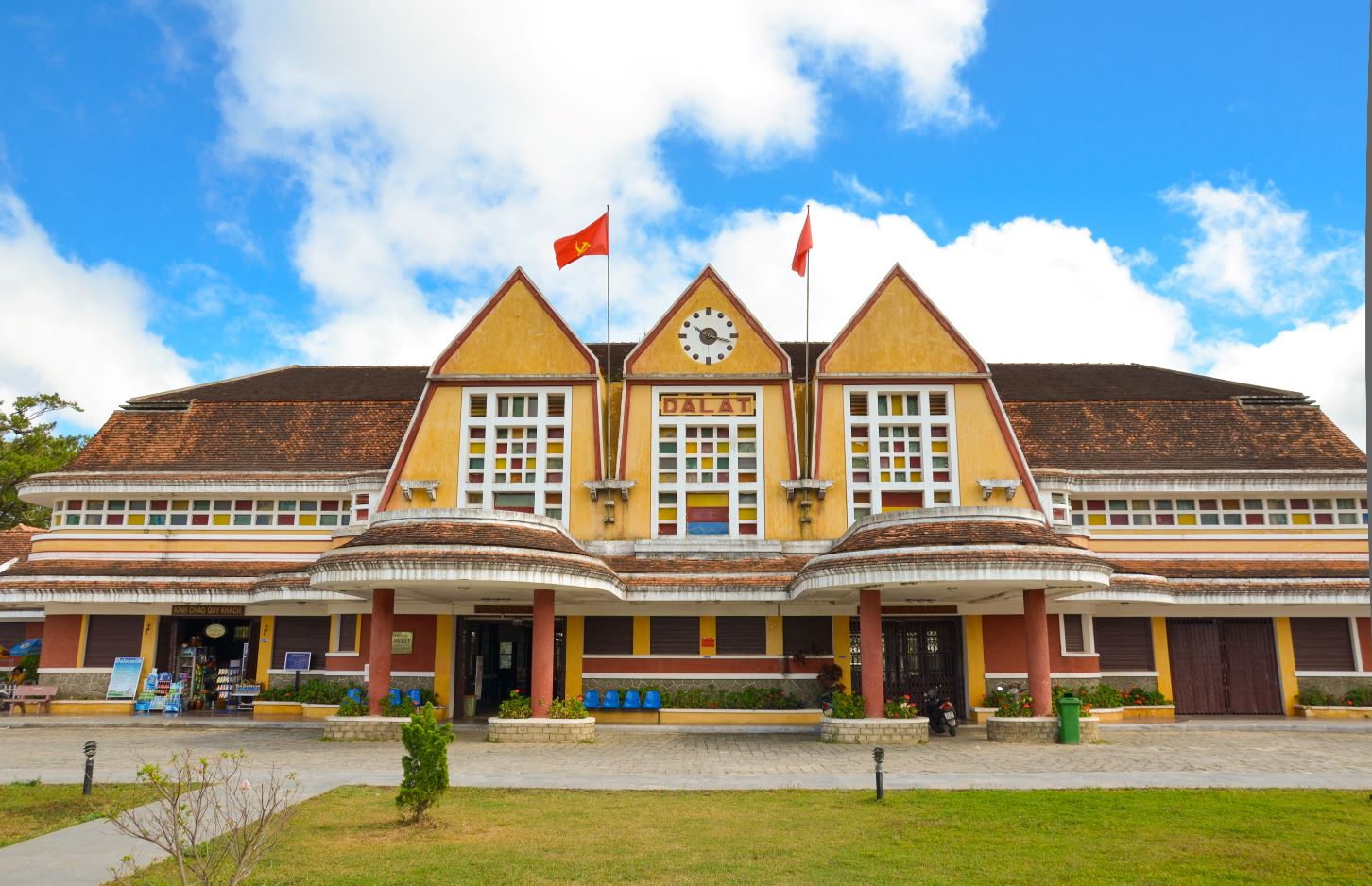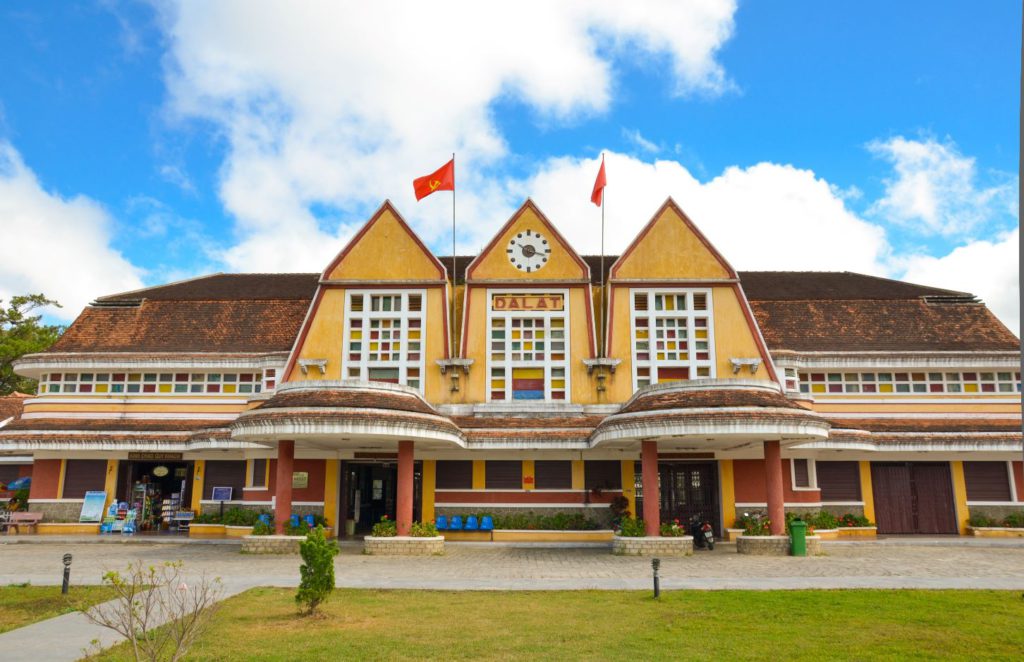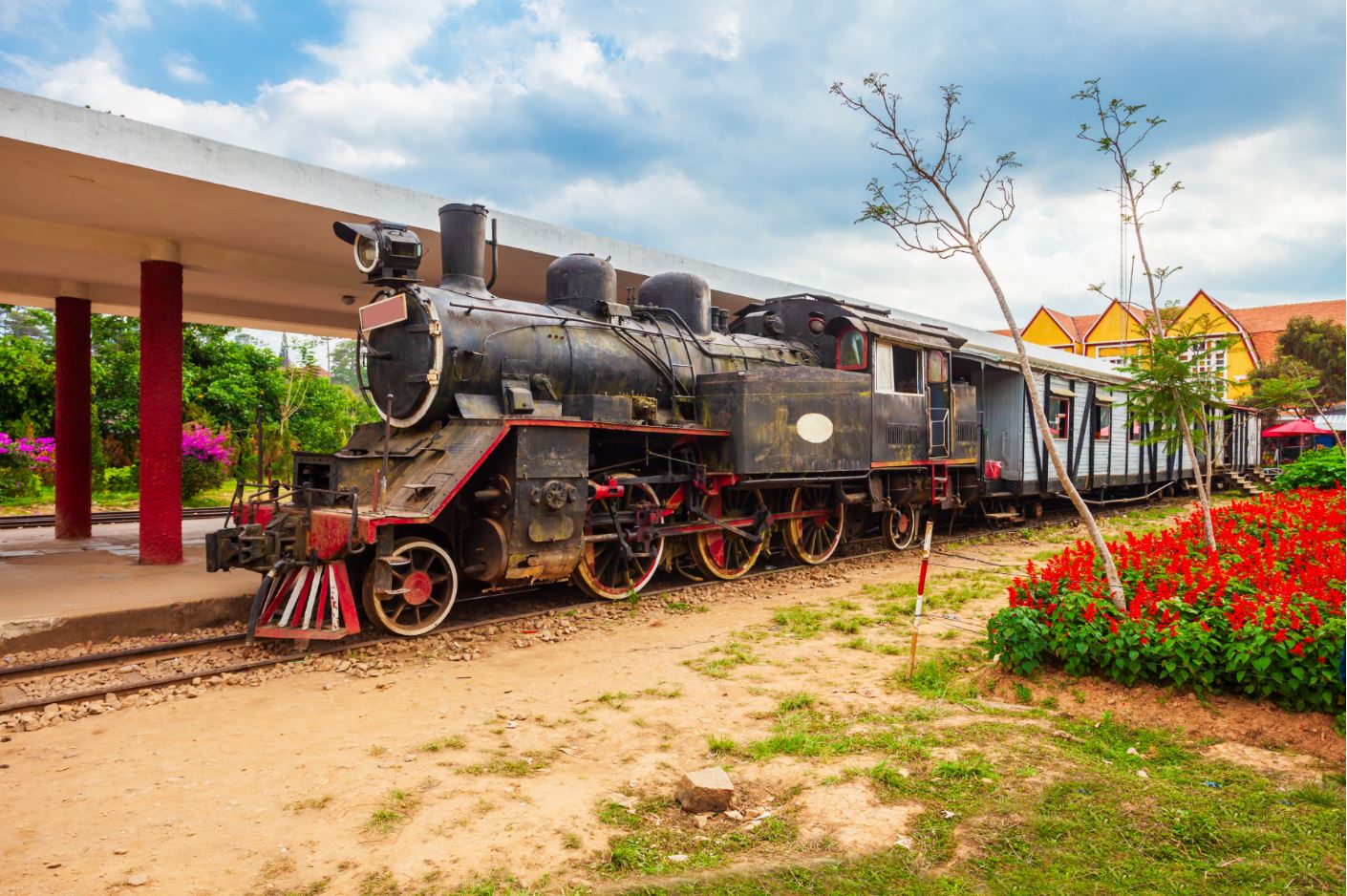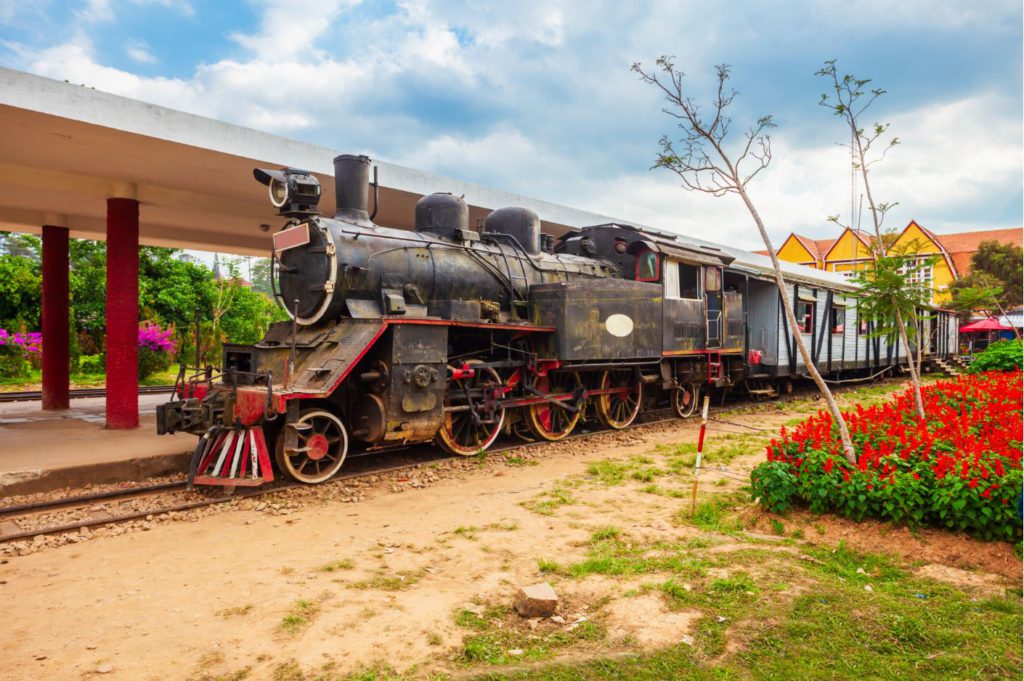 9. Linh Phuoc Pagoda
Linh Phuoc Pagoda is 8kms from Da Lat in the town of Trai Mat. The best way to reach here is to take the train from Da Lat Railway station. Linh Phuoc Pagoda is also called Dragon Pagoda and Glass Pagoda. The pagoda is decorated entirely with innumerable broken glass from glass bottles.
The main building displays Buddha on a lotus flower with dragons on both sides inlaid with a mosaic and a dragon in front kneeling to Buddha. On the second floor is the largest bell in central Vietnam that weighs 8,500 kgs. People often write their wishes on yellow paper and stick it on the bell and chime it thrice to send their prayers to Buddha. Entry is free for everyone.
Linh Phuoc Pagoda timings: 8 am to 5 pm every day of the week.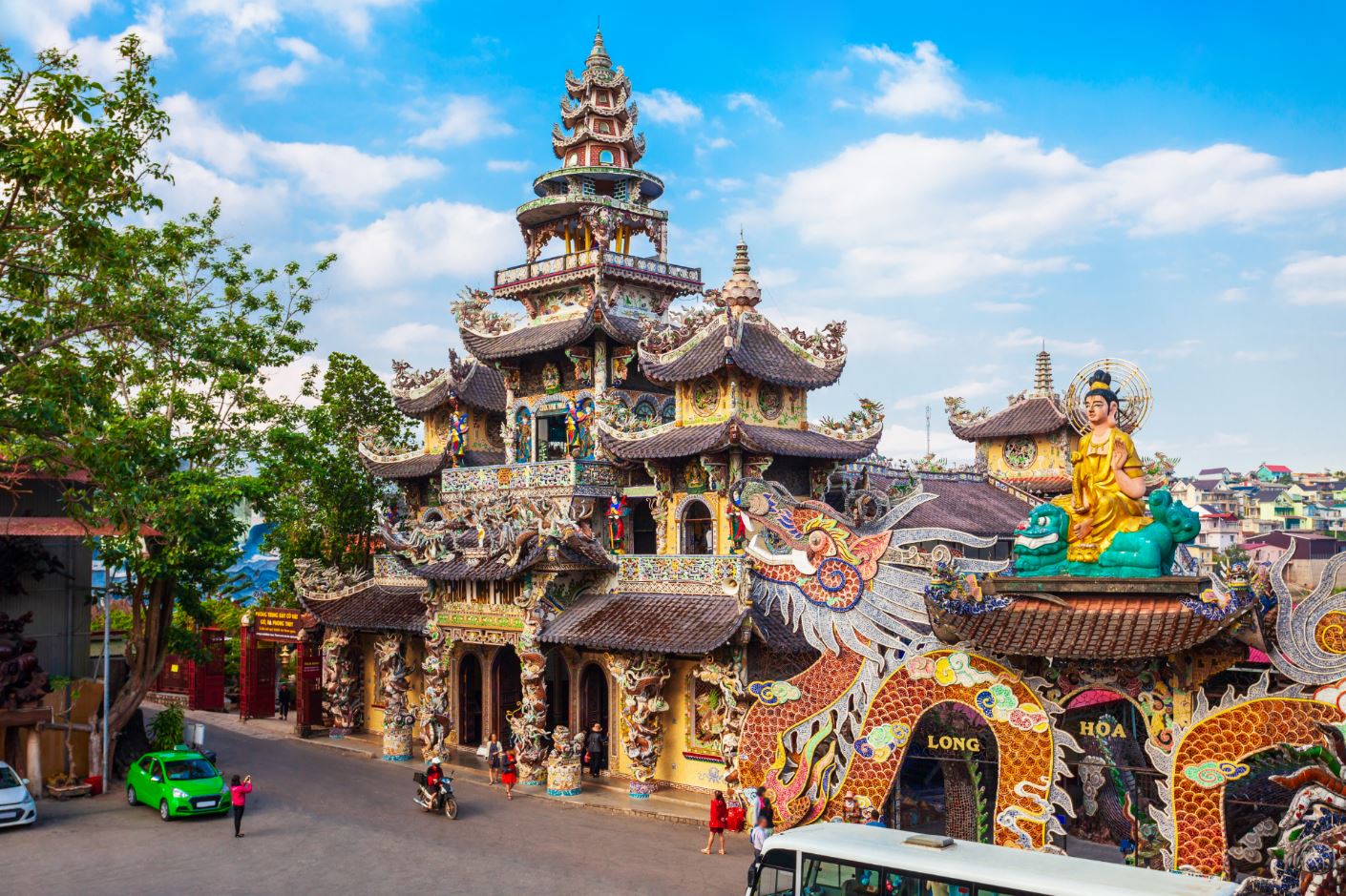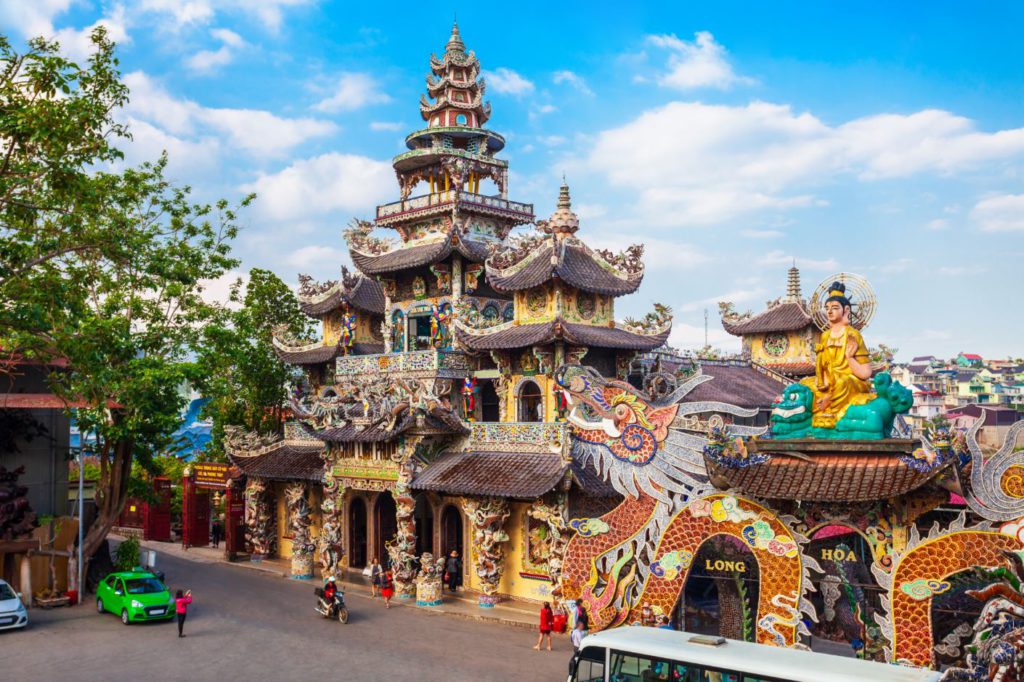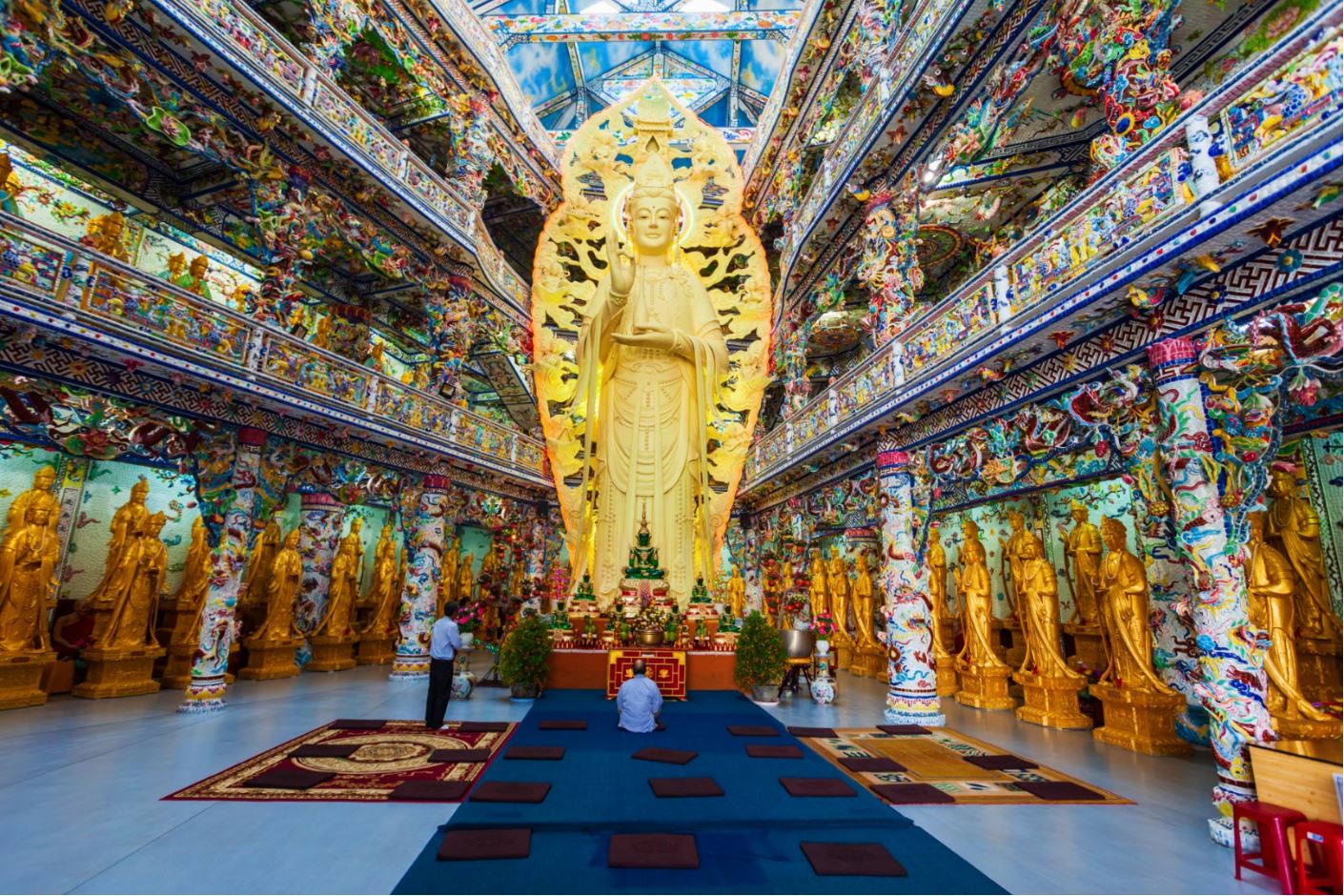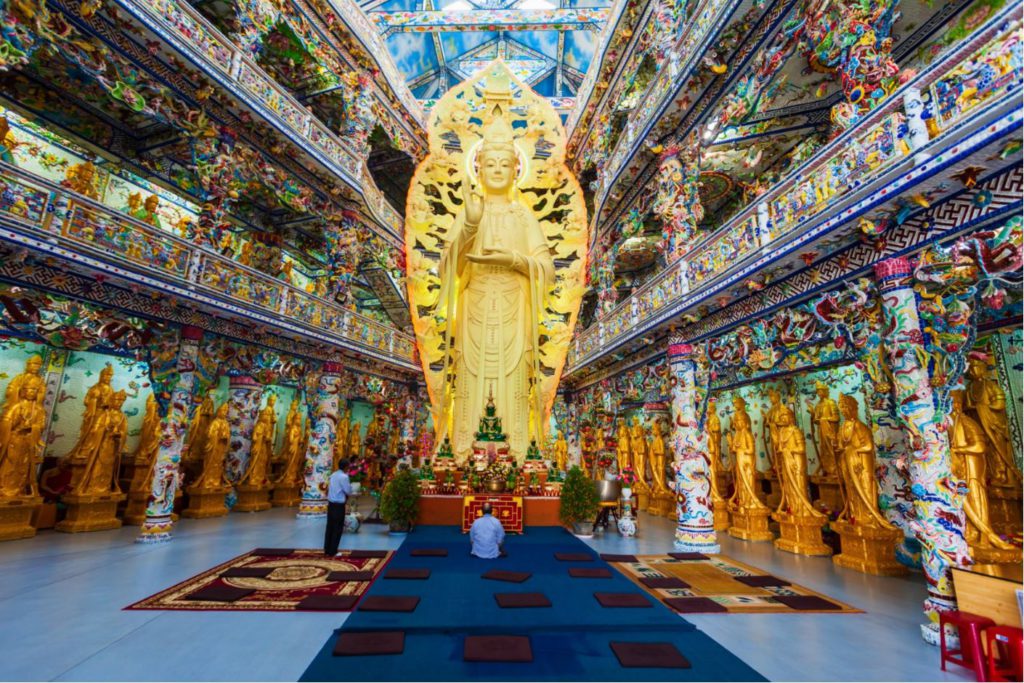 10. Elephant Waterfalls
If you have a day to spare, you can visit this gigantic falls a little outside Da Lat. They are 30 km outside the city, although a direct bus from the city is available to this point if you don't want to drive. From there you need to trek for another 10-15 minutes on a mix of concrete and natural pathways.
The way can be slippery, so get your hiking shoes on. The falls are at their best after the wet season and the amount and speed of the water can be astonishing. Since the falls a little outside the city, these are not as crowded as other falls.
Elephant Falls timings: 8 am to 5 pm
Elephant Falls ticket prices: 20,000 VND per person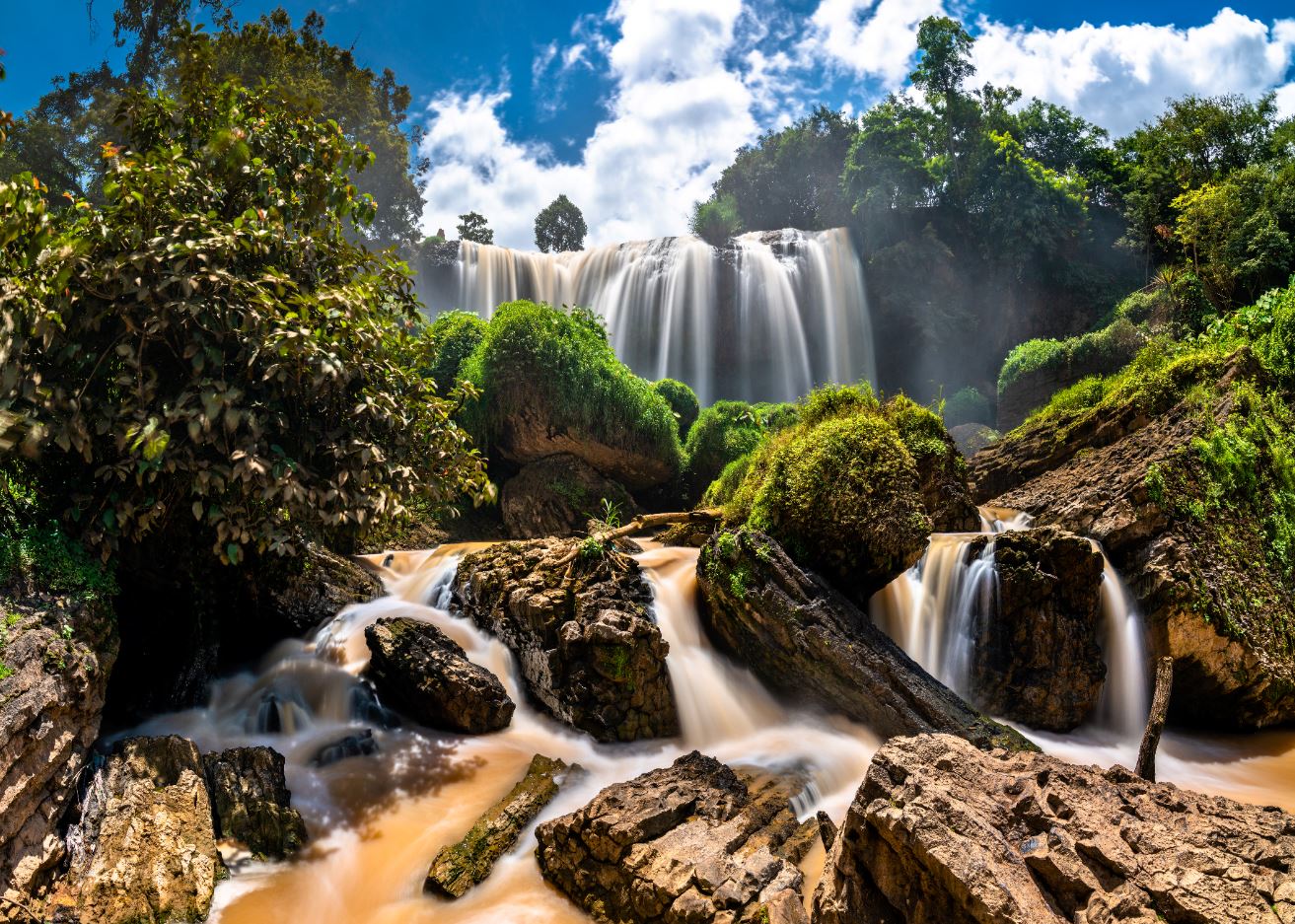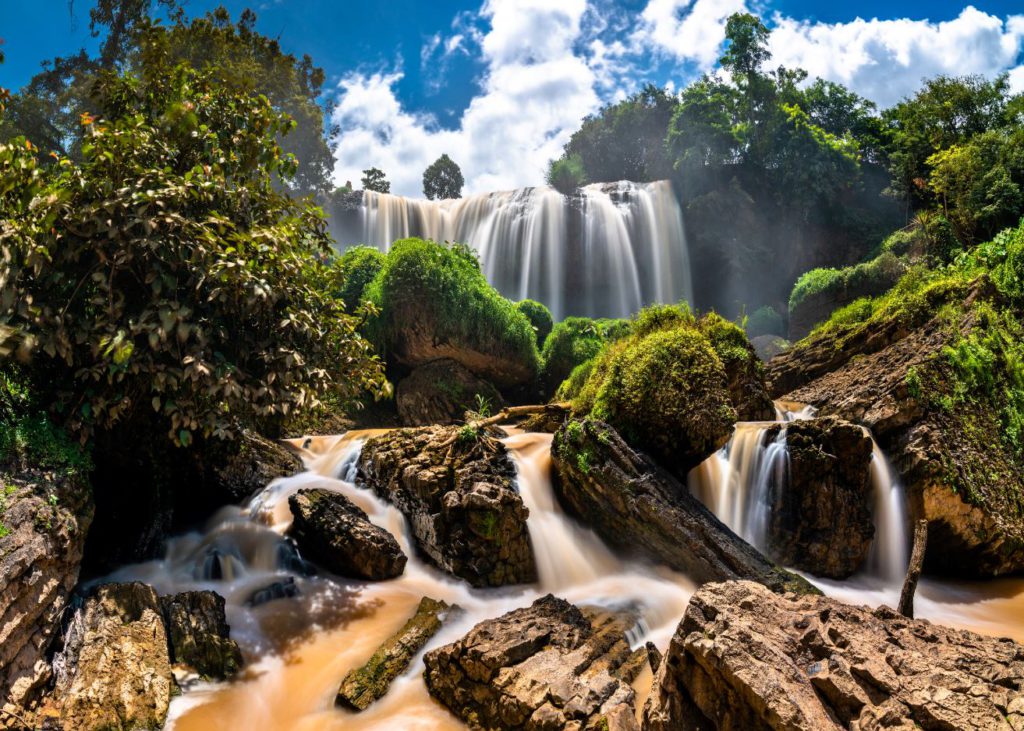 11. Bao Dai Summer Palace
Emperor Bao Dai, born in 1913 succeeded his father at an early age of 13 years. It was then that he came back to Vietnam from France where he was pursuing his studies. After a series of abdication of his power to the local authorities, he went back to France in exile after the French failed in the Vietnam War in 1954.
He died in 1997 in exile. He had eight wives (four Vietnamese, three French and one Chinese) and 13 children. It was during his time in Vietnam that he resided in Da Lat in his summer house. Today all 25 rooms are open to tourists, although they have lost much of their lavishness.
Bao Dai Summer Palace timings: 7 am to 11 am and 1.30 pm to 4 pm
Bao Dai Summer Palace ticket price: 20,000 VND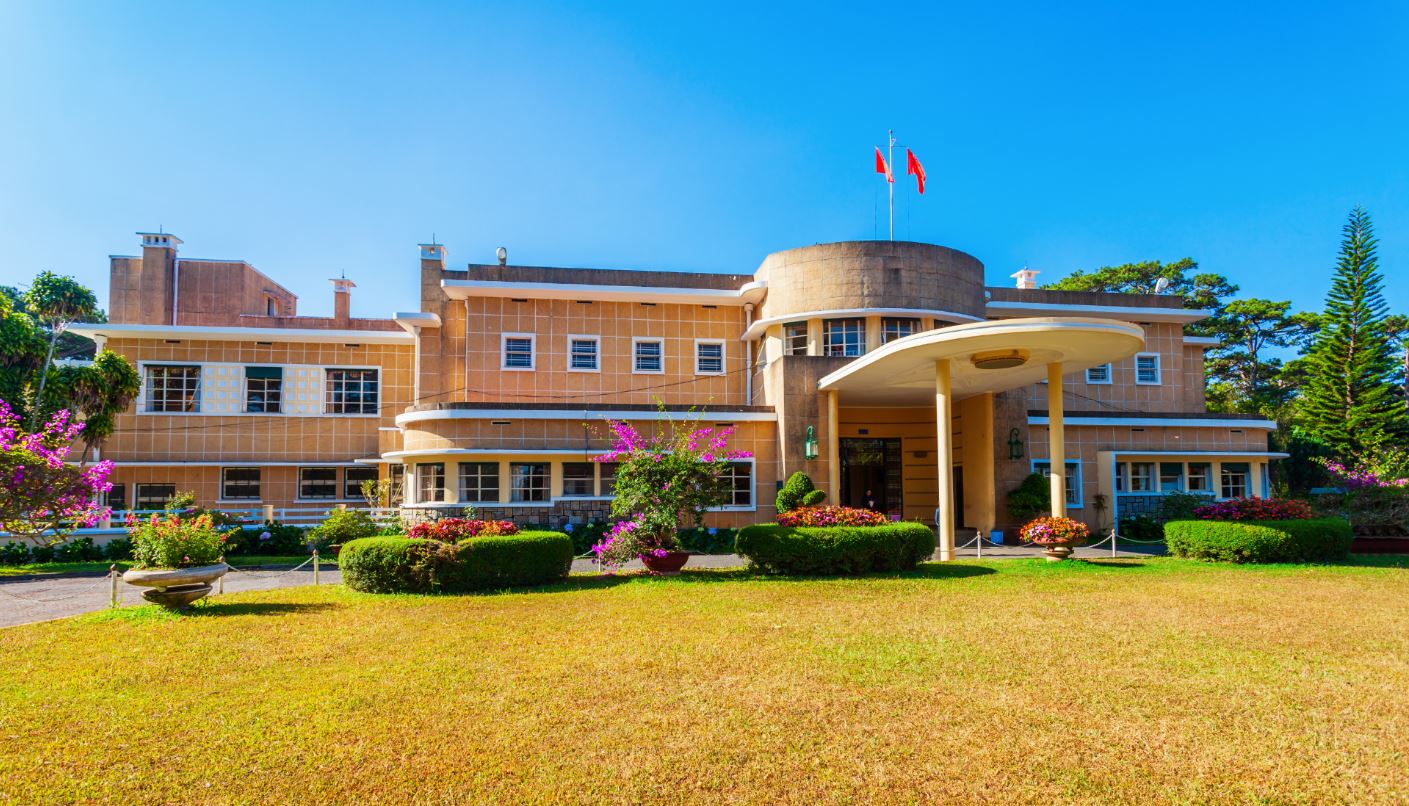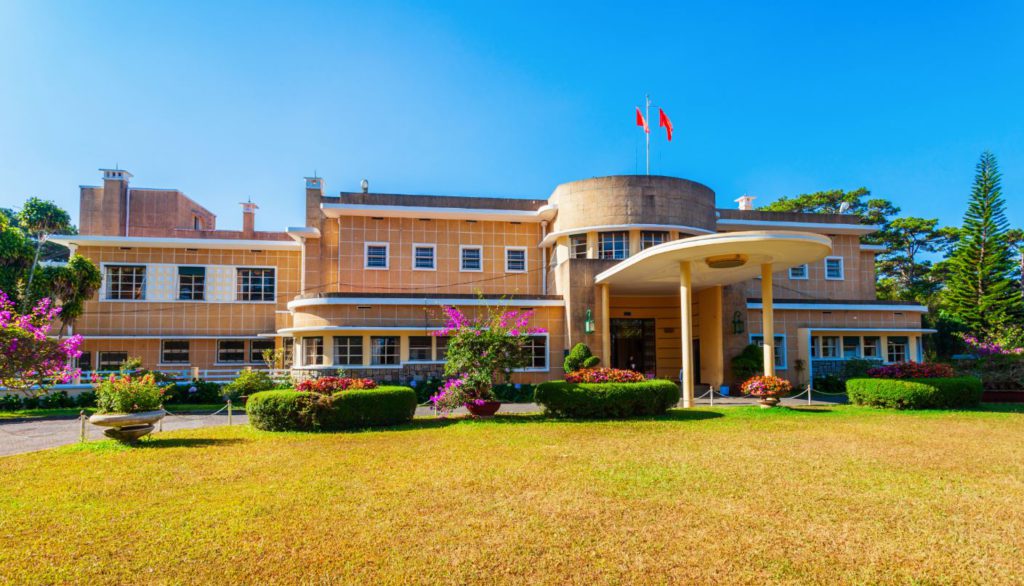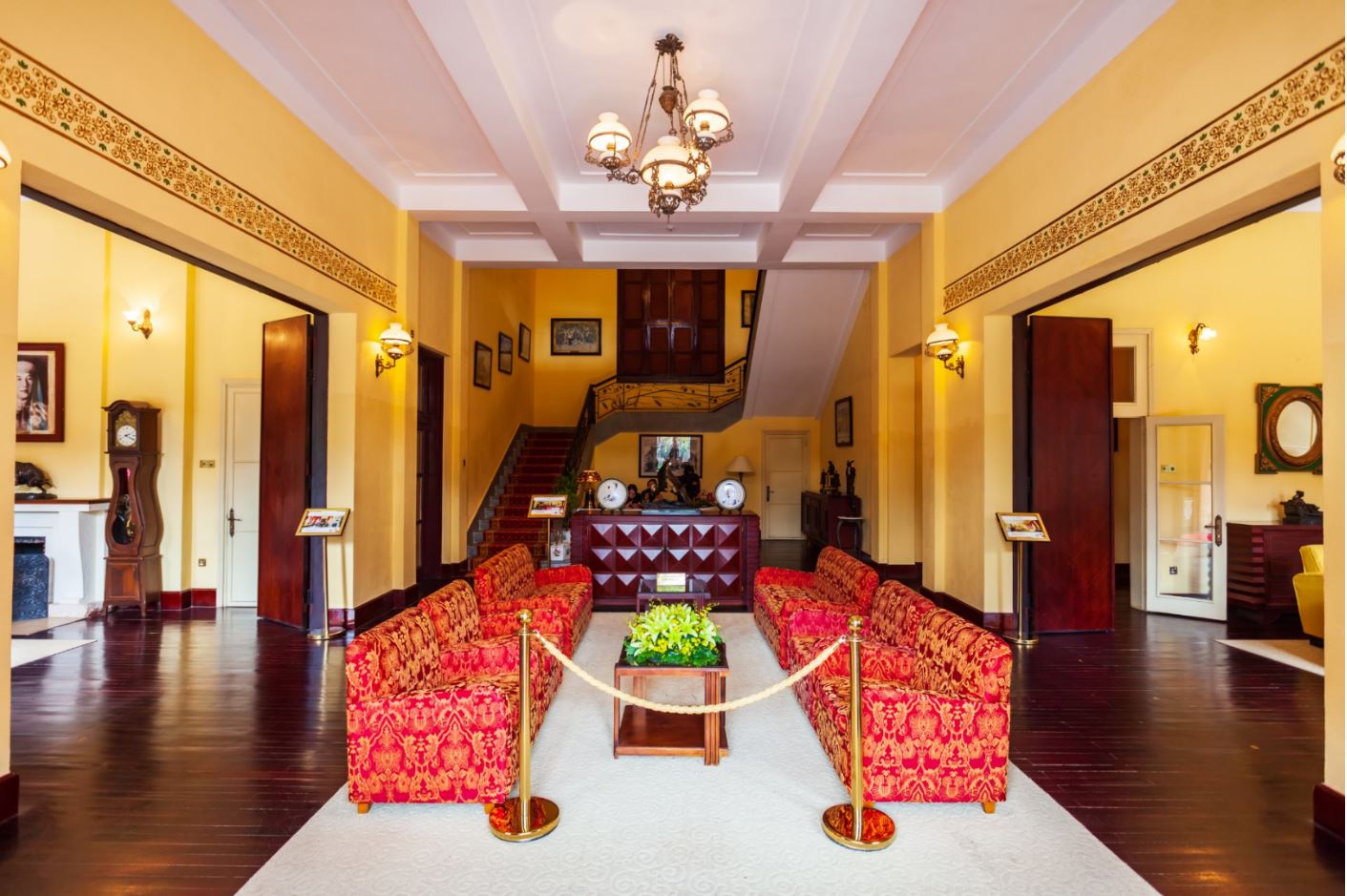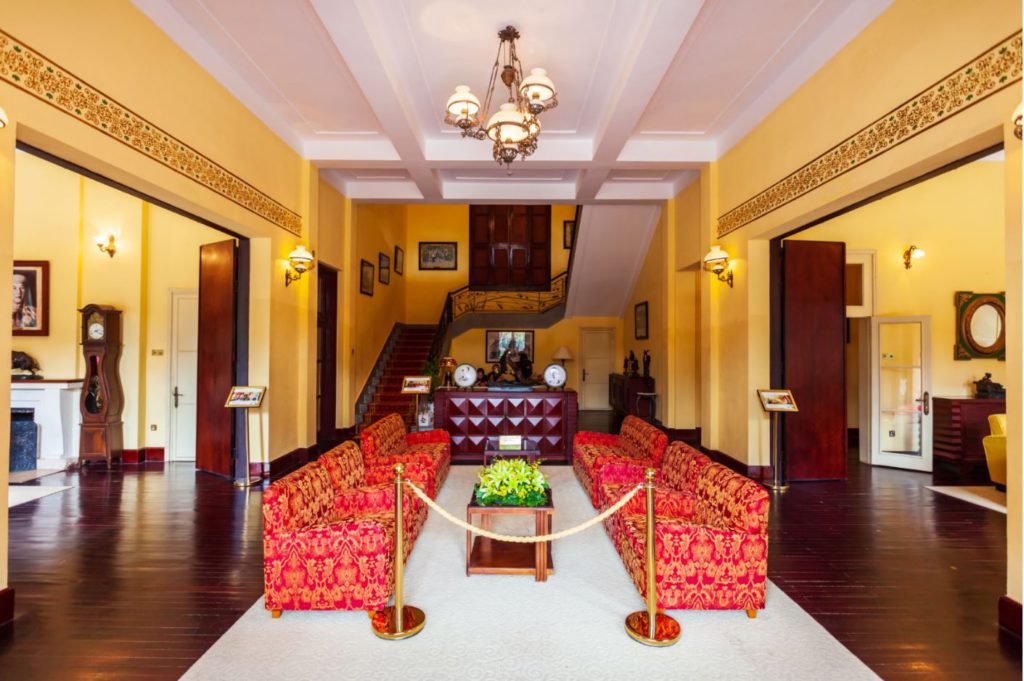 12. Da Lat Cathedral
Da Lat Cathedral or Da Lat Chicken Church is the largest catholic building in the city made in Roman style. Built by the French, it completes the community circle of their presence in Da Lat. Although not large, neither lavish like the European churches, it is still worth a stop.
At the top of the tower, you can see the panoramic view of the city centre and nearby mountains. Glasswork embellishes the insides of the church from France reflecting the colours of the daylight.
Da Lat Cathedral timings: The cathedral is open during the mass timings during the weekend and 24 hours on Sunday only. Mass timings are 5.15-6.15 both in the morning and the evening.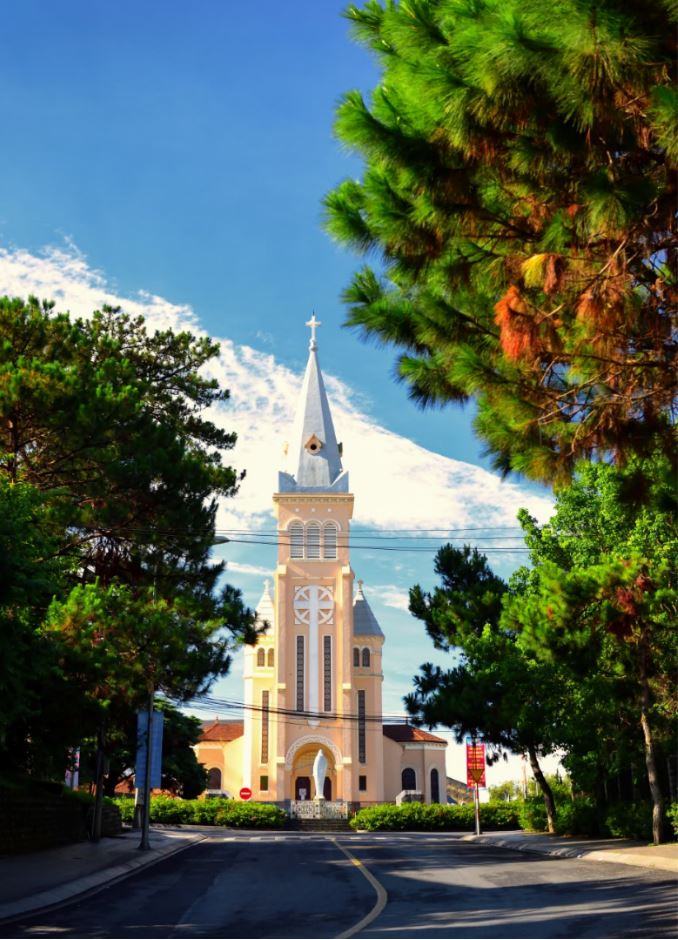 13. Lin Sonh Pagoda
Lin Sonh Pagoda is one of the few places in Da Lat that the tourists don't often frequent. Therefore you can enjoy some peaceful time here with religious chantings and the sound of drums. It is located on a hillside on 120 Nguyen Van Troi Street which is only 700m away from the city centre.
Due to its location, you can enjoy a pleasant view of the nearby valleys. The sanctuary has its own tea and coffee plantation maintained by the monks, harvested by them in the season. Entry is free for all.
Lin Sonh Pagoda timings: 9 am to 5 pm every day of the week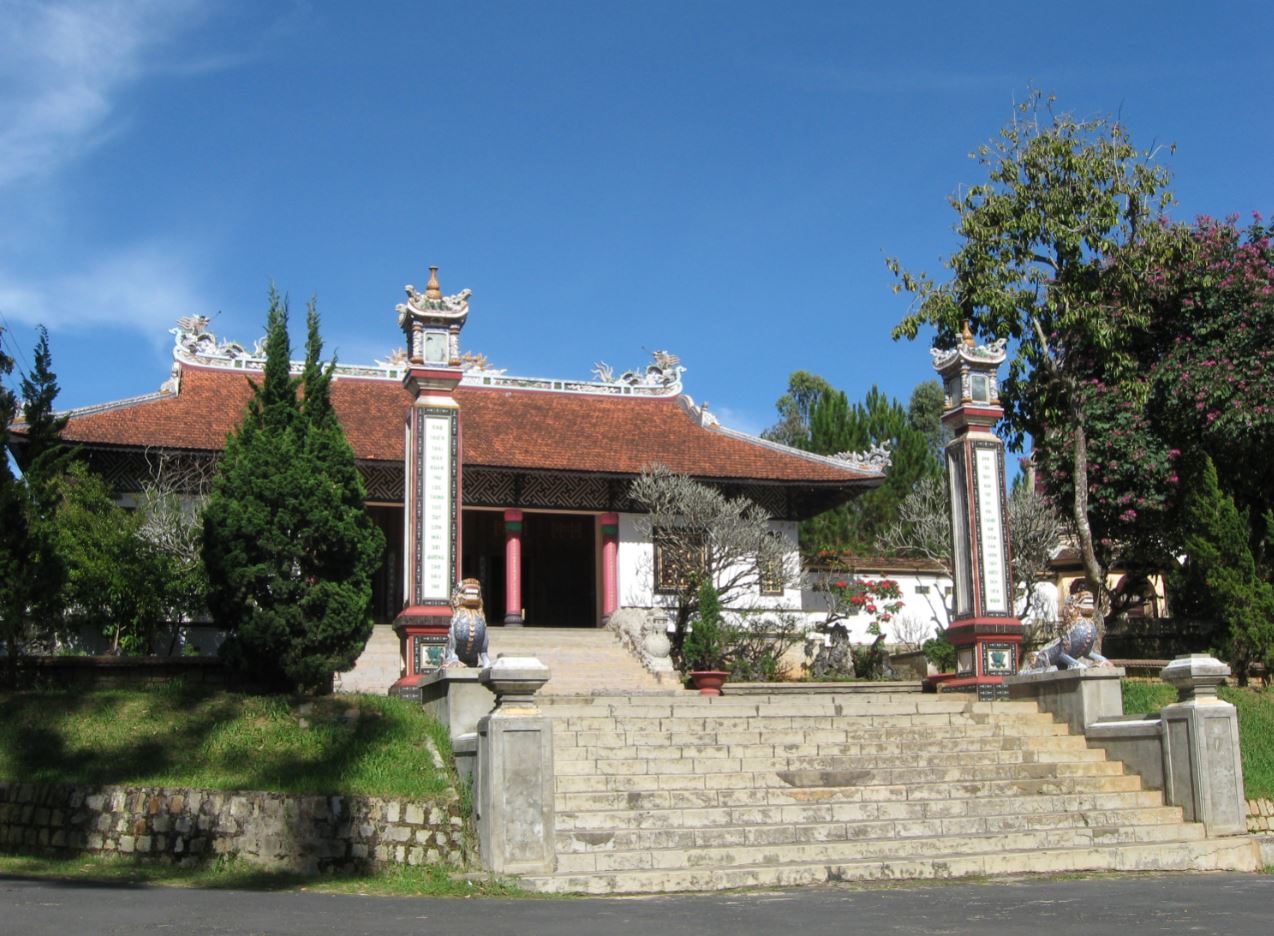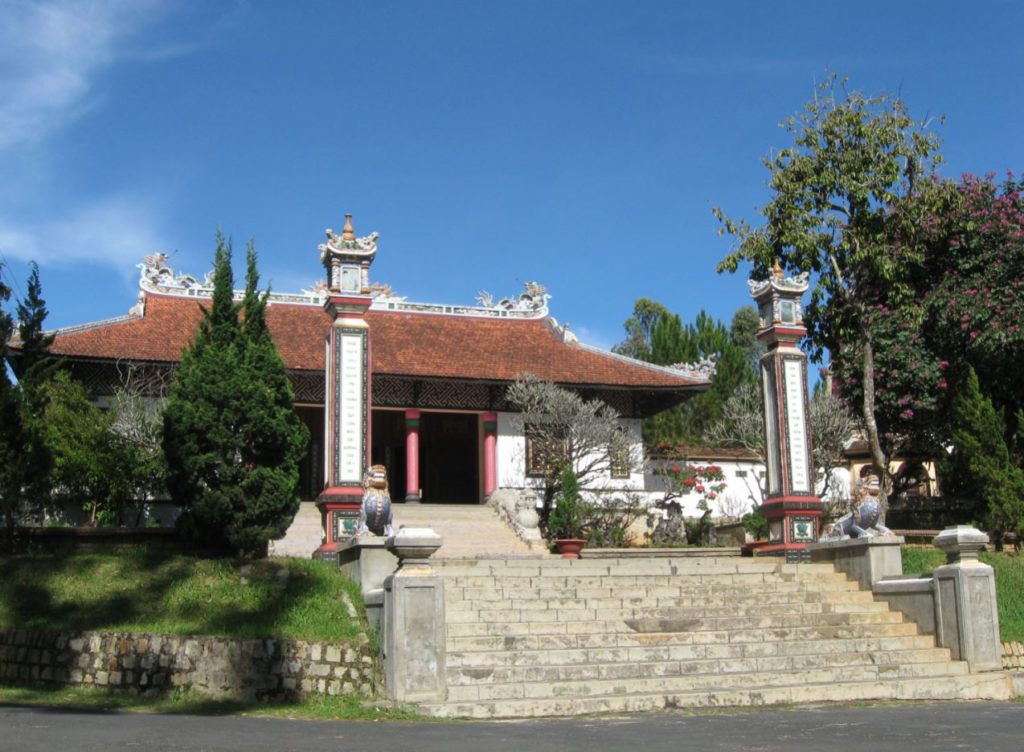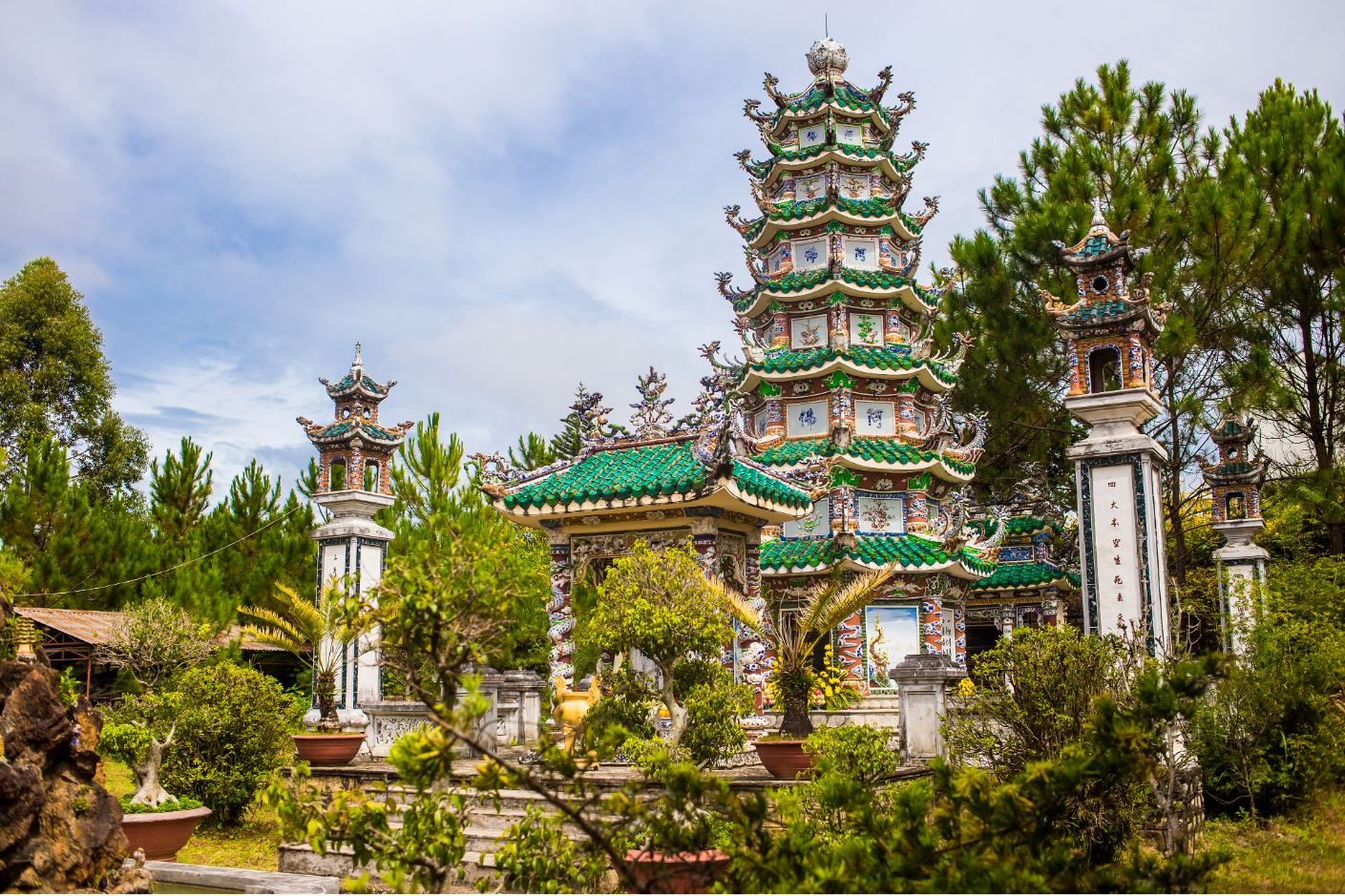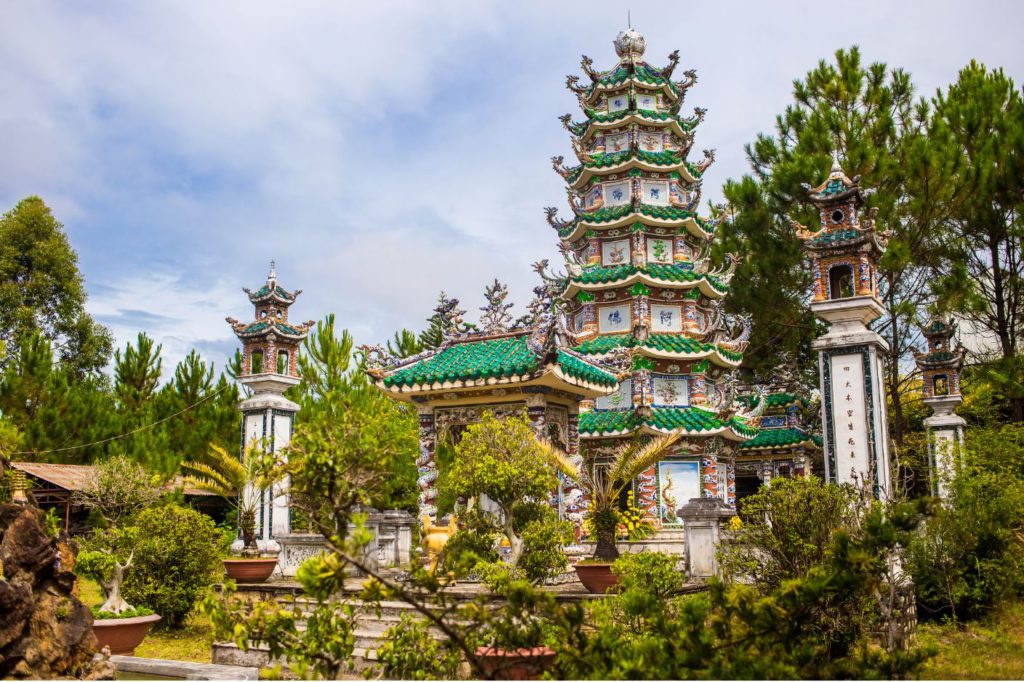 What to Eat in Da Lat
While you can enjoy fantastic Vietnamese food all-round the country, Da Lat has a few influences that set it apart. Berries and winter fruits are something that you will only find here in Vietnam since the weather does not permit them to be grown anywhere else.
Da Lat also has some great European cafes and French-style bakeries. Soy milk in the night market is a delicacy you must not miss. Rice pancakes are another that I did not see in other cities. Refer to this blog post to get more ideas on where to eat in Da Lat.
What to wear in Da Lat
While I have a very specific list on what to pack for South-East Asia, you will need a bit more for Da Lat. Definitely pack a sweatshirt for your visit, regardless of the season. However, it usually does not get colder for thicker jackets. You can also buy one at the local market at extremely affordable prices.
If you are planning to go to some offbeat places around, definitely bring you trekking shoes. If its around the wet season, get your sandals and raingear (especially for your backpack since you can still buy a raincoat around the city).
Related Article: What Do You Need To Pack For South East Asia
Is Da Lat worth visiting?
If you have less time and you have to choose on between Da Lat and Nha Trang in this area, choose Da Lat if you like hills and Nha Trang if you are a beach person. For someone, you have an affinity to mountains; I think it an absolutely wonderful place to visit with very few tourists. But take your time here. One must not rush through this place.
Save On Pinterest


Related Articles