28 Mar

Best Things to do in Hoi An Ancient Town

Hoi An is THE place to be in Vietnam. You cannot skip it. Even though it gets overcrowded and far too touristy at times. You cannot skip it at all. That's because it is so unique. I have not heard of another place like it yet. And I urge you to include it in your Vietnam Travel itinerary, even if your trip is a short one.

We celebrated New Year Eve in Hoi An Ancient Town. It was a dream-like experience. Although, I am sure the regular days are equally captivating here.

Hoi An is known as the City of Lanterns. It still counts only as a small town though (If not a village). It is one of the most romantic towns in the world with a strong oriental charm. As you walk in the dark, thousands of Chinese colourful silk lanterns light up the streets hung beside souvenir shops.

The most beautiful place is right next to canals where small boats lit with single colourful lanterns cruise slowly across the water. It is enigmatic. It feels like a fairy-tale dream.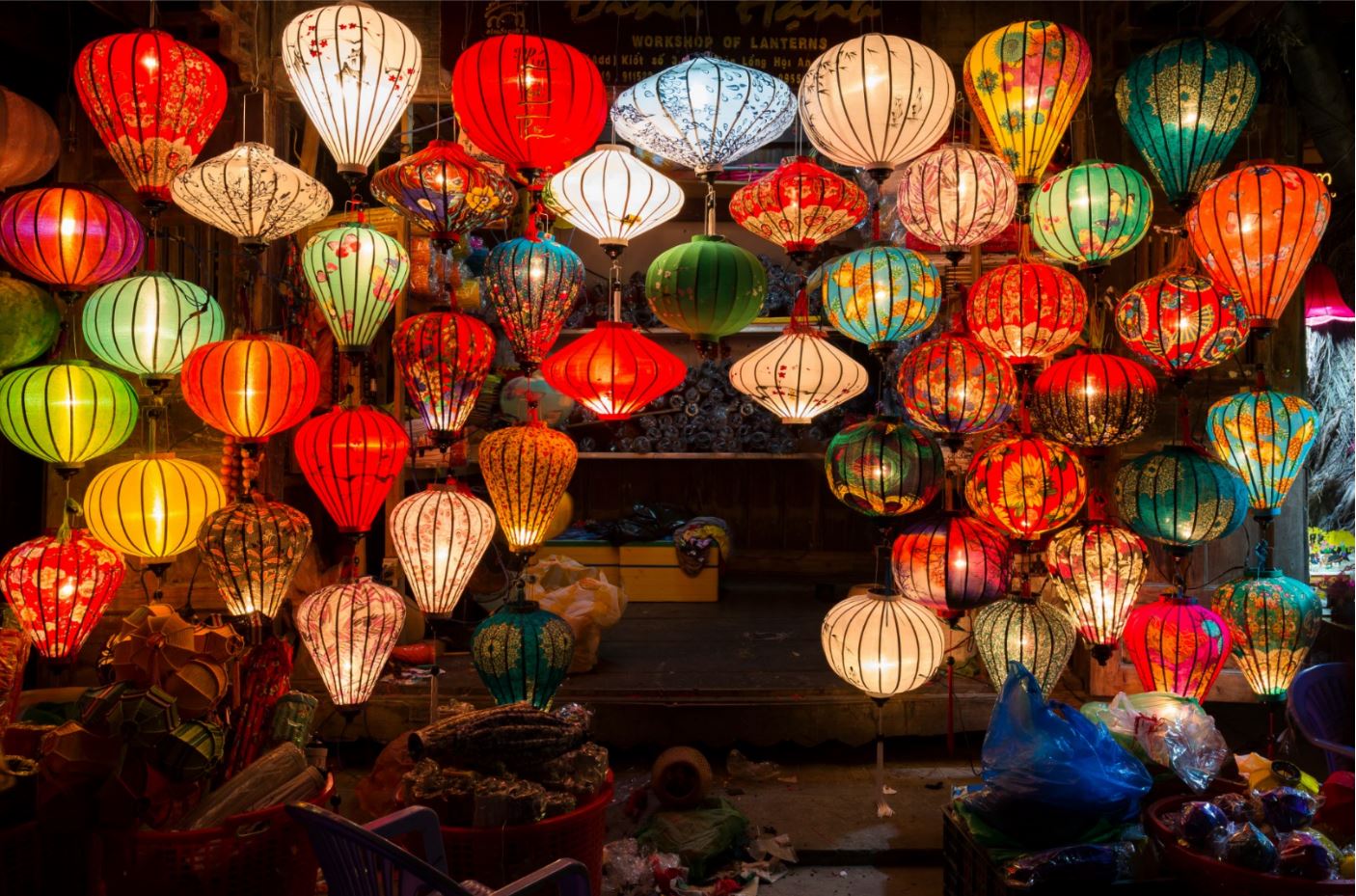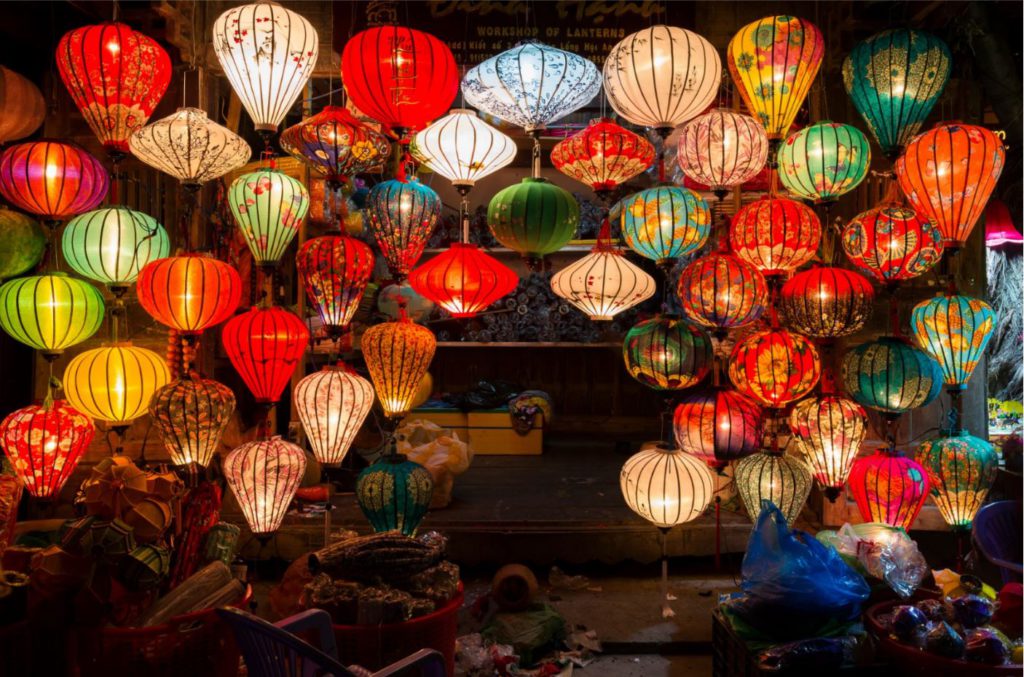 History of Hoi An
History is important for Hoi An. And it takes credit for its current-day popularity. Hoi An was a powerful seaport between the 15th and the 19th century. Chinese and Japanese merchants indicate it as the most lucrative port not just in South-East Asia but perhaps the whole of Asia.
It connected present-day Vietnam with Chinese, Japanese, Indian and even European merchants. The architecture of the buildings talks of these influences.
Hoi An's popularity dwindled abruptly by the end of the 18th century with the rise of Da Nang. But a Polish architect worked on reviving its cultural heritage and reintroduced it to the world as a picturesque town for tourism.
Today it is a UNESCO World Heritage site that attracts millions of people from around the world. Most of the residents here today are dependant directly or indirectly on tourism only.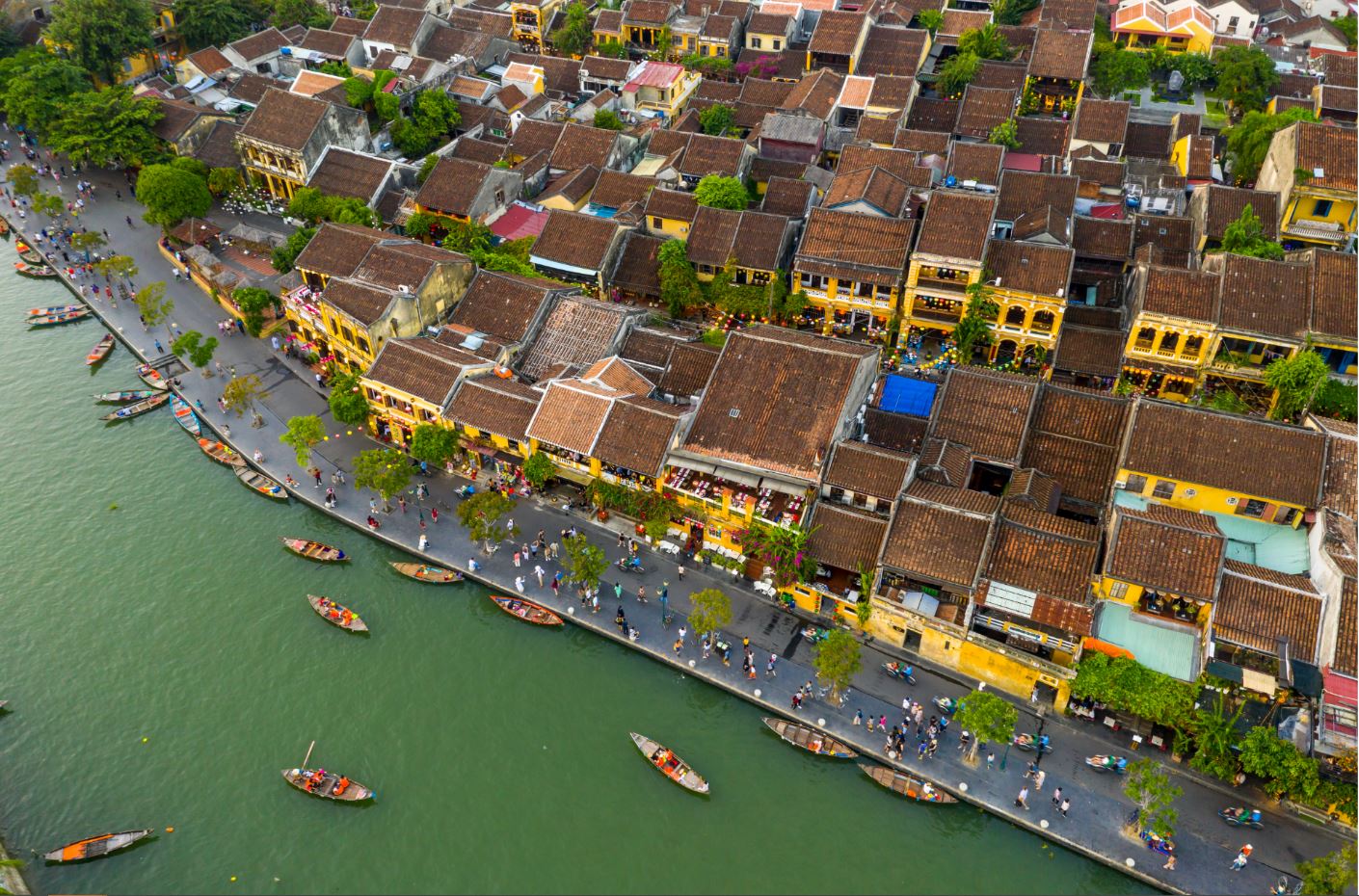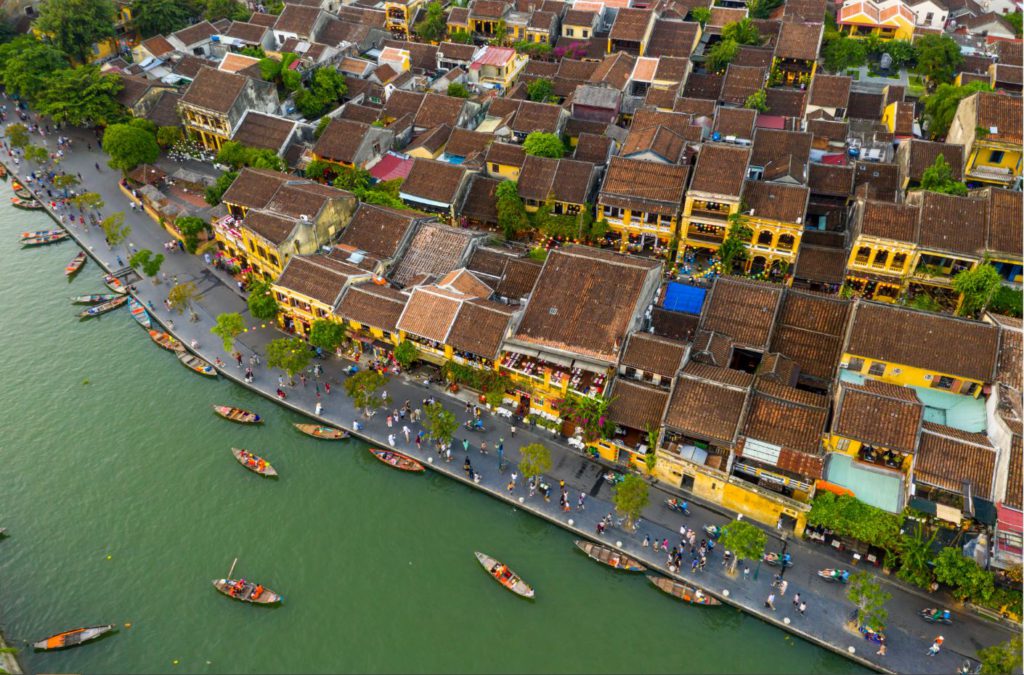 Where is Hoi An
Hoi An, including its Ancient town is just 30km South-East of Da Nang located on the coast where Thu Bon river meets the East Vietnam Sea. It is around 120 km from Hue.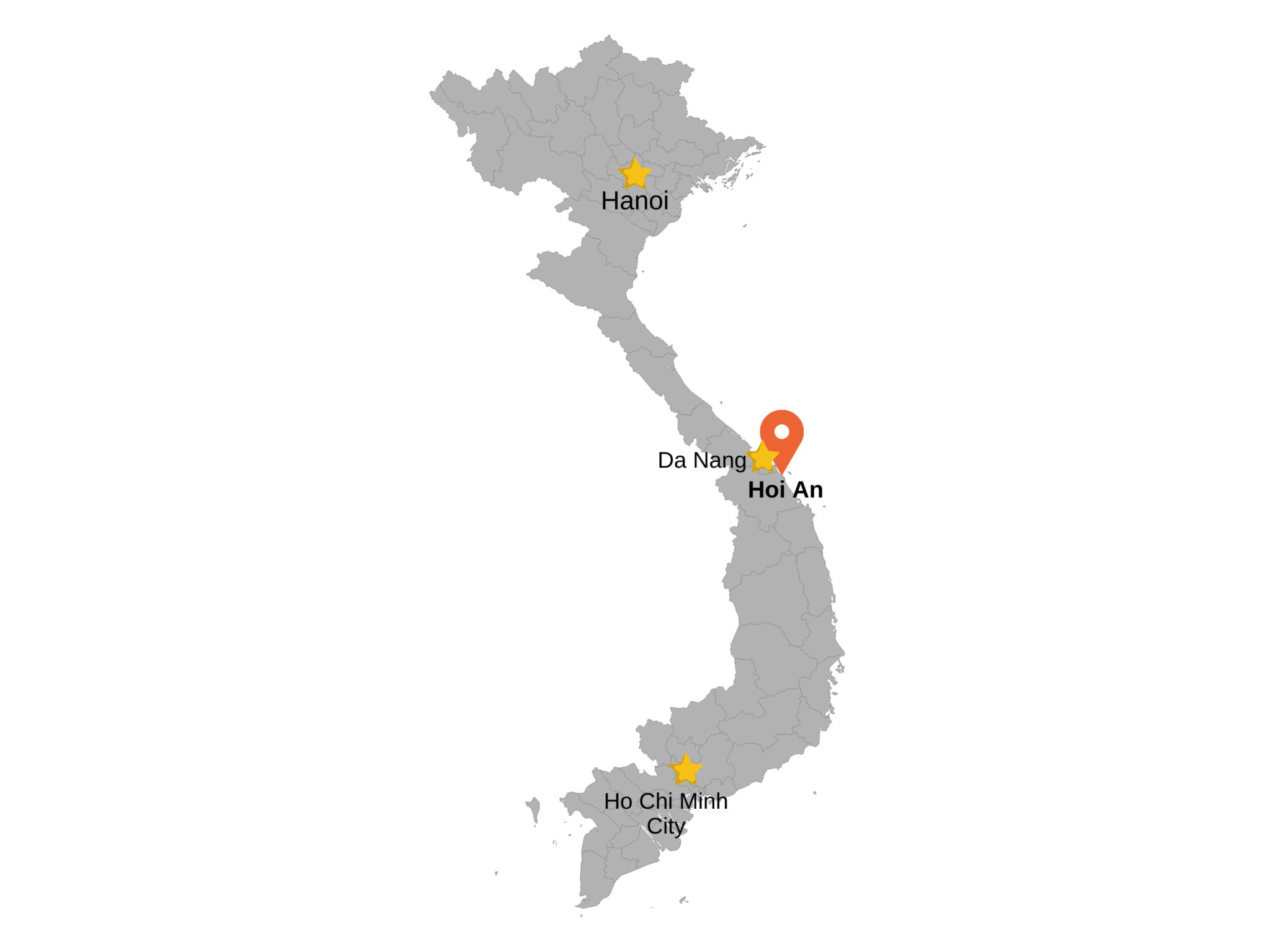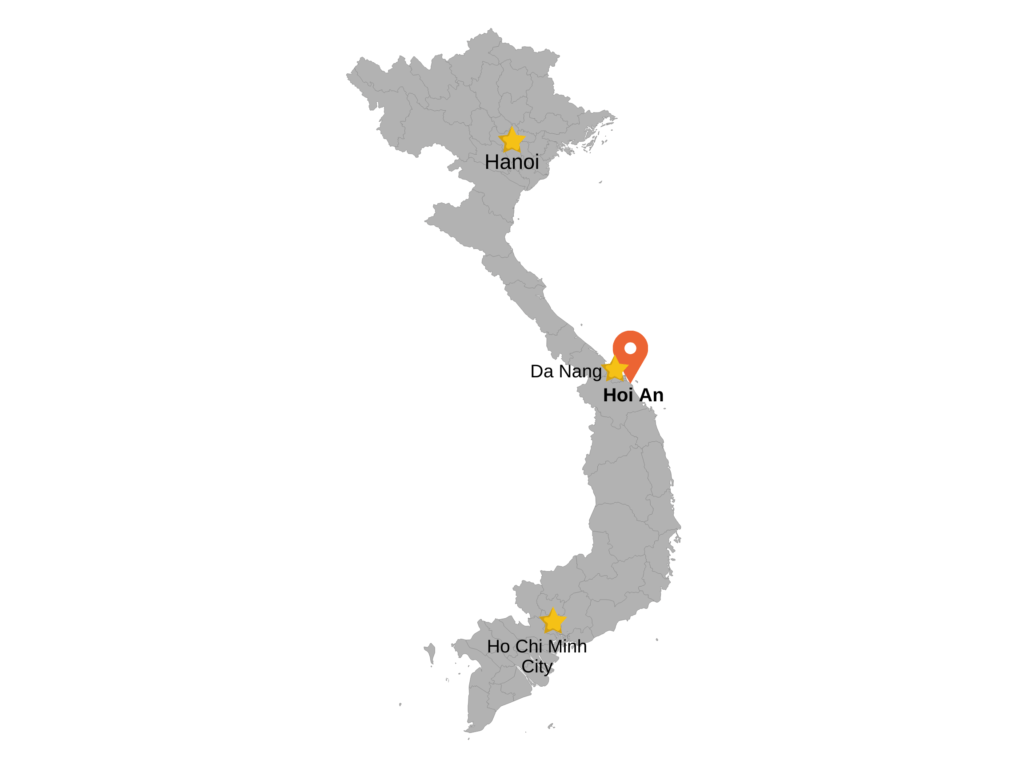 How to reach Hoi An
There is no airport or railway station in the town of Hoi An & one can reach it only by road. You can reach Da Nang by flight or train and proceed to Hoi An by the following:
Private taxi: You can conveniently take a private cab to Hoi An from Da Nang city or Da Nang airport. You can book one ahead online (Johnny Travel is a local company with reasonable prices), ask your hotel for a pickup (with additional charge) or book a Grab (taxi app) on the spot. I will suggest booking a cab beforehand. The cab will cost around 300,000VND for a regular cab and take between 30-45 minutes for the journey.
Book Shared Cab: Da Nang Airport – Hoi An: Private and Shuttle Transfers
Bus: There is no direct bus from the airport to Hoi An. You have to go to the main city to catch it. Bus number 1 in yellow colour runs from Da Nang Bus station which is around a block from the railway station. You can take a cab to the city and ask him to drop at the bus station in Da Nang. The charges for foreign tourists is between 30,000-50,000VND.
The bus runs between 5.30 am to 5.50 pm every 20 minutes and take about an hour to reach Hoi An. If you are travelling with a lot of luggage, this may be more trouble than its worth. It will drop you at Hoi An bus stop, from where you will have to change transport.
You can also book a minivan or a tourist bus from the city to Hoi An which equally affordable if you are already inside the city. You can book your tickets via a local travel agent or online on websites like Bookaway.com or Baolau.com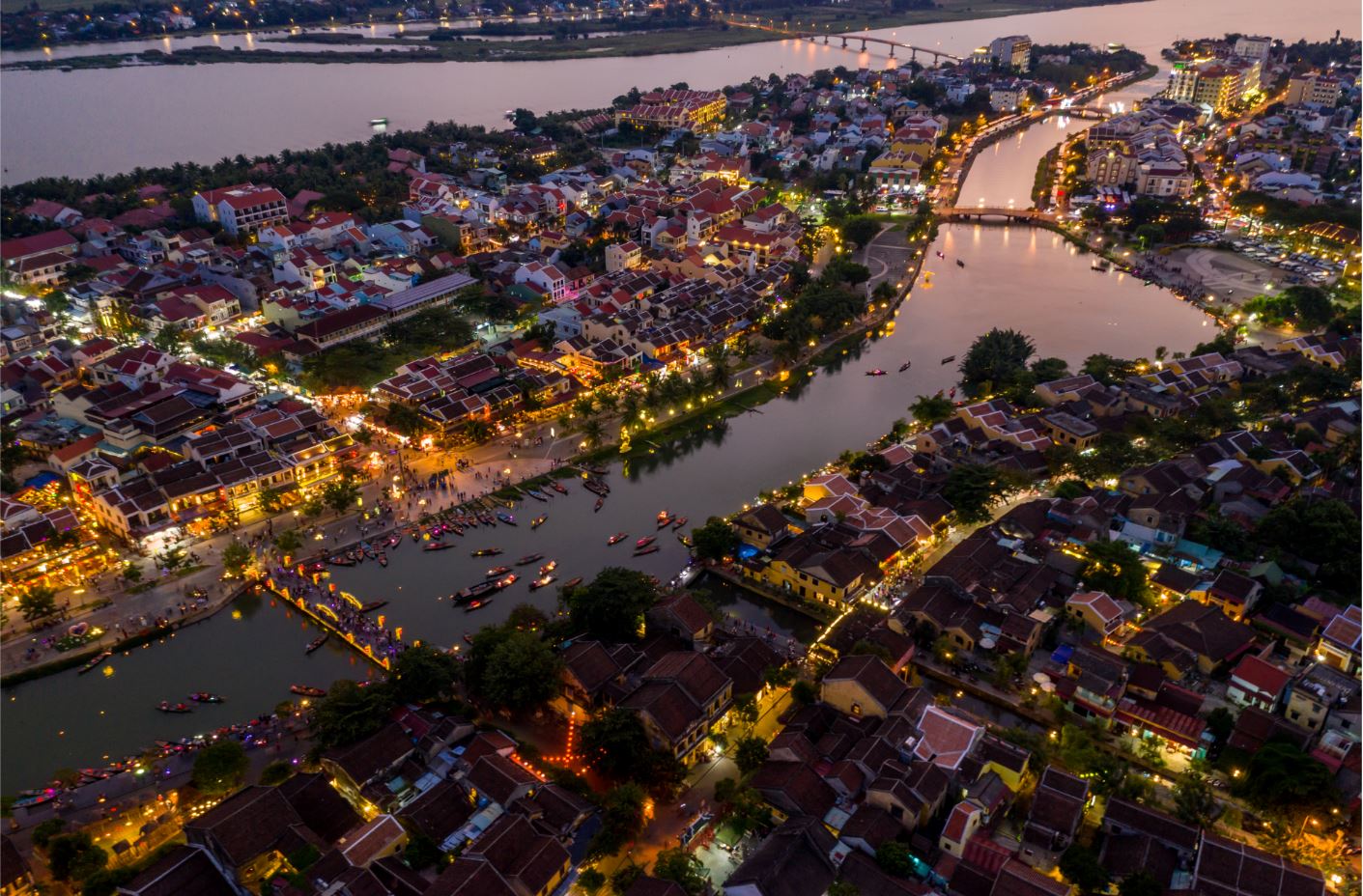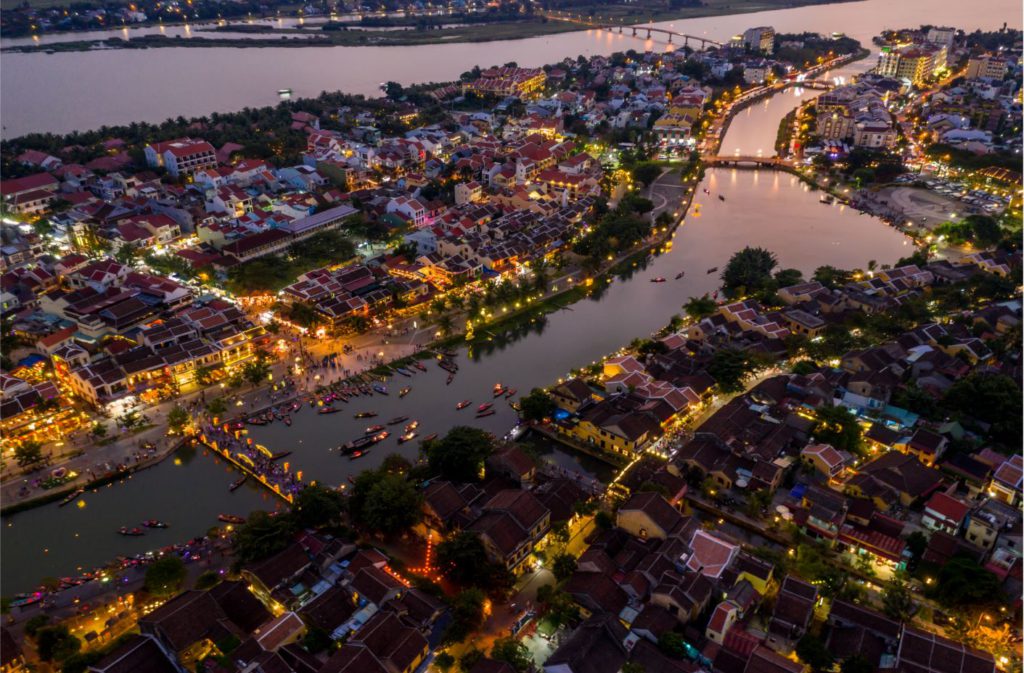 Where to stay in Hoi An
Hoi An is a small town best known for its Ancient Town. Expensive hotels and resorts are rare. I will not suggest staying inside the Ancient town since there are only a couple of hotels available. Instead, book an Airbnb or a local hotel/hostel within one kilometre of the Ancient town.
You will definitely be visiting the Ancient town at night; therefore it should be comfortable to get back to your accommodation. If you are visiting during the New Year or Tet (Vietnamese New Year), make sure you book a place well in advance.
There are several affordable hostels available in Hoi An that you can book via hostelworld.com that start from around USD 7 per night. If you are looking for hotels, agoda.com is the best place for deep discounts around southeast Asia. A mid-range hotel will cost you around USD 30 per night or less.
If you are looking to splurge more, below are some unique heritage inspire resorts that I think you should check out.
Little Riverside, Allegro Hoi An, Ann Retreat Resort & Spa, La Siesta Hoi An Resort & Spa
Hoi An Ancient Town
Hoi An Ancient town is gorgeous. As soon as I entered the premises, a kind of excitement took me over to see for myself if the promise from the glamorous photographs over the internet justifies it for real. You must walk in the Ancient town. Well, it's the only way to do it anyway. Except that they let bikes in for some time in the day. Take your time.
The best time to go is early morning around 10 am when the crowd and heat are less. A large number of day tourists from nearby cities. Therefore, the town gets extremely crowded during mid-day. Return back in the evening to enjoy the place in its night avatar and lit lanterns. There is no formal time of closing. On New Year's Eve, we found the town open and busting until midnight and afterward.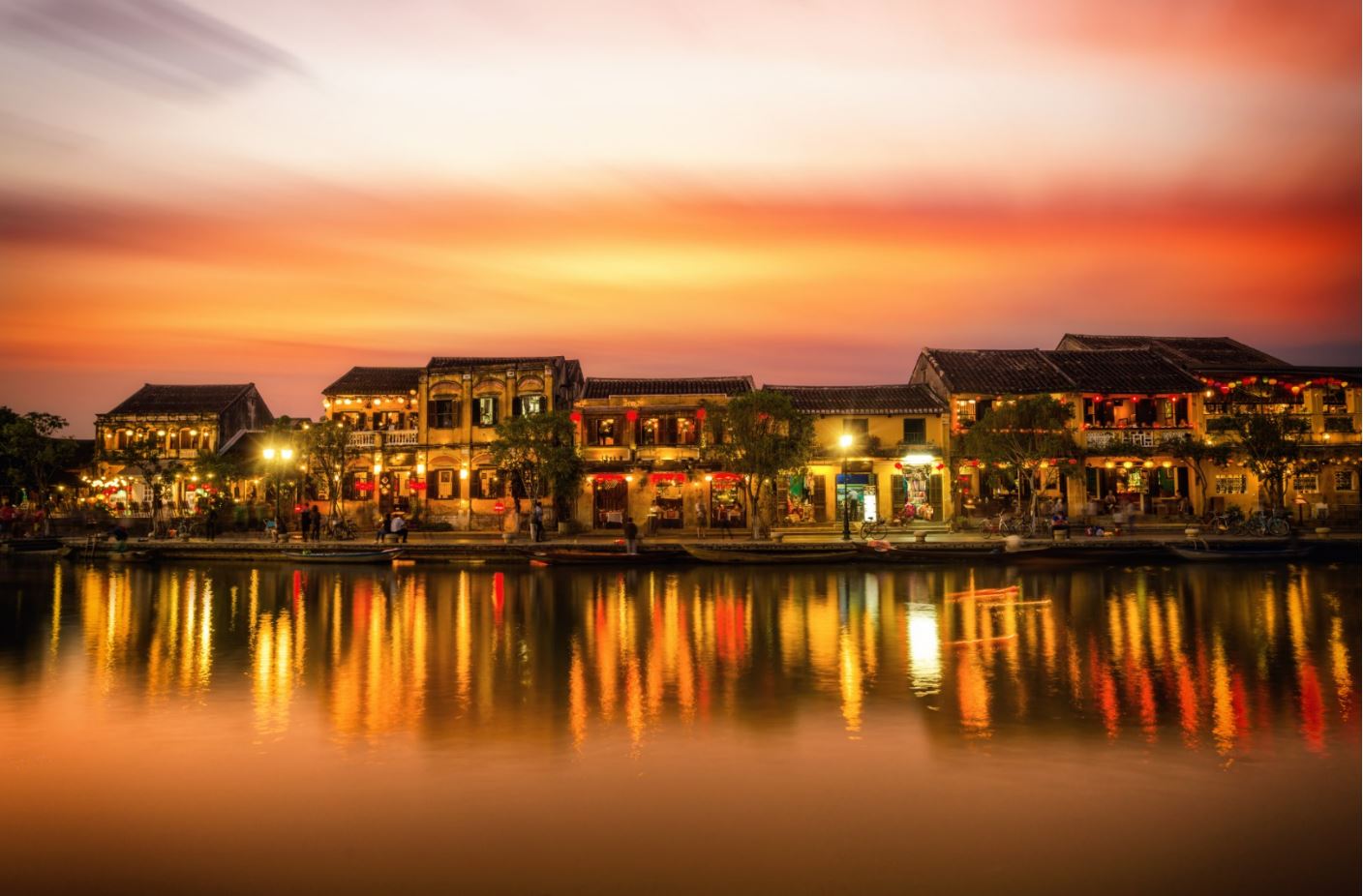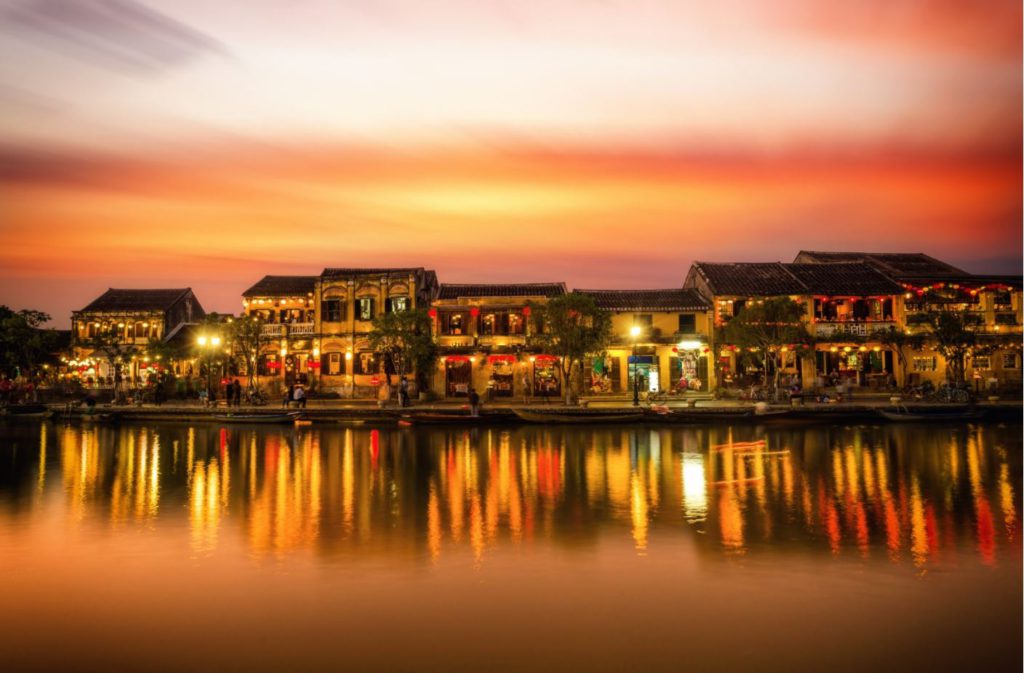 Hoi An Ancient town Map
To start with, get a map of Hoi An Ancient Town. There are numerous Old Houses, museums, temples, pagoda and communal houses mentioned under tourist attractions. I will suggest doing one of each. Most of them are similar. The museums are created by renovating old houses and displays the life and story of a particular occupation or community of Hoi An.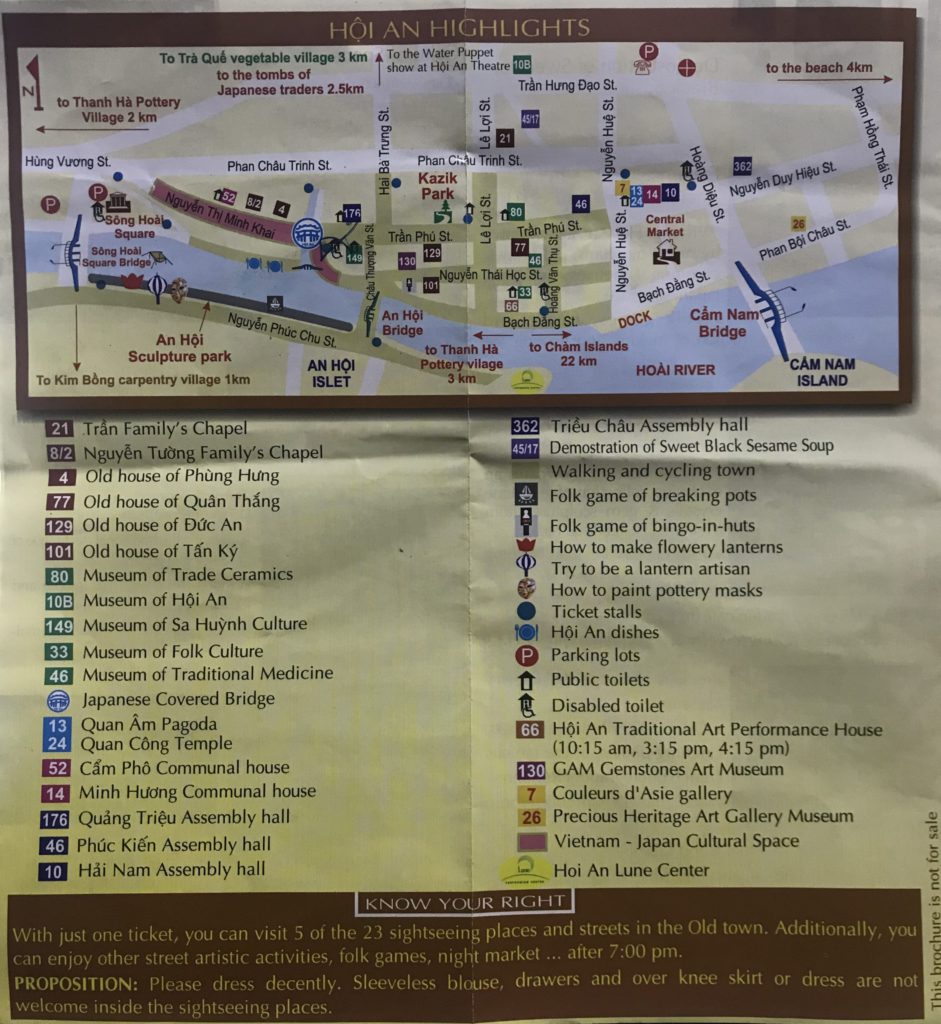 One of the must-visit places is the Japanese bridge. The bridge was built back in 1590. Although quite rickety and crowded today, it's unique architectural style so far from its land of origin is a point of interest for many.
The admission ticket to Hoi An Ancient town is 120,000 per person for foreign tourists valid for 24 hours. You can buy these from the ticket counter right after the Japanese bridge. They give you 5 complimentary tickets to any 5 out of 23 heritage sites inside the town. You will have to pay an additional amount if you want to visit more sites.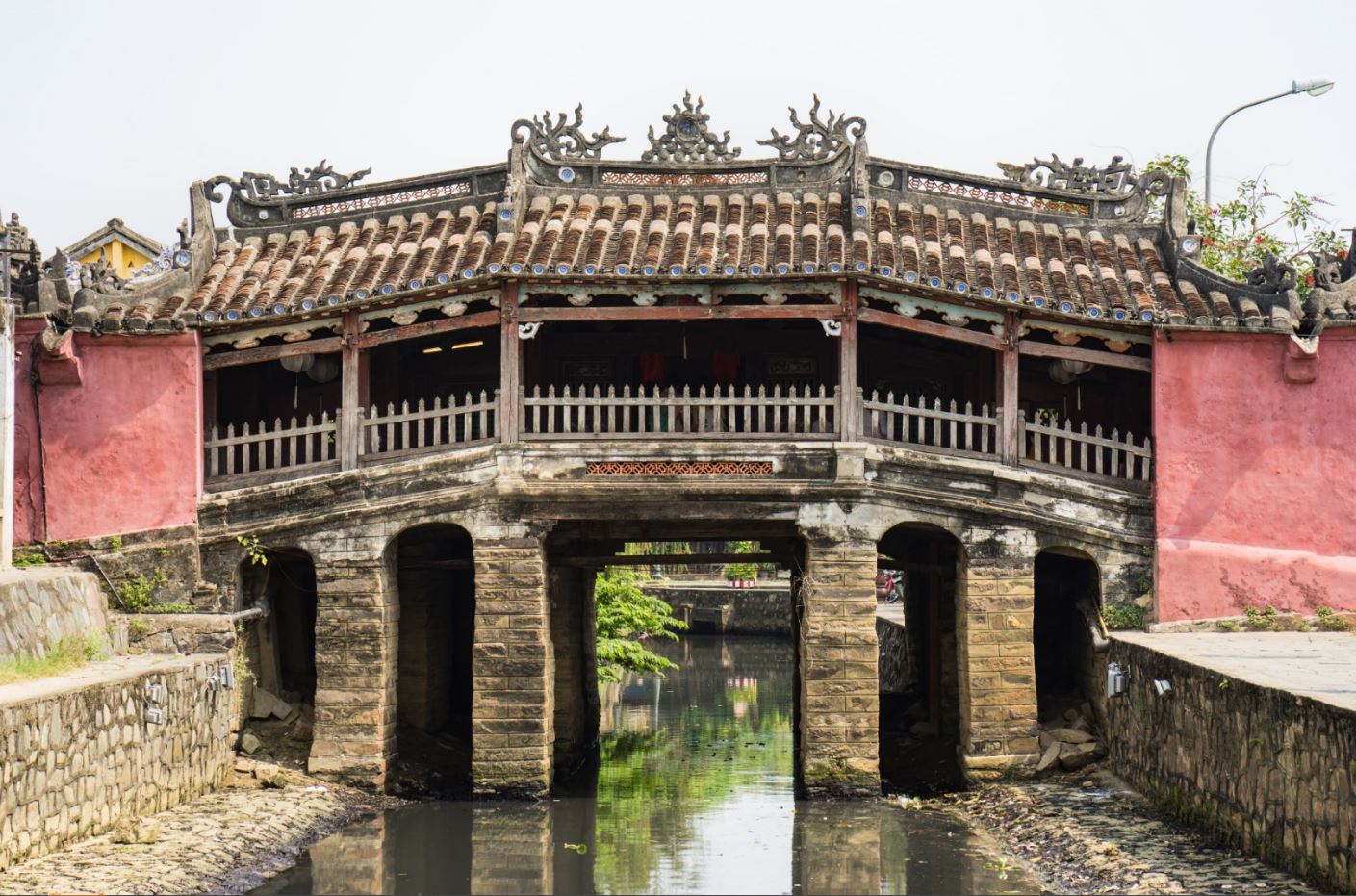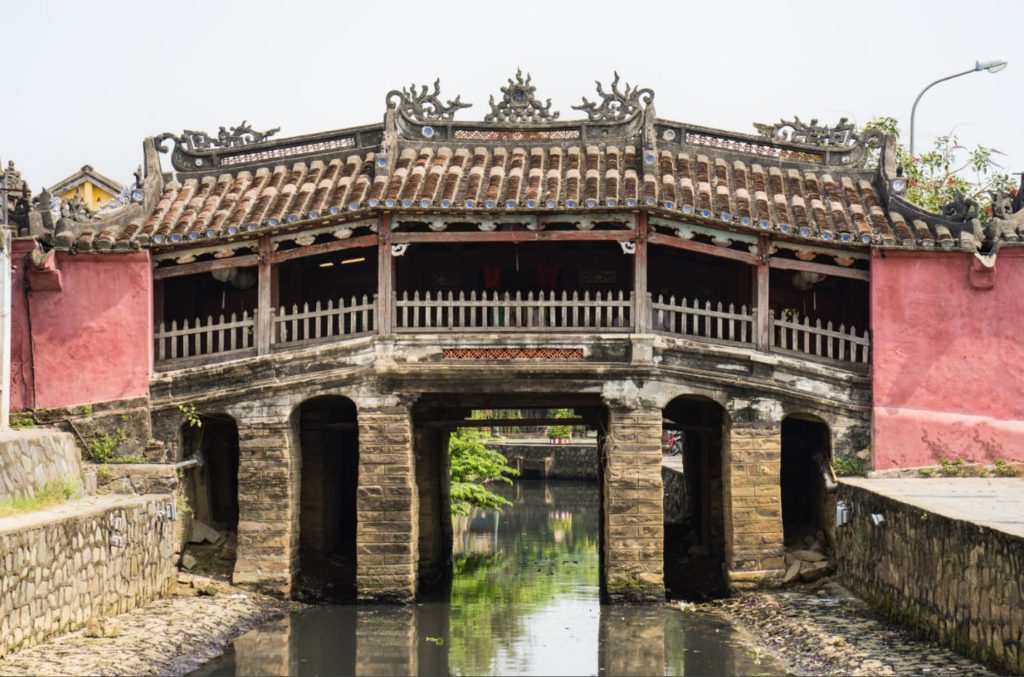 Old Houses
The traditional architecture of the town augments the oriental glitz of Hoi An. Hoi An, in all aspects, is a blend of Vietnamese, the Chinese and the Japanese style. Most of the houses are made of wood with two stories and creaking staircases.
Most of the buildings are painted yellow on the outside with a slanting roofline towards the road. A balcony on the first floor opens up to the busy roads and neighbouring houses. The house gives a glimpse into the rich lives and times of the old merchants and residents of this port town.
Most of the houses have been converted into shops and restaurants. The locals renovated the houses and uplifted them into boutiques, lanterns and souvenir shops. Most tourists huddle around coffee spots, cafes and bars providing employment to the local community.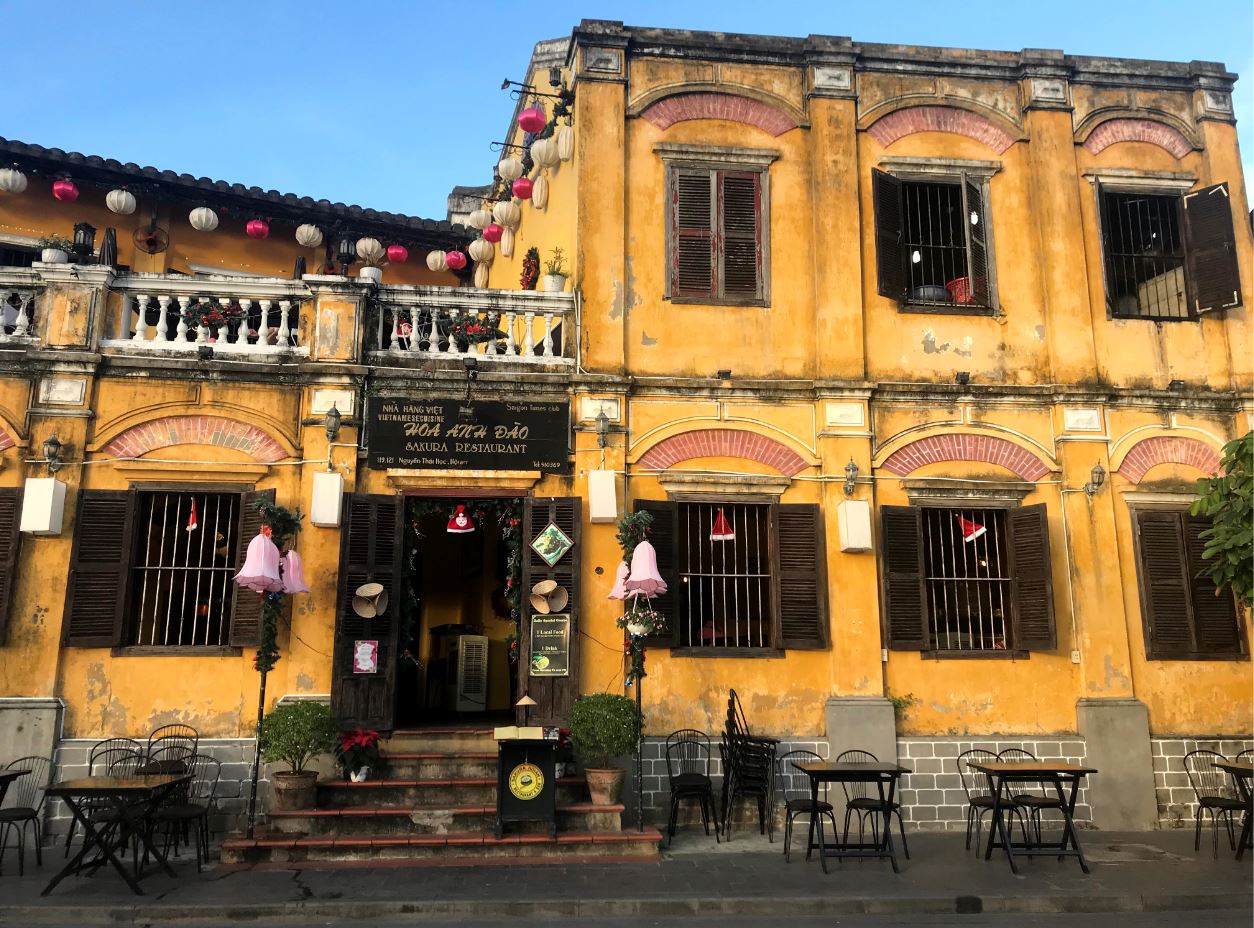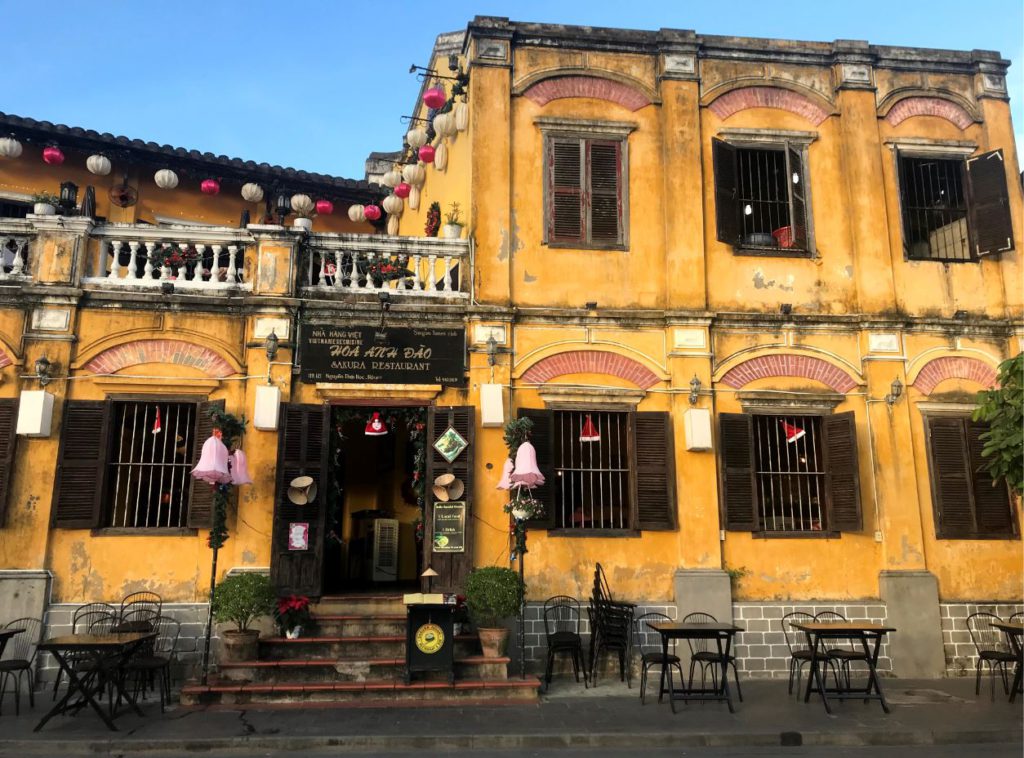 Museums and Pagodas
A few of the houses have been converted into museums. The museums convey the local folklore and customs through dummies in traditional costumes, artefacts, and replicas with English information guides.
Some of the museums are Museum of Trade Ceramics, Hoi An Museum, Museum of Folk Culture, Museum of Sa Huynh Culture and Museum of Traditional Medicine. All the museums require a ticket (one of the five given with the admission ticket) to enter. Therefore choose one or two depending upon your interest.
The pagodas are well maintained but can get crowded at times. They are best to visit early morning if you want more time for yourself. Most of the pagodas have a small courtyard with intricate statues of Chinese gods and dragons. The smell of incense fills up your nostrils as you enter the main chamber.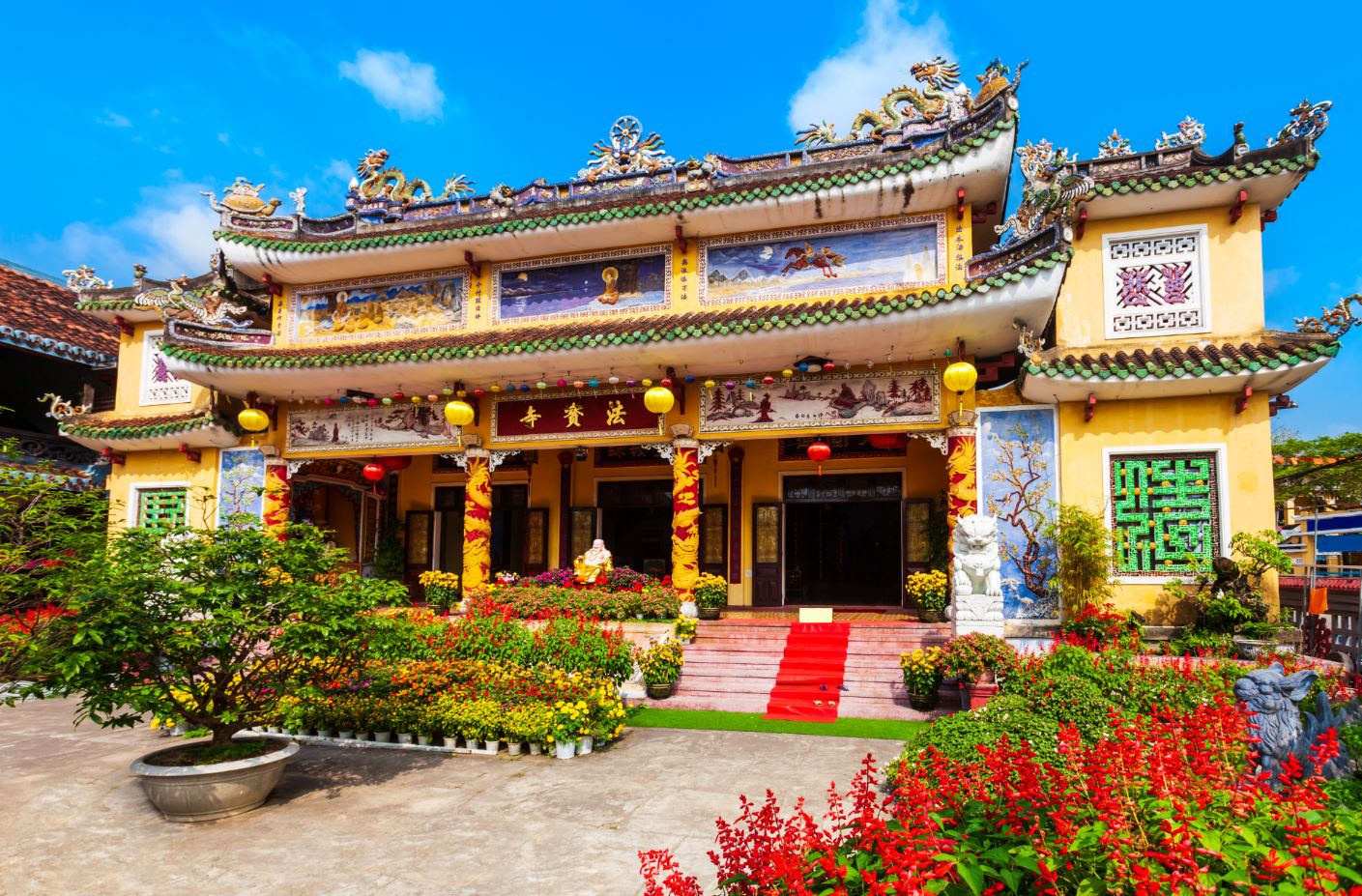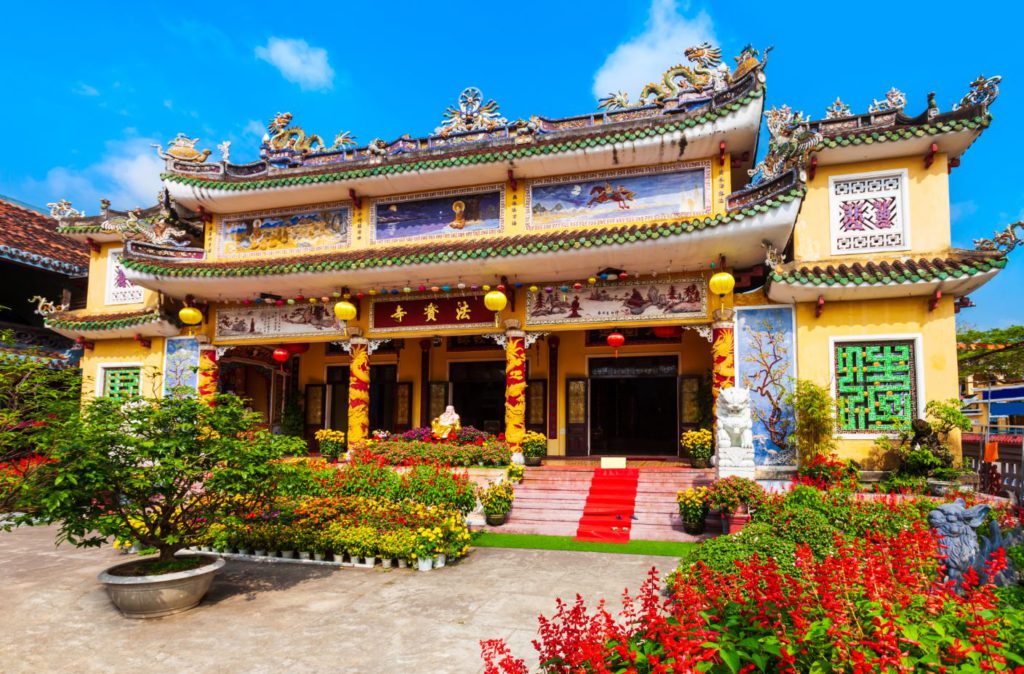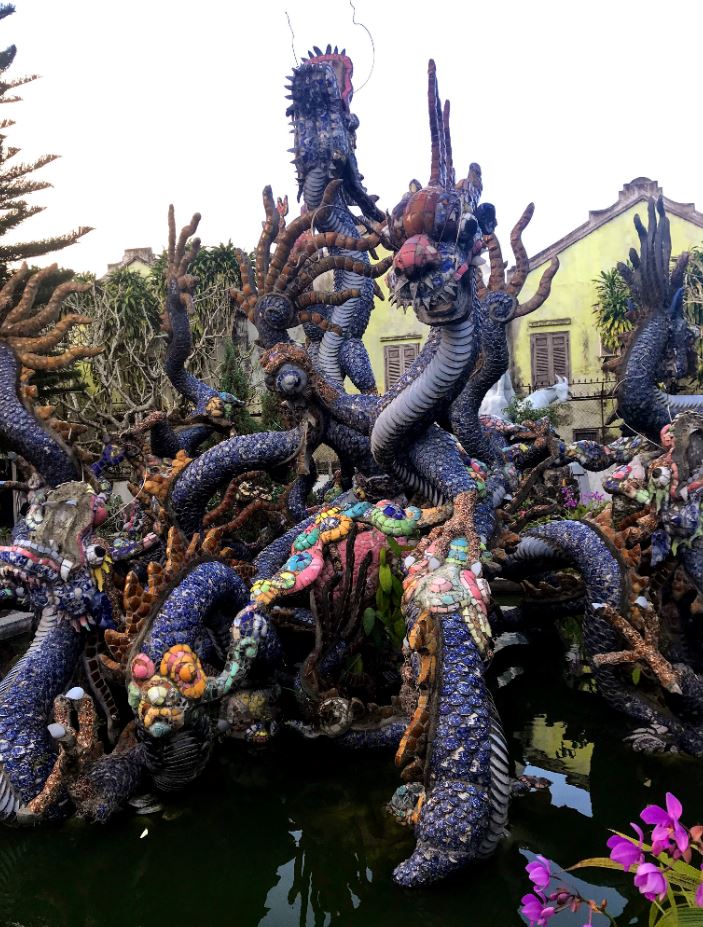 Live Shows and Performances
Numerous live shows like Japanese tea ceremonies, live pottery, traditional art performances, performances of musical instruments takes place. Some of the specialities are preparation of Sweet Black Sesame Soup, Origami Art with coconut leaves folding, Japanese calligraphy, ancient rickshaw riding experience, and water puppet show.
Many of the activities need a separate ticket and have set timings. All this information is provided in the brochure you get with the admission ticket.
Book a Lantern Making Class: Lantern Making Class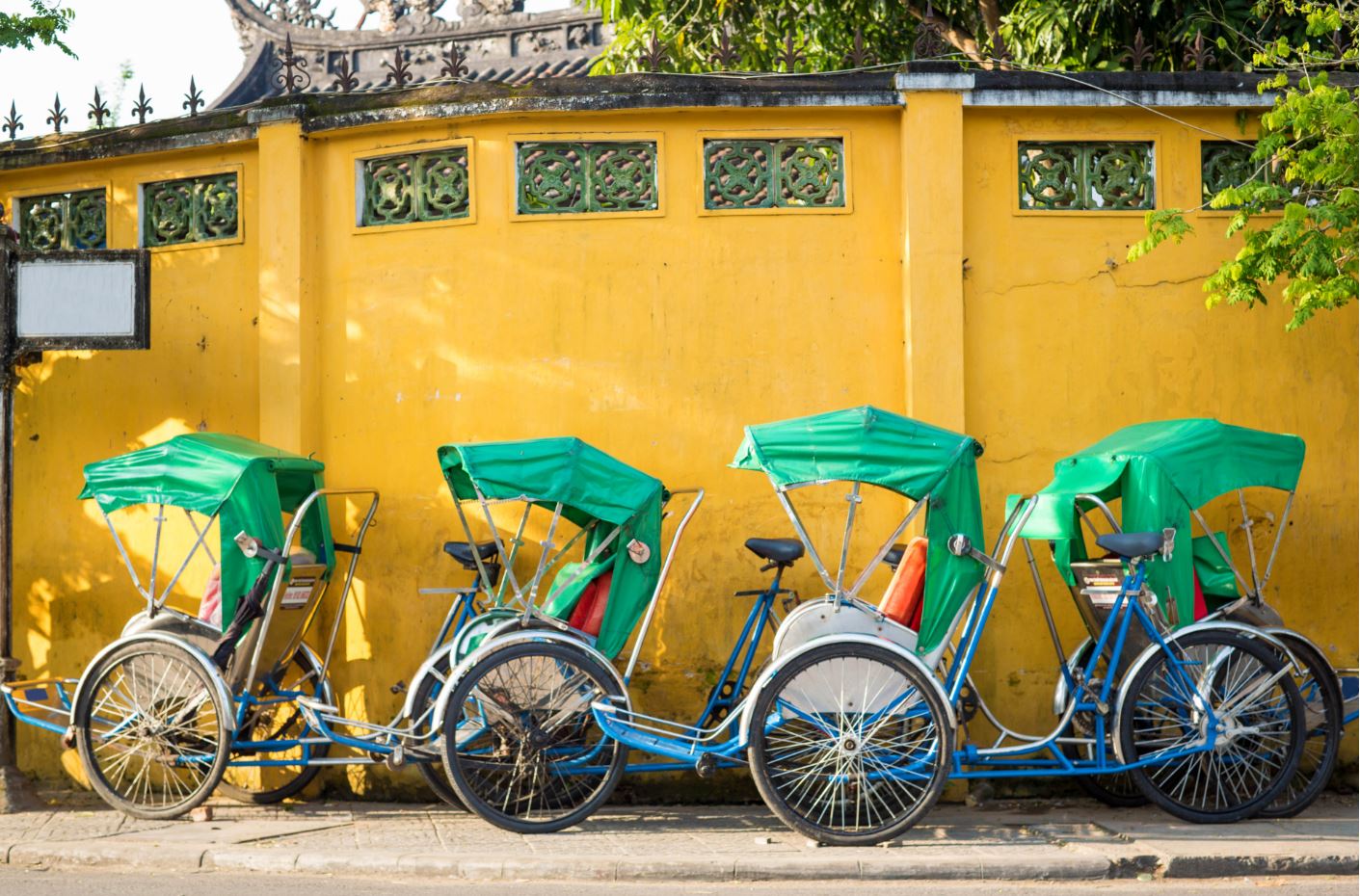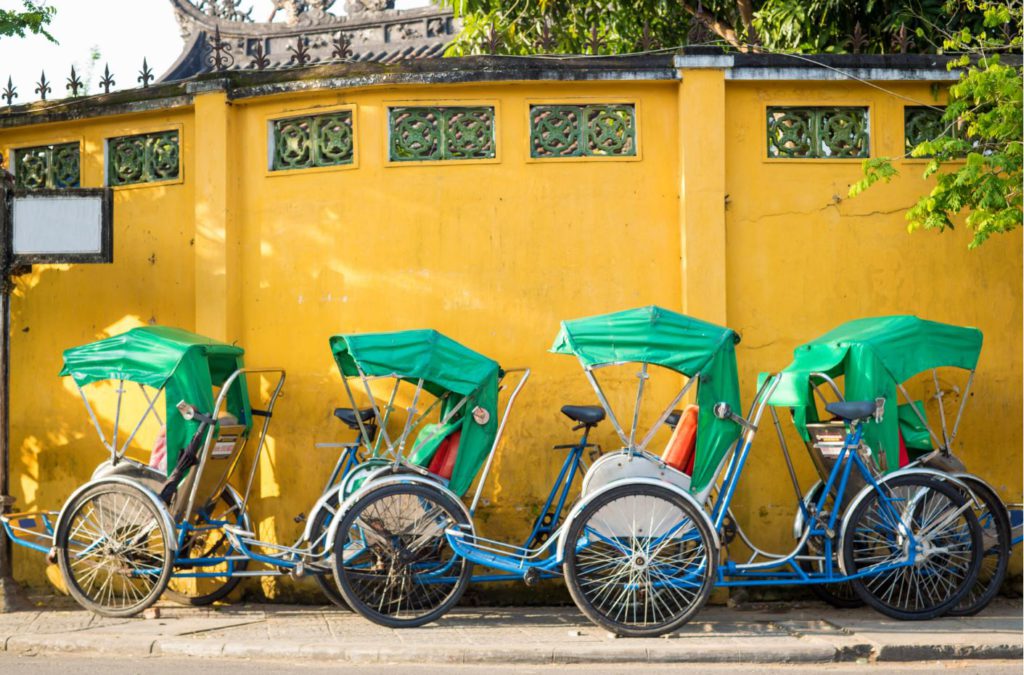 Hoi An Canal & Boat ride
This is a must-have experience when in Hoi An. The main canal in Hoi An has dozens of boats paddling around in slow motion. Its only purpose is idyllic sightseeing from another point of view, the water. The rower usually charges 100,000VND for approximately 30 minutes of the ride. It is well worth to support them.
We took a ride during the day time. But I will suggest you do it at night. Each boat has a lantern attached to it. And the canals light up with colourful lanterns reflecting on the water once its dark. It is unbelievably beautiful. Many candles on paper containers also float alongside the boats.
You will get to float a candle complimentary with your ride as well. Once you finish, relax along one of the restaurants or bars facing the canal and spend some time taking in the view from the rooftop.
The roads next to the canals spruce up with numberless standalone store and street-side vendors. While many of them sell the regular souvenirs, a lot of these shops have stuff that you will never see outside Vietnam. It is a great place to buy souvenirs or replace sandals and dresses from your wardrobe.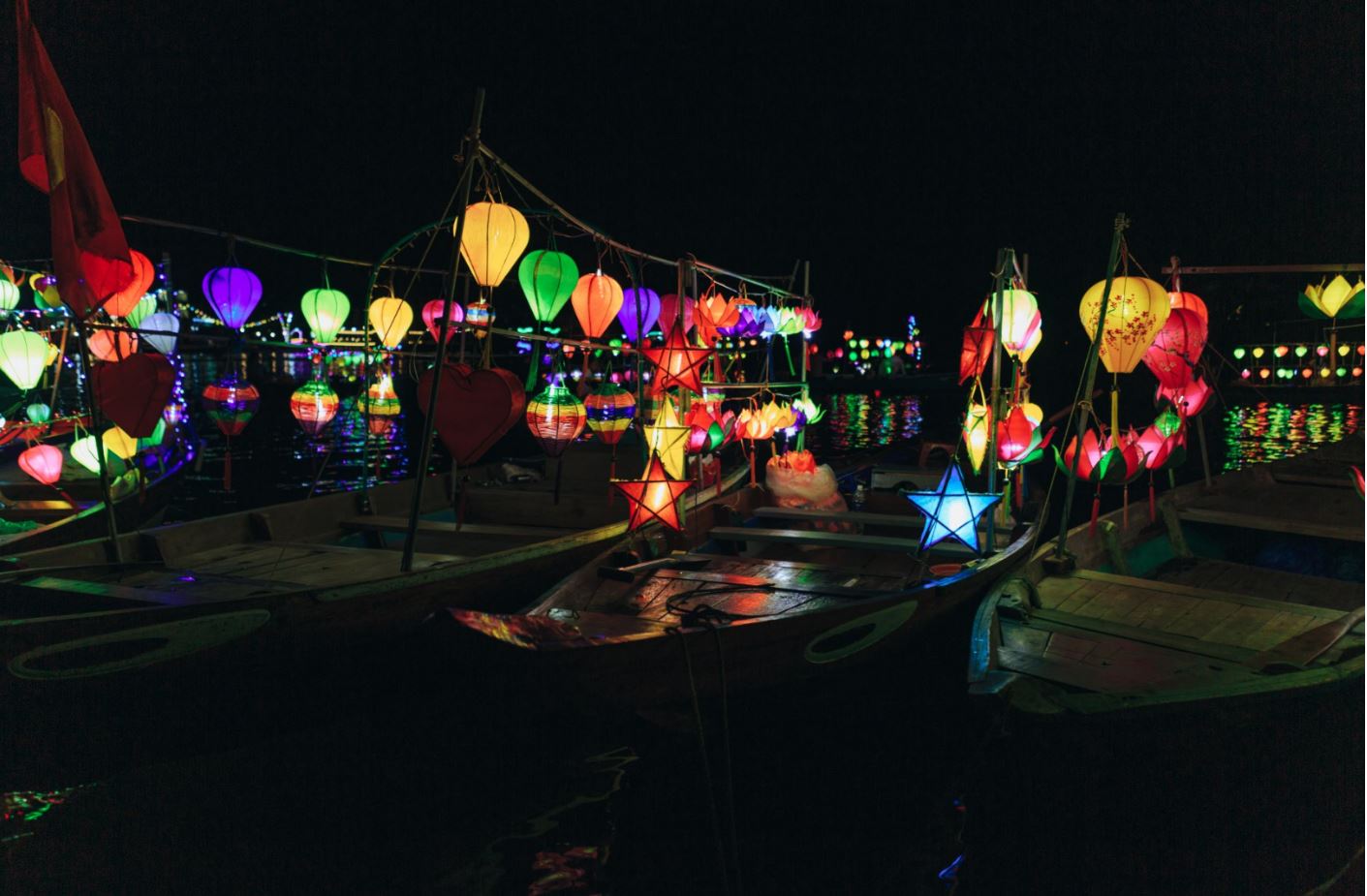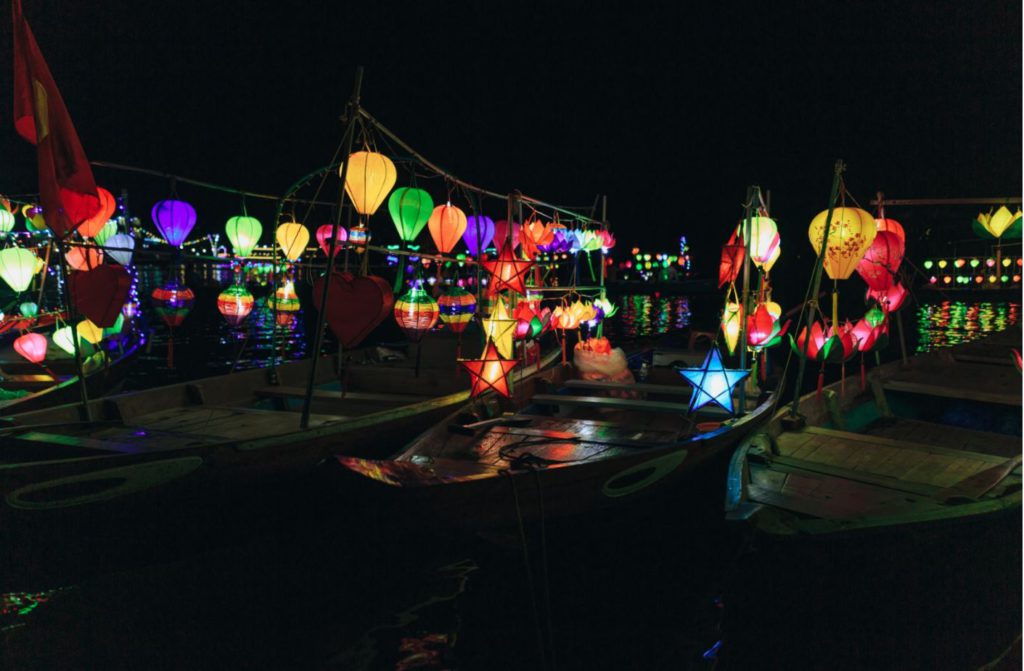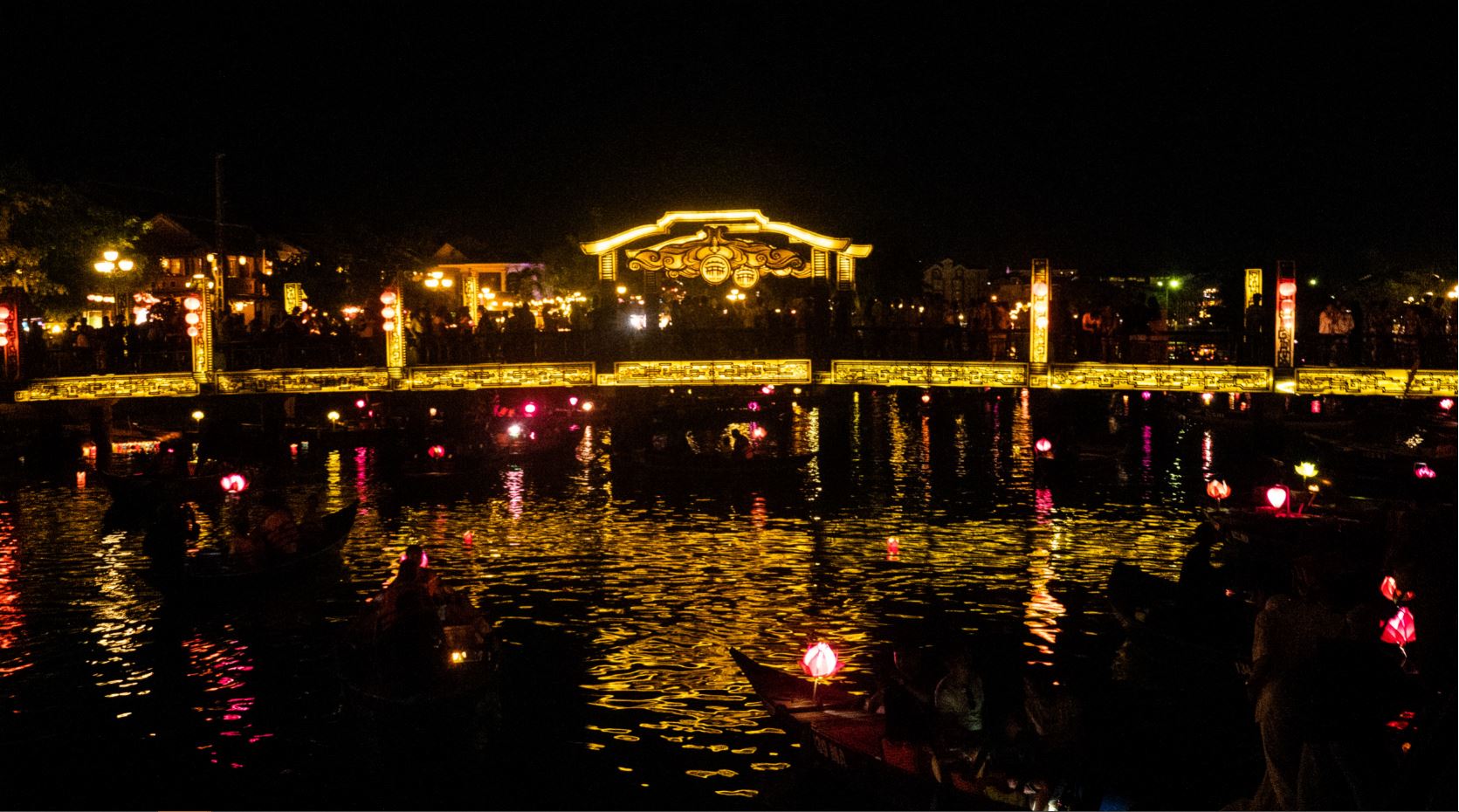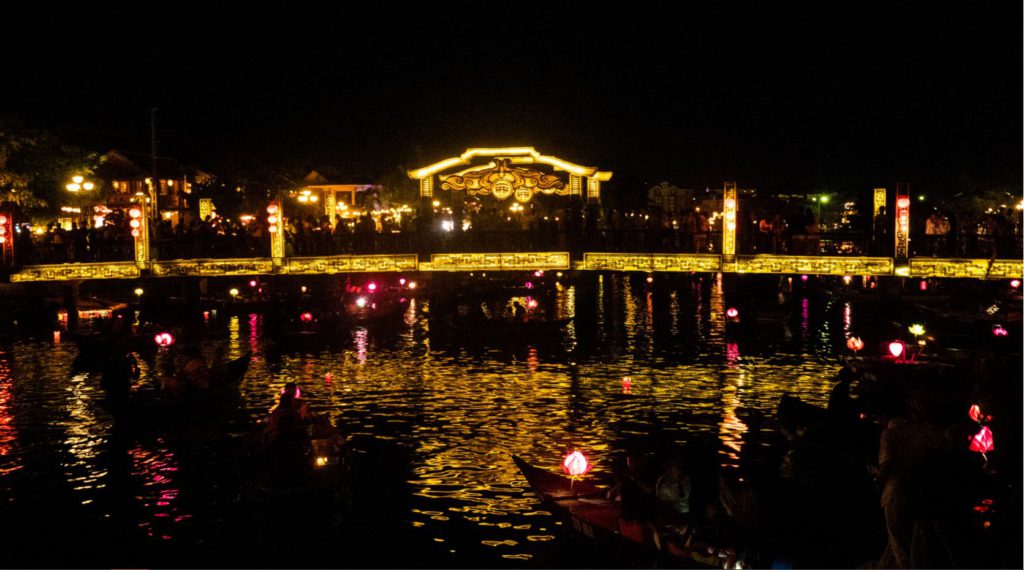 Celebrating New Year Eve in Hoi An
Its a sweet experience to celebrate the New Year Eve in Hoi An. We had celebrated New Year in Singapore and beaches of Thailand earlier, and it was always so crowded! Although there must be more number of tourists and locals than usual, the experience was still rather enjoyable. The only downside was the rain and it poured vehemently at times during the evening on New Year Eve in Hoi An.
Inside the Ancient town, the local authorities created a large setup for cultural activities. Local and national figures came to show off their talent in singing, dancing and poetry. The whole town gathers around the centre stage to enjoy the event.
To top it off, they present annual awards to the best restaurants, sellers and other service providers in the ancient town premises. Additionally, there are many street shows and events round the clock before midnight, especially for New Year Eve in Hoi An Ancient Town. You will be kept busy.
Once all of it is done, it is time for fireworks at midnight. I will not say that the fireworks were grand. Perhaps they cannot compete with the beautifully lit town anyway. But I think it is one of the best places to be in during New Year Eve. The town is happy, warm and cheerful and the mood infects you. The crowd heads home after all the pomp and show is over.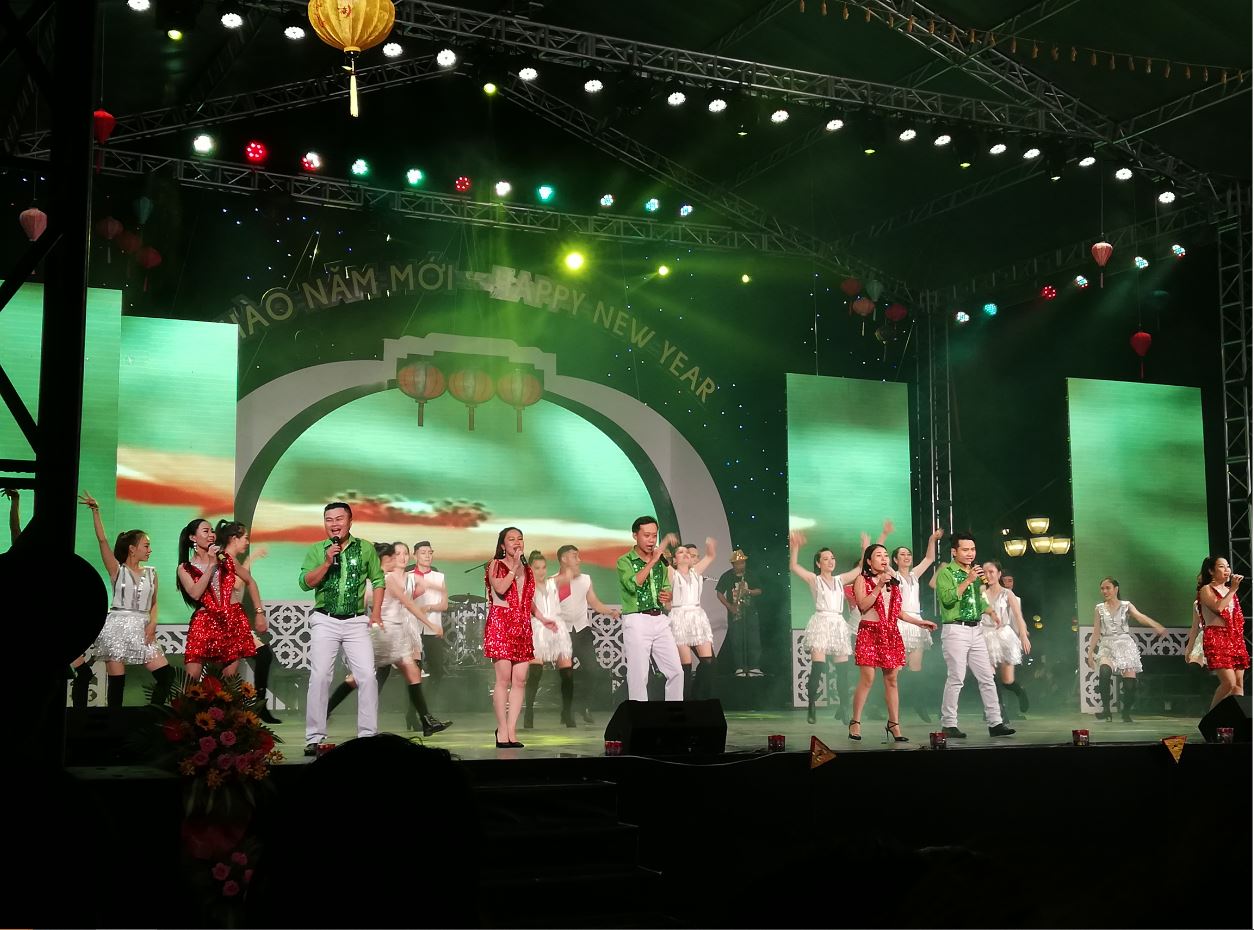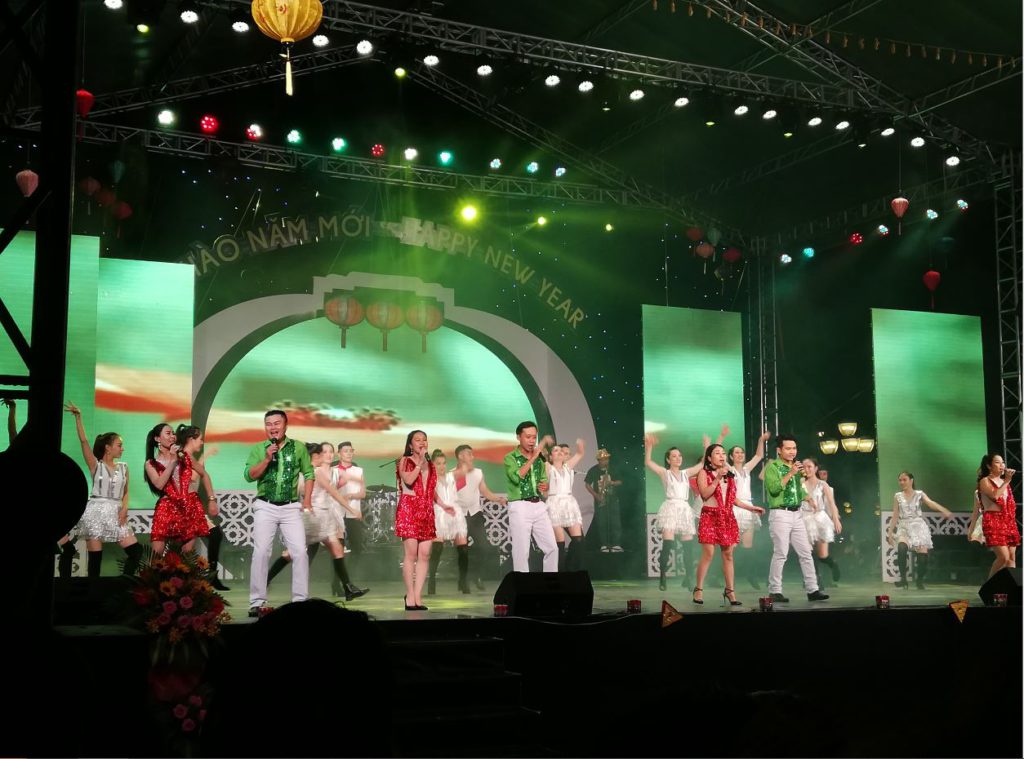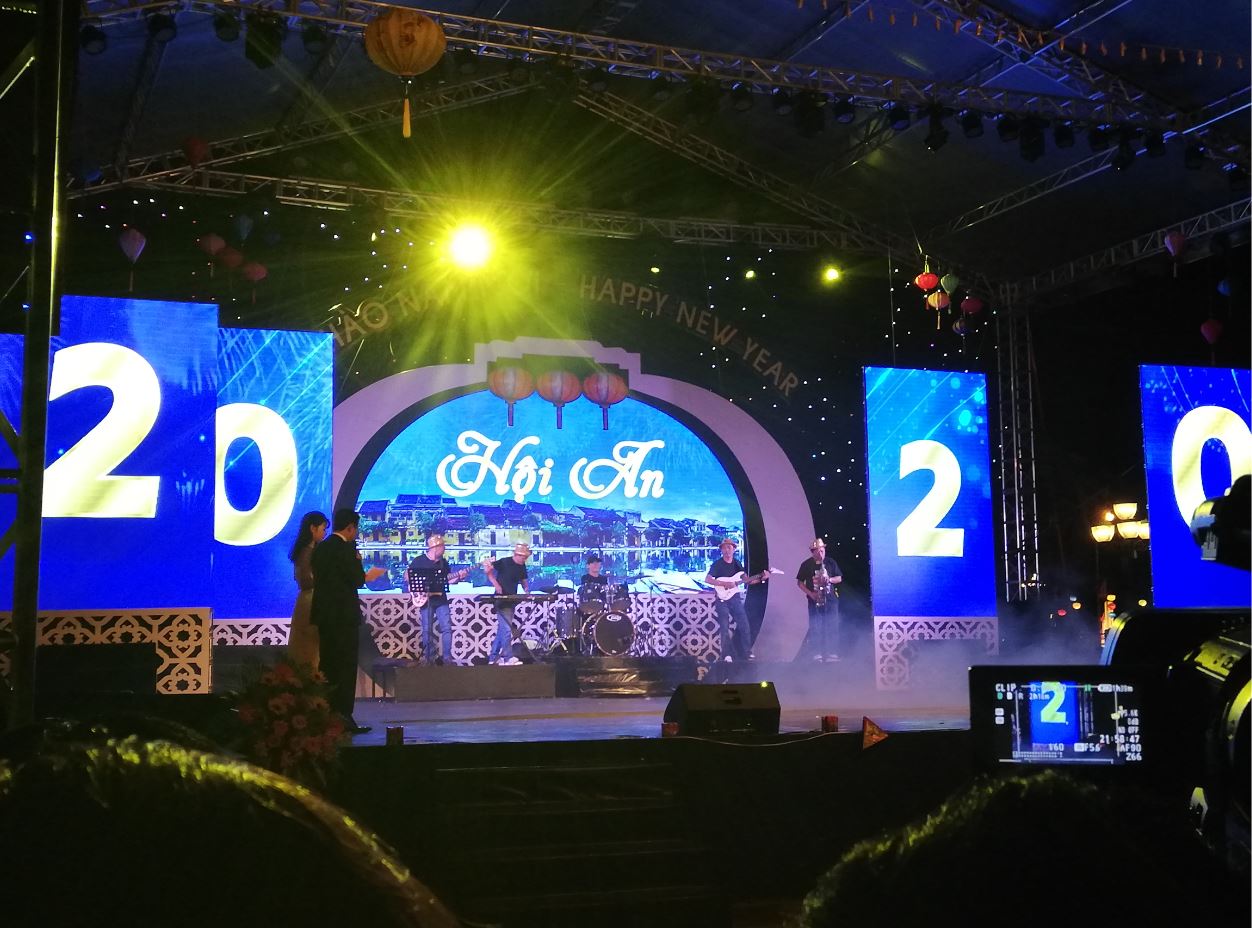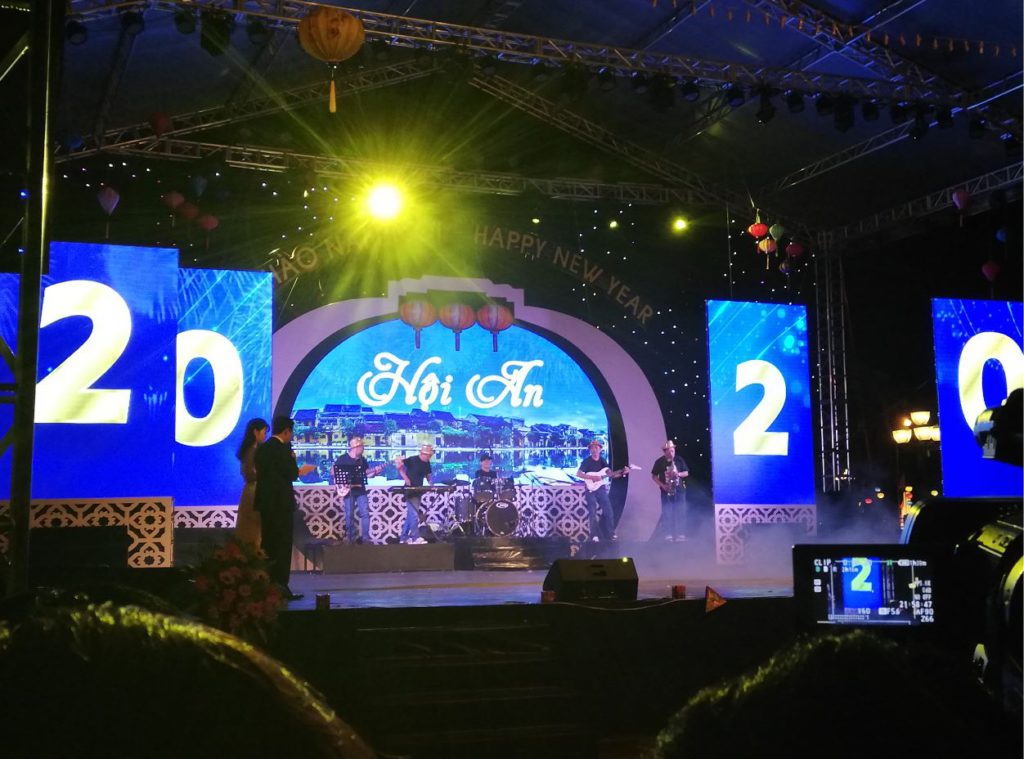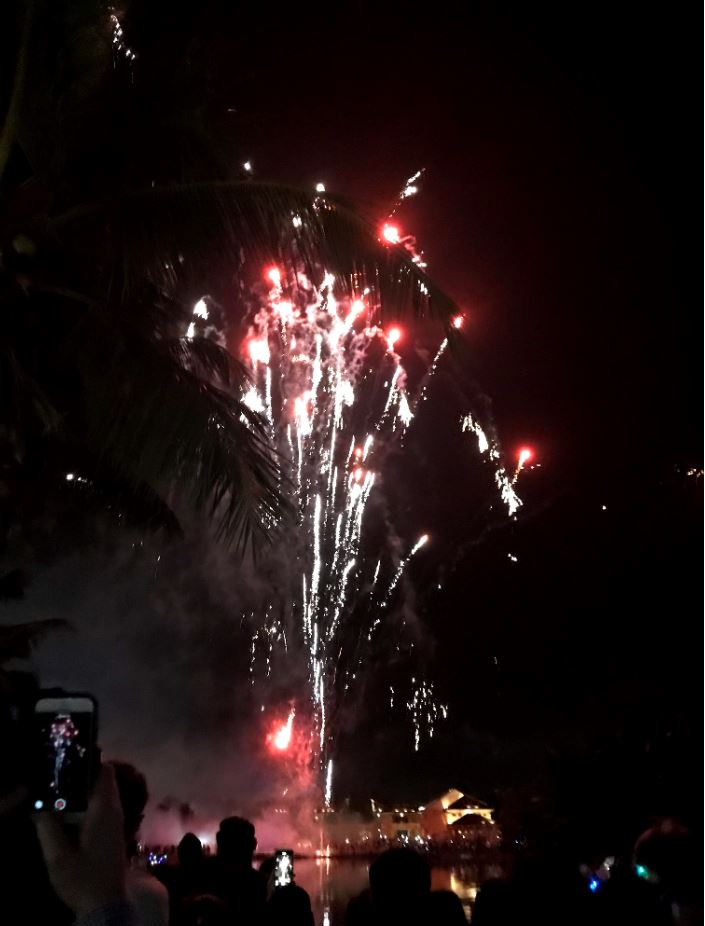 Other things to do in Hoi An
There are a a lot of other things other than the ancient town in Hoi An to see. You may need a longer time to visit these. The best way to see them is to pick up a bike at your hotel and drive to these places. None of them is too far.
Cam Thanh Village
Cam Thanh Village is on the outskirts of Hoi An town and is now sprouting up for eco-tourism. This place is also great for a homestay. You can engage with locals by helping them in paddy farms, picking vegetables, riding a buffalo, water fields or catch a fish. The village is also called Bay Mau for a large coconut forest reserve.
The forest forms the backbone of the village's ecosystem and shields the villages from strong sea waves. Riding a coracle (round bowl-like boats) through natural streams along the forest is the main attraction of the village. Read this article for a detailed account.
Book a day tour: Fishing Village Visit and Fun Basket Boat Ride Tour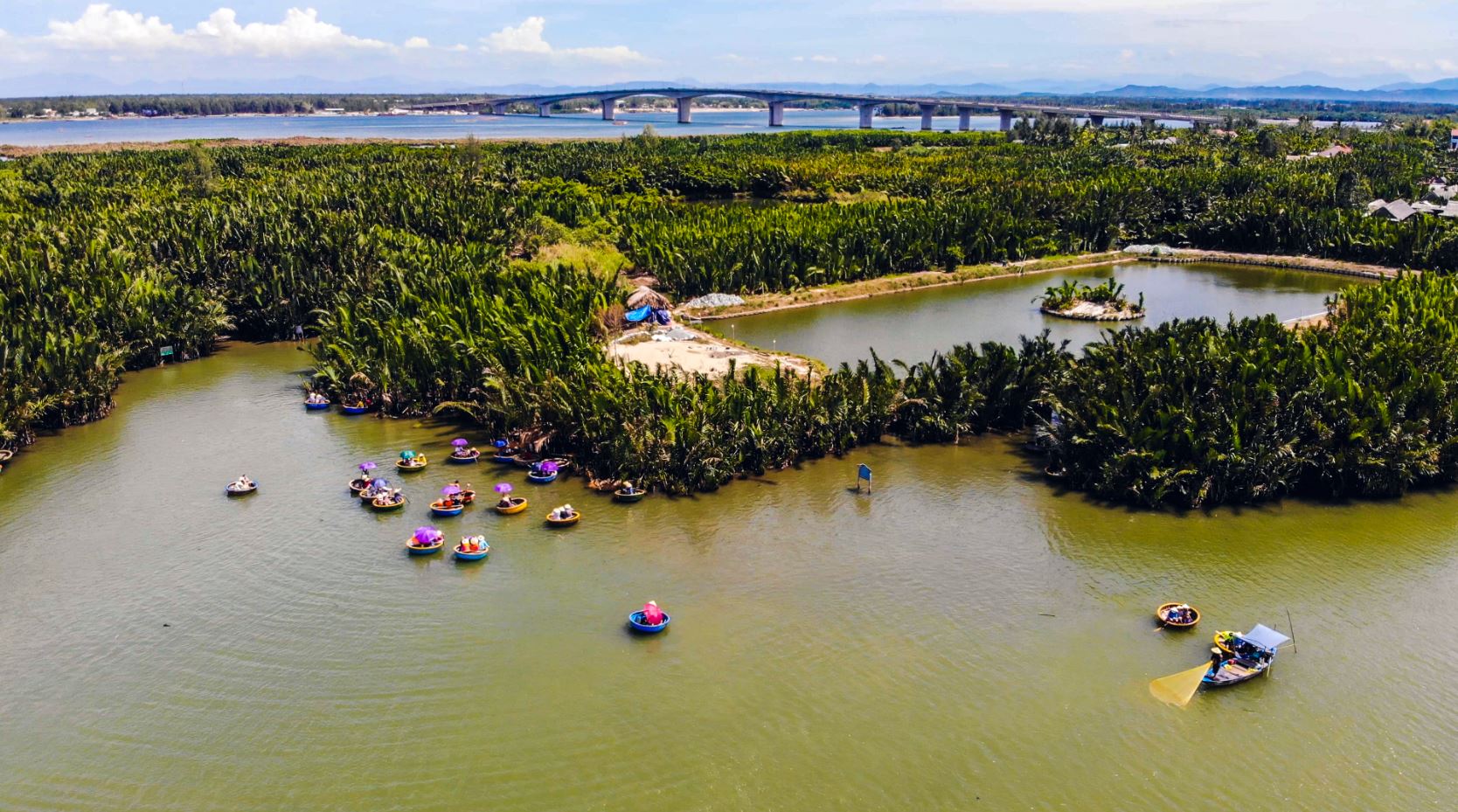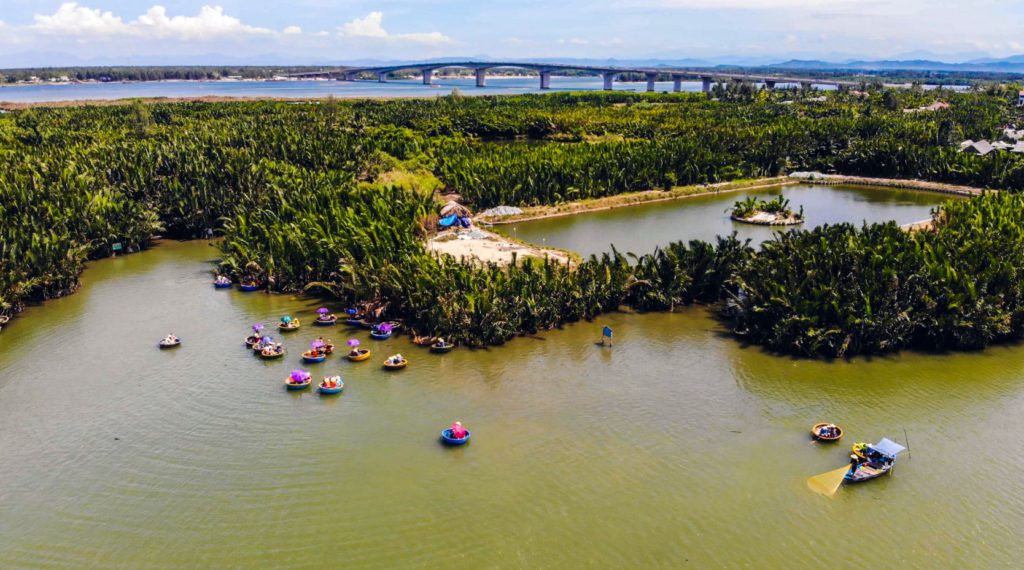 Take a Cooking Class
Since the time I took my first cooking class in Bangkok, I have been a fan of this activity. Cooking classes are not just fun, it really gives you an in-depth insight into the food culture, local crops, and ingredients. In fact, your teacher will also tell you how people from the countryside process the ingredients and share stories from local life. The best part is you get to eat all that tasty food afterward.
Book a cooking class: Hoi An: Vietnamese Cooking Class with Coconut Forest Sunset
Day Trip to My Son
Another UNESCO World Heritage site, My Son are the ruins of an ancient temple from the Cham Dynasty. A large part of the architecture is adopted and influenced by the Angkor Wat of Cambodia. The temples pledges to the Hindu God Vishnu, which the rulers of the Khmer empire also revered to.
Destroyed in the war, the ruins are not in great shape. Not much has been done to restore them either, but it encloses a large chapter of Vietnamese history itself. You can take a half-day tour from Hoi An.
Book a day trip to My Son: From Hoi An: My Son Sanctuary Early Morning Tour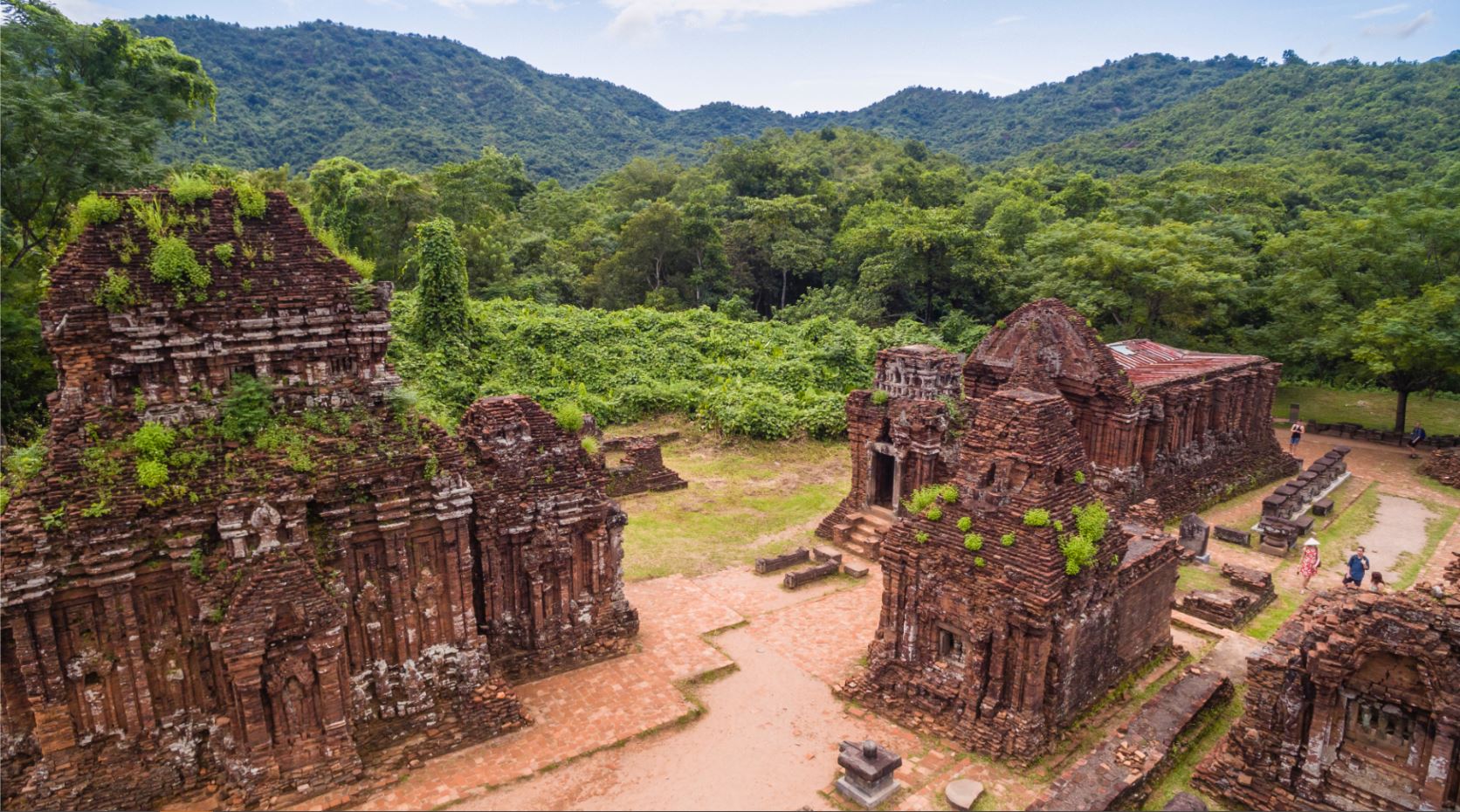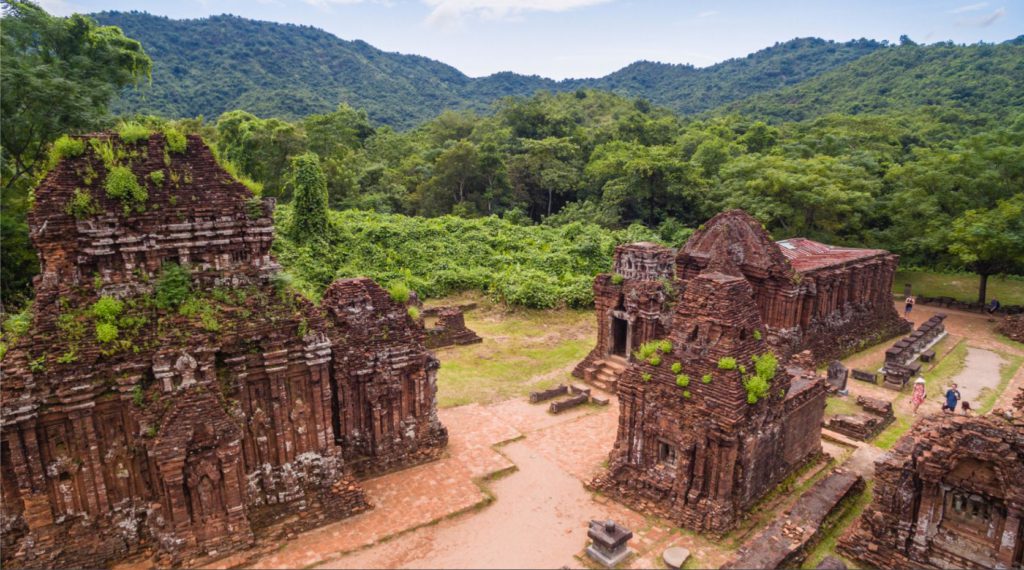 Visit the Central Market
The central market is the go-to spot for dirt cheap quick bites. Or you can have a number of different dishes to fill you up completely. The market is fairly similar to other markets across Vietnam. It is busy, chaotic, affordable and loud. Food can be a bit tricky for vegan or vegetarian travelers.
Perhaps a few words off the Vietnamese dictionary will be of help. Read a detailed article on Hoi An Central Market Experience here.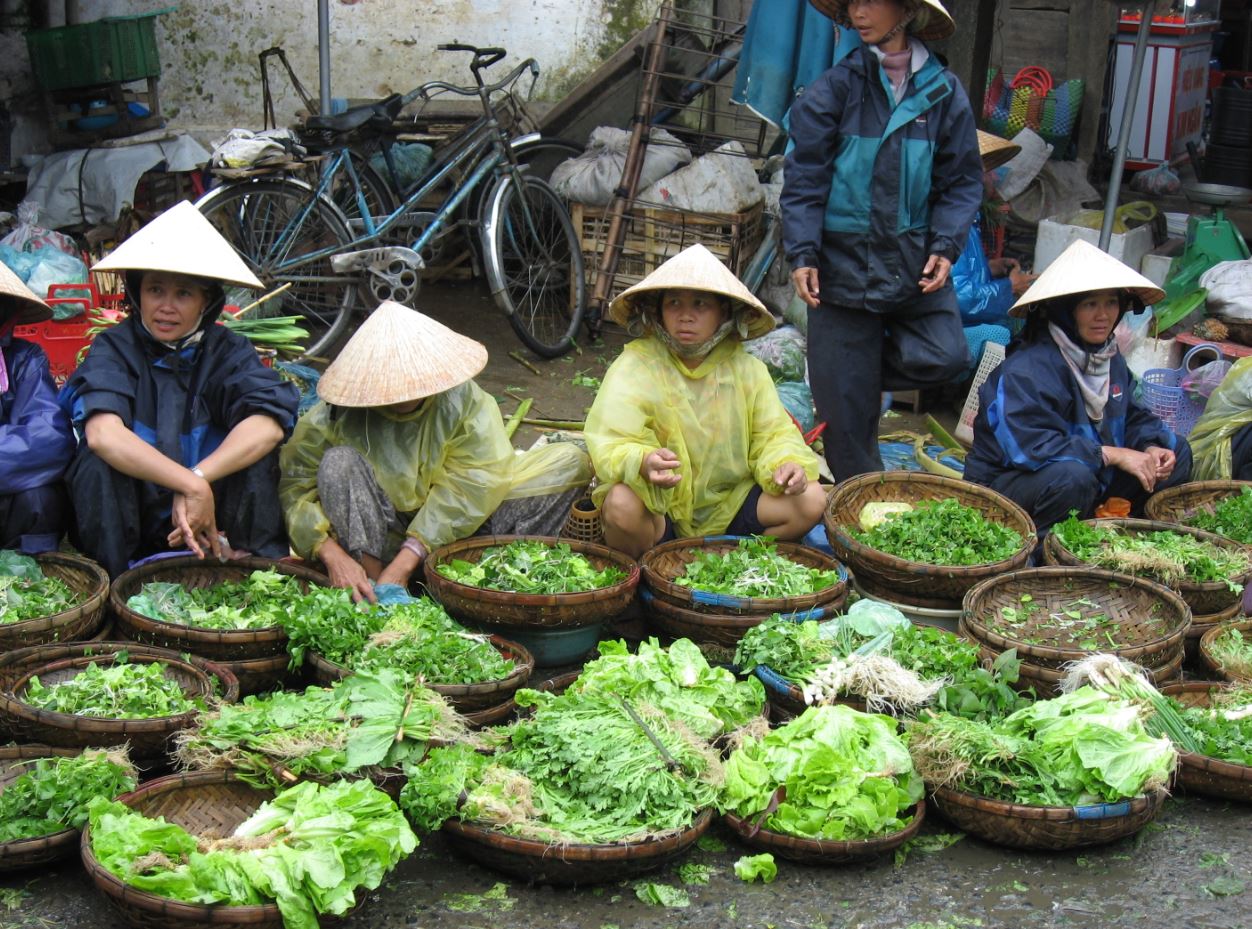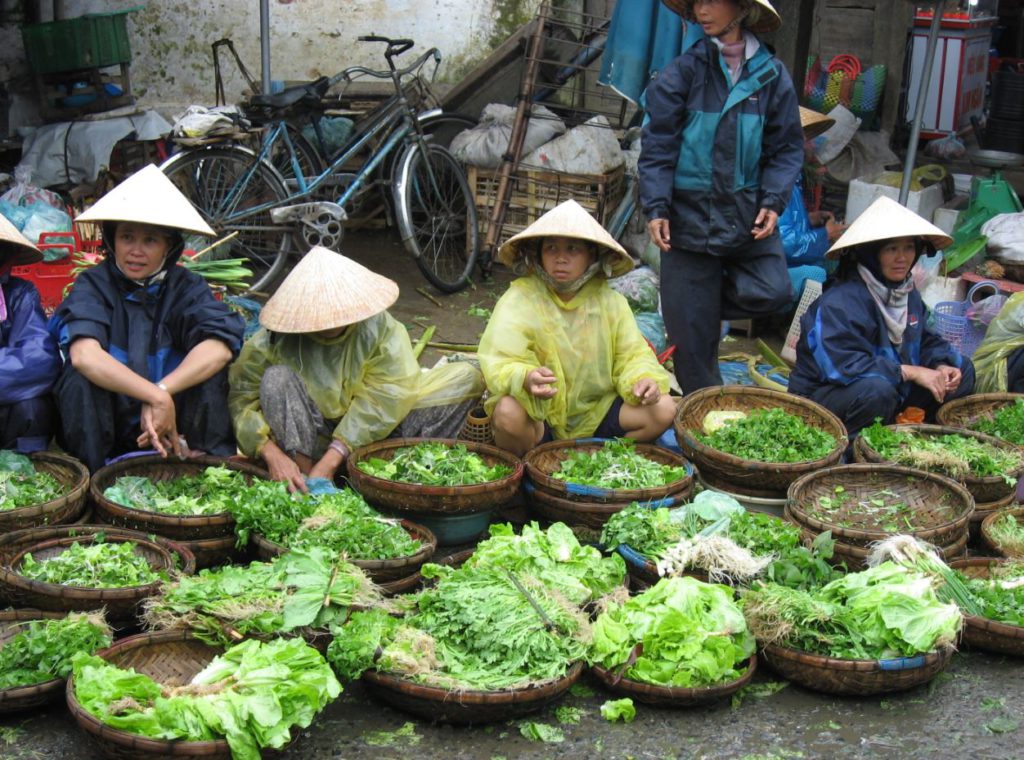 Relax on the Beaches
The beach is just a 15-minute drive from the main town. The beach is not a popular attraction of the city and is fairly limited to the locals. Therefore, you will not find it overcrowded for the most time. It gives you a chance to relax a bit and experiment with food around the many hut-restaurants next to the waters.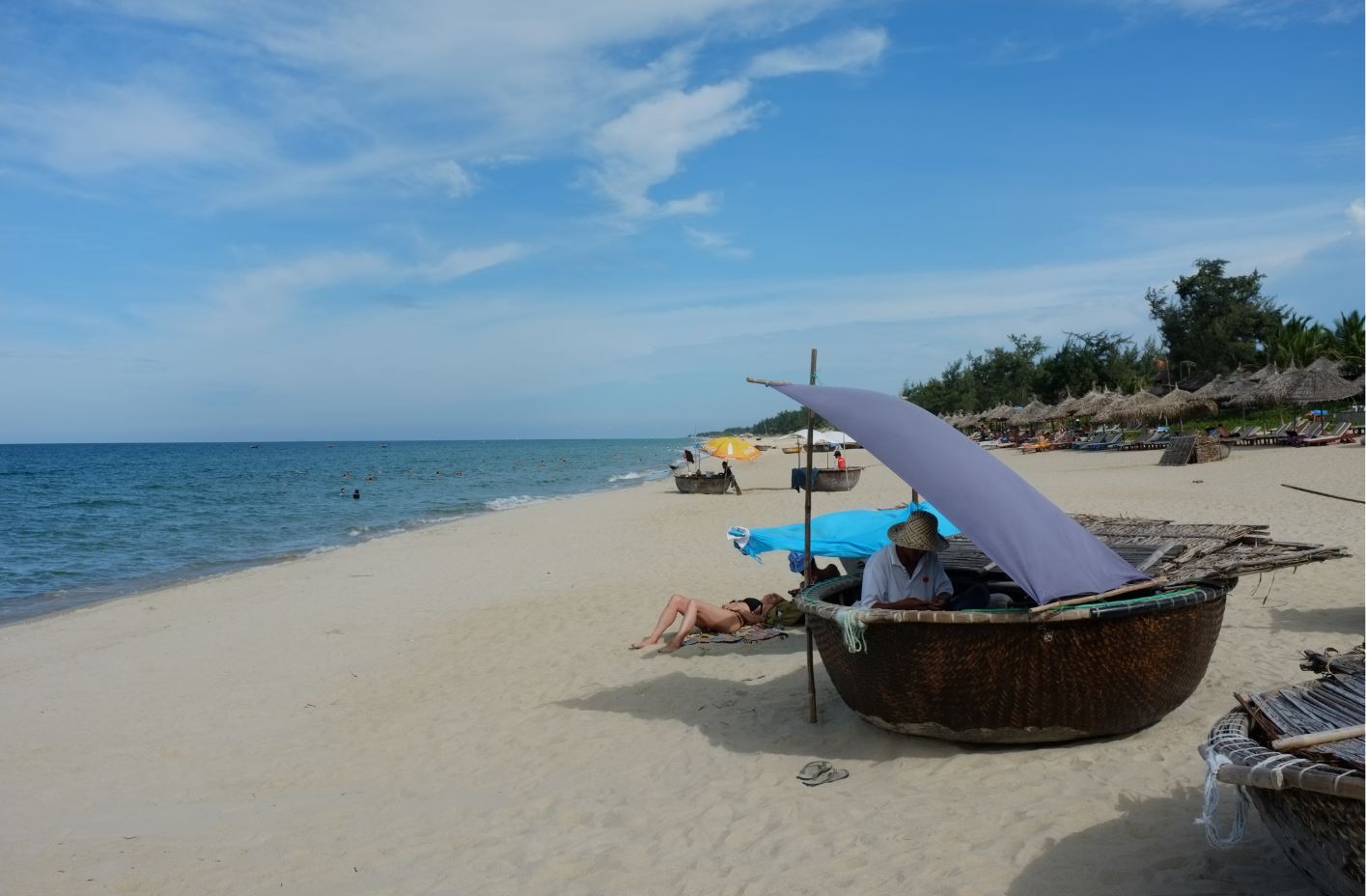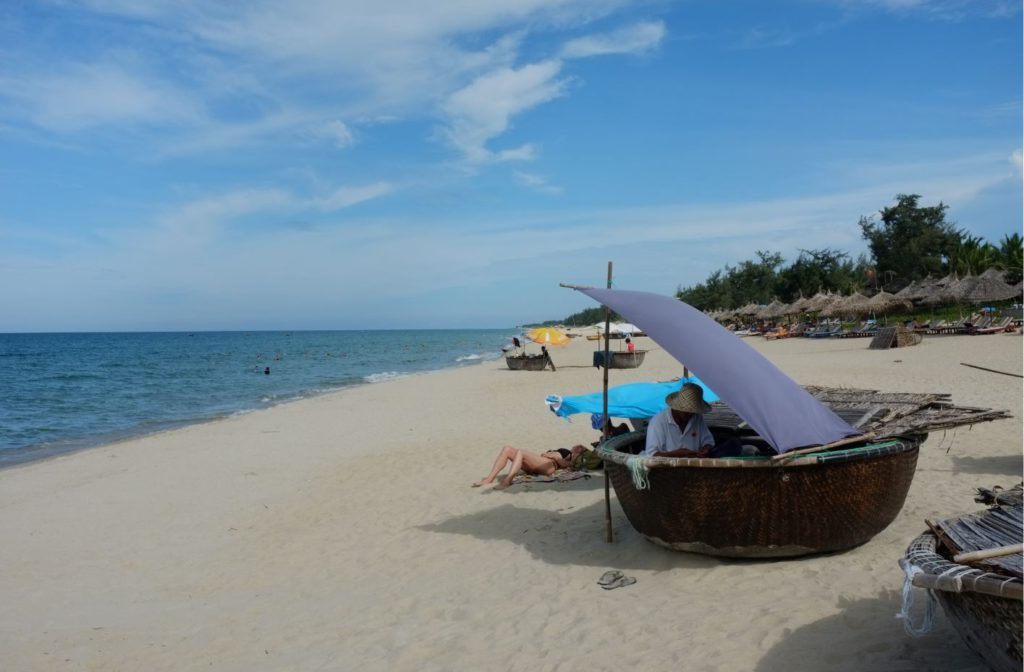 Take a Trip to Cham Islands
Off the coast of Hoi An is the Cham islands that the people believe were the cradle of the earliest Cham civilization. These are a cluster of 8 islands popular amongst the tourists for fantastic diving spots. Activities like snorkeling and scuba diving are available at far cheaper rates if you compare it to other countries. You can also book a day trip to the islands. Read this article for more details on Cham Islands
Book a day tour to Cham Islands: Cham Island: Snorkeling Tour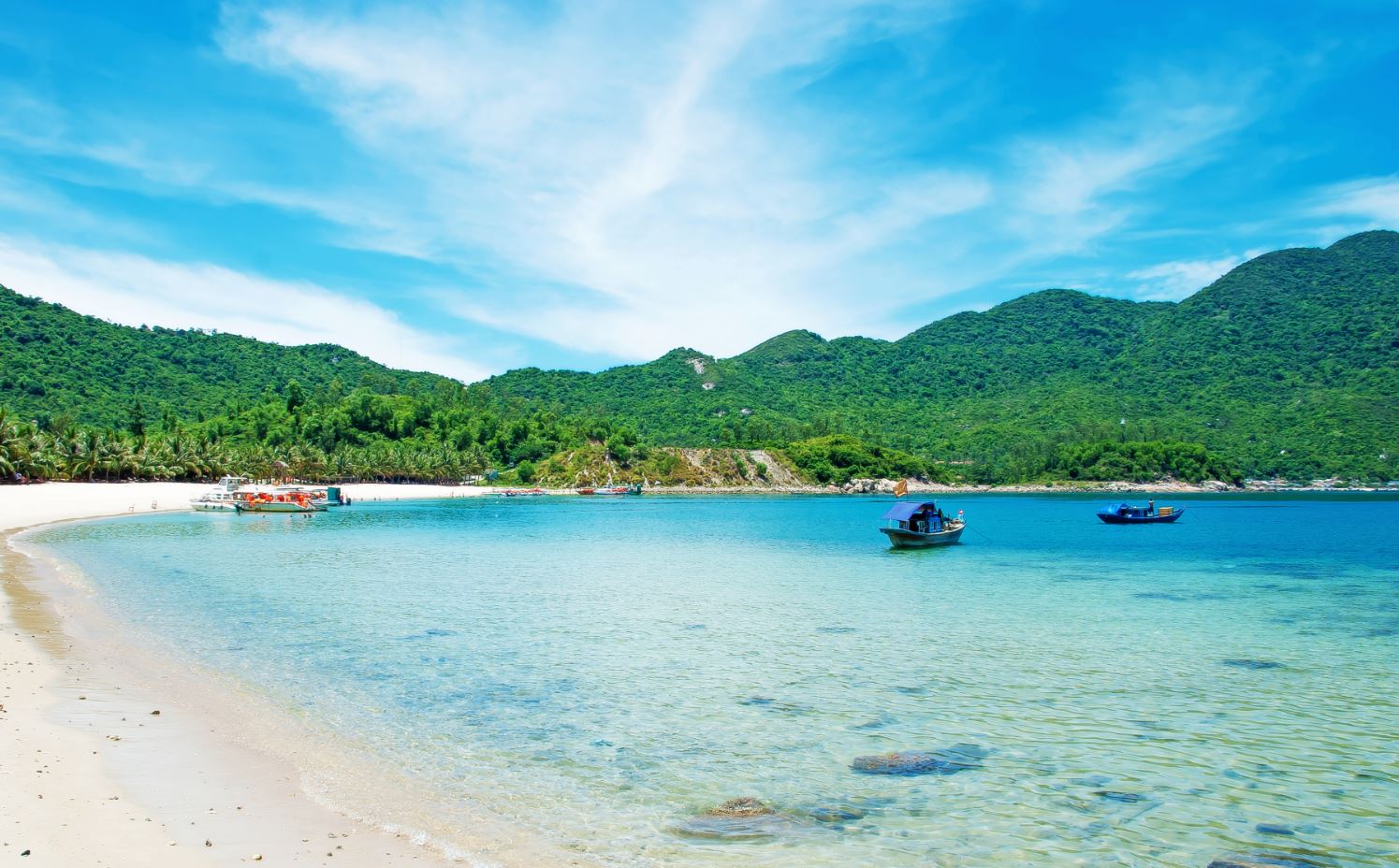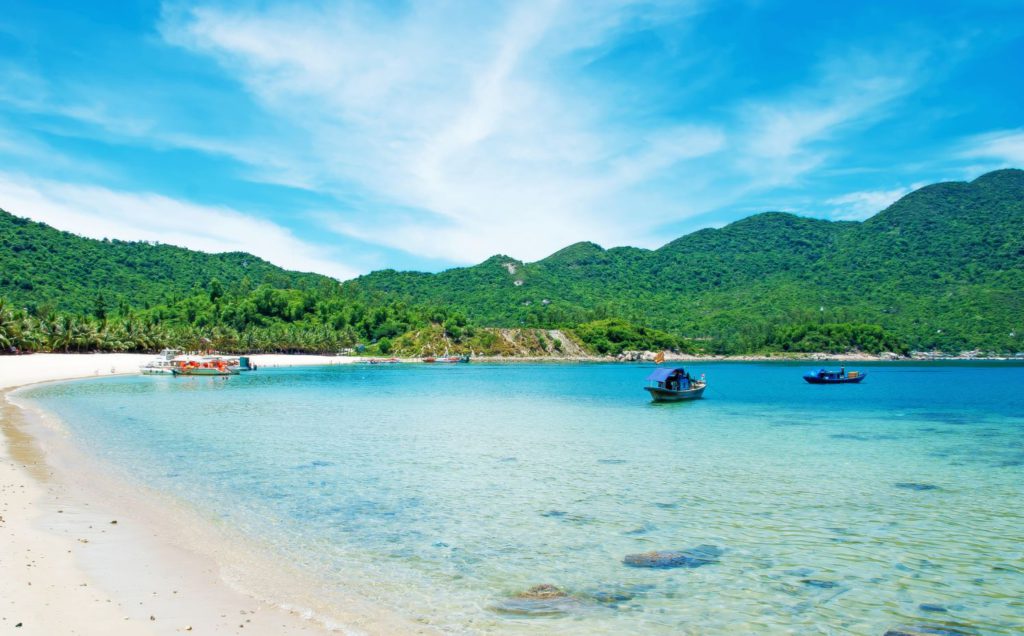 What to Eat in Hoi An
Here are some of the best places in Hoi An Ancient Town for the these food delicacies (from our local host in Hoi An):
Chicken Rice:  593 Hai Ba Tung Street. Opening hours: 6.00 am – 7.30 pm
Cong Coffee (Known for Coconut coffee): 64, Cong nu Ngoc Hoa street
Vietnamese Ban Xeo: 45/51 Tran Hung Dao. Opening hours: 9 am to 10 pm
Grilled Pork: 83 Ba Trieu Street. Opening hours: 11 am to 4 pm
White Rose Dumplings (Hoi An specialty): 533 Hai Ba Trung Street
Banh Mi Phuong: 2B Phan Chau Trinh street. Opening hours: 6 am to 9 pm
Cao Lau: 26 Thai Phien. Opening hours: 7 am to 1 pm
The Chef Hoian – rooftop restaurant (Best view in town): 166 Tran Phu Street. Opening hours: 10 am to 10 pm
Reaching out teahouse (run by disabled people): 131 Tran Phu Street. Opening hours: 10 am to 8 pm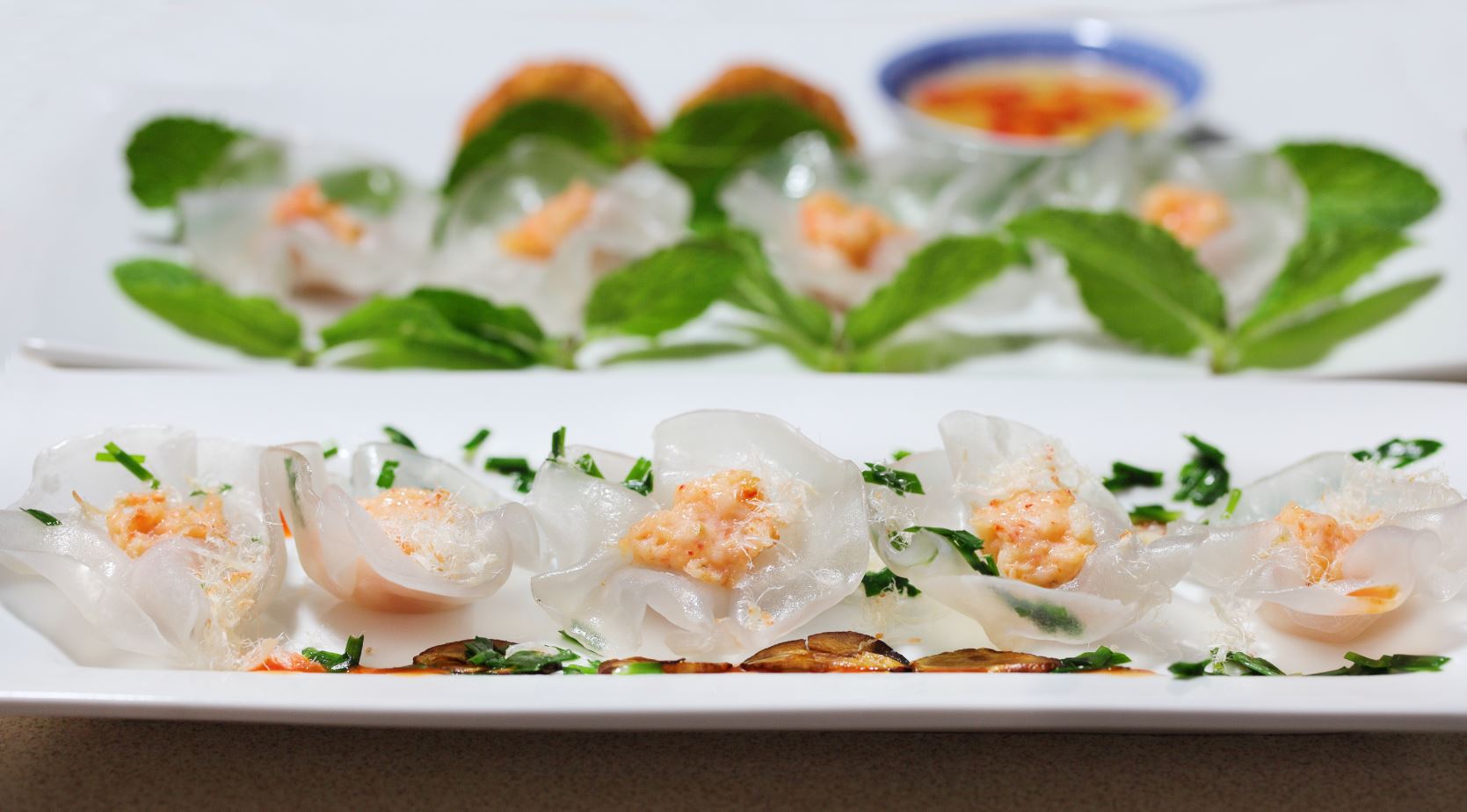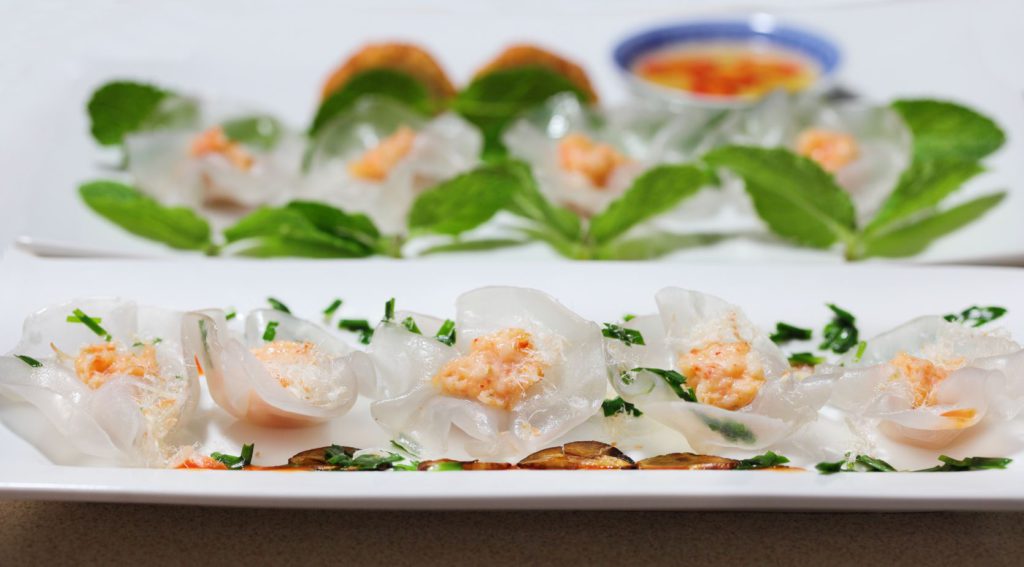 Weather in Hoi An
Weather in Hoi An is important for your travel. Not that you should particularly change your travel plans for this, but beware of possibilities. February to July is the best time to visit according to most travelers. From February to April the rainfall is at its lowest and the days are warm. The end of May sees the starting of the wet season.
After July, the days are interrupted with bouts of rainfall and it is advisable to carry good quality rain gear with you at all times. It can especially be disappointing to catch the rainfall in the middle of your boat ride on the canals.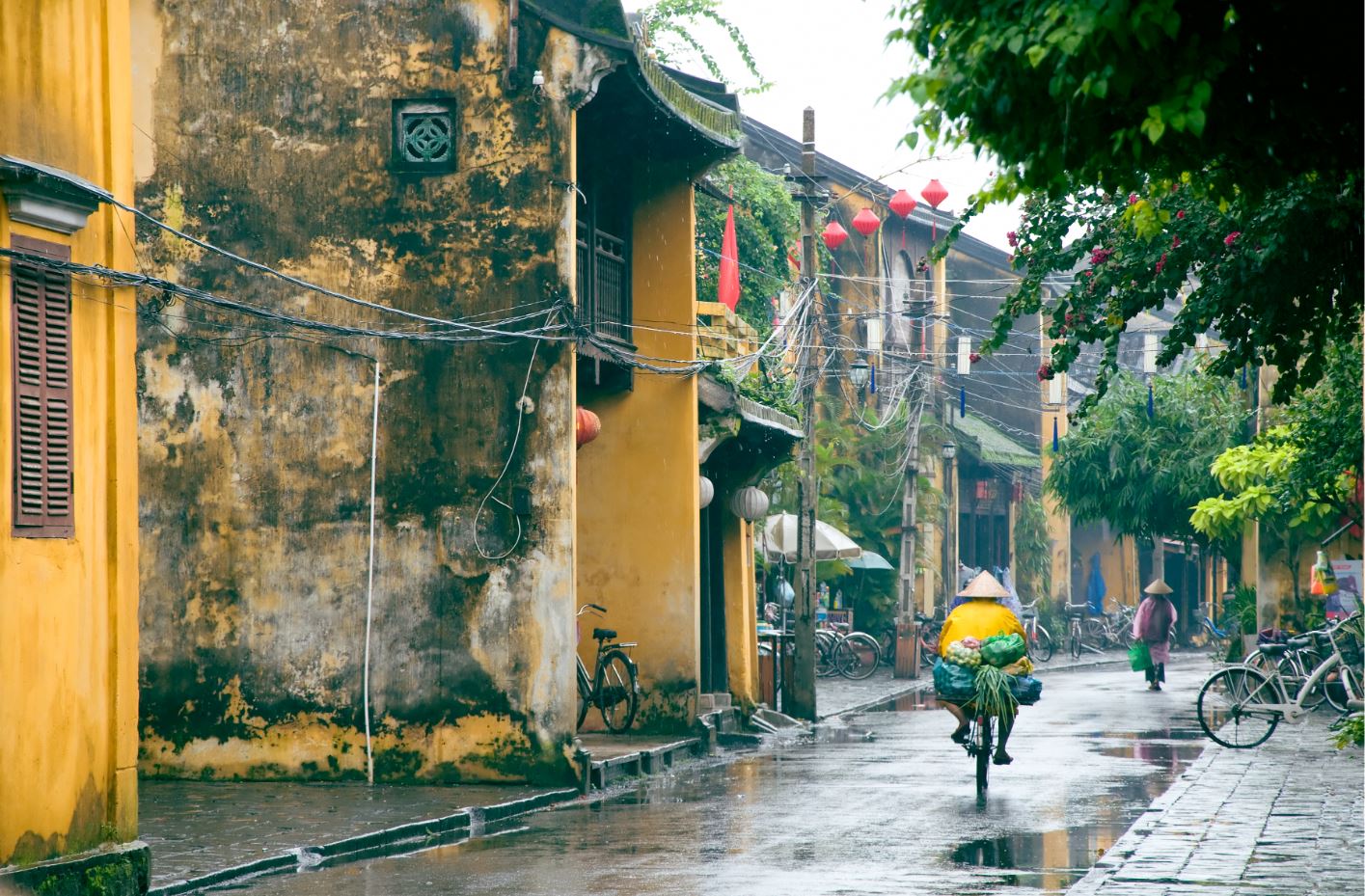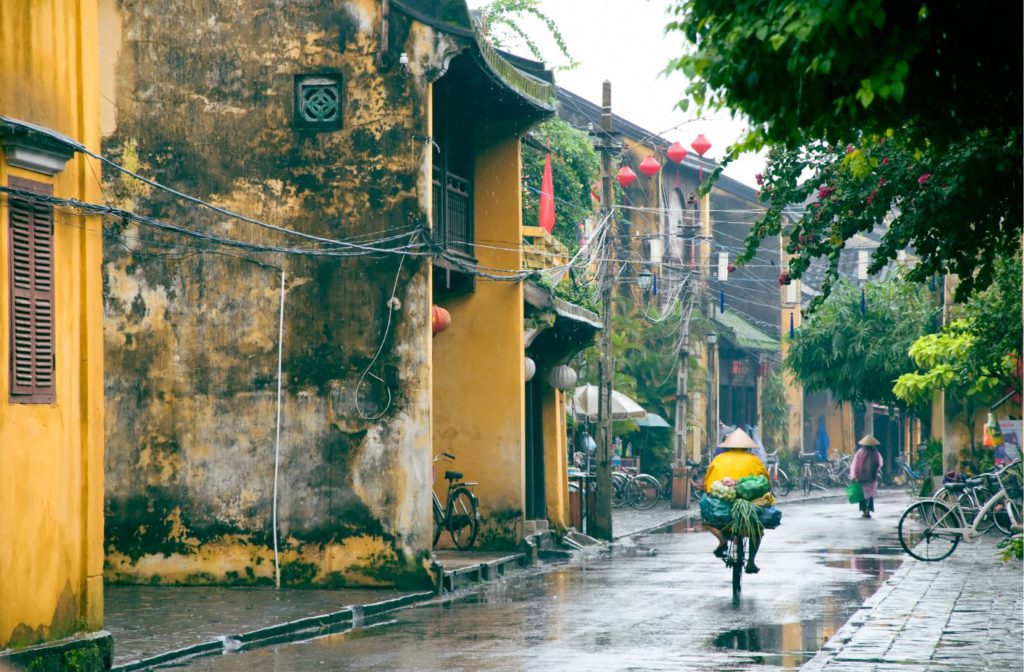 What to Buy in Hoi An
While you know Hoi An for lanterns, its most popular commodity is silk. Most of the products are made of silk which is far more affordable if you compare it to other places. The best things to buy are silk Lanterns, Silk garments, Handbags and scarves made out of silk in oriental patterns and traditional paintings with silk embroidery.
Rather unknown, skilled tailors in Hoi An have exceptional mastery of fusing traditional Vietnamese prints with western silhouettes. Getting a silk suit for men, an Ao Dai (Vietnamese dress) or a blouse for women are great ideas here.
They are affordable, come at a fantastic price, stitch, fit and the shops guarantee your ready garment in under 48 hours or less. To read a more detailed account, check out this article.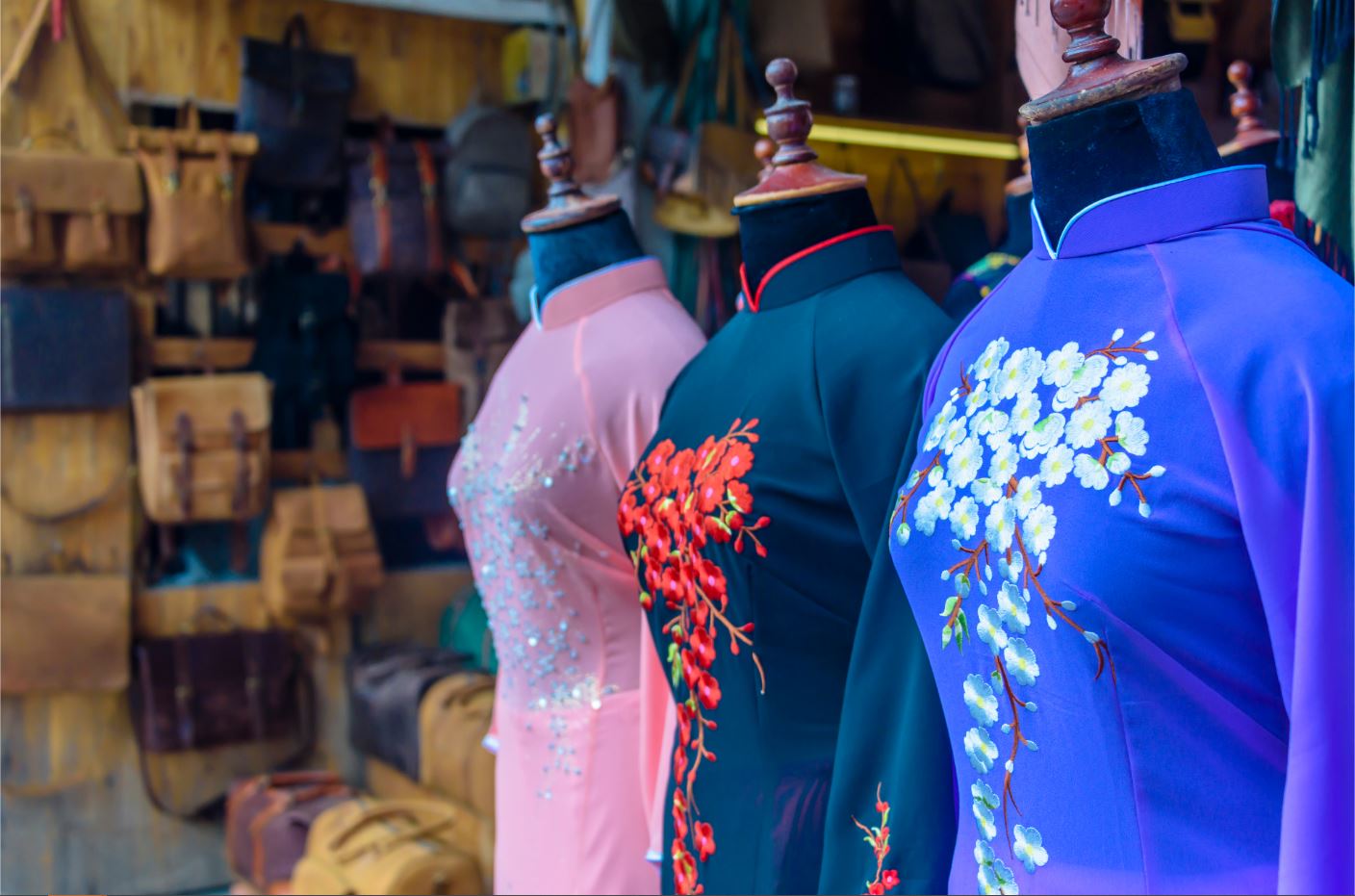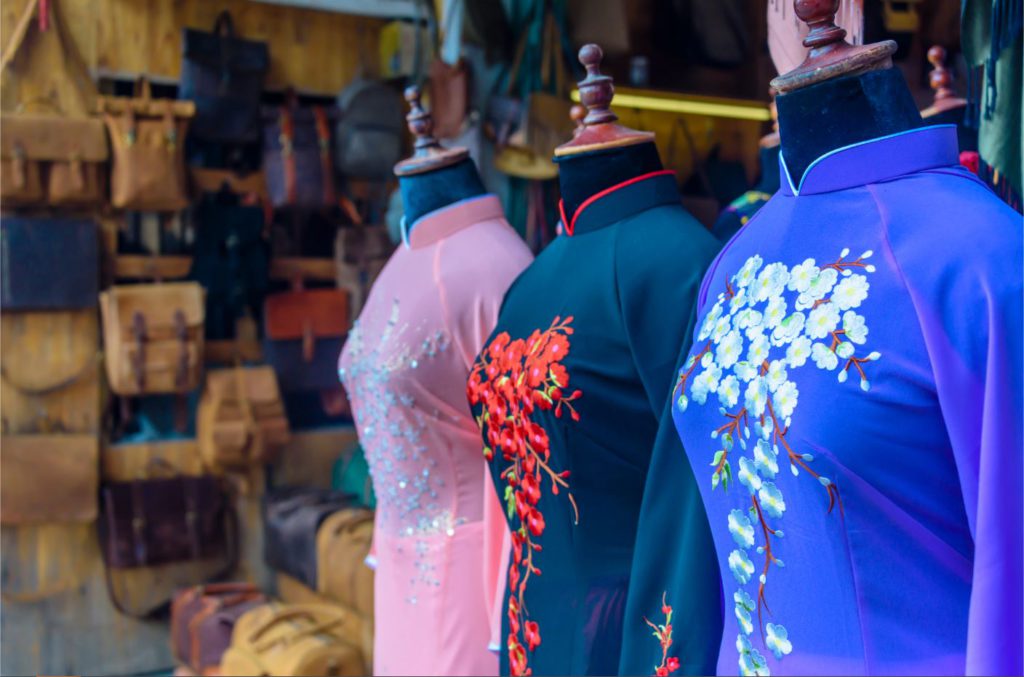 Save On Pinterest


Related Articles