16 Feb

A 3-day itinerary to Ho Chi Minh City

Ho Chi Minh City or Saigon is loud, its busy and it makes you wonder how thousands of motorbikes navigate through this vast city without any traffic signals. It may all make sense if you are on one. But otherwise, Ho Chi Minh is a burst of liveliness at first glance.

It also shows a glimpse of sophistication once you wander into the heart of the city with French-style quarters and restaurants. But for the most part, it's as Vietnamese as it can get. You honestly may not pinpoint a lot of things that you can do in the city at first sight.

But it still is a stop you must definitely make for since there are so many things that are exclusive to this place.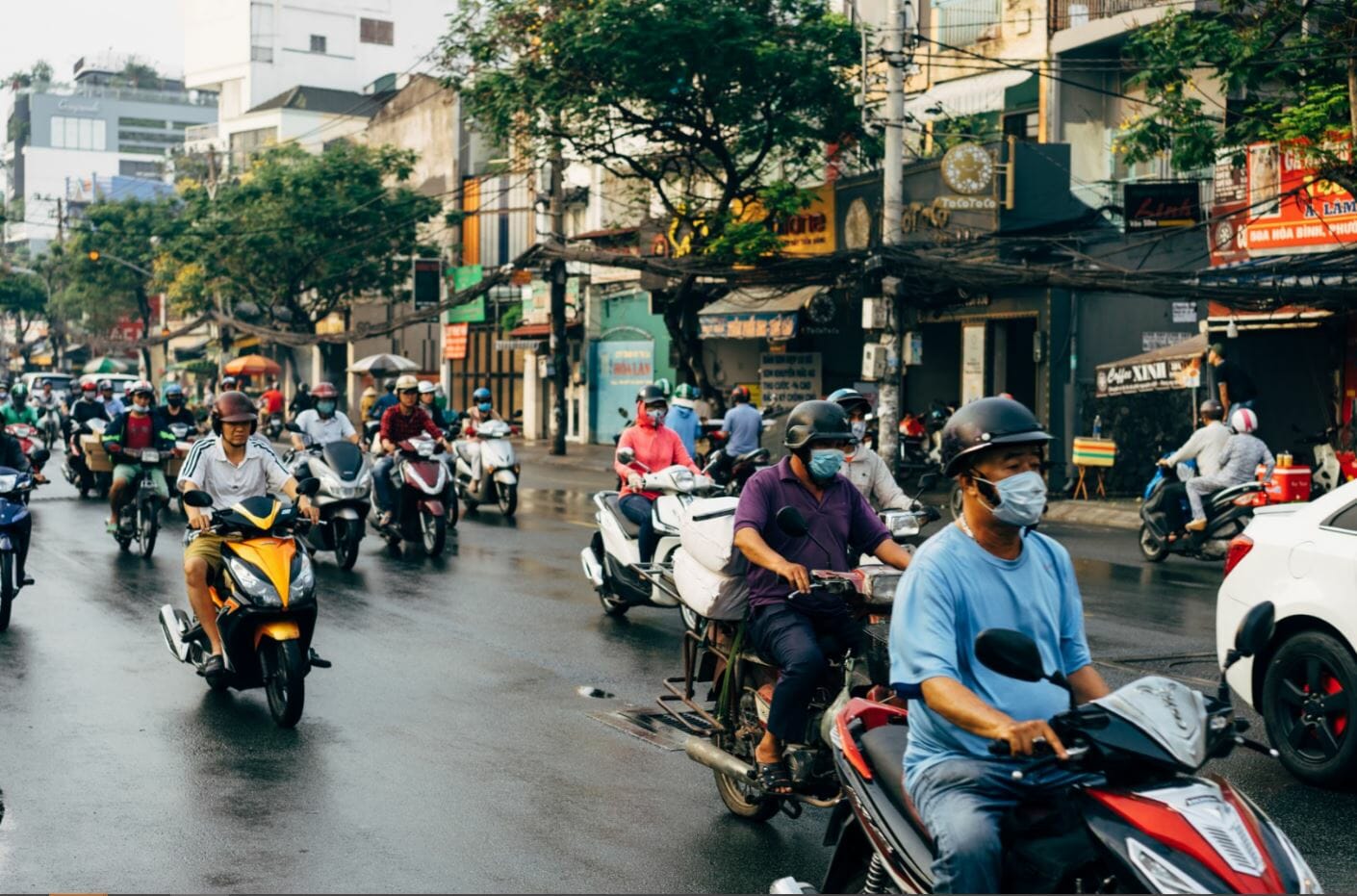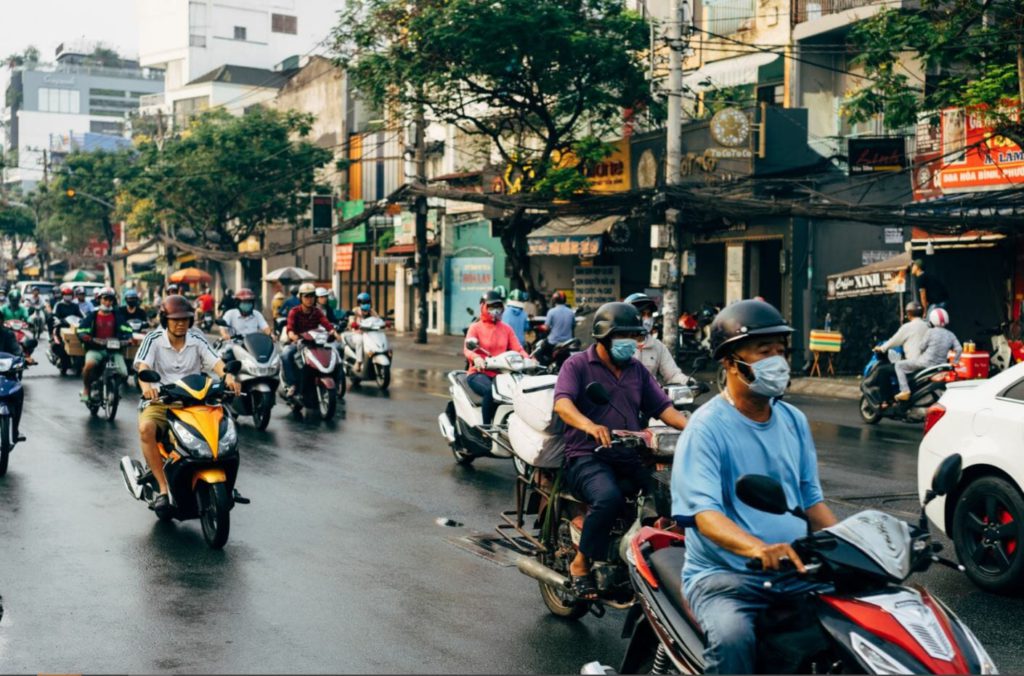 Ho Chi Minh City History
The area around Ho Chi Minh City including the delta of Mekong and Saigon rivers was once a part of the Khmer Empire, now present-day in Cambodia. The city was then called Prey Nokor and acted as a major seaport for the empire.
However, around the 17th century more and more Vietnamese or the Viet people immigrants came to live in the area. After the Khmer Empire fell, the foothold of the native Vietnamese increased and the area drifted off from them completely.
Vietnam then fell under French colonization which influenced its present-day culture to a large extent. Post its independence in 1945, Vietnam got divided into two parts. North Vietnam became a communist state, whereas South Vietnam a capitalist.
The 30 years long Vietnam war saw a rivalry between the two states with the communist powers backing North Vietnam and the capitalist USA assisting South Vietnam to win the war. While the South won the war, it backfired in no time as the US retreated its forces.
Saigon fell to the communist party on 30th April 1975. While the south called it as 'the fall of Saigon', the north refers it to as 'Liberation of Saigon'. Saigon then became a part of the unified Communist Socialist Republic of Vietnam. The city's name was subsequently changed to Ho Chi Minh City as an ode to the late communist leader Ho Chi Minh.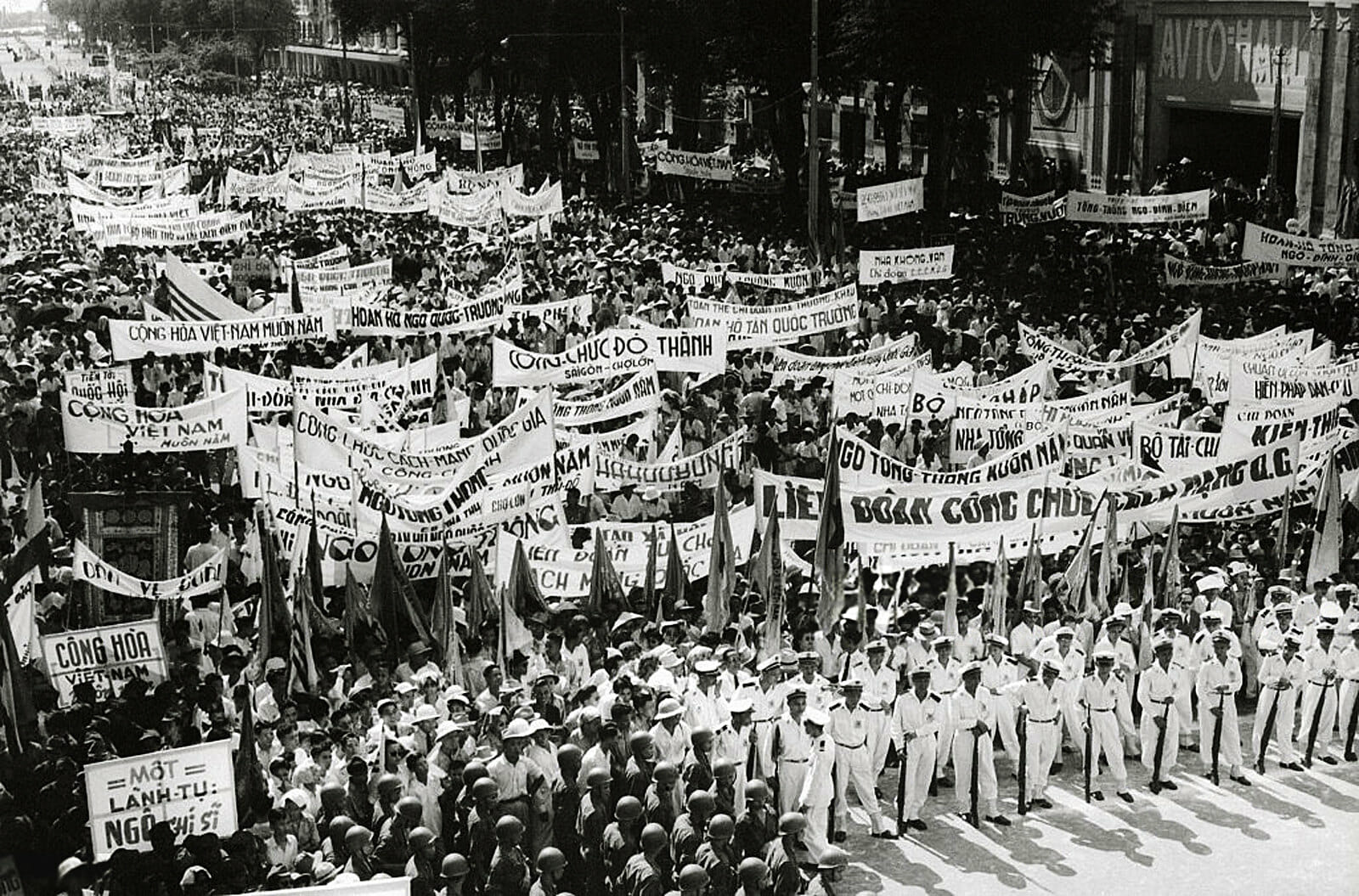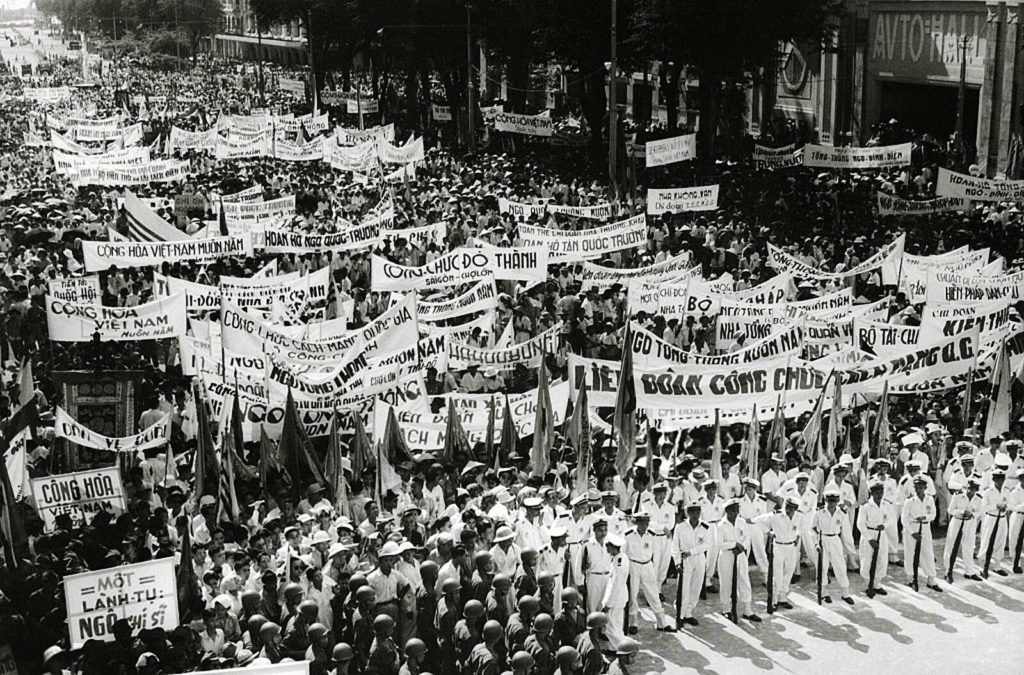 Where is Ho Chi Minh City Located?
Saigon is located at the Southcentral area of Vietnam. It sits at the bank of river Saigon and hovers just over Mekong delta. The area holds an extremely important and strategic position for Vietnam. Almost half of the agricultural practices supporting paddy farming are done in the area along with being a major port. Saigon is also the most populous city in Vietnam.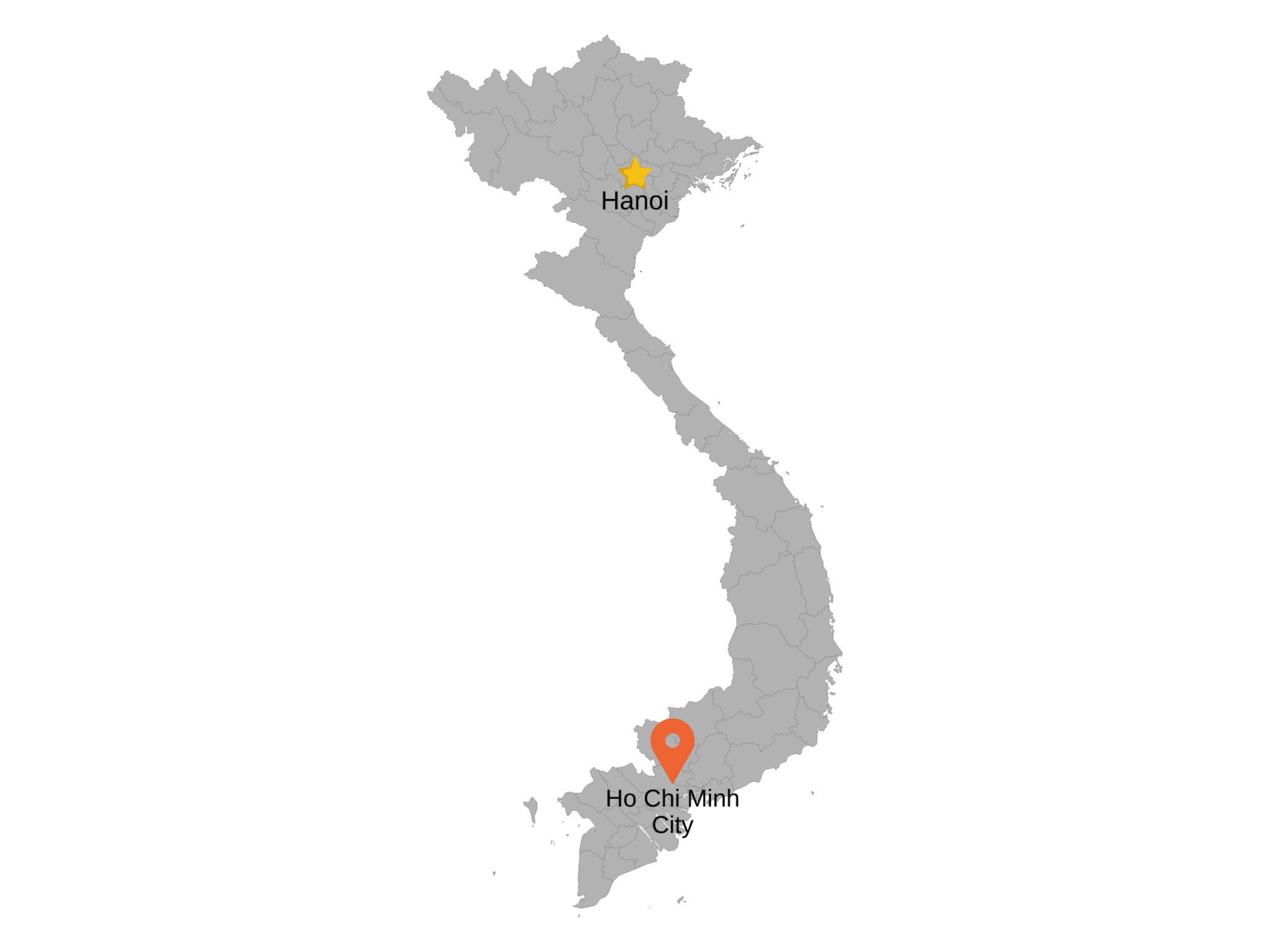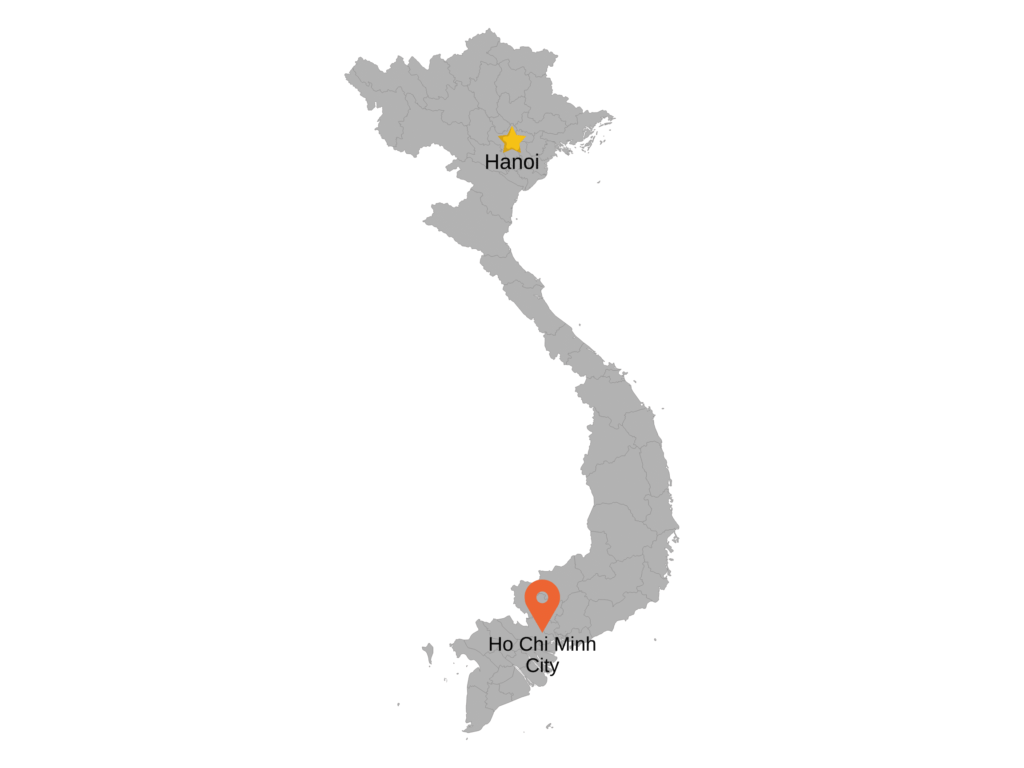 How to reach Ho Chi Minh City
Here is how you can reach to Ho Chi Minh City:
By Air: If you are travelling from outside the country, it is the best option to reach the city. Tickets to Ho Chi Minh are usually cheaper than any other city in Vietnam on an average. In fact, flying inside Vietnam is also a great option which is usually inexpensive and saves you a lot of time.
Tan Son Nhat International Airport is located inside the city and is only 7km from the city centre. It takes about 180,000VND for a cab ride from the city centre along with 20-60 min of travelling time.
By Road: The next best way to reach Ho Chi Minh is via road. There are regular bus or minivan services from nearby cities like Dalat or Nha Trang. Roadways are cheap and efficient in Vietnam. Overnight sleeper buses also run with outstanding facilities from the nearby towns. You can book your tickets at Bookaway.com or 12go.asia.com
Some cross-border buses or vans also run from Phnom Penh to Ho Chi Minh with a travel time of 16 hours. In this case, you may have to get your visas beforehand in that case. Do not take an overnight bus or try to cross the border at night since you may get stuck and will have to spend the night there. Do not carry a lot of valuables with you in this case either.
By Train: This is probably the least popular way to travel in Vietnam of all. Firstly, there are no cross-border trains to Ho Chi Minh City and you can take one inside Vietnam only. The railroad connectivity inside Vietnam is quite limited (see map below).
The trains are quite slow, sometimes even compared to roadways. They are not inexpensive either. So take one if you have a good amount of time and cash in your hand and want to explore the countryside.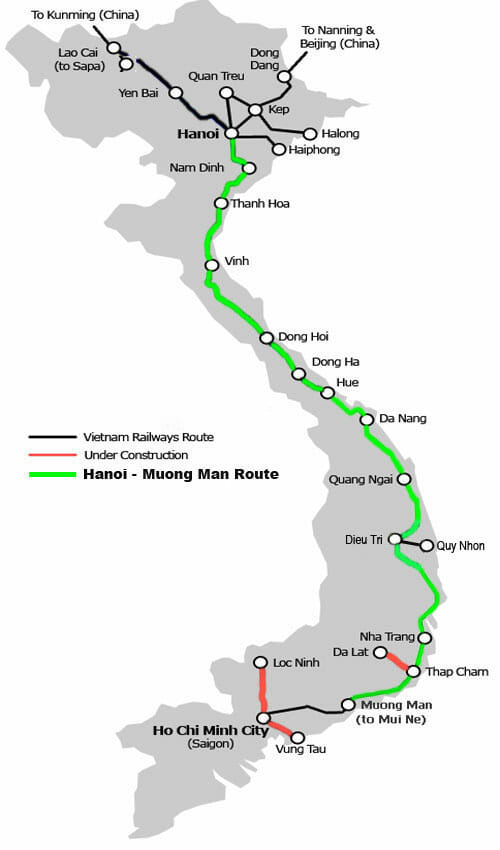 How to go around in Ho Chi Minh City
On Foot: The best way to experience Ho Chi Minh City is on foot. Of course, you cannot walk all across the city. But if you fix up your stay in the right place, it is probably the best and the cheapest way since most of the attractions in the city are located near the city centre and can be explored on foot.
Google Maps works okay and will guide you well. However, you really need to take care while walking and crossing the road. Zebra crossing signals are often ignored and vehicles usually won't slow down for you.
Motorcycle Taxi or Xe Om: Ho Chi Minh is swarmed with mopeds and scooters. Four-wheelers are only used out of grave necessity. So unless you are travelling in groups, you may want to take one for yourself at times. You can find one at the corner of every street.
They are cheap costing you between 20,000 to 50,000 VND at max along with being fast. The only problem is that they won't understand English. So either get it written on a paper or show them your destination on your mobile phone. Grab (app) also has motorcycle taxis available. Brace yourself for a ride though.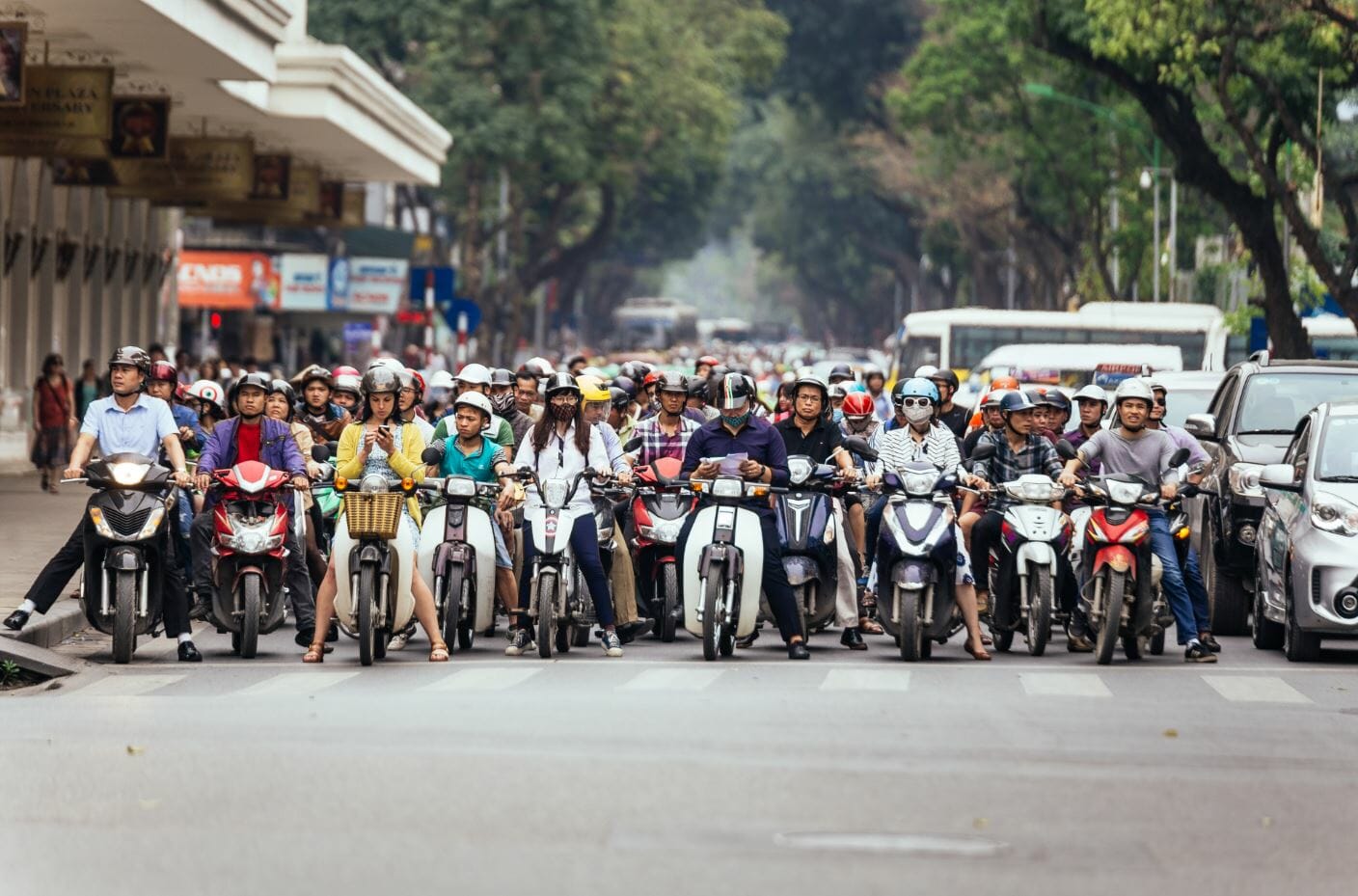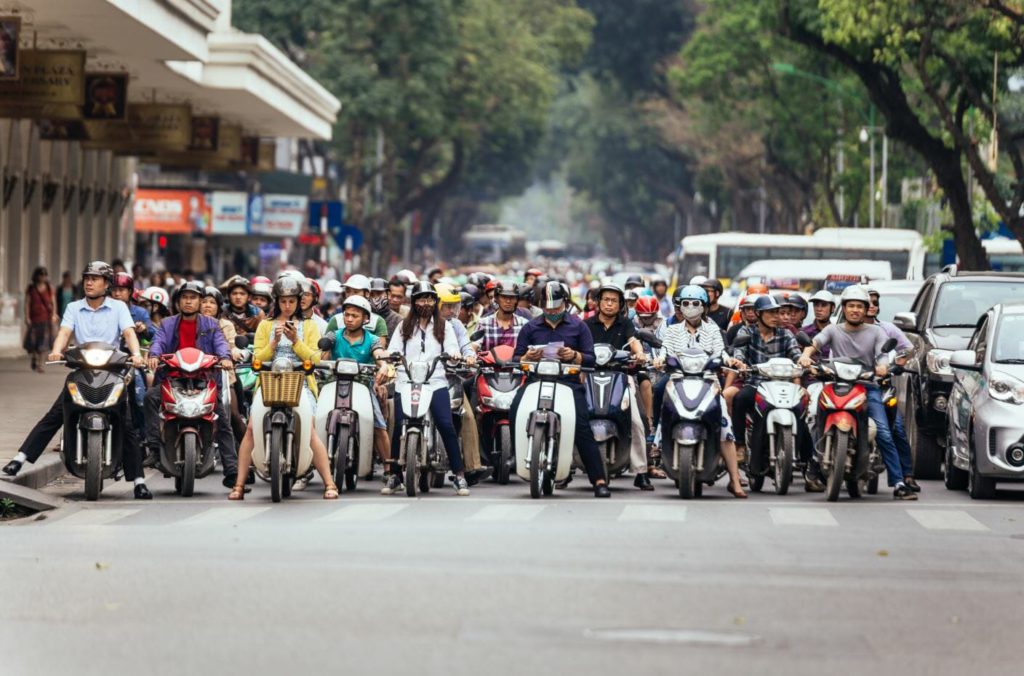 Two-wheeler rentals: It sounds like a good option but definitely think it through. Take a look at the city for a day and only then decide. Of course, its cheap and there are a good number of rental shops available. But only hire one in the city if you have a valid license and a good (a very good) insurance. Renting a two-wheeler a day will cost you around 150,000VND or lower.
Taxis: You can find a lot of taxis around the city and it is a good way to travel long distances. A taxi will not cost you more than 250,000VND for any trip inside the city. There are two main companies of taxis: Mai Linh Taxi (green vehicles) and Vinasun Taxi (white and green) apart from Uber or Grab.
Make sure you check that ID of the driver (on the dashboard) with the company name before you start. Do this to avoid any fishy meters or surprising charges at the end.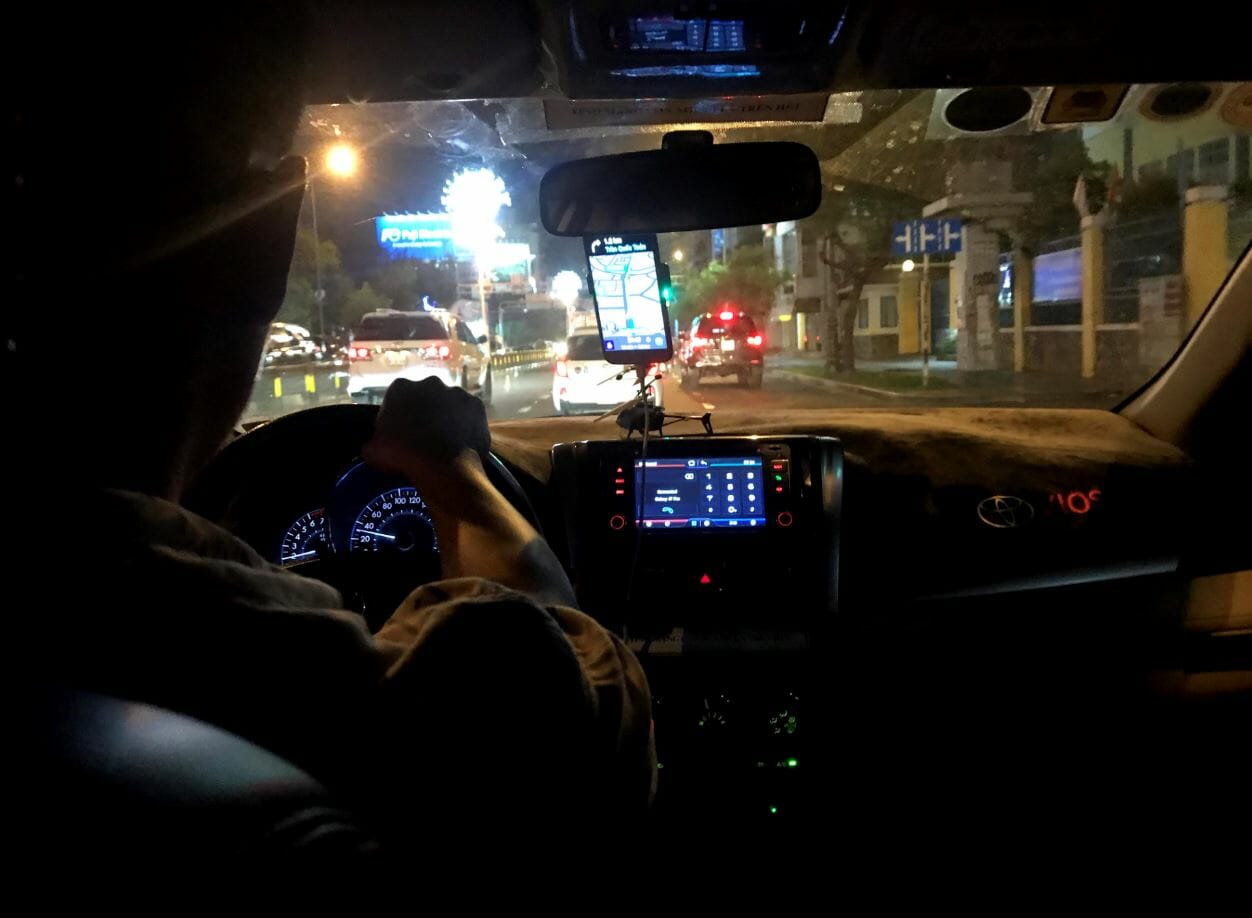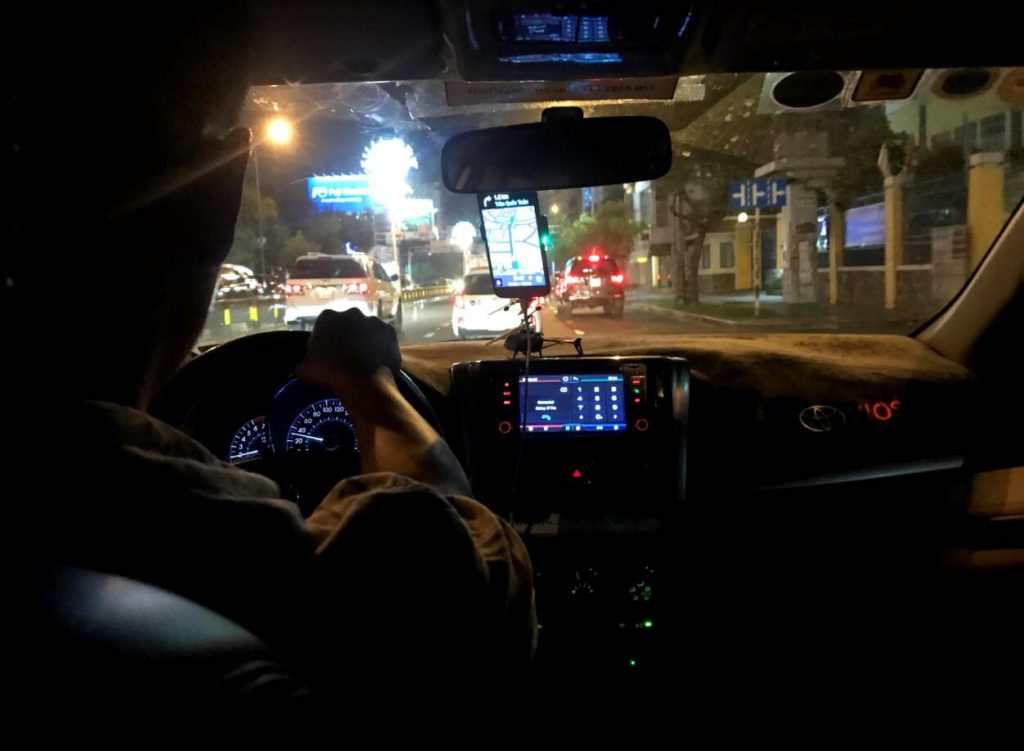 Bus: While there are a few buses inside the city, you still may not find them to be frequent. Buses are best used when traveling a little outside the city looking for a day trip in the surrounding areas. You can find the best routes on Google Maps from your location. The city center is well connected with buses. The average fare is as low as 10,000VND or less per person.
There are no other modes of public transport in the city. Metro or airport lines are not available in Ho Chi Minh as of now.
Things to do in Ho Chi Minh City
Before I start, I want to share that while I highly recommend some places to visit, you can really skip the others. Depending upon what you like to do, make sure to keep some free time to yourself. One can best explore Ho Chi Minh City on foot and at leisure.
Cu Chi Tunnels
Everyone is going to ask you to include this in your list. It marks a very important place in Ho Chi Minh City. Cu Chi Tunnels (pronounced as Ku Chi) are essentially a set of exceptionally mind-blowing narrow underground tunnels. It was a village outside Saigon which made the backbone of the North Vietnamese army in the area.
These are not just tunnels. They also include underground bunkers, hospitals, conference rooms, and kitchens. This is how South Vietnam held its place during 30 years of civil war and it gives a very close glimpse of life. This place should definitely be on top of your list.
The only cache is Cu Chi tunnels are located far away from the main city. While you can take a taxi and reach there comfortably in a little less than 700,000 VND, there are other options too. If you are looking to do it on a dirt-cheap budget, you can also take a bus.
However, you will have to change twice and walk a little more for the journey. On the other hand, the most comfortable option is to take a half-day tour which includes transportation, a local guide, and lunch, all-inclusive. If you are okay with spending a bit of money, I will definitely suggest this.
Cu Chi Tunnel timings: 7 am to 5 pm, open every day of the week
Cu Chi Tunnel tickets: 90,000 VND per person for adults
Book a tour Online: Book via their local website or a half day tour with GetyourGuide or Klook for offers
Related Article: Cu Chi Tunnels Day Tour: Best And Affordable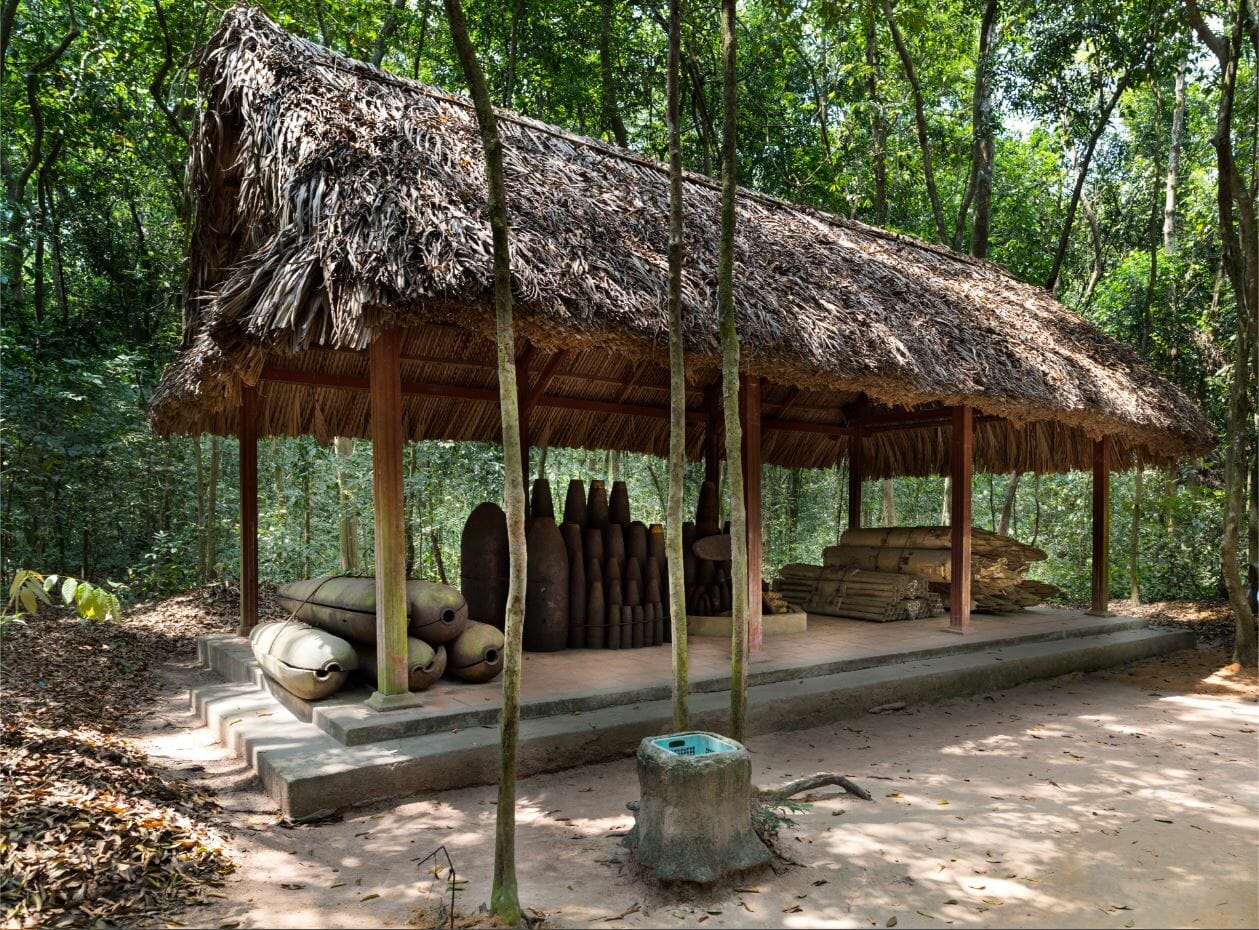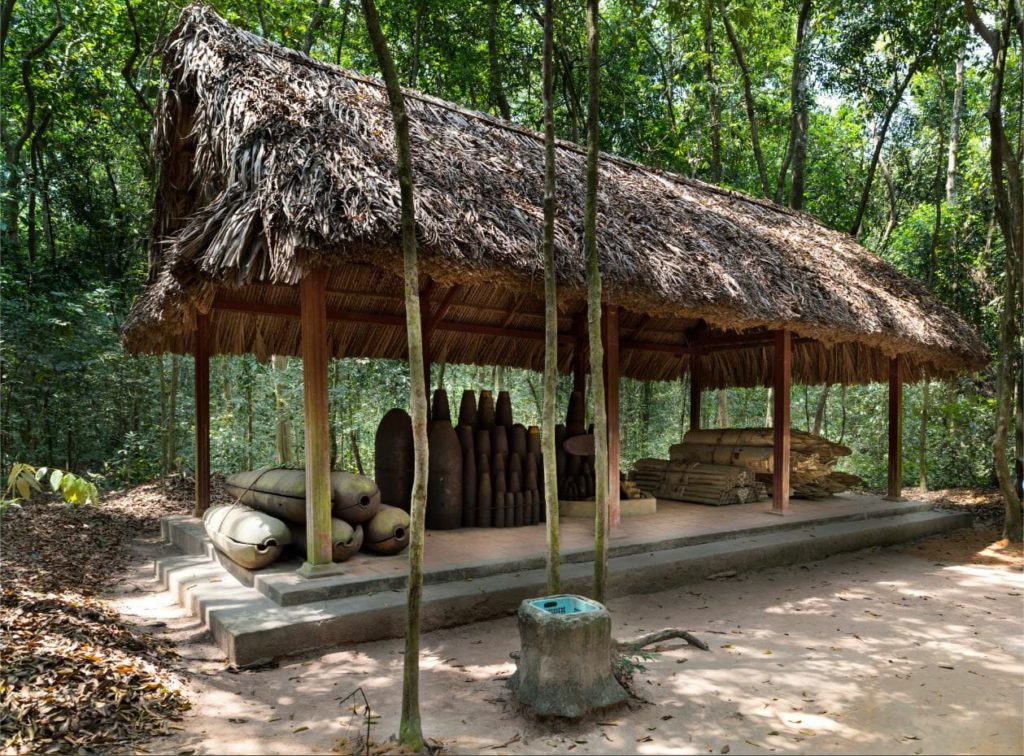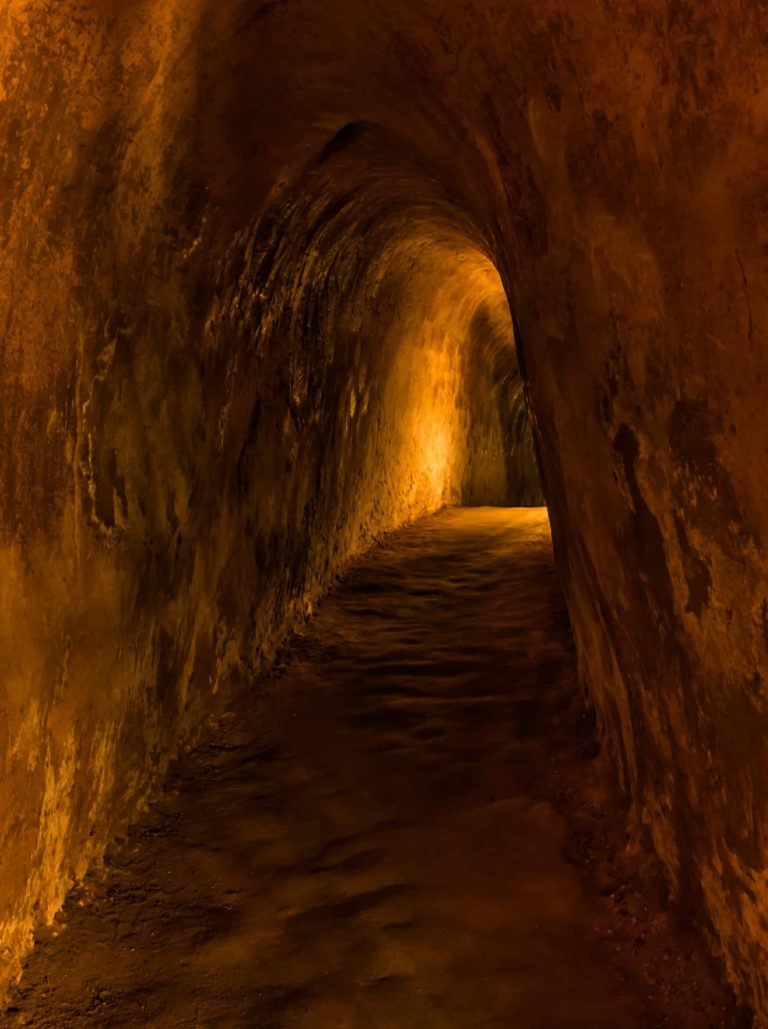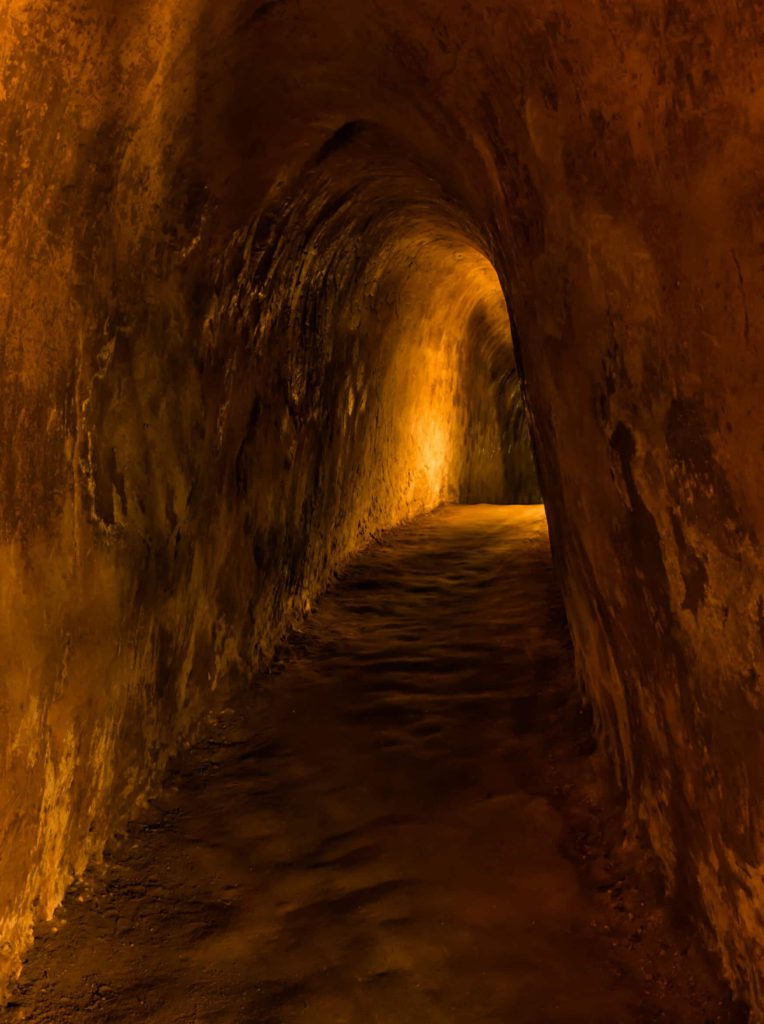 Ben Thanh Market
Ben Thanh Market makes the heart of Ho Chi Minh City and is a must-visit. This is an enormous indoor market with rows of local vendors. You will find a diverse range of traditional and western garments, shoes, fabric shops, embellishments, bags, souvenirs, ceramics, tableware, coffee shops, electronics, Chinese paper lanterns, and random homeware.
Vietnamese silk is a special commodity to buy with traditional prints here. Bargaining is a must and the cost usually hovers at half the quoted price if not less.
But if you have a belly to satiate, the haven lies on the other side. You will find another row of shops with soups, pho, coffee, sandwiches, spring rolls, stir-fried meat and a lot many options to eat. A lot of variety of meat and seafood is something that you can look forward to.
You can have most dishes for less than a dollar. You will definitely have to take care of the state of your stomach though. The cleanliness and hygiene certainly are not world-class.
Ben Thanh Market timings: 7 am to 7 pm, open every day of the week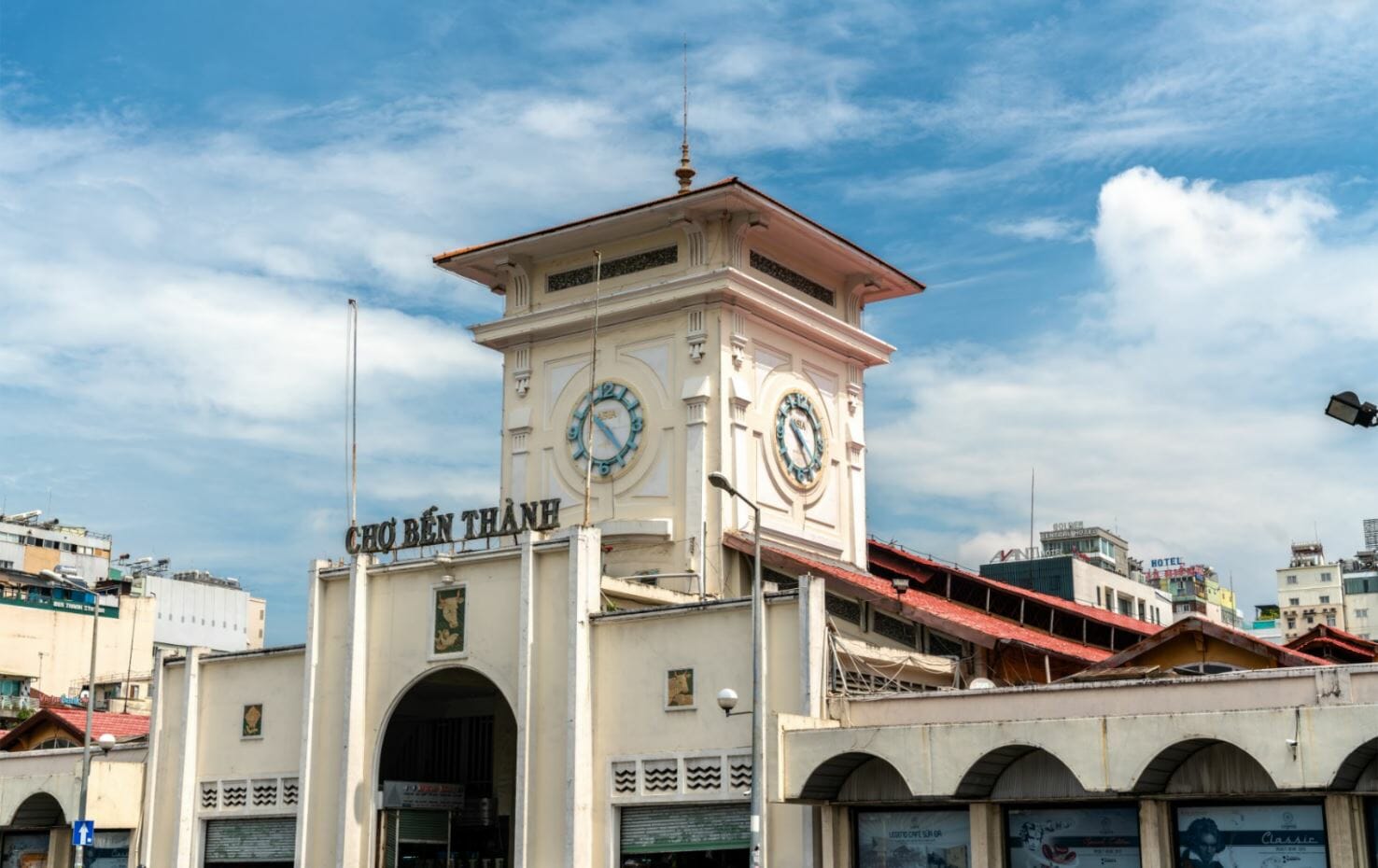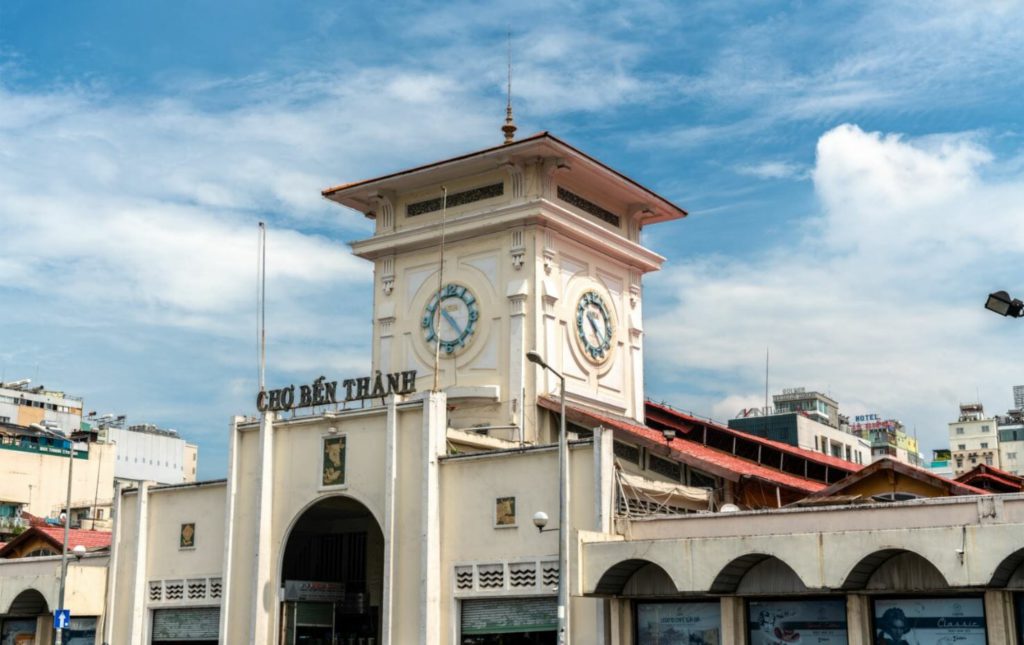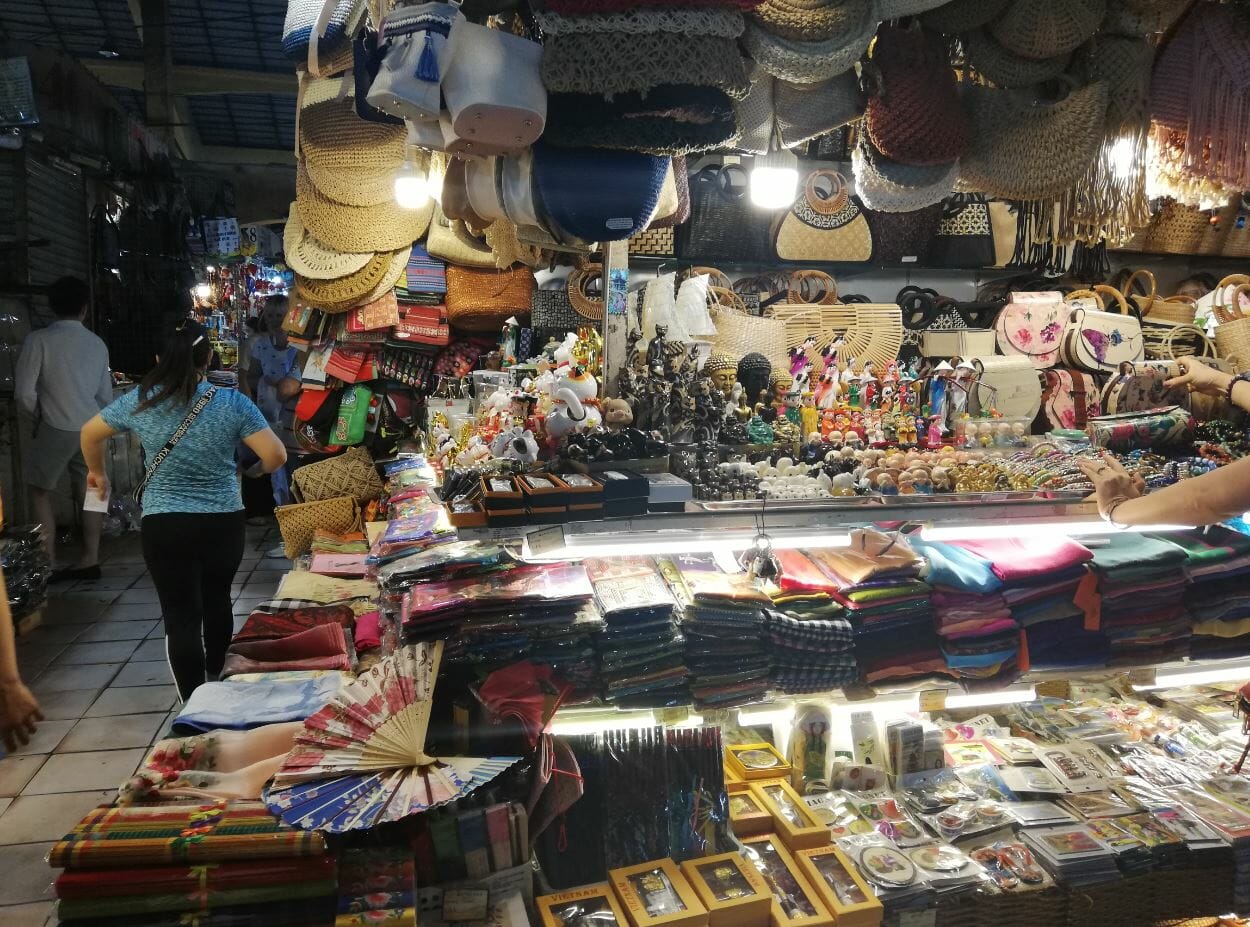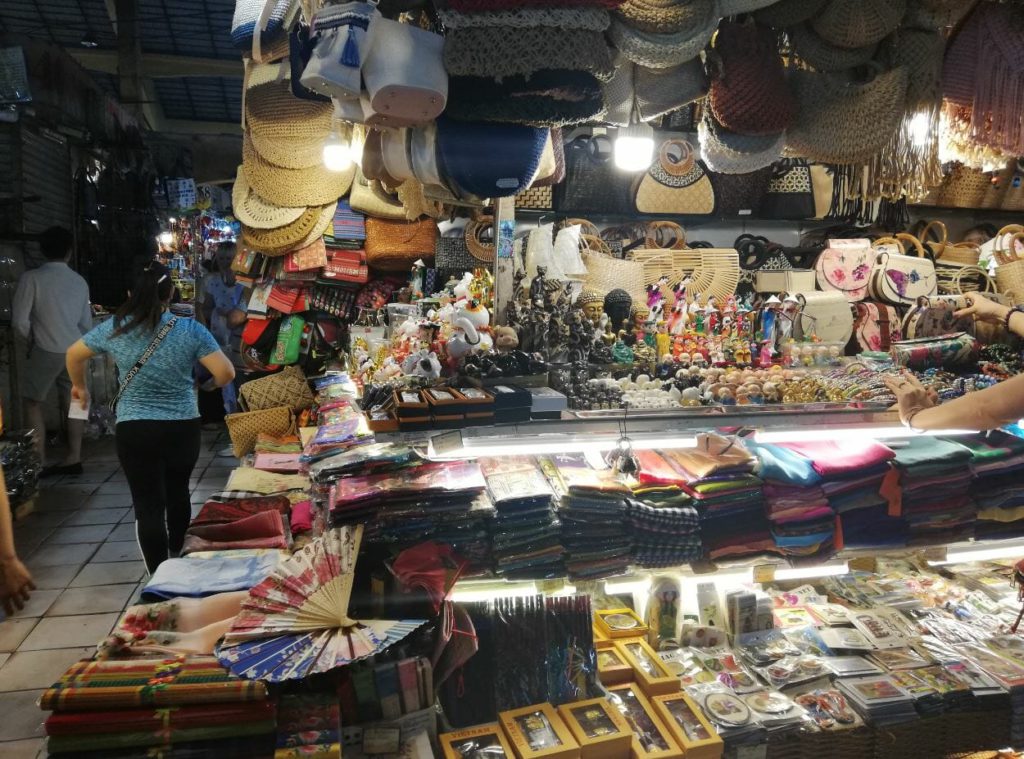 Mekong Delta
A trip to Mekong Delta can be the highlight of your trip. The Mekong, being an enormous river crosses many countries and feeds millions of people. The ecosystem around the Mekong river is complex and peculiar to understand. The Mekong meets the sea a little south of Ho Chi Minh. It creates a large (very large) delta in the area.
The fertile grounds on which paddy harvests goes on for miles. These lands make one half of the rice bowl of Vietnam, the other being in the north. Apart from rice and fishing, the locals also thrive on tourism, beekeeping, fruit farms and harvesting coconuts for many end products.
I will definitely suggest taking a day tour to see this. A guide can take you to the farms and interiors that you will never be able to navigate by yourself. Additionally, it is extremely affordable that includes a simple lunch. It is perhaps far cheaper than what you can do on your own.
In case you want to do a more personal and comfortable trip, there are tour guides that offer even more luxurious options (which in my opinion is still pretty affordable).
Book Tour Online:
Mekong Delta Small Group W/ Vinh Trang Pagoda & Rowing Boat
From Ho Chi Minh: Cu Chi Tunnels & Mekong Delta VIP
Related Article: How To Visit Mekong Delta, Vietnam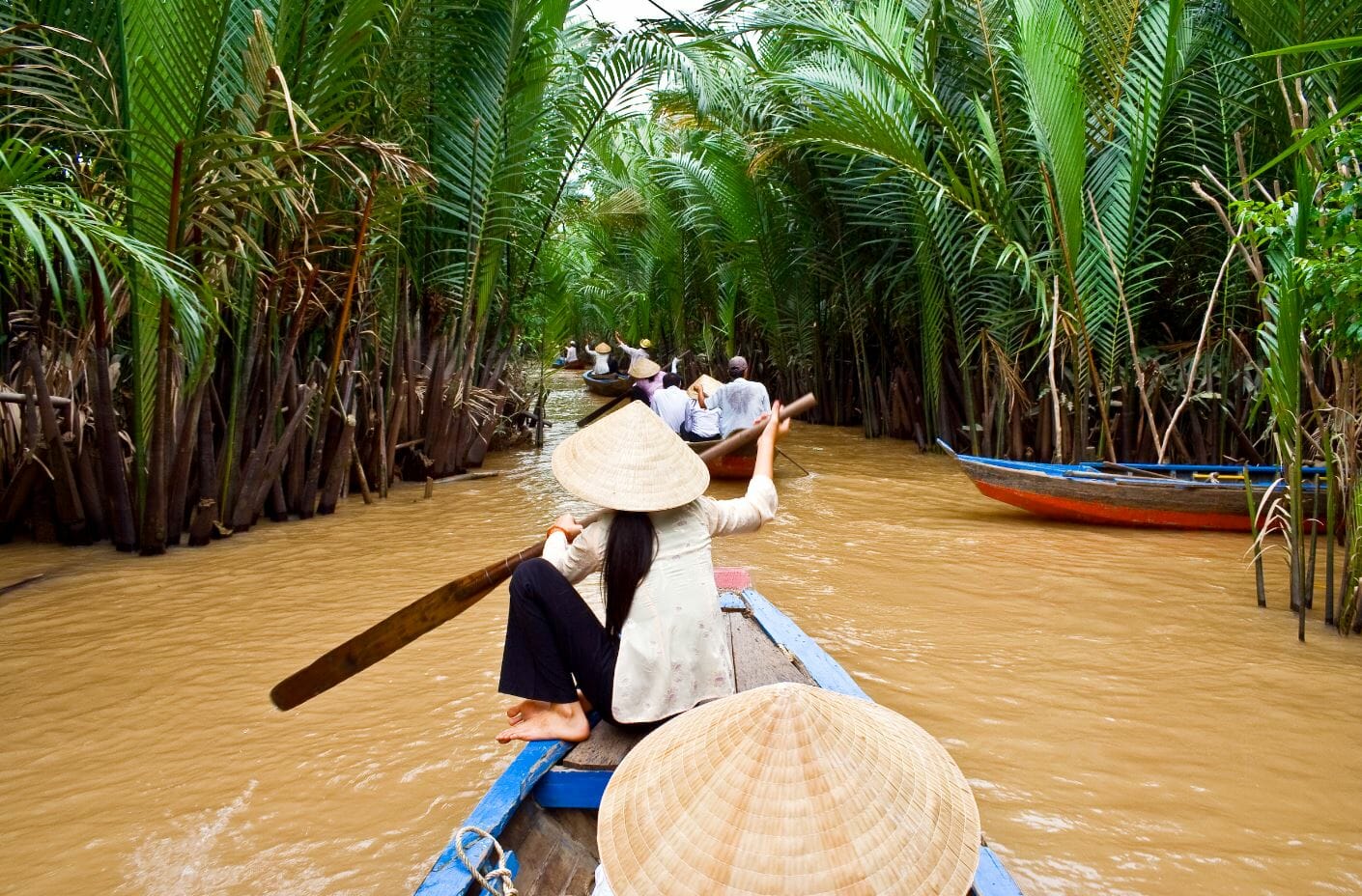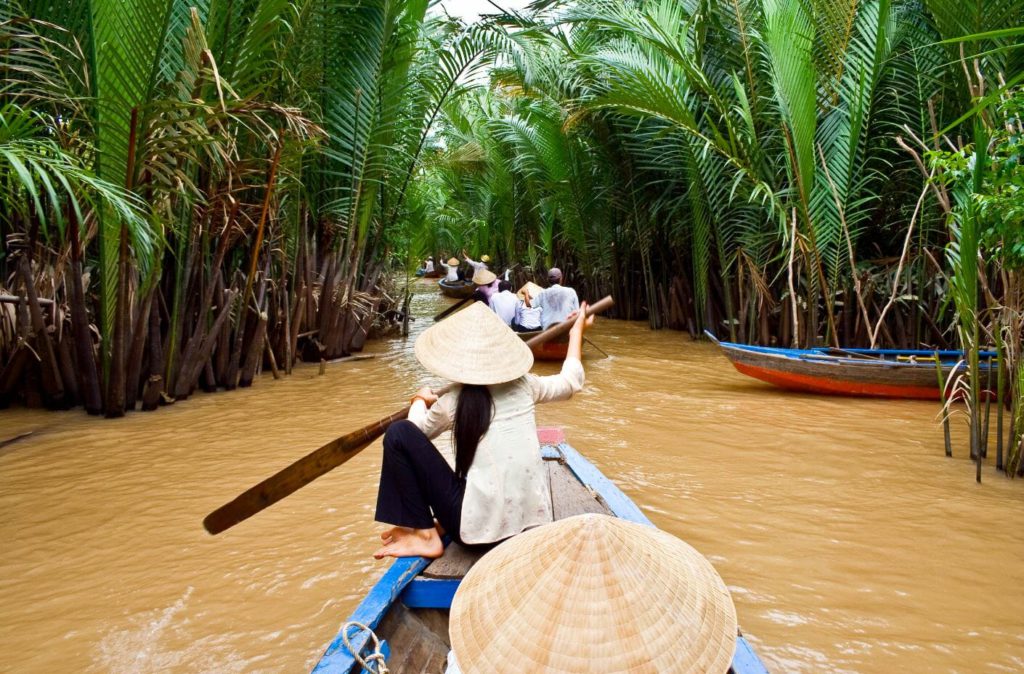 Independance Palace
Independence Palace or reunification palace is the only palace in Vietnam built on the legacy of the French. The palace was destroyed and rebuilt several times over as it passed hands. The grandeur and its size came from the French who then handed it to the Vietnamese.
It was also used as a headquarters for the Japanese for a short span when they took over the city. The fall of Saigon is assumed with the fall of the palace when the gates were run over by the communist party army.
Today it keeps a vast amount of information on the long war. Artefacts and artillery will give you a glimpse into the lives and times of the struggle. The lavish interiors of some of the many conference rooms can range from traditional Vietnamese to modern and contemporary.
You can spend 2-4 hours in the palace. A guide is not a must. But if you are deeply interested in history, one can give you some great insights.
Independence Palace timings: 7.30 am – 11 am and 1 pm to 4 pm, open every day of the week
Independence Palace tickets: 40,000 VND per person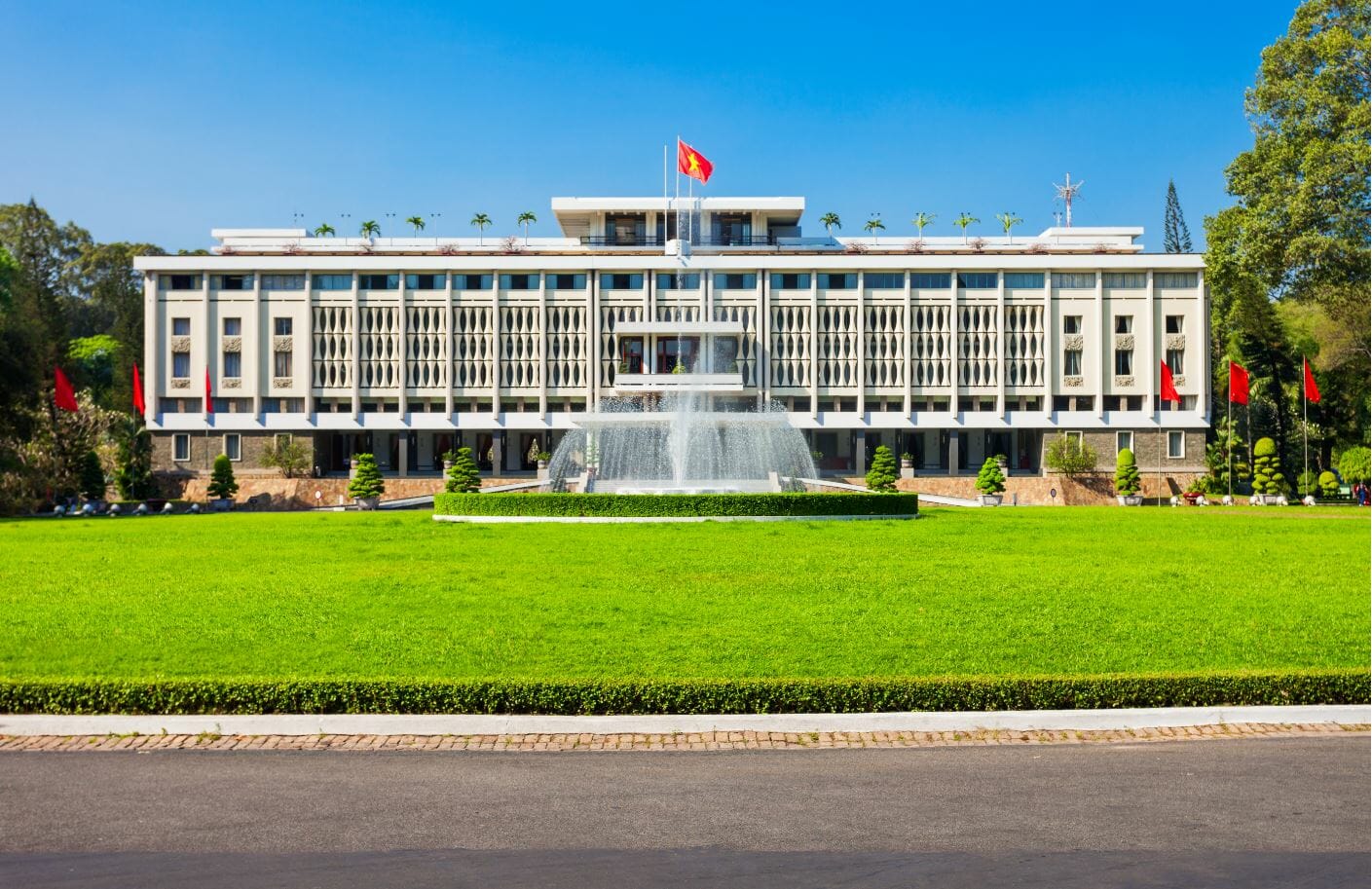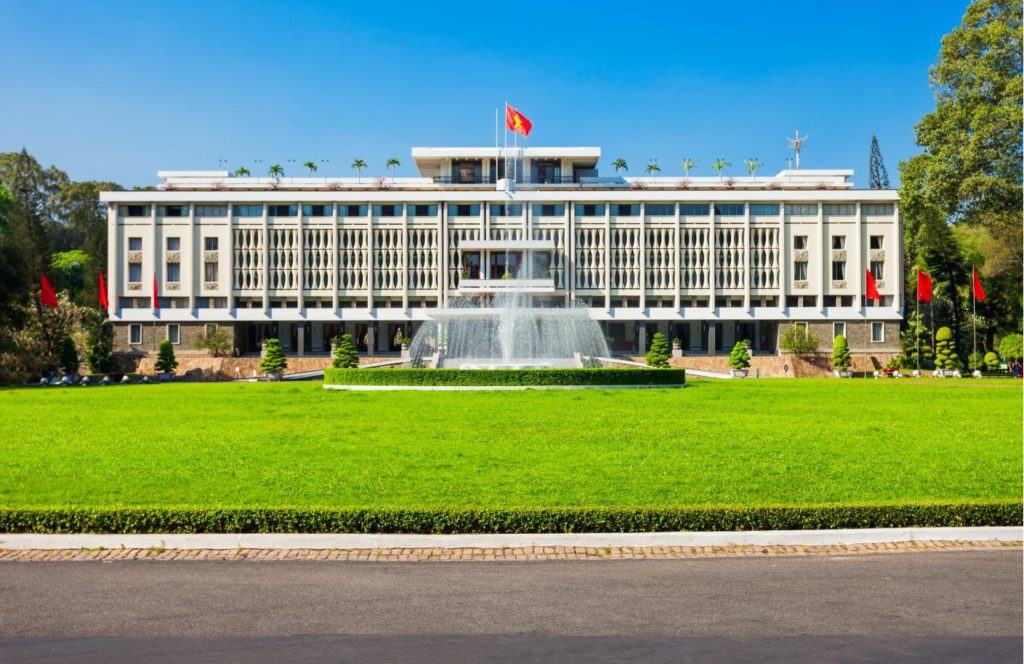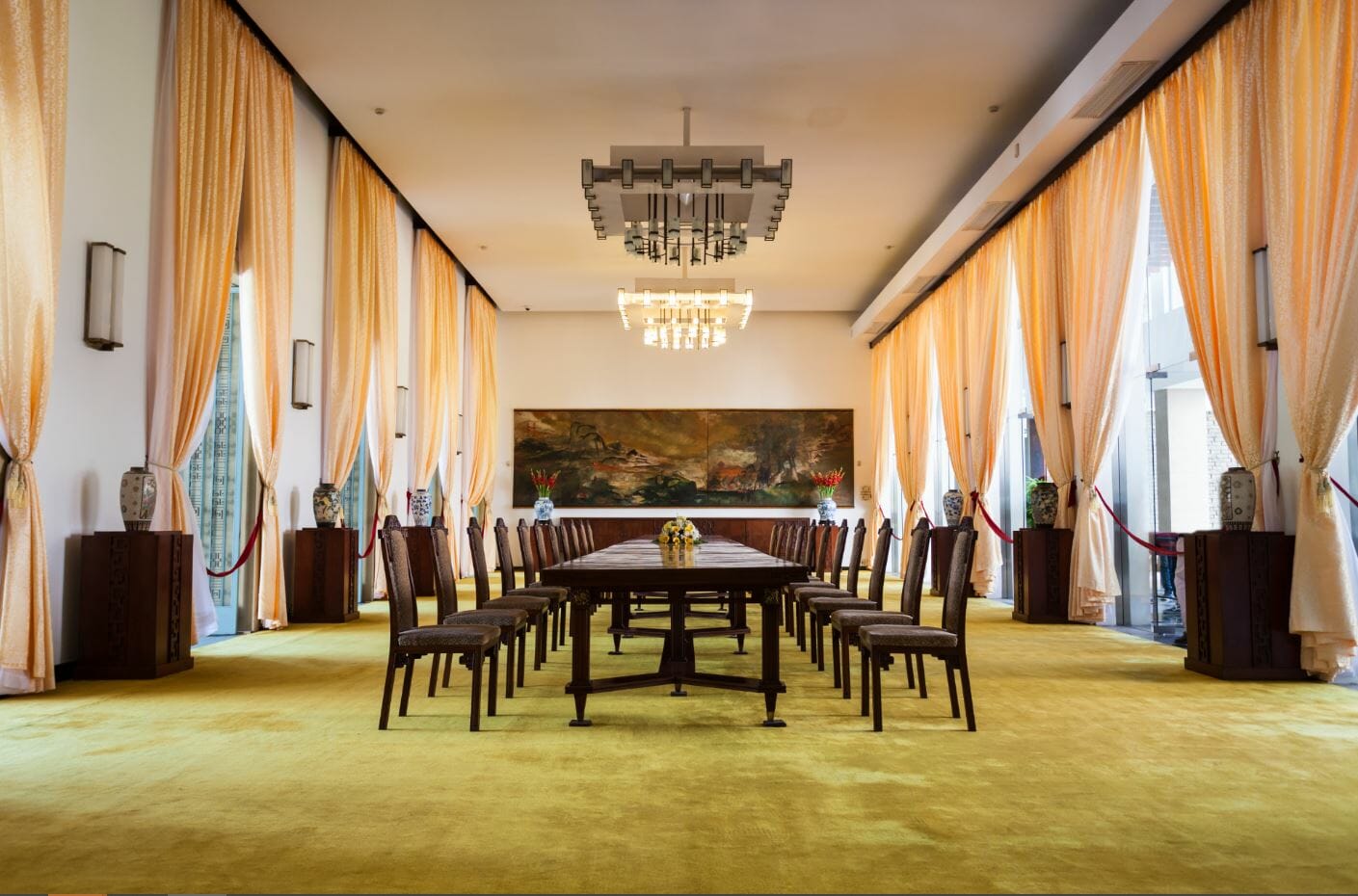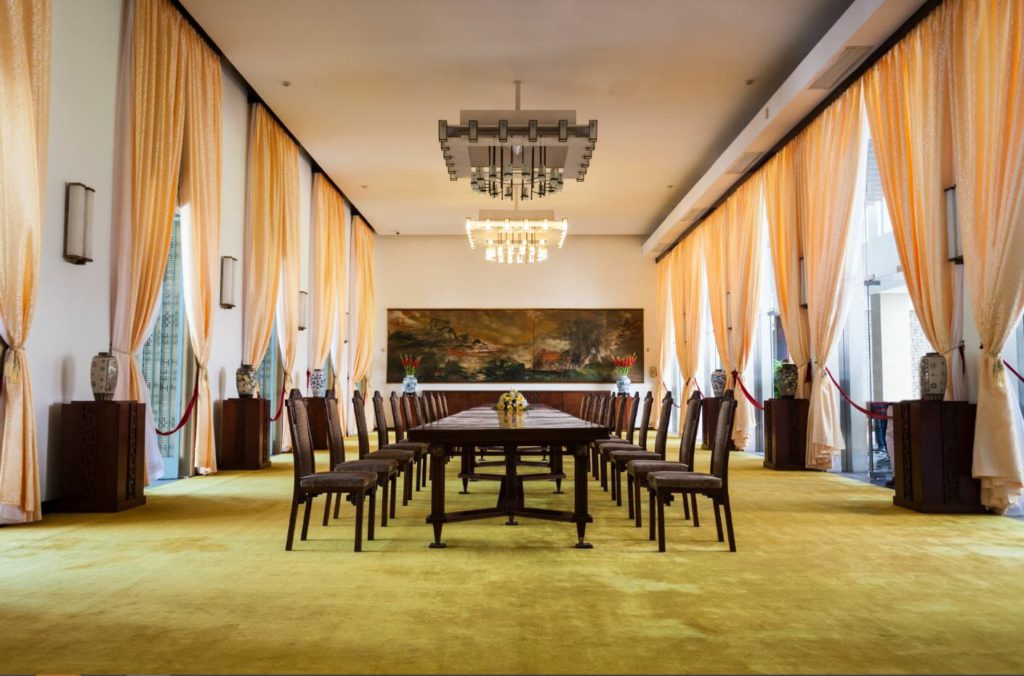 Notre Dame Cathedral of Saigon
Yes, there is a Notre Dame in Saigon. It is of course, not as affluent as the original one but it's still worth a visit. It is the largest church in the country and a very important site for the Christian minority of the country. The cathedral is located in the heart of the city and is a great place for an evening walk.
The church was designed by a French architect. He intended to make a smaller version of the Notre Dame in Paris in Romanesque and Gothic style. The raw materials are brought from Europe. It includes the red-colored bricks that give the church its unique characteristics.
Two bell towers were added in the later stage which deviates from its original design intention. The interiors are although simple with high-ceiling and gothic arches. The Virgin Mary outside the church made headlines in 2005. Some people claimed that they saw her weeping with tears flowing down her face.
Notre Dame Cathedral Timings: 6 am to 8 pm, open every day of the week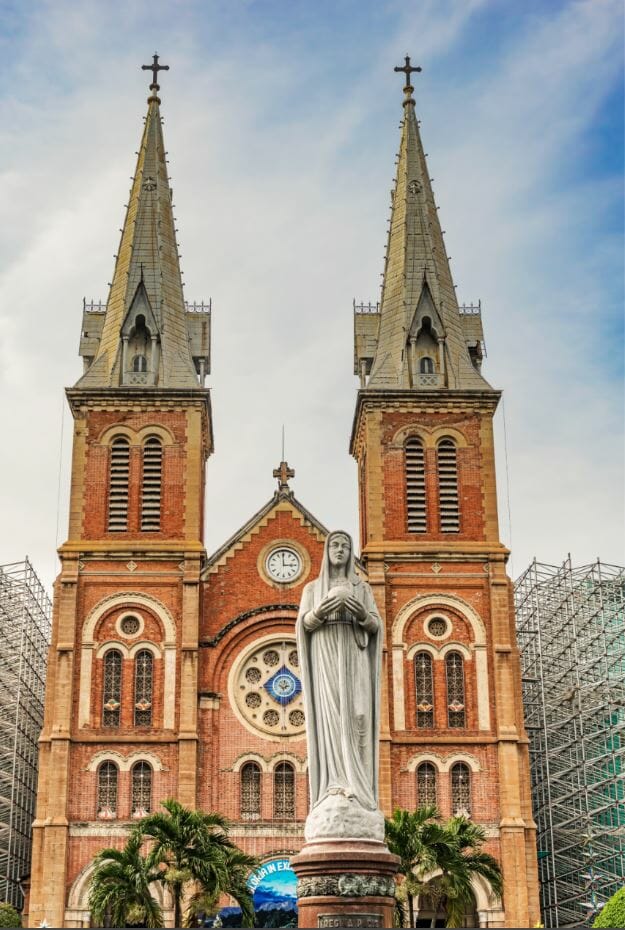 Saigon Central Post Office
Right opposite to the Notre Dame of Saigon is the Saigon Central Post office. Its presence looms during every second you spend the time outside the cathedral. Gothic and French architecture heavily influences the building. The post office still operates in the traditional style. If you love postcards, you must not miss this one.
You can buy a postcard inside and send it right away. Apart from that, there are also quite a few souvenir shops on either side of the entrance. We found delightful traditional-styled souvenirs with whooping options to choose from. The prices are inexpensive as well.
Saigon Central Post Office timings: 7 am to 7 pm (Monday to Friday); 8 am to 6 pm (Saturday-Sunday)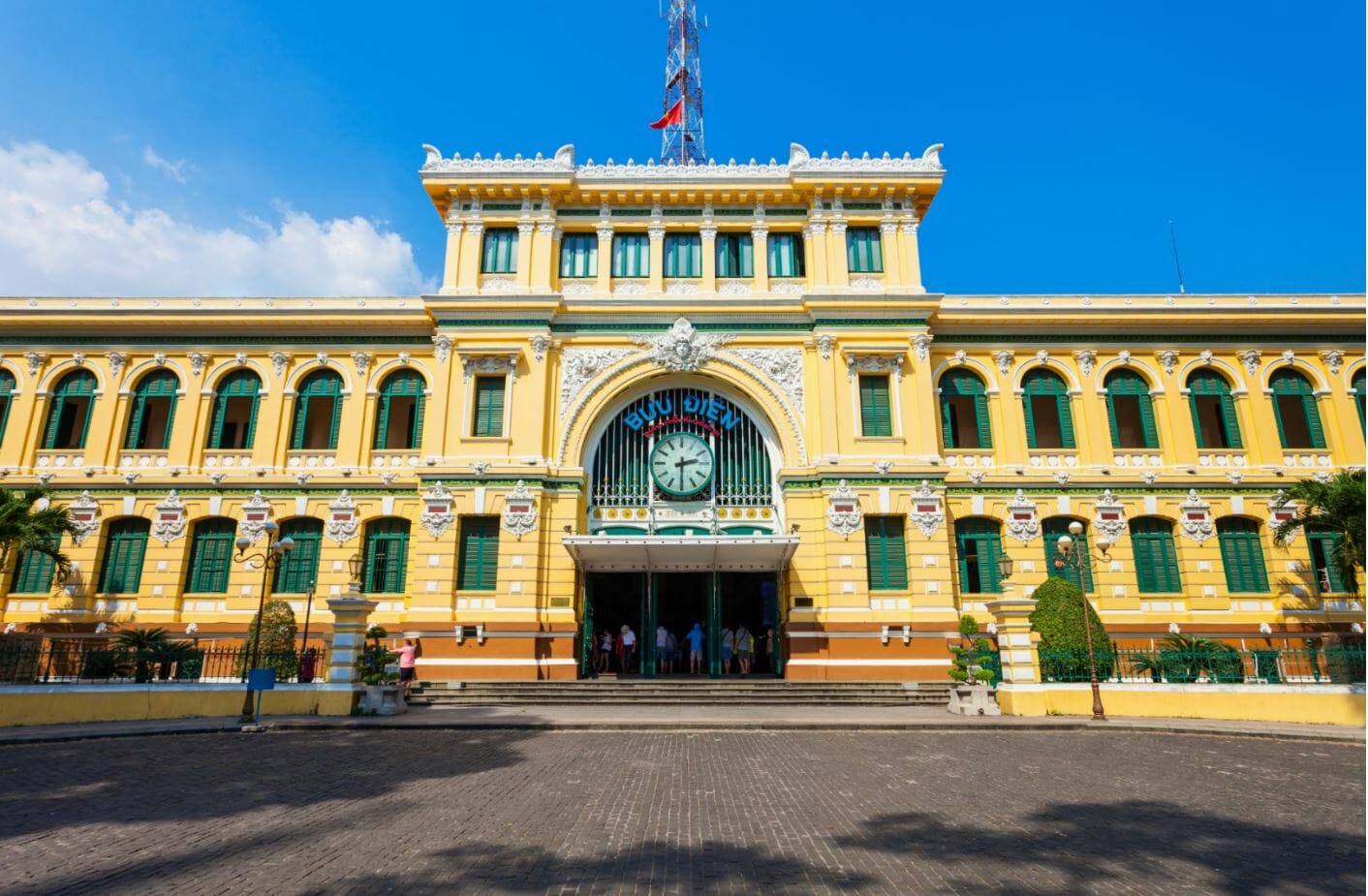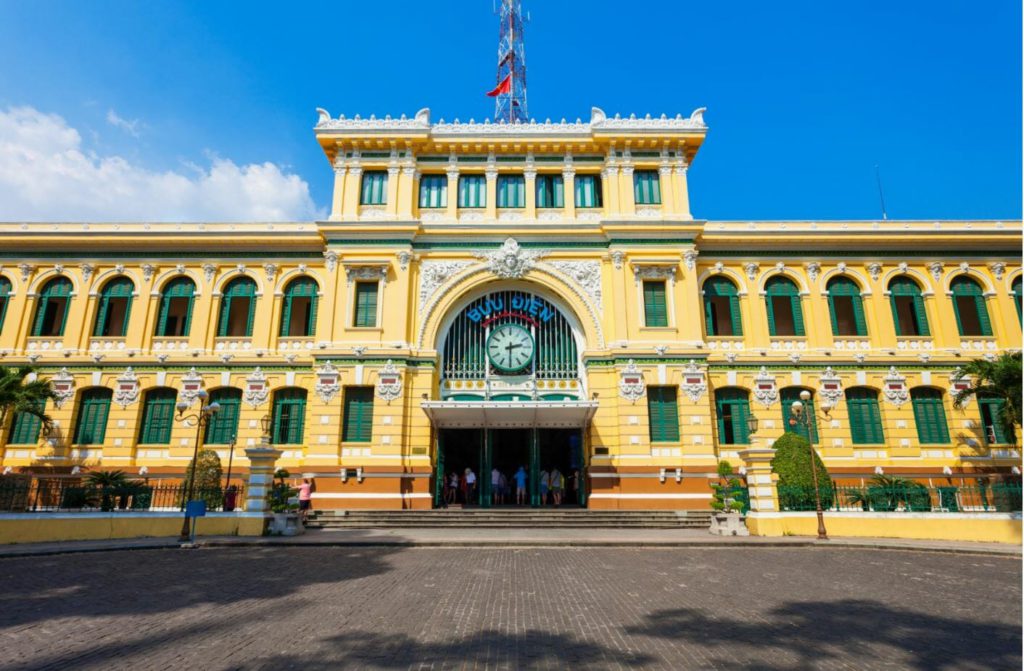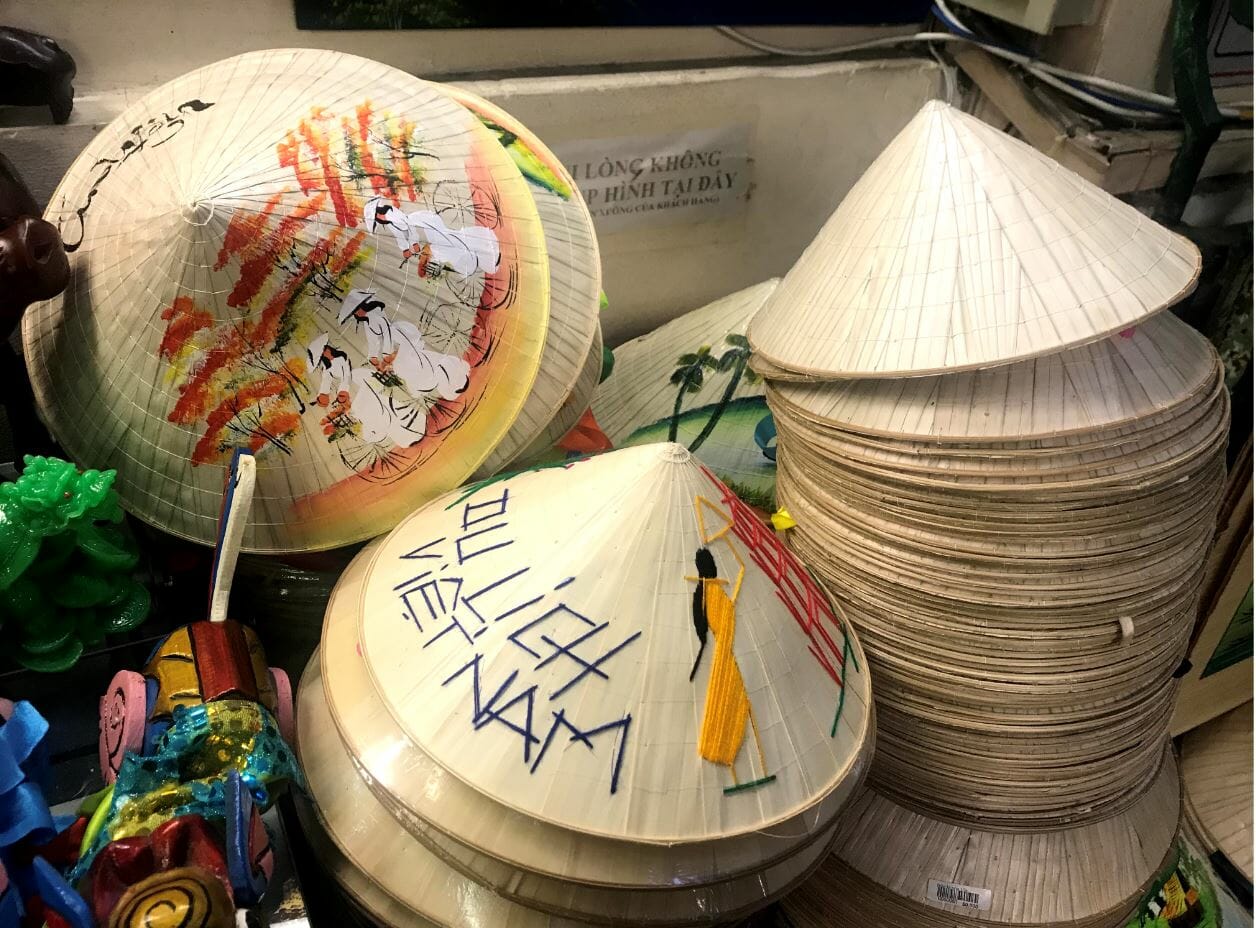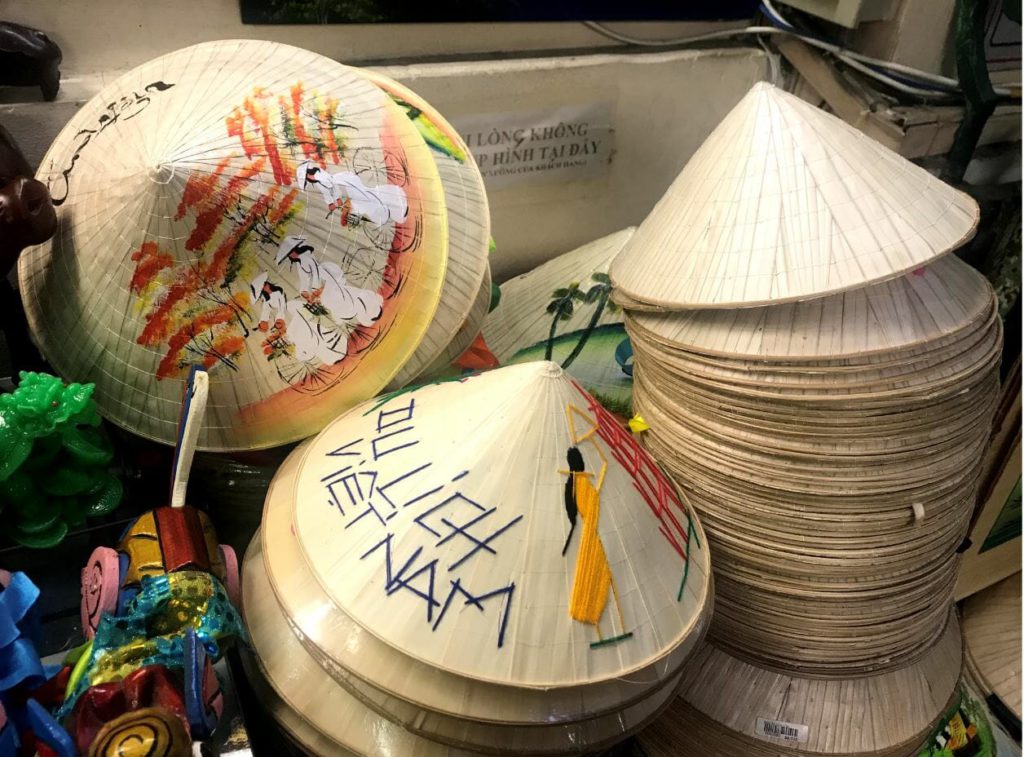 Bui Vien Walking Street
Bui Vien or Backpackers Street is where all the backpackers head to as the night approaches. It is extremely loud and flashy with rows of pubs and bars on both sides. Traffic is usually barred so you can enjoy the street on foot.
You will find loud blaring house music with LED screens trying hard to catch the attention of customers, each with more confounding text than the last one. But it's still worth a walk.
If you love to party, it's a good place to enjoy a night. If you don't you can head to the end of the street for some quieter options and enjoy a drink. You will also find hostels, travel agencies, massage parlours, and go-go bars.
Apart from the above, Bui Vien walking street is also a popular red light area and a hub for illicit activities including drug deals. Travelling with a lot of cash is not advisable. Women must take care to not let their drinks unattended or accept free offers.
Bui Vien Walking Street timings: 7 pm to 2 am every day of the week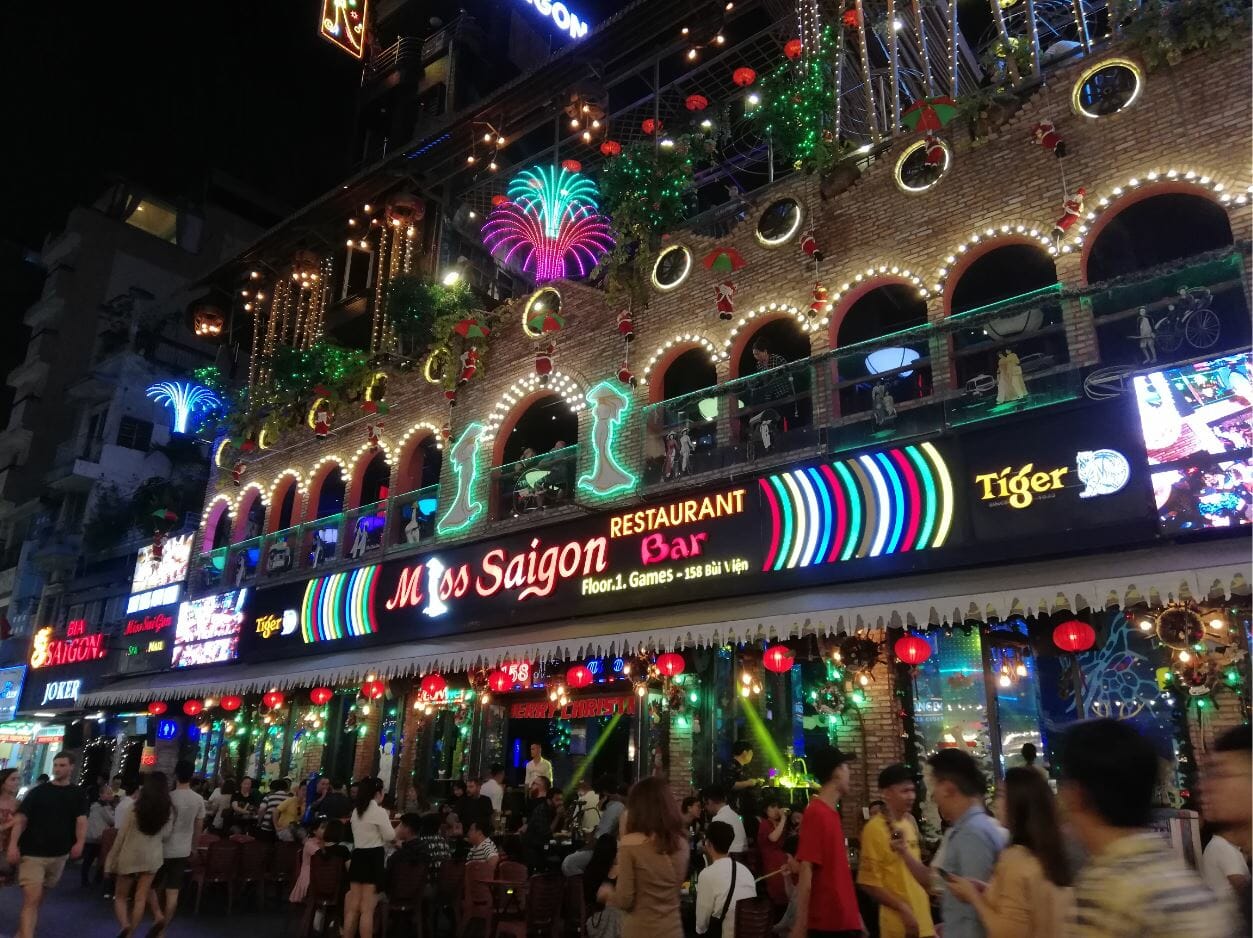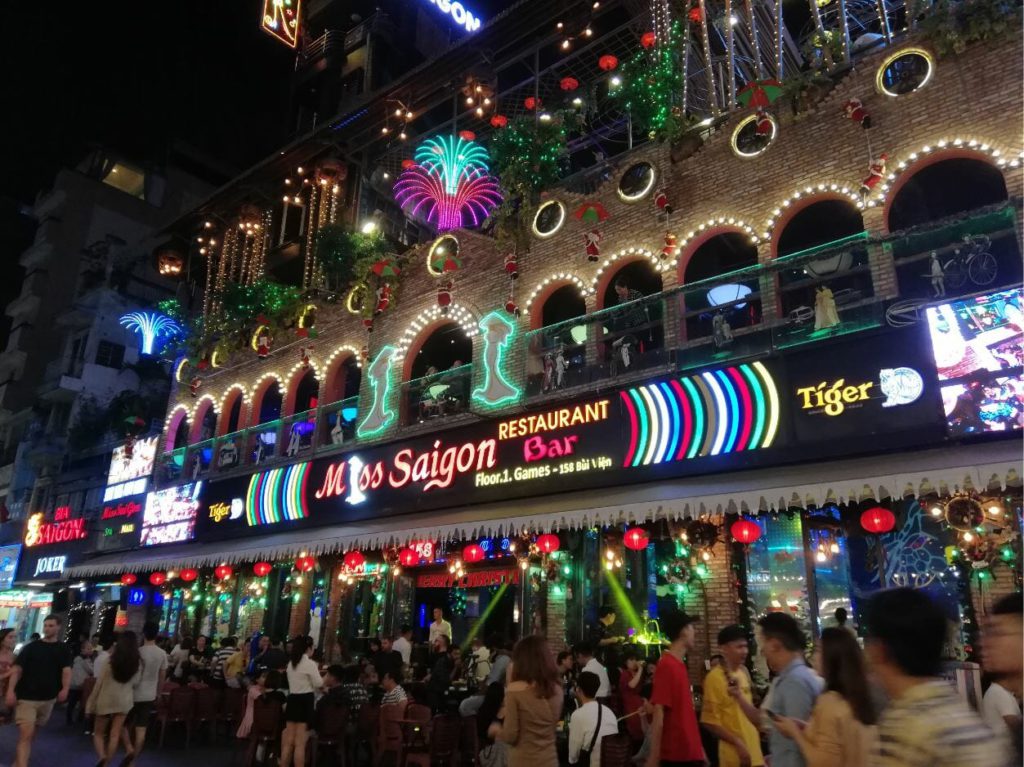 Water Puppet Show
You will rarely find this suggestion when looking out for things to do in Ho Chi Minh. It is one of the rare traditional flavours that backpackers rarely explore. A water puppet show is usually available in all major cities in Vietnam.
One of the troupes in Ho Chi Minh City is famous for performing worldwide and presenting in several countries. I will suggest you choose The Golden Dragon Water Puppet Theatre for the best experience.
The puppet show is for a duration of 50 minutes. The puppeteers weave a series of stories with a mix of showmanship and occasional comedy. The puppets float on muddy waters and perform various acts which finally ends in a small firework show. The music is as enjoyable as the act.
While the storytelling is in Vietnamese, you will still be able to grasp the meaning just by looking at it. Dinner is also available if you want to club it in a package. Booking ahead of time is definitely advisable since tickets run out fast. In case you want an exquisite experience, you can also see the puppet show on an evening cruise with traditional food and music.
Water Puppet Show Timings: 5:30 pm – 6:20 pm, 6:30 pm – 7:20 pm and 7:45 pm – 8:35 pm on all days of th week
Water Puppet Show Ticket Prices: 230,000VND  for foreigners, free for children below 3 years
Book Ticket Online: Golden Water Puppet Admission Ticket in Ho Chi Minh City
Bitexco Financial tower
I am not going to emphasize Ho Chi Minh City's skyline because honestly there isn't much. While it still is a modern city, the landscape remains primarily flat. Bitexco at its inauguration post-construction in 2010 was the tallest building till 2011. Despite the fact it still has a fantastic observation deck that gives an extraordinary aerial view of the city.
The main feature is the Saigon river, withering like a snake in the middle of the city. There is also a restaurant and a bar to enjoy a drink or two. The best time to visit is the early evening to be able to catch the sunset and to get a view of the city at night time. You can buy the tickets at the ticketing counter inside the complex.
Bitexco Financial Tower timings: 9.30 am to 8.45 pm, open every day of the week
Bitexco Financial Tower tickets: 200,000 VND for adults, 130,000 for children between 4-12 years of age
Book tickets Online: Book tickets on the official website or check aggregators for discount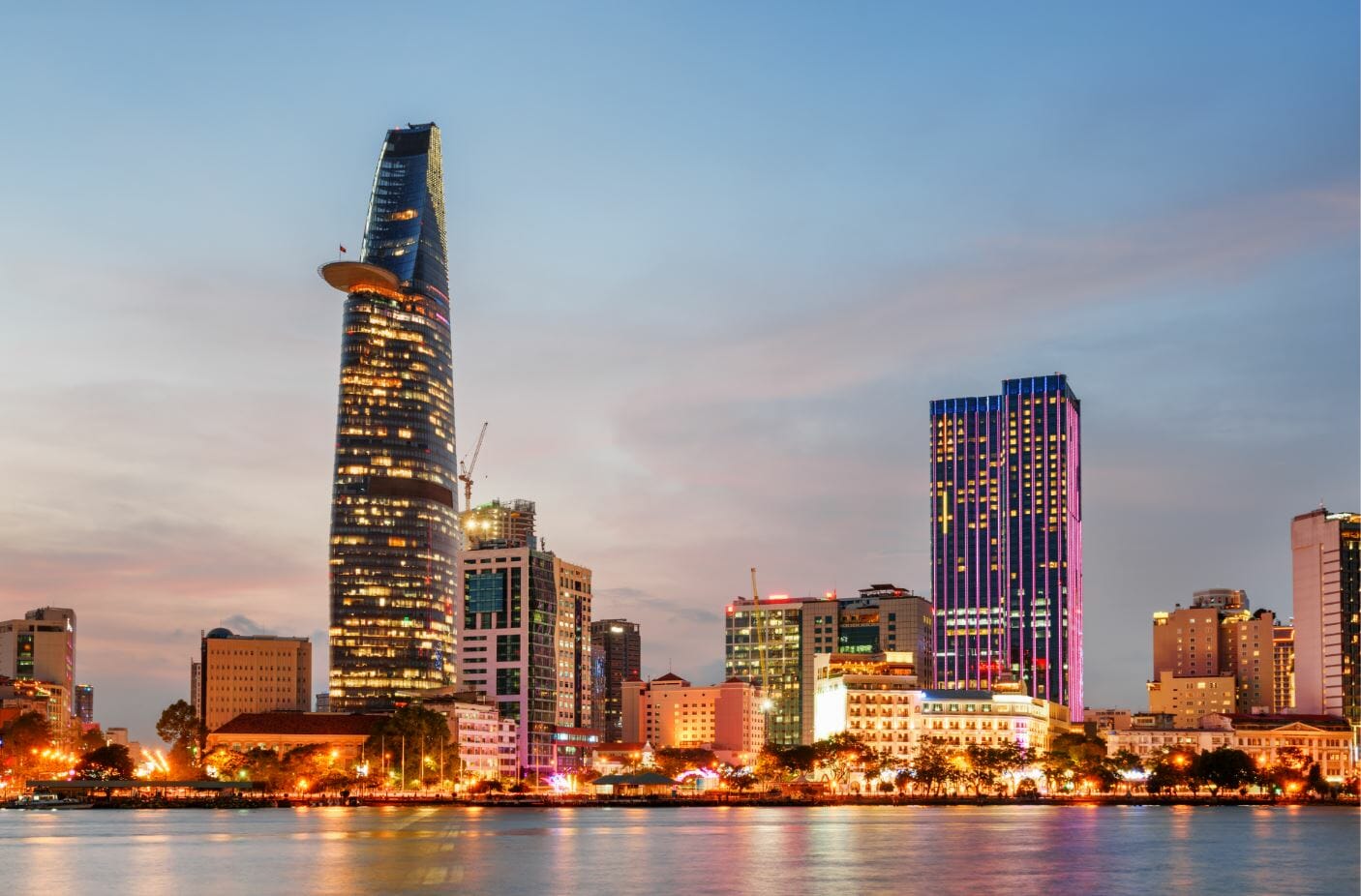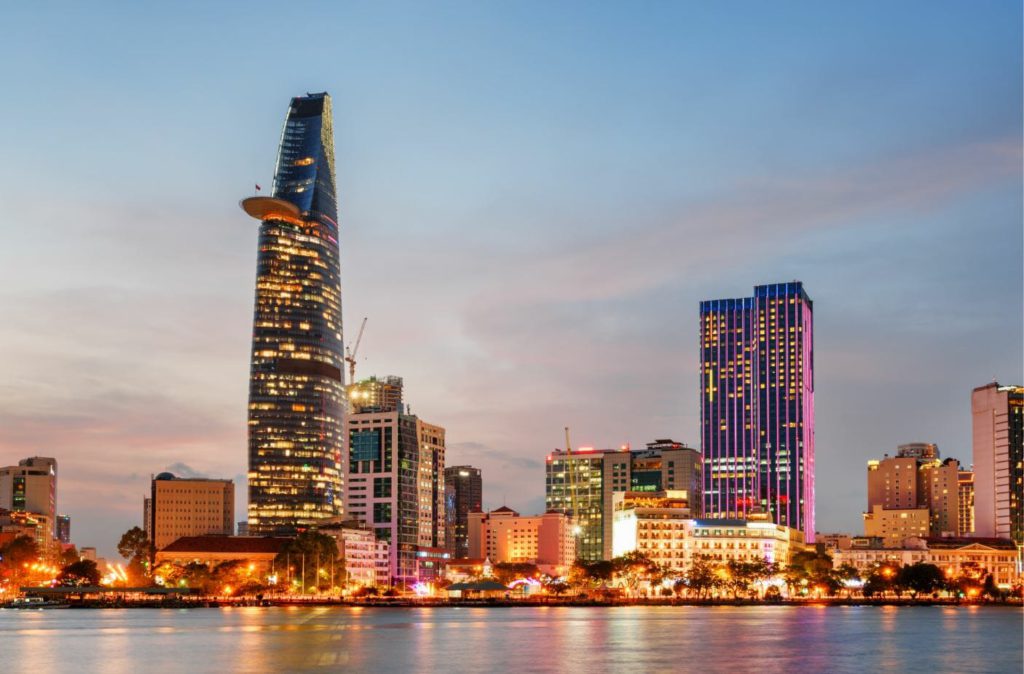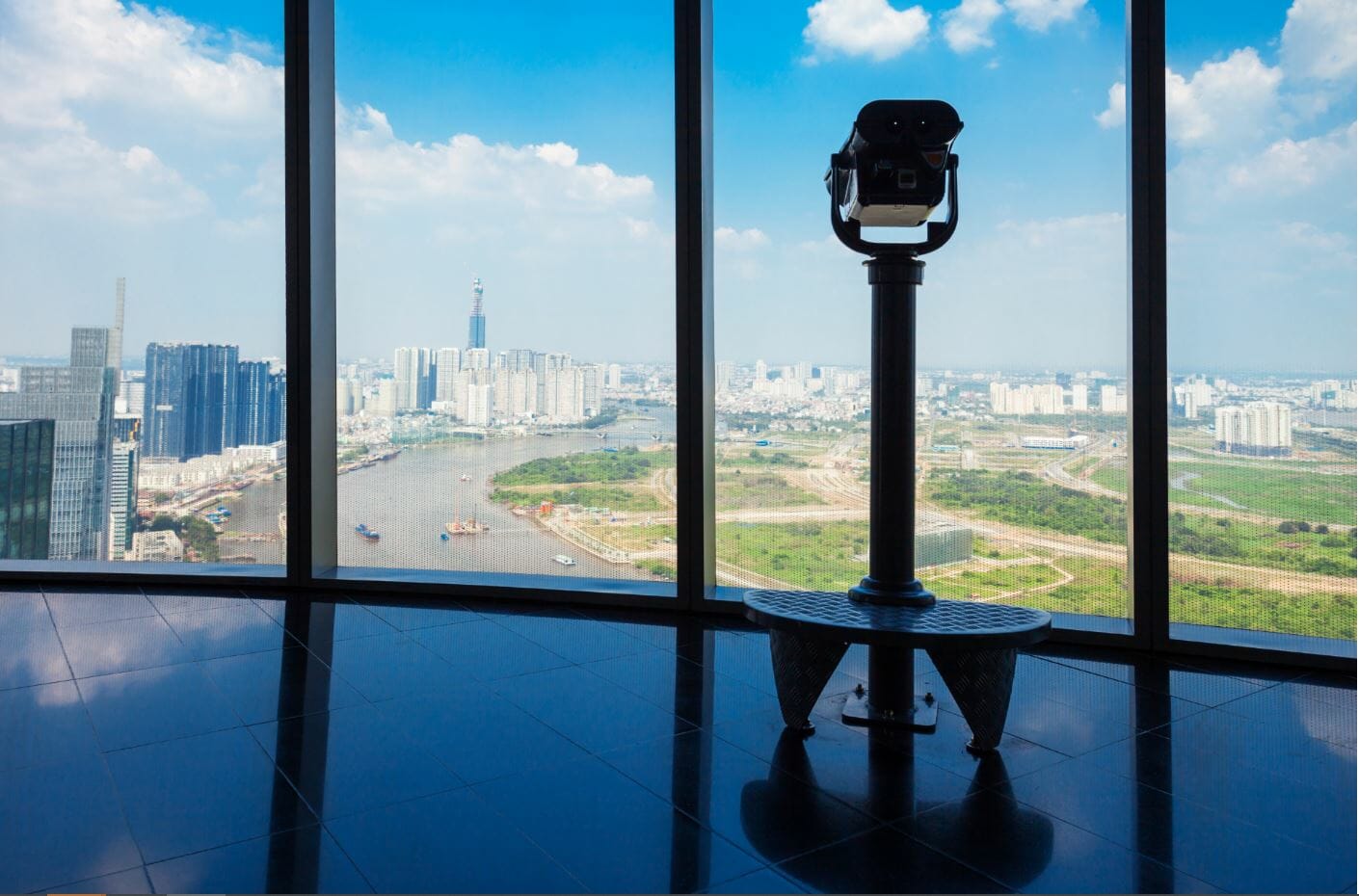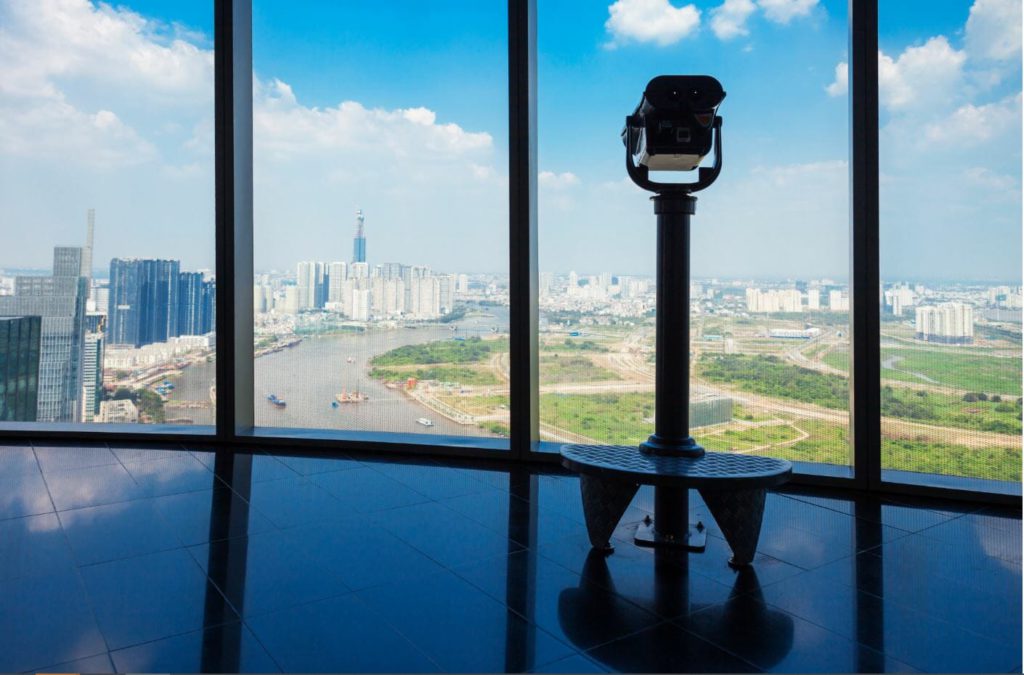 Ngọc Hoàng Pagoda
Ngọc Hoàng or the Jade Emperor Pagoda or the tortoise Pagoda is one of the five important shrines of Vietnam. It is dedicated to Emperor Jade Chua Ngoc Hoang, the Taoist god also known as the 'God of the Heaven'.
By legend, he decides who will pass his gates and go to heaven. The sinners will go to one of the 10 levels of hell. The temple walls depict the life of hell is also elaborately through intricate carvings.
The pagoda is famous for its set of figurines made out of cardboard. The air filled with the thick scent of incense will strike you hard as you move to the inner chambers. More characters from Buddhist and Taoist folklores will greet you made out of paper mache and bamboo laths. Kim Hoa Thanh Mau, the goddess who the locals pray for child and fertility also occupies an important part in the temple.
You will mostly find the temple bustling with locals. It got popular with the visit of Barack Obama during his tour in Vietnam. The temple is free to enter but donations are appreciated and respectful behaviour is expected.
Jade Emperor Pagoda Timings: 5 am to 6 pm; every day of the week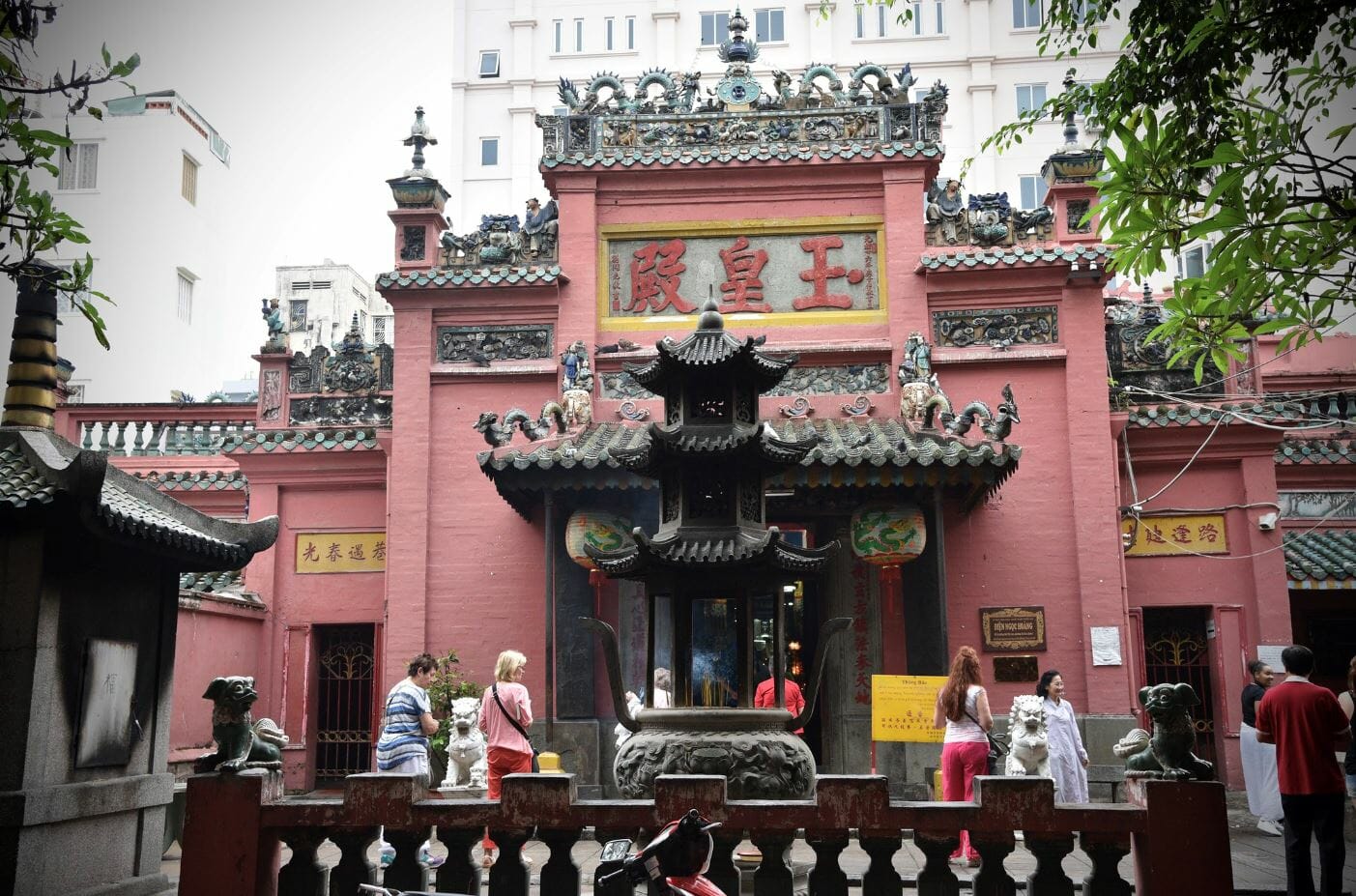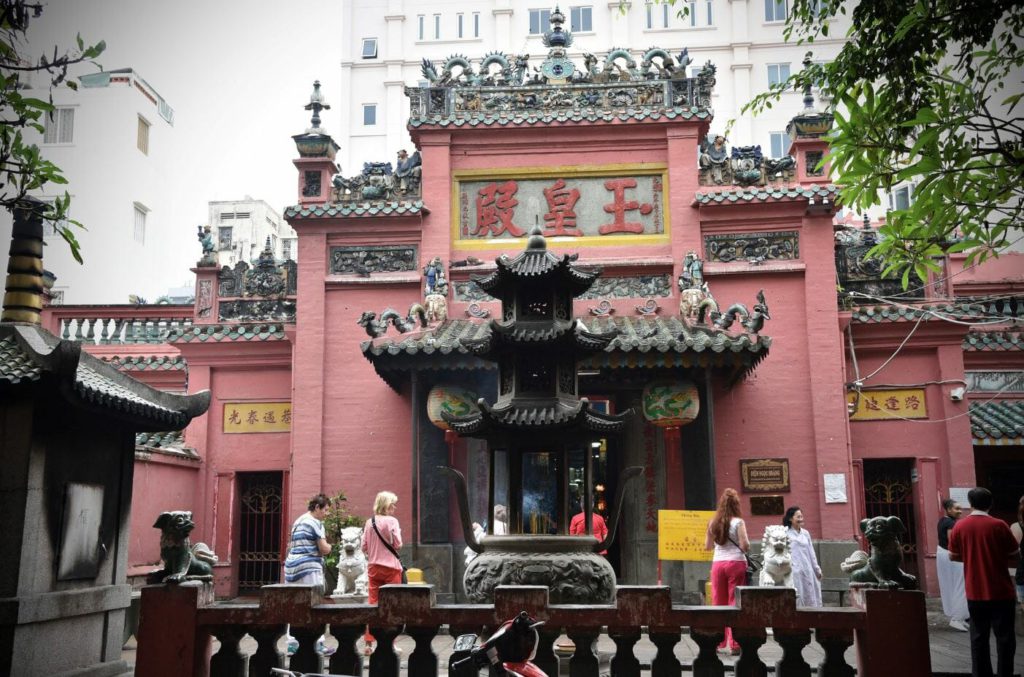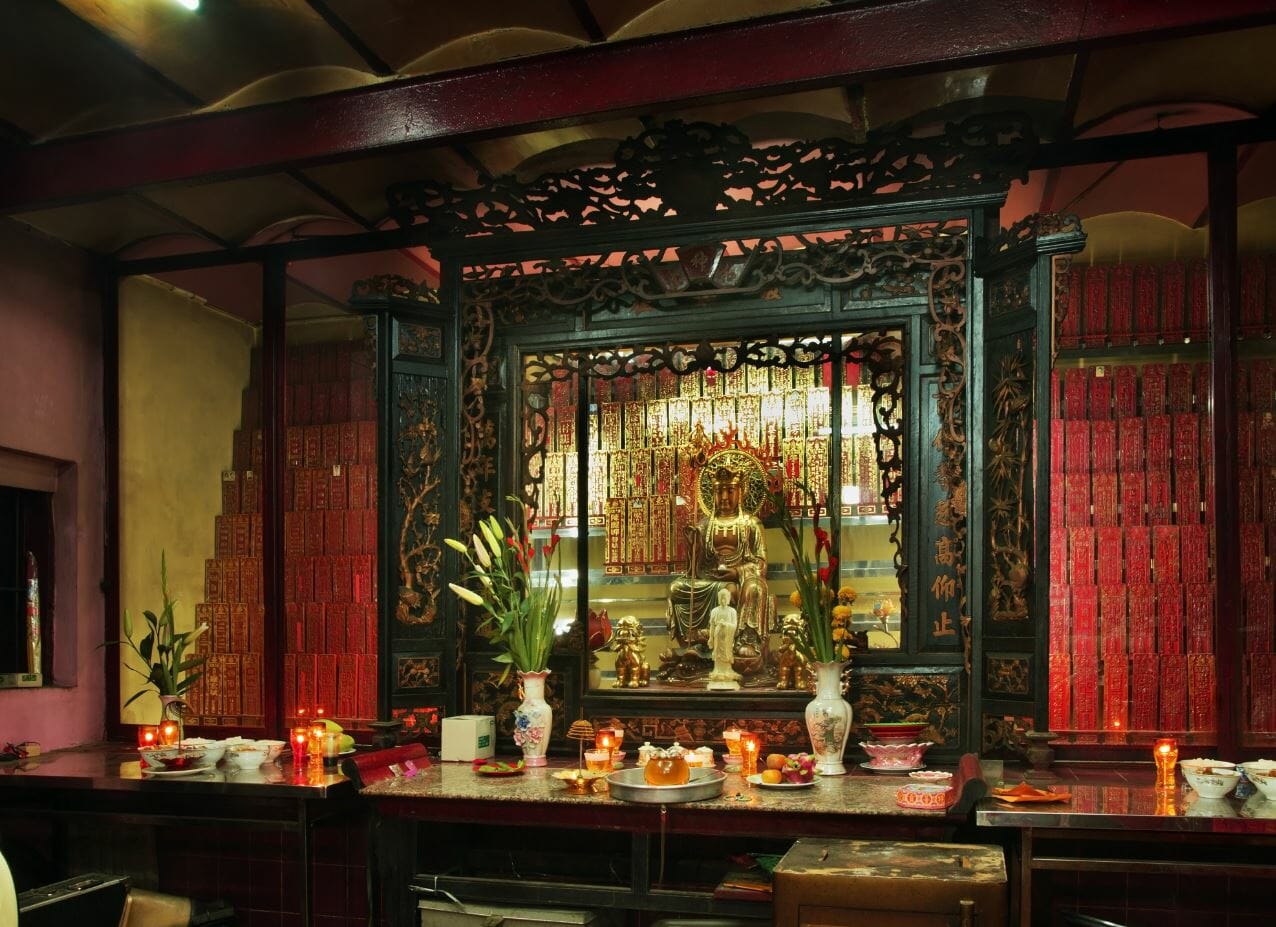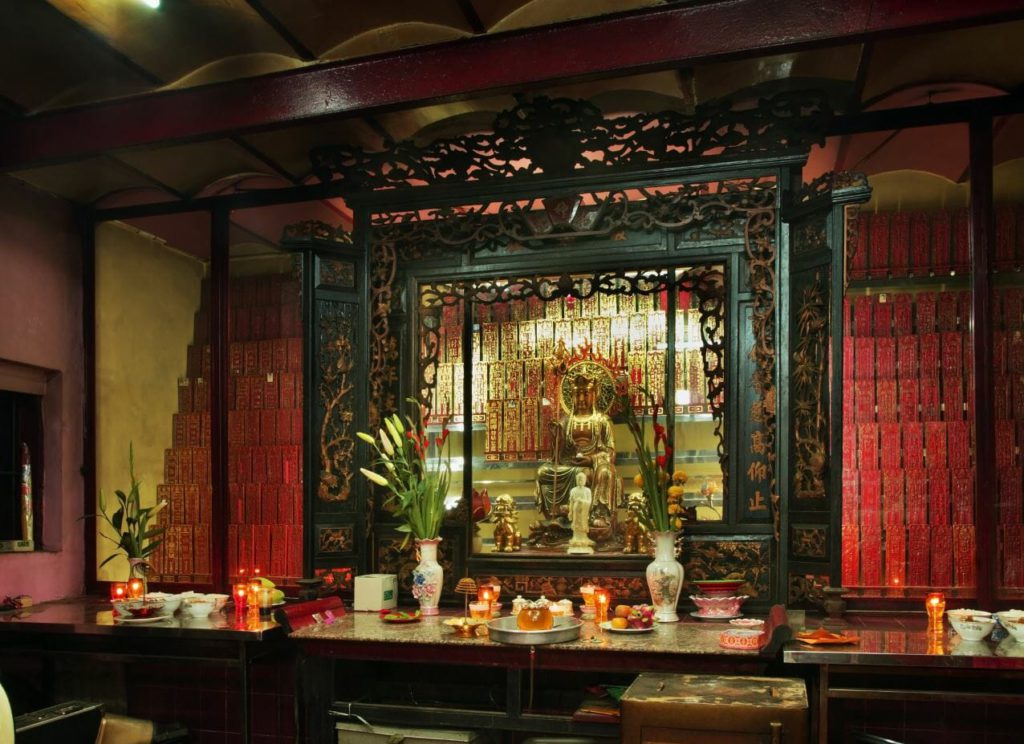 Vĩnh Nghiêm Pagoda
Vĩnh Nghiêm Pagoda is another important pagoda in Vietnam. While it is large in size, surprisingly completed quite recently in 1971. It is the result of the efforts of two Buddhist monks who came from North Vietnam to spread the teachings of Buddha south. The Pagoda is the first of its kind made completely in traditional Vietnamese style with hints of modern architecture and Japanese techniques.
People flock from far to pay their respects to Siddhartha Gautama, Buddha himself, and Samantabhadra, the Lord of Truth and Manjusri. While it is not located in the heart of the city, it is still easily accessible via taxi or a motorbike.
Vĩnh Nghiêm Pagoda timings: 6 am to 8 pm, every day of the week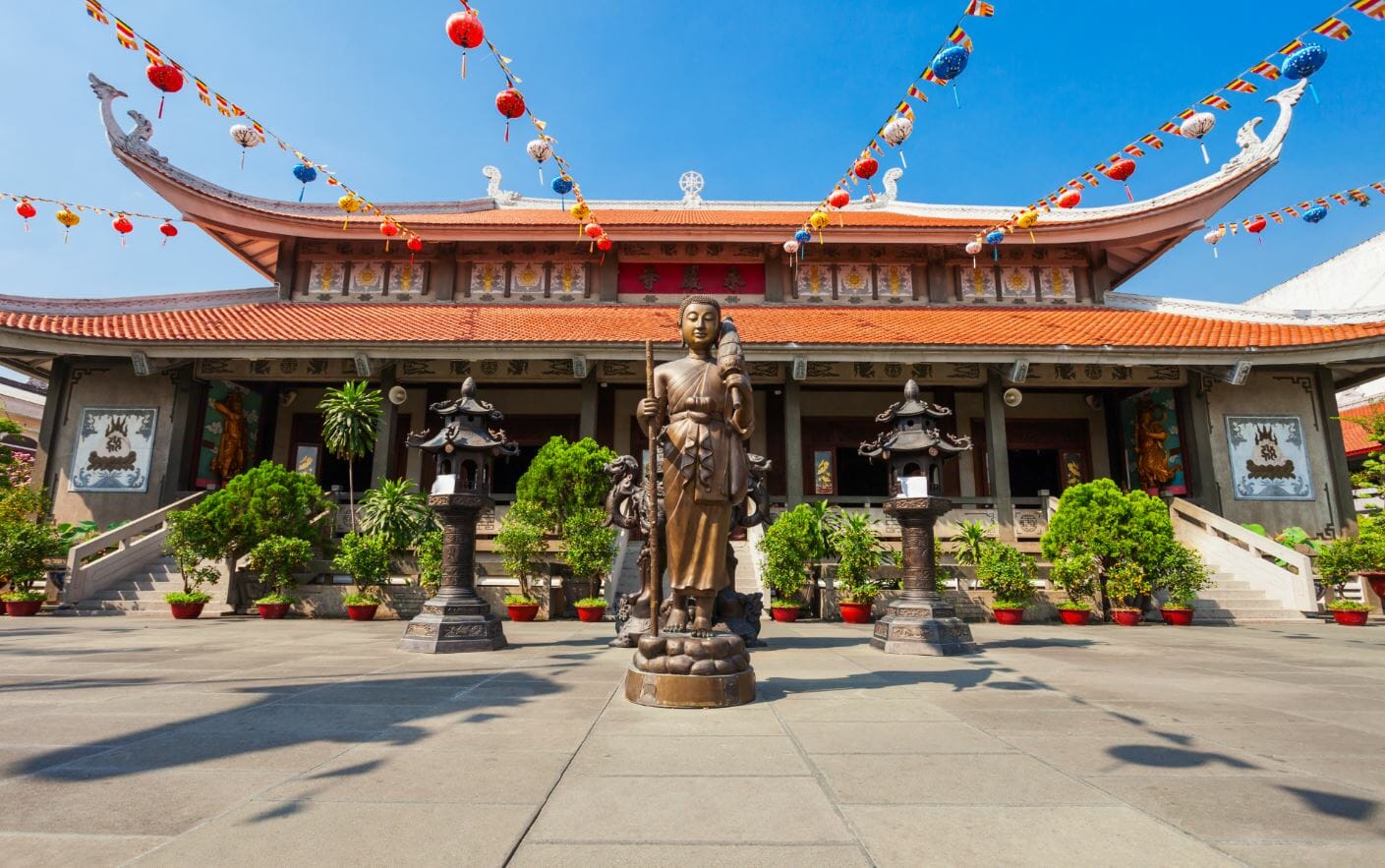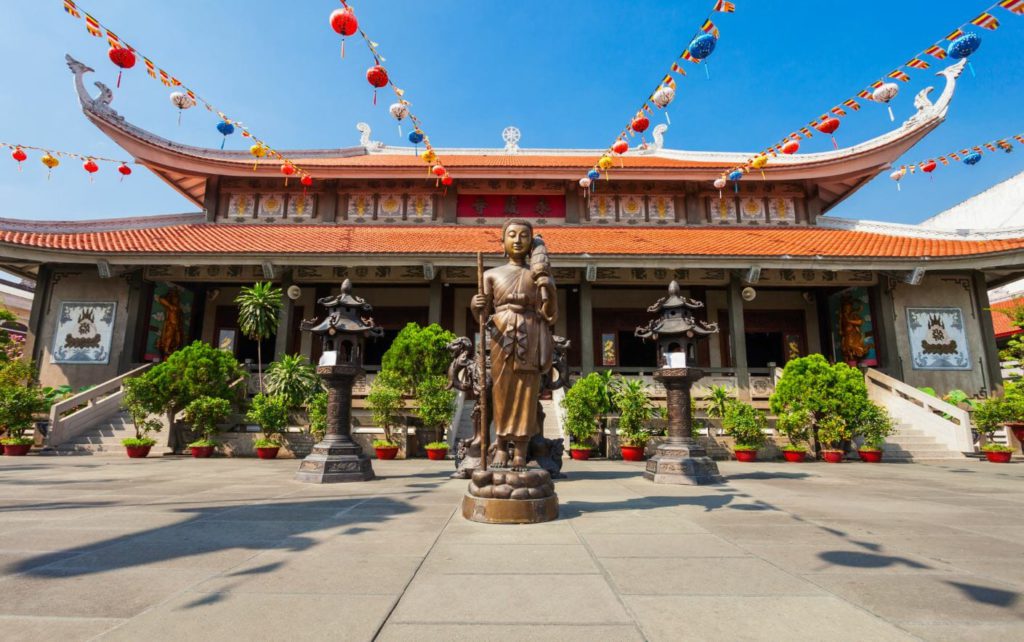 Ho Chi Minh City Opera House
Another iconic building borrowing its elegance and flamboyance from the colonial French is Saigon Opera House. Built by French, the building showcases intricate stone statues that greet at the entrance. As you move inside you will find granite flooring and crystal chandeliers, all imported from Europe.
The building is two meters higher than the road level with a double layer of doors to keep the noise completely out. With such glamour, only the best performances take place inside. These include ballet dances, musical concerts, Vietnamese style traditional dances and plays.  Try to catch a performance here but make sure to book your tickets ahead of time.
Book tickets at Saigon Opera House: https://www.luneproduction.com/saigon-opera-house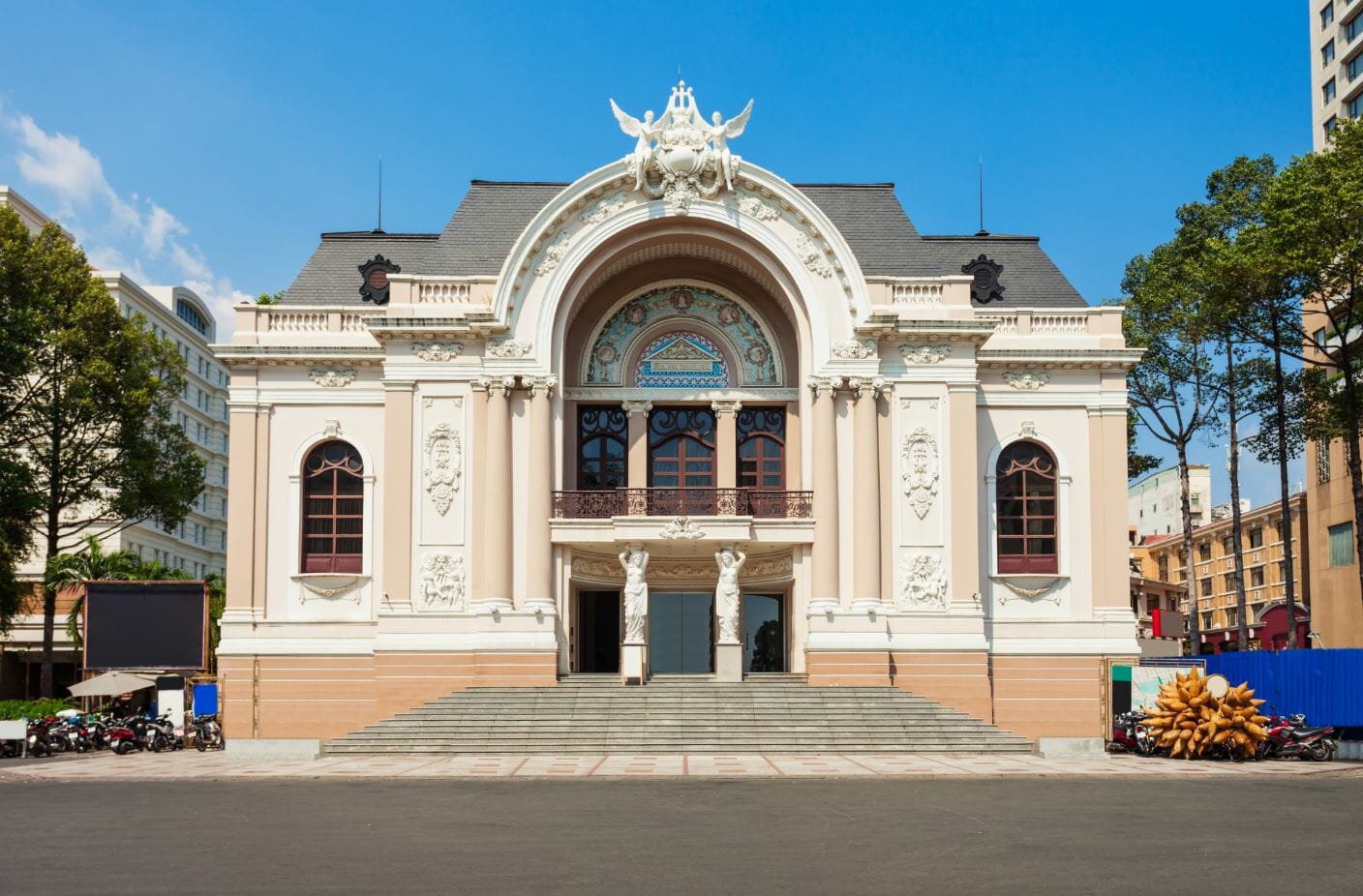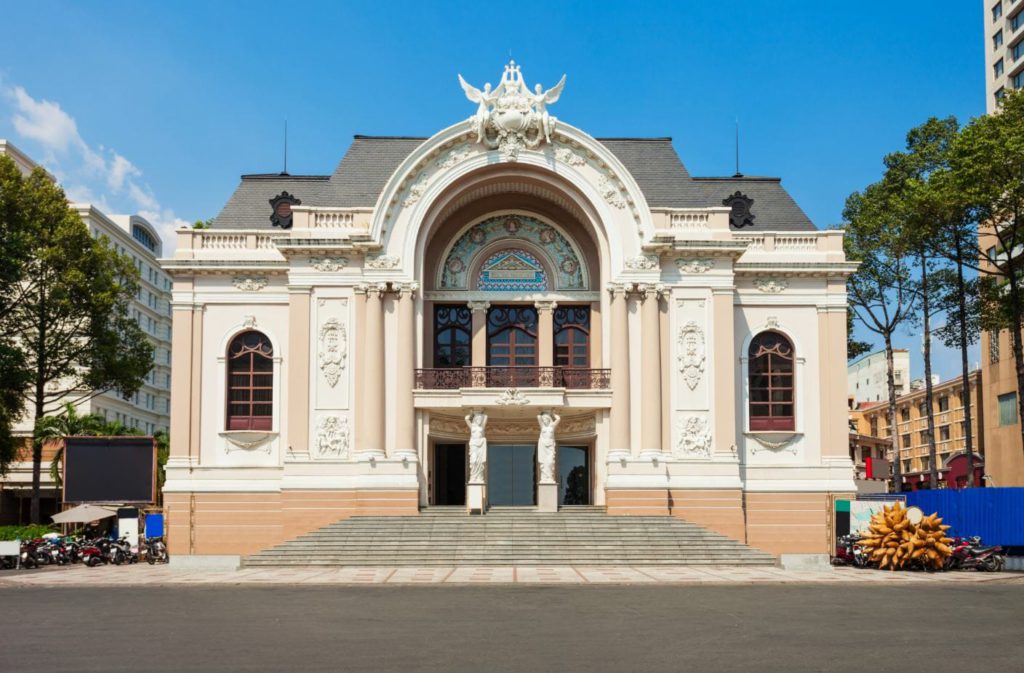 Nhà thờ Tân Định or the Pink Church
The second-largest church in Ho Chi Minh City is worth seeing due to its resemblance to a Disney princess castle. I mean really! This Barbie's house like church dates back to 1876. Designed in Romanesque style with renaissance and gothic features, the church has one of the most elaborate and richly-decorated altars.
The church got its pink colour more recently in 1957 when it went through renovation and refurbishment. The church is located in District 3 which is walkable from most parts of the city. Otherwise, you can also take a taxi to reach here.
The Pink Church timings: 5 am to 5.30 pm, every day of the week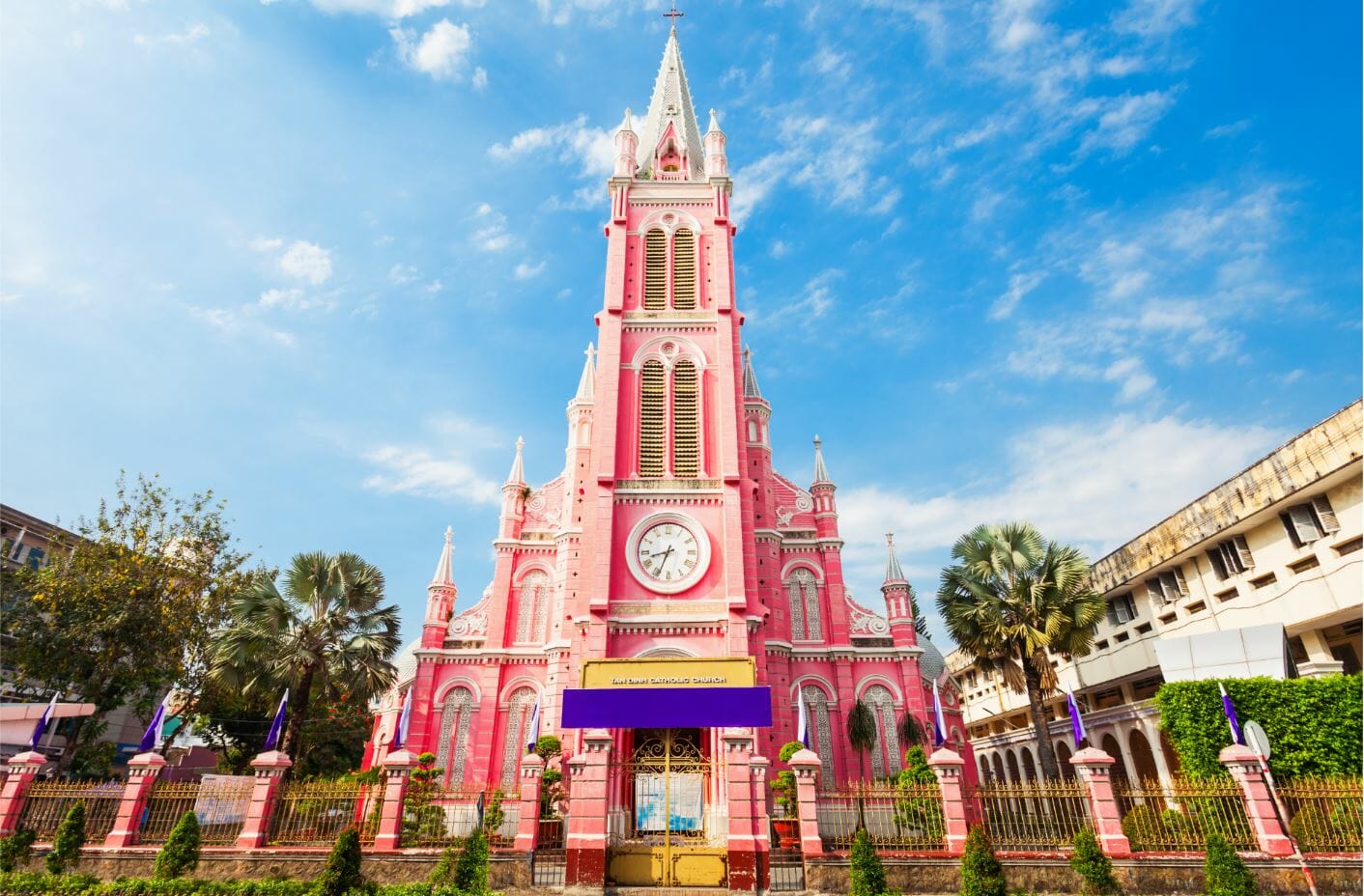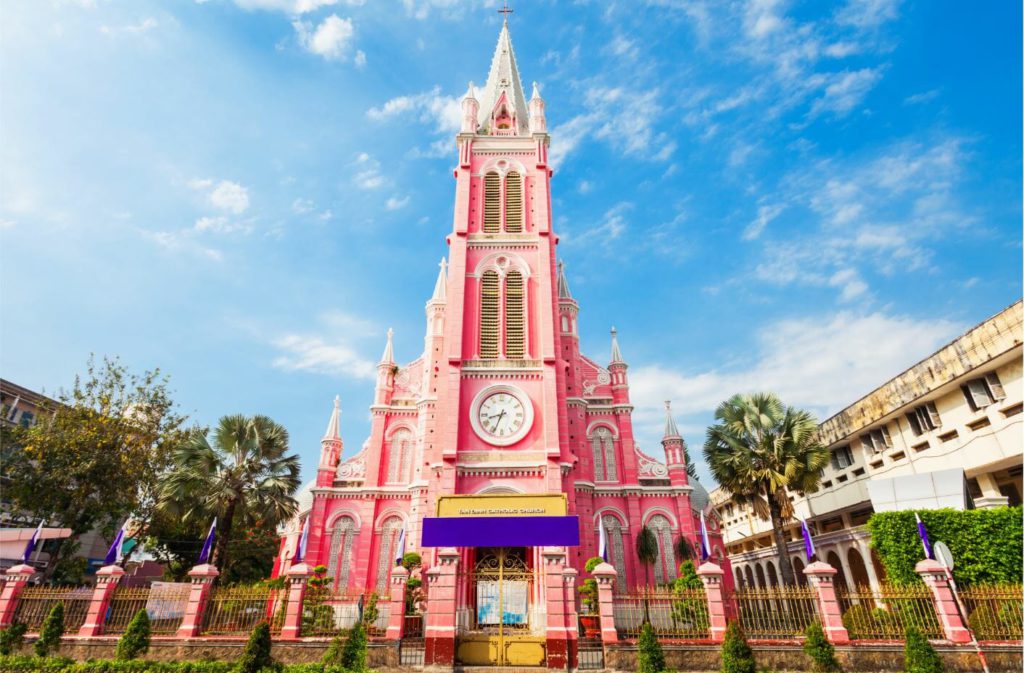 Where to stay in Ho Chi Minh City
The best place to stay in Ho Chi Minh is District 1. It really is! It is at the heart of the city and you can walk to almost any place around on foot. There are a lot of eateries and convenient stores around that are open well late in the night. There are ample options to choose from in terms of transportation as well.
The next best place is Backpacker street if you don't mind the noise. The best part is accommodations are still pretty affordable and prices do not skyrocket due to its location. You will find Hostels from as less as USD 3 a night with breakfast. You can book a hostel on hostelworld.com.
If you wish to splurge a bit more USD 100 will get you amazing deals at affordable luxury or boutique hotels in the city. Visit Agoda.com for the great hotel deals and deep discounts in South-East Asia.
A good-looking comfortable Airbnb will cost you less than USD 20 a night in the heart of the city. A mid-range hotel will charge you around USD 30-50 a night with great amenities.
What to eat in Ho Chi Minh City
There are absolutely crazy amount of dishes that you can eat in Ho Chi Minh. In fact, the city is known for its food tours. And while I may not be able to elaborate here, there are a few dishes that you definitely need to try. I will definitely suggest taking a food tour of the city. If you are a vegan of a vegetarian, convey this to your tour guide beforehand.
The first stop in the morning should be a cup of traditional Vietnamese coffee. Their coffee is strong and brings you in all your senses with the first sip. It is usually served with a Vietnamese drip filter and served with condensed milk and is absolutely delicious. They also serve many other types of coffee with added flavors or beaten egg whites like egg coffee.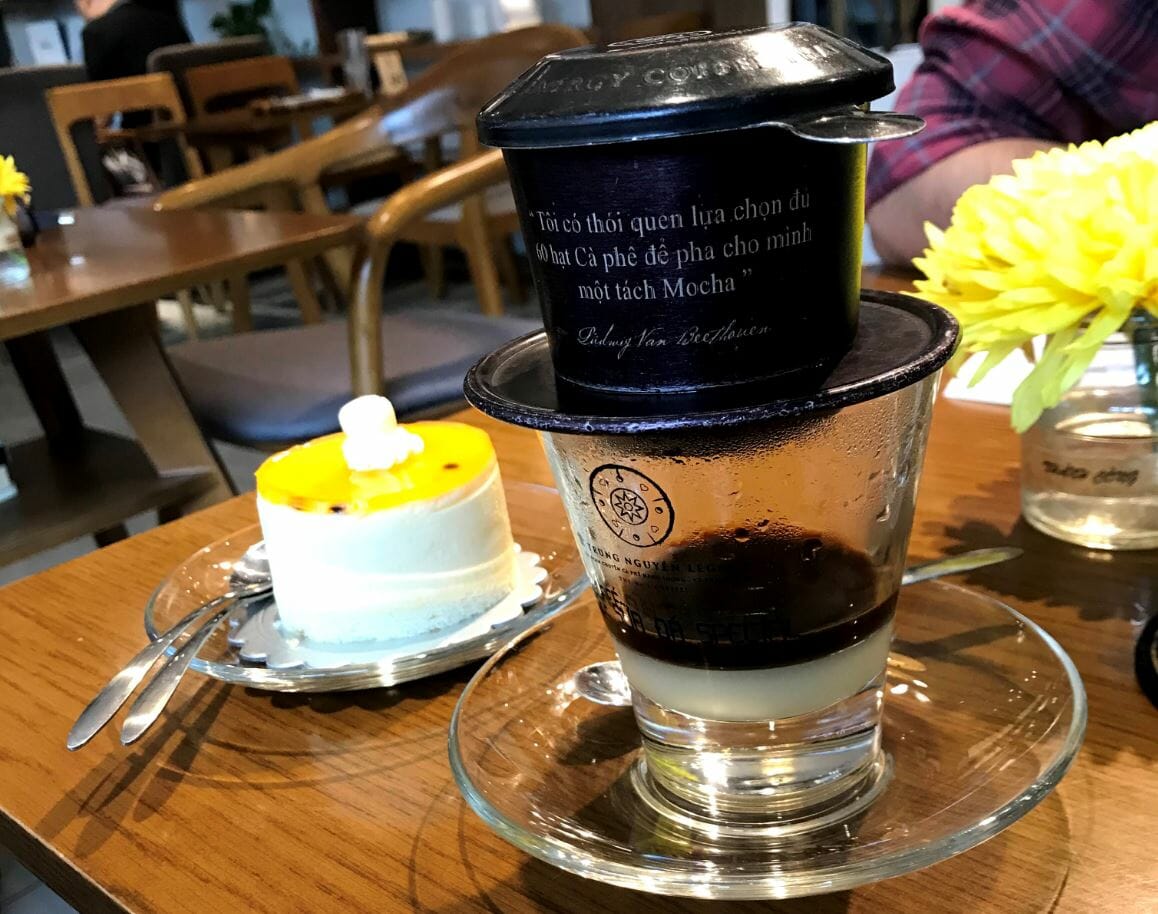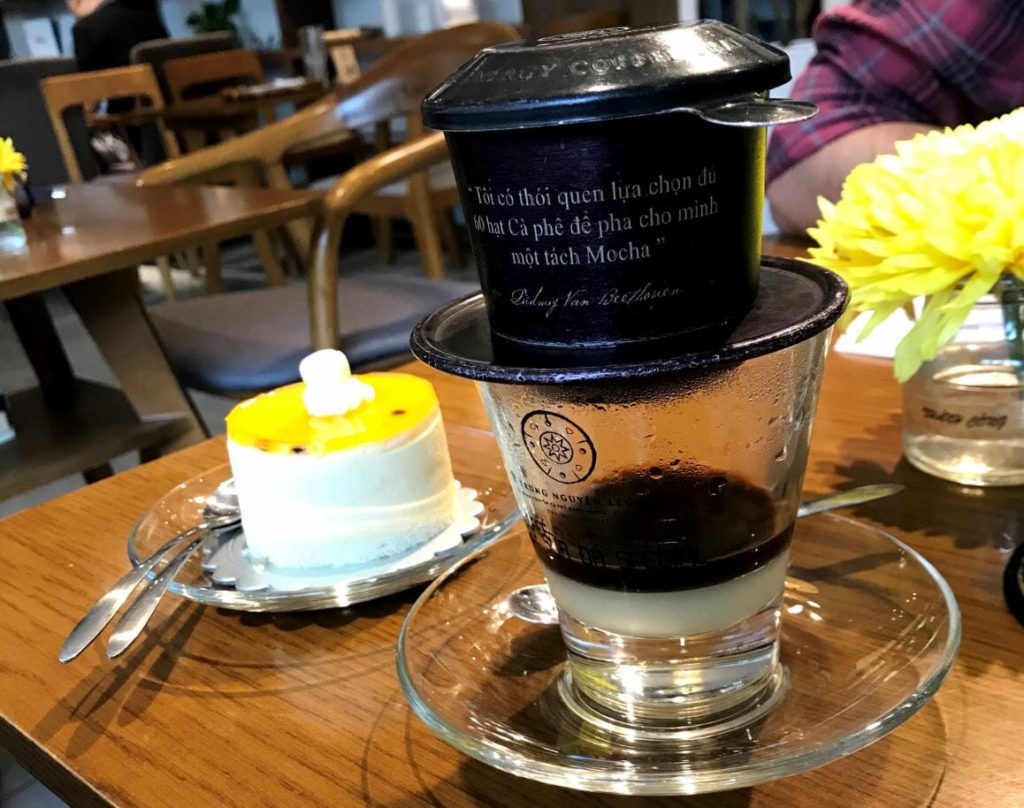 Pho is an incredible Vietnamese breakfast popular all over the world. It is simple, made with noodles, meat (usually beef) and broth and spring onions. Many other variants will include more ingredients and added sauces. You will find it in every nook and corner of the city. But if you want to catch some of it fresh, try early morning hours since it makes a typical breakfast for the locals.
Banh Mi essentially translates to bread but a Banh mi sandwich is something which is commonly seen here. You can find the French-style baguette easily around Vietnam. They have then added some meat, fresh and pickled vegetables, and sauces to it. These make excellent snacks available on the street side vendor carts at all times of the day.
Spring rolls with rice sheets rolled around fresh vegetables also make a great stop in the day for a meal. You can check out some very detailed accounts of Vietnamese food and the best places to eat in Ho Chi Minh City at Migrationology.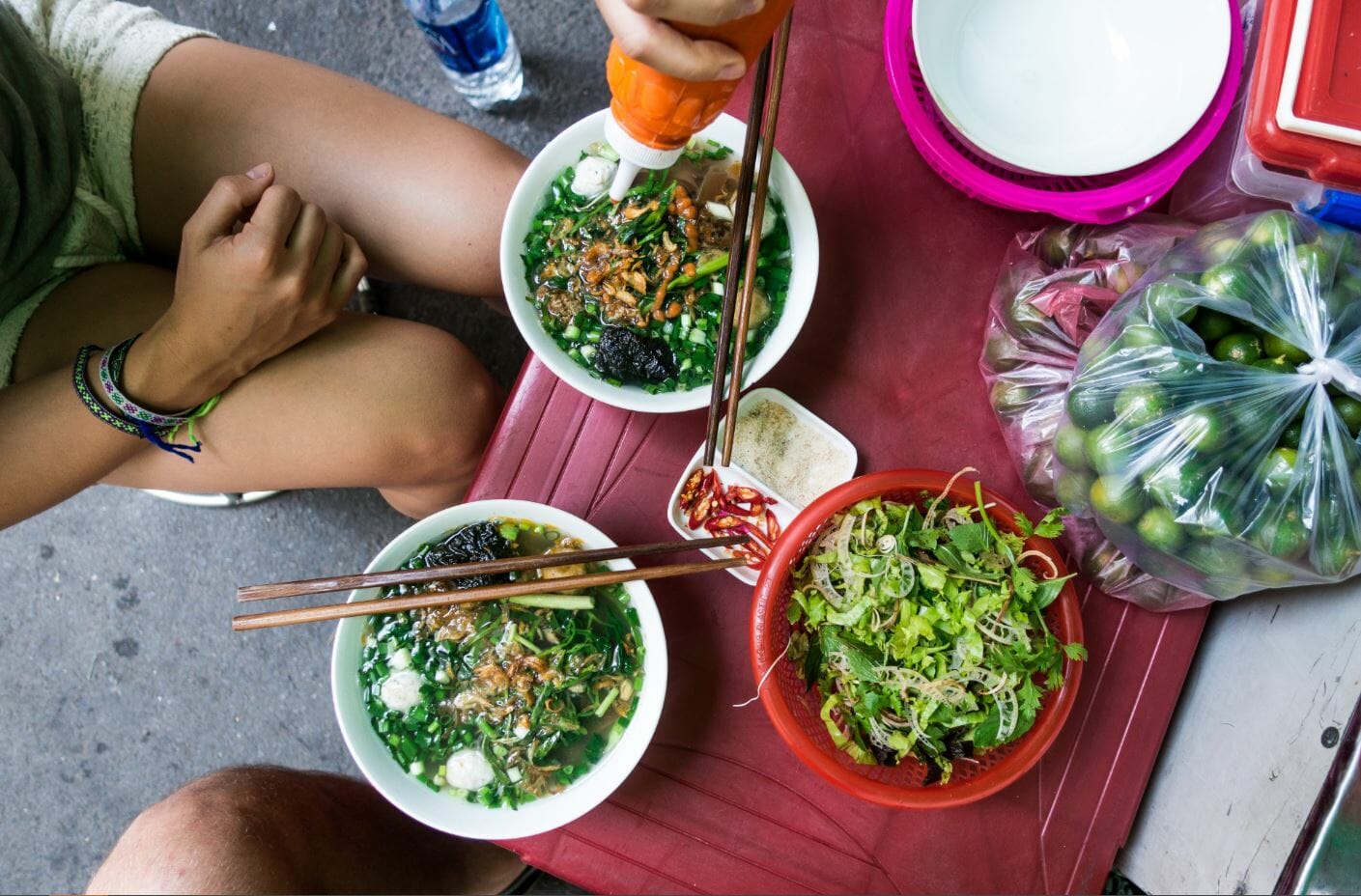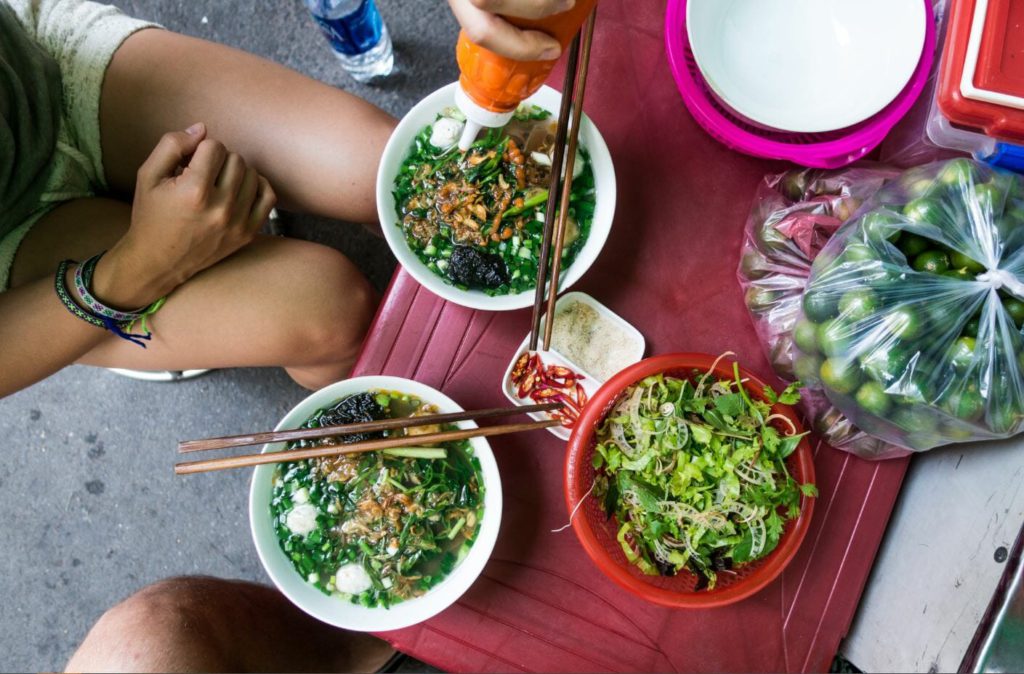 Best time to visit Ho Chi Minh City
Ho Chi Minh City magnifies its stance as a South-East Asian city with its weather. It can either be hot and dry or hot and wet. Either way chances of getting a cool breeze are pretty slim during your time here.
The best time to visit Ho Chi Minh during the dry season is between November to early February when the heat and humidity are not at its peak. The weather permits you to enjoy outdoor activities however you like. Tet or Chinese New Year is also a popular time to visit the city. But be wary of the crowd.
Another great season in the wet season is between May to September only if you don't mind the rain and the mud. Although with only shorts bursts of showers there is still plenty of time to enjoy.
The Mekong comes to its full size with the onset of its flooding season. Make sure you have all the raingear with you. The city also comes under a few typhoons during this time, so check the weather ahead in time.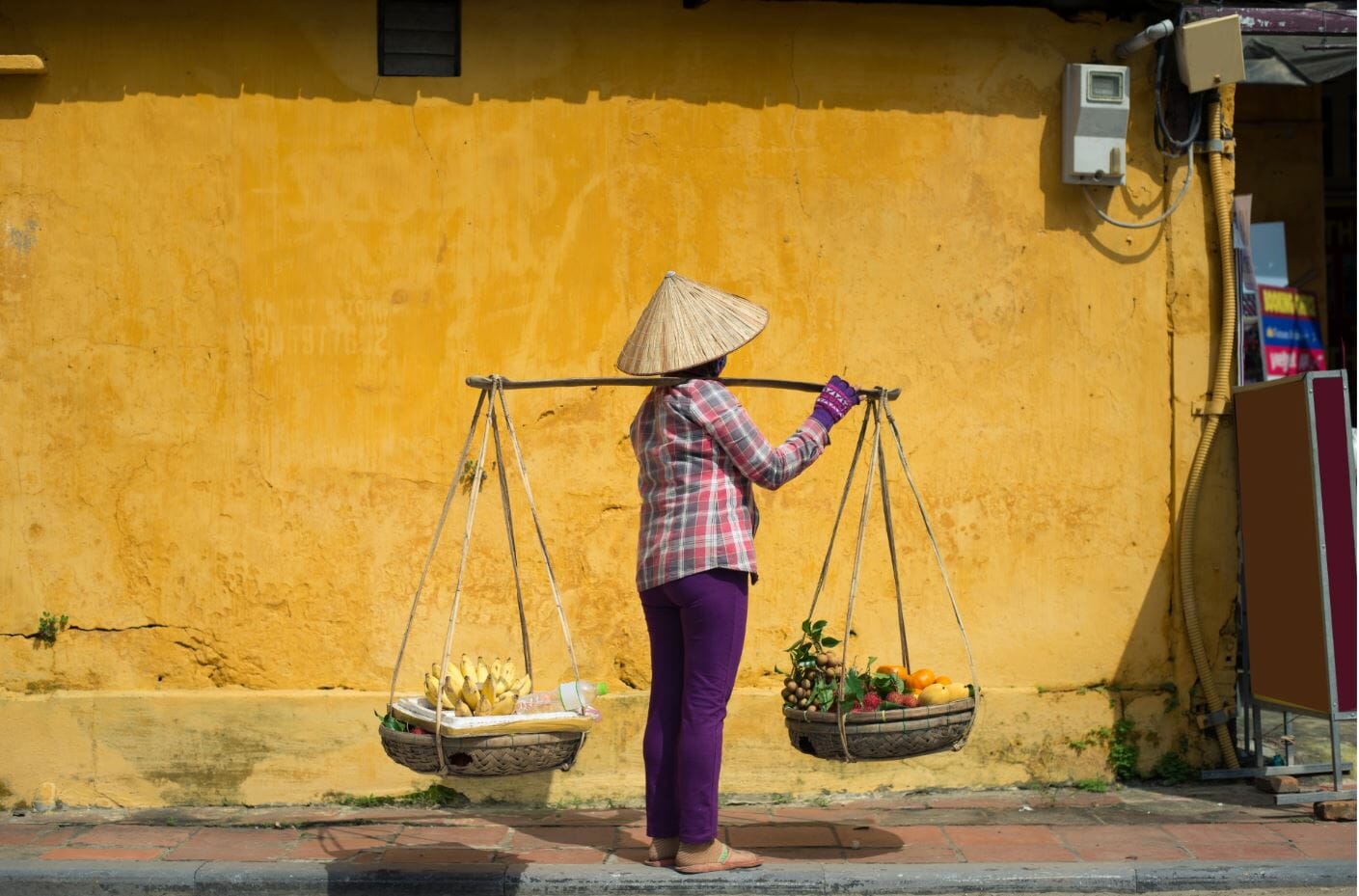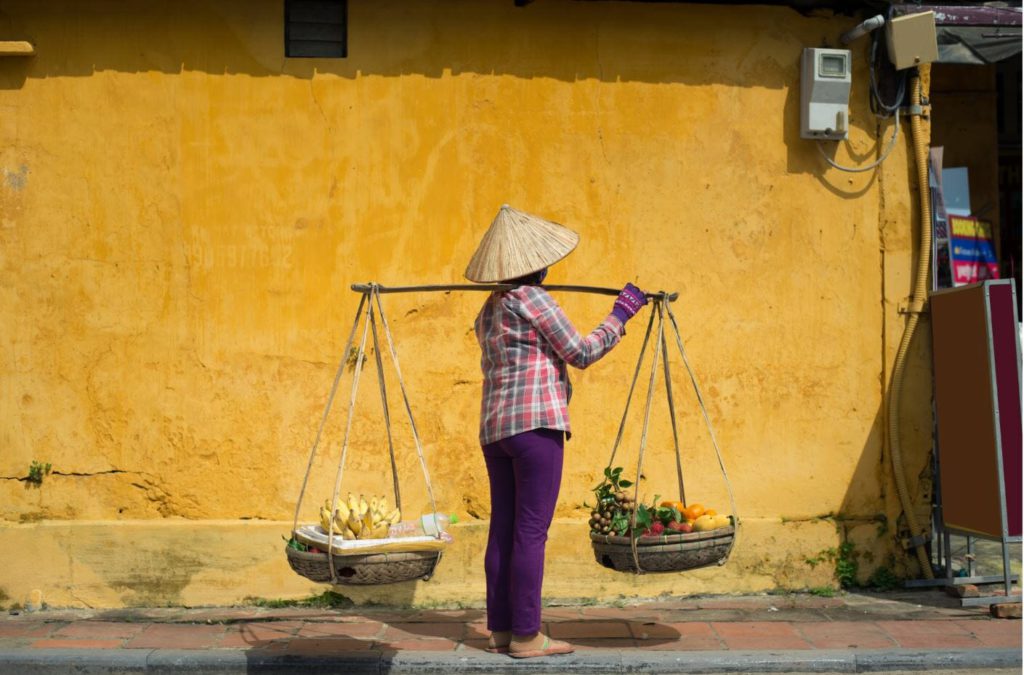 Save on Pinterest


Related Articles