10 Mar

How to visit Mekong Delta, Vietnam

If you have read my other posts on things to do in Ho Chi Minh City or if you planning an itinerary to Vietnam, I think you know how much I emphasise on visiting the Mekong Delta. The biggest question often arises on How to visit the Mekong Delta. This area isn't inside the city, nor it is well connected. Additionally, people are not even sure what exactly so see. Consider this is a guide for everything you need to know for your trip to Mekong Delta.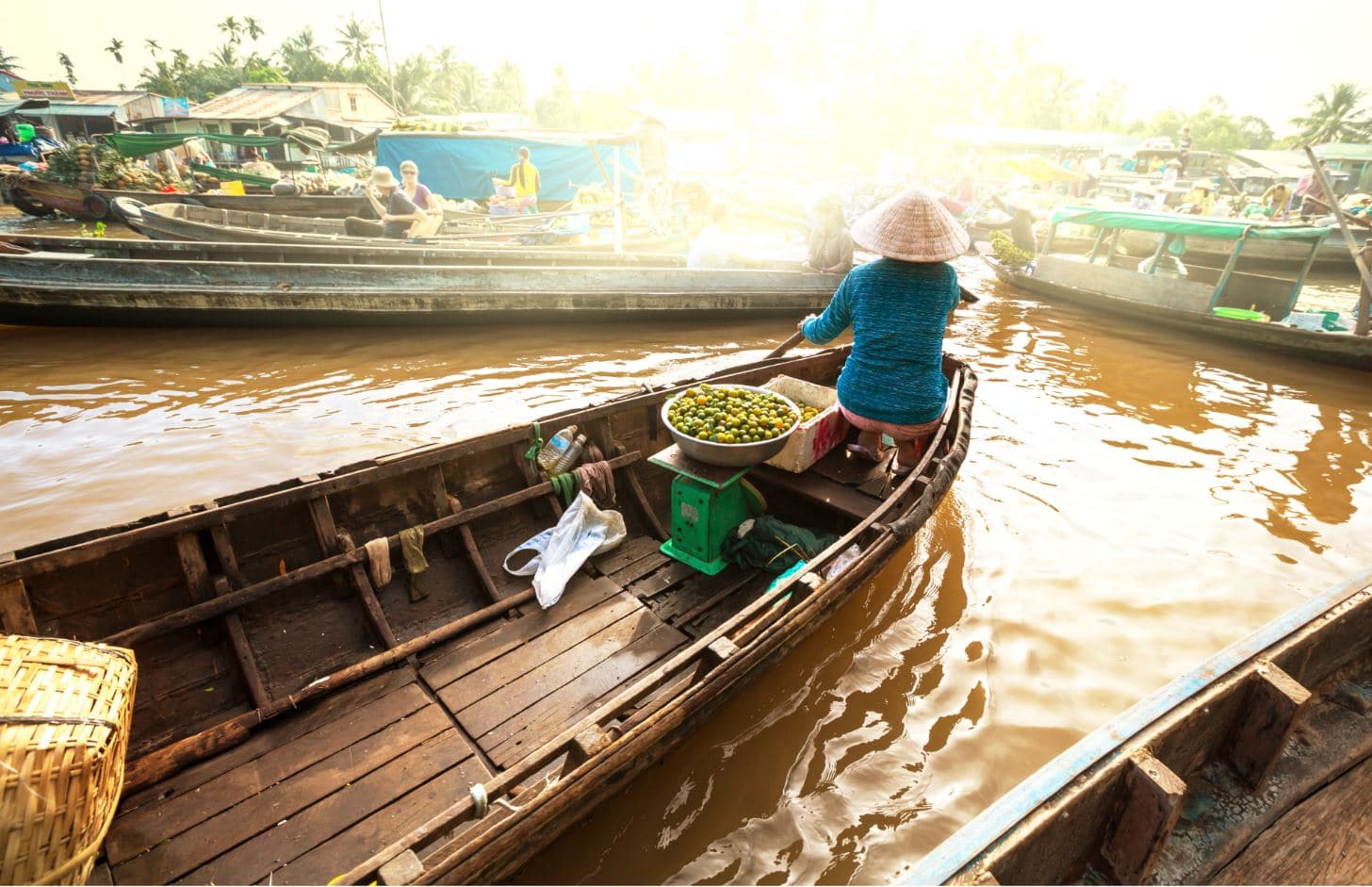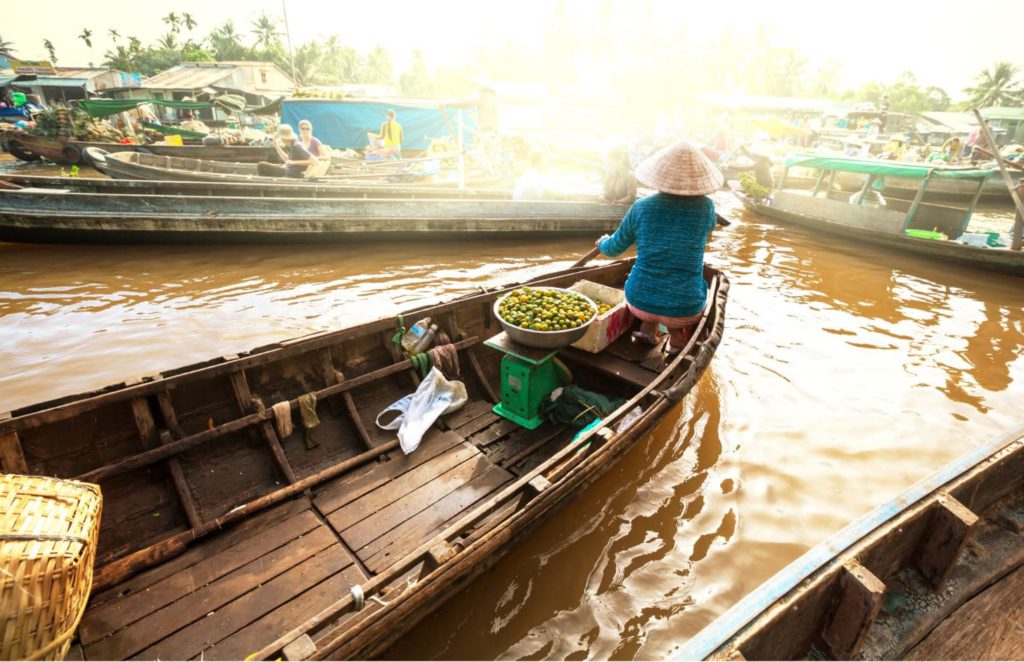 What is Mekong Delta?
Mekong delta is the area just south-east of Ho Chi Minh City or Saigon (as called by locals). This is where the mighty Mekong River meets the sea through its rich network of distributaries after crossing six countries.
The whole Mekong Delta is spread in the area of around 40,000 square kilometers and 12 provinces. It is home to about 20 percent of Vietnam's population. While most of the locals are dependent on farming and fishing, many others travel to Ho Chi Minh City for their livelihood.
Why is it so important?
You can broadly put two reasons to it – economical and biological.
Economical: Mekong Delta is the most productive area of Vietnam in terms of agriculture and aquaculture. The Mekong Delta produces around half the country's rice production which is sometimes more than that combined of north and central Vietnam.
Most of the economic area around the Mekong Delta is run by local individual vendors and FDI or organized sector is still not dominant. As a result, it brings out some lovely loud and chaotic local floating markets to witness.
Biological: Mekong River in itself holds some of the largest ecological systems in the world including the ecosystem of Tonle Sap in Cambodia. The river feeds millions of people in South East Asia who are dependent on it directly and indirectly. The Mekong Delta is home to some of the rarest species of plants, lizards, and mammals. Some of them like Laotian rock rat was assumed extinct a while ago.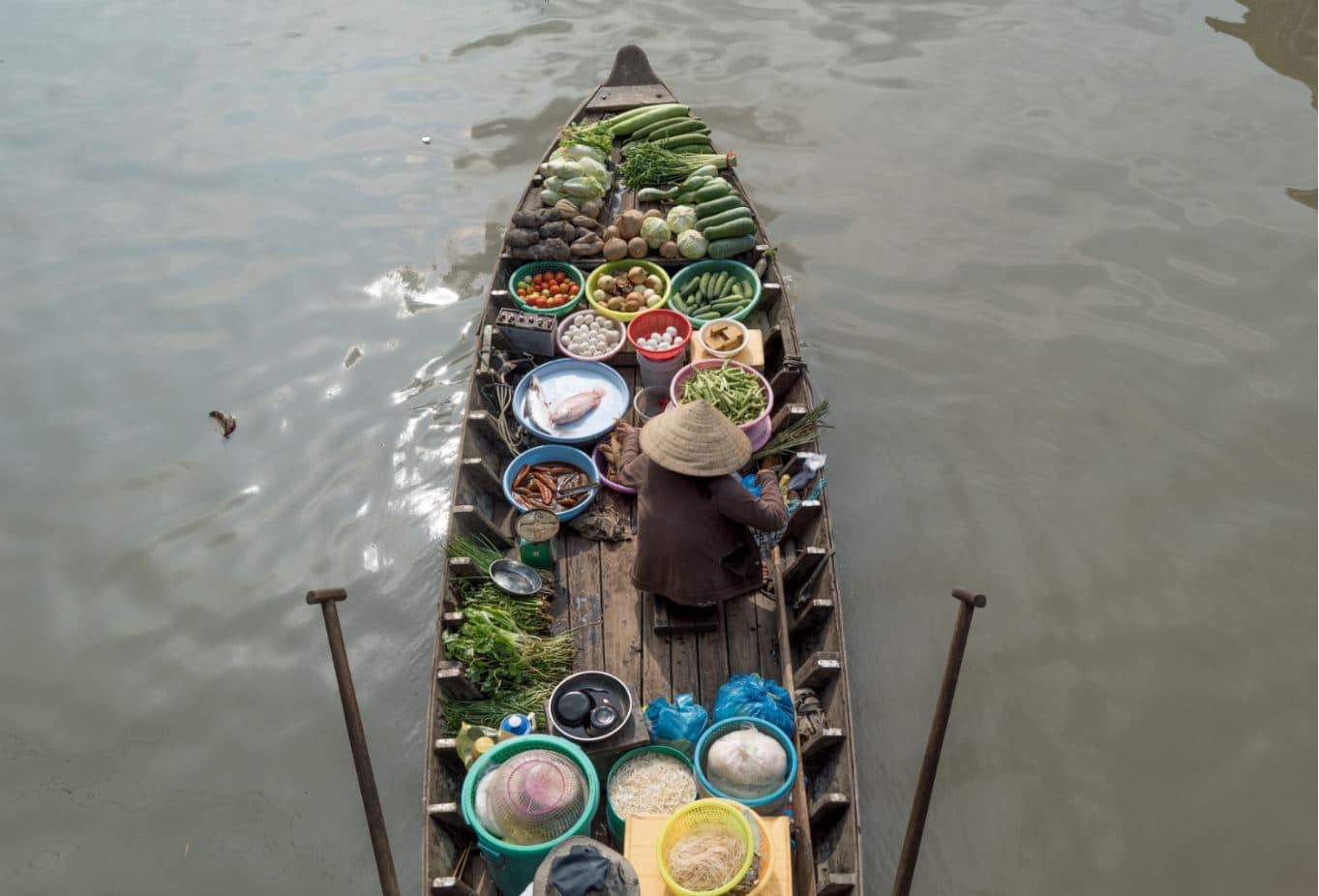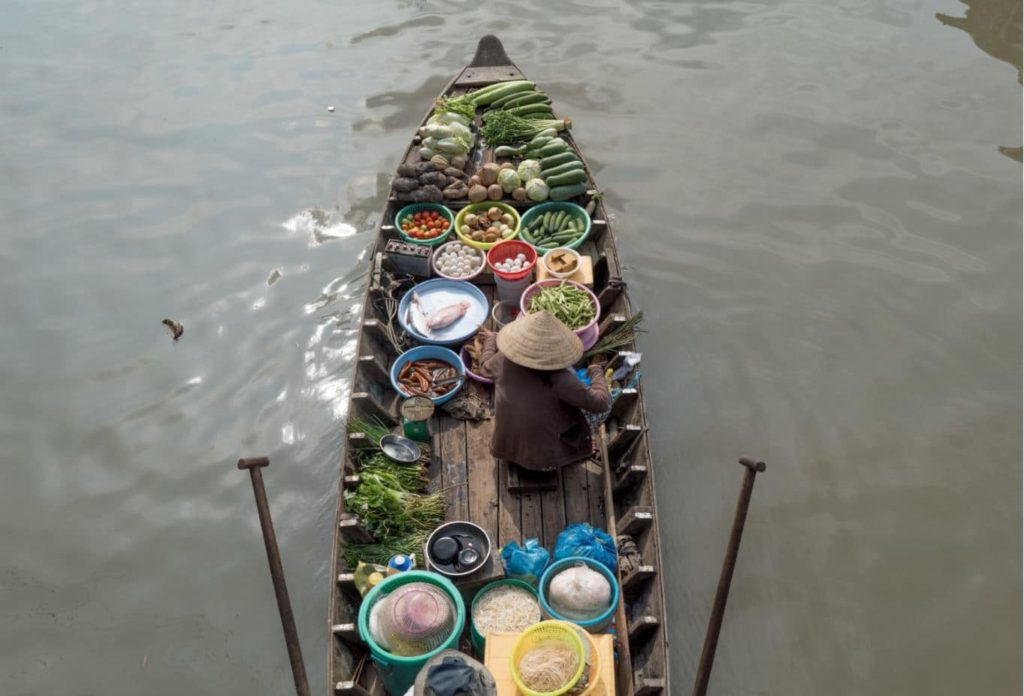 Where in Vietnam is Mekong Delta?
Mekong delta is located in the South West of Vietnam, almost at the end tip of the country. It is bordered by the sea on three sides, while at the north lies Cambodia, the country it was once part of.
Mekong delta is spread over a large area, so you cannot pinpoint just one location. Although by estimate, the place that a tourist wants to see is between 150 to 200km from Ho Chi Minh City. It can take between 3-5 hours to travel by bus depending upon the tour bus, the traffic and the hotel/homestay you choose.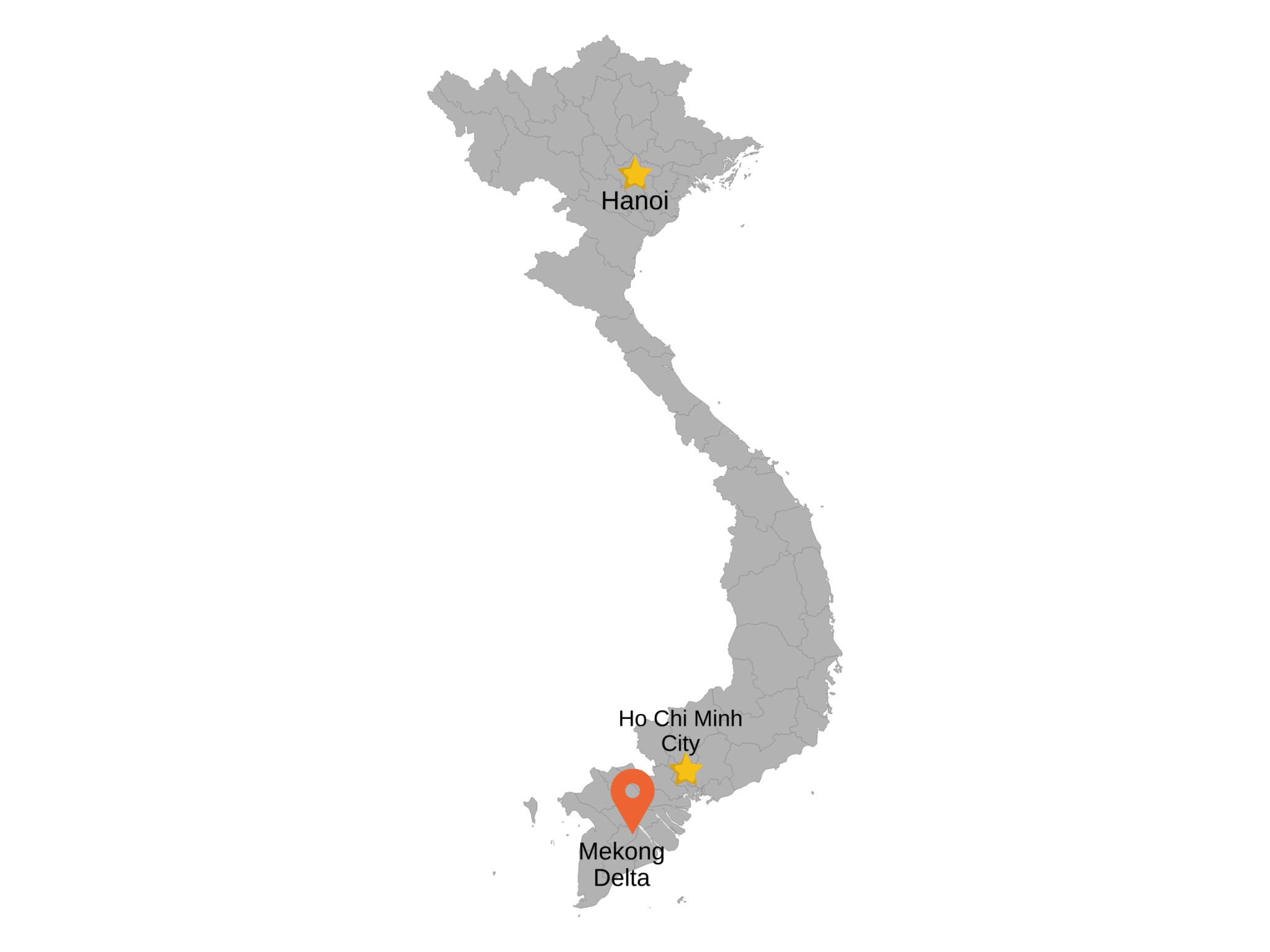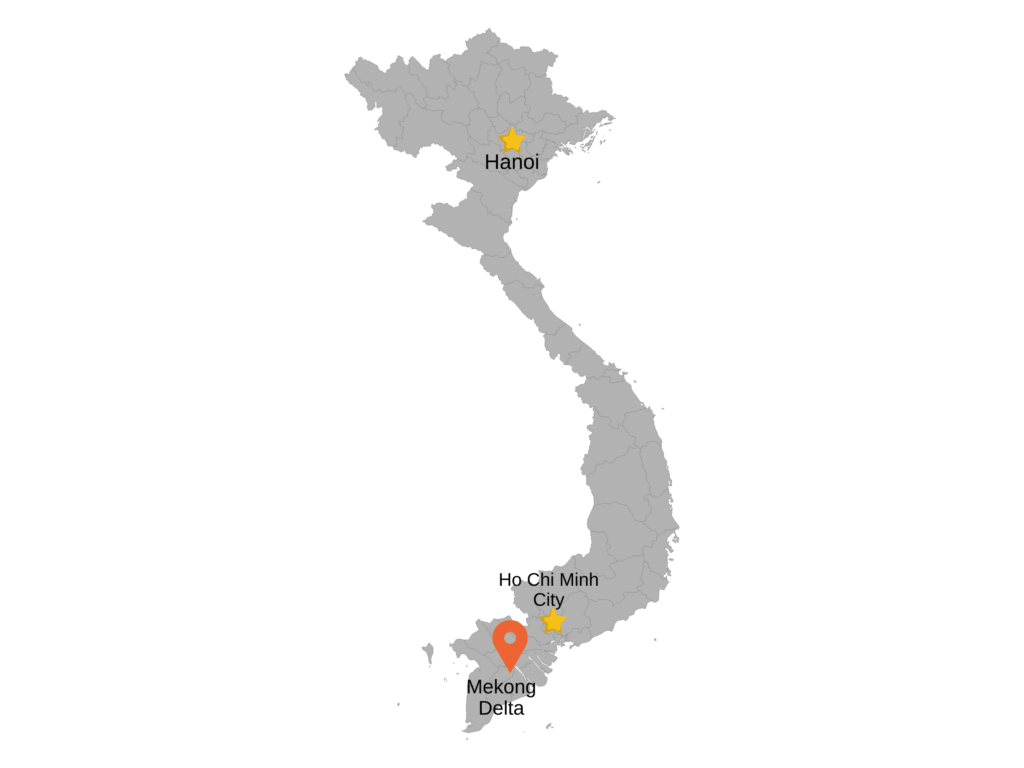 Best time to visit Mekong Delta
There are two season in Mekong Delta – the dry season and the wet season. Neither is a bad choice while some people will prefer one over the other.
Dry Season – November to April – The dry season means there is absolutely no rainfall in the area. With the best time between December and January, the humidity is at its minimum. The sky is clear and guarantees you an enjoyable day out. The Mekong River is at its lowest height but still quite gigantic in size.
This is also the peak tourist season and you may see a lot of them competing for the perfect picture at tourist spots. We went in the last week of December, and it was far from cool. The heat is always there, so be prepared for it anyway.
Wet Season – May to October – The heat of April subsides with the oncoming of rains in May. The delta experiences heavy rainfall from May to August. Although you can still enjoy a largely clear day with only bouts of heavy rainfall. The mud and humidity is something you need to manage.
There can be flooding at times which means that the whole region could be inaccessible to tourists at times. The upside is that the tourists are few and the foliage is bright green with life.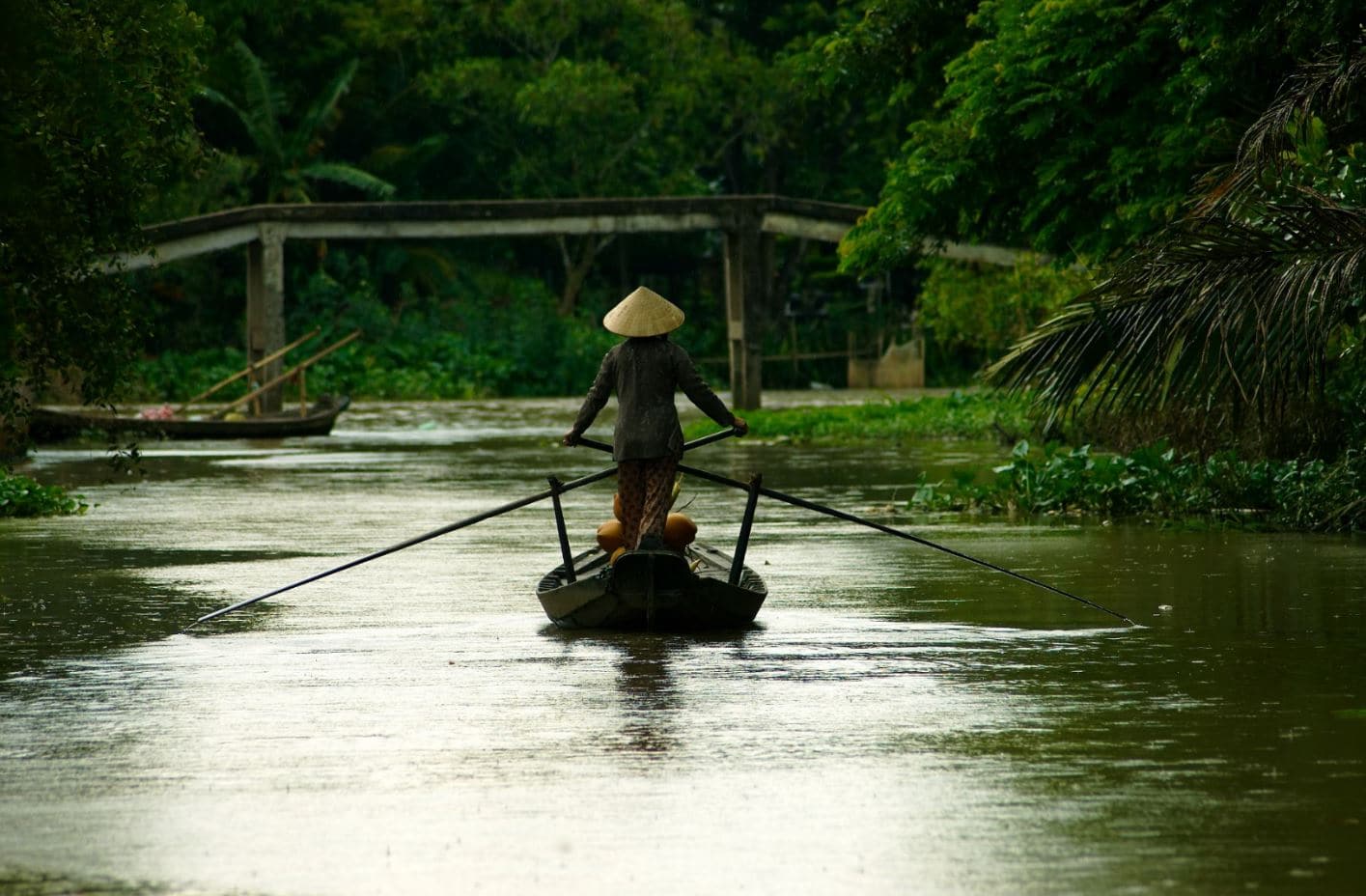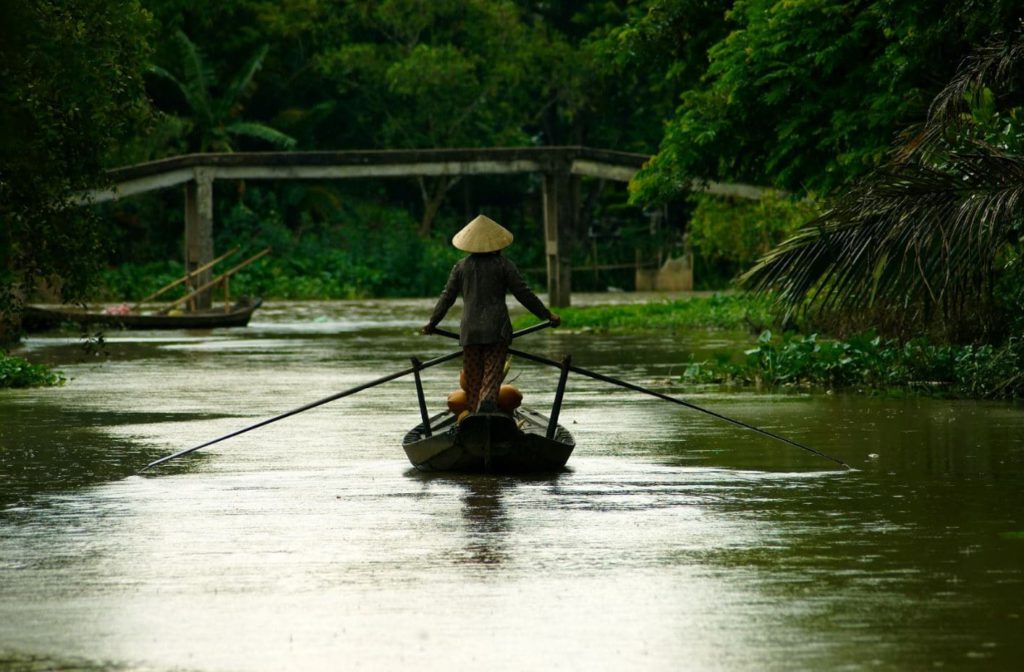 How to Visit Mekong Delta with a Tour
We chose to travel to Mekong delta because of two reasons. Firstly, we only had a day to explore the Mekong Delta. The other one is that we didn't know the best places to see and how to visit the Mekong Delta with local transportation. And even if we saw that online, it seemed too much of a hassle to do it yourself. In case you are looking for information on how to visit Mekong Delta on your own, skip to the next part.
Now here is the downside. If you don't like tours you may find them a bit rushed. Also, the main agenda of the tours is to support the local economy. Therefore, the guides take you to farms where they give you some complimentary food or products, and then there will be a pitch at the end. Of course, you can choose not to buy, no strings attached. But you will have to accept it as a part of the tour even if you hate a sales pitch.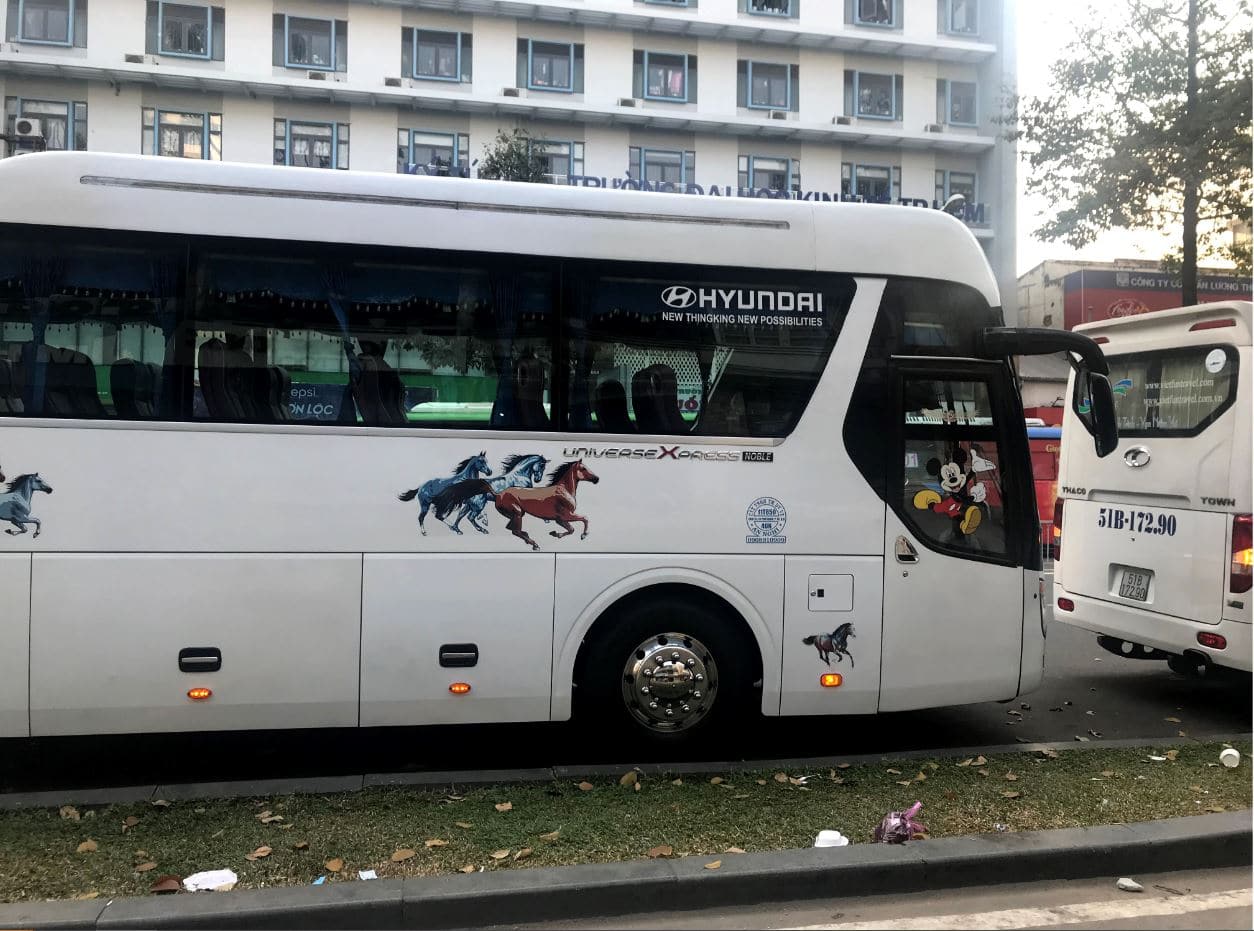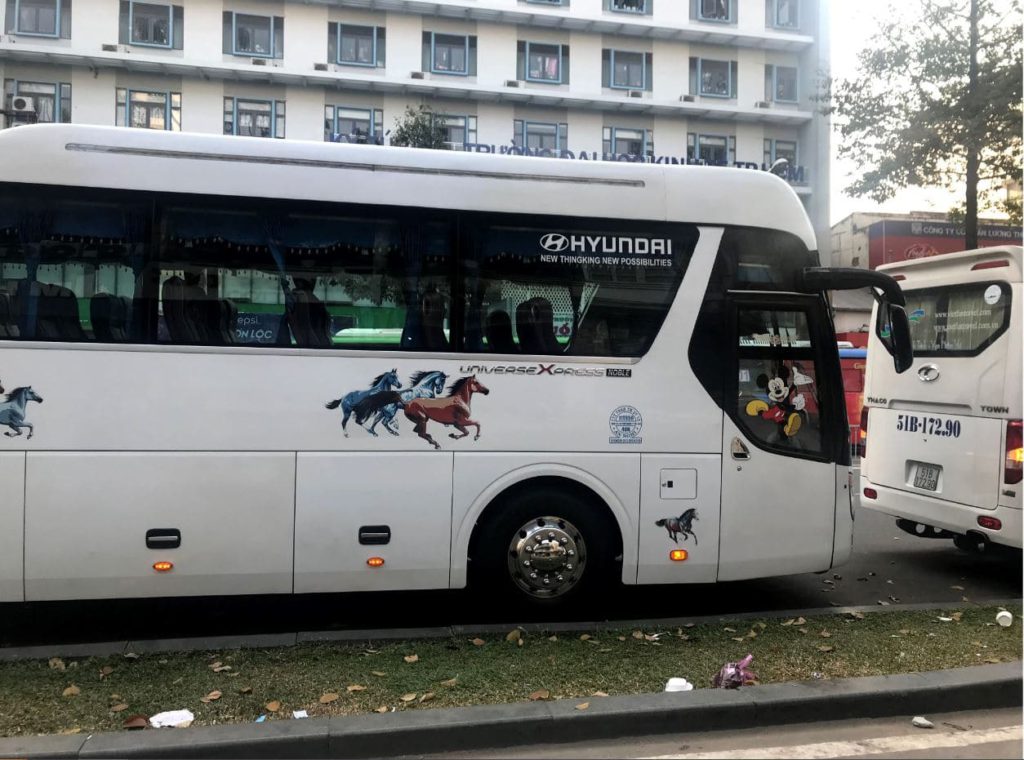 Mekong Delta Tour
We booked a tour in a large group that consisted of the following:
1. Vinh Trang pagoda
2. Reach My Tho
3. Boat ride along the Tien River
4. Proceed to Tortoise islet for lunch
5. Boat ride to An Khanh in Ben Tre
6. Enjoy seasonal fruits and honey tea
7. Visit a sample coconut candy family business
If you choose a small group for the tour, it includes a bicycle ride in a nearby village in well. Make sure you do it in time, the seats fill up fast.
Book one day tour Online: Full Day Excursion To Mekong Delta
A major attraction of Mekong delta is the floating market. And if you haven't seen one before, you shouldn't miss the chance. But you will need an extra day besides the above activity to see the market. In that case, choose to take a multiple-day tour which includes lodging in local villages. A 3 day trip will take you from Mekong Delta all the way to Phnom Penh and drop you off there.
Book Floating Market tour: 2D1N Mekong Delta with Floating Market Guided Tour
Book 3D2N tour of Mekong Delta to Phom Penh: 3D2N Ho Chi Minh City to Phnom Penh via Mekong Delta Guided Tour

1. Vinh Trang Pagoda
Vinh Trang Pagoda is a more recent holy place compared to other south-east Asian temples. Built in a fusion style of traditional Vietnamese, Chinese and European, the pagoda is very unique. But the three colossal statues of Buddha capture most of the eyes.
The three Buddha are that of Amitava Buddha who symbolizes bliss and compassion, the laughing Buddha depicting happiness and Good luck and the reclining Buddha, Buddha during his last illness before he attained final nirvana. These are built around the complex in white color and evidently large sizes. Bonsai trees decorate the pavements that go around the temple complex.
The inside of the temples is carved in dark-colored wood with many local and Chinese deities. The intricacies of the designs capture animals from the jungle as well as the mysterious dragon from Chinese mythology. The atmosphere inside the pagoda is serene and fills the nostrils with incense and ears with the falling sound of water from an oriental fountain.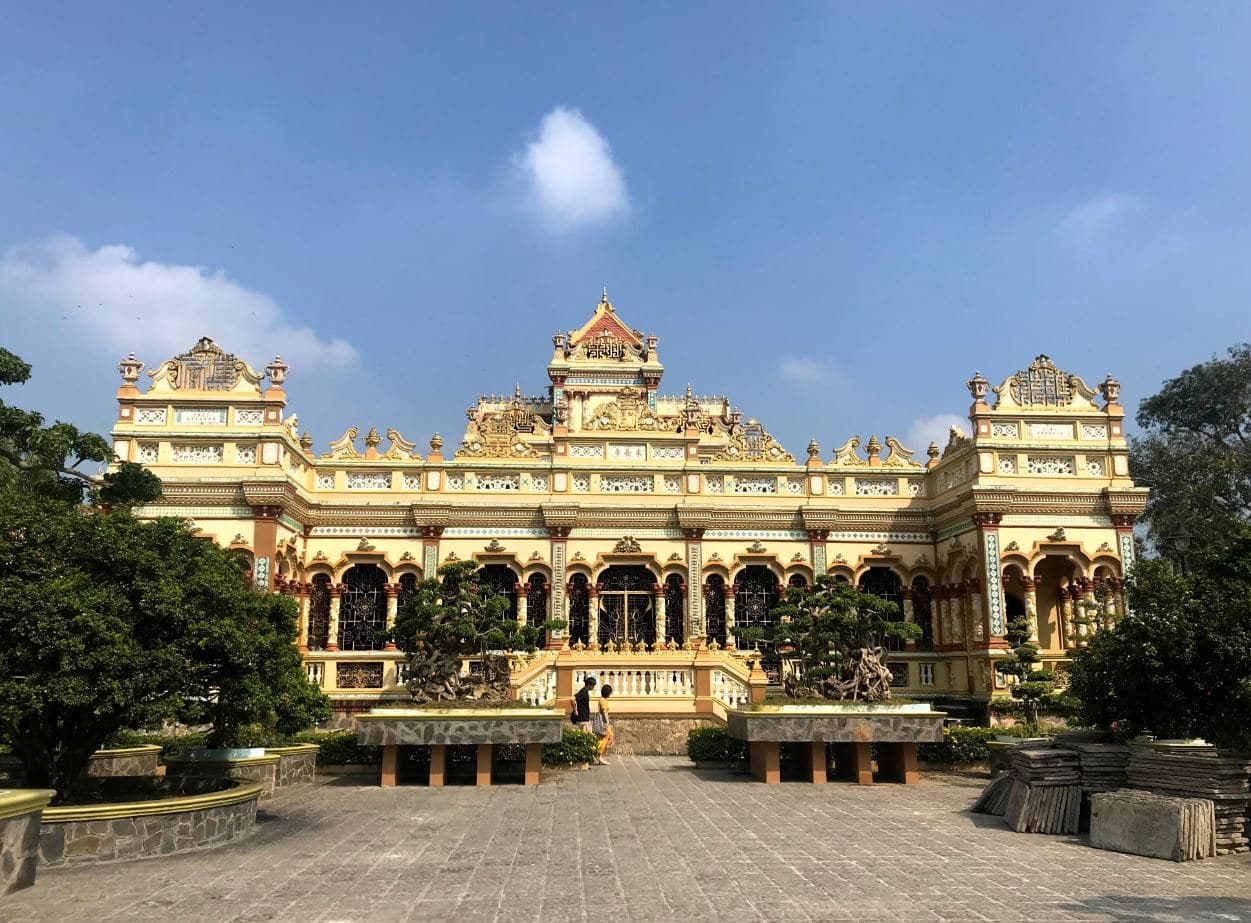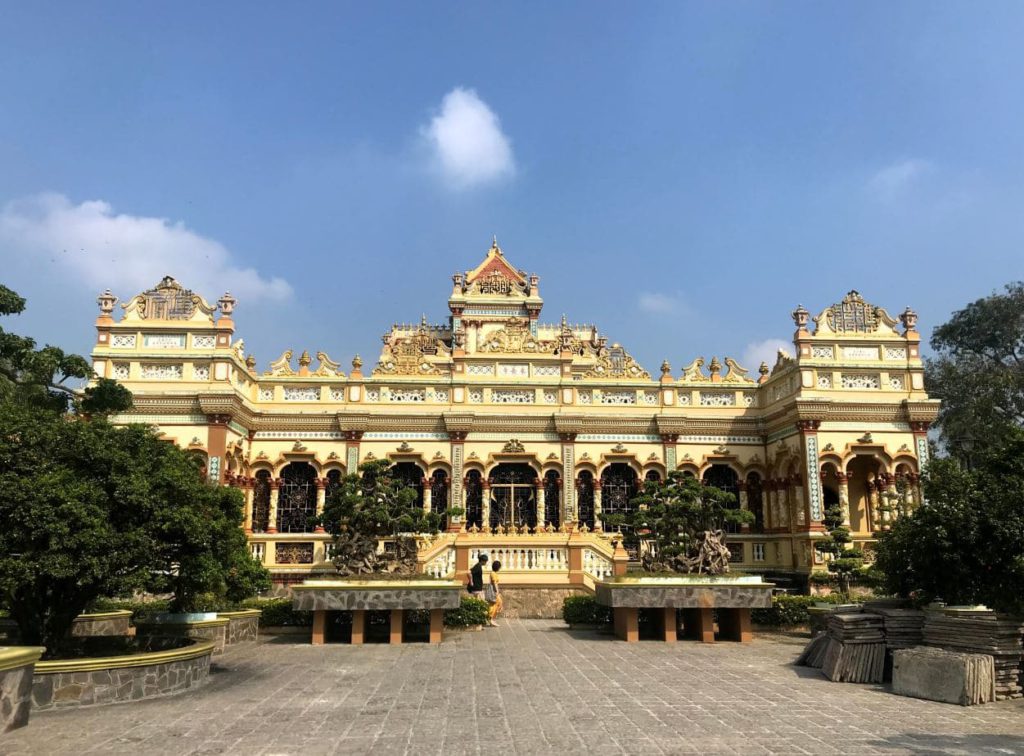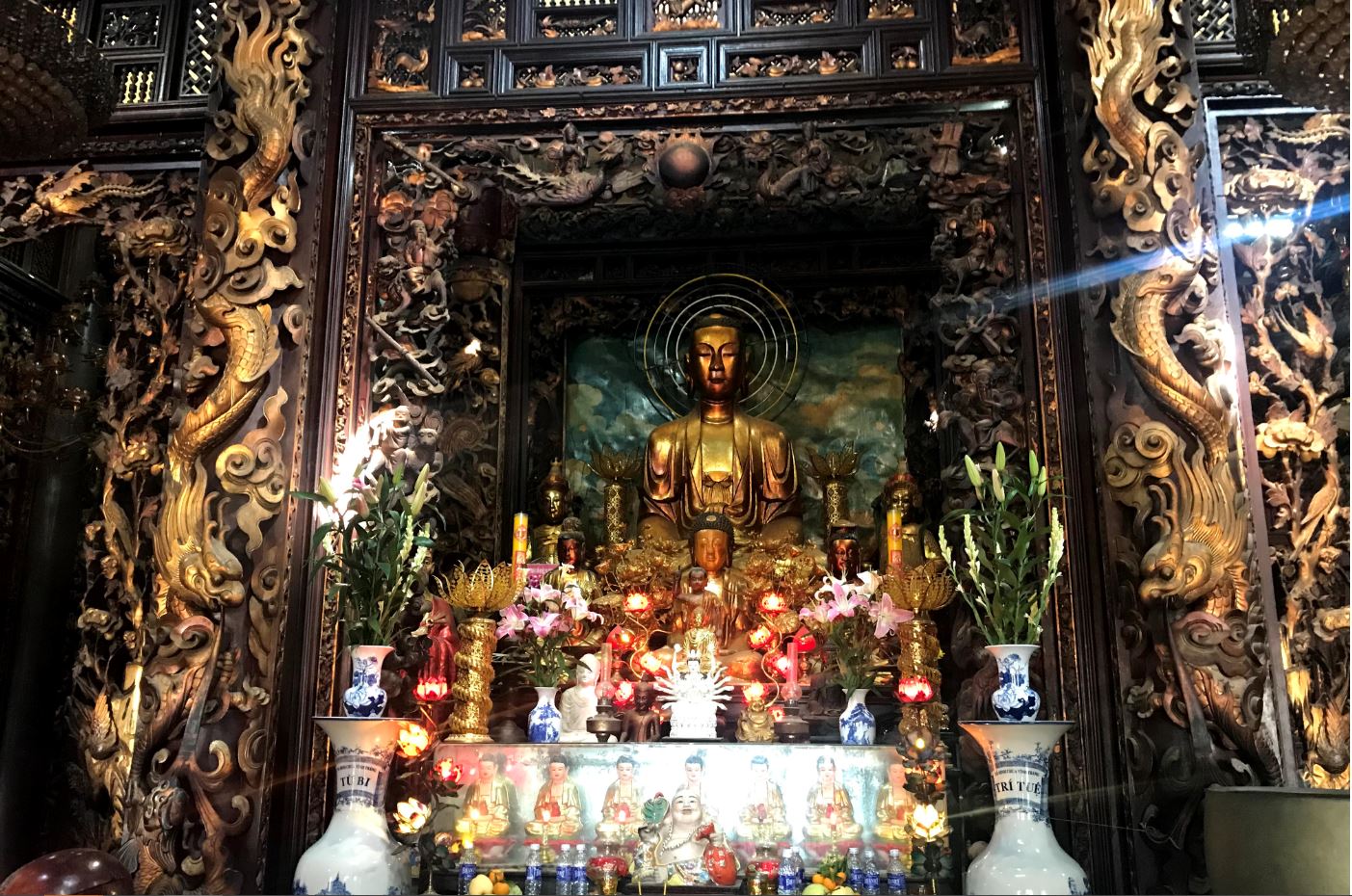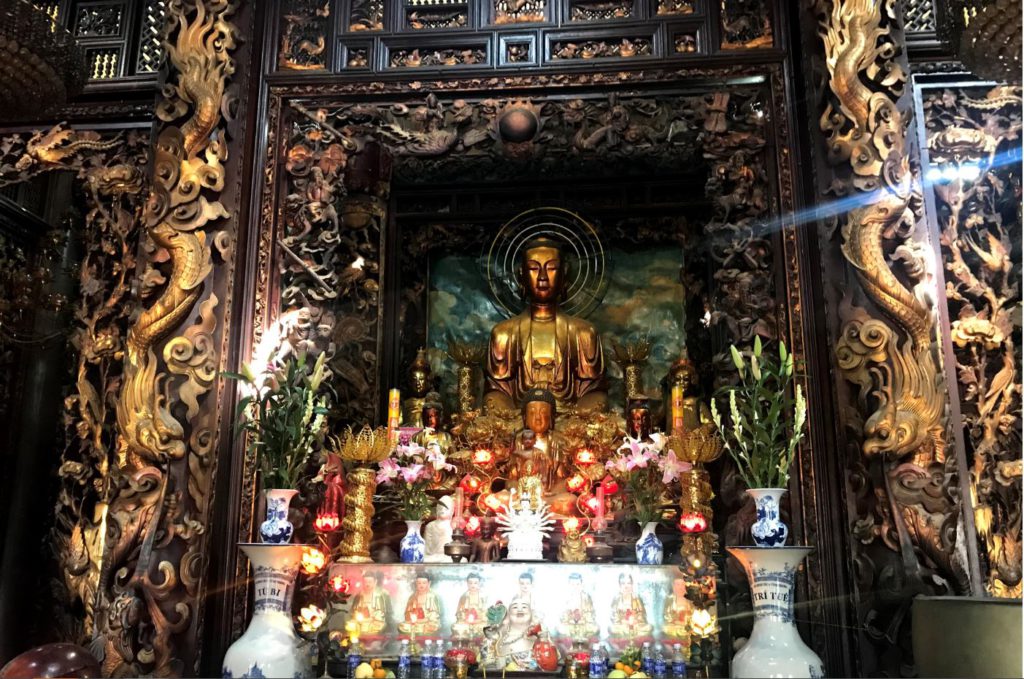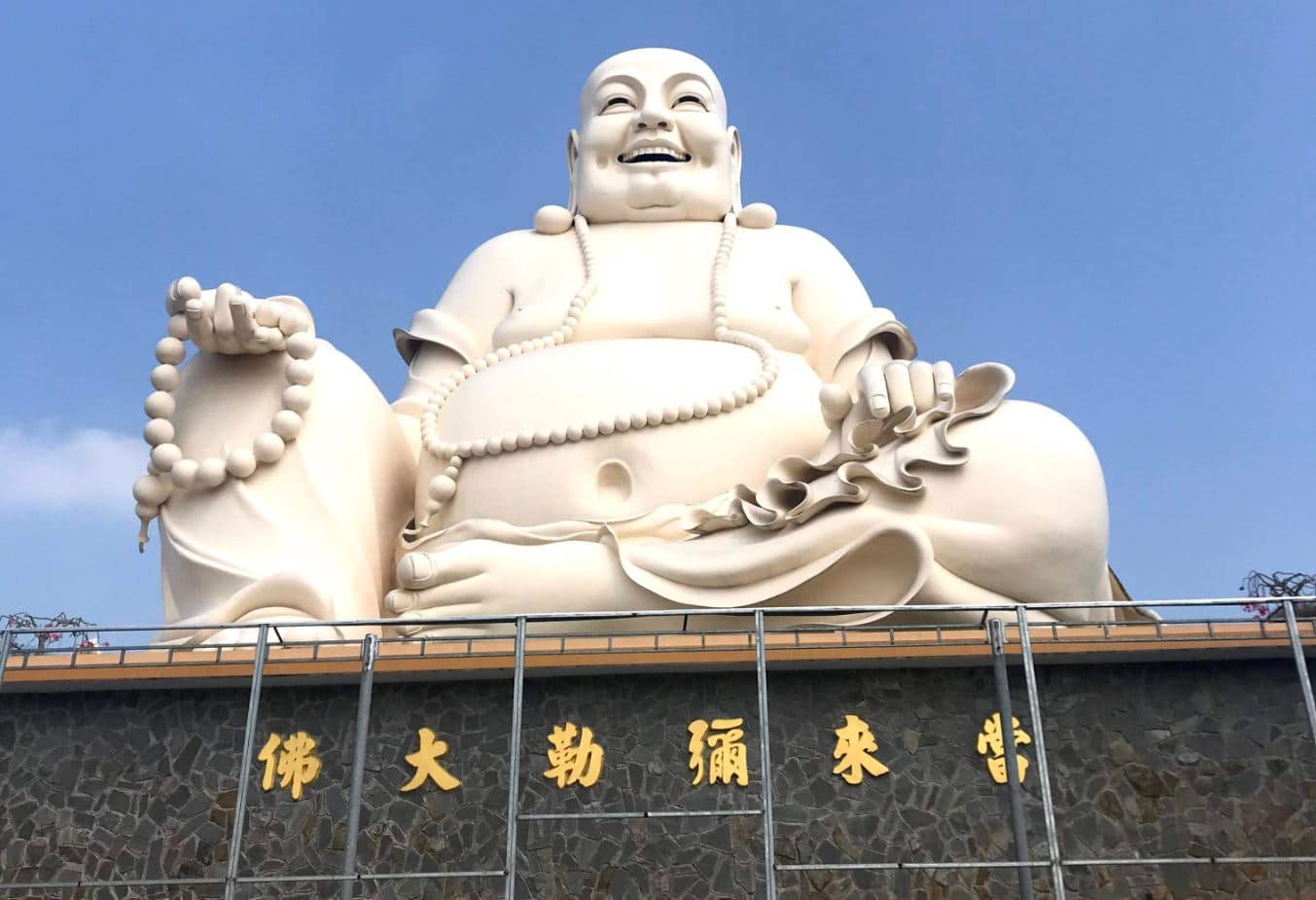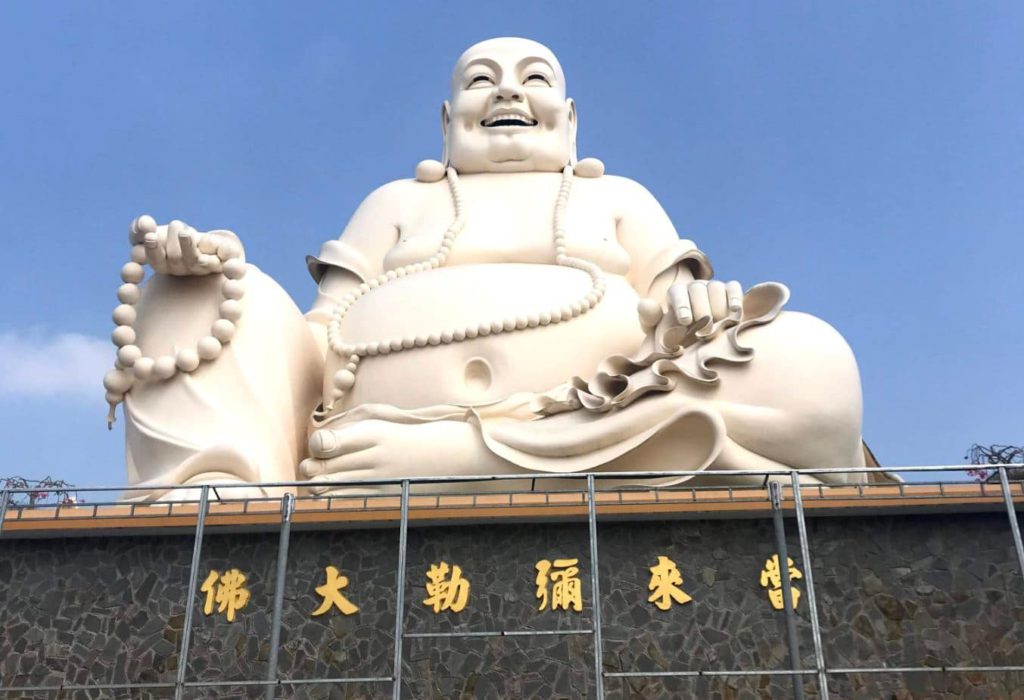 2. Tortoise Island for Lunch
Now, the Mekong is a huge river. And as it merges with the sea, it creates many small islands at its mouth. Around My Tho, there are four islands – The Dragon Island, the Phoenix Island, the Tortoise island and the Unicorn island. We head to Tortoise Island for lunch.
And to reach our destination, we get to experience a slow and idyllic ride of the Mekong river. The heat can still be overbearing, but the occasional cool splash of water from the muddy river negates it out.
Tortoise Island is a small one. Private orchards claim most of the island. The orchards here are that of Pomelo, a fruit from the family of grapefruit. Once at the dining table, you can taste fresh juice of the fruits from the gardens as well. There is nothing like eating fresh out of the farm and gardens with the least amount of food processing.
The meal is simple though. There was rice, stir-fried vegetables, an omelet, spring rolls, and some salad. We asked for a vegetarian meal. But pork is added to the usual meal. You can ask to customize yours to some extent. But there are far more paid options to choose from. Try the freshly caught Elephant Ear Fish, unique to Mekong Delta.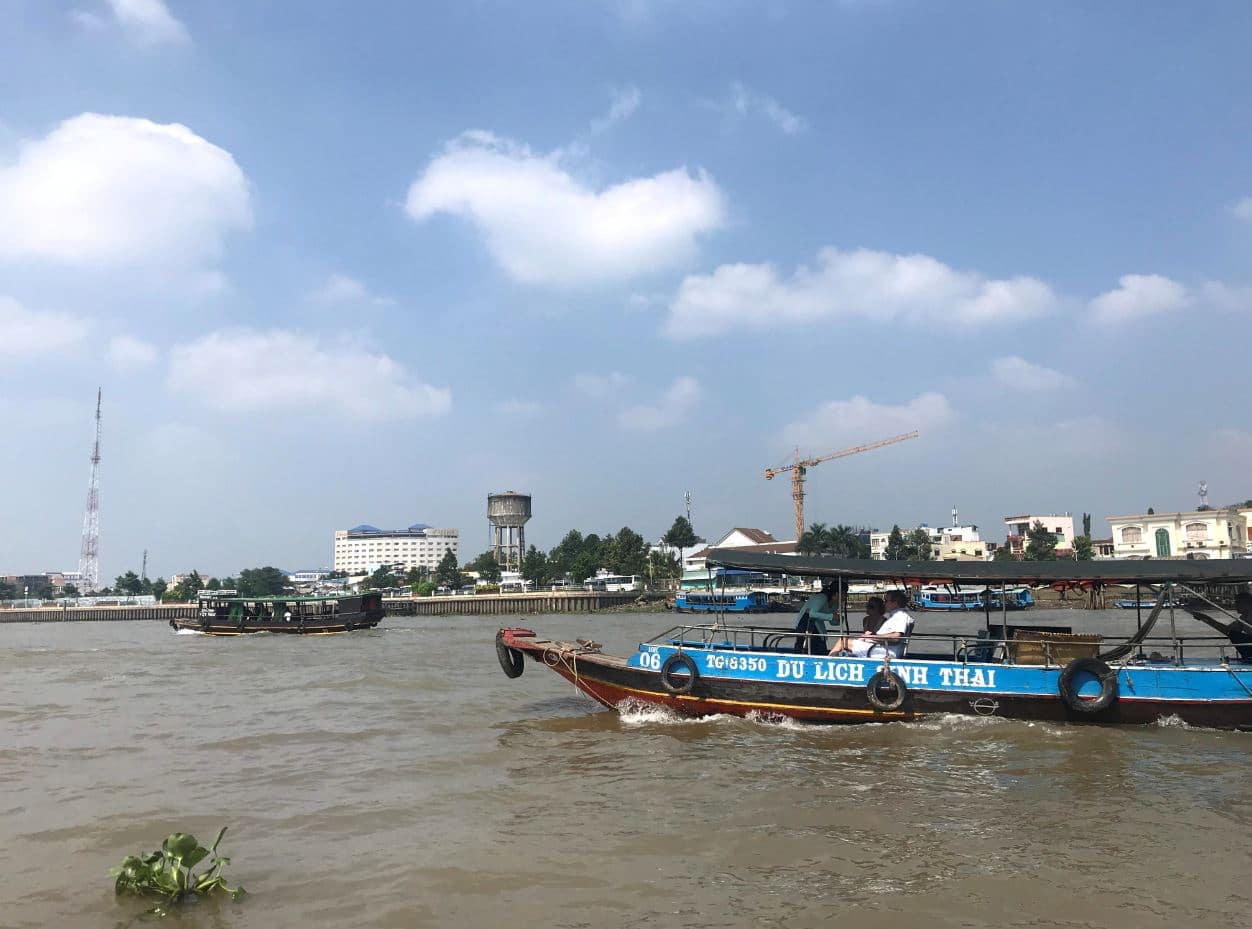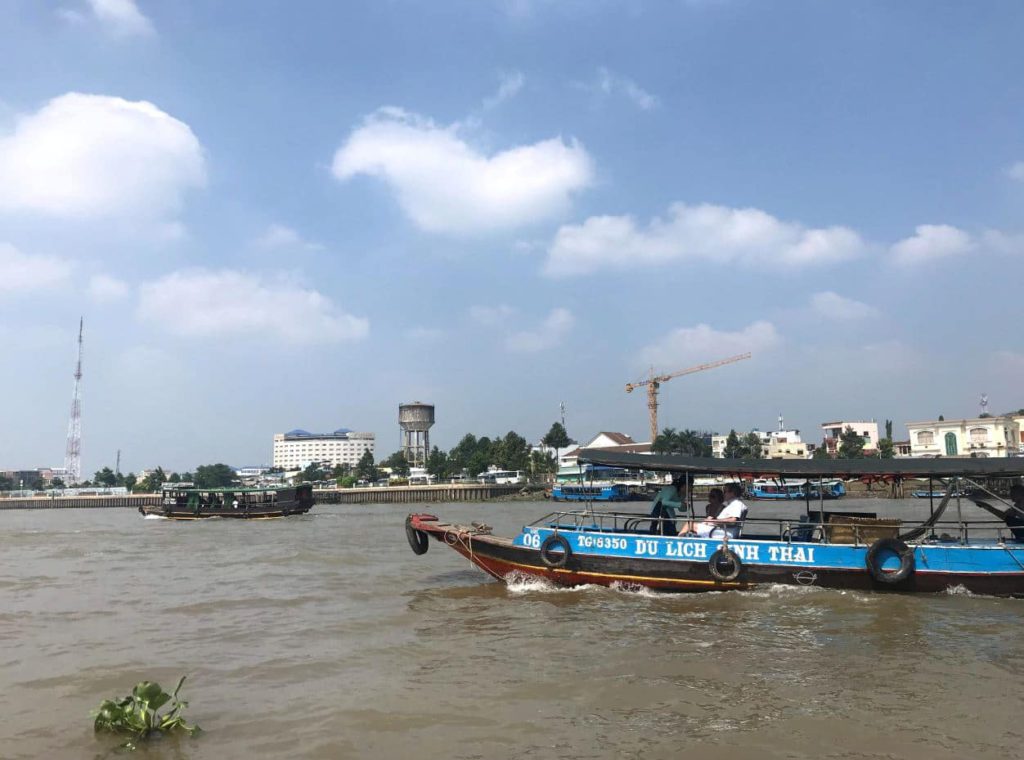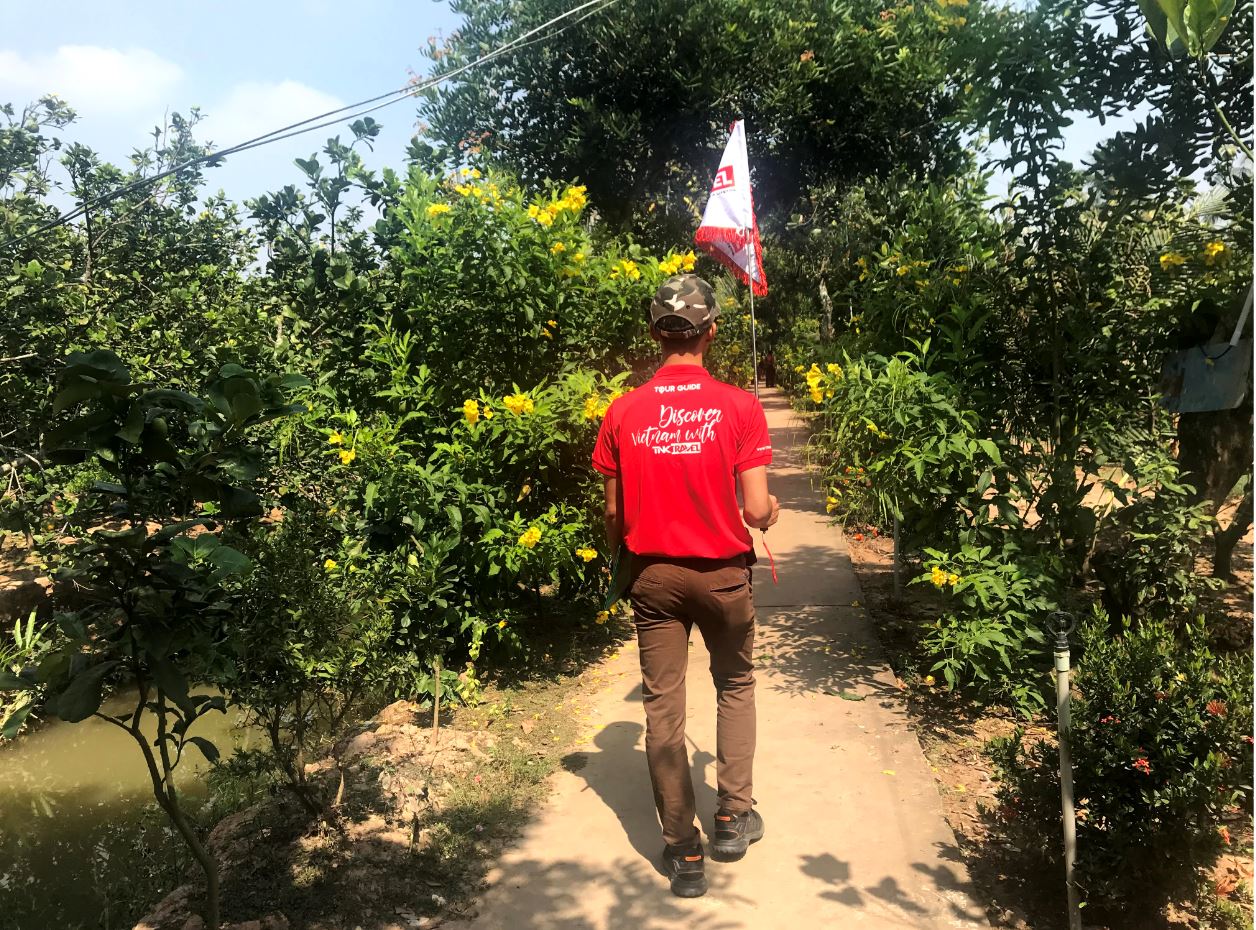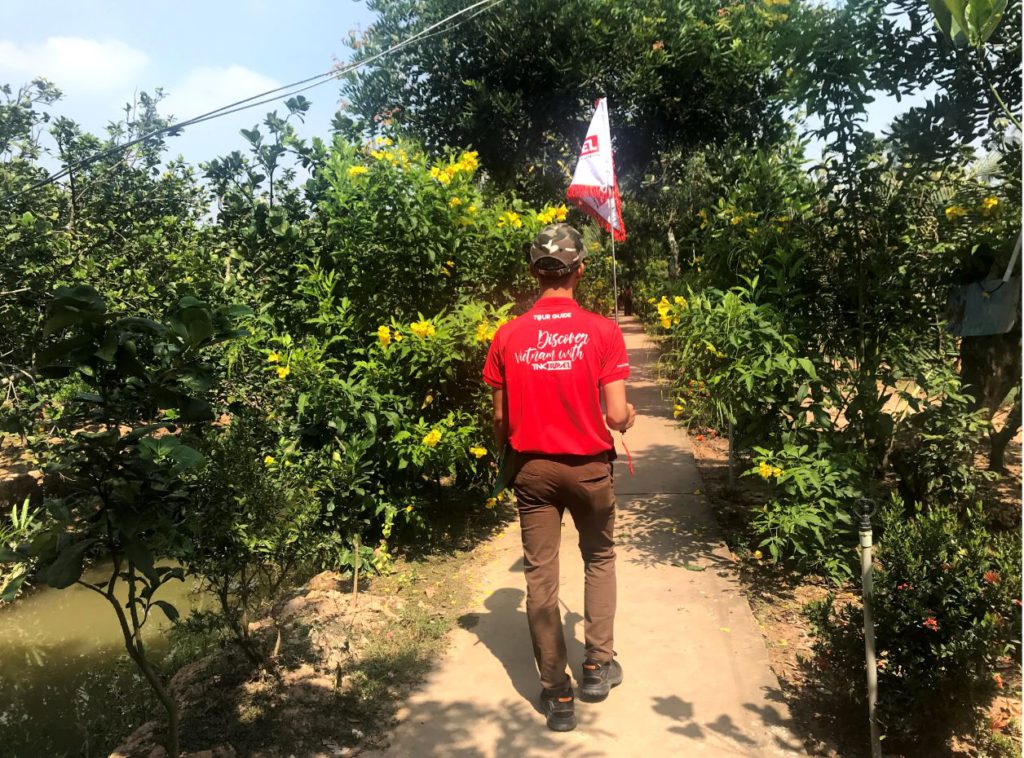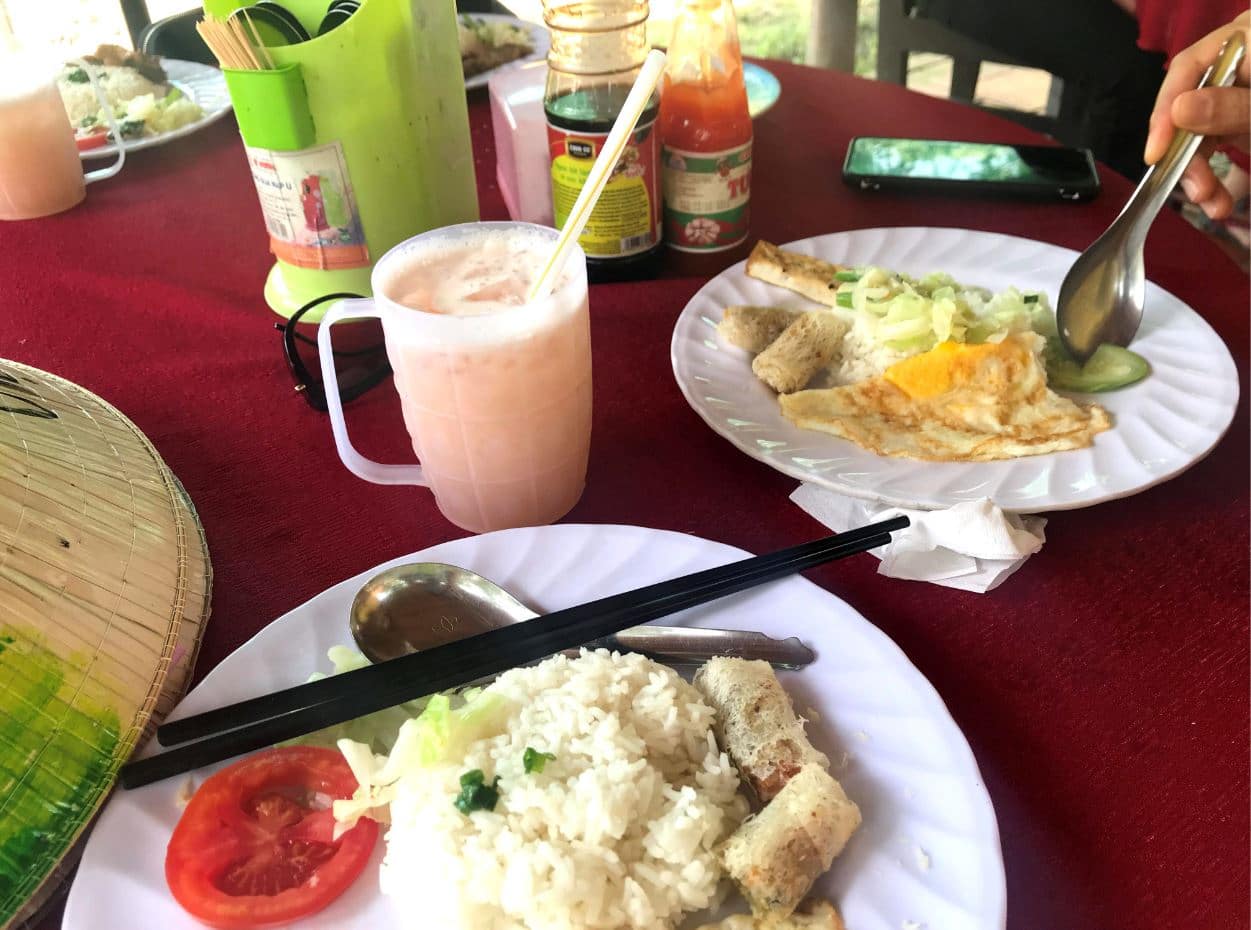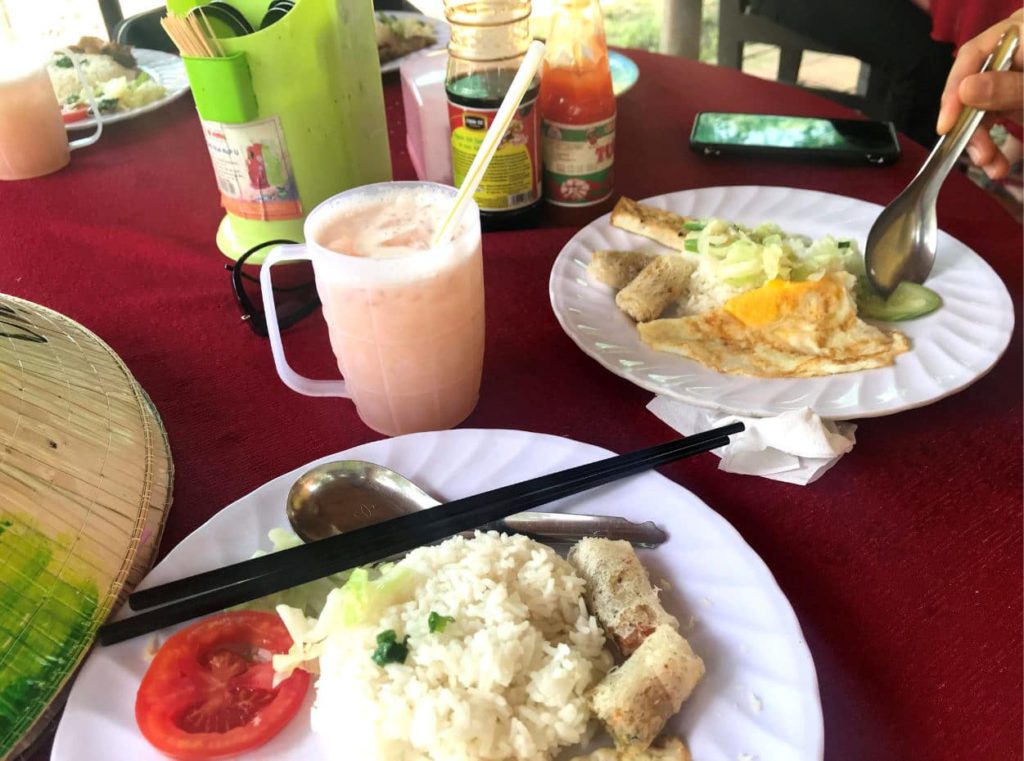 3. Coconut Candy Farm
The next stop is a coconut candy farm, also our tour guide's home. They take you around to see the process of how coconut is grated, mixed with rice jelly to make a thick caramel-like liquid. It is then processed and poured into farm machines to make coconut candies. They then wrap it up in rice paper to sell at local markets.
Of course, this is where they offer you to buy some but you can sample some beforehand. The candies are available in many flavours like durian, peanuts, and chocolate.
But there are other things of interest as well. You will find souvenirs made of coconut shells that are cute. But the most interesting of all is snake and scorpion wine. They make it by locking in whole cobra snakes and black scorpions in rice wine to ferment. The tour guide claimed that it is great for the libido which I have my utmost doubts on.
If you are lucky you can have a shot at their petting their anaconda and maybe even carry it around your shoulders. I have my ethical doubts over this kind of thing, but then at least he gets to live (unlike the other snakes that became the wine).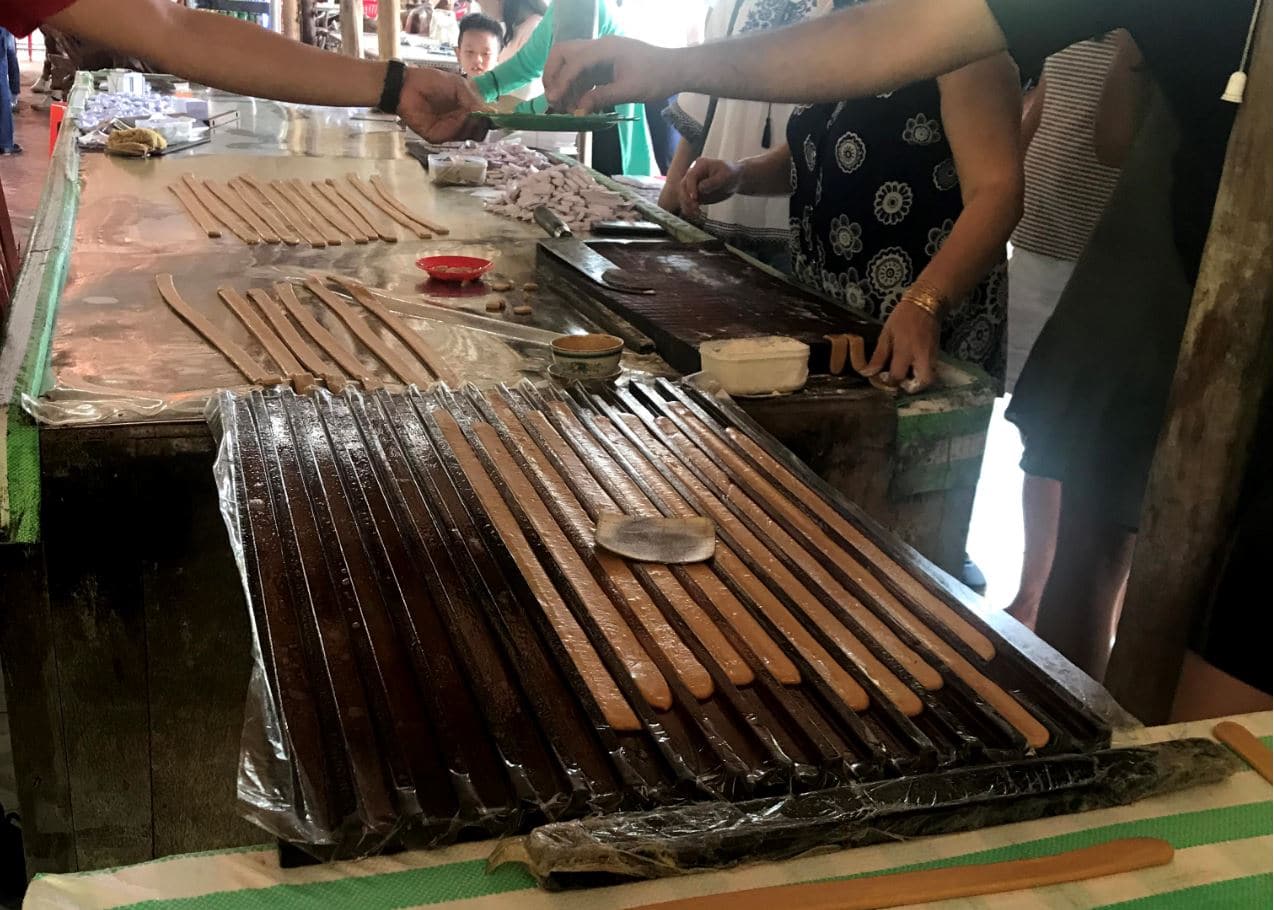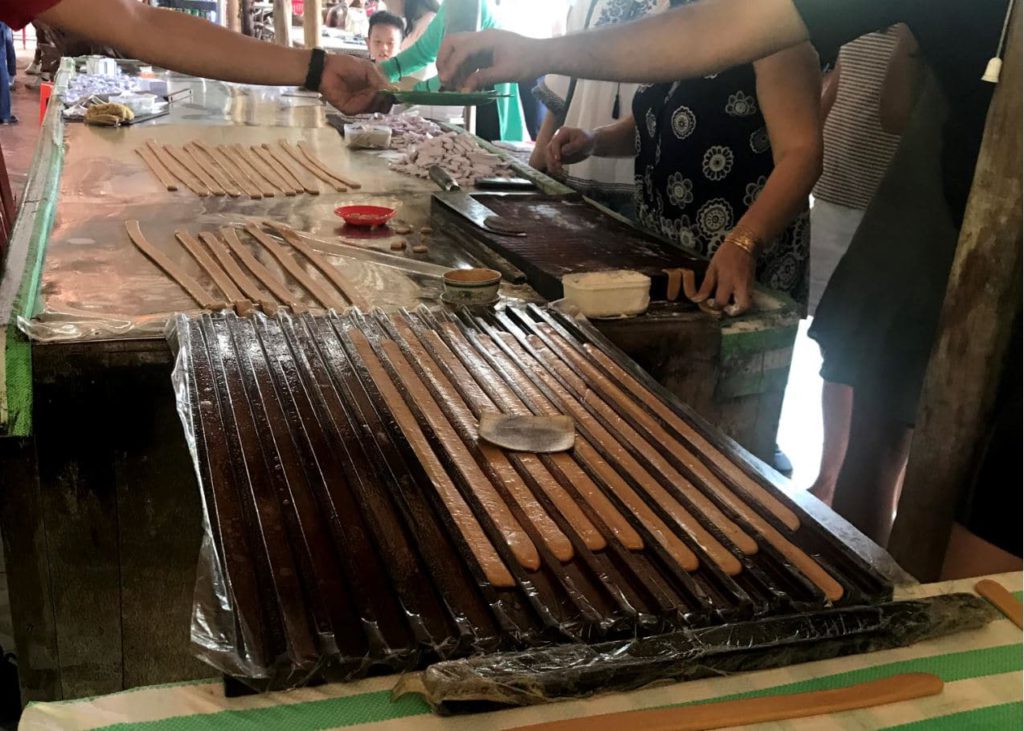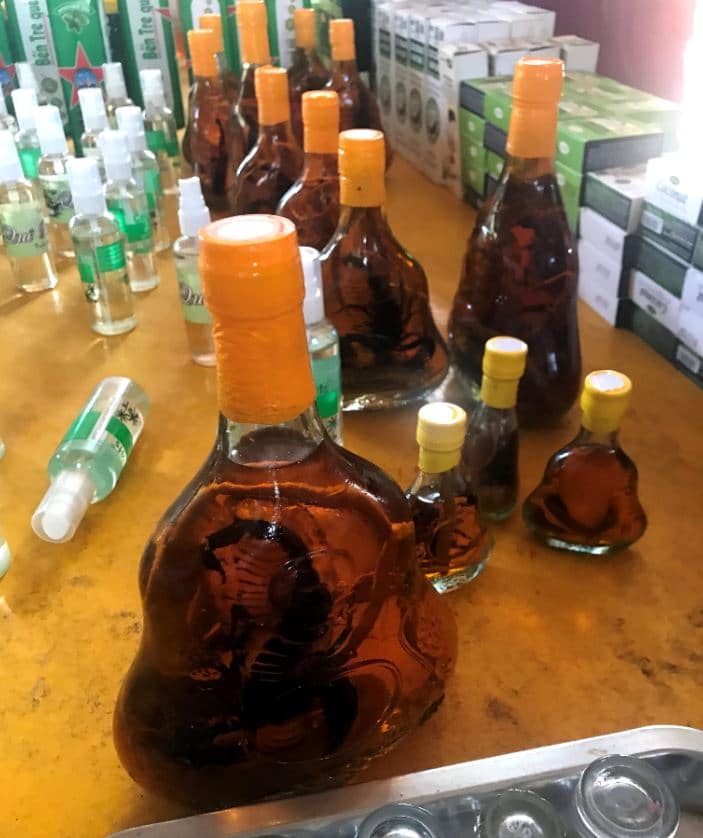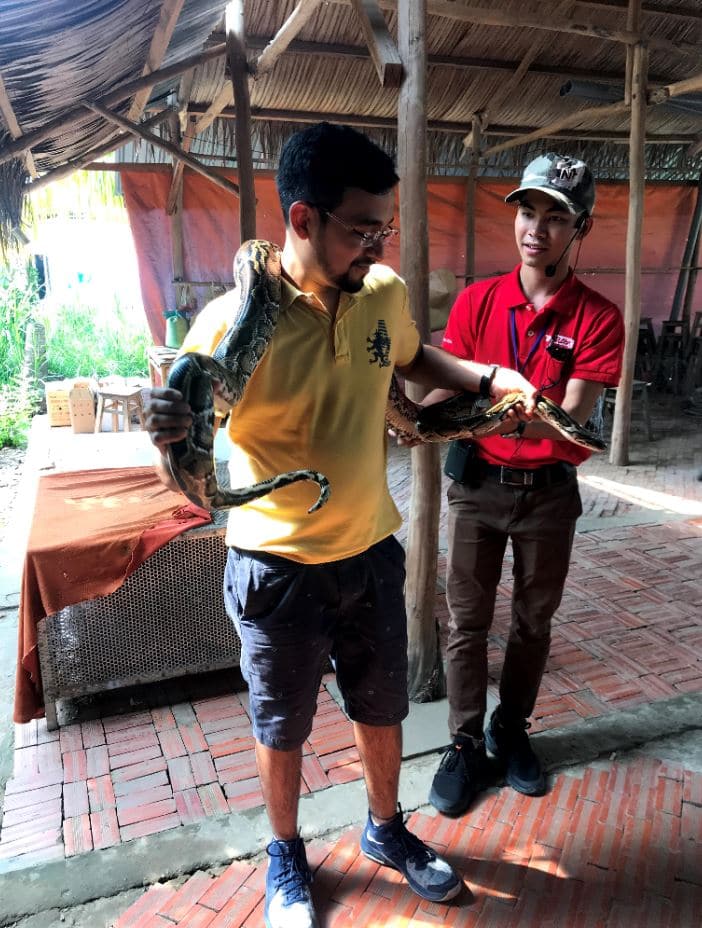 4. Boat ride to An Khanh in Ben Tre
This was the part I was waiting for all along. Slow boat ride on small wooden boats with straw hats in the middle of marshy land. Just as I have seen countless times on the internet.
So you then divide into groups of four. And all hop on to a boat one after another. The boats are small and susceptible to topple; therefore you have limited mobility on it. They also give you a straw hat, if you already don't have one. And then you just glide on the water and enjoy the ride.
The ride lasts from 10 to 15 minutes and then they drop you at the other end. The water is muddy and you don't know what is beneath them, so you don't want to put your fingers in danger by touching the water. All in all, one sweet experience.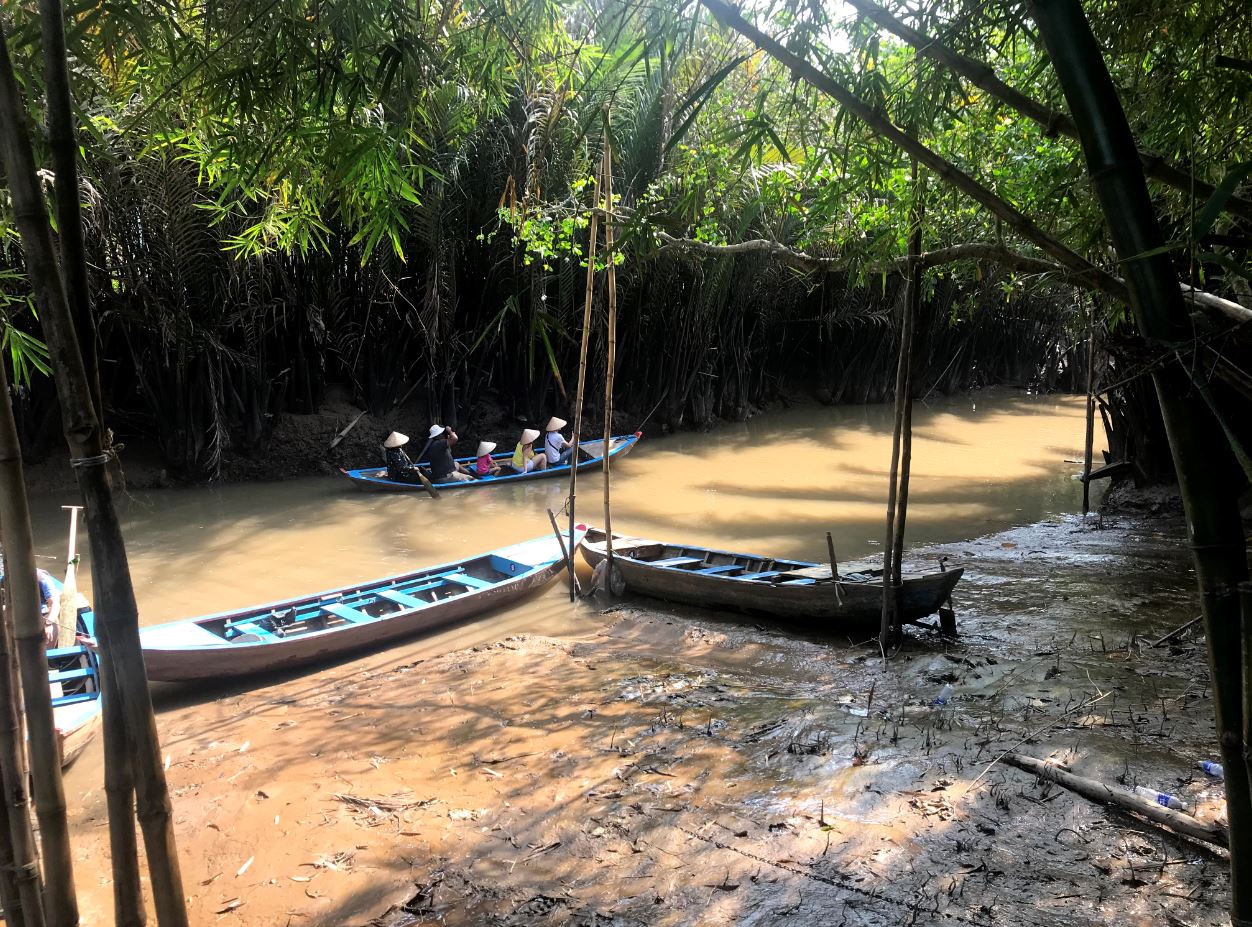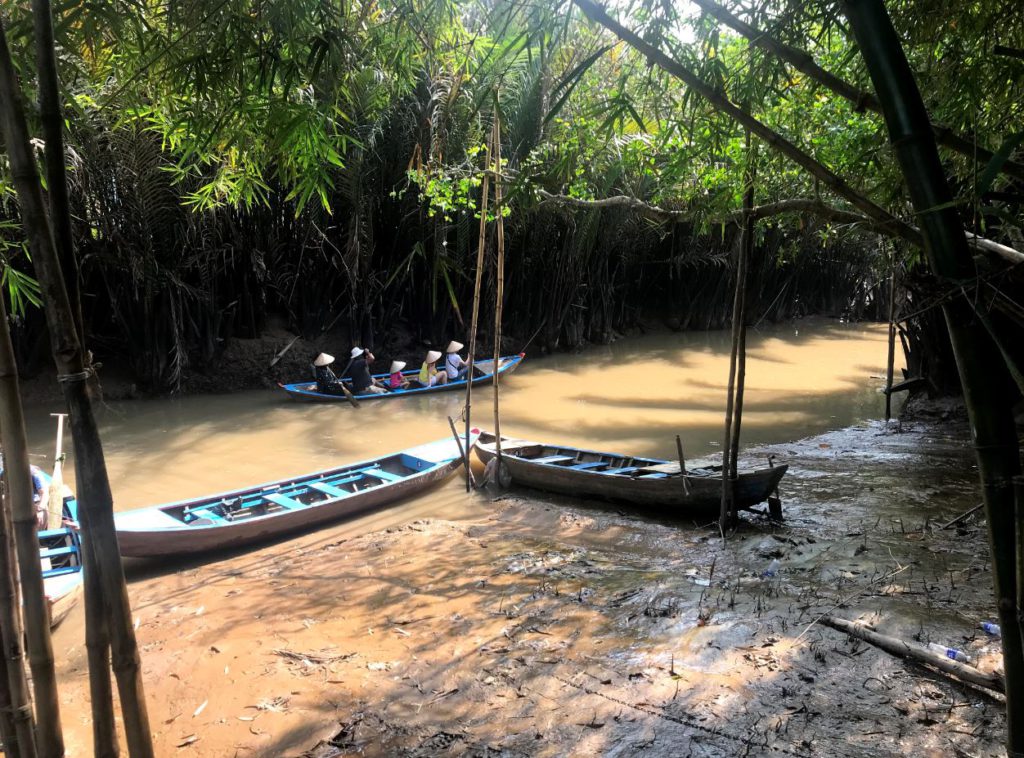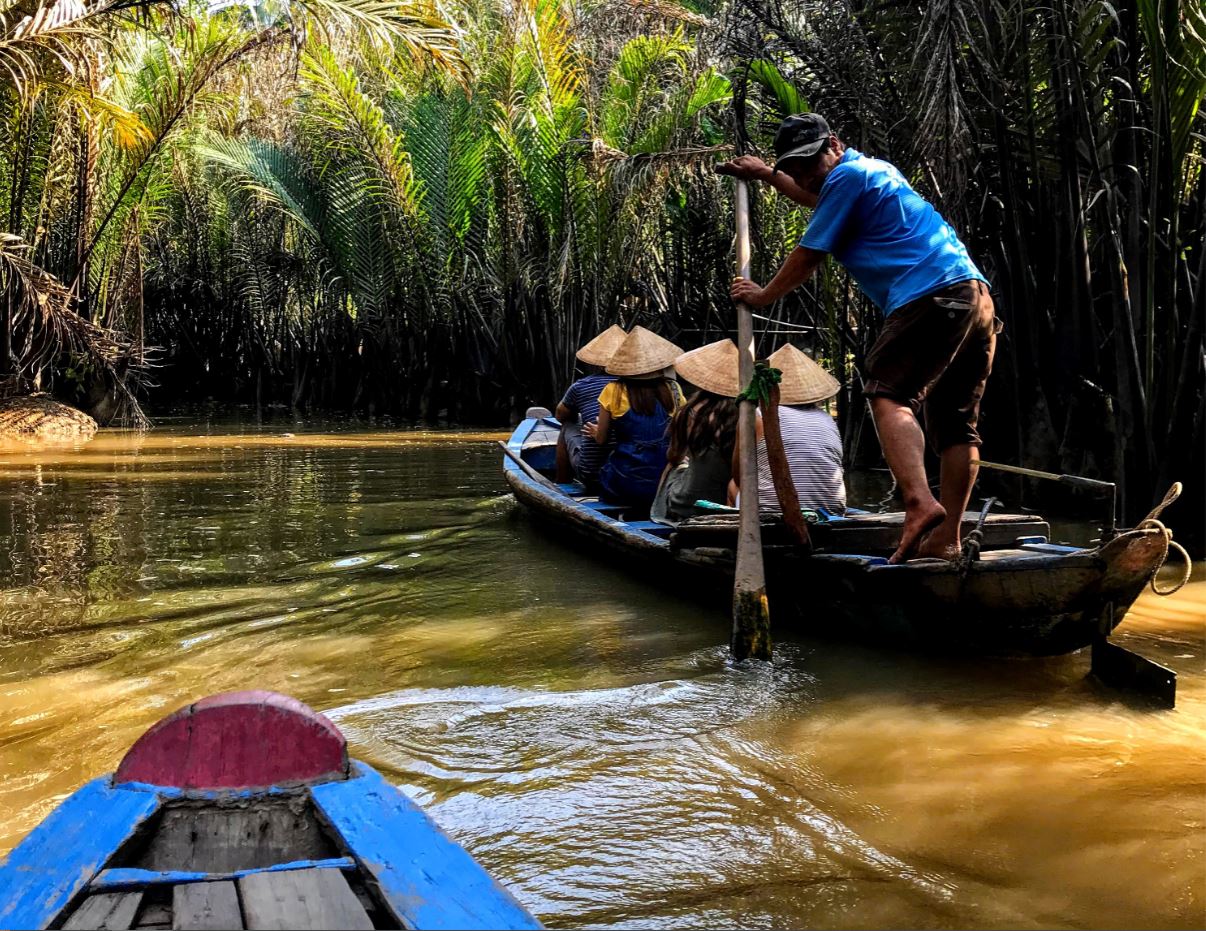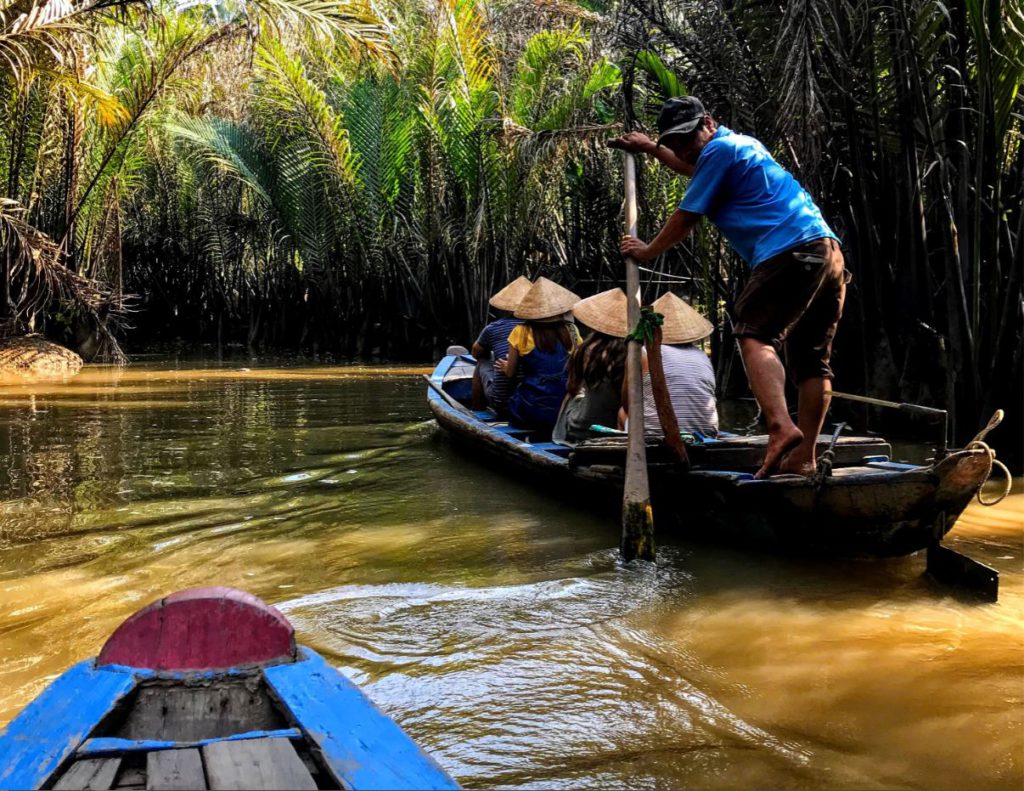 5. Bee farm and live traditional music
Now as soon as you disembark, you walk to a small compound of a local family. Apart from being farmers, they also host tourists. You will taste some local fruits grown in the area with some refreshing tea. They serve the tea with fresh honey from their bee farm. They will make a pitch for you to buy a bottle if you like. To be honest, it was a really good deal.
While you sip your tea, a bunch of men in their 70s and 80s will gather around and show you a sample of their singing and musical skills. A couple of women will also join in and it becomes jolly for a while. If you ask a local, it is probably far from melodic. But since we didn't understand the language, we appreciated the effort and left in some tip. It was still fun.
That does sum up the one day trip. After this, you hop on your bus and go back to Ho Chi Minh City. I will add some information for those with a longer trip duration.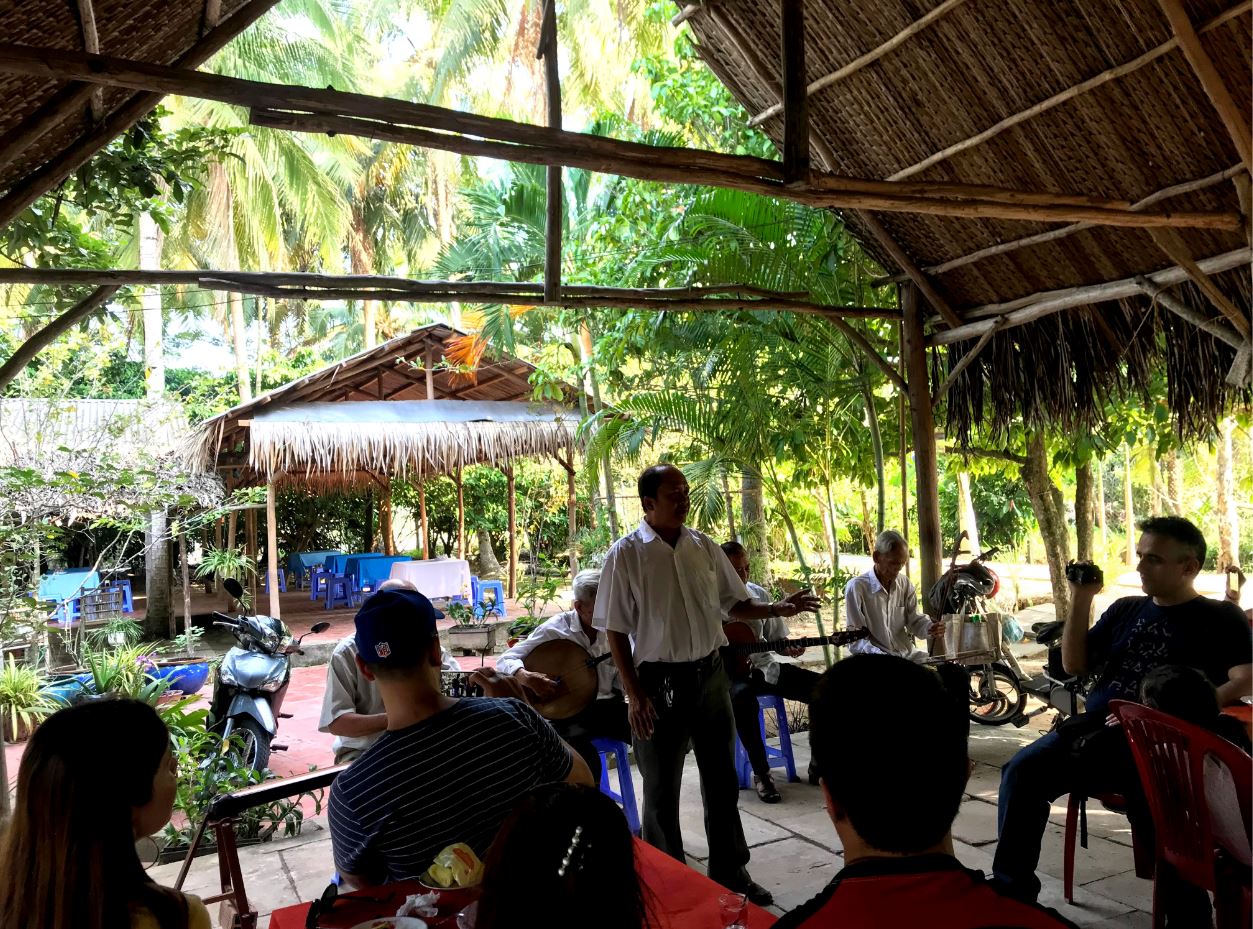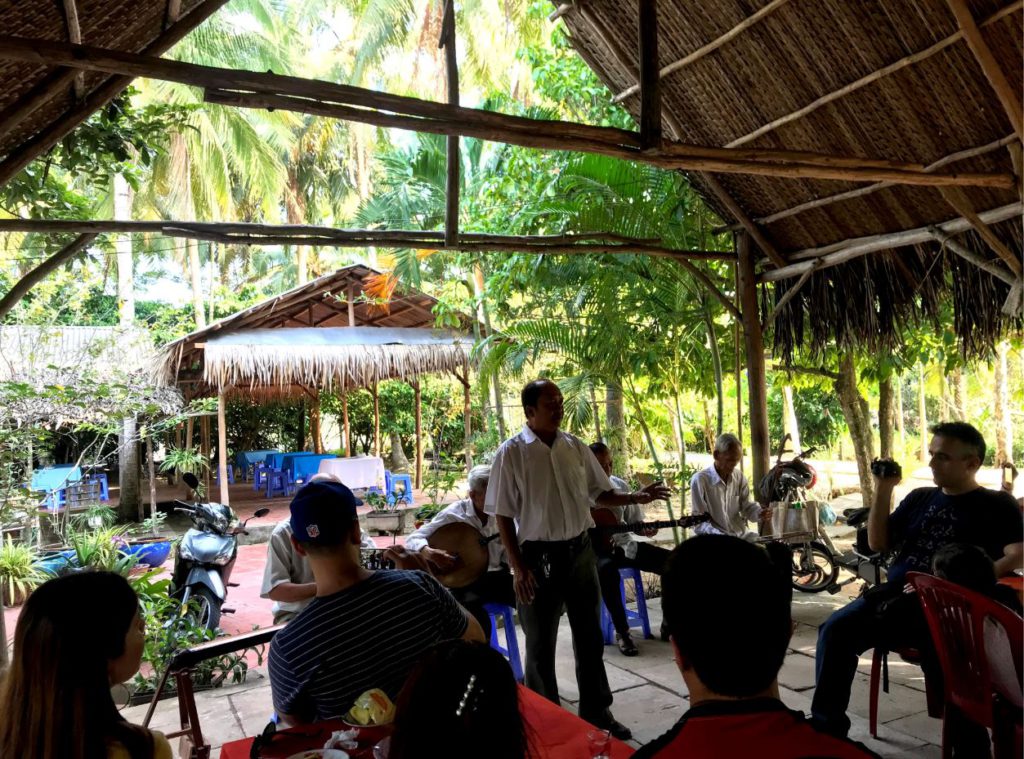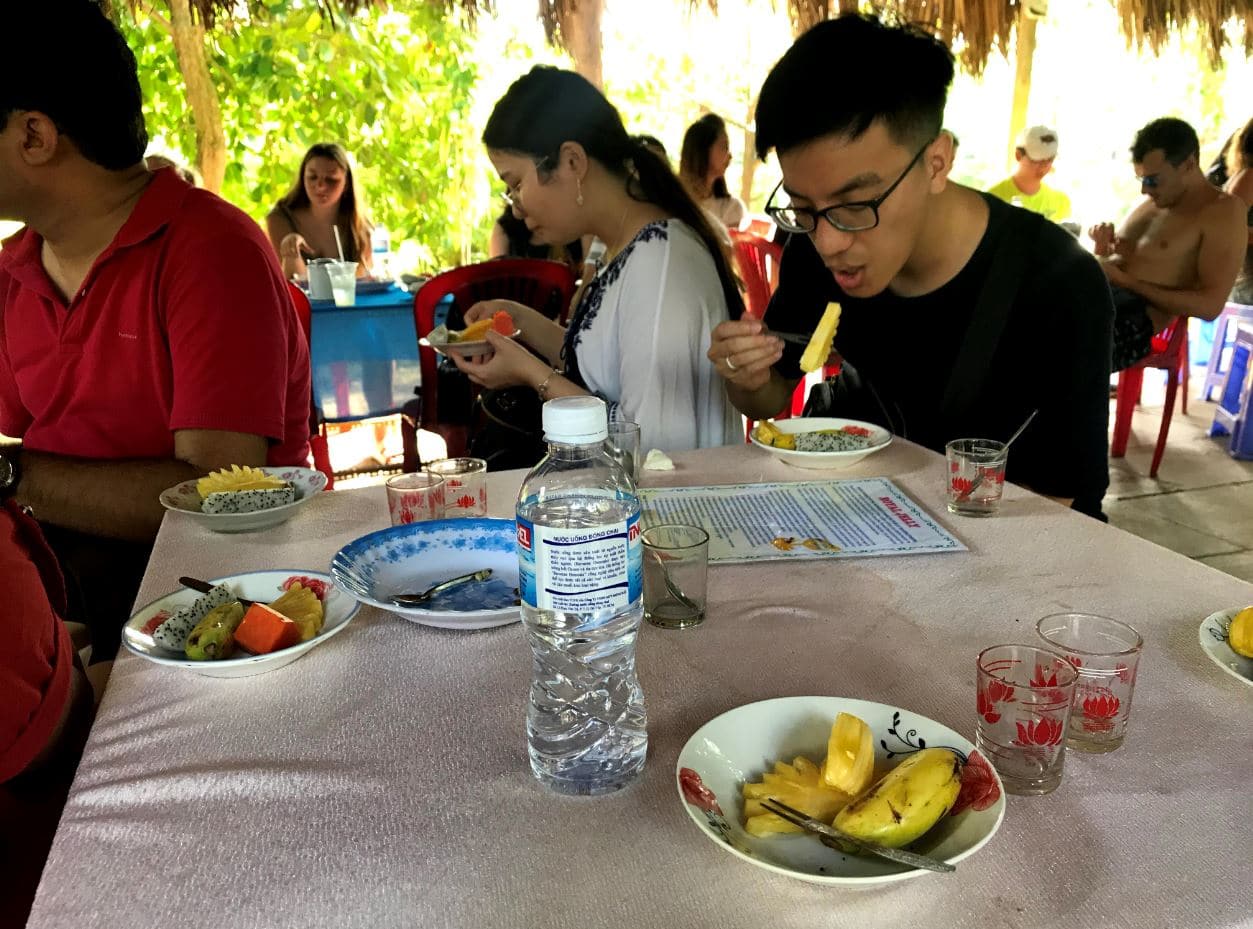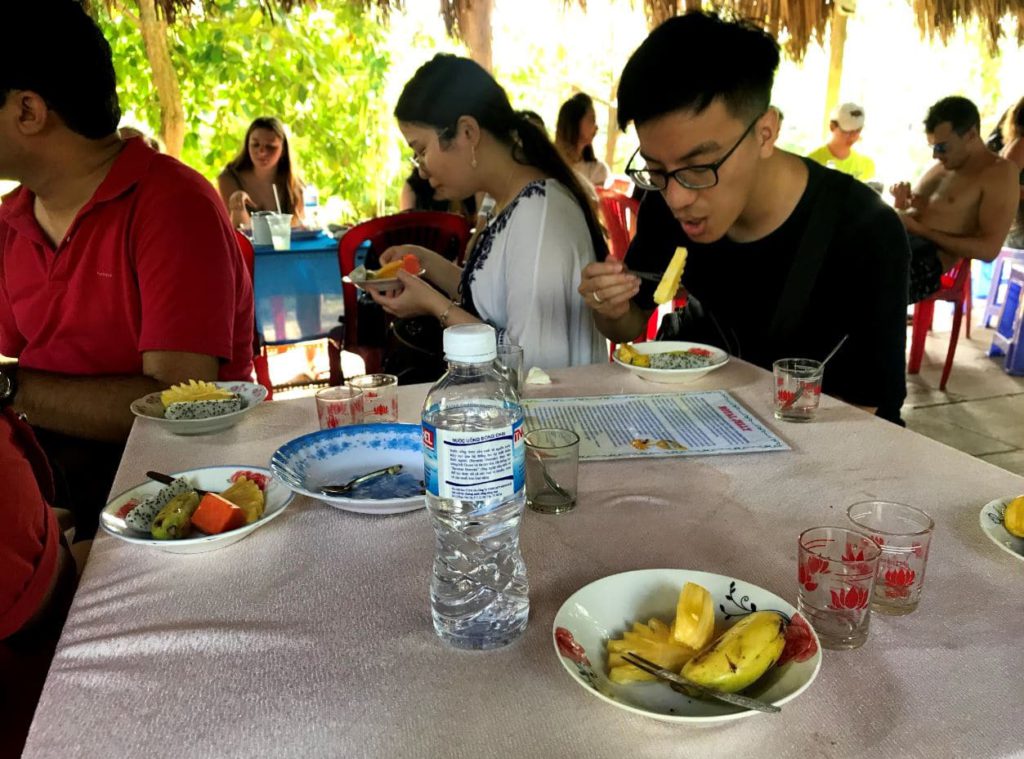 6. Cai Rang Floating Market
Cai Rang is the largest floating market in Mekong Delta. It is nothing less than bizarre. Hundreds of boat float through and occasionally bump into each other trading. You will find vendors selling watermelons, pineapples, carrots, coffee, noodles, Vietnamese style sandwiches, flowers, seafood and so much more.
If you are hungry, have a go on eating on the boat. You can spot the specialty of a boat by looking at what is hung on top of their boat post (pole in the front). The prices of anything you eat are dirt cheap and usually delicious. One cannot guarantee your stomach conditions though if you are not used to the street food yet. Some of these folks live on the boat with their humble quarters built in a small cabin.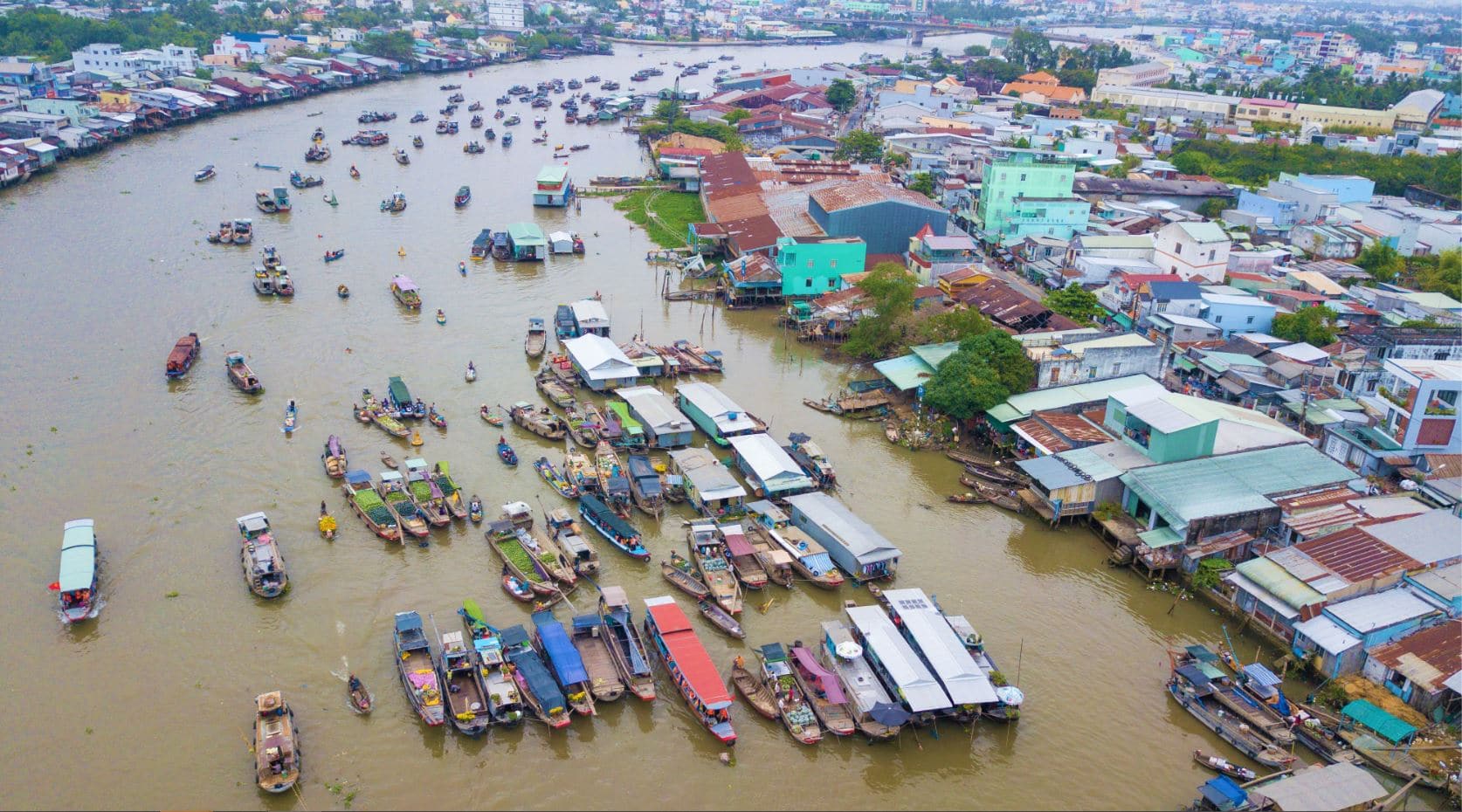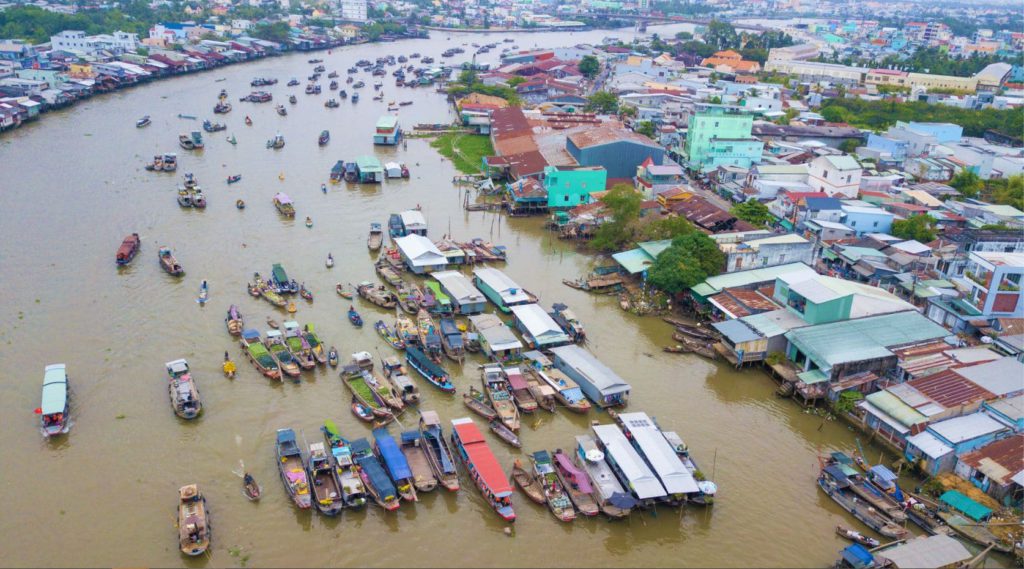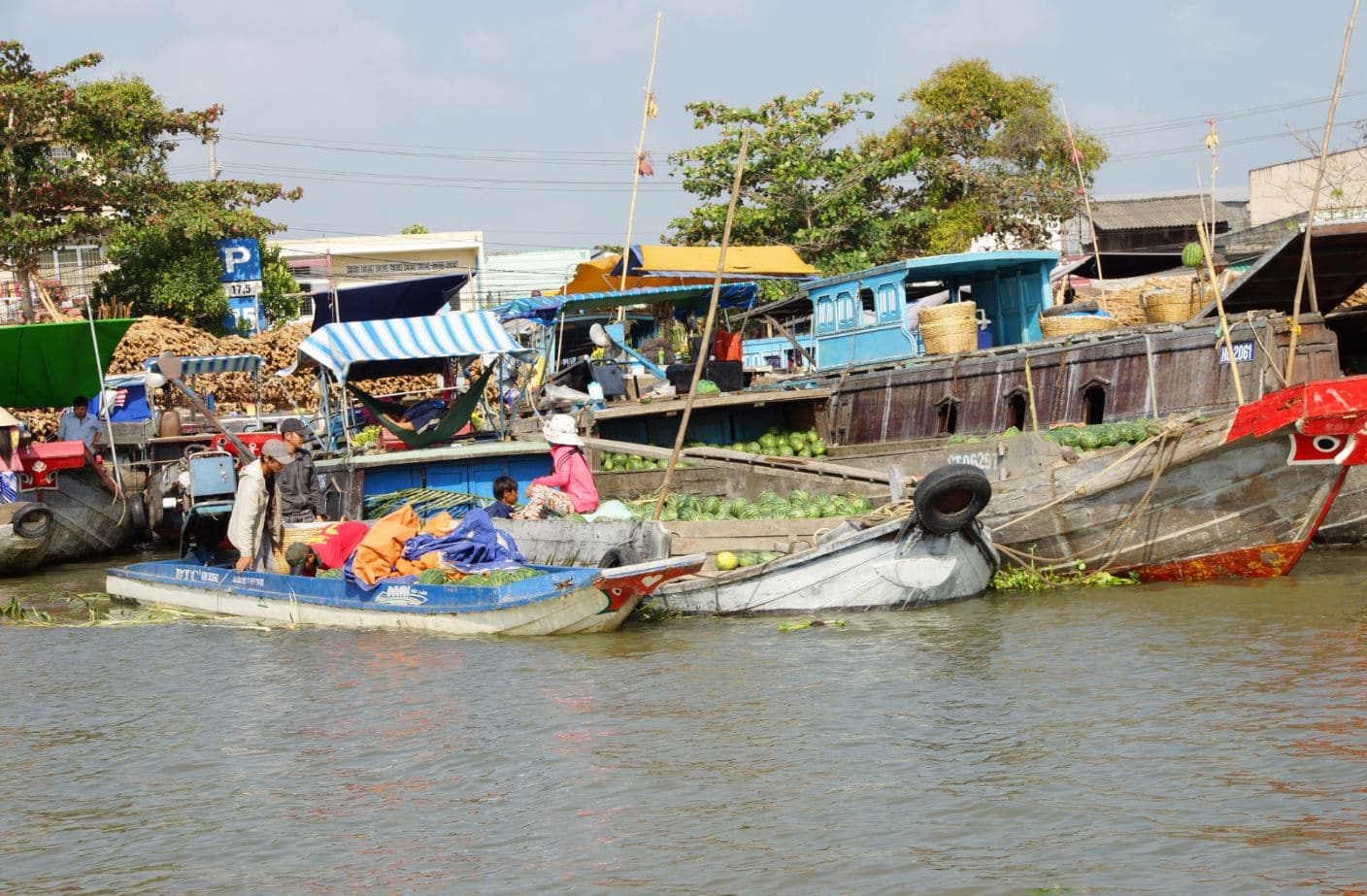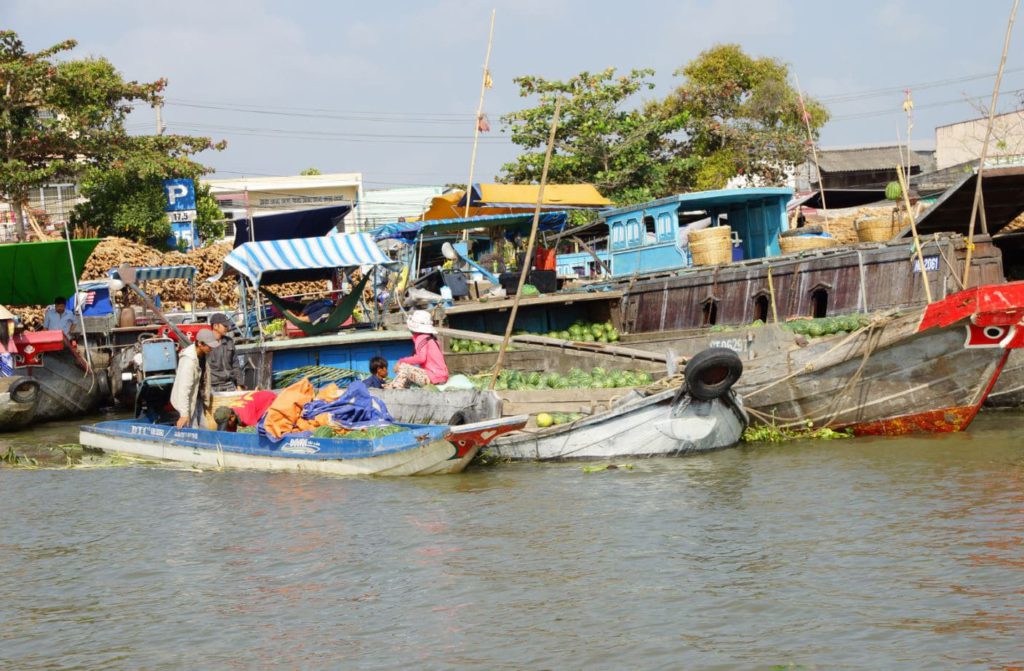 How to visit Mekong Delta on your own?
While you can do some parts of Mekong on your own, you will still have to rent a boat to visit the Floating Market and the canals. But first, where to start.
You can start your journey across the delta in either of the two villages – Can Tho or Cai Be. While you can visit Cai Rang Floating Market from Cai Tho, Cai Be floating market is easily accessible from the later. I will suggest the first one since Cai Rang is the biggest floating market in the Mekong Delta.
To reach Can Tho or Can be, take a bus a bus from Saigon Bus terminal. A bus runs every 30 or 60 minutes. You can also book a bus online beforehand on Bookaway.com or booking.baolau.com. Use Rome2Rio to track if there is a direct service available from your place in Ho Chi Minh City.
It takes around 250,000 VND as bus fare and approximately 4 hours to reach. Can Tho is a fairly urban settlement and you will find comfortable lodgings and traditional vibrant nightlife in the area.
Once at Can Tho or Can be, check-in into a hotel or a homestay. You can book at the hotel or homestay itself to the floating market for the day you want. Make sure that you start early in the morning. The market is in full swing from 6 am to 7 am as the people want to avoid the maximum heat of the afternoon and the market gets less busy.
A half-day boat ride will take you only to the market and a full day will take you through the canals, a rice noodle factory and maybe a couple of more places. The price is per boat which means that you will have to bear the whole sum yourself if you are not sharing with someone. A full-day boat ride usually sums up to around 750,000VND.
Apart from that, take a bicycle and roam around the delta area. Explore the farms at your own pace. The locals are truly welcoming and you can enjoy some time wandering around. However, very few people understand any English.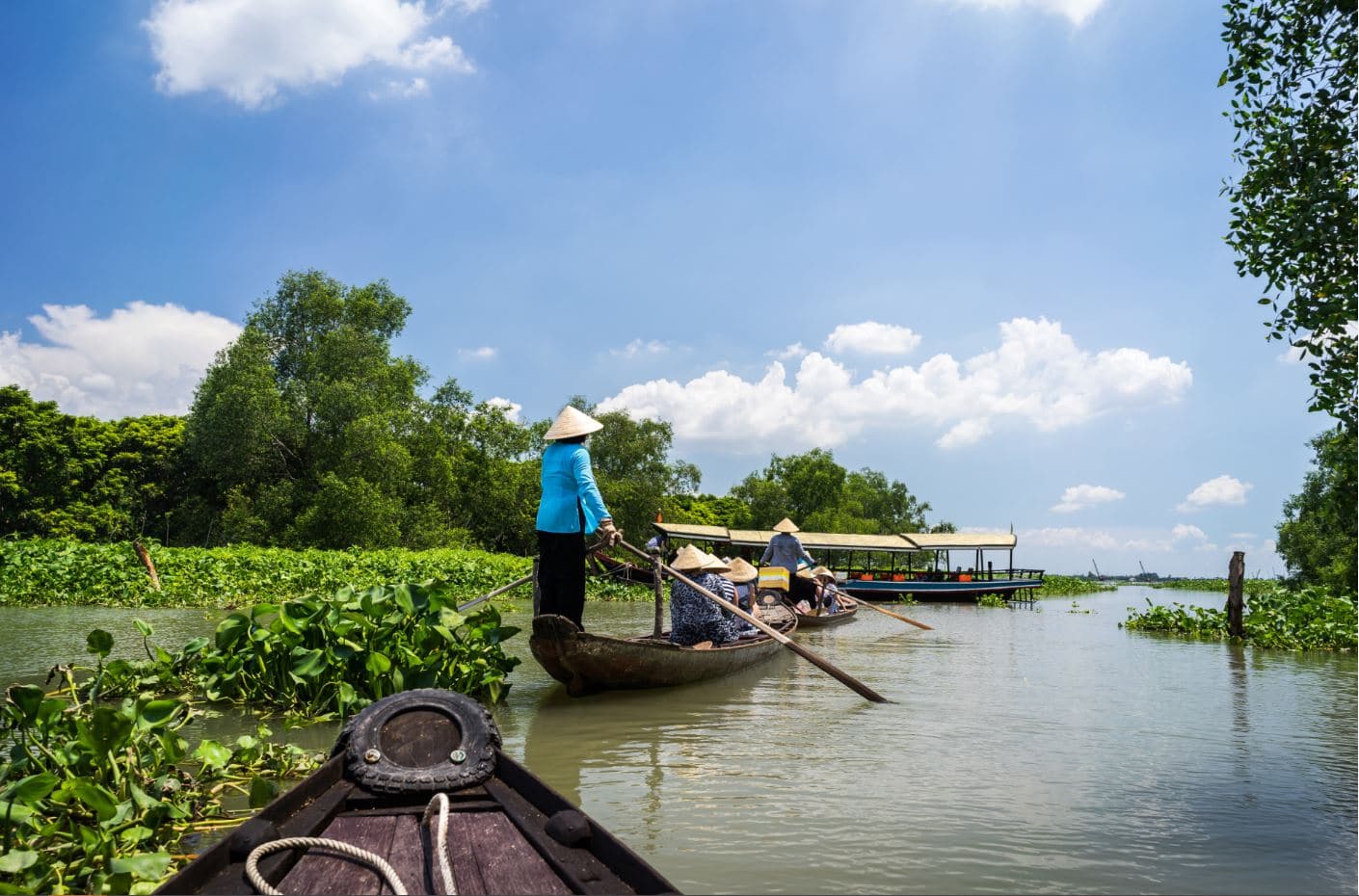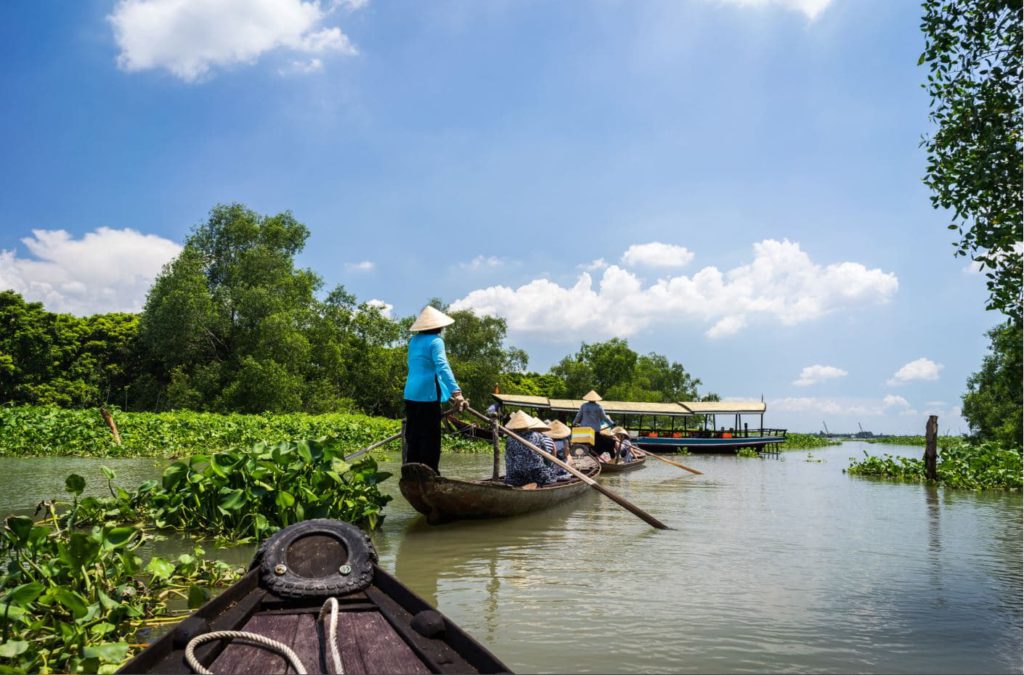 Where to Stay in Mekong Delta
If you want to take this trip up a notch, you can also stay in the Mekong Delta. Now Mekong Delta is huge. It consists of hundreds of villages and towns. You have to be more specific.
The best place to stay in Mekong Delta is Can Tho. That's because it hosts the largest floating market in the area (as I said above). You can get up early in the morning and book a local tour to the market. On top of that, there are now quite a few hotels in the area with great amenities.
Check out agoda.com for great discounts not just in Vietnam but all around Southeast Asia. You can book hotels in both Can Tho and Cai Be on Agoda.
What to Wear and Carry
Regardless of how you are traveling, the area around Mekong delta is hot and humid. It can be less so sometimes and too much during the summers. You must focus on comfort.
Wear loose clothes that let in air and sweat pass comfortably. Cotton and linen are great options other than hosiery. I will suggest covering yourself more since the exposure to extreme heat will only leave you sunburnt. Apart from that, Vietnam is mildly conservative when it comes to clothes but are used to western tourists.
Carry one or more water bottle with you all the time. You are going to sweat like a pig and you will need it. I will definitely recommend buying a cap. If you already don't have one, buy a Vietnamese-style straw hat that the local farmers use. It is very effective and you can use it as a souvenir too.
If you are traveling during the wet season, wear waterproof shoes. Sandals are best for South-east Asia. Carry Umbrella and a raincoat and if possible waterproof your bag that contains any gadgets to some extent.
Related Article: What Do You Need To Pack For South East Asia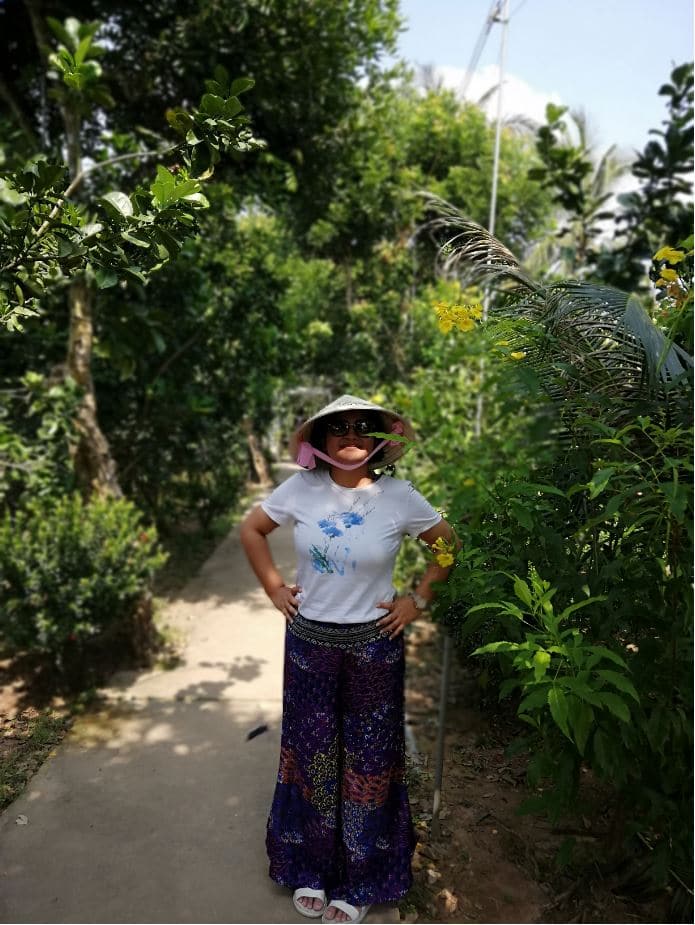 Is Mekong Delta worth seeing?
Mekong Delta is definitely worth seeing. If you have really less time in Vietnam, I will suggest putting Hanoi, Ha Long Bay, Hoi An, Ho Chi Minh City and Mekong Delta on your list. All these places are really worth seeing if you don't plan to return to Vietnam for a long time.
Climatic concerns of Mekong Delta
The Mekong Delta and its complete ecosystem have suffered a lot in the recent years. With an exponential increase in the population, the river lacks the capability to feed so many people. The locals witness frequent changes in the flooding patterns and a sharp decrease in the fish population. Large private companies take away a huge part of the catch which otherwise would become the livelihood of the people.
The recent construction of a dam in the lower levels of Mekong delta is said to have an even averse effect. In the future, the aqua life in the delta is expected to decrease along with many aftereffects which still cannot be foreseen.
Make sure you don't contribute to the waste. Don't buy plastic bottles of water because they will eventually go somewhere to be dumped. While bargaining is sometimes okay, make sure you give them back as much as you can comfortably afford to give back. Here are a few more ways to travel sustainably.
Save On Pinterest


Related Articles