08 Mar

Cu Chi Tunnels Day Tour: Best and Affordable

While we were planning the travel itinerary to Vietnam, I was constantly looking for things to do in Ho Chi Minh City. And if you have done that too, you will always find a Cu Chi Tunnels day tour on the top. On one hand, I am not a great fan of war and its memorials.

On the other hand, you simply cannot ignore it if you are in Vietnam. It is such a big part of their history. We had time. So we decided to go.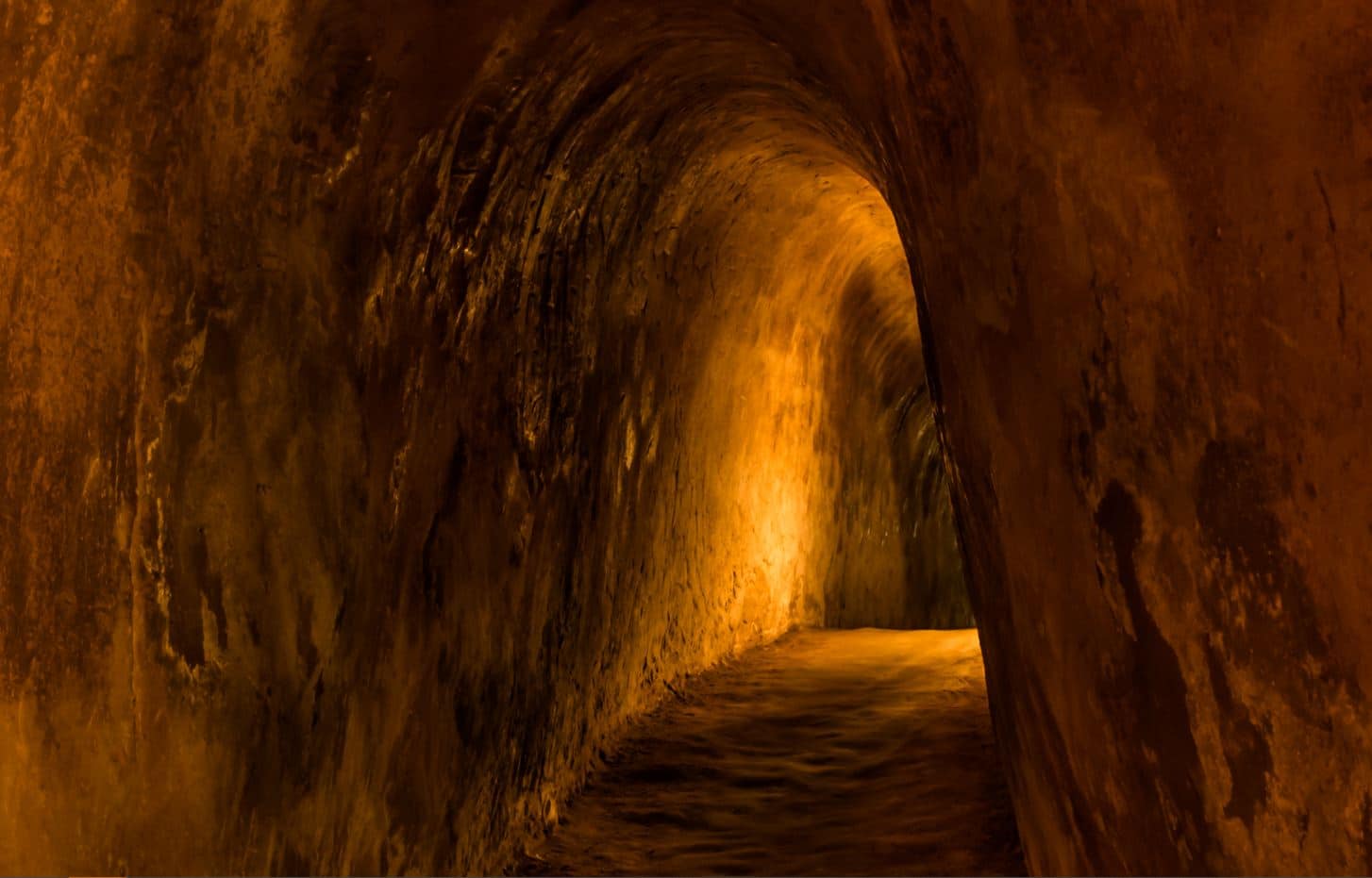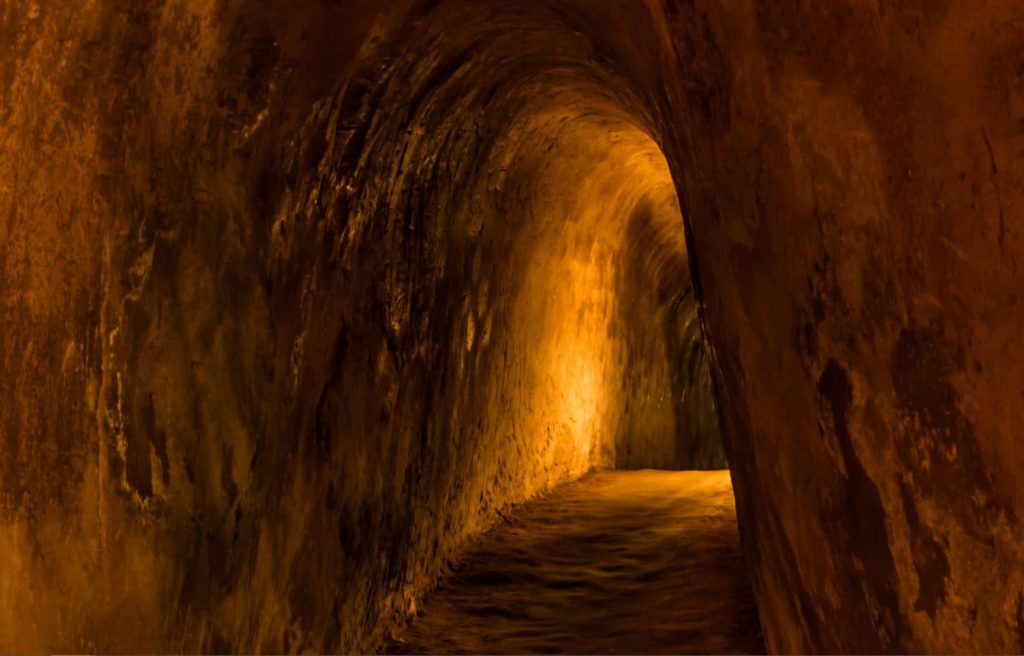 What are Cu Chi Tunnels?
Cu Chi tunnels (pronounced as Ku Chi tunnels) are an extensive network of tunnels just outside the present-day Hoi Chi Minh City or Saigon. These tunnels were the hot spot of the activity from where the North Vietnamese soldiers ran operations against South Vietnam. Now the complete history of the Vietnam War can be really lengthy. If you are interested, watch this video.
The tunnels are a part of even greater network of tunnels that run through all of Vietnam at many places. The tunnels have sleeping quarters, storage areas, armory, emergency hospitals, meeting areas, and even a kitchen. The tunnels have been upgraded in time with cement and rocks and are now in good condition for the tourists to visit.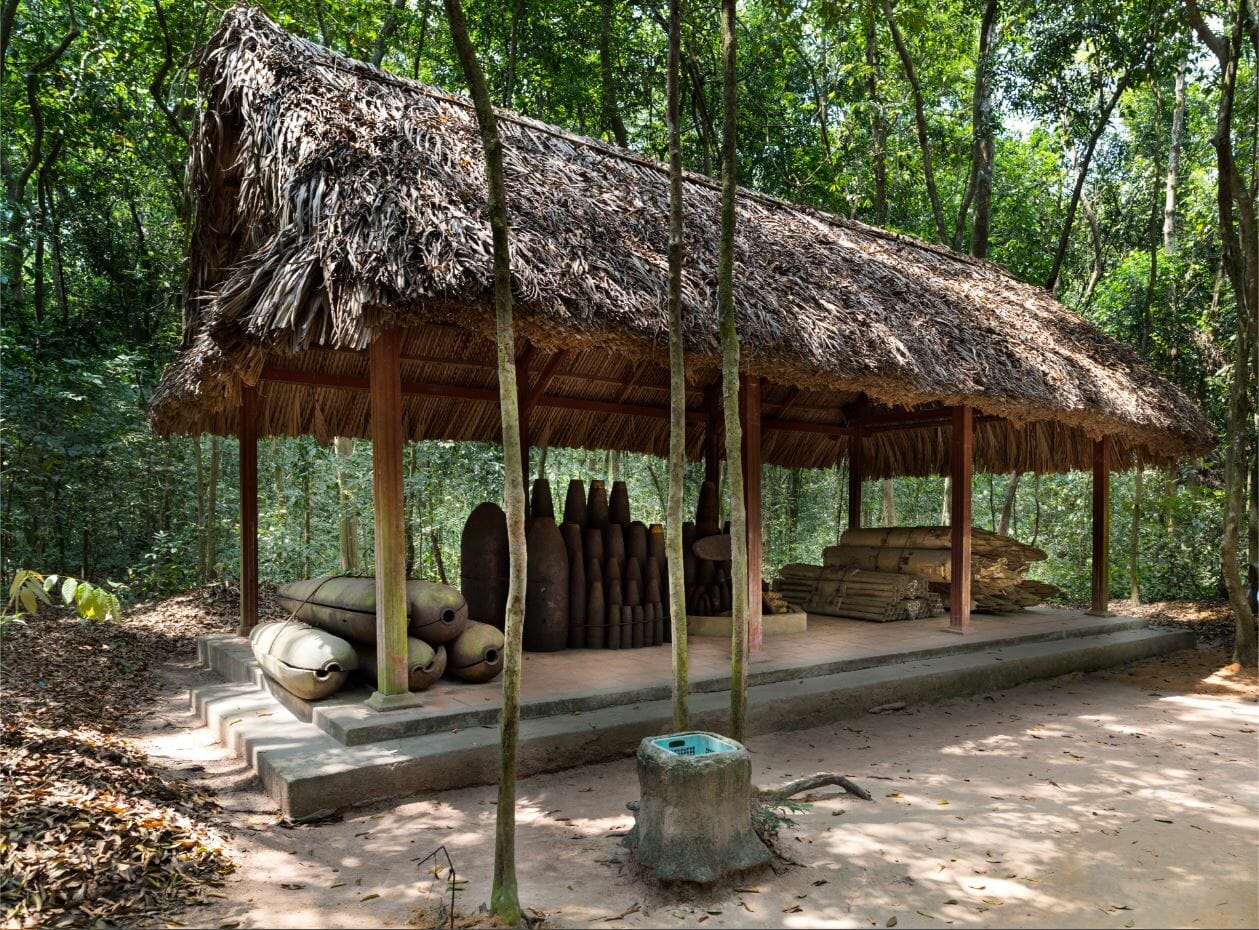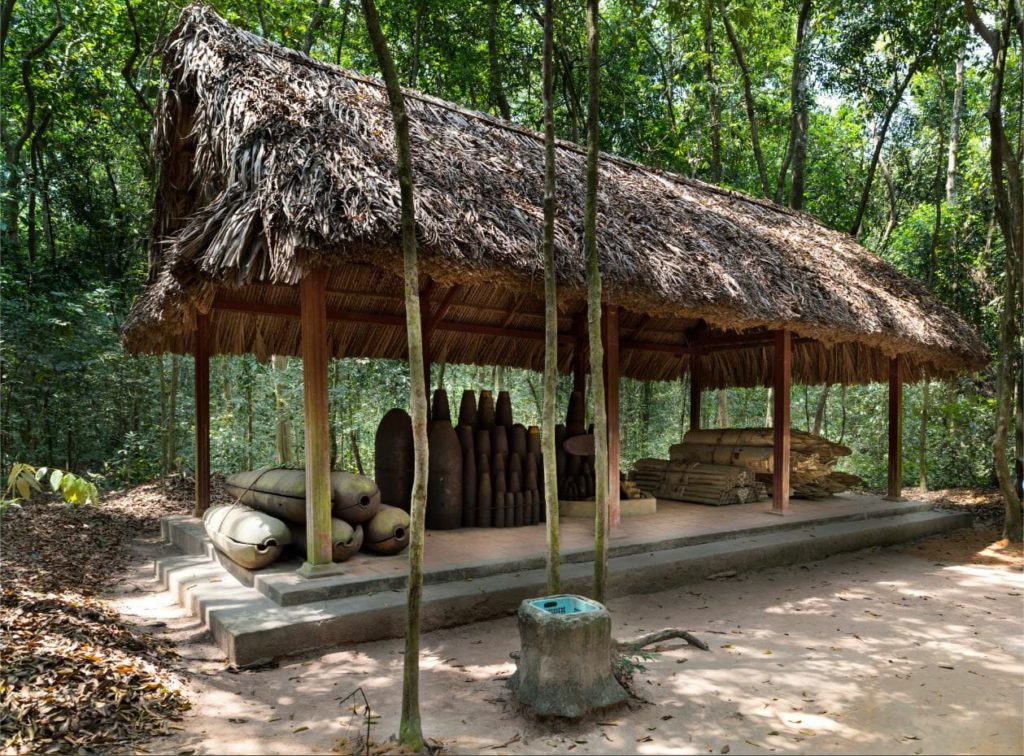 Where is Cu Chi Tunnel located?
Cu Chi tunnels are located slightly northwest of Ho Chi Minh City. Cu Chi tunnels are 70 kilometers from the heart of Saigon (Ho Chi Minh City). These are far from civilization and are completely in the wilderness. A village named Cu Chi was also around the area, a name that the tunnel borrowed. Although secluded, they are still connected by road although reaching there can be a bit of pain.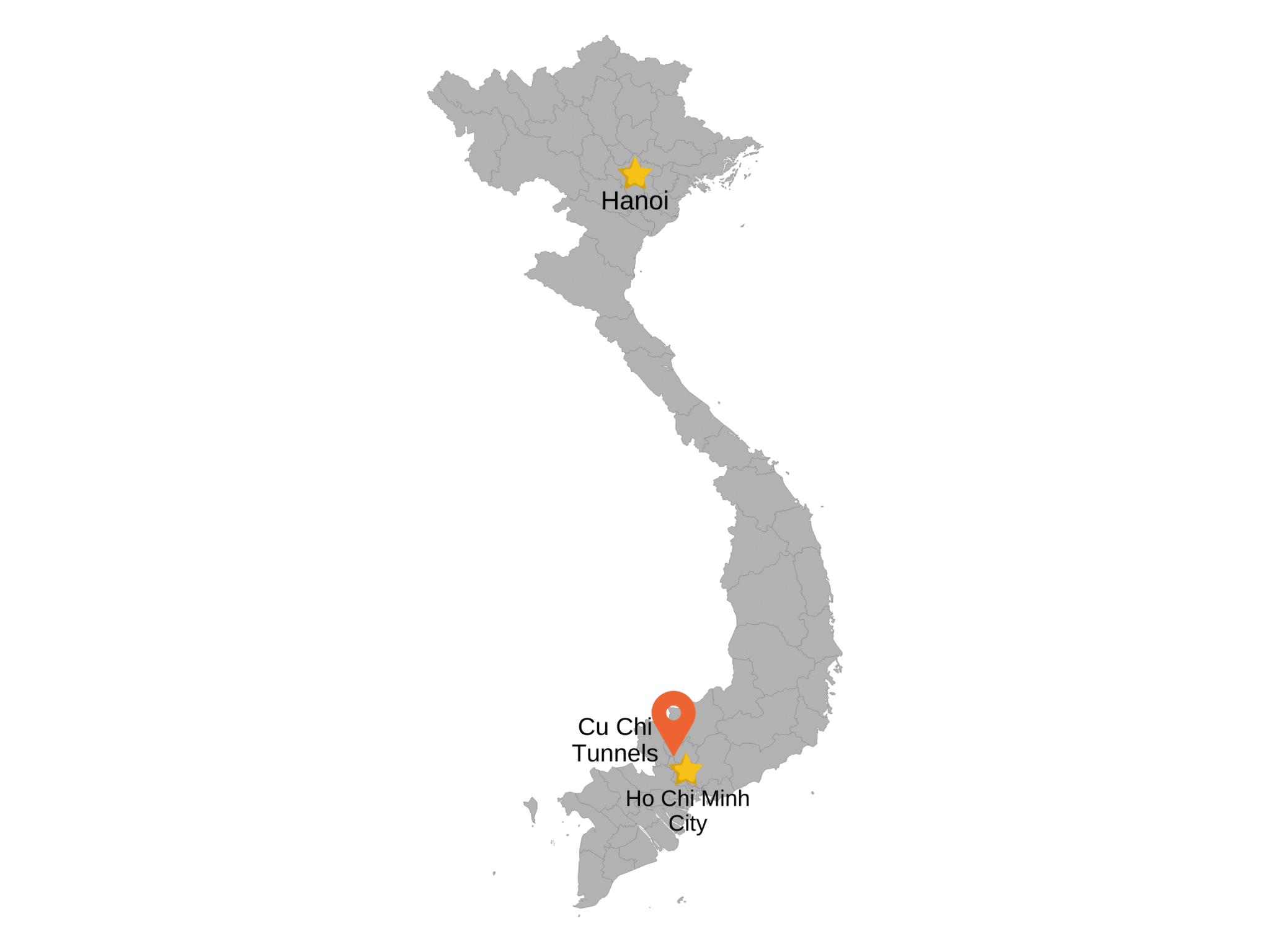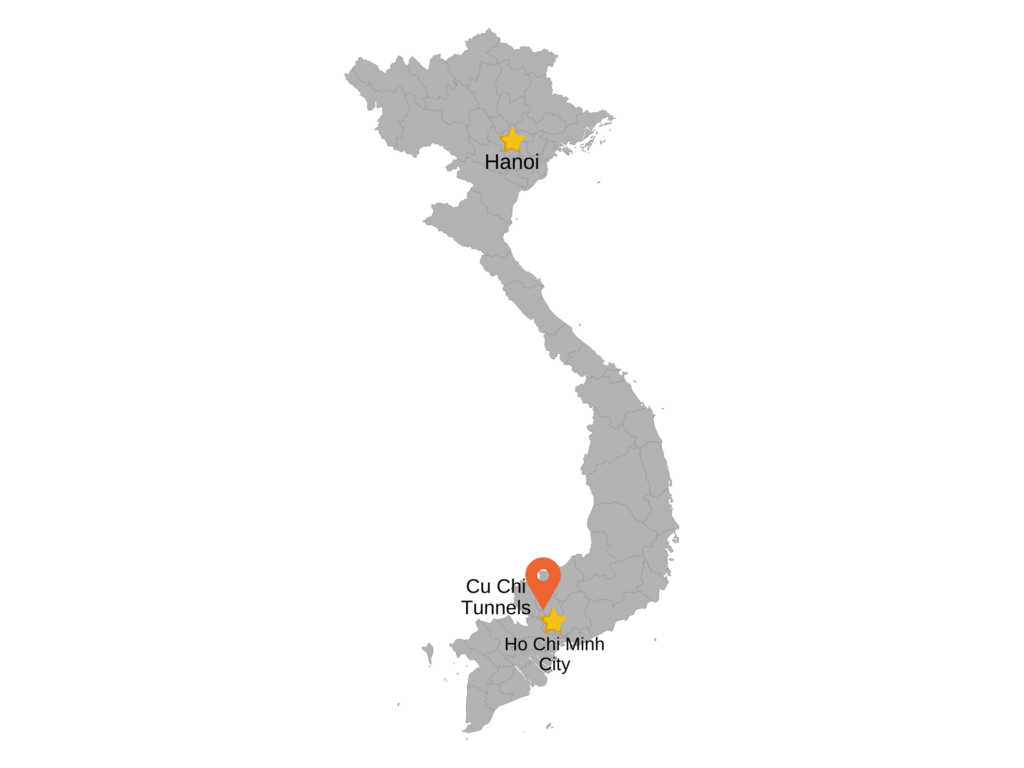 How to reach Cu Chi Tunnels on your own
In spite of its location, you can still reach Cu Chi tunnels on your own. If you are unsure of your dates or time or want to explore the tunnels at your will, choose to go on your own. A tour guide is available for all visitors regardless of you visiting in a group or not.
By Bus: This is a good option if you are stringent on budget and have a good amount of time. But this will need you to walk a good deal and change a couple of buses. Apart from saving you a lot of money, it can be an experience to see how the locals travel and their daily life.
For the sake of convenience, I will take the starting point at Cong Vien 23/9 Bus terminal in District 1 which is near the center point of the city. You need to take the Bus number 13 to Cu Chi Bus terminal. It takes about 1.5 hours and approximately 7000VND (USD 0.3) to reach there.
From the Cu Chi bus terminal, change to bus number 79. It takes around 40 minutes and costs 6000 VND to reach. You need to tell the driver about your destination at Cu Chi tunnels. The bus stop at Cu Chi Tunnels is right on the road. You may not be able to catch a running bus immideately and may have to wait for a while.
Once you get down at the bus station, you need to walk for a little more than a kilometer to get inside the premises. You will signboards and artillery on showcase in the area. Walk inside and ask for the direction to the entrance to the tunnels since the area can be somewhat confusing.
By Cab:If you want more convenience and save far more time, you can also opt to take a private cab. A cab from the city center will cost you between 650,000-700,000 VND (around USD 30) one way. But it will hard to get one on your way back. If you want to return by cab as well, check for a local tour company for a full day trip which includes a return trip.
To book a cab, you can either check online, book via an app like Grab or Uber or wave at one. Mai Linh Taxi (green vehicles) and Vinasun Taxi (white and green) are two cab services that run in Ho Chi Minh City. These are reliable services and you can check their affiliation on the driver's ID on the dashboard to be sure.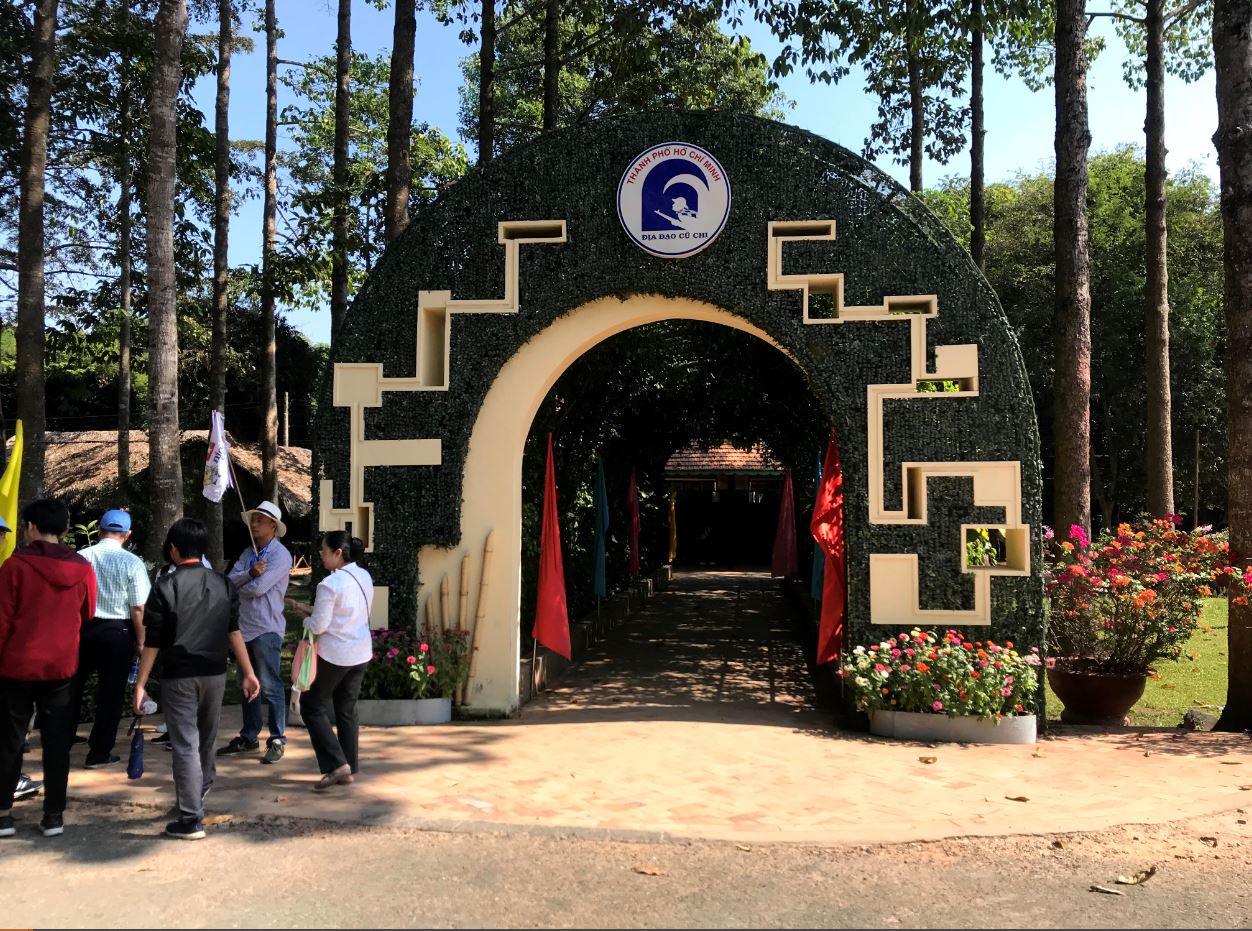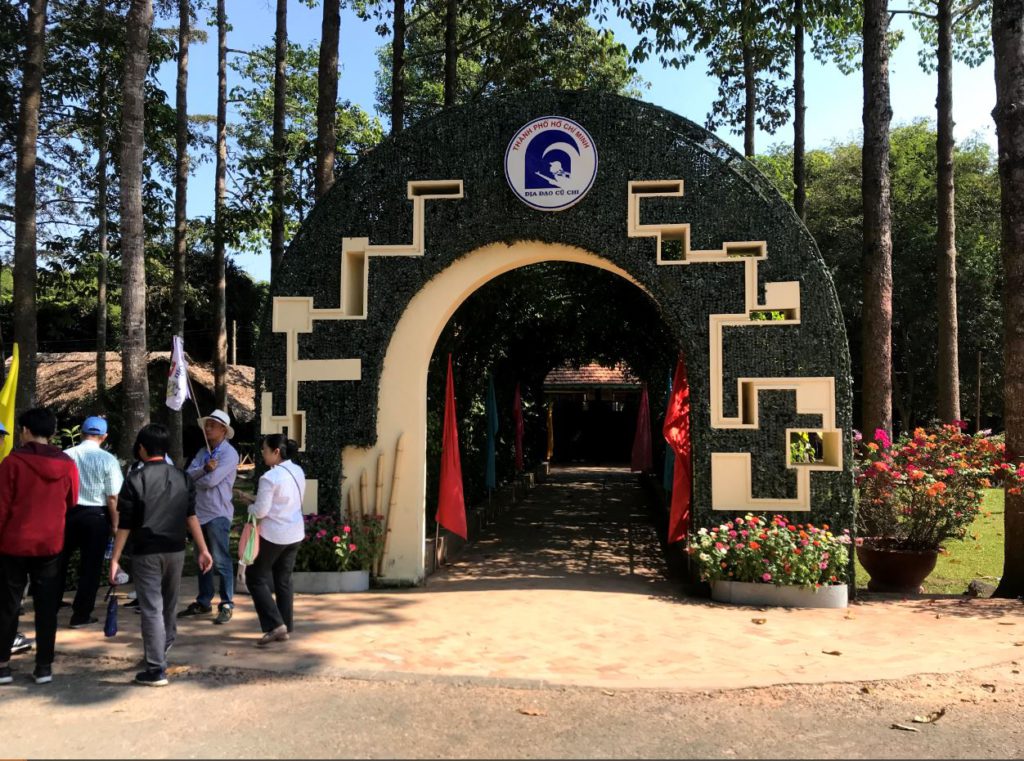 Cu Chi Tunnels Half day tour
We did this tour by ourselves, but by the end of it we really wished that we took a Cu Chi tunnels day tour instead. Why? Because it is far more convenient. It is pretty inexpensive as well. So why not? In case you are in large numbers, do yourself a favor and save yourself the pain of switching several vehicles.
Now there are a number of options to take a Cu Chi tunnels day tour. The most common one is to book from online aggregators. This will require you to meet at a point in the city and they take care of the rest. The good part is that they run regular discounts which mean that sometimes this deal can be a steal.
A half-day tour of the Cu Chi tunnel is the best option. A guide will take you through the place in detail. Half a day is more than enough to explore the tunnels.
Book Half Day trip Online: Cu Chi Tunnels: Morning or Afternoon Guided Tour
A more luxurious experience is to reach the tunnels by a speed boat with a Vietnamese style lunch if you feel like splurging some cash.
Book Cu Chi Tunnel Trip on a speedboat: Cu Chi Tunnels & VIP Speedboat Tour
If you love adventure and would like to explore the journey on a motorbike, check this tour option.
Book Cu Chi tunnel trip on a Motorbike: Ho Chi Minh: Cu Chi Tunnels Motorbike Excursion
Some tours also offer to do Cu Chi tunnels and Mekong Delta in a day, but I will not suggest that since that is too much to cover in a single day. Although, you can go ahead and club Cu Chi tunnels day tour with sightseeing in Ho Chi Minh City.

What is there to see in Cu Chi Tunnels?
Ben Duoc Tunnels
Ben Duoc tunnels are the centre of attention. These are the tunnels dug up after the war against the French which was further developed during the Vietnam War.
As soon as you enter the arena, you will be allotted a guide who will give you a tour of the area. But before starting you will be seated in an open-air theatre to watch a short film. This video will take you through the clips of the time when these tunnels were built and how did the people go about their lives.
During this narration, I remember the orator telling us that the locals fought during the day and worked in the paddy farms at night. After all, they still have to earn their living and have a source of food.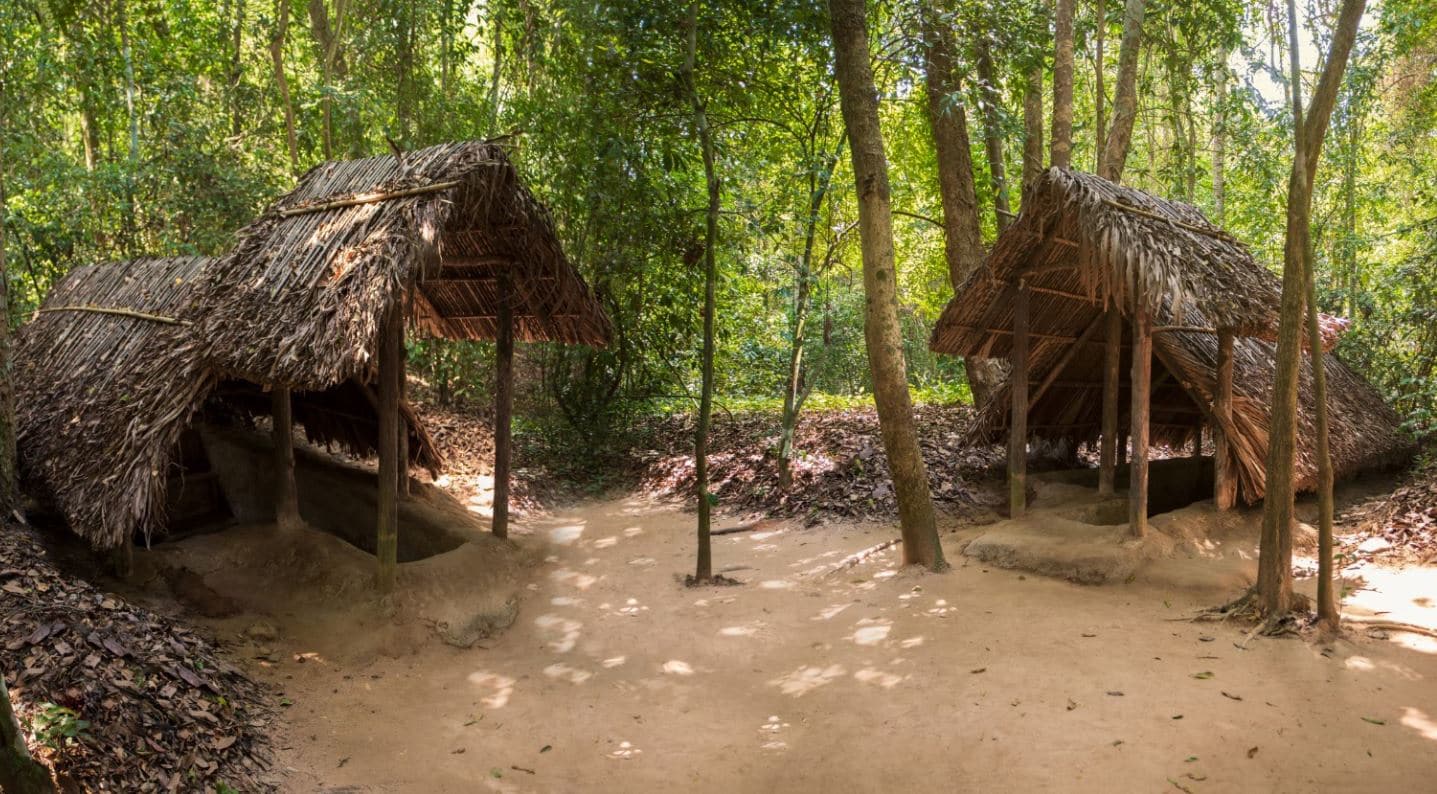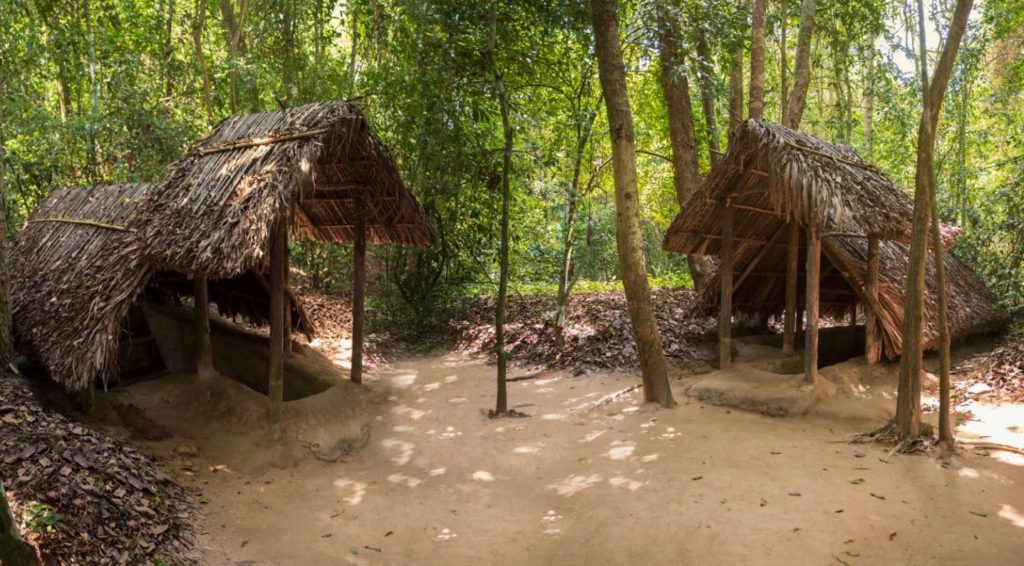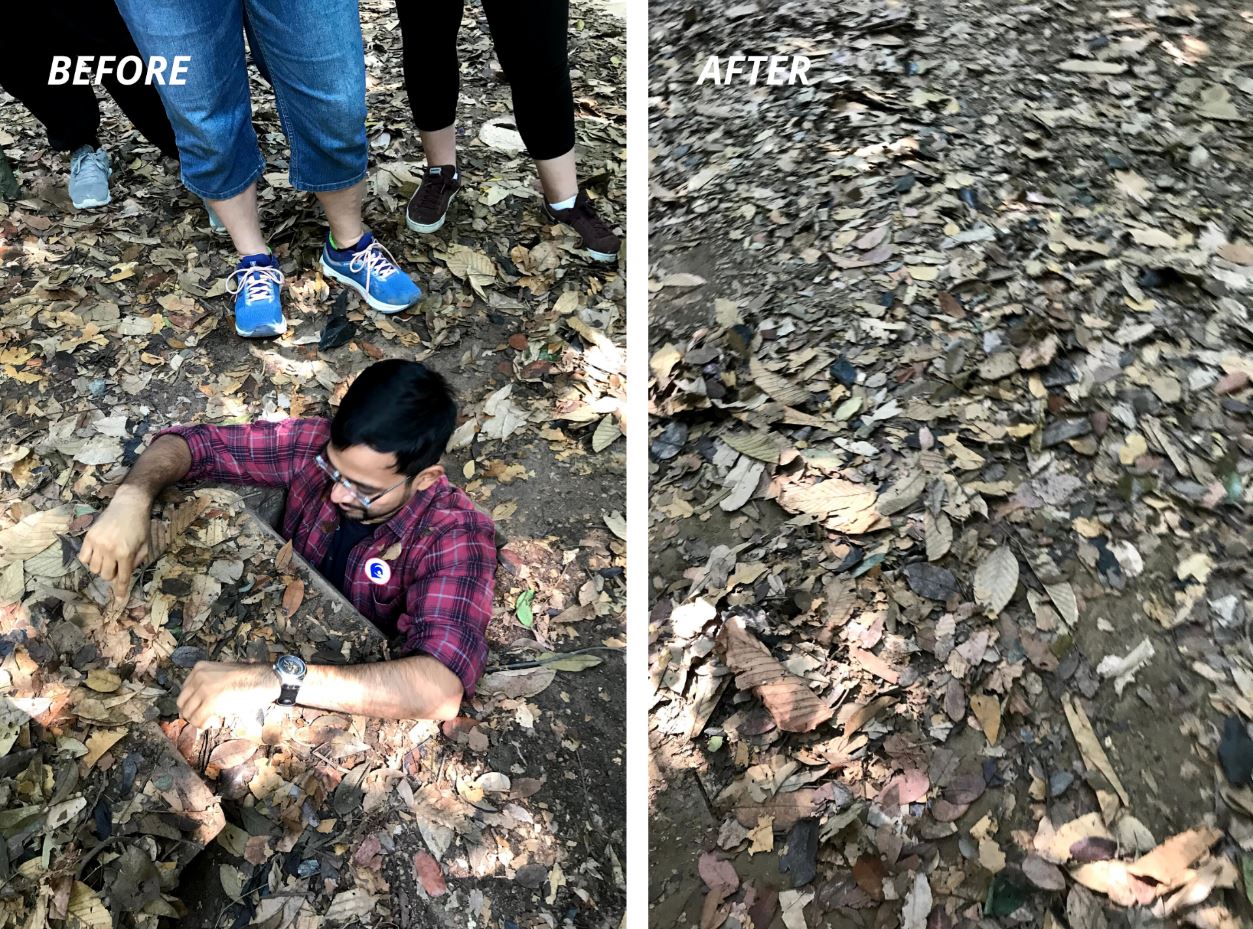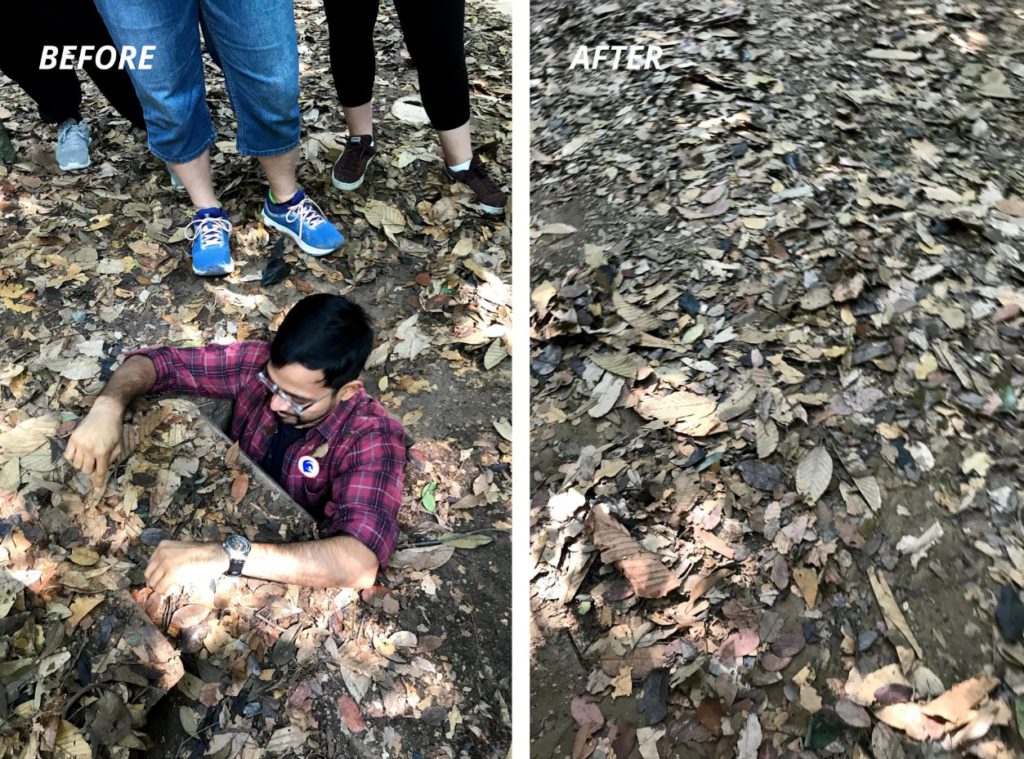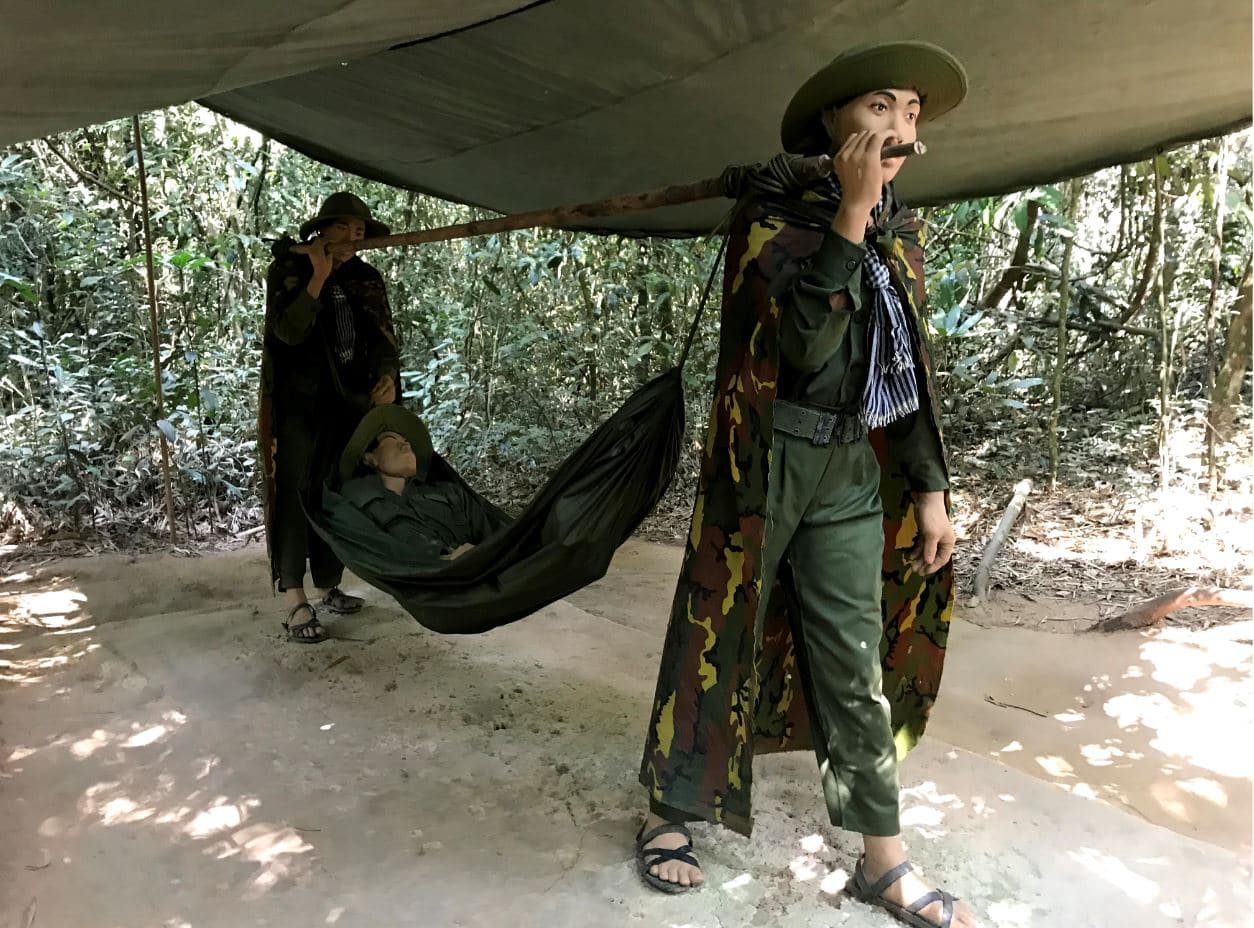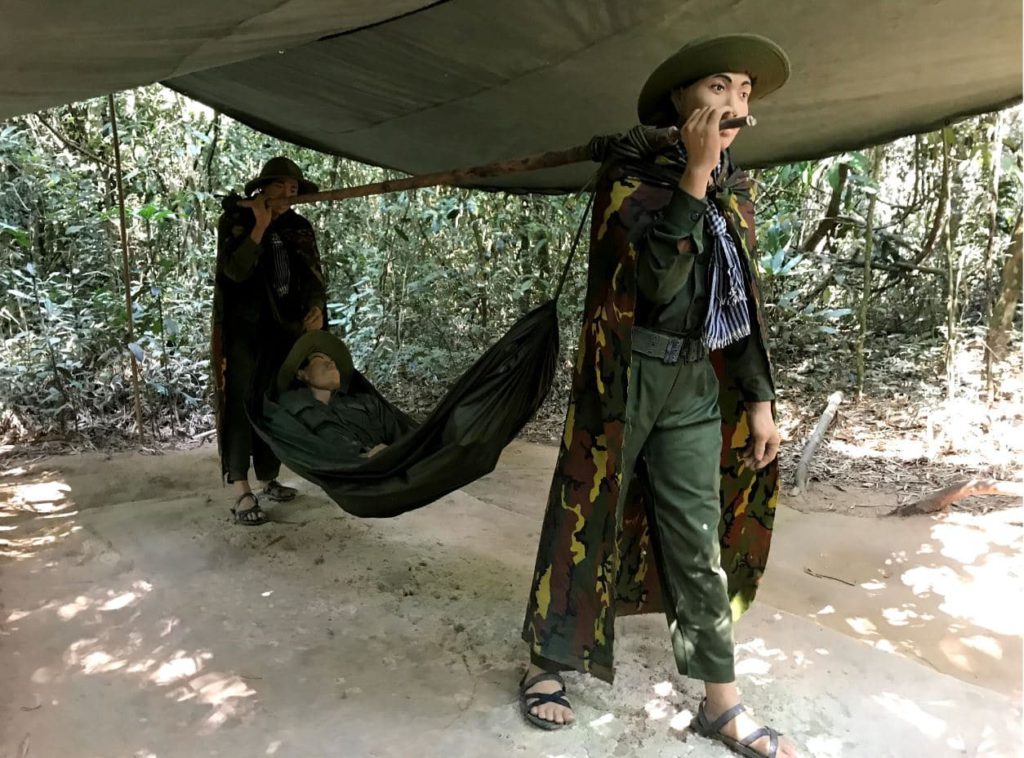 There was good participation of women in the war. A rape victim by the local militants, sworn revenge and joined the army. She went on to kill many of the enemy soldiers and died in the battleground.
The tour guide will also take you through many artilleries, bombs, home-made weapons and booby traps. He also explains the process of how enemy soldiers fall in the traps and how it slows down their speed by giving away their presence. There are many life-like statues present in various locations depicting stories from their lives.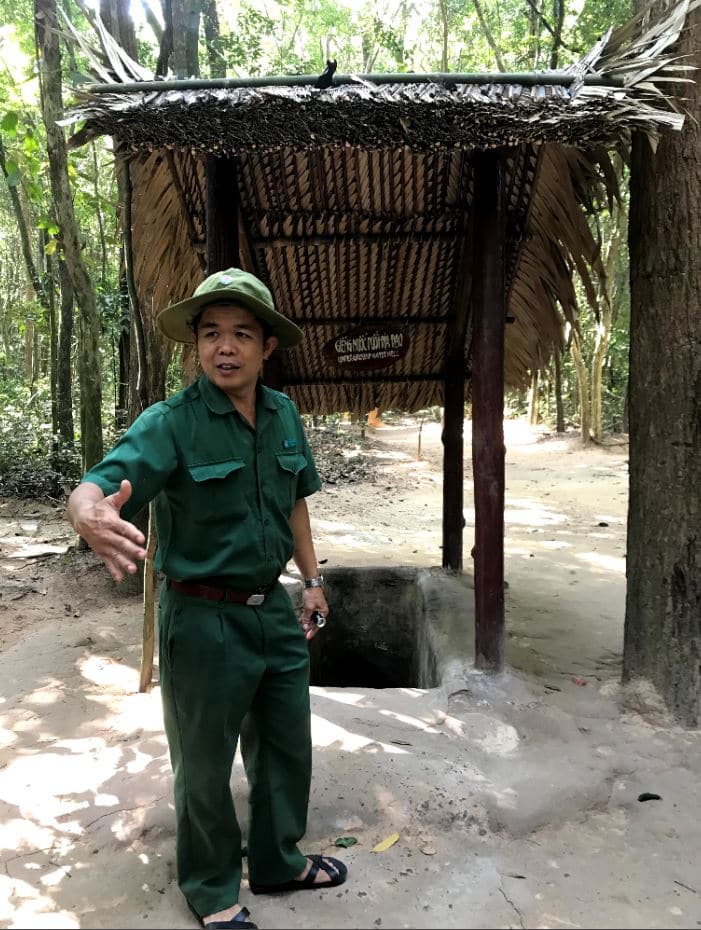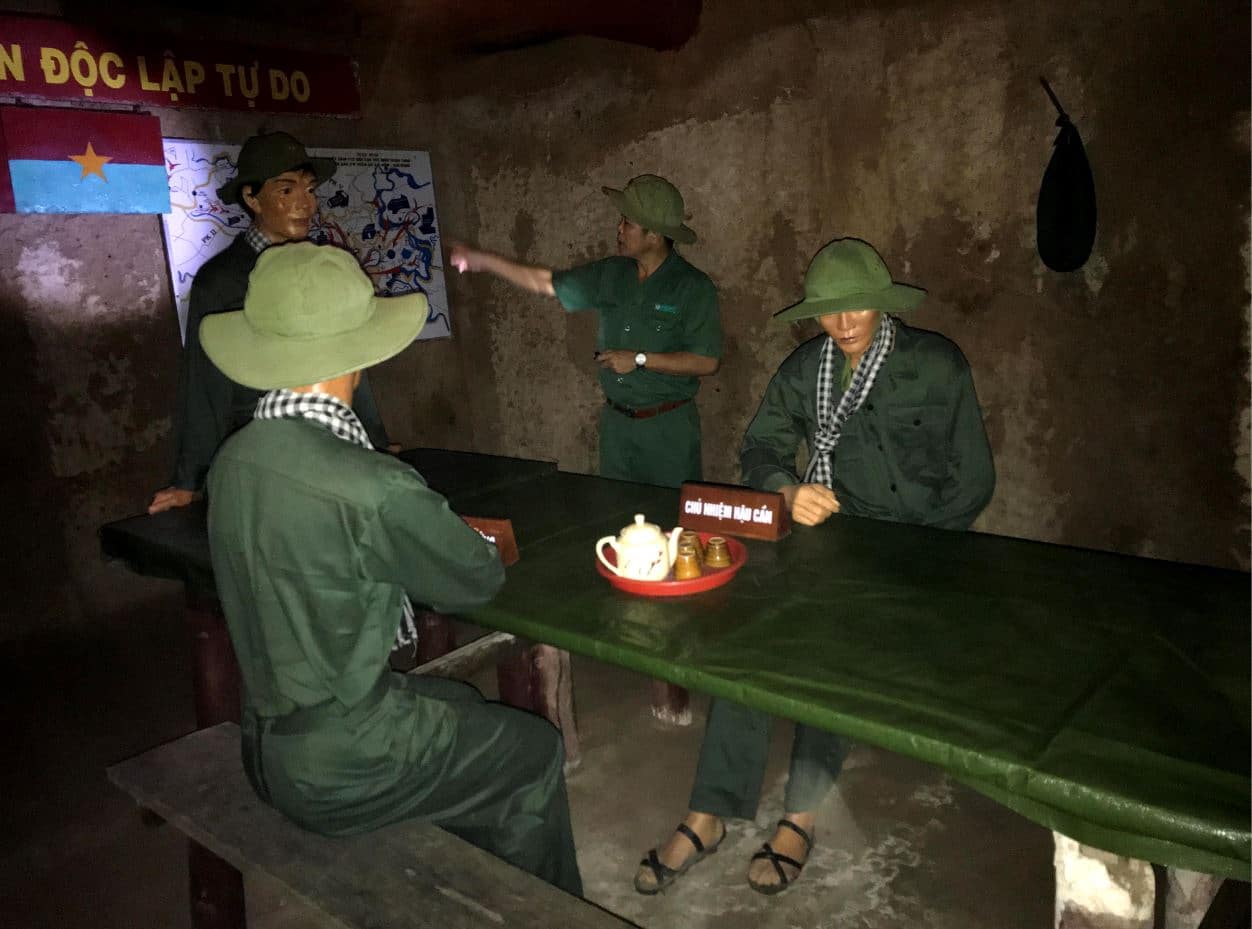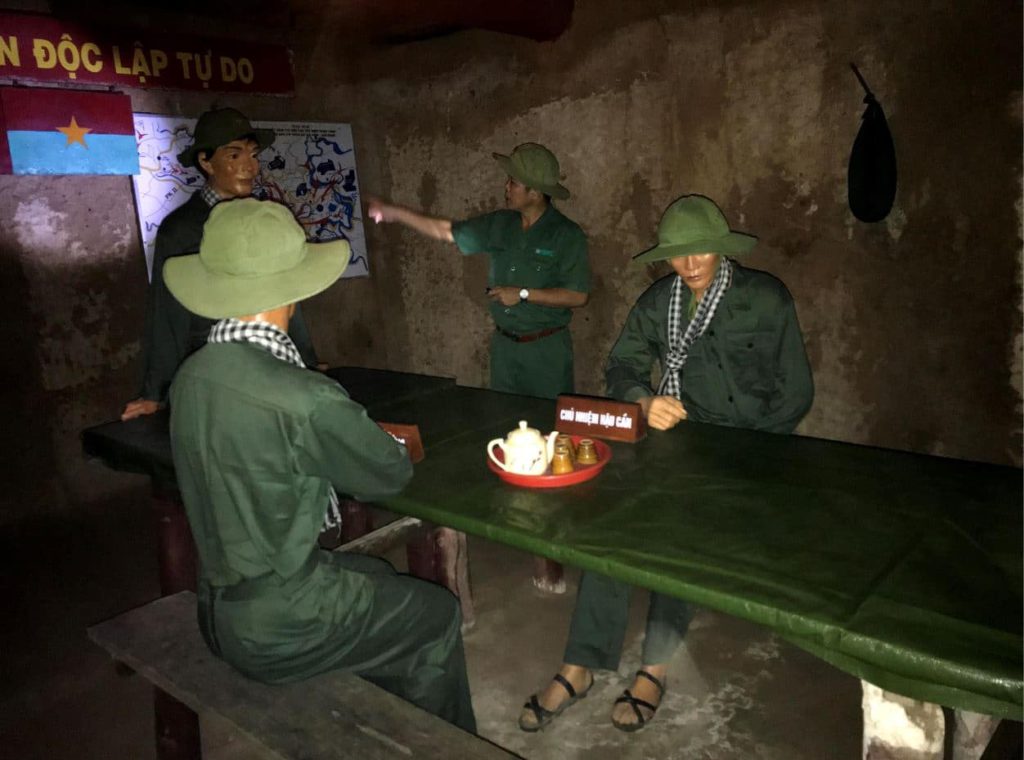 You will go through various tunnels. The tunnels can look intimidating at first. They are also very narrow in size. It gives the idea that the men of war were comparatively smaller in size and perhaps also starved.
The tunnels included spaces for medical help, where doctors operated on victims. One of them included a huge conference space which takes a bit of effort to reach. Others included cellar for food and weapons, factories for war equipment and the kitchen. After the tour, you get to taste their daily austere food – cassava or yams with bean salt and tea.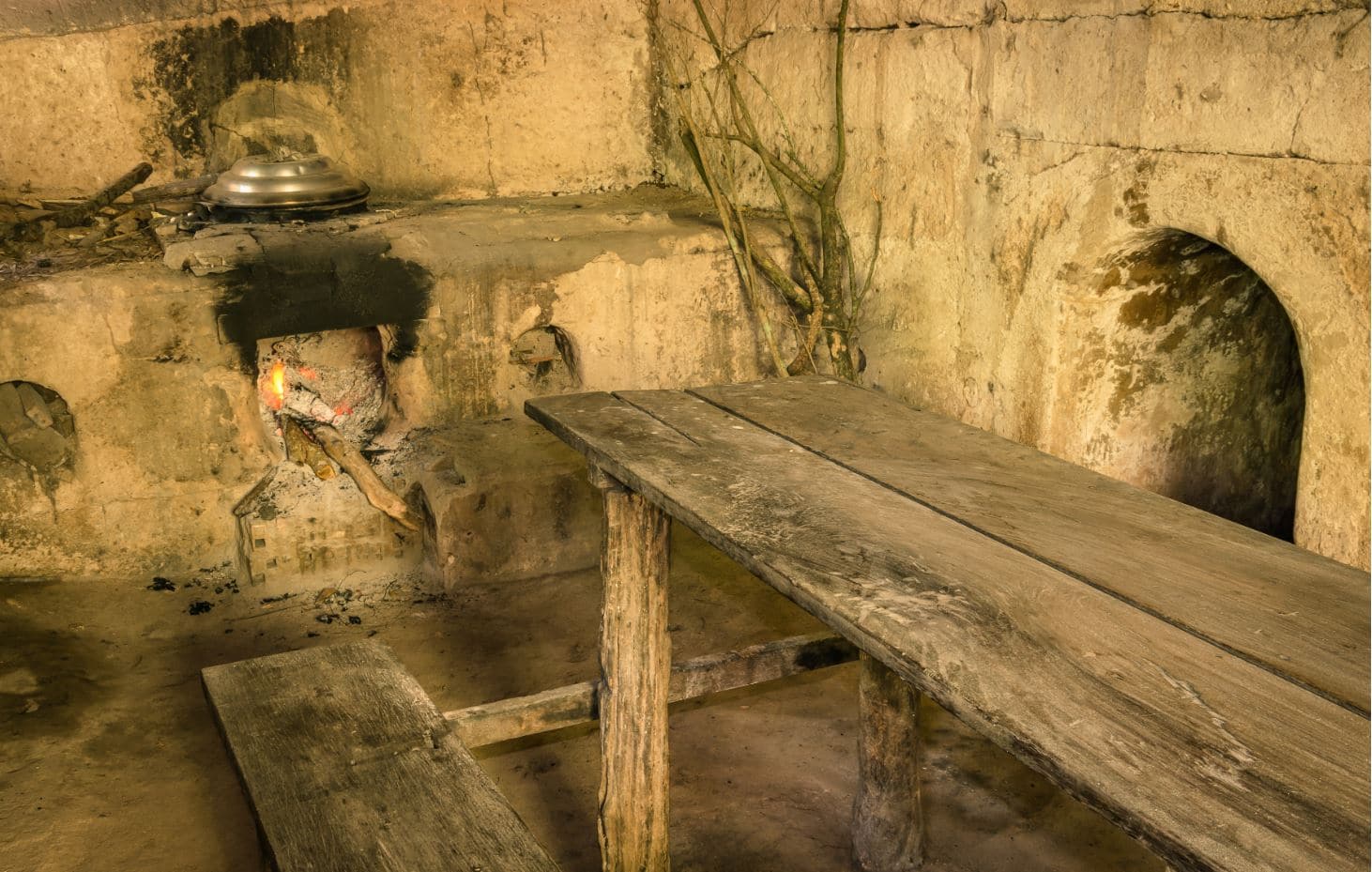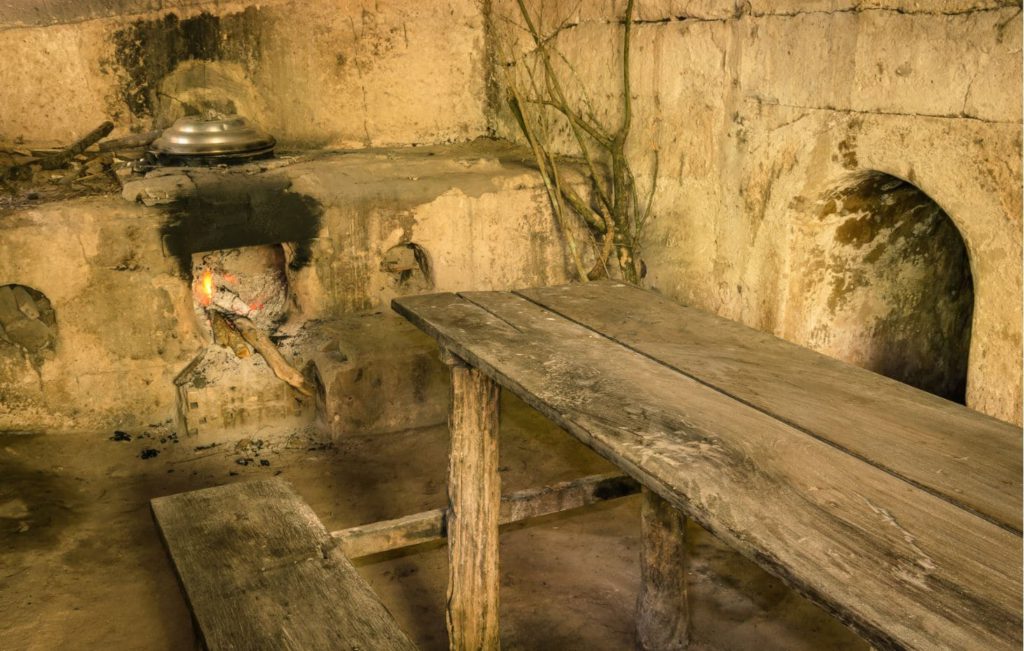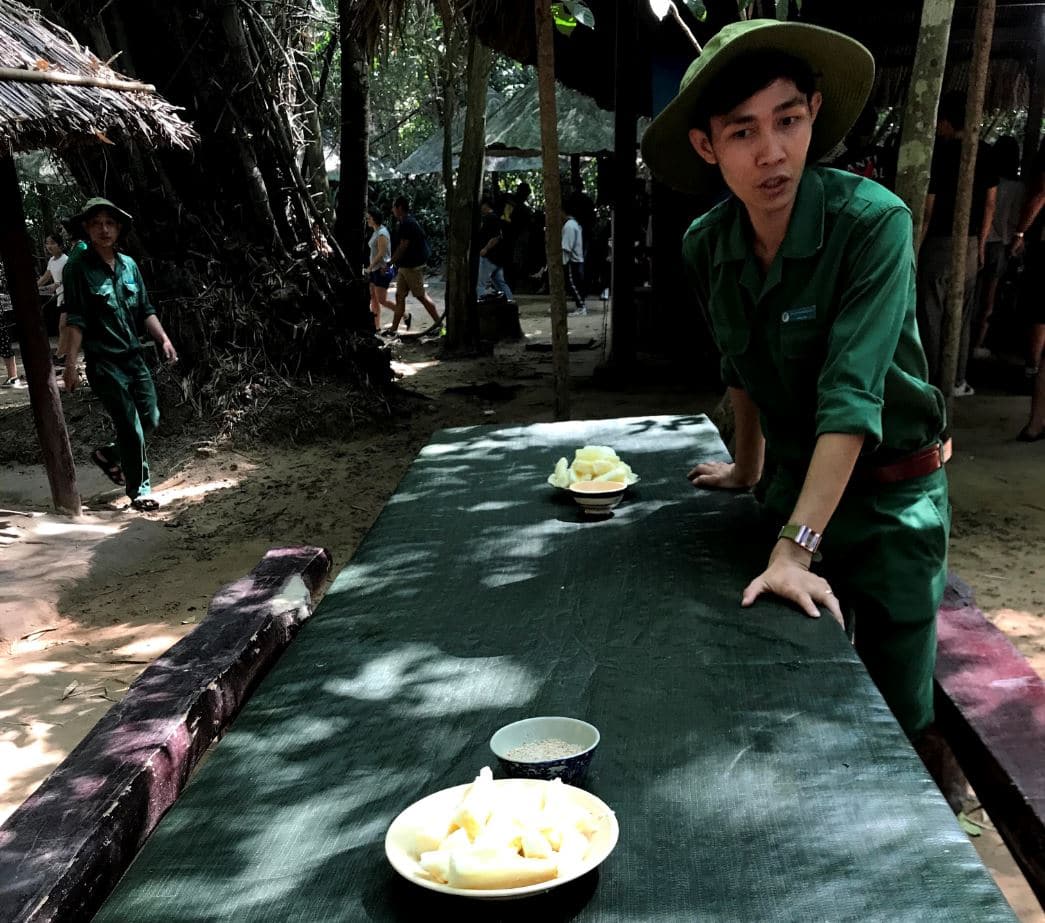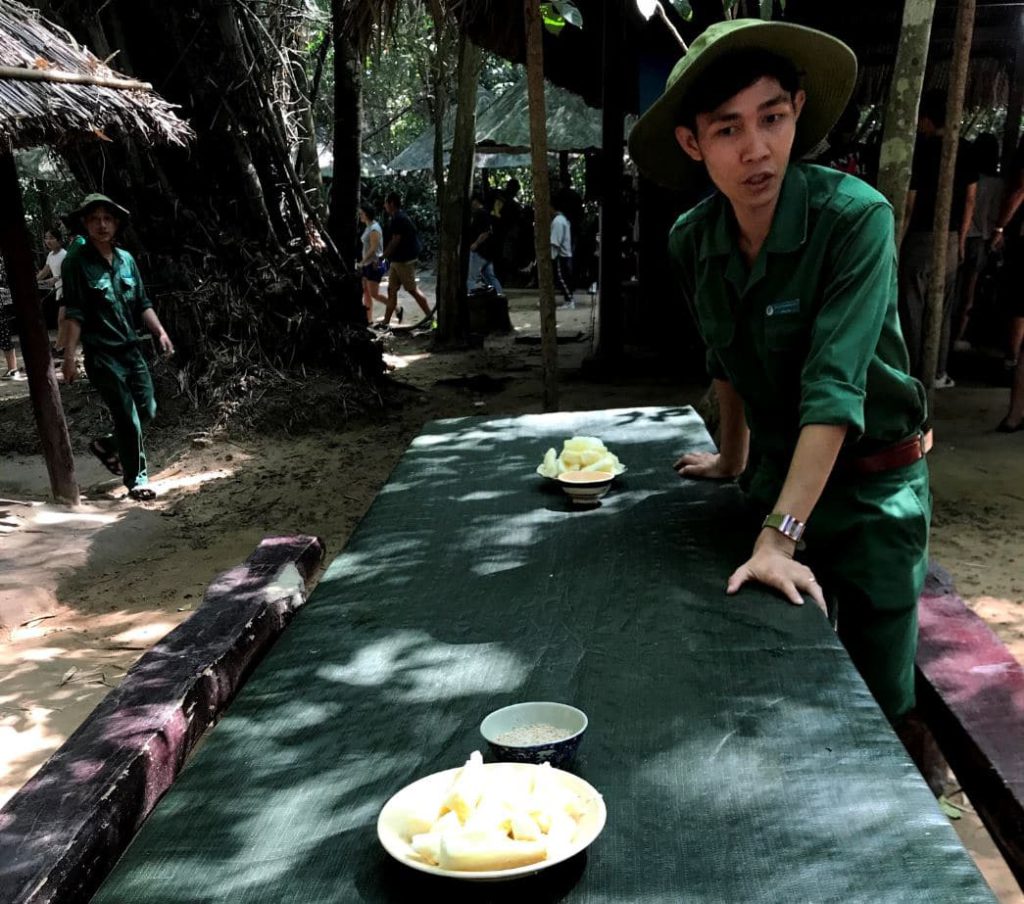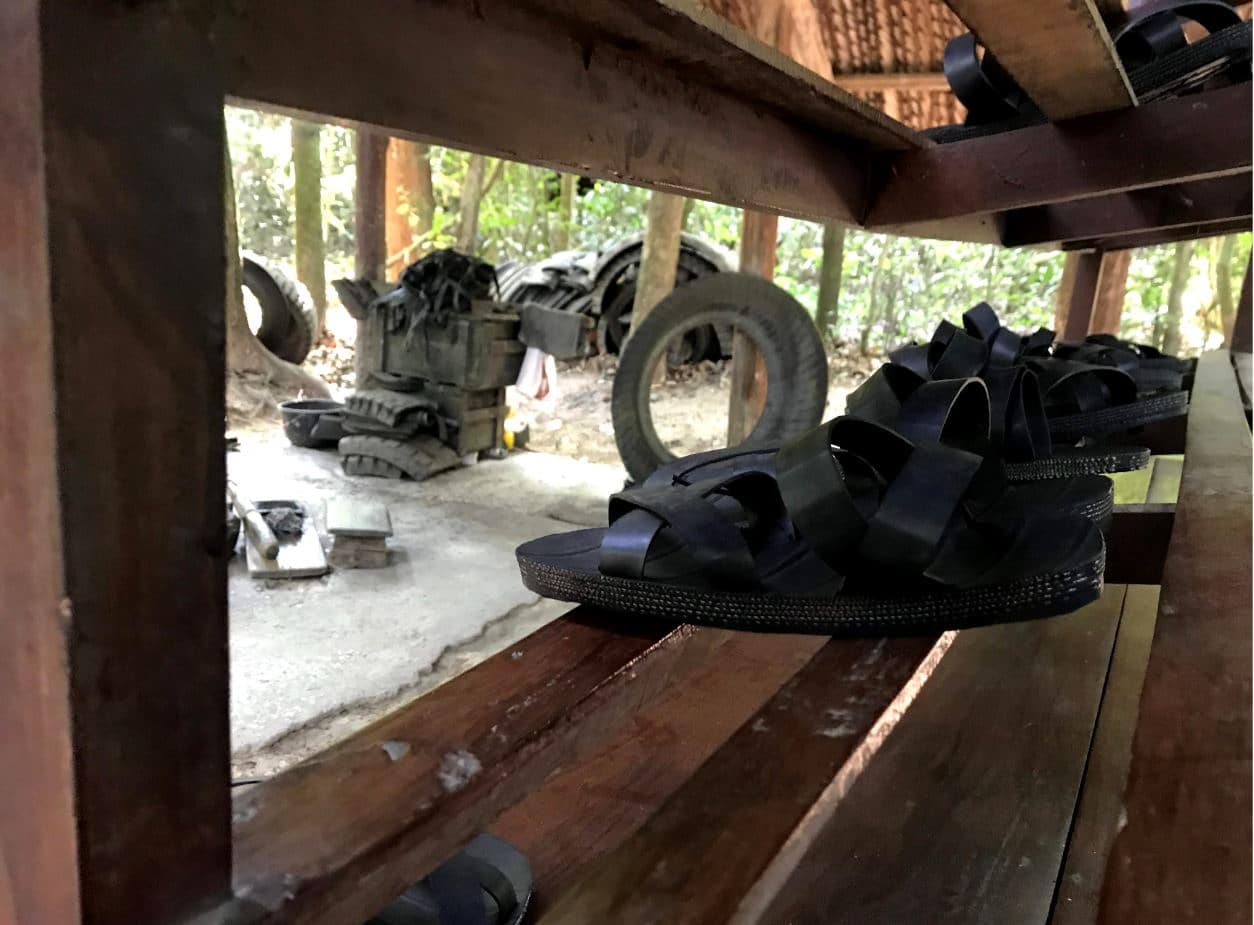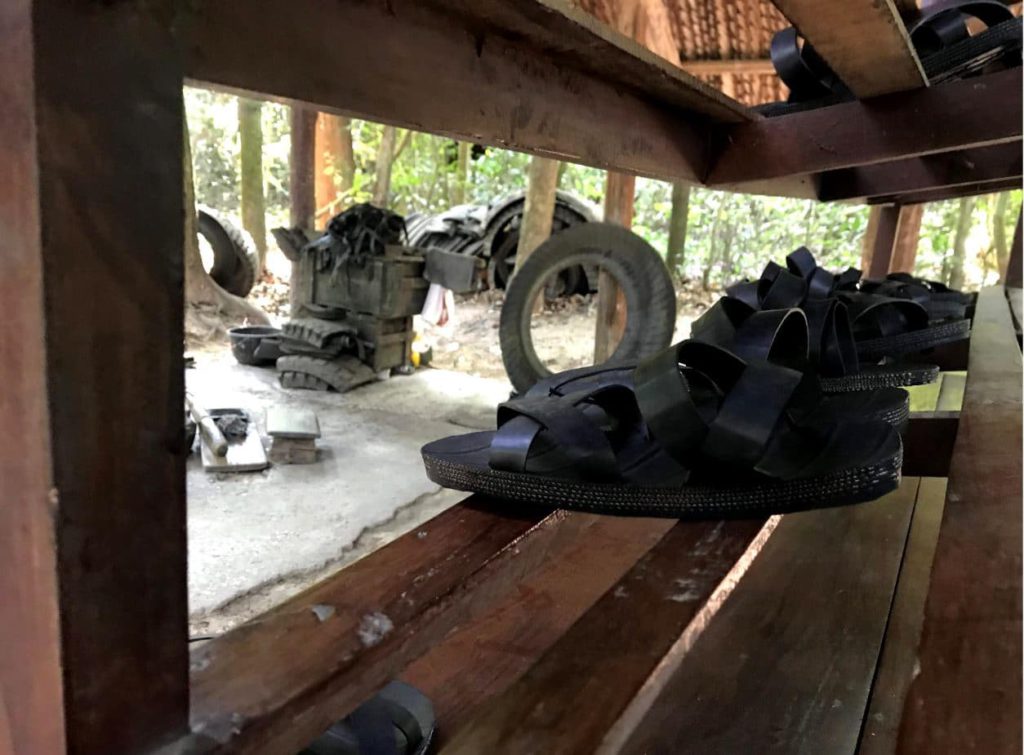 Ben Dinh Tunnels
These are more or less similar kinds of tunnels made in a similar manner for the same purpose. However, the complex is a lot smaller and the range of activities limited to sightseeing the tunnels and shooting. While Ben Duoc is the original, Bin Dinh tunnels have been widened for easier access for the tourists. Both Binh Dinh and Binh Duoc offer a similar experience to the tourists.
These tunnels are closer of the two from Ho Chi Minh City. While Binh Dinh is 50 km from Ho Chi Minh City, Binh Duoc is 70 km and takes a lot longer to reach if you are travelling by public transport. Only a few tour operators take you to Binh Duoc tunnels.
The popular tour, the ones with speedboats and on cycling tours head to Binh Dinh. So check with the tour operator which tunnels are they taking you to if you specifically want to visit any of the two.
The Monument temple for Martyrs of Ben Duoc
A little outside the tunnels, you can see a huge pagoda made by the Vietnamese government as an ode to the soldiers that died in the war. The walls of the main temple have the names of the martyrs from both sides. People who lost their comrades and family still visit to remember their sacrifice.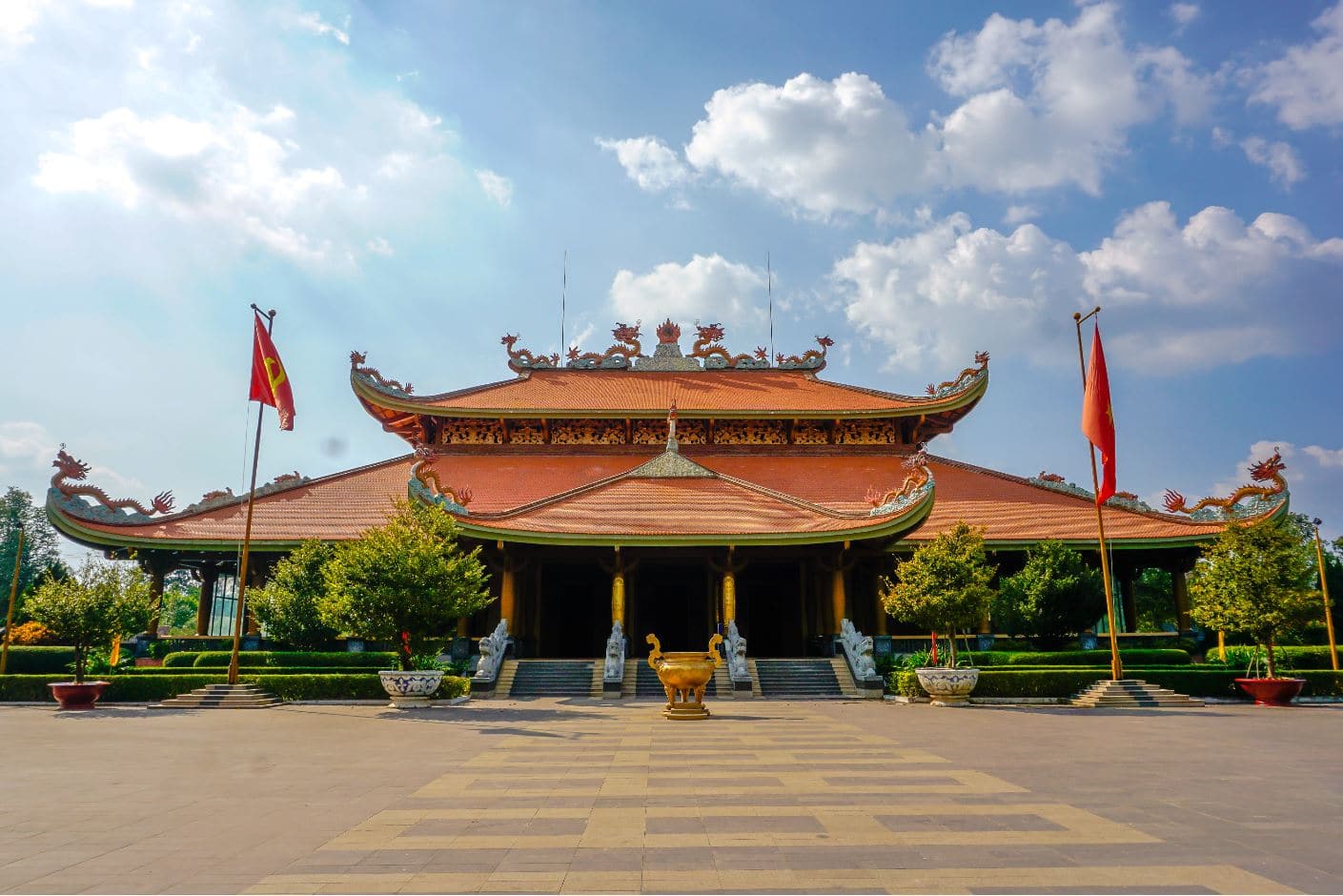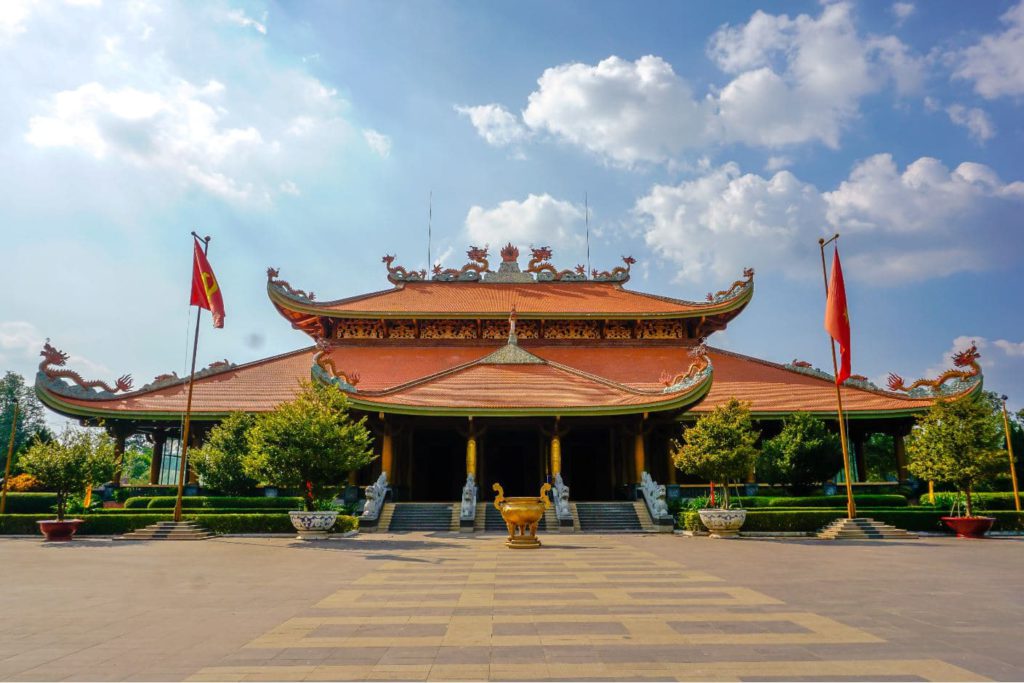 Sports Defence Shooting
After the tour of the tunnels, you can try your hand on first-hand shooting. Using the guns from the war, you can practice shooting on animal shaped moving objects. The charges of this are not included in the main ticket. The cost is calculated per bullet which ranges from 20,000VND – 40,000VND per bullet depending upon the rifle you choose.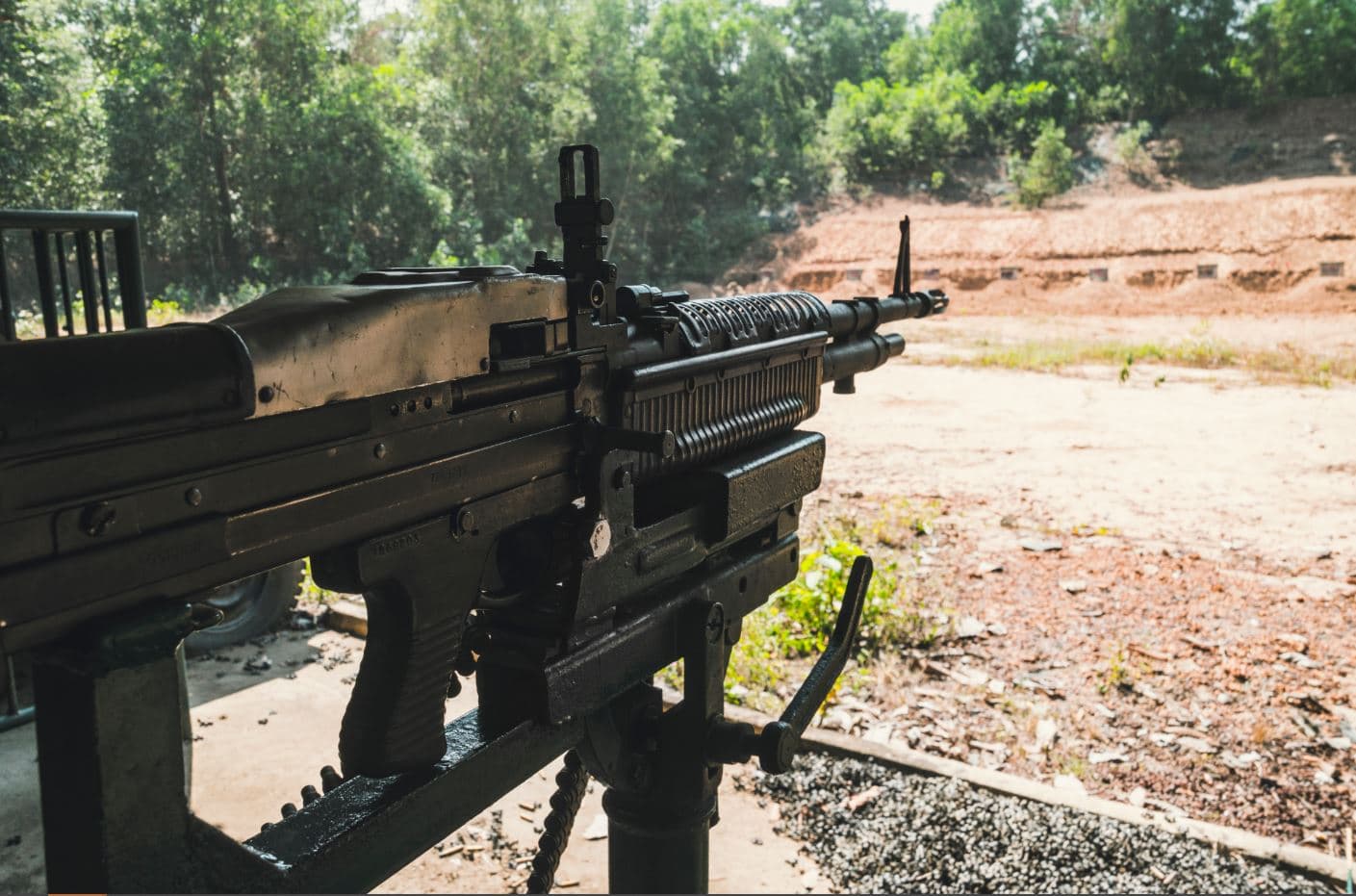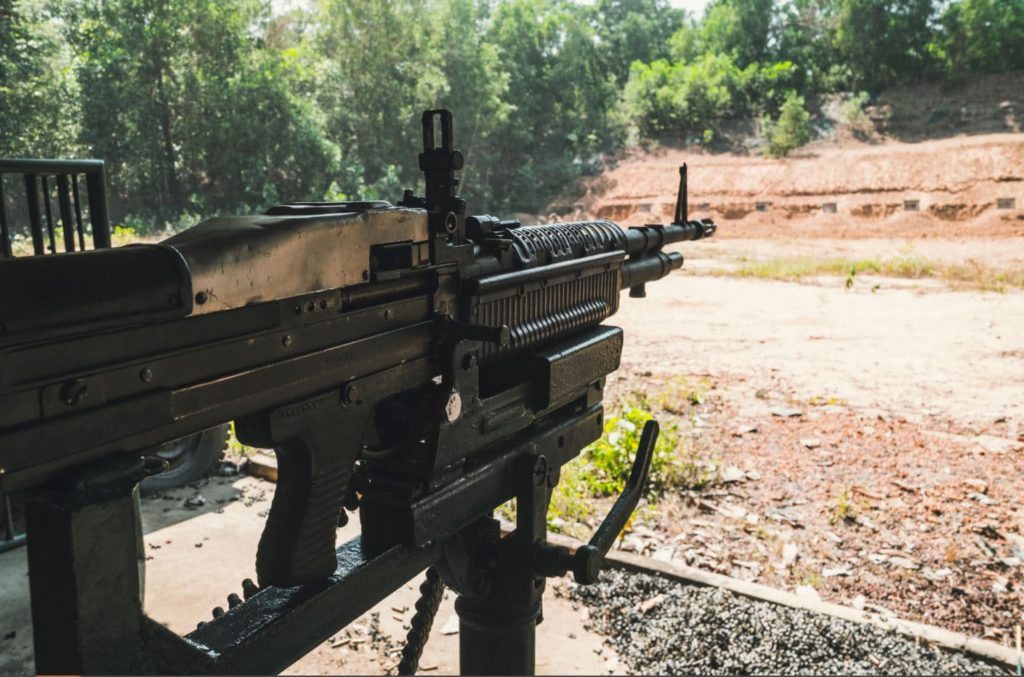 Paint Shooting
An active sport much like paintball is also available in the area. You dress up as soldiers in masks, uniforms, armor, shoes and carry guns (AR15 or AK47). Then you go around in a military expedition from one of the two sides. It is like replaying the war times. It is also completely safe.
Cu Chi Tunnels Timings and Tickets
Cu Chi Tunnels timings: The arena is open from 7am to 5pm every day of the week
Ticket price for Bin Duoc tunnels: 90,000VND per person
Ticket price for Bin Dinh tunnels: 110,000VND per person
Who all can go to Cu Chi tunnels?
Cu Chi tunnels are open for everyone. However, the war is a serious topic and the make of the tunnels doesn't make visiting them a cakewalk. You can, of course, visit the main arena but if you have any of the following issues, take caution and avoid entering inside the tunnels.
1. In case you are a heart patient, have high blood pressure or hypertension
2. If you are uncomfortable in enclosed spaces, strictly avoid going
3. If you have back problems and cannot bend down for long
4. In case you are pregnant
5. If you are carrying children in arms
6. If you are built is on the heavier or larger side, assess the situation at the spot and decide (Built of ethnic Vietnamese are smaller in stature both in height and body)
Is visiting Cu Chi Tunnels worth it?
For those who are in Ho Chi Minh City for more than a day, you should definitely take half a day out to visit these. These tunnels are pure genius and a very rare experience from the war that plagued Vietnam for decades.
On the other hand, if you are in Ho Chi Minh only for a day, focus on visiting the local attractions and skip this since this will take up most of your day.
Save On Pinterest


Related Articles