27 Feb

How to get a passport in India in 10 steps

With an increasing number of travellers travelling outside the country and Indians shifting or getting jobs offshore, It's very important to get your passport documents in place. A lot of times, this is a prerequisite for some jobs or a business requirement.

You would also not want to miss any opportunities to travel to the fairly open world now and travel getting more affordable every day. Fortunately, getting a passport in India has become much easier and quicker recently.
What Is A Passport?
A passport is an official document that the government of your respective country of citizenship issues which certifies your identity and entitles you to its protection while travelling across nations
Do You Need A Passport To Travel Outside India?
Apart from Bhutan and Nepal (which provide a permit on Voter ID), you need a valid passport to travel to and fro from any country in the world
What is the difference between ECR and Non-ECR Category?
ECR or Emigration Check Required category means a person who has not passed 10th grade officially.
Non-ECR stands for Emigration Check not Required. It means a person who has passed his 10th standard officially.
ECR (Emigration Check Required) is to protect illiterate workers in emigrating to certain countries to protect them, untrustworthy employers. You can read more about it here
How To Get A Passport In India?
One of the options is getting it done through an agent, be it a new or renewal of passport. They act as a mediator between you and the passport authority. They register your account, help get your documents in order and give you an appointment date with the venue of your convenience.
You just need to show up, submit your documents and if approved, your passport comes home. An agent usually charges between Rs. 1000-1500 per person added to the passport charges which is 1500/- for a regular and 3000/- for a tatkal application. Here is a calculator of online passport application fee.
Option two is getting it done yourself. Below is a step-by-step procedure to get your passport done by yourself.
Step 1: Go to the official website
Go to the official passport seva website and make a user ID if you are doing it for the first time. You can also refer to the site for all types of inquiries regarding getting a passport in India. In case you are renewing your passport and have done this before, your old ID will still work.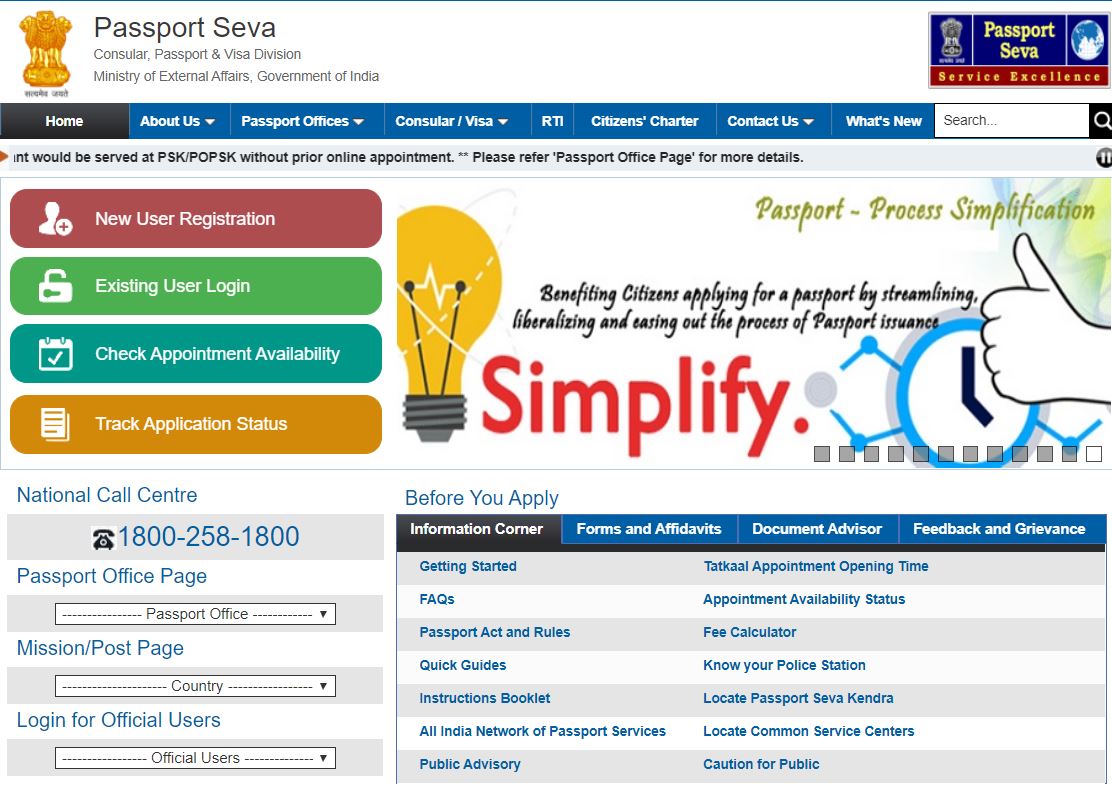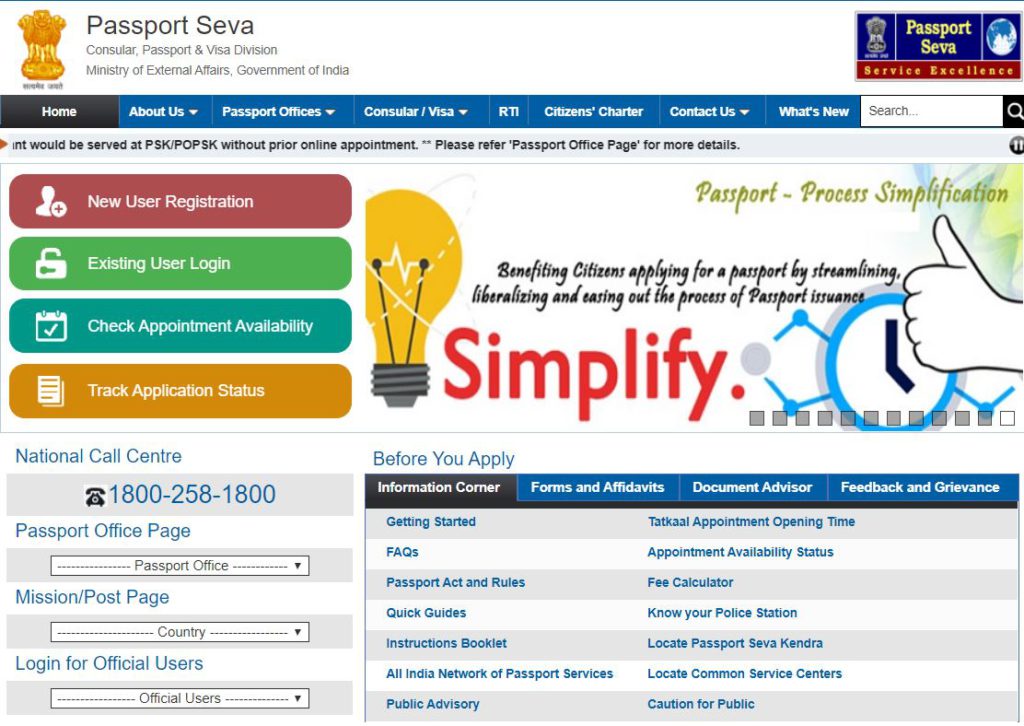 Step 2: Apply for reissual of passport
Once you are done with registering your account, log in, which will bring you to the following page. Click on the option to apply for fresh passport/Re-issue of passport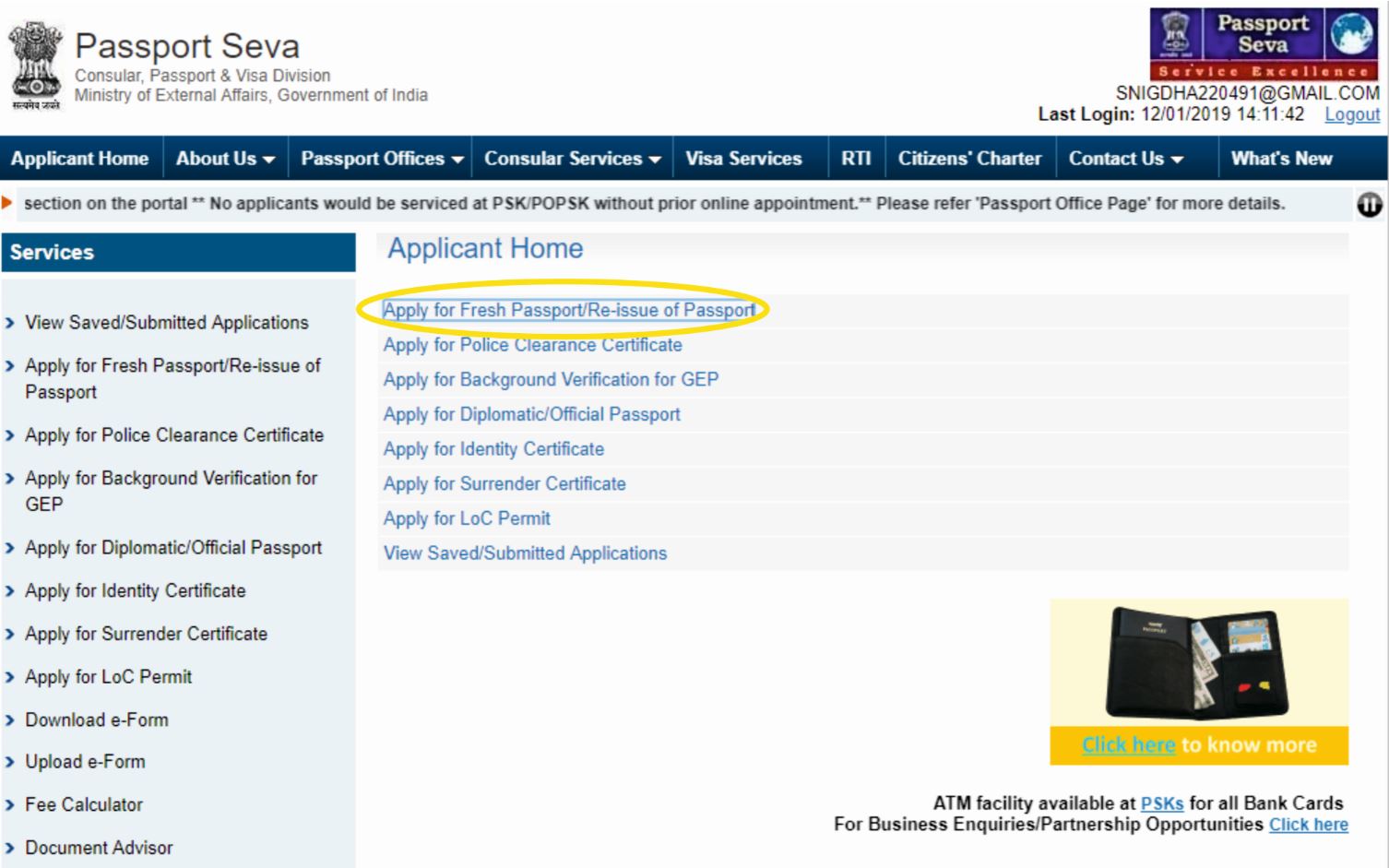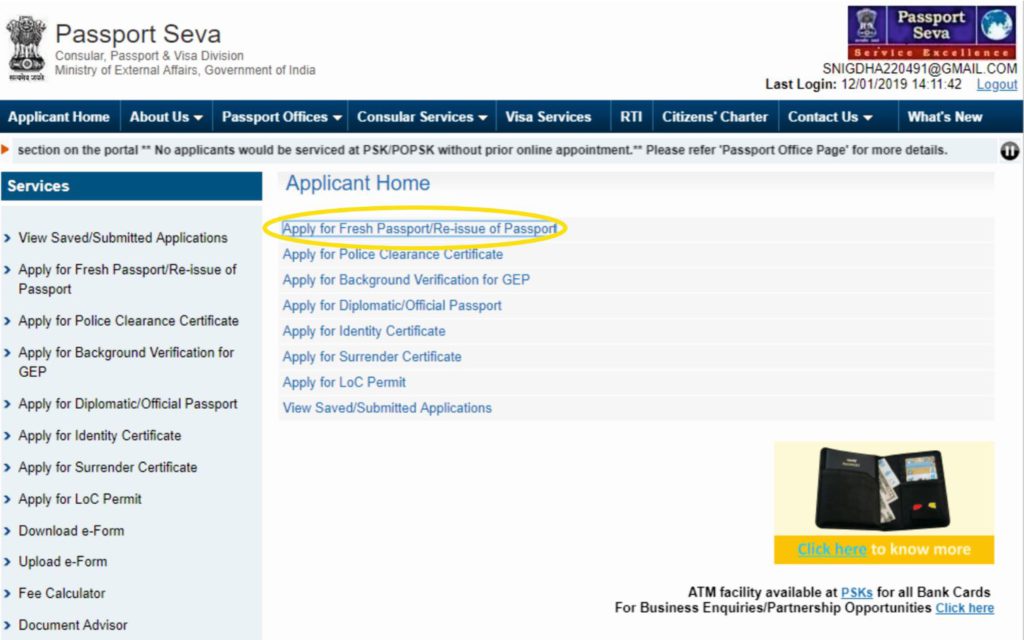 Step 3: Fill in the online form
Fill the online form. You can either fill it right away by clicking on the marked link or you can download the form, fill it online and upload it on the mentioned link. If you have a stable internet connection and a little bit of time, I would suggest filling it online.
While filling the form you may wonder at the police station you are supposed to fill in. I would suggest looking it up online with your pin code. Here is an official list of police station https://portal2.passportindia.gov.in/AppOnlineProject/online/LocatePSAction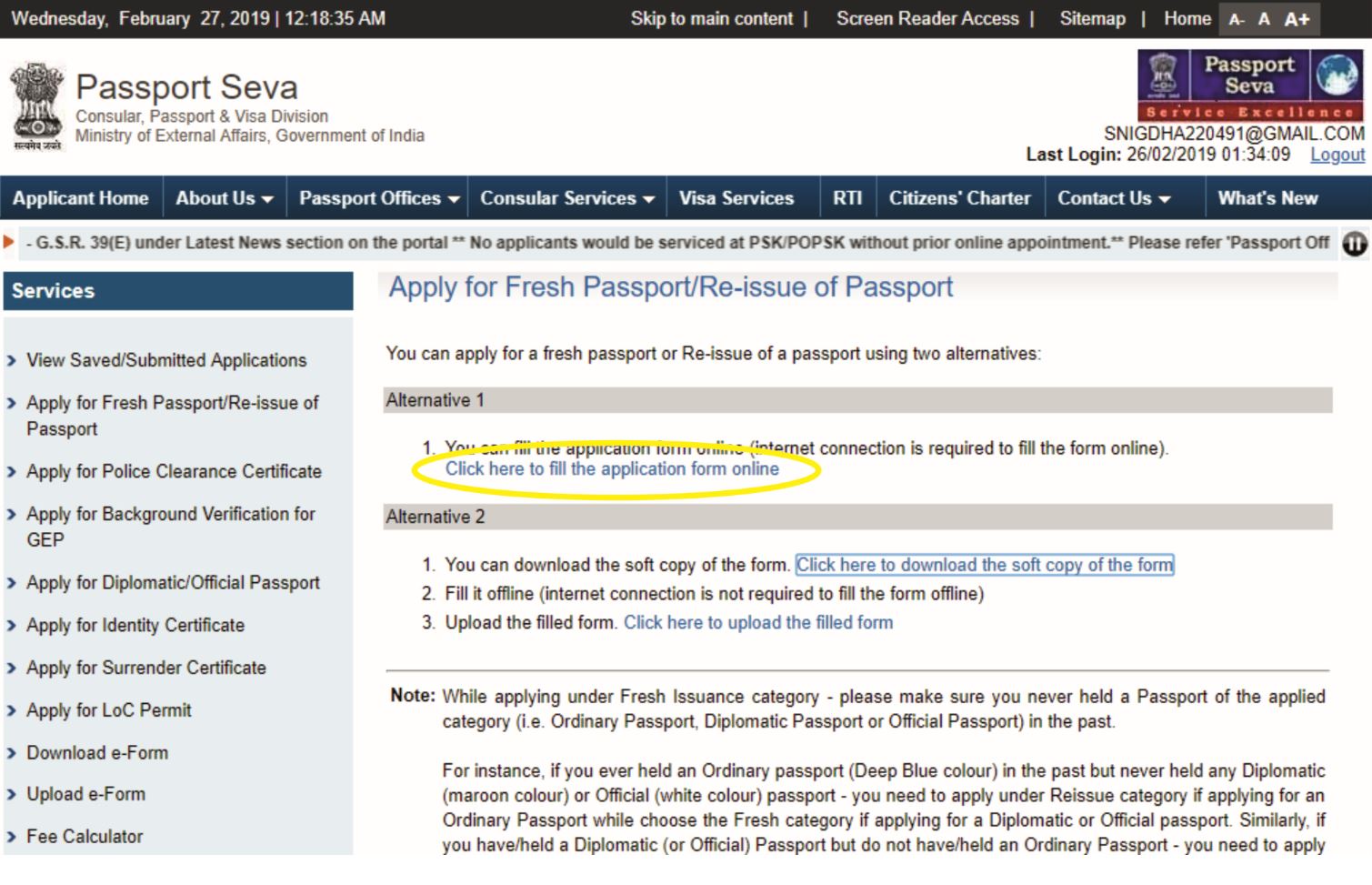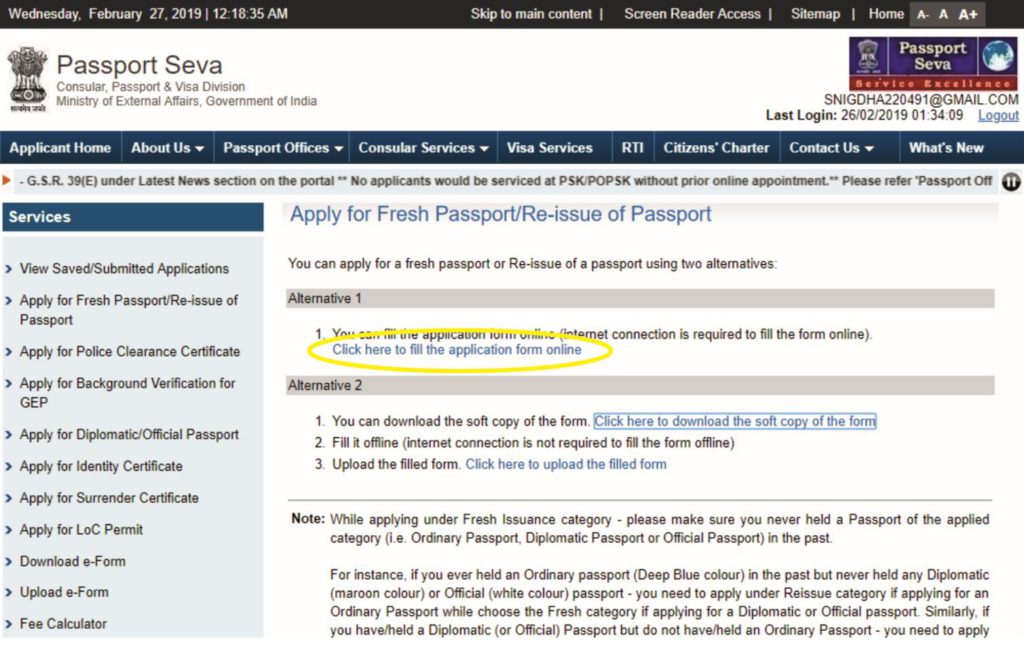 Step 4: Select Passport type
Once you fill the application form, choose one of each row below. A passport in tatkal (super fast) will cost you 3000/- against 1500/- for the normal fee. A booklet of 60 pages will cost you an additional 500/-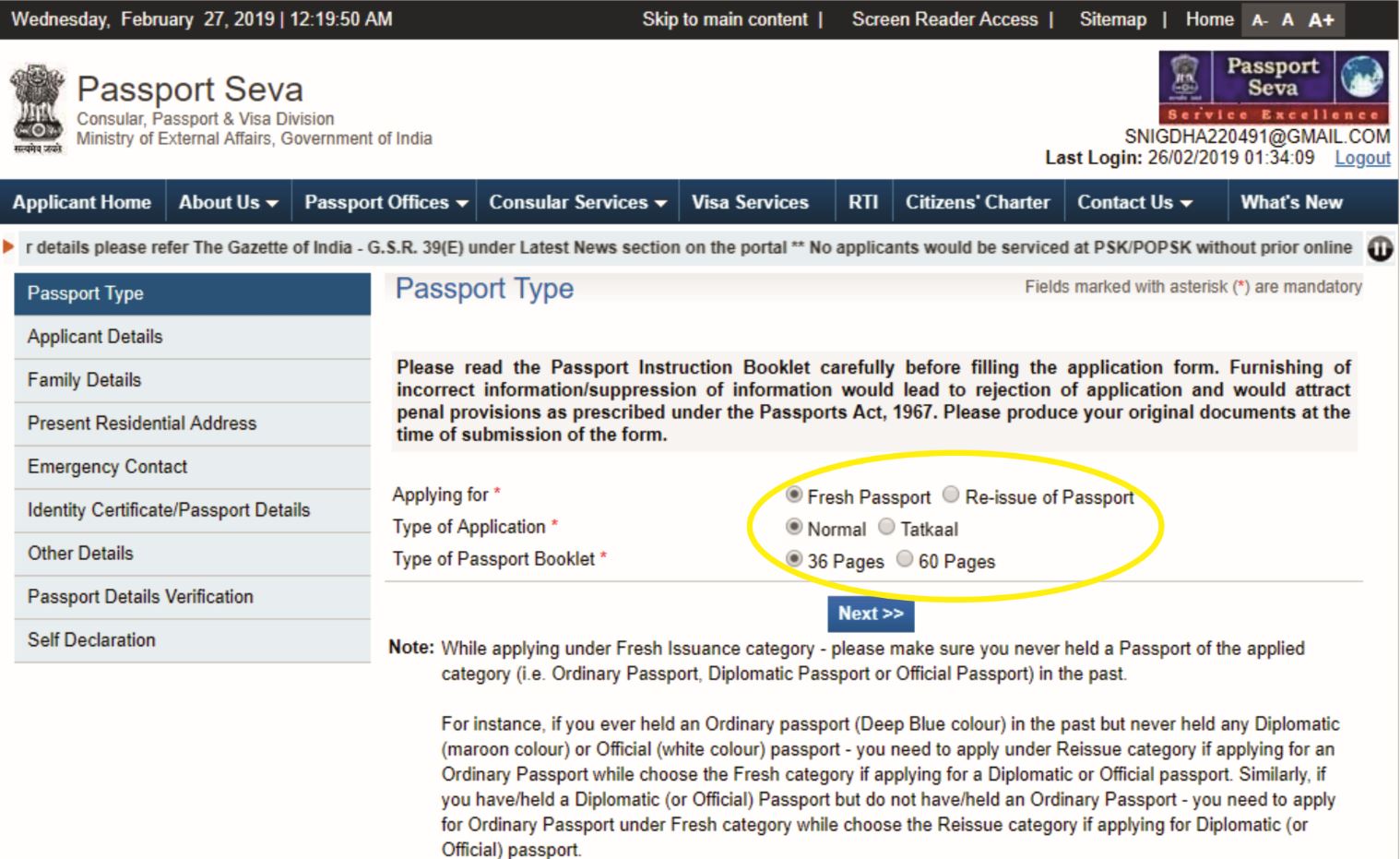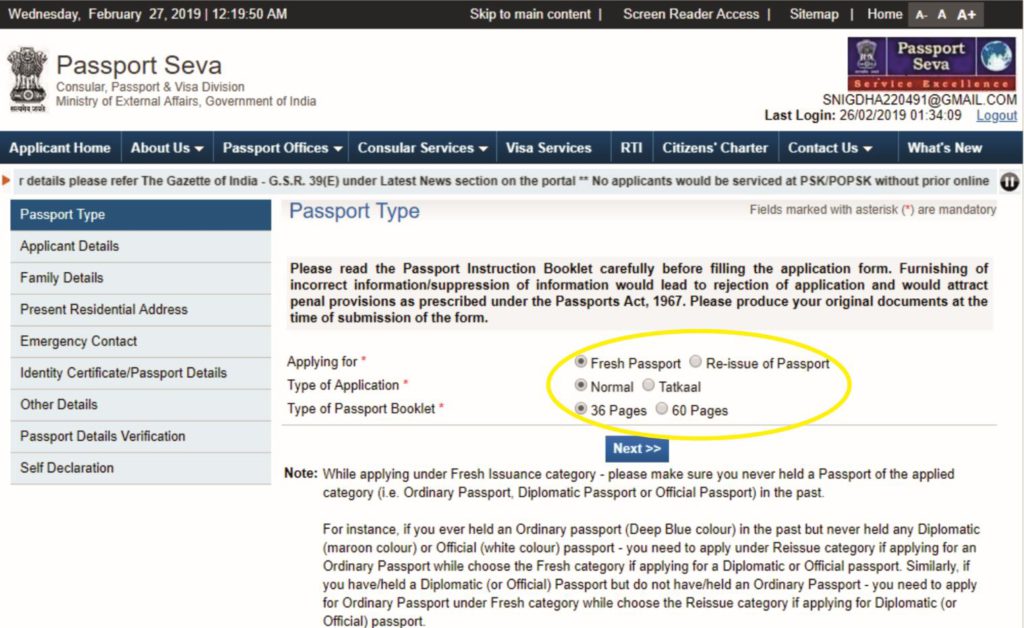 Step 5: Add notification service
It's not compulsory to check this option but I highly recommend that you avail of the SMS service. It will let you get updates on your application and track it in real-time and send you your passport dispatch status on your phone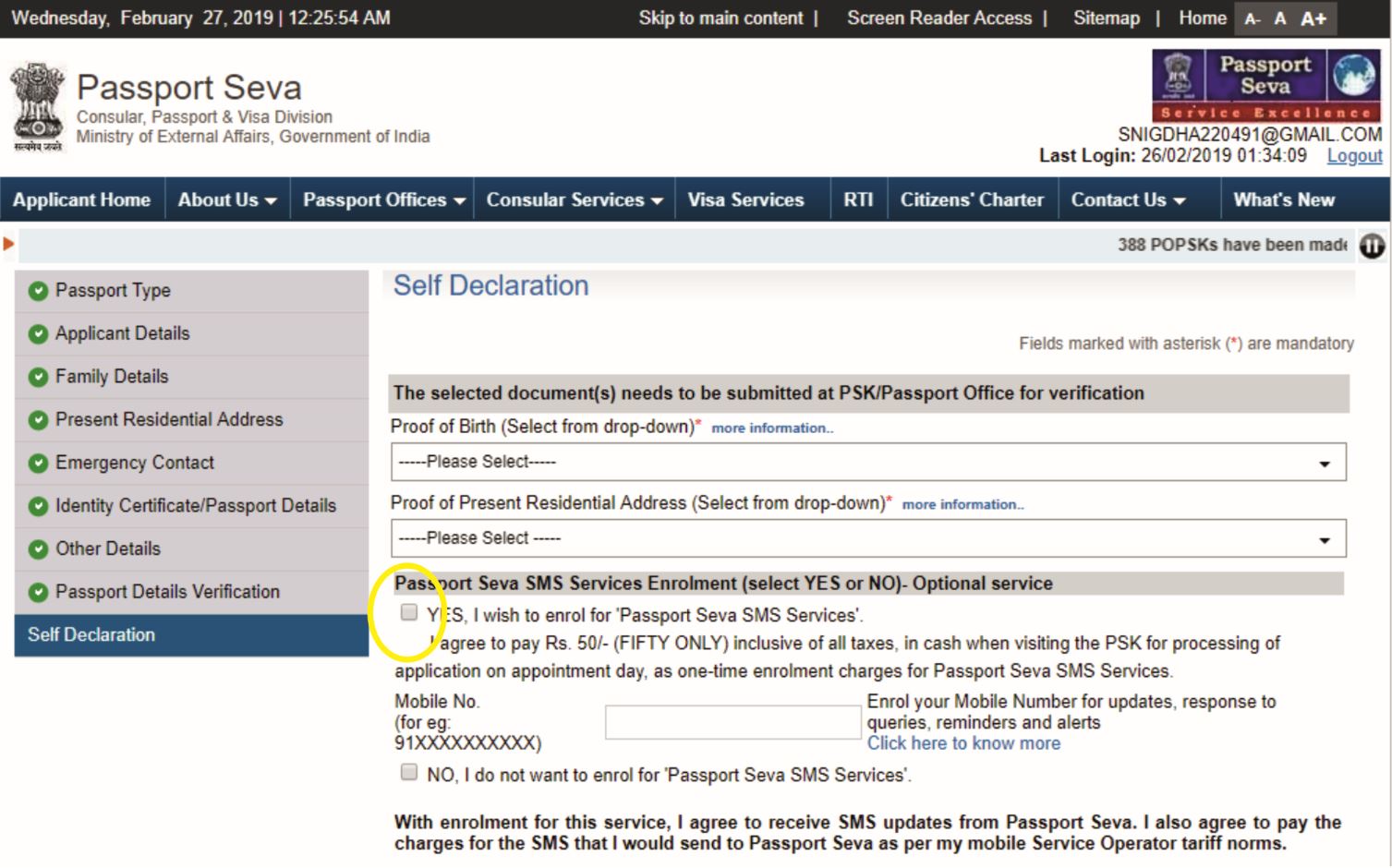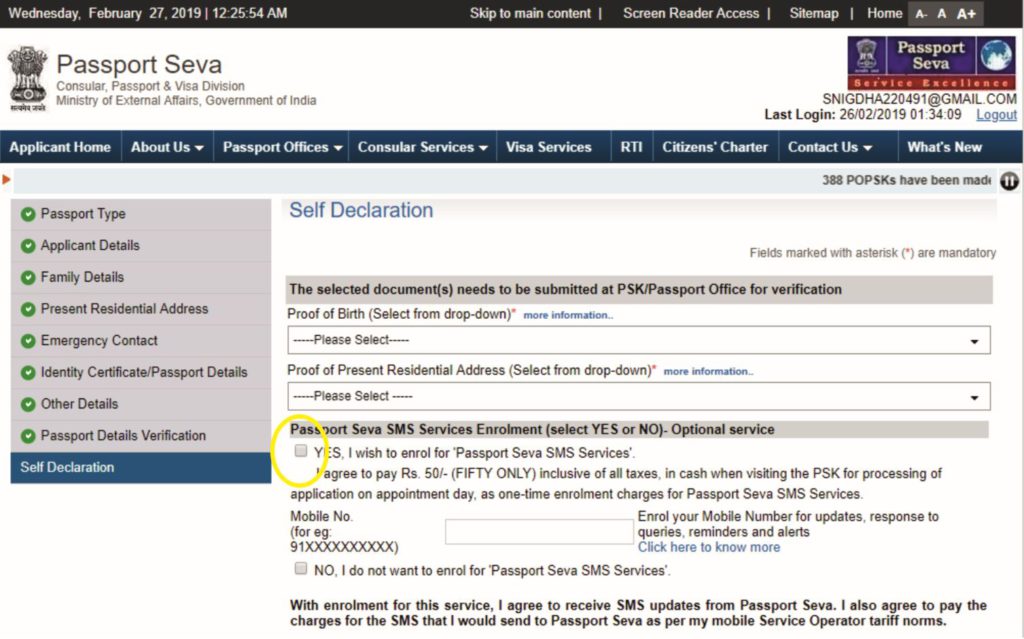 Step 6: Schedule your appointment
Pay and schedule your appointment. The date of appointment can be anywhere from the next day to the upcoming 3 months at the PSK(Passport Seva Kendra) of your choice and convenience. If you want a closer date than the one you are getting you can try looking at the PSK farther away but in the same state only.
You will have to travel to the place for your appointment though. So choose wisely. Here is a list of PSK https://portal2.passportindia.gov.in/AppOnlineProject/locatePSK/locatePFCInp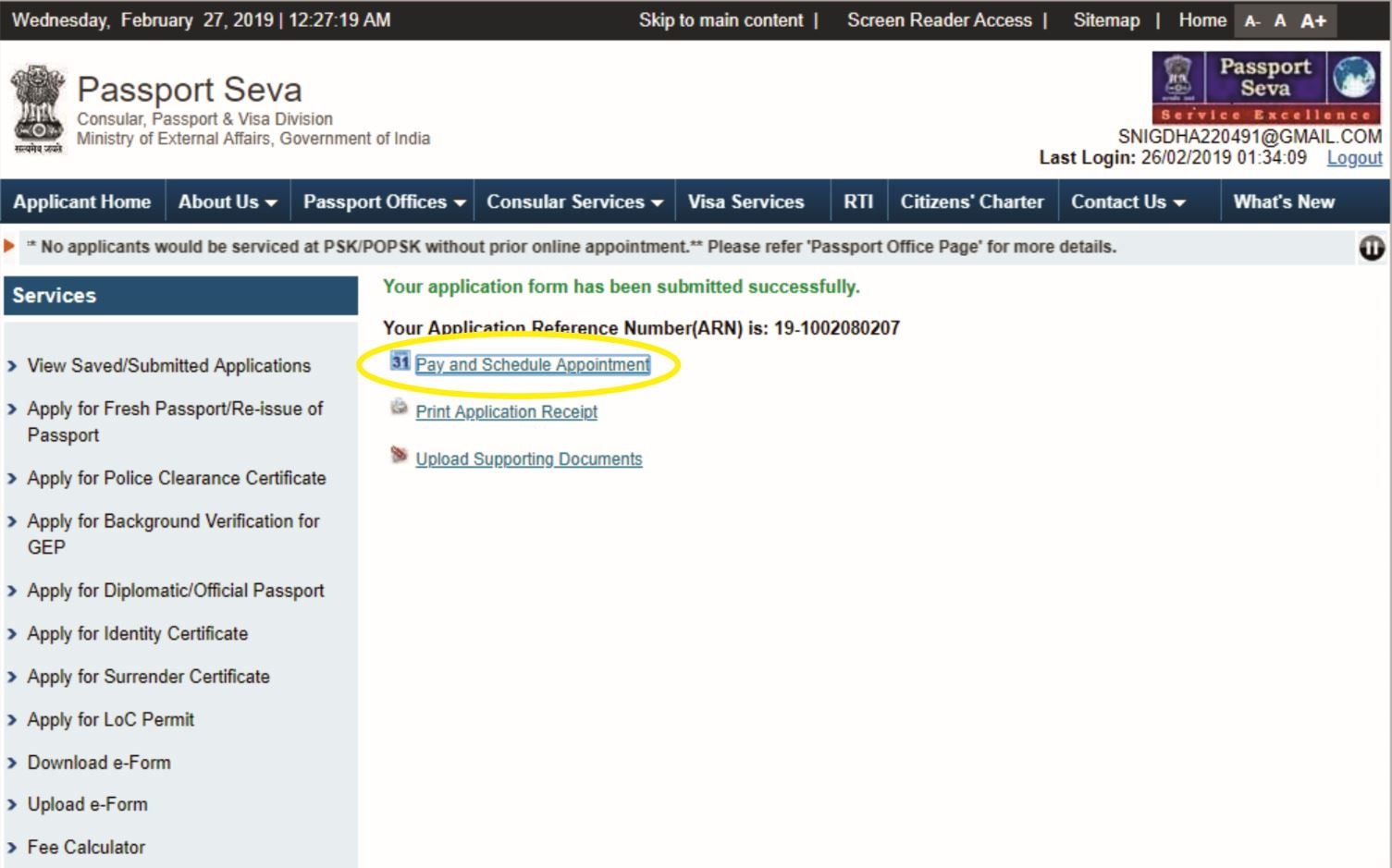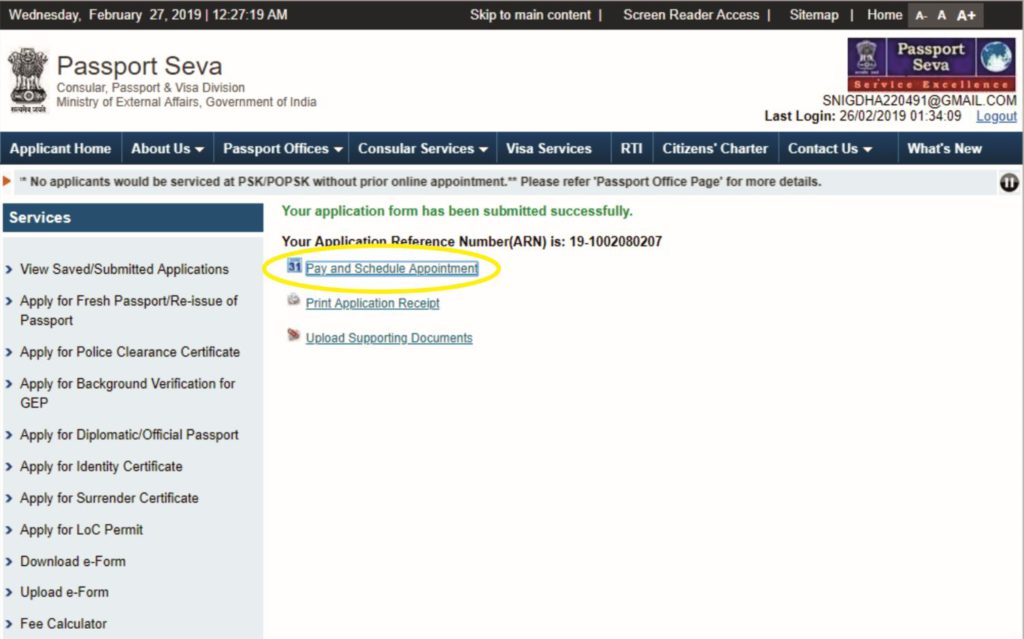 Step 7: Gather documents for submission
Once you are done with setting up your appointment, here is the list of documents you will need to carry with you to your appointment for a fresh passport. You can check the exact documents for different personal scenarios in the official website here https://portal2.passportindia.gov.in/AppOnlineProject/docAdvisor/attachmentAdvFresh
1. ADDRESS PROOF – PRESENT ADDRESS (ONE OF THE BELOW)
1. Water Bill
2, Telephone (landline or post-paid mobile bill)
3. Electricity bill
4. Income Tax Assessment Order
5. Election Commission Photo ID card
6. Proof of Gas Connection
7. Certificate from Employer of reputed companies on letterhead
8. Spouse's passport copy (First and last page including family details mentioning applicant's name as the spouse of the passport holder), (provided the applicant's present address matches the address mentioned in the spouse's passport)
9. Parent's passport copy, in case of minors(First and last page)
10. Aadhaar Card
11. Rent Agreement
12. Photo Passbook of running Bank Account (Scheduled Public Sector Banks, Scheduled Private Sector Indian Banks, and Regional Rural Banks only)
2. PROOF OF DOB (ONE OF THE BELOW)
1. Birth Certificate issued by the Registrar of Births and Deaths or the Municipal Corporation or any other prescribed authority, whosoever has been empowered under the Registration of Birth and Deaths Act, 1969 to register the birth of a child born in India
2. Transfer/School leaving/Matriculation Certificate issued by the school last attended/recognized educational board
3. Policy Bond issued by the Public Life Insurance Corporations/Companies having the DOB of the holder of the insurance policy
4. Copy of an extract of the service record of the applicant (only in respect of Government servants) or the Pay Pension Order (in respect of retired Government Servants), duly attested/certified by the officer/in-charge of the Administration of the concerned Ministry/Department of the applicant
5. Aadhaar Card/E-Aadhaar
6. Election Photo Identity Card (EPIC) issued by the Election Commission of India
7. PAN Card issued by the Income Tax Department
8. Driving License issued by the Transport Department of concerned state Government
9. A declaration given by the Head of the Orphanage/Child Care Home on their official letterhead of the organization confirming the DOB of the applicant
3. Appointment Letter
4. Marriage Certificate (If you need to add your spouse's name) 
5. Old Passport (In case of Renewal of Passport) 
6. 2 Passport size photo
Step 8: Visit the PSK center
On the date of the appointment, you need to take all the above documents and reach the PSK at least half an hour early. Try to carry any alternate documents as well in case anyone is not accepted. One alternative to address proof is a Bank statement (with your current address) of one year. You must self-attest all documents.
There will be three counters you will be directed to (Counter A, B, and C) which you will be directed to. If all documents are accepted, you will receive an SMS confirmation of your application. If not, you will have to book an appointment again and come back with the required documents (as suggested by the PSK partner)
Step 9: Finish police verification
To get a fresh passport in India, you will have to get the police verification done. You may get a call from the respective Police station to either visit the police station or for a time for verification at your address. The fee for Police Clearance Certificate is 500/- and is to be paid at the police station to the respective officer. You will be asked to show your documents for verification.
Step 10: Recieve your passport
Post police verification your passport will go for printing and will arrive at your mentioned address in 10 working days. However, You must collect the passport yourself only by showing an ID proof to the delivery person.
Can You Collect The Passport From The Respective Regional Passport Office?
In case of emergency, you may collect the passport from the respective RPO but you will have to give an application stating the urgency reason. However, the final decision resides with the regional passport officer
How Can You Track Your Passport Once Dispatched By Speed Post?
Save On Pinterest


Related Articles