22 Jun

How to get a Thailand Visa for Indians

Is a trip to Thailand on your mind? I cannot blame you. Thailand has become so insanely popular in a short span of time. You can say in the last 20 years, it has become from an average south Asian country to one of the most popular tourist destinations in the world.

People come here from all over the world – to see the crystal clear islands of Krabi, to rock in a full moon party, or just to hang out at the ever waltzing Bangkok and Pattaya. Many of them end up staying longer than they planned to, like I did.

But then it still is a foreign land and it has some rules and regulations which you need to abide by. But worry not, to get a Thailand visa for Indians is quite easy depending upon the length of your stay and purpose. In this case, I am assuming you are looking to get a Tourist visa.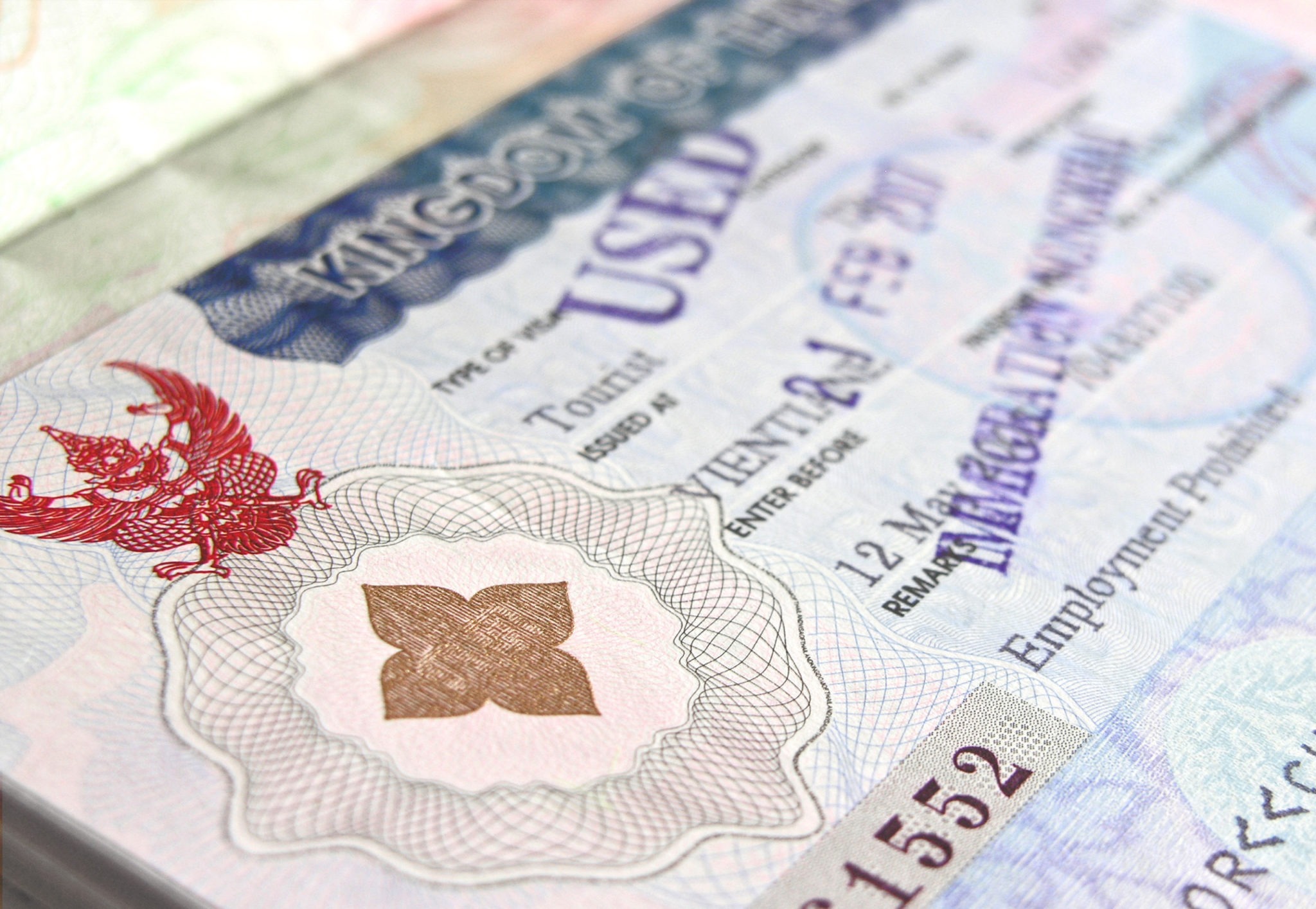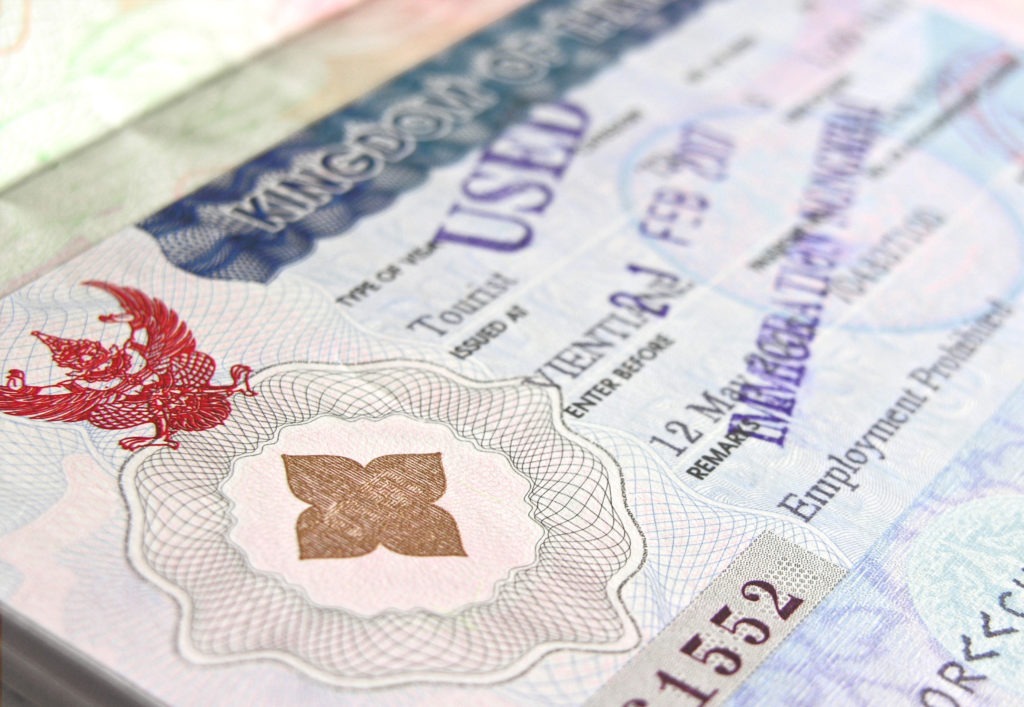 DISCLAIMER: The rules of governments regarding visa policy are fluid and changes with time. Please contact the embassy or service provider for the latest updated requirement before applying
Being A Tourist In Thailand
To be a tourist in Thailand would mean to come and travel in Thailand for leisure, exploration, sightseeing and maybe even staying back for a longer time to explore the deep interiors of the country. However, it does not allow you to obtain work or conduct business in a legal manner in Thailand. You will need a tourist visa to stay for 15 or 30 days to be able to enjoy the offerings of the Kingdom of Thailand.
What Is A Tourist Visa?
A Thailand tourist visa for Indians is an official stamp or a document which allows you to stay in Thailand legally. It is possible to obtain a visa from the embassy, on arrival or even online before coming to Thailand.
The tourist visa can also be extended upon requirement with special procedures. Thailand exempts many countries from the visa process depending upon the bilateral ties between the governments. Below is the pictorial depiction of its visa policy in case you are not from India.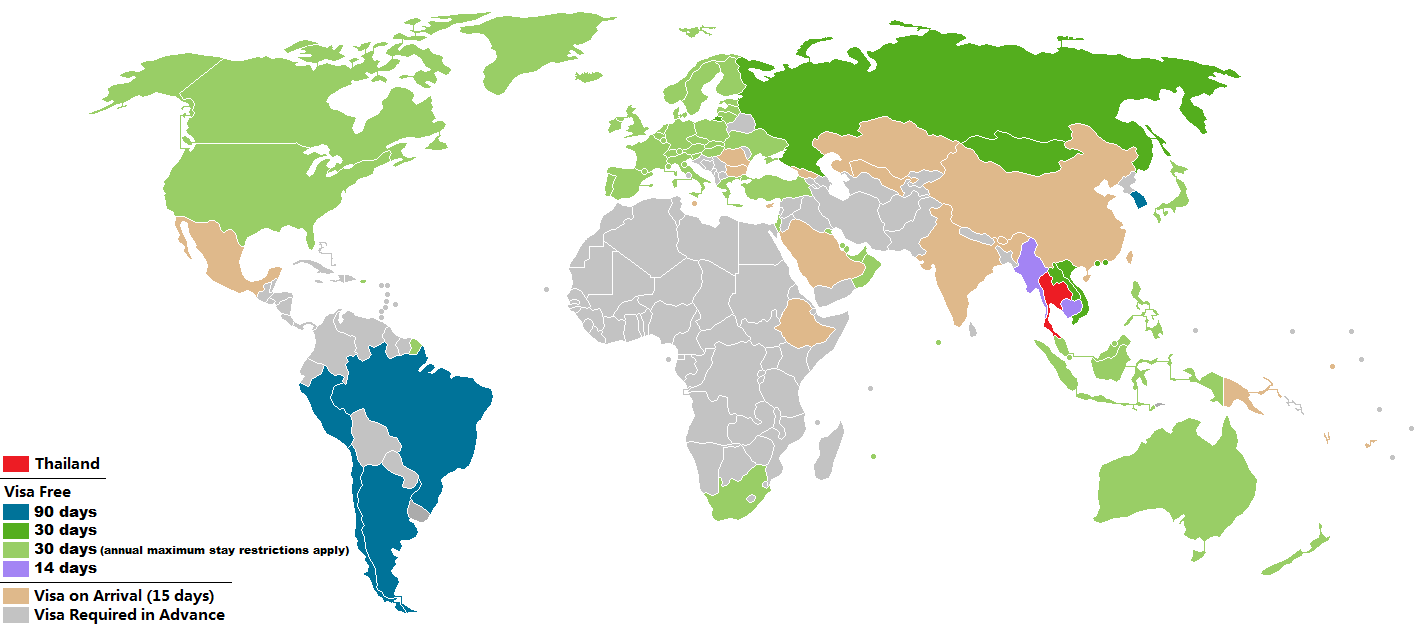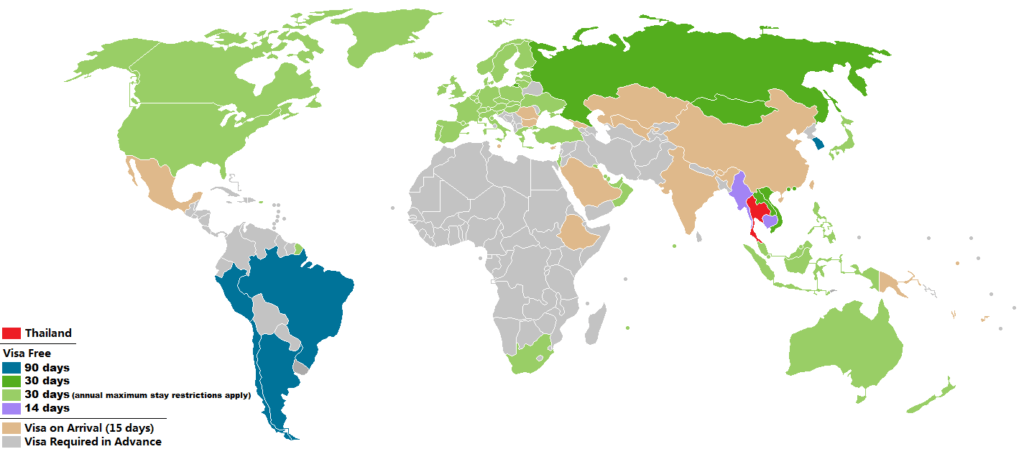 Here is a list of countries exempted from Thailand's visa process (regulations applied). If applicable, you may still need to submit a few documents before or on your arrival.
How To Get A Thailand Tourist Visa For Indians?
For Indians, there are three ways to get the tourist visa for Thailand:
1. Apply to the Thai embassy through a service provider (like Vfs)
2. Get a visa on arrival
3. Apply for an e-visa
1. Tourist Visa through Embassy
You need to apply for Thailand visa through Vfs (Thai Embassy do not accept applications directly) in case you want a physical visa before departing for your trip or if you are staying for more than 15 days in Thailand since e-visa and visa on arrival is only valid for 15 days of stay.
To submit the following documents for each traveller, you need to visit the Vfs office physically :
1. Passport or travel document with a validity of not less than 6 months
2. Visa application form (filled out) – you can get this at the counter
3. One recent 4cmx6cm. photograph of the applicant
4. Round-trip air ticket or e-ticket (paid in full)
5. Proof of financial means (20,000 baht per person/40,000 baht per family)
6. Copy of Hotel reservations or an invitation letter from someone staying in Thailand
Note that documents are subject to change without prior notice or the embassy may request additional documents if they feel it necessary.
Visa Validity: The visa validity for a pre-applied visa is 30 days from the day of entering Thailand and valid 90 days from the day of application.
Visa fees: The Visa fee is $30. Any processing charges of a service provider are additional
2. Thailand Visa for Indians on Arrival for tourists
India is one of the countries whose citizens are eligible for Thailand visa on arrival.
But the much better news is that it is FREE of cost if you are visiting for 15 days or less.
You need the following documents to apply for Thailand Visa on arrival:
1. Passport with a validity of at least 30 days
2. A return confirmed air ticket of flying back or out of Thailand within 15 days of arrival. A one-way ticket will not be considered. Nor is any ticket through rail or bus out of Thailand to any of its neighbouring countries. Upon not summoning this, entry could be refused in Thailand
3. Proof of sufficient funds of at least 10,000 THB per person or 20,000 THB per family
4. A visa application form duly filled with proper details (available at arrival)
5. Hotel bookings or invitation letter as a proof of residence in the country
6. Arrival and departure card filled with you complete details (distributed in flight)
Checkpoints for Thailand visa on arrival are available in Suvarnabhumi Airport, Don Muang International airport, Chiang Mai international airport, Phuket international airport, and 20 more places. Refer this for the complete list
Visa Validity: The visa is valid for only 15 days in case of Thailand Visa on arrival and is single-entry only which means that you cannot enter the country again if you leave in the span of time you are in Thailand.
Visa Fee: There is no visa fee for visa on arrival for Indians. However, sometimes there is an additional express line which charges 200 THB extra for a quicker visa processing time.
3. Thailand Visa and online/e-visa/eVOA
It makes it even easier to visit Thailand now since you don't need to do a lot of paperwork or queue at the visa lines on borders. You can submit your application for Thailand visa online for Indians, upload your documents, pay the visa fees and receive your e-visa in your mail in 2 to 5 days.
You can apply for your Thailand visa application here
The following documents must be carried while travelling to Thailand:
1. Passport with a validity of at least 30 days from the date of arrival
2. At least one blank page for stamping at entry
3. A hard copy of the approved e-visa
4. A copy of flight tickets back or onwards from Thailand within 15 days of arrival
5. A copy of your accommodation bookings
6. Proof of sufficient funds of at least 10,000 THB per person or 20,000 THB per family
7. Arrival and departure card filled with you complete details (distributed in flight)
Visa Validity: The validity of a Thailand e-visa is only 15 days and is single-entry.
Visa Fee: The e-visa fee is $69 and needs to be paid online through a credit or a debit card.
Beyond 90-day rule
Until now, the tourists were allowed to stay in the country for up to 90 days in a time period of 6 months at a stretch. However, that is not applicable anymore. Anyone can visit Thailand for as many times as they want till they get a valid visa beforehand or on arrival.
Other Types Of Visa
1. Non-immigrant Visa
This is a regular single-entry visa to Thailand for 90 days. You renew it by a 'visa run' to any of the border checkpoints or doing a round trip from another country. You can get a work permit or open a bank account on this visa.
2. One year non-immigrant visa
Similar to the previous one, this is a regular but multiple-entry visa to Thailand which is valid for a stay of one year in the country. You still have to do a visa run i.e. go to the border and get it re-stamped or fly out and in the country again every 90 days.
3. Marriage Visa
To obtain a marriage visa, the most basic requirement is to be married to a Thai national. The process is long but starts with obtaining a non-immigrant visa first. Although once you get it, you have to do a visa run only once a year and not before. Read more about Thai Marriage visa here
4. Retirement Visa
A retirement visa is a long term visa, renewable every year (can be done inside the country) which allows you to stay in Bangkok for long periods of time. The minimum requirement is to be of a minimum age of 50 years and a minimum bank account of 800,000 THB. Read more on retirement visa here.
5. Business Visa
This is a visa which will let you do business in Thailand along with a work permit and is also known as non-immigrant business visa. The visa run for this is 90 days.
6. Permanent Resident Visa
To qualify for a permanent resident visa you need three consecutive one-year-visa renewals in Thailand. The minimum criteria for you is to earn at least 30,000 baht a month if you are married to a Thai National or 80,000 baht a month and present the tax statements for the past three years to qualify for this visa. Read more about this type of visa here
I hope that answered some of your queries. If you need more information on any related topic type in the comments or send me a mail and I will try to resolve that for you.


Related Articles