04 Feb

Kumbh Mela & Places to visit in Prayagraj (Allahabad)

I could never get used to the name 'Prayagraj'. That used to be the name of one of the two important railway station in Allahabad, not the city. For me, it was always Allahabad.

You see I have frequented Allahabad most of my life. While my current hometown is Lucknow, both my parents fare from Allahabad. Both my paternal and maternal grandparents have lived there most of their lives.

Like most Indian kids, it meant spending a large part of summer holidays, winter holidays and all other long holidays in Allahabad with uncles, aunts and cousins. Sometimes, I just wanted to get out of it.

Honestly, I have never seen it as a tourist spot before. Although with so much time in hand, we frequented all the tourist areas repeatedly inside the city. It is only recently with Kumbh Mela that its popularity has soared and I think it will increase with time.

If you are in Uttar Pradesh and plan to cover the important points in the area, you can add Prayagraj to the list, maybe on your way to Varanasi or back. Here is everything you need to know about visiting Prayagraj.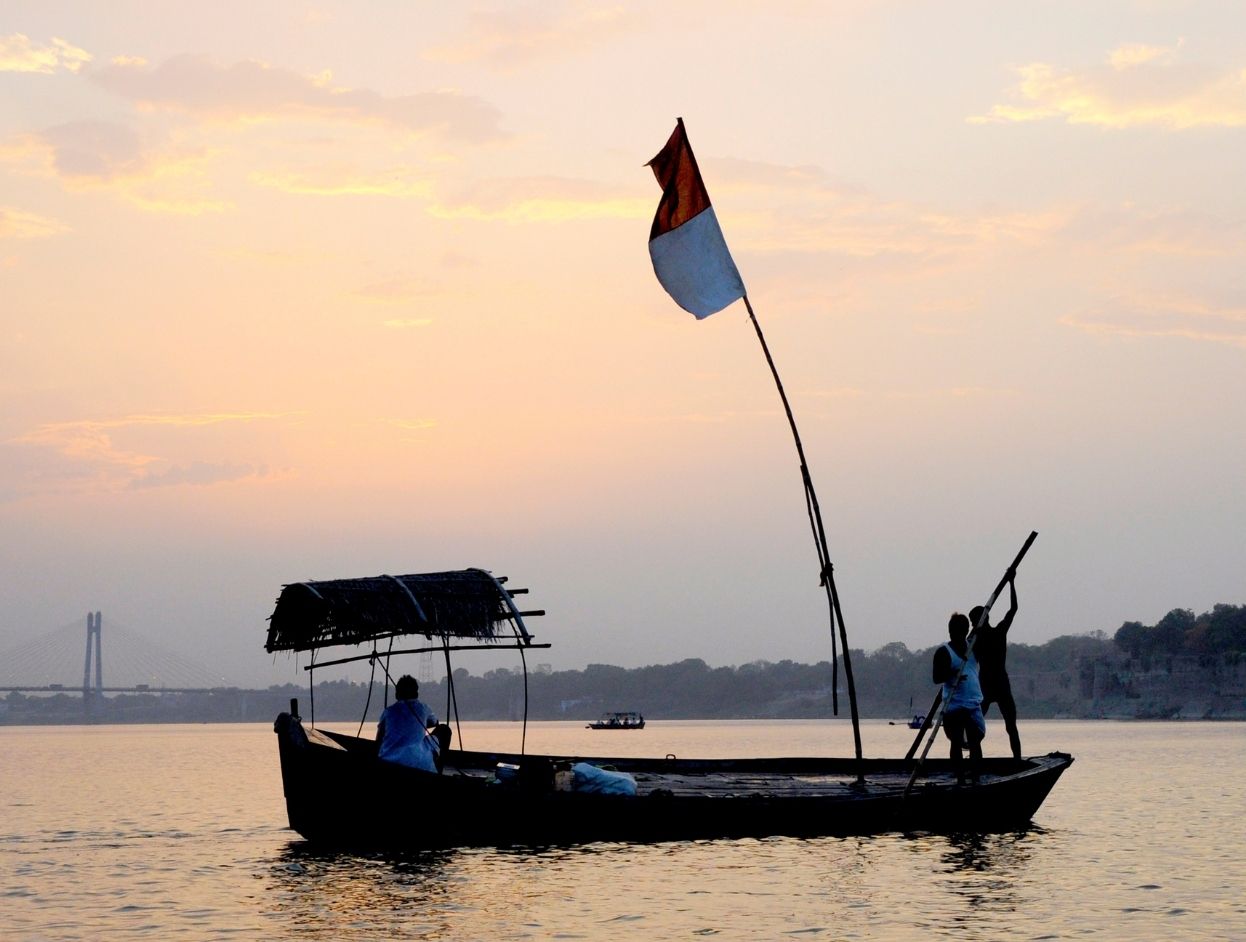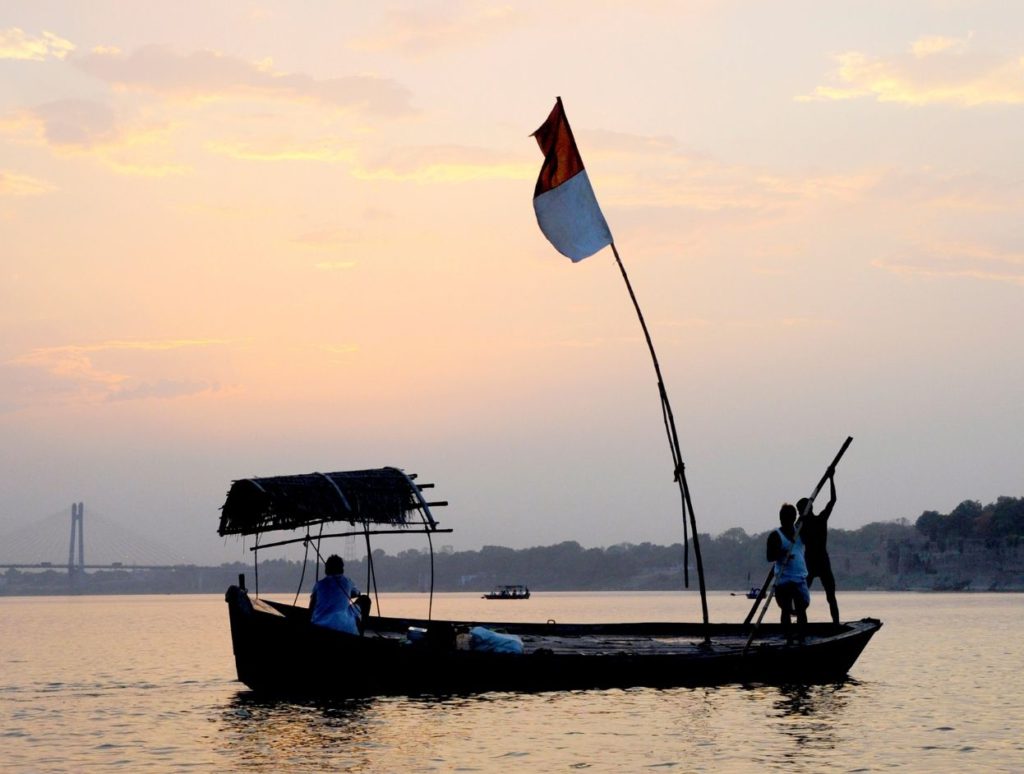 A Brief History of Prayagraj
Allahabad was established by the Mughal Emperor Akhbar and gave it the name of Illah-ha-bad meaning 'the city of God'. It remained the capital base for Prince Salim or Jehangir's rebellion.
After it passed on to the British Empire, Allahabad was also a centre for Mutiny. As people staged numerous protests, the city also witnessed mass massacres of Indians. As the centre of rebellion against the British, it was also home to the Nehru family. Their home, Anand Bhavan is now a museum.
While Lucknow became the capital of Uttar Pradesh after independence, Allahabad was still the seat of High Court and an educational centre with prestigious schools and University. Today, tourists pretty much know it for Sangam, a point where three important rivers of India meet and the grand Kumbh Mela. More on it later.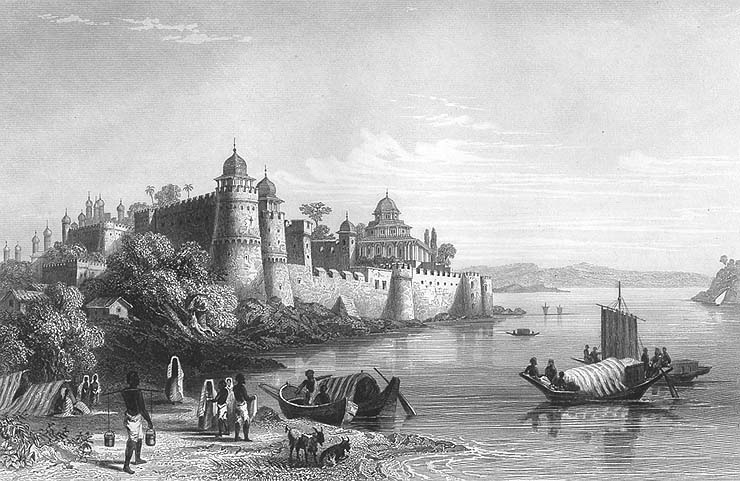 Where is Prayagraj located?
Prayagraj is 734 km towards the southeast of New Delhi and is an overnight journey by a train. It is 211 km from Lucknow (5 hours) 121 km from Varanasi (2.5 hours).
Prayagraj sits a little north of Uttar Pradesh – Madhya Pradesh border. Other popular tourist places around Prayagraj are Chitrakoot (known for waterfalls), Ayodhya and Mirzapur (pretty much for a few temples and a popular TV Series).
Kumbh Mela in Prayagraj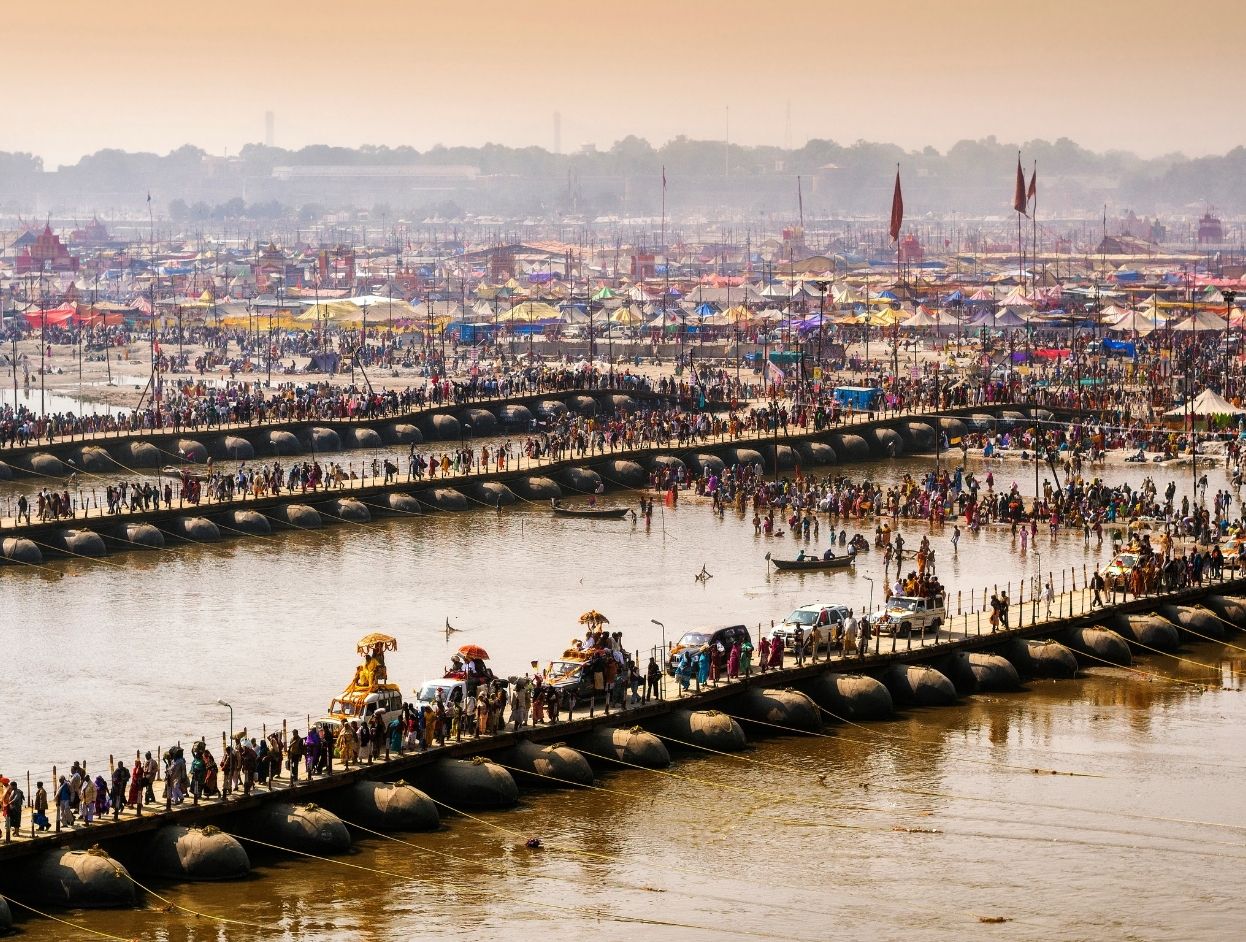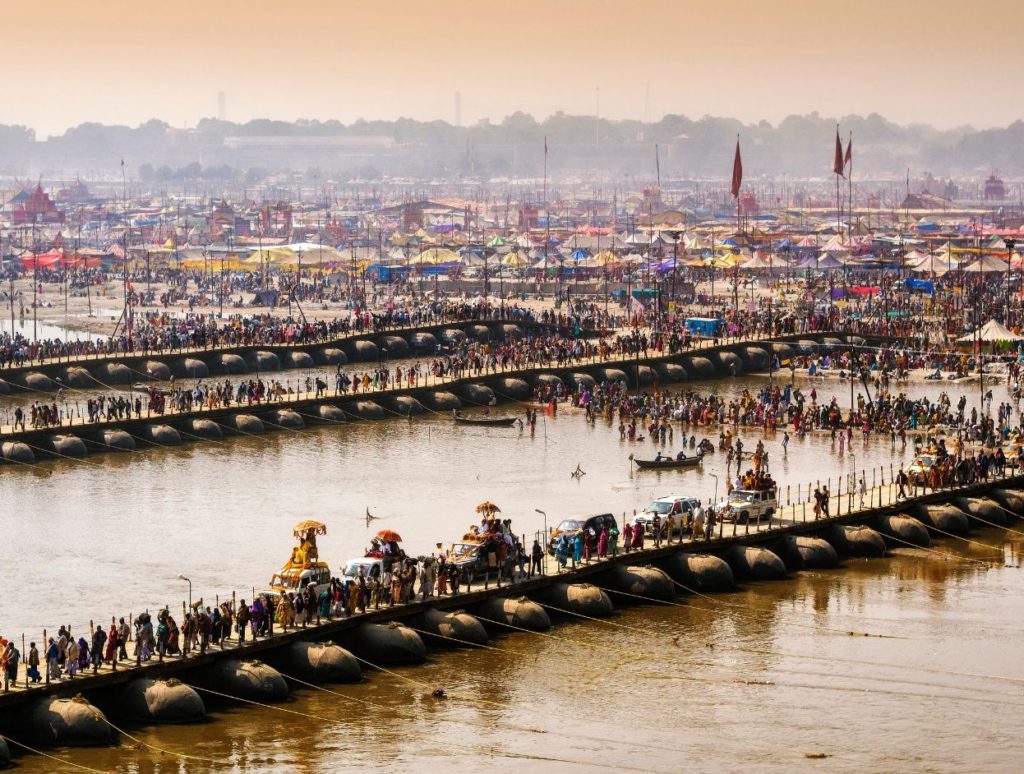 Prayagraj is home to Sangam, a point where three important rivers – Ganga, Yamuna and Saraswati meet. While Ganga and Yamuna are still visible, Saraswati is present only in spirit and some say has gone underground. As one of the holiest grounds, this is where the grand Kumbh Mela takes place.
Kumbh Mela is the mother of all pilgrimages for Hindu deities. The main Kumbh takes place every 12 years and is the largest festival in India. The last took place in 2013 when over 120 million people became a part of the festival. It is more than the population of the Philippines.
A Brief History of Kumbh Mela
According to Hindu legend, Lord Vishnu was carrying a Kumbh (pot) with Amrit (elixir) in the heavenly abode. Suddenly a tussle broke out and he spilled four drops of Amrit on earth. The drops spilled to four different places – Prayagraj, Haridwar, Nasik and Ujjain. This made them four tirthas where the Hindus eventually travel to attain salvation.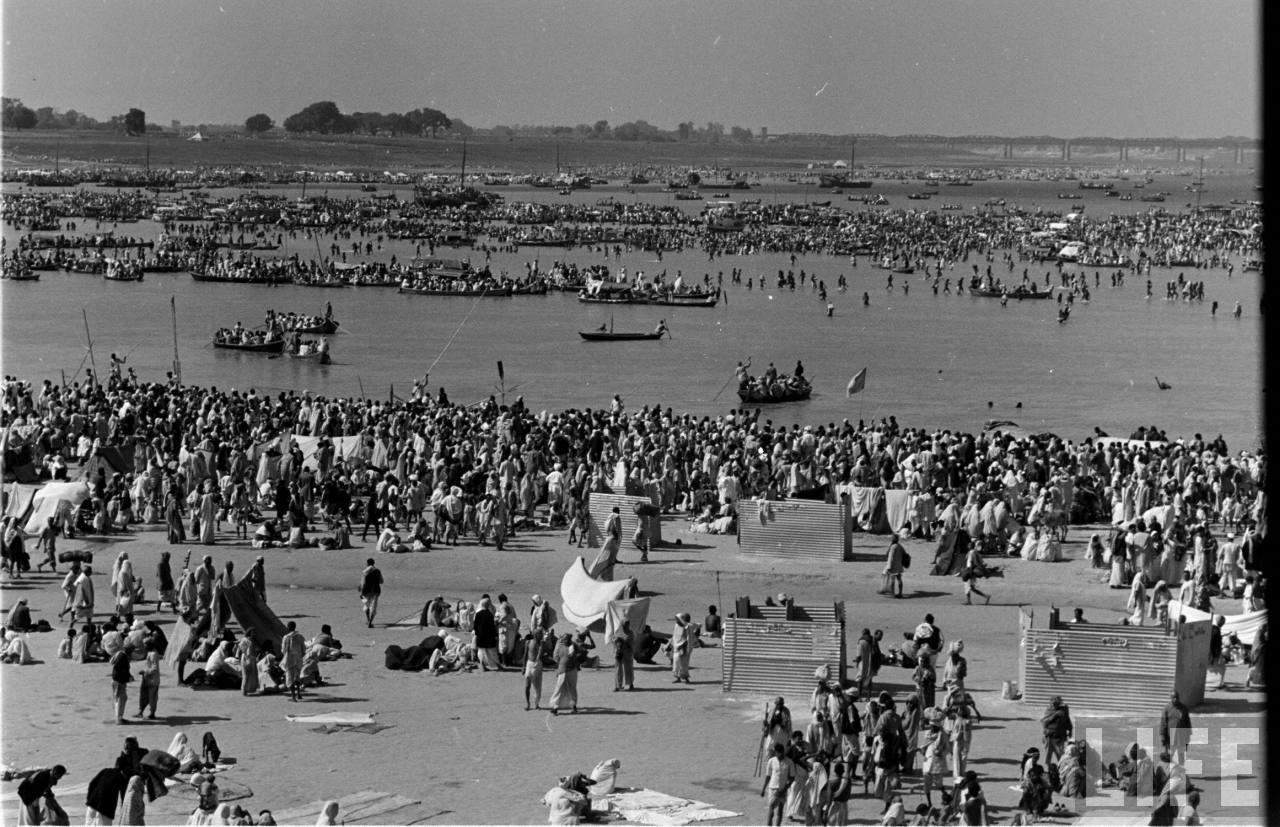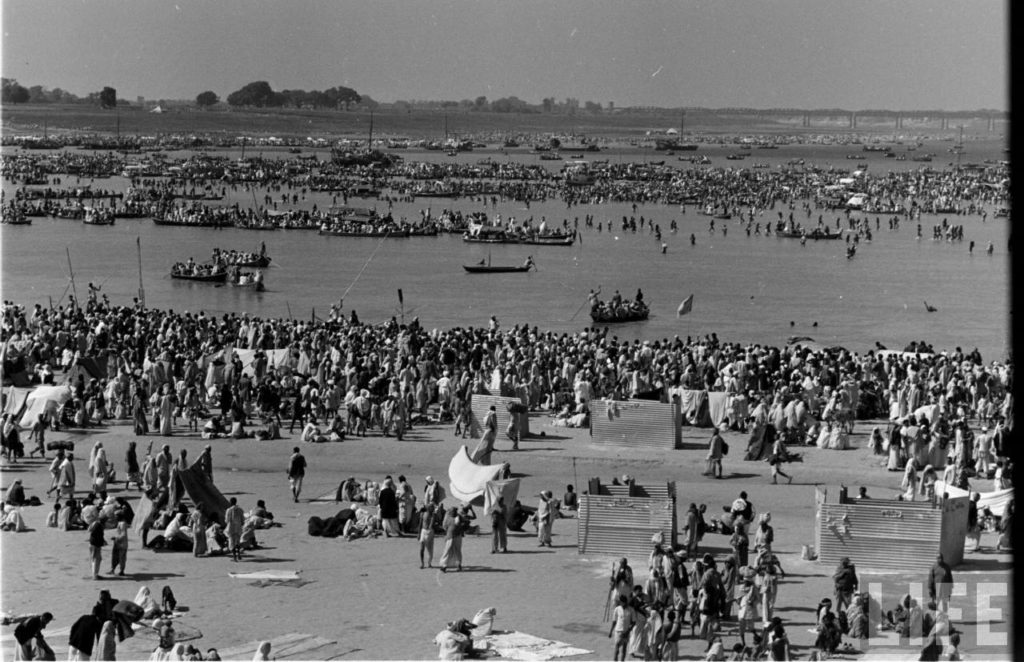 When is Kumbh Mela Celebrated
The Maha Kumbh or the Main Kumbh is celebrated every 12 years. It last took place in 2013 and will next take place in 2025. Ardh Kumbh or Half-Kumbh takes place every 6 years. While not as grand, this is still quite important and you can still see millions of people making the pilgrimage.
Here is a fact, Kumbh is actually an annual event. It takes place every three years in turns in the four tirthas. So you can attend a Kumbh in Prayagraj every fourth year. But a yet smaller celebration called Magh Mela takes places every year in Prayagraj.
In a nutshell, you can pretty much attend some form of celebration every year in Prayagraj. Oh, and it goes on for several days. Check the dates online.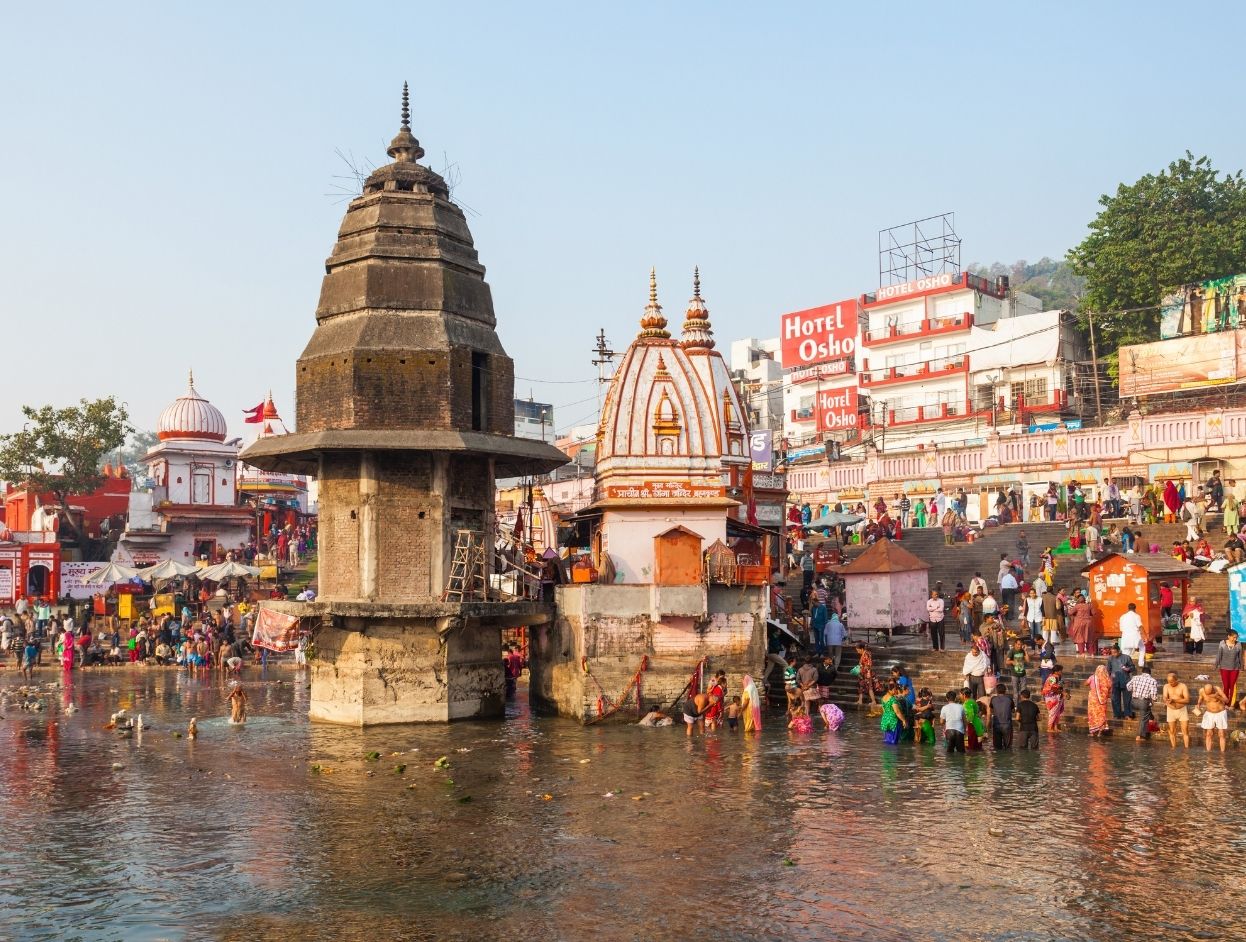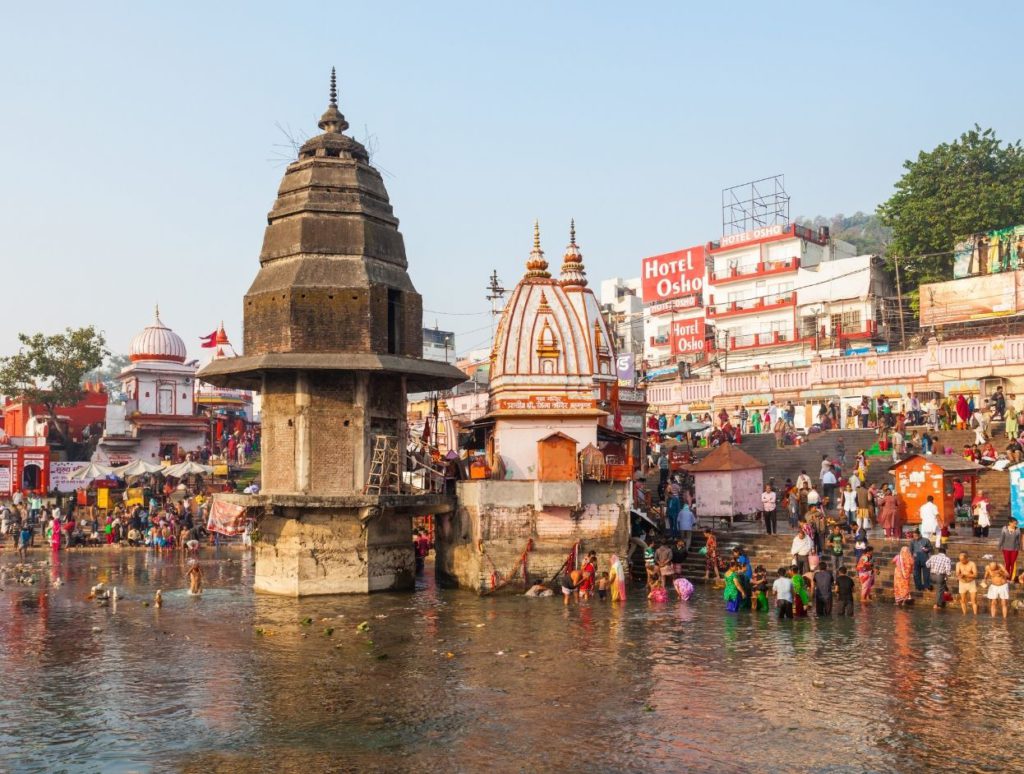 Visiting Triveni Sangam
Regardless of Kumbh Mela, if you are in Prayagraj, you cannot miss Sangam. This is what you came for. As the venue of Kumbh and Magh Mela, millions of Hindus come here to pay their respects.
Now Hindus believe that a dip in Sangam will wash away your sins and bring you salvation. But it is a personal choice of faith. There is always an area where you can find people dipping themselves in water.  On regular days, you can hire a boat for boating. Sometimes they take you to a little depth where you can take a dip, especially if its summer and the water has dried up.
During the festivals, the area for women and men separates. You can find makeshift fabric tents for changing clothes and temporary toilets. Some of it may still be there. Nudity is really accepted btw and as conservative the Indian society may, people really don't care when it comes to faith.
If you have come for the experience, you can find supercool graffiti of sadhus. On that note, you will find the sadhus themselves. Keep your belongings close and find a friend to take you around.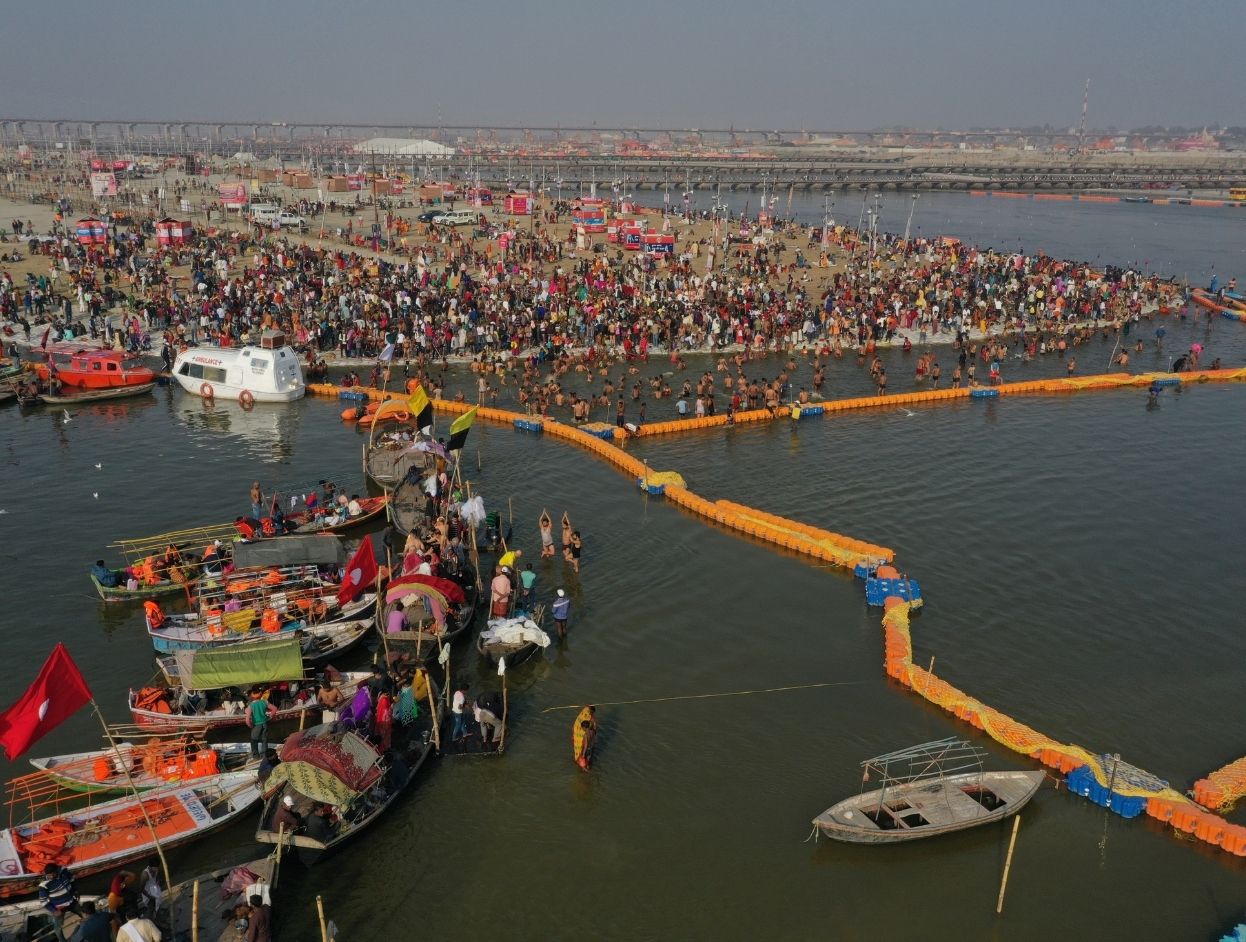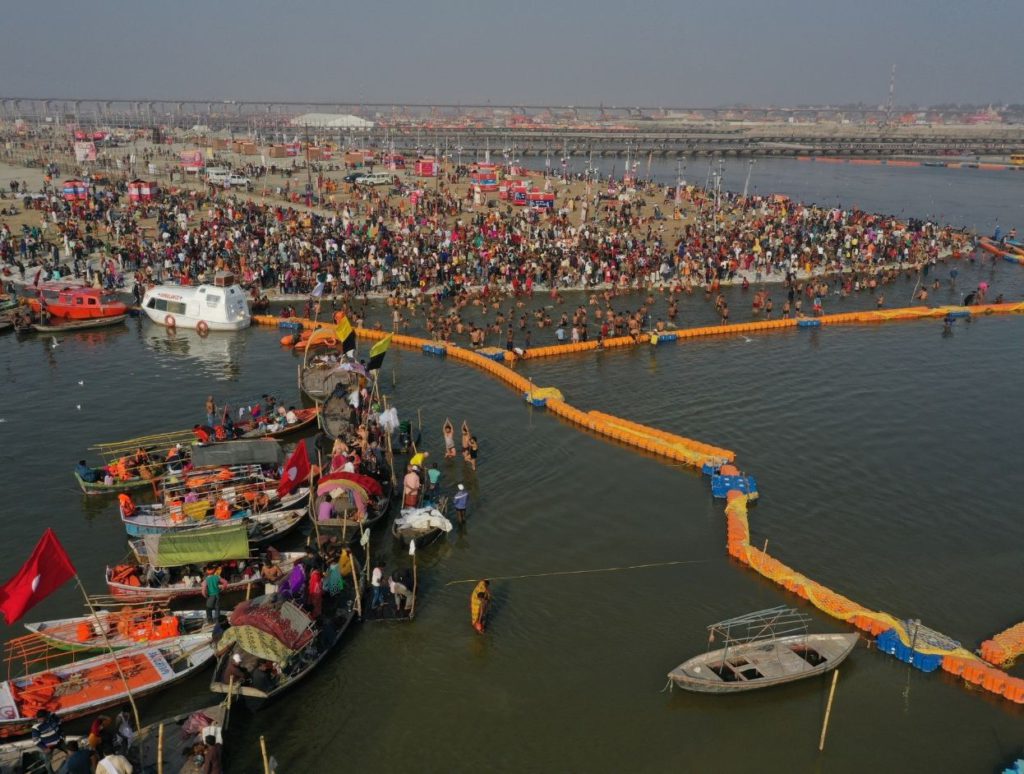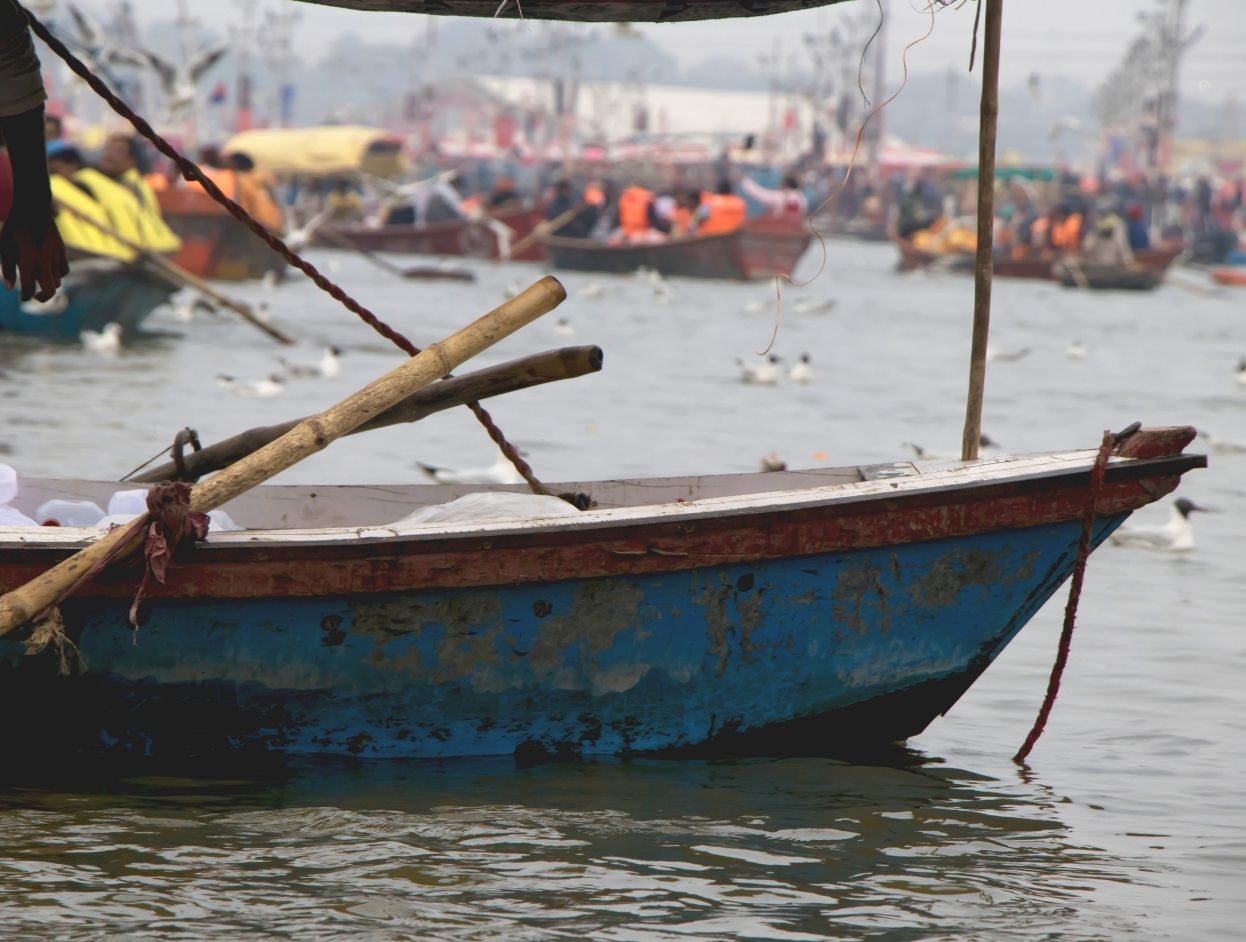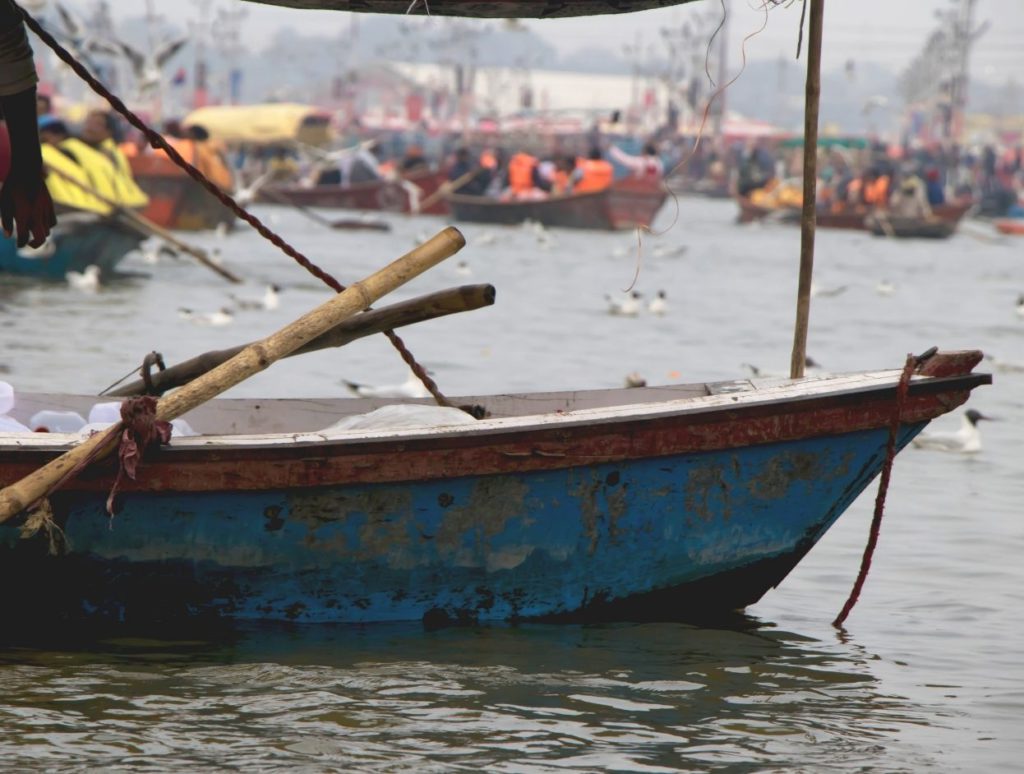 Where to Stay during Kumbh Mela
If you are not thrilled to see a crowd (like an insane crowd), I will definitely suggest not living near Sangam. While the government puts up tents and temporary accommodations for people, unless you are a die-hard hippie, avoid it. Bad situations have led to stampedes and losing stuff is fairly common.
I wouldn't even suggest staying in Prayagraj since the hotel prices would skyrocket during the time. The town is also unusually crowded. A better deal would be if you can find a friend or a family in the town who can take you around.
A good option could be living in a nearby city and taking a day trip to Prayagraj unless you want to see several more attractions. You can stay in Varanasi that has great connectivity with other cities. Mirzapur and Raebareli are smaller towns near Allahabad that one can travel from as well.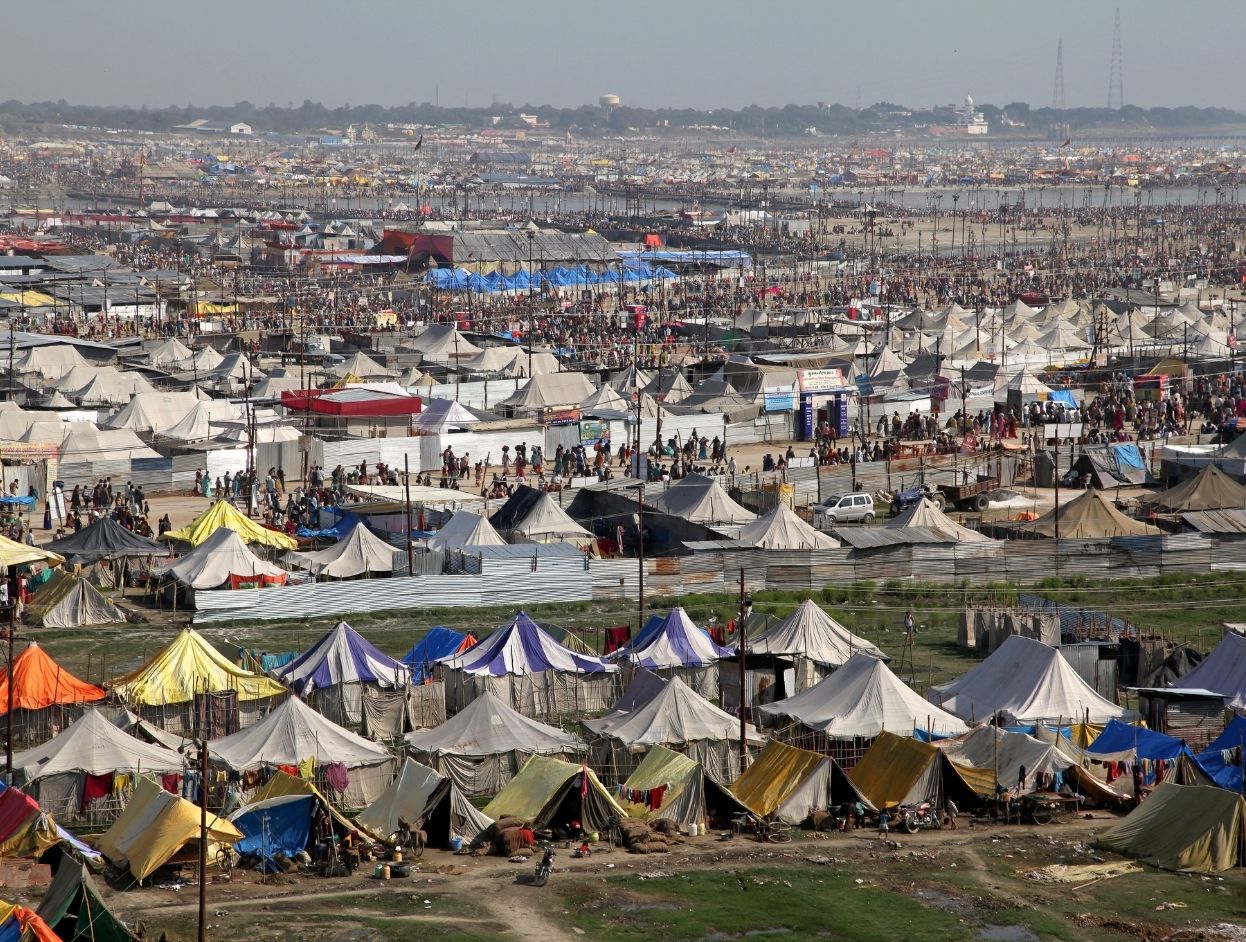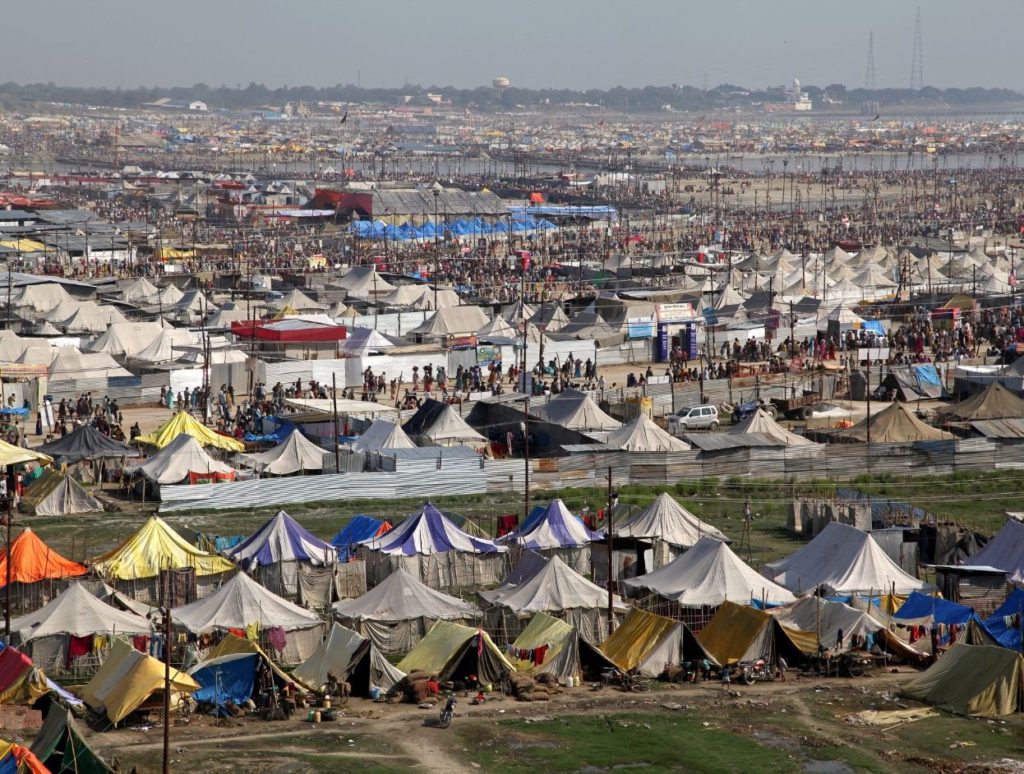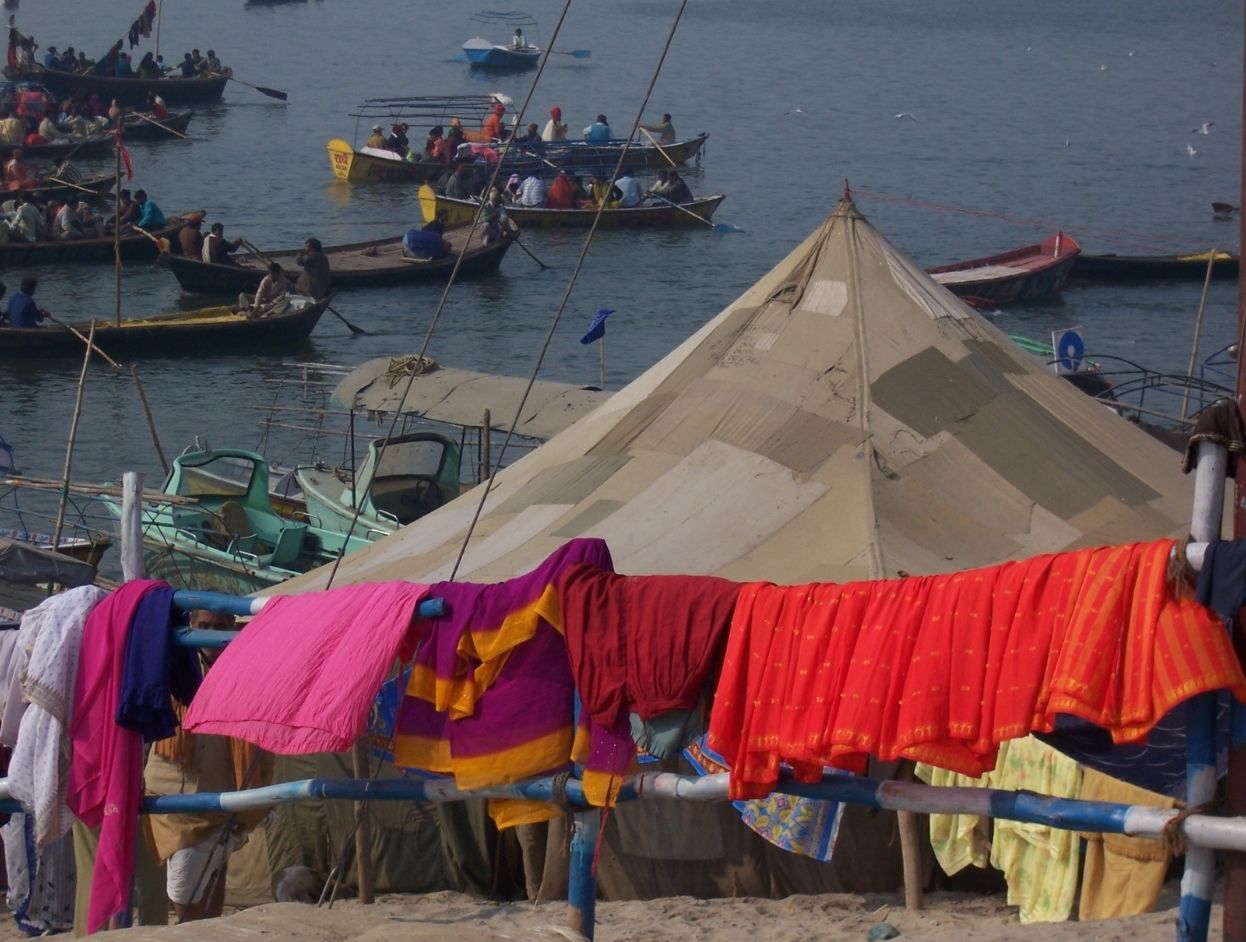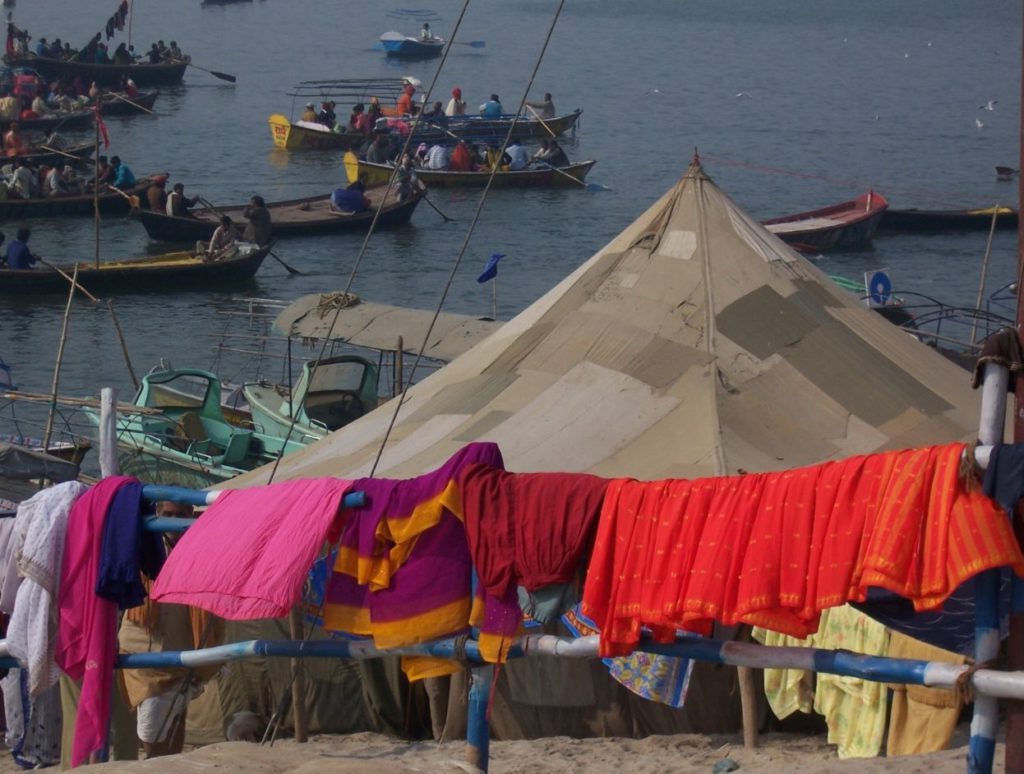 Places to see in Allahabad
Allahabad Fort, Patalpuri Temple & Akshayavat
Allahabad fort was built by the Mughal Emperor Akhbar in the 16th century. If you are taking a boat ride on the Sangam, you can get a glimpse of it from quite a distance. Several legends accompany the fort. One claims that the fort was called Illahabas (blessings of the God) that gave Allahabad its name.
Another says that the sandy terrain was keeping the construction of fort walls. A Hindu priest sacrificed himself for this and Akhbar gave his descendants the right to serve the pilgrims at Sangam.
Today, you cannot enter the fort. The Indian Army occupies the fort and is now closed to the public. Ashoka Pillar, one of the pillars of Ashoka with inscriptions from the 4th century and Jehangir from the 17th century is also inside. It is inaccessible to the public too.
A sacred tree called Akshayvat is also located inside the fort. People say that Akhbar made the fort around it so that people would stop committing suicide in the myth to attain nirvana. However, the tree today sits inside Patalpuri Temple, the only part of the fort that is accessible to the public today.
If you have come this far, don't miss visiting this place.
Patalpuri temple timings: Open from 6.00 am to 9.30 pm every day of the week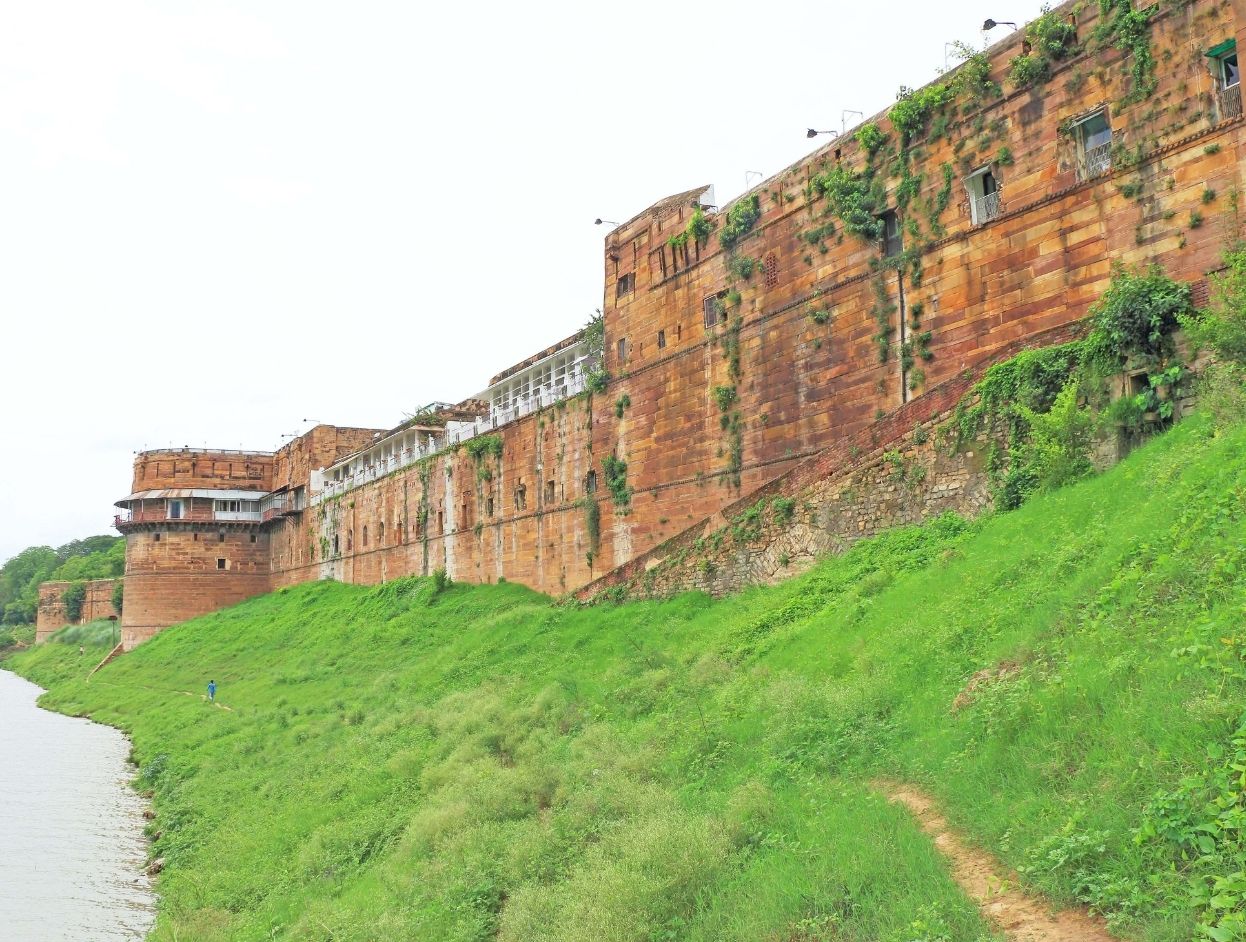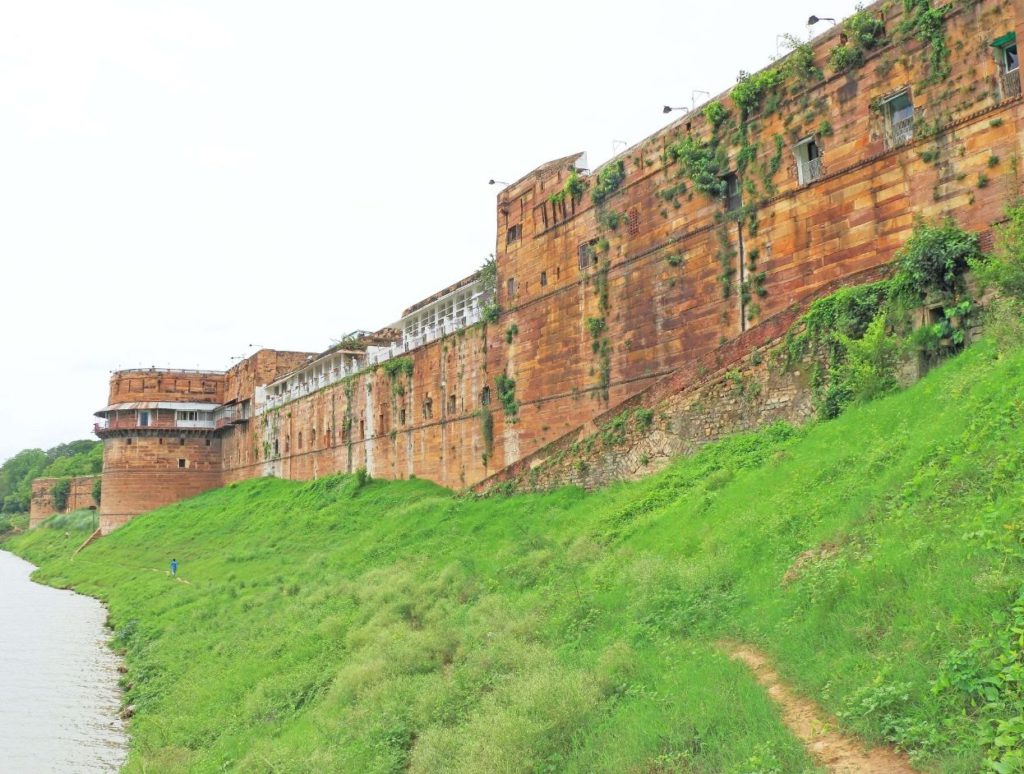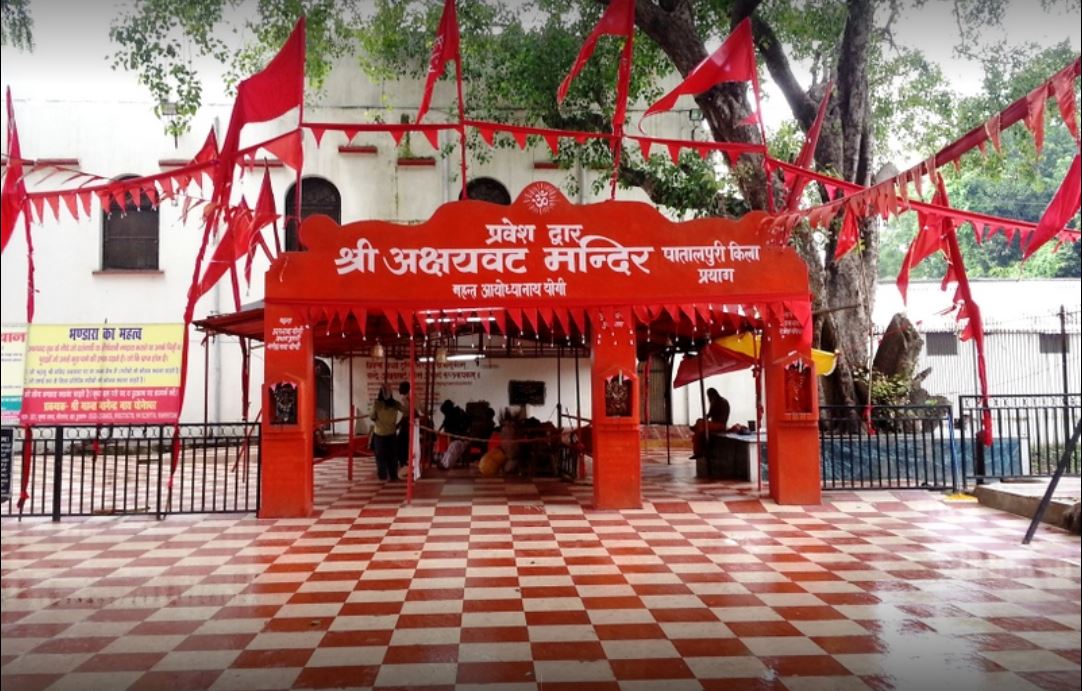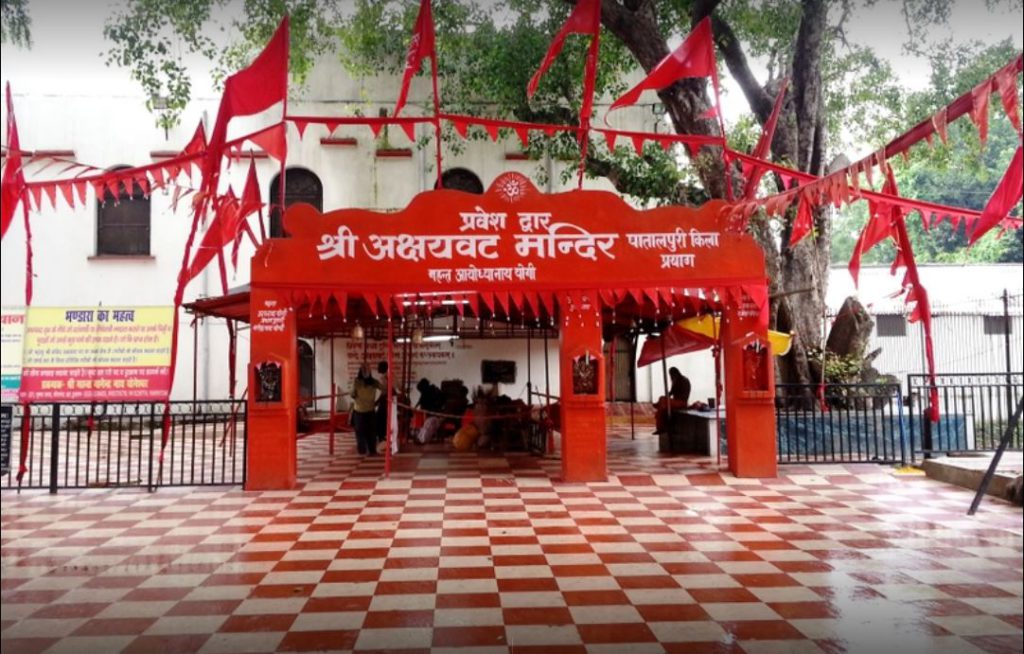 Anand Bhavan, Swaraj Bhavan & Nehru Planetarium
Swaraj Bhavan: Swaraj Bhavan was the initial residence of the Nehru family. But as the Swaraj (independence) movement of India began taking pace against British rule, the place became a frequent meeting place of Congress members. It was later donated to Congress for the cause. Today, it displays memorabilia and photos from the Indian National Movement. It is free for everyone to visit.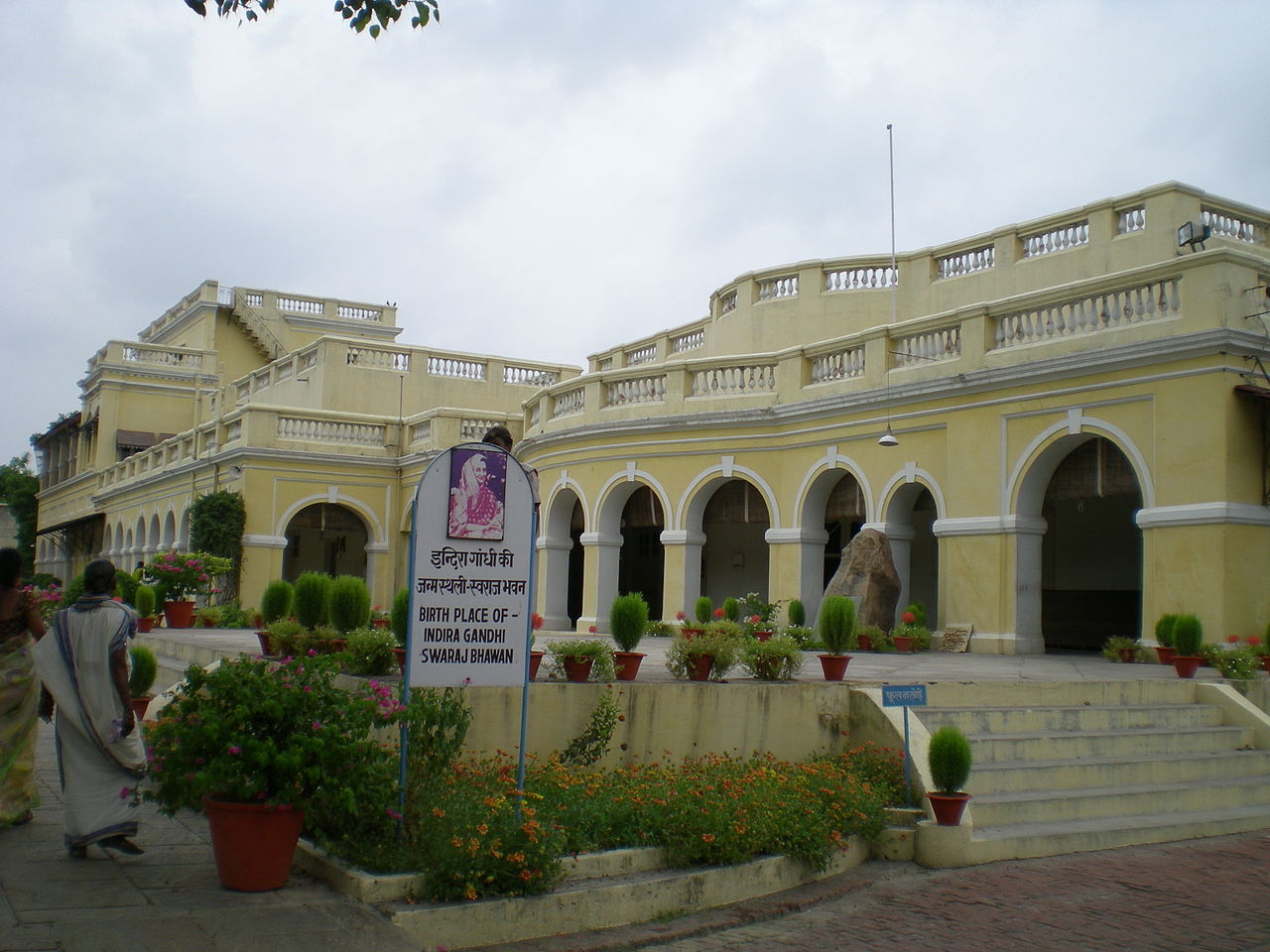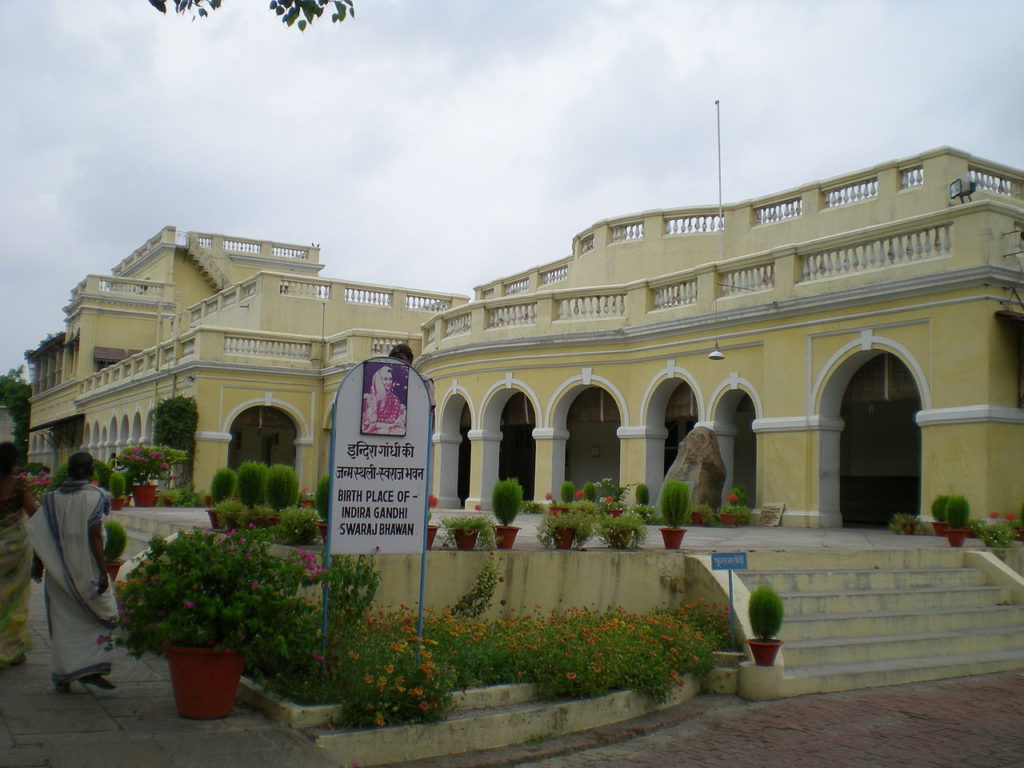 Anand Bhavan: Anand Bhavan is another building that Motilal Nehru (father of Jawaharlal Nehru, the first prime minister of India) designed himself to move his residence from Swaraj Bhavan for him and his family. He oversaw the construction himself and decorated with the most sophisticated furniture importing it from Europe and China. You can still find the finest stuff from that period.
Furnishing is done in elegant wood, simple but with class. You can find a huge library, a carriage and a gallery with a display of personal belongings of the Nehru family. They also bought the first car of Allahabad, a photo of which hangs inside. Mind you, it is not a palace, but the home of aristocracy from the pre-independence era.
The entry price is ₹20 for the ground floor, ₹70 for both floors and ₹200 for foreign nationals. Free entry for children under 3 feet height. It is open on all days of the weeks except Monday from 10:00 a.m. – 05:30 p.m.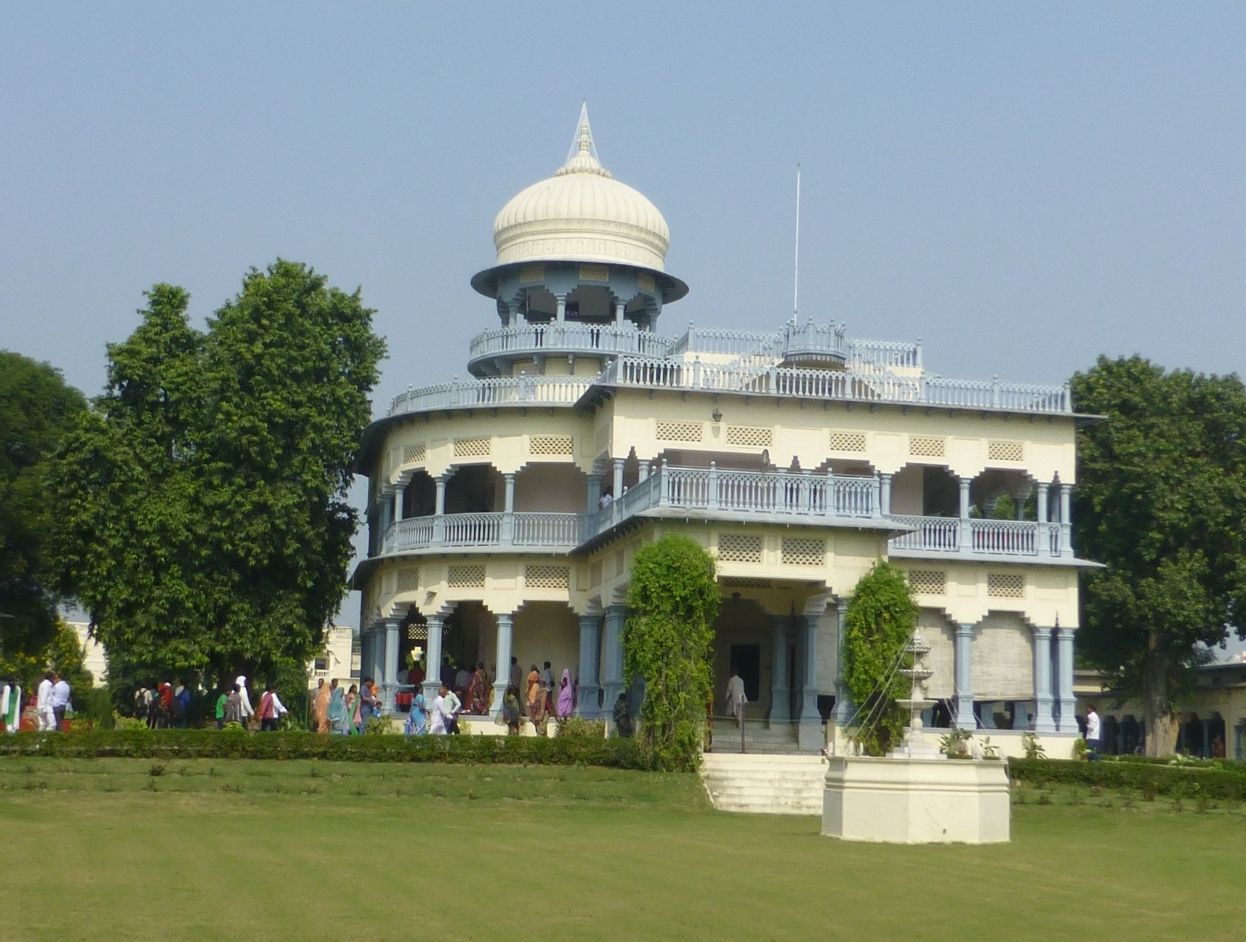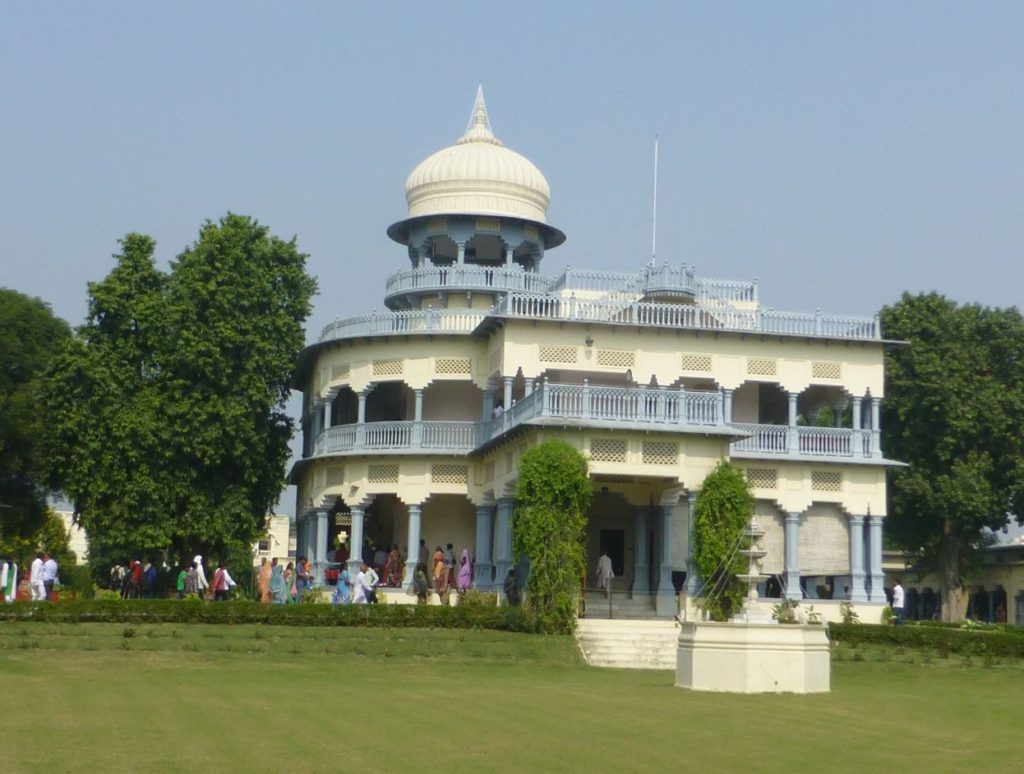 Nehru Planetarium: Nehru Planetarium is as cool as it can get for kids in Prayagraj. The main feature is the 3D digital sky show that explains about the solar system and the structure of the universe. There is a show every 45 minutes so you can buy a ticket and still have time to visit the Swaraj Bhavan.
Plus there is a documentary on the Chandrayaan project, a machine that would tell your weight on Jupiter and several 3D models explain the working of space. Maybe not the best in the world, but I would visit again.
The entry price is ₹60 for everyone. Free entry for children under 3 feet height. It is open on all days of the weeks except Monday from 10:00 a.m. – 05:15 p.m. Closes at 4.30 during winter months (October – March).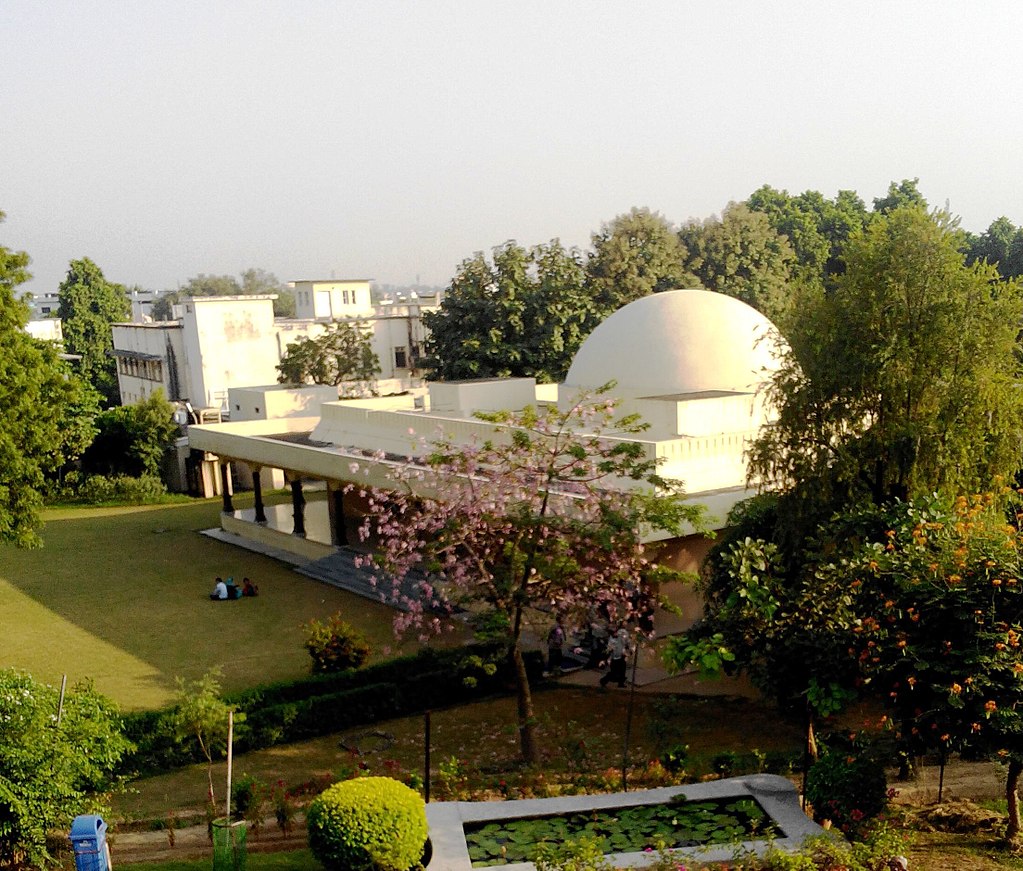 Khusro Bagh
It is probably the only place in Prayagraj where you will get a taste of Mughal Architecture. A sprawling park in the middle of the city, it is actually a burial place for three important members of the Mughal family.
One of the tombs is of Man Bai or Shah Begum, the first wife of Jehangir. She was the mother to Khusrau, the first son of Jehangir who revolted against him to seize the throne before time. Jehangir defeated him and his army and blinded him for the revolt. Seeing the rift between the son and father, Man Bai committed suicide. The tombs of Khusrau and his sister are also buried here.
The park as well as the monument is decent and well maintained. However, people do tend to throw garbage in the area and vandalize the buildings by scratching their names which is off-putting. Definitely worth a stop.
The place is open from 6.00 am to 9.30 pm (7.00 pm on Sunday) and is free to enter.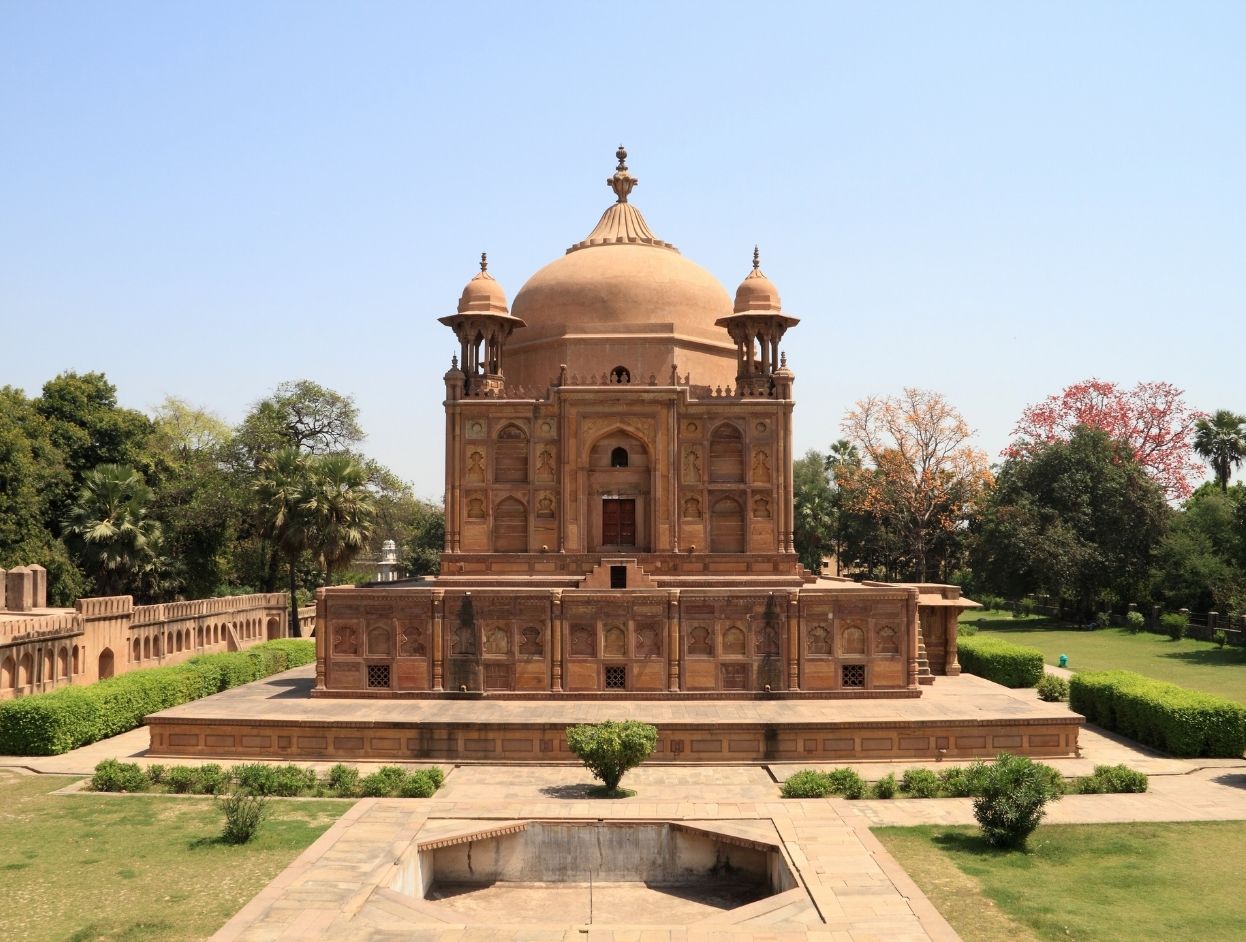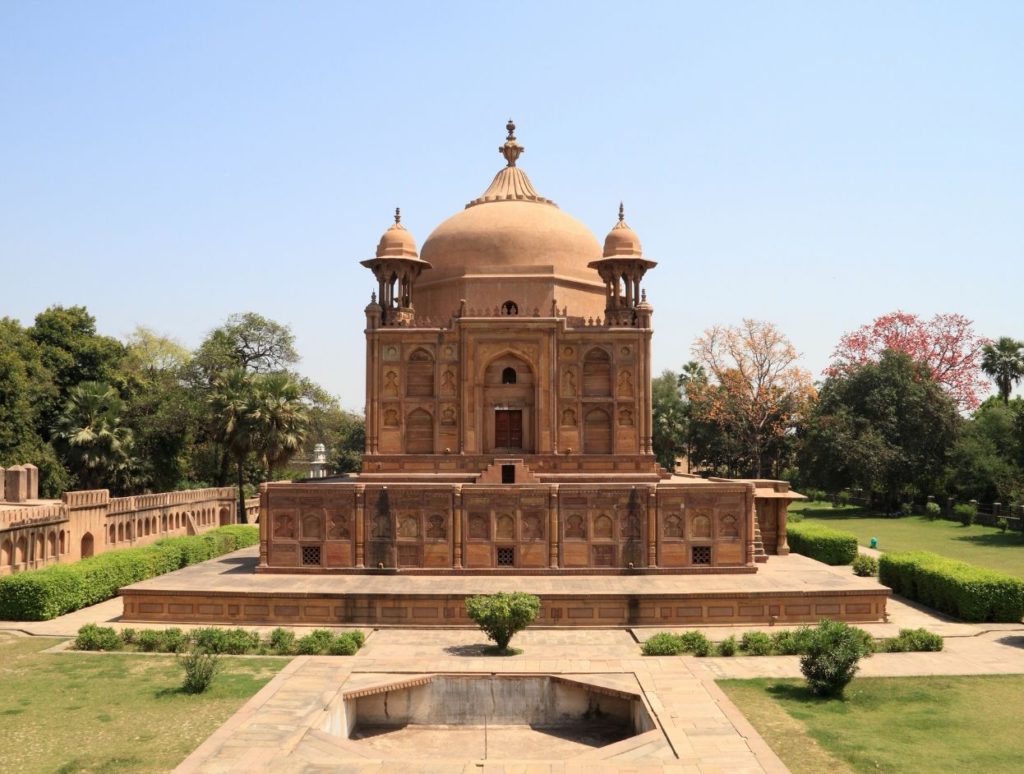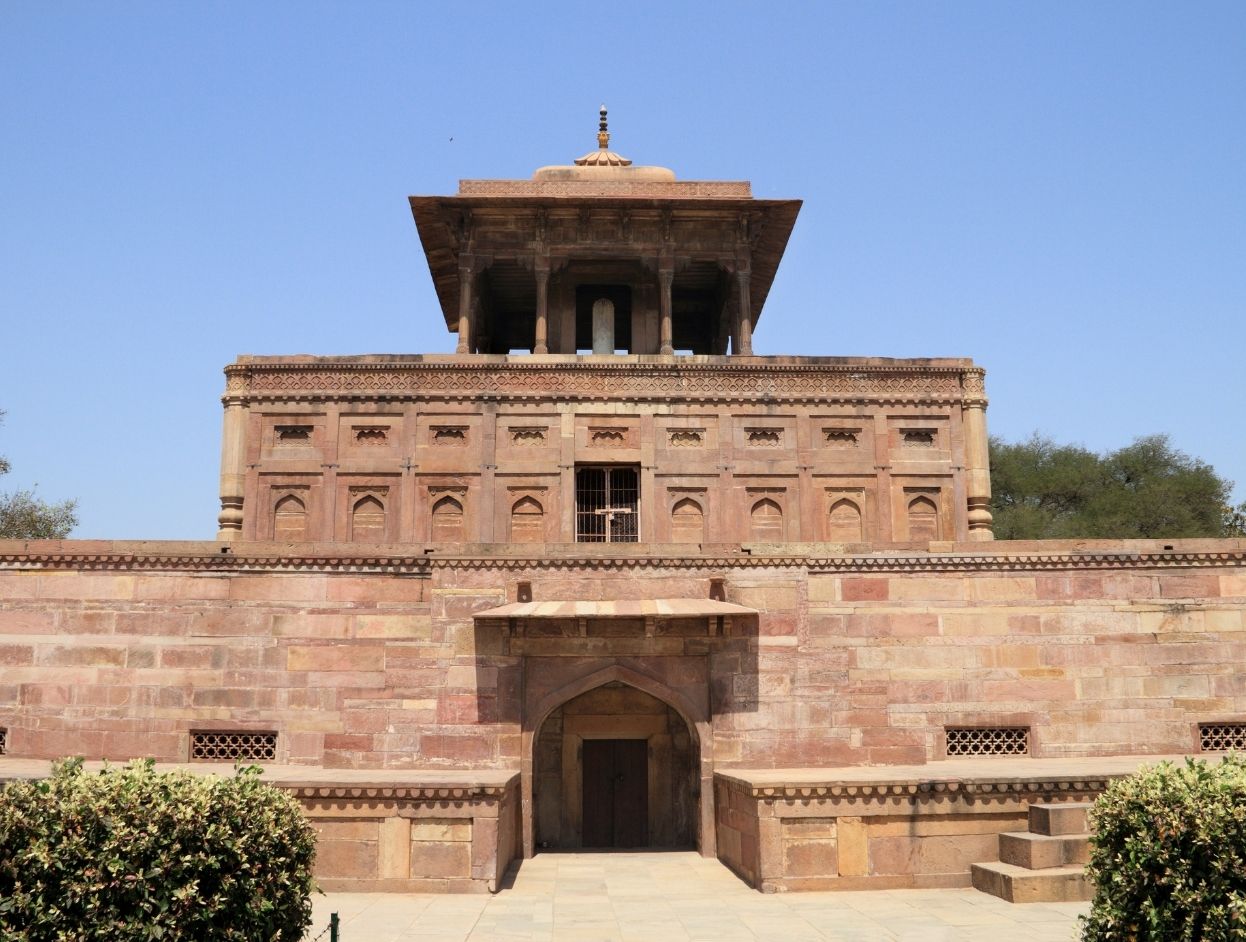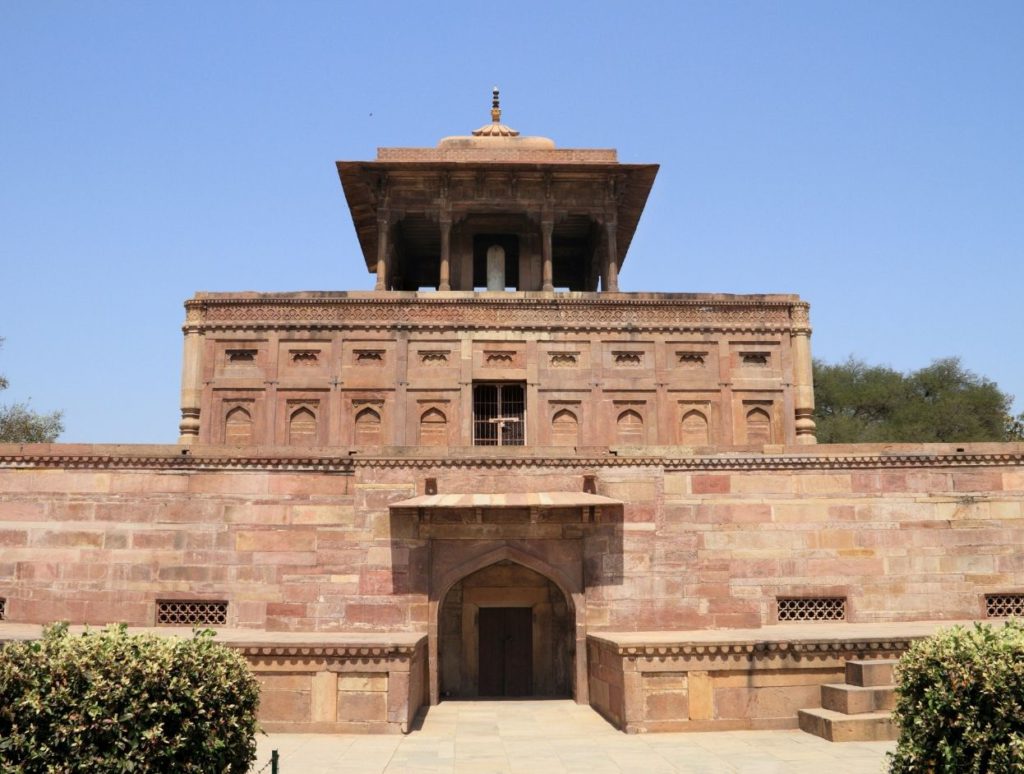 Chandrashekhar Azad Park, Victoria Memorial & Allahabad Museum
Chandrashekhar Azad Park: The park was earlier called Alfred Park during the British rule and informally as Company garden by Indians. It was here that the British militia cornered the freedom fighter Chandrashekhar Azad during the nationalist movement. Once he felt that he couldn't get out of the situation, he took his own life. A memorial signifies his sacrifice.
The garden is a common place for a walk in Prayagraj with the locals. There are flower shows as well during the spring season. However, the place is especially notoriously popular with lovers. You can find couple sneaking under the bushes with scarves and umbrella seeking private time away from family and society where such behaviour may be met with vigorous disapproval.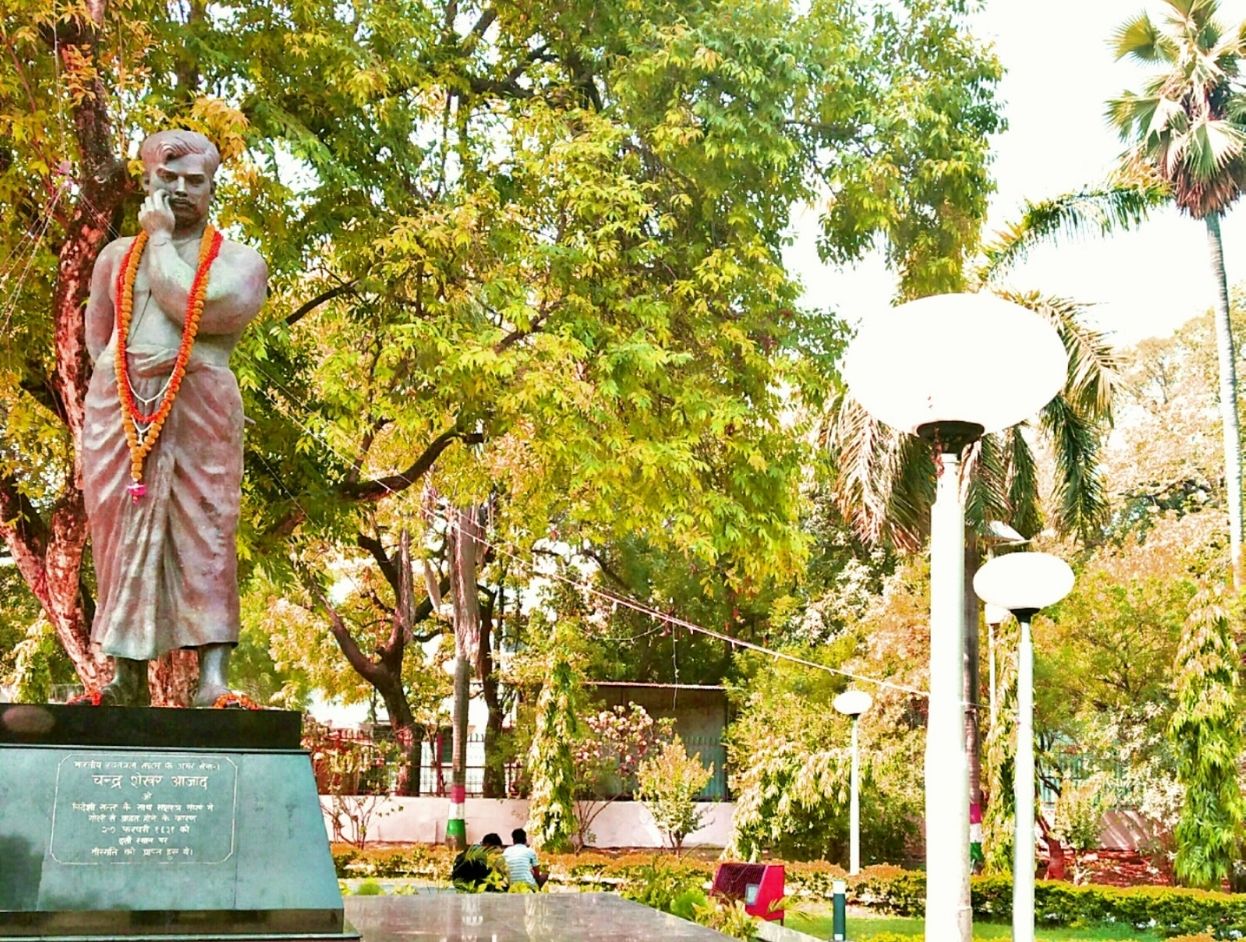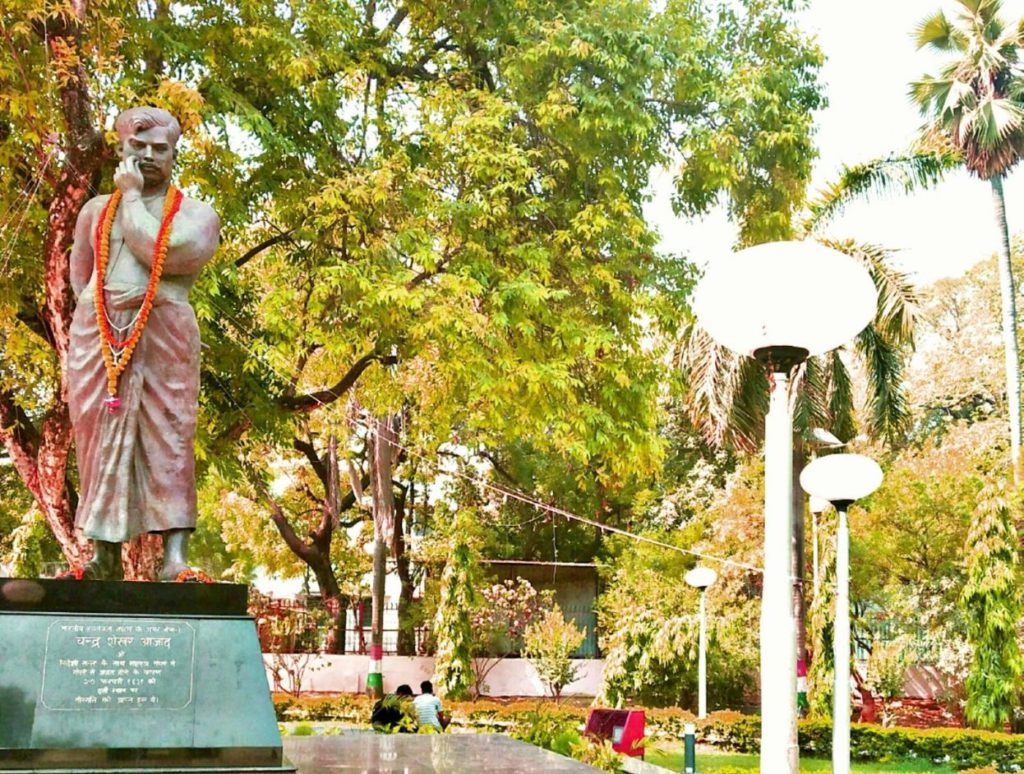 Victoria Memorial: Located in the midst of the park, the canopy was built in white Italian limestone. It was a memorial to Queen Victoria of England. It was later removed under negative local sentiments against the British rule. A perfect example of a love-hate relationship with the British.
Allahabad Museum: Located inside the park, the museum is one of the best in North India. There are several rooms with historical artefacts consisting of sculptures and paintings. The sculptures are excavated from different parts of north India from different periods of time. There is information on each right next to the artefact.
It is an interesting place for history enthusiasts. If museums don't interest you, you can skip the park and the museum altogether.
The ticket price for the museum is ₹50 for Indian National and ₹500 for foreign tourists. The museum is open from 10.30 am to 4.30 pm from Tuesday to Sunday. Closed on Mondays.
Hanuman Mandir
A popular temple with the locals, it is the only temple with Hanuman in a reclining position. There are two Hanuman temples in Prayagraj, the Bade Hanuman temple being the more popular one. The temple area is prone to flooding during monsoons. Locals believe this happens because river Ganges want to touch the feet of Hanuman. The temple is often crowded.
Temple timings are from 5.30 am to 2.00 pm and 5.00 pm to 8.00 pm for all days (except Tuesday and Friday). Aarti takes Place at 5.00 pm. For Tuesday and Friday the temple closes at 11.00 pm and the aarti takes place at 5.00 pm. It is free to enter for everyone. Make sure you dress modestly.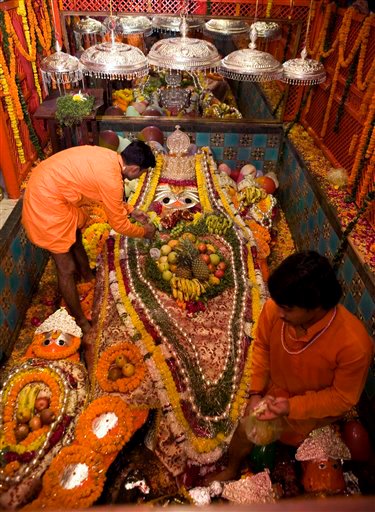 All Saint's Cathedral
An extremely beautiful piece of architecture, the church is pure gothic in style. It was built by the British in 1881. In fact, you will probably come across it travelling in Prayagraj since it is located at the confluence of two important roads – MG Marg and SN Marg in Prayagraj.
Both the exteriors and the interiors of the church are intricate. The main hall has a high ceiling with European features like conical minarets, stained glass windows and ornate floral designs, especially at the front above the entrance.
It is free for everyone to enter. The cathedral is open from 8.30 am to 5.30 pm every day of the week.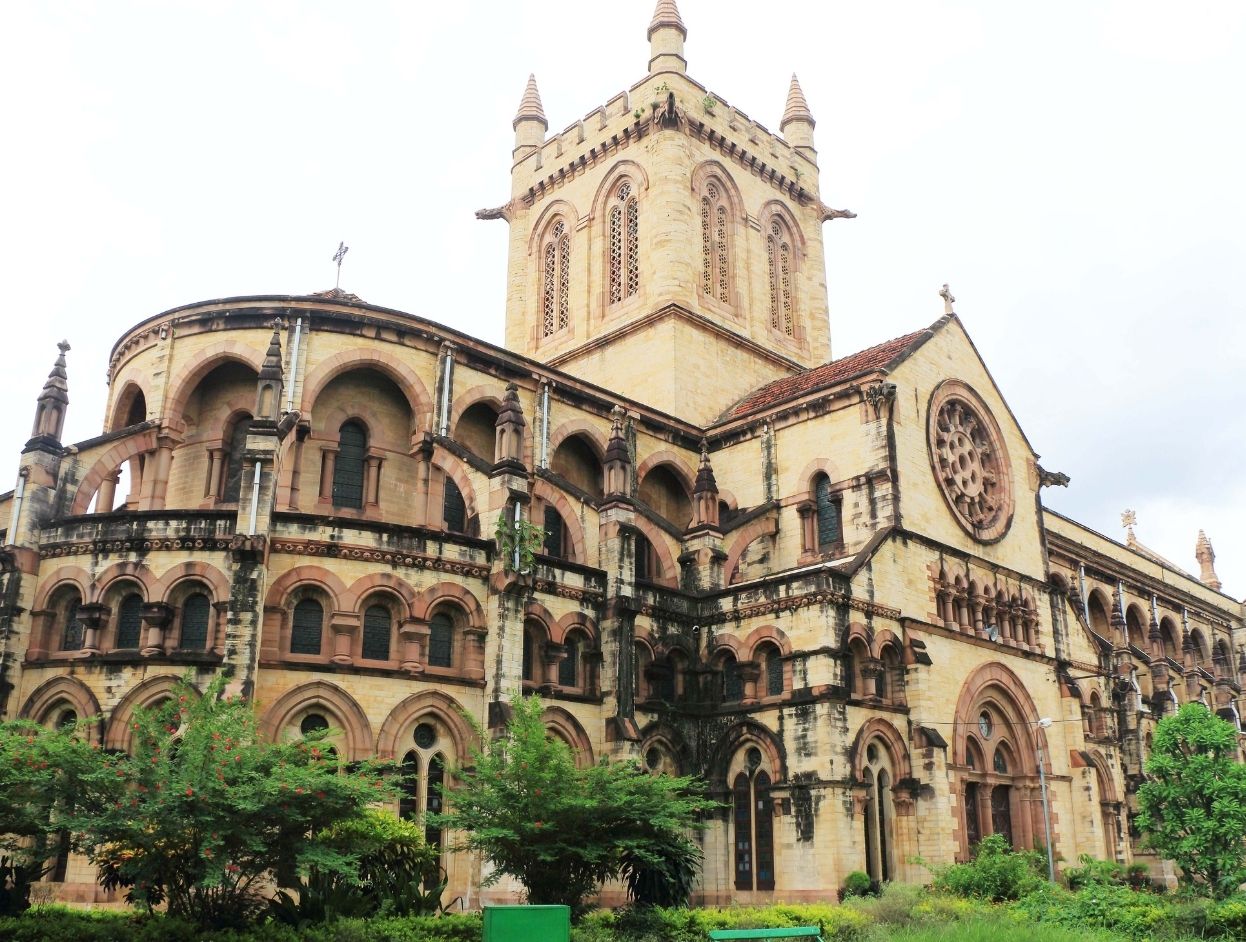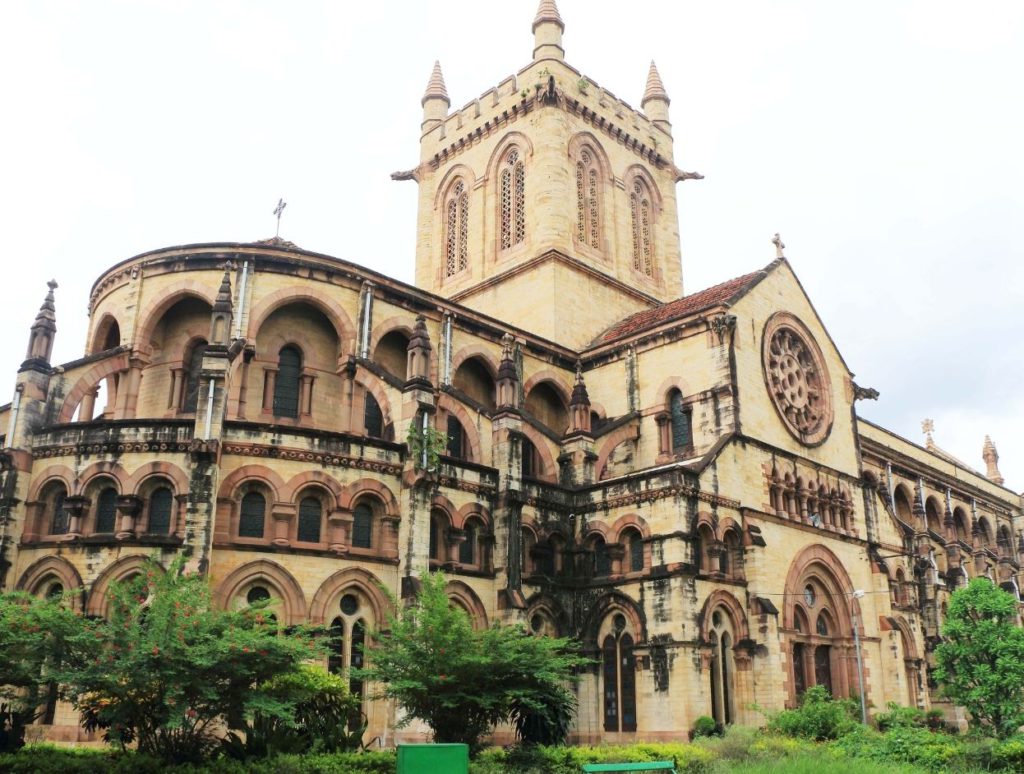 How to reach Prayagraj
Flights to Prayagraj
The Prayagraj Airport, sometimes referred to as Bamrauli Airport has been operational for a few years. But the flight connectivity is limited. You can still find a couple of flights every day from Delhi, Mumbai, Bangalore or Kolkata. No international flights run from there.
Currently, no city bus runs from the airport. However, you can find pre-paid taxi right outside the airport that charges ₹400 to the city centre for a distance of approximately 14 km. You may not be able to find an Ola or Uber cab at the airport although they are available inside the city.
You can also head to Lucknow or Varanasi airport with better connectivity and take a bus, train or a cab to the city to Prayagraj.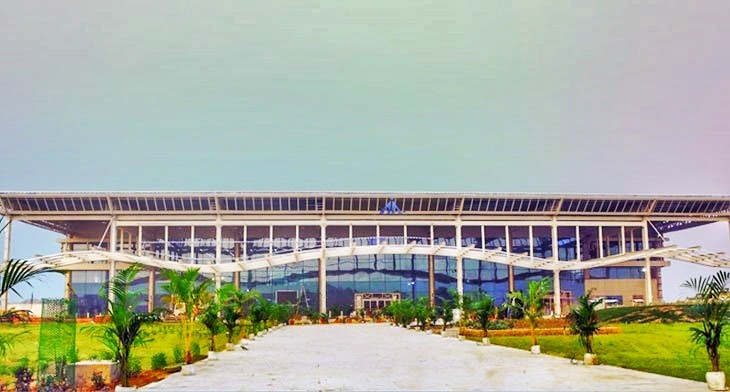 Train to Prayagraj
Prayagraj has fantastic train connectivity to all major cities in North India. Overnight trains run every day from New Delhi. Express and Super-fast trains also run from cities like Lucknow, Varanasi and Kanpur. For short journey coaches, prefer a chair car over regular coaches for more comfort and an assured seat.
You can check the train timetables at www.trainmain.in and book your tickets on the official railway website. There are two major stations in Prayagraj. Most trains run to Prayagraj Junction (Allahabad) and also stop at Prayag Station. The former (Prayagraj Junction) is closer to Sangam and the Kumbh area. Both railway stations are right in the middle of the city and you can get several local transport options right outside the station.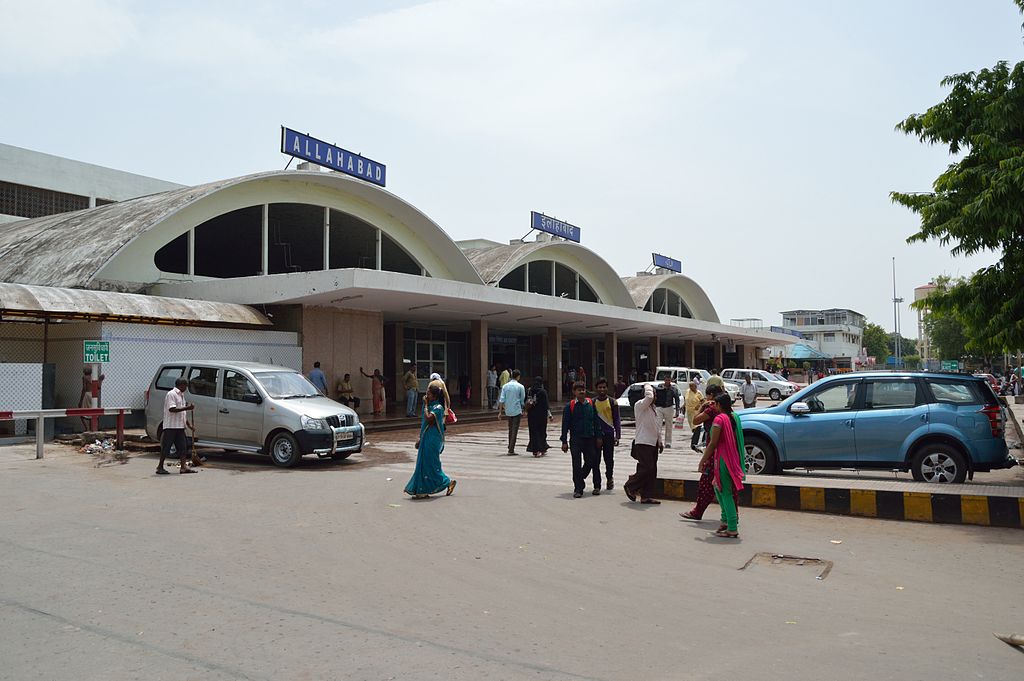 Bus to Prayagraj
Both local and private buses run from nearby cities to Prayagraj frequently. However, it is hard to know the exact departure time. The best way is to reach the State bus stop and check at the ticket counter. You can also ask around the locals for a schedule and boarding points.
It is the most affordable option to travel inside Uttar Pradesh. However, local buses are usually overcrowded. Try not to carry any expensive gear or jewellery or keep them close (not on the luggage racks). Some private buses also have sleeper overnight buses from the NCR region.
You can also book a ticket online beforehand on redbus.in. Note that the boarding points for private bus services are different from state-run buses.
Cab/Taxi to Prayagraj
A more convenient way to travel is to take a car if you are somewhere inside Uttar Pradesh. The state has fantastic roads and well-maintained highways to Lucknow, Kanpur, Varanasi, Agra even to Delhi.
You can book an outstation cab for a day online or on the Ola cab app that is available in most cities. For a multi-day trip, you can check with cab aggregators and get a quote according to your needs and itineraries. Check out chikucabs.com, prayagrajcab.com or easygocabs.com.
The cost for one-way cab starts from ₹3,500 from Lucknow to Prayagraj, ₹2,600 from Varanasi to Prayagraj. I wouldn't suggest taking a cab from a farther location. Go for a sleeper coach (bus or train) instead.
How to go around Prayagraj
Tempo or Vikrams in Prayagraj
Tempo or Vikrams are large vehicles similar to auto-rickshaws but can seat up to 8 or 10 people. They run on set routes as shared transport options in Allahabad and most other cities in Uttar Pradesh, something like a minibus.
You can usually spot one at any street corner calling out the name of the destination. If that is where you are going, you can simply hop it. It is usually extremely affordable (can range from ₹5-20 per person). You pay after you get down to the person next to the driver in front.
To be honest, it is not everyone's cup of tea. They are usually super crowded and you need to keep your belongings close. Not great if you are with luggage. But again, super cheap.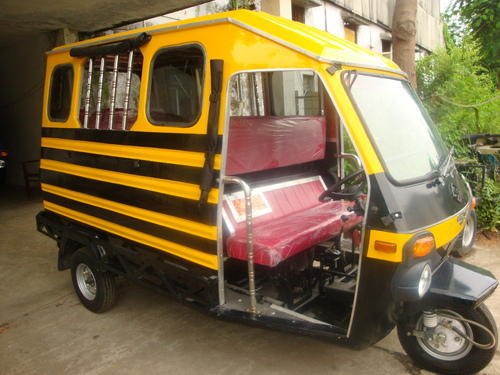 Auto-rickshaw
Auto-rickshaws or sometimes called tuk-tuk are common in Prayagraj. You can just wave your hand and one will appear in a few minutes. They as private transport option would suit a tourist better and are relatively affordable. The downside is there is no set rate.
While all auto-rickshaws come with a set meter, most auto-drivers claim that its doesn't work when they see a tourist. Then they go on to give a rate of their choice. You can practice your negotiation skills here. Make sure you agree to a rate before you hop in. Also, keep online maps handy for sometimes they take far longer routes than necessary.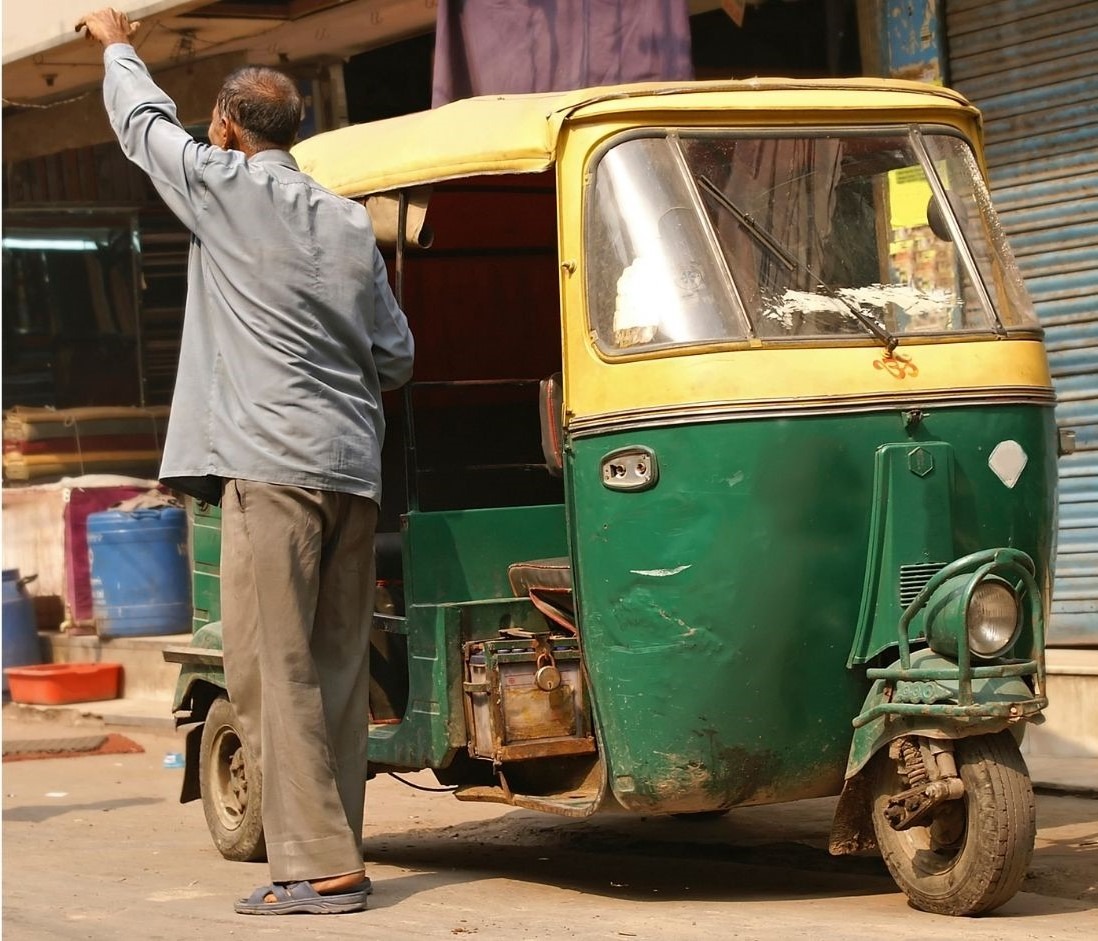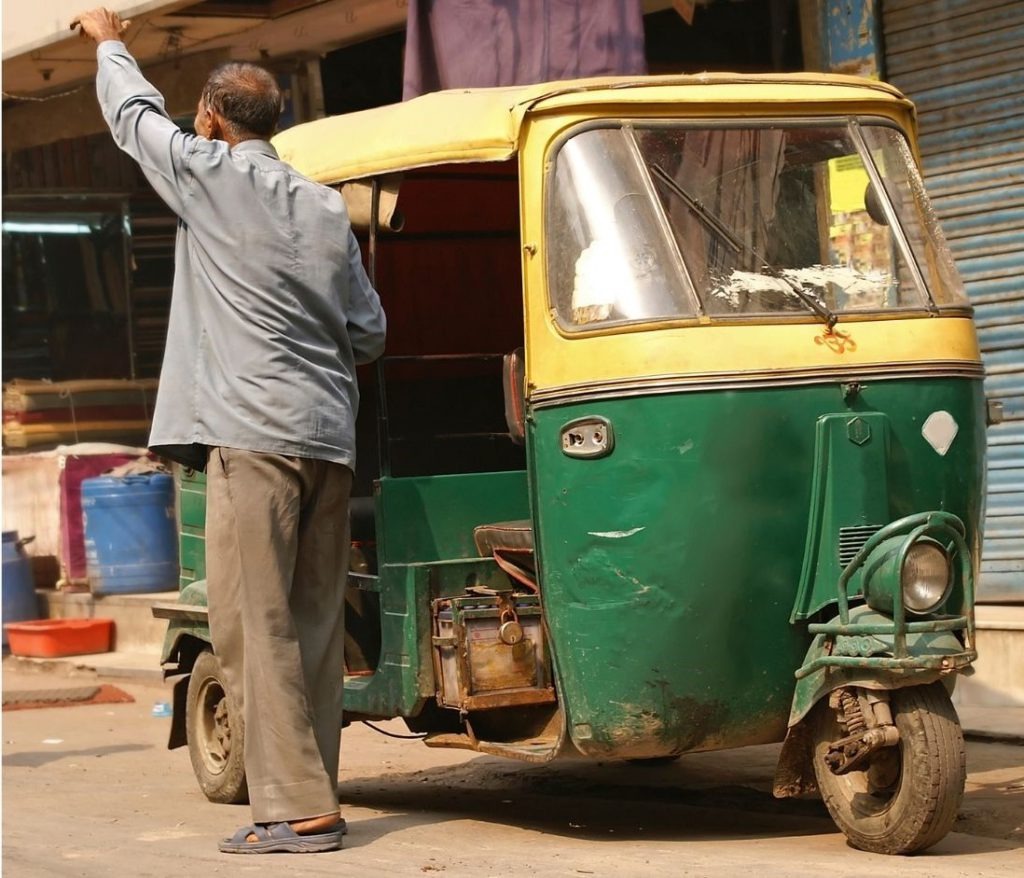 Paddle-rickshaw or e-rickshaws
Paddle rickshaw is a cart on wheels attached to a bicycle paddled by a man. It is again a common mode of transport in Prayagraj for short distances (2-4km). You tell them a destination and they tell you a price. If that sounds okay, you hop on. If possible add a tip. The rates are very low against labour.
Recently manually paddled rickshaws are getting by motor-driven e-rickshaws. I feel they are slightly pricier but faster.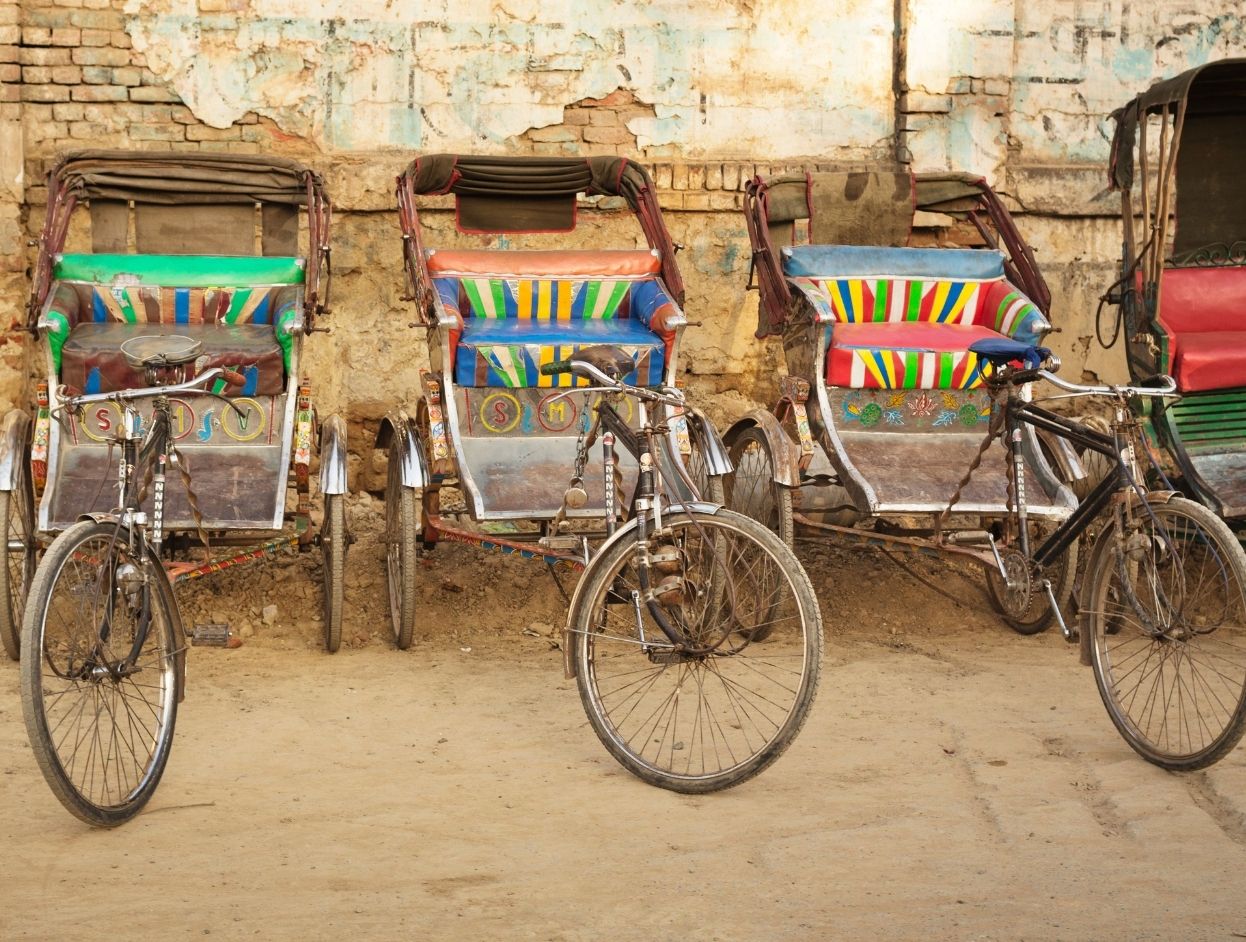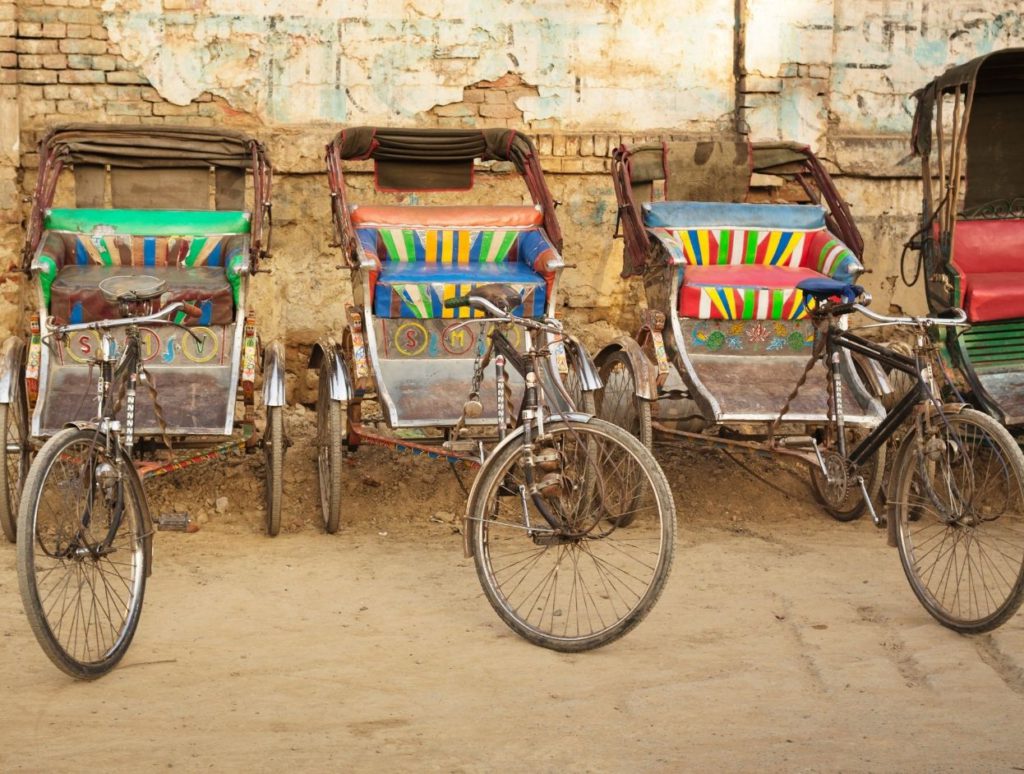 Cabs/Taxi in Prayagraj
It is almost impossible to wave and hail a cab in Prayagraj. The easiest way to book a cab is to use Ola or Uber app. Ola has more registered cabs and is usually cheaper. But you can check both for a better deal. If you are planning a city tour for the whole day, consider booking a full-day cab.
Where to Stay in Allahabad
Allahabad has a decent selection of hotels in both budget and luxury segment but no hostels. There have been a series of recent listing on Airbnb as well that can work well.
The best area to live in Prayagraj is Civil Lines. This is the so-called 'posh' area of the town with a few malls, shopping complex and wide roads. Chowk area is closer to the river bank and Sangam but is the centre of the town and very congested. However, food is good in the area.
Do not live rent a place on the other side of the river towards Naini or Jhunsi unless you want a quieter space and have a personal vehicle to go around. Here are a few options that you may like.
Budget Hotels: Hotel Shri Ram Kashi, OYO TOWNHOUSE 191,  CPS CASTLE
Mid-range: Hotel Shree Kanha Residency, Hotel Vitthal International,
Luxury: The Legend Hotel
Best Time to visit Prayagraj
Spring/Autumn: Both spring (February – March) and autumn (September – November) are a great time to visit not just Praygraj but the whole of Uttar Pradesh. The temperature hovers on an average of 25°C but warmer noon. There is usually no rainfall during this time as well so it is convenient to go around. Dussehra and Diwali in autumn and Holi in spring add an air of festivity.
Winter: Winter is also a decent time to go if you don't mind the few super cold days usually in January. For most days, the temperature hovers in early teens like 10-12°C but can go down in single digits at night or a few days. There is no central heating in winter so make sure you have a room heater in your hotel.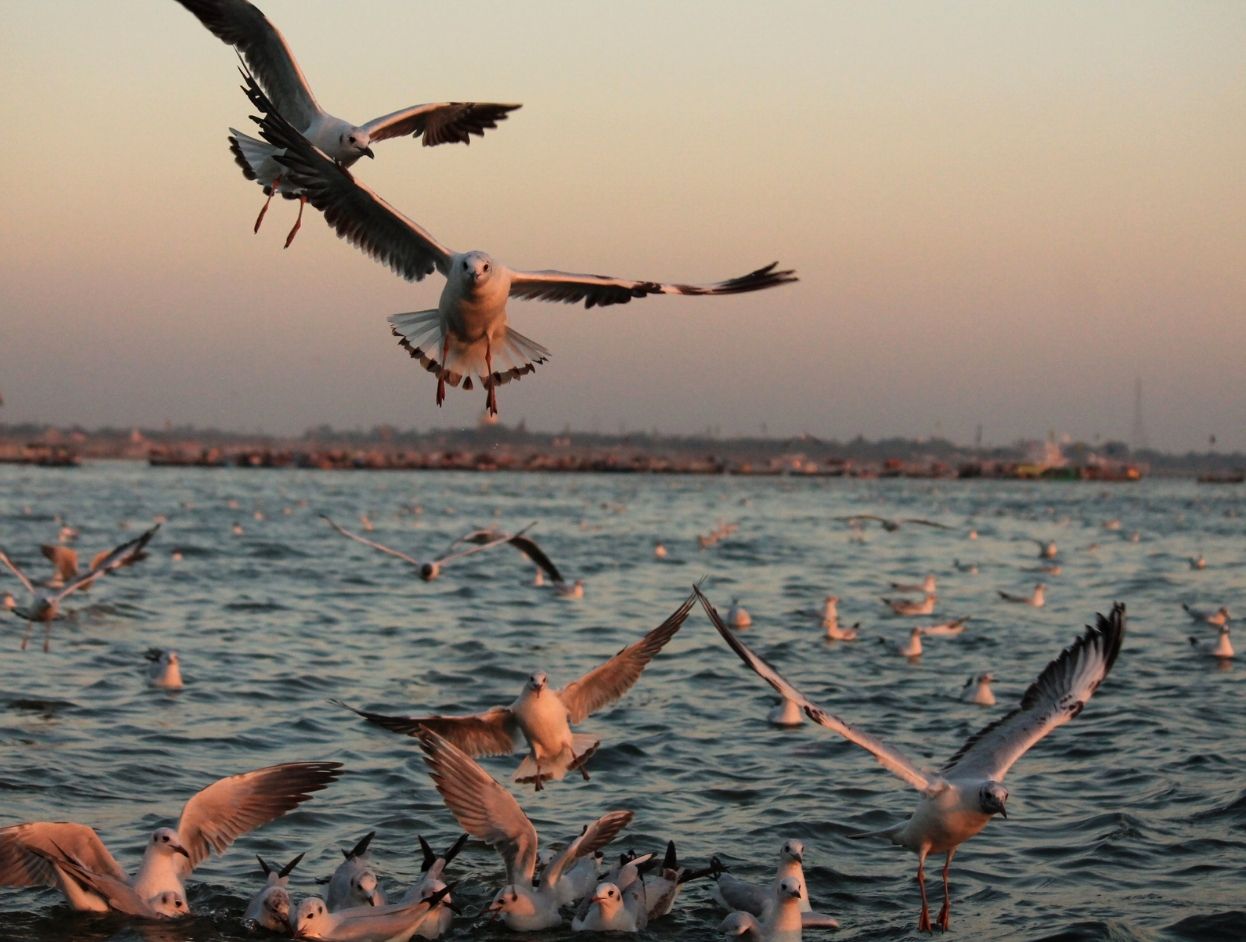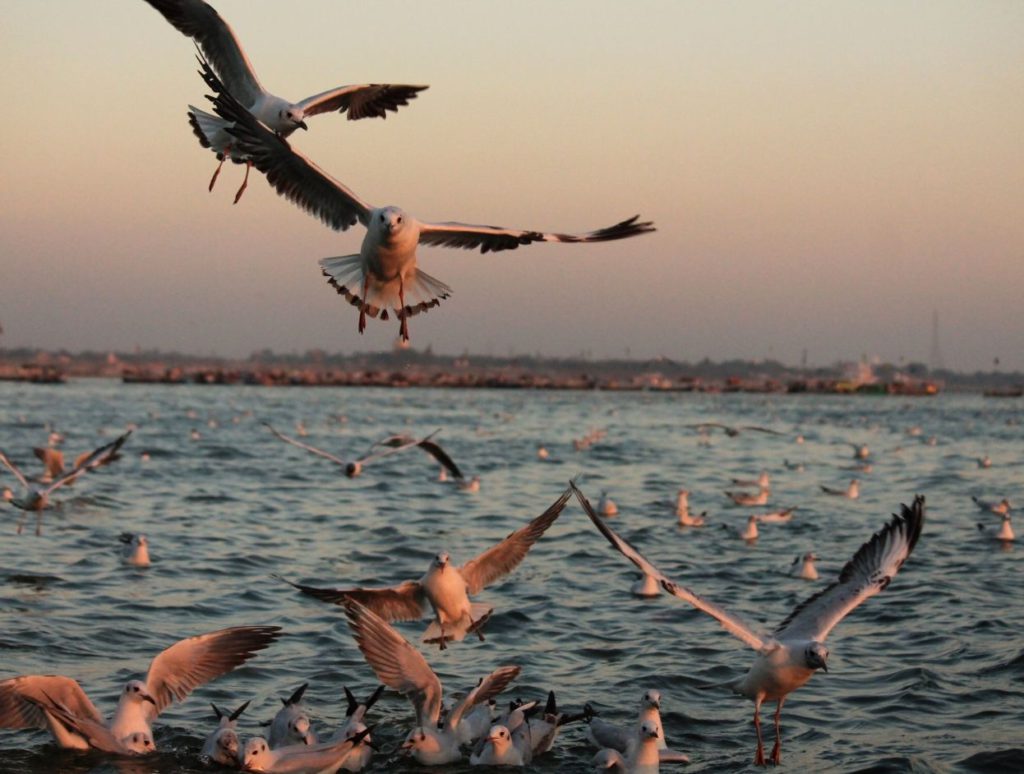 Summer: Summer is hot and scorching in Prayagraj. The temperature easily goes above 40°C and with the onset of Monsoon in July, the humidity rises as well. On the drier days in April-end and May, heat waves are common. So go out with precaution.
On the other hand, Kumbh Mela may take place in the middle of summer. So if you decide to travel during this time, rent an AC car for the day, stay in shade and stay dehydrated.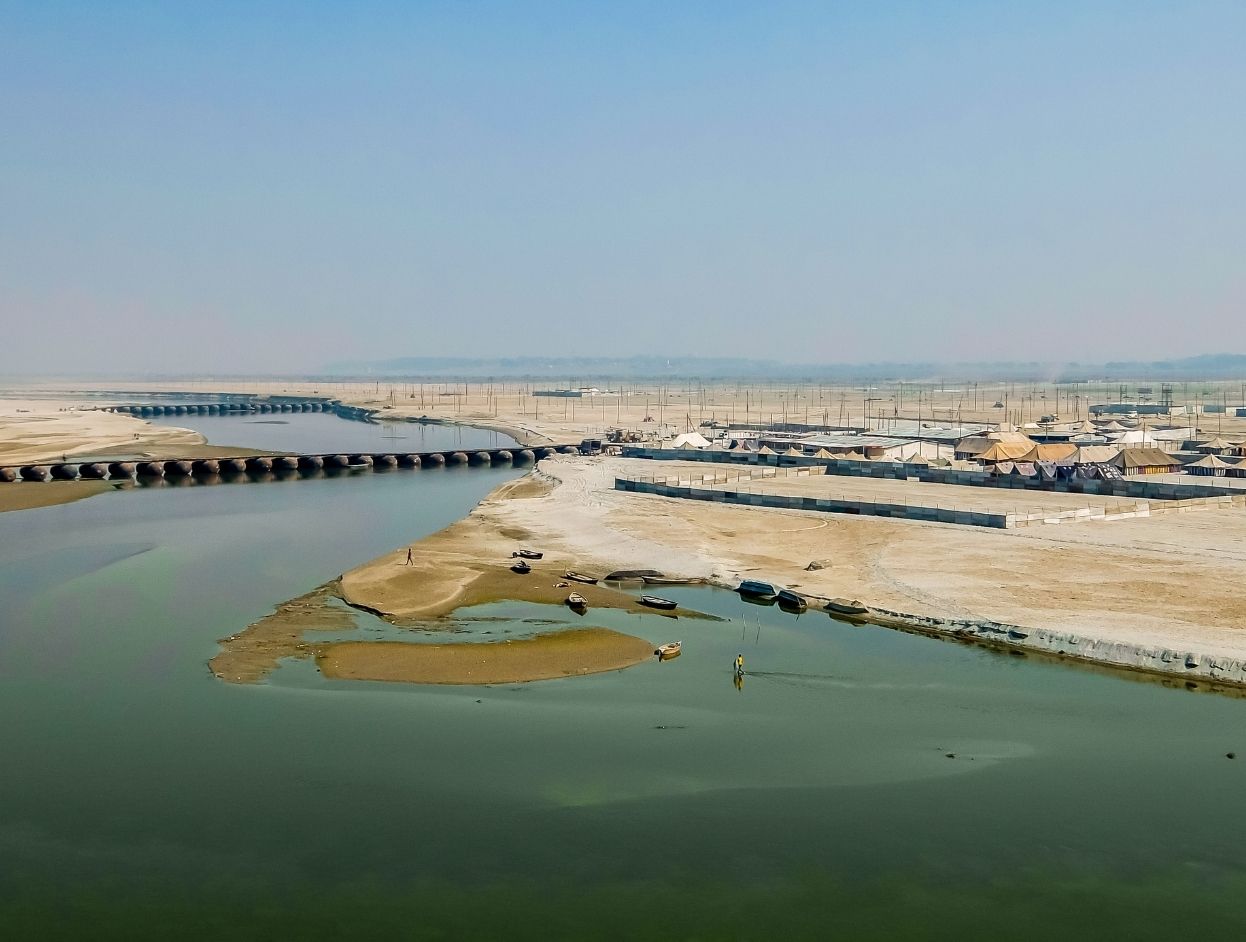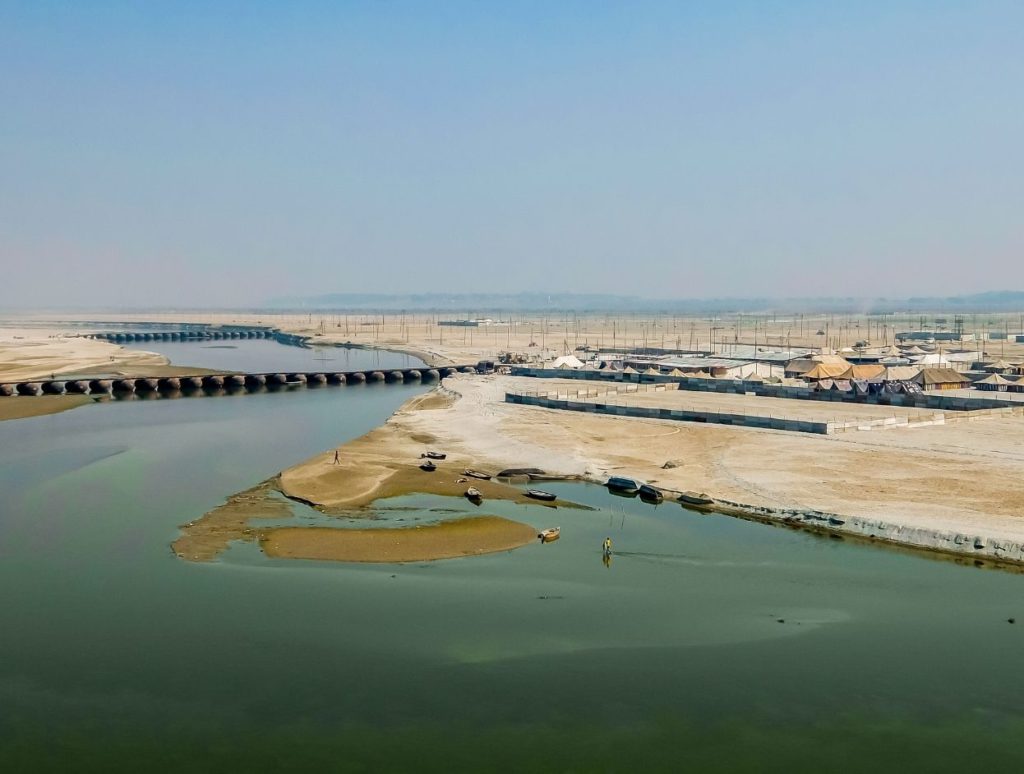 Save On Pinterest


Related Articles