06 Jan

The Best Places to Visit in Varanasi, India

Varanasi has been in news for a while. In fact, the city has caught fire with foreign tourists who wander the narrow streets of the city looking for ashen-faced sadhus smoking weed. Now I am not sure exactly what they were looking for between the two in the first place.

Varanasi is one of the world's oldest cities and a world-renowned religious town. A famous American writer, Mark Twain once penned down that "Banaras is older than history, older than tradition, older even than legend, and looks twice as old as all of them put together".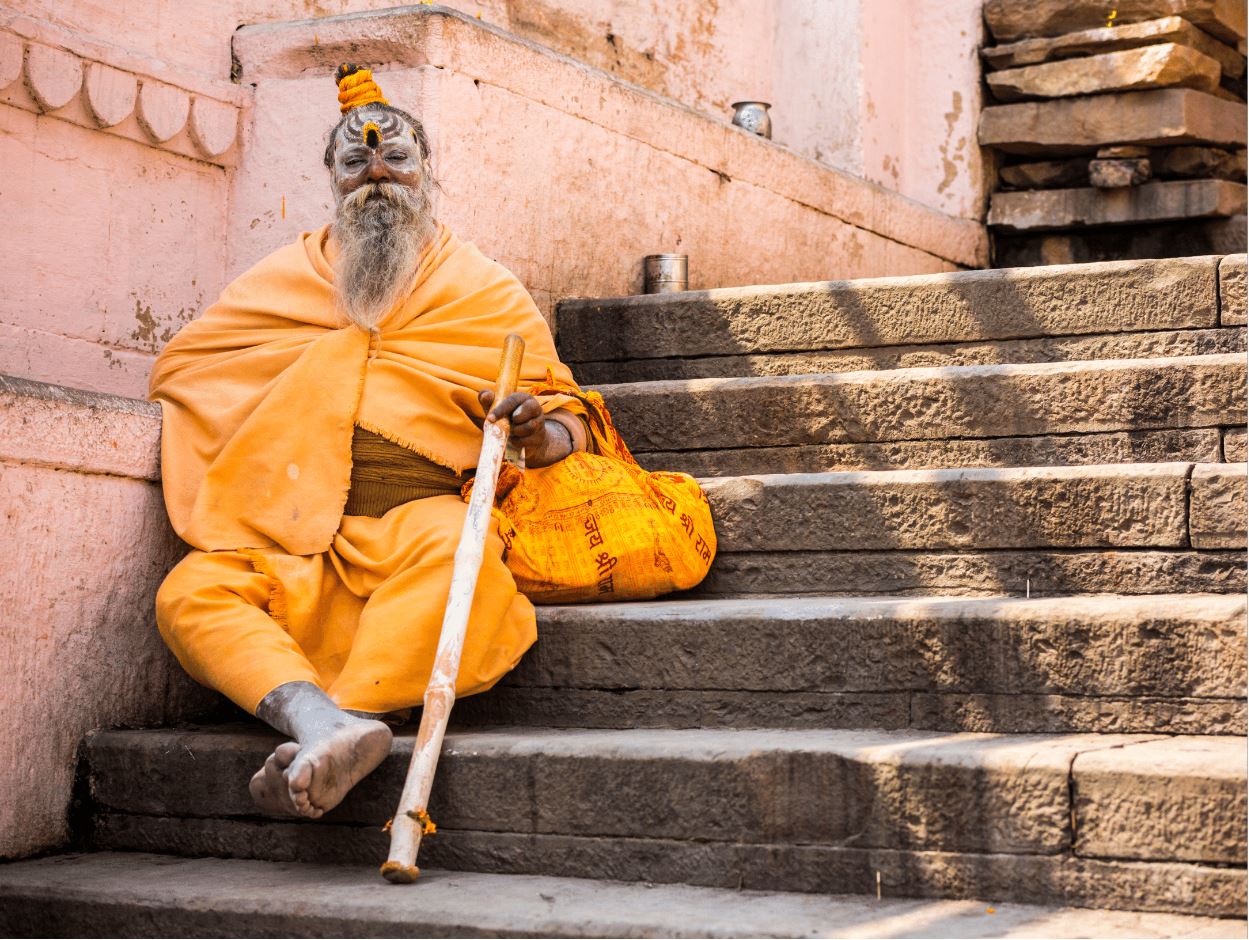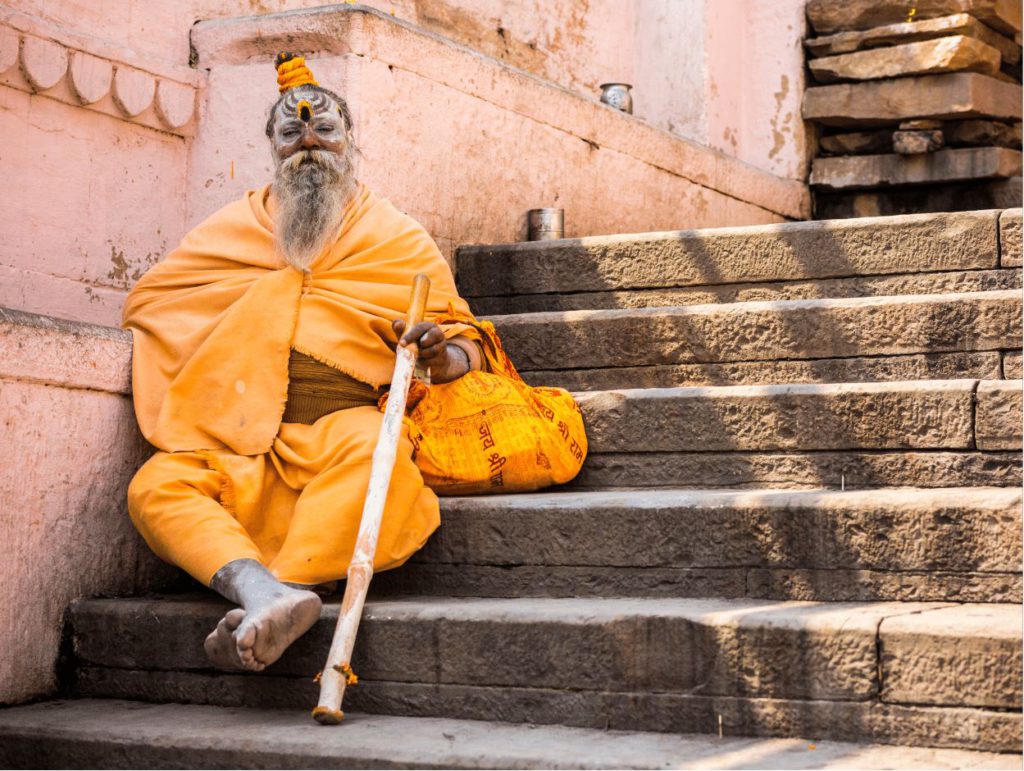 As you enter Varanasi you may even experience a borderline assault on your senses with the overwhelming crowds, queues, temples, narrow alleys, monkeys, and street vendors.
Your Varanasi trip is incomplete if you do not attend the Ganga aarti at sunset performed by local priests. River Ganga, also a beloved goddess of the Hindus comes alive with its fiery reflections and the Sanskrit chants in the background have a hypnotizing effect that makes the experience so profound on the mind.
If you are looking to travel, you need to know a lot more than that. Read ahead, here is everything you need to know about visiting Varanasi.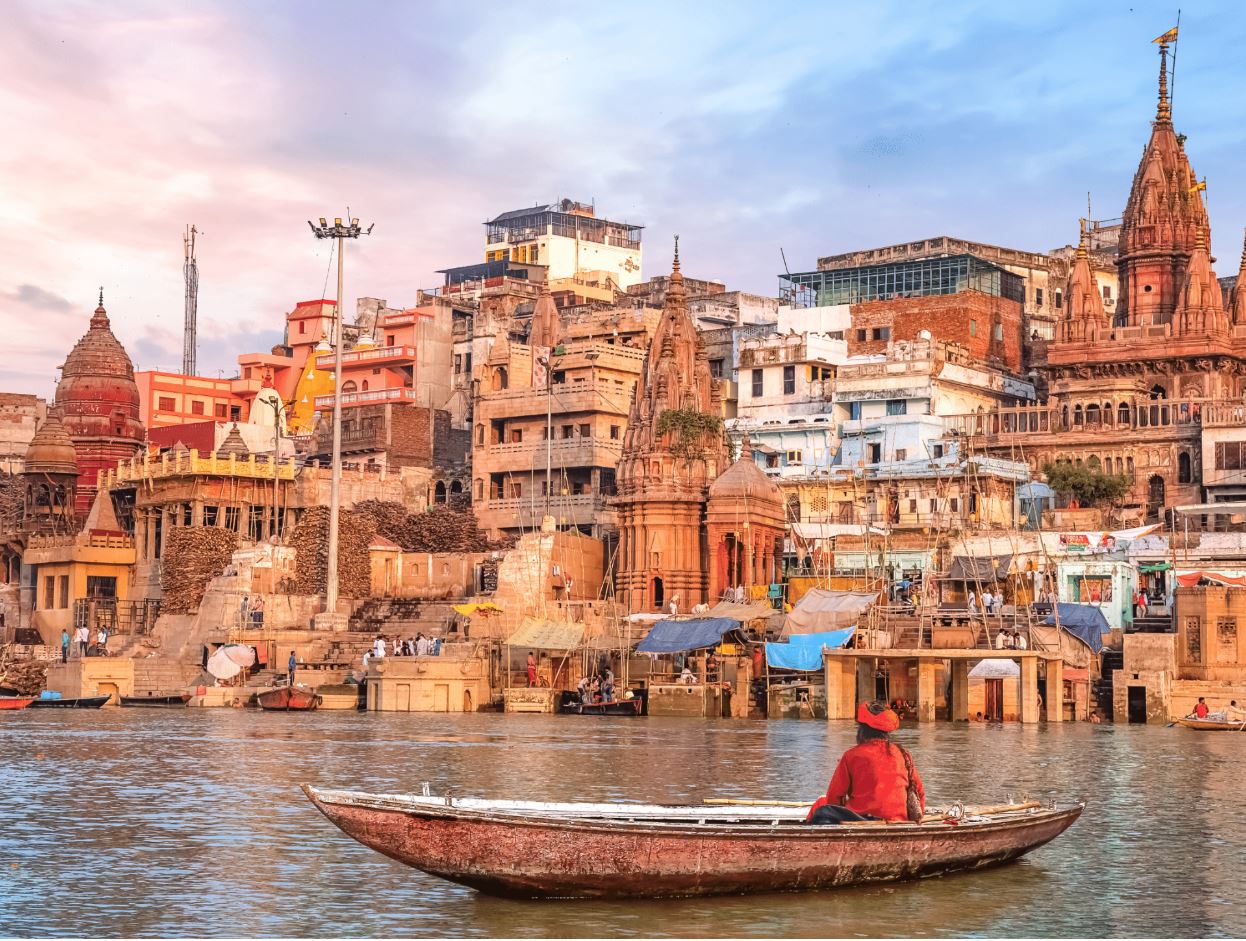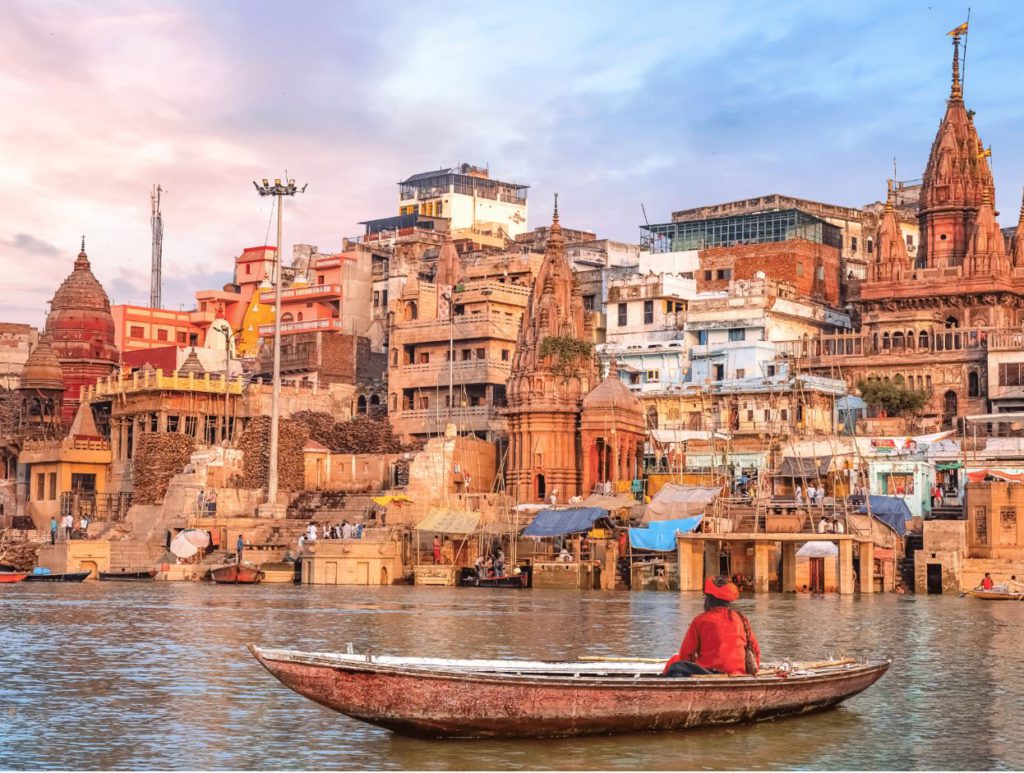 Why is Varanasi so important?
Importance in Hinduism
Varanasi is an ancient city, located on the banks of the River Ganga in the state of Uttar Pradesh around central India. It is renowned for its history and connection to spirituality. It is one of the seven Hindu and Jain holy cities, or Sapta Puri, in India. In Sarnath, 10 km from Varanasi Gauthama Buddha taught Dharma for the first time.
The Rigveda refers to the city as Kashi, the "luminous city as an eminent seat of learning". Hindus also favour this place immensely to die and wish to cremate themselves here. They believe that when you dip your body in Ganga, it will wash all your sins away. One's cremation in Ganga or Varanasi will end their cycle of rebirth. Therefore, another name for Kashi is Mahashamshana that translates to 'the great cremation ground'.
Hindus believe that the water of the Ganga river is a fluid medium of Shiva's divine essence. There is a particularly important river-side location a few kilometres ahead. It is where Ganga meets two other rivers, the Asi and Varana which when merge make "Varanasi".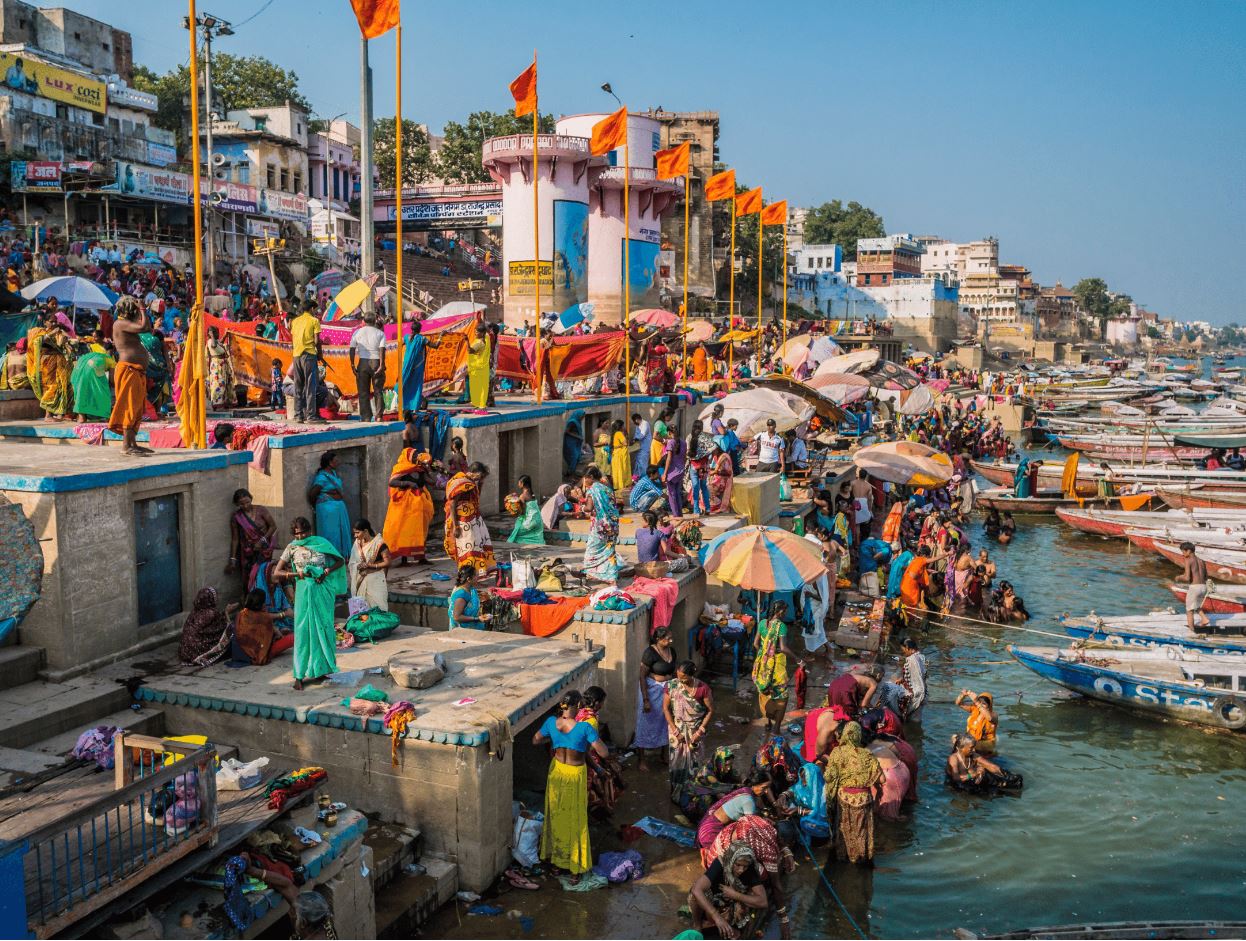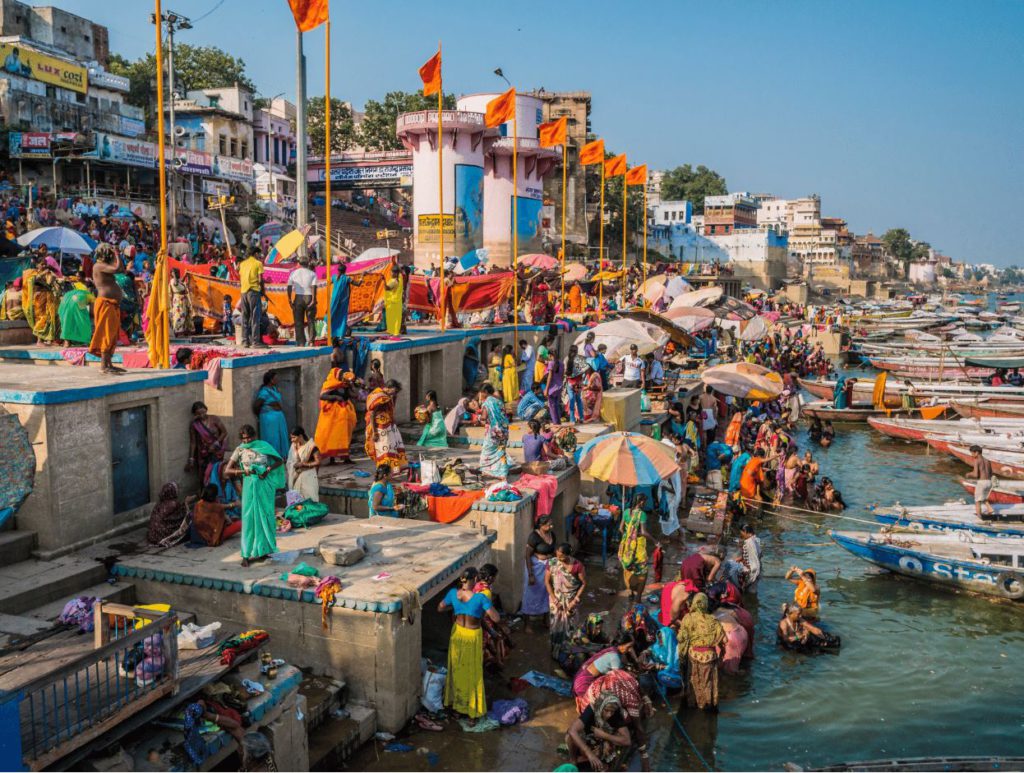 Importance in Other religions
Buddha is believed to have founded Buddhism here around 528 BC. It is when he gave his first sermon, "The Setting in Motion of the Wheel of Dharma", at nearby Sarnath. Guru Nanak Dev visited Varanasi for Shivaratri in 1507, a trip that played a large role in the founding of Sikhism. Goswami Tulsidas also wrote his epic poem on Lord Rama's life called Ram Charit Manas here.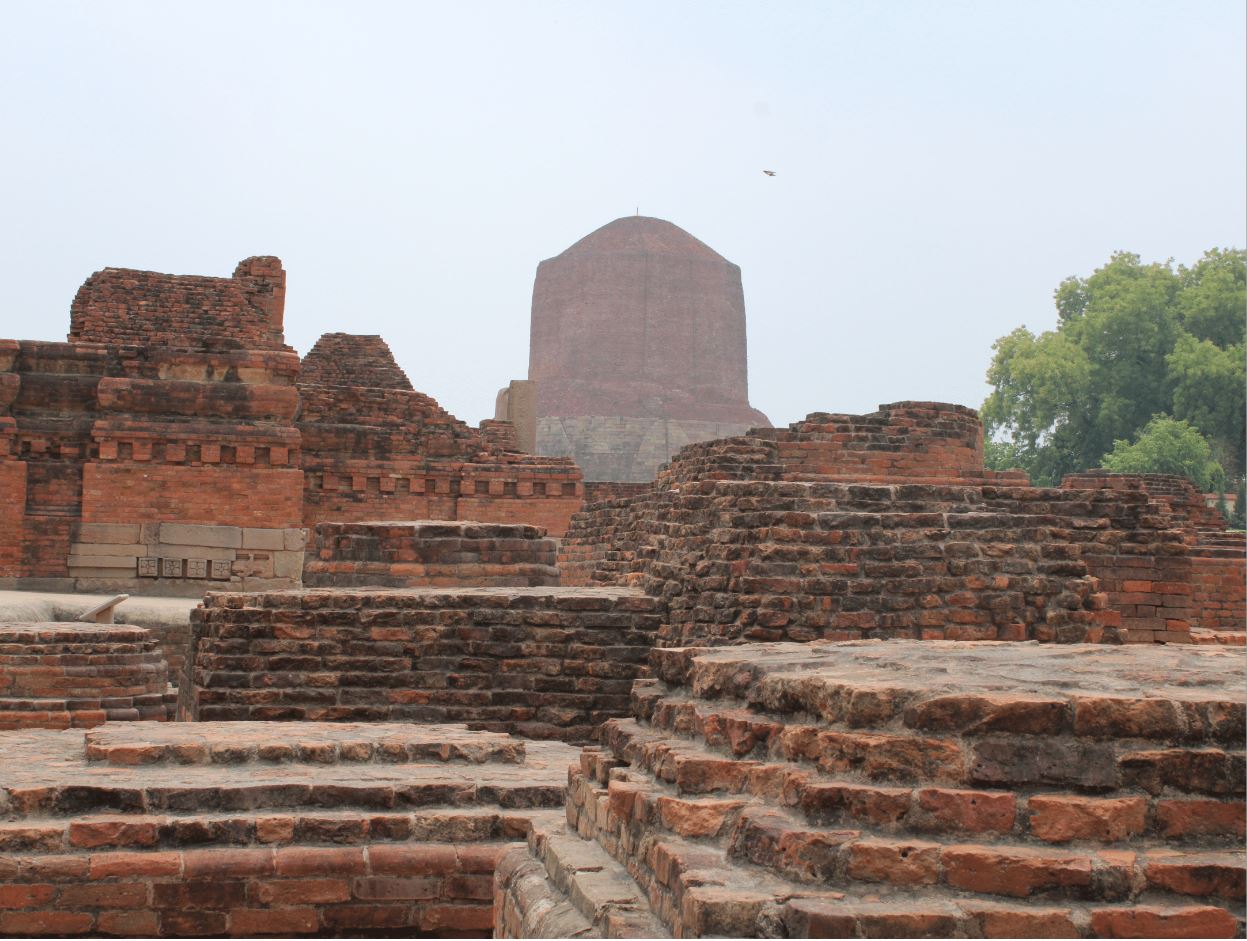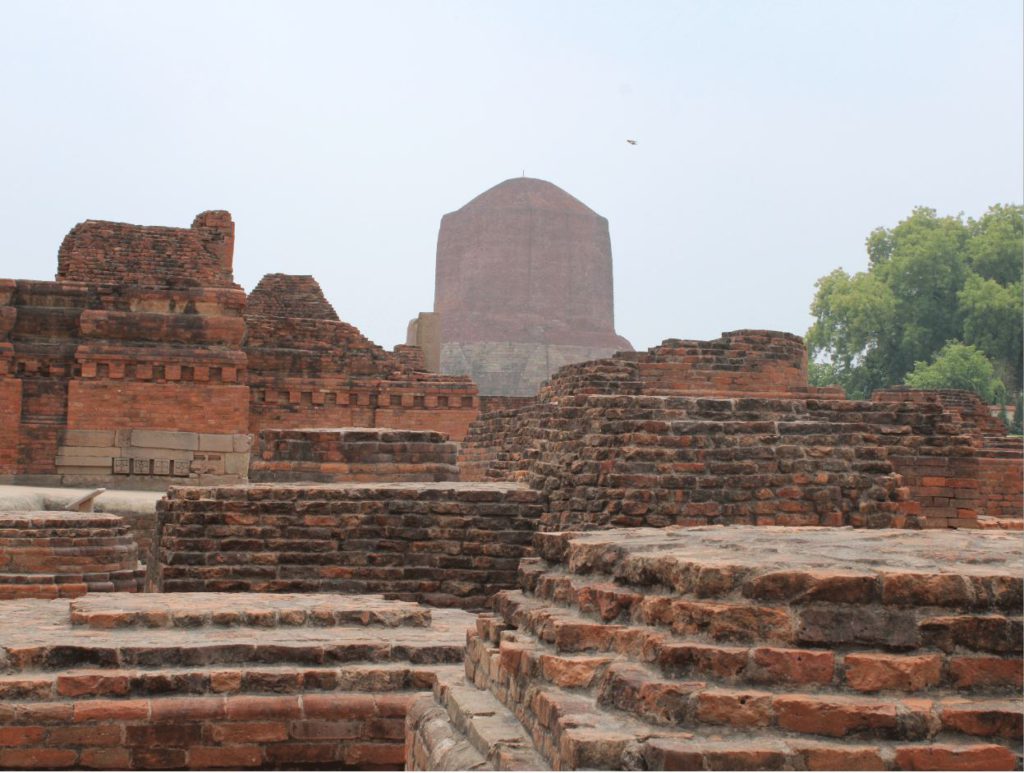 Places to visit in Varanasi
Assi Ghat
Assi Ghat is for those who seek spirituality. It is the place where the great poet Tulsidas passed away. This ghat is located in the southern part of the city pretty popular with the tourists.  You can attribute its popularity to a huge lingam (an embodiment of Lord Shiva) situated under a peepal tree.
The lingam attracts a lot of attention during the festive time especially if it's is related to Lord Shiva. As one of the biggest ghat, Ganga aarti is performed here. I suggest you take a boat ride on the river to make it memorable. Sometimes, a hot air balloon excursion is also available.
People come to Assi Ghat to perform holy rituals and take a dip inside the river. They believe the water at its purest form that will wash away their sins. At night, you can find several entertainers and hawkers at the ghat.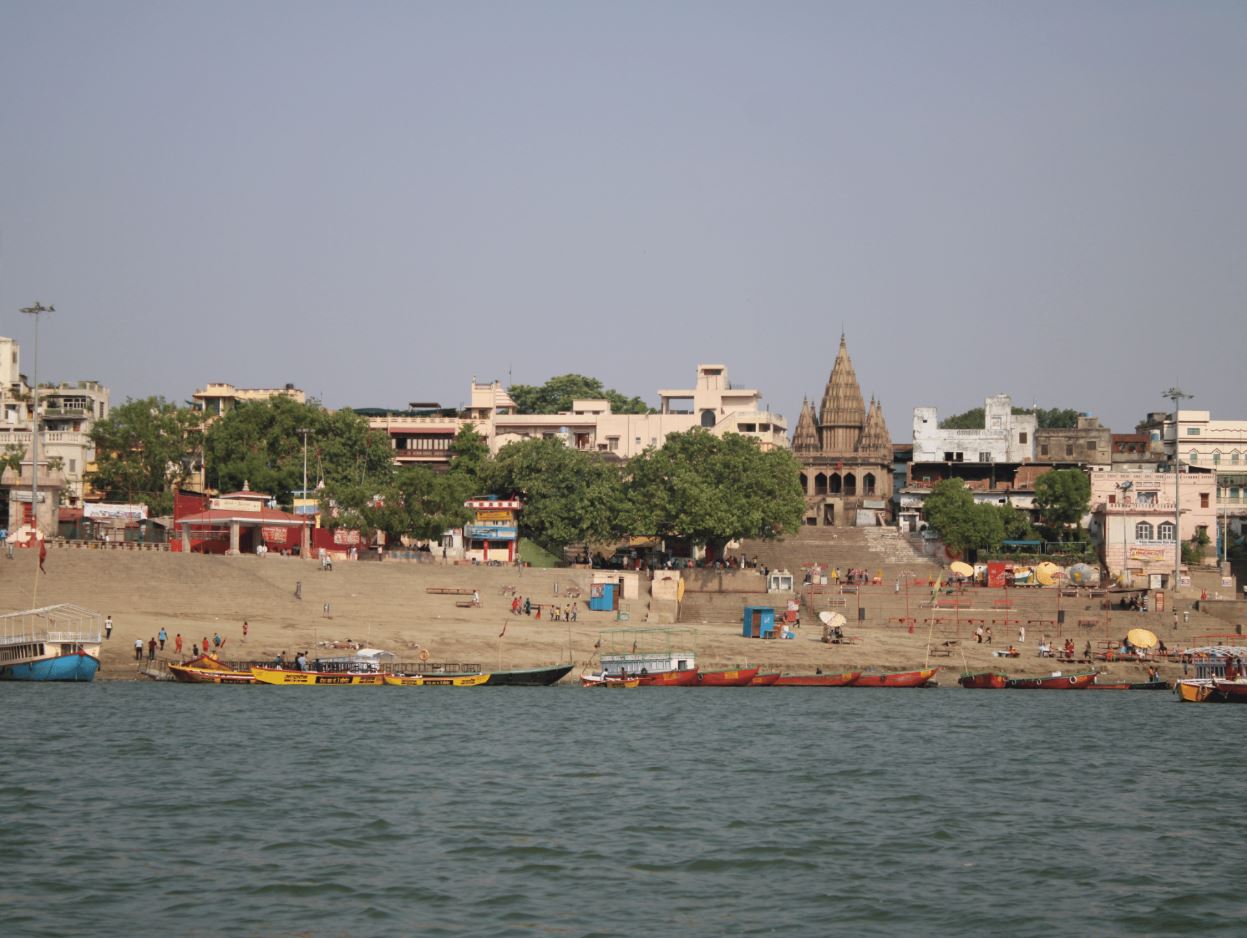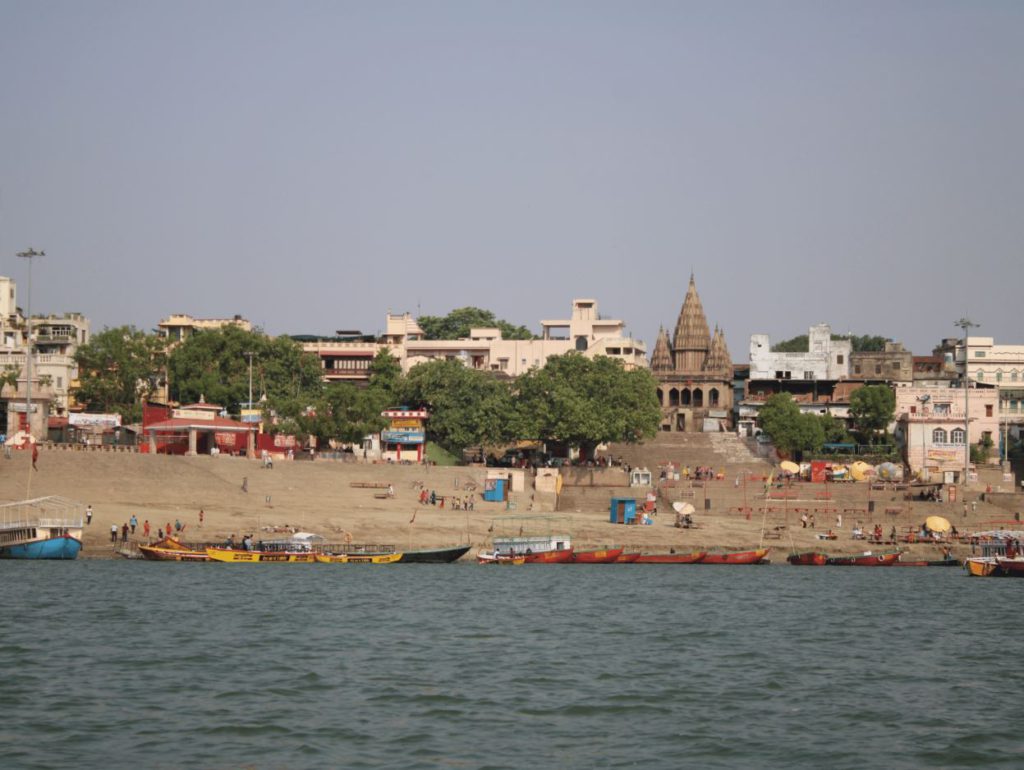 Dashashwamedh Ghat
This ghat is special since people consider it the oldest of the lot. It is known for its spiritual transcendence. Hindus believe that Lord Brahma created this ghat by sacrificing ten horses in a yajna and thus giving it its name (Das = Ten, Ashwamedh = horse sacrificing ceremony).
This ghat is especially abuzz at night. But to top it all, it is the most photographed place in Varanasi popular across social media. So if you find any footage of people bathing in Ganga and praying with diyas in their hand on the banks of a river, odds are that it was this ghat you saw.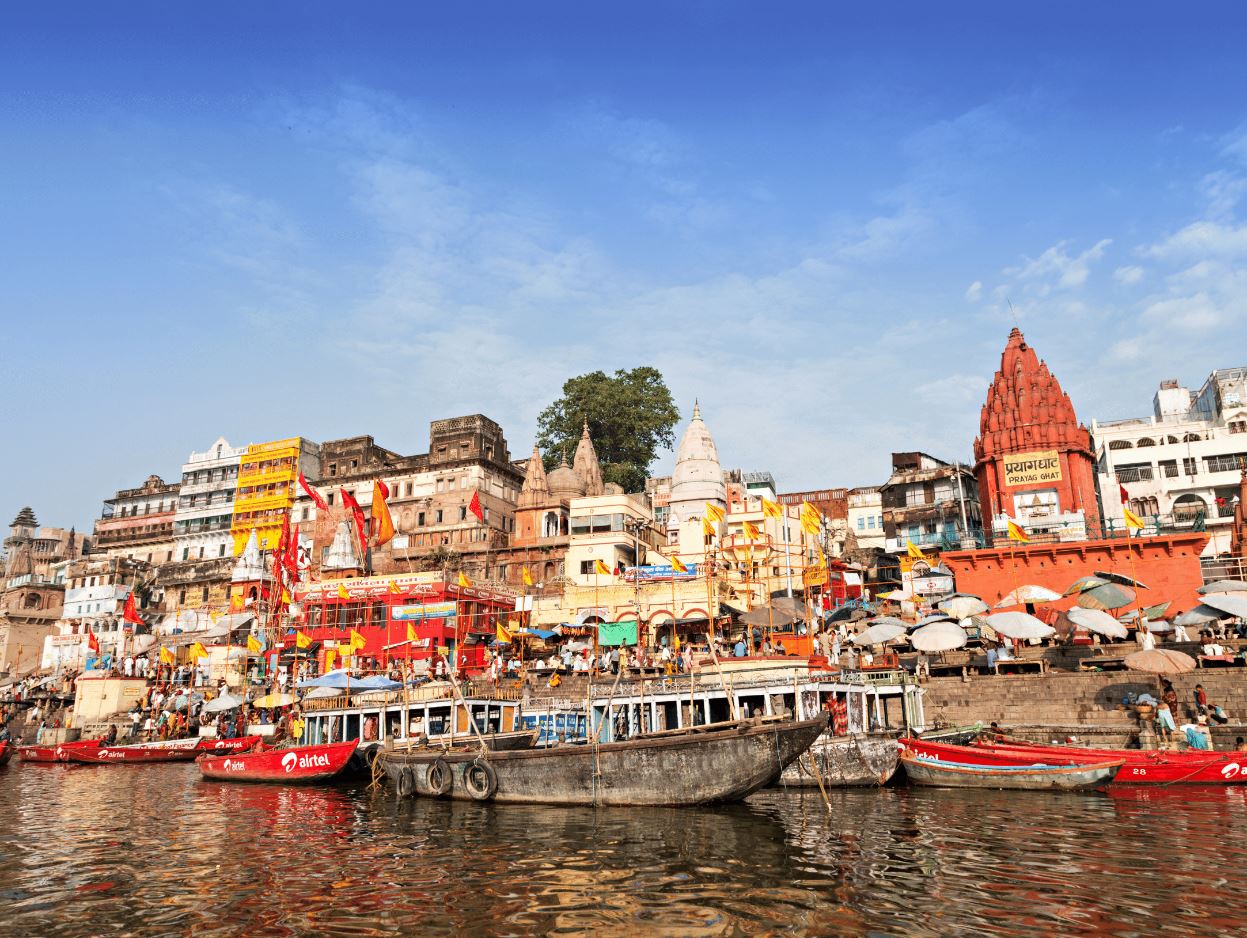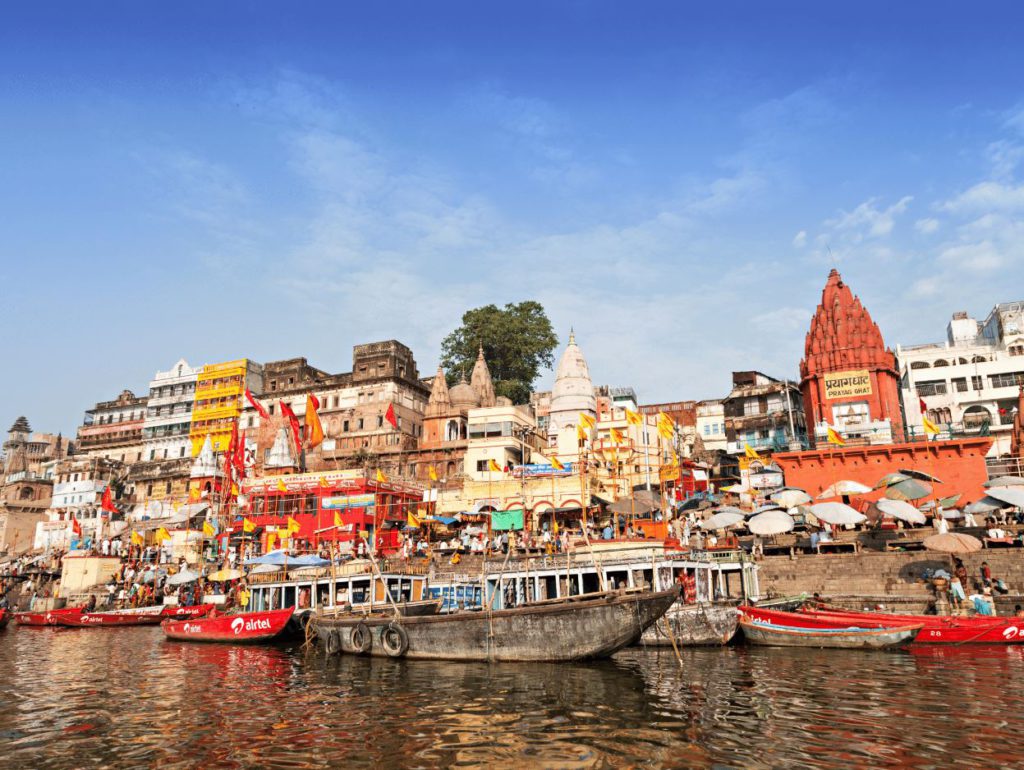 The famous aarti here is the Agni Pooja and Ganga aarti. You must not miss it. Special aarti is held every Tuesday. The timings range from 7 pm to 7:45 pm during summer and between 6 pm to 6:45 pm during winters.
By sunset, pilgrims flock this place to watch the aarti ritual. You can even hire a boat to watch the ritual from the water. If you want to enjoy a clear view of the ritual, walk at any of the rooftop restaurants near the ghat. Although I would go with the boat.
How to reach Dashashwamedh Ghat: You can find cabs and autos to reach Godowlia. It is a market region of Varanasi. Beyond Godowlia, vehicles are not allowed. Tourists have to walk for ten minutes to reach Dashashwamedh Ghat from the market.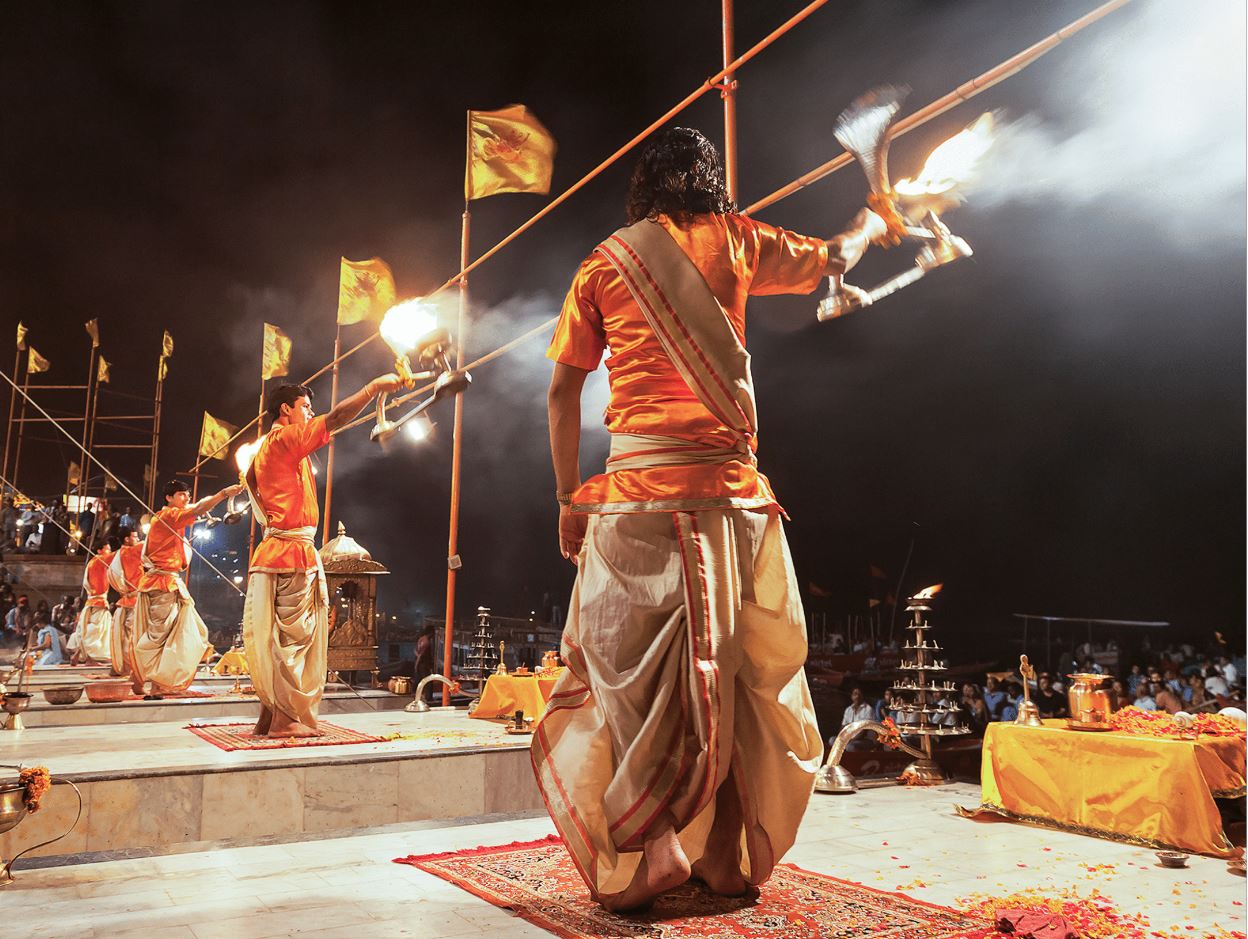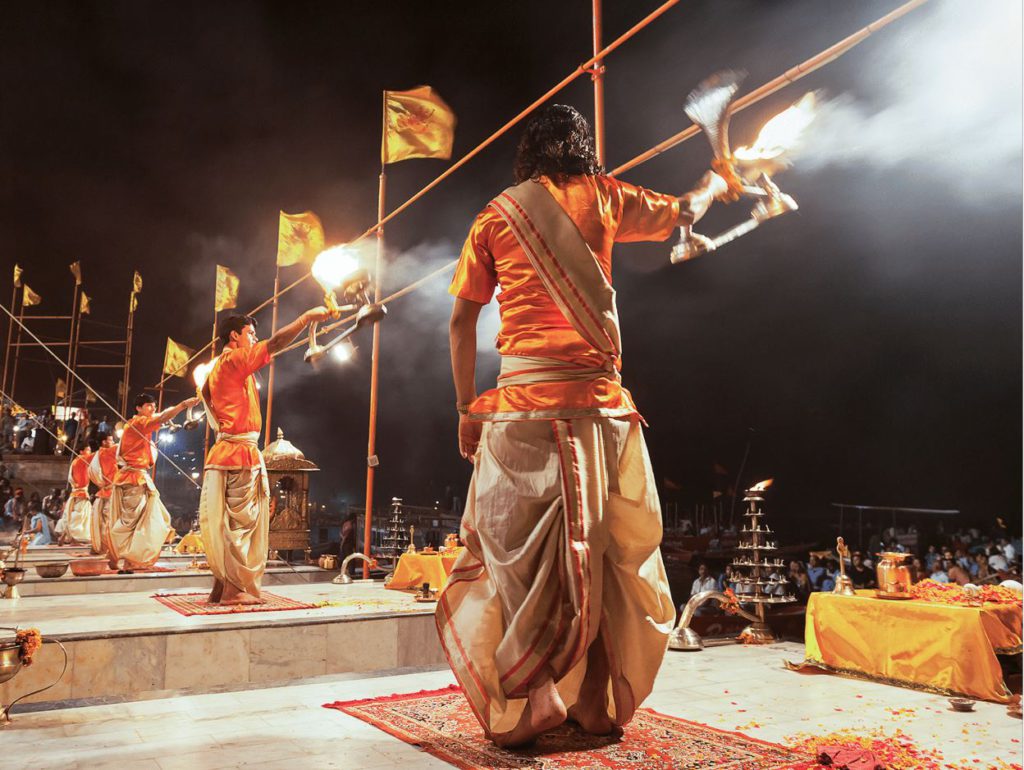 Manikarnika Ghat
Although the ghat is popular with tourists, it is mainly a cremation place, especially for Hindus. They believe the spot as the purest place to attain the moksha.
There is a myth that says Devi Parvati's (Shiva's wife) ear ornament fell at the exact spot of this ghat when Lord Shiva came here with her. You can always spot the glowing pyres and several oil lamps that people leave to float on the river with a wish for their loved ones to attain eternal salvation.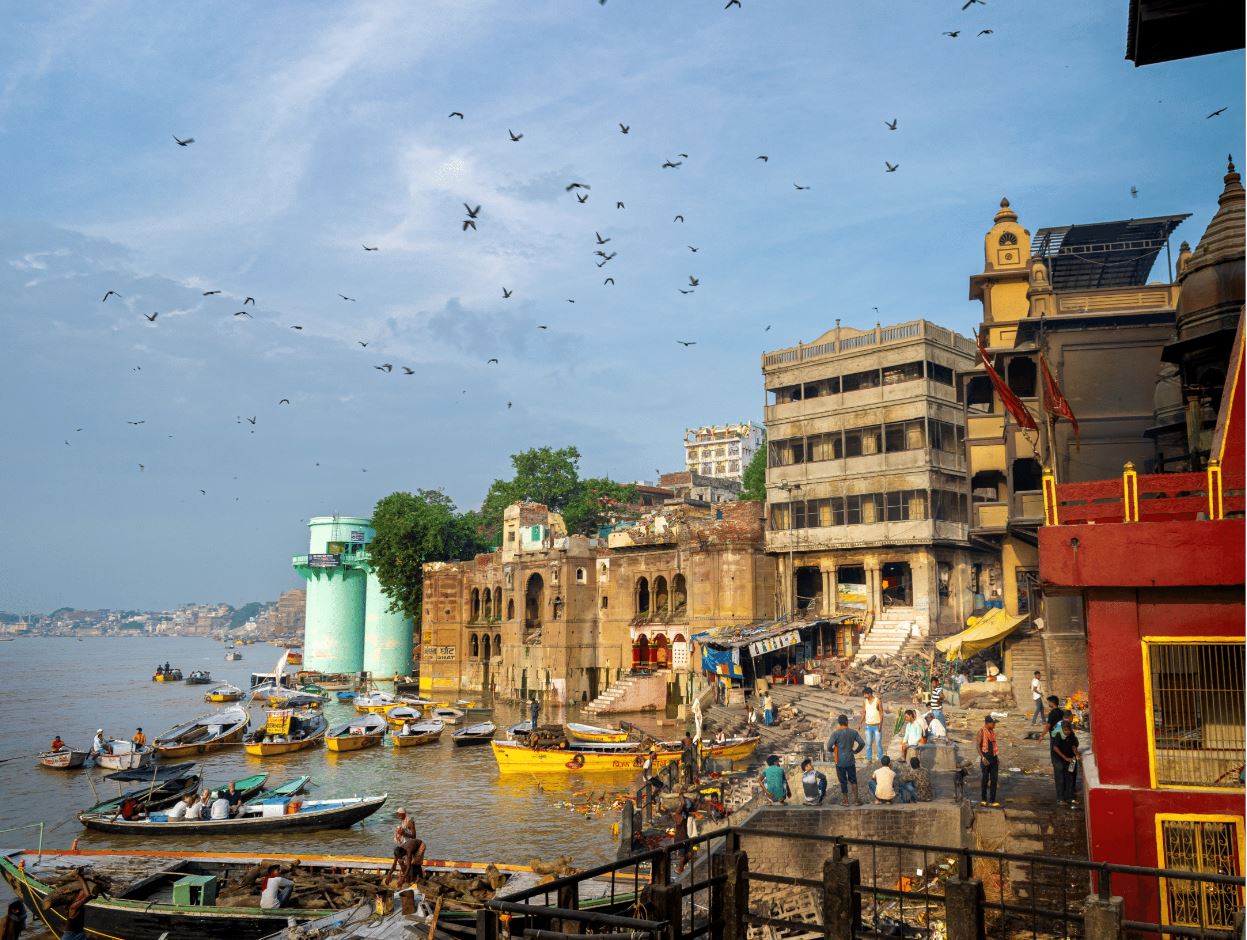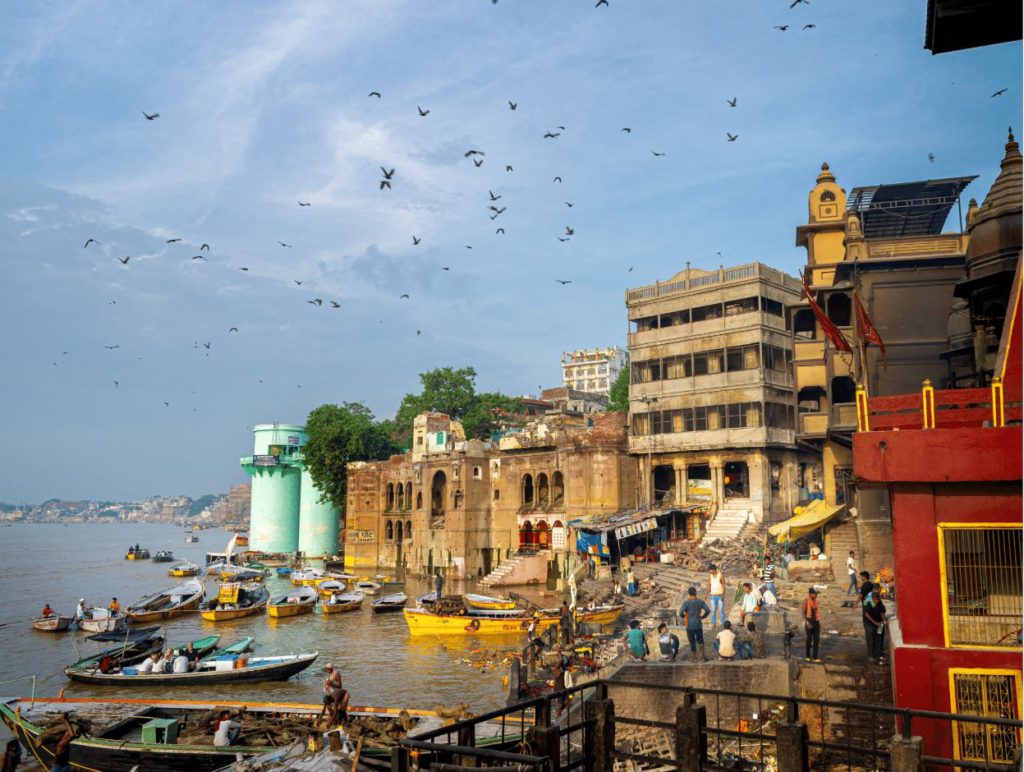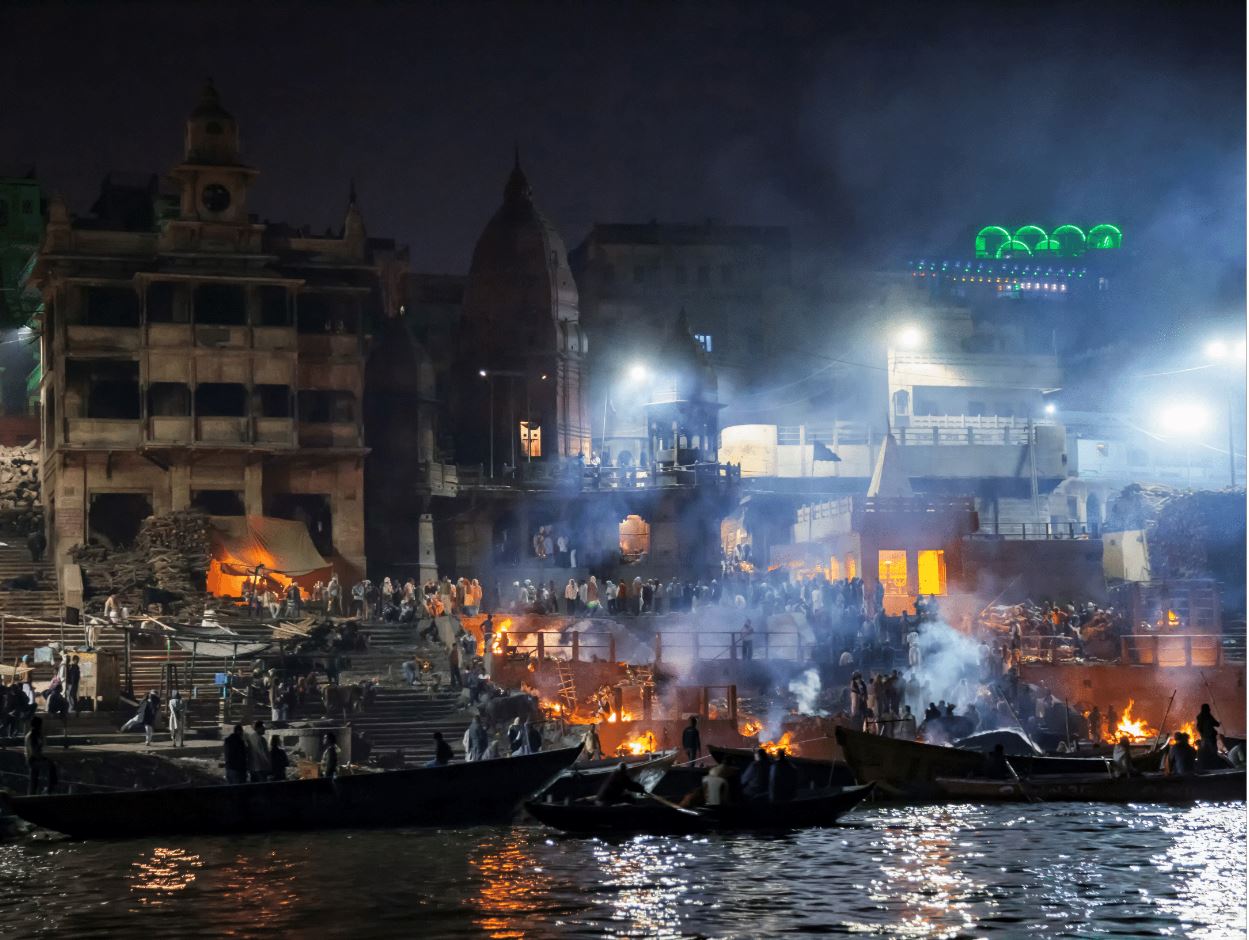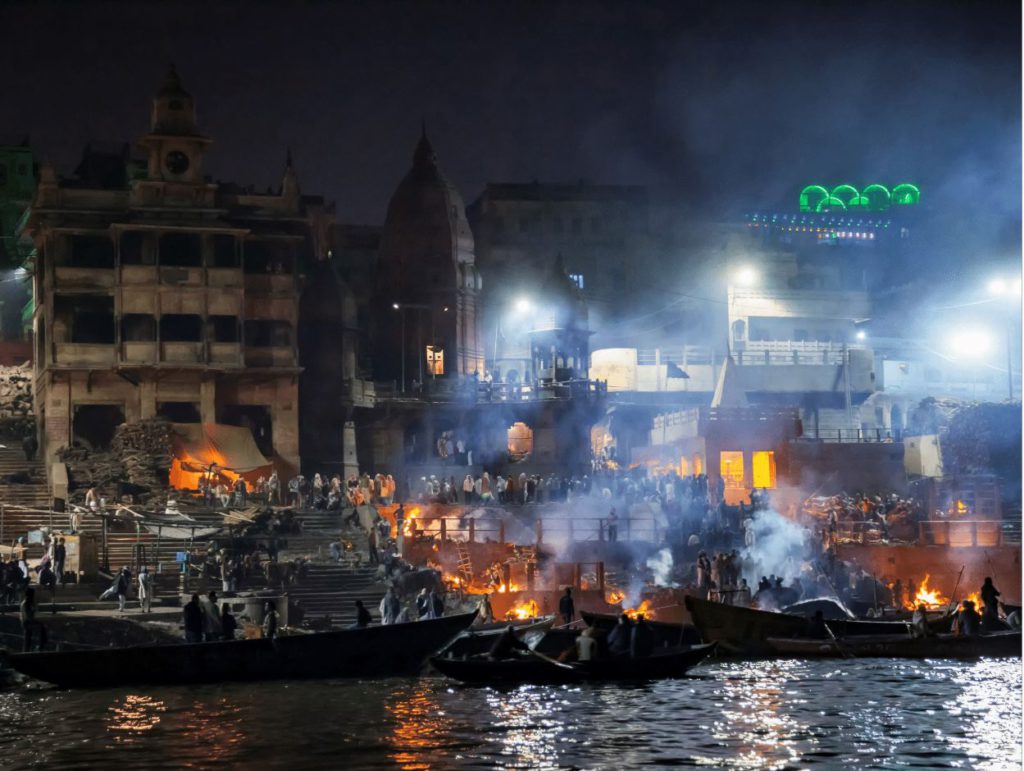 Kashi Vishwanath Temple
Do not confuse it with the New Vishwanath temple of Varanasi. This is one of the holiest Shiva temples on earth. It is known as the golden temple of Varanasi as the domes of the temple are covered in gold. It happened when a ruler of Punjab, Maharaja Ranjit Singh covered the temple domes in gold. As a common feature in Punjabi tradition, you can also see it in the Golden Temple at Amritsar.
Legends around the temple go back 3,600 years. A lot has happened here but most of it is lost in time. Invaders and rulers destroyed the original temple numerous times in the past. The current structure was built in the 16th century. The exact year of initial construction of the temple is unknown.
According to the legends, during a dispute between Lord Vishnu and Lord Brahma, about their supremacy in power and strength, Lord Shiva came up with an idea. He turned into a large column of light and said that he who could find the end of the light will be the winner.
After trying, Lord Vishnu admitted that he failed to find the end. On the other hand, Lord Brahma lied about finding the end of the light. Then lord Shiva angered by his deceit put a curse on him. According to the curse, Lord Brahma would not have any place of worship on land.
The column of light was put on earth in 12 places. People consider these 12 places as Jyotirlinga. One of those twelve places is the Kashi Vishwanath temple.
You can also find the mosque built by Aurangazeb, near the temple. The mosque was built after demolishing the temple. The temple structure as it stands today consists of a series of smaller shrines located in the Vishwanath Galli.
Kashi Vishwanath Temple Arti Schedule:
Mangal Aarti: 2:30 AM
Bhog Aarti: 11:30 AM to 12:00 pm
Sapta Rishi Aarti: 7:00 PM to 8:00 PM
Shringar/Bhog Aarti: 9:00 PM
Shayana Aarti: 10:30 PM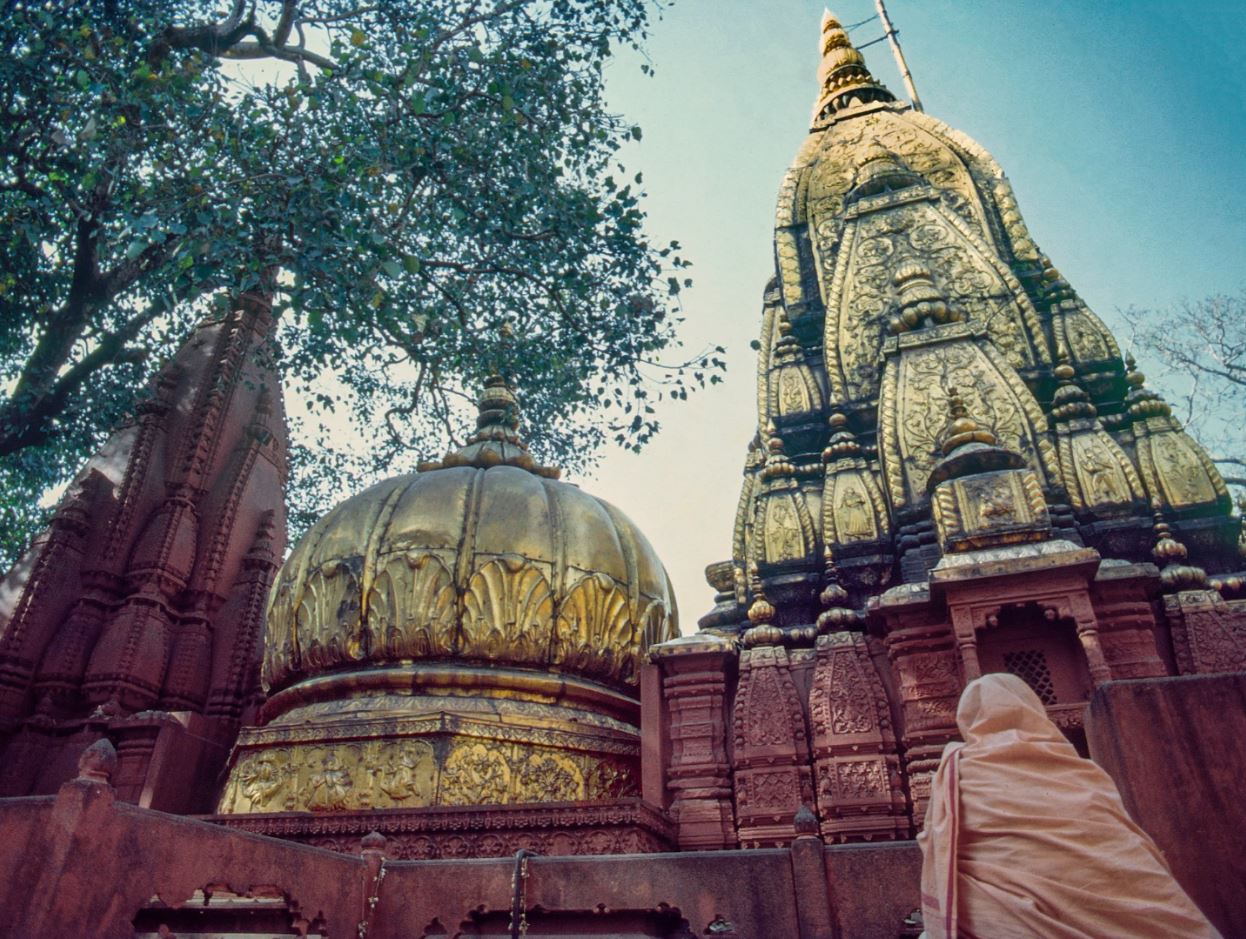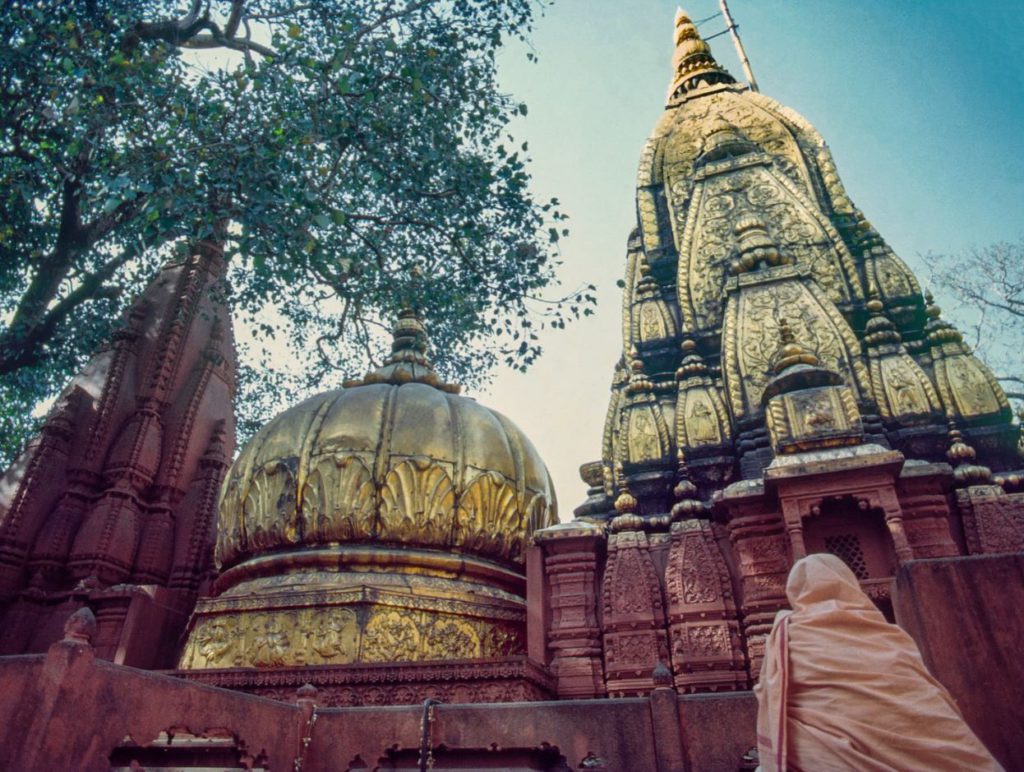 Durga Temple
The temple is dedicated to Goddess Durga, as a symbol of feminine divinity. It is also called the monkey temple. It's because the temple has an insane number of monkeys in the complex. This is also one of the reasons why children would love to visit this place. But safety first!
The temple was built in the 18th century by a Bengali Maharani or the Queen of Bengal. It was according to her wishes that it was constructed in the Nagara style of architecture. The temple is in iconic red colour.
A pond (Durga Kund) lies very close to the temple that has a duct connecting it to river Ganga. On each corner of the pond, there is a watchtower to get a great view of the region. It is believed that the idol of Goddess Durga in the temple was not constructed; it appeared on its own.
Bharat Mata Temple
This temple does not dedicate to any deity or lord but instead to mother India itself. That is one of the rarest examples of the temple in the country. While India is famous for many temples and for the spiritual connection, there are very few places that have temples for the country itself.
Since it is rare, everyone who comes to Varanasi visit this place. It was constructed in 1936 and was inaugurated by Mahatma Gandhi. It is an inspiring beacon of love and hope for all that were fighting against the British.
The temple's main sanctum features a relief map of India carved in marble with mountains, oceans and detailed topography. The temple was the brainchild of Babu Shiv Prasad Gupta, a freedom fighter.
How to reach:  This temple is located inside Mahatma Gandhi Kashi Vidyapith complex, just 2 km away from the railway station.
Kalbhairav temple
According to the legend, Lord Shiva took the form of Kaal Bhairav and broke the head of Lord Brahma. At that point, he was affected by Brahma Hastiya sin (the sin of hurting a Brahmin). The fifth head of Lord Brahma stuck to Lord Shiva's hand. He roamed all around the universe with the severed head.
When he reached Varanasi, the head dropped from his hand, indicating that his sins have been washed. Thus, Varanasi became the place for any sin to be washed. The temple dedicates to that belief. If you are fed up of visiting the temple, you can probably skip this one.
Alamgir mosque
On a list filled with temples, Alamgir mosque is a perfect representation of the Muslim community who has settled here for centuries. Famed for its Islamic architecture, the mosque's scale and size are astounding apart from the fact that it is located at the banks of the Ganga.
Mughal Sultan Aurangzeb, the great-grandchild of Akbar, constructed it. Historically, it has been noted that Aurangzeb was responsible for the destruction of a temple to construct the mosque. But still, the mosque retains many Hindu influences that you can make out in its unique architectural style.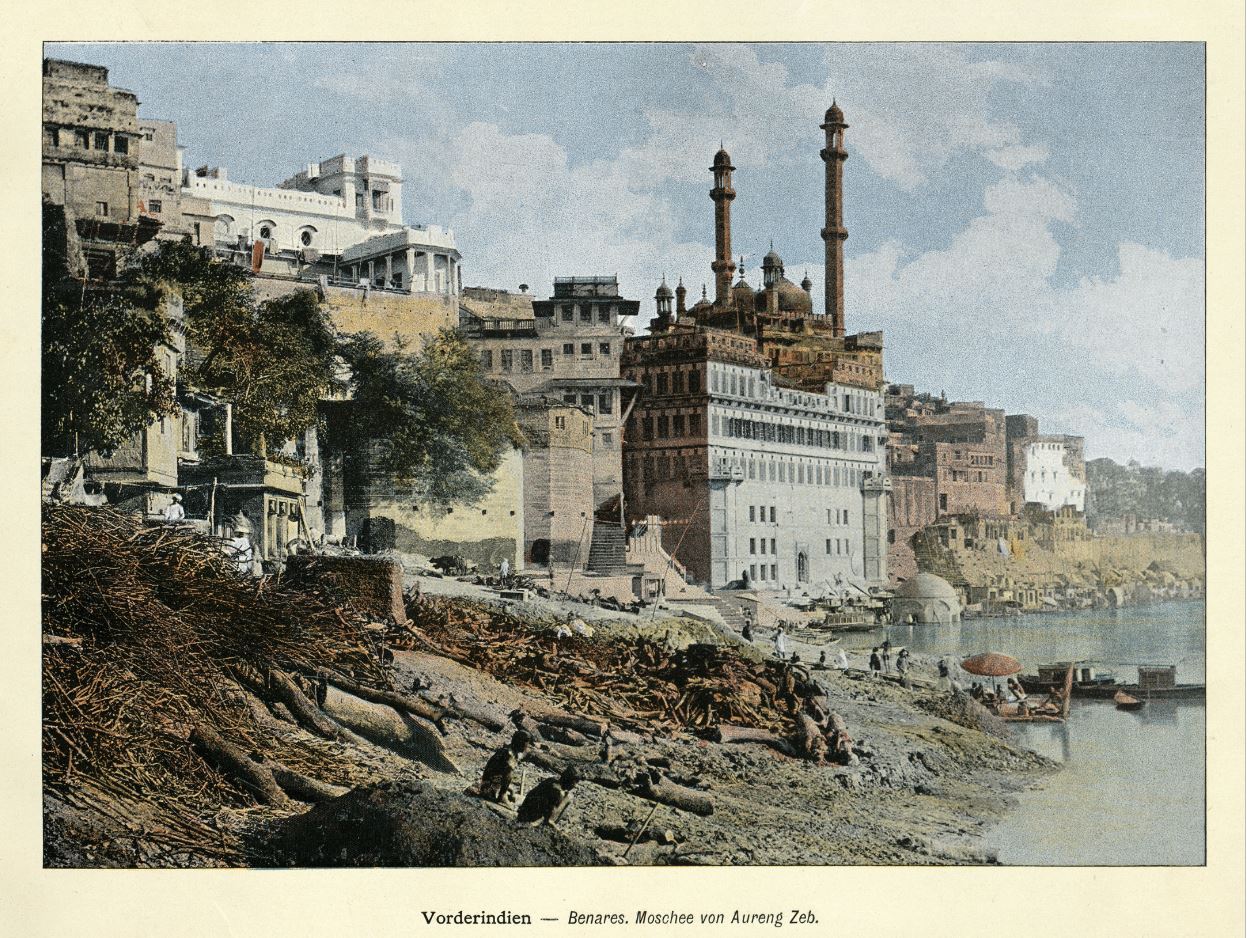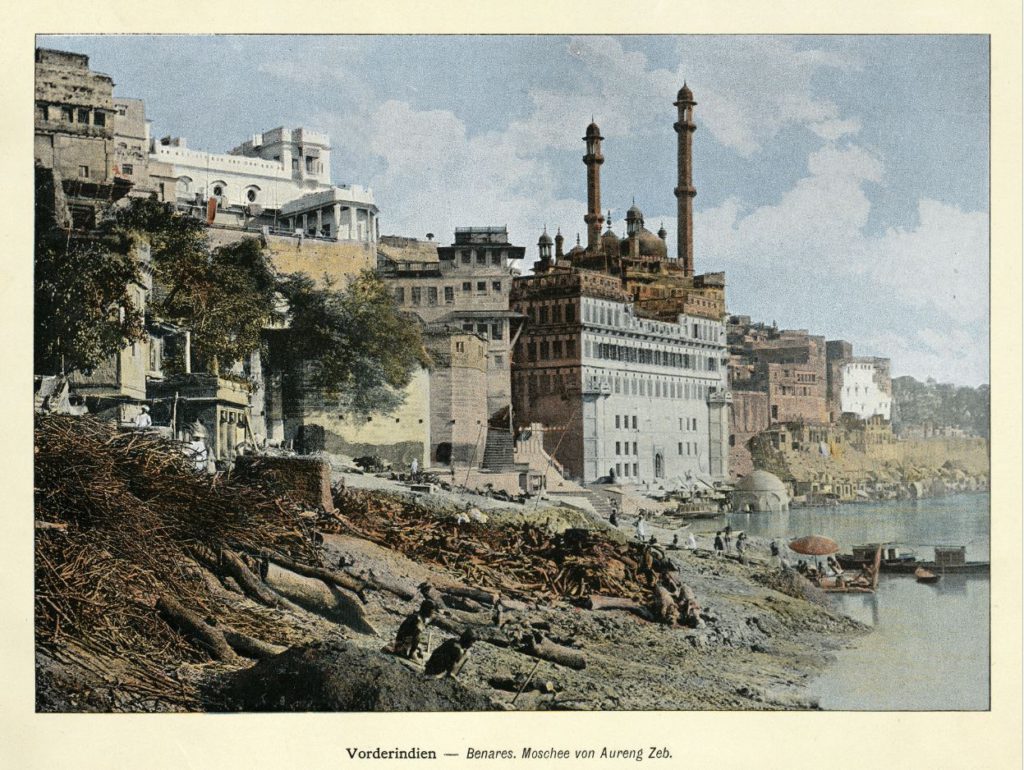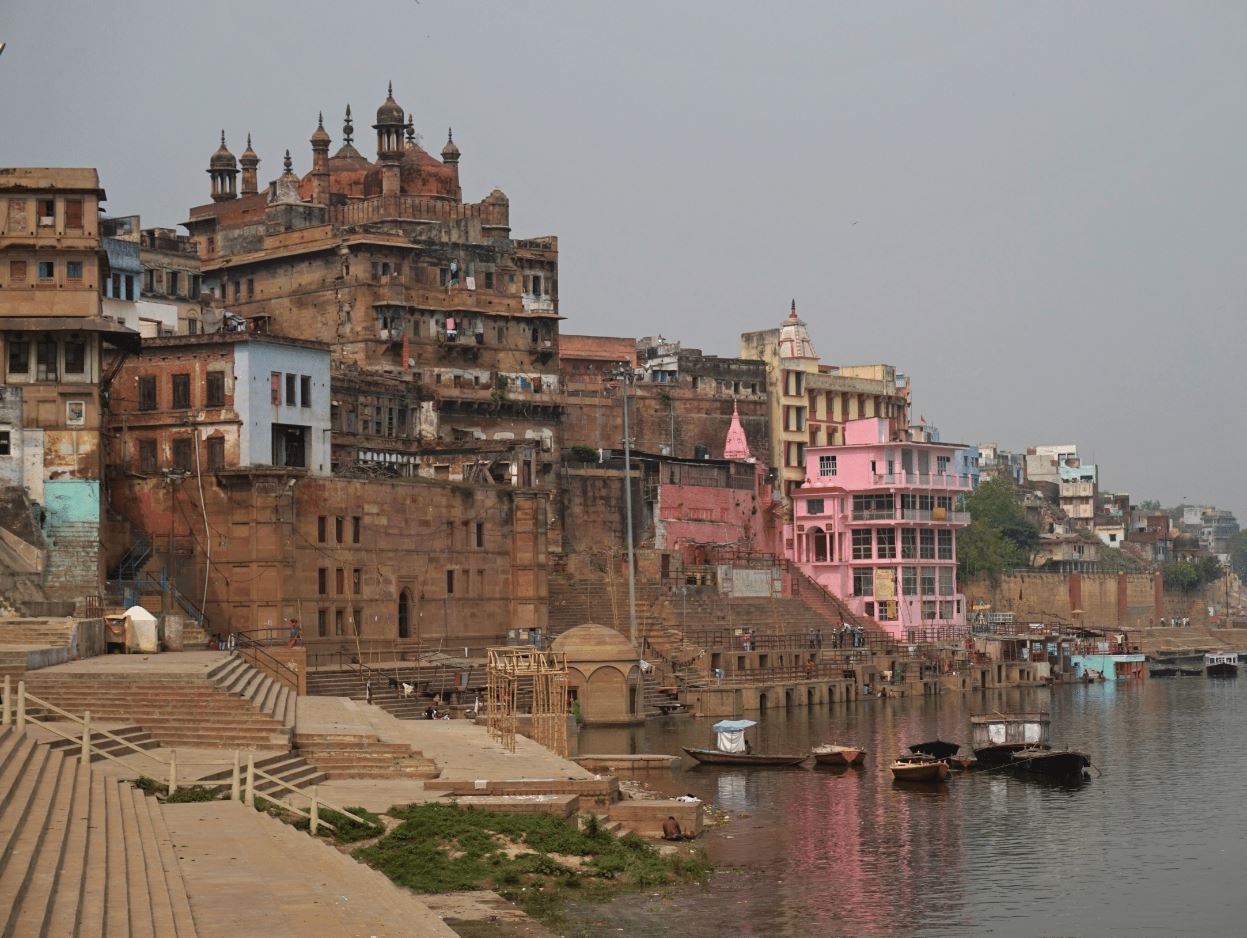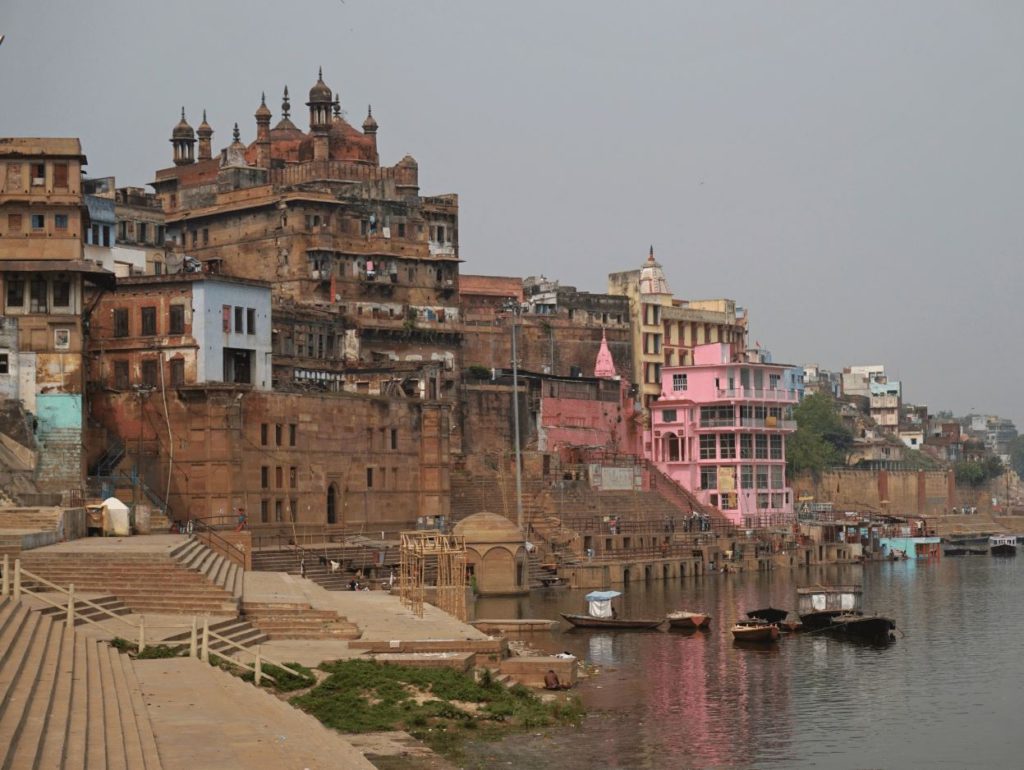 Nepali temple
This one is a replica of Pashupatinath Temple, an important religious Hindu site in Katmandu. Also called as Mini Khajuraho and Kanthwala Mandir, the temple is fairly recent, built in the 19th century.
It was the King of Nepal who built this temple during his exile that he spent in Varanasi. The temple is dedicated to Lord Shiva. Its unique style comes from its base materials that are terracotta, wood and stone.  The architectural style largely comes from Nepal. If you have time, you should make a stop here.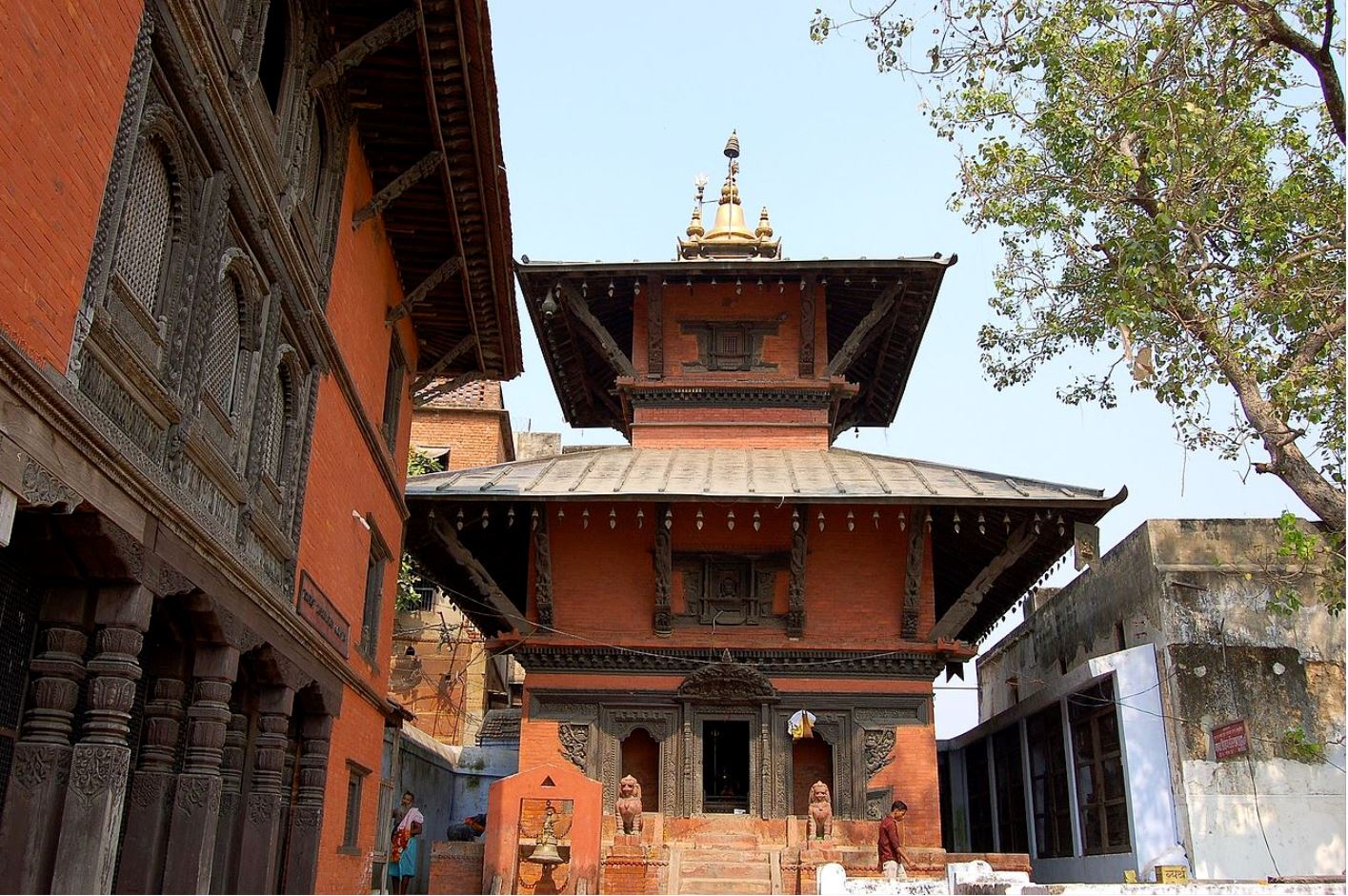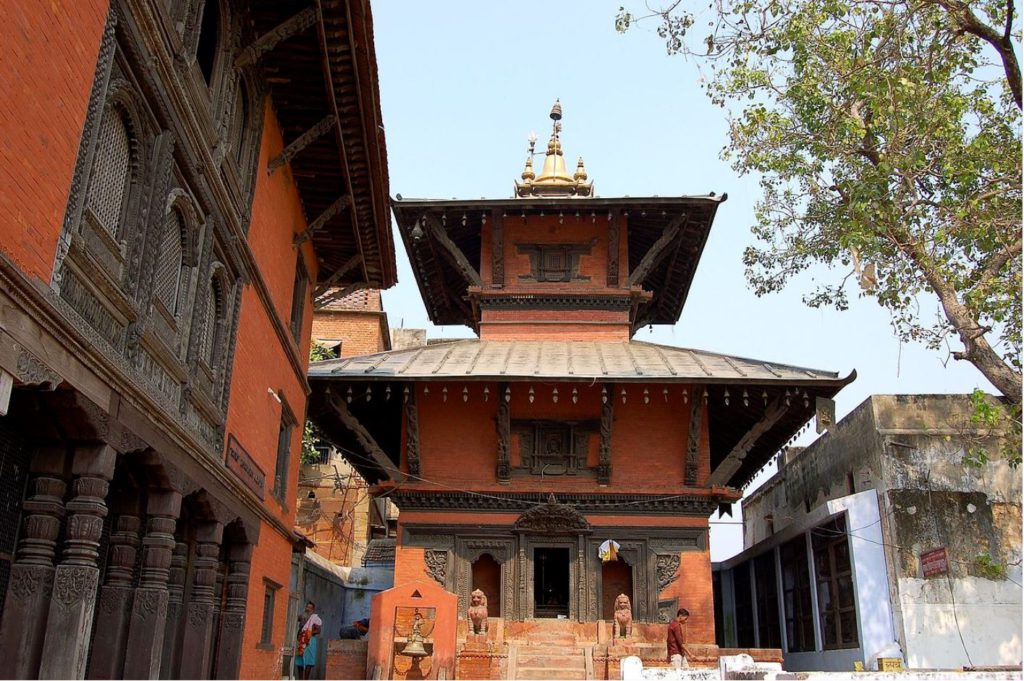 Gyan Vapi Well
The name of the well translates to 'the well of wisdom'. According to local legend, the water possesses great wisdom and drives the people who drink from it. There is also an interesting history regarding this legendary well.
People believe that a Jyotirlinga lies at the bottom of this well. Not just any but the one from the old Kashi Vishwanath Temple that Mughal emperor Aurangzeb destroyed. It has been there since the 17th century. The well is inside the Gyanvapi Mosque, that the Mughal emperor, Aurangzeb commissioned
Ramnagar Fort
Located across the Ganga River from Tulsi Ghat, it was built out of sandstone in AD 1750 on the orders of Raja Balwant Singh, the king of Banaras at the time. He and his descendants have lived in that fort for centuries now.
Even though the fort is in ruins, the crimson sunset view from inside its enclosure is reason enough to give Ramnagar Fort a spot on the list of places to visit in Varanasi. It also has a vintage museum that is famous for its rare collection of old American cars, ivory works, medieval costumes, and a huge astronomical clock.
How to reach: It would take one hour to reach the fort from the Dashashwamedh ghat by road. A quicker way is by taking a boat from Dashashwamedh ghat.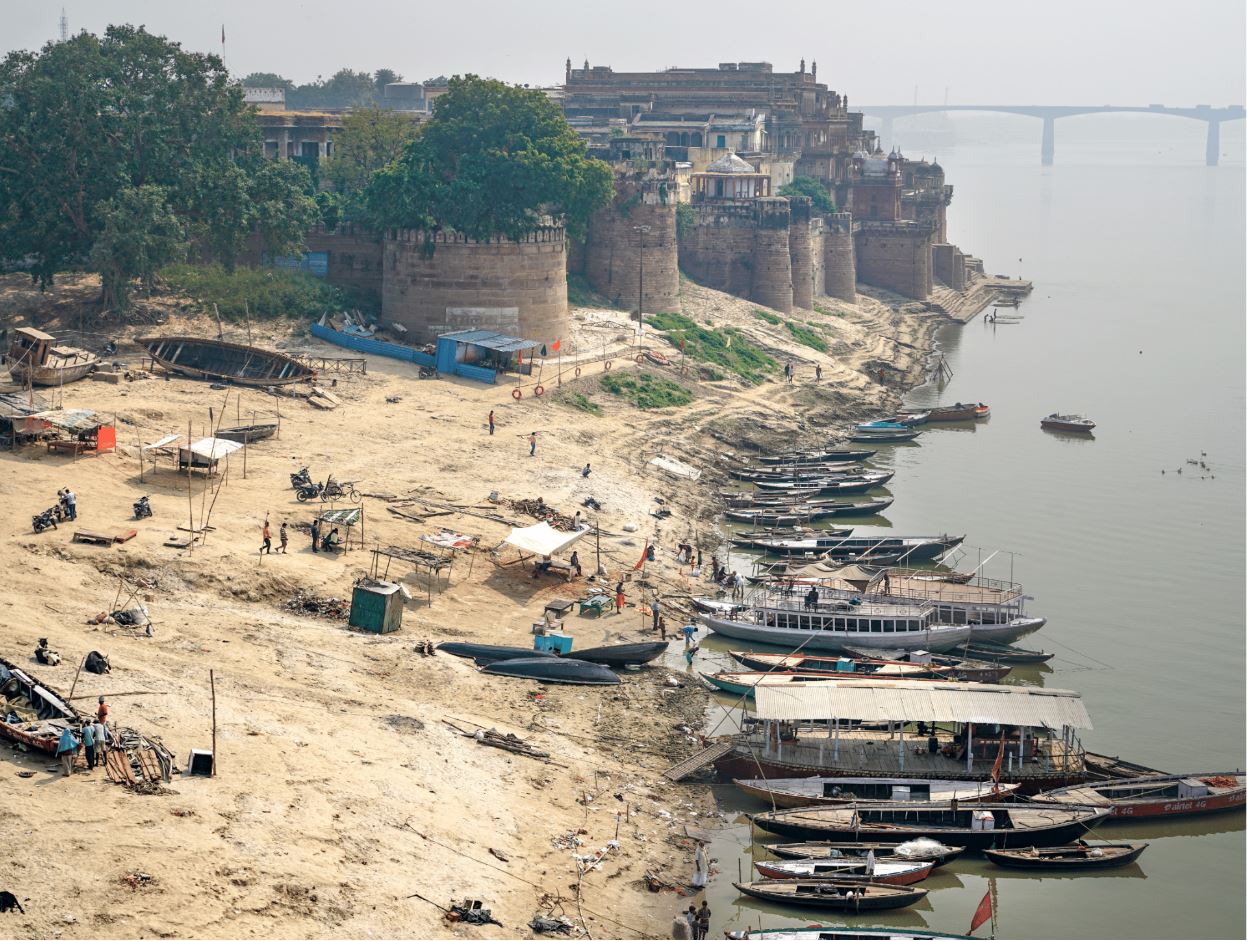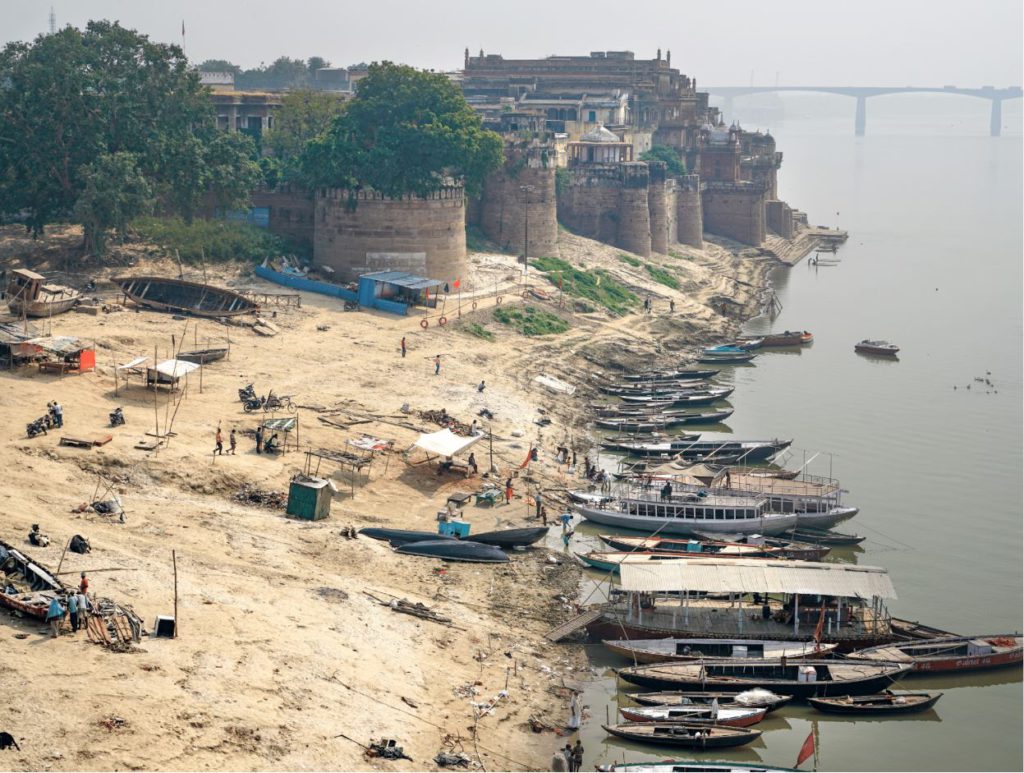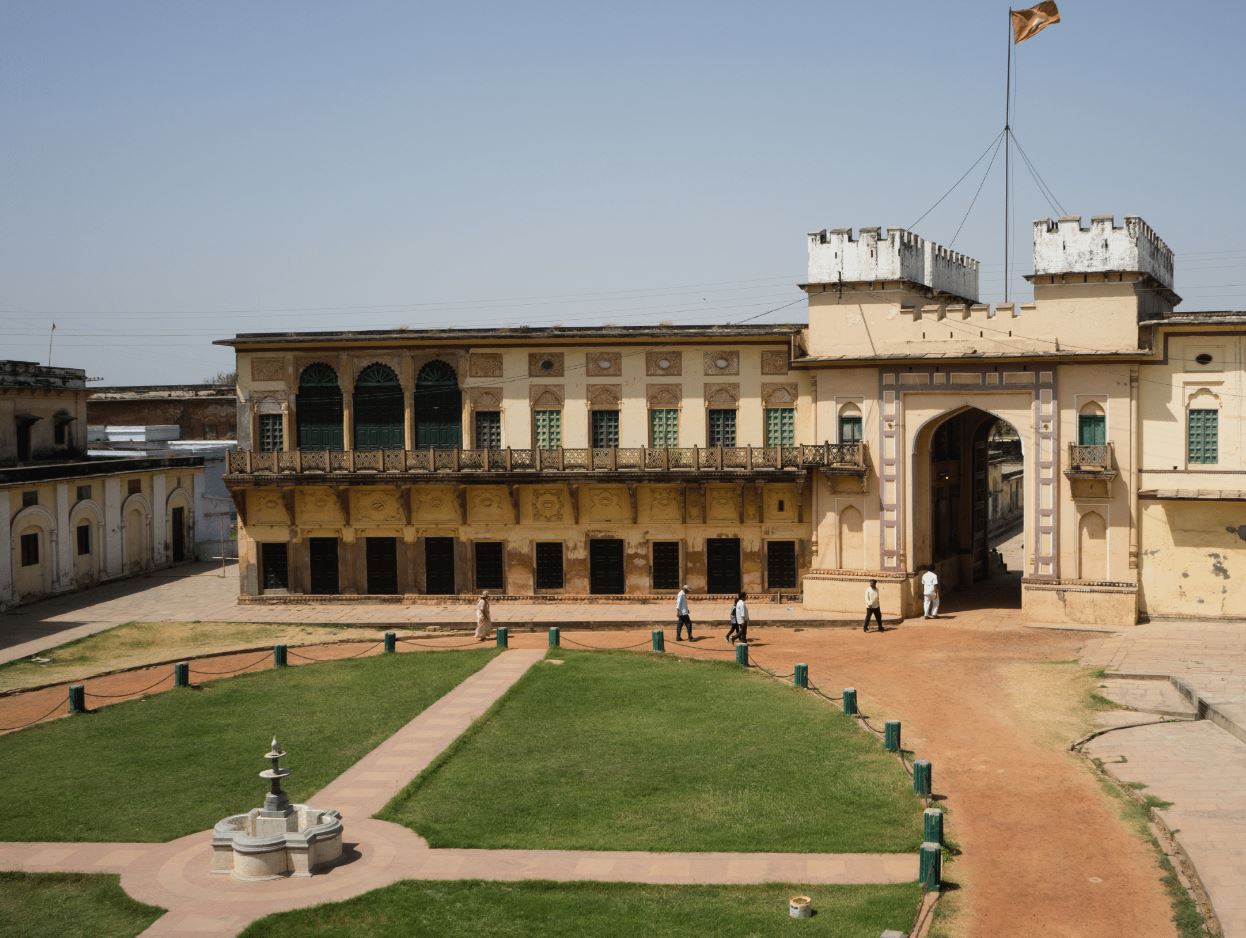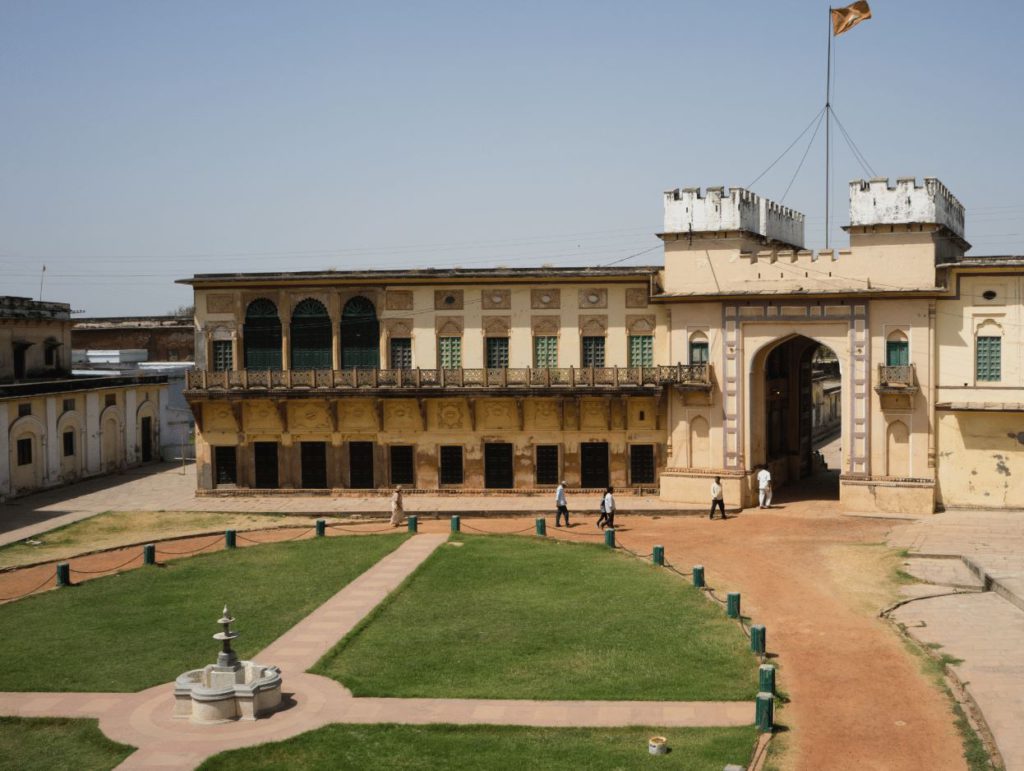 Chunar Fort
Chunar Fort is located 23 km away from Varanasi on the banks of river Ganga. It offers an opportunity for a road trip around Varanasi. Chunar Fort is in Mirzapur district and is famous for its historic importance and mythical stories.
The origin of the fort remains a mystery. But the available historical facts say that the fort has changed hands several times between the central Asian invaders and long-time Mughal emperors.
The first construction of the fort goes back to 11th century. But historians have traced back to its acquisition by Sher Shah Suri and to a garrison of the Mughal emperor, Babar. The tombs of some of his soldiers are still venerated here.
The fort is still in great condition. Oh btw, Chunar fort was also the location of shooting of 'Gangs of Wasseypur'.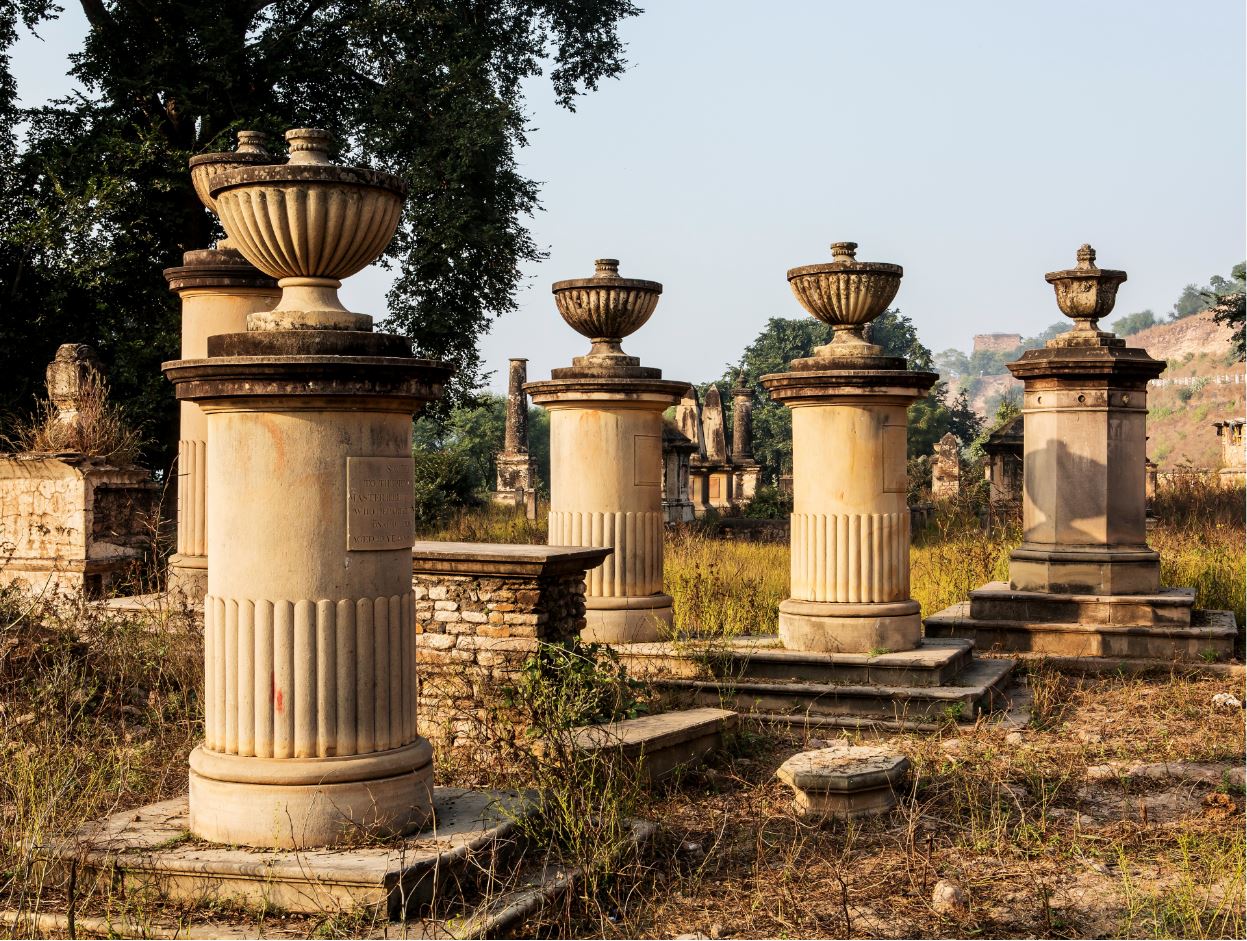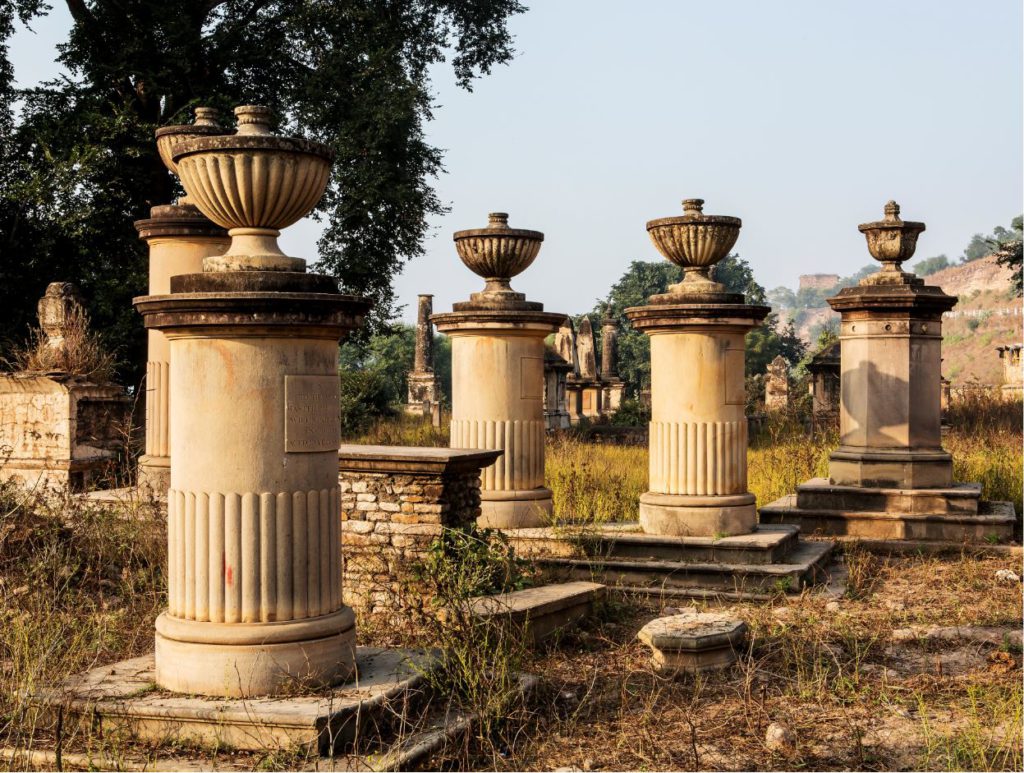 Sarnath
Located 10 km away from Varanasi, Sarnath is a famous destination for a Buddhist pilgrimage in India. After achieving enlightenment at Bodhgaya, the Buddha came to Sarnath seeking his former companions and thus gave his first sermon here. Thus, Sarnath became the birthplace of the 11th Tirthankara. It is of religious importance for Jains too. Here you can find some peace from the crowded ghats and markets.
Popular places in Sarnath include the Dhamekh Stupa & Monastery Ruins, the Archaeological Museum, the Chaukhandi Stupa, the Ashoka Pillar, the Mulagandha Kuti Vihar, and the Chinese & Thai Temple and Monastery.
How to reach Sarnath: You can find daily trains from Varanasi to Sarnath. It would take one hour to reach Varanasi from Sarnath via train.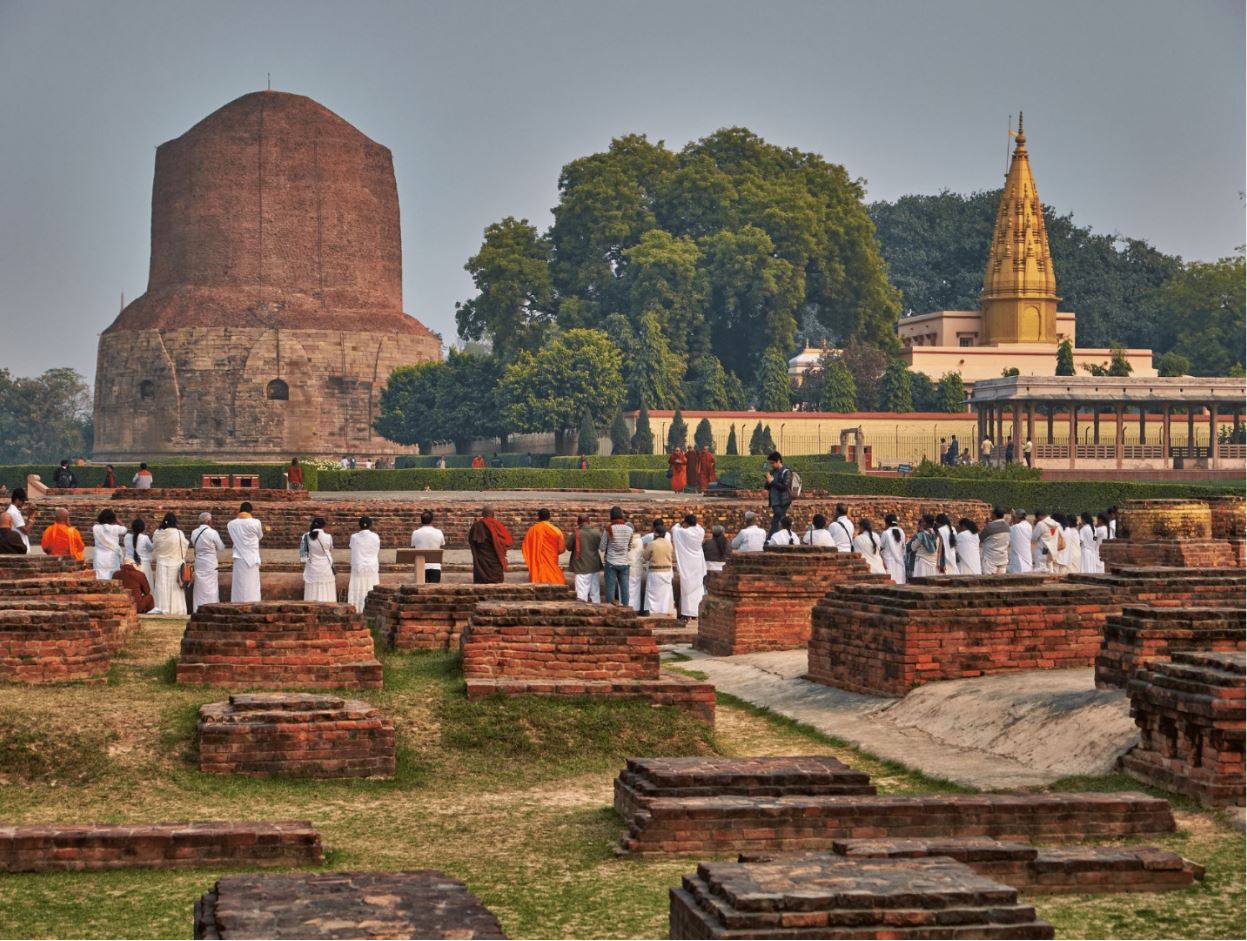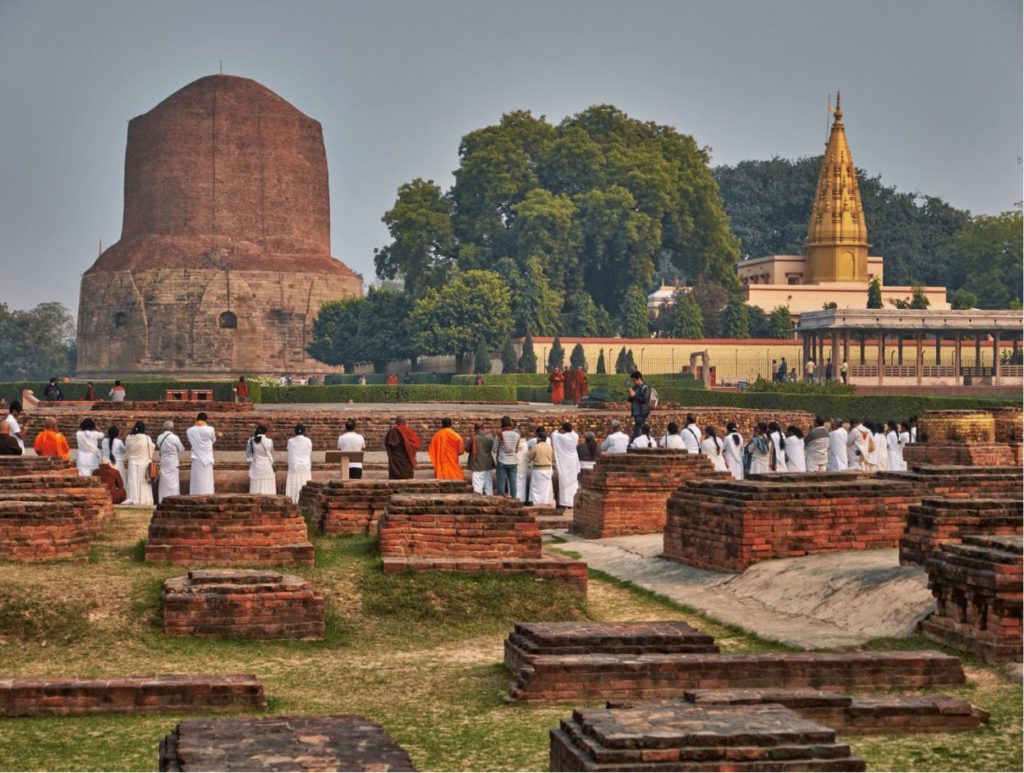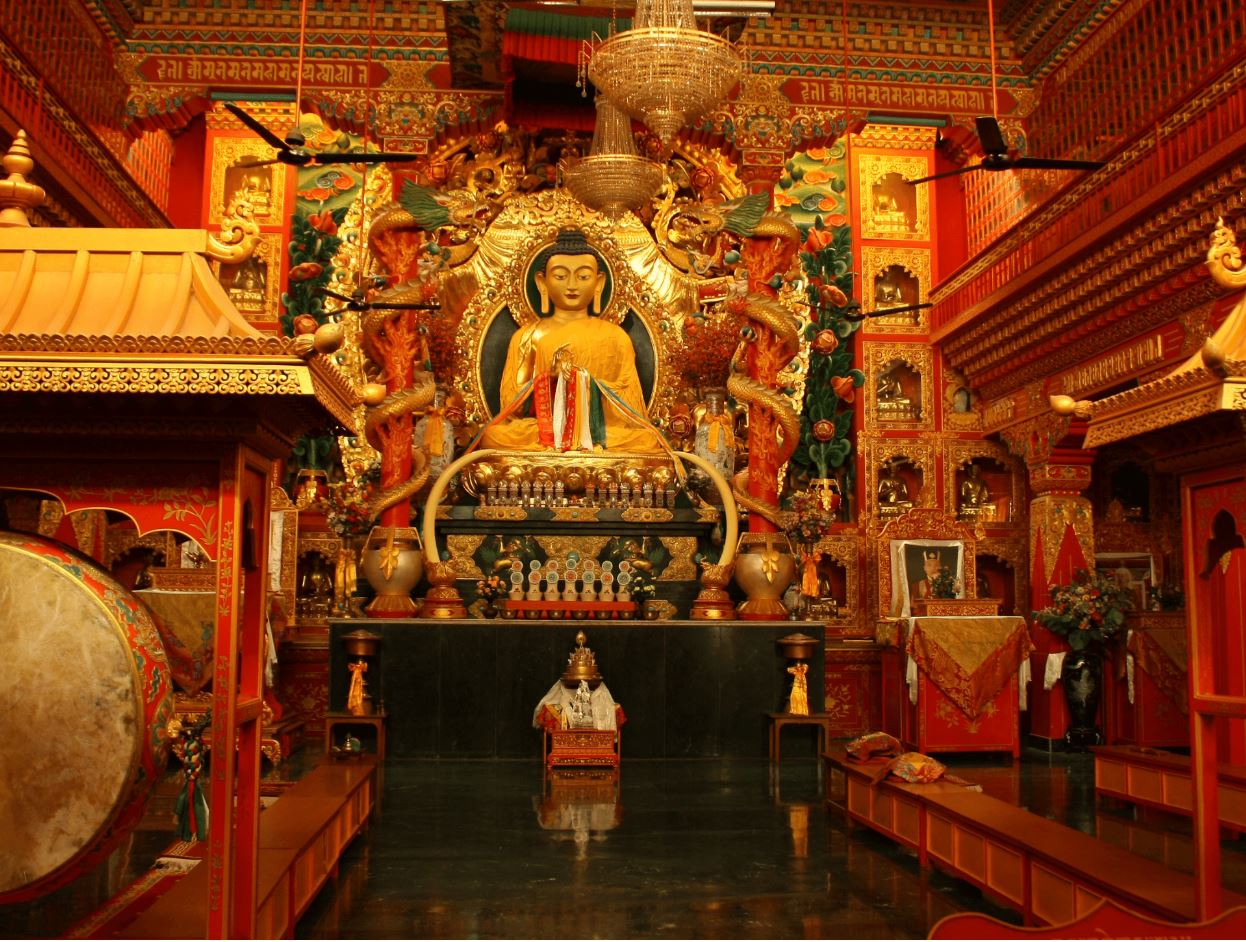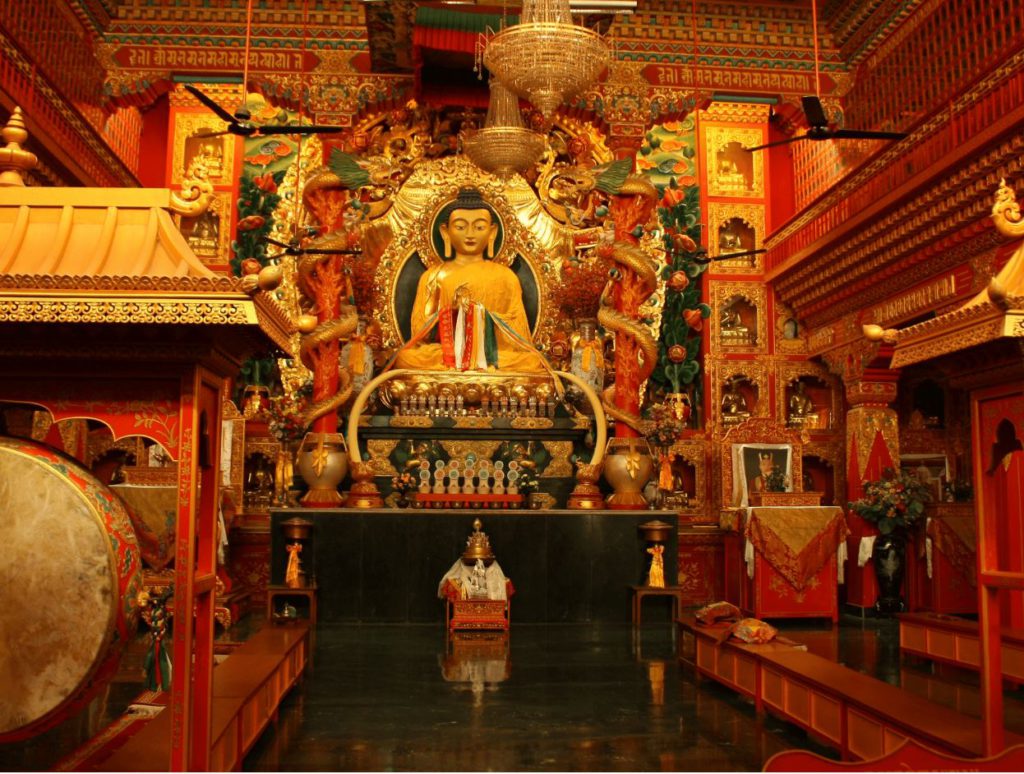 Other Popular things to do in Varanasi
There are many local shopping places in Varanasi like Godowlia Market, Vishwanath Lane and Thatheri Bazaar from where you can buy Banarasi sarees, brocade, religious items, handicrafts and different knickknacks.
Kashi Chaat Bhandar and Deena Chaat Bhandar in Godaulia and Chachi Ki Kachori in Lanka are the best places to enjoy authentic street food delicacies of Varanasi. Do not miss Tamatar ki chaat, kachori sabzi, Tikki chole, Gol Gappe and Chhena Dahi vada, Blue lassi among others.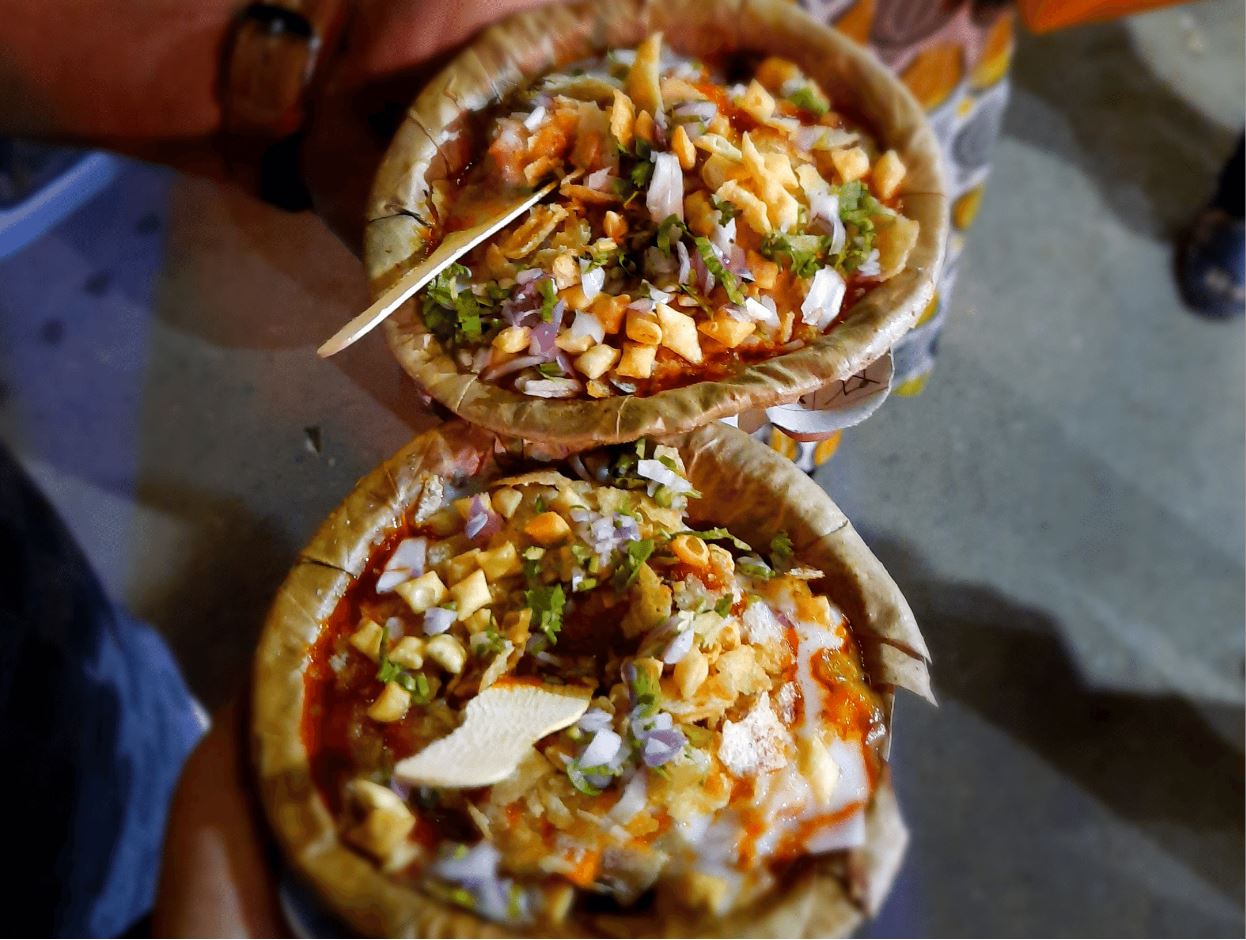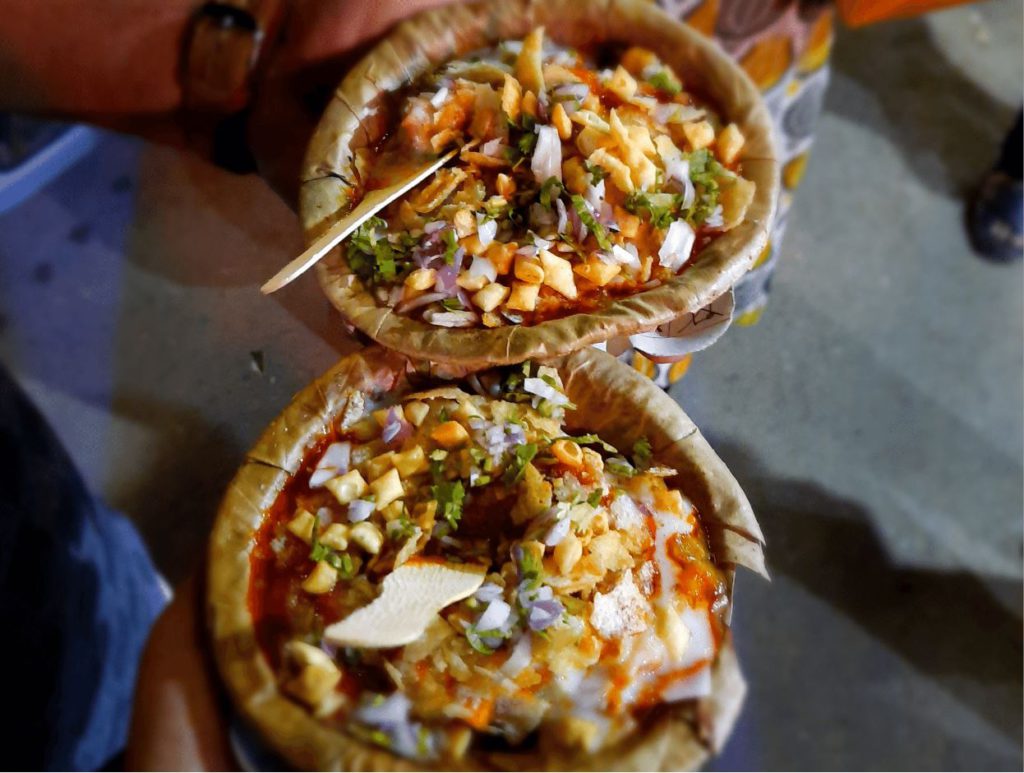 Where to Stay in Varanasi
You can find every kind of accommodation in Varanasi ranging from hostels, budget hotels, Airbnbs to Luxury palaces. The best area to stay is along the river Ganges. There are several accommodation options with terrace or balcony views overlooking the river. If you can, get that.
Here are some of the best options I can suggest:
Hostels: ON The Ghat By Howdy Hostels (recommended), HosteLaVie – Varanasi, goStops Varanasi, Zostel Varanasi
Budget Hotels: Hotel Bachchan Palace, Sugar Stars Inn, Hotel Temple On Ganges (river view), Hotel Banaras Haveli (on Assi ghat)
Luxury Stays: Palace on Ganges Hotel (river view), Hotel Surya Kaiser Palace, Amritara Suryauday Haveli, BrijRama Palace – A Heritage Hotel (super luxurious)
How to reach Varanasi
Flight: Varanasi's Lal Bahadur Shastri International Airport operates direct flights from Delhi, Mumbai, Kolkata, Bangalore, Chennai, Hyderabad, Goa, Jaipur and many other cities in India as well as abroad.
The airport is 24 km outside the city centre. The easiest and the only direct way to reach the city is a prepaid taxi that costs ₹700 (can come down to ₹500 upon negotiation) and takes around 30 minutes. Ola cabs are also available. You can also catch a bus to Varanasi Railway station from Babatpur crossing that is around 2km from the airport.
Train: Most cities in North India and the major ones in other parts of the country have good connectivity with Varanasi. Varanasi Junction (Station Code: BSB) is located in the middle of the city. You can easily find an affordable option to reach anywhere in the city just outside the station.
You can look for trains and their schedules on trainman.in and book the trains on private portals like makemytrip.com or on the Indian Railway's official website.
Bus: You can also get a bus from most of the nearby cities like Prayagraj, Lucknow, Kanpur, Gorakhpur and Patna. You can head to the city's bus station and enquire for the next bus. However, most buses are rickety and you will have to take special care of your luggage.
You can also book your ticket ahead for AC/Deluxe/Sleeper buses. Use redbus.in for the most convenient options.
How to go around in Varanasi
Varanasi is a chaotic city and you will probably not be able to figure out a clean way around public transportation if you are there for the first time. An easier way is to pick your own transport option for the day.
Day tour: If you want to see places in and around Varanasi quickly and with comfort, you should go for a day tour. It is affordable especially if you are in a group or with family. You can ask around at any of the tours and travel shop in the city or talk with your accommodation owner for help.
A full day cab (8 hours) will start somewhere more or less ₹1,200 depending upon the type of vehicle. If you are chatty, you can talk to the driver for local insights. Check out online services like chikucab.com or savaari.com that provide full-day cabs/day tours.
Cabs: You cannot just wave a cab around in Varanasi and expect it to stop. But you can book them online. Ola cabs are widely available in Varanasi and charge fair rates. If you want to customize your trip or just want to get around freely, this is the best way in comfort. Just download the app (if you already don't have it).
Auto-rickshaw: Since you are in India, you can always get an autorickshaw to go around. If the weather is good, it is the most fun way to get around. The prices are ambiguous though. The driver will quote you a price and you hop on if you think it's fair. It usually hovers around ₹12 per kilometre. Shared autos are far cheaper.
Do not get in without an agreement to the price beforehand or you will be caught by surprise later. Keep google maps handy too or the drivers often take you for a long ride (literally).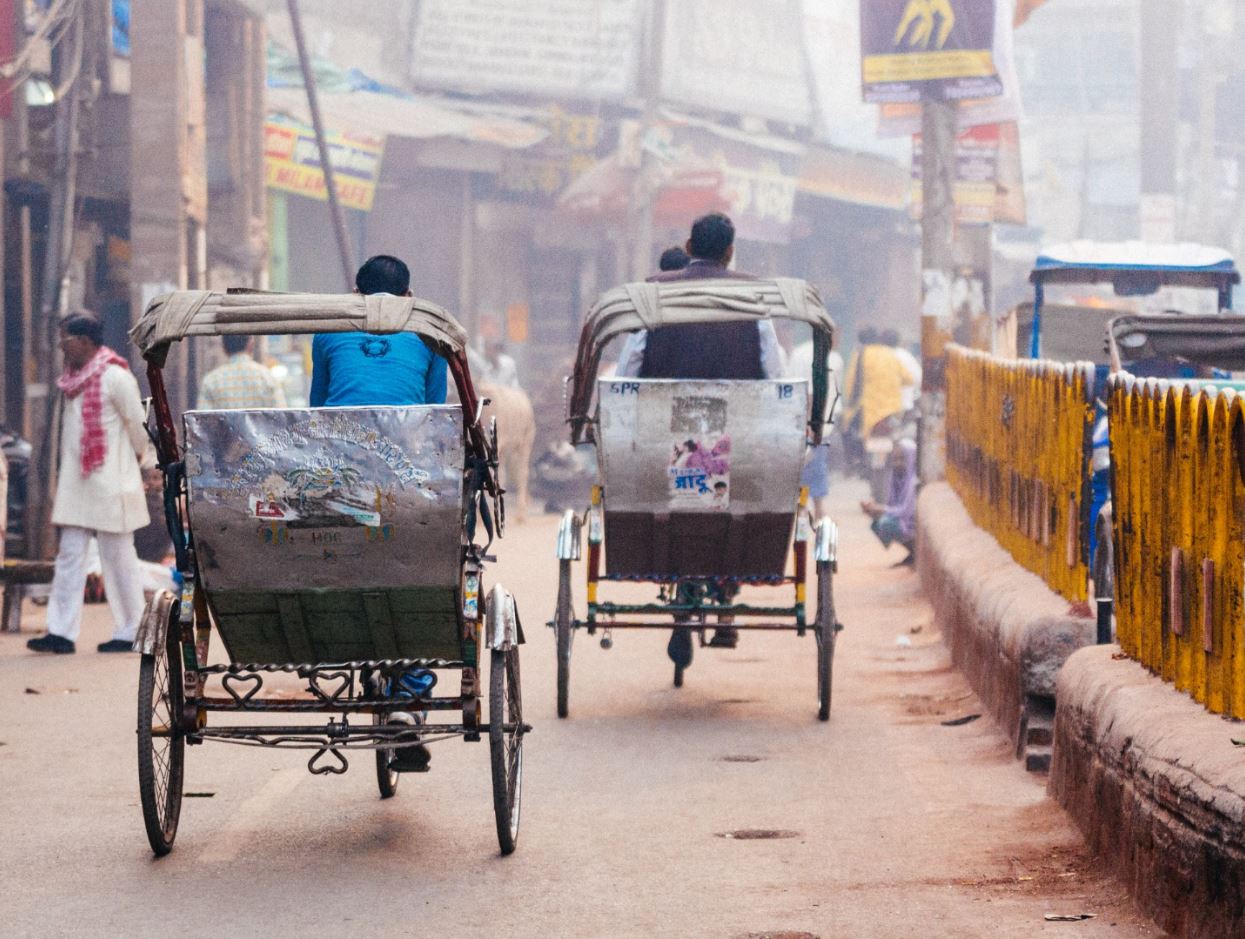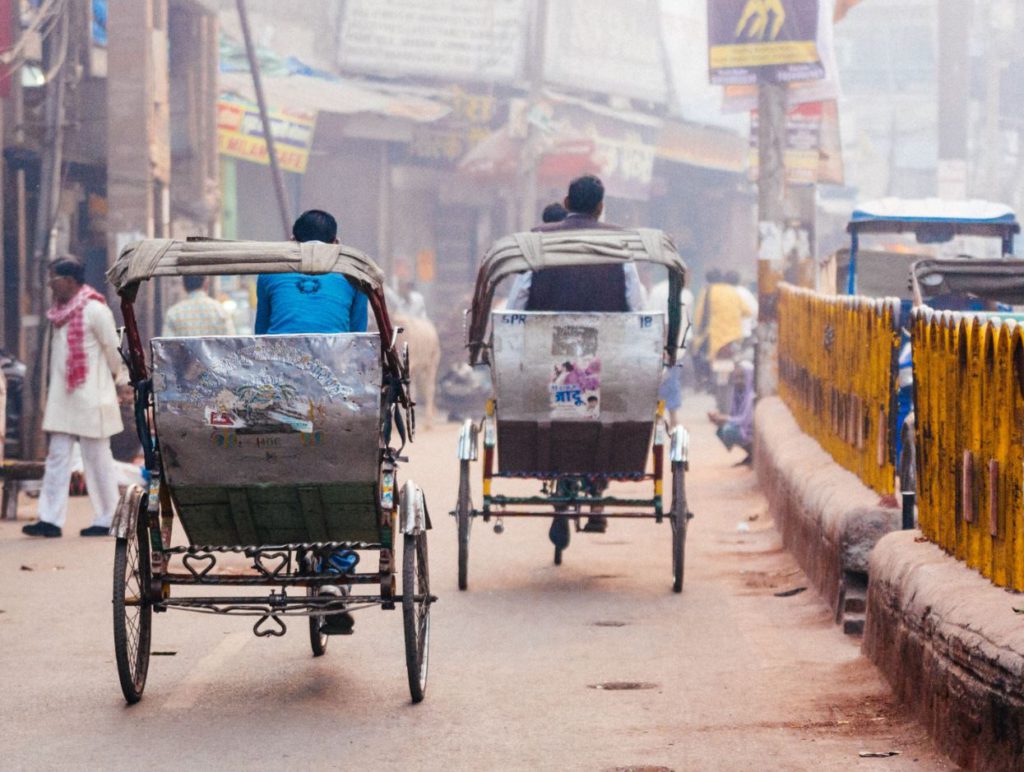 Best time to visit Varanasi
Weather is extreme in northern India. The summers are hot and scorching and winters will leave you cuddled up in blankets in your rooms. While winters are still better than the summer, the best time to visit Varanasi is during spring and autumn.
Spring & Autumn: The months of February, March, September, October and November are best to visit this area. The skies are clear and the weather is cool enough to remain outdoors for the most part of the day. The temperature hovers around 23-27°C during the day.
Winter: The next best time is winter that starts in late November till the end of January. There is occasional rainfall but the days are clear with ample amount of sunshine. Make sure you have packed for it.
Summer: Summers are hot and dry not just in Varanasi but across north and central India. Heatwaves are common. Avoid travelling during this season. If you are here in summers, stay indoors during the day and stay hydrated.
Festive Seasons: While the town celebrates Ganga and Buddha Mahotsava along with Mahashivaratri in exceptional grandeur, you can also find yourself caught in the crowd and commotion. Unavailability of hotels can also be a pain.
Other festive times to visit are during Diwali and Chat Puja (dates shift every year) that are festive enough but leaves you space to breathe and enjoy.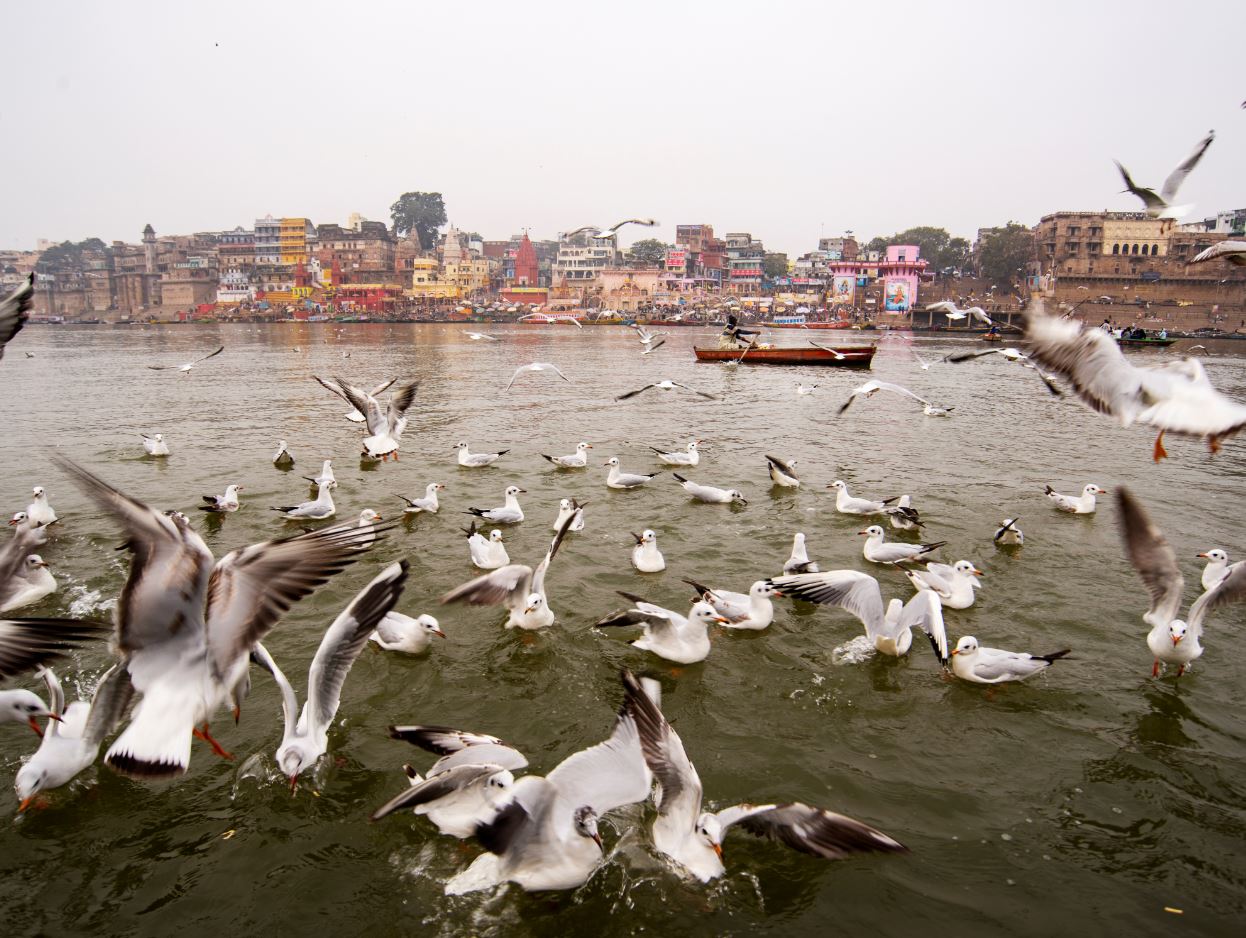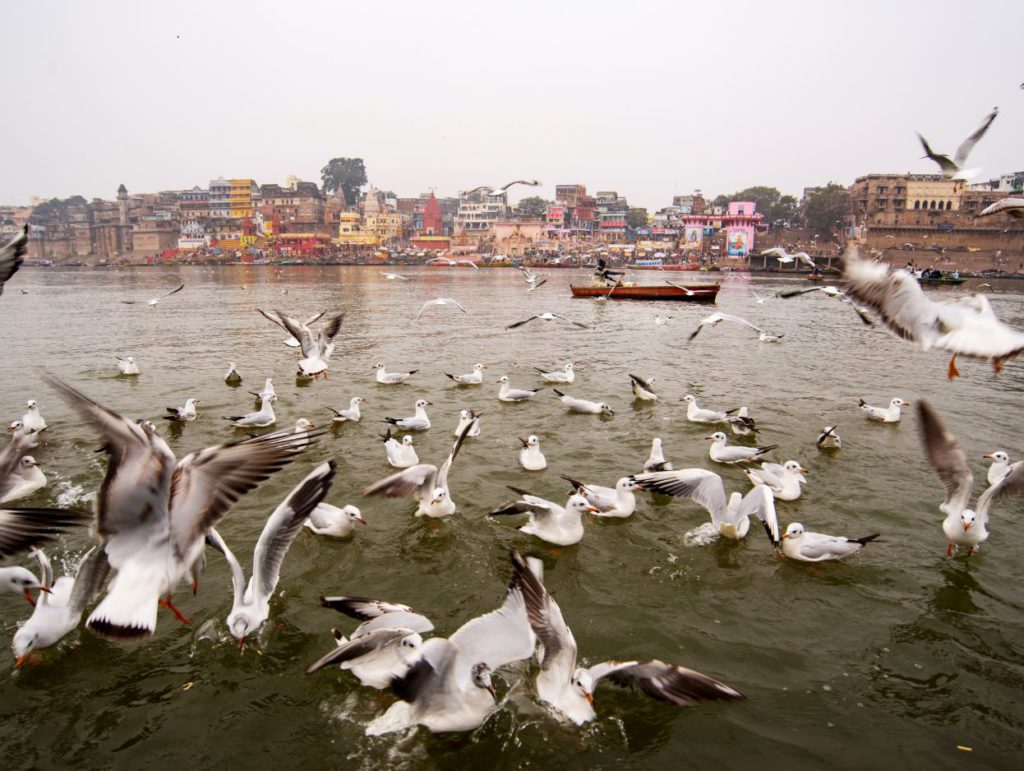 Save On Pinterest


Related Articles