03 Apr

Penang Street Art Map – Interactive Google Map

Chaos, a blast of hot and humid air, double-storey shophouses with slanted roofs and local peddlers sleeping on their tri-rickshaws greet you as you step in Penang. At an overview, Penang is an island of urban settlement. But at its heart, it is quirky, hipster and a blend of ethnicity.

Recently, Penang Street art is the subject matter of international fame. And to make your exploration easy let me share a complete interactive Penang street art map. But before that, I have some facts to share. And I think they are as important as the art that you will explore.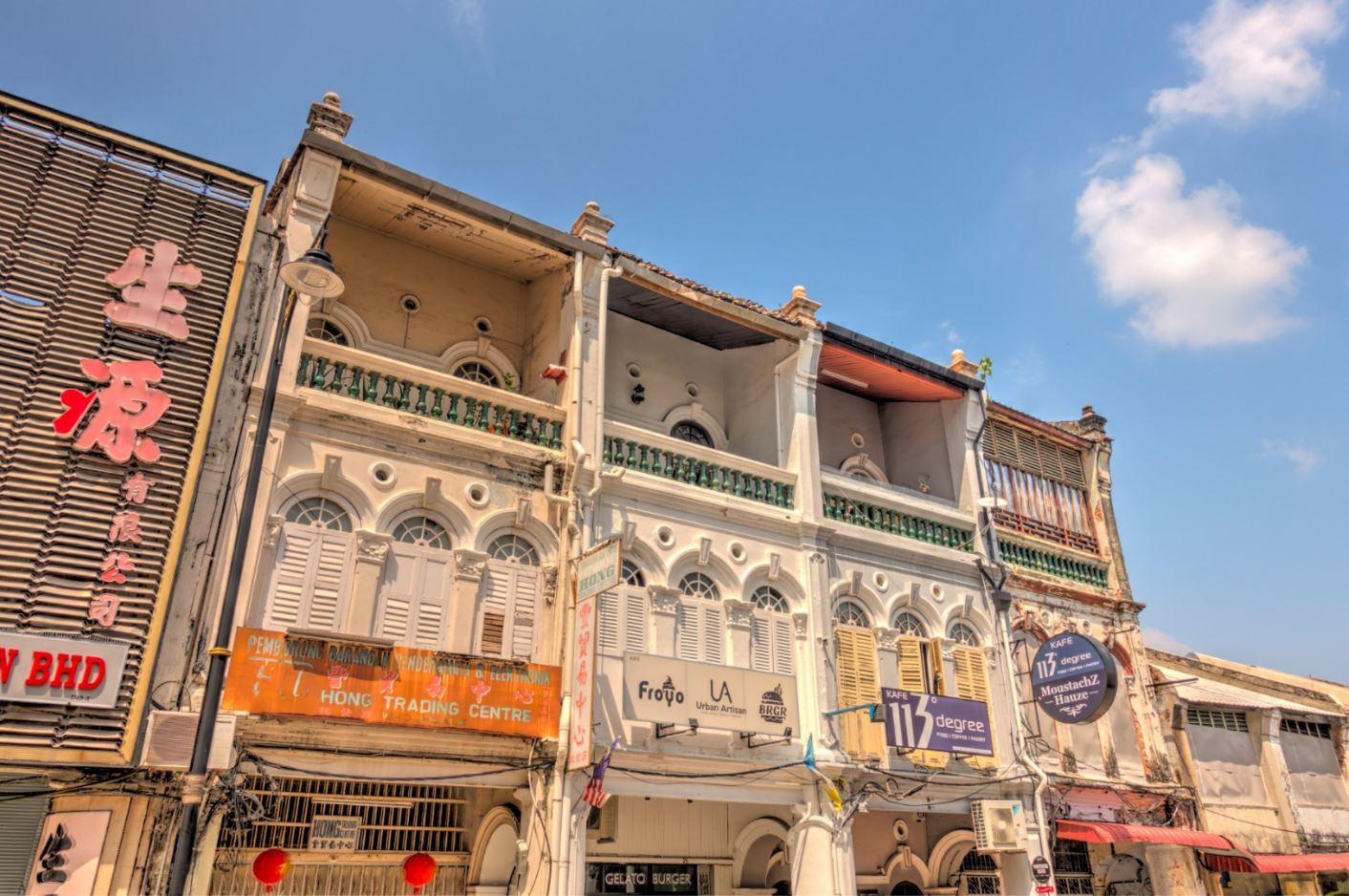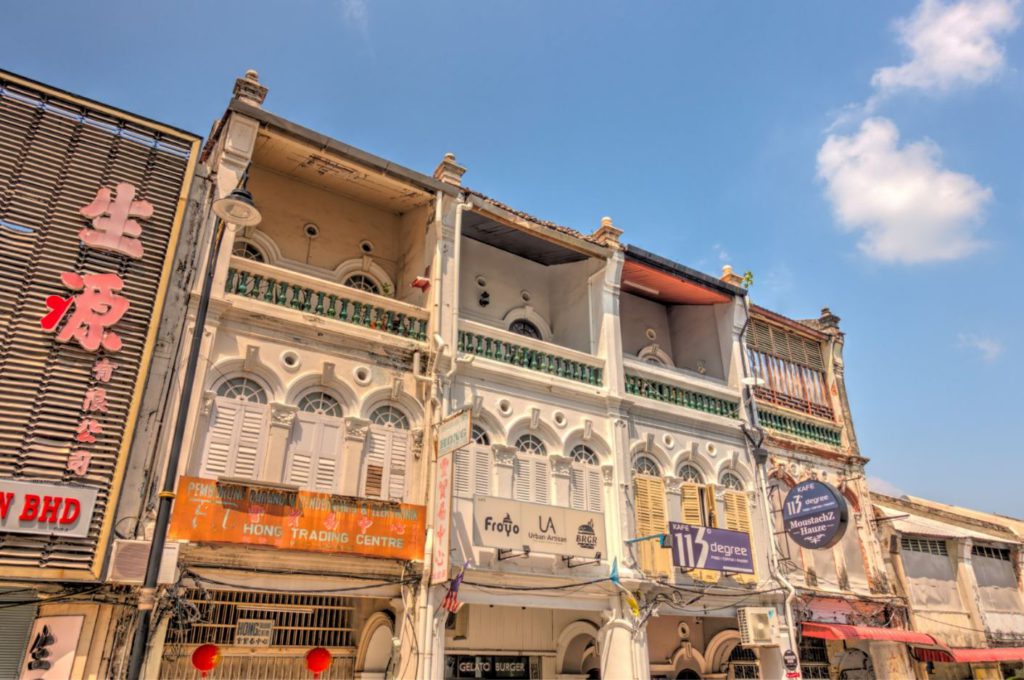 Where is Penang?
Penang is an island city and also a Malaysian state located at the northwest shore of the Malaysian Peninsula. The state of Penang technically comprises of both – Penang Island and some areas of the mainland. It is located just south of the border of Thailand. The island is connected by the mainland with a bridge and separated by the Penang Strait.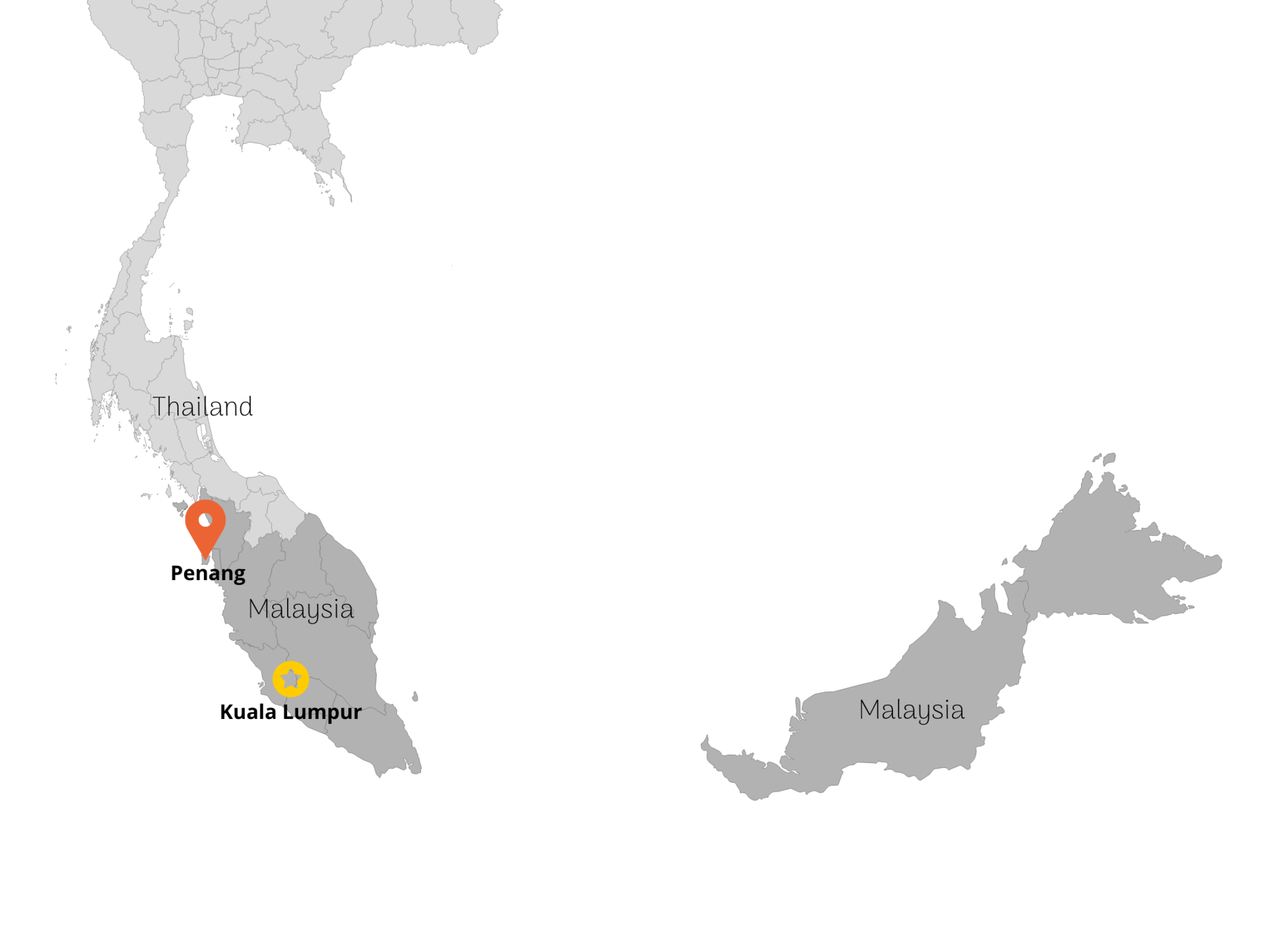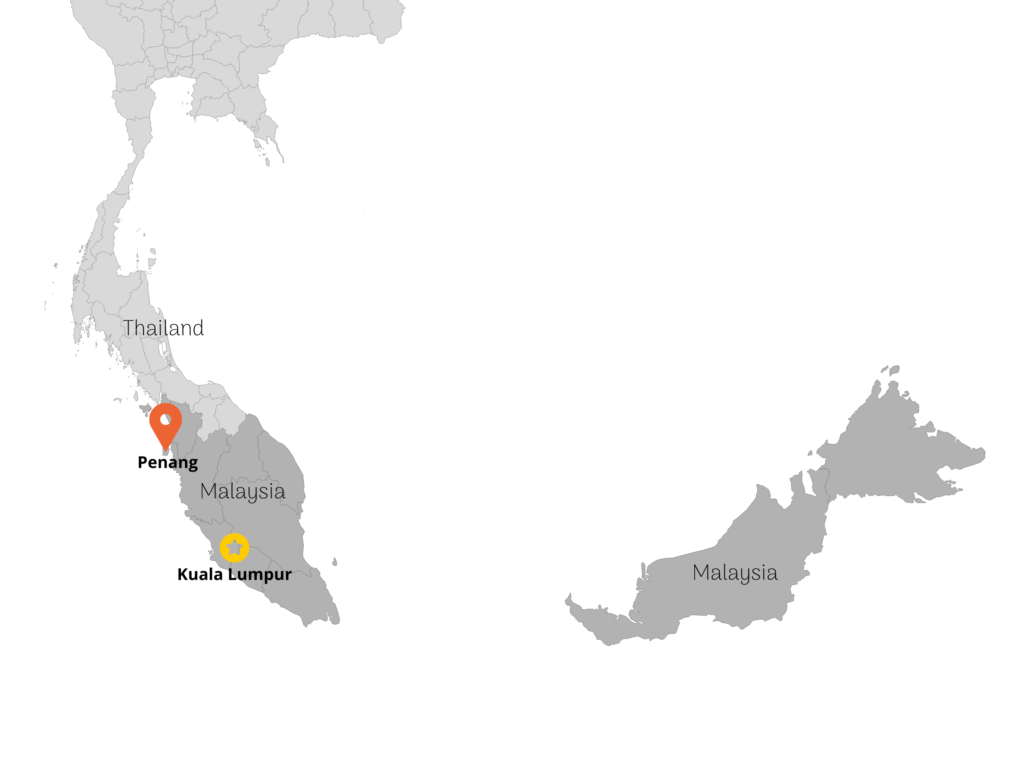 Penang History
Penang rose to its current-day state because of earlier English colonisation. The British East India Company took the right to trade on the island in 1786. They acquired it completely and was briefly named as Prince of Wales Island.
As a free port, the island prospered and attracted merchants and labour from surrounding countries. Penang, along with Singapore became the stronghold and trading hub around the Strait of Malacca.
A melting pot for several communities, Penang became home for many Chinese, Malay, Indians, Peranakan, Eurasian and Siamese people. The minorities included Burmese, British, Javanese, Sinhalese, Jews, Germans and Armenians. After its independence and assimilation in Malaysia, poverty and unemployment increased after free trade ceased on the island.
However, in later years manufacturing, service and tourism sector re-infused life on the island. Today it is the second most prosperous city in Malaysia in terms of GDP and employment ratio.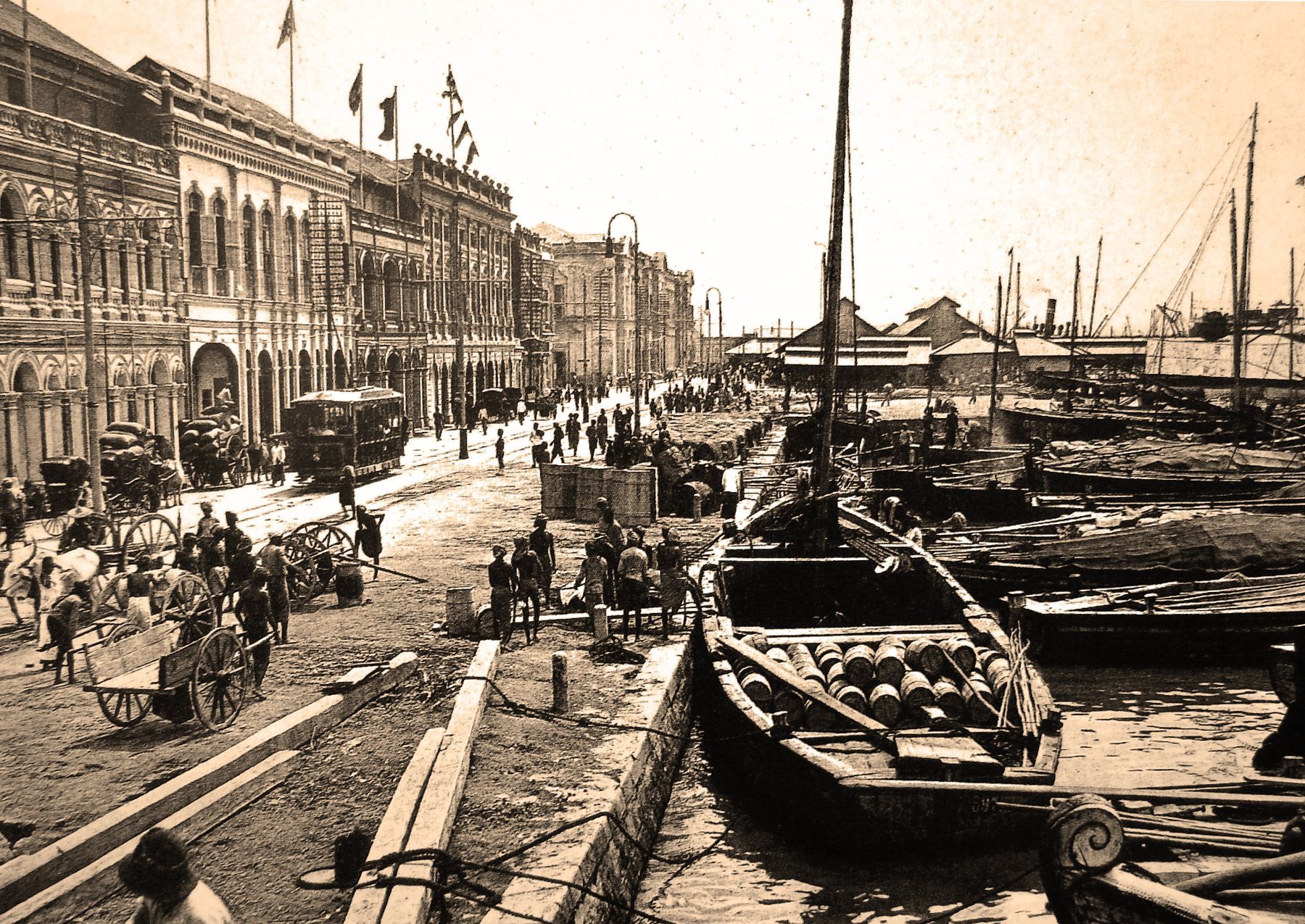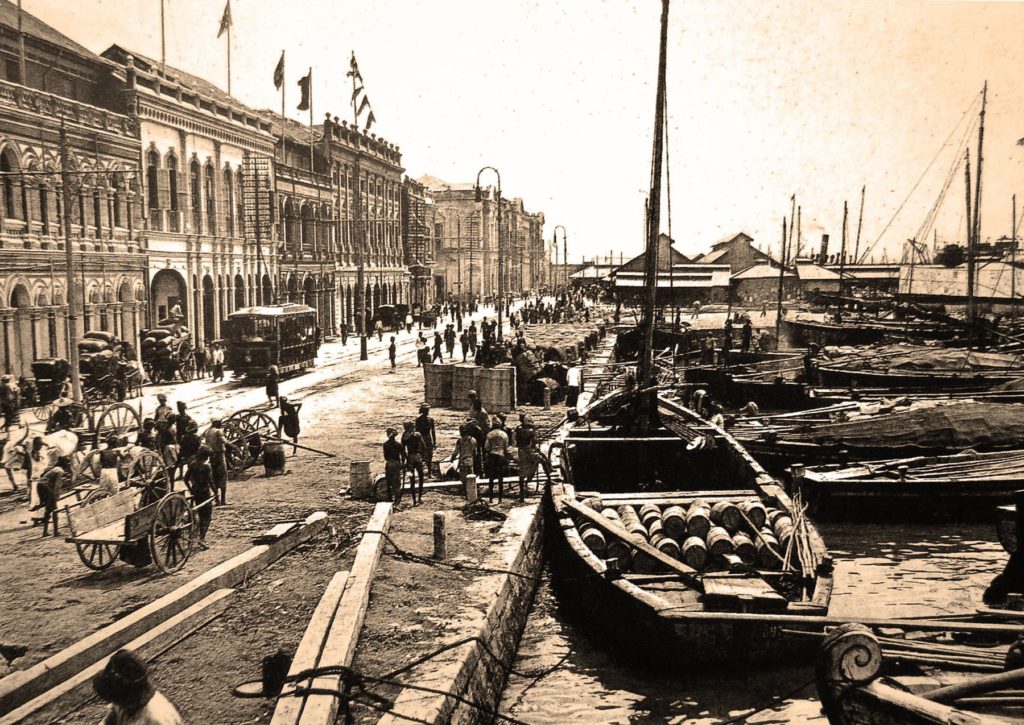 Why is Penang Popular
Amongst tourists, Penang is popular for two things – Art and Food. All this happens inside the throbbing cultural neighbourhood of Georgetown. In recent years, the local authorities commissioned projects on art and sculpture across Georgetown.
As you take to the streets, you will see a lot of art and cultural walks in motion. Tourists walking with a Penang street art map trying to locate murals like a treasure hunt game is fun to watch.
Food is unique in Penang, even amongst Malaysians. Due to a crazy number of flavours in food, it is hard to locate the origin of its ingredients. You will find popular like traditional Malay Nasi Lemak, Chinese Hokkien Mei and desserts like Cendol almost everywhere.
Flavourful Indian curries, Dosa, Siamese Pad Thai, and Tom Yum Soup also came as a surprise to me. The best part is, you can get them at the numerous street vendors and are extremely affordable.
Food walks is another activity to enjoy in Penang. For the best experience, do it with a local. Check out Penangfoodie.com for the best places to eat.
Take a food tour: Heritage on a Plate Food Tour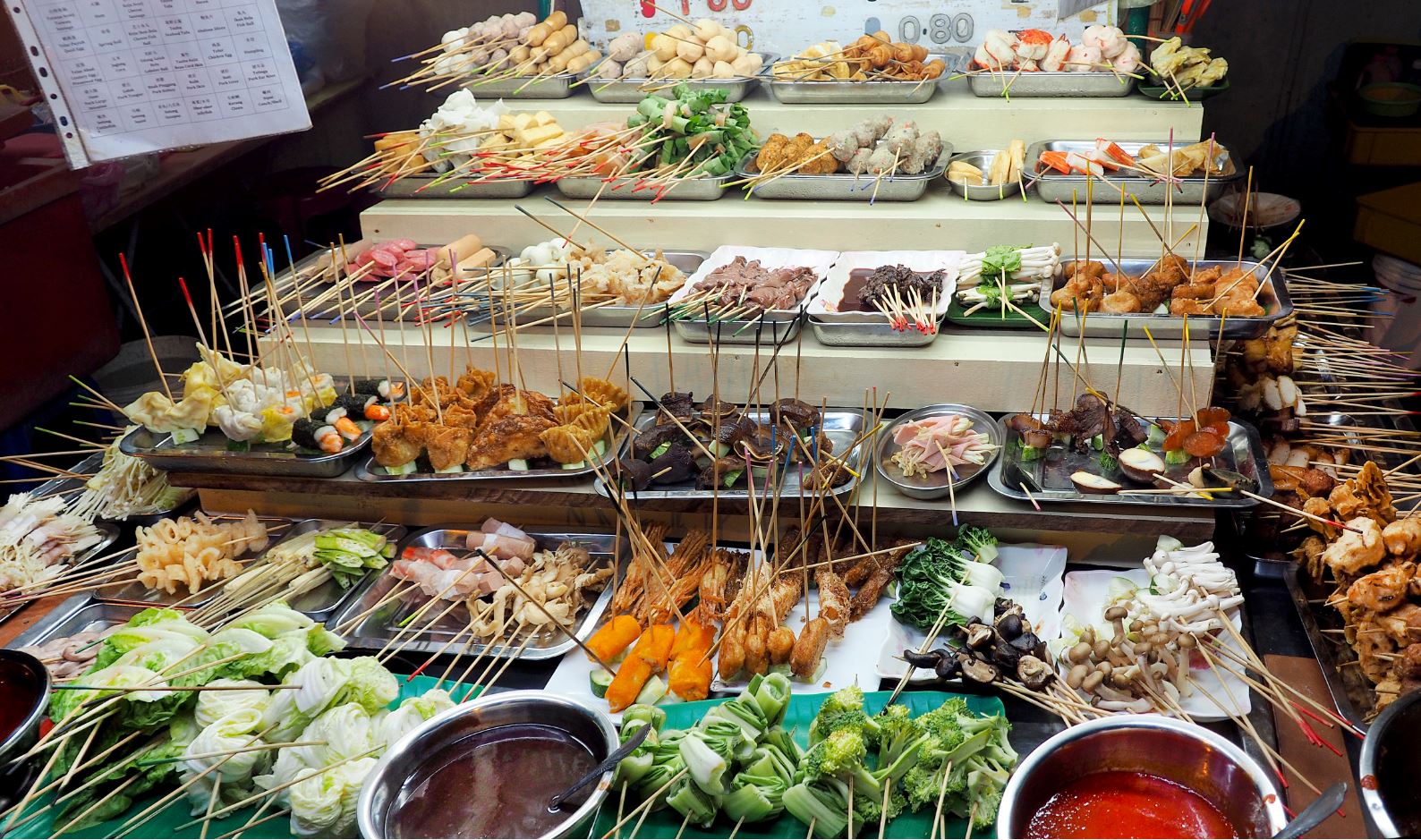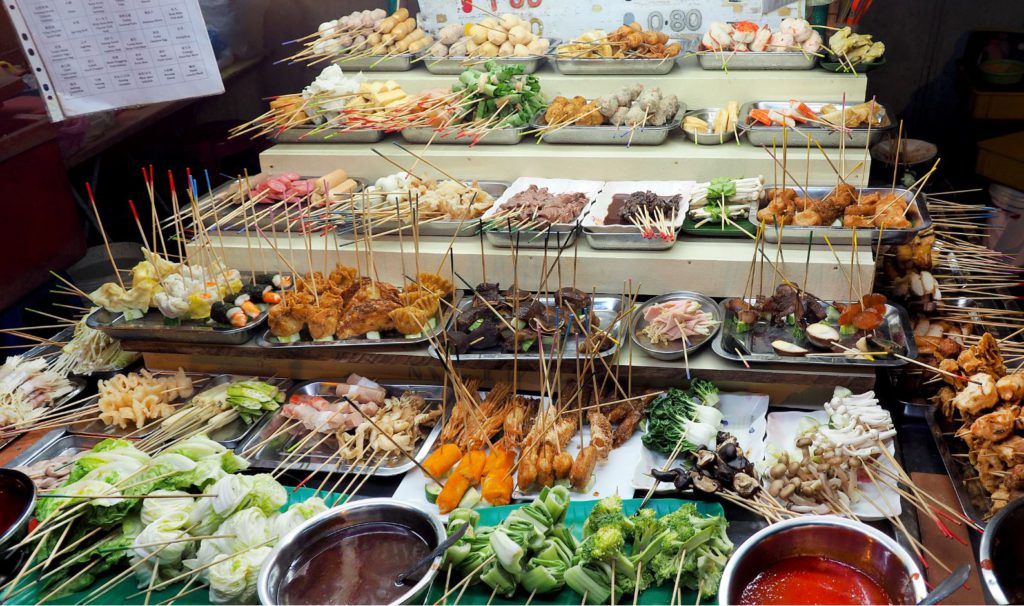 Georgetown World UNESCO Site
Georgetown is the official capital of the State of Penang. Georgetown was also the first British settlement in South-East Asia. Due to a large diaspora of communities, Georgetown has a distinctive architectural and demographic identity.
The most unique of all is the Peranakans or the Baba-Nyonya community. The Peranakans are an eclectic mix of the Chinese lineage into Malay customs. Muslims, Christians, Buddhists, and Hindus live together with their temples, mosques and churches huddled up next to each other.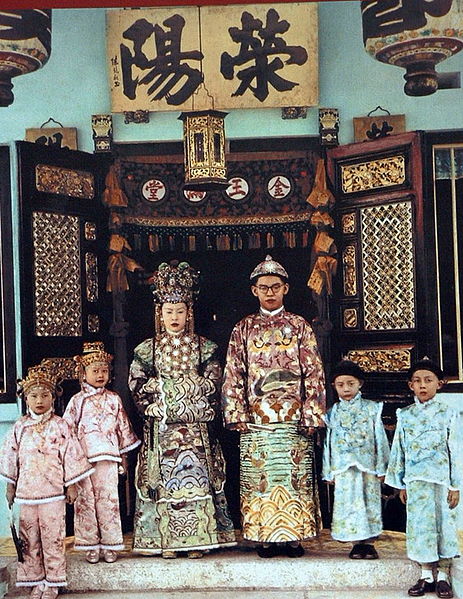 You will come across colonial-era bungalows, heritage buildings like Fort Cornwallis, City Hall, High Court, St.George's Church, and Eastern & Oriental Hotel. Traditional shophouses with commercial units on the ground floor and residential quarters on the first-floor line the whole of Georgetown.
Georgetown is a UNESCO world heritage site since July 2008. In 2012, the municipal council of Penang hired a London bases Lithuanian artist named Ernest Zacharevic. They commissioned him to experiment with art forms in the old town.
With various murals, this instantly became a success and gradually got fame with foreign tourists. They later commissioned another project to a local studio for 46 iron sculptures. The sculptures talk about history, events and local tales in Penang.

Penang Street Art Map
If you are already in Penang and are about to set out to explore, grab a Penang street art map. You can get a map brochure from your hotel lobby/reception, tourist center online.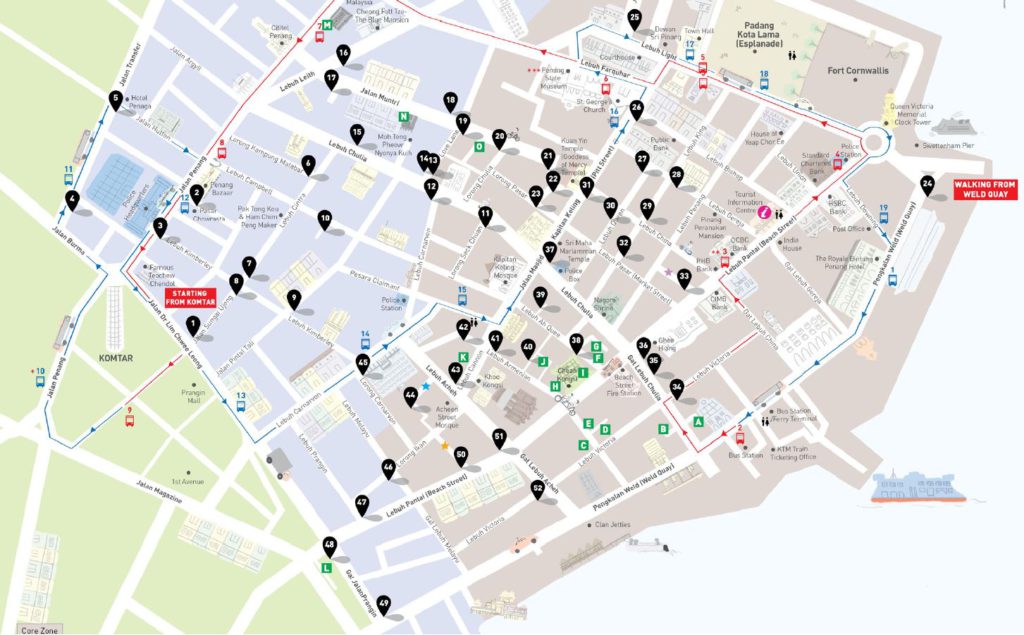 This is the official Penang street art map by Penang authorities that has locations to all iron sculptures and popular murals. However, there are many murals that are not a part of this list. You don't need to worry about it.
As you move in the narrow streets of Georgetown, you will come across many by chance anyway. Follow groups around you for a while to see where they are heading.
Here is an interactive map of the same. Just click on the add button on top to add it to your Google maps and use it on the go.
The BLACK ones depict the iron sculptures and the GREEN ones depict the art murals
Another way is to take a group tour in Penang. Local people or agencies organize various group tours for tourists. They take you around the town, explaining the culture, detailing and attributes of the local culture. If you are in Penang for a short while, it's a good way to save on energy and time otherwise spent on searching for art in the streets on a scorching hot day.
Penang Street Art
The most astonishing thing about Penang's street art is that the landscape has not been touched at all. The art and sculptures blend into the city's architecture, seeping in the chaos. Murals are done in whatever space is available that includes the upper floors.
Sculptures fit on the narrow pillars and squeeze in spaces where you will not expect to find them. The peeling paint and the concrete patch make a part of the painting.
The themes depict the daily lives of people. Spot Girls and boys on bicycle and swing, man rowing a boat and woman carrying pots on her head. The expressions on their face are honest and genuine. There is absolutely no imitation, no preparation. Just snippets from the regular life of people, sometimes mixed with a wild imagination and bizarre events.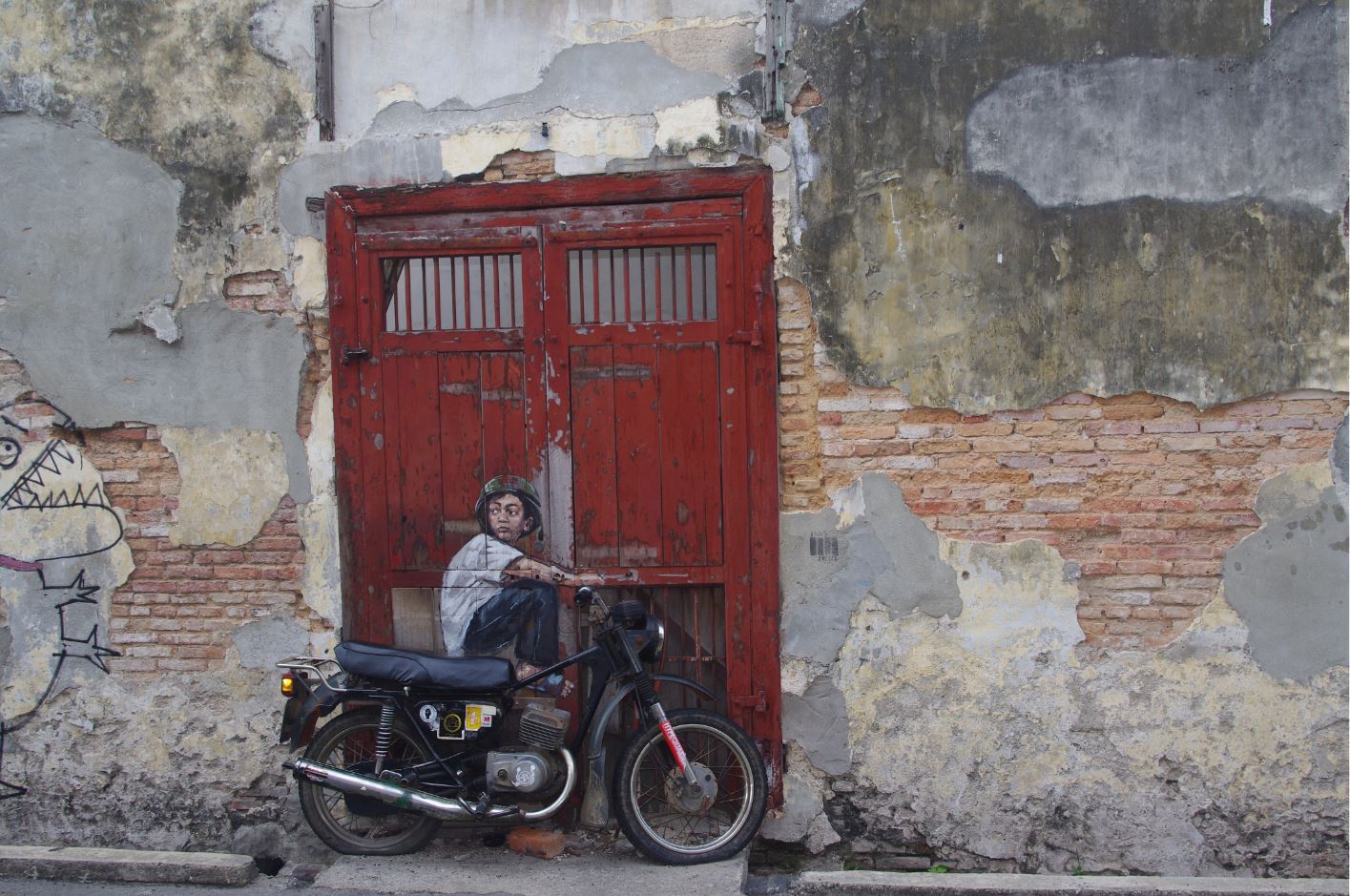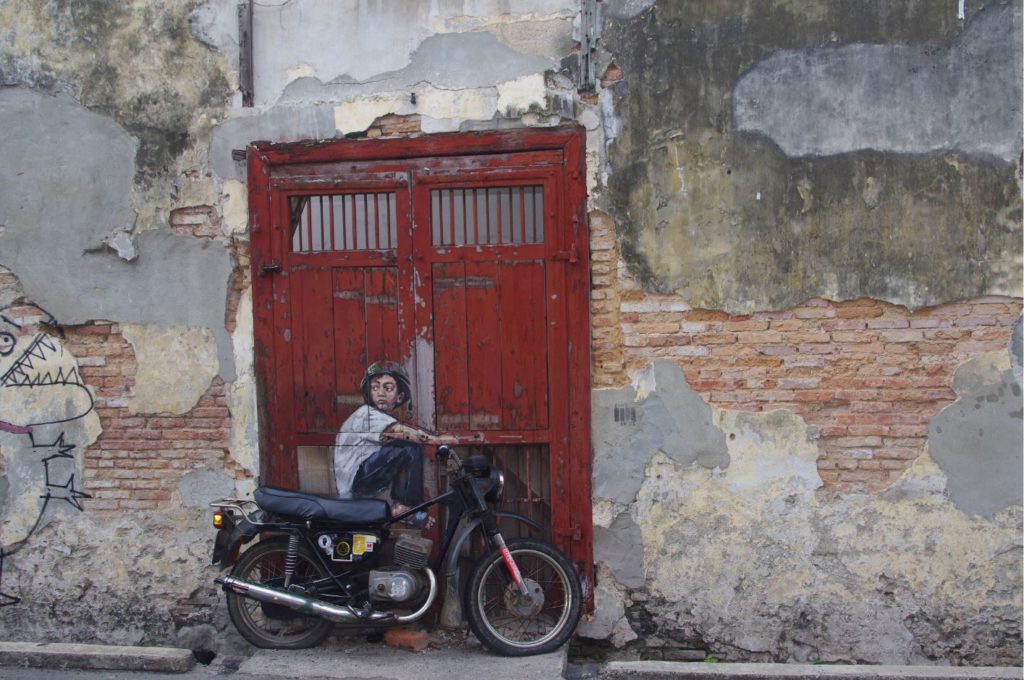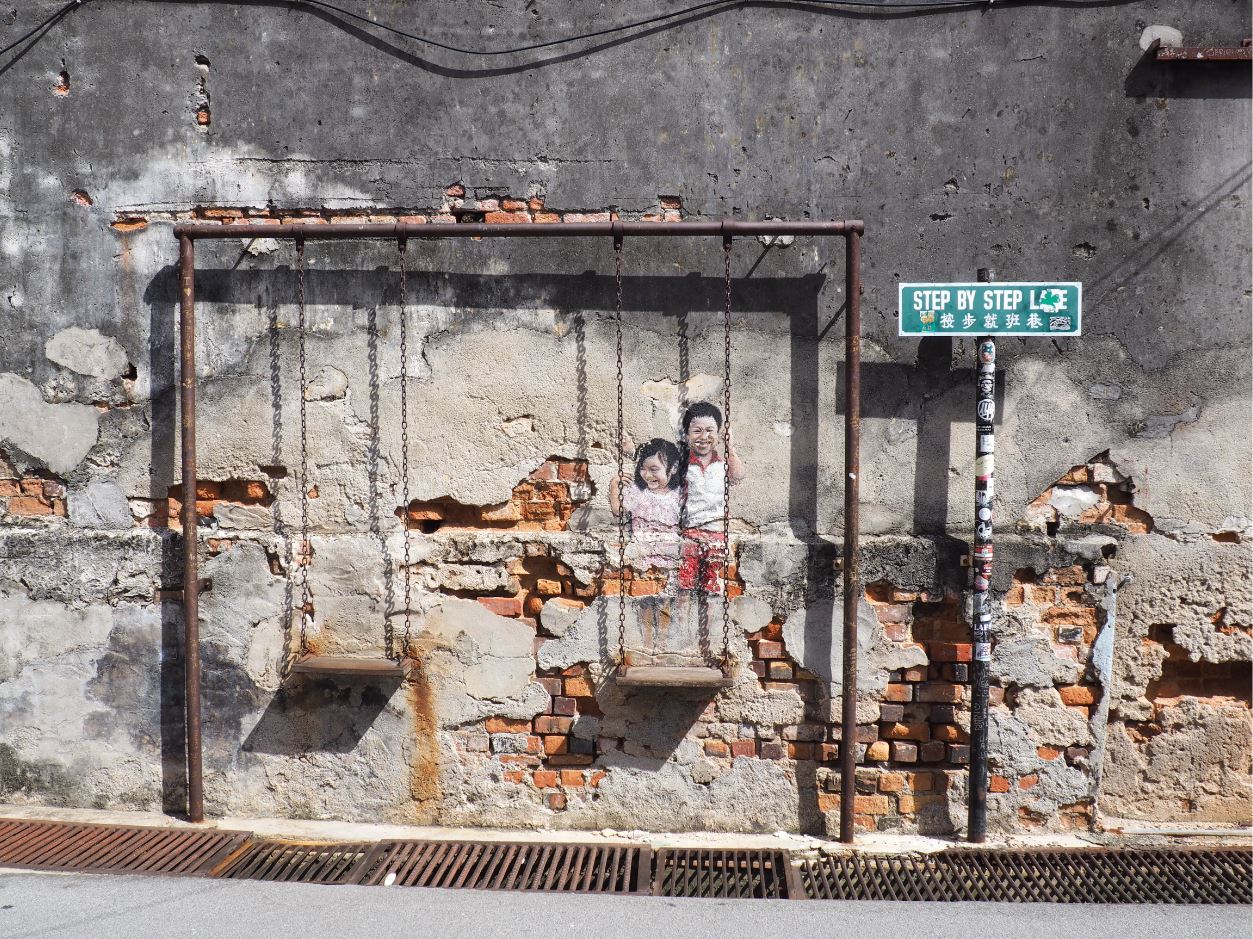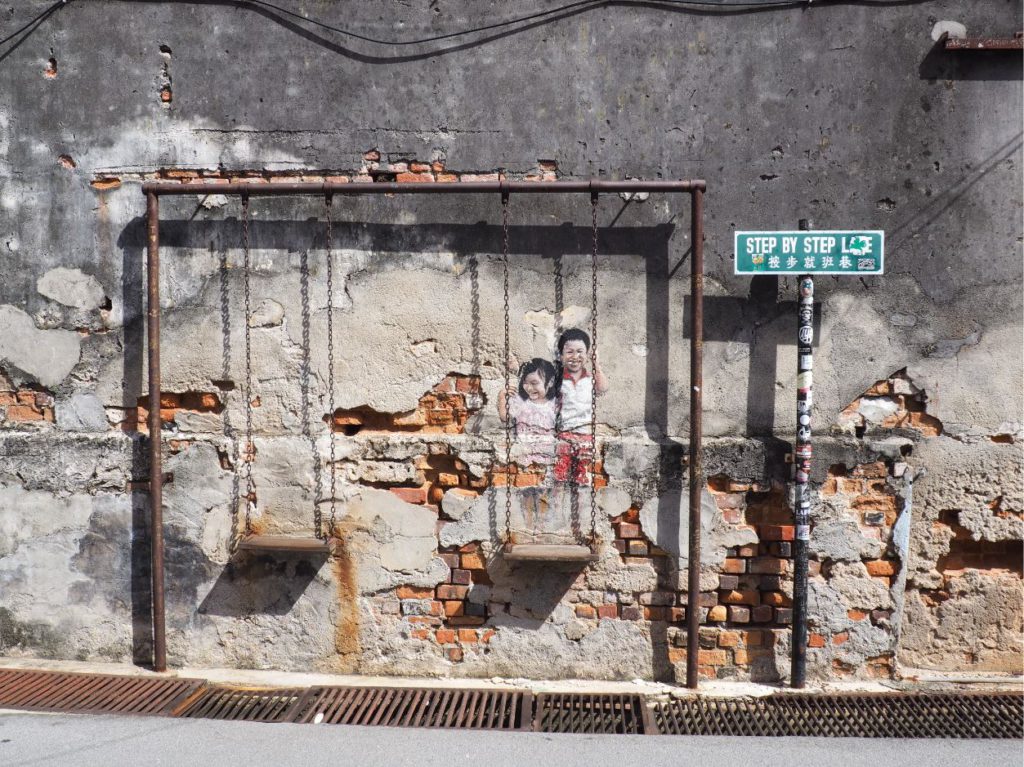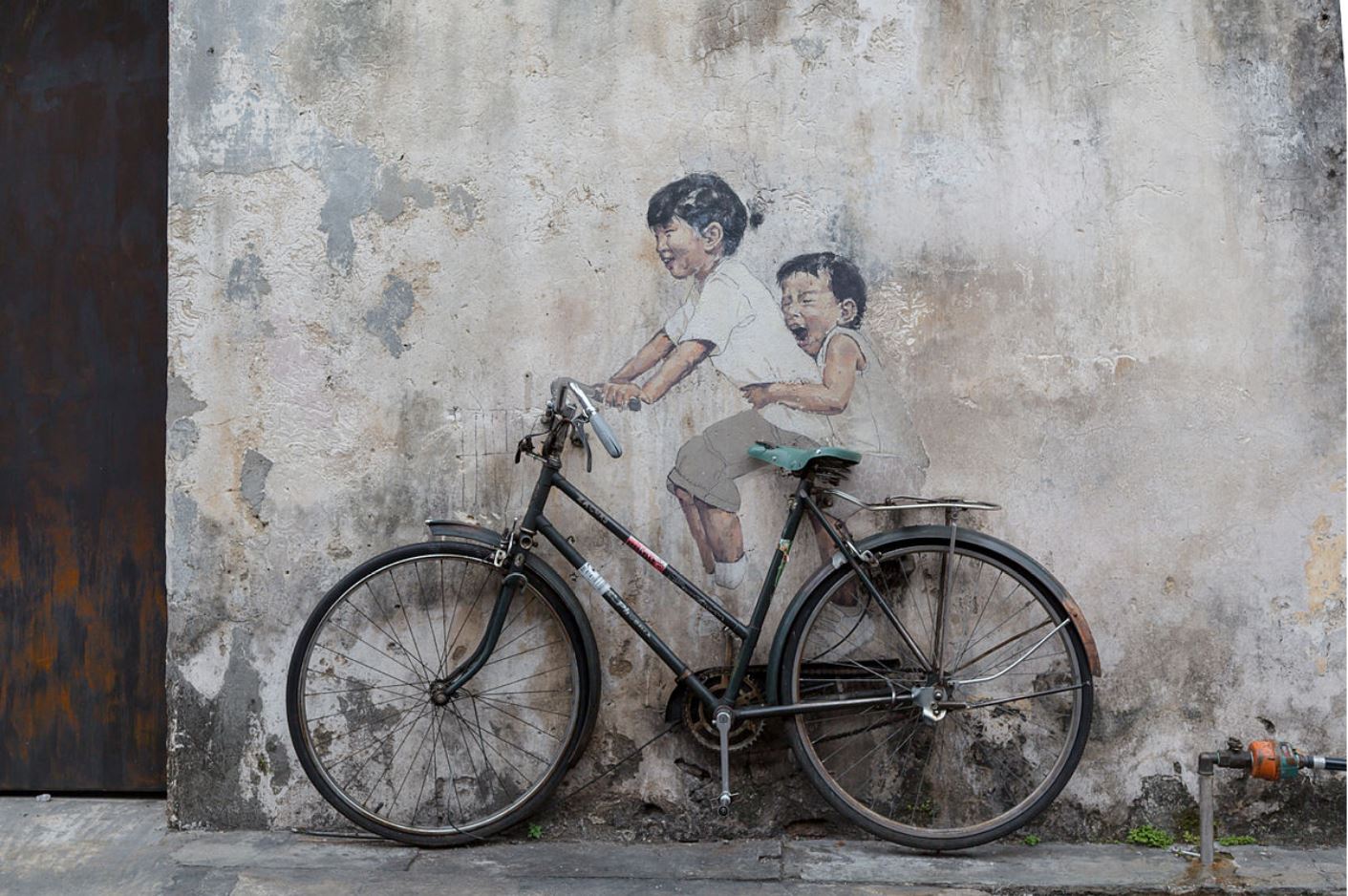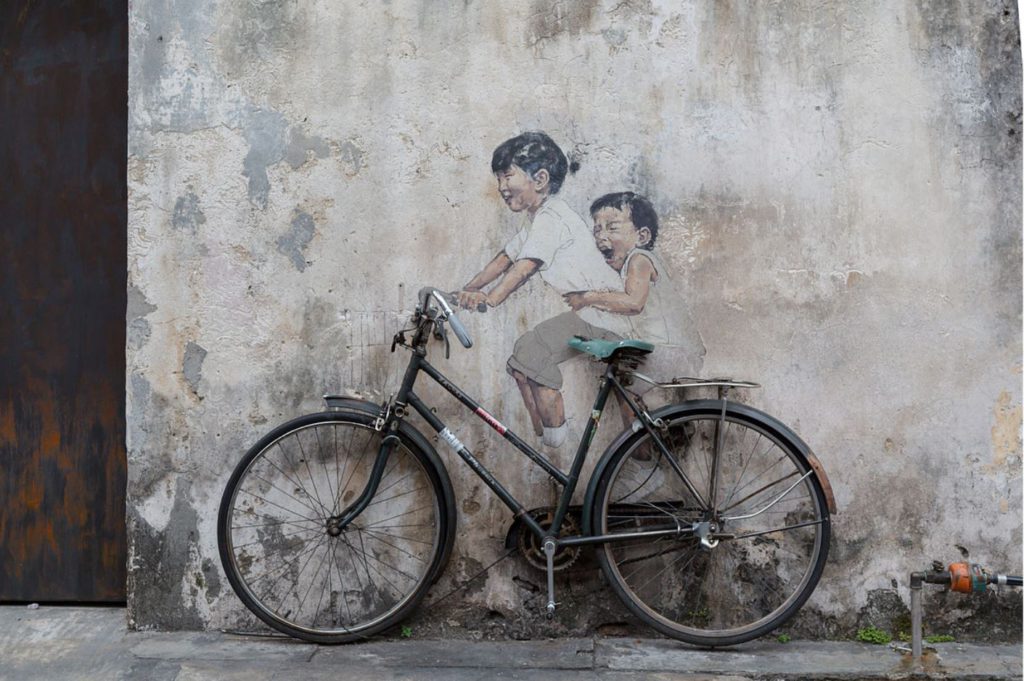 The iron sculptures are particularly done in exaggeration with imperfect humans and local slangs. A one-liner accompanies all sculptures explaining what it is all about.
There are stories of historic candy-making shops to philandering men climbing down their mistress's window. At night, these sculptures light up and particularly make Penang charming worth walking around after sunset.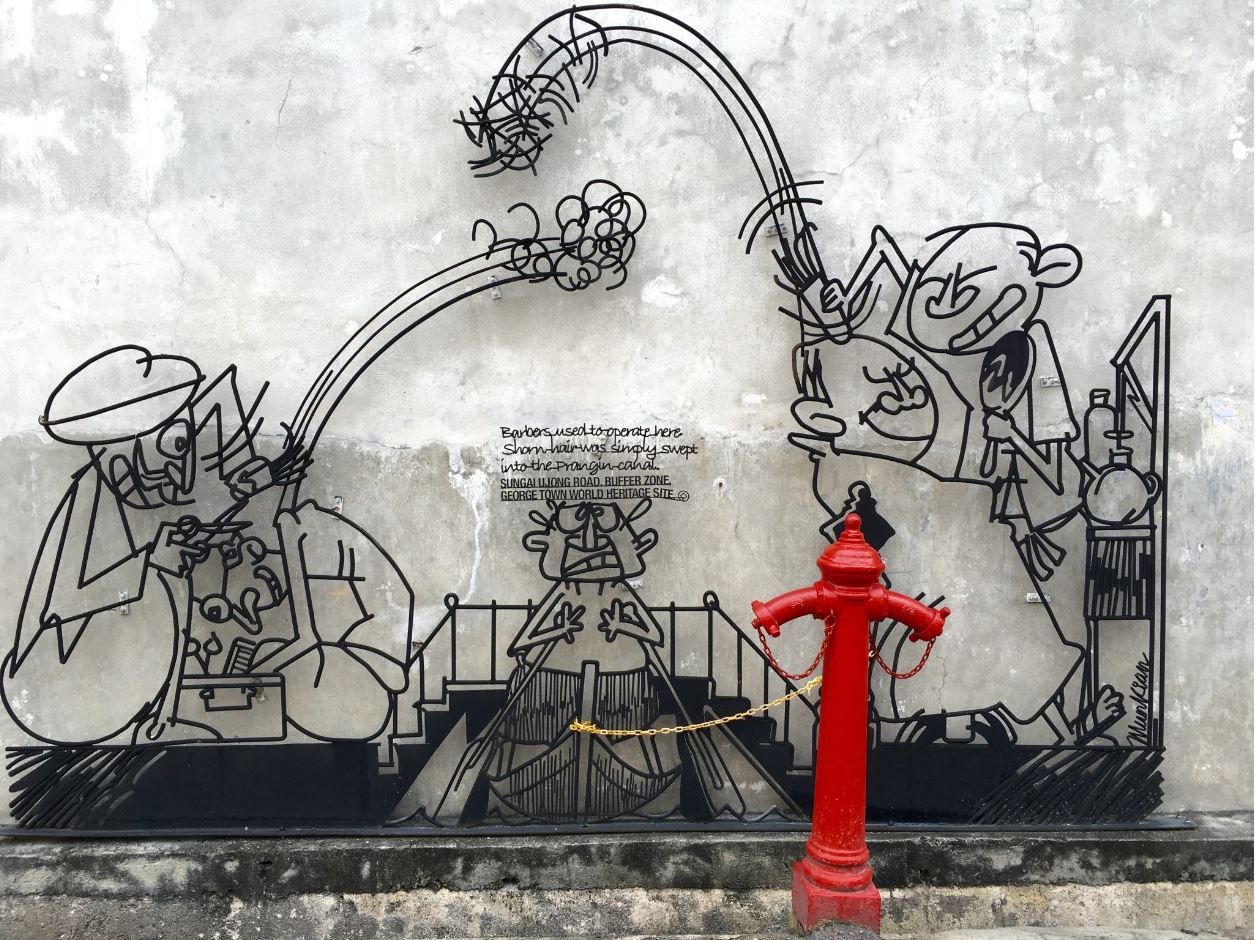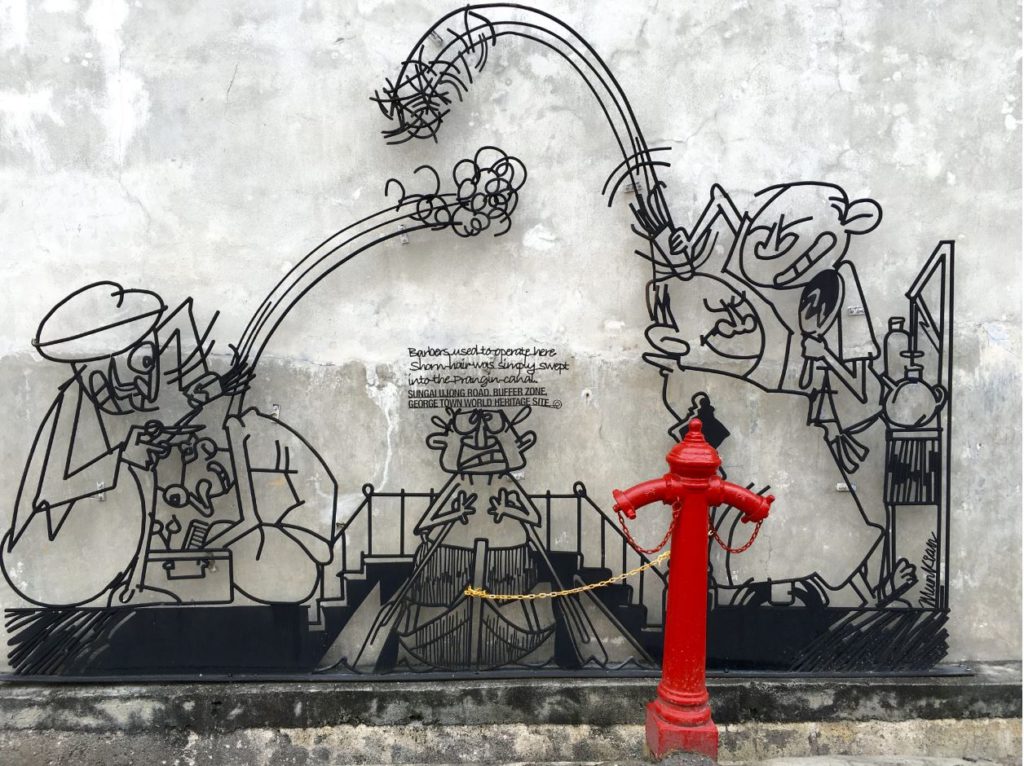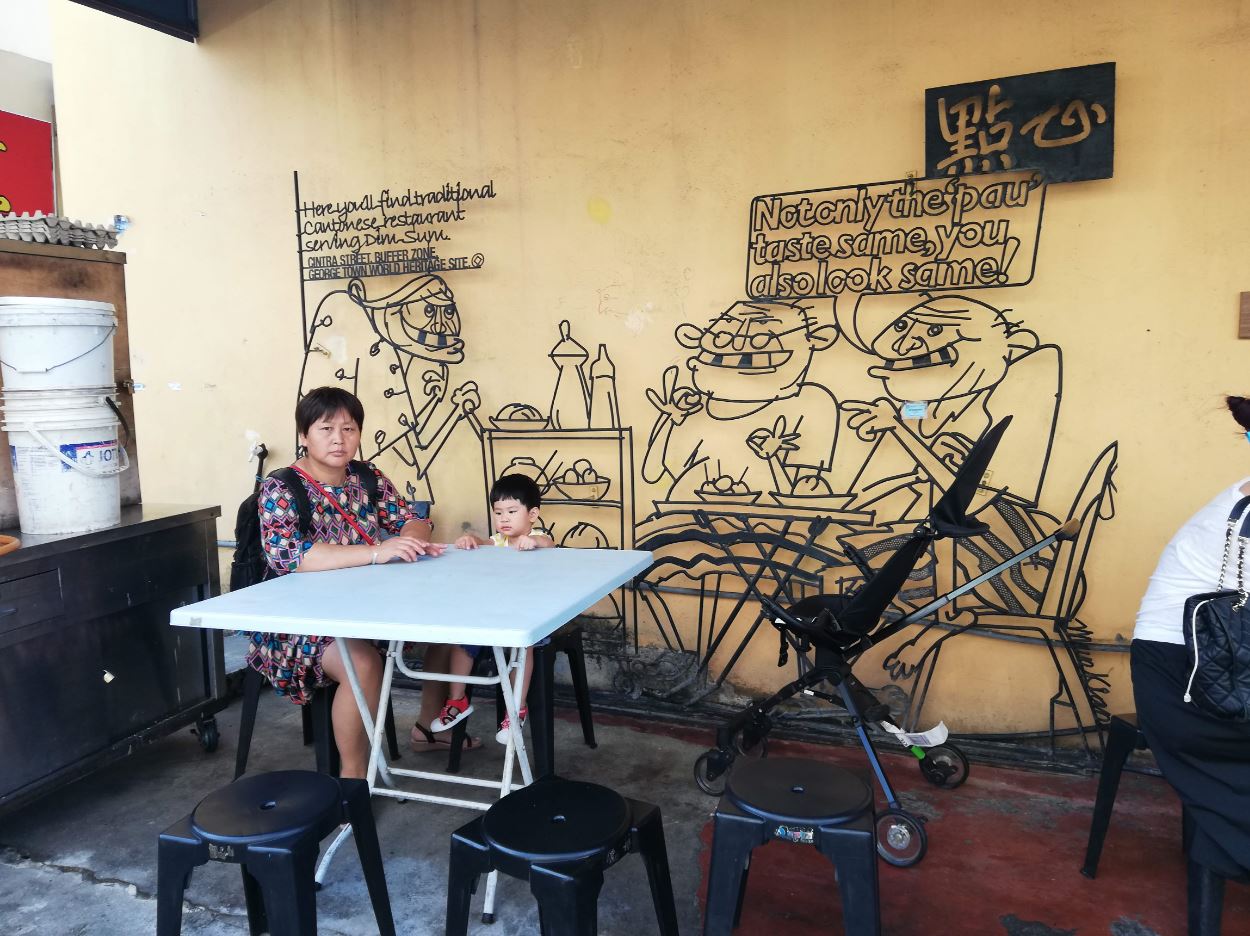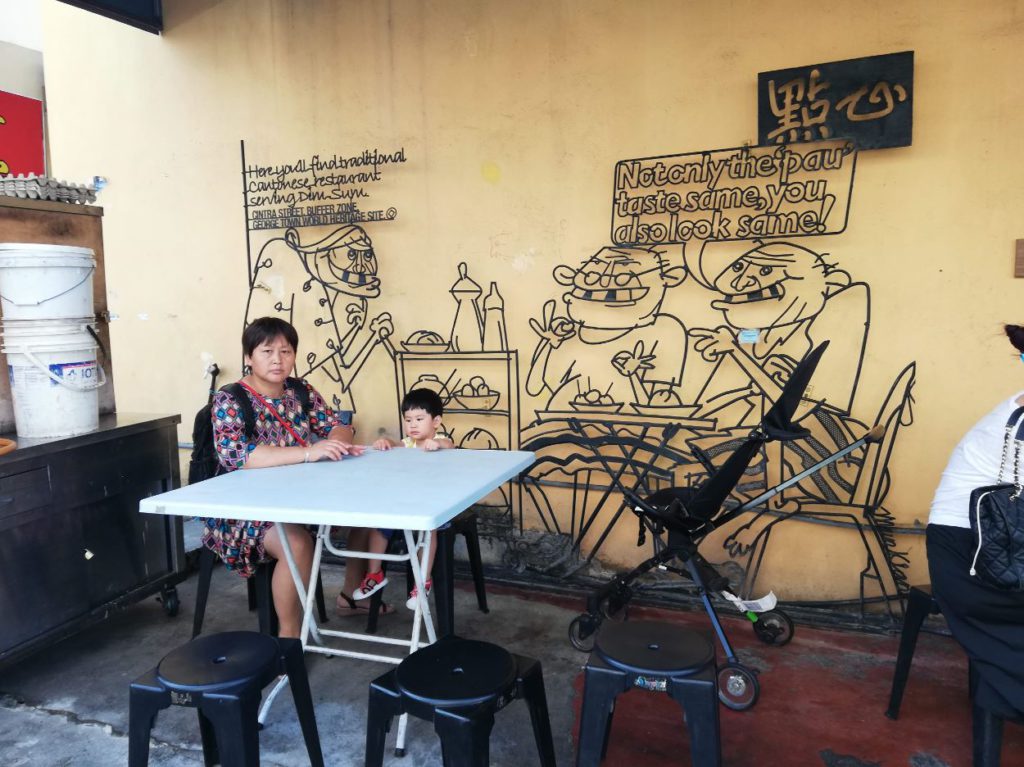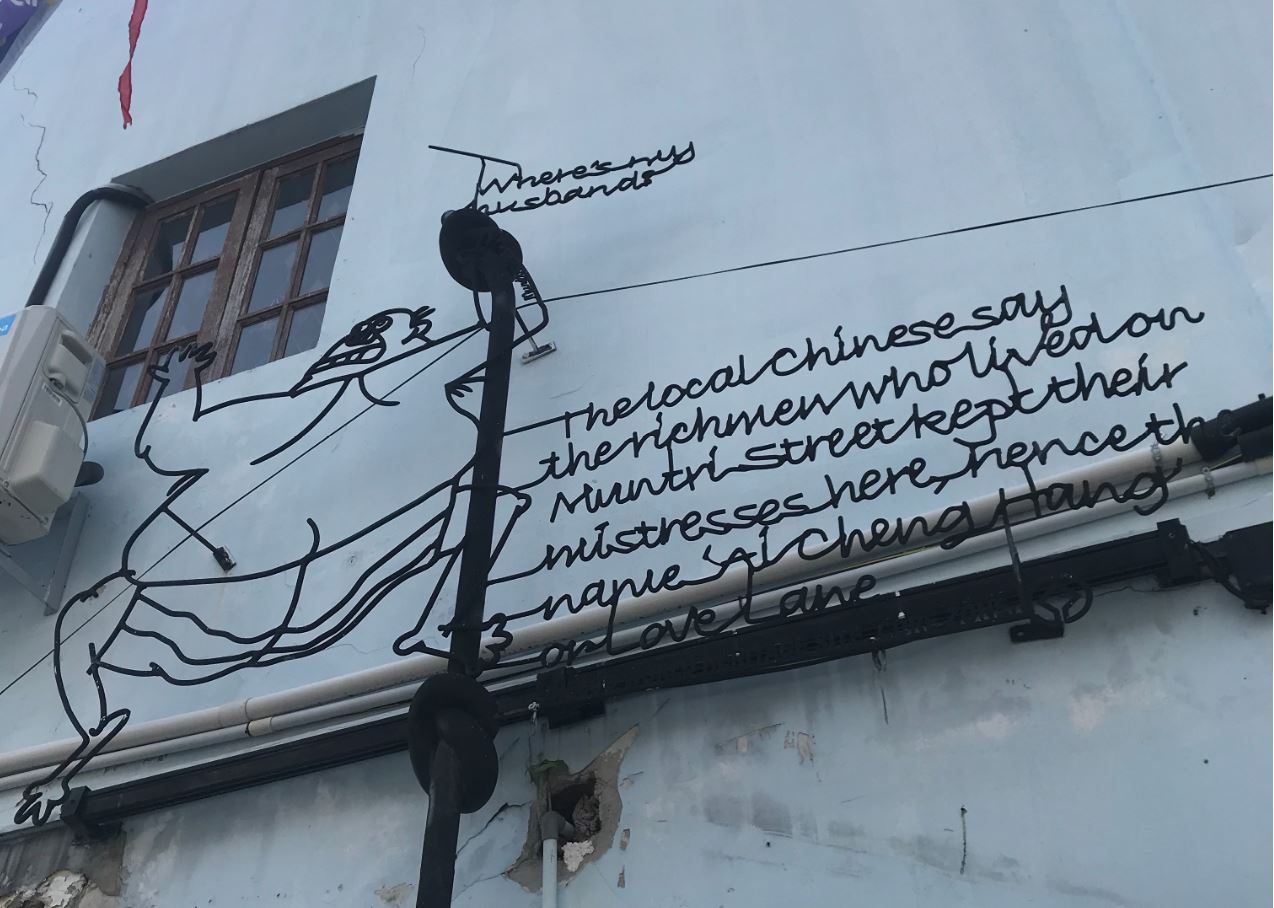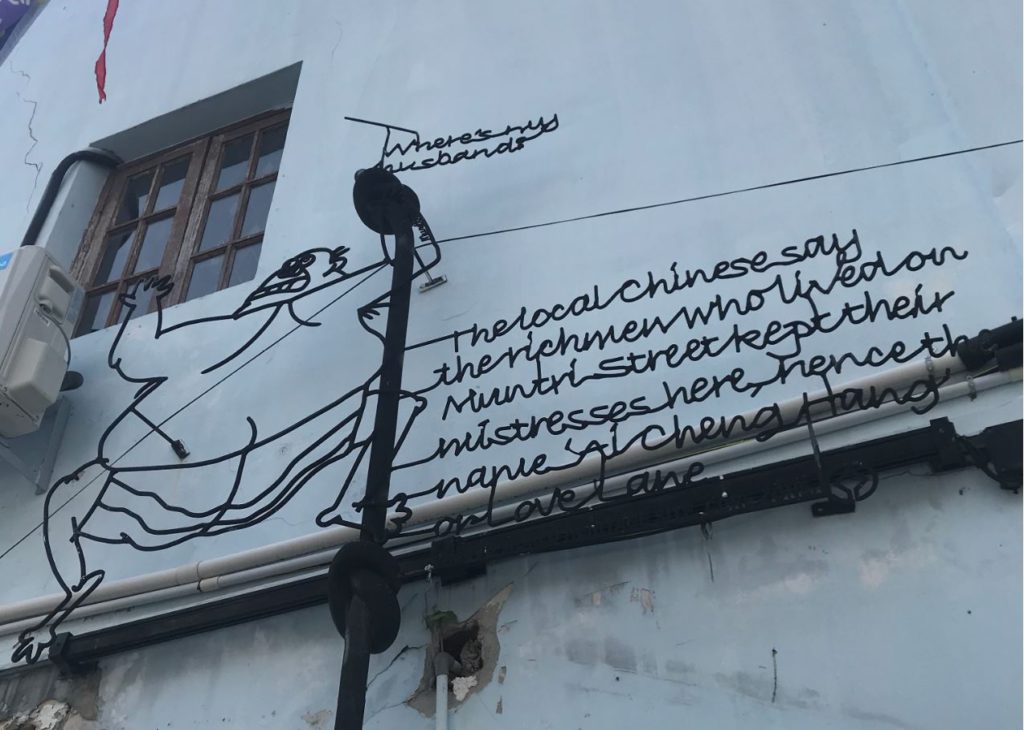 Apart from the street art, there are many small museums in Georgetown, focussed on one topic. The heritage centre has also a lot of temples and shrines dedicated to local deities.
A must-visit is the Chinatown and Little India, both within the walking distance of each other. As you enter the street, the ambience changes dramatically. It feels like entering a whole new local dimension in another country.
Book a day tour in Penang: Georgetown Heritage Tour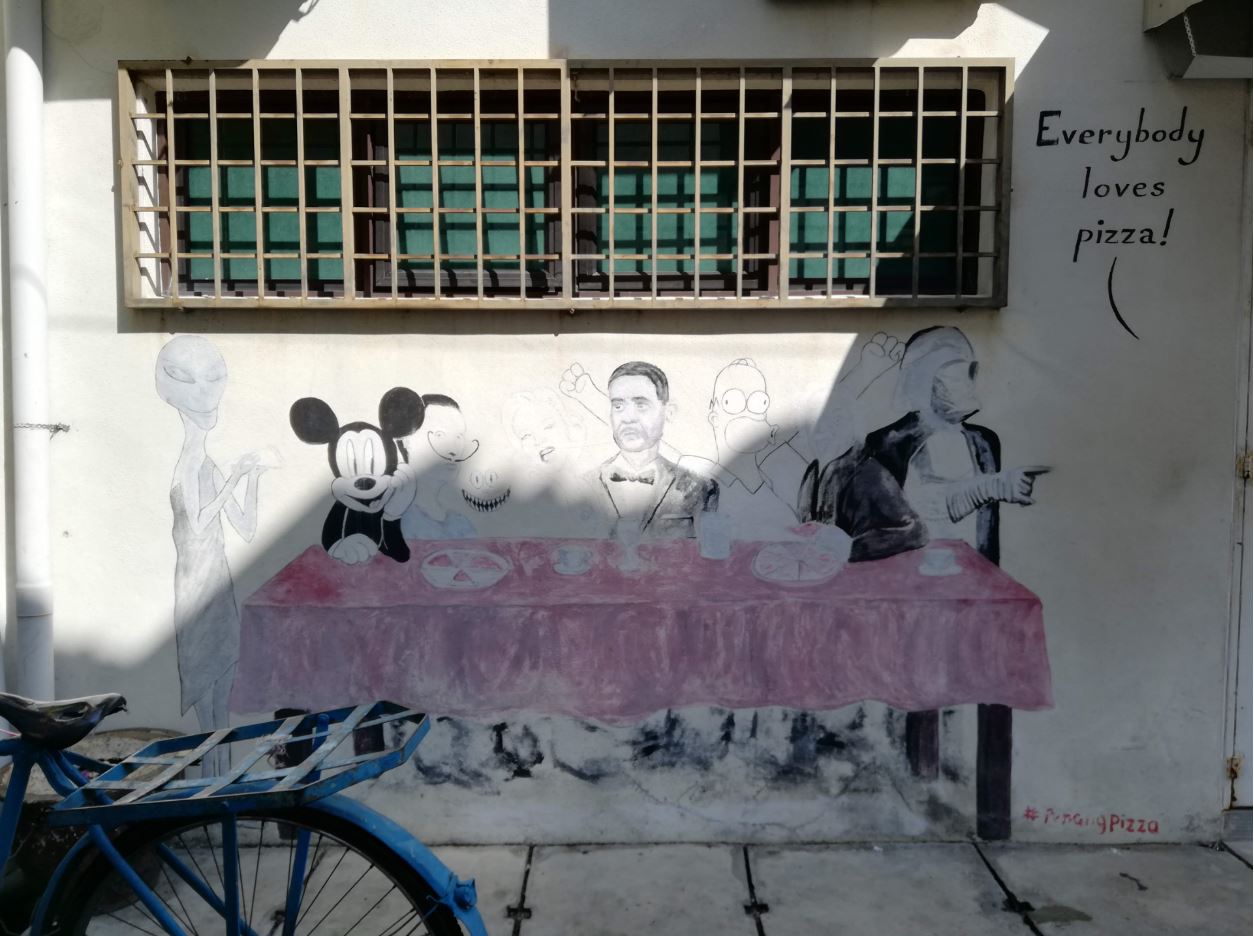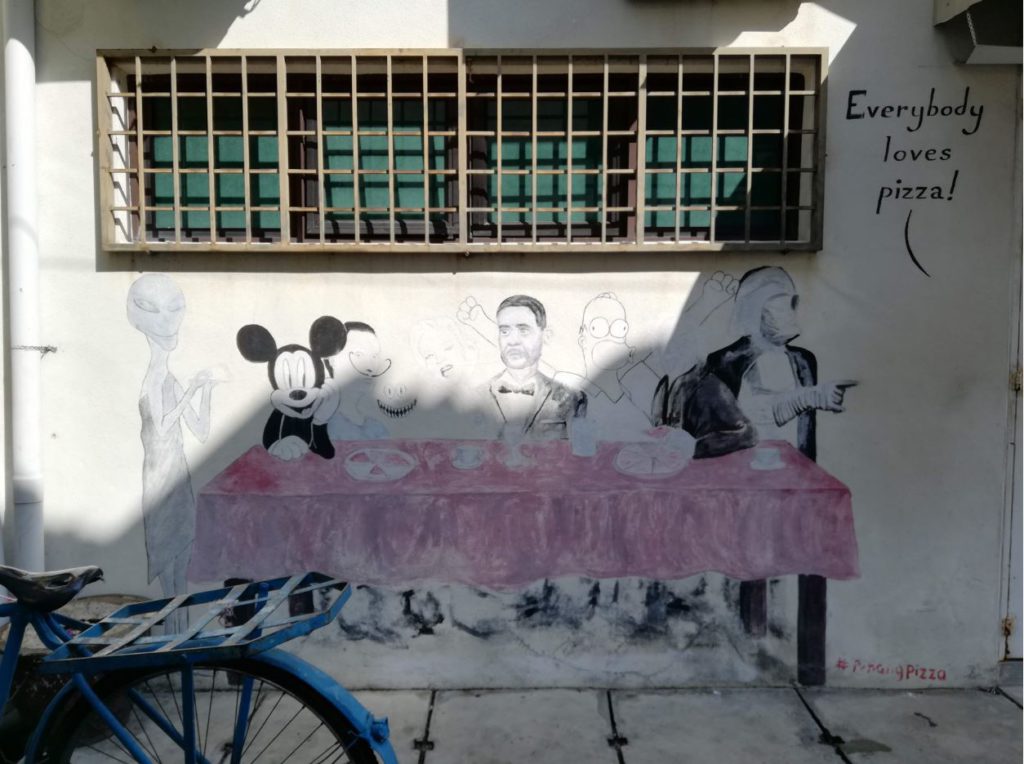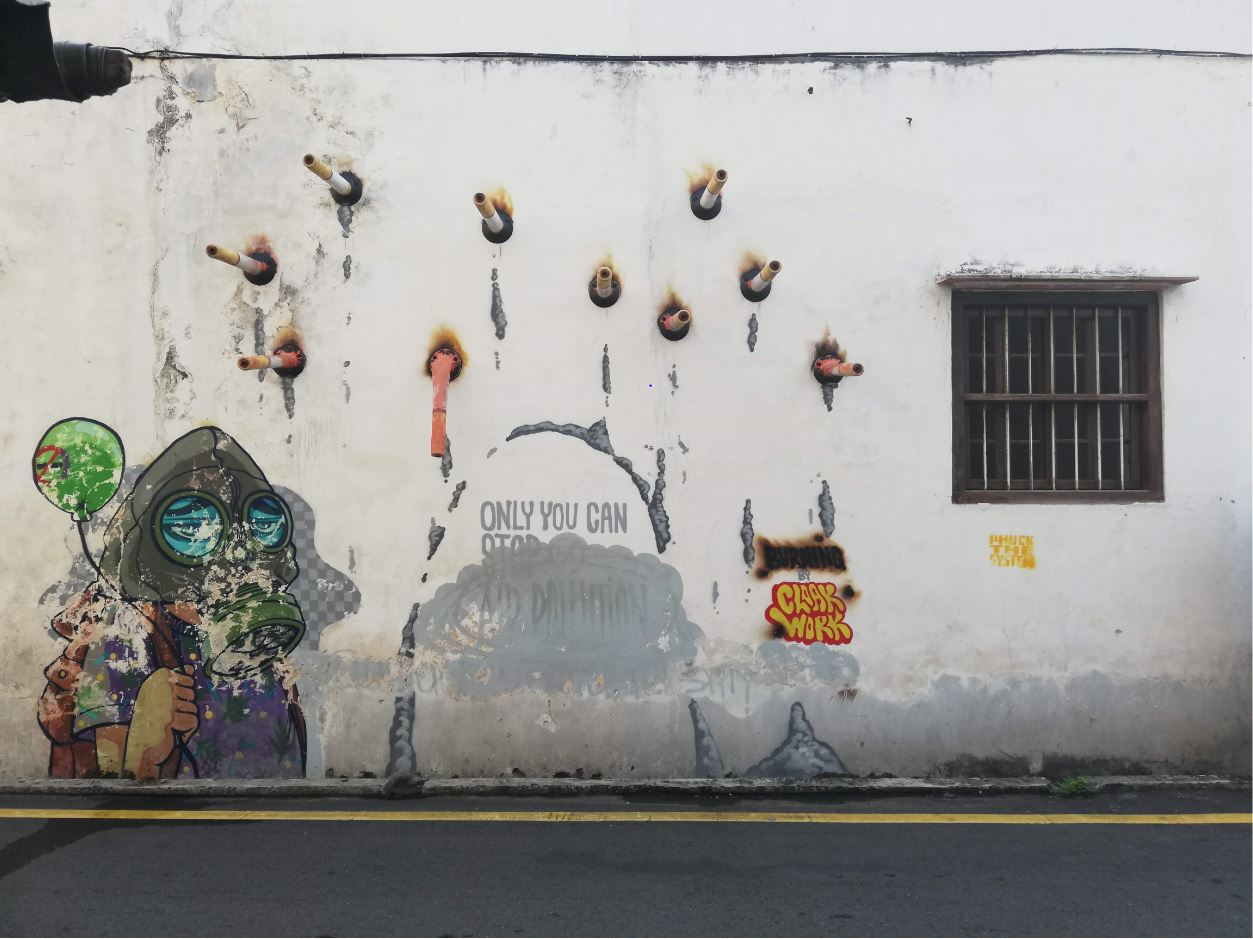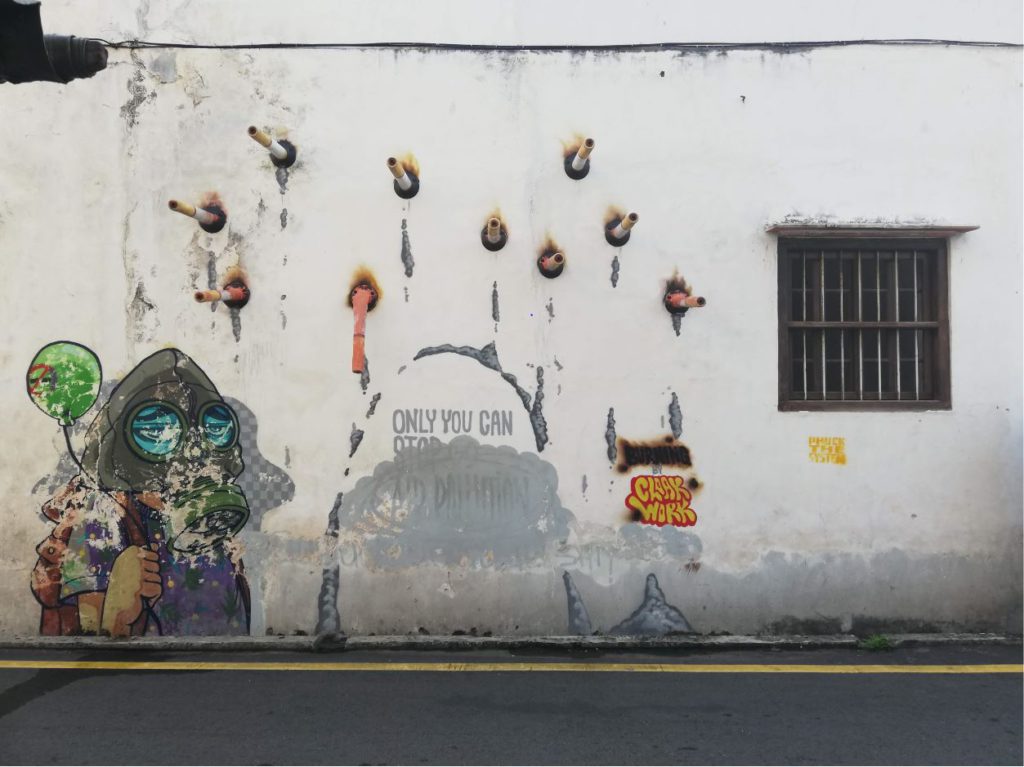 How to go about in Georgetown
Take a tour – if time is short and you don't want to take up the hassle to spot the murals around the town, take a tour instead. It is affordable, it is convenient and you get to interact with the locals as well.
Your guide will also take you through the history of Georgetown with some insights on the cultural heritage. Make sure you wear comfortable shoes and fill yourself up before you start.
Walk on your own – It is fairly easy to navigate. And you can spend as much time as you want in one place. You can also halt in between to eat and rest. But you will definitely take longer this way and may have some difficulty spotting some sculptures.
It is a good option for budget travellers though. The best time to explore the place is early morning and early evening. Late mornings and afternoons are incredibly hot.
Take a Trishaw – Fun and convenient, this is the best way to explore Georgetown. Take in the full experience of the place and contribute to the local economy. Trishaw drivers will drive you around.
Additionally, they will also give you live commentary of the heritage and culture of Georgetown on the go. You can customize your journey with a few stops of your choice. Plus, an umbrella always covers you from scorching heat and sun.
Book a Trishaw tour: Heritage Trishaw Ride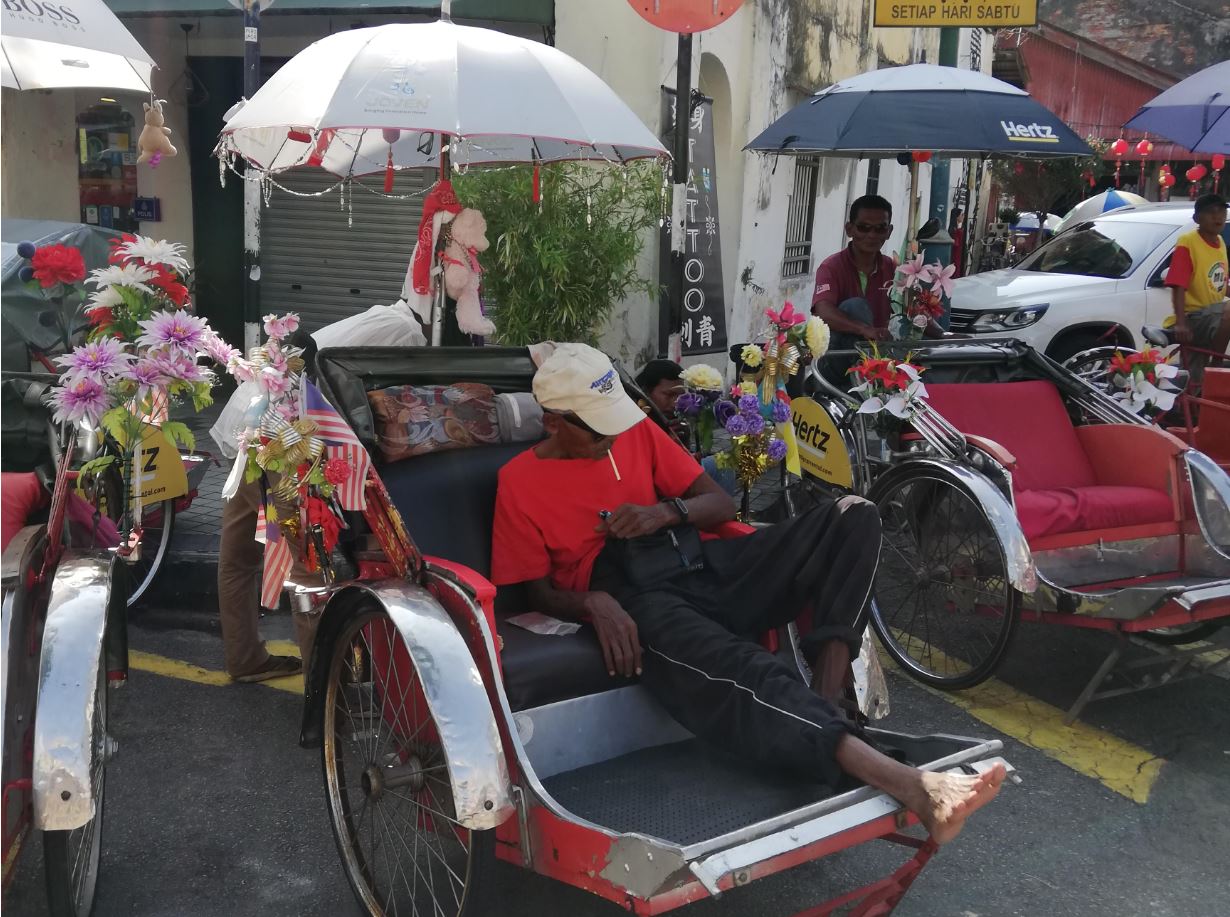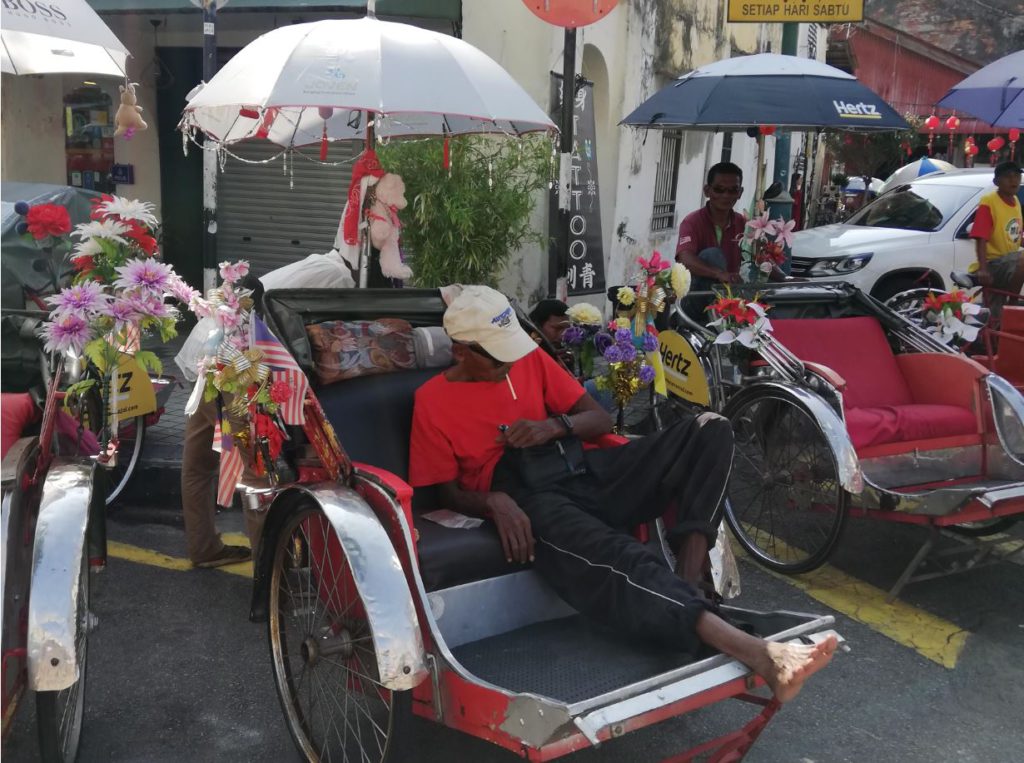 Bicycle – Bicycle rides are also available inside the heritage centre. In most cases, you just simply hire one from your hotel. Or rent one from a local rental shop and very reasonable prices. Some of the tour activities also provide bicycles in a group and comes with a guide. It is far more comfortable than walking on foot if you are up for it.
Where to Stay in Penang
The best place to stay in Penang is of course, Georgetown. Stay where all the action is. You get to smell local curries and see fantastic murals just by walking across the street.
Many local shophouses have been combined and converted into hotels. Charming old exteriors contrast with modern interiors. Of course, they are not too spacious but I think it is worth the experience. Check these affordable heritage properties in Georgetown.
iStay Hotel, Sweet Cili Boutique Hotel, Macalister Hotel, Ropewalk Piazza Hotel, Kimberley Hotel Georgetown
The hotels may range from hostels, budget, and boutique to luxury hotels. A hostel will cost you around $7 that you can book on hostelworld.com. Agoda.com is a great website for hotels in South-east Asia with great deals and discounts.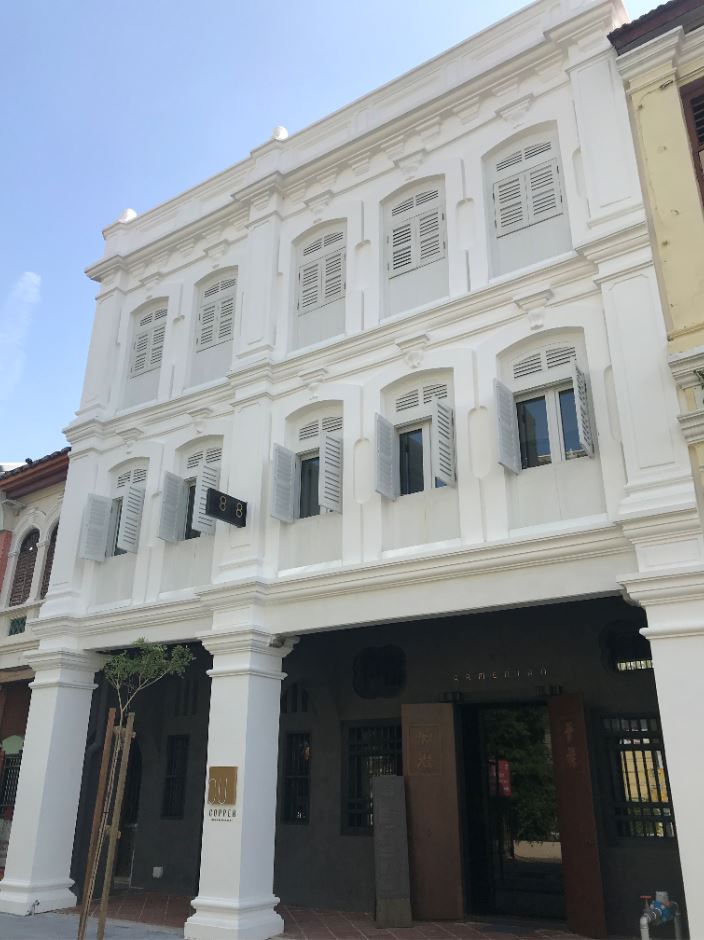 Save On Pinterest


Related Articles