08 Apr

Malaysia Travel Itinerary for up to 3 weeks

I have said this repeatedly that Malaysia is one of the most underrated places in terms of tourism. I say this because apart from the lovely cities and the islands, Malaysia has fantastic infrastructure. Plus, it is fairly affordable, especially if you know where to look.

Most of the people, in their quest around South-East Asia, decide to skip Malaysia. But I think you should include this place in your plans. To add on that, here is my Malaysia Travel Itinerary for up to 3 weeks or more with the best spots in the country.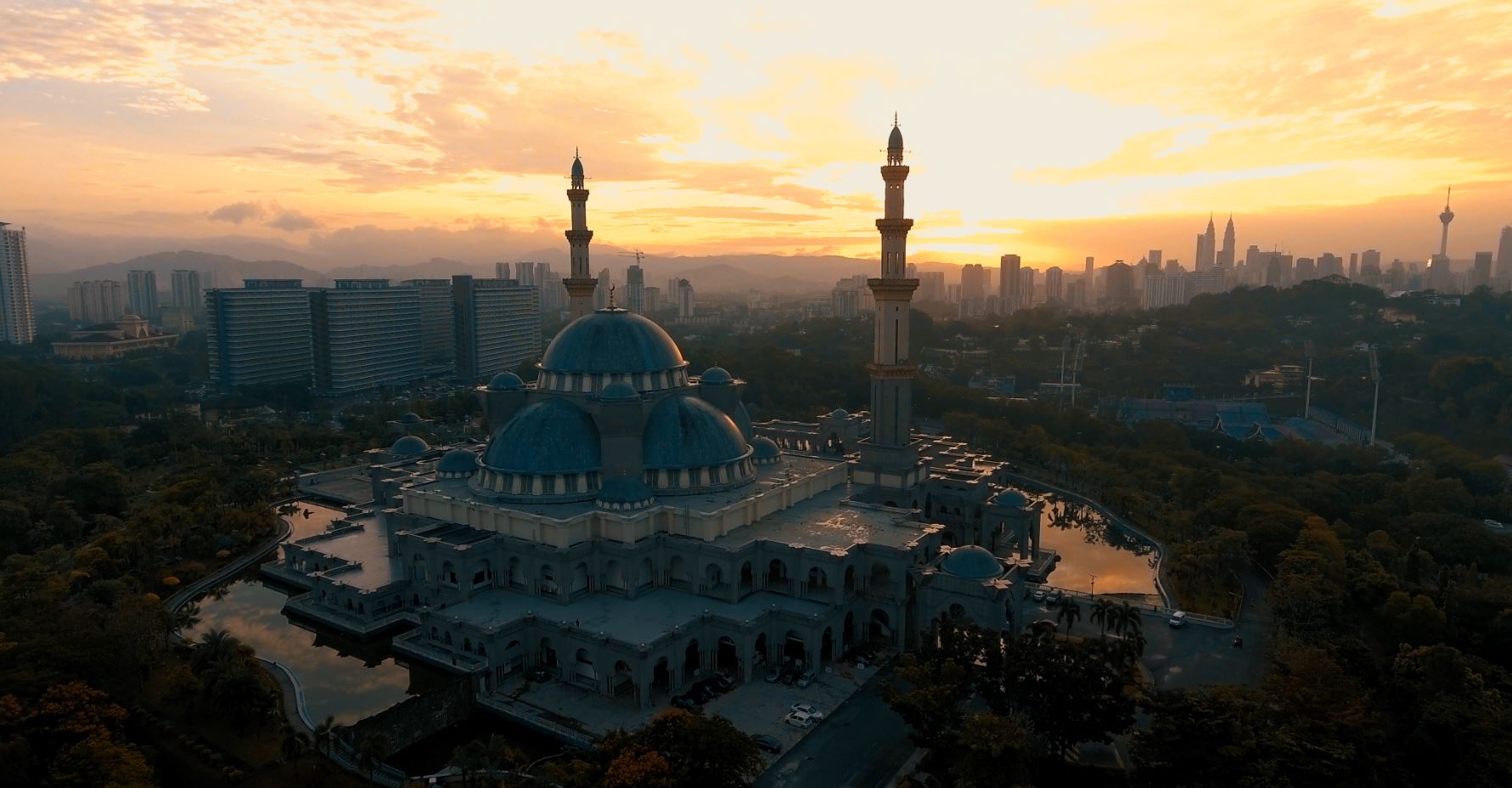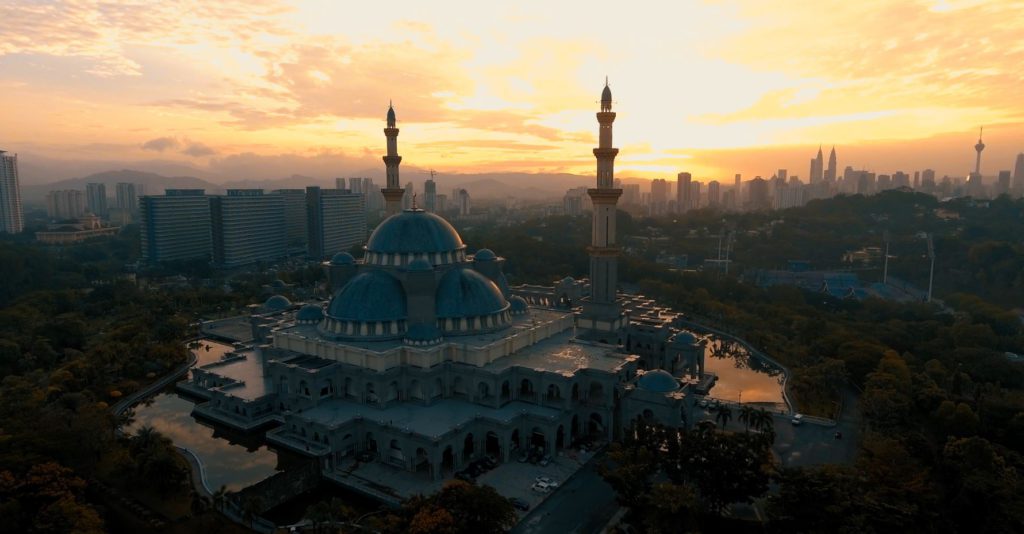 Places to See in Malaysia
You can clearly divide Malaysia into two parts. One is Mainland Malaysia, the other is its Borneo counterparts with the states of Sarawak and Sabah. Most of the tourist restrict themselves to Mainland Malaysia that occupies most of Malaysia's population and economic activity. But Sarawak is a haven for nature lovers. With fewer tourists around, clean seashores and quiet jungles, Borneo is a paradise for outdoor activities.
Kuala Lumpur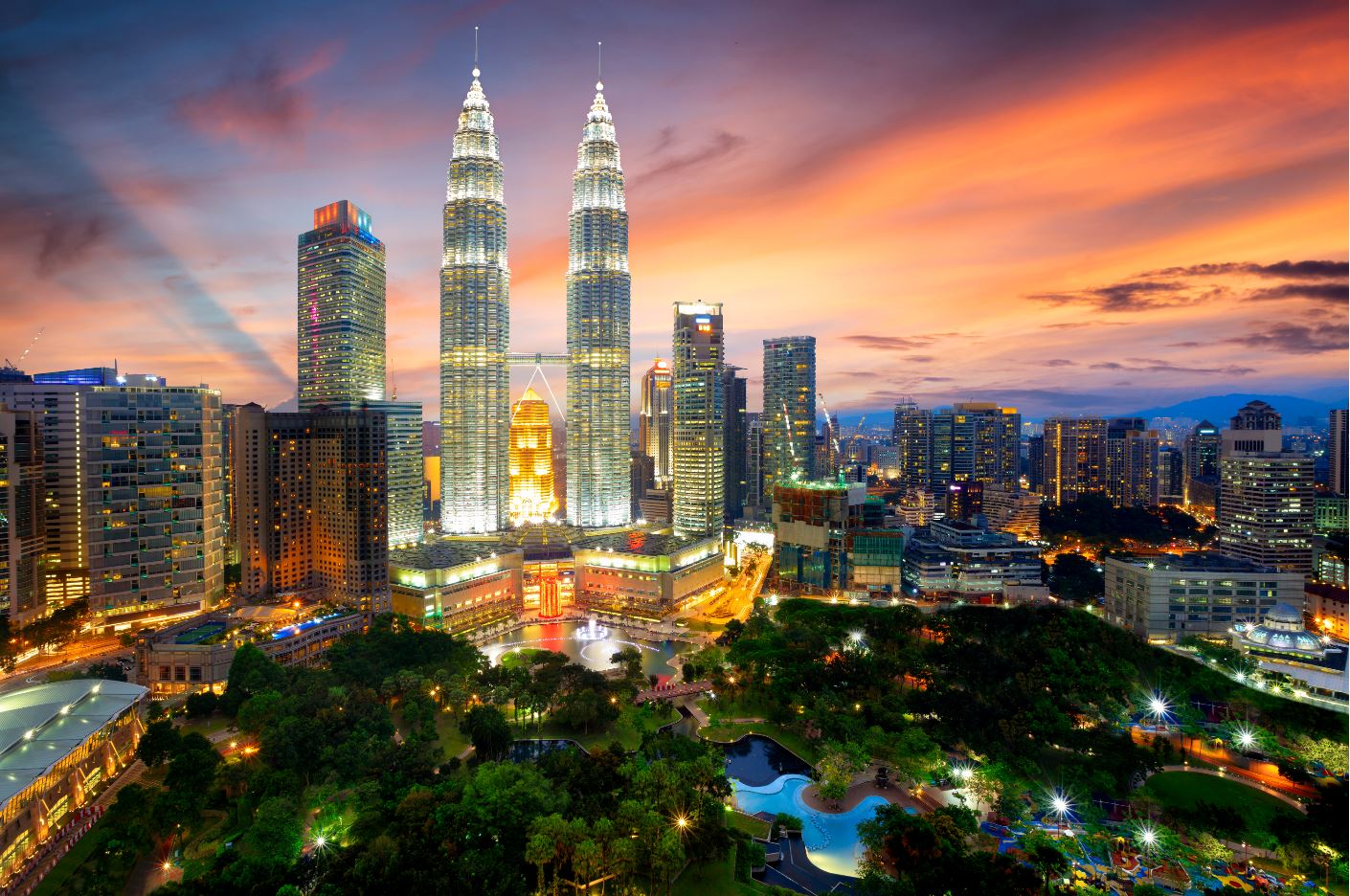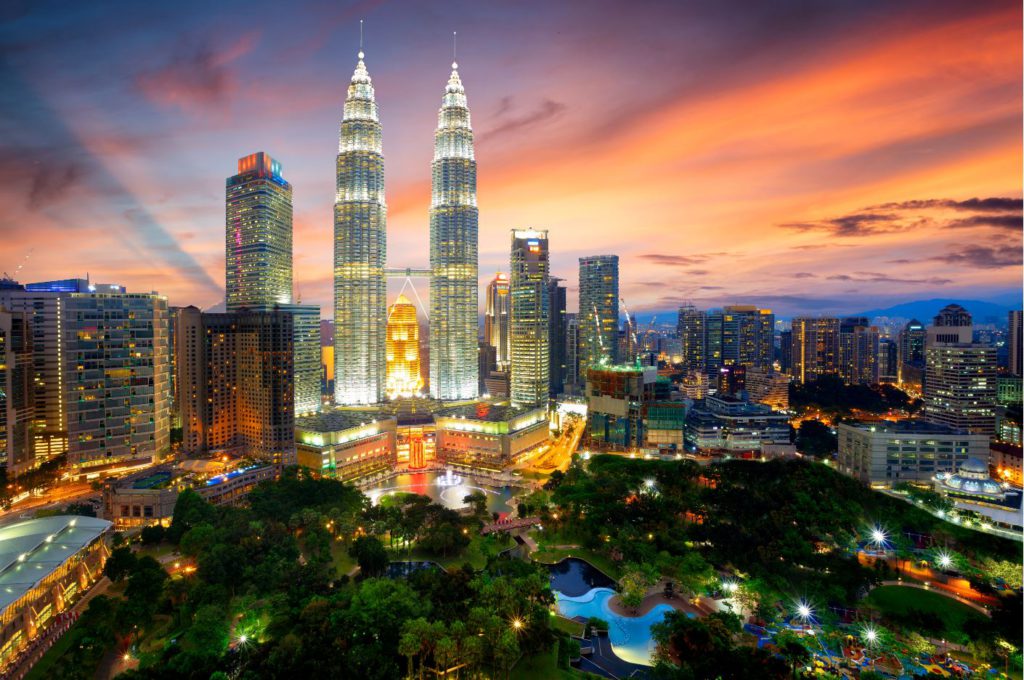 In most cases, Kuala Lumpur will be your first stop if you decide to fly to Malaysia. Kuala Lumpur came as an unexpected surprise. To me, it was more like a cheaper version of Singapore. The city is well maintained, clean and has one of the best-connected public transport systems in the world.
As for the tourists, there are loads of places to see in KL. These can range from religious shrines across a spectrum of faiths to raving nightlife and busy street food markets. Plus, almost everyone speaks English.
Related Article: Best Places To Visit In Kuala Lumpur, Malaysia
Cameron Highlands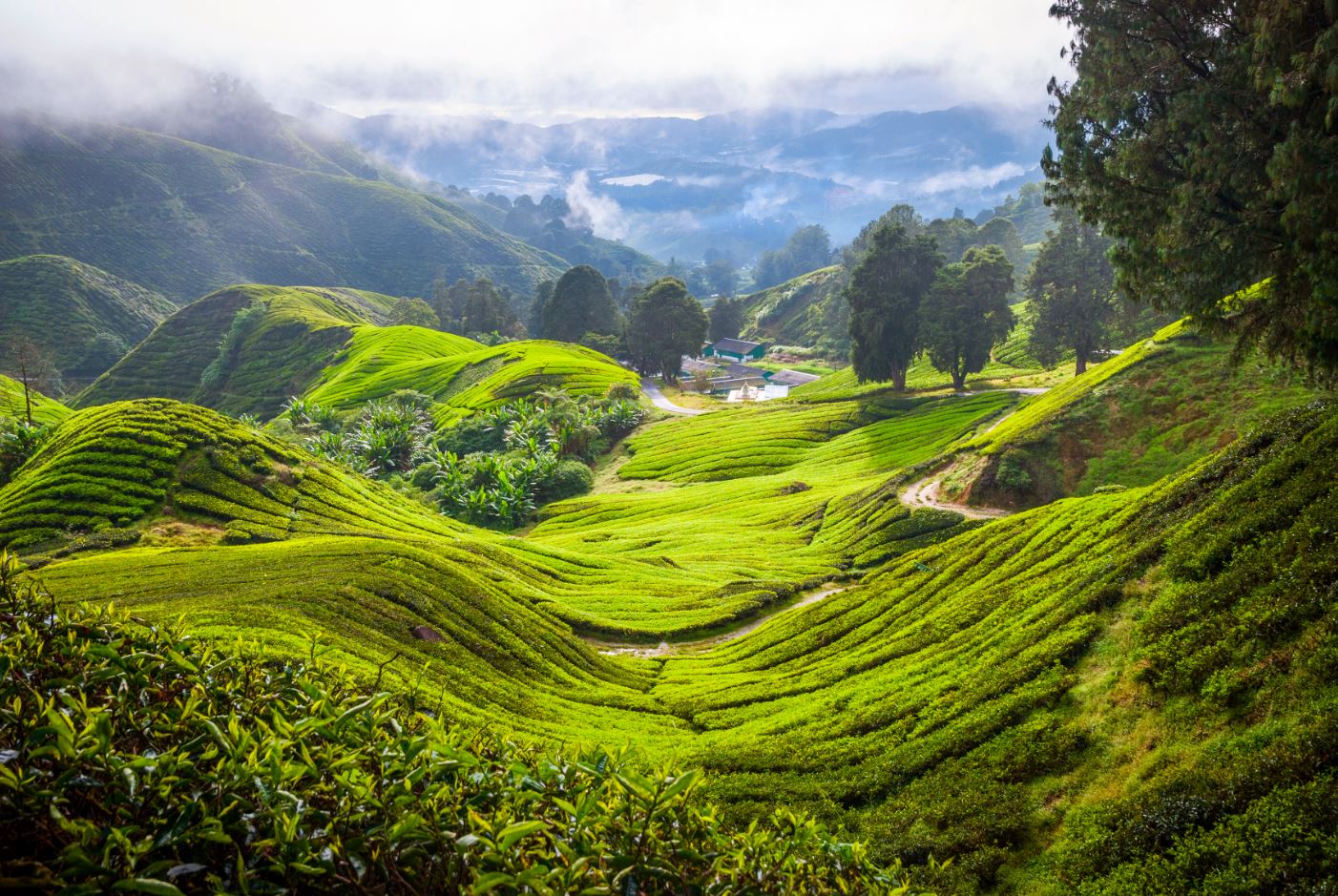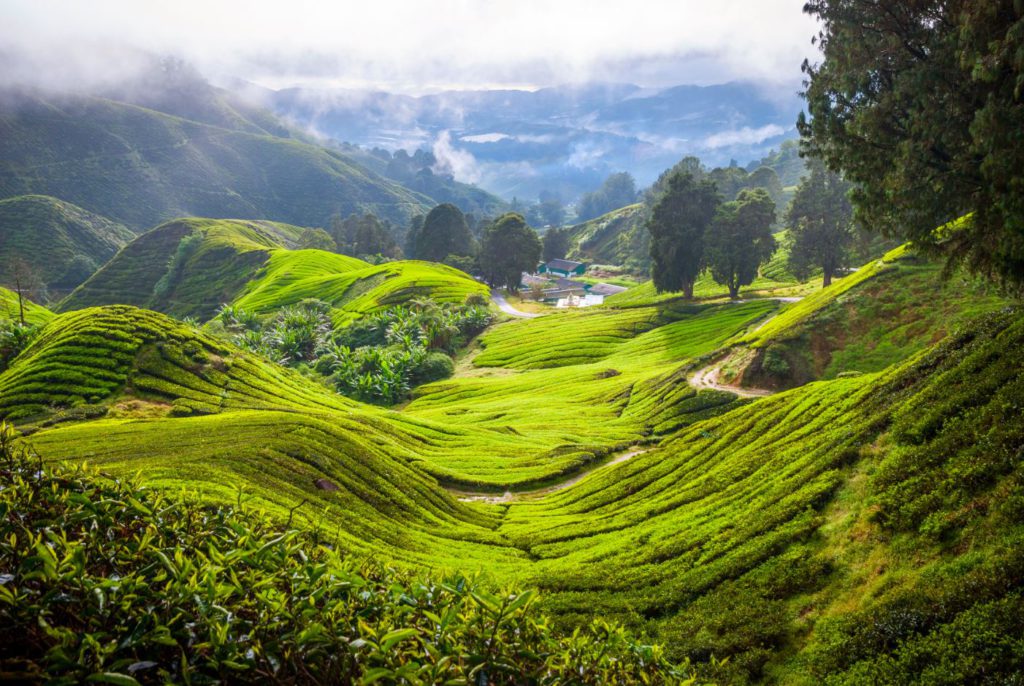 Lush green carpet of tea gardens greet you for miles around in Cameron Highlands. This hill station, much like Munnar (India) and Nuwara Eliya (Sri Lanka). Similar to these, this place was developed during the British Colonial era. It was a place for respite during the hot summer season.
This area is the largest producer of tea in Malaysia. The orchards and forests in the area are a great place for tourists. You can explore the highlands by hiking and indulge in local farming techniques. The area is full of heritage museums, unique gardens, and even British mansions.
Penang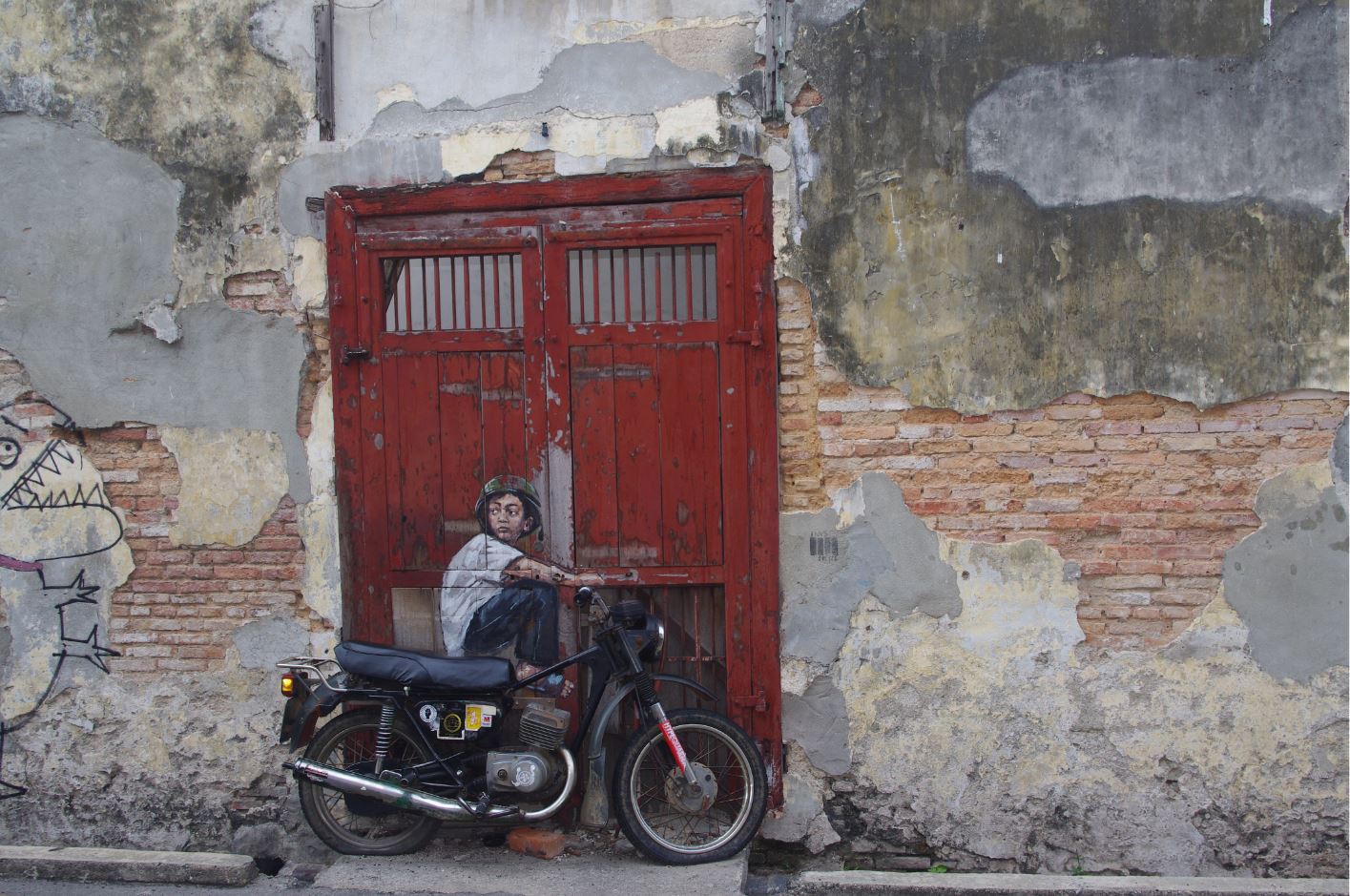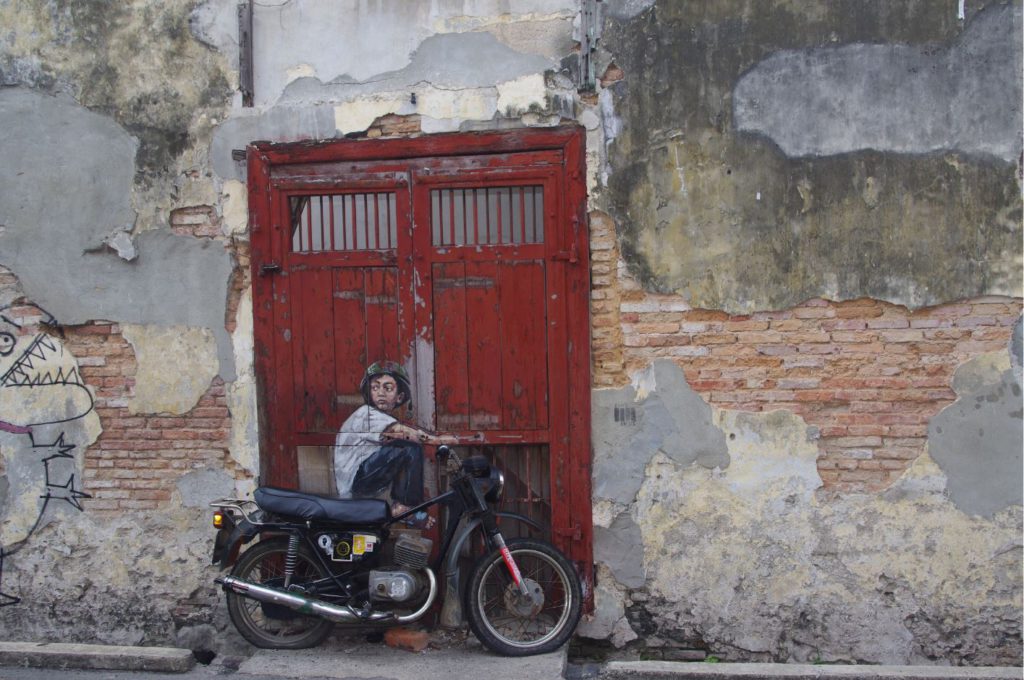 Penang's capital Georgetown is named as a UNESCO world heritage site. This was once a free port set up by the Englishmen. That attracted a range of people from different ethnicities from around the world. Local colonies include those of Chinese, Malay, Indians, Peranakans, Eurasian, Siamese Burmese, Javanese, Sinhalese, Germans, and Armenians.
This coalescence is evident in its architecture, food and daily life. Recently Penang authorities have commissioned street art and sculptures around Georgetown which has gathered international fame.
Related Article: Penang Street Art
Langkawi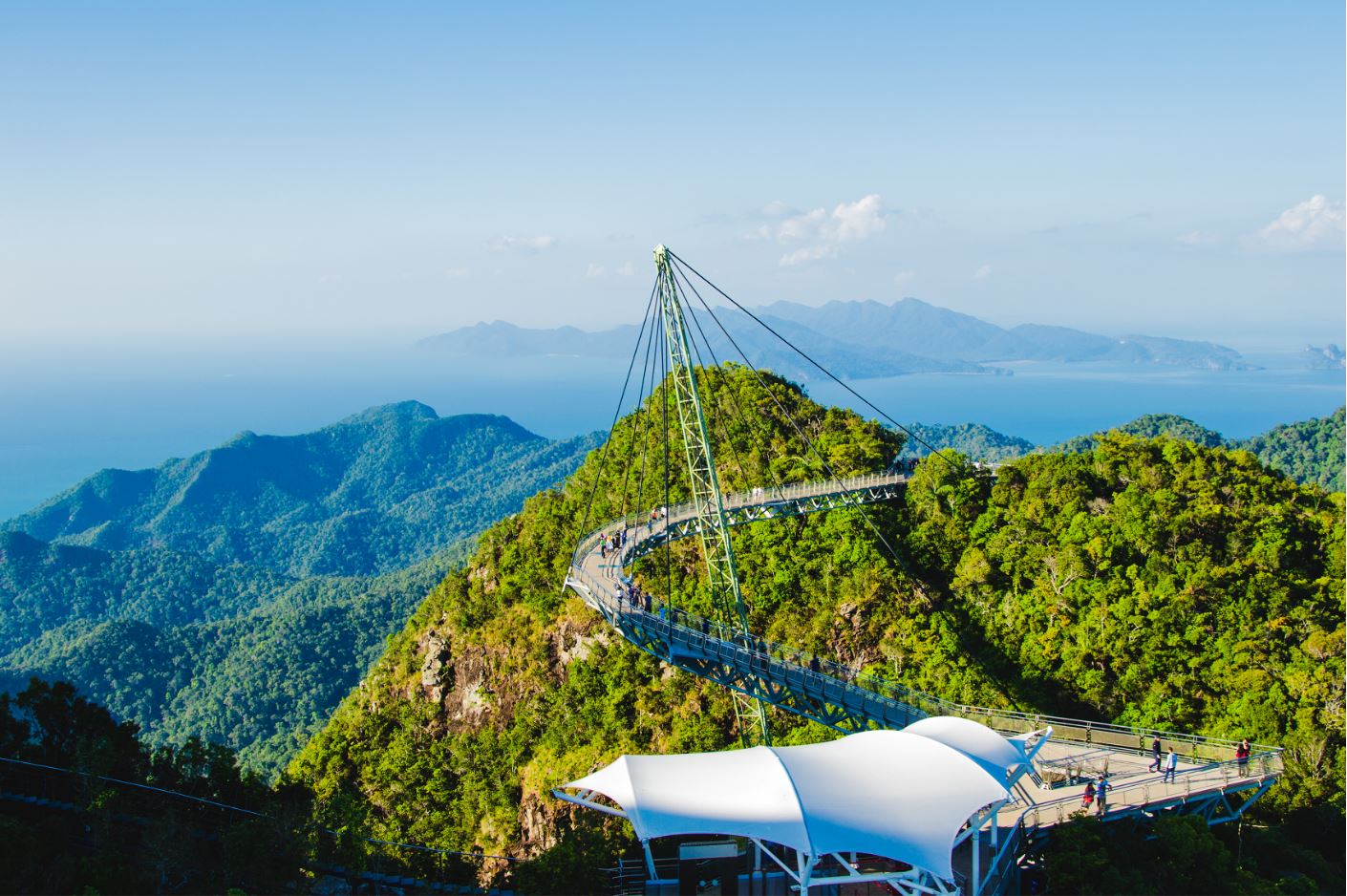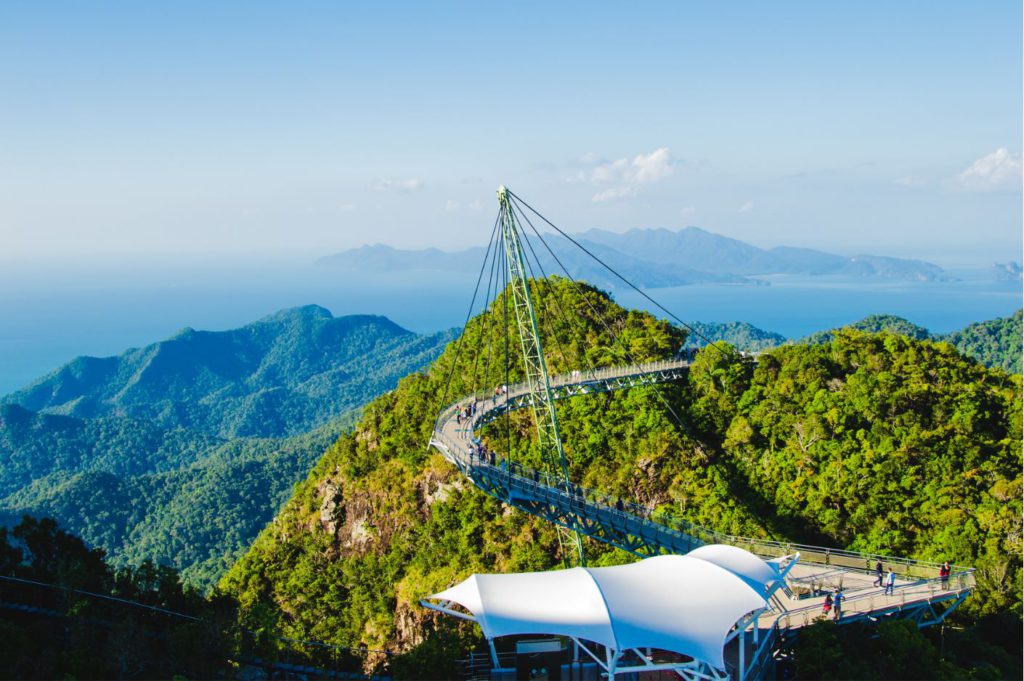 Langkawi is a paradise for honeymooners looking for affordable luxury. But budget backpackers can also enjoy the island with some tricks. Langkawi has lovely white sand beaches along with crystal clear waters for scuba diving and snorkelling. But its popularity rose because of the Langkawi sky bridge.
It is the highest single unit suspension bridge at that height in the world. The 360° view of the complete island from the cable car is insane. Apart from that the Kilim Geopark, mangrove forests and various waterfalls across the island give you a lot to do here. It is enough to keep you busy for a while.
Related Articles: A Beginner's Guide To The Island Paradise Of Langkawi
Perhentian Islands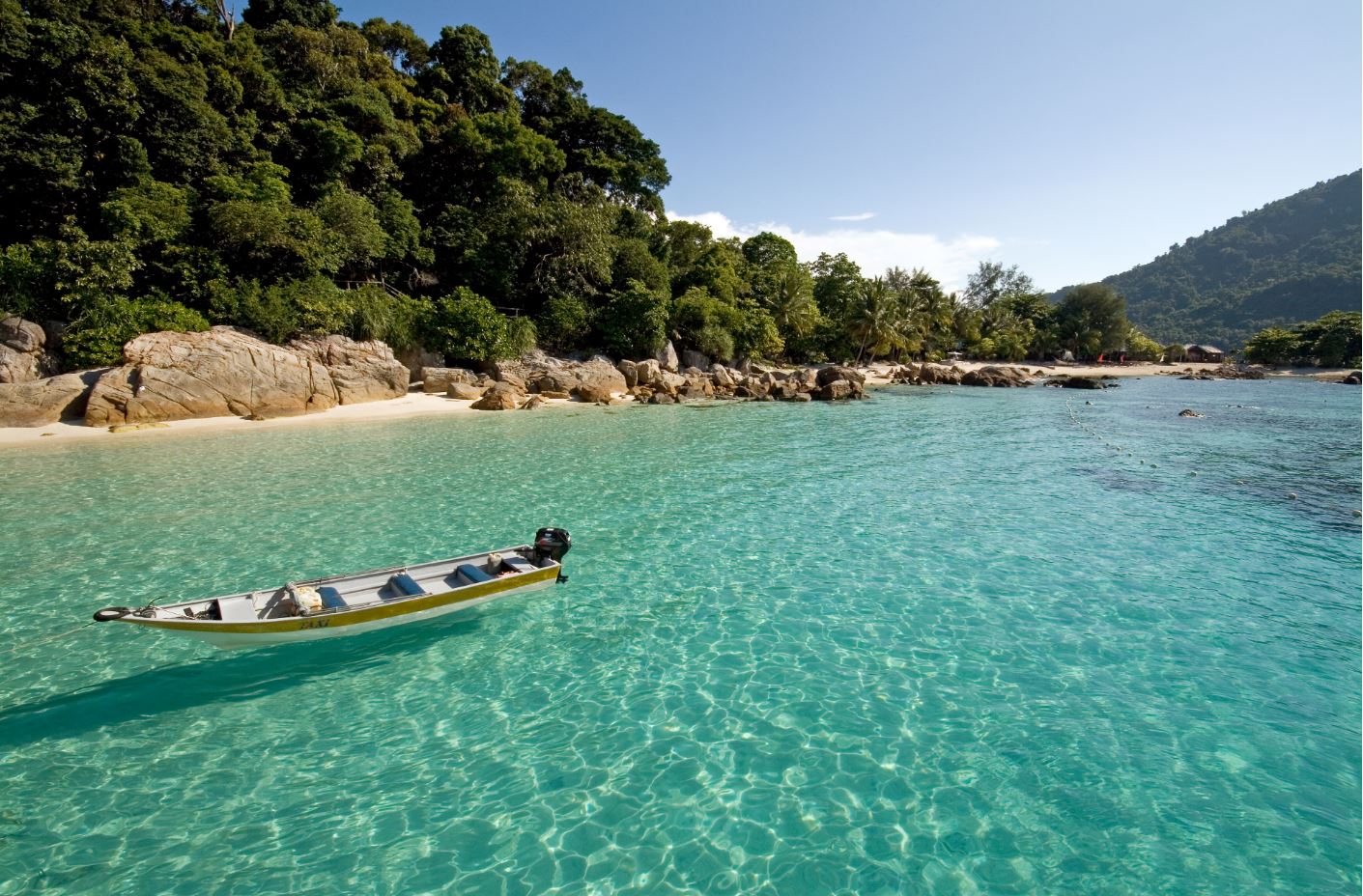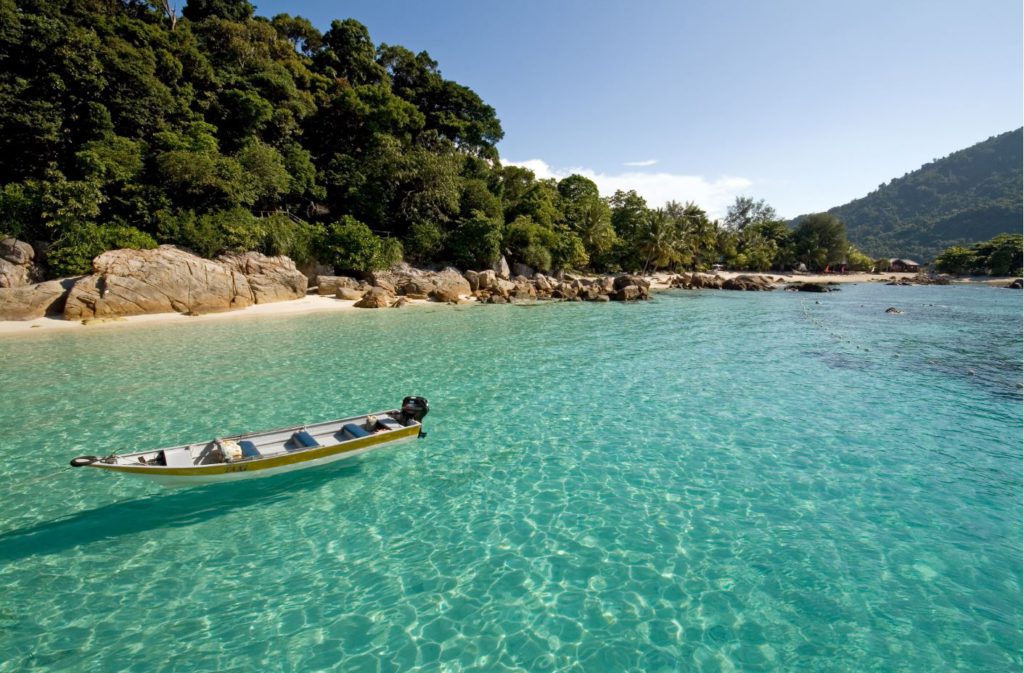 If you want a holiday more relaxing, go to Perhentian islands. This consists of two islands – Perhentian Besar (Big Perhentian) and Perhentian Kecil (Small Perhentian). The bigger island is more focussed on families, has better resorts and is less crowded.
The smaller one has more places for backpackers and buzzing nightlife. Both islands don't have many tourist attractions other than the seaside. You will crystal clear azure water visible till the seabed at times. The islands have facilities for water activities like kayaking and diving with sharks.
Malacca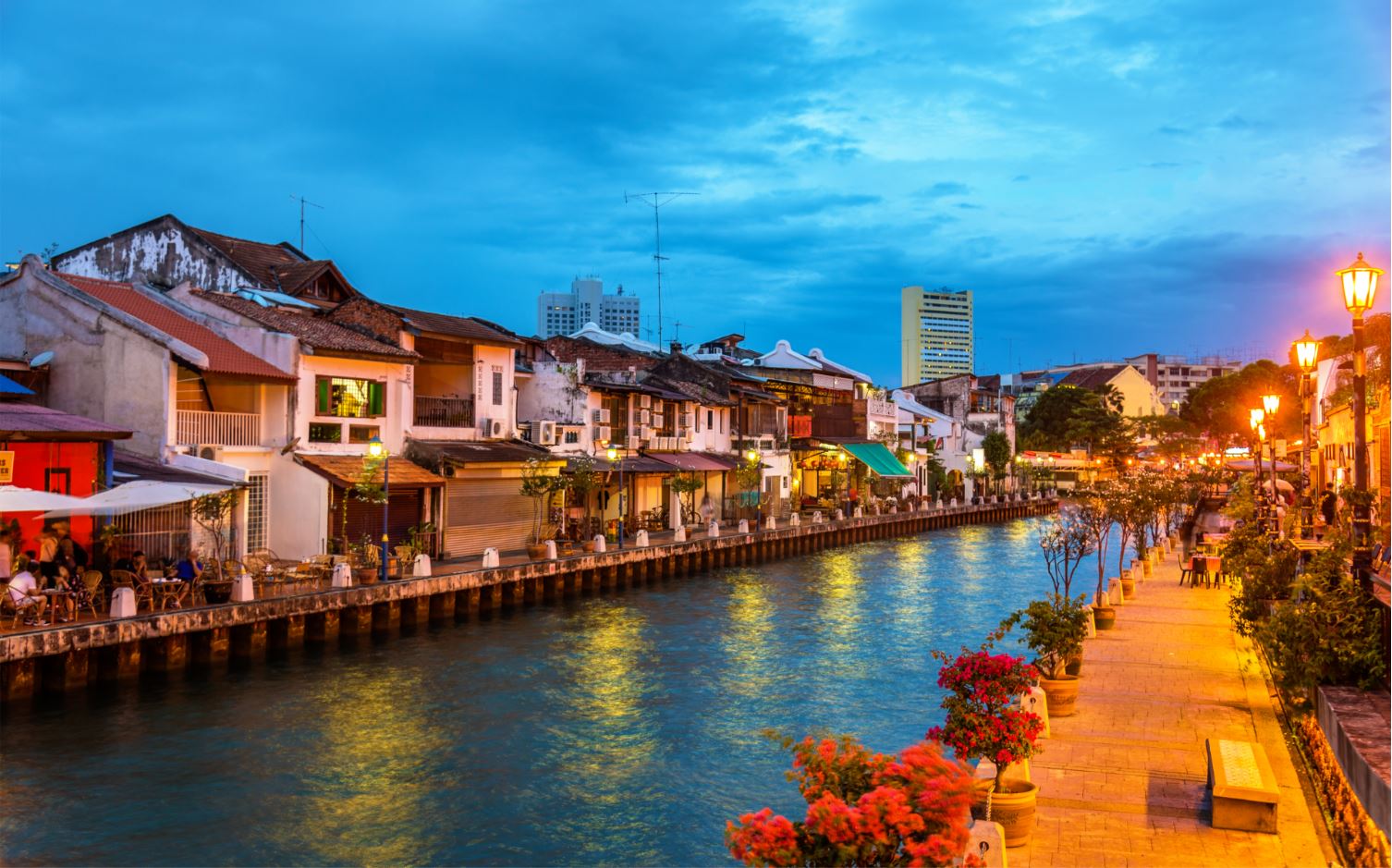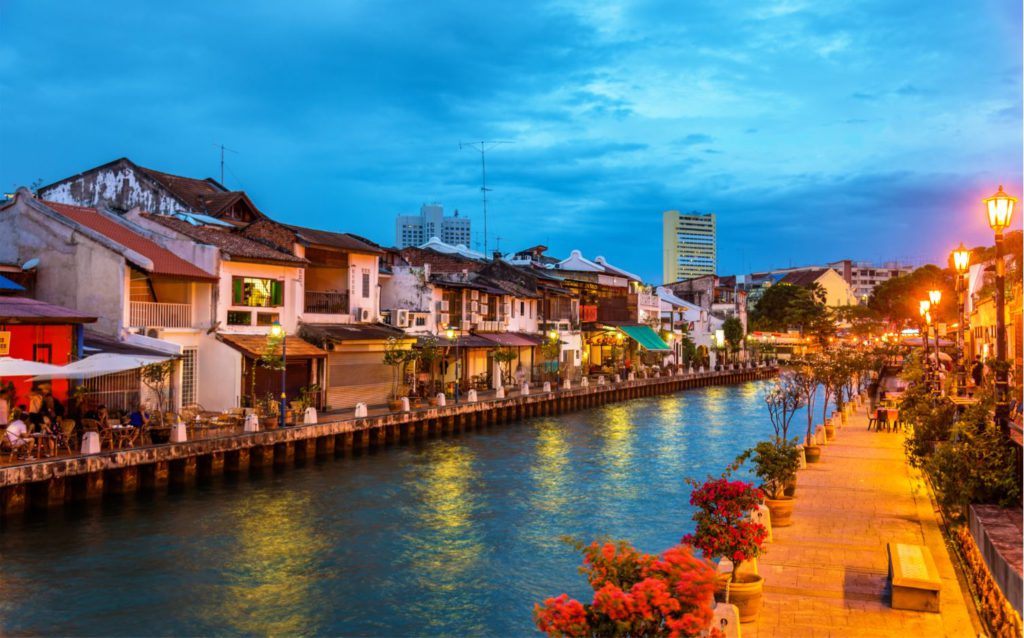 Malacca, like Penang, was an important port city in Malaysia during the colonial era. It attracted merchants from India, China, Europe, and Arabia. This place also boasts a fusion of religion and ethnicity living peacefully right next to each other.
Malacca is also heavily influenced by Europe where it has been colonized by Portuguese, Dutch and British. Full with museums, churches, temples and cultural arenas, there is a lot to do in Malacca. This place touches the deepest chords of Malaysian culture to visually unfold a series of events in Malaysian history.
Kuching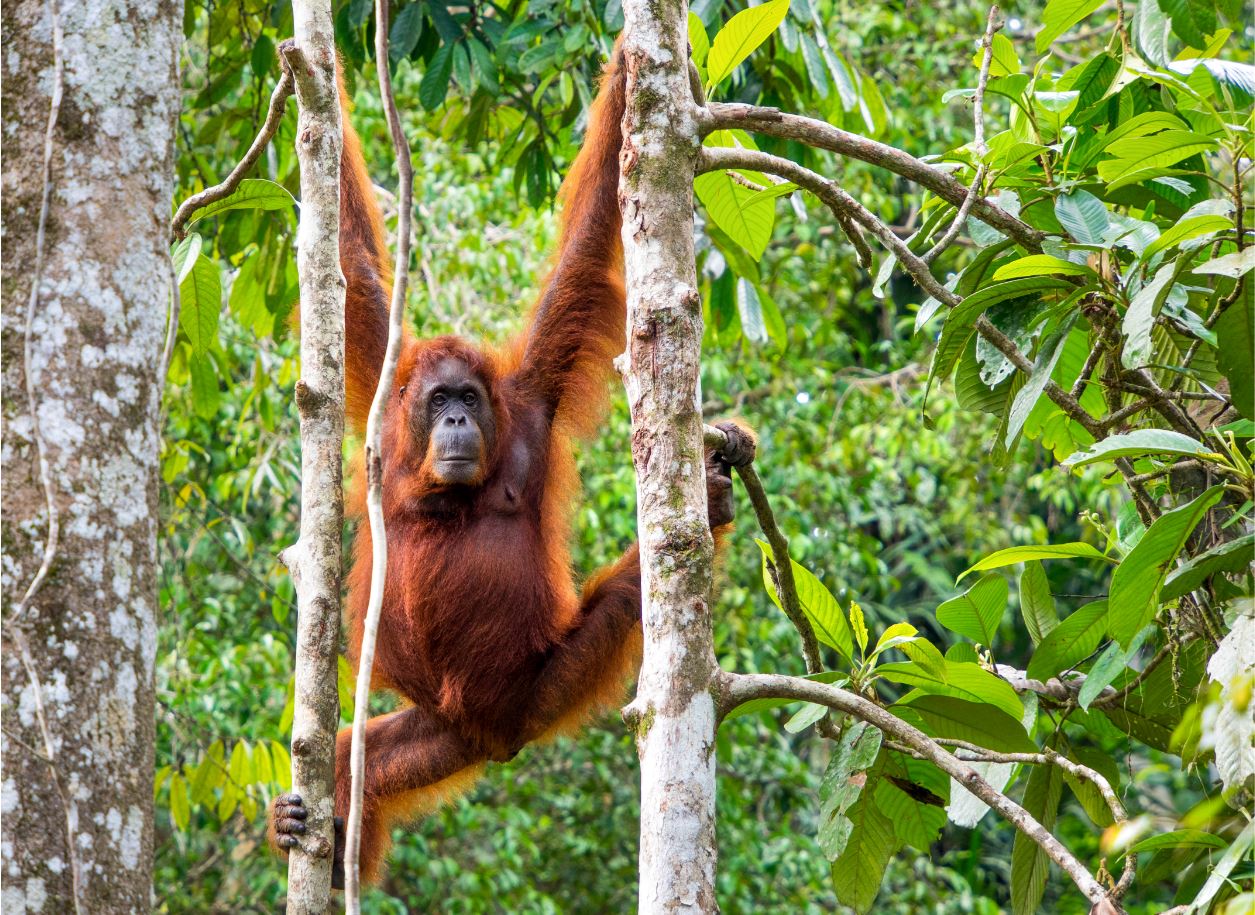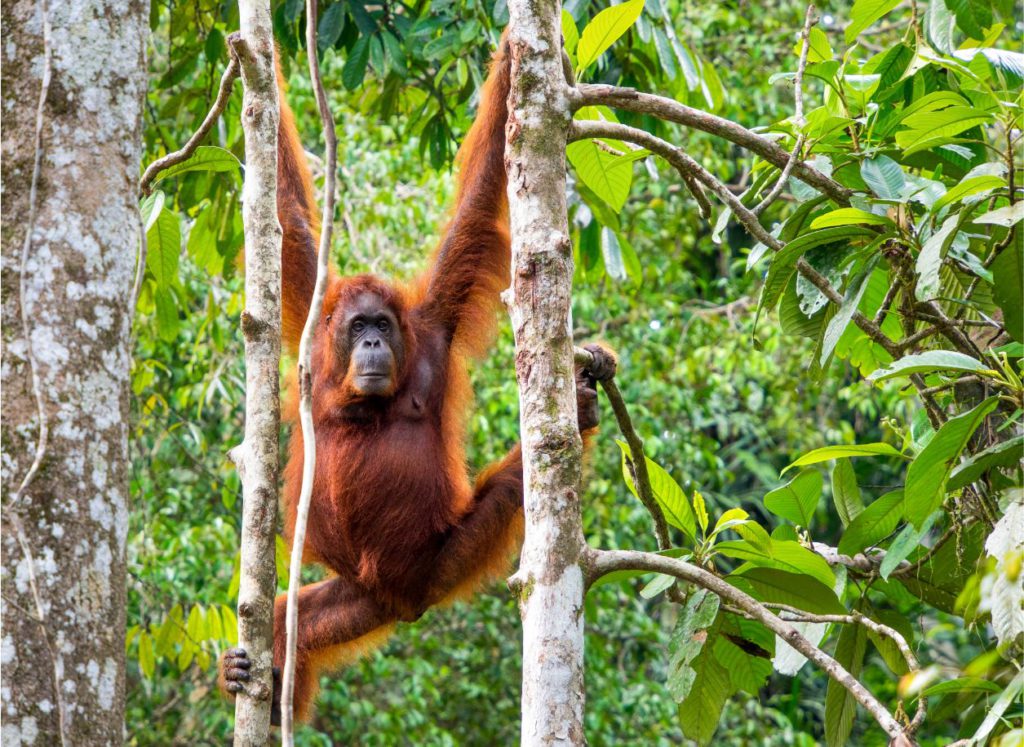 One of the less touristic cities in Malaysia, Kuching is the capital of the state of Sarawak in Malaysia. It is also the gateway to the island of Borneo. Borneo holds some undiscovered wonders of nature. Kuching, on the other hand, is weirdly famous for cats.
Kuching has lovely waterfront bays with hovering mountains, state museums, and cultural villages. Just outside the main city, you can visit one of the rarely sighted friends – Orangutans in their natural habitat.
Mount Kinabalu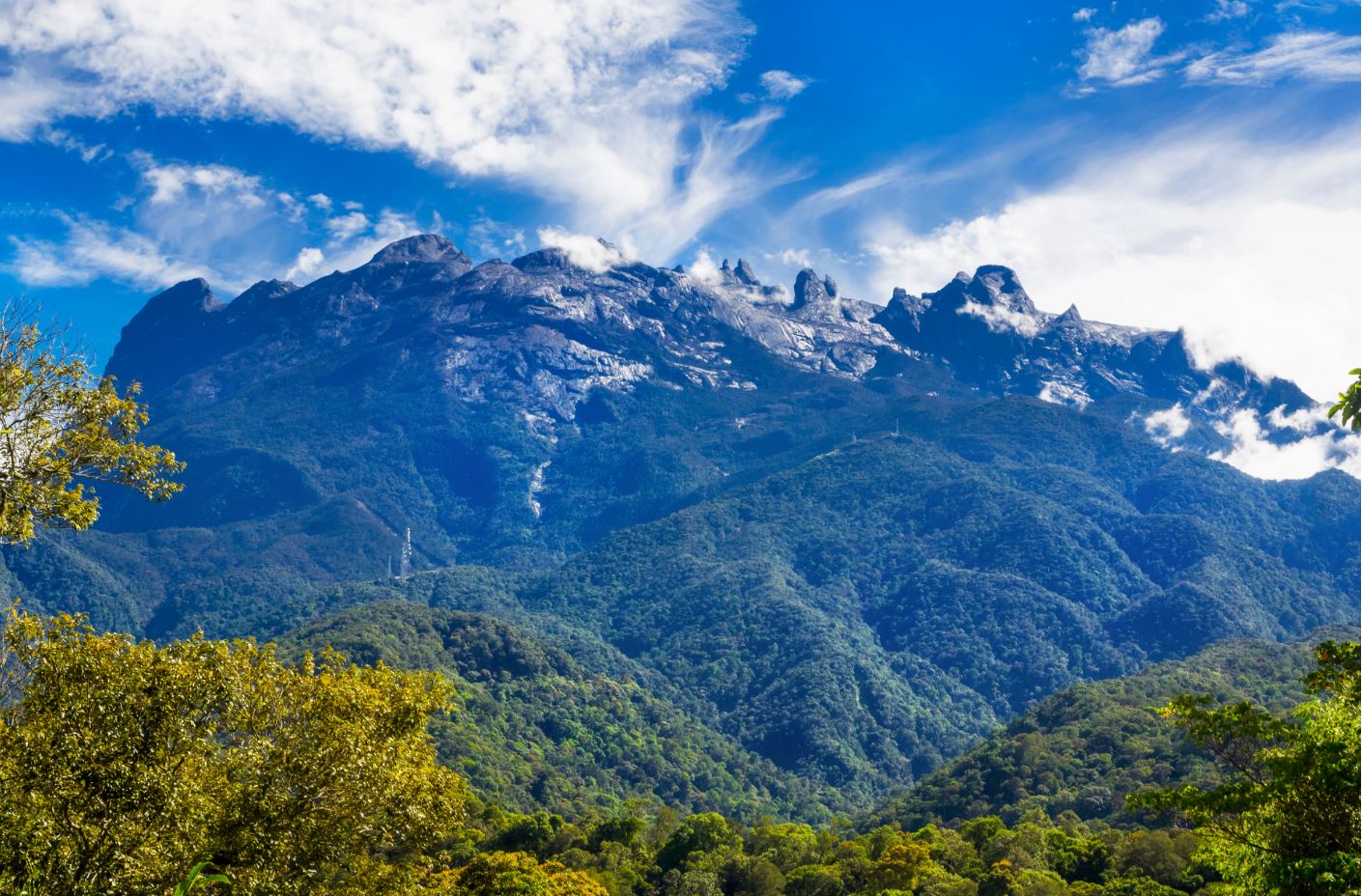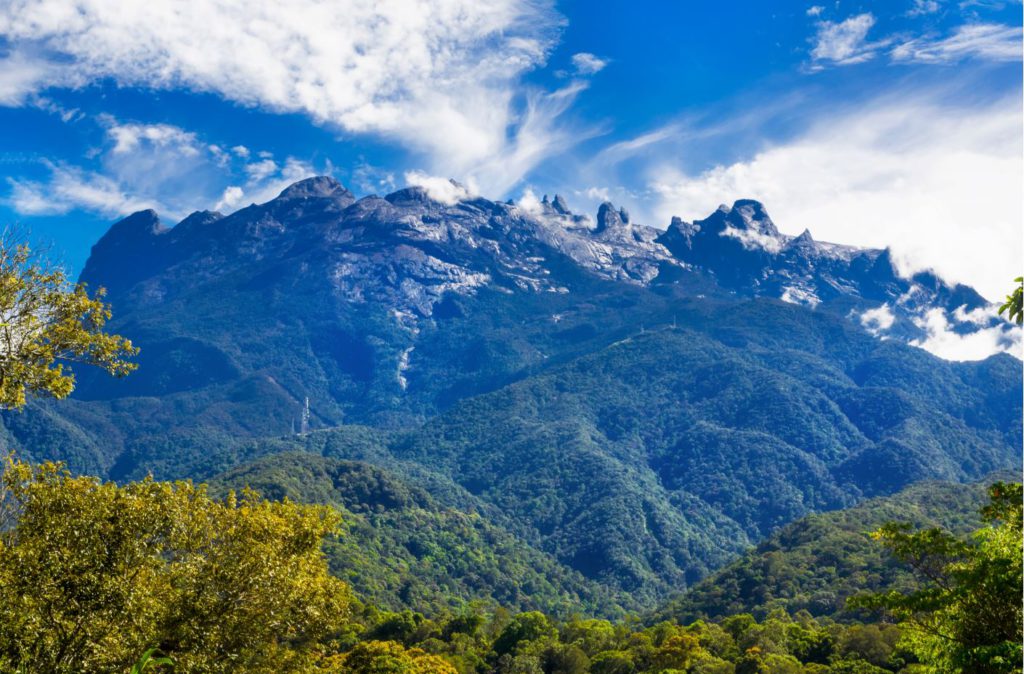 For the ones seeking more challenging outdoor adventure, trek Mount Kinabalu. Mount Kinabalu is the tallest mountain on the island of Borneo. Usually, it takes 2 Days and 1 Night for a return trip back to the base. The difficulty level of the trek is intermediate.
The best way is to go ahead with a package that includes everything with stay. To reach Mount Kinabalu, you will have to reach the city of Kota Kinabalu and travel from there. Visit their official website to know more.
Turtle Islands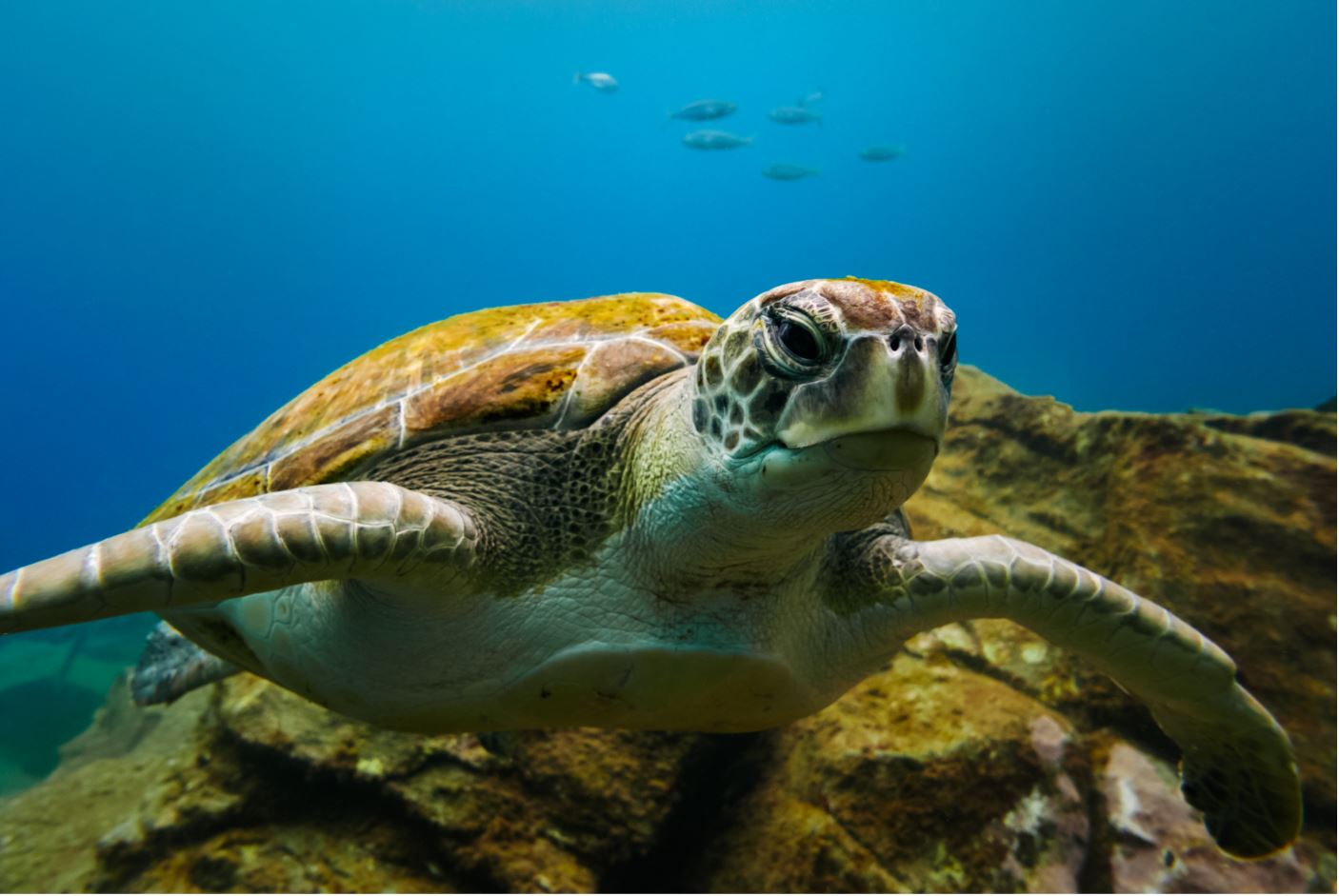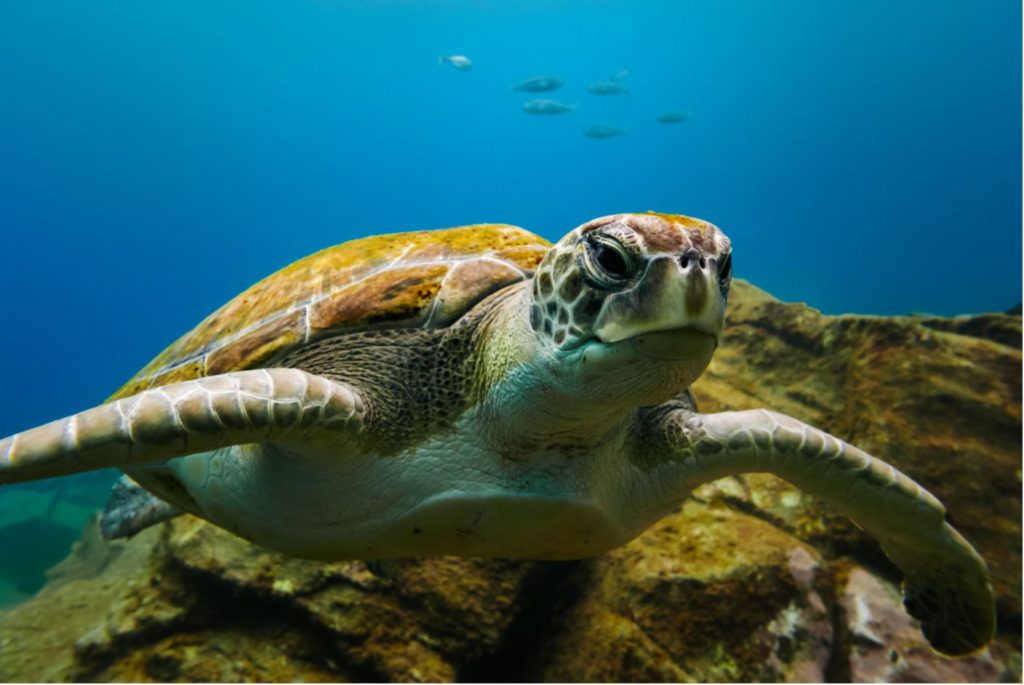 To reach the far end of the island of Borneo to get a glimpse of the green and Hawksbill turtle is not easy. Turtle Island or Palau Selingan allows only 50 visitor permits each day. The island focusses hard on conservation of the two of the only-seven species of water turtles.
With a limited amount of tourist activities there is only a couple of guesthouses on the island. The beaches host almost no humans. Although you can occasionally be accompanied by a monitor lizard and of course, a lot of turtles. Read a detailed article on the turtle islands here.
How to travel Inside Malaysia
Malaysia has great connectivity around its mainland. However, for Borneo you may have to ask around a bit more for help. You can choose a combination of these:
Air: If you don't know already, Malaysia is home to AirAsia. It means that they have mind-blowing connectivity to almost all cities at very affordable prices. Flights are the best way to travel inside Malaysia, especially to the islands. Or else, you will have to jump many vehicles to reach. Most cities have an airport. Only Kuala Lumpur, Penang and Kota Kinabalu have international airports.
Bus: Bus is the next best option. They are cheaper than airways and definitely has better views of the countryside. Bus connectivity across the whole of Malaysia is excellent with frequent and flexible travel options. The roads are in good condition and frequent stops will ensure the accessibility to toilets, food and convenient stores. You can book tickets online beforehand on easybook.com or busonlineticket.com
Trains: While trains are not a bad option, their connectivity isn't that wide. There are only two main lines – the east coast and the west coast. Moreover, they only run through mainland Malaysia. So if you want to reach islands like Penang and Langkawi, you will have to change a couple of vehicles apart from the train ride.
The trains are comfortable and offer fantastic views throughout the ride. You can check the routes and timings on seat61.com and book tickets on ktmb.com.my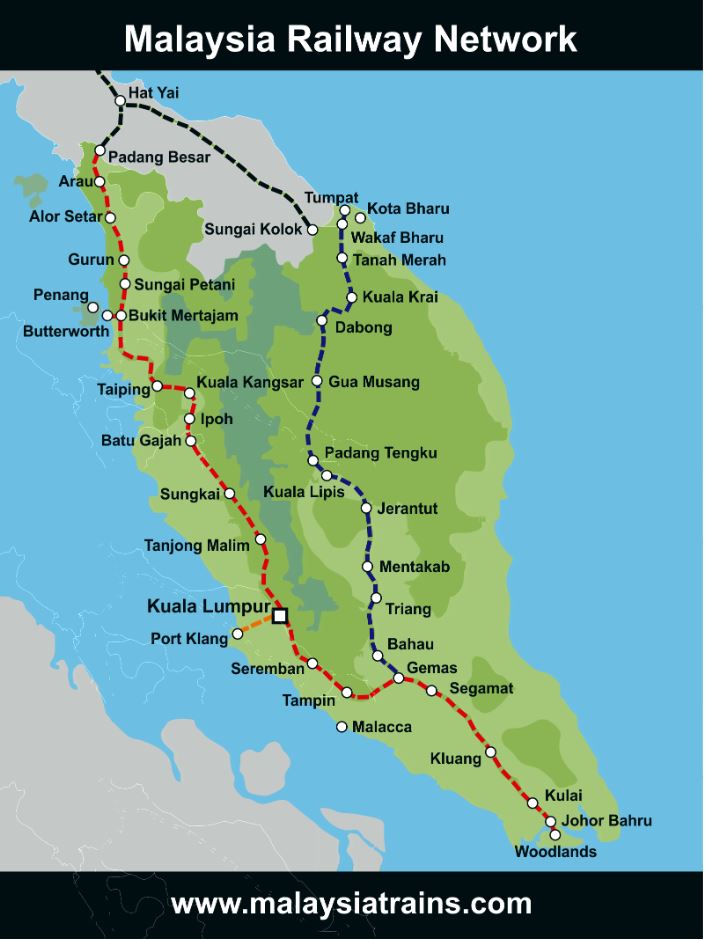 Car Rental: If you have an international driving license and have 4-5 members in your group, car rentals are great. While most people find it fairly comfortable to drive around in Malaysia, make sure you have a little experience on Asian roads before heading off to the highways.
A private vehicle is also great to explore some of the more remote areas in the countryside in all weather conditions. Cars on rent are available in most major Malaysian cities but you need to have an international driving license. A day's rent for a car from KL starts from 400RM per day depending upon the car. You can also book a car online on discovercars.com.
Taxis: Taxis are great for travel inside as well as across cities for 2-3 people in a group. Taxis are also quite affordable in Malaysia. It is faster, you can custom curate your itinerary and picks up at your doorstep. There is no uber in Malaysia but you can use Grab (app) to go around inside the cities. For outstation can you can book a taxi on 12goasia.com. Use mydaytrip.com if you are looking for a day trip in or around a city.
Ferries: You will definitely need to book a ferry to hop around the islands if you aren't traveling there by air. You can buy a ticket at the pier only. But if you really like to plan well in ahead, book a ferry ticket online on malaysiaferrybooking.com

Malaysia Travel Itinerary Summary
Here are my suggestion for Malaysia Travel Itinerary:
1-3 Days: Kuala Lumpur -> Cameron Highlands
5-7 days: Kuala Lumpur -> Langkawi -> Penang
10 Days: Kuala Lumpur -> Cameron Highlands -> Langkawi -> Penang
2 Weeks: Kuala Lumpur -> Malacca -> Cameron Highlands -> Langkawi -> Penang -> Perhentian Islands
3 Weeks: Kuala Lumpur -> Malacca -> Cameron Highlands -> Langkawi -> Penang -> Perhentian Islands -> Kuching -> Mount Kinabalu -> Turtle Islands
Malaysia & Singapore: Kuala Lumpur -> Cameron Highlands -> Langkawi -> Penang -> Perhentian Islands -> Malacca -> Singapore
Malaysia Borneo: Kuching -> Niah National park -> Gunung Mulu National Park -> Mount Kinabalu -> Sepilok Orangutan Rehabilitation Centre -> Turtle Islands
Malaysia Travel Itinerary
3-Day Malaysia Itinerary
Kuala Lumpur -> Cameron Highlands
The best way to a great trip is to keep it short and comfortable. There are, in fact, a lot of things to do in Kuala Lumpur. You can take half a day to visit the majestic Batu Caves, the Chinese temples and the best mosques in the city. From there you can take a bus to a cab for a day trip to Cameron Highlands.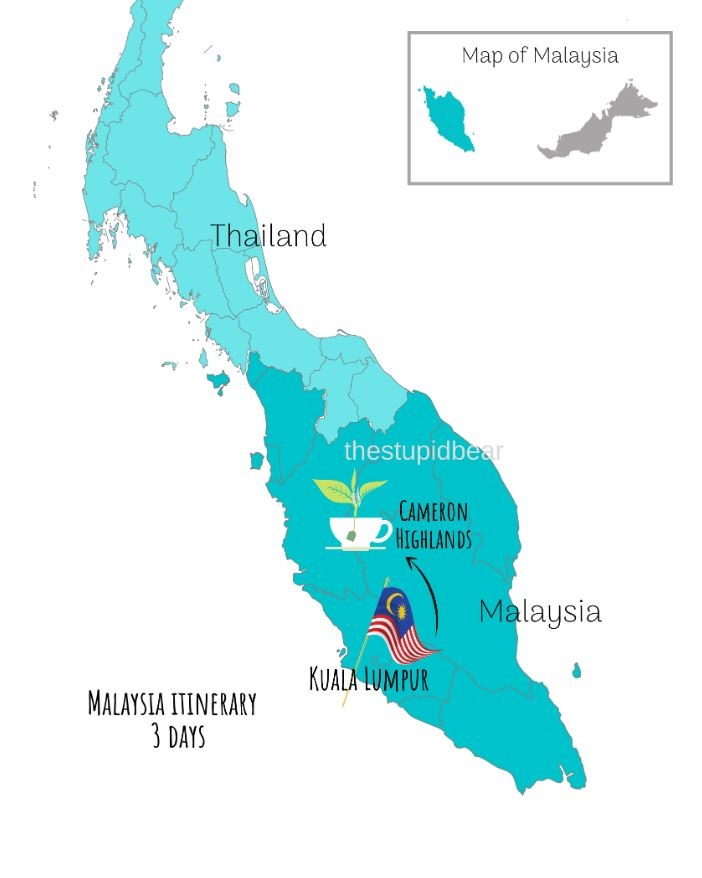 5-7 Days Malaysia Itinerary
Kuala Lumpur -> Langkawi -> Penang
From Kuala Lumpur you can head over to Langkawi for 2-3 days. The best way is the take a flight which is both affordable and quick. After Langkawi, go to Penang either by flight or by a ferry. Traveling by ferry will be a great experience too. You can then fly out of the Penang International airport if you have a direct flight to your next destination.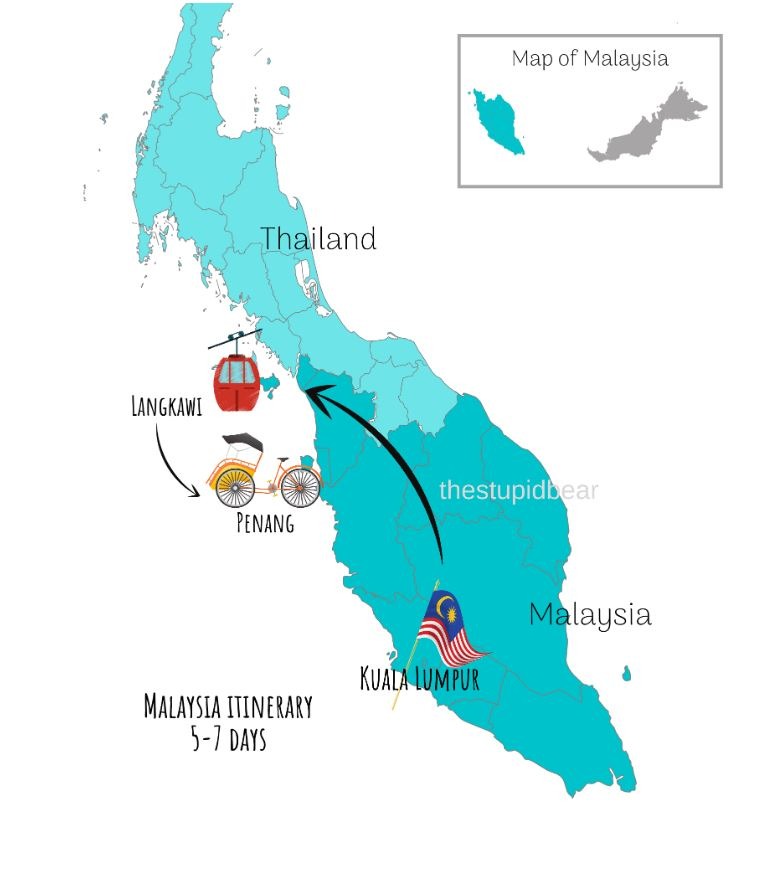 10 Days Malaysia Itinerary
Kuala Lumpur -> Cameron Highlands -> Langkawi -> Penang
In the above itinerary, you can add a stop to either Cameron highlands or Malacca. Cameron Highlands can be a mid-stop on your way from Kuala Lumpur to Penang by road. On the other hand, to reach Malacca you will have to turn towards the opposite direction.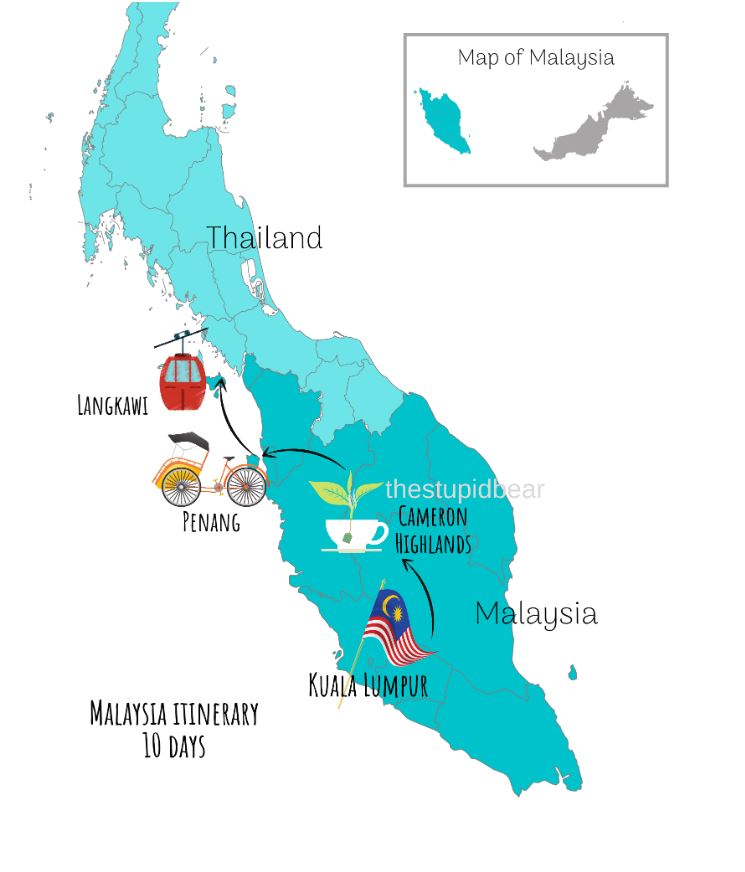 2 Weeks Malaysia Itinerary
Kuala Lumpur -> Malacca -> Cameron Highlands -> Langkawi -> Penang -> Perhentian Islands
Depending on the pace as per your travel style, add more places to your liking. For a more relaxing time, head to islands like Tioman, Redang or Perhentian islands. Only a few islands have an airport. Therefore, you may have to travel via land and then to a connecting ferry.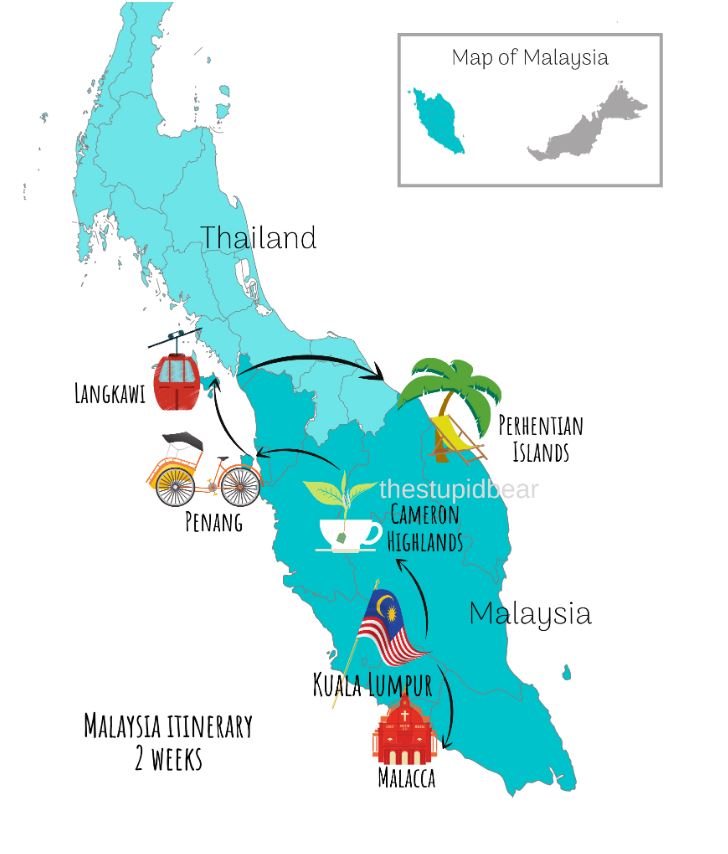 3 Weeks Malaysia Itinerary
Kuala Lumpur -> Malacca -> Cameron Highlands -> Langkawi -> Penang -> Perhentian Islands -> Kuching -> Mount Kinabalu -> Turtle Islands
If you have far more time in Malaysia, you must spend some time on the island of Borneo. Humans are sparse and the place is rich in biodiversity. Kuching is the capital city of the state of Sarawak. It is famous for cats with museums dedicated to them. Mount Kinabalu is the highest peak in Borneo and is worth a trek. Turtle islands are far and out of the reach of many. But an experience of such isolation is a privilege to few.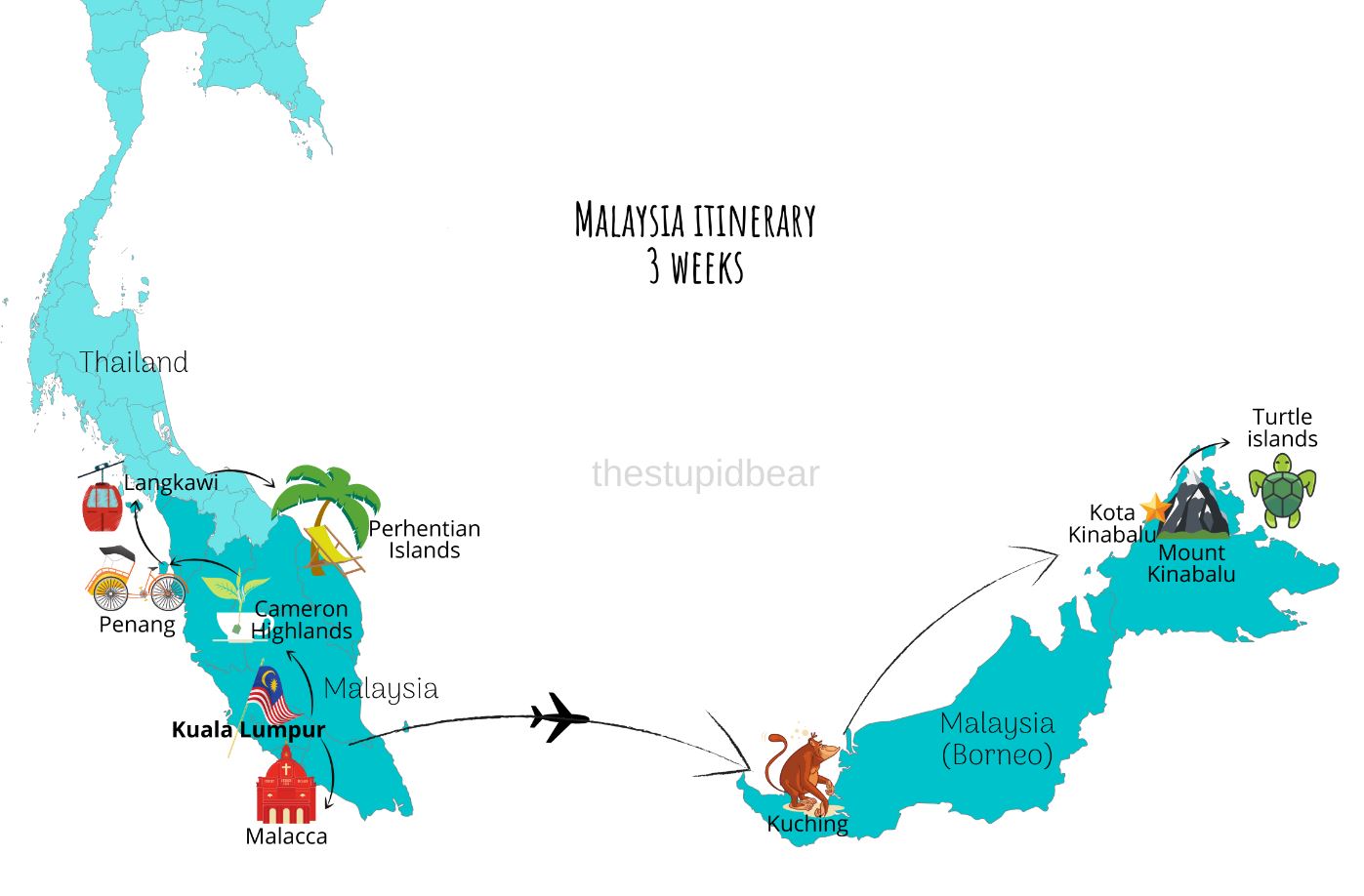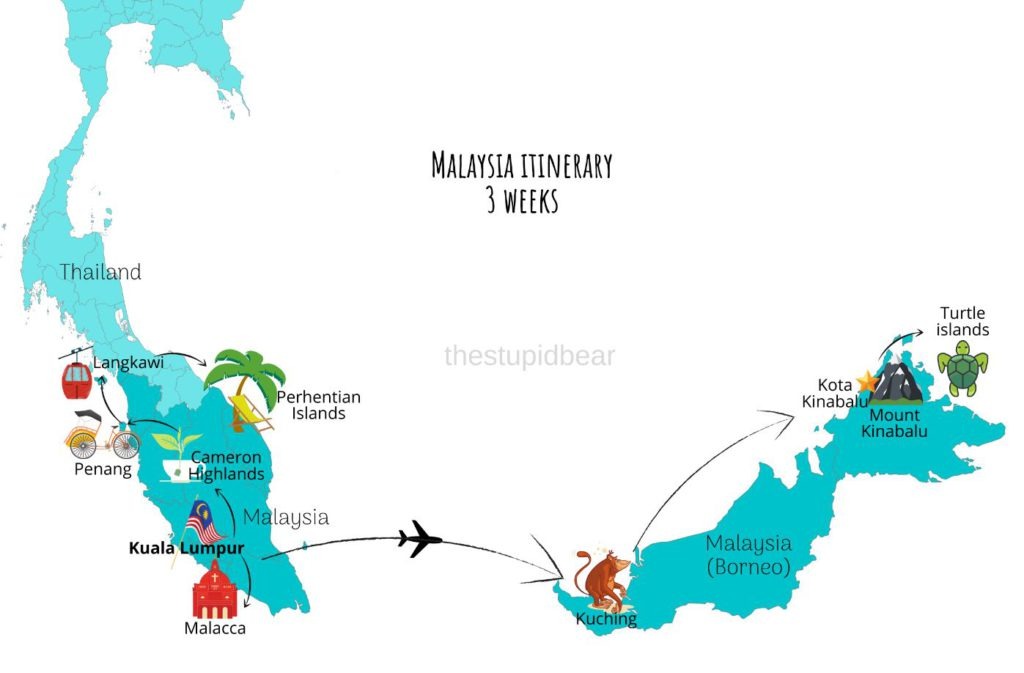 Malaysia & Singapore Itinerary
Kuala Lumpur -> Cameron Highlands -> Langkawi -> Penang -> Perhentian Islands -> Malacca -> Singapore
If you have come as far as Malaysia, you may as well include Singapore in your itinerary. You can spend as much time in Singapore as you like, but I will suggest at least 3-4 days. There is a lot to do in Singapore and you can do a lot on a budget too. You can take both, a train or a flight to Singapore from Kuala Lumpur or a bus from Malacca.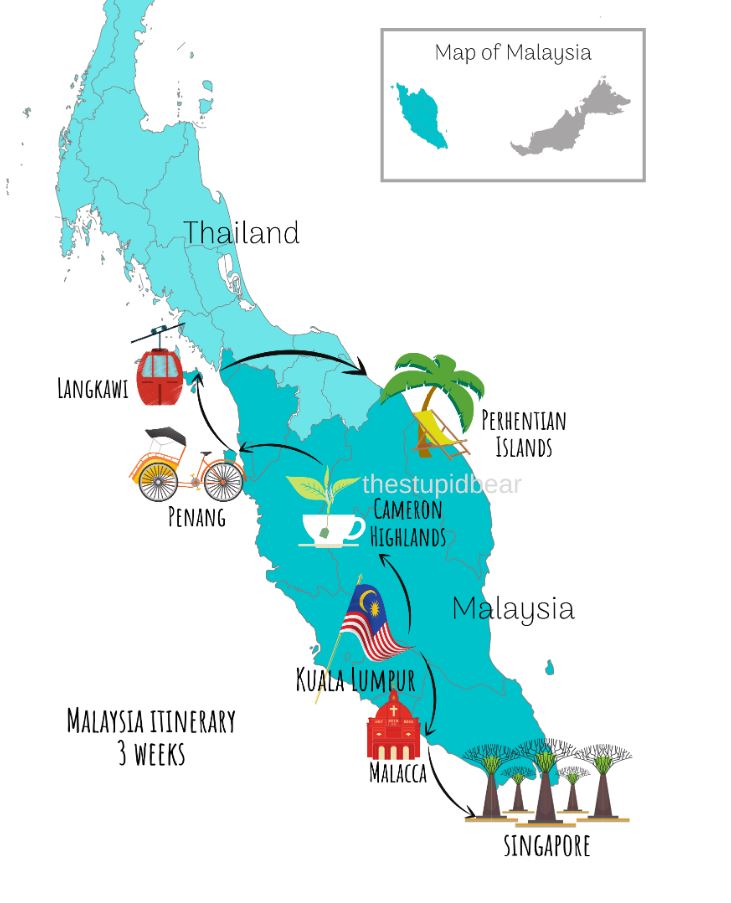 Malaysia Borneo Island Itinerary
Kuching -> Niah National park -> Gunung Mulu National Park -> Mount Kinabalu -> Sepilok Orangutan Rehabilitation Centre -> Turtle Islands
For the ones who have decided to dive deep inside the island of Borneo, there are a few places that you cannot miss. Just don't expect a lot to do at each place. Rather you will get to spend a quiet time in the jungles with animals that are endangered that you rarely get to see anywhere else.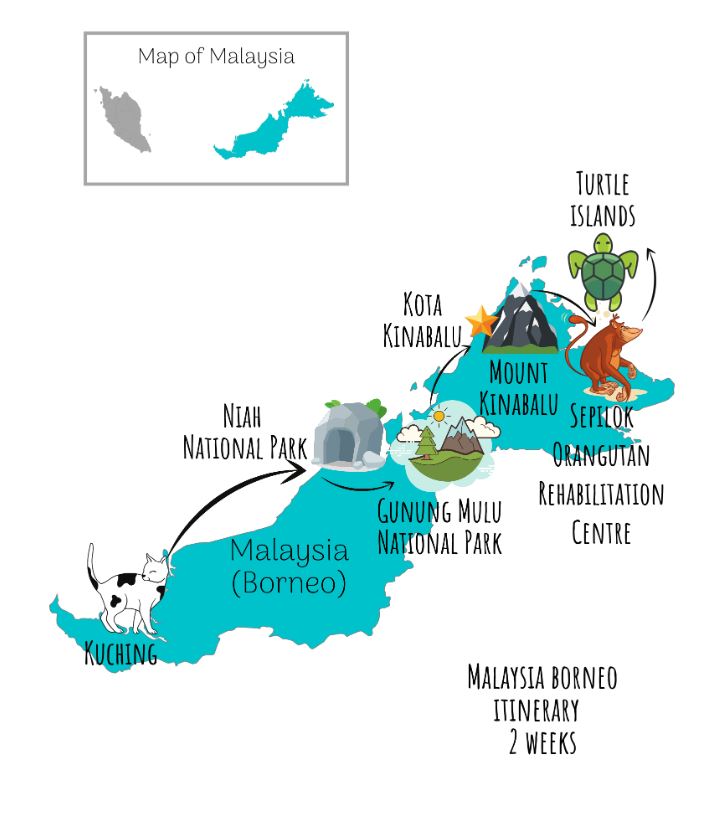 Best time to visit Malaysia
To be honest, there is no best time to see Malaysia. You will find clear skies and a sunny afternoon in one place and it may be pouring at another.
Winter Months/December to January – This is the peak season in Malaysia when the tourist activity is at its peak. The weather is a little less warm than usual with a dip in humidity. Additionally, the skies are clear in most of the west coast around Penang and Langkawi.
The east coast may still see downpour during these times. The island of Borneo receives the most amount of rainfall between December to February. Nevertheless, don't let it dampen your plan if you don't mind the mud.
Summer Months/March to September – This is the next best time to visit. Most of the country will see a dry spell. But showers of rainfall are not unheard of. Most of the islands and even Kuala Lumpur experience surprise rainfall late in the afternoon. I will advise you to carry your rain gear and an umbrella with you.
Chinese New Year and Ramadan – It is best not to travel during both these times. Most of the locals head home or visit other parts of the country during the Chinese New year. It will see a spike in hotel prices and you may find tourist attractions extremely crowded.
On the other hand, Ramadan sees minimum activity. The nights can come out buzzing with activities but shops can remain closed during the day time. You may be disappointed in a few places.
Monsoon/September to November – For the most part of the country, these are the wettest months of the year. Islands like Langkawi close most of their beaches due to rough waters. The bright side is that the hotel prices go down and you will see fewer tourists during this time. Make sure you and your gear, both are waterproof.
Save On Pinterest


Related Articles