07 Jan

The Best things to do in Langkawi Island, Malaysia

If you have witnessed one of those advertisements which gave Malaysia its popular tagline 'Malaysia truly Asia', you must have seen a few views of this famous island already. Langkawi is the island paradise and a jewel in Malaysia's crown for popular tourism. And it really is quite beautiful.

Langkawi has also been developed in a way to attract tourists and is home to some incredible man-made structures. At some point in time, you can also see its resemblance to the southern islands of Thailand. Langkawi is a paradise for luxury vacations, honeymoons and family holidays.

Although Langkawi is far less frequented by backpackers, you can still do it on a budget. And since Malaysia is far less popular for tourism compared to its neighbouring countries. As a result, you will be able to enjoy a more peaceful time in the area.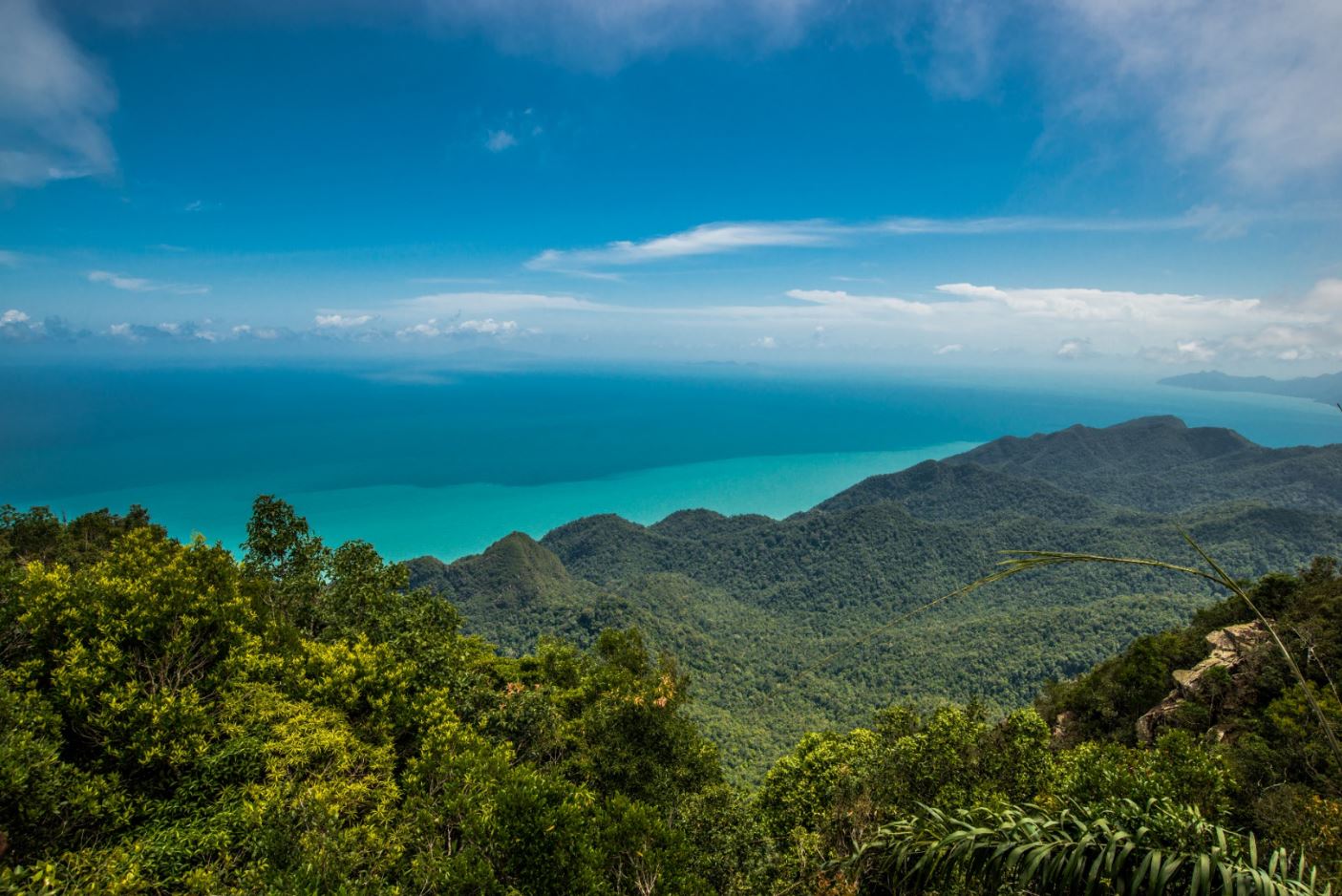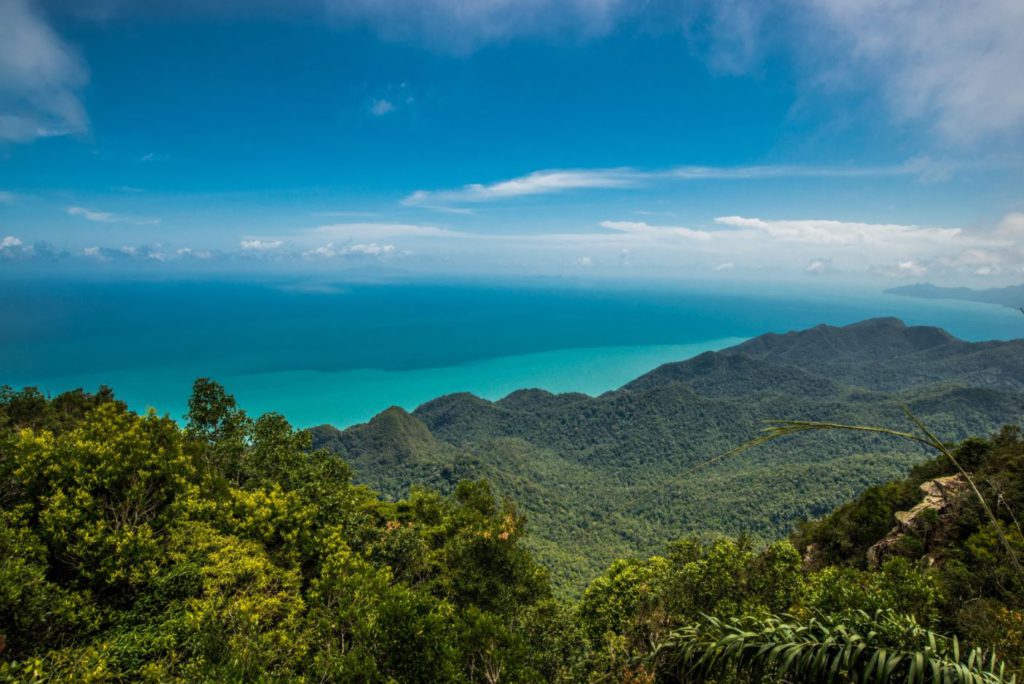 Where is Langkawi?
Langkawi is a district and archipelago of 99 islands in the Andaman sea. Located around 30 km on the west coast of Malaysia, it is situated on the northern tip of the country bordering Thailand. In fact, you can take a boat to the nearest island of Thailand – Koh Lipe.
Only 4 of the 99 islands in the area are inhabited, Langkawi being the largest. The island is separated by the mainland by the famous channel, Strait of Malacca.
In Malaysia? Check out our popular travel itineraries to the best places in Malysia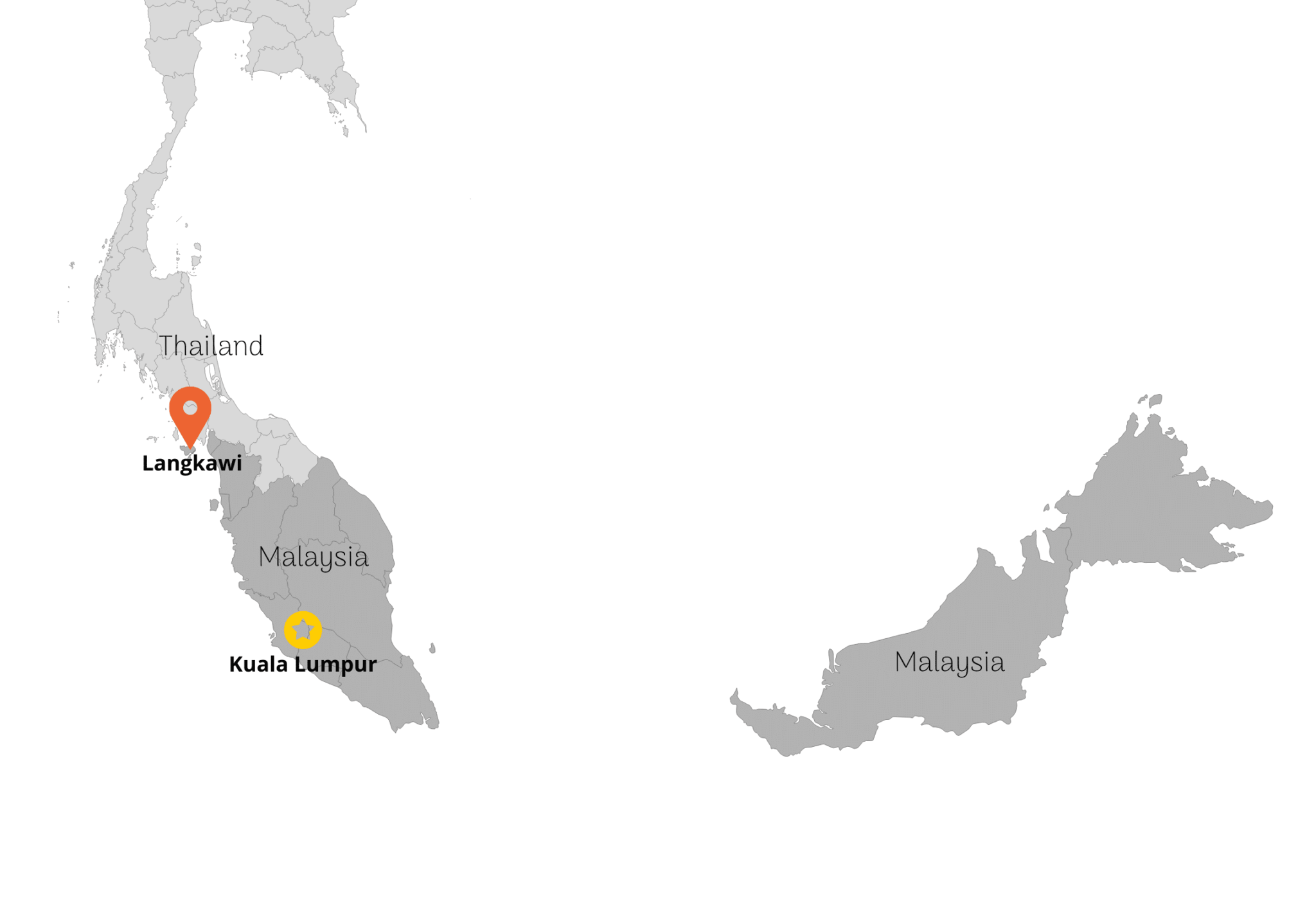 Why is Langkawi famous?
Langkawi is one of the most beautiful island in Malaysia. Langkawi has been developed by the Malaysian government as a point of international interest in tourism. It is a great destination for a luxury experience. But the highlight of the island is the eagle square and the sky bridge which has been featured in most of its advertisements and many movies.
Apart from those, there is a lot of natural beauty to the place. The island offers some fantastic beaches and a day trip to nearby islands. There are also a few waterfalls, wild forests and mountains peaks for day treks. Langkawi is also known for some great water sports, which however may not be as affordable as some places in Thailand.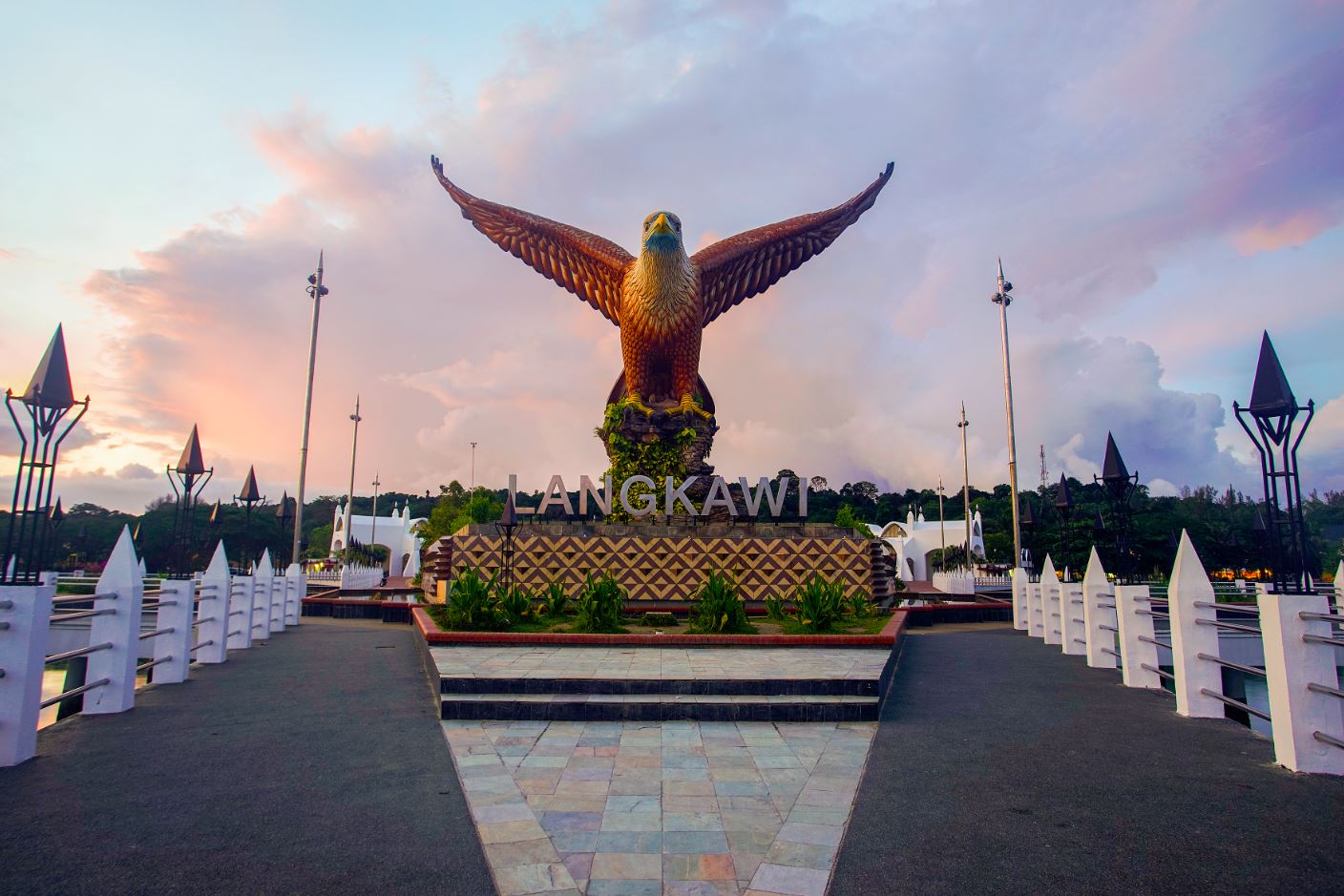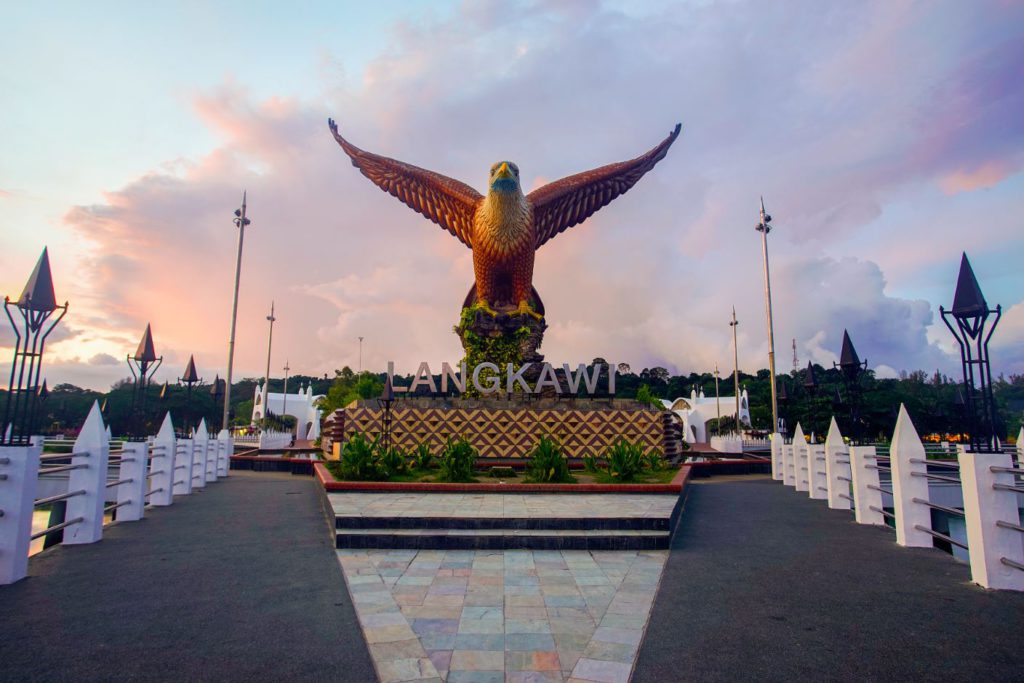 How to reach Langkawi?
You can reach directly to Langkawi only by Air which is probably the most convenient. Another way is to take a bus or a train to the nearest city in mainland Malaysia and then take a ferry to Langkawi. Here are some options:
By Air: Langkawi connects to all the major cities in Malaysia like Kuala Lumpur and Penang which run affordable and domestic flights. Langkawi Airport also has direct flights to a few international destinations in Singapore, Korea, and Japan. The major airlines operating on this route are Air Asia and Malaysia Airline.
By Road: If you are already in Malaysia, you can take a direct bus/taxi/private car to Kuala Kedah or Kuala Perlis. Both the towns are located on the west coast and have a regular ferry to Langkawi.
Kuala Perlis is slightly more preferred since the travel time by ferry is shorter and better infrastructure. It takes 8 hours to reach Kuala Perlis from Kuala Lumpur and the pier is at a walking distance from the bus station. Book your bus tickets here or on 12.goasia
By Train: If you are looking for a more comfortable journey, you can look at taking a train. The first option is to take a train to Alor Setar take a taxi/bus to Kuala Kedah and a ferry to Langkawi.
The second is to take a train to Arau, a taxi/bus to Kuala Perlis and a ferry onwards. The trains are slower than the buses but a sleeper can be far more comfortable. You can book your train tickets here 
By Ferry: You can reach Langkawi by ferry from Kuala Kedah, Kuala Perlis, and Penang. There are also ferry services between Satun of Thailand and Kuah of Langkawi. Read more about ferry routes and charges here

How to go around in Langkawi?
Langkawi is an island of considerable size. Hence, you will need one or the other form of transport to go around. It will not take more than 40 minutes to go from one point to the second farthest point. A round trip will be around an hour and a half. Public transport is rare and buses stop at a few selected stations on the island. Here are a few ways to go around in Langkawi:
Taxi: Taxis are available almost everywhere in Langkawi. You will need one from the airport as well. You can simply wave on the road to ask one to stop. A 15-minute drive will cost you around 18RM. This is a good option if you are not looking to get a self-driving vehicle.
If you are planning a day full of activities in a group, look at hiring a day cab. Uber or Grab does not work in Langkawi as of now. Although, this may not be the best option for budget travellers.
Self-driving car: If you are comfortable driving and have a valid driver's license, you can look at renting a car for yourself. Malaysians drive on the left side of the road, so make sure you are comfortable with that. Take a car if it is the monsoon season in Langkawi.
Two-Wheeler: Look at renting a two-wheeler if you are on a budget and have experience driving in Asia. Avoid renting a two-wheeler during the monsoons. Keep your speed in check since the crossing of domestic animals and livestock on road is common.
You don't necessarily need a driver's license to rent a bike. However, the agency may want to keep your passport as a security. You can find a shop in the city. A day's rent will range from 20-25 RM per day without fuel.
In case, none of the above seems viable to you, check out this private guided tour with great reviews.
What to see in Langkawi
1. Langkawi Sky Bridge
Langkawi Skybridge is a must-see attraction when you are on the island. It is the centre of all tourism propaganda and in fact, a piece of wonder. Langkawi sky bridge is a 125 meters long curved bridge on top of one of the highest peak in Langkawi.
It is only for pedestrians to get an insane bird's eye view of the island, otherwise impossible. Once you get down from the cable car, you can simply walk for 10 minutes on a paved pathway with a few staircases to the bridge.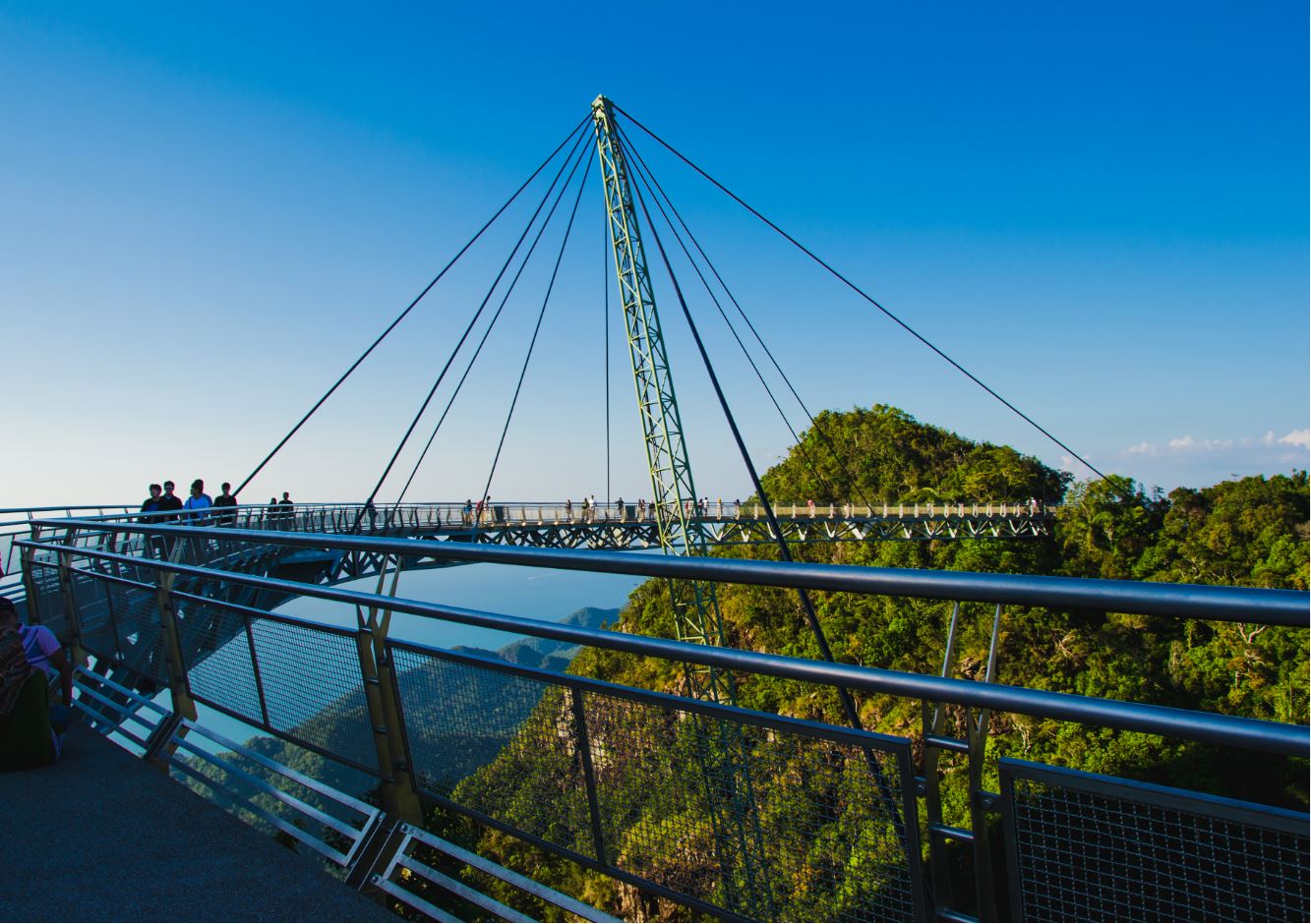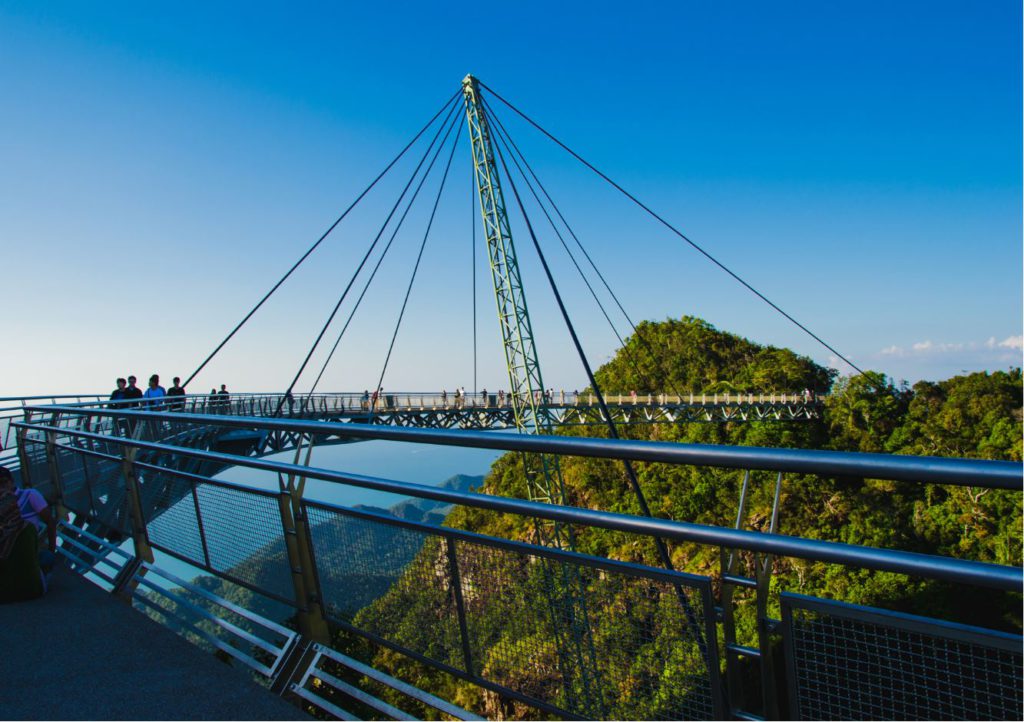 In case you cannot exert much, there is a funicular track available with a separate ticket which you can buy on top. You will have to buy the tickets to the Skybridge separately on the counter at the top. The Skybridge can only be reached by a cable car which is another wonder of the country.
Also, bring an umbrella for the heat can get very uncomfortable during the dry season. There are also days where there is a lot of mist and you cannot get any view. So check if there are clouds on top of the mountain and avoid going on those days.
Langkawi Sky Bridge timings: 10.00 to 17.00 every day of the week.
Langkawi Sky Bridge Ticket Price: RM 5 for adult and RM 3 for children. You will have to purchase this as a separate ticket at the top. It is not included in the Cable car ride.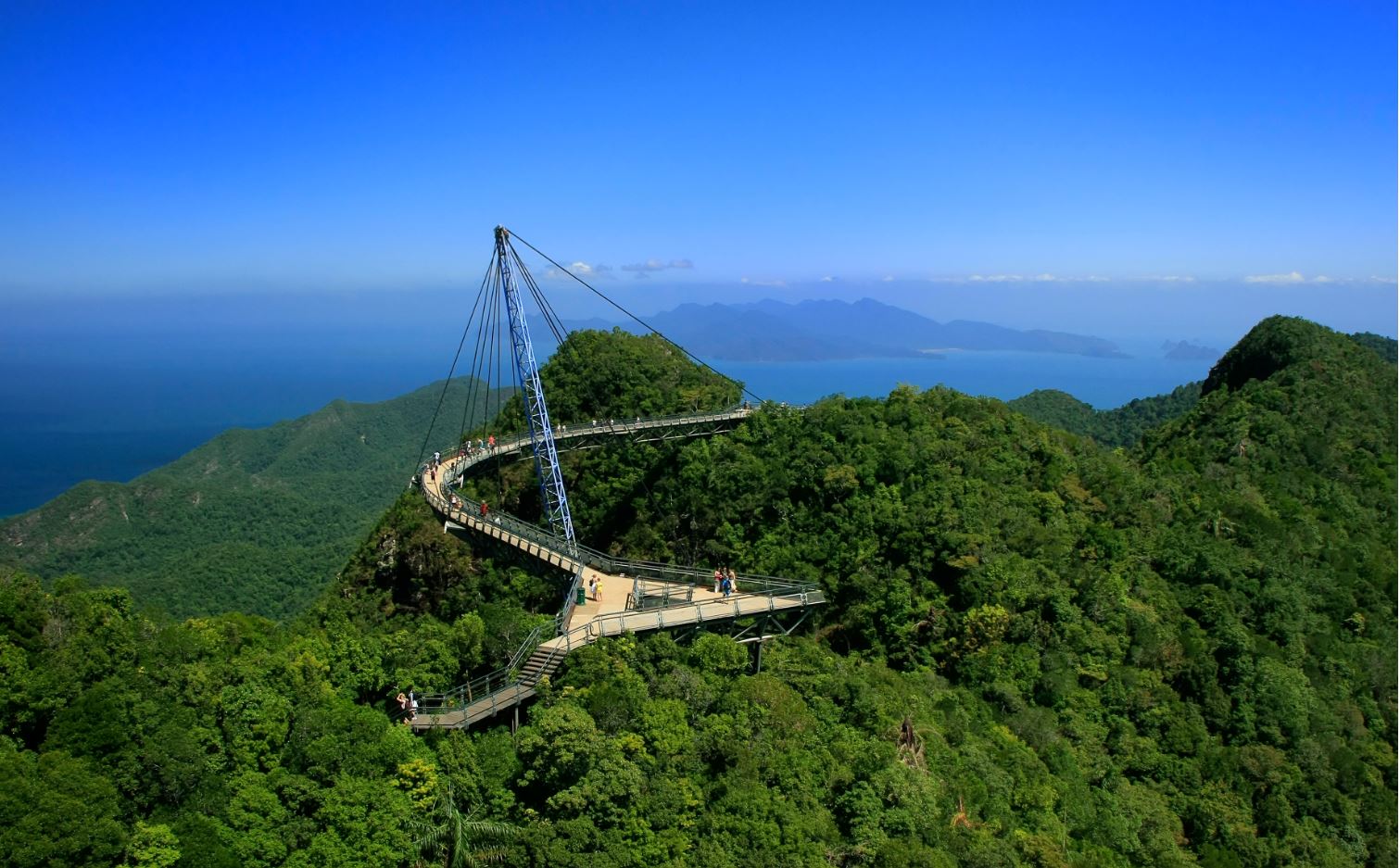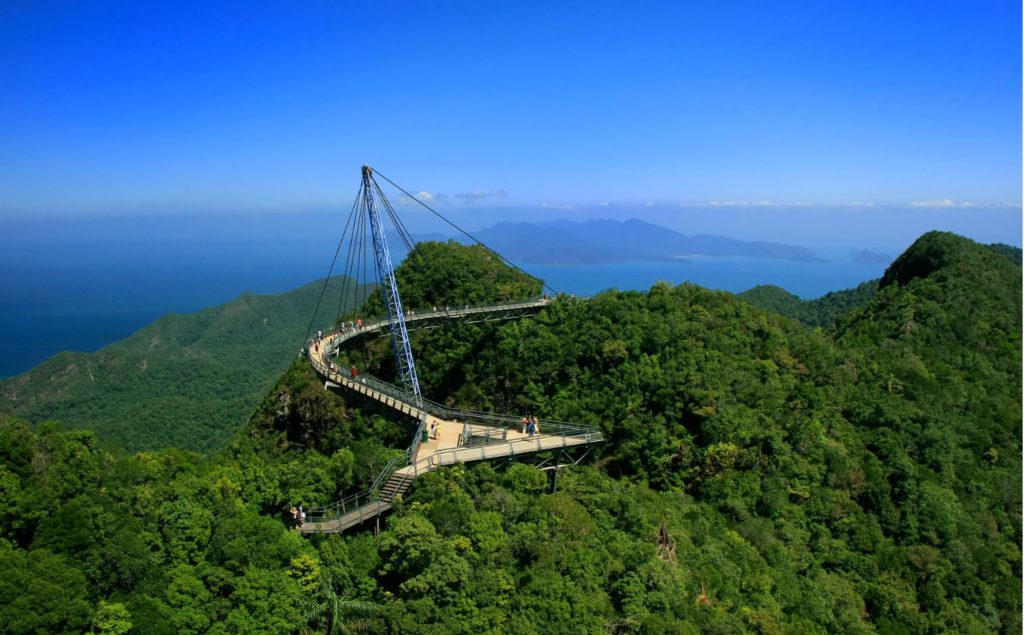 2. Langkawi Cable Car
The cable car is a 15-minute ride and gives great views of the valley, the sea and a spectacular view of the seven wells waterfall on the way. The Cable Car takes you to the top of mount Mat Cincang at a height of 708 meters (2,323 feet) via the steepest cable car gradient in the world.
The total distance covered by the cable is 2.1km to the top. 6 people share a gondola (cable car vehicle unit). You can also hire a private gondola or a glass-bottom unit for a much higher price. There are two observation decks at the top. Together they give a 360° view of the whole island and the Andaman sea as far as Thailand.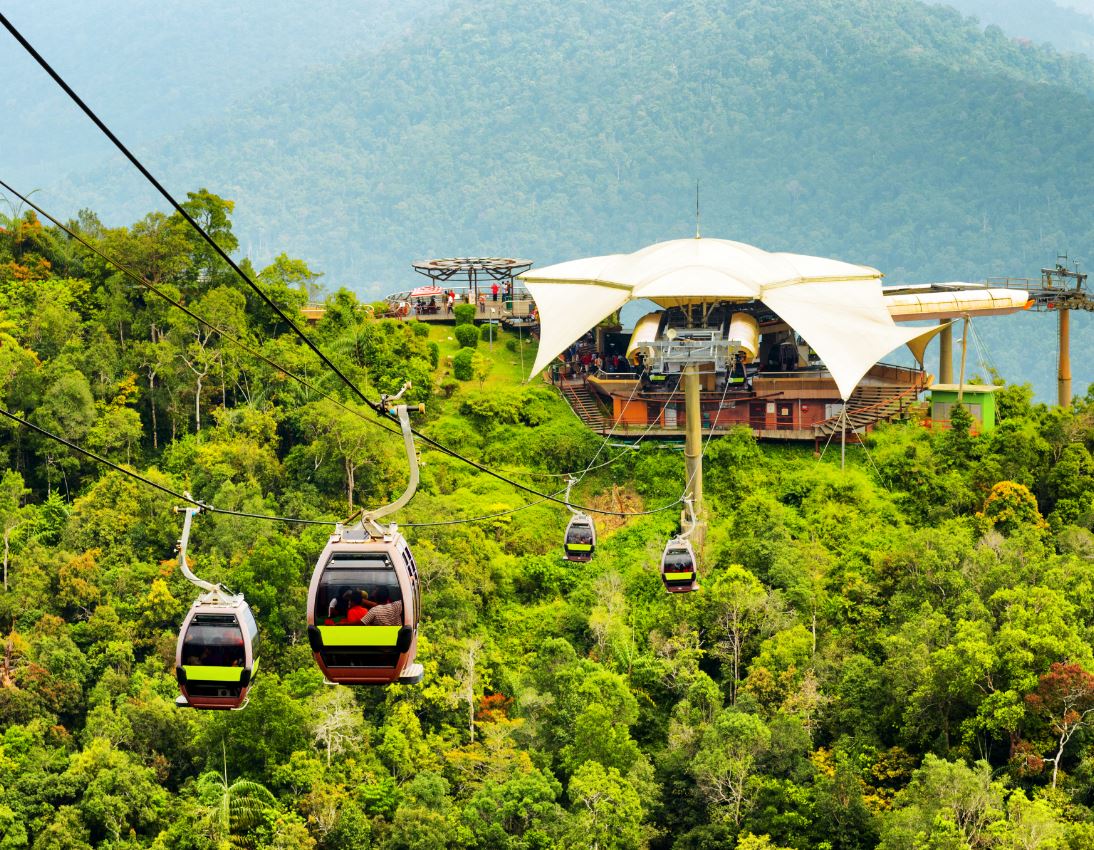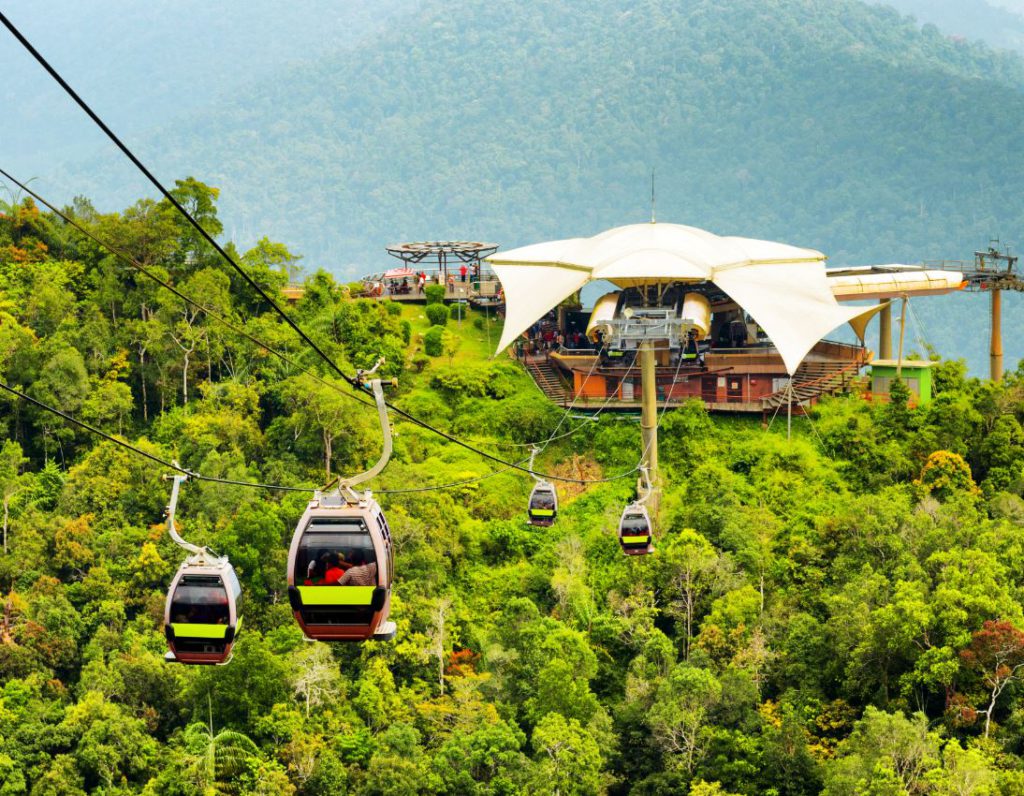 There are also a few attractions at the base of the cable car called the 'Oriental village'. The place is almost like a small village themed park. You can find 3D museums, gentle rides and restaurants in the parking area. An interesting point of attraction is the skydome. It projects a 360° of 3D projections of galaxy and astronomy.
It is also a great way to wait for the next set of the gondola in the waiting line. To enjoy the whole place at peace, it will take at least half a day (if the lines are not long). So take out the time. Also, the cable cars do not run on days with bad weather, so check before you arrive. I suggest you do not book your ticket online or ahead of time.
Timings:
Monday to Thursday: Entry 10 am to 7 pm (closes by 8 pm)
Friday to Sunday (and Public Holidays): Entry 9:30 am to 7 pm (closes by 8 pm)
Wednesday only: Entry 12noon to 7 pm (closes by 8 pm)
Ticket Price:
Regular ticket: Adult – RM45 per adult. Child (from 2-12) – RM30. Includes Skydome.
Express Ticket: RM95 per person. Includes Skydome and SkyRex.
Private Gondola ride: RM460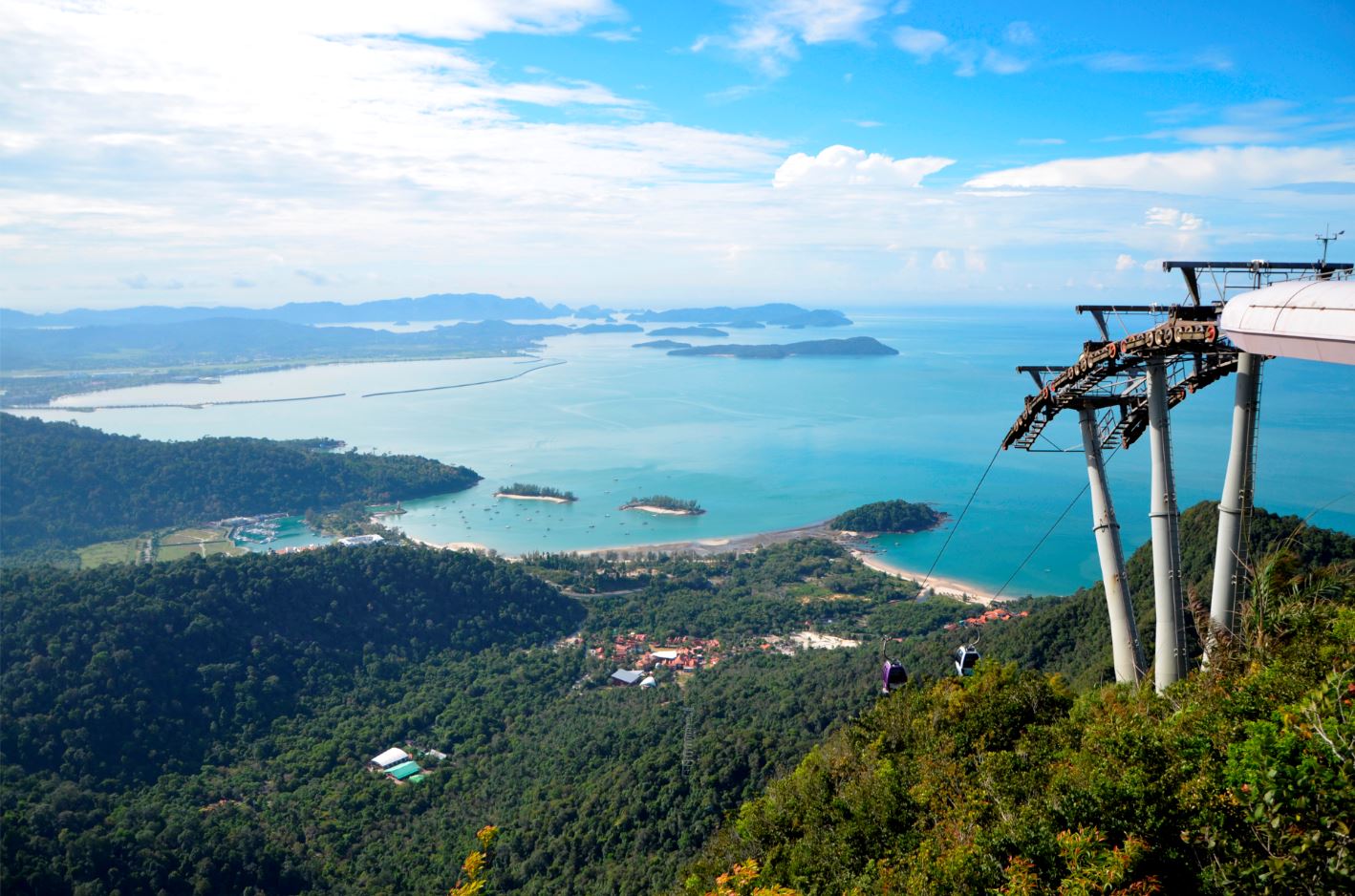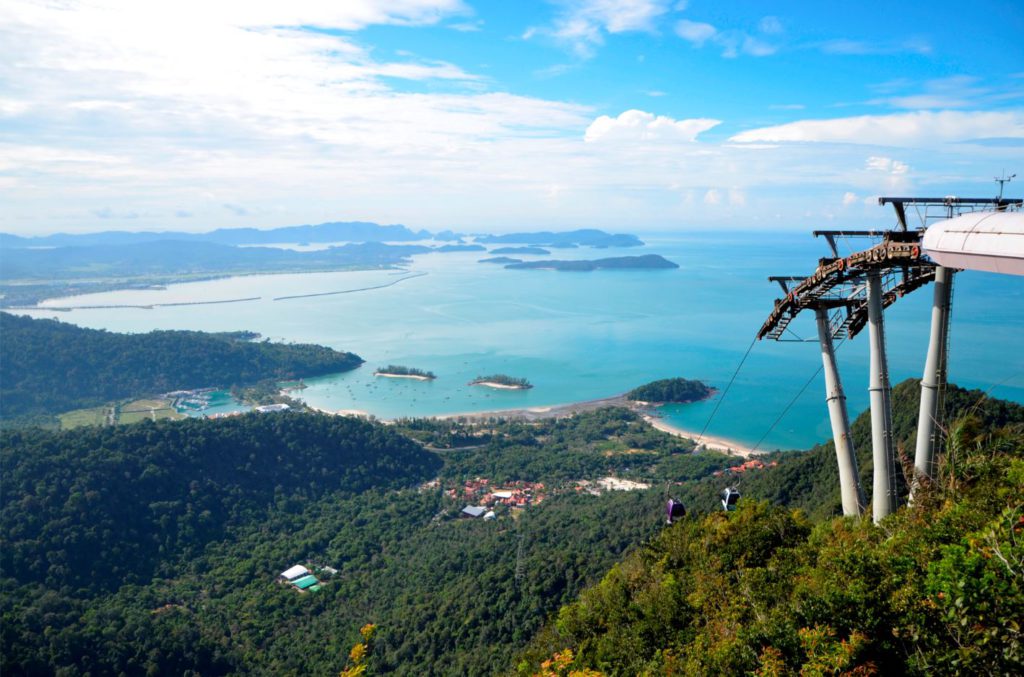 3. Islands of Langkawi
Langkawi is an archipelago of 104 islands (5 visible on low tide only). Therefore, island hopping is an activity recommended and enjoyed at least once when here. The most visited island in the area is Pulau Dayang Bunting or island of the Pregnant Maiden.
The name comes from the island's silhouette of a reclined pregnant lady. The island has a freshwater lake which you can reach after a 15-minute hike. The entry ticket to Tasik Dayang Bunting (Lake) is RM6 which is usually not included in the package.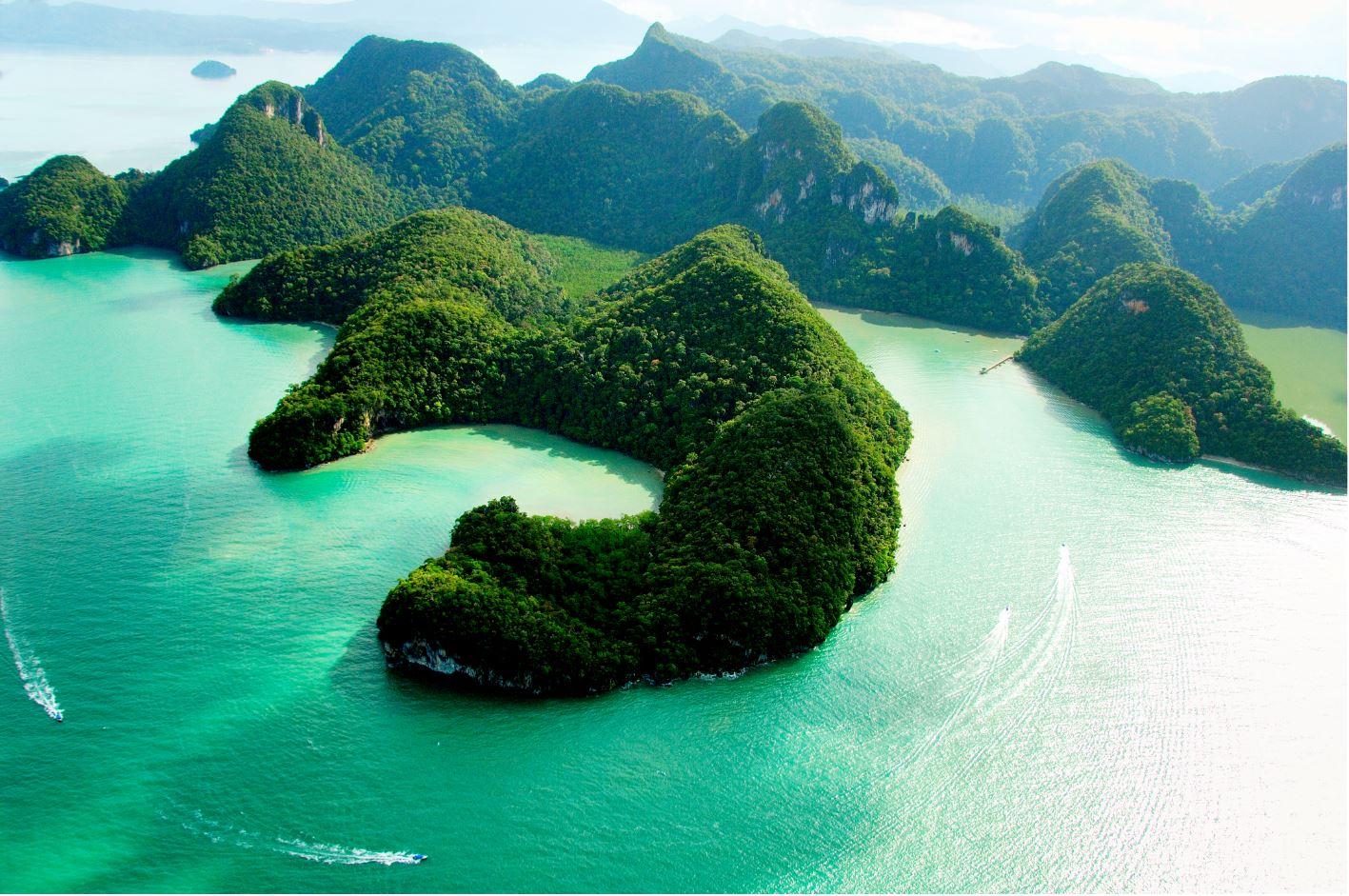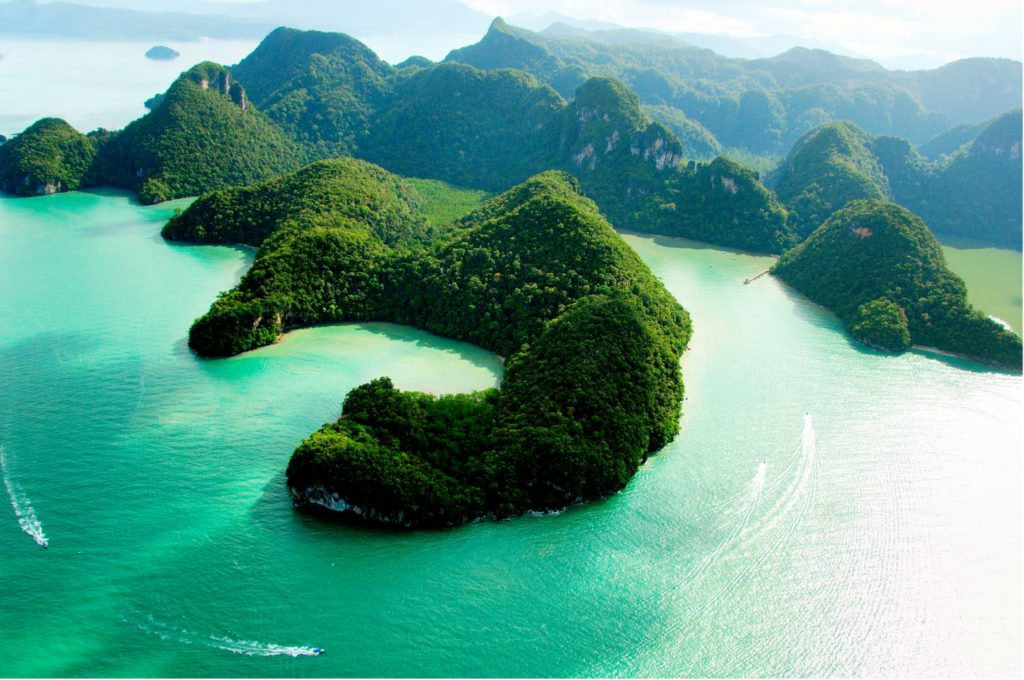 Another usual stop is the beach of Palau Beras Basah which a relaxing beach to enjoy after the hike. It is a white sand beach with turquoise blue water. The jungles of this island also offer overnight stays and jungle camping which you can book separately.
The last stop is the island of Palau Singa Besar buzzing with wildlife. The island is home to eagles, monkeys, hornbills, mousedeer, snakes, peacocks and monitor lizards.  While there may not be a stop at the island, you will be able to whiteness eagles fetching pray out of water thrown by tour guides.
Book Tour:
Langkawi Island Hopping Boat Tour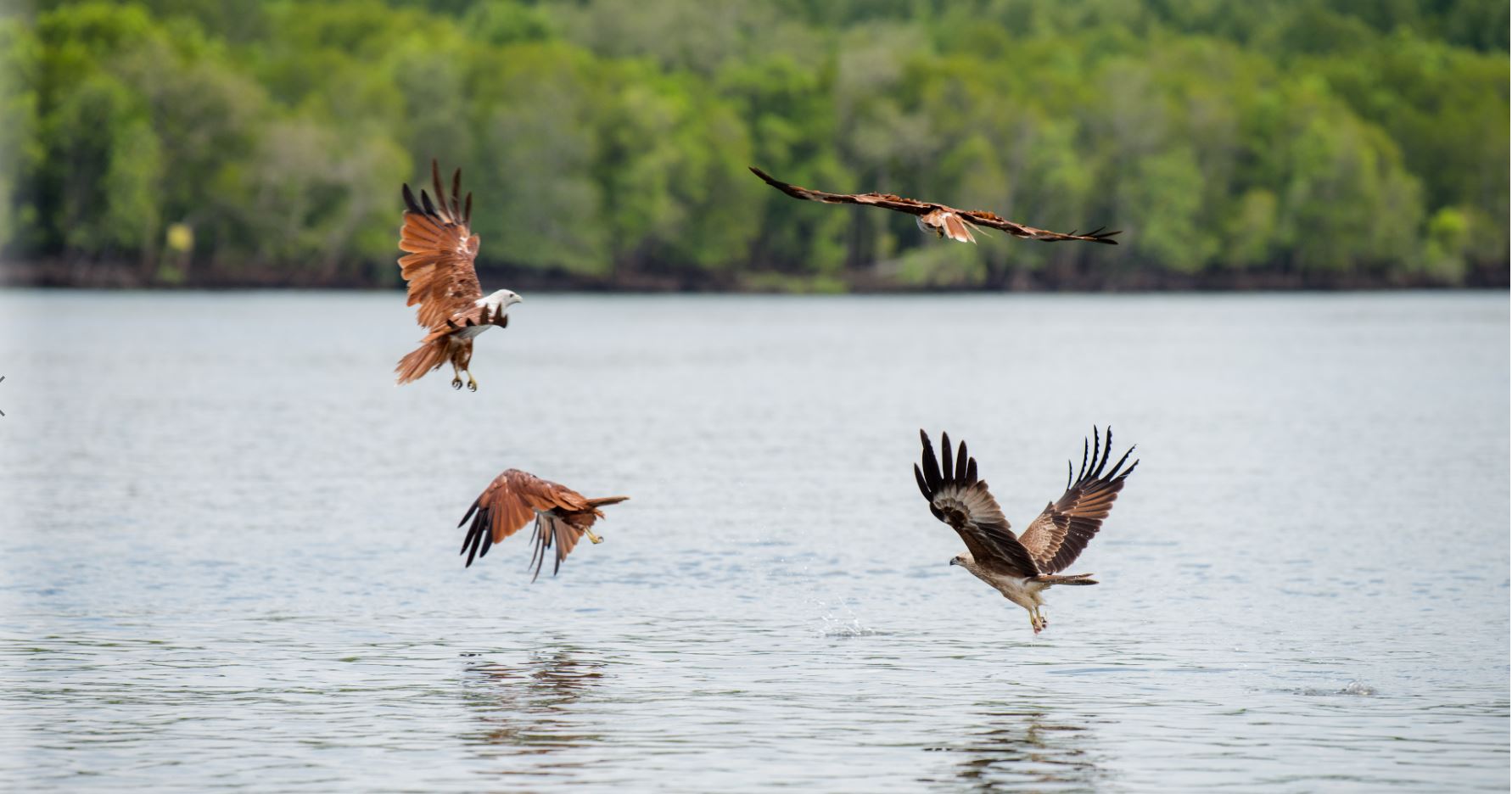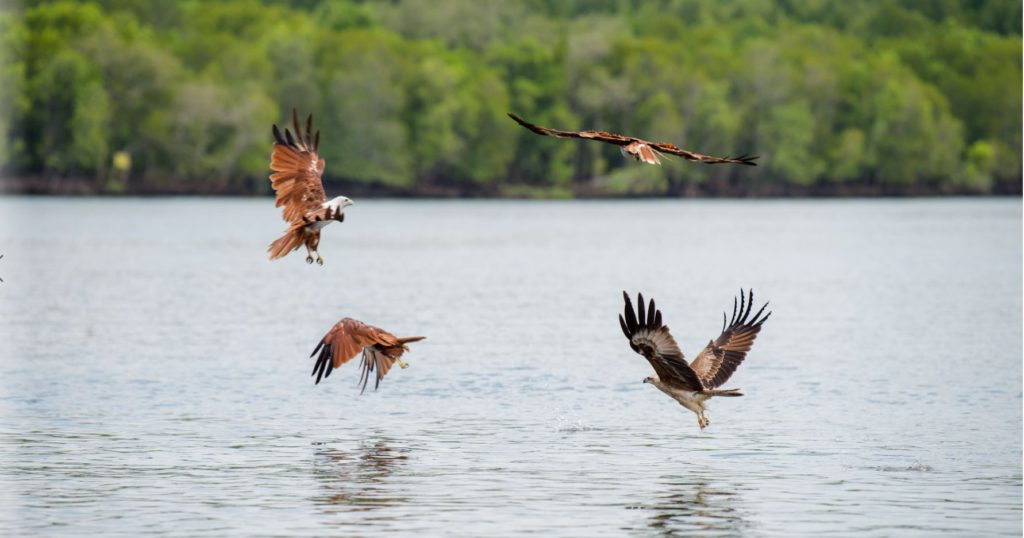 4. Beaches of Langkawi
Coming to the subject of most interest, beaches of Langkawi is the main reason tourists flock to the island. Pantai Cenang is the beach which will be first on the list of suggestion by local people. The beach is bustling with tourists with a wide range of water activities.
If you are looking for some affordable water sports, check out jet-skiing, paragliding, banana boat ride or snorkelling in Pantai Cenang.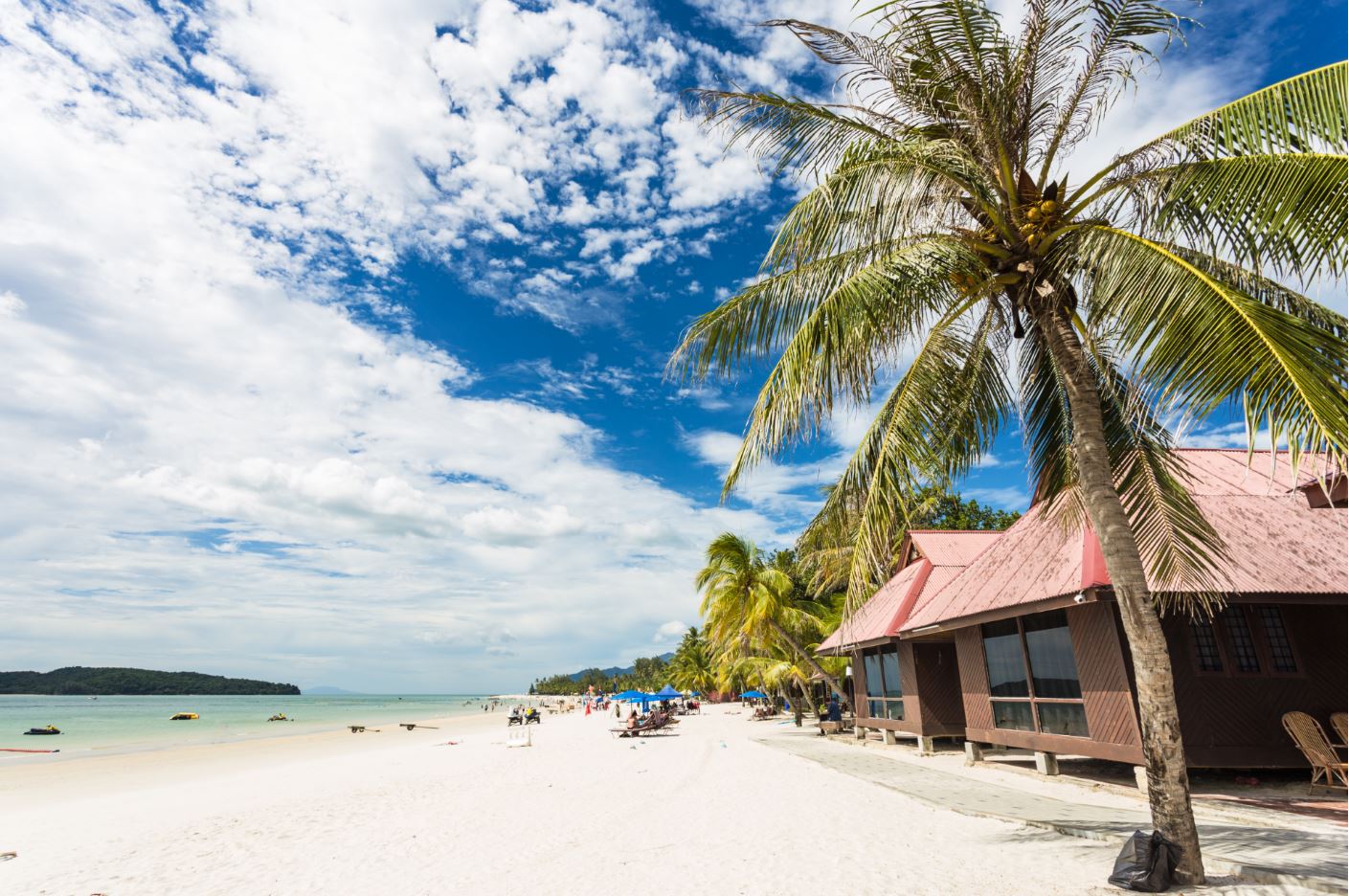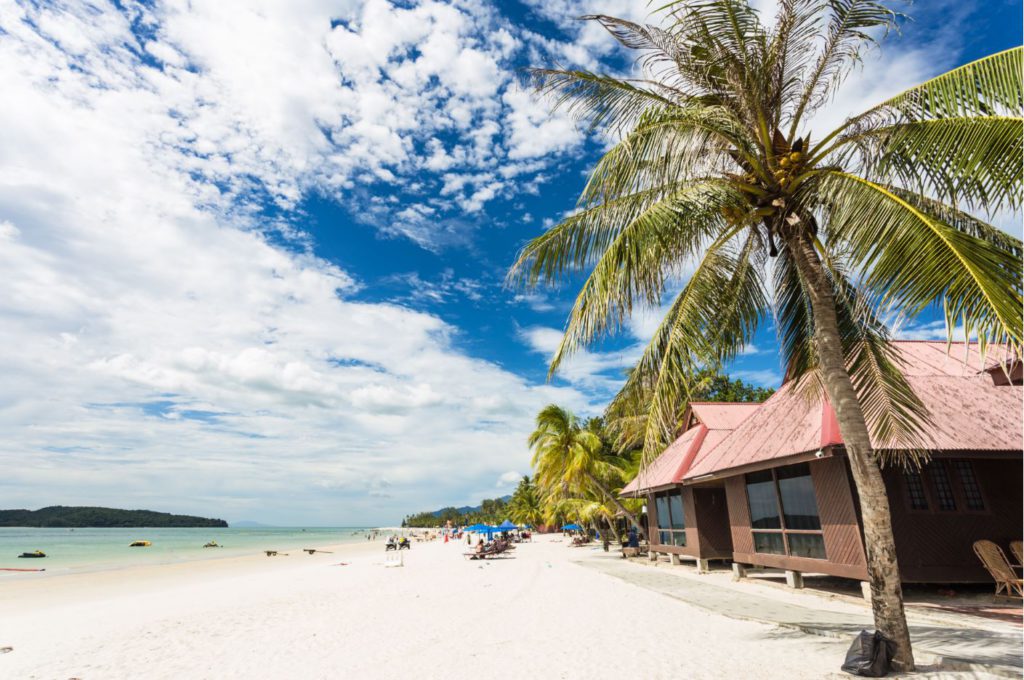 If you are looking for relief from the crowd, head to Tanjung Rhu beach to the north of Langkawi. The beach hides away in so much seclusion that very few people even know about it. The third one on the list is Pantai Kok which is 12km from Pantai Cenang.
This is another one with less crowd and equally spectacular views. The beach is also near the cable car and Skybridge, so you can club these activities together.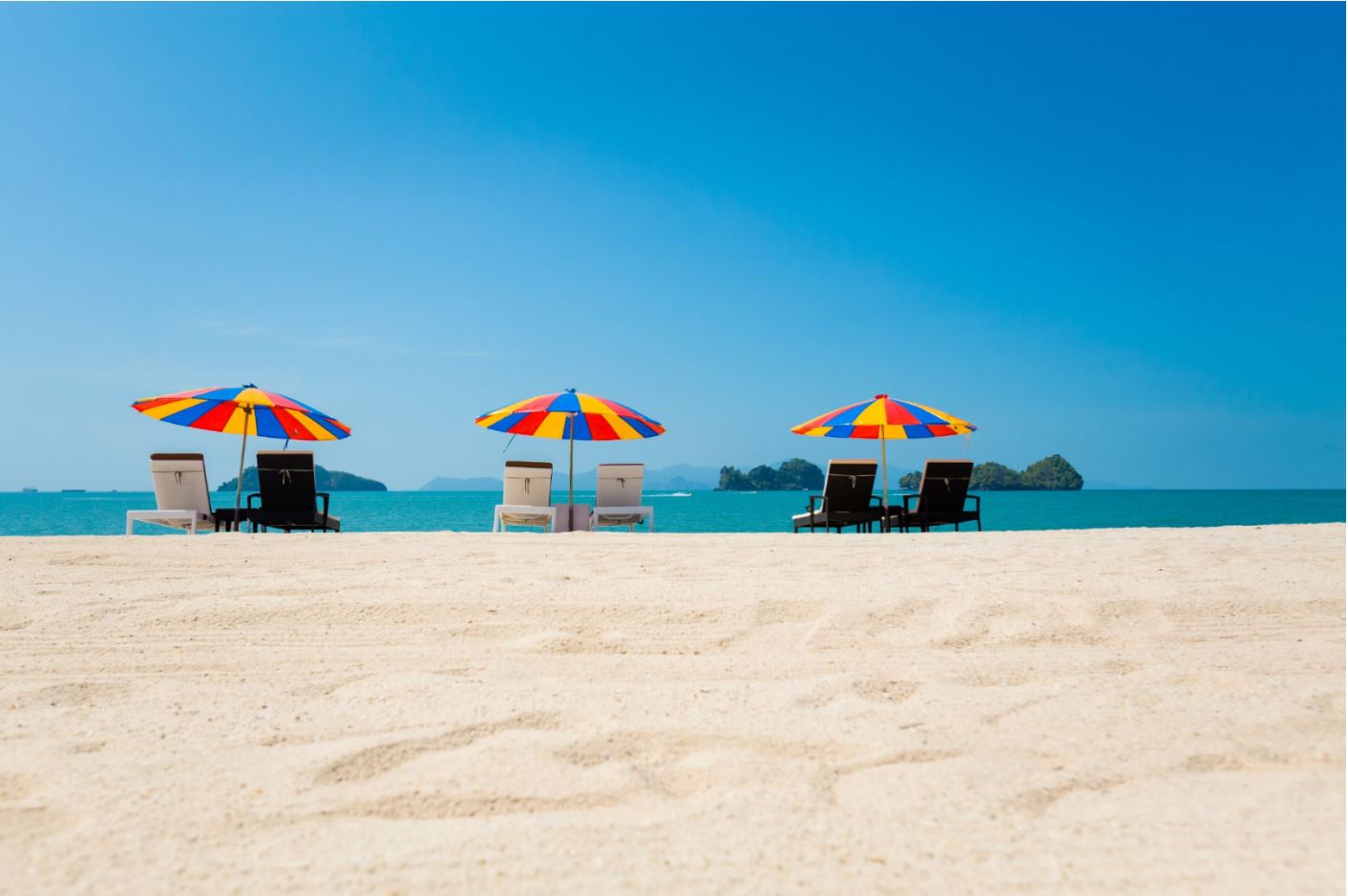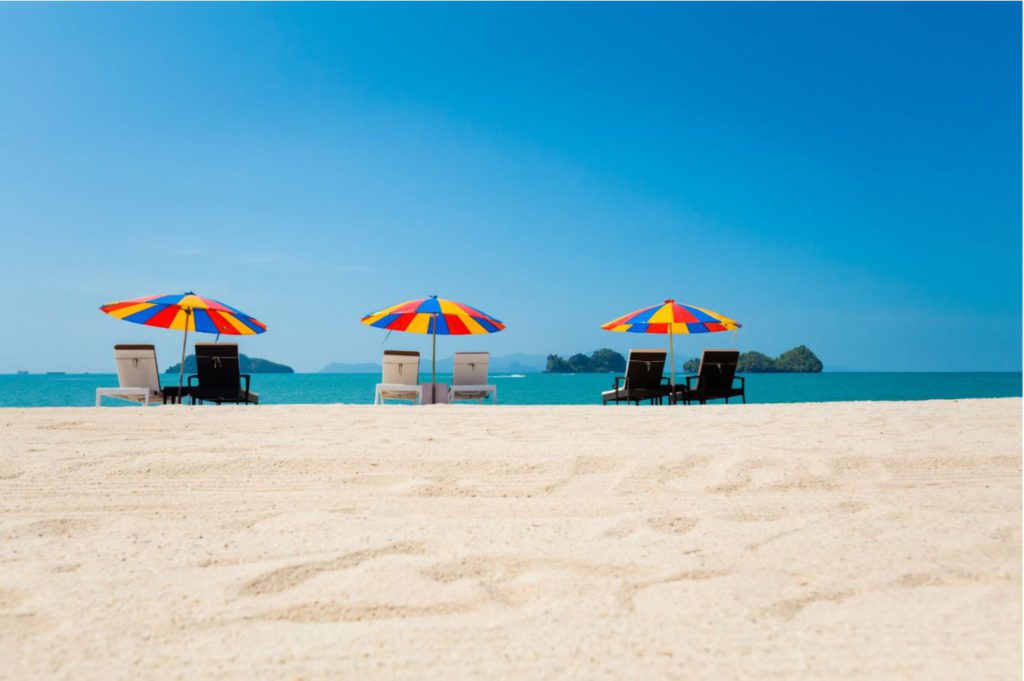 5. Waterfalls of Langkawi
The most notable waterfall in Langkawi is Telaga Tujuh Waterfalls or seven wells waterfall. A legend also acclaims residence of fairies in the area. The waterfall gets its name from the fact that seven streams of water from mount Mat Cincang feed the waterfall. The climb to the waterfall is a little arduous.
However, there are cement stairs and a walkable road to the top. One the first level you will find a few natural pools which are fantastic for a bath. There is even a changing room in the area, so you can take a change of clothes.
The main waterfall is even further and is a hike through the jungle which can be inaccessible during the rainfalls. A good time to go in the early morning before 7 am when there are almost no visitors in the area. This one is also visible from the cable car ride.
In case you are looking for some adventure sports, here is a zipline activity available which gives you an aerial view of the seven well waterfalls and geopark.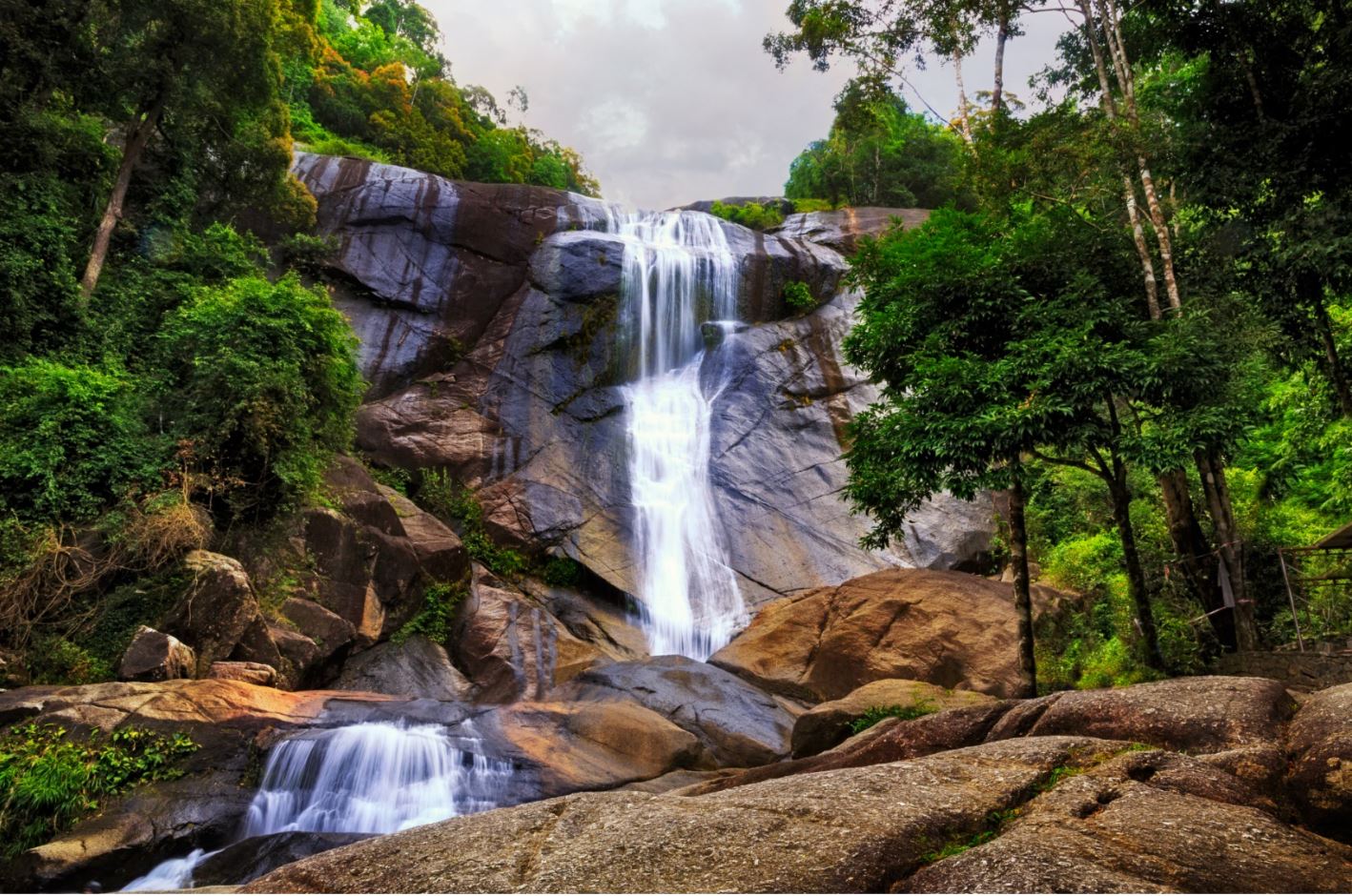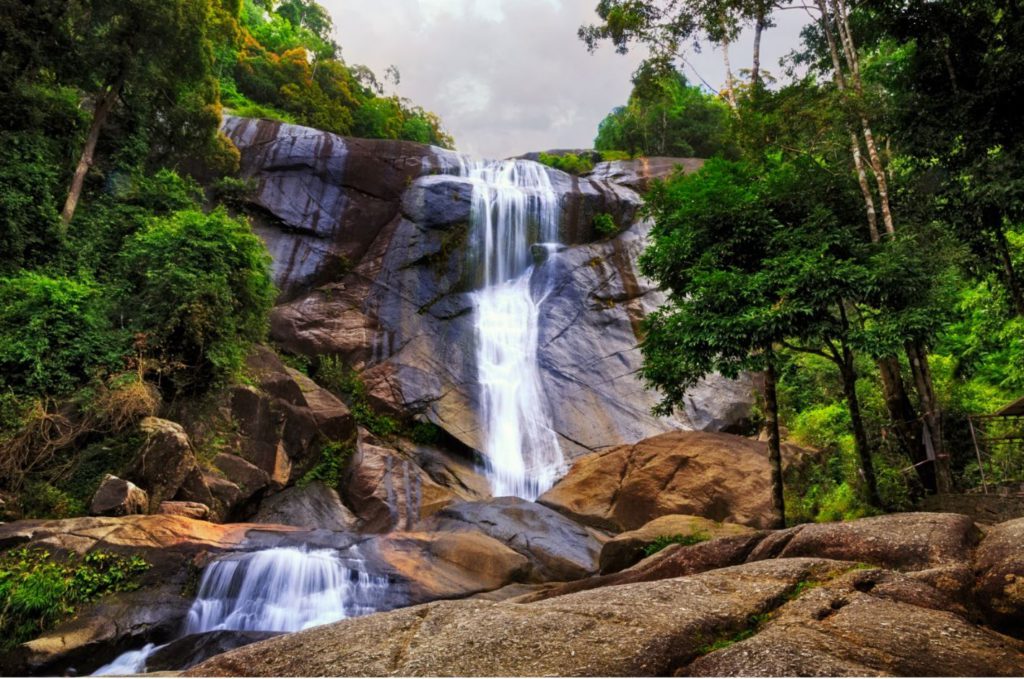 The other one is Durian Pernangin and is popular with the tourists and locals for a great picnic spot. The hike can be steep with rapids on multiple levels. You can climb on to each and get a good view of the surroundings. The pool at the bottom is great for swimming, relaxing or a natural shower.
6. Kilim Geopark
Kilim Karst Geoforest Park is a 100 square kilometre area in the north-east part of Langkawi. It is home to sprawling mangrove forests and incredible limestone formations that date back 500 million years. The Geopark is abuzz and lives with rich wildlife and natural ecosystem rare to present day.
The tour starts from Kilim River where you a hire a tour or a boat from Kilim Jetty or Tanjung Rhu beach. A guided tour will give a much greater value here. The tour starts with a tour via the mangrove forests and Limestone Mountains. Keep an eye for animals like monitor lizard, crocodiles, eagles, monkeys, crabs and occasionally a dolphin.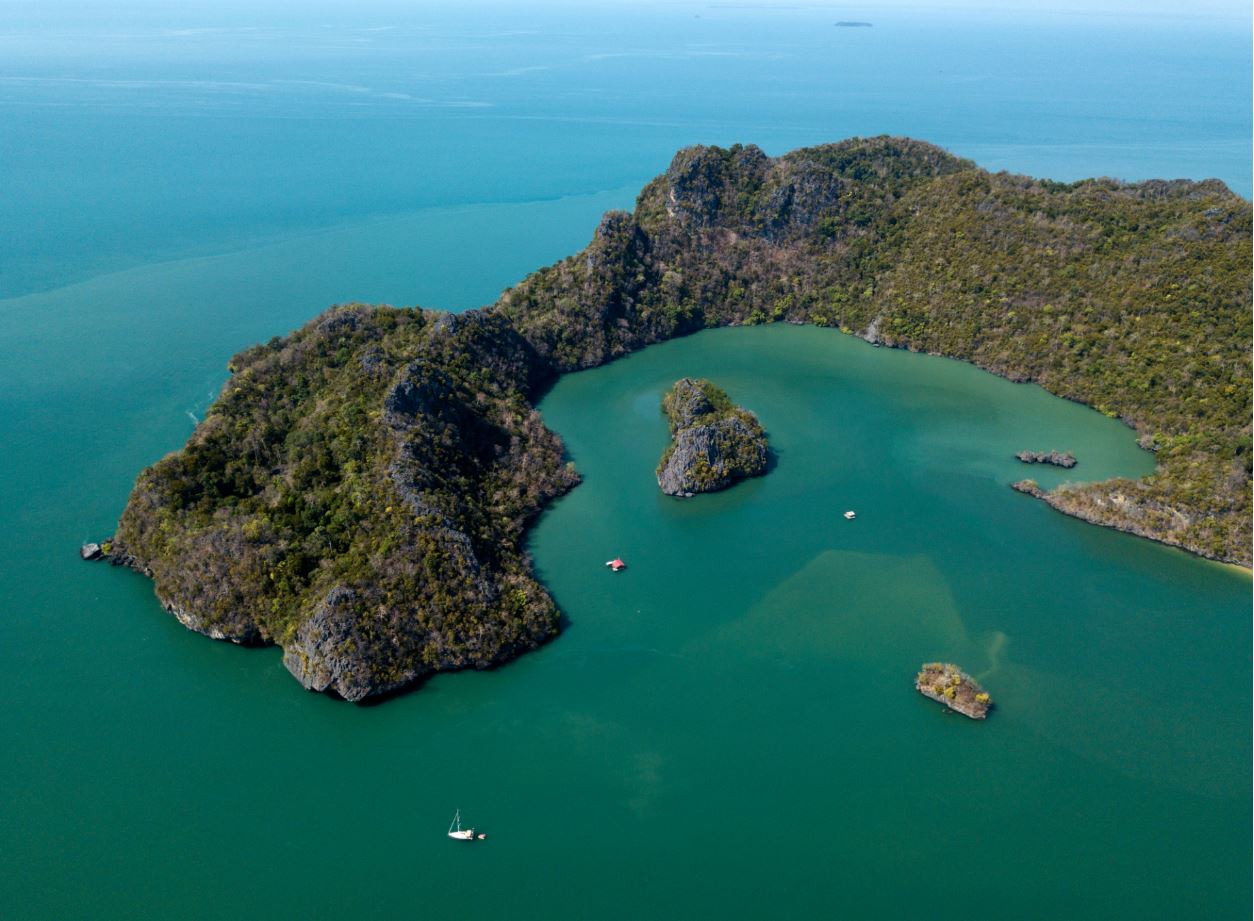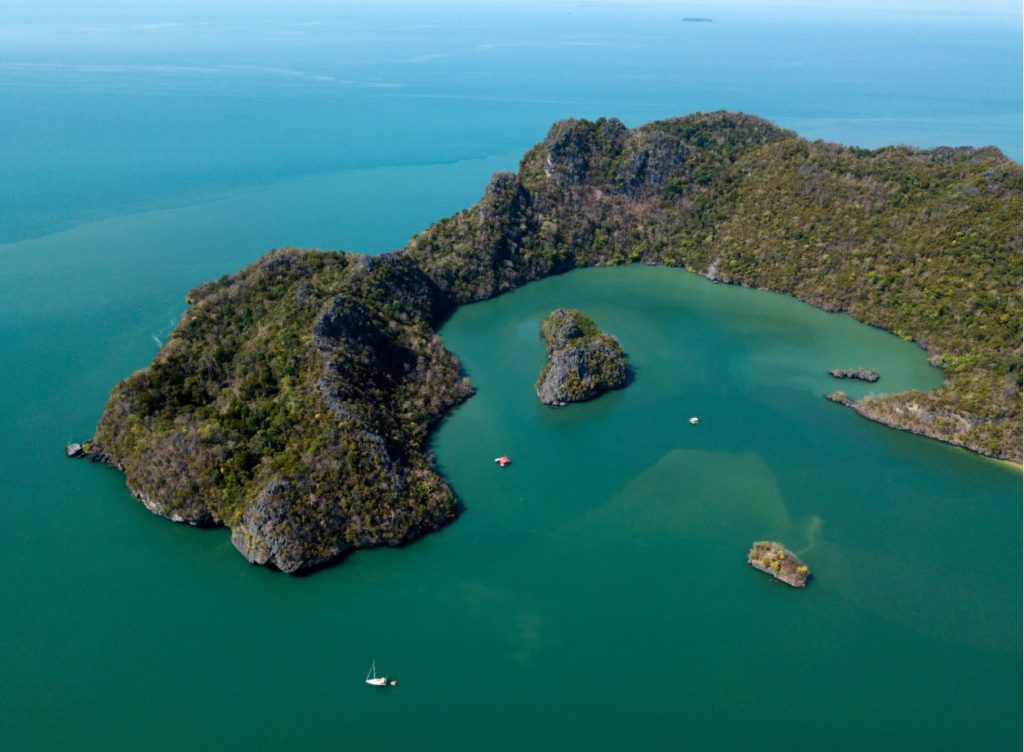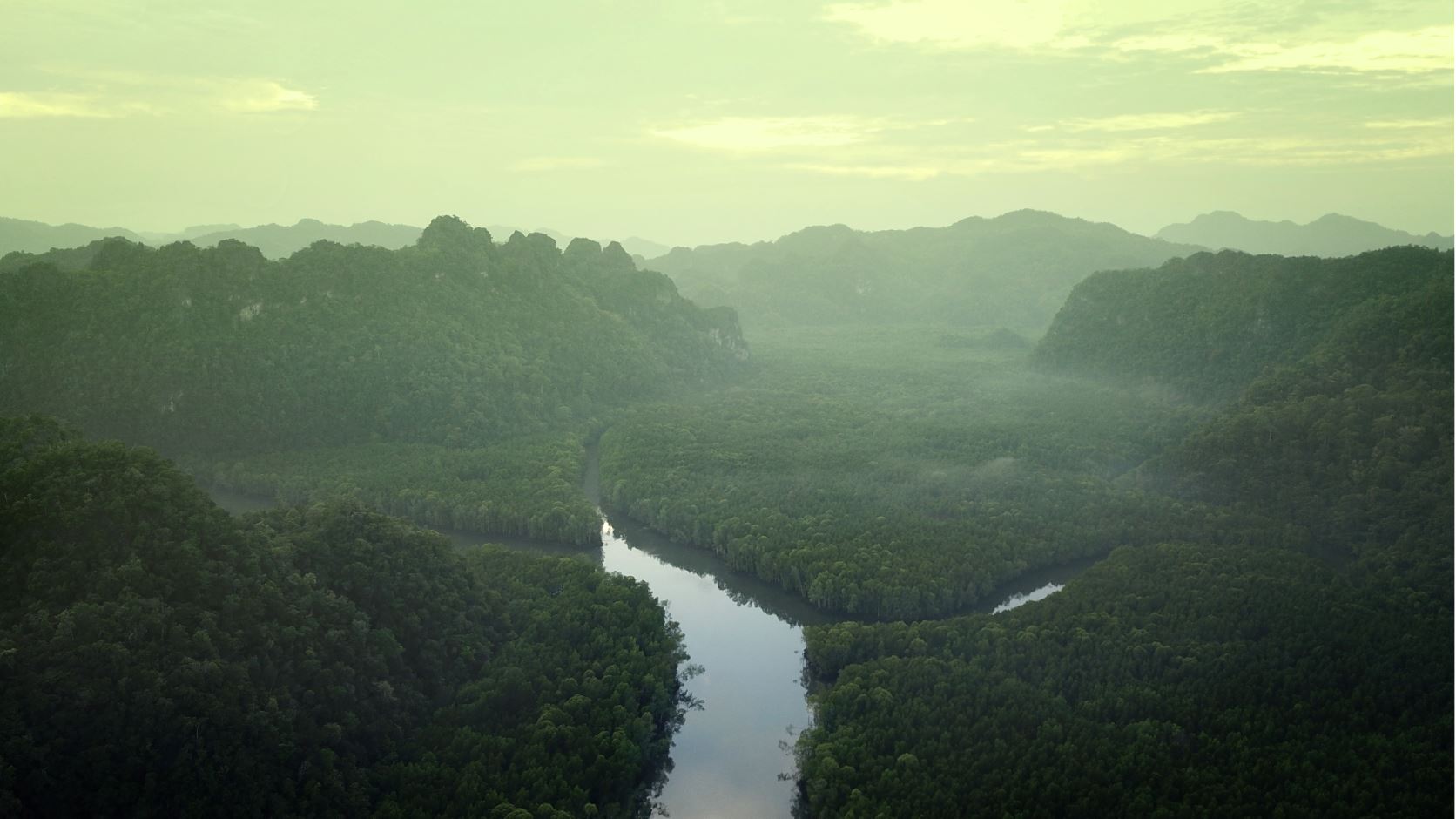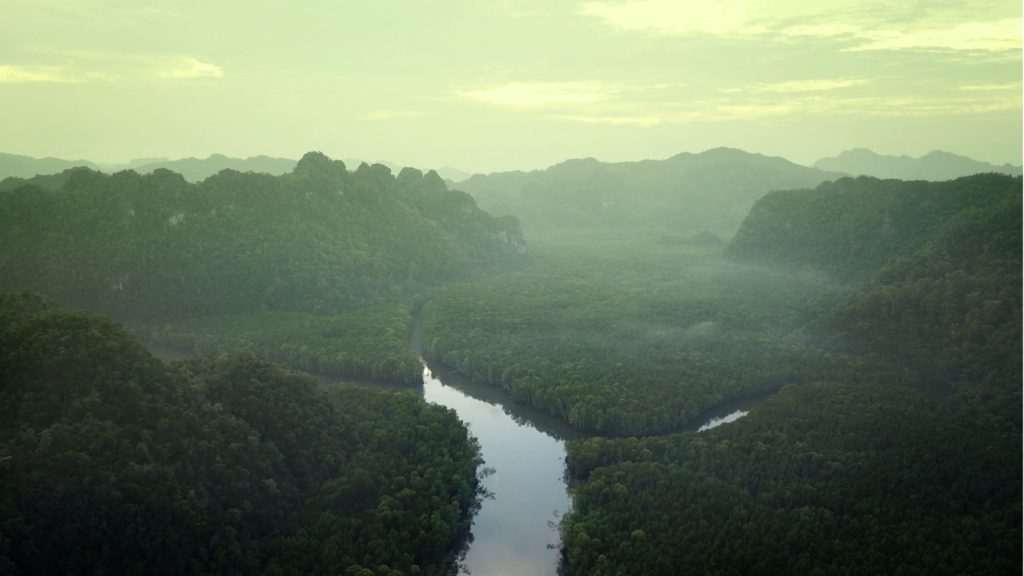 Most tour operators stop at Floating Fish Farm where you can feed stingrays or a shooting archer fish which can jump many inches from water to eat out of your hand. Eagle feeding is another spectacle where you can see eagles dive into the water to pick out meat fed by the tour guide.
The stop at Fossil islands includes a tour of fossils in area 480 million years old. Gua Langsir or Hidden cave is another wonder in the area where 100-year-old mangrove trees hide the cave. Depending on your itinerary you may stop at additional points like crocodile cave and a bat cave. Choosing a good tour operator is essential to have a great experience.
Some resorts like Malibest resort have their own tours which are one of the best in the area and costs around RM120 per person. You can hire a tour directly from the jetty but that may not have a tour guide. A few good tours on online aggregators are also available.
Book Tour Online:
Langkawi: Mangrove Kilim UNESCO Geopark & Cave Tour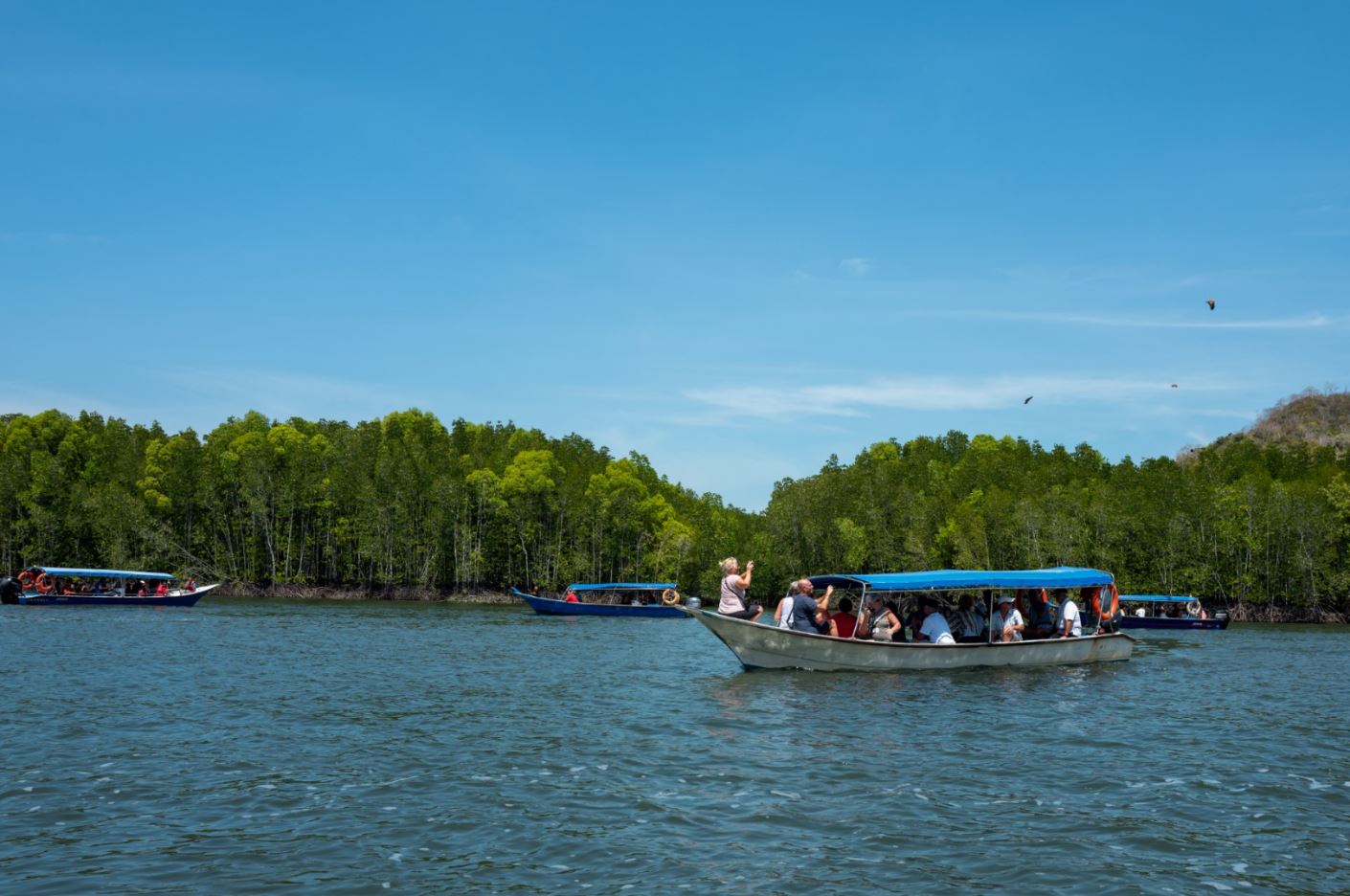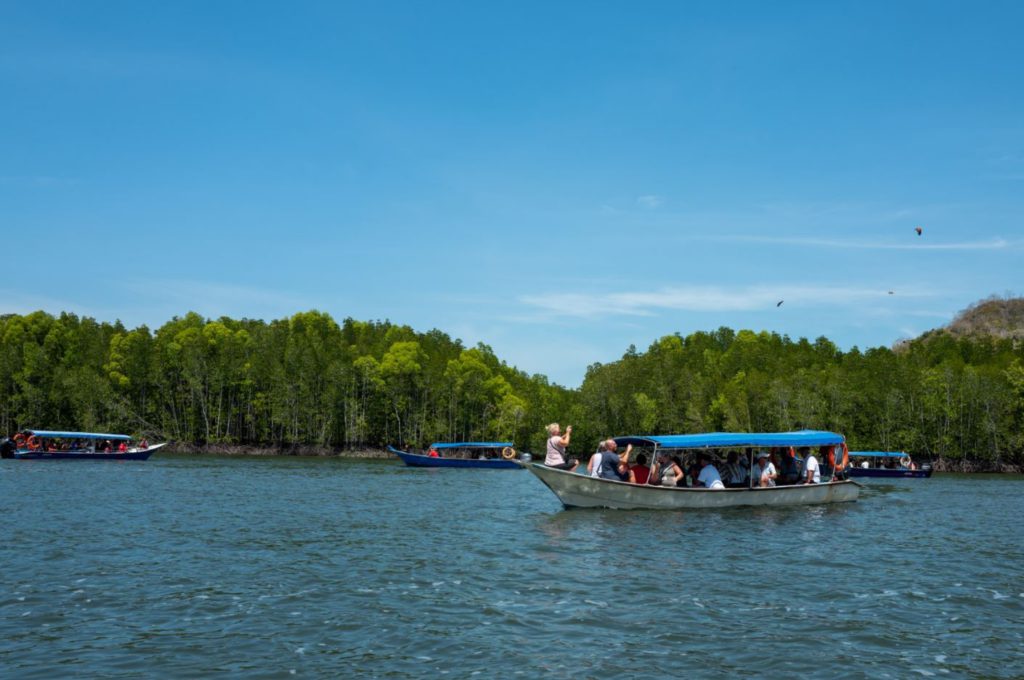 7. Marine Park
If you are looking for little serious water activities, take a day tour to Marine Park. It is 30 km south of Langkawi and 51km north of Penang and takes about an hour to reach. You can hire a boat from Kuah Jetty. The park area has crystal clear water and the most gorgeous and colourful coral garden in the area.
In marine life, you can see horse-eyed jacks, moray eels, clownfish, two meter long groupers, black-tipped reef sharks, black-spotted puffers and barracudas amongst others. The different kinds of fish that you can see around are parrotfish, angelfish, damselfish, the rare rabbitfish, butterflyfish, anemonefish etc.
Marine park offers great biodiversity for snorkelling and Scuba diving. They have scuba diving offers for both beginners and certified divers. However, you must know swimming. You can also participate in shark feeding which occurs late afternoon.
Book Tour Online: Pulau Payar: Marine Park Scuba Diving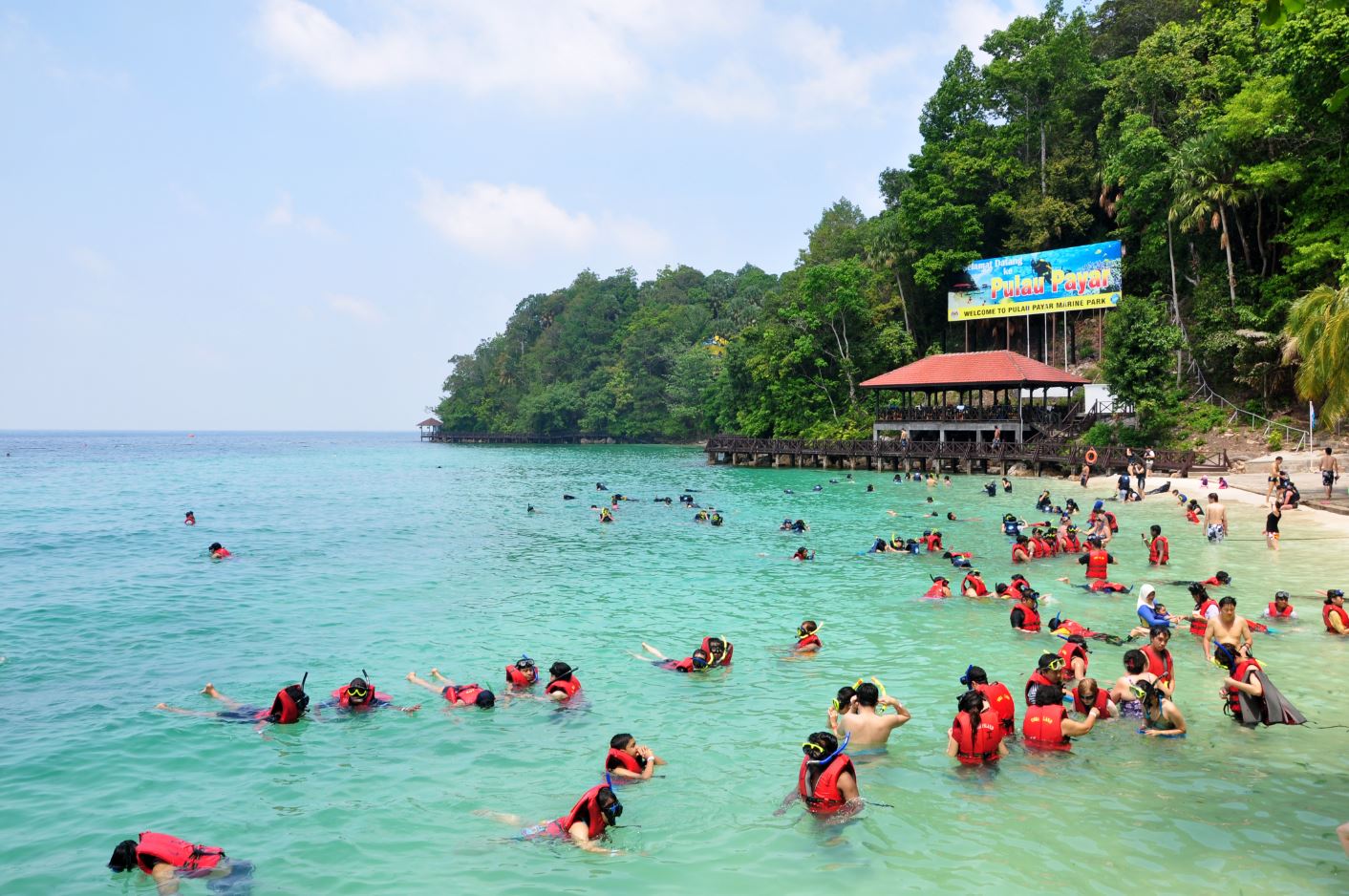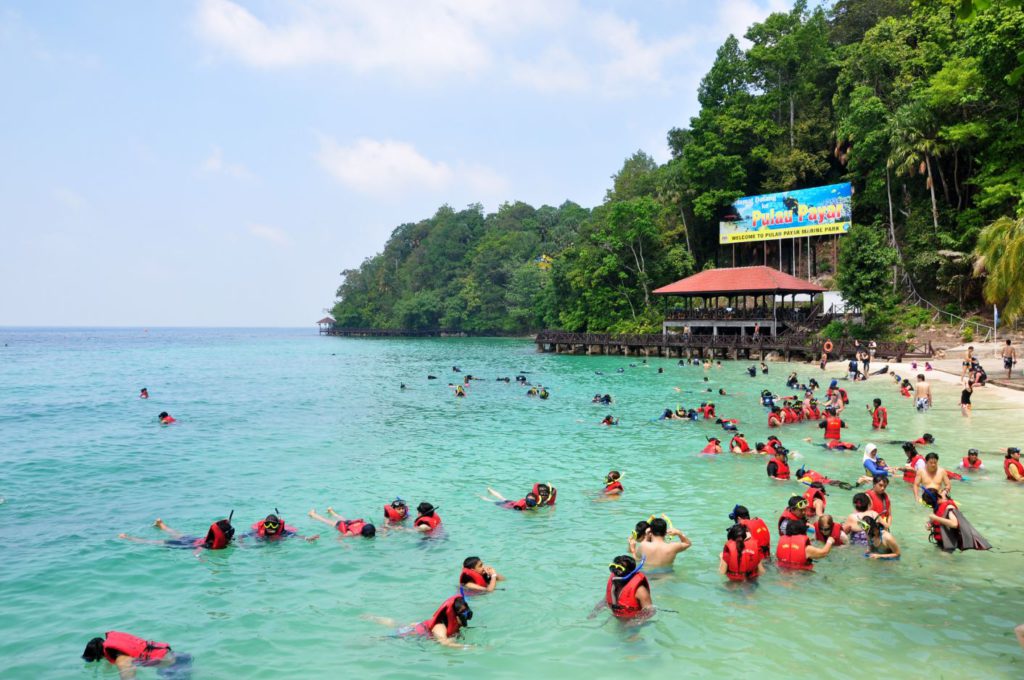 8. Laman Padi Langkawi
Agro-tourism is a term not commonly used, nor does one understand it's full meaning. However, you can experience an example of it here. Laman Padi Langkawi is a rice museum which may sound odd at once. But Langkawi primarily is an agricultural island. And paddy was their core crop.
The museum shows the life-cycle of paddy. The museum is middle of lush green paddy fields with water often submerging the crops. There is also a section that explains the history and evolution of rice. Make sure that you take a guide while you tour the museum.
Otherwise, the museum will not make much sense to you, neither your visit will be memorable. In case, you want to experience the farm life first hand, you can convey your desire to your guide. You can go ahead and plant some paddy in the field with some assistance as well. Be ready to get yourself soiled though.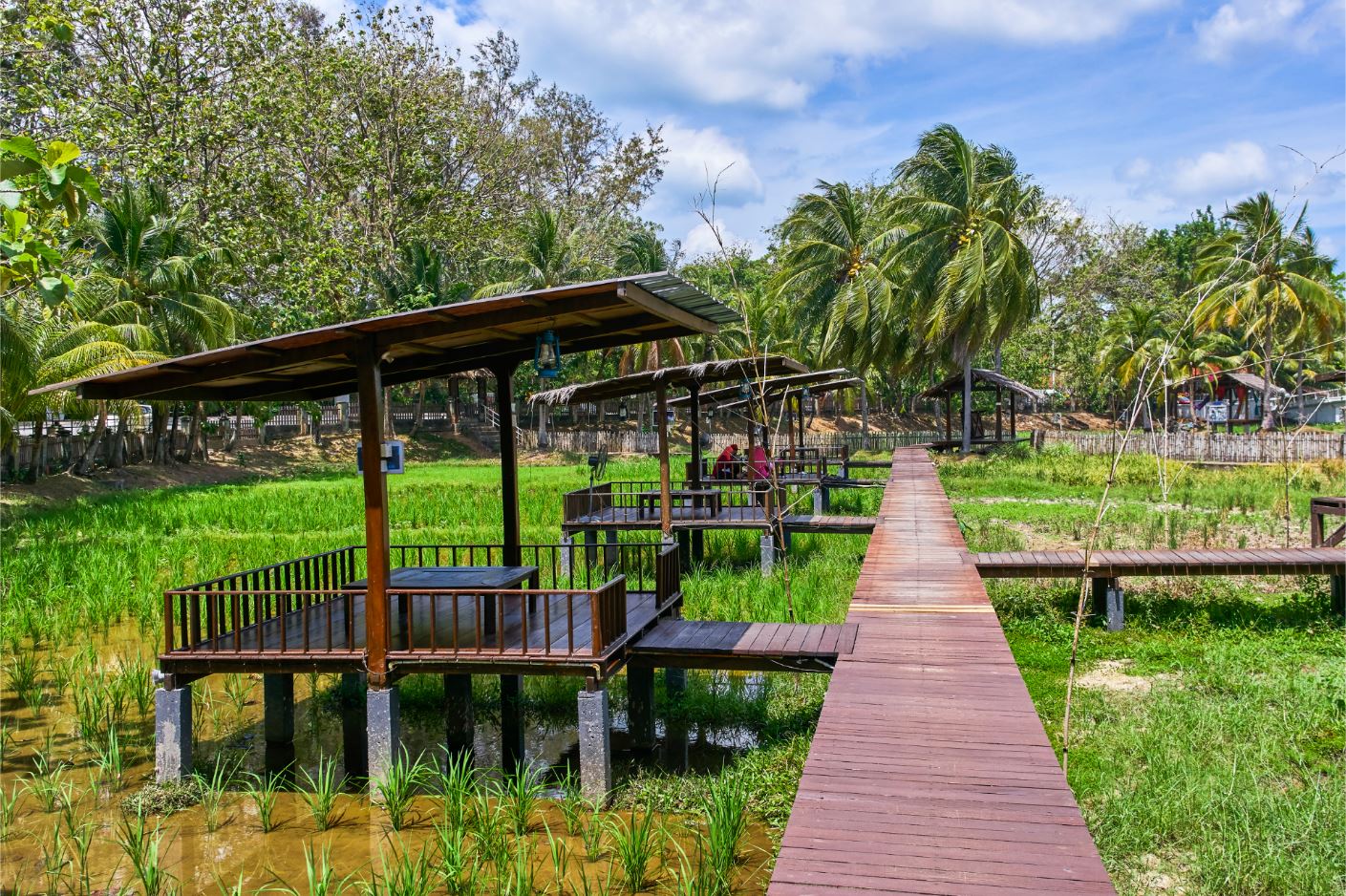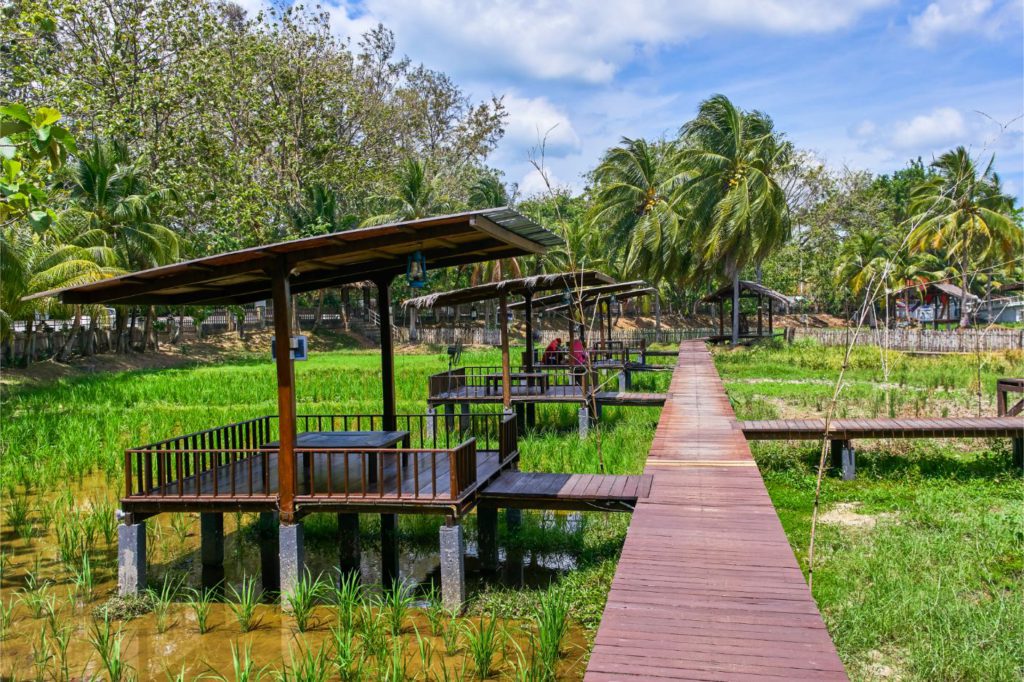 9. Ayer Hangat Village
Ayer Hangat directly translates to hot water. And if you have guessed it till now, it does mean hot springs. The hot springs, like many others, have salt and healing properties. The village offers a range of hot springs. There are a few private ones. And then there are hot spring that you can share.
The water is hot and a great way to take off some pain after an eventful day or a difficult hike. Ayer Hangat village also hosts a night market every night. You can have a pick on some great local delicacies and affordable prices. Spa treatments and massages are other services offered in the area.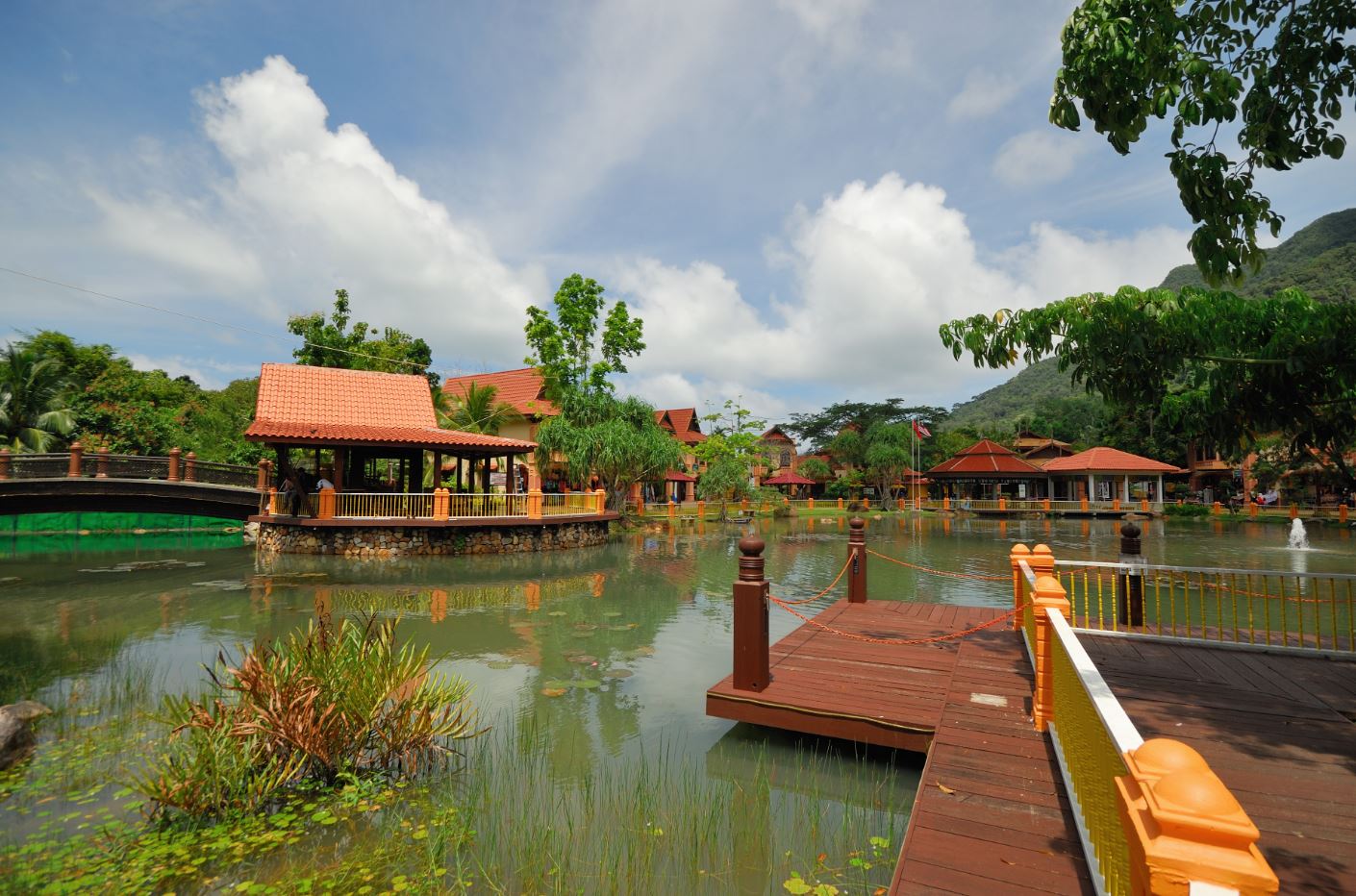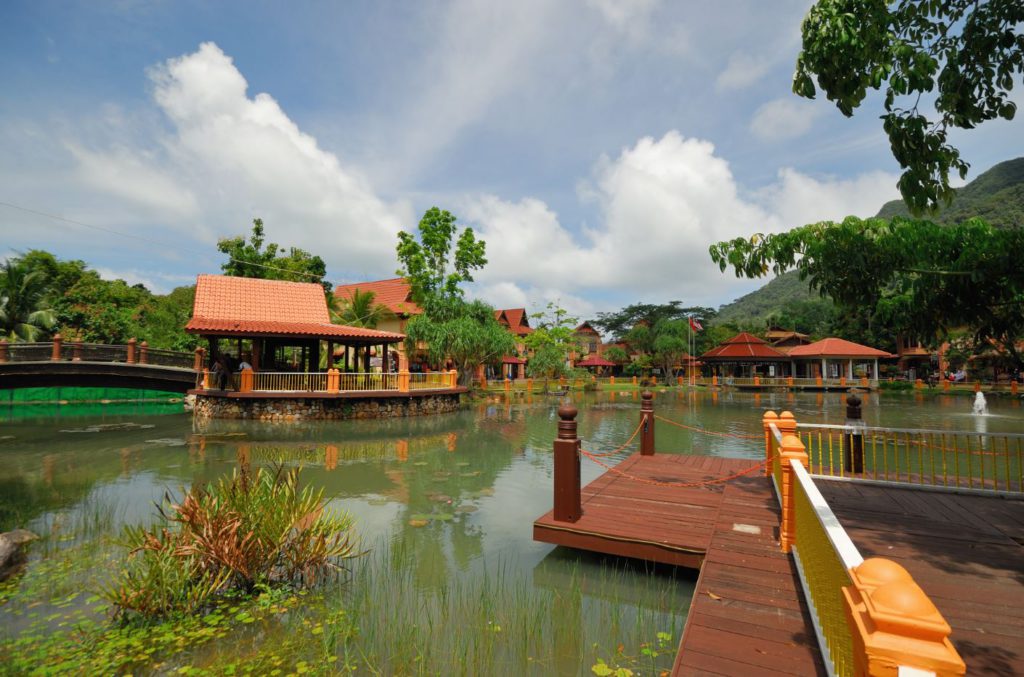 10. Other places to visit
Apart from the above, there are still numerous places to visit in Langkawi. If you want to look at some marine life with kids through a glass ceiling, check out underwater world Langkawi. Mardi Langkawi Agro Park is another place to observe how local people grow fruits and vegetables are sustainably on the island.
Two more famous museums in the area are Galeria Perdana and Mahsuri Tomb and Museum. Mahsuri was a fabled resident of the island who was sentenced to death for being extremely beautiful. She also put a curse on the island which will bring misfortune to the place for seven generations.
If you have some time, spend an afternoon in the Langkawi harbour with a view of the lighthouse.
Where to stay in Langkawi?
If you are looking to experience a lively nightlife, book a hotel in the city. There are many hostels in Langkawi that offer stay at extremely affordable prices that start at $8 a night. You can find some really great and unique options on hostelworld.com.
Otherwise, go to agoda.com for valuable deals not just in Langkawi but all around in Southeast Asia. They give huge discounts!
Best time to go to Langkawi?
There are essentially three seasons in Langkawi.
Dry Season or Peak Season: This is the most popular time of the year for tourism in Langkawi. This starts in December and ends by mid-April. The weather in Langkawi is clear with no rain. This is also when most international tourists flock to the island to enjoy a warm climate.
The weather can get hot (up to 34⁰C) and humid. But there are a number of water activities to enjoy and a lot of tour packages are available on the whole island. Hotels are usually packed, so pre-book your hotels way in advance.
Mid-Season: If you are not fond of the crowd or are not interested in tourist activities, you can look at visiting Langkawi between April to August. There are usually bouts of showers here and there. However, it doesn't affect the whole day.
The hustle-bustle of the tourists is comparatively low and you may find some beaches devoid of water activities. It is a great way to find some peace. However, the month of Ramadan is fairly quiet where you may find some shops and restaurants closed or shut early.
Low-Season: This when tourism is at its lowest from September to early November. There can be regular showers on the island during the day and occasional thunderstorms. Most water activities are closed and beaches can be rough.
However, the island is green and alive with flora and fauna. So if you are not looking for a beach holiday, this can be a good time for you to visit. Hotels also give a good deal of discount during this time.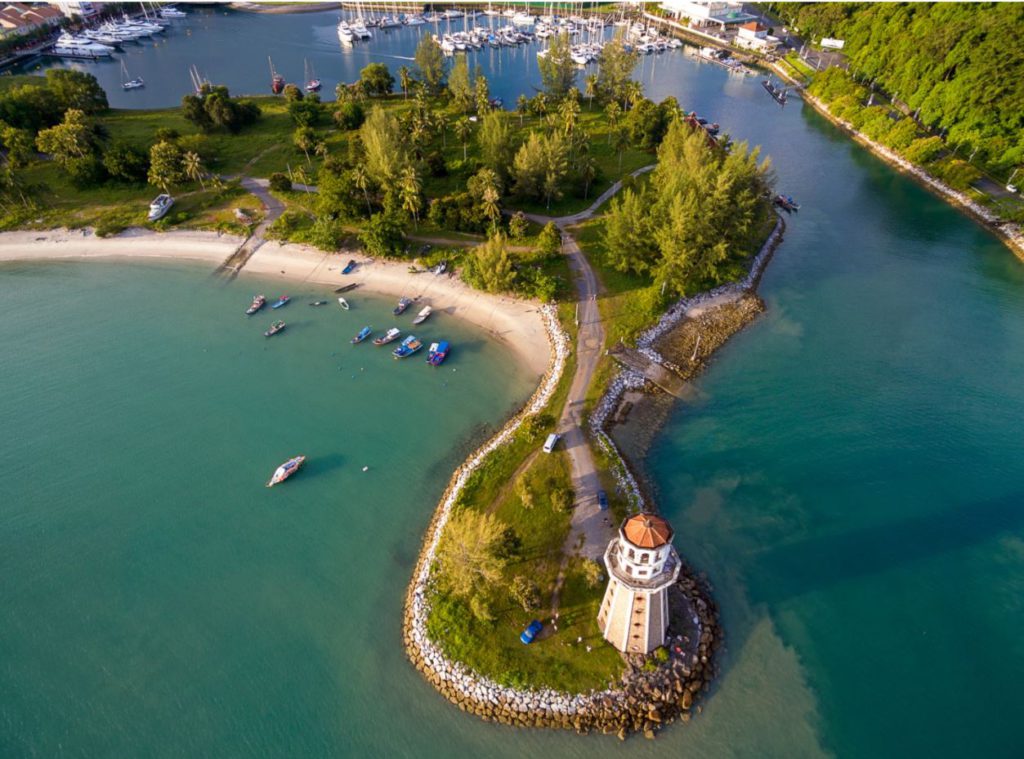 Save on Pinterest


Related Articles