07 Oct

Best places to visit in Kuala Lumpur, Malaysia

I cannot emphasize enough how much I liked Malaysia. And, like Malaysia, Kuala Lumpur is a much-underrated city. Bangkok and Bali get all the eyes from the tourists. On the other hand, Singapore steals the show with its glamorous skyline. Tourists often overlook Kuala Lumpur. But why?

Maybe you think that there isn't much to do? Or it just simply never crosses the mind because it's not popular enough? Just to get your curiosity going, I can tell you Kuala Lumpur is far cheaper than Thailand.

As per what to do and where to go, here is a long list of places to visit in Kuala Lumpur which you will enjoy with my money-back guarantee.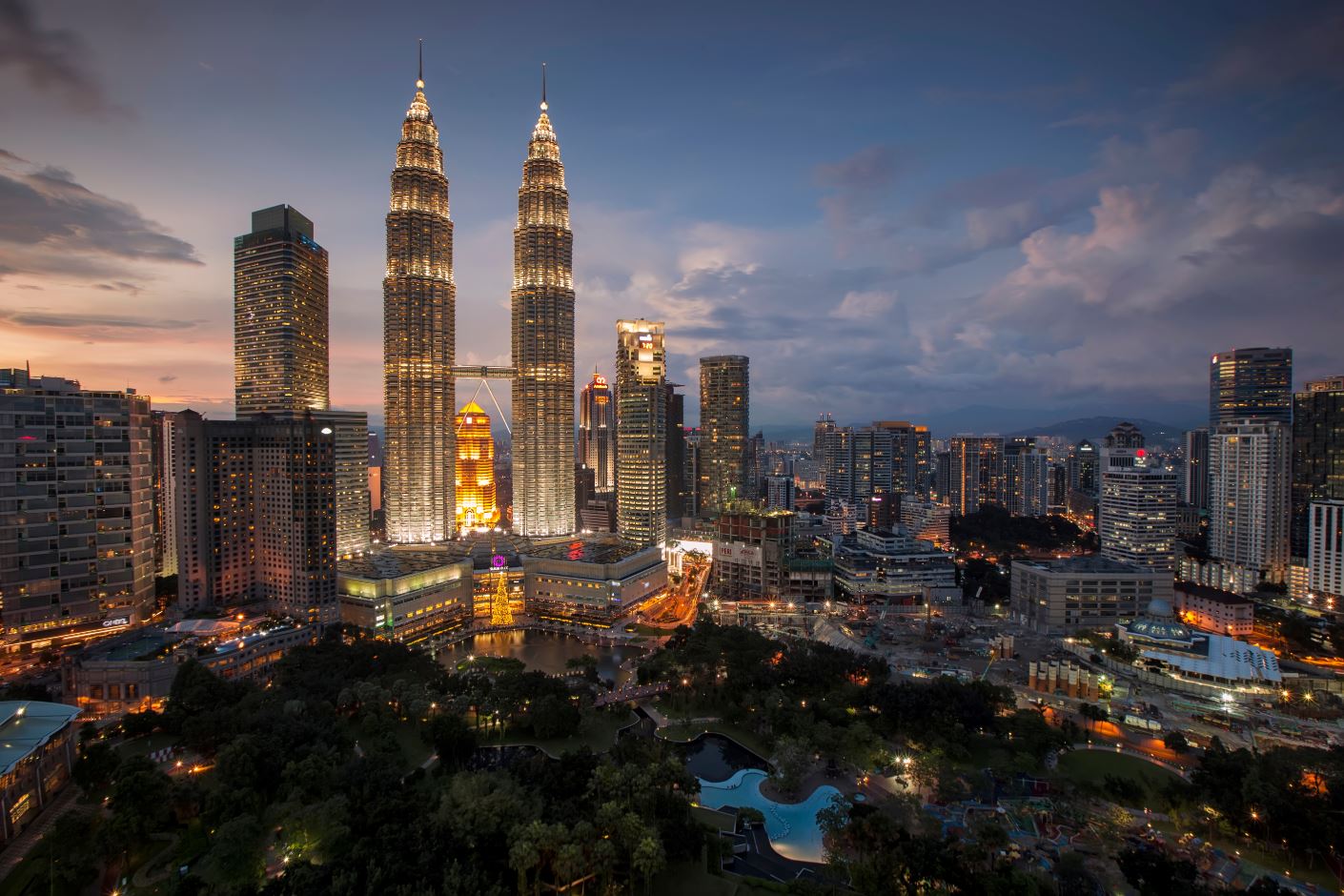 A Brief History of Malaysia
But first, let me give you a little background. Malaysia is a country in south-east Asia, located just south of Thailand with a shared border. The peninsula of Malaysia is located at a strategic location. It sits on the way to China, on a passage that connects east and west.
It has given the country a great trade advantage. Malaysia is a melting pot of many religions. Islam heavily influenced the native Malays since the 14th century. Malaysia was then predominantly ruled by the sultanate of Malacca for a long time.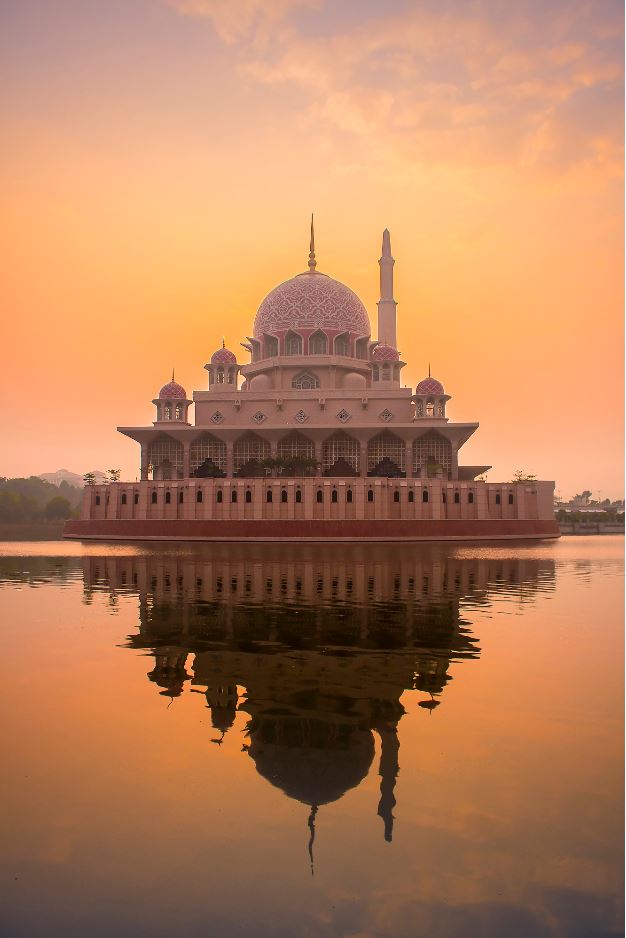 With the opening of sea routes, Portuguese and the Dutch were the first to arrive in the Malay Peninsula. But it was the Englishmen who established a long-lasting rule in the territory until its independence in 1957. The territories like Penang, Kuching, Jesselton, and Singapore saw a heavy western influence.
By this time, a large number of Chinese and Indians, particularly Tamil immigrants have moved to Malaysia and assimilated into the country. Malaysia became a unique mix of ethnicities and a multi-racial federation as we know today.
Transportation In Kuala Lumpur
With a limited number of international airports in Malaysia, you are most probable to visit Kuala Lumpur as your first destination. Even if you don't, try to fit it in your itinerary. It is not an extremely big city. You can even cover most of the tourist attractions in a day or two.
To travel inside Kuala Lumpur is extremely easy. The city has a very dense network of public transportation, mainly metro. It consists of 10 lines including the airport lines, light trains, and monorail.
You will get one for almost any destination in the city and the fare varies from 1.2RM-2.5RM ($0.3-$0.6) per journey. There are also day and city passes available depending upon how many days you are visiting for.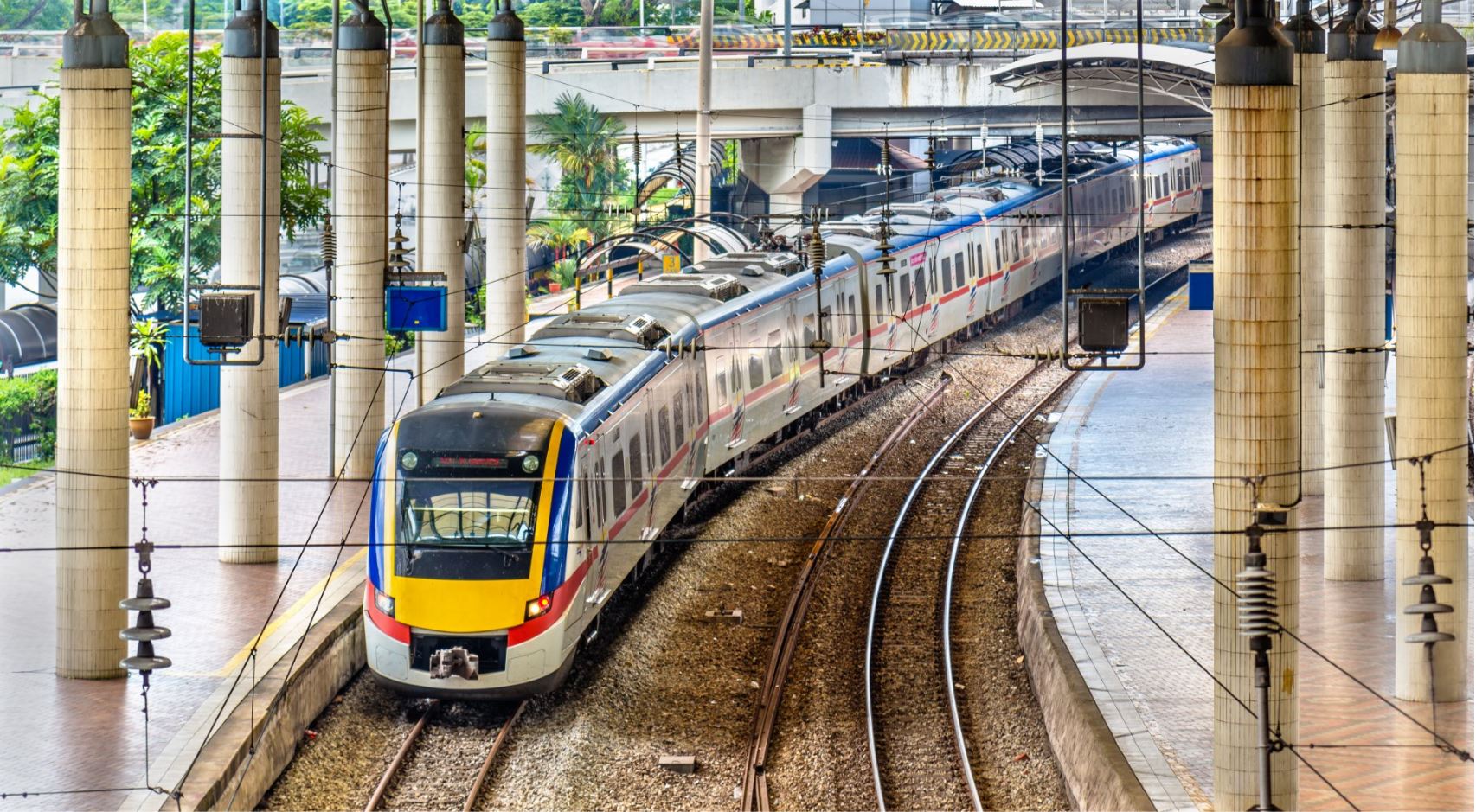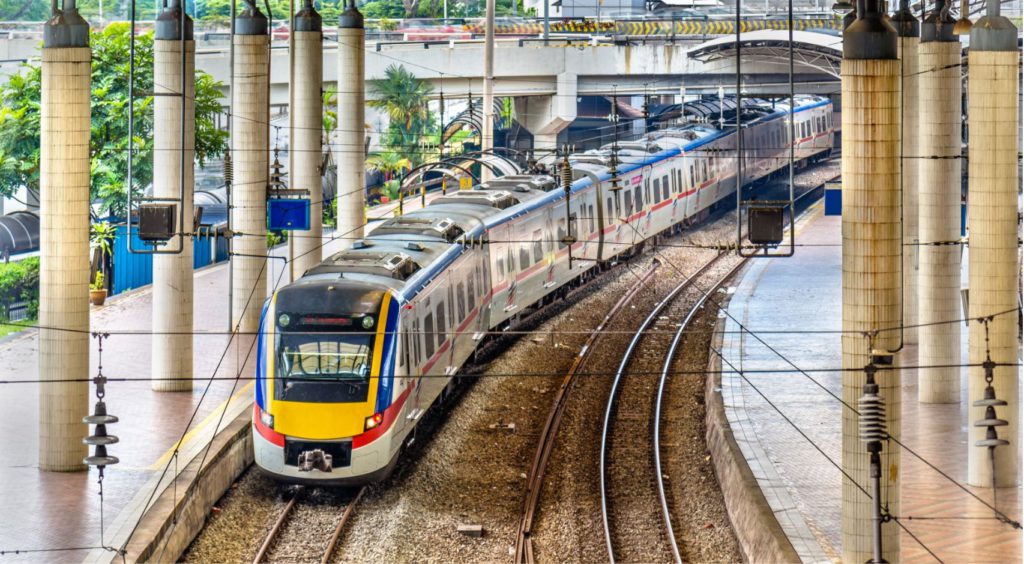 Buses have the next bus connectivity and the KL double-decker hop-on-hop-off bus are a fun and cheap way to see around 20 destinations in the city in comfort. You may have to use manual maps since Google maps aren't very reliable in KL.
Apart from that, let the bus be a second option to the metro. Buses can be infrequent or frustrating at times. Taxis are a great option in Kuala Lumpur. They are cheap and efficient. However, as a thumb rule try to use the Grab app (like Uber). That way you can avoid getting ripped off (which is common).
A taxi from one end to the city to another end will not cost you more than RM 20.
Private Full Day Tour: 10 Wonders of Kuala Lumpur with Lunch

Places To See In Kuala Lumpur
Kuala Lumpur is a pristine modern city. On one side there are high-rise skyscrapers and malls in concrete and glass. On the other are some unique temples and mosques which come from its diverse multi-racial population. Here is a list of some of the best places to visit in Kuala Lumpur.
1. Petronas Tower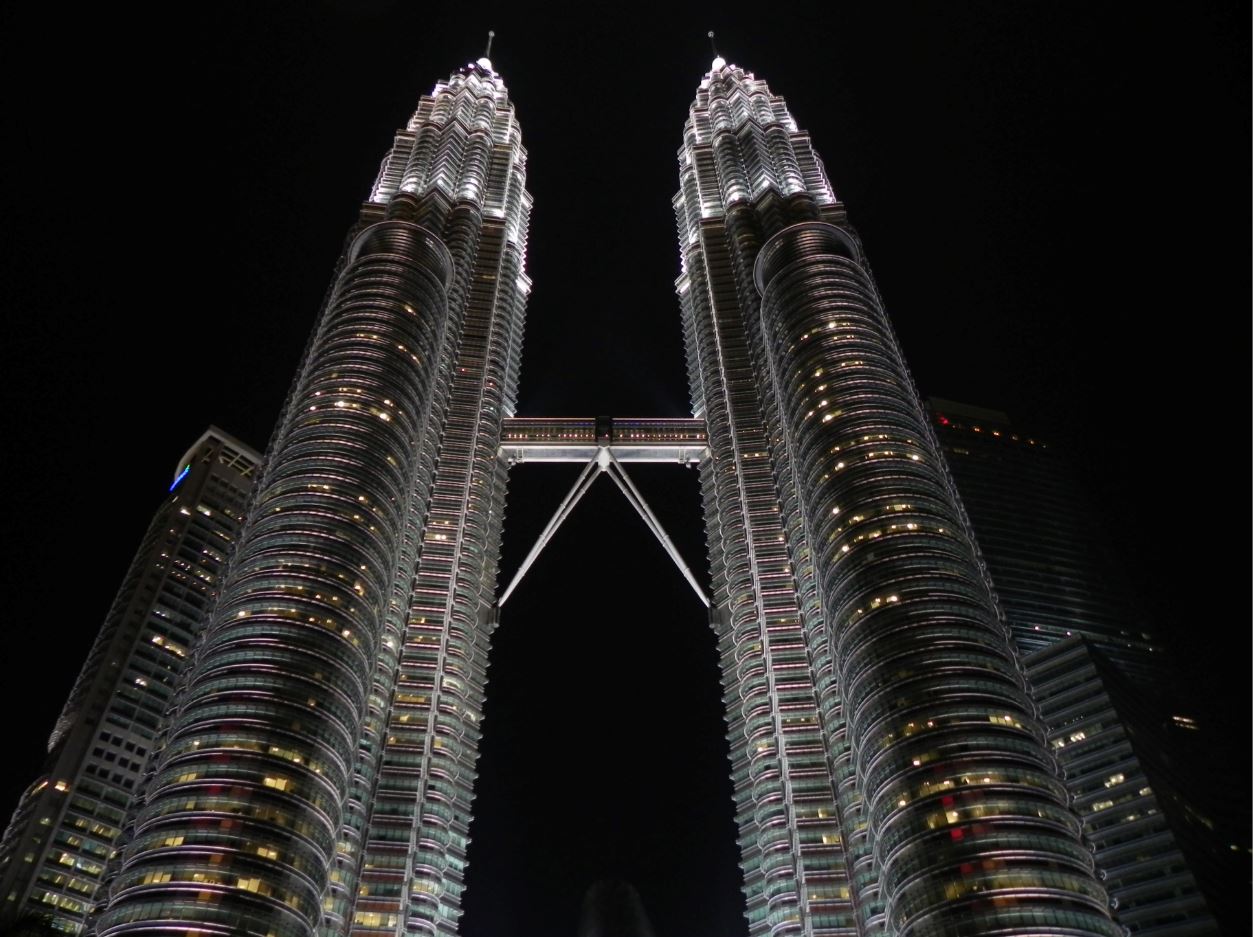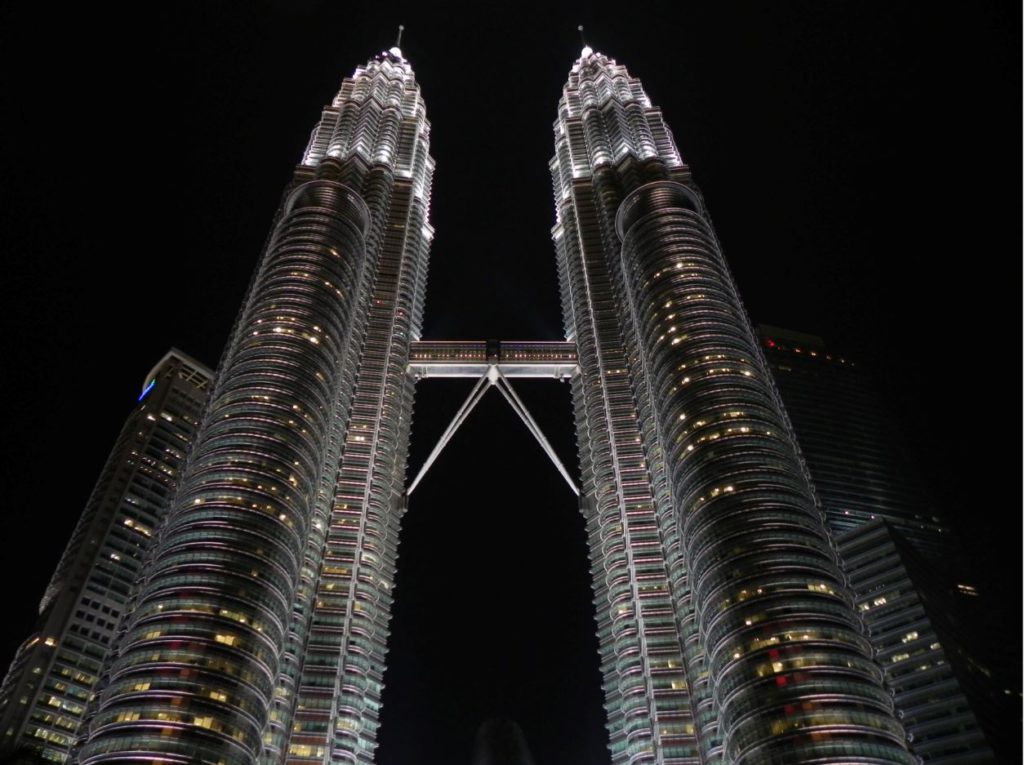 Everyone knows about the Petronas Towers in Kuala Lumpur, its poster child and probably the only place you would know in it. Petronas Towers were the tallest buildings in the world from 1998 to 2004 and are still the tallest twin towers.
Islamic architectural techniques heavily influence the design of the Petronas twin towers. Likewise, Qutub Minar from India also lent some of the features of the spire.
The grandeur of the building is particularly striking during the night. The halogen lights create a dramatic light effects on its upper half. You can also go up to the observation deck and the sky bridge and get an aerial view of the city.
Late evening is a great time to go up to catch the sunset. If not, take a good view from the ground free of cost with many families strolling around for a post-dinner walk.
Petronas tower tickets: Price is RM 80 for adults and RM 33 for children up to 12 years. Free for infants. There is a limit to the tickets in a day. The tickets are on a first-come-first-serve basis. So book ahead on weekends. You can buy the tickets on the CONCOURSE level of the Petronas towers or online. Book tickets here.
Petronas tower timings: Open from 9.00 am to 9.00 pm from Tuesdays to Sundays. Closed on Mondays and between 1.00 pm to 2.30 pm on Fridays. Last admission at 8.30 pm
How to reach Petronas tower: Take the metro to KLCC station on line 5. It is just outside it.
2. Batu Caves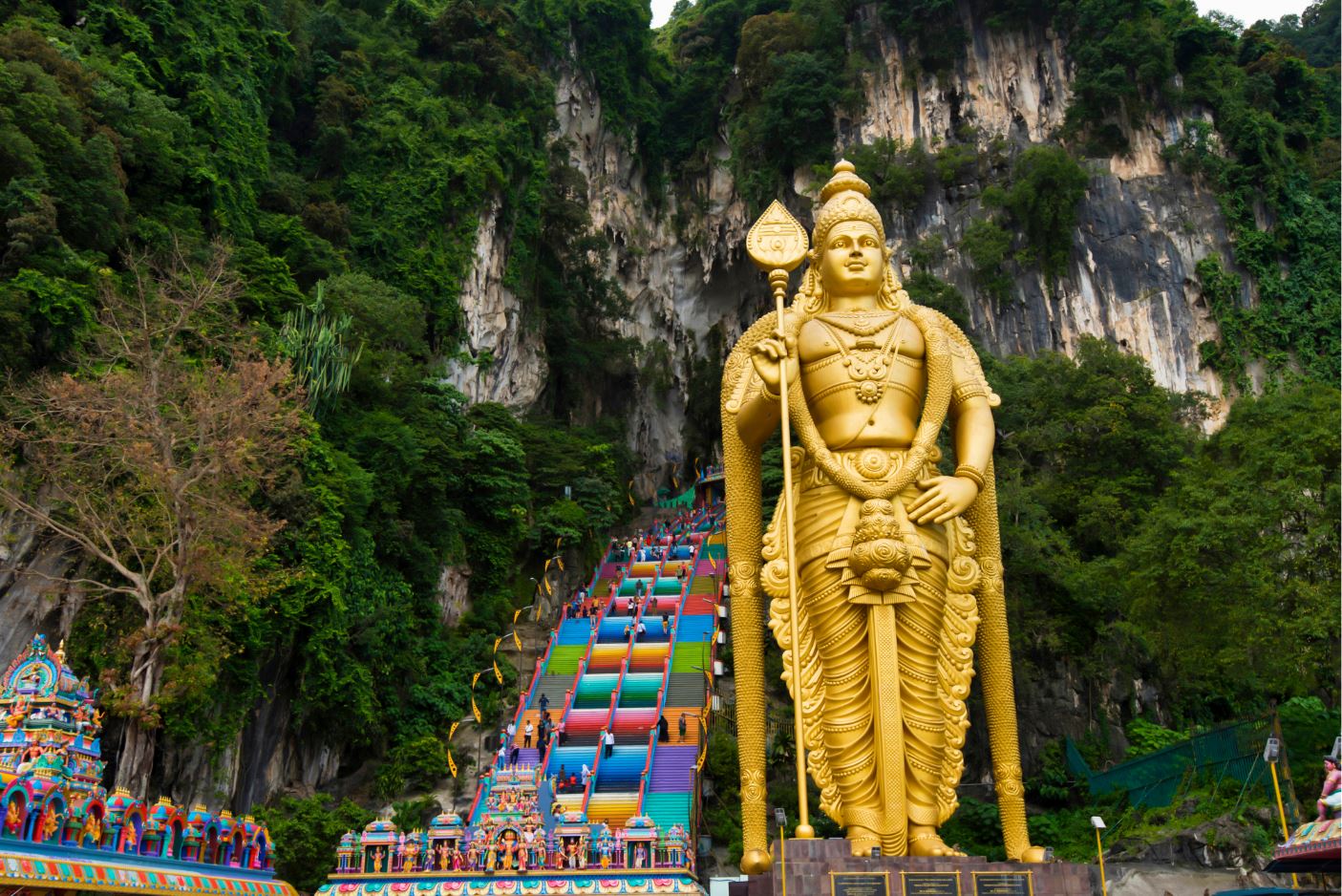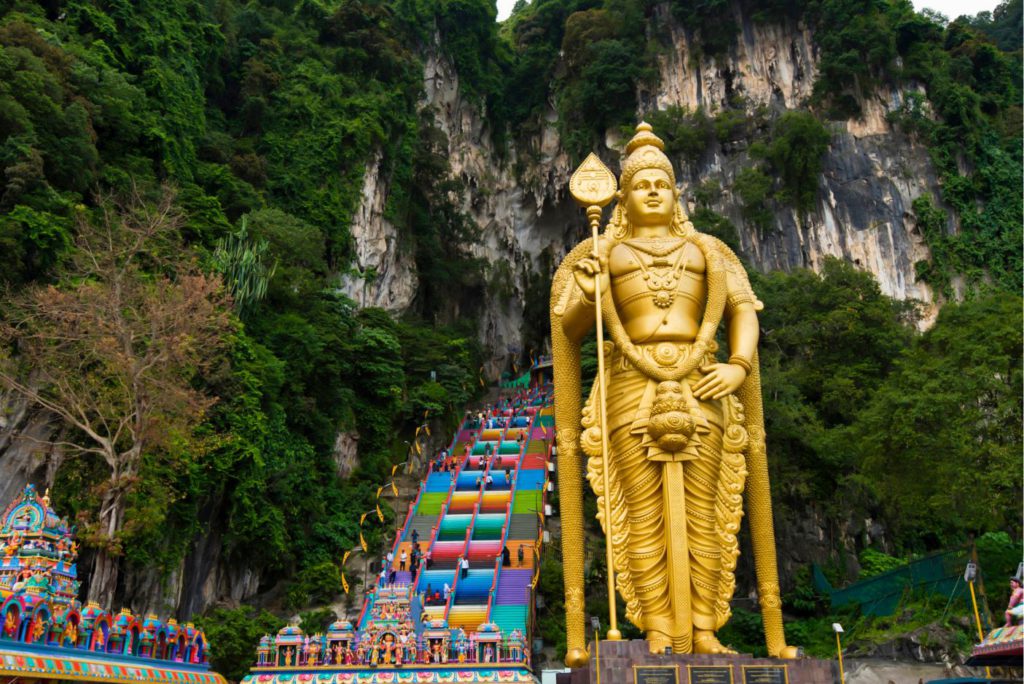 Another iconic place in Kuala Lumpur is the Batu Caves. These are a set of caves that seem to come out of nowhere on relatively flat grounds. They are around 30 km from Kuala Lumpur city centre. The caves are ground to holy shrines dedicated to the Tamil Lord Murugan.
This is also the place where the locals also celebrate the Hindu festival of Thaipusam. Two bright coloured striking temples will greet you at the footsteps of the cave on both sides. The vibrancy of the place will be a fascinating experience for someone visiting a Tamil temple the first time.
To visit the main temple complex, you need to climb up the 272 steps of the multi-coloured fluorescent staircase. It opens up to the open caves which further go deep inside. There are another couple of temples inside the caves.
These are limestone caves and have an eerie feel to them. The caves are around 400 million years old. Make sure you cover your shoulders and dress to your knees before entering.
Check out these day trips to Batu Caves:
Group Tour: Batu Caves & Cultural Exploration Tour
From Kuala Lumpur: Genting Highlands and Batu Caves Day Trip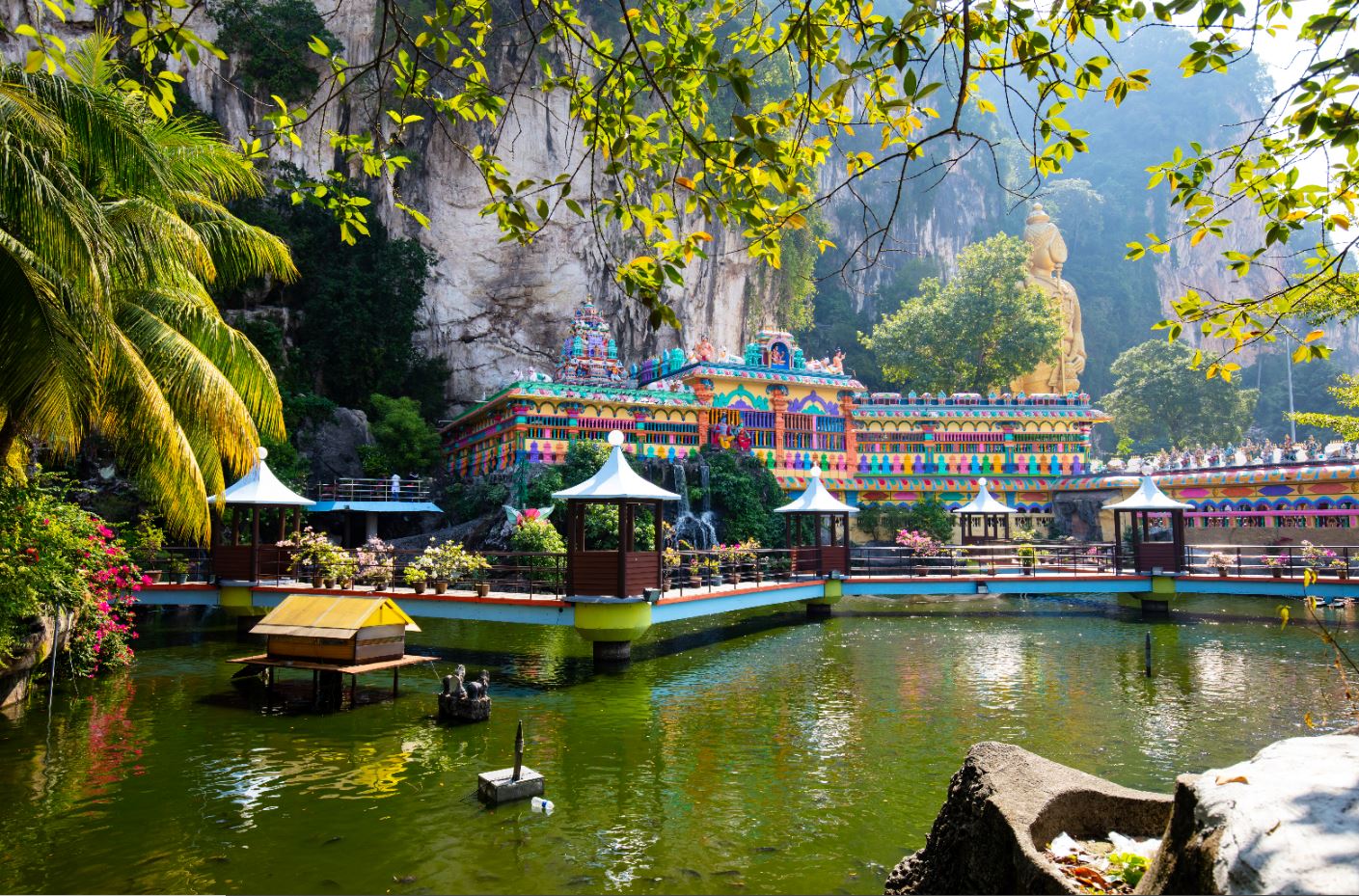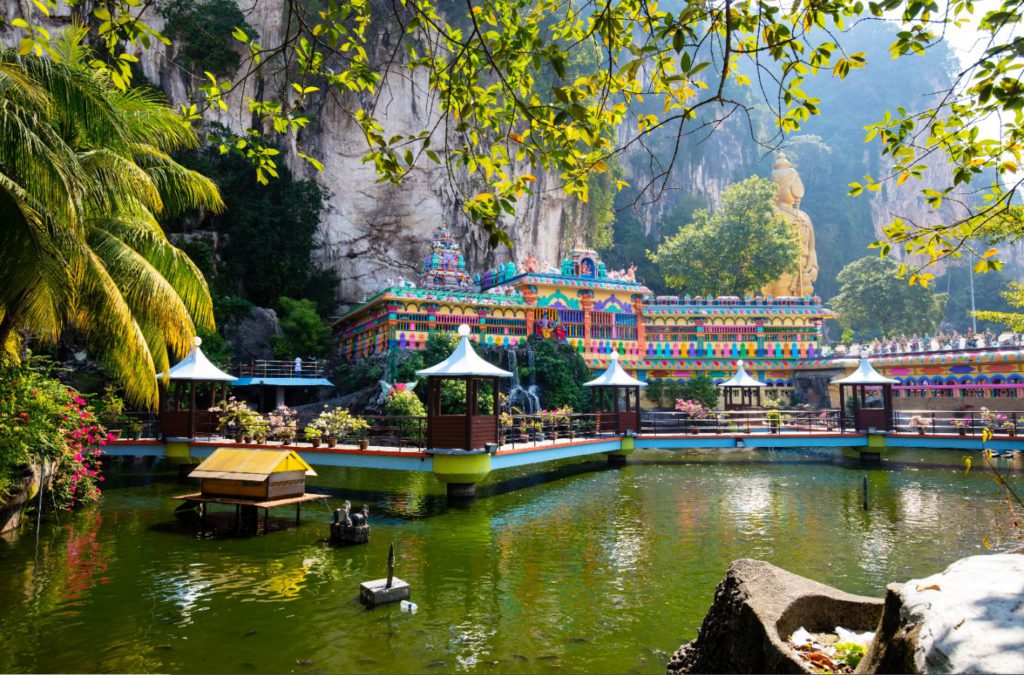 Batu Caves timings: Opens from 7.00 am to 9.00 pm from Monday to Friday; 10.30 am to 5.30 pm on Saturday, Sunday and public holidays.
Batu caves tickets: There is no entry fee to the main caves and the temples. Other areas are accessible with tickets.
How to reach Batu Caves: Take the train to Batu Caves station on line 1. You can also take a taxi which costs around RM35 one way from the city center.
Related Article: All You Need To Know About Batu Caves Kuala Lumpur
3. Menara Kuala Lumpur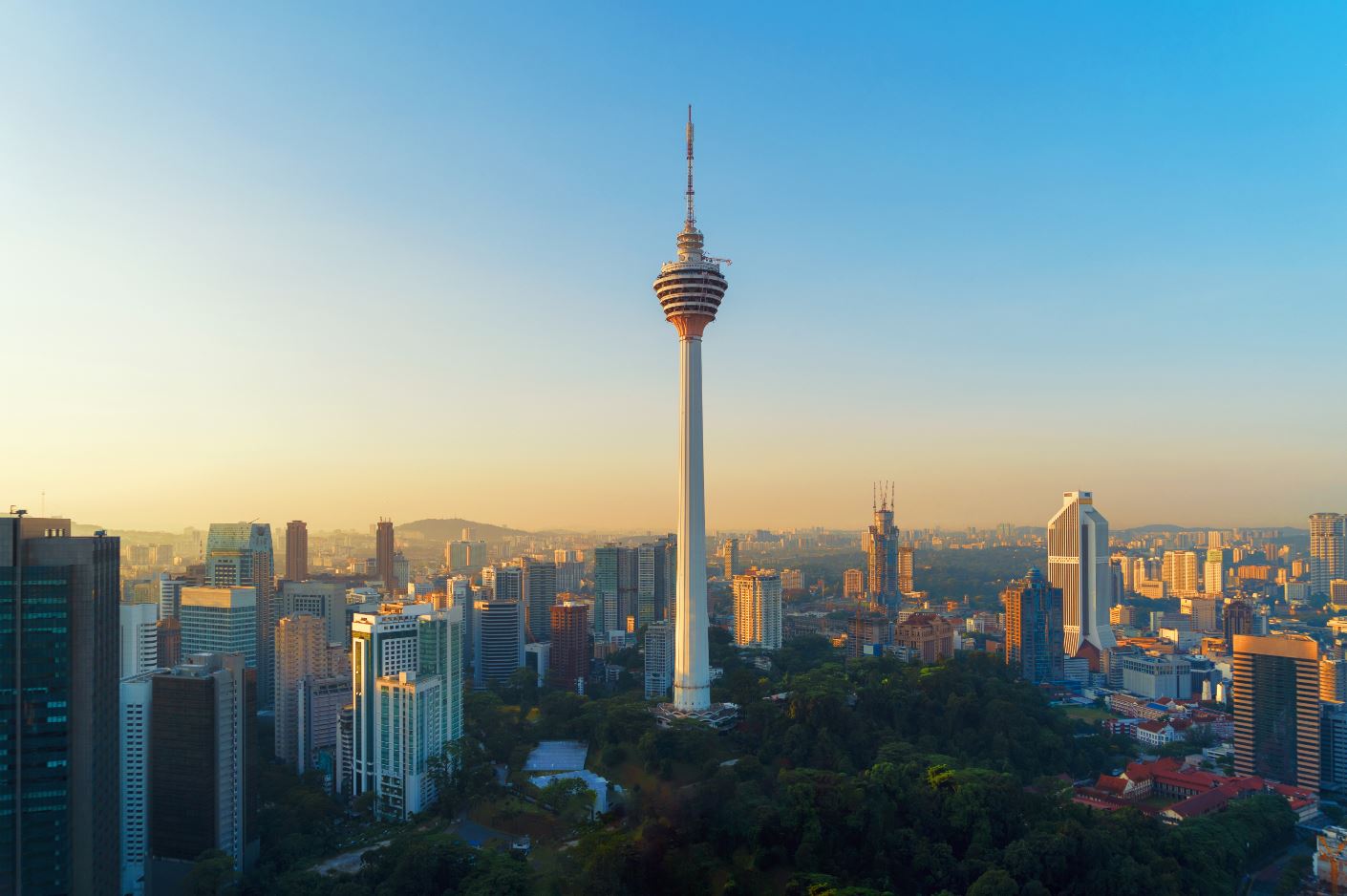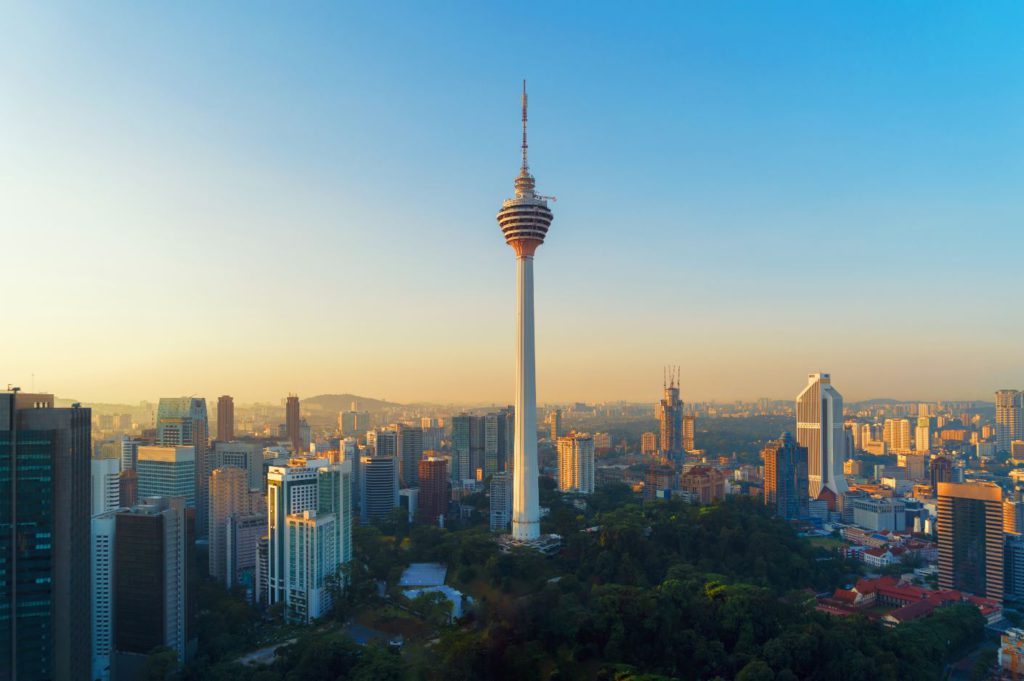 The Menara or the Kuala Lumpur Tower is primarily a communications tower with extending antennae making it the seventh-highest freestanding tower in the world (till 2019). Apart from its utility for broadcasting purposes it also attracts many tourists today.
A rotating restaurant at its top gives a fantastic panoramic view of the city including that of Petronas towers. The most enticing point is the glass deck which gives a clear view of the cityscape. People with vertigo must hold their horses here along with very young kids.
The Menara is in the middle of Bukit Nanas Forest reserve or Pineapple hill. It makes a stark contrast to the surrounding view just below it. You will also pass through KL Forest Eco Park on the way which surrounds the tower.
The Eco Park is a lush green area in the middle of the city. There is a small number of wildlife and a hanging canopy walk for great pictures.
Menara Timings: Open from 9.00 am to 10.00 pm every day of the week
Menara Tickets: Observation deck ticket prices for Adults/Children are RM49/29. Sky deck ticket prices for Adults/Children are RM99/52. Free entry for children below 4 years of age. Book your tickets here www.menarakl.com.my/online-ticketings
How to reach KL tower: The 'Go KL Bus' on the Purple line will stop at the tower. You can stop at Bukit Nanas station on the monorail (Line 8) or Dang Wangi station on LRT (Line 5) and walk from there.
4. Jamek Mosque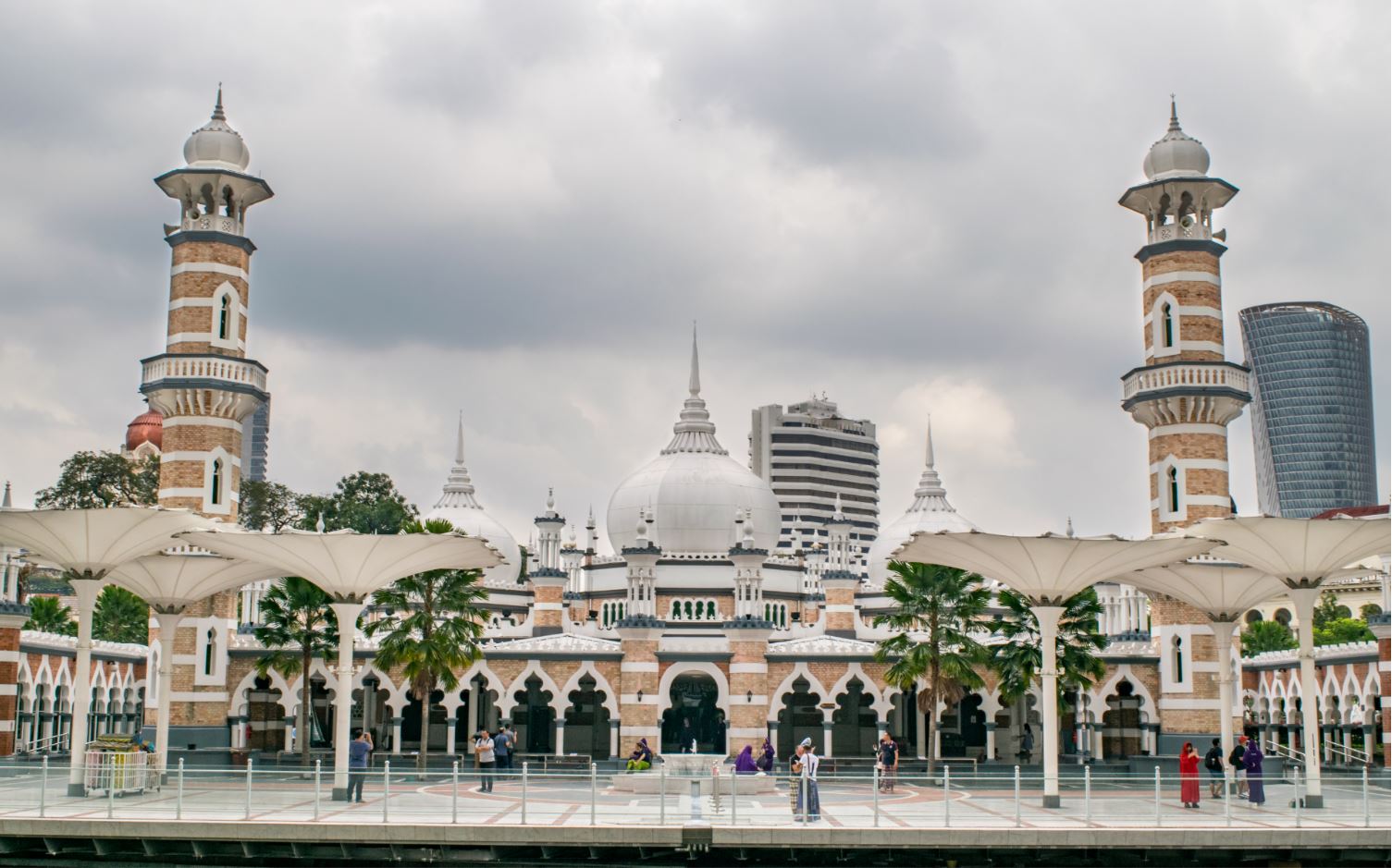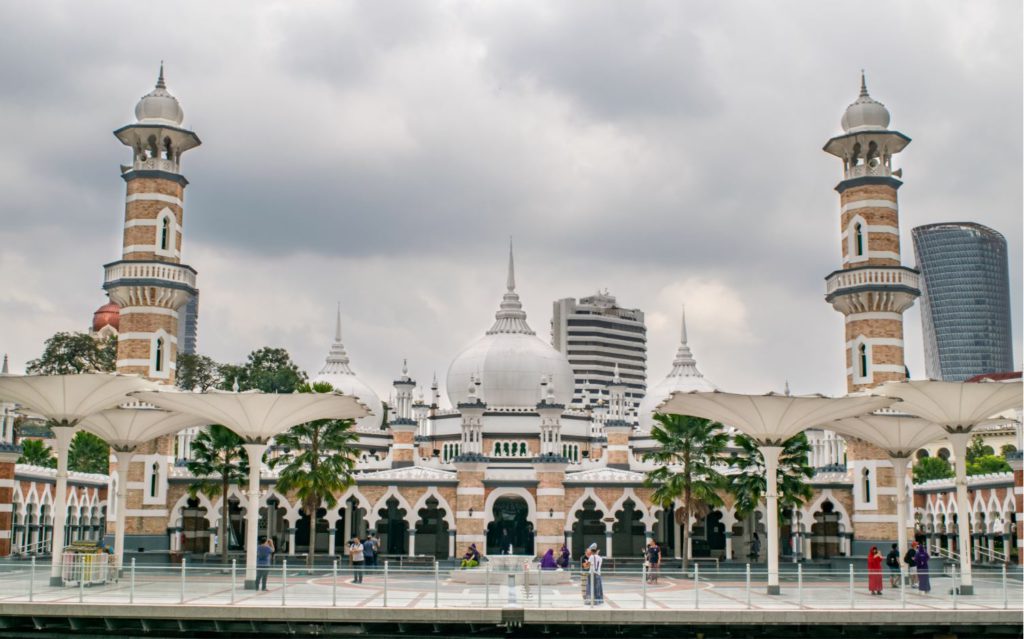 As the oldest point of worship of the Muslim community, Jamek Mosque or Friday mosque as called by the locals is one of the most important places of worship in Kuala Lumpur. It is located at the meeting point of Klang and Gombak river at an old burial place.
Opened in 1907,  Mughals and Islamic architecture heavily influence the design. The mosque is located at the heart of the city. It is within walking distance from Chinatown, Petaling street and Central market. One needs to dress in conservative attire to enter.
Females need to wear robes to visit which can be borrowed there. A view of fountains right in front of it the mosque accentuates the building. The mosque is free to visit.
Jamek Mosque Timings: Open to visitors from 8.30 am to 12.30 pm and 2.30 pm to 4.30 pm from Saturday to Thursday. Not accessible on Friday.
How to reach Jamek Mosque: Get down at Masjid Jamek station on LRT (Line 5)
5. Sultan Abdul Samad Building & Dataran Merdeka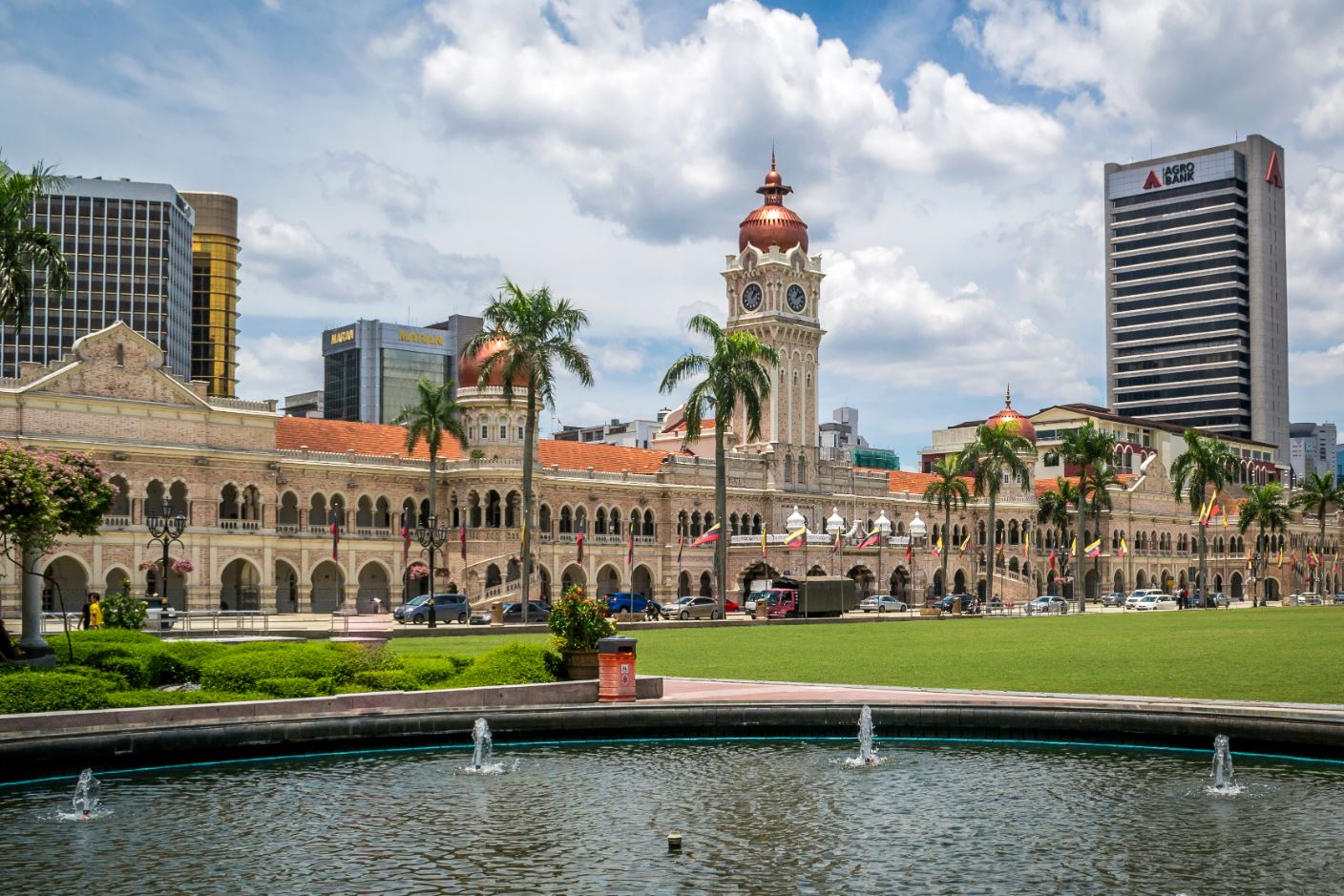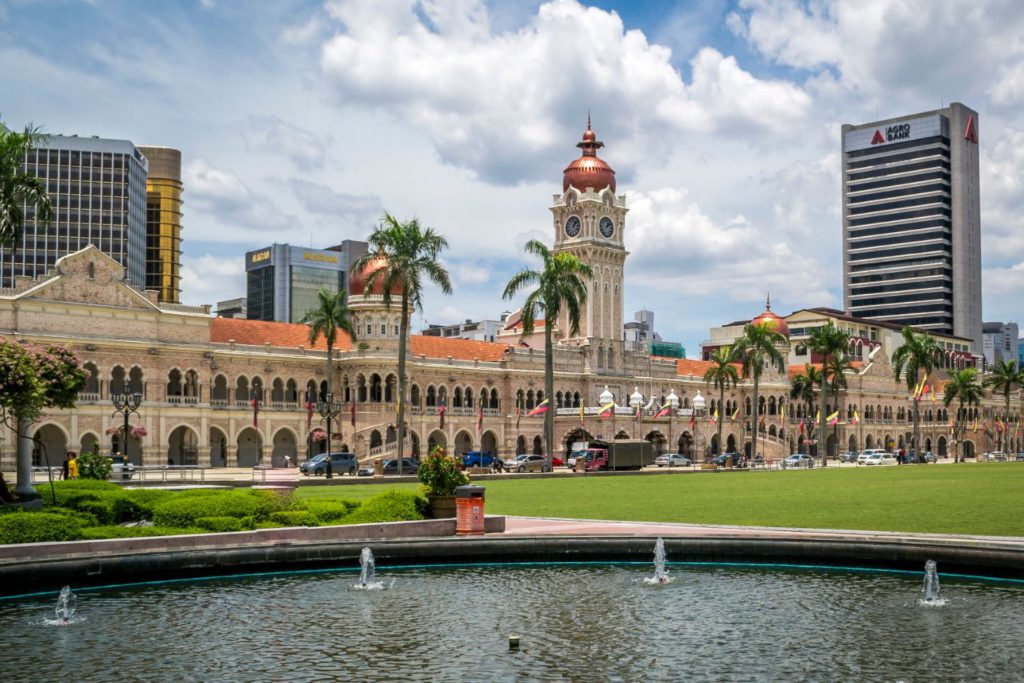 The Sultan Abdul Samad building is a point of architectural interest and was completed in the late nineteenth century. Constructed under the British rule, the building served home to the British offices till independence. Later it was home to the highest courts in the country. These were shifted in recent years.
As of today, two important ministries of Malaysia reside here. The building design is a blend of architectural styles termed as Indo-Gothic, Mughals, and Moorish. People sometimes colloquially refer to the building as "Blood and Bandages" for its corresponding colours.
Dataran Merdeka or Merdeka Square is located in front of the building. The Malaysian flag was hoisted here the first time post-independence. The is of an important significance in Malaysian history. You cannot enter the building, so you can go visit any time. You do not need a ticket to enter.
How to reach Abdul Samad Building: Get down at Masjid Jamek station on LRT (Line 5) and walk from there.
6. Aquaria KLCC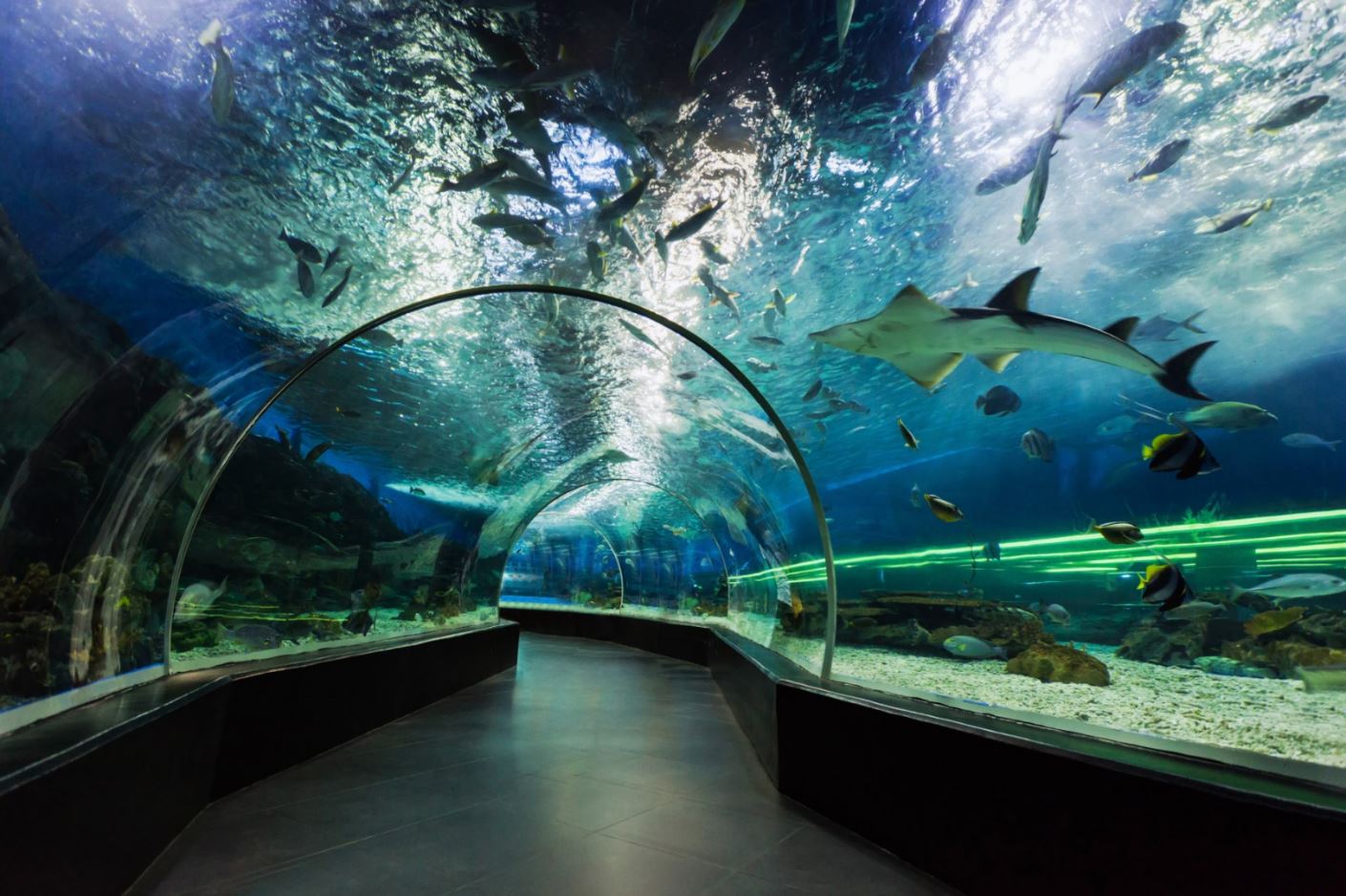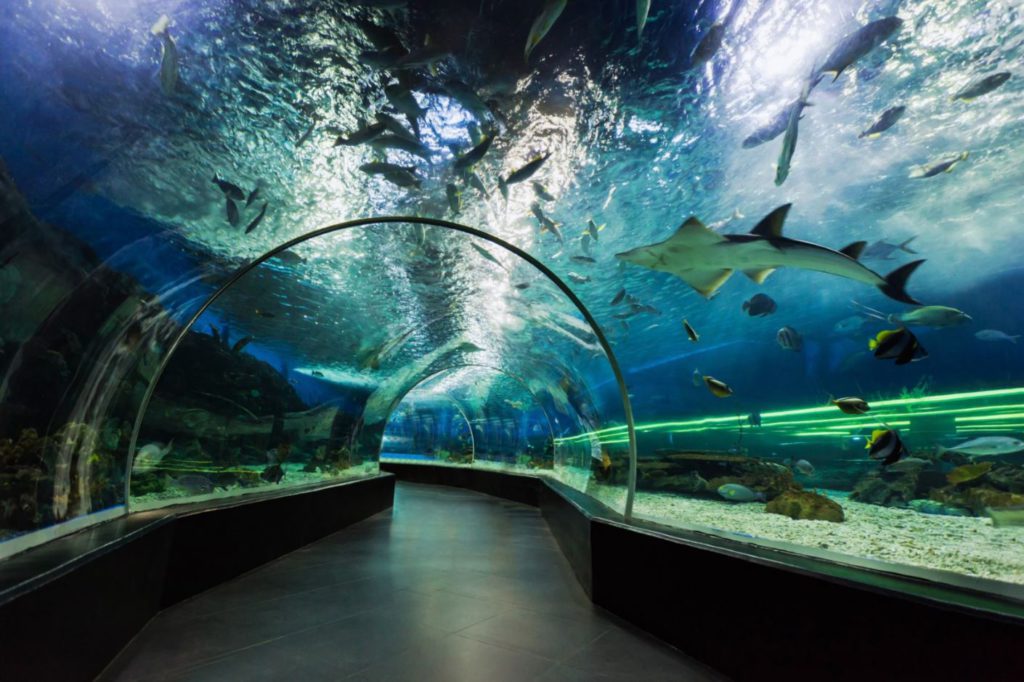 One of the largest aquariums in South East Asia, Aquaria KLCC is located on the Concourse level of Kuala Lumpur Conventional Centre. It carries more than 150 species of marine life. Some of thes are tiger sharks, sea snakes, blue rays, corals, seahorses, piranhas, electric eels, and catfish.
The most enticing part is the glass tunnel. It gives a clear ant's eye view of the aquarium in a natural motion. The whole area segments into theme habitats like jungles, highlands, coral reefs, and open ocean. It brings in a sense of storytelling. Visit if you haven't been to a similar one already.
Aquaria KLCC Timings: Opens from 10.00 am to 8.00 pm on all days of the week.
Aquaria KLCC Tickets: Ticket price for Adults/Children are RM69/59 per person. Kids within the age group of 3-12 years are eligible for a child ticket. Free entry for infants under 2 years.
How to reach Aquaria KLCC: Take the metro to KLCC station on line 5
7. Thean Hou Temple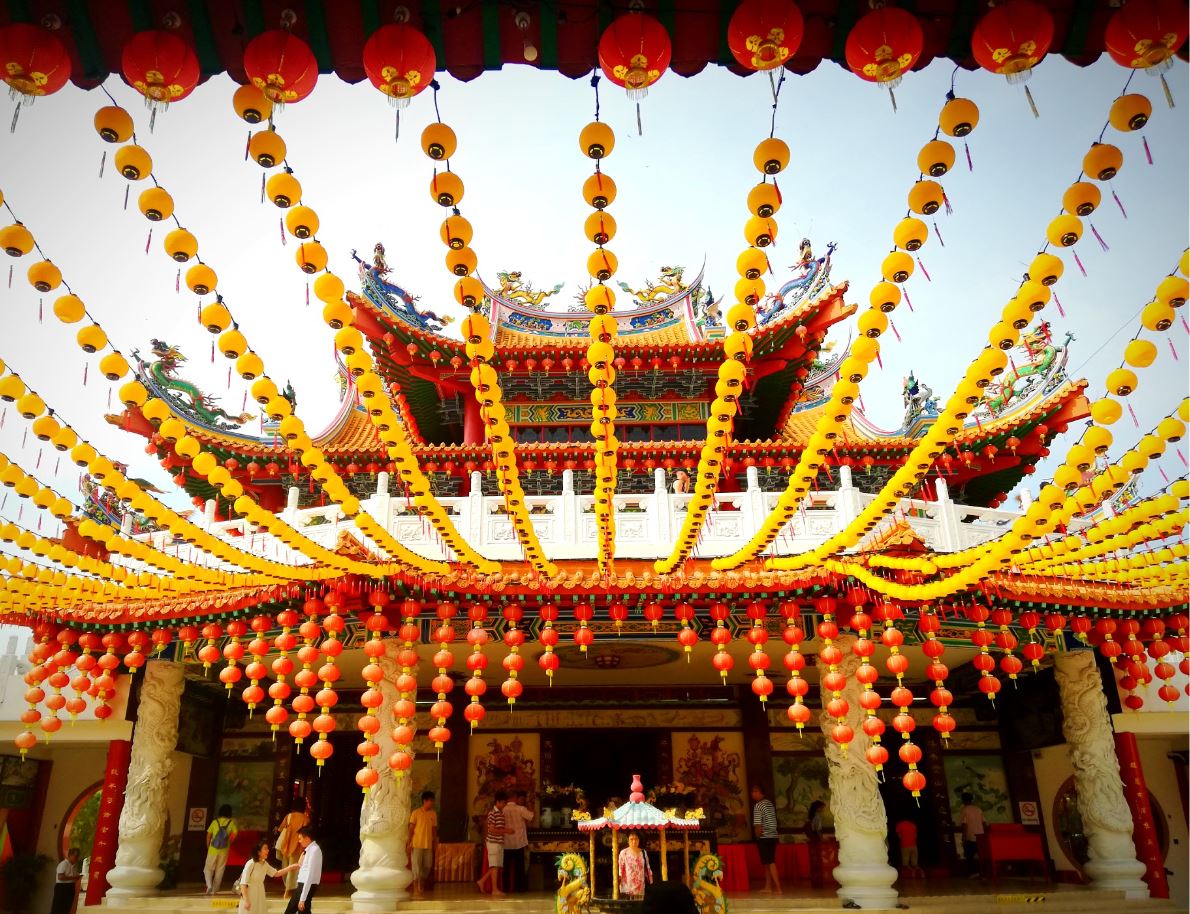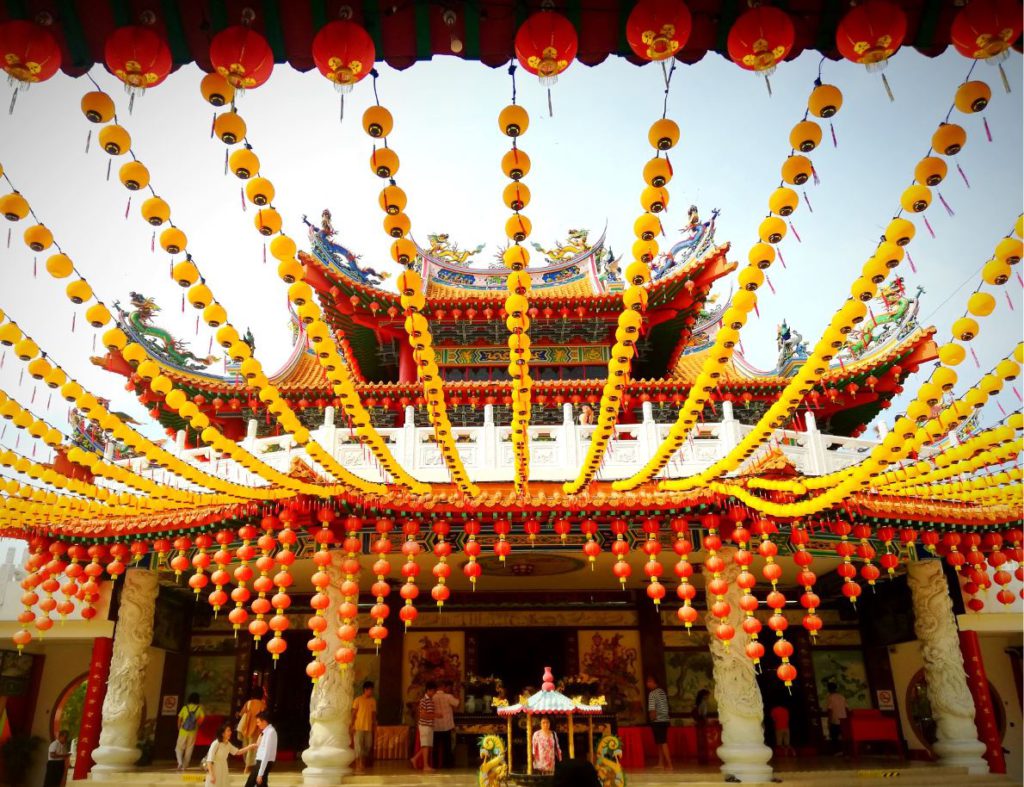 The Thean Hou Temple in Kuala Lumpur is dedicated to the Chinese sea goddess Mazu. As per the local beliefs, she watches over the fishermen. The Hainanese community of KL built the six-story temple. It was opened in 1989.
Along with Buddhism, the temple also holds elements of Taoism and Confucianism. People also worship Guan Yin, the goddess of mercy and the goddess of the waterfront. The temple is made with modern architectural techniques but very traditional in design.
The temple is full of bright colours, archways in age-old designs, Chinese murals, and intricate embellishments. It makes it one of the most delightful and charming places to visit in KL. There is no entry fee for visitors.
Thean Hou Temple timings: 8.00 am to 10.00 pm every day of the week.
How to reach Thean Hou Temple: Take the metro to KL Sentral station and then a cab (preferably Grab) to the temple.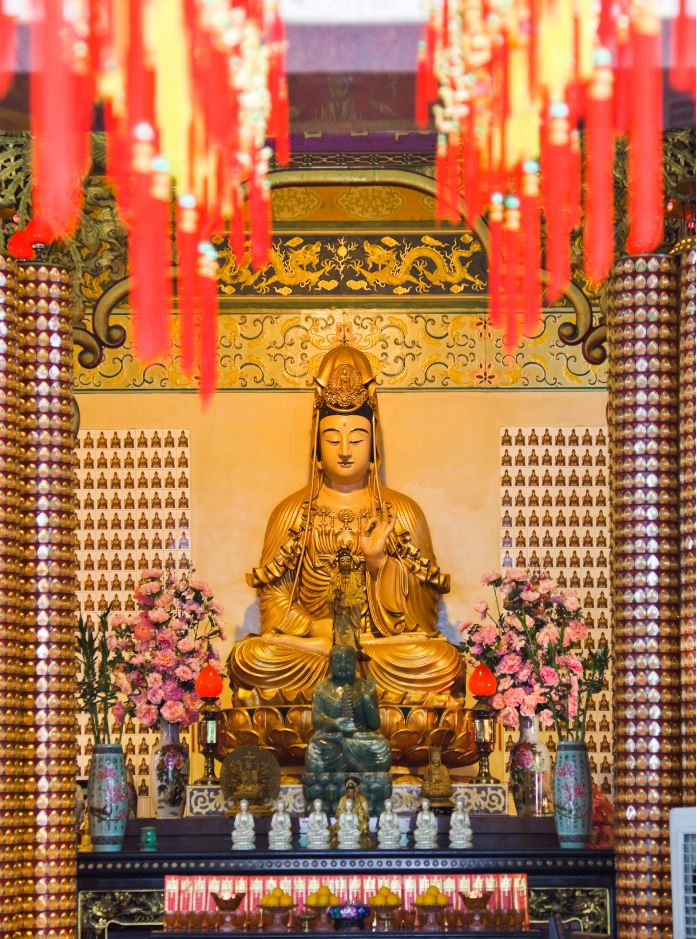 8. Petaling Street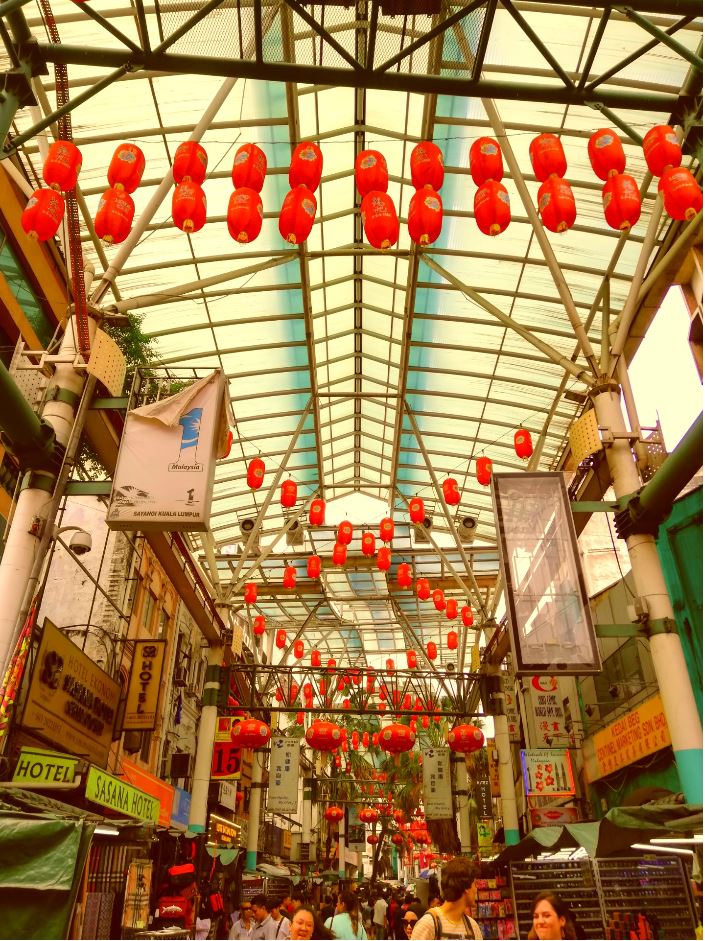 As the heart of Chinatown, Petaling Street is a full street of loud, colourful vendors and shops selling necessary and unnecessary items. It had a long history with different Chinese communities bickering over trade and work opportunities.
Today you will find vendors, not just Chinese but also Malays, Indians and Bangladeshis lined up on both sides of the streets. You can find cheap sunglasses, fridge magnets, bags knock offs, garments, souvenirs, Chinese herbs and a lot more. However, most people come here for some lip-smacking authentic Chinese street food.
If you walk further down the street, the sweet smell of jasmine will welcome you to Sri Mahamariamman Temple. It is the most elaborate and ornate Hindu temple in Malaysia.
How to reach: It is at a walking distance from the Jamek Mosque and Masjid Jamek metro station.
9. National Mosque Of Malaysia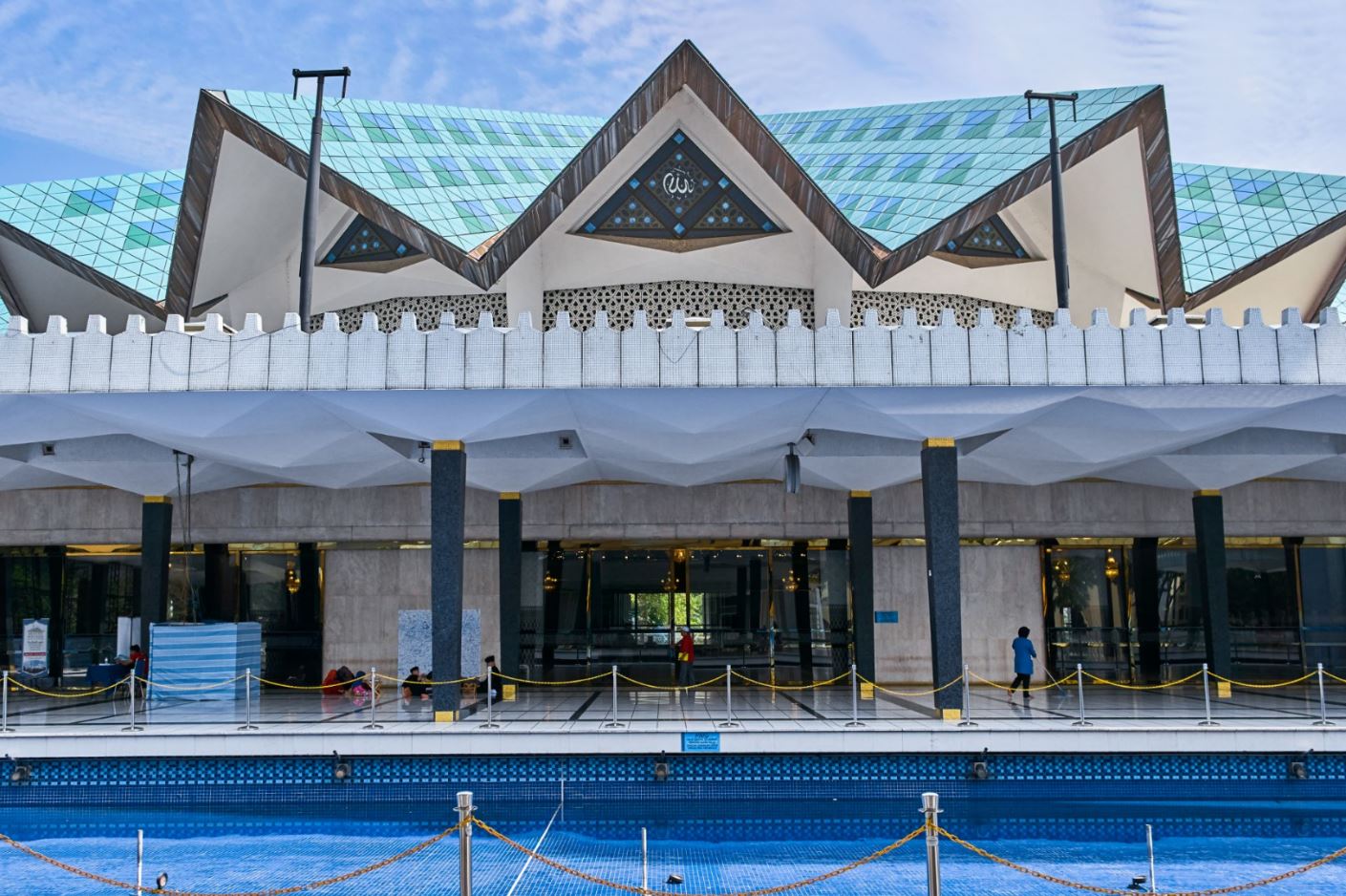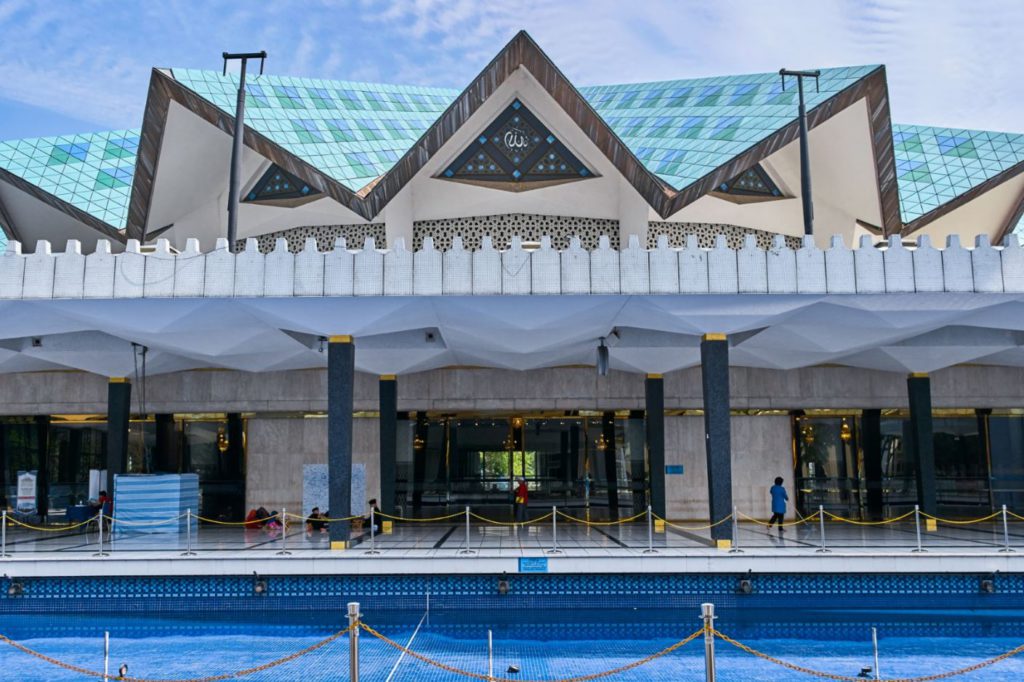 The National Mosque of Malaysia or Masjid Negara is the main mosque of Kuala Lumpur and probably the most important one. It has the capacity to hold 15,000 people at a time. The 13 acre complex is vast full with lush gardens.
The most unique feature is its contemporary design and sleek architecture with traditional Islamic symbols and calligraphic elements. The idea of the main roof is inspired by an open umbrella. And that of minarets from a closed umbrella.
There are many reflecting pools and small fountains in the compound area to sit and relax. Dress modestly and cover your head to visit the mosque.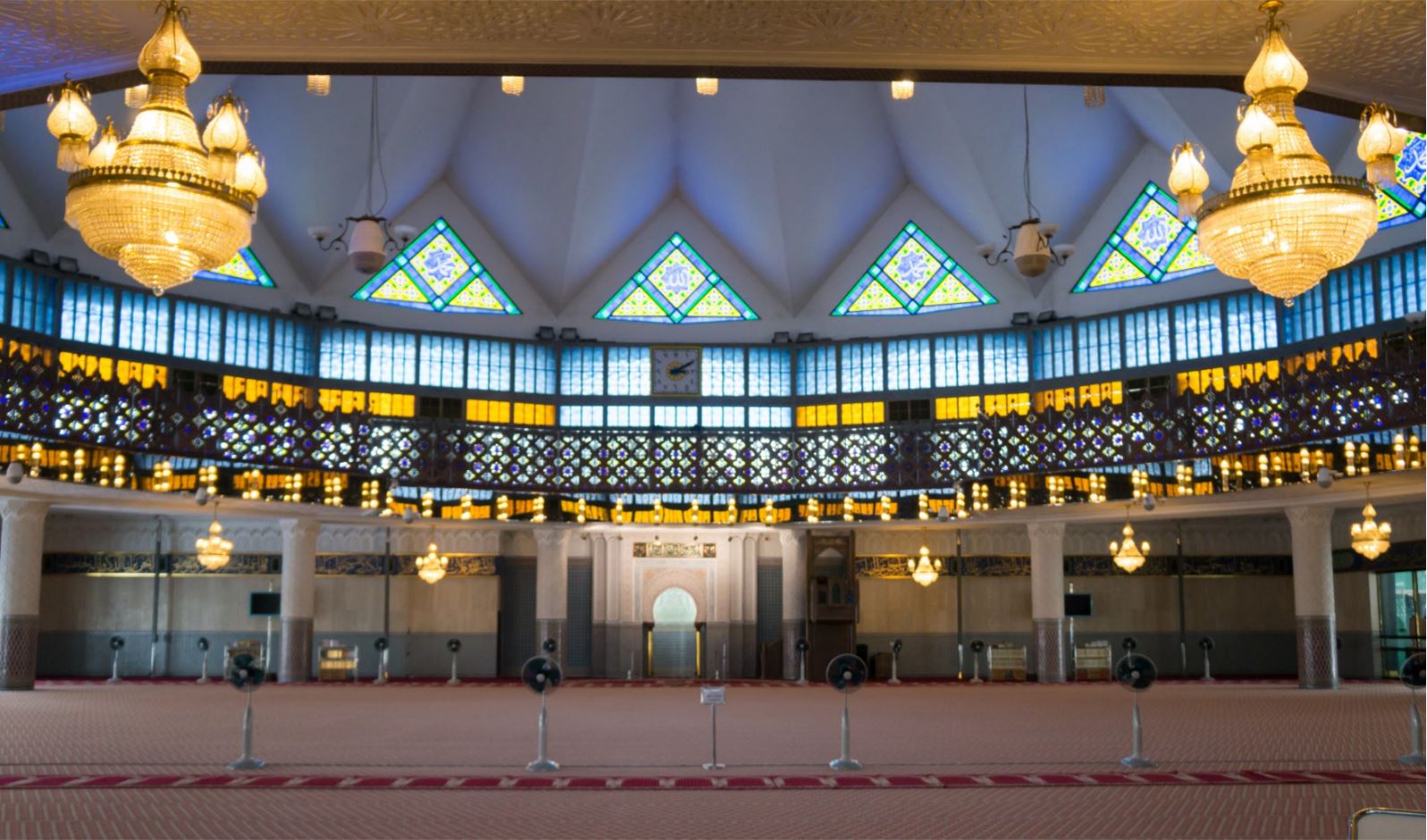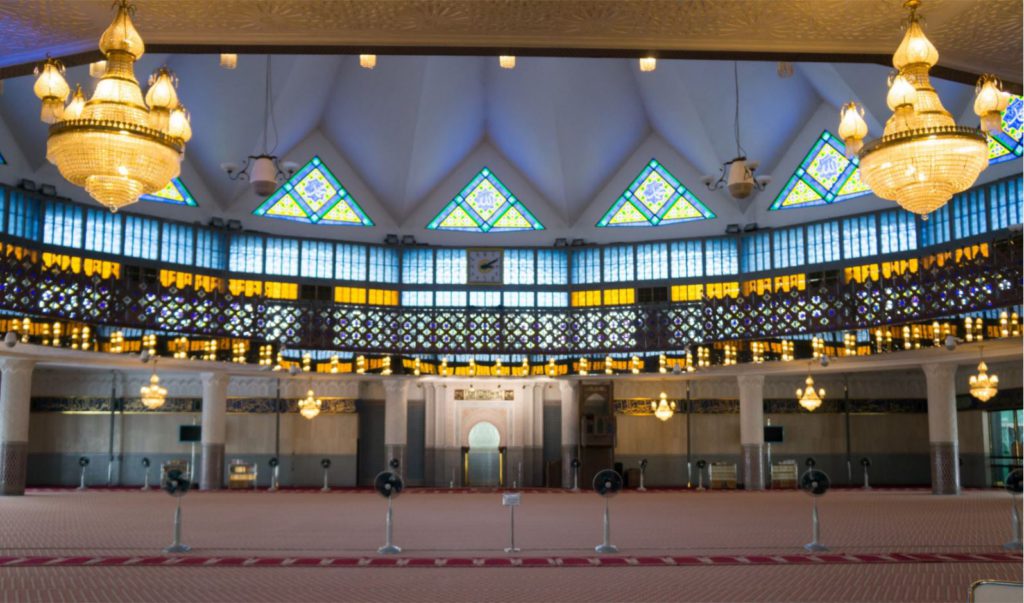 10. National Museum Of Malaysia Or Muzium Negara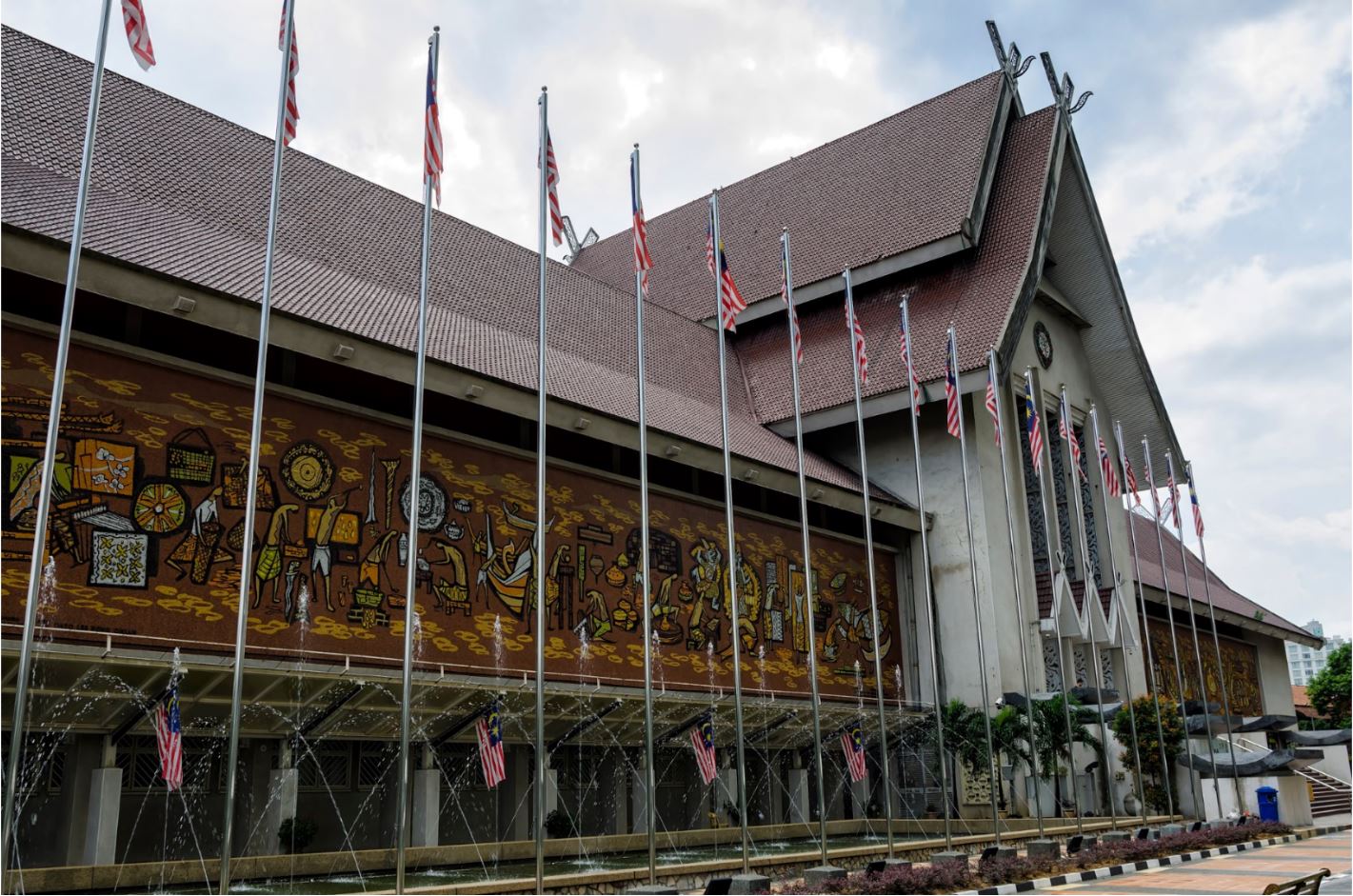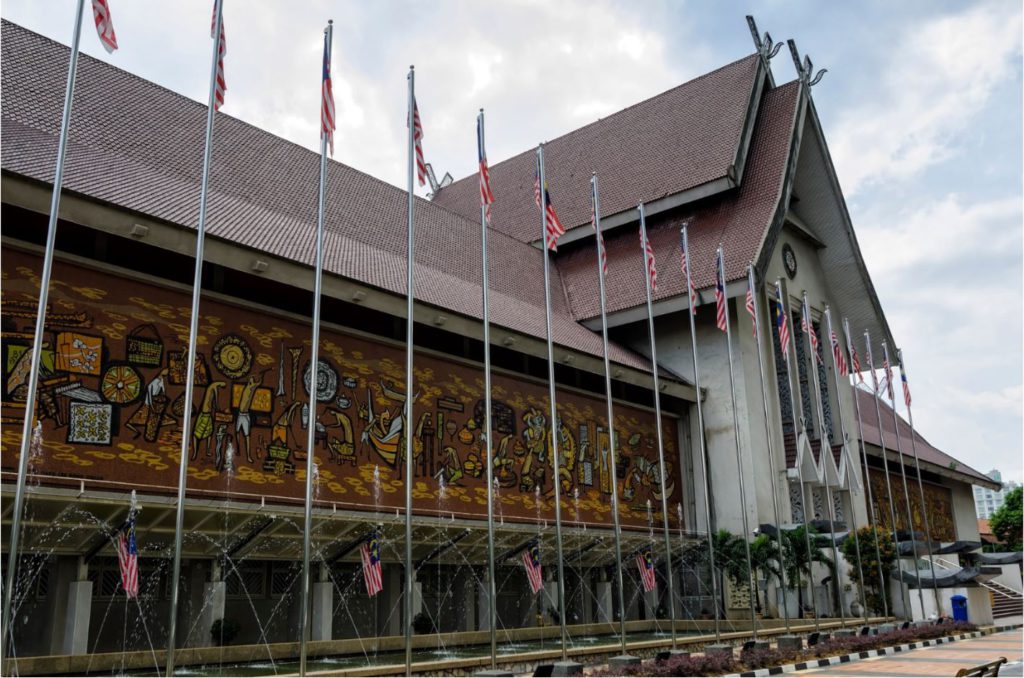 Muzium Nagara has some of the best artefacts on Malaysian history. While many of them were destroyed in the allied bombing during WWII, a lot was preserved. The place got an upgrade in 2008. The museum has four major galleries – the Prehistoric gallery, The Malay Kingdom Gallery, The Colonia Era Gallery and the Malaysia Today Gallery.
The whole museum tells you a synchronized story about how Malaysia came into existence with life-size figurines and visual arts. The details about the various minorities and different ethnic races in Malaysia are fascinating to know about.
Wedding scenes, religious sermons, Malay houses, and early cave life have are shown in 3D. You can also find a collection of costumes and traditional outfits here.
Muzium Negara Timings: Open from 9.00 am to 6.00 pm every day of the week.
Muzium Negara Ticket price: RM 5 for Adults, RM 2 for Children (6-12 years) and free for infants under 6 years.
How to reach Muzium Negara: You can take the Rapid KL city bus no.115 or get down at KL Sentral/Muzium Negara station and walk 500m from there.
11. Jalan Alor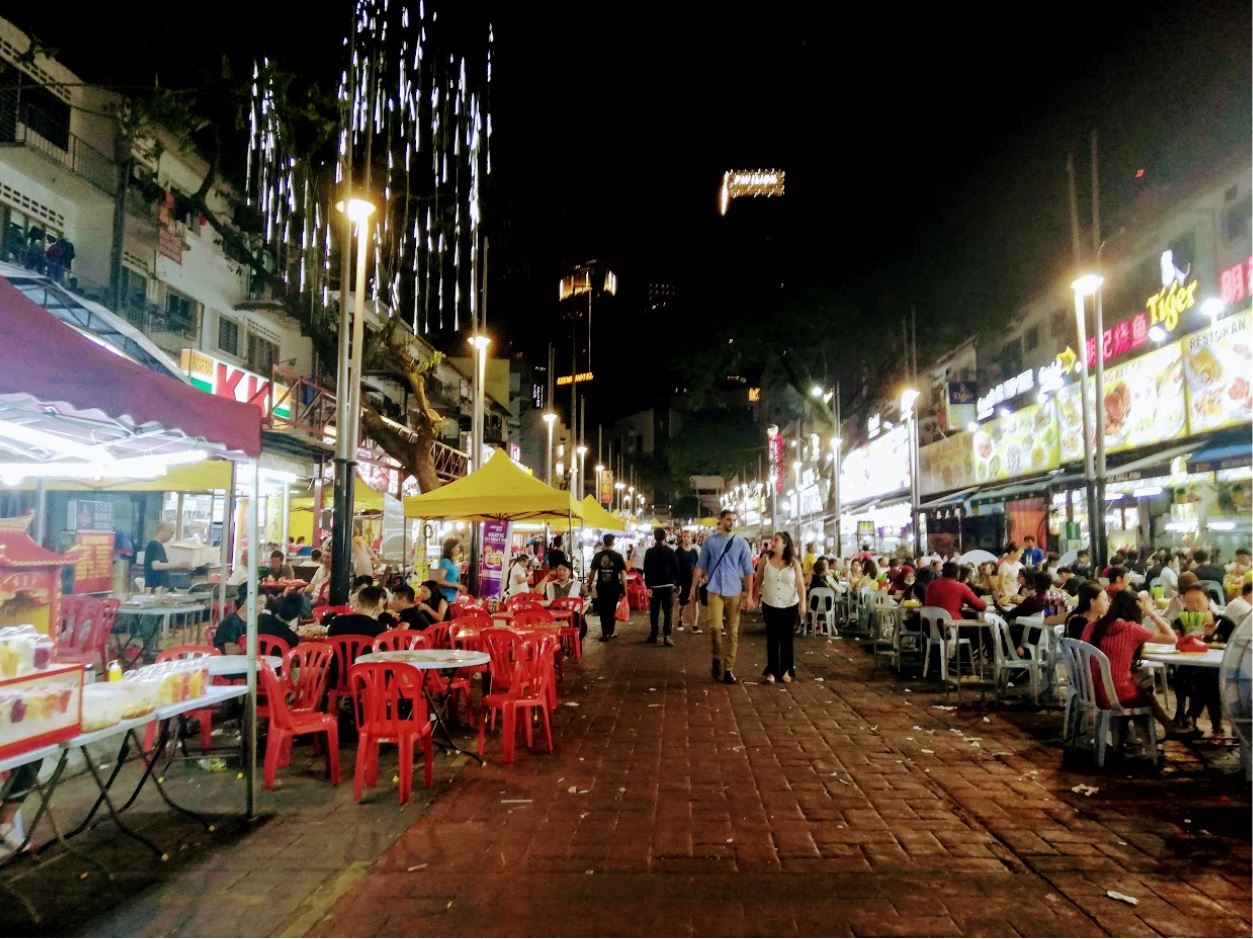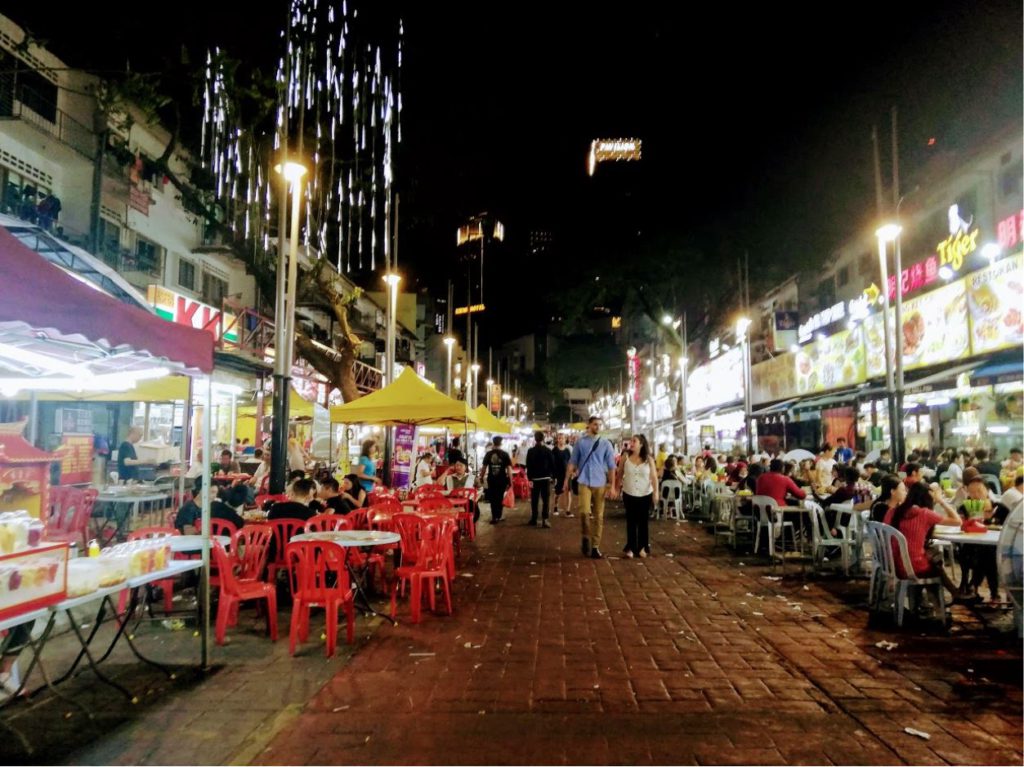 The most popular food street of KL, Jalan Alor is chaotic and will have you spoilt for choices. If you are looking to get your hands dirty in some local gravy, visit Jalan Alor. Vendors line both sides of  the street serving many food options. You can try local dishes like Nasi Lemak, Nasi Kandhar, ice-creams and durian.
It also has many Thai, Indian and Indonesian variants across the place for more choices. The place is open till 2 am in the morning. Known to be a little bit of a tourist area, it can be only marginally overpriced. I will still suggest it for a certain food stop if you are short on time.
How to reach Jalan Alor: It is at a walking distance from Bukin Bintang station on Line 8 & 9.
12. Central Market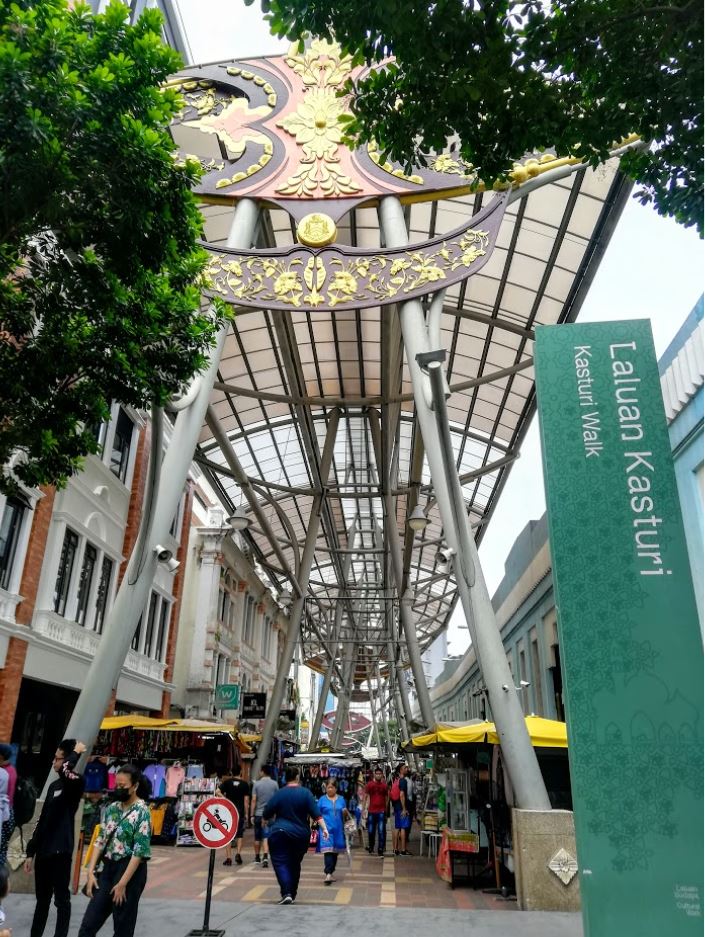 The Central Market or Pasar Seni in Kuala Lumpur is a small market complex at a walking distance from Petaling Street. The market was initially a wet market. It was upgraded in an art deco style.
Now there are numerous small vendors selling all types of articles like clothes, t-shirts, sunglasses, local food products, ceramics, homeware, key chains and so much more. Many artists perform music or sometimes sketch portraits in the area. There is also a food court on the upper floor serving Asian cuisine.
The prices are definitely more than what the locals would pay. It still is a fun place to check out. Around the market are many traditional Kampong-style houses in bright colours and traditional designs.
Central Market timings: 10 am to 10 pm on all days
How to reach: Take the train to Masjid Jamek station on LRT (Line 5) and walk for 10 minutes from there.
13. Perdana Botanical Garden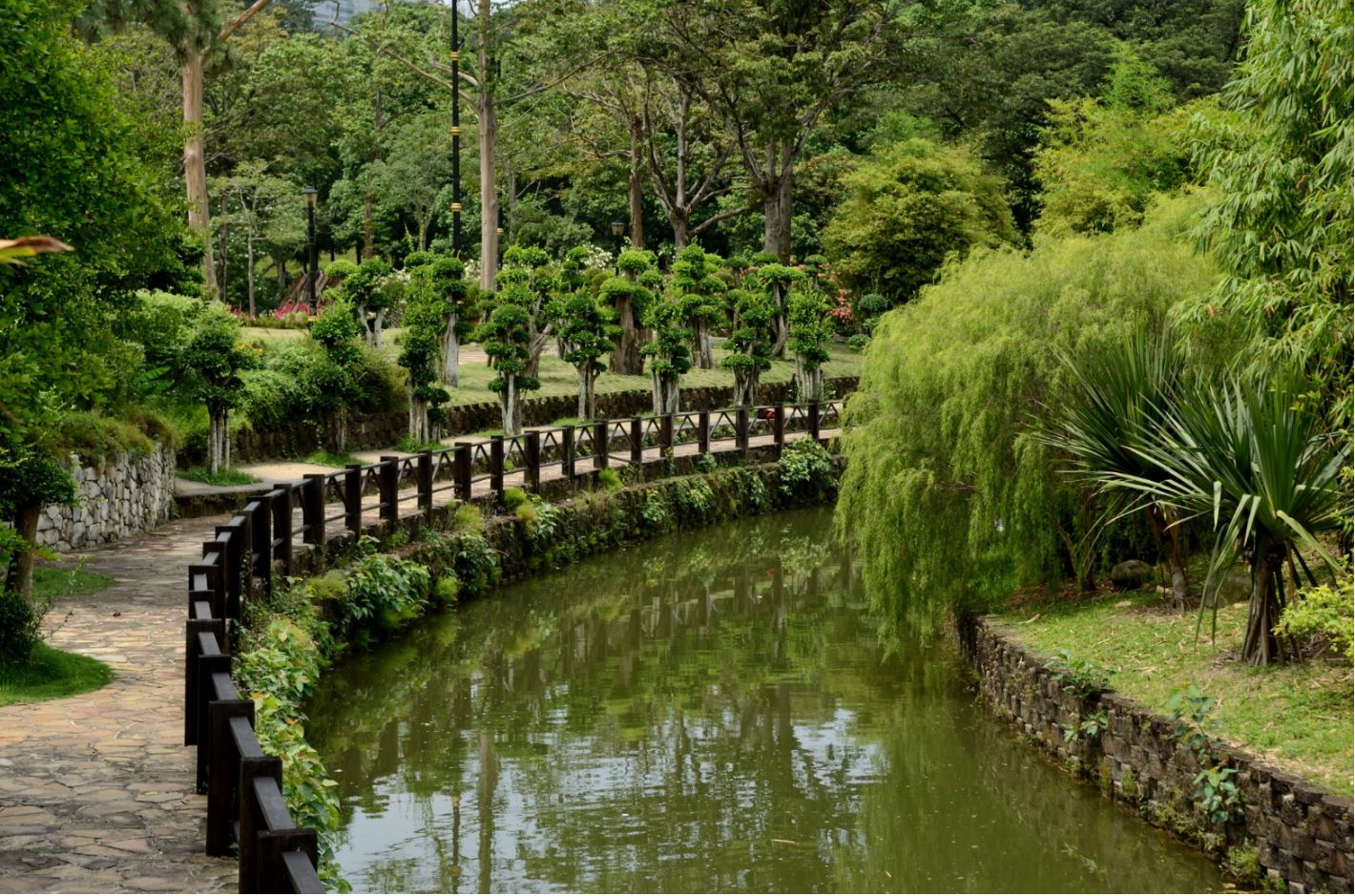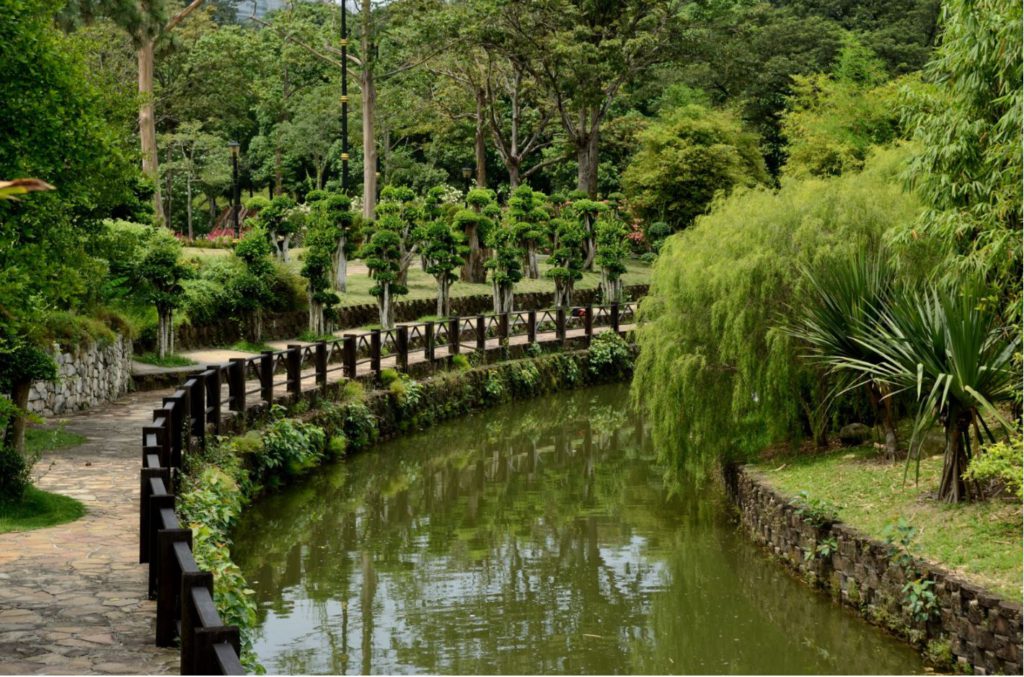 The Perdana Lake Gardens or Perdana Botanical Gardens are a large set of flower gardens and animal parks inside Tun Abdul Razak Heritage Park. It consists of seven points of attractions in close vicinity and together makes the largest ecological area inside KL.
The Outdoor park is a large area with trees and walking areas for jogging tracks. The exercise stations are a replica of England's Stonehenge.
The Hibiscus gardens showcase countless species of the national flower of Malaysia, hibiscus and other flowers. The National Planetarium complex, on the other hand, has interesting exhibits about Malaysia's space program.
The Deer Park, the Butterfly Park and the Bird Park respectively have a large number of species of its own kind which are unique and conserved in the area. You can also get a glimpse of the Malaysian National Monument, commemorating Malaysia's freedom for struggle.
Kuala Lumpur Lake Gardens Nature Tour by Segway
| Place of Interest | Timings | Ticket Price (Adult/Children) |
| --- | --- | --- |
| Perdana Outdoor Park |  5 am to 9 pm | Free |
| Hibiscus Gardens | 9 am to 6 pm on all days | RM 1 only on weekends |
| National Planetarium Complex | 9.30 am to 4.30 pm from Tuesdays to Sunday. Closed on Mondays | RM 1 for entry. Additional cost for shows vary from RM 3 to RM 6 |
| Deer Park |  10 am to 6 pm on all days |  Free |
| Butterfly Park | 9 am to 5.30 pm on all days | RM 22/ RM 11 |
| Bird Park | 9 am to 6 pm on all days | RM 63/ RM 45 |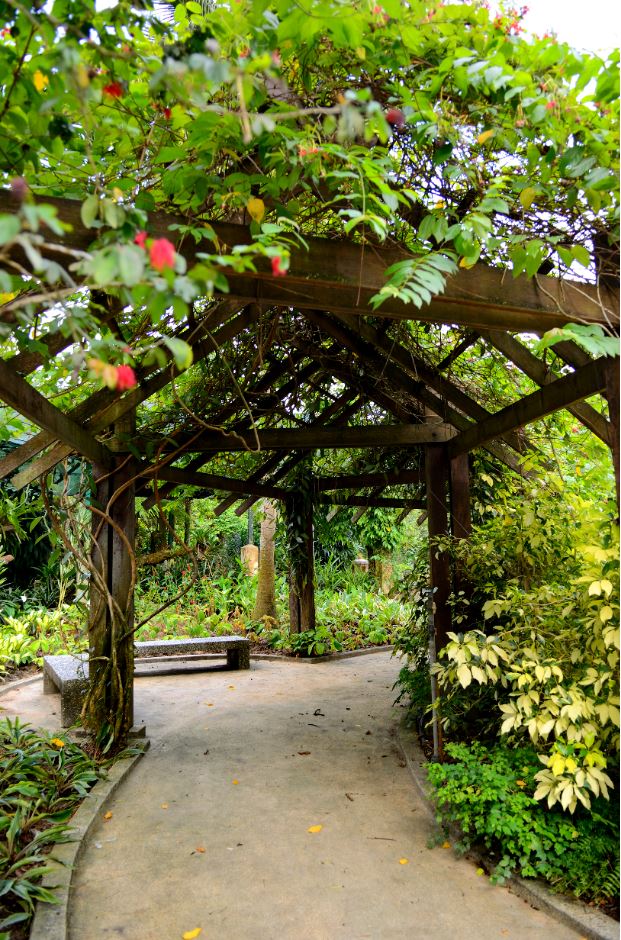 Where to Stay in Kuala Lumpur
The best place to stay in Kuala Lumpur is undoubtedly around KLCC City centre and Bukit Bintang. KLCC forms the heart of the city with the best places to visit in Kuala Lumpur nearby. You can even reach some of them on foot.
KL Sentral is also the central connecting station for many lines. It means that you can move in any direction with convenience. Bukit Bintang, on the other hand, is another busy area just next to KLCC centre.
I personally like it due to the food street located right next to it. It makes a busy nightlife and is open till 2 am. All you have to do is walk from there to your hotel. While you will find many modern apartments and hotels and Airbnbs to stay around here, both of these places will be slightly expensive than the surrounding areas.
If you are travelling solo on a budget or just love the culture look for a hostel. There are some fantastic hostels in Kuala Lumpur. You can get one in less than $10 a night on hostelworld.com.
If you do decide to live a little farther than the city centre, make sure it's within walking distance from a metro station. For budget hotels, you can find great discounts on agoda.com not just for Kuala Lumpur but also around Southeast Asia.
Save to Pinterest


Related Articles