05 Feb

What to do in Siem Reap apart from Angkor Wat

Not many people hear or come across Siem Reap unless they plan to go to Cambodia. But, in case you do plan to go to Cambodia, you probably will spend a good amount of time here. That's because of Angkor Wat, the largest Hindu temple in the world.

Siem Reap serves as the gateway to the majestic temples. In fact, Siem Reap is developed around tourism. And you may find it far more tourist-friendly than the capital city of Phnom Penh.

With a budding industry and a lot of investment in the city, the city also attracts many traditional artists. If you don't yet know, Cambodia once conceived one of the greatest civilizations of the world, the Khmer Empire. While much of it is lost, there are still remnants of the rich culture in dance, music, performing art, sericulture, and handicrafts.

Some may only come to see the mammoth Angkor Wat, but there is much more to do in Siem Reap that meets the eye. And I suggest you take some time in your hands to know before settling your itinerary.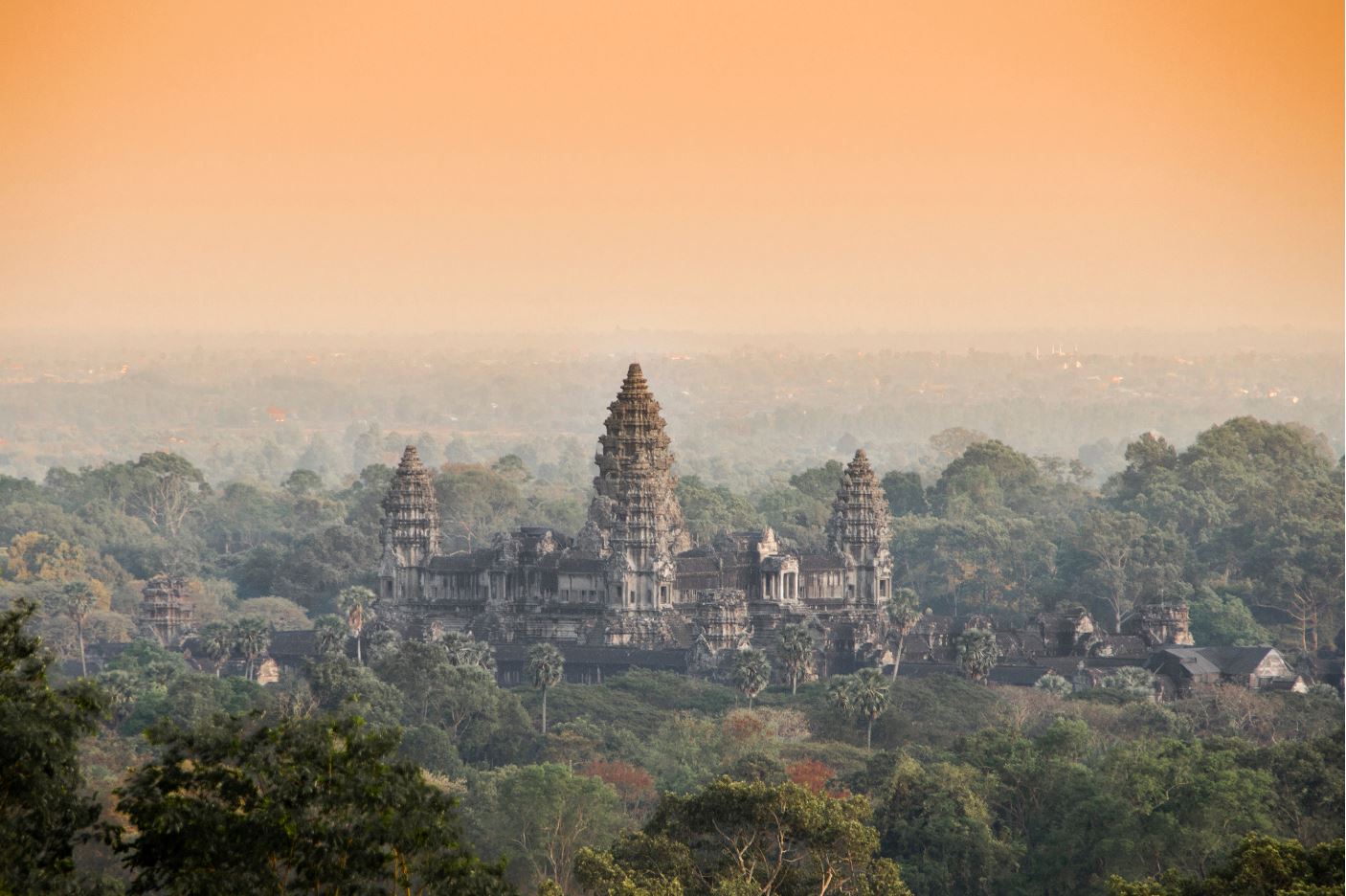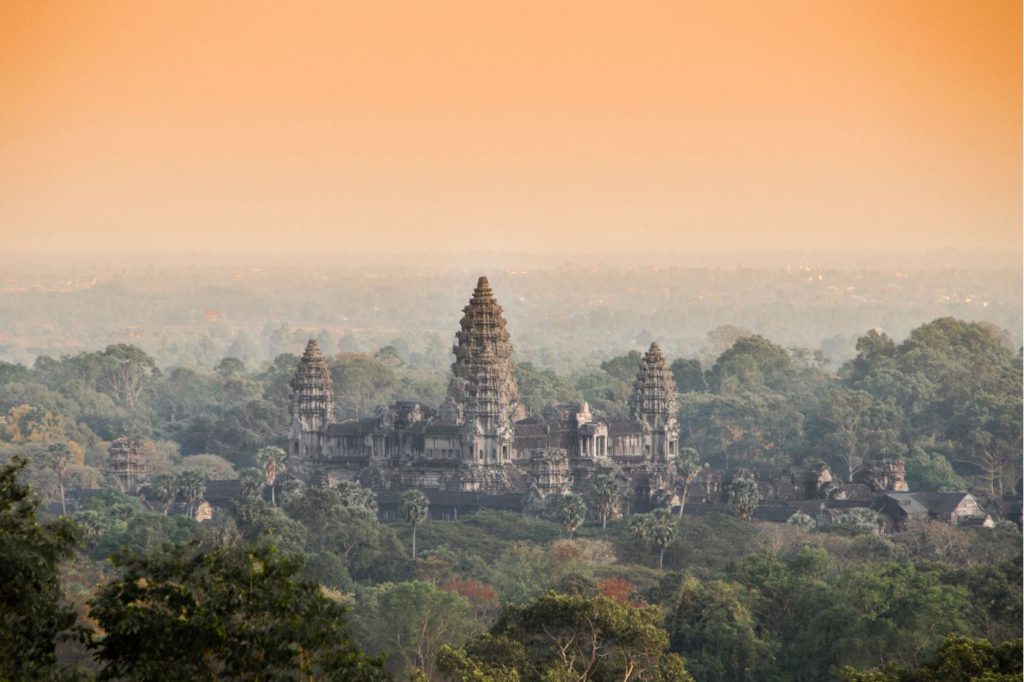 A Brief History of Siem Reap
The history of Siem Reap will go back to the 9th century BC and is closely entwined with the Khmer Empire. After the empire's inception, its glory met the zenith between the 12th and the 13th century. It was also the time that megastructures like Angkor Wat were made.
Various sources say that the city was the biggest in the pre-industrial era in the world. Today it would be similar in size with current-day Los Angeles. Around a million people inhabited the city of Angkor (historically known as Yashodharapura).
After the demise of the Khmer Empire, the area seemed to go into a deep slumber of solitude for a few centuries. It was only brought back to activity by the French who discovered the lost temples of Angkor Wat in the jungles. It went on to become a UNESCO World Heritage Site.
After that, the town attracted a lot of tourists from all over the world. This is turn, also attracted investments and infrastructure. Today, you will find a bustling city, filled with groovy pubs, bars, theatres, upscale restaurants, and boutique hotels.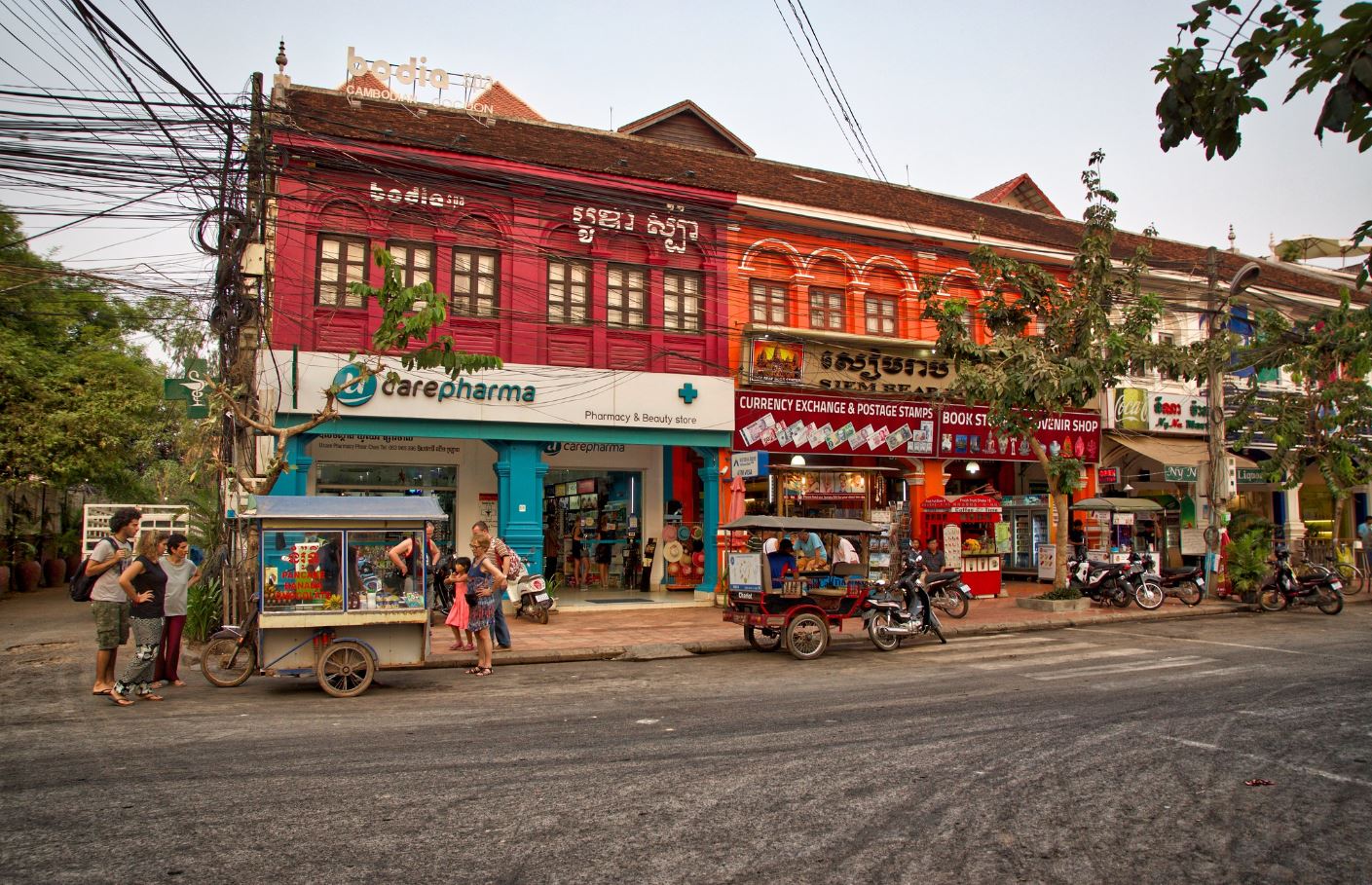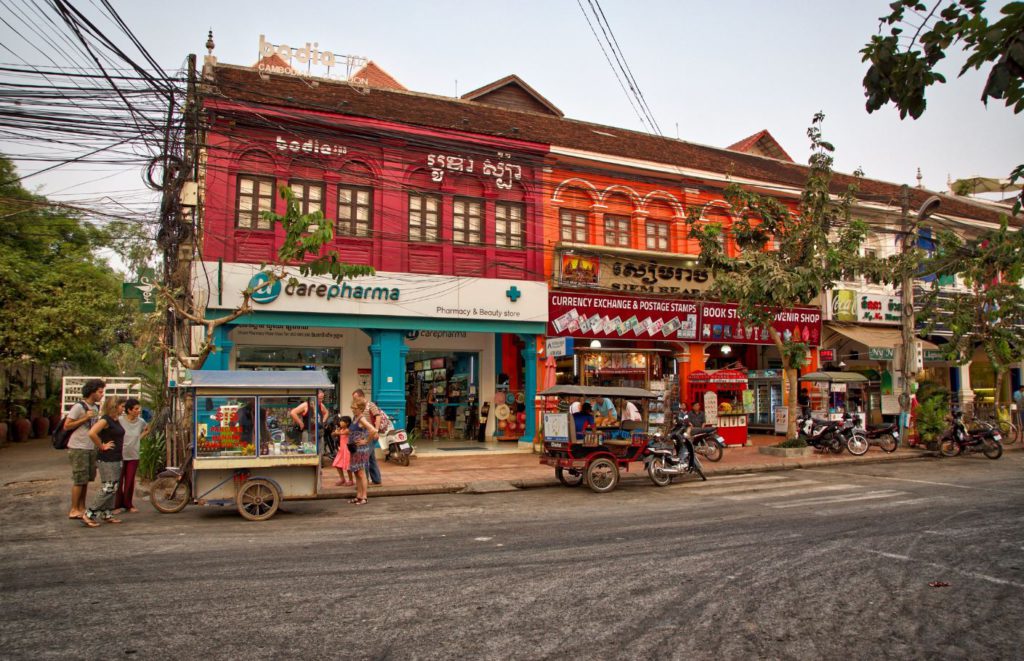 Where is Siem Reap?
Siem Reap is a major city located in the north-west region of Cambodia. Siem Reap is also the capital city of Siem Reap Province. The city is located just above the mighty Tonle Sap lake, the largest freshwater lake in Asia. The lake also gave a geographic advantage for the ancient Khmer civilization to flourish in the area.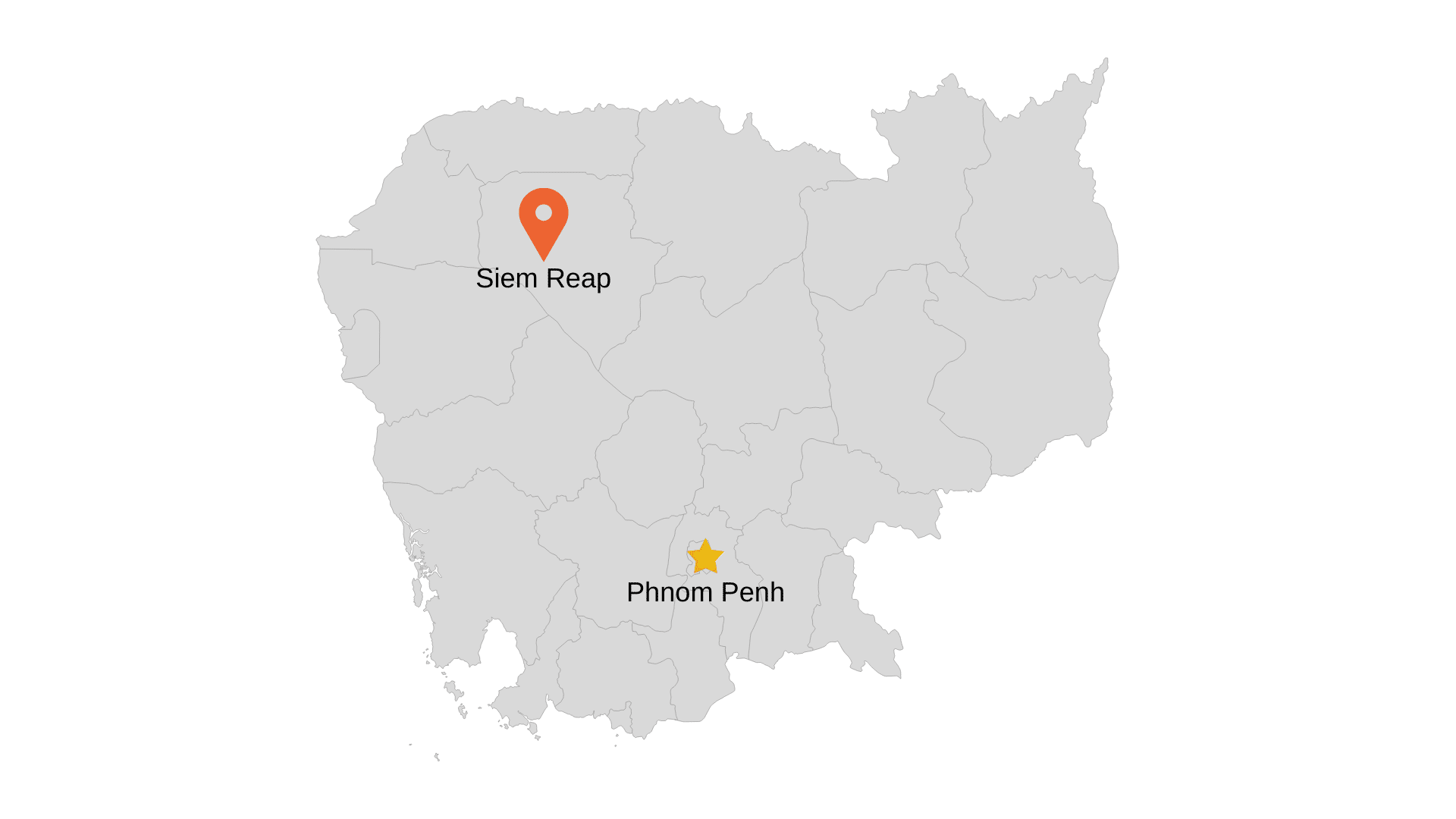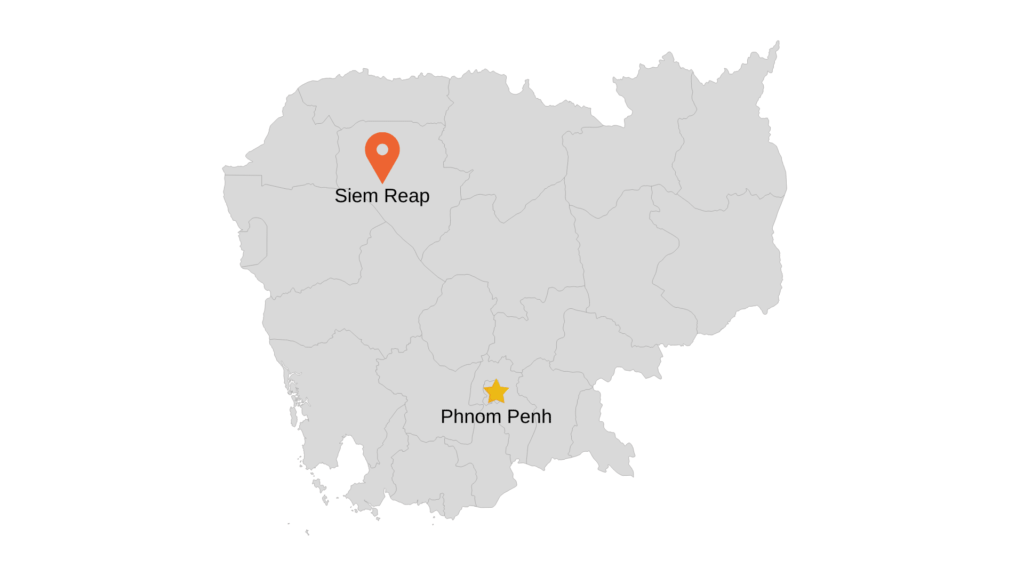 How to reach Siem Reap?
You can take the following options to travel to Siem Reap:
By Flight: By far it is the most convenient option. Siem Reap sees a large influx of tourists. Therefore, it has a comfortably functional airport with better immigration facilities compared to any other city in Cambodia. If you don't have a direct flight, you will find an extremely affordable one from Bangkok.
By Road: If you are feeling adventurous, you can also take a bus to Siem Reap from Bangkok, Thailand, or Ho Chi Minh City, Vietnam. From Bangkok, you need to take a bus to Aranyaprathet. There you can change the bus to Siem Reap after crossing the border. It takes about 8-11 hours in total.
There are direct buses or minivans running from Ho Chi Minh to Siem Reap via Phnom Penh with a possible layover and can take between 12-20 hours. Apart from buses minibus or vans are also available on all major routes that are relatively faster. You can book your tickets online on websites like Bookaway.com or Camboticket.com.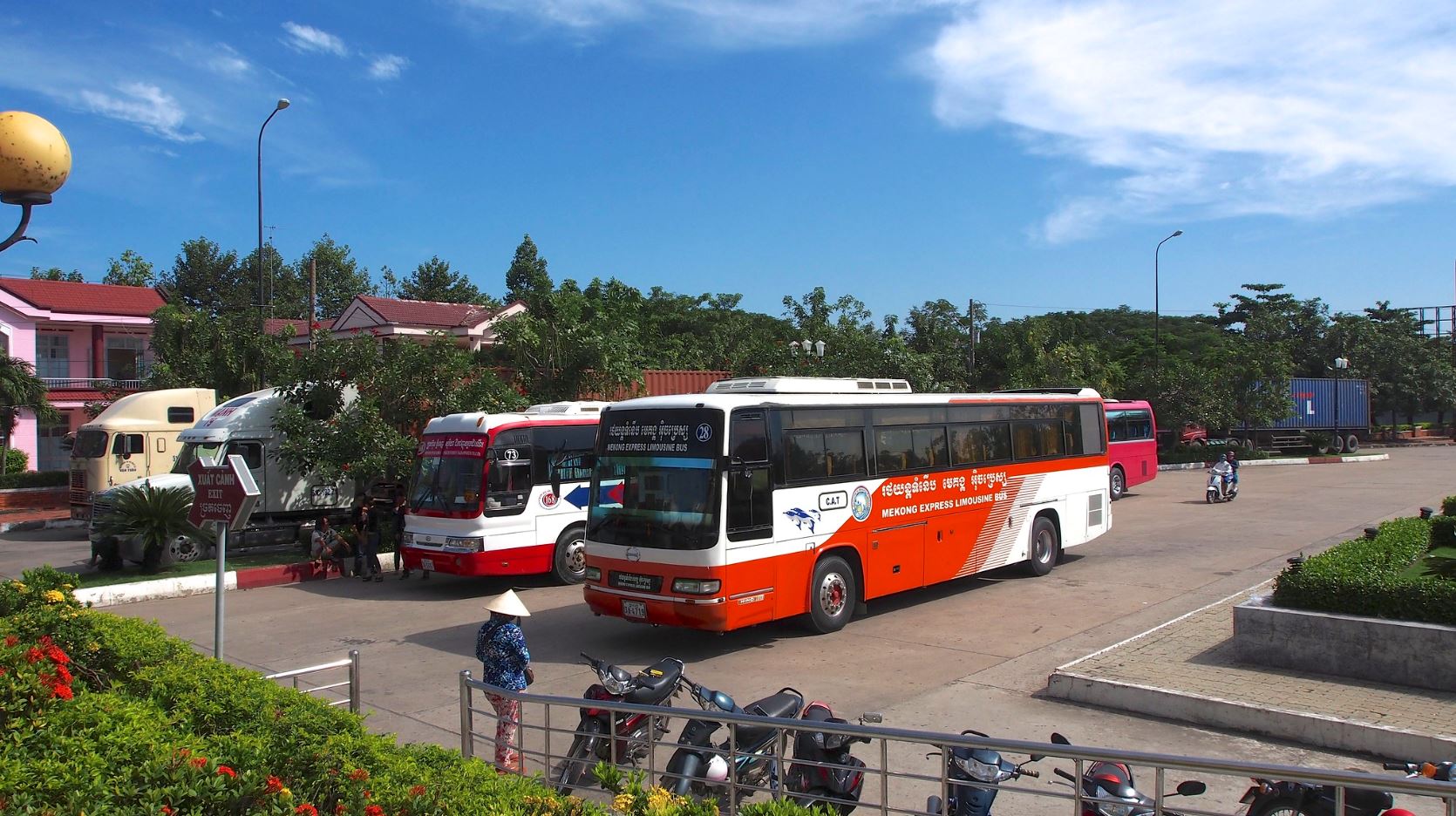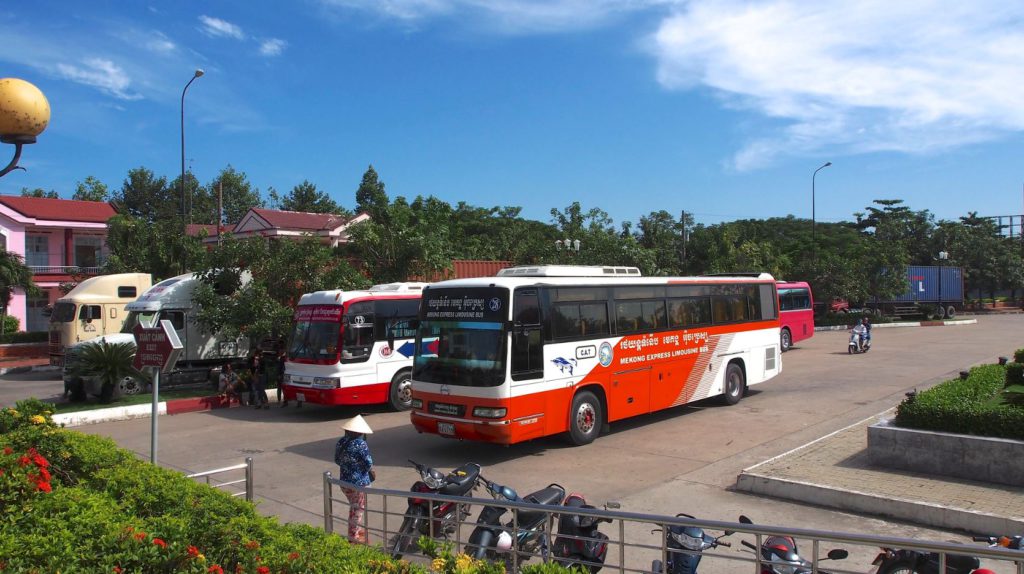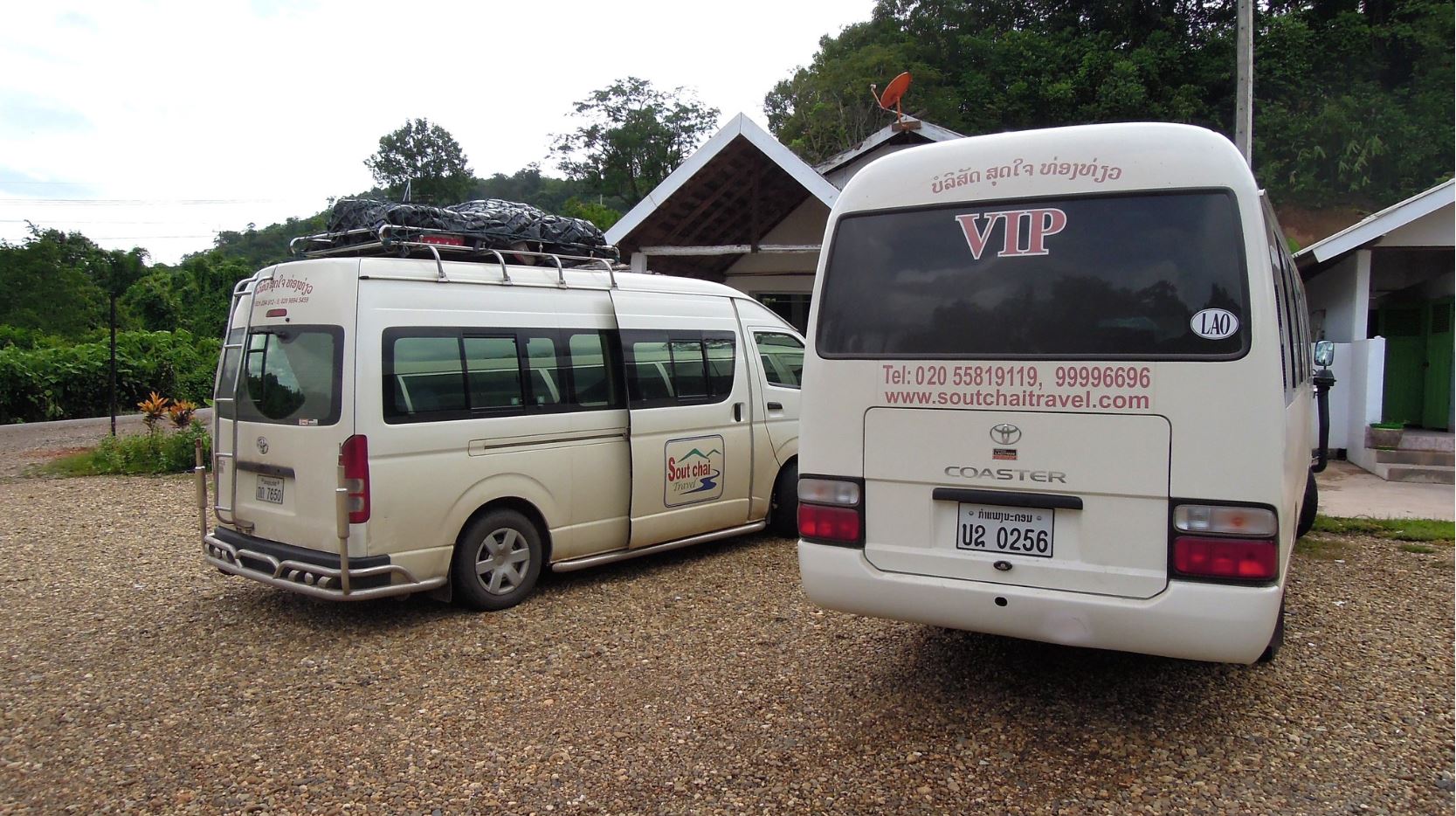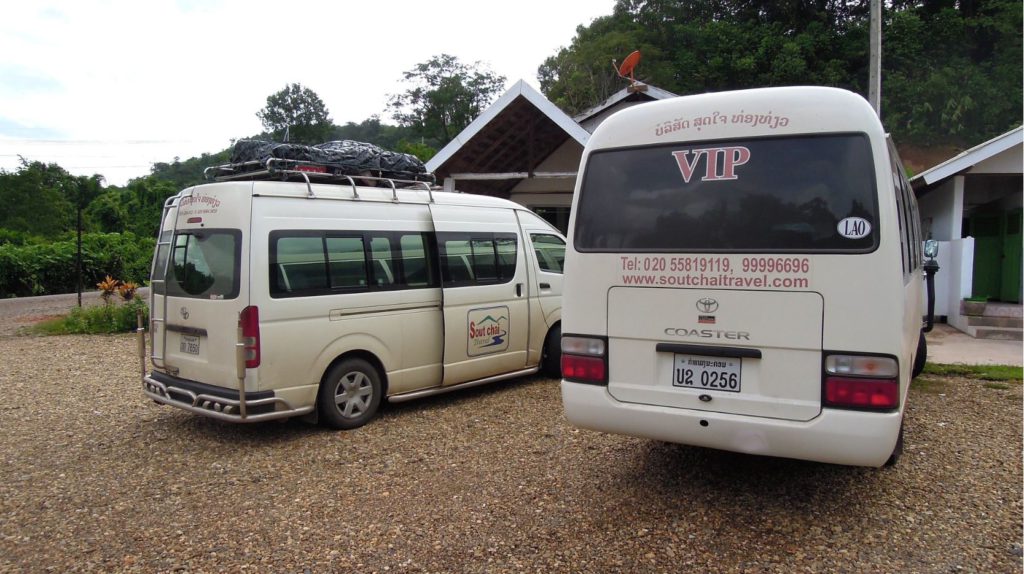 You need to make sure that you are at the border crossing during its open hours or you will have to stay the night at a guest house. Apart from that, avoid overnight buses since as a common saying goes 'there isn't a boring bus ride in Cambodia'. Use 12goasia or camboticket to book your tickets
By Train: Cambodia neither has a good network of railways inside the country, nor is the system in a condition good enough to travel on. Although, if you wish to take a train from Thailand, you can hop on one at Bangkok to the city of Aranyaprathet.
You can book train ticket for thailand on its official website. From there, you need to go through the same procedure of border crossing. You will have to take a bus to Siem Reap nevertheless. If you wish to read more about the journey via train, refer to this article.

How to travel inside Siem Reap
First of all you must note that, Cambodia isn't known for its infrastructure as of now. It means that you cannot always rely on public transport. Sure you can pick some now and then. Buses are cheap but you still may have to walk a long way on foot either side. Some of the best ways to go around town are:
Rent a two-wheeler: If you can drive a two-wheeler and are comfortable driving on Asian roads, definitely rent a two-wheeler. You don't even need a driver's license at most rentals. You can rent a vehicle at one of the local roadside rental shops in Siem Reap and will cost between $15-20 a day excluding fuel.
They may ask for your passport or a security deposit. Cambodians drive on the right side of the road.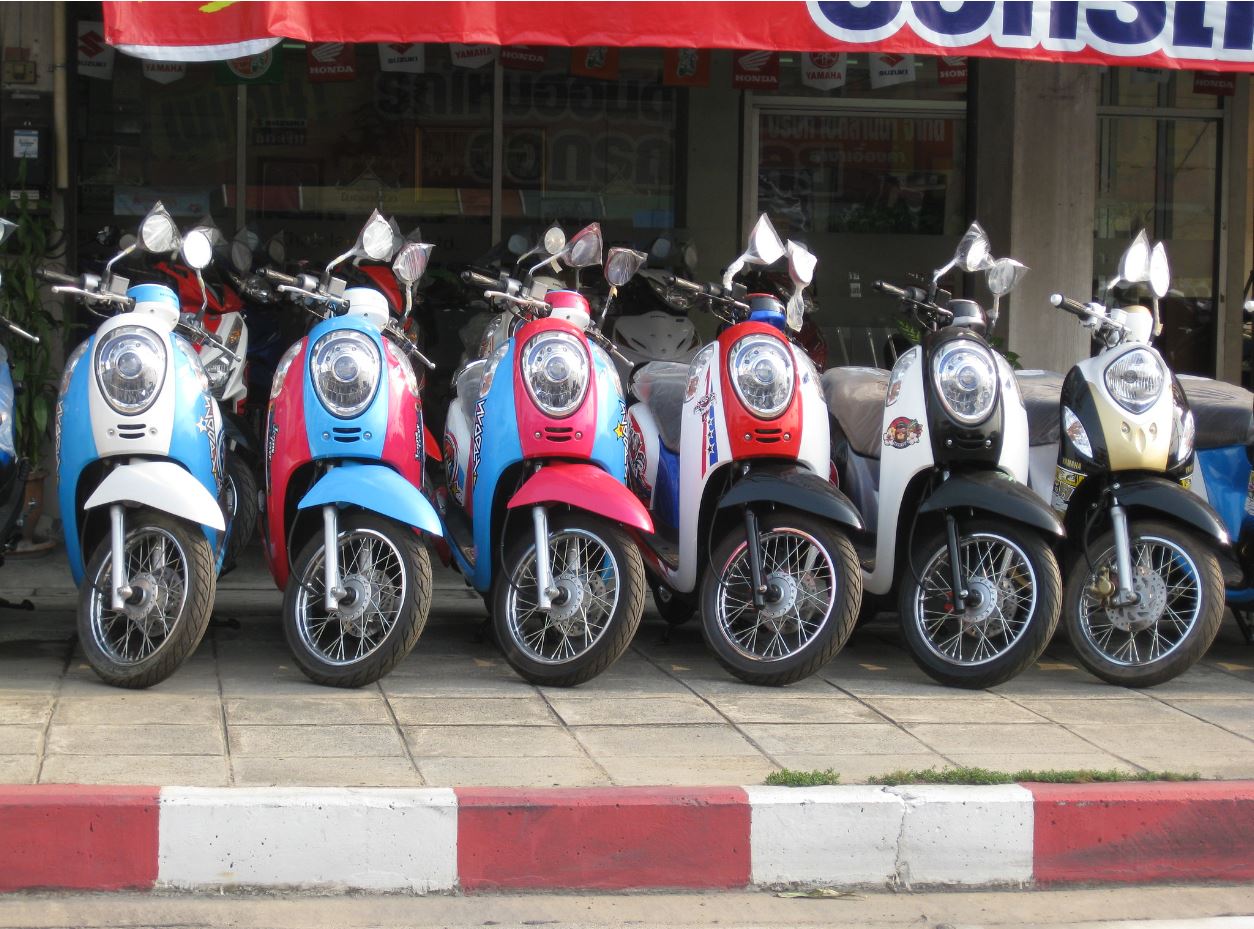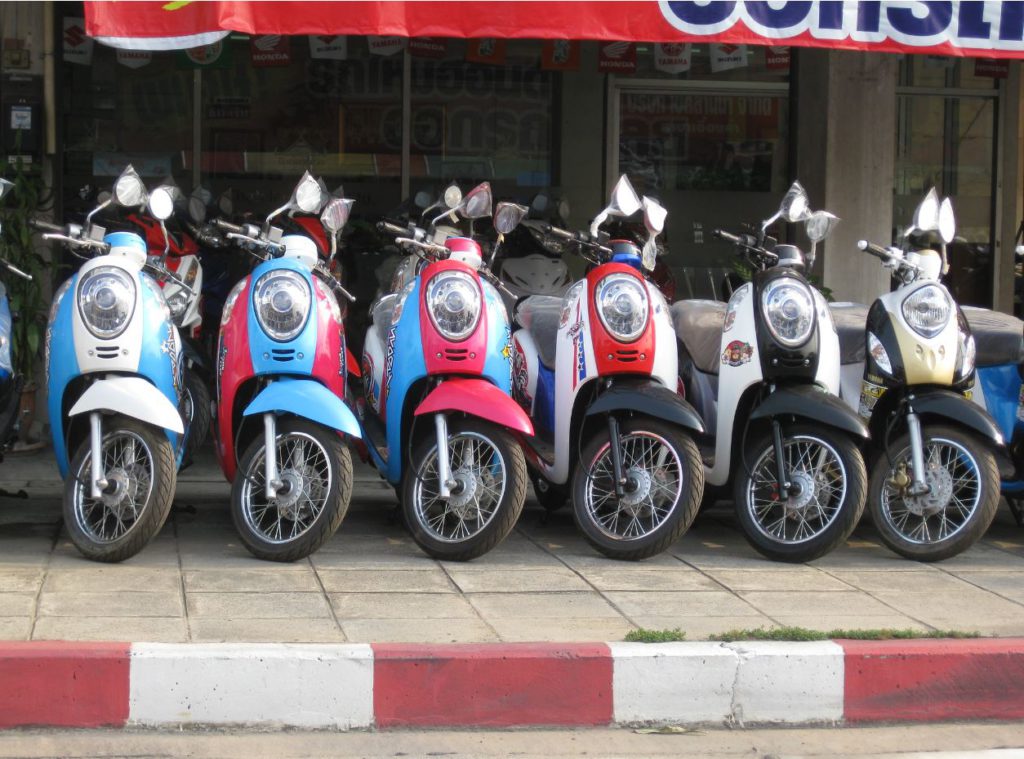 Take a cab: You can either hire a cab for the whole day or take one by rides. While you can wave at one to stop, I will suggest using Uber or Grab (for SEAsia). Using app-based rides will save you a lot of time, energy bargaining and eventually a lot of money.
Hiring motorcycle taxis are also a great and cheap way to reach your destination if you are travelling solo. However, the drivers usually do not understand English, so you must get your to address written on a paper in Khmer.
Hire a tuk-tuk: Tuk-Tuk is another common mode of transport in Cambodia. These are slightly different from those in Thailand and have a moped attached to it. Now, you will have to bargain hard for this. There are almost no fixed rates and most tourists are quoted are inflated ones.
The best way is to go around asking a few tuk-tuks for the price and settling for the best price after bargaining.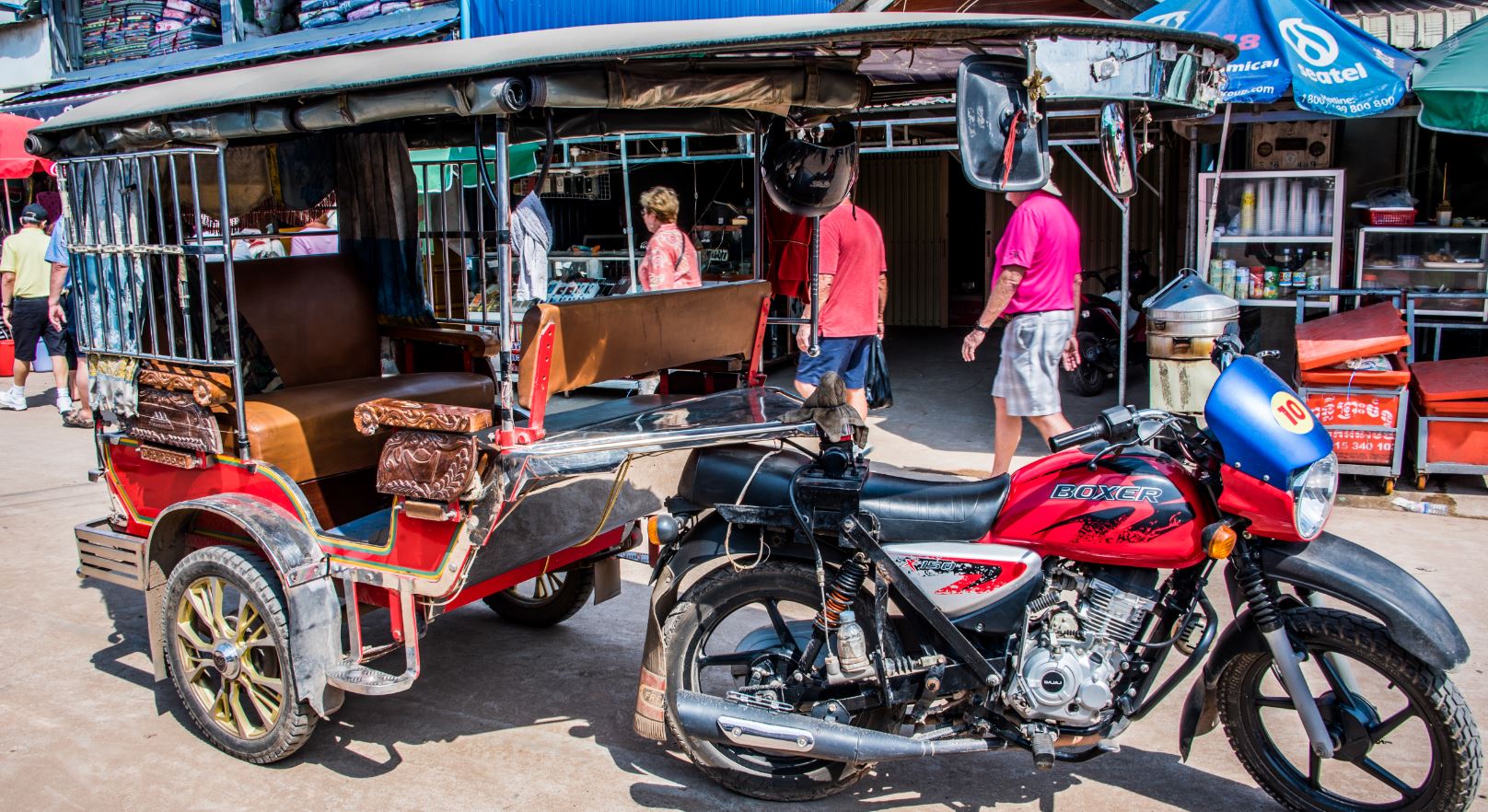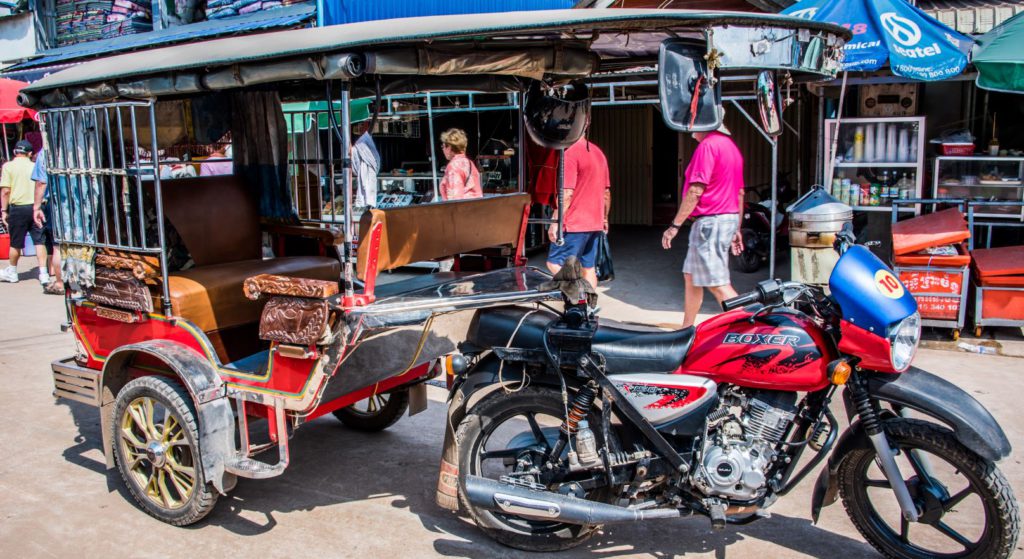 What to do in Siem Reap
1. Angkor Wat
I don't even need to tell you about it. You may be looking at Cambodia to visit Angkor Wat only. It is worth all the hype and more. Angkor Wat is humongous. They are the largest Hindu temples in the world and a wonder of medieval architectural genius. It is also your window to see the glorious past of Cambodia.
These are the remnants of the Khmer Empire, a dynasty so large and advanced that modern Cambodia will take decades still to reach.  Apart from the main temple, there is a huge complex of temples around the area. It can take between 1-3 days of time to see all of its splendour in a peaceful place. Read more about the lost temples of Angkor Wat.
Angkor Wat ticket price: $37 (1-day pass), $62 (3-day pass), $72 (7-day pass)
Angkor Wat timings: 5 am-6 pm every day of the week.
Related Article: The Lost Temple Of Angkor Wat, Cambodia
Book Tour Online: Angkor Wat Full-Day Sunrise Tour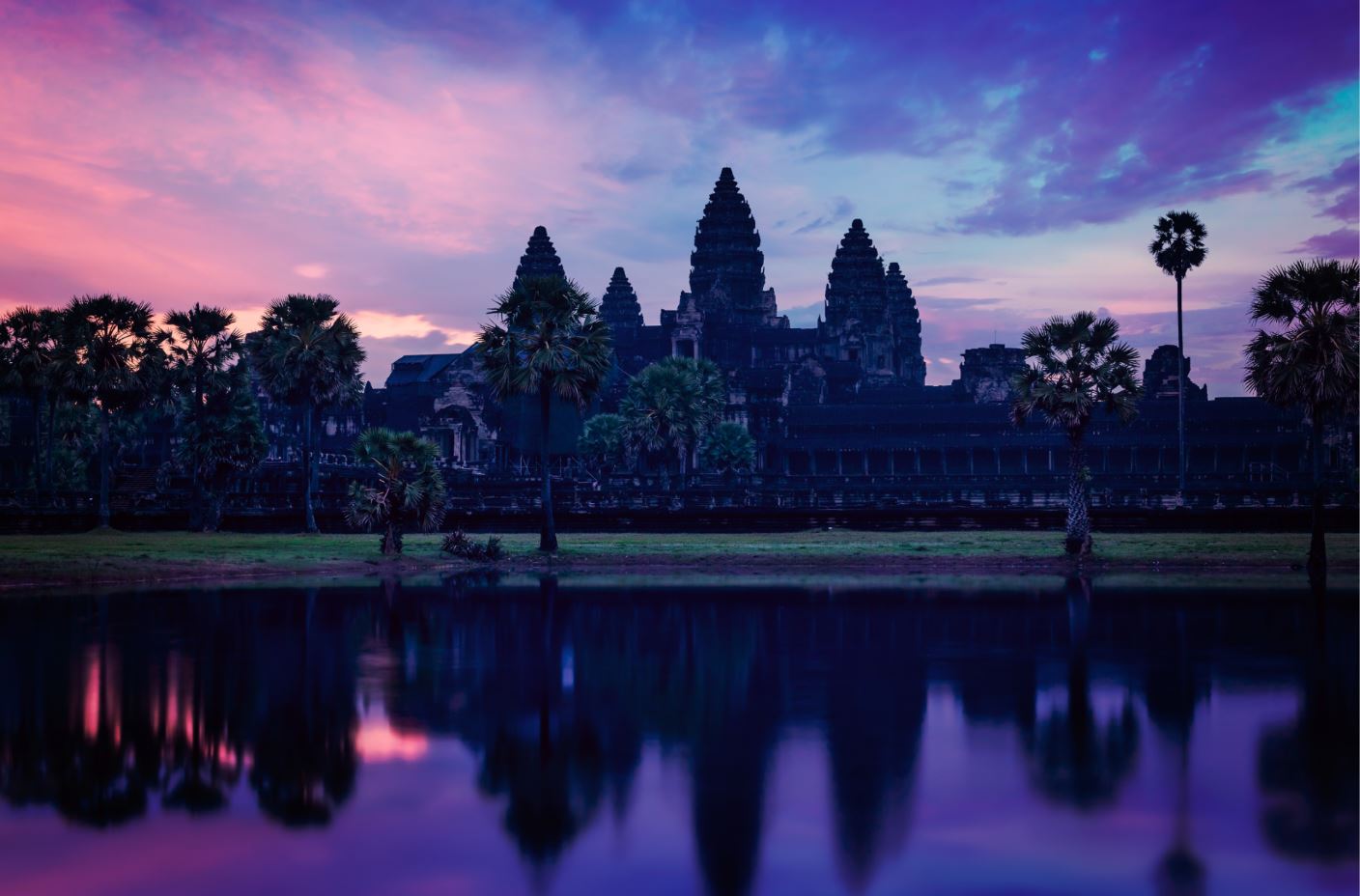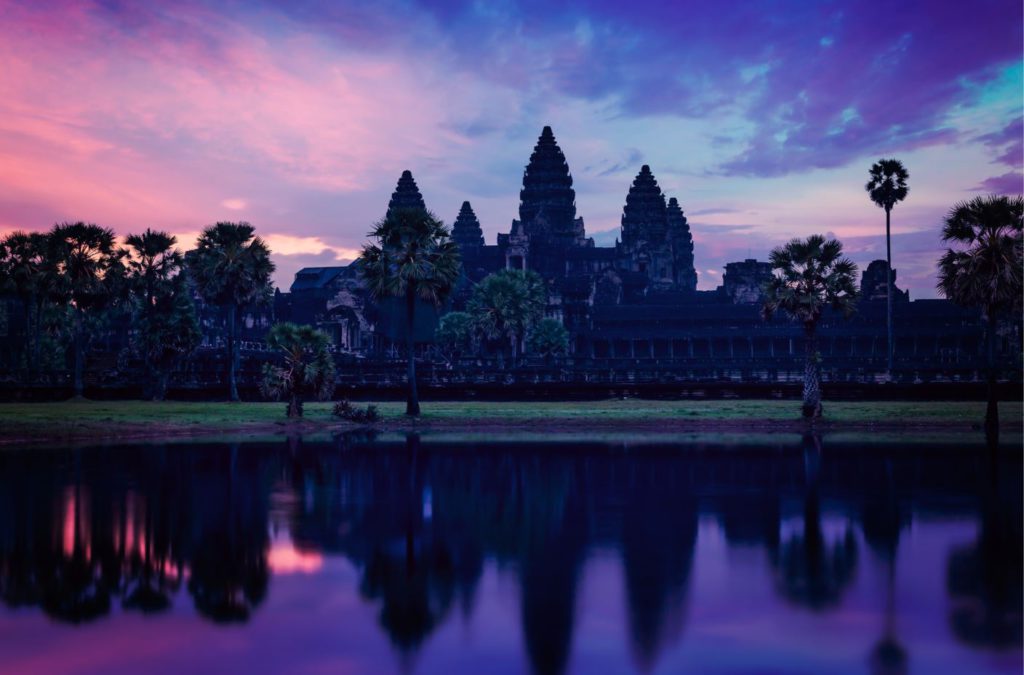 2. Floating Villages of Tonle Sap
If you have more time on your hand after visiting Angkor Wat, you must look at visiting the floating villages. While you will find many floating villages across Asia, there isn't one like Tonle Sap. Tonle Sap is the largest freshwater lake in South-East Asia and it forms the backbone of Cambodia's economy. The lake has families, communities, and businesses around it.
The most popular village Chong Kneas on the northernmost tip of the lake is easily accessible from Siem Reap. I will suggest taking an organized day trip if you are unsure of exploring on your own. There is also a crocodile farm inside the lake and on the way to it. Read more about the mystical floating villages of Tonle Sap.
Best time to visit Tonle Sap: late afternoon till sunset. Ferries don't run after 5 pm for tourists.
Related Article: The Mystical Floating Villages Of Tonle Sap
Book Tour Online: Floating Village and Tonlé Sap Sunset Tour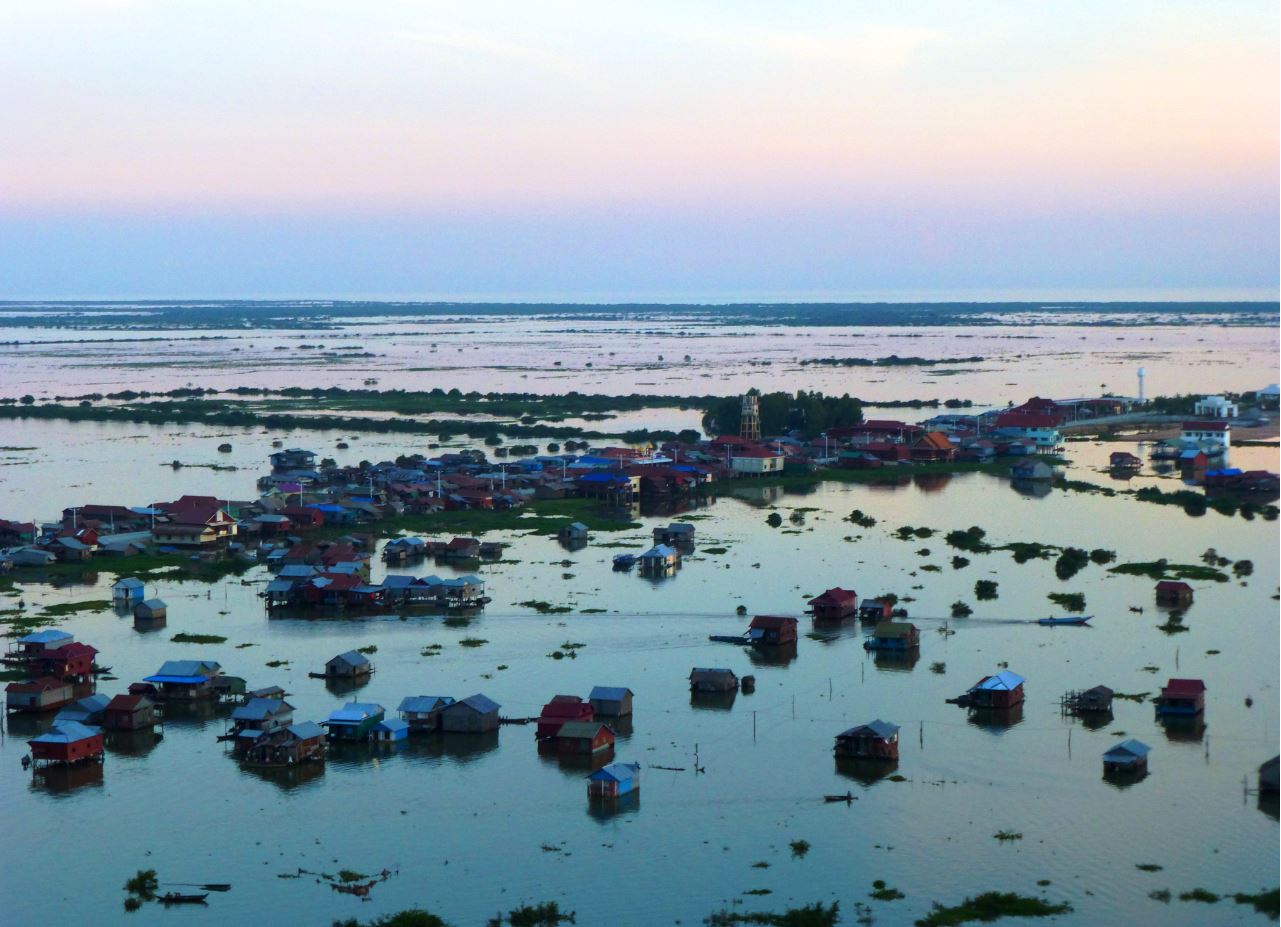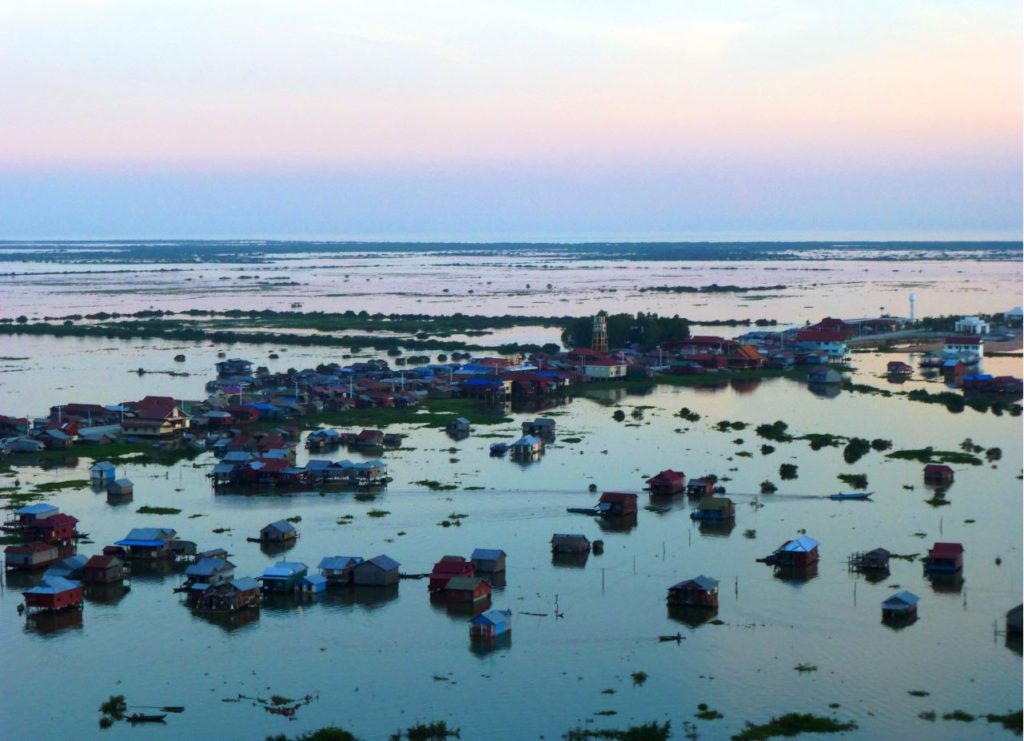 3. Banteay Srei
If you are really into temples and want to explore more, there is one more you must visit. While there are still many more temples built in the Angkor style across the city of Siem Reap, this one is special. This was built in the 10th century and is located 25km northeast of the main temples.
And while the style of architecture resembles characteristics, the difference in size is fairly noticeable. Much smaller in size, the temple was dedicated to the Hindu god Shiva. Unlike other Angkor temples, this one wasn't built by the royalties.
Instead, it was a courtier who ordered the construction of the temple. The temple's intricate detailing is the reason it is often called 'the jewel of Khmer art'. It has sadly been ravaged and looted many times since its discovery in 1914.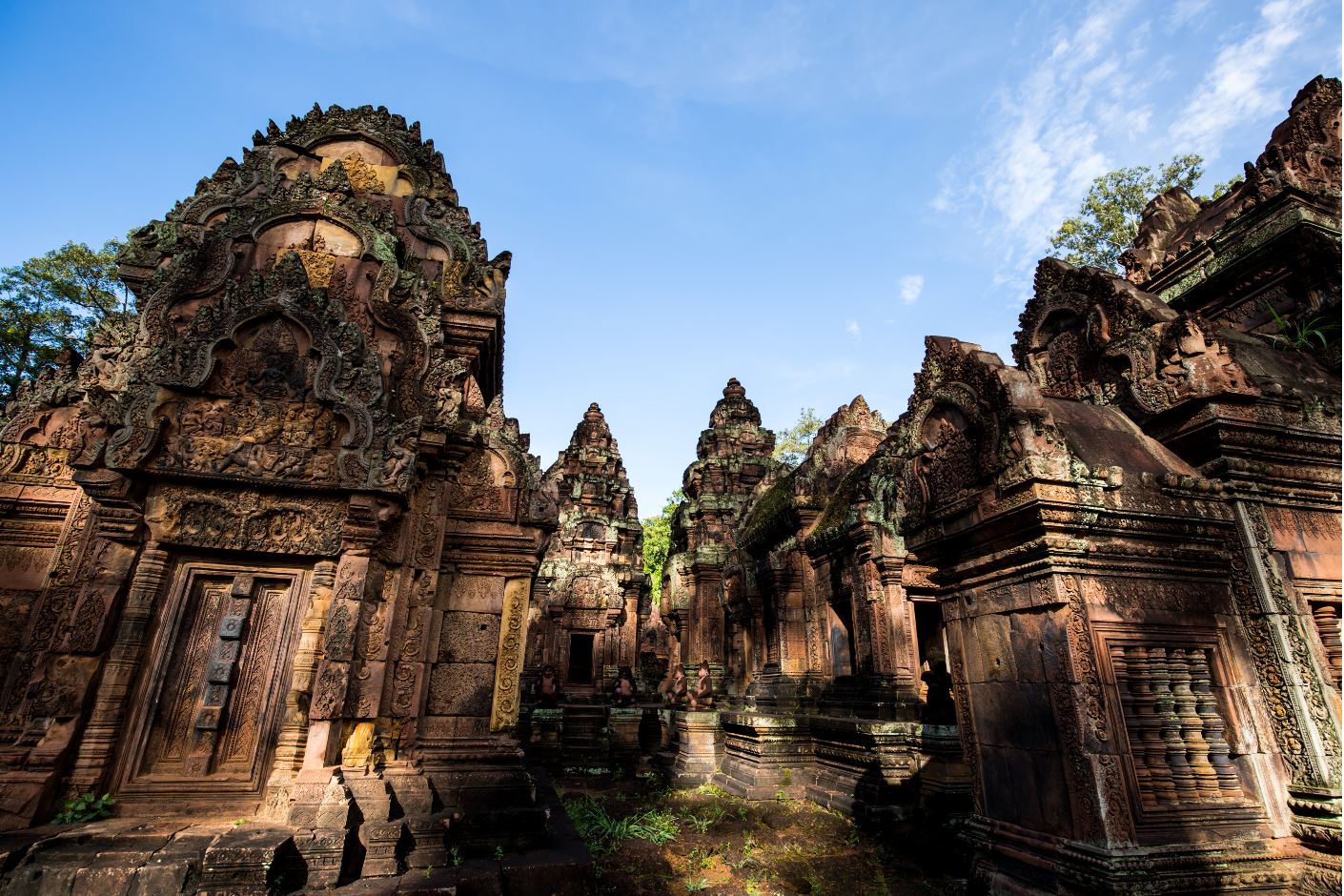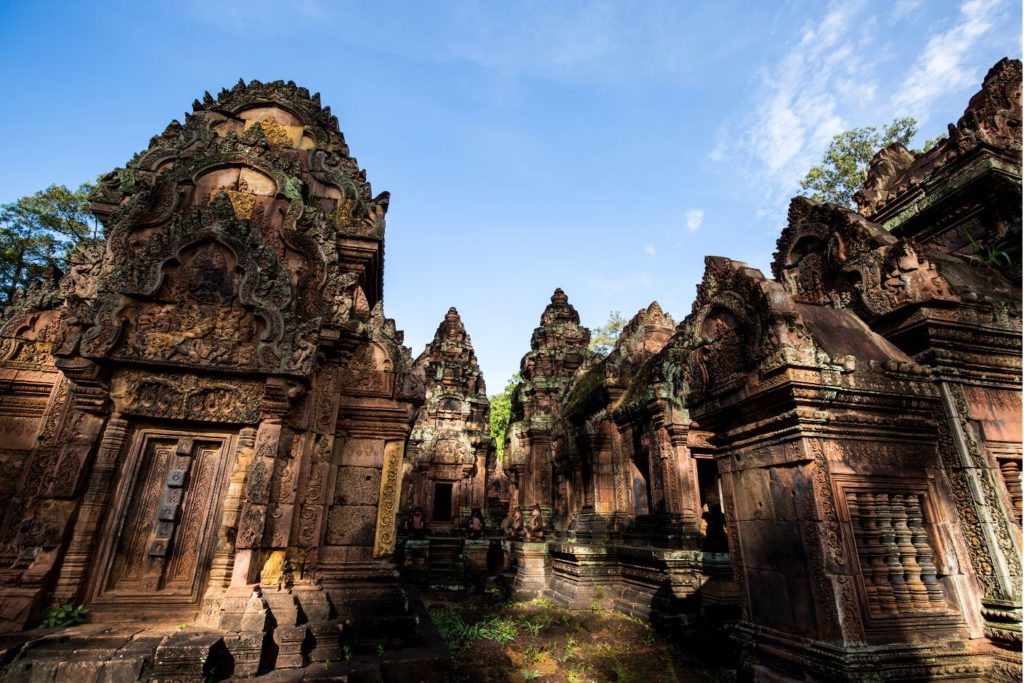 4. West Baray
There is nothing remarkable about West Baray at first sight. Just a vast expanse of water. But of course, there is a temple (West Mebon) in the middle of it. However, it is one of the largest hand-cut reservoirs ever made. Imagine this was all done in the 11th century without modern construction equipment.
The reservoir is rectangular in shape and measures 2.1 by 7.8 kilometres and can store between 12 and 14 million gallons of water. It is guessed that the reservoir was made to meet the needs of the city and agricultural land in the area. It would further enable them to grow crops year-round.
However, some argue that it was made purely out of the Hindu religious symbol of the sea of creation with a temple at its centre. Locals and visitors can swim in the reservoir waters.
How to reach West Baray: You can either drive down or take a tuk-tuk from the town. It is around 10 km from the city.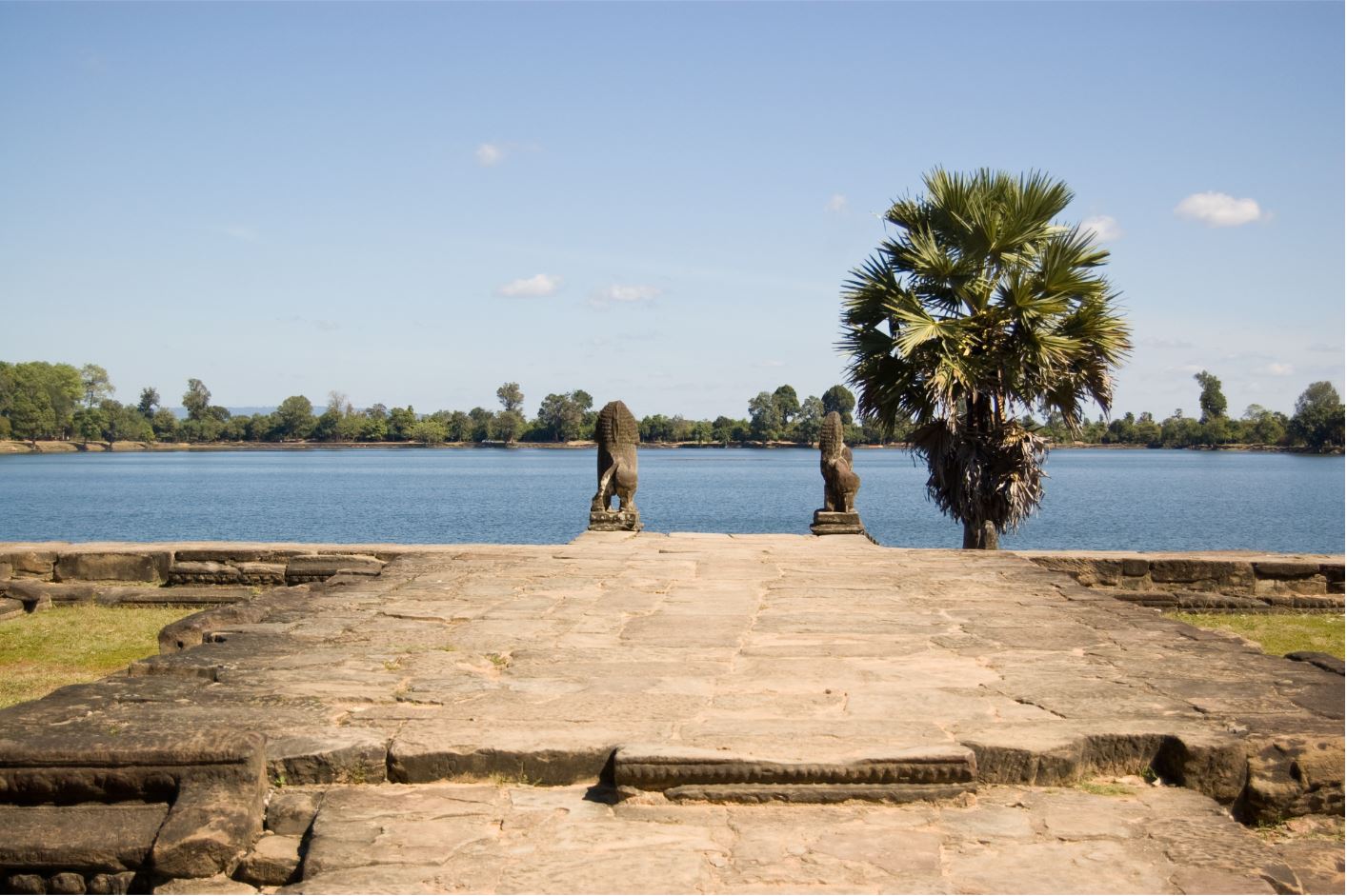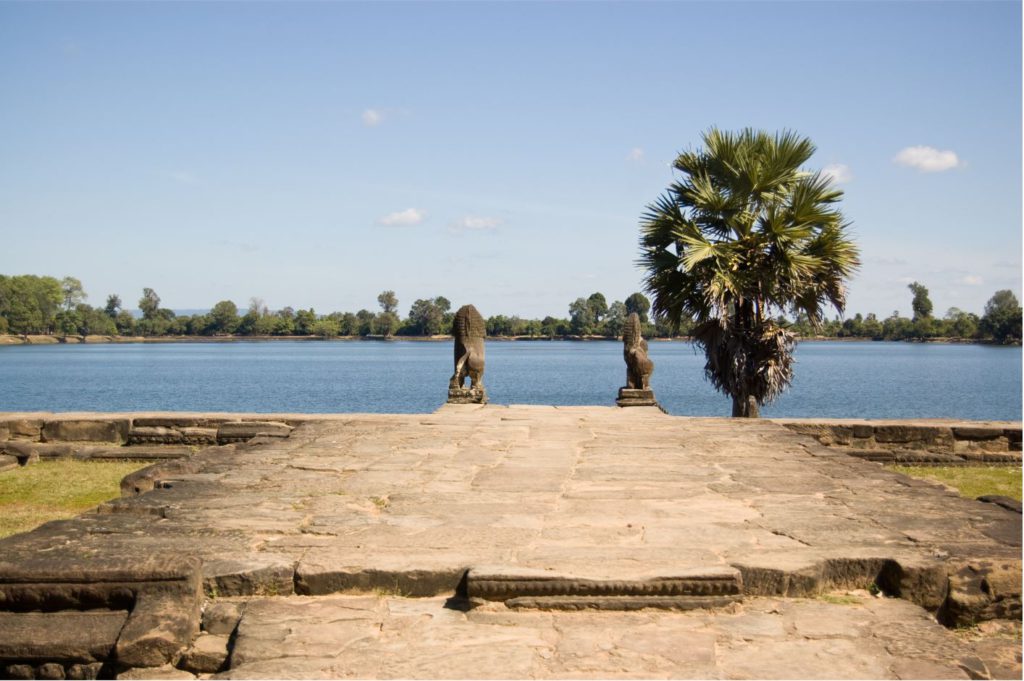 5. Angkor National Museum
If you haven't been to the National Museum of Cambodia in Phnom Penh already, seriously consider visiting this. The Angkor National Museum will give you a detailed background of everything you will be seeing while in Siem Reap and Angkor Wat. The museum has 8 galleries which talk about one aspect of the Cambodian's history or culture.
As soon as you enter, a theatre room gives you a summary of what presides in each gallery. Thereafter, you go on to learn the history of the Khmer Empire, the influence of Hinduism and Buddhism over Cambodians for generations, what led the rulers of the empire to build such great buildings and so much more. The downside is you cannot take any photographs inside the museum.
Angkor National Museum Timings: 8.30 am-6 pm May-Sep, to 6.30 pm Oct-Apr
Angkor National Museum Ticket Price: Adult/Children – USD 12/6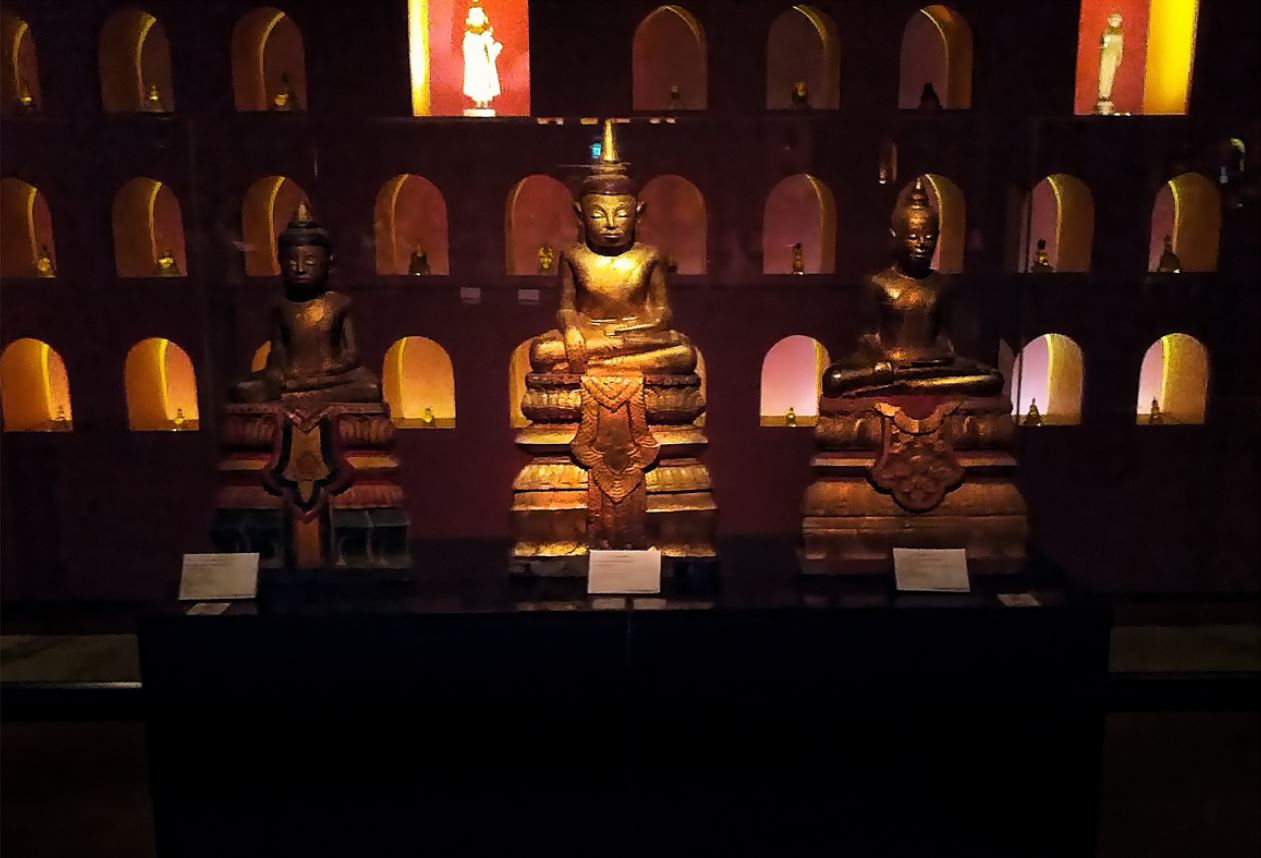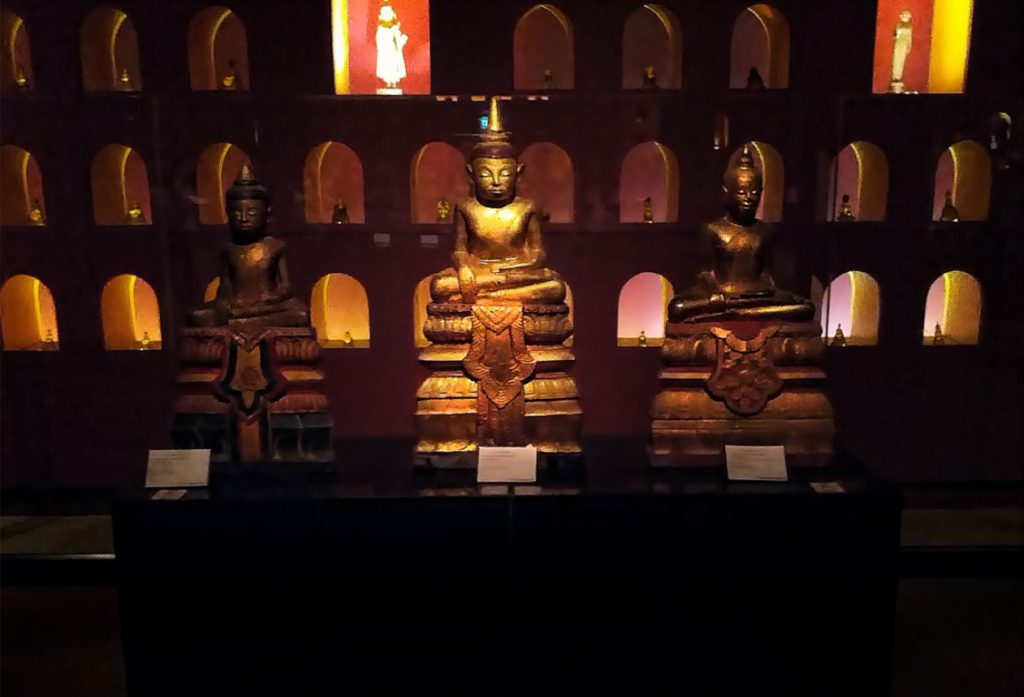 6. Pub Street
Pub Street is where all the nightlife of Cambodia comes together in a touristy backpacker culture. This is the best part of Siem Reap to enjoy some great pubs and bars and is famous for its USD 0.5 draft beer. I will have to say that the prices of most restaurants are far steeper than the regular street food you find in Cambodia. However, the ambience and company can still make up for it.
It is located near the old town market and in the absolute heart of the city. Moreover, the streets have restricted entry for vehicles, which makes it a great place to relax, walk around with some beer and enjoy some loud-crazy-pop-music with on-the-face neon street lights in rainbow colours.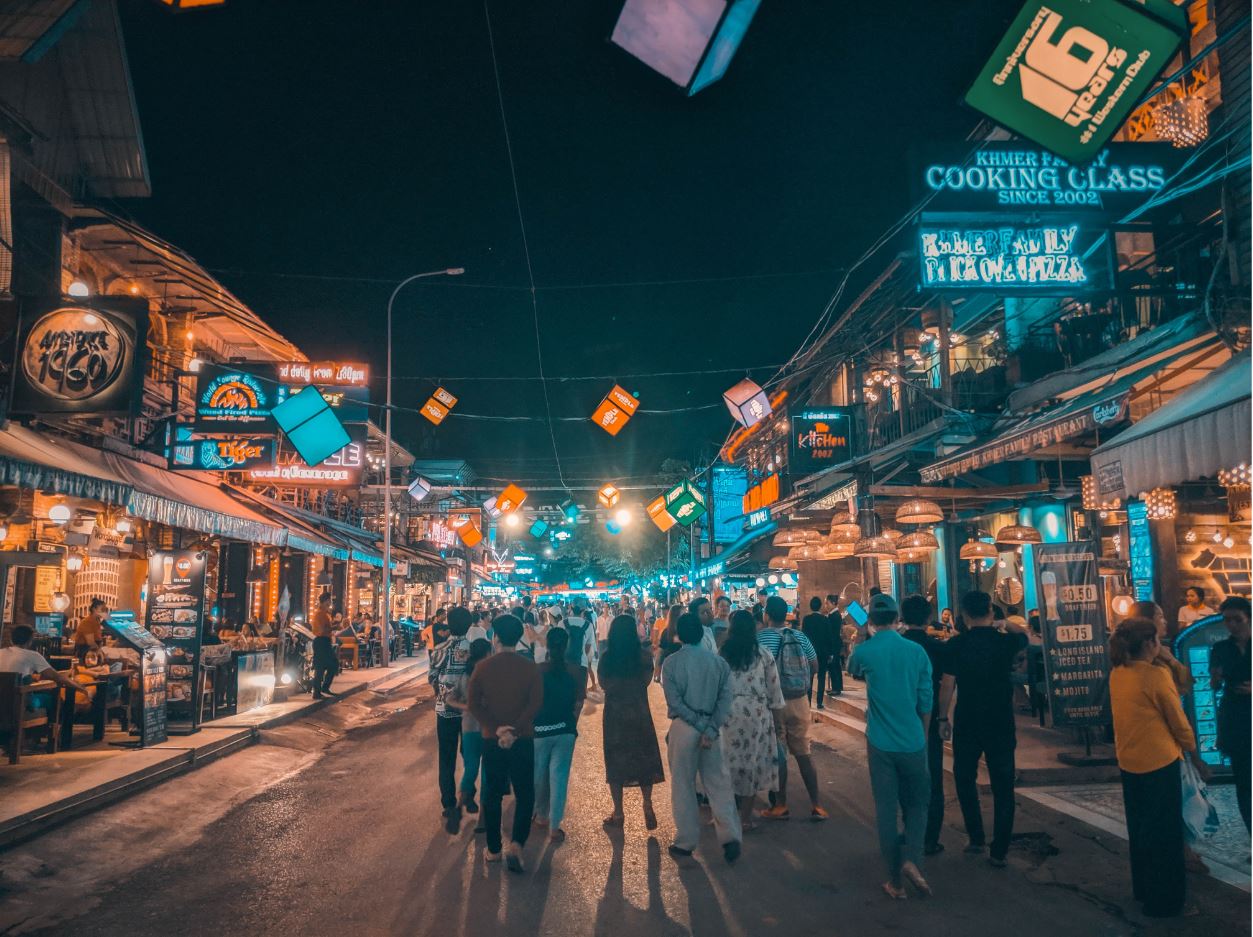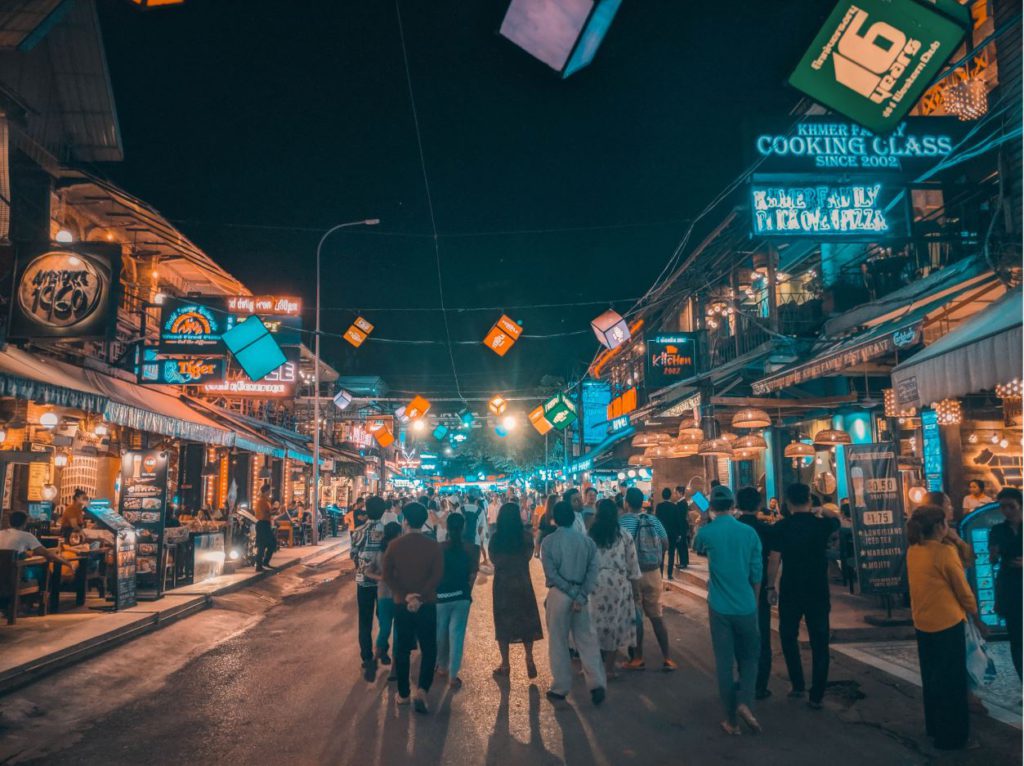 7. Phare, The Cambodia Circus
Phare is far more than a circus. It is a lifestyle and an opportunity for hundreds of young Cambodians to get out of poverty and overcome abusive circumstances. The Phare performers are the students and graduates of Phare Ponleu Selpak's vocational training centre in Battambang. 9 young men established the school after coming back from refugee camps after years of abuse under the Khmer Rouge.
Today the circus gives the students a platform to practice their skills, earn a decent living out of it and make their way out of poverty. The performers use music, dance, theatrics and modern circus arts to tell a story about Cambodia's history and folklore. Despite being a circus, they don't use any animals during the show.
Phare Circus timings: Show starts at 8 pm daily and goes on for more than an hour
Book tickets online: Phare, The Cambodian Circus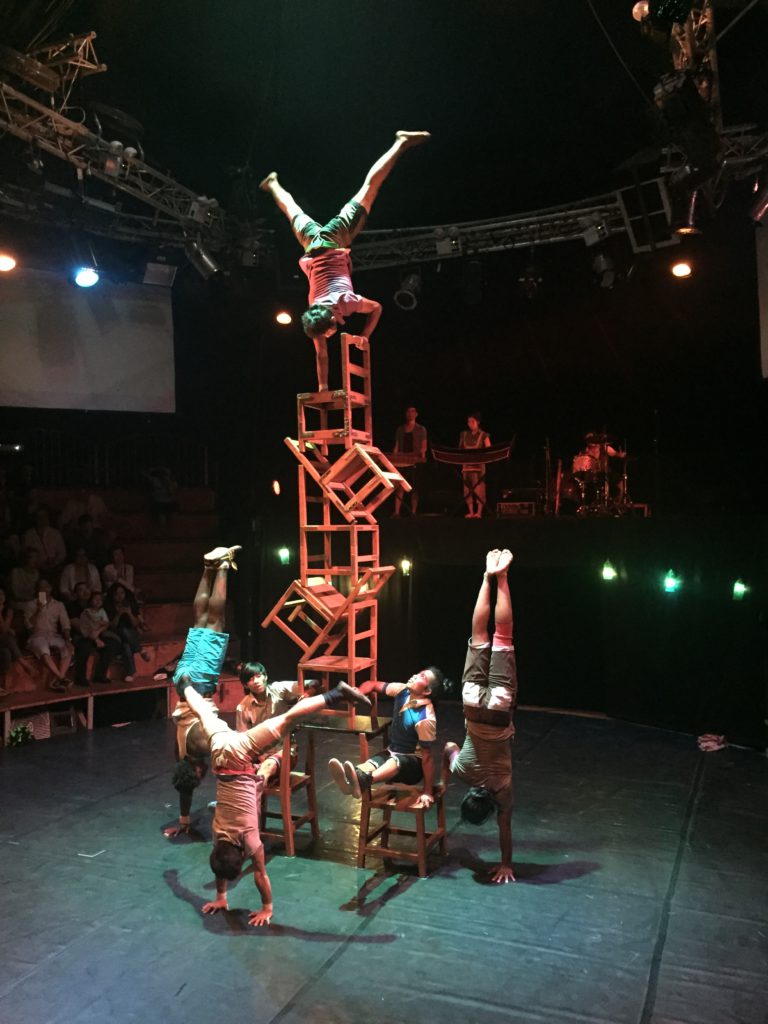 8. Angkor Silk Farm
If temples are making you tired (which I can understand), try taking a break. There is a unique silk farm, 35 km outside Siem Reap which showcases the complete process of silk-making. This is not theoretical or museum-styled but rather a live making of the native 'golden silk'.
While Cambodia is not famous for sericulture, it was once a part of its ethnic identity. The silk weaves into lush garments. It was then used by the elites but went into oblivion during the devastation of the Khmer Rouge.
You can take a guided tour only of the farm which will take you right from the mulberry fields that feed millions of larvae to finished products of silk-like scarves. The farm is a way of reviving the long lost tradition and economy in the area. Although, the tours are free of cost, consider contributing towards the cause however you can.
Angkor Silk farm timings: Free tours on the farm start from 8 am till 5 pm ranging from 20-30 minutes each.
How to reach Angkor Silk Farm: Free shuttle bus run from Artisans Angkor boutique on Stung Thmey street in Siem Reap at 9.30 am and 1.30 pm. You can book them by calling at +855 (0) 12 222 404 or via mail at infos@artisansdangkor.com. You can also take a tuk-tuk from the town which will cost you between USD 15-20 for a round trip including waiting.
Book tour Online: Siem Reap Angkor Silk Farm & Mechrey Floating Village Day Tour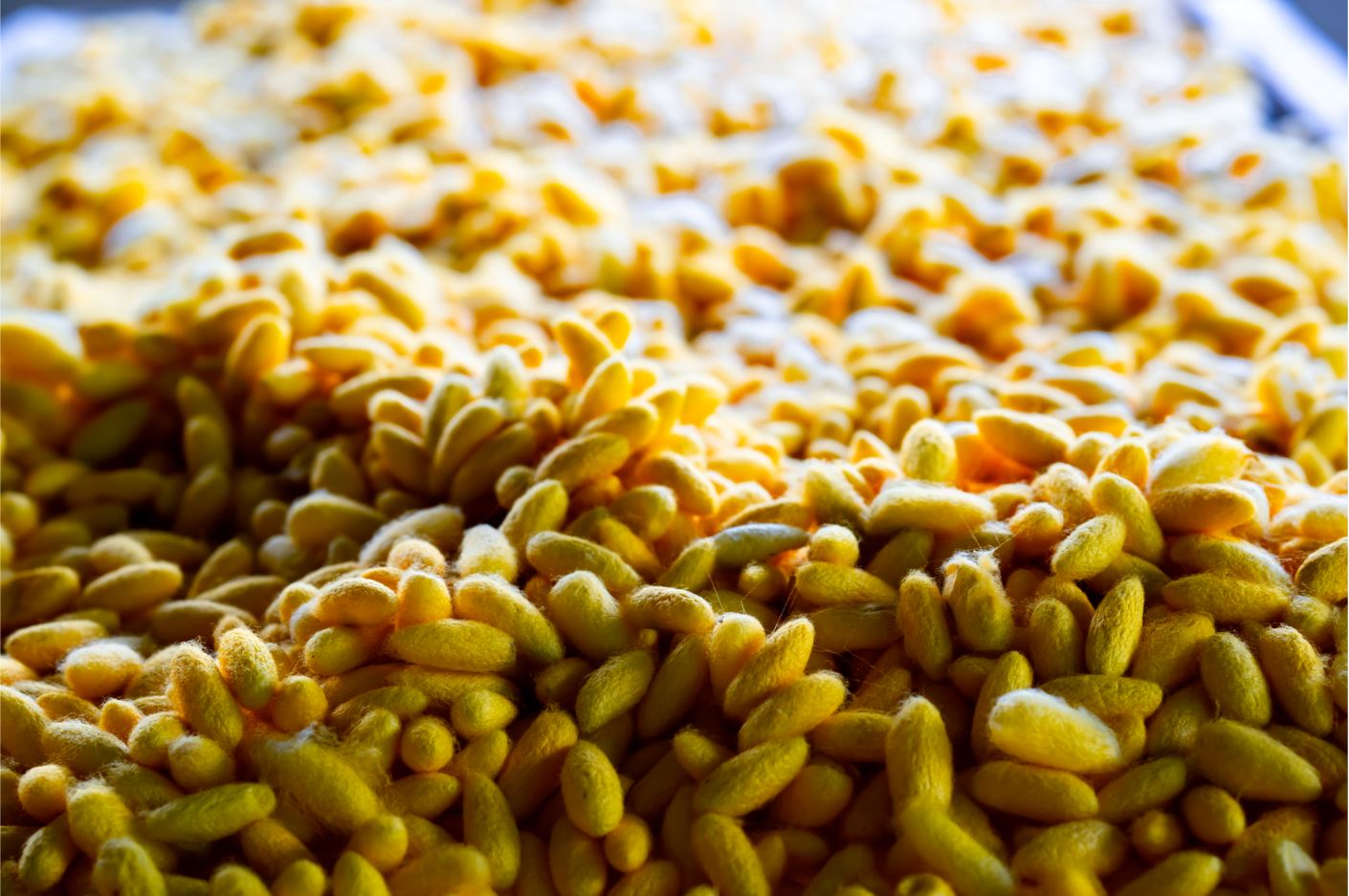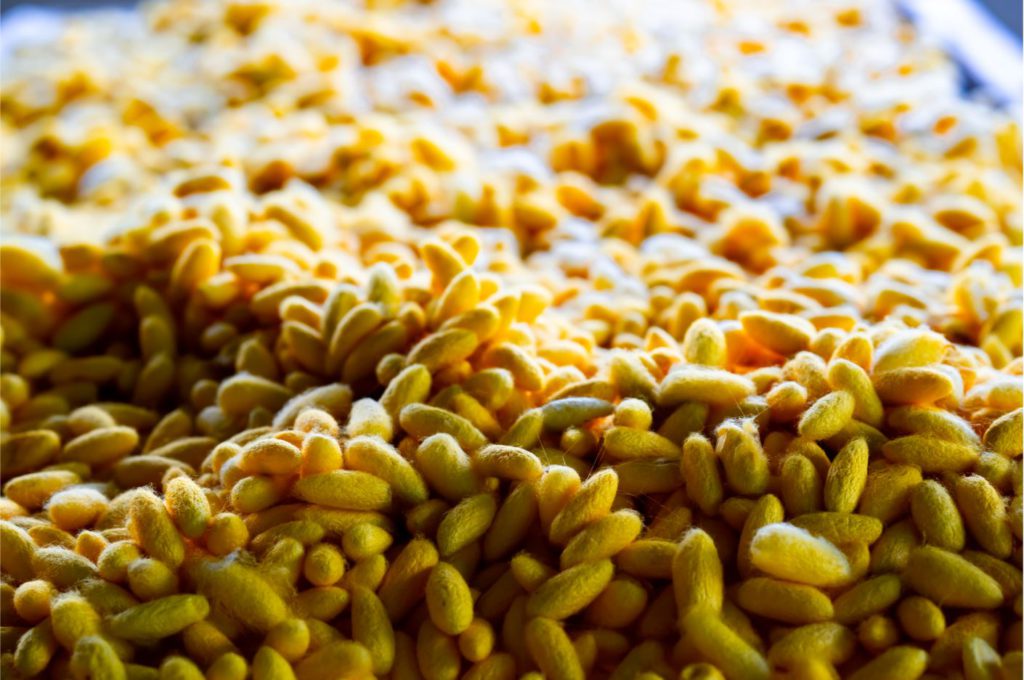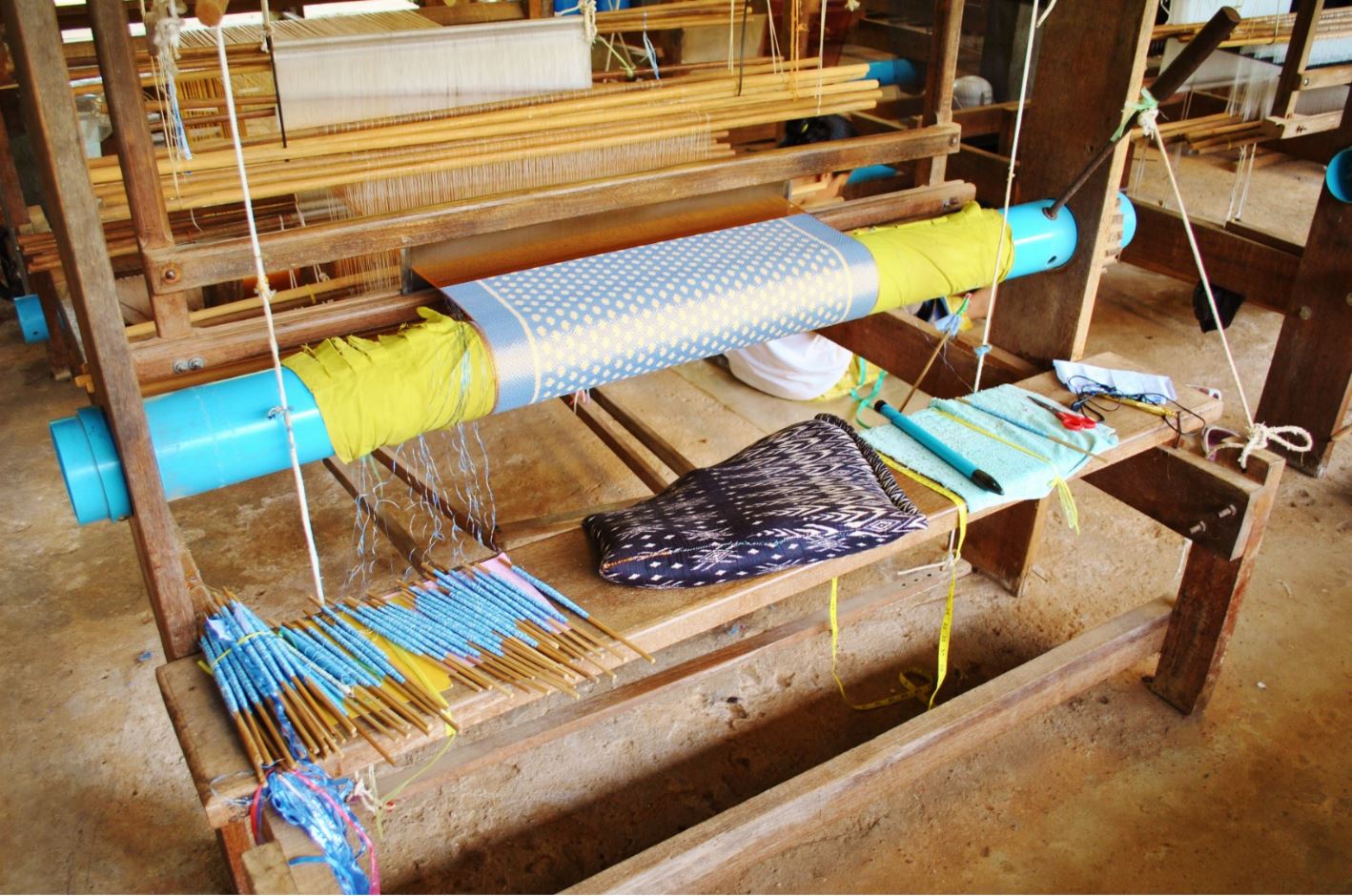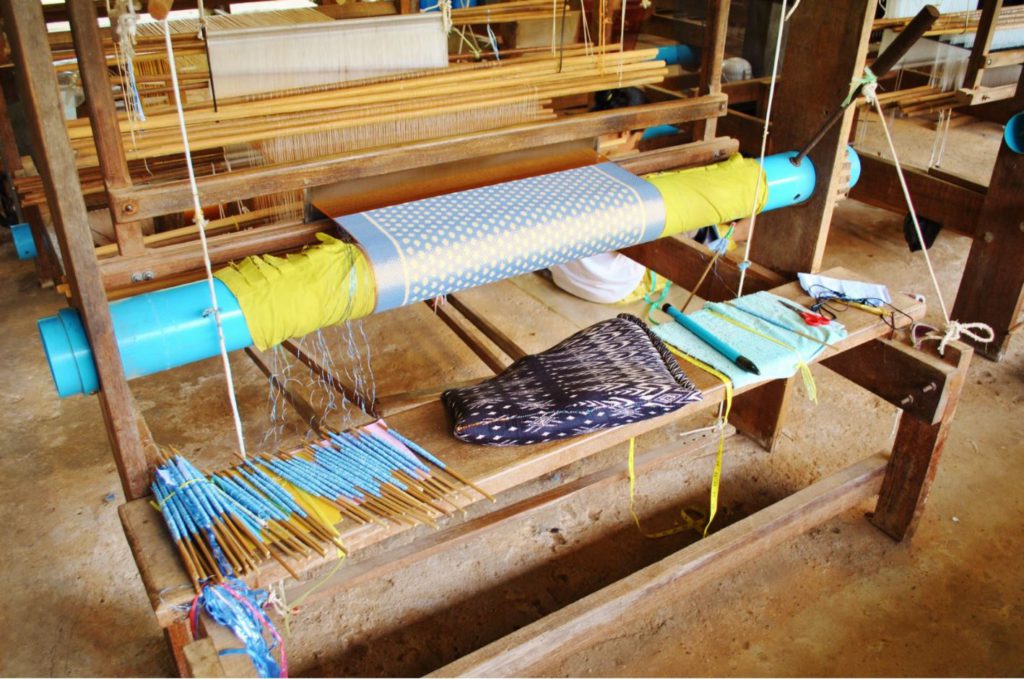 9. Happy Ranch Horse Farm
Another place that can seem like fresh air from Asian life is a farm located just outside Siem Reap. A native Cambodian established the farm who moved to America during the war. He returned with a love for the Wild West after retirement. The farm has 51 horses and offers an experience of horse riding around the countryside with experienced tour guides.
They raise their horses in lieu of international standards. They import all their equipment from the US or UK. You do not need to be an experienced rider to visit the place since the guides give a training session to beginners to start. If you are with kids, there are separate rides available for them as well along with cart rides for whole families.
Happy Ranch Horse Farm timings: Opens daily from 5 am to 6 pm
Happy Ranch Horse Farm charges: Cost of riding per person is $28 per hour, $46 for two hours, $59 for three hours or $69 for four hours. Horse carts ride cost $17 per adult, $8 per child up to age ten and free for kids below 5 years.
Book an activity: You can book your ride by calling or emailing them via their official website.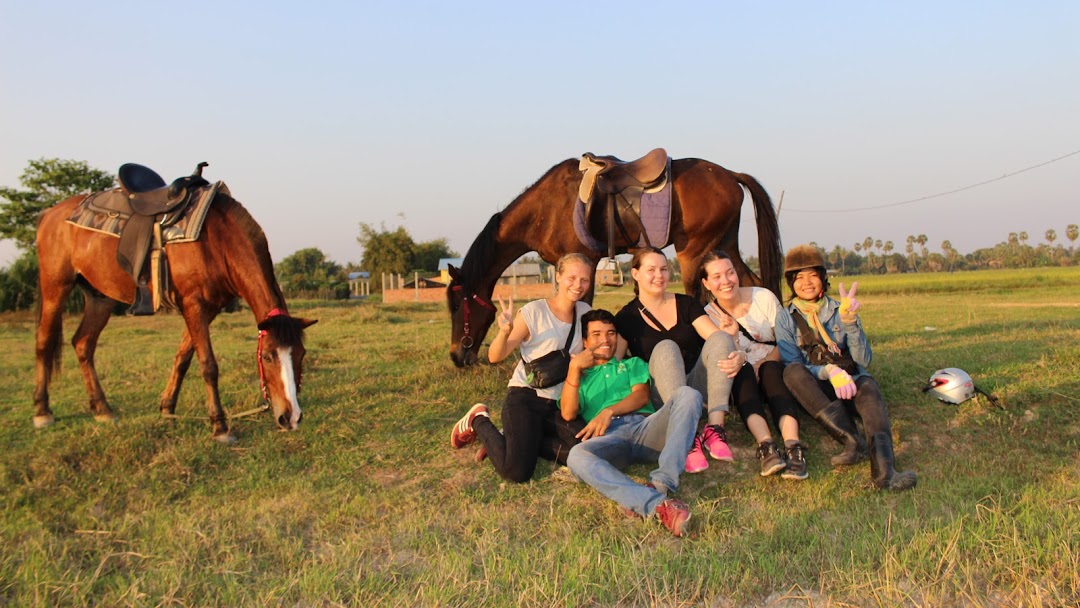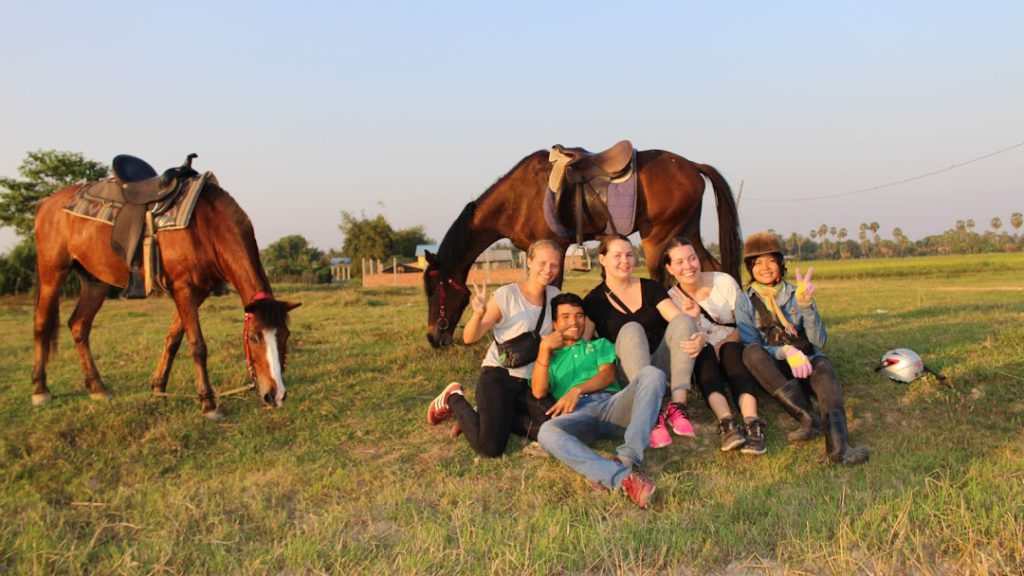 10. Cambodian Markets
A visit to the local markets will give you a peek at its local culture that thrives that days of sightseeing the temples won't. It is a fantastic way to have a go at the local street food, checking out the local produce, understanding the craft produced by the local artisans and buying some souvenirs for friends and family.
The most popular market of Siem Reap is Psar Chas or the old market which is right at the heart of the city. Apart from the day-to-day commodities which may seem at an inflated price, the market is popular for its variety of seafood and its processed versions available in native Cambodian style to taste.
Made in Cambodia is another market that showcases the craftsmanship of the local artisans. The market supports many local communities and the prices are usually fair. If you are a collector or like to shop for souvenir consider visiting.
There is also a resto-bar that serves the half dollar beer if you want to make a stop. Another market in Siem Reap is Siem Reap Art Center Night market which is right across the pub street. It is a good place to check out if you haven't had time to visit the others during day time but compare the prices before buying.
Psar Chas timings: 7 am to 8 pm
Made in Cambodia market timings: 12 pm to 10 pm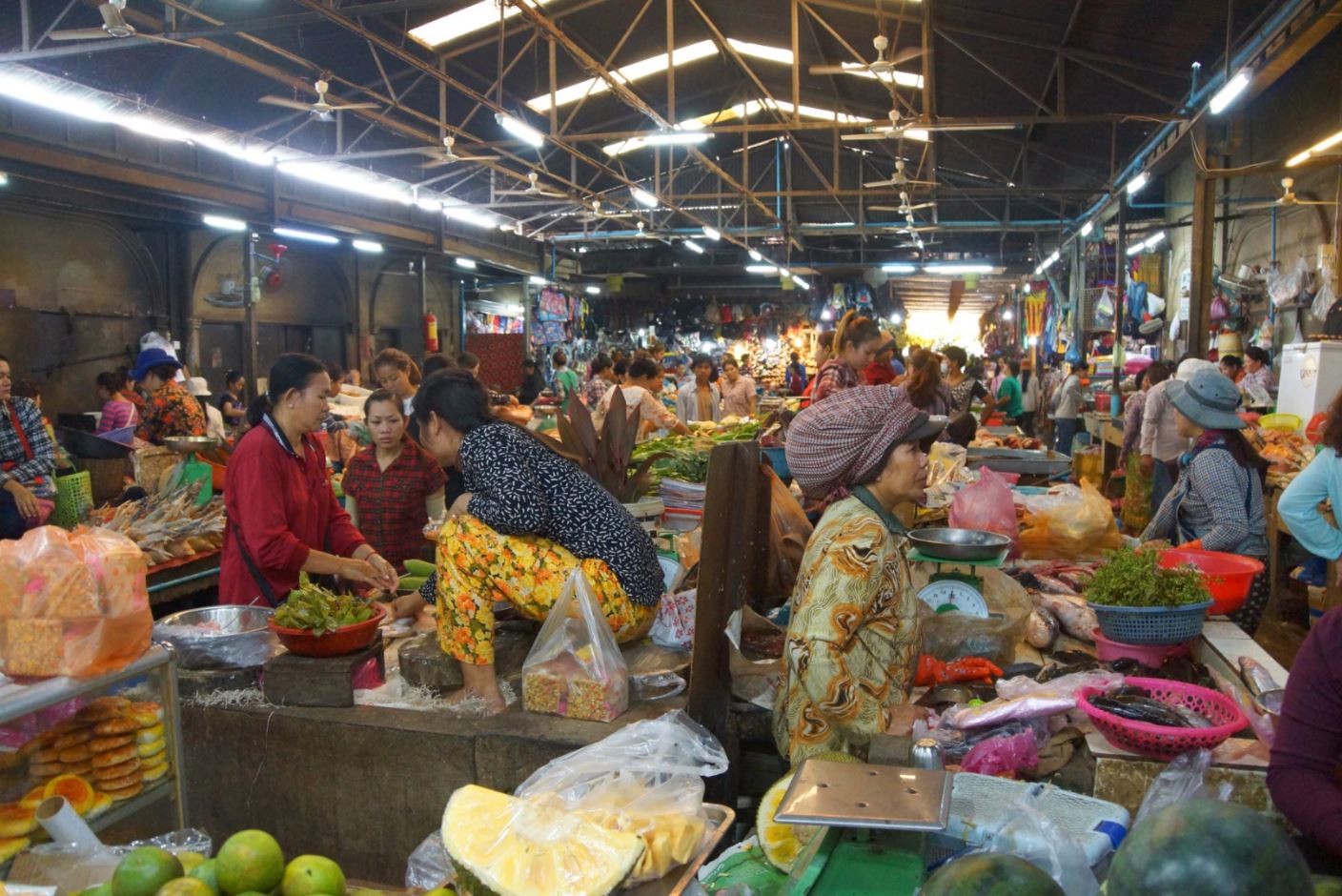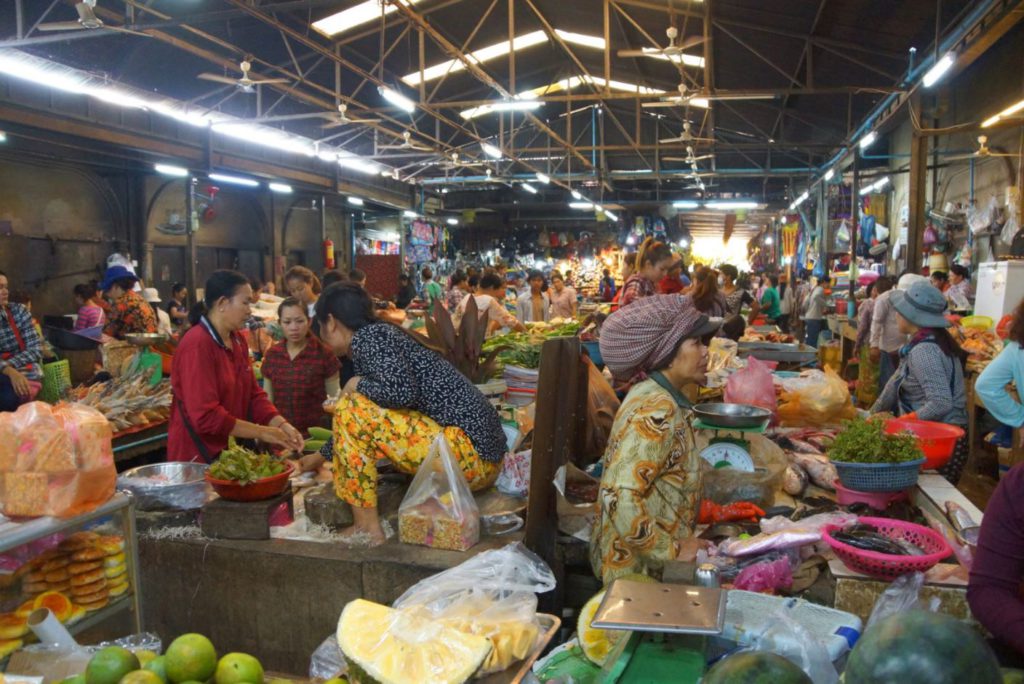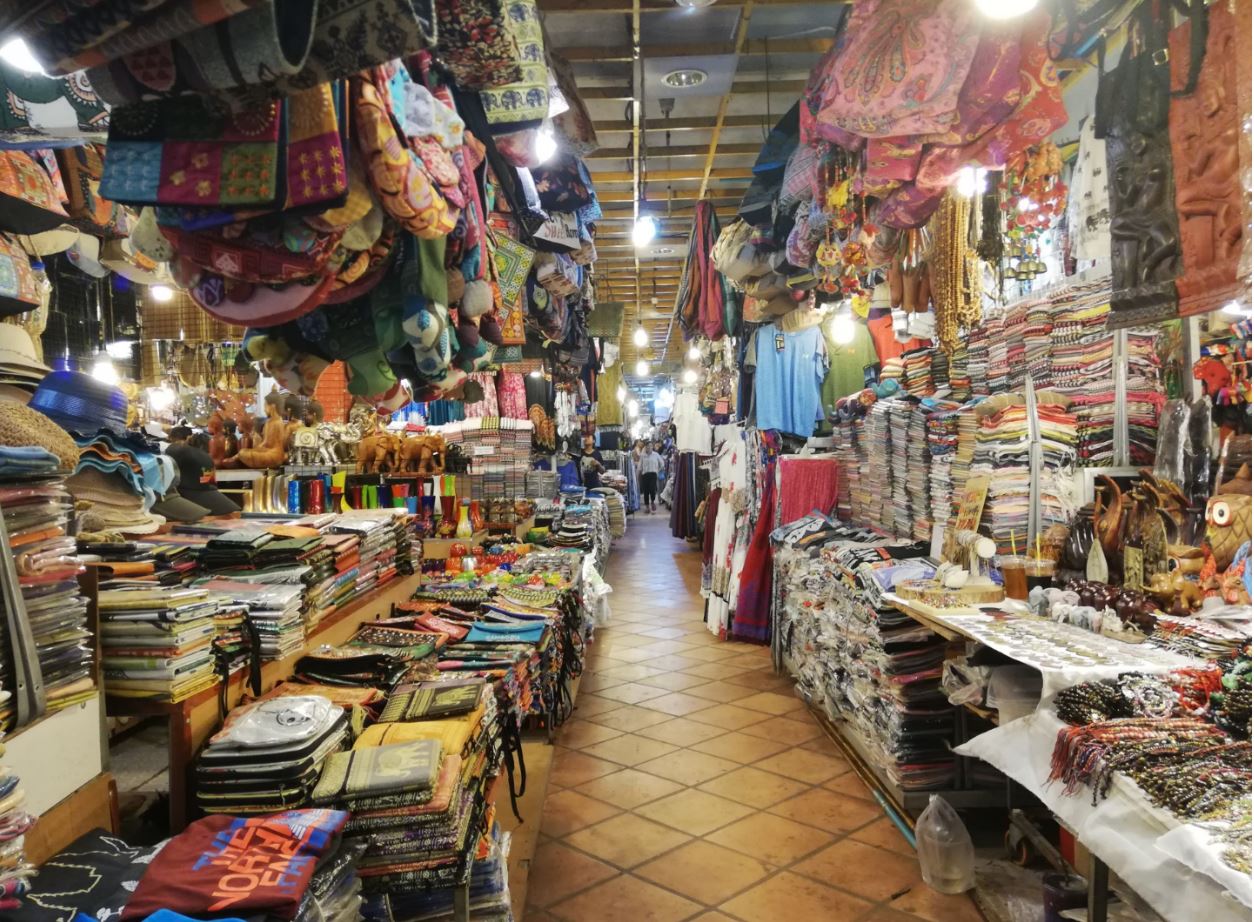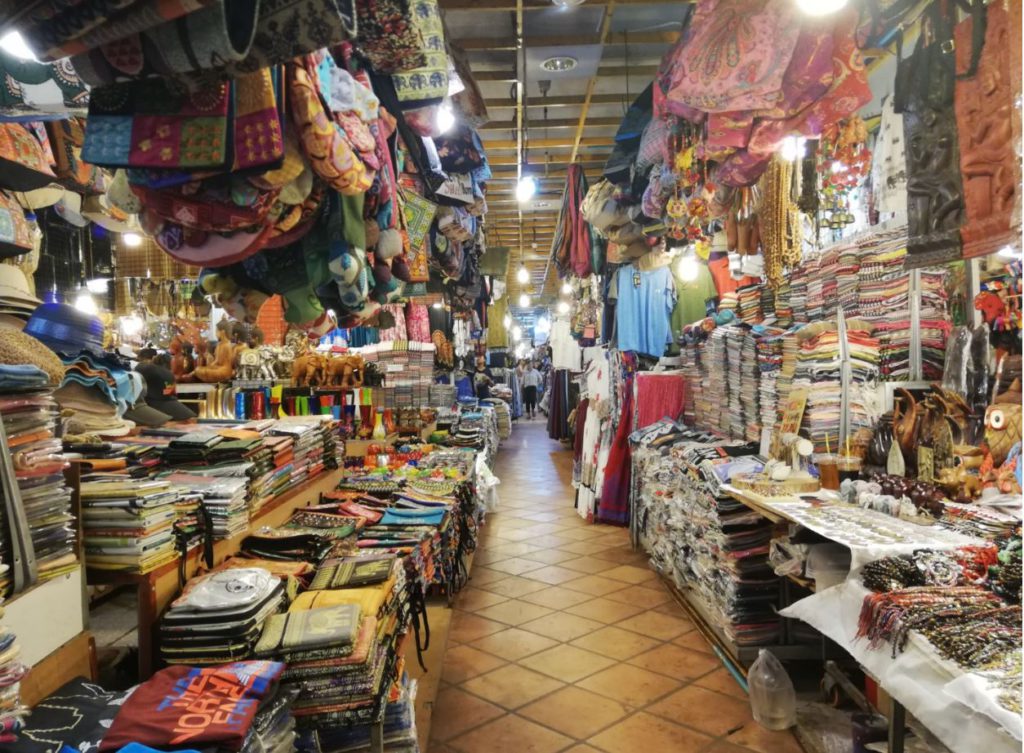 11. Lotus Farm by Samatoa
Lotus Farm is another unique place where you can see the local women making fabric out of lotus stems. As much incredulous it may sound, the overall environment is even better. These are simple huts with straw roofs open from all sides floating over ponds filled with lotus. You can see them on your way to Tonle Sap and can club the two together on a day trip.
Inside you will find artisans working on simple tools to extract the fibre from the lotus stem and then convert them into a fibre. You can also taste some lotus tea which they serve around for refreshment.
It is, in fact, a wonderful and relaxing place to spend some time and can relieve you of the heat and humidity if you have been out under the sun for some time. There are no entry fees. But some additional charges can be there for restricted sections.
Lotus Farm timings: 8 am to 6 pm every day of the week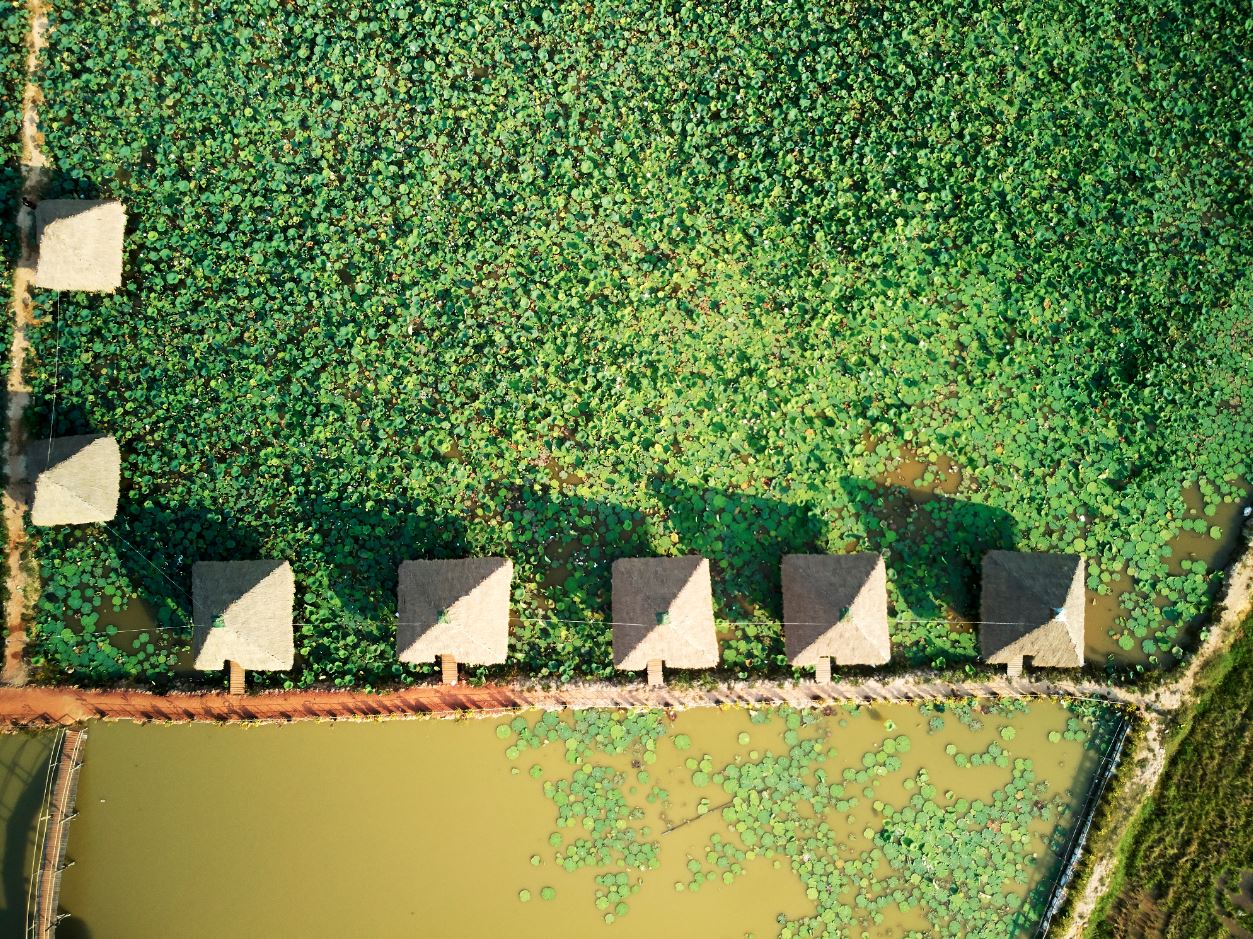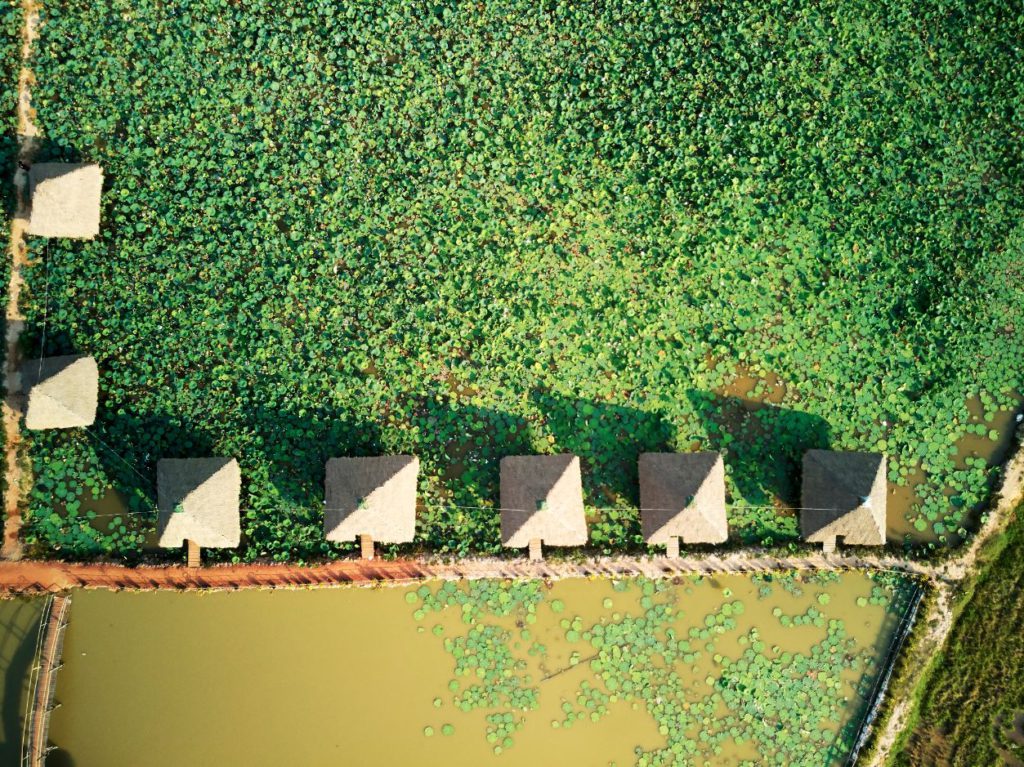 12. War Museum of Cambodia
Remnants of war still live in Cambodia. You can see it in their lives and livelihoods. And while people mourn over the atrocities around the world, we often overlook the horrors of Cambodia. There are many museums and killing fields in Cambodia that talk about it. I will suggest visiting at least once to truly understand the depth of their present lives.
War Museum is the biggest in Cambodia and showcases a wide range of artillery and war equipment used at the time. You can also take a free guide around the museum who have actually witnessed the war years. You can get a first-hand account of the war from the war veterans, victims, and witnesses.
War Museum Siem Reap timings: 8 am to 5.30 pm every day of the week
War Museum Siem Reap ticket prices: USD 5 per person. They accept only cash.
Related Article: The Story Of The Killing Fields, Phnom Penh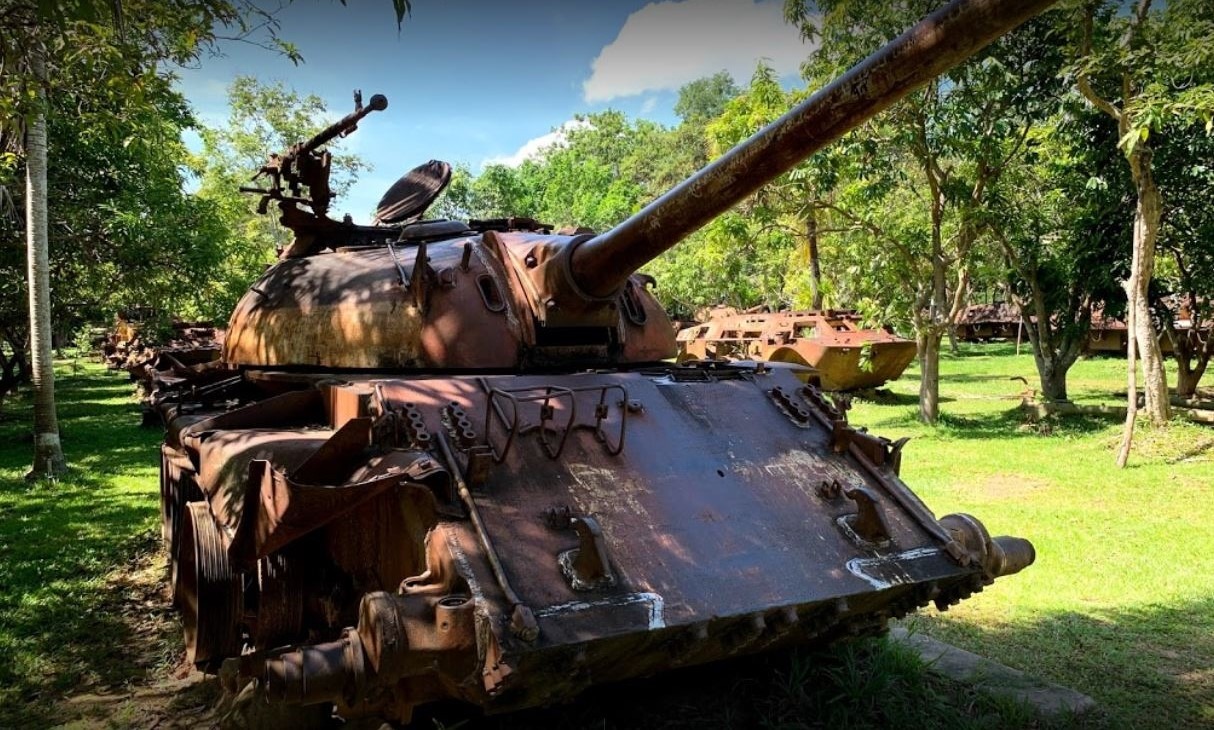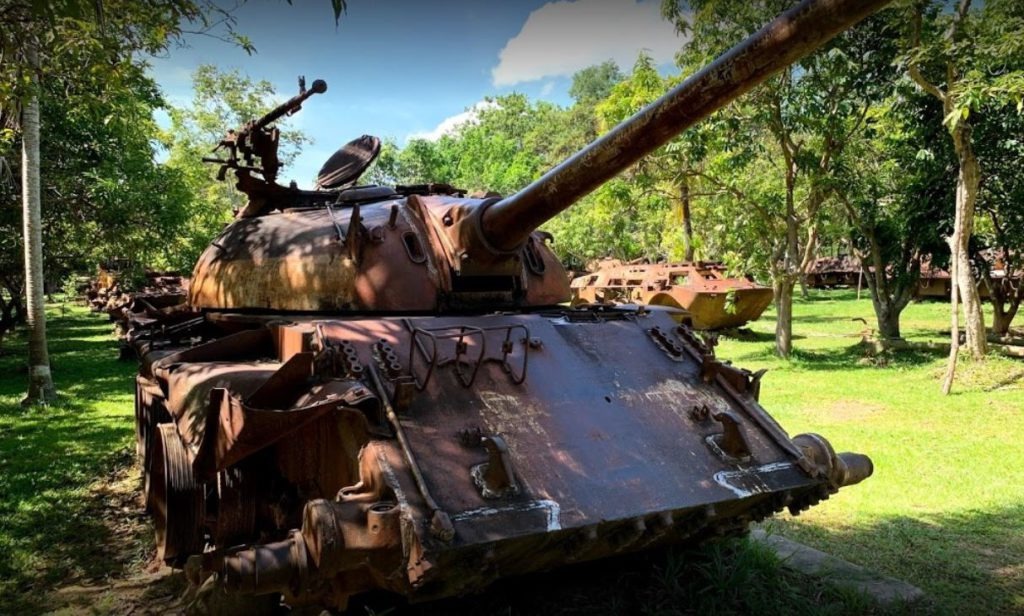 13. Microlight around Siem Reap
I put it here since this is something you rarely experience anywhere else in Asia. A Microlight aircraft pilot Eddie Smith set up this with over 30 years and 4000 hours of flying experience in Cambodia. This lets you get an aerial view of Siem Reap and its nearby places including over the floating villages of Tonle Sap, something which is unforgettable and extremely rare.
However, note that authorities strictly prohibit flying over Angkor Wat. But you can still circle just outside its 1km radius which gives a clear view of the temple. The flight goes up to 1500 meters in the air and has many types of tours available during the day including one around sunset. Check out more on this on the official website.
Where to stay in Siem Reap
Siem Reap isn't an enormous city and you can travel easily from anywhere inside it. If you are a backpacker, there are a lot of hostels available from outright basic to elegant and more sophisticated ones starting at $4 a night. You can book one at hostelworld.com.
However, if you can extend your budget a bit, you can choose from a wide range of great looking mid-range boutique hotels starting from $30 a night. These are sprinkled across the city and give you a glimpse into affordable luxury while going easy on your pocket. Check out Agoda.com for the best hotel options and discounts in South-east Asia.
The best neighbourhood to stay in the Old Market area if you are looking for fantastic but fairly touristy nightlife. Look at staying at Sivatha Boulevard area and the Old French Quarters if you want to check out some luxury accommodation and classic shops nearby.
Best time to visit Siem Reap
There are three main season in Siem Reap.
Peak Season or December-January: This is by far the most popular time to visit Cambodia, and with good reasons. The weather in this part of Cambodia is relatively cooler and the humidity at a comfortable level making it most suitable for travel.
This is also the peak season for tourists. So the bad side is that you will find an insane amount of tourists at the most popular spot, the Angkor Wat. It is a bargain that you need to choose from.
Summer Months or April-May: This is the time of least popular when it comes to visiting Siem Reap. The whole of South East Asia is under intense heat and humidity. You will need a lot of guts to go out for a whole day. If you are not accustomed to the weather, it is best to avoid this time. The only upside is cheap accommodation and far fewer fellow tourists.
Wet Season or June-October: With the onset of Monsoon after the parched month of May, Siem Reap sees a good amount of rainfall. The rainfall can range from drizzling all day to bouts of heavy showers at intervals.
While some people may not be too fond of getting drenched, it actually can be a bit of relief. The rainfall can also help augment the beauty of the area. An increase in humidity is a by-product you may not appreciate too well. If you like rain and don't mind the mud, this is still a good time to go.
Suggested time to go: If none of the above suits you, you can look at visiting Siem Reap during the shoulder seasons. The two would be in November and between February to March. The weather is bearable and the crowd is not at its peak. Prices also tend to be less inflated compared to the peak season. You must note that the rush increases during the Chinese New Year.
Save on Pinterest


Related Articles