26 Jul

The Best things to do in Amalfi Coast, Italy

In continuation of backpacking Italy, I saved the best for the last. I certainly did love the fashionable city of Milan, a very romantic Venice, art galleries of Florence and the ancient ruins of Rome. But there are two places which I adored most, the Tuscan countryside and the Amalfi Coast.

To be honest I think you can skip some of those cities for Amalfi or spend considerably more time here. I think it is a mix of sea and countryside villages on bright green hills. The aroma of lemons and the laid back environment with far more friendly locals. All of it makes it worth more than the long lines of museums.

I think the Amalfi coast has a vibe of its own. You cannot compare it to any other place. Apart from the fact that it is very  Italian, it is also a mix of fishing villages with pastel-coloured buildings.  Retired folks chatting, laughing, and of course, smoking fills small cafes across the town.

Lastly add a lot of fresh lemons, peaches, oranges, and seafood to the whole picture. Visualize a couple of vintage Alfa Romeo or Italian cars moving on the beachside highway. I hope you can feel it. I will help you out with that.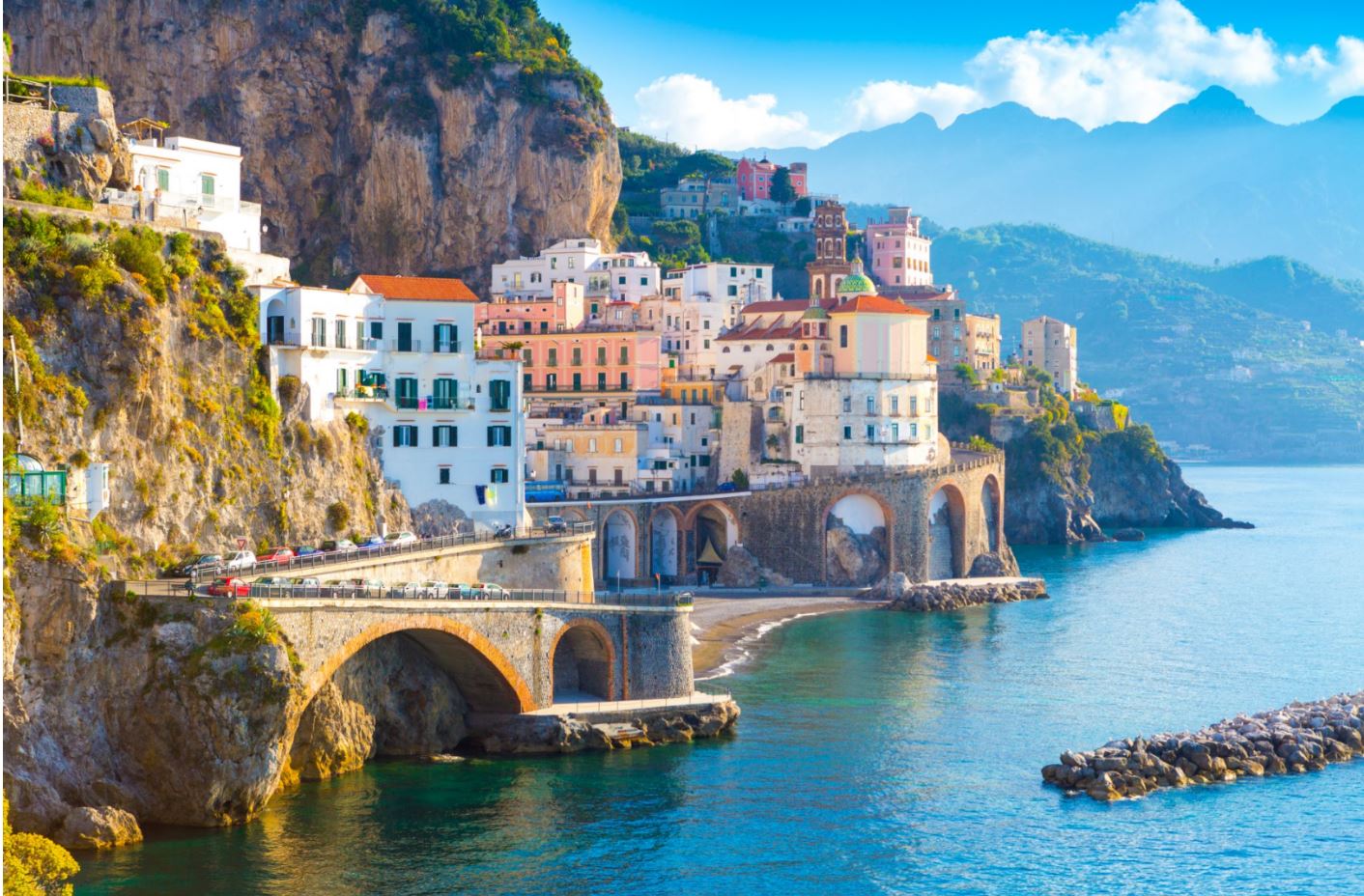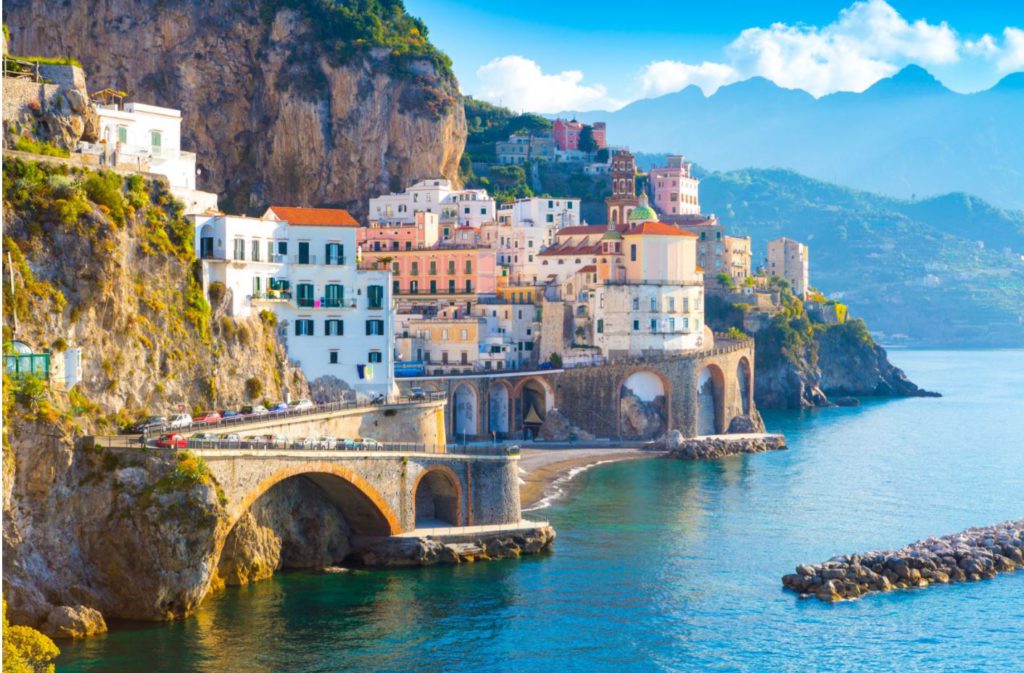 Where Is The Amalfi Coast?
The Amalfi coast lies in the province of Sorrento on the western coast of southern Italy just below Naples. It is located on the coast of the Tyrrhenian Sea. You can describe it as a range of tropical mountain ranges with fragments of smalls fishing villages along the coastline. The coast consists of more than 13 municipalities or towns with many more villages for settlements.
Why Is It So Famous?
Well, the Amalfi coast has always been famous. First with the Romans, the Greeks, the Locals and now with people from all around the world. One of the reasons is because it was not very accessible to people by land and could only be reached by sea.
It kept the natural beauty of the place quite untouched for a long time. With its listing as a UNESCO world heritage site in 1997, came fame. And with fame, came a lot of eyeballs followed by a large number of tourist population.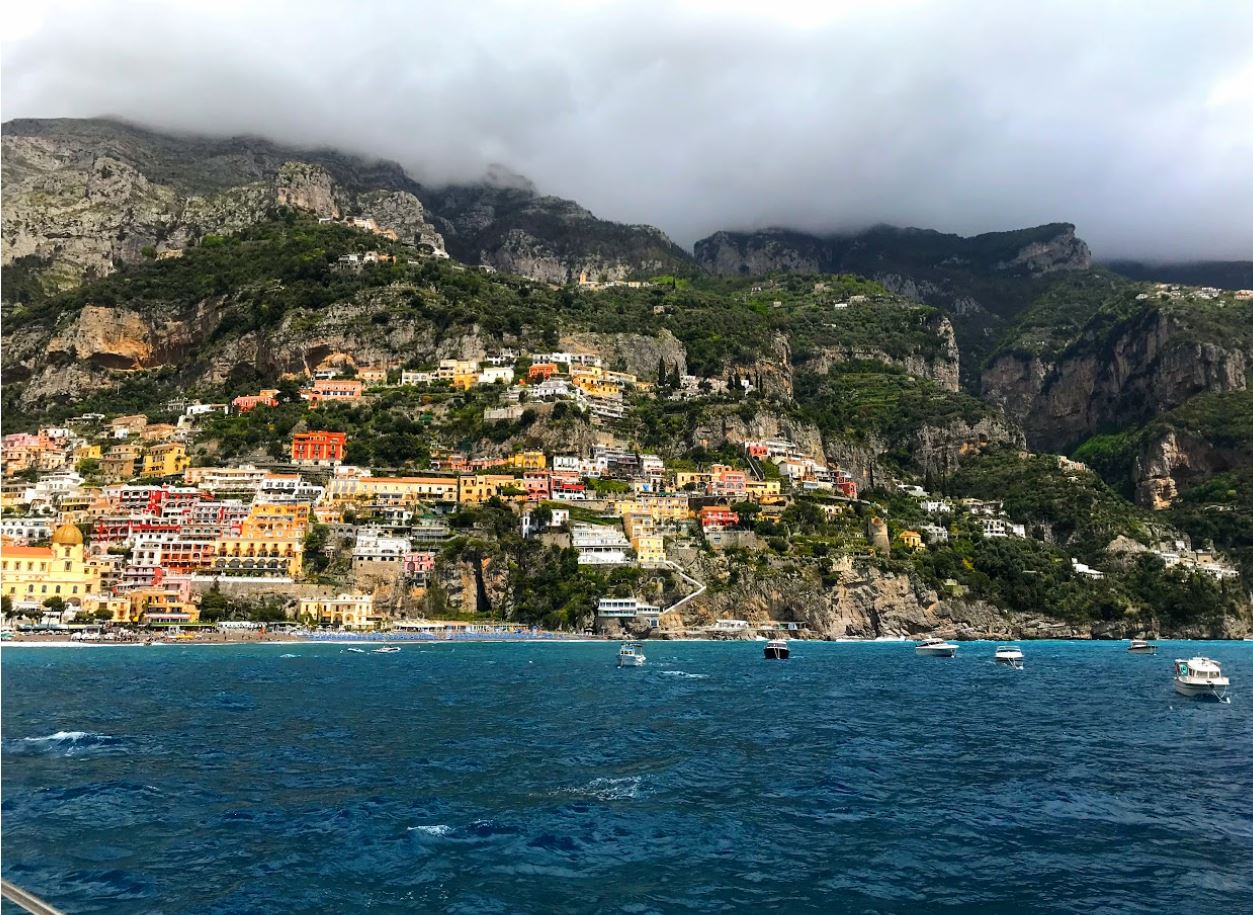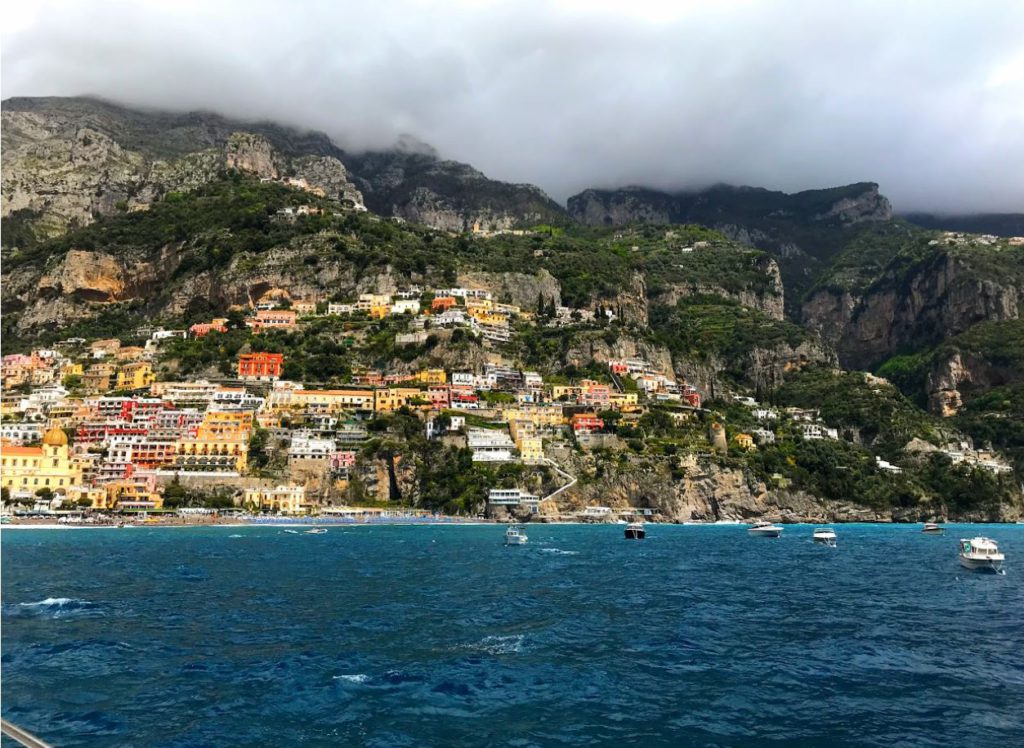 A Brief History Of Amalfi
During the course of history, Amalfi has seen many phases of survival. From being one of the most powerful maritime forces to being abandoned completely. Amalfi separated from Naples in the 9th century to become an autonomous power.
The kingdom had the most impressive fleet of navy and cargo ships. They used to trade with Constantinople and North African states. The Mediterranean touch is also quite prevalent in many ancient buildings.
For the most part, it was self-governed where the most powerful families chose a duke as the governor. It fell to the rulers of Pisa in the 12th century. After the plague wiped out of a third of its population, the locals nearly abandoned the coast. Most of the population moved to Naples.
It was only in 1854 that the road to Amalfi was completed where it was inhabited again. A horde of movie directors, producers and actors followed popularising Amalfi. They made this place today a major tourist attraction which is present to this day.

How To Reach The Amalfi Coast?
There is very little in terms of roadways if you want to visit anywhere in the Amalfi Coast. The best way to reach the coast is through Salerno by train or bus. Another way is vi Sorrento if you are coming from Naples or Pompeii. It is more suited for anyone flying to Naples airport.
You can take a ferry or bus from Sorrento or Salerno to anywhere on the coast. Private vehicles and shared cabs are also available on these routes.
By Ferry
The best way to travel around the coast is by ferry. Each town has a pier and a timetable of all the connecting ferries in the day which are quite frequent. The ferries can get infrequent during winters or during the off-season. Otherwise, these are quite reliable but comparatively expensive than the buses.
Even if you chose to take the bus on most of the routes, take at least one long trip on the ferry. The view of the coast from the sea is just incomparable. You can book tickets online here.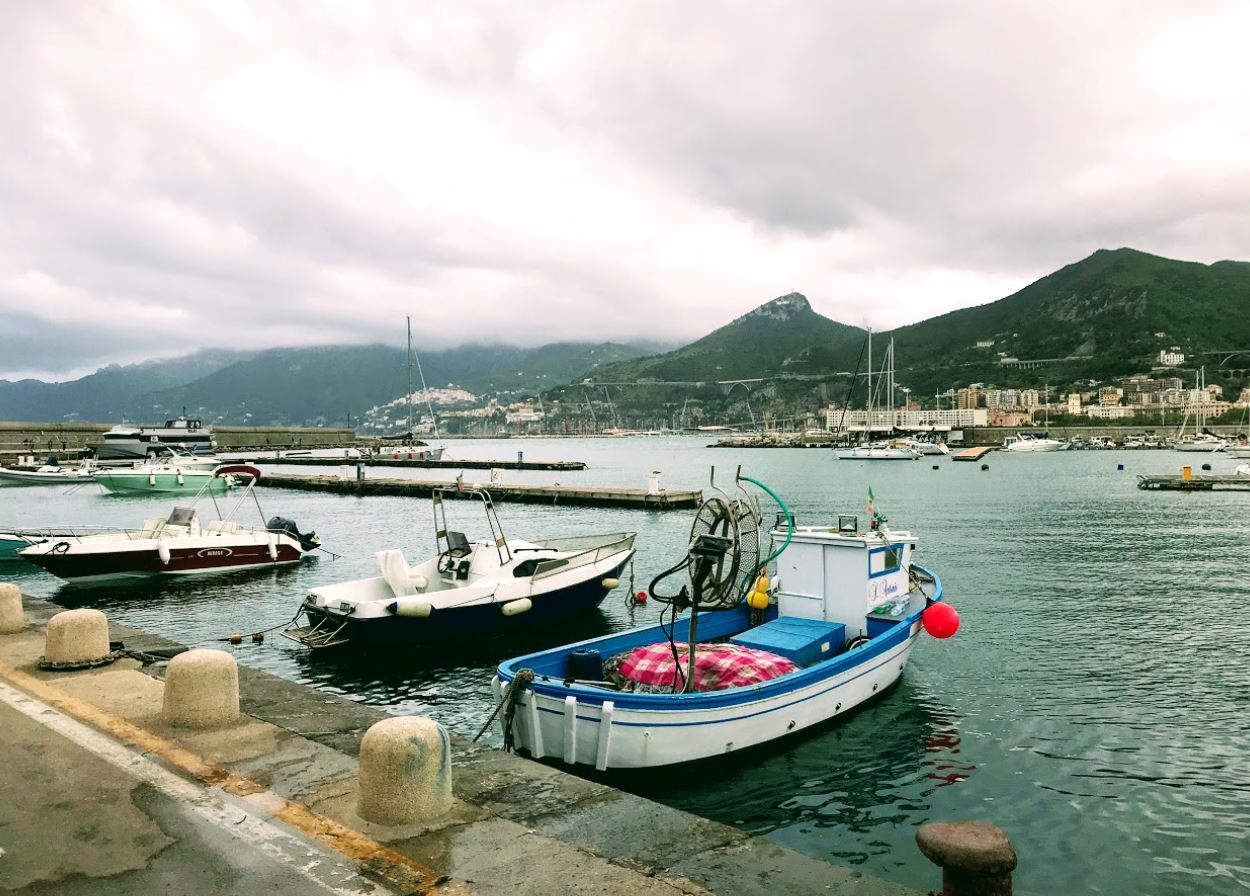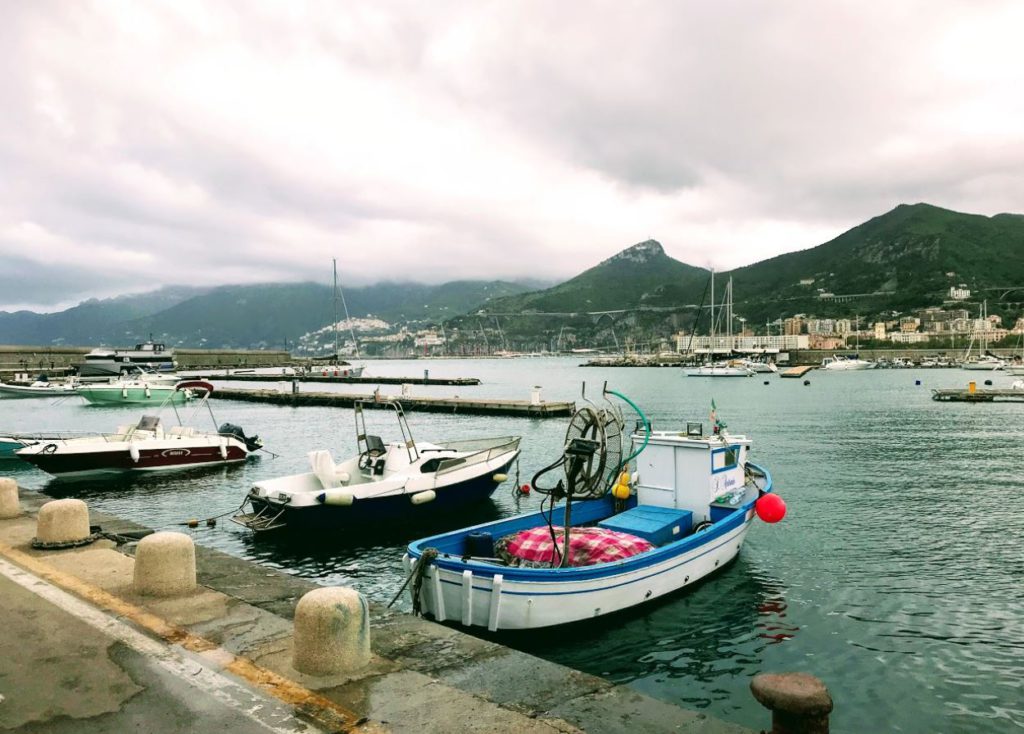 By Bus
The second way to travel on the Amalfi coast is by bus. SitaBus is a service provider along the Amalfi coast all the way to Naples which runs buses on almost all routes. You can buy tickets at the counters in each town or at a tabacchi. I will suggest you buy many tickets at once to save you inconvenience.
A ticket price starts at €1.5 and is probably the cheapest mode of transportation. Apart from that, the buses are not very punctual or frequent. It can get difficult to find the right bus stations for the routes of your choice. If you are prone to motion sickness, this may not be the best choice as the roads have many hairpin bends.
By Private Vehicle
Another way to travel along the coast is by your own private vehicle. Renting vintage cars are getting more popular day-by-day and big fancy bikes are available for hire in most towns. The downside is that the roads are extremely narrow in most parts with buses passing one another in a matter on centimeters.
So, you need to be skilled at driving at the sharp bends and hilly terrain along the coast. You will also have to pay additional for parking at almost all places since parking space is scarce.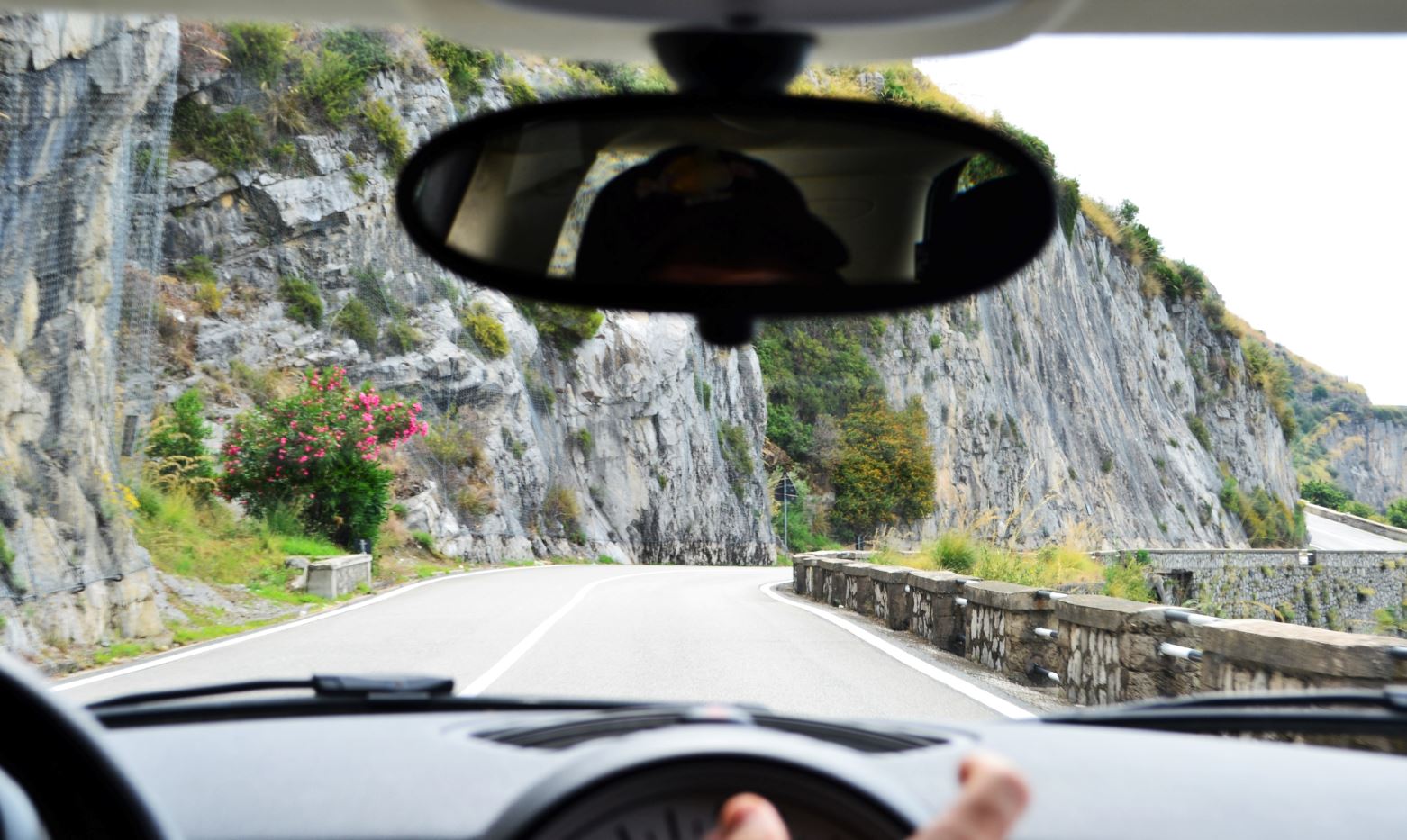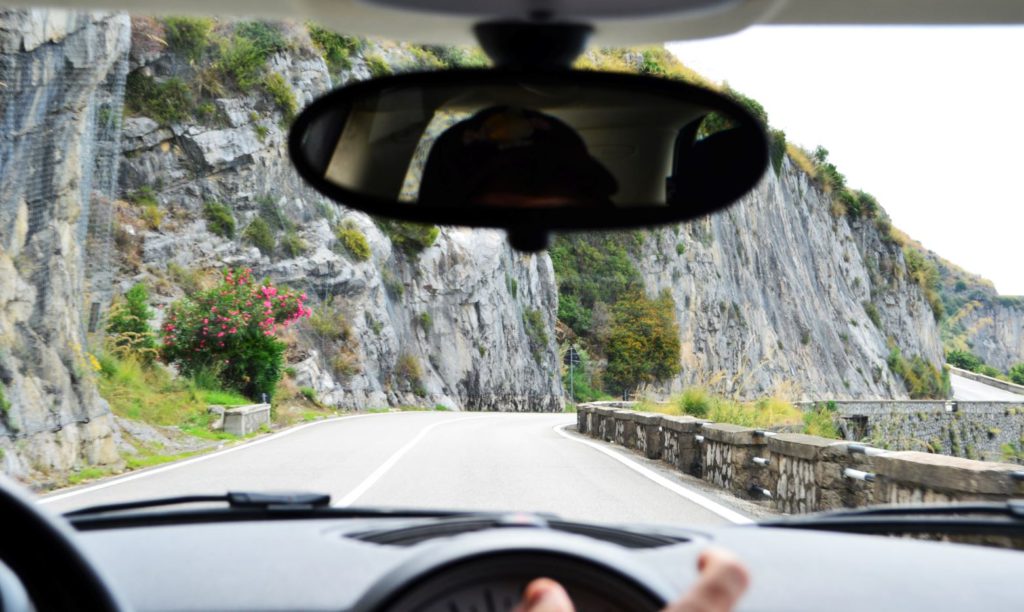 Best Time To Go To Amalfi Coast?
It will most certainly depend upon what you want to do. But here I am talking about sightseeing without a lot of beach activities. For this, late spring and early Autumn is a great time to visit. The first week of May and End of September sees less crowd in these areas with slightly cold weather.
If you are looking to enjoy the water with beach activities, June-August is the best time to go. It is relatively warm but can get very crowded, as well as pricey. Winters see almost no tourist crowd. The cold may dampen your spirits with strong winds, cold water, and inconsistent transport options. Here is more on Amalfi weather
What To See In Amalfi Coast?
Amalfi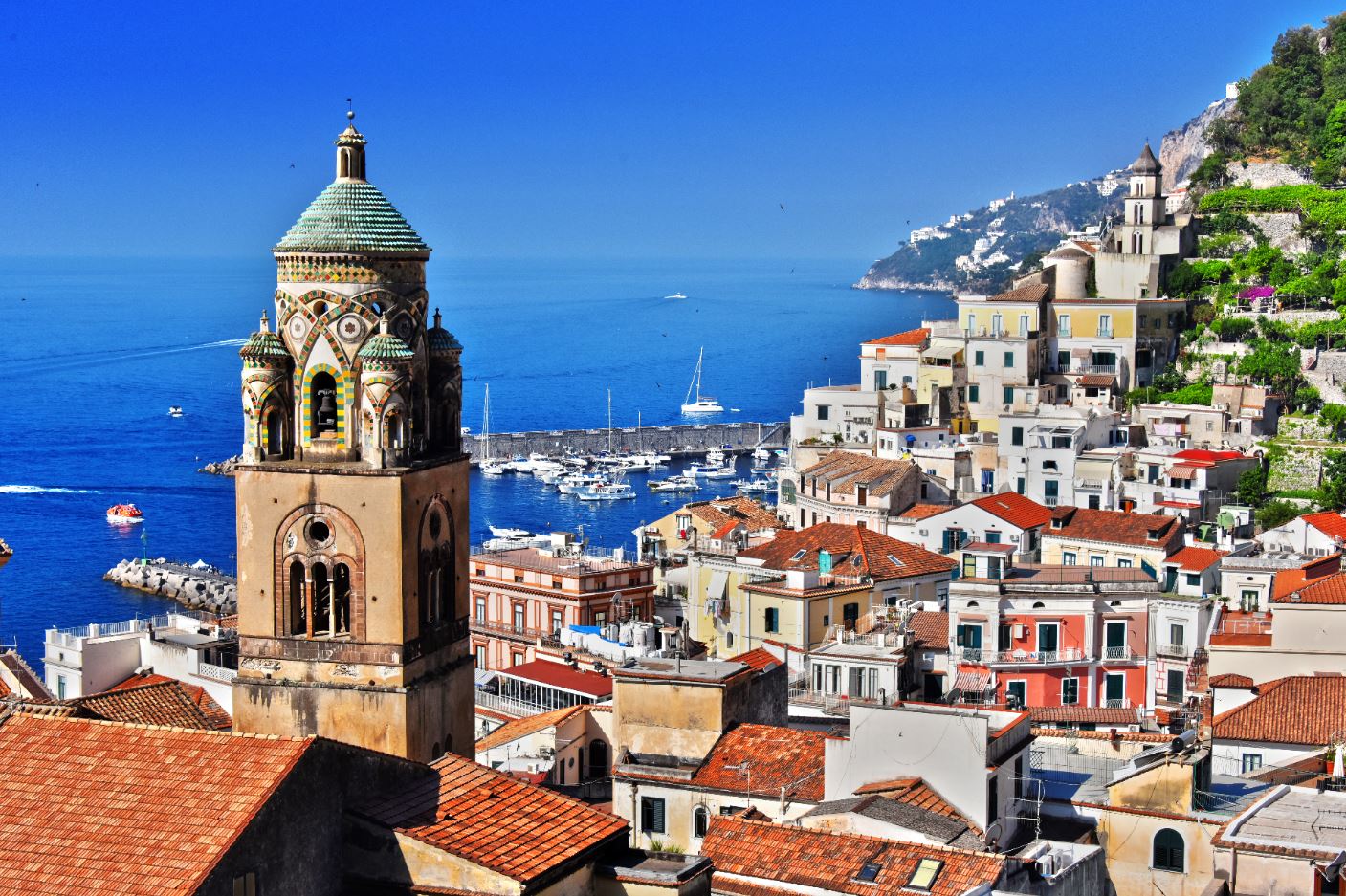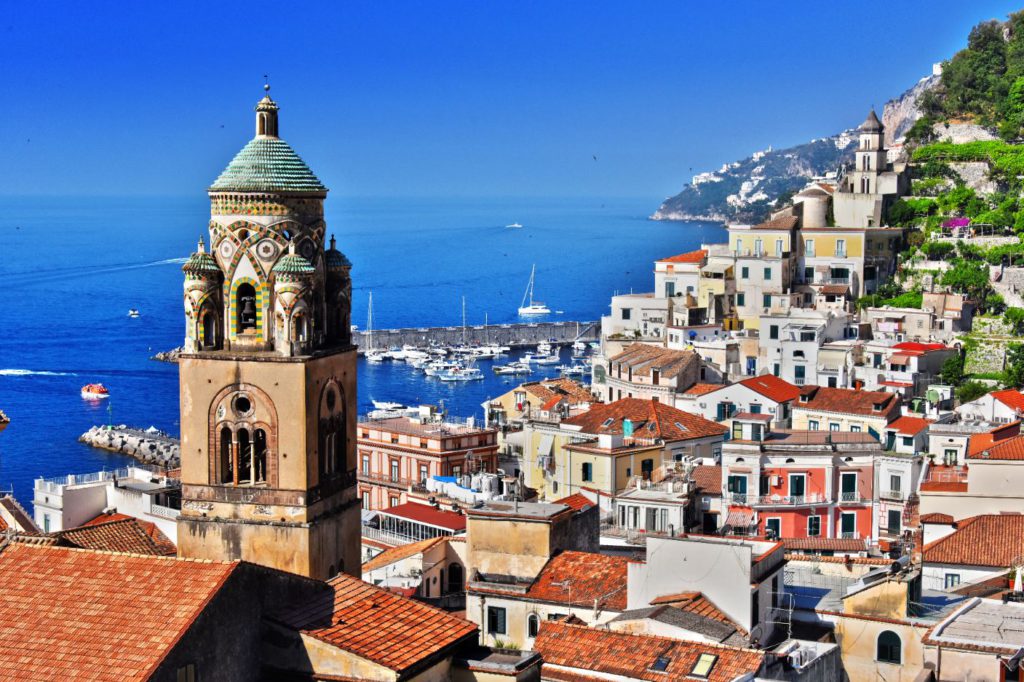 It will most certainly depend upon what you want to do. But here I am talking about sightseeing without a lot of beach activities.
While the whole area is called the 'Amalfi Coast', Amalfi is actually only a town. Although it is the most important and famous one. It is still not very big in size but it is a must-visit if you are not already staying in the area. The town is a hub of tourist activities. Vendors sell all kinds of famous lemon products, ceramic plates with lovely Mediterranean patterns and handmade sandals custom made for your size.
A must-visit place while in Amalfi is the Amalfi Cathedral. If you have already been to Italy, you will be surprised to see an extremely different style of architecture. Built-in the 9th century the church has a lot of influence from the Mediterranean and North African culture.
The Palazzo around the cathedral is the main area of activity in town. As you move more to the inside of the city you will find many restaurants with coastal delicacy on their menu. Beach is usually not open except in peak summers.
If you want to do your Amalfi shopping, do it here. The town is full of souvenir shops selling Lemonchello, lemon soaps, lemon bakery products, lemon-infused cosmetics, dresses with lemon prints and so much more. Everything you can think of is made out of a lemon. It is cheaper than other places and you will get more variety.
Early Autumn is a great time to visit. The first week of May and End of September sees less crowd in these areas with slightly cold weather. If you are looking to enjoy the water with beach activities, June-August is the best time to go.
Winters see almost no tourist crowd. The cold may dampen your spirits with strong winds, cold water, and inconsistent transport options. Here is more on Amalfi weather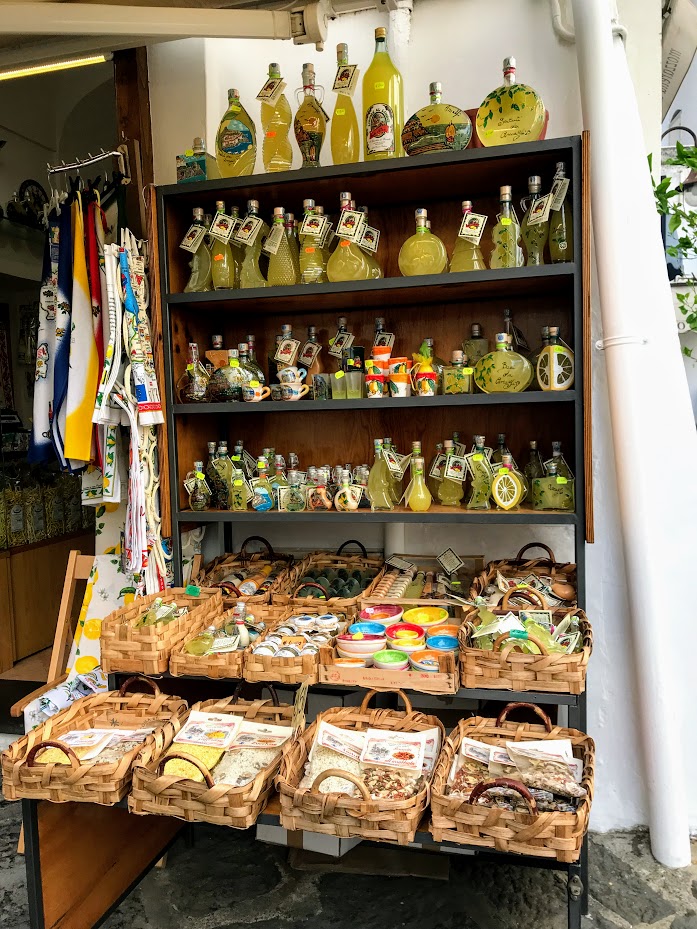 Positano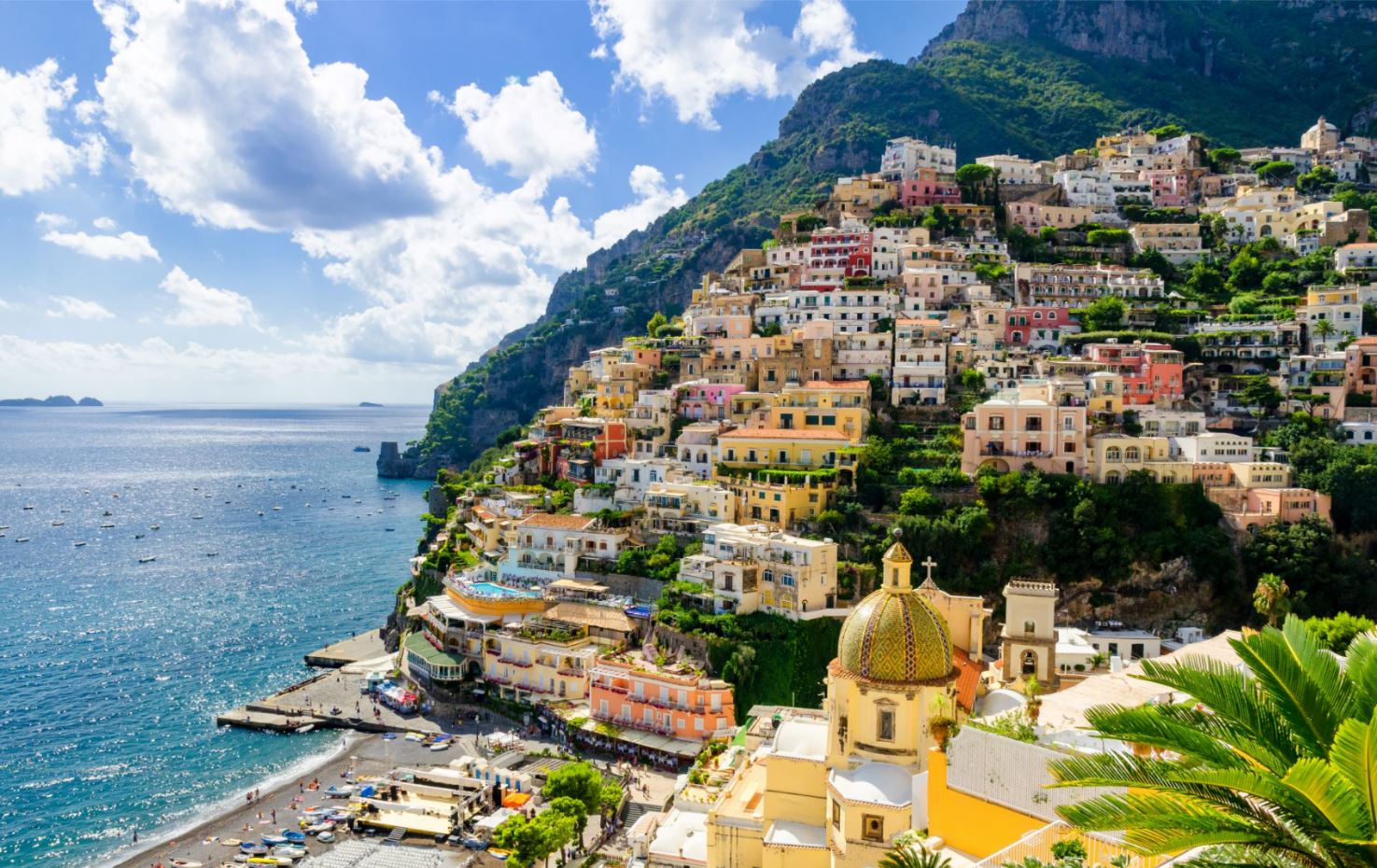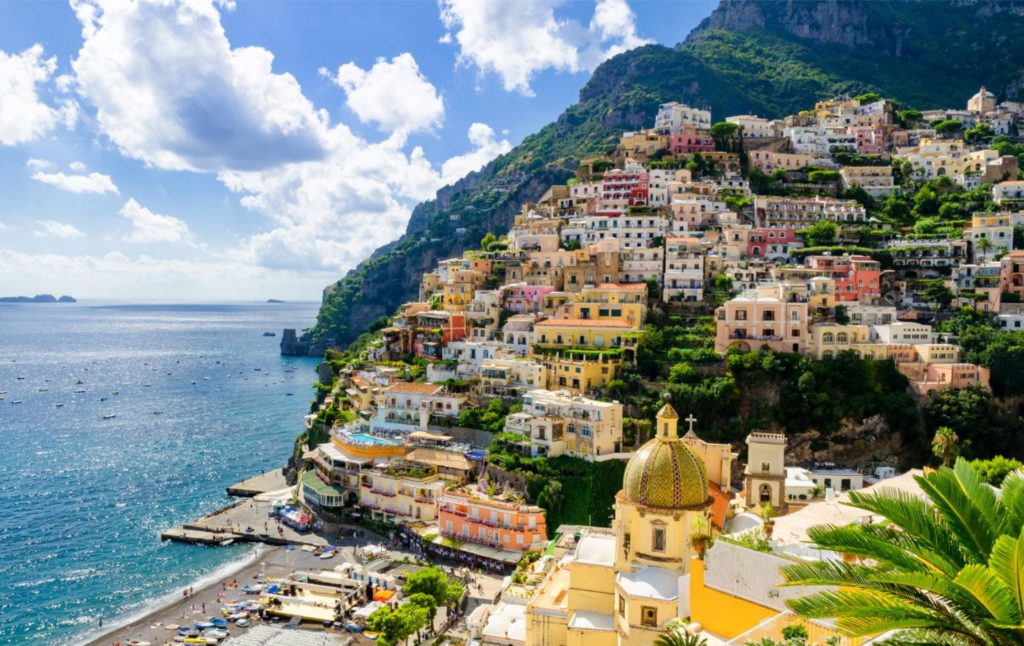 Positano is a photogenic town on the Amalfi coast with a number of pastel colour houses. Built on the rising hills on the cliff it is also called 'the vertical town'. The whole town is built on different levels. Therefore you can access it only by stairs,. It can make visiting Positano a little exhausting.
If you do go through the pain, you will be rewarded with a gorgeous view of sapphire blue water bordered by pink and yellow buildings in contrast on the coast. Several white boats and steamers dot the water that sails and hops along the coast.
The whole town is extremely beautiful and very tourist-friendly. All the signs are in English along with the menu. Positano can be termed as the rich uncle of the Amalfi coast where many famous artists, musicians, and celebrities have come to either spend time or bought a place to host fancy parties for others of their kind.
This has made Positano a fancy place to live and dine. You can clearly see that with its steep prices and fancy cars parked outside. If you are not living in Positano, you can take a day trip to this place where I will suggest at least one way through ferry since the view from the coast is breathtaking.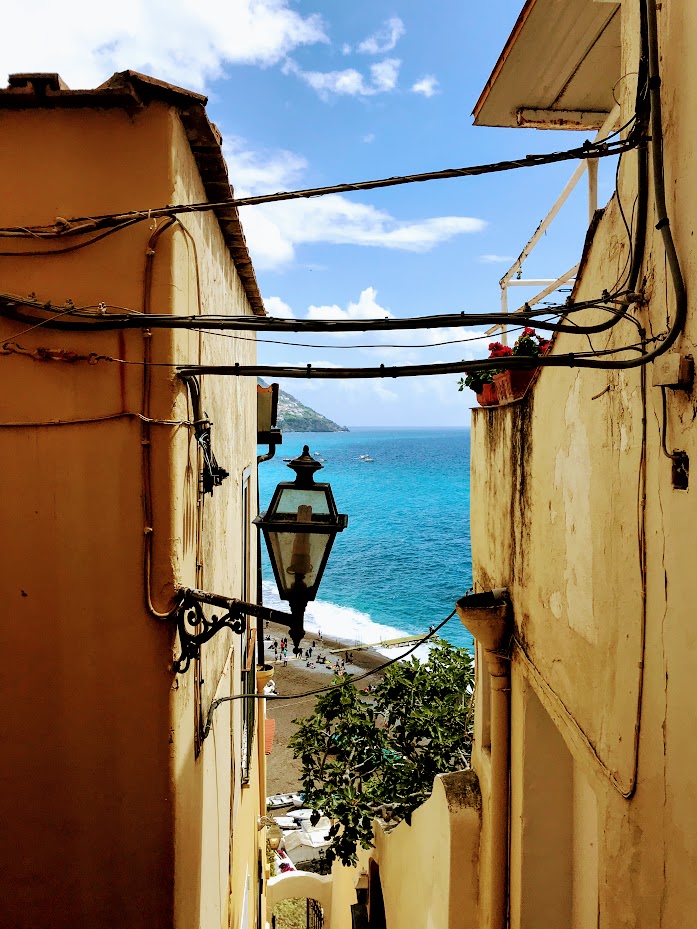 Sorrento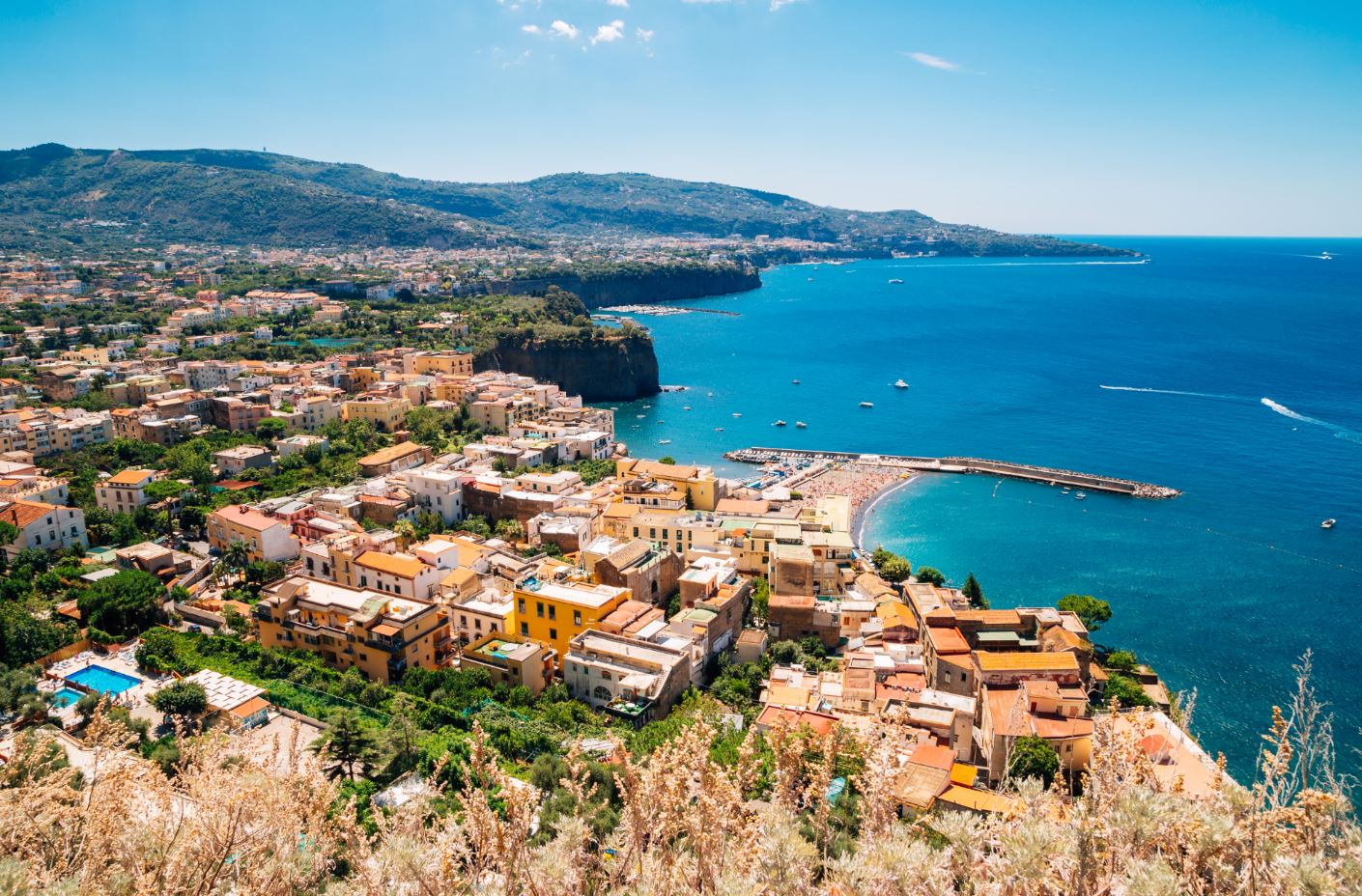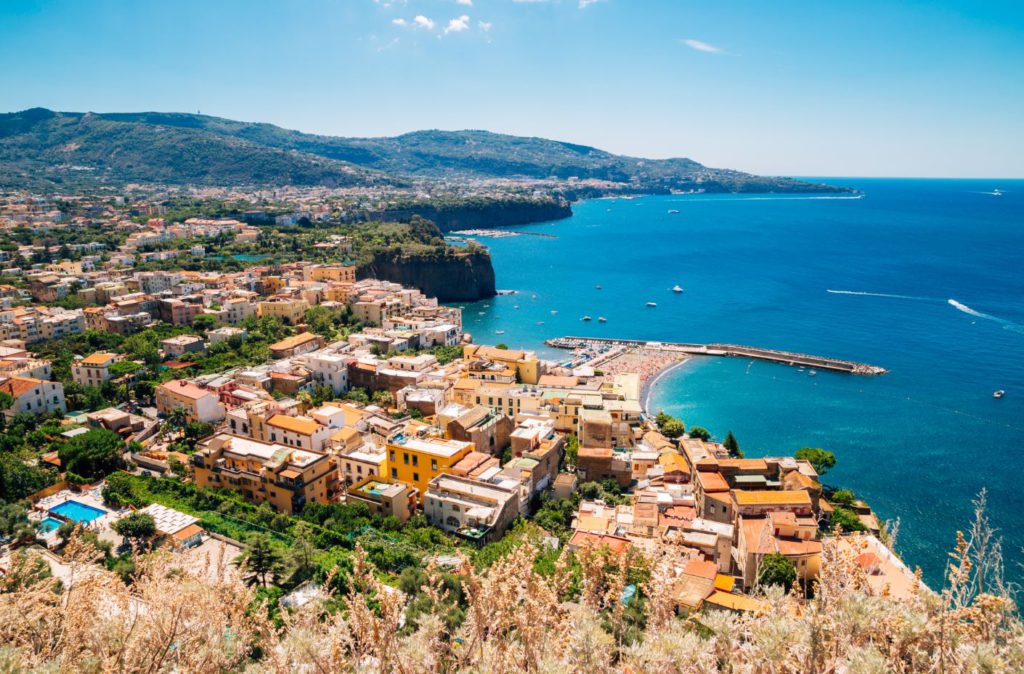 Technically, Sorrento is not a part of Amalfi coast but if often clubbed with it. It does share the scenic beauty of the same mountain ranges and similar photogenic buildings that make it a part of the famous coastline. Located on the northern side of the coast, it is easily accessible by Naples and Pompeii by roadways. It is also more urban with a bigger settlement and thus, making it similar to Salerno.
Nevertheless, Salerno is popular for its coastal walks giving way to the blue water bustling with tourist with a lovely cathedral making it the talk of the town amongst places to see. Apart from that, Salerno is the largest producer of limoncello in the area along with ceramics, lacework, and marquetry. Tourists also often take a tour from Sorrento to the island of Capri and Ischia.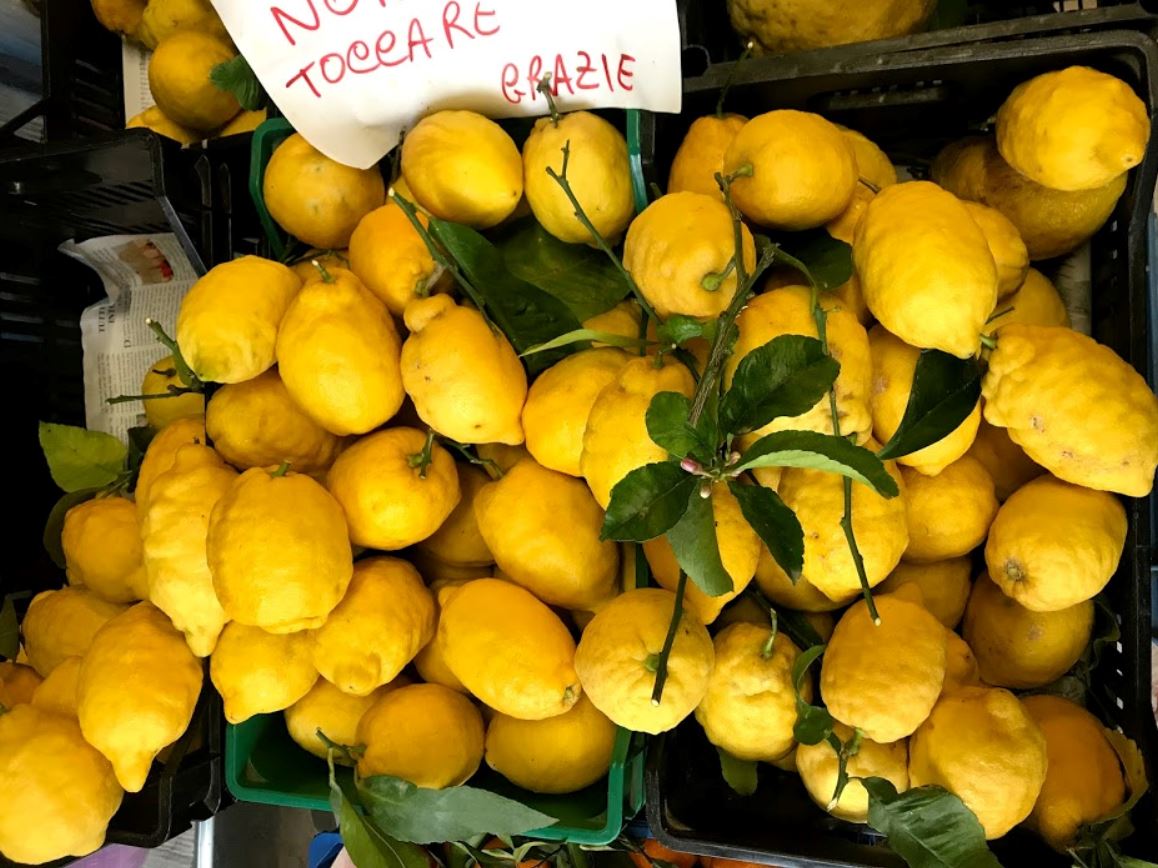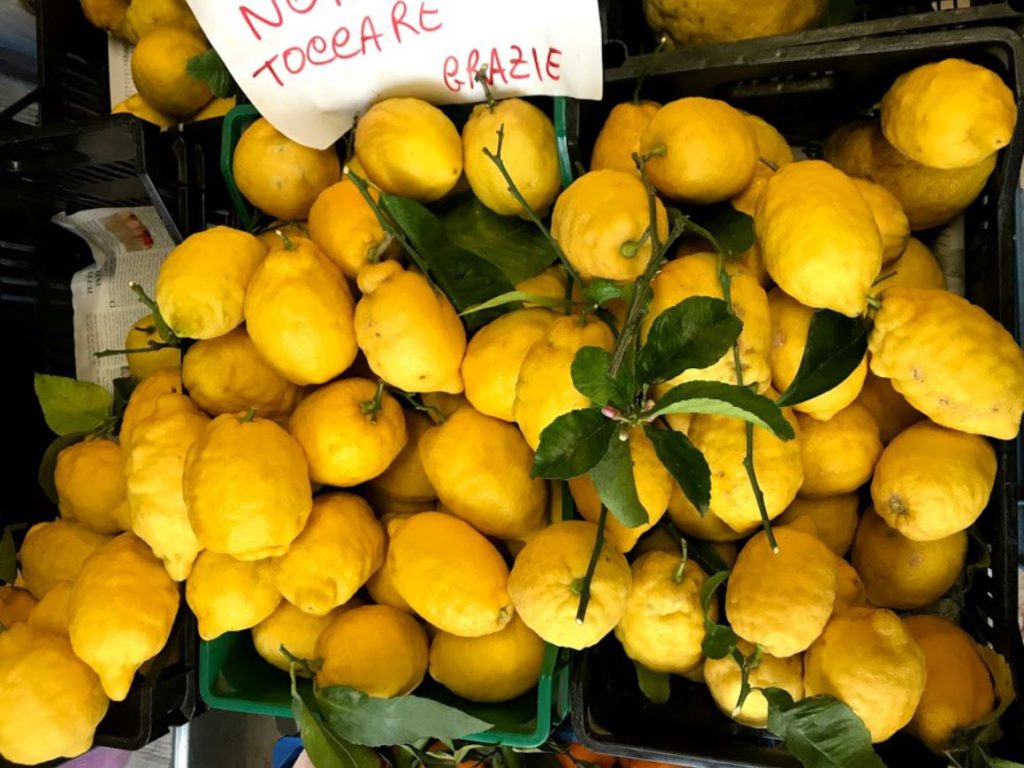 Capri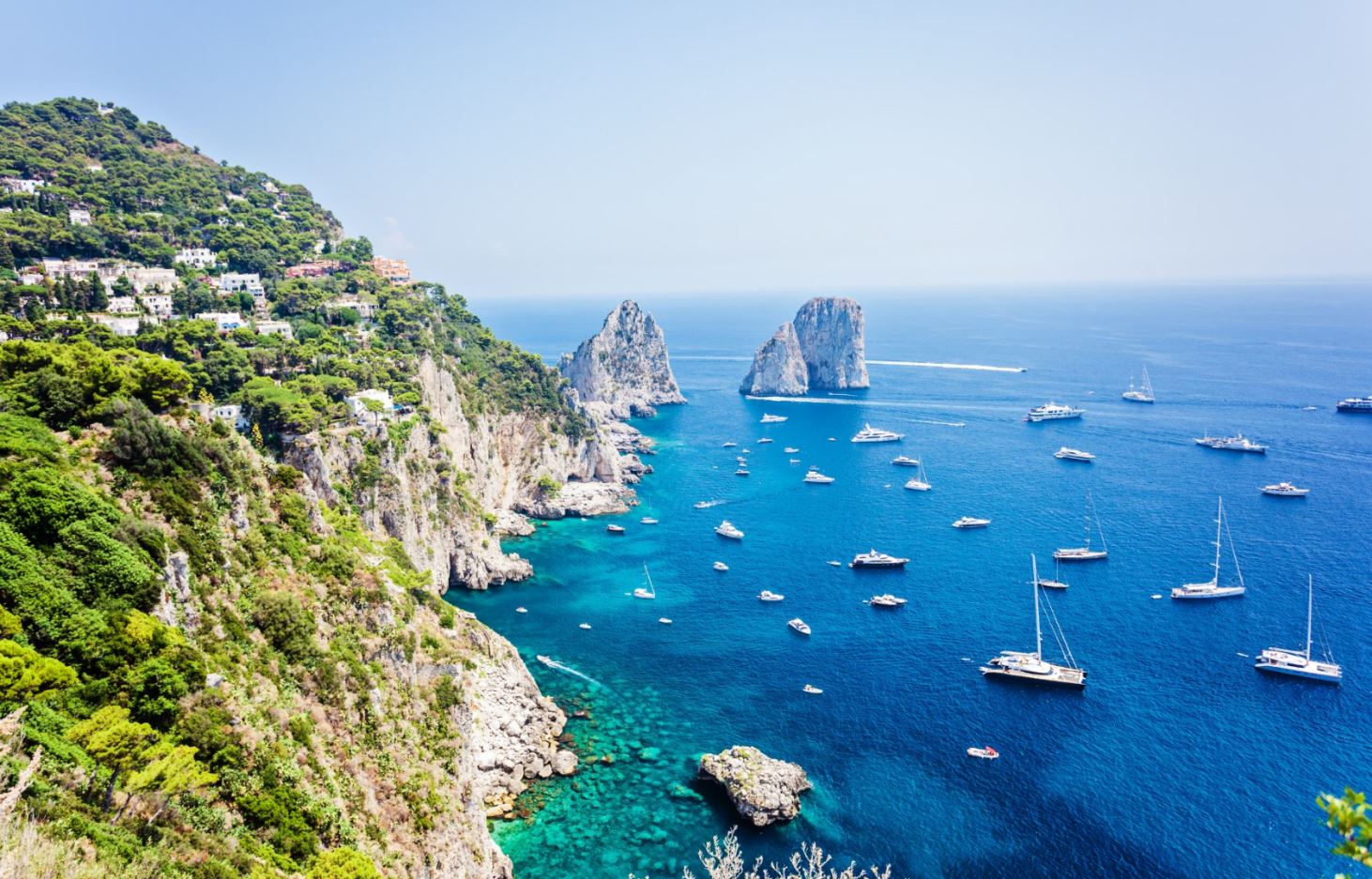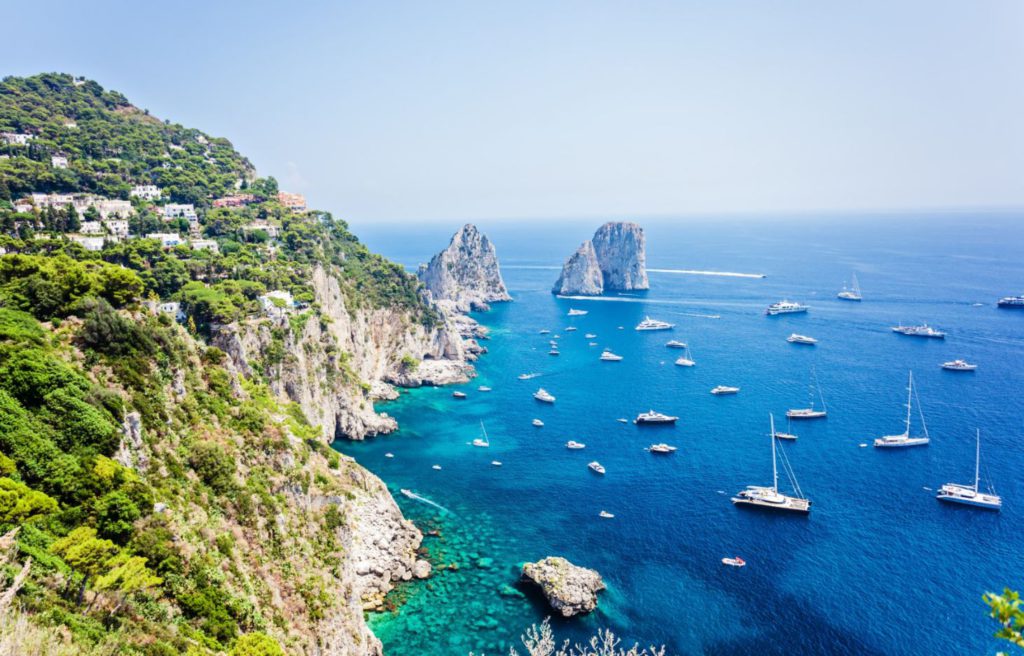 If Positano was the rich uncle of the Amalfi coast, Capri could be termed as the spoilt rich good looking niece. Capri is a lovely island off the Amalfi Coast often home to the most famous authors and film stars.
It perhaps started with the Roman king Tiberius, who said to have a villa here and held his infamous orgies there. A place of interest with international celebrities, the island seems to have no bad-looking buildings or unattended gardens.
This, in turn, can result in an expensive holiday or tour where a cup of cappuccino can cost you as much as €7. If you are on a budget trip then I will suggest taking a day trip to Capri instead of living here. Also, pack a couple of sandwiches if you don't want to overspend on food.
Apart from a few villas and exotic restaurants, a good way to explore the island is by hiking to its tallest ranges if you are up for it. It will give you a view of the whole island with some blue water in contrast and a few far off mountain ranges on the other side as well.
Minori and Maiori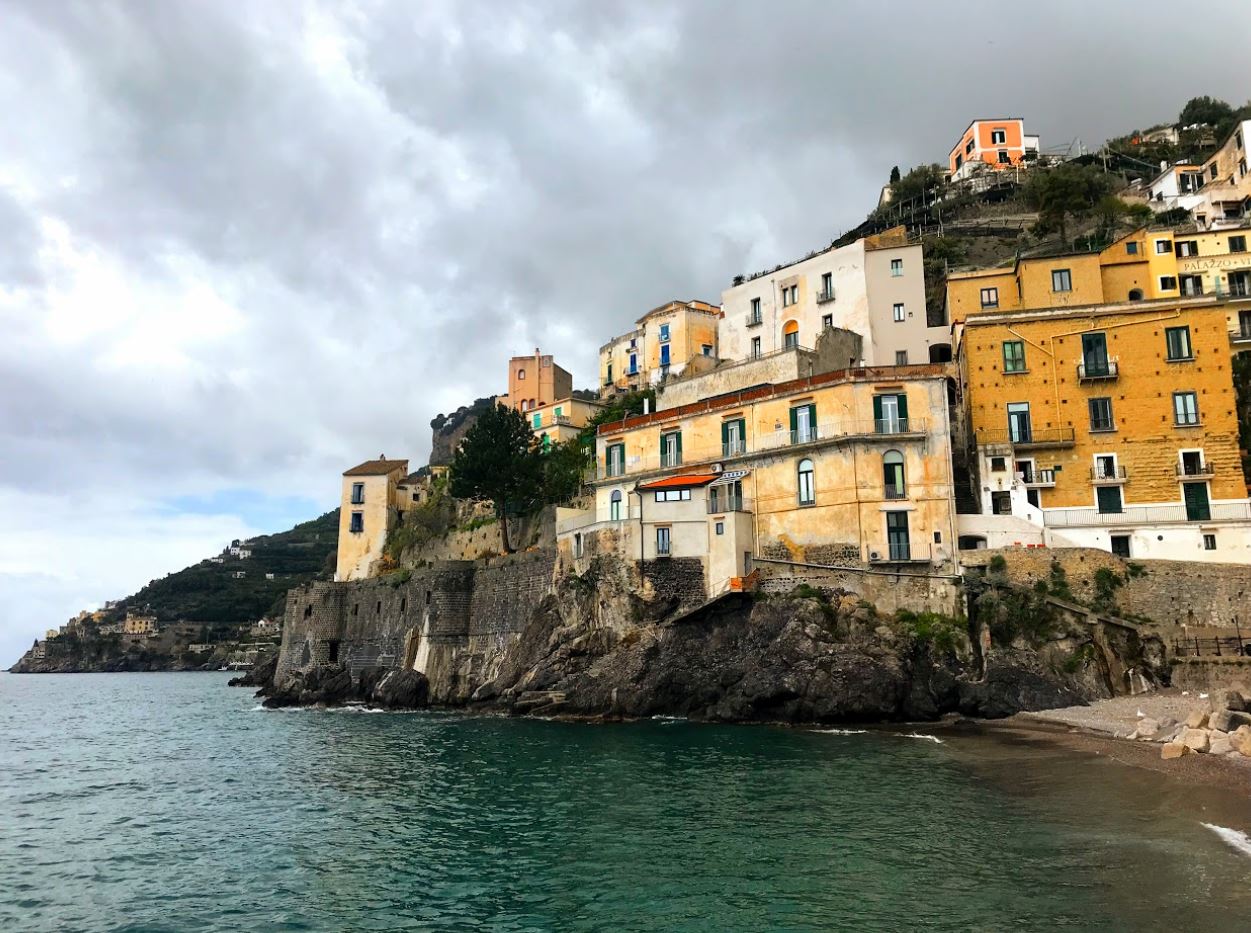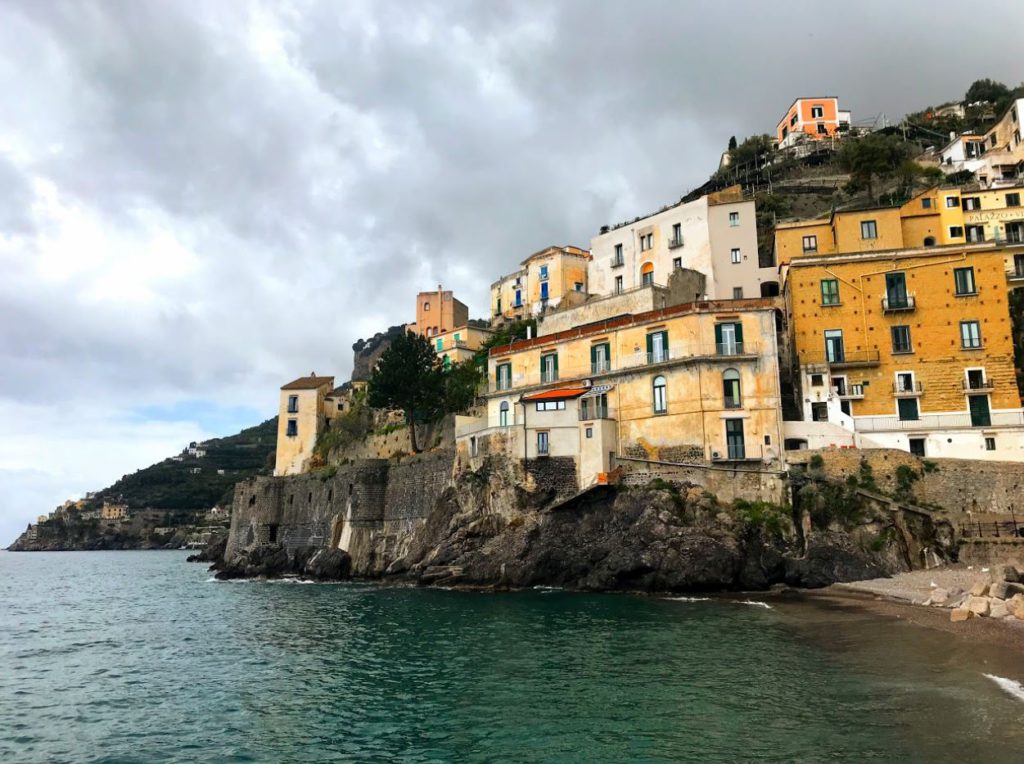 A couple of small fishing villages around 5 km from Amalfi on the coast are Minori and Maiori. We stayed in Minori and honestly I enjoyed living in Minori more than visiting any other place in Amalfi. Both the villages are small in size with a few shops for all your need.
There is a pier which has regular ferries to all major towns. Minori is well connected with buses although you still have to wait long for them.
The town also has long beaches to enjoy during summers and very less tourist population. It results in very affordable prices of food and stays here. We spent our days walking around the town, sipping on fresh peach juice, limoncello, and some hazelnut espresso at odd hours.
The people are also extremely friendly and more relaxed where watching them carrying on with their daily activities could be a boring yet pleasing experience.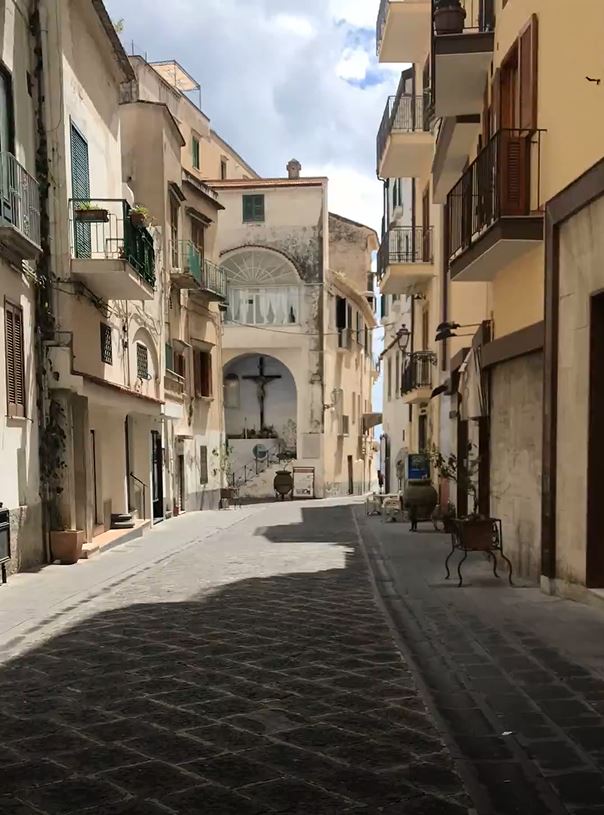 Other Places
Well, being a coastal town doesn't mean they all have beaches. While some of them are located next to a beach, some of them are perched on an altitude high up the mountains. The town with beaches includes Amalfi, Atrani, Cetara, Furore, Maiori, Minori, Priano, and Vietri Sul Mare. Towns located on a cliff are Agerola, Ravello, Scala, and Tramonti.
Most of the towns are located well next to each other but the general look and feel remain the same. Pick a few and enjoy most of them if you are short on time during your visit.
Where To Stay In Amalfi Coast?
The Amalfi coast consists of a few major towns like Amalfi, Sorrento and Positano and many smaller villages. Amalfi and Positano along with Sorrento are the major highlights of the area. They attract a lot of tourists who either stays for long periods of time or even visit as day-trippers.
The prices of these places are often higher than the surrounding areas when it comes to lodging and food. Although there are some really fantastic boutique hotels in these places if you are willing to pay the price.
I will suggest living in a smaller village around the coast like Minori, Maiori, Atrani or others. The prices of hotel and food are way cheaper than other tourist places around the area. There are far fewer tourists at these places are devoid of major tourist crowds. Therefore you can have the place more to yourself. The villages have a slow-paced life.
Strangers will often greet you on their morning or evening walks. You will also spot many locals, mostly retired folks relaxing and catching up with friends over breakfast or evening coffee. Regular ferries or bus are available to the major towns and will take about 20-30 minutes to reach.
How Long To Stay In Amalfi Coast?
To cover the whole of it, you will need at least a week but that may seem out-of-the-place with a tight itinerary. You can pick 3-4 towns and visit them on a 3-day tour. A few agencies also provide a day-trip along the coast stopping at a few major towns for an hour each. A good way if you are extremely tight on time.
Here are some tours available from the nearby towns:
Amalfi Coast Tour-All Inclusive from Naples
What To Eat In The Amalfi Coast?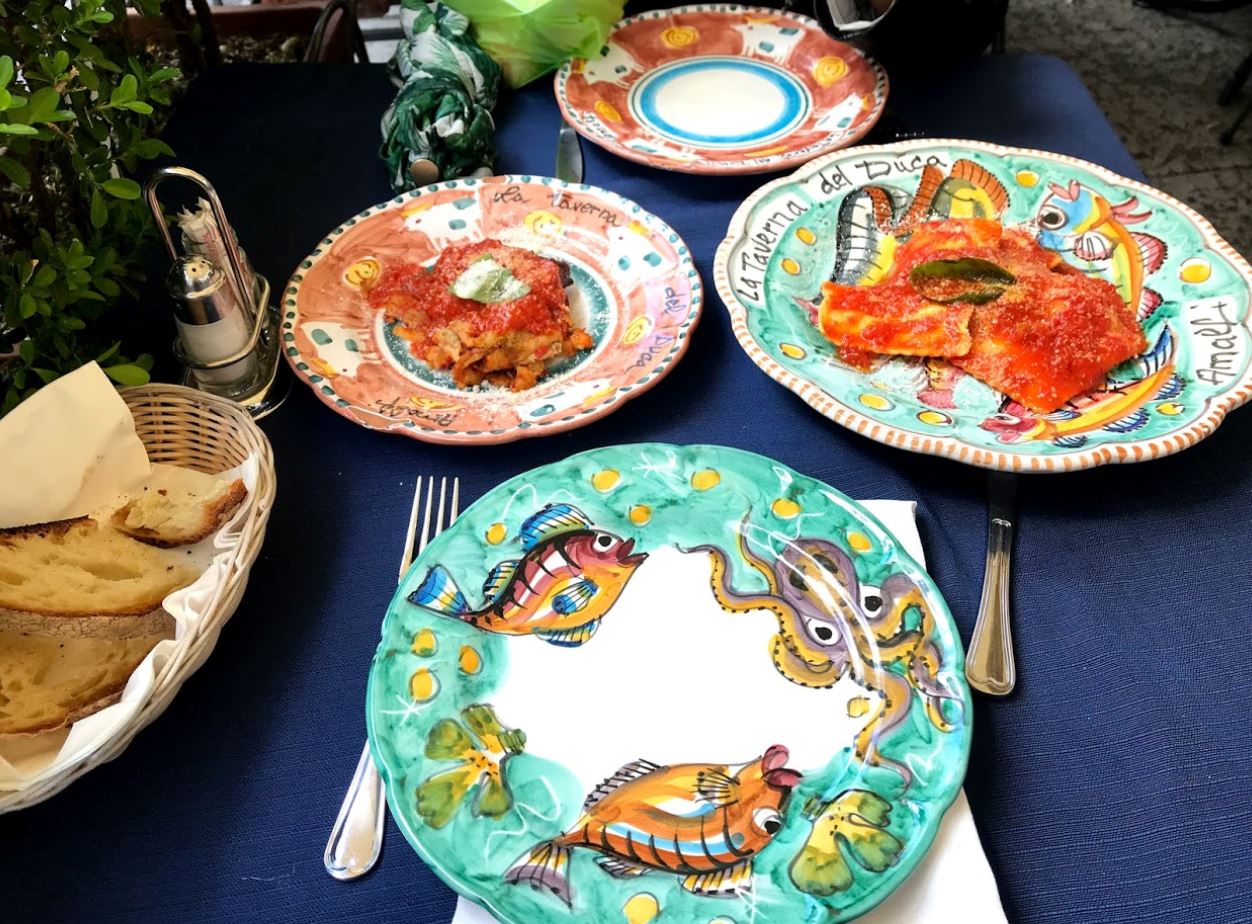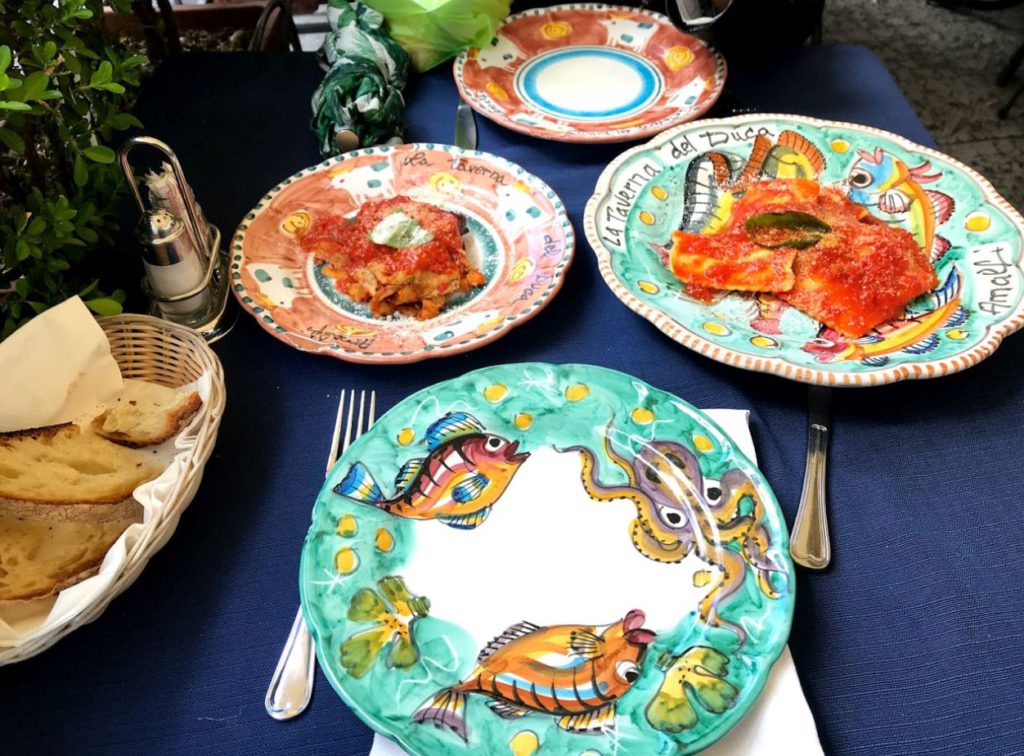 The Amalfi coast is extremely popular for two things – limoncello and seafood. Limoncello is an alcoholic beverage made with lemon rinds and sugar. People consume it as a digestive or a local aperitif in the evenings before dinner.
There is also a creamy version of limoncello available called crème de limoncello. Apart from these, there are a lot of food products made out of lemons such as lemon tarts, limoncello gelato, lemon cake, and many more bakery items.
On the other hand, Amalfi has a rich resource of seafood and almost all dishes served here can be paired with it. You can try pasta with shrimps, mussels and calamari, pizza with fresh anchovies or a whole seafood fried cone on the go. Coloured pasta made with black squid ink is also an experimental choice.
Other Things To Do In Amalfi Coast
Apart from the regular sightseeing along the Amalfi coast, you can also take a half-day guided tour to the Emerald Grotto. These are some lovely caves near Positano. The caves got their name by the colour of water the sunlight falling on them reflects.
Take a day tour to the lemon orchards in Amalfi and learn how to make limoncello, or simply take a cooking class to make a delicious meal out of the simple ingredients.
Save on Pinterest


Related Articles