15 Feb

Where to celebrate the Best Festivals in India

Festivals in India is a topic of great importance. After all, what is a culture without its beliefs? And beliefs come to life during festivities when people gather and celebrate what is common amongst themselves.

Interestingly, almost every big and small occasion in India calls for a celebration. It could be it the arrival of spring or birthdays of our beloved gods. You will never run out of reasons and seasons to celebrate in India.

Travelling during these festivals is an amazing way to celebrate and explore the opulence of Indian culture and heritage.

If you are a local Indian, you should plan a few trips around these. It will give a flare to your memories.  If you are a foreign tourist, try and find out what is happening where during your visit. I am sure you will not forget the experience.

Here is a list of the best festivals celebrated in India and where to find them.
1. Holi in Vrindavan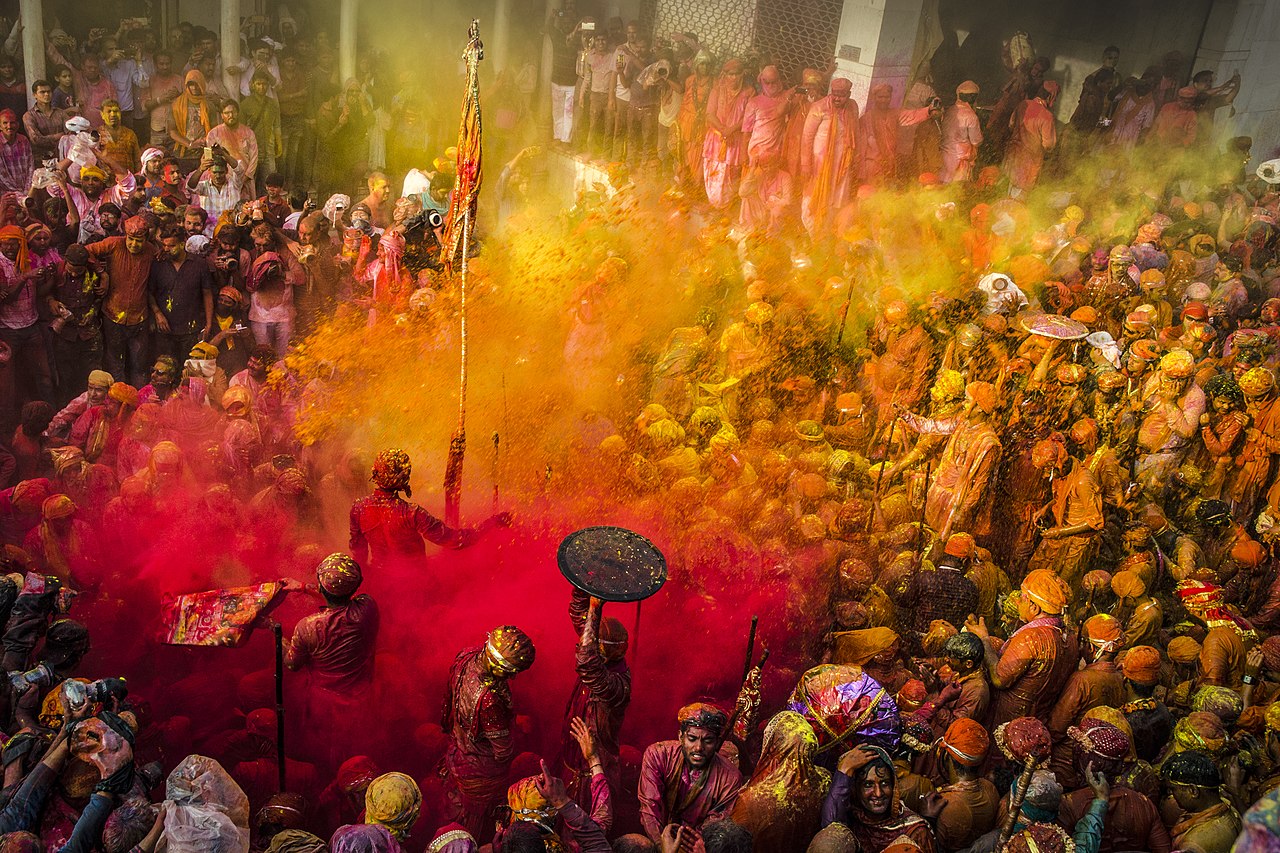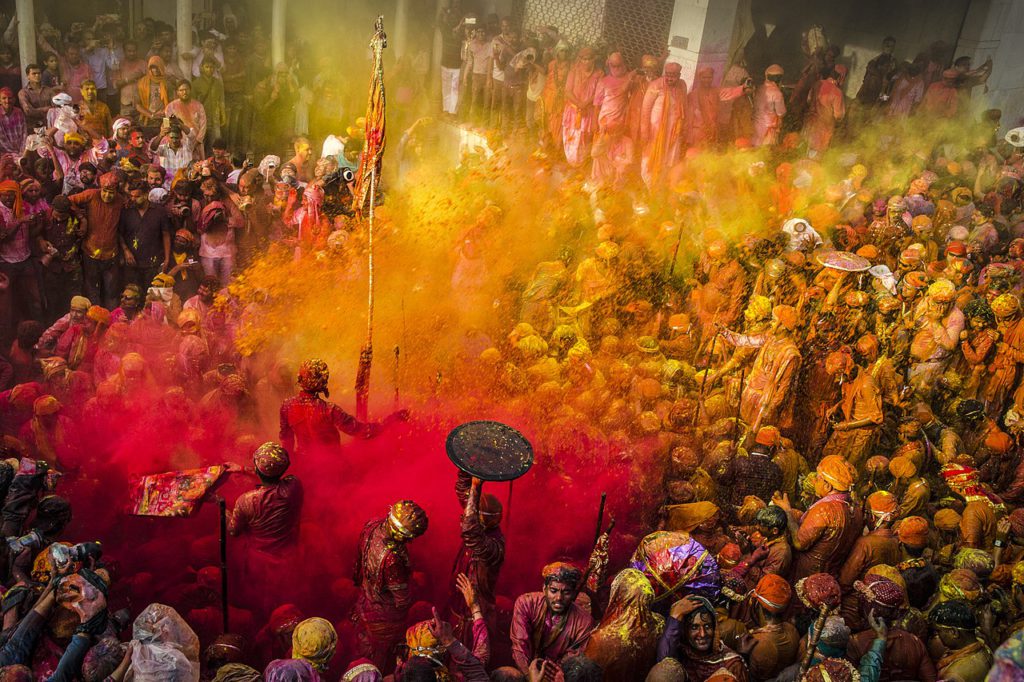 Holi is considered the festival of love and colours. It signifies the arrival of spring and the victory of good over evil. Holi is grand in India. Most parts of the country take part in the celebration. Sometimes a bit different from one another.
Holi celebrations in India
The festival starts the day before when people in every neighbourhood light a huge bonfire called 'Holika Dahan'. It signifies the burning of ill feelings and bad omens.
The next morning people dress up in old clothes. Others put on white garbs for the colour to pop out even fore. You will find people dancing to loud music just to get into the mood. The most fun part of the day is to put powdered colours of Gulal on their family and friends. Especially while ignoring their pleas for mercy.
As the afternoon progresses, kids get their hands on water balloons and water guns. Large tanks filled with water are at people's disposal to throw in their friends leaving them soaking in water. It can be brutal I agree. With the rounds of food, also comes Thandai with bhang (a milder version of weed). The effect of it could last for up to 2 days.
In the evening most people visit their families and friends. Huge offerings of rather unhealthy but sumptuous snacks go around. People sit to chit-chat with friends and catch up sometimes meeting after a long period of time.
Where to celebrate Holi in India?
You can celebrate Holi in almost any neighbourhood in northern India. But if you really want to take it up a notch, you can head to Vrindavan in Mathura (Uttar Pradesh). There you can witness a week-long celebration.
On the first two days, you can enjoy the famous 'Lath Maar' Holi in Barsana and Nandgaon villages. The women of the town (portrayed as Gopis) use bamboo or wooden sticks to beat men (Gops). Men use a shield to protect themselves but ready to take in all the (fun) assault.
According to the legend, Krishna and his friends used to frequent these towns and these women around. The women got annoyed and gave them a good beating driving them out of the village.
On other days, head to Banke Bihari temple and Dwarakadheesh temple. You can probably catch a full-fledged festival at any place inside Mathura.
If you want to read more about Holi in Vrindavan, head over to this blogpost by traveltwosome.
When is Holi celebrated?
The festival usually falls at the start of spring in March but the exact dates keep changing. Check dates online.
2. Diwali in Ayodhya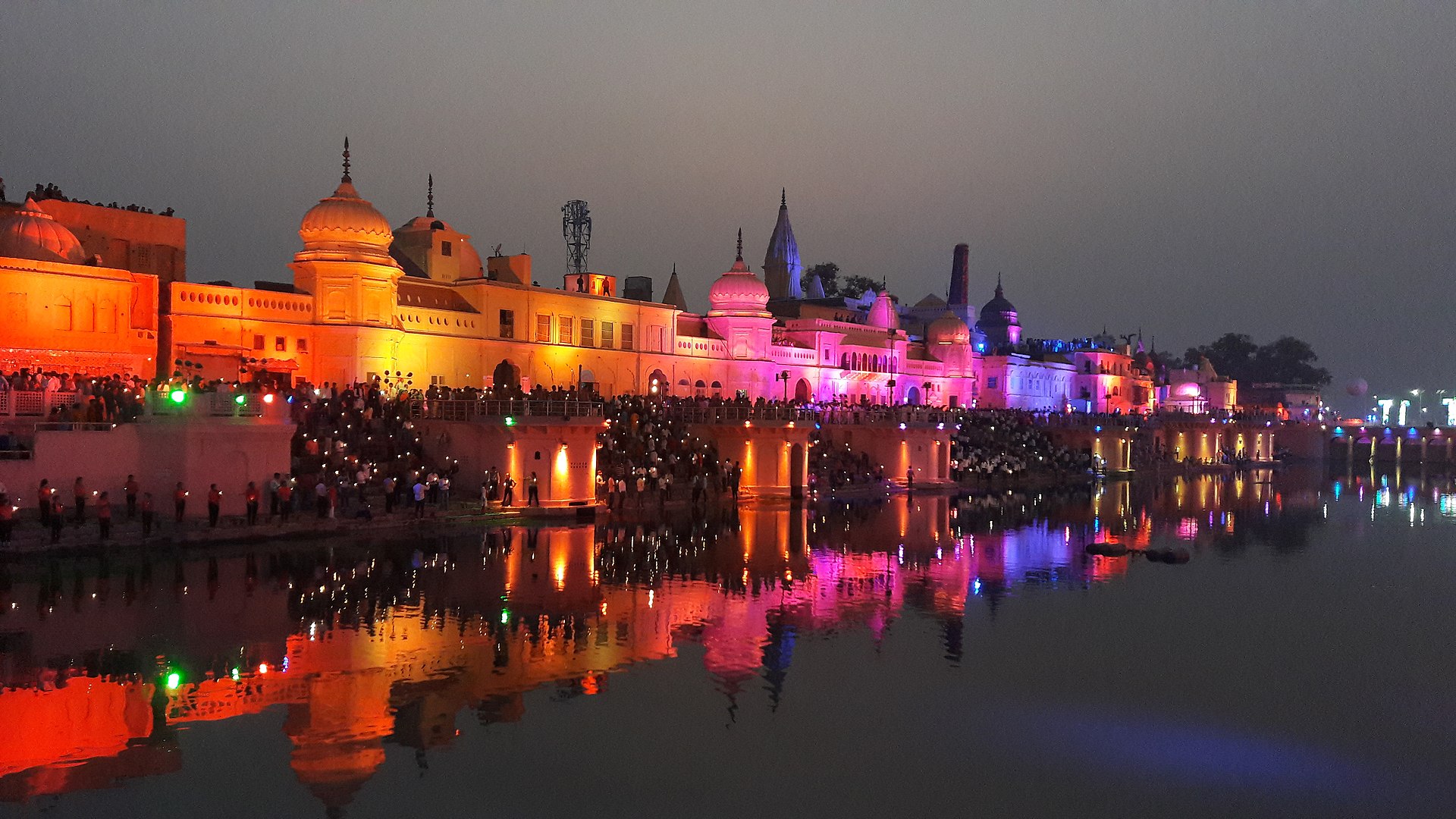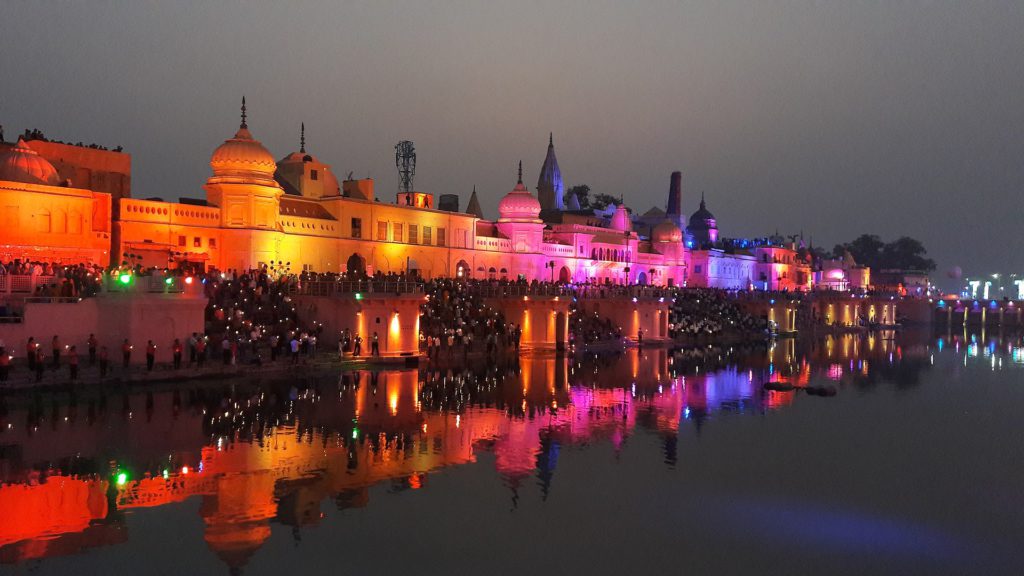 To be honest, Diwali is not unique to India. Several countries in Asia like Nepal, Pakistan, Myanmar, Sri Lanka, Malaysia, Singapore and countries as far as Fiji and Trinidad & Tobago celebrate the festival of lights. But India is its birthplace. It started with King Rama returning home with his wife and brother after killing Ravana, the Asura King of Lanka.
Diwali celebrations in India
Diwali is the most important festival in the country. Most Indians plan their shopping, travel and major events around Diwali. Celebrations around it like Dhanteras and Bhaiya Dooj can last a whole week. But the main event usually goes on for two days – Choti Diwali and Badi Diwali.
On the eve of Diwali, Indians dress up in new traditional clothes. Everyone sits for a puja to pray for wealth, health and prosperity for their family. They then light up their house and neighbourhood with beautiful wax candles, oil lamps and fairy lights. Most people visit family and friends in the evening with sweets and gifts.
In the past few years, people used to light firecrackers as a mode of entertainment. But the trend is facing a decline on the account of increased air pollution just after the festival.
Where to celebrate Diwali in India?
While you can celebrate Diwali in any city in northern India, Diwali in Varanasi and Jaipur has gathered special attention. Recently people have started lighting up the ghats of Varanasi with candles and lamps even floating down the river. You can also sit and enjoy a firework show on the riverfront.
Ayodhya is the centre of history and the birthplace of Diwali. It has also started to celebrate the festival with exaggerated fervour. The local authorities along with people decorate the building and the ghats along the Saryu River. In coming years, you can expect the celebrations to increase with a lot of emphasis on boosting local tourism.
When is Diwali celebrated?
Diwali falls at the close of Autumn in late October till mid-November. The exact dates keep shifting every year so check the dates for the year online.

3. Dussehra in Mysore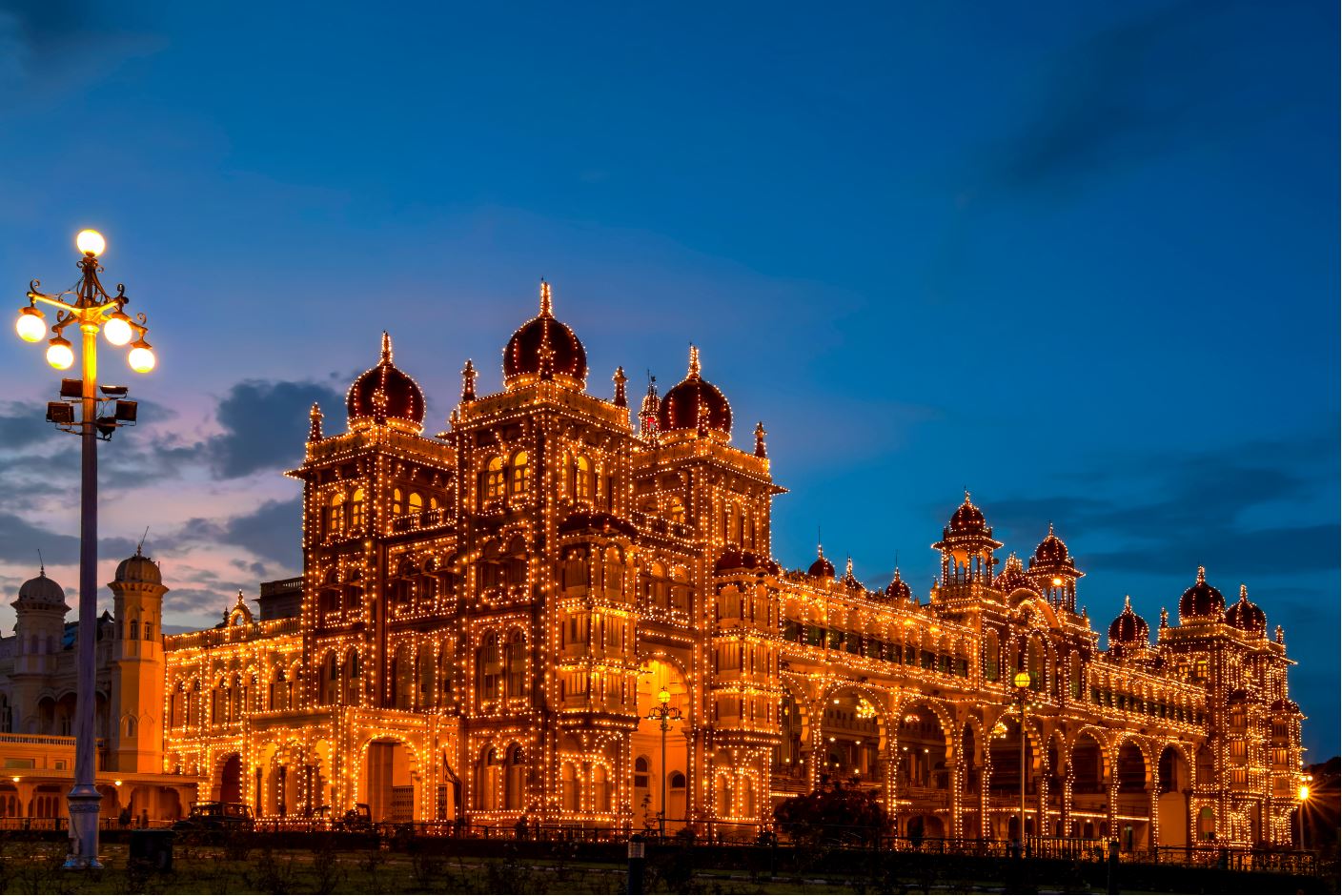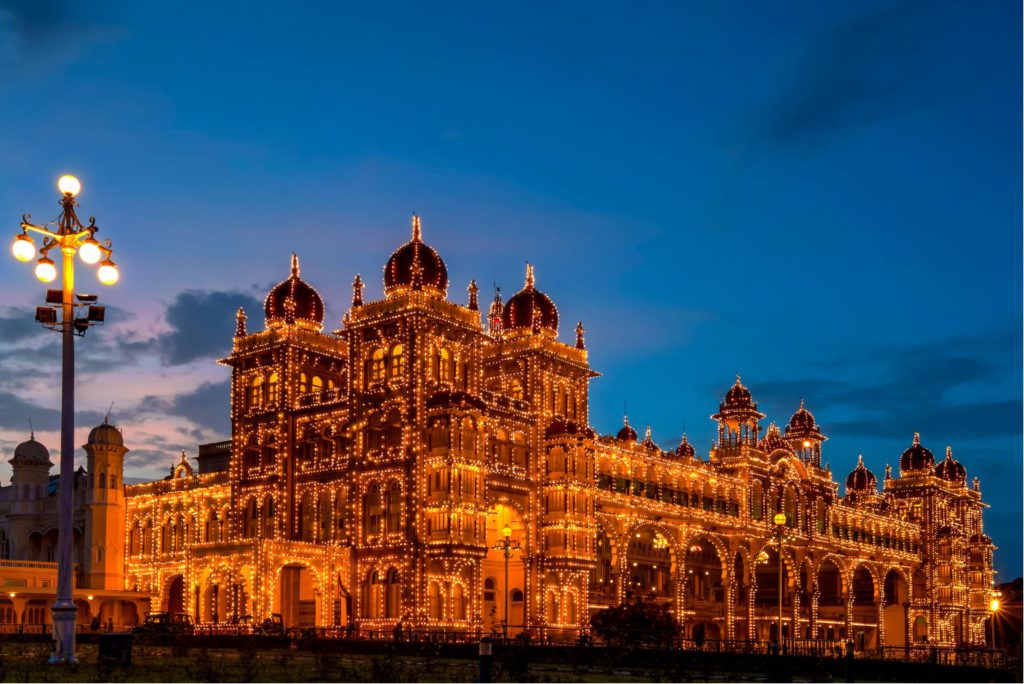 Dussehra is celebrated for its significance of the victory of good over evil. It was when King Rama killed the Asura king Ravana of Lanka. It was the end of his conquest to free Sita, his wife who Ravana abducted forcefully. Dusshera also marks the end of Navratri and Durga Puja, a nine-day period of celebration of dharma across the country.
Dussehra celebrations in India
Dussehra is celebrated all over the country in different ways. In northern India, you can find huge playgrounds and stadiums converted into carnival spots. People get together to see Ramaleela, the enactment of Ramayana by the local artists.
People fill these grounds every evening.  There are street food stalls, handicraft shops, a Ferris wheel, a swinging ship and a lot more. On Dussehra, Rama (from Ramaleela) release, a burning arrow on a large idol of Ravana filled with flammable stuffing. The Ravana catches fire and dharma prevails.
In south India, it is called Vijayadashami. People celebrate it by taking the idol of Goddess Chamundeshwari on the street. Loud music, lights and a colourful procession surround this journey. It also marks a time when people shut down their factories. People clean their tools, books or anything that has to do with their livelihood.
Similarly in east India, it is celebrated as Bijoy Dashami where it marks the end of Durga puja. People take the statue of Goddess Durga in a procession to submerge it in waters. It thus returns to the cosmos. If you are not used to Indian crowded space, accompany a local.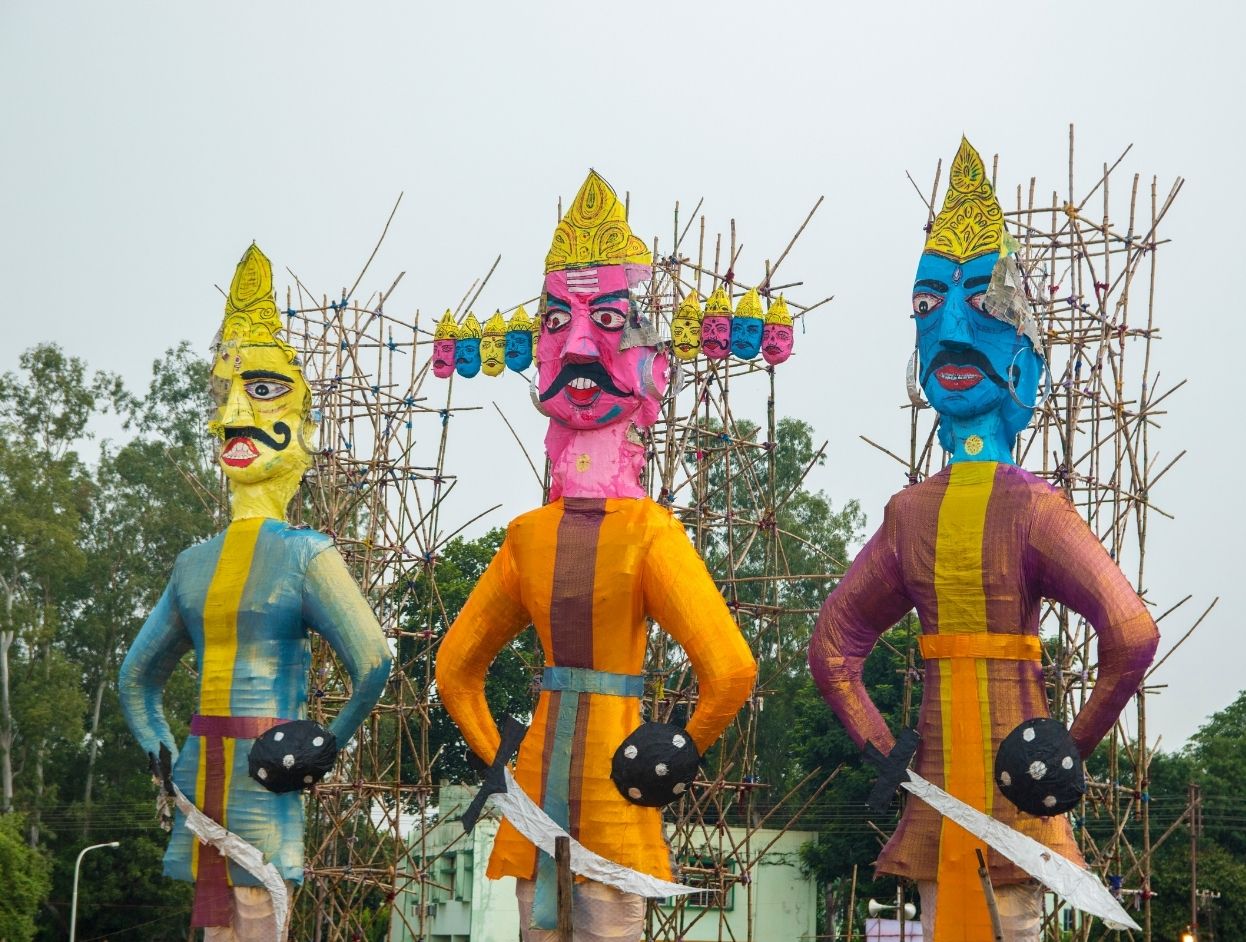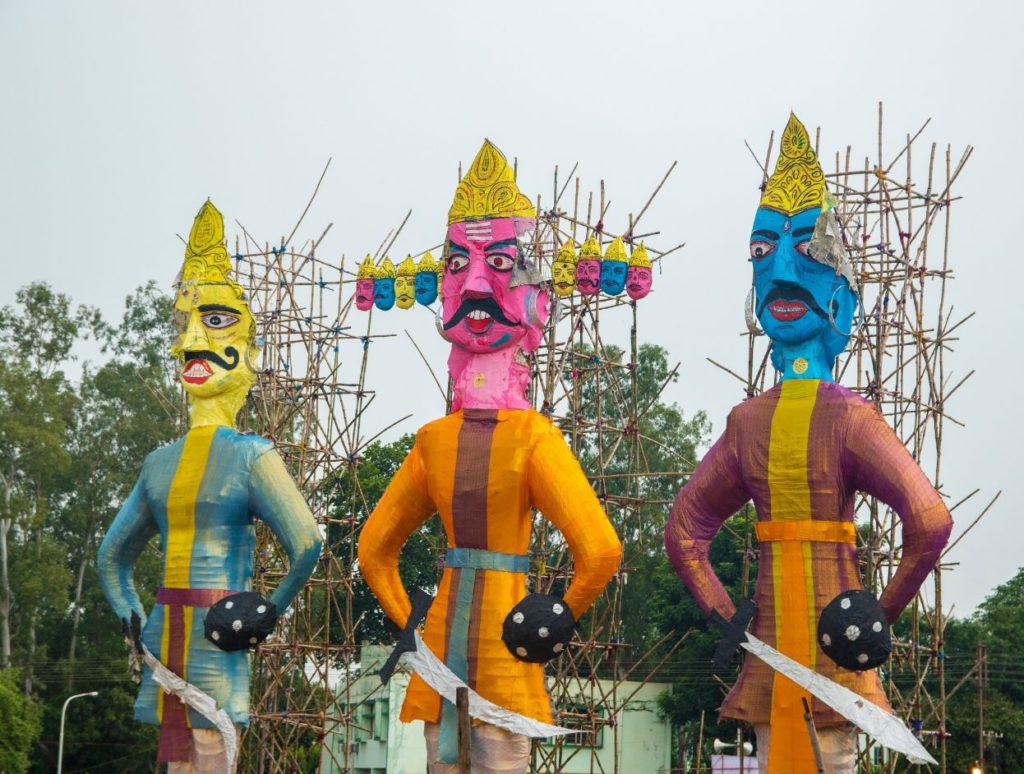 Where to celebrate Dussehra in India?
You can catch the festival in almost every town and city in the country. But you should head to Mysore, Kullu in Himachal Pradesh and Kolkata for the best processions.
Mysore Palace in Mysore is the centre of all the celebrations. The grandest palace in the country is decorated like a bride with thousands of fairy lights. The procession is insanely beautiful with gorgeous carts with flower garlands led by horses and elephants. You can take a day trip from Bangalore to Mysore for this. If you want to stay there, really pre-plan your trip since it can get very crowded.
When is Dussehra celebrated?
Dussehra is celebrated exactly 20 days before Diwali every year in Autumn. The dates keep changing but fall in the month of September or October. Check online for dates of the year.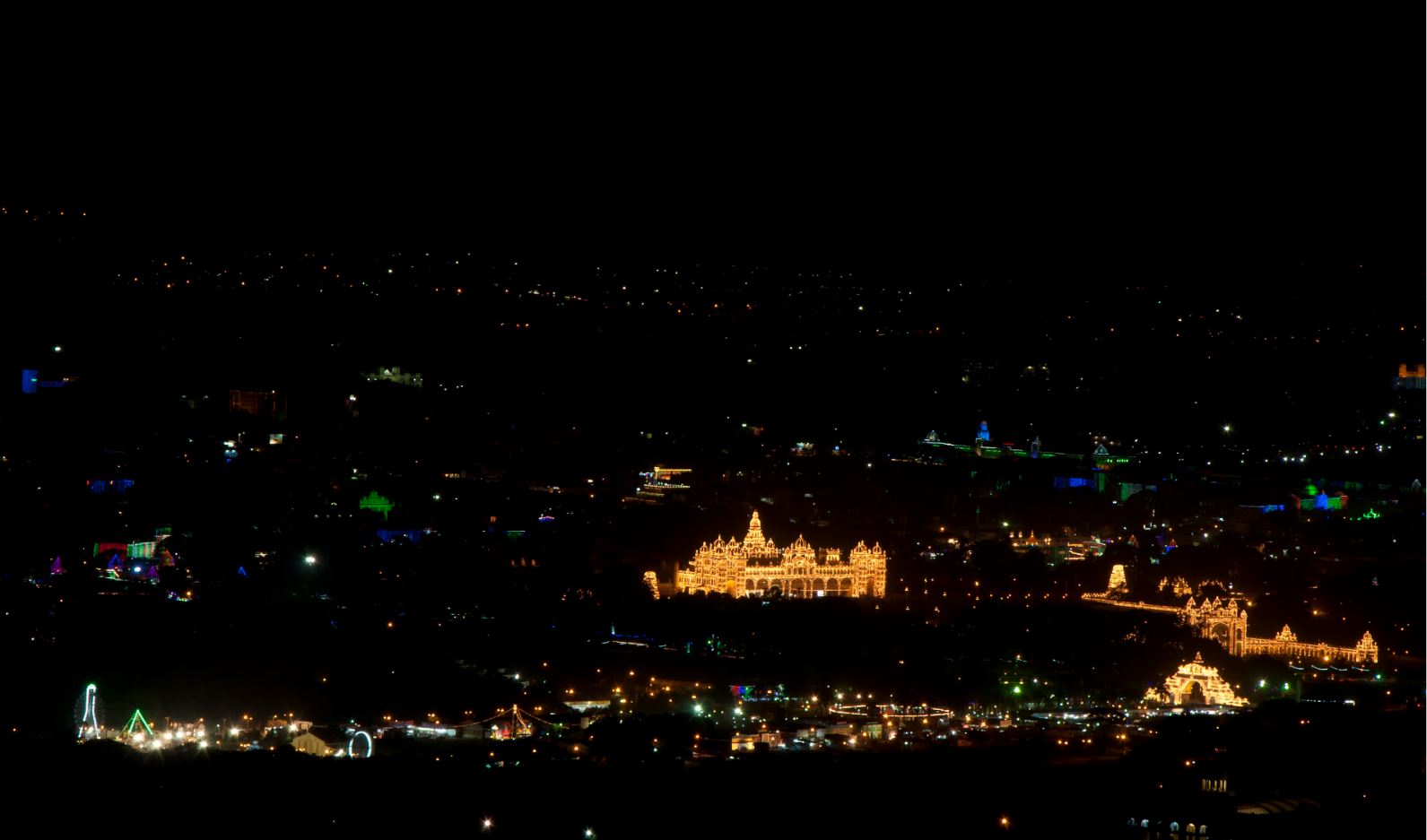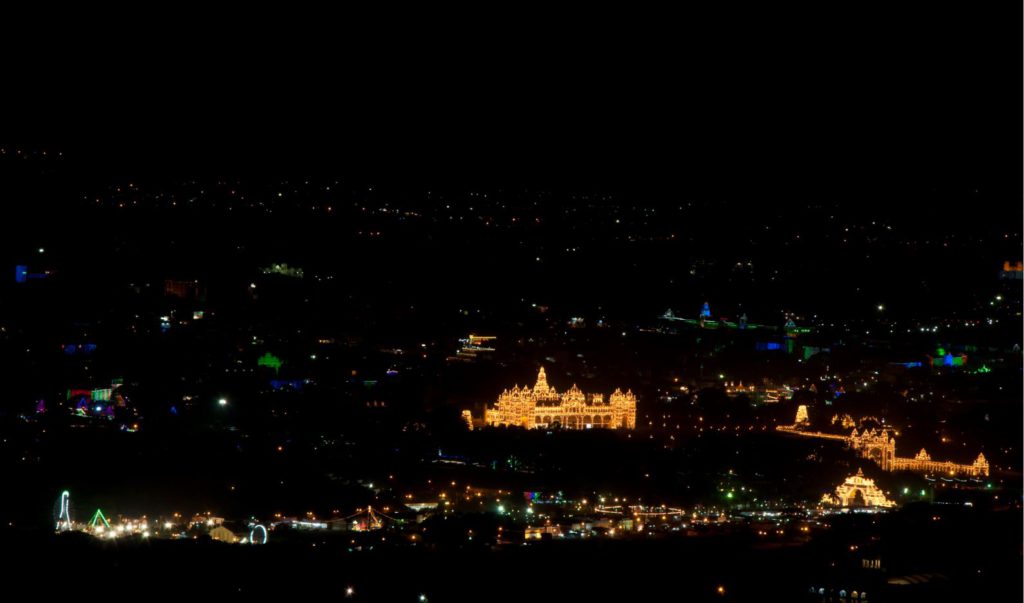 4. Navratri in Vadodara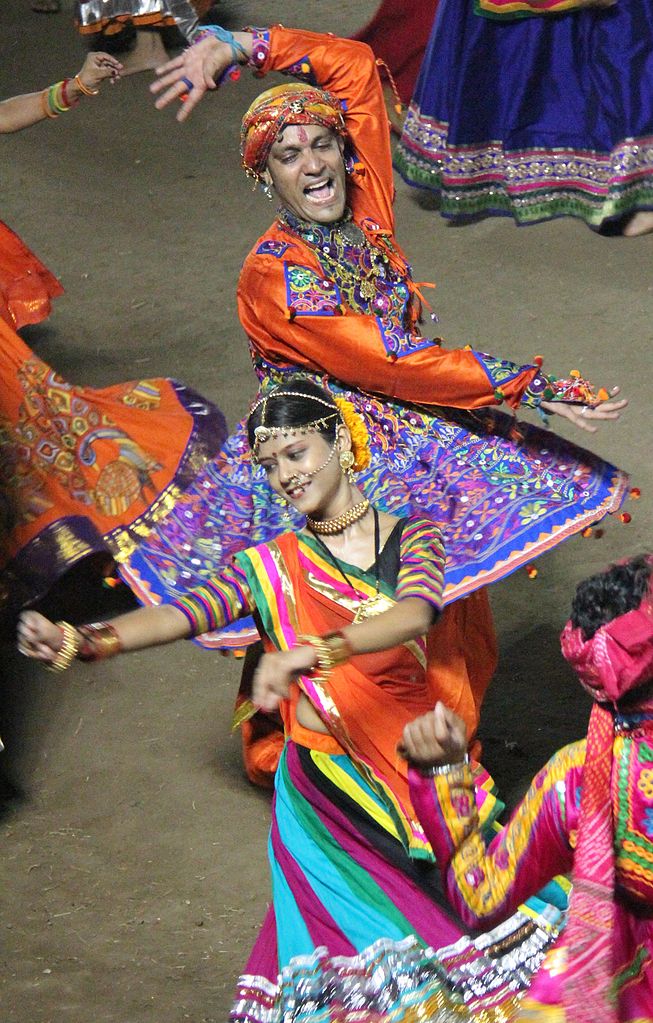 Navratri is a 9-day long duration that people across India celebrate in the honour of Goddess Durga, sometimes in different forms. The same is celebrated as Durga Puja in East India. Dussehra concludes the time of Navrathri. People in different areas celebrate the festival in different ways but there is a general air of excitement and anticipation. It also marks the starting of the festive time in India.
Navratri celebrations in India
In northern India, Navratri is celebrated as a build-up to Dusshera. Local authorities covert open spaces into carnival grounds. Local sellers, food stalls, fair games and handicraft areas pop up at several places in town. It is where locals head to in the evenings to enjoy the festivities.
In some cities, a series of events take place during this time. It ranges from dance performances, poetry recitals, craft displays, traditional design competitions and a lot more.
However, the best of Navratri takes place in the western part of India. All of the 9-day period is marked by daily celebrations in the form of Garba and Dandiya dance nights. As the event of the year, almost everyone eagerly waits for it. People dress in traditional dresses and plan the nights out with their friends, families and often with potential lovers.
An important part of Navratri is abstinence from meat. Most Hindu households follow a strict diet of vegetarianism avoiding food like meat, poultry, eggs and likewise. Some people fast only on fruits, nuts and milk for 9 days.
Where to celebrate Navratri in India?
The best cities to celebrate Navratri lies in Gujarat and a few in Maharashtra. You can find at least one celebration in almost every neighbourhood. But the cities of Vadodara, Ahmedabad, Gandhinagar and Surat hold the best events. Several locations in Mumbai and Pune are also great venues for this.
Navrathri is best celebrated with friends. So try and find some local friends in the area. Check out this article from Revvlog talking about the best places to celebrate Navratri.
When is Navratri celebrated?
Navratri starts just 9 days before the festival of Dussehra. This usually falls in the months of September or October and keeps shifting every year. Check the exact dates for the year online.
5. Durga Puja in Kolkata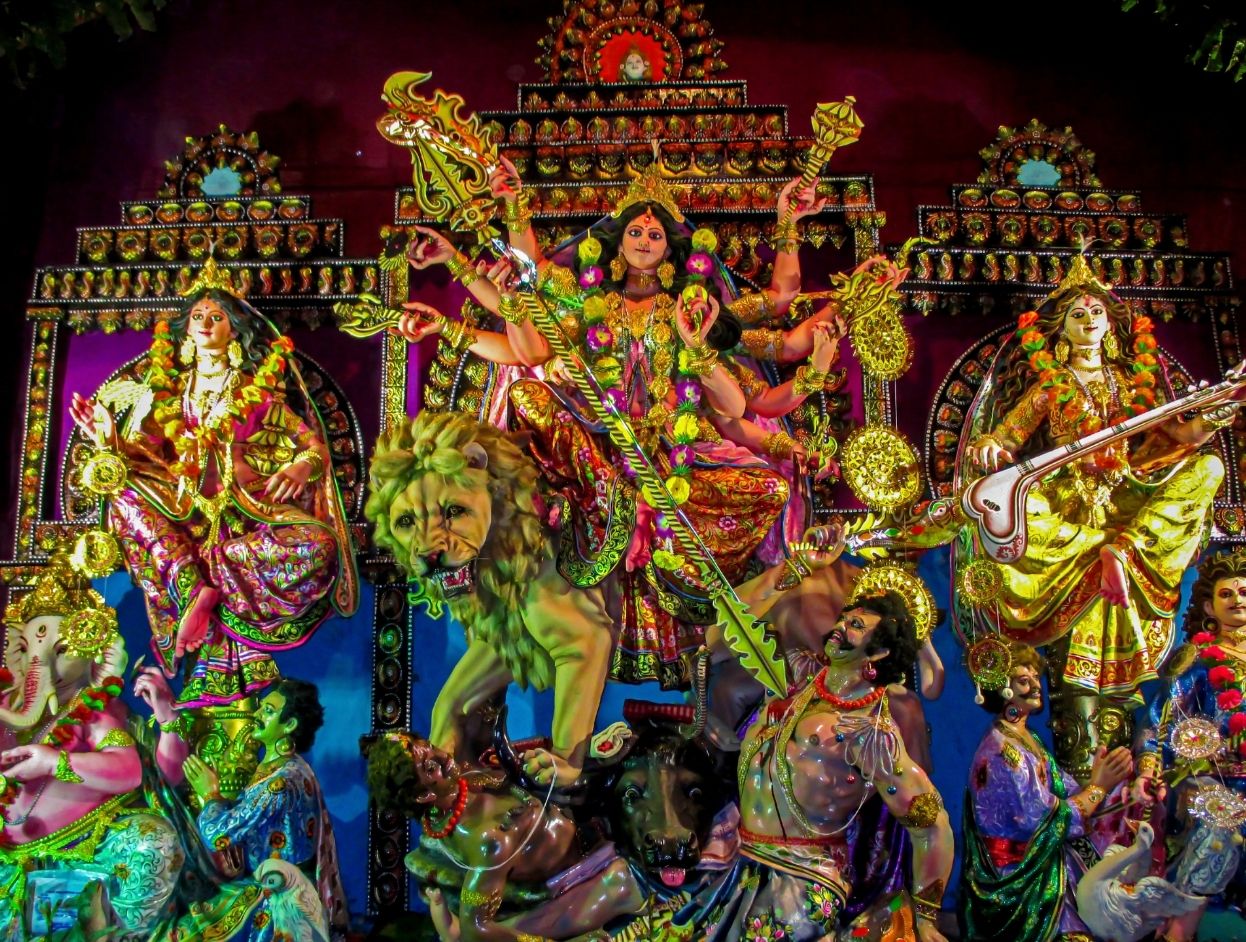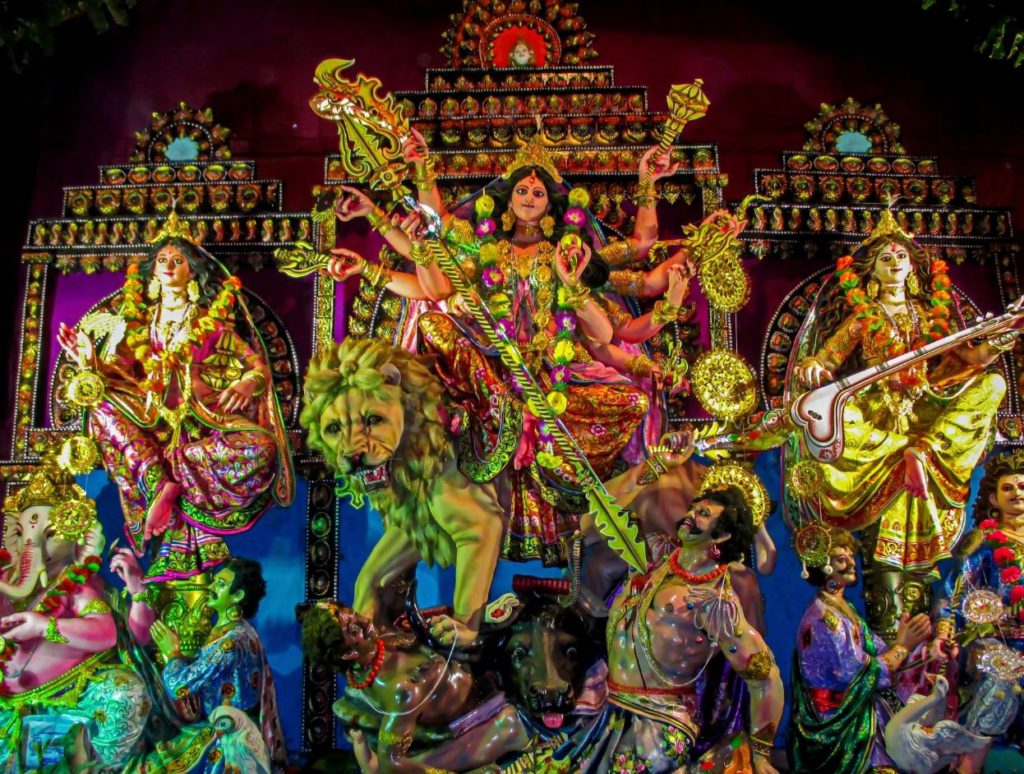 At the same time as Navratri, Durga Puja is celebrated with a lot of energy in east India. The celebrations take places mainly for 5 days in the states of West Bengal, Assam and Odisha.
Durga Puja celebrations in India
There is a lot of importance to the religious significance of the festival. But in the recent decade, the flair of Durga Puja comes from their artistic side. The city of Kolkata, for example, has dozens of Durga Puja Pandals.
These Pandals are temporary enclosures with the statue of the deity in the middle. Now each pandal has a theme that can be entirely unrelated to religion. There are themes or retro circus, a train station, a south-Indian temple or in recent time, the coronavirus. While pandals will leave your eyes popping with extreme glitz and glamour, others are totally unorthodox and even weird.
Some of the pandals can take up to 9 months for design and construction. And another 3 months to dismantle after the celebration. It is a full-time job. Other than that, whole cities are decorated. There are regular events and performances by locals whole day round.
Where to see Durga Puja in India?
You can probably find a Durga Puja pandal in every city in the country. They are put up and run by the local Bengali community. Head to Kolkata, Guwahati and other cities in West Bengal and Assam to find the most amazing celebrations.
When is Durga Puja celebrated?
Similar to Navratri, it starts around 9 days before the festival of Dussehra. This usually falls in the months of September or October and keeps shifting every year. Check the exact dates for the year online.
6. Janamashthami in Mathura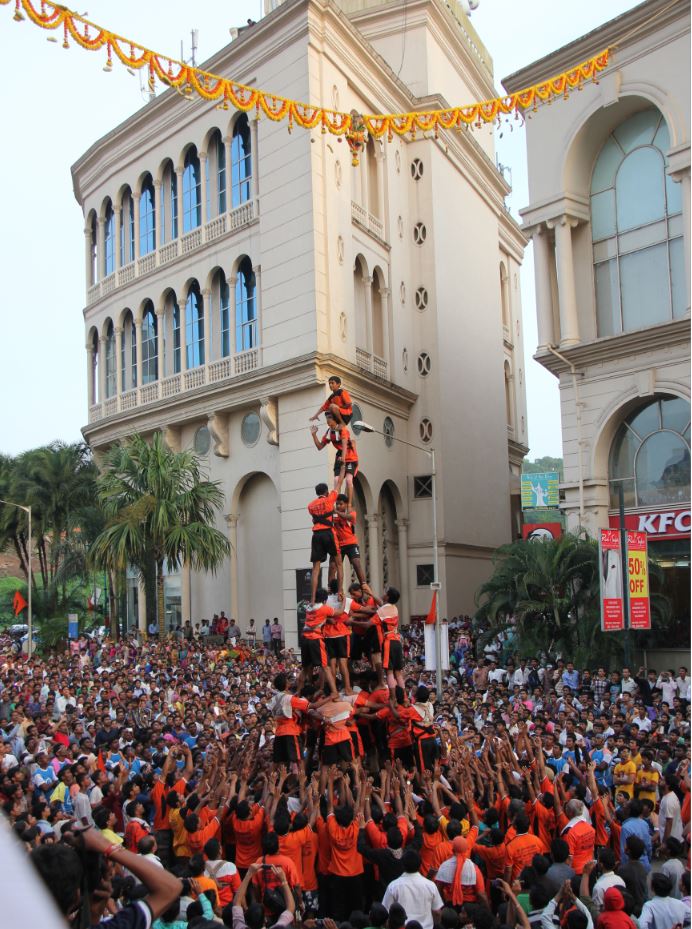 Janmashtami is the celebration of the birth of Lord Krishna amongst the Hindu community across the world.
Janmashtami celebrations in India
In most of North and West India Janamashthami is particularly popular for the event of 'Handi fod'. Local boys get together and make a pyramid climbing on top of one another. This is to break a clay pot hung on an admirable height. Sometimes girls throw water on them to slow down their perusal.
The tradition comes from the fact that Lord Krishna did the same with his friends. He would conspire similarly to get to the clay pot that contained curd (he loved curd). Parents dress up their young children, especially boys as Lord Krishna. Some localities even have fancy dress competition over it.
By evening people visit the closest Krishna temple that is decorated with lights and flowers. Sometimes people organize events around it and people break their fast (a common ritual) with customary food of the event.
Where to celebrate Janmashthami in India?
The braj area of Mathura and Vrindavan, the birthplace of Lord Krishna is the best place to celebrate Janmashthami. All towns in Uttar Pradesh see some level of celebration. Some towns in Maharashtra like Mumbai also celebrate Janmashthami on a great scale.
When is Janmashthami celebrated?
The dates keep shifting for Janamashthami but it usually falls in the month of August or September.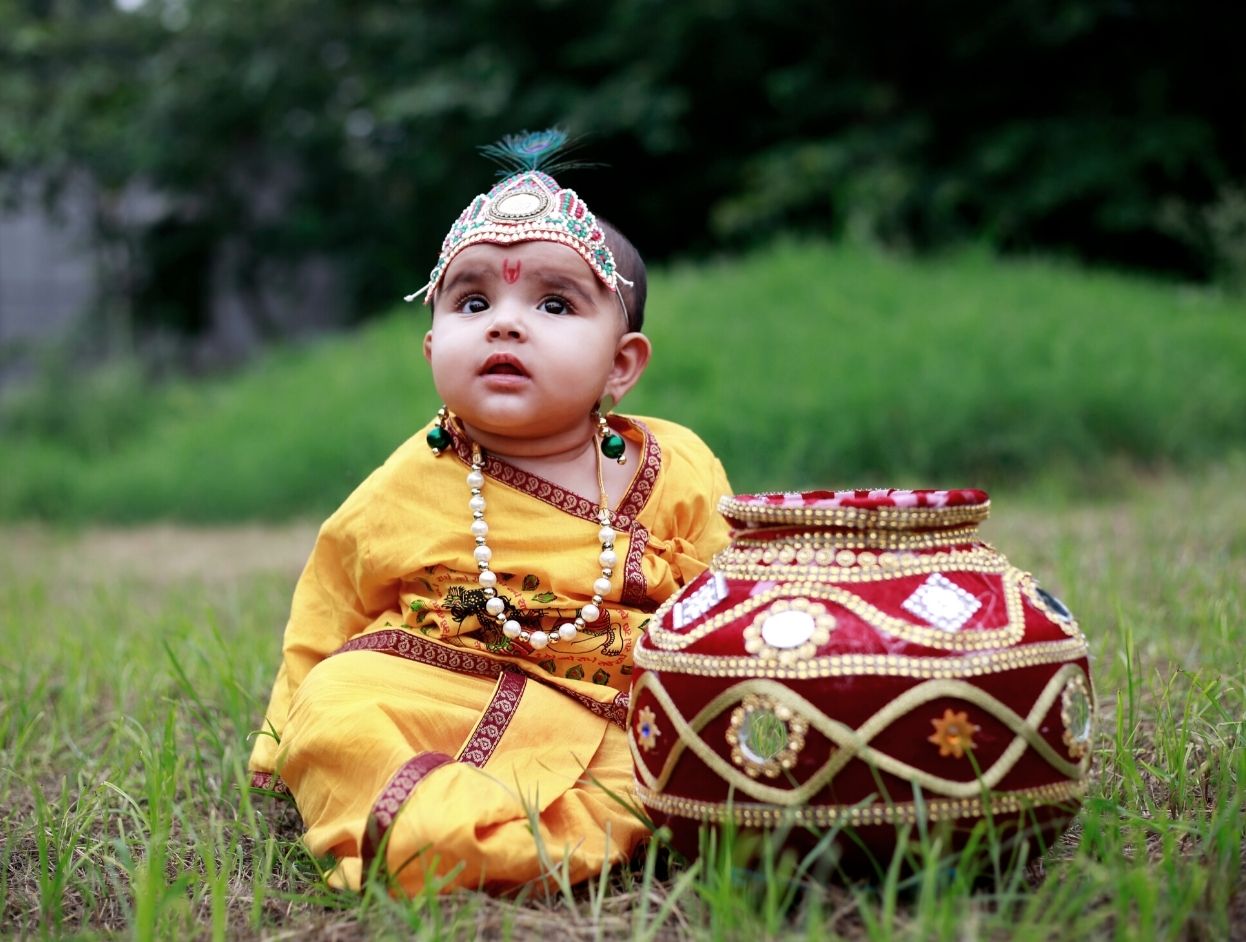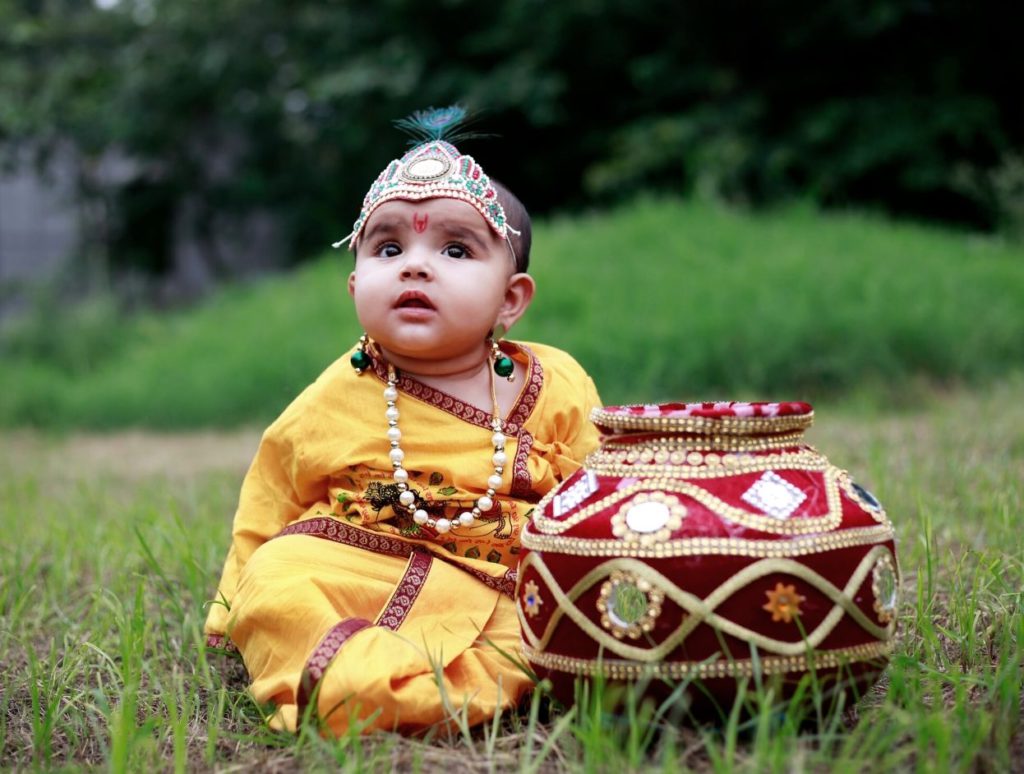 7. Ganesha Chaturthi in Mumbai
Ganesh Chaturthi is the festival to celebrate the birth of the beloved Hindu god, Lord Ganesh. Anyone could recognise him in almost all of Asia with a human body and the head of an elephant.
The recognition of Ganesh Chaturthi has always been. But Shivaji of the Maratha kingdom fuelled the festival to raise a nationalist movement. You can still feel the energy and a hypnotic zeal in the celebrations in Maharashtra.
Ganesha Chaturthi celebrations in India
At the start of the 10-day festival, people gather together in every neighbourhood. They place an idol of Ganesha on a pedestal and pray to it for every day of the festival. Most households also place one in their homes in the hope for prosperity and wisdom.
Similar to the Kolkata, there are several pandals in the cities across Maharashtra. They may even compete against one another for the result of people's best creative juices. There are celebrations for all 10 days across the city.
On the last day, people take the idols to the seashores. This is done in a loud procession with dance, music and drumbeats. Ganesha submerges in the water towards his journey back to Mount Kailash, the abode of his parents Shiva and Parvati.
Where to celebrate Ganesh Chaturthi in India?
The best place to celebrate Ganesh Chaturthi is undeniably Mumbai and Pune. However, most cities in Maharashtra celebrate it at their best. Even most of Karnataka takes part in the festivities and you can find a small pandal in every neighbourhood.
But you will always find some form of celebration in all Ganesh temple inside the country. Everyone is welcome to take part in the aarti and the rituals.
When is Ganesh Chaturthi celebrated?
Ganesh Chaturthi starts on the fourth day of the month of Bhadrapada (6th month in the Hindu calendar). It falls somewhere in August or September and goes on for 10 days.
8. Eid-Ul-Fitr in Hyderabad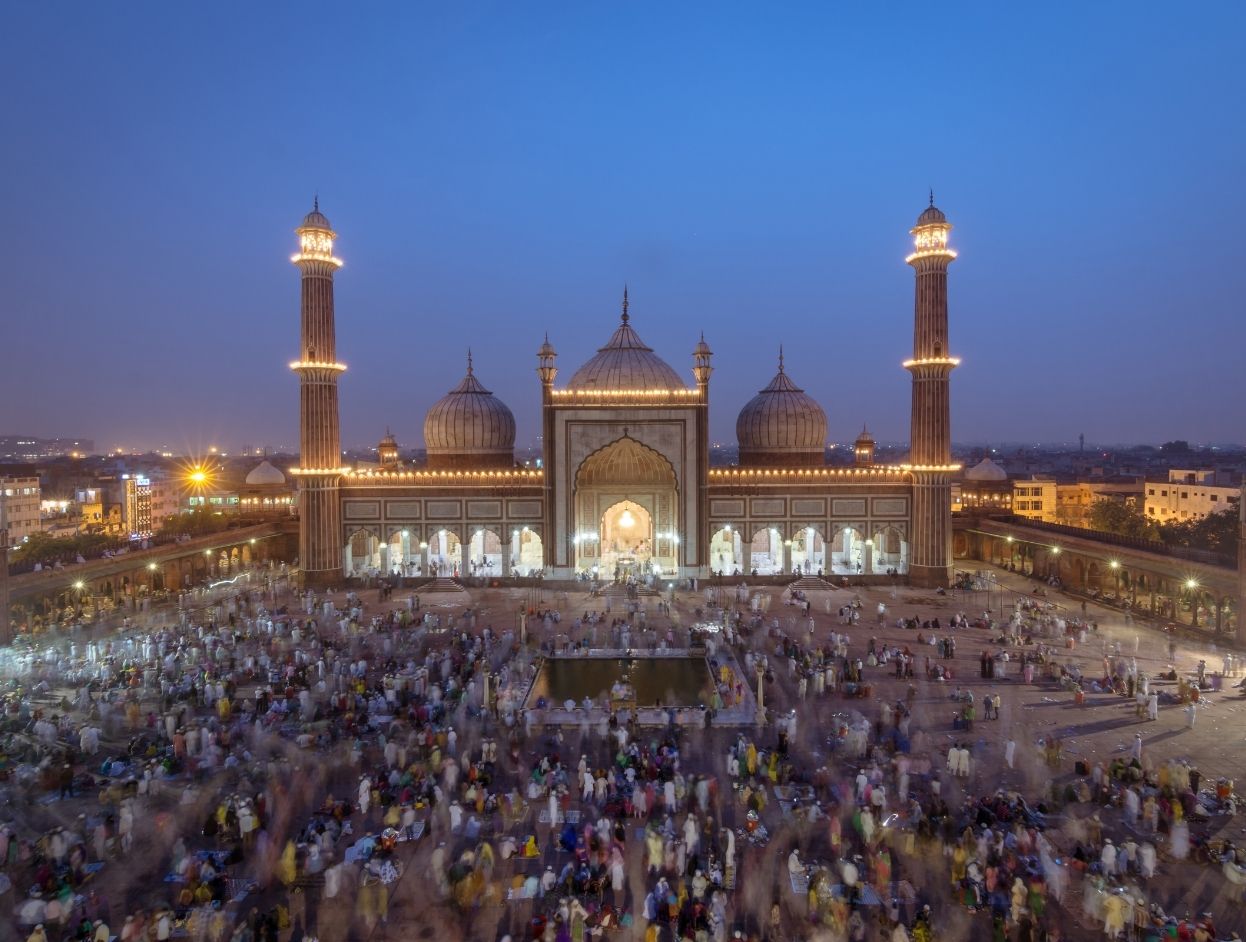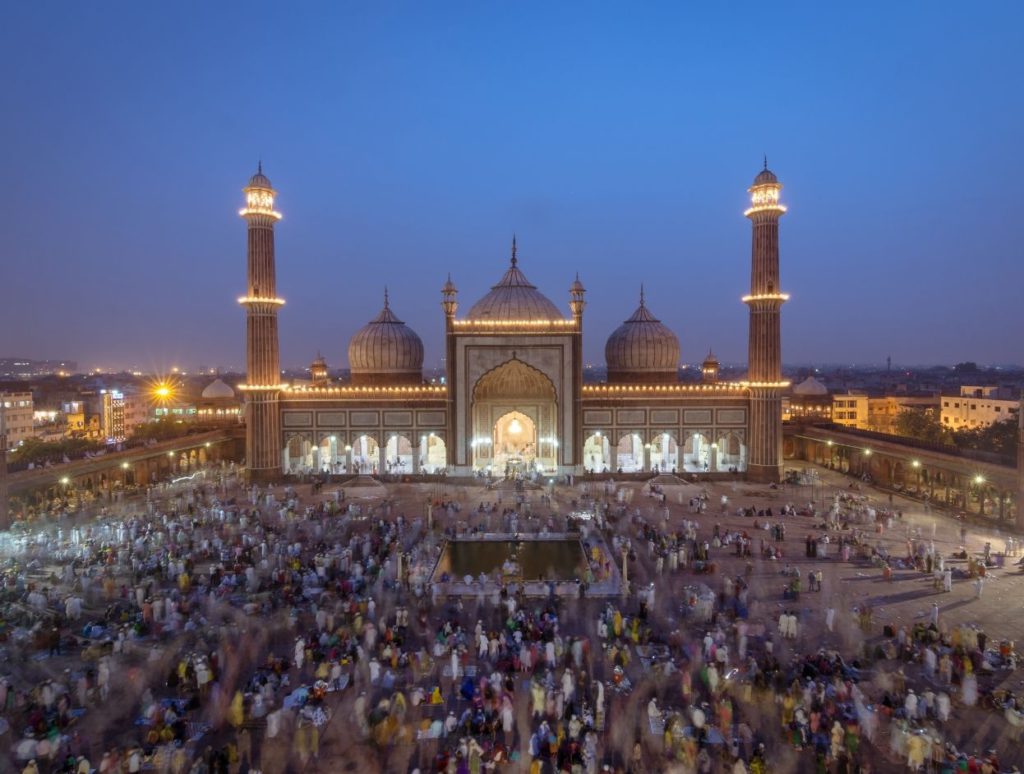 Eid-Ul-Fitr is the 'festival of breaking fast' that marks the end of the month of the holy month of Ramazan. a large diaspora of the Muslim community celebrates this important festival in India.
Eid-ul-Fitr celebrations in India
It is not just the Eid, but the full month of Ramadan that sees great excitement and great food. After a full day of fasting people usually break their fast called iftar in the evening. Most families do it at home. But many choose to go out and eat at restaurants that serve special delicious meals for the occasion.
On the day of Eid people meet with their family and friends. They wish them 'Eid Mubarak' by gently hugging each other. Prayers at the local mosque mark the morning. The day is filled with delicious meals and sharing of gifts. Biryani and Sewai are two delicacies that one just cannot miss on this day.
Where to celebrate Eid-Ul-Fitr in India?
Eid-Ul-Fitr is celebrated all over India amongst the Muslim community. However, you may not find it evidently unless you know someone personally. The cities of Lucknow, Hyderabad, Srinagar and Old Delhi are especially popular for the celebration.
When is Eid-Ul-Fitr celebrated?
The dates of Ramadan and consequently Eid keeps shifting. It is confirmed only by crescent moon sighting of that year. Check the dates online. The dates of Eid can also differ by country.
9. Maha Shivratri in Varanasi
The festival of Maha Shivratri celebrates the marriage of Lord Shiva, the lord of destruction, power and passion to Goddess Parvati, a symbol of fertility, strength and love. Their marriage is considered as the epitome of love and a cosmic union. It signifies man and a wife half a part of the self.
Mahashivratri celebrations in India
According to the mythology, Shiva had a large gathering of Hindu gods and animals for his procession and wedding ceremony. Unlike most other festivals, people usually come together for a 'jagaran'. It goes on for the whole night filled with religious songs, hymns and of course, dance.
Most women fast during the day. For unmarried girls, it is a way to wish for a suitable match in future. People visit their nearest shiva temple and offer milk and fruits to make merit. You can hear the chanting of 'Har Har Mahadev' or 'Om Namah Sivaya' even from a distance.
Where to celebrate Mahashivaratri in India?
While most of India celebrates Mahashivratri, if you want an unforgettable experience, you should head to Varanasi. People fill the ghats of Varanasi on the occasion. The town is decorated and a special aarti takes place. Although the crowd could be unnerving if you aren't used to it.
Other great places to see the event is Mandi town in Himachal radish with a 7-day fair, Mahabaleshwar temple in Gokarna, Mahakaleshwar temple in Ujjain, Mallayya gutta near Kambhalapalle in Andhra Pradesh, Junagarh in Gujarat and all across Kashmir. You can also catch some unique celebrations at Tilwara ghat at Jabalpur and Math Temple in Jeonara.
When in Mahashivaratri celebrated?
Mahashivratri is on the 13th night and 14th day in the Hindu month of Phalguna. It usually falls sometime in February or March.
10. Christmas in Shillong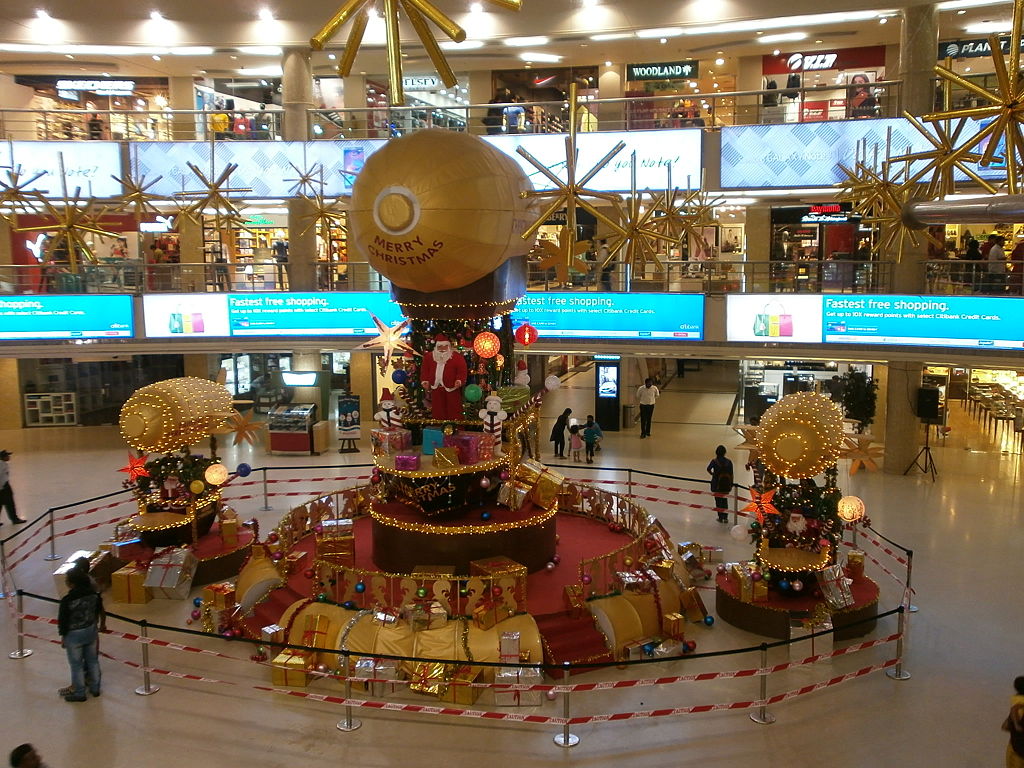 Now Christmas isn't that big of an affair in India. In most parts of the country, you will find decorations (mostly at retail stores and malls) and sometimes small celebrations at work and school. The festivities are usually a prequel to the New Year Eve's excitement. However, most people usually take part in the fun but with a fairly small Christian community, most of the traditions remain hidden.
Christmas celebrations in India
Christmas has seen an increasing interest in recent years in India mostly due to western media. For most country, the festivities start by mid-December. Almost all retail outlets, malls and restaurants have Christmas decorations.
Christmas is also a national holiday. So people give away presents and sweets the day before at schools and at work. 'Secret Santa' has caught fire at workplaces. Most places run a discount or sale during this time for Christmas shopping. Restaurants also have special menus for people since a large number of people choose to eat out with friends and family.
All churches in the respective towns hold a Christmas mass full of the local Christian population. Everyone is welcome to take part in the festivities.
Where to celebrate Christmas in India?
If you want something more authentic with traditions you can head to places with the more concentrated Christian population. Shillong, Goa, parts of Kerela and almost all of North-east India (Arunachal Pradesh, Manipur, Meghalaya and Mizoram) have even better celebrations. In fact, if you want to catch a snowfall on Christmas, Arunachal may give you one.
When is Christmas celebrated?
Like all across the world, Christmas is on the 25th of December with Christmas eve on the night of the 24th of December.
Save On Pinterest


Related Articles