Best neighborhoods to stay in Bangkok for Indian tourists

Where should Indian tourists stay in Bangkok? If you are an Indian and you are travelling to Bangkok, for business or for leisure, this is an important question. If you are a vegetarian then you simply cannot ignore its importance. I have had friends who went half-hungry during their time in Bangkok because they couldn't find a decent meal.

It is not that Thai food or the areas aren't great, but it needs a bit of time to understand the culture and the area. If you are with family, this is of prime importance.

I have been living in Bangkok for 2 years and I think a good place can make all the difference in the city. In my opinion, here are the best places for Indian tourists to stay in Bangkok.

Also, if you are in Bangkok, check out our guide on the top tourist attractions in Bangkok for first-time tourists.
1. Sukhumvit
If you have already spoken to your friends or acquaintances who have been to Bangkok, chances are they have stayed in Sukhumvit. It is the tourist centre of the city with restaurants, bars, night clubs and the notorious nana plaza & soi cowboy (for the company of lovely Thai ladies).
Now all Bangkok is divided into 'soi' that means a small alley that branch from the main road. Therefore Sukhumvit soi 12, Sukhumvit soi 13 are alleys right next to each other perpendicular to the Sukhumvit main road. You will need this information to find your way around.
The area between Sukhumvit MRT Station and Nana BTS Station is great for nightlife. The area between Sukhumvit MRT Station and Phrom Phong has a wide variety of international restaurants.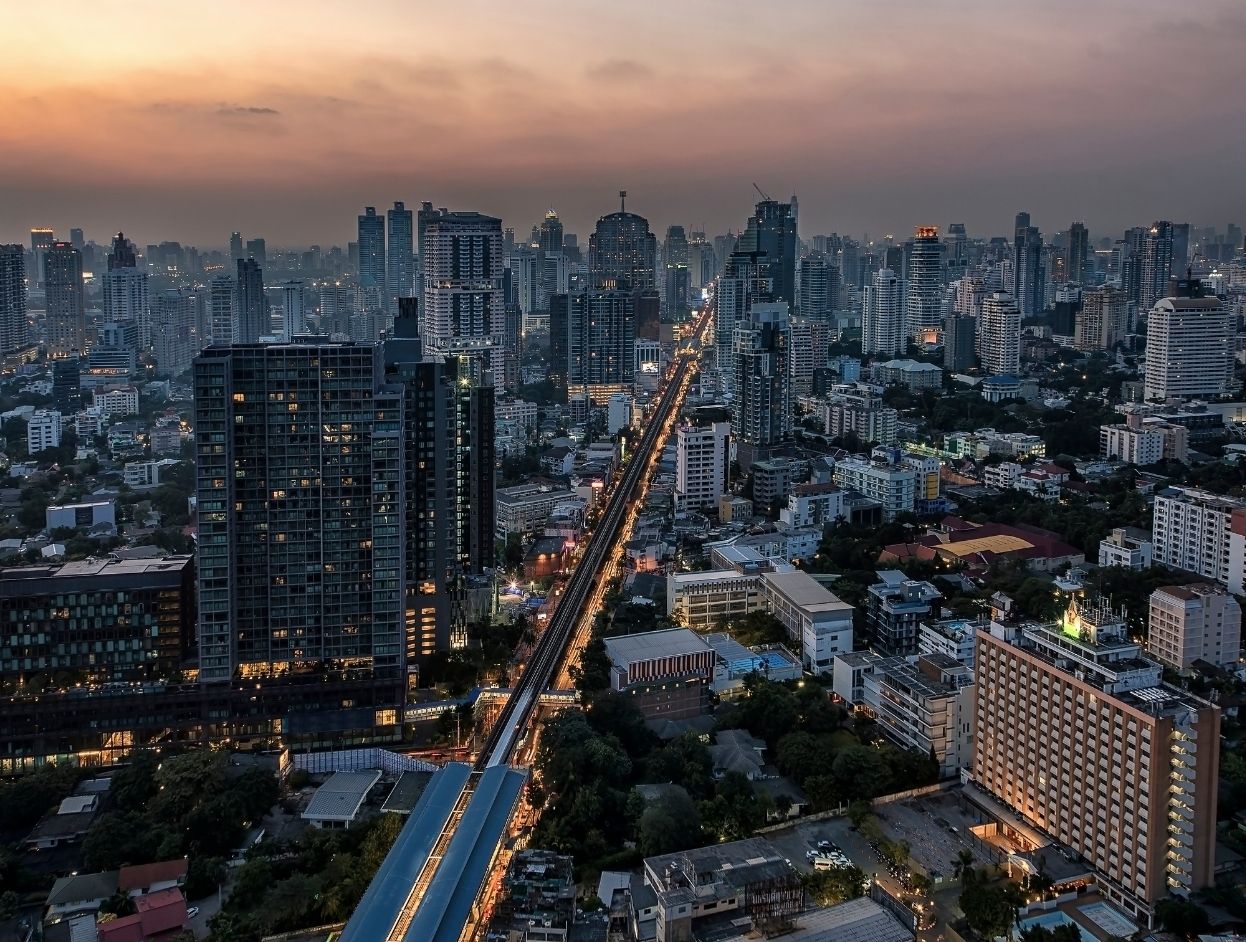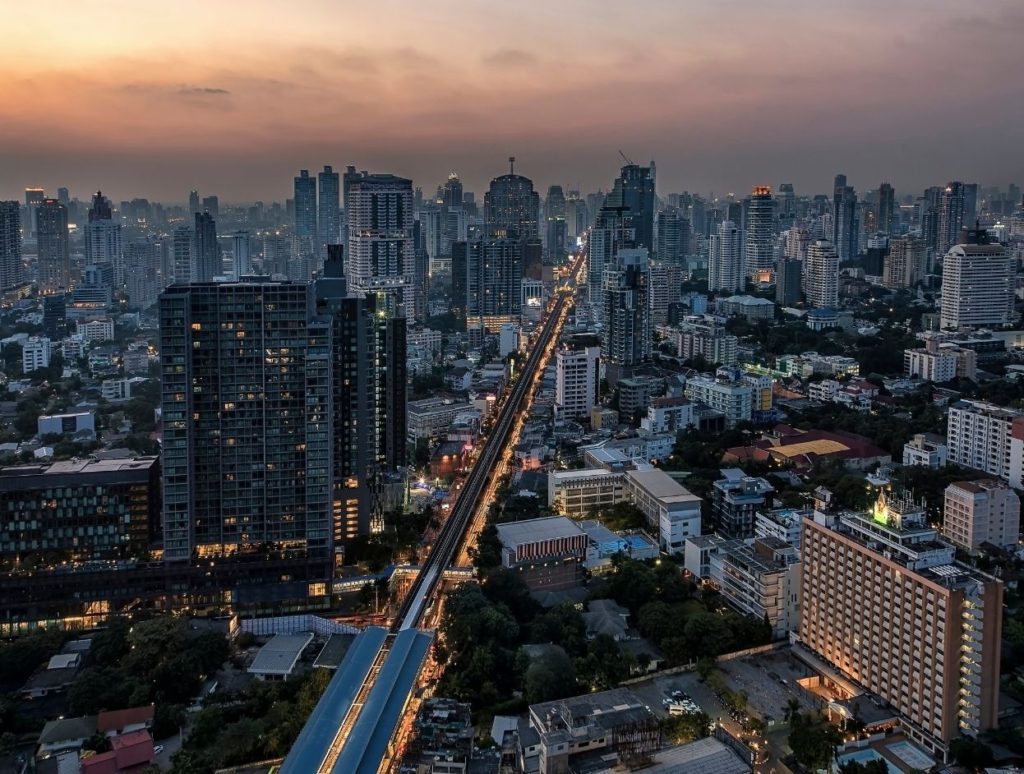 Indian restaurants in Sukhumvit
Pure Veg: Dosa King, Khana Khazana, Saras Veg Food
Daily Eats: Indian Tadka, Tandoor, Chowpati Indian Street Food
Fine Dining: BENARES, Punjab Grill, Rang Mahal, Maya
Note that Indian food in Sukhumvit area is pricier. Cost for two including a shared curry and nans will cost a minimum of THB 600 and THB 1,000 with drinks, dessert or a starter. Taxes are usually included.
Nightclubs and bars in Sukhumvit
Nana Plaza: Nana Plaza is well, a plaza with rows of shops, restaurants and bars. While it is particularly popular to meet and pick up local women, it is still a fun place to go. The whole place is lit in sinister neon red and pink colours and on a busy day you will find live music and maybe some weird show. Oh, and there are a few agogo bars too (Check out our article on Pattaya to know more about agogo bars).
Soi Cowboy: Similar to Nana Plaza with pretty much the same stuff, Soi cowboy is a lane instead of a plaza. You will also find some shady nightclubs at the end of the lane. Drinks are cheap, but the food isn't that great. It is worth a visit even if you don't plan to indulge yourself.
Insanity Nightclub: A popular nightclub to drink and dance with occasional performances. The entrance fee is THB 300 with a free drink. Entrance is free if you plan to buy a bottle of hard alcohol and you need to place the order while entering.
Sing Sing Theatre: Popular nightclub with Chinese-themed interiors. Have frequent themed parties, performance especially on Halloween. It can be booked for private events like birthdays too. No entrance fee except during international DJ performances.
Pegasus: Opulent and extravagant, the place especially caters mostly to Thai, Japanese and Korean men with a LOT of cash to spend (as sexist as it may sound, it's true). Entry fee is THB 1,800 with 2 free drinks.
Transportation from Sukhumvit
How to reach Sukhumvit from the airport: From Suvarnabhumi Airport, you can take the Airport line to Makkasan station (THB 40). From there you can switch to the MRT blue at the connecting Petchaburi station, reach Sukhumvit Station (around THB 20) and walk from there. Or you can take a cab for THB 50-100 from Makkasan station.
A cab from Suvarnabhumi airport will cost between THB 480-600 and around THB 440-550 from Don Muang Airport. There is no metro line from Don Muang station.
Subway connectivity to the city from Sukhumvit: The BTS Skytrain light green line travels parallel to the Sukhumvit Main road. The BTS Skytrain system at Asok station meets the MRT system at Sukhumvit Station. MRT Blue line connects most of the historical parts of the town.
Read more about Bangkok's subway system and transportation option in Bangkok here.

2. Siam
Siam is the more upscale part of the town with parks, malls, a few modern tourist attractions and great international restaurants. Several offices are also located in the area, making it a nice place to say for business travellers. It is also the home to Bangkok's and Thailand's wealthiest.
The downside is that the hotels tend to pricier and there is no direct subway line connecting to the city centre or old town with all tourist attraction. Although you can still use connecting lines, buses and taxis to reach.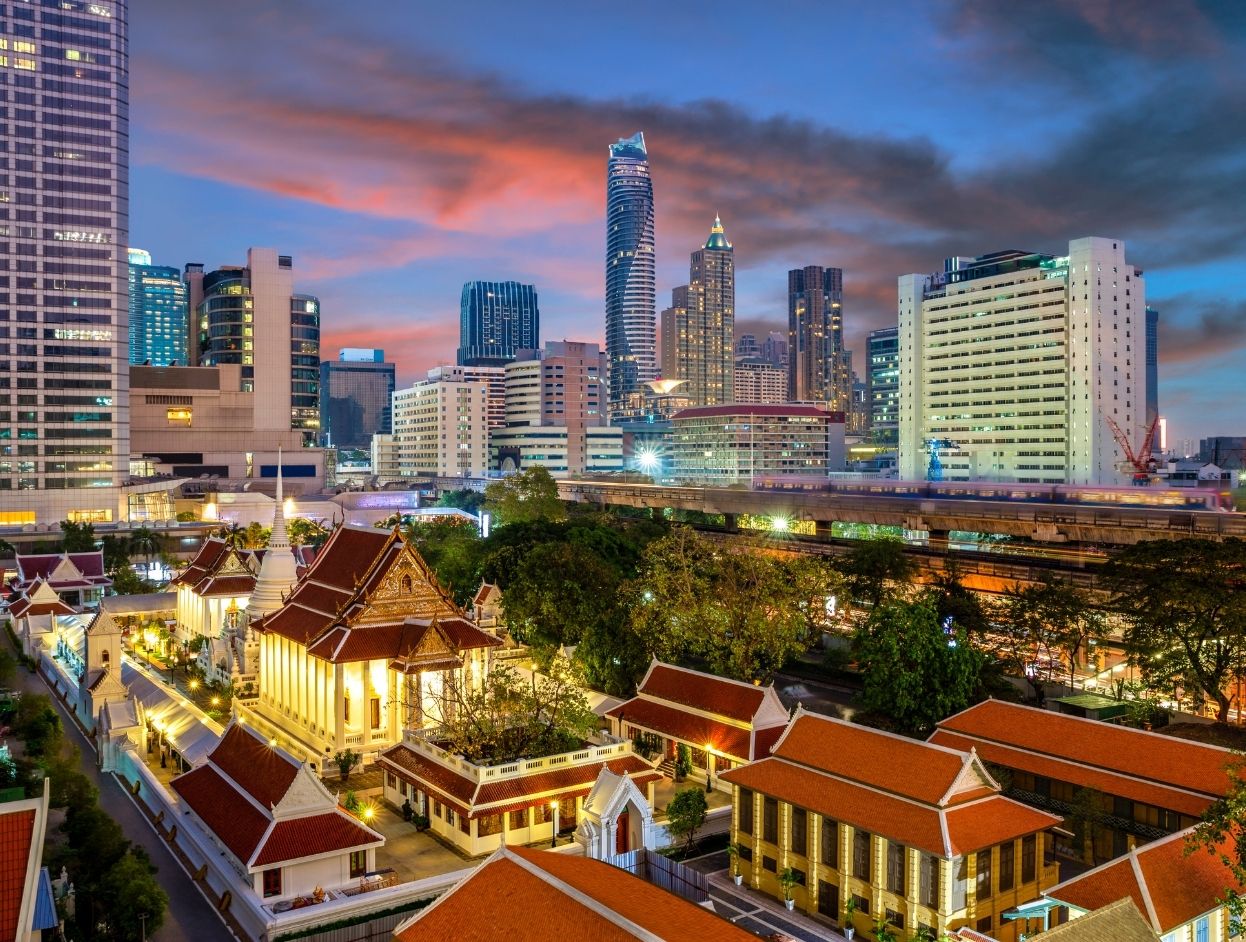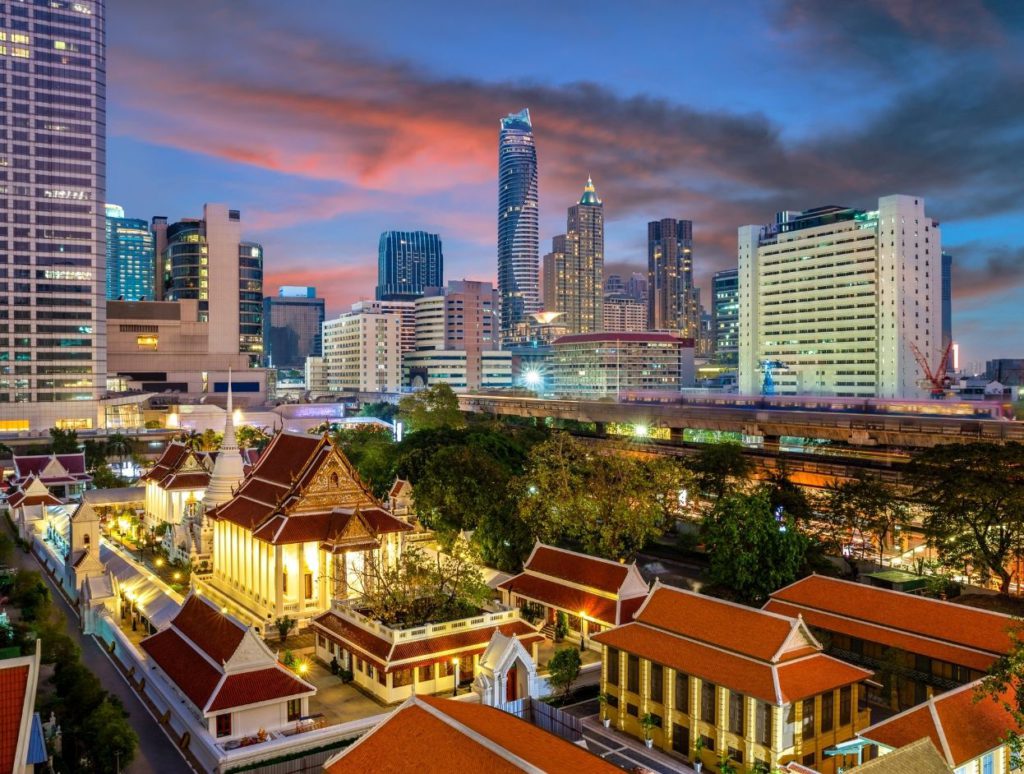 Indian restaurants in Siam
Pure Veg: Anmol, Saras Veg Food, Chotivala 100% Pure Vegetarian
Daily Eats: Madras Darbar, Sanjha Chulha 1, Guptaji Ki Kitchen
Fine Dine: India Gate, Patiaala House, Bawarchi
Popular tourist spots near Siam
Siam Paragon and Central World: Both these malls are located right next to each other and one of the upscale malls in Bangkok (and Thailand). The malls have all international brands present in Thailand and host regular events with jaw-dropping gorgeous decorations for local festivals.
Sealife and Madame Tussauds: Sealife is an indoor aquarium with a glass tunnel with sharks, mantas, seahorses and even penguins. It is a must-visit, especially for kids. Madame Tussauds is a world popular museum of wax statues of famous celebrities from all around the world. You can buy a combined ticket for both.
Jim Thompson House Museum: This is the house of a famous businessman and architect Jim Thompson. He started a company for manufacturing and trading of Thai silk. The brand is still present and has gone global. His home was converted into a museum with precious artefacts after his disappearance.
Talad Neon Market: A vibrant night market to explore local food, shopping, pubs and handicrafts.
Transportation from Siam
How to reach Siam from Airport: From Suvarnabhumi Airport you can take the airport line to Ratchaprarop (THB 40) or Phaya Thai (THB 45) station depending upon which is closer. From there you can also take a cab to your hotel that would cost between THB 50-100 depending upon the location.
A taxi from Suvarnabhumi to Siam will cost between THB 400 – 600. The same from Don Muang Airport will cost between THB 320 – 500. You can also take a taxi from Don Muang Airport to Wat Phra Sri Mahathat BTS Station (around THB 40) and take the subway directly to Siam Station (THB 45).
Transportation from Siam: Both light green and dark green BTS lines run from the Siam area. To connect to Blue MRT line you can take the light green line to Asok or dark green line to Sala Daeng. A boat taxi also runs in the area connecting to the Sukhumvit area.
If you are a family, you can also take a cab to the old town area which will cost you pretty much the same anyway. Read our article on how to go around inside Bangkok.
3. Silom
Similar to Siam, Silom is also a chic part of the town with several offices, luxury hotels and restaurants. Silom has a small community of Indians from South India especially Tamils. Therefore, you can find some great south Indian restaurants, the famous Shri Maha Mariyamman Temple.
Apart from Indian, you can also find some pretty nice Middle Eastern (Persian, Turkish and Arabic) restaurants. It is also slightly better connected with Blue Line that runs on one side and the Chao Phraya river system on the other side.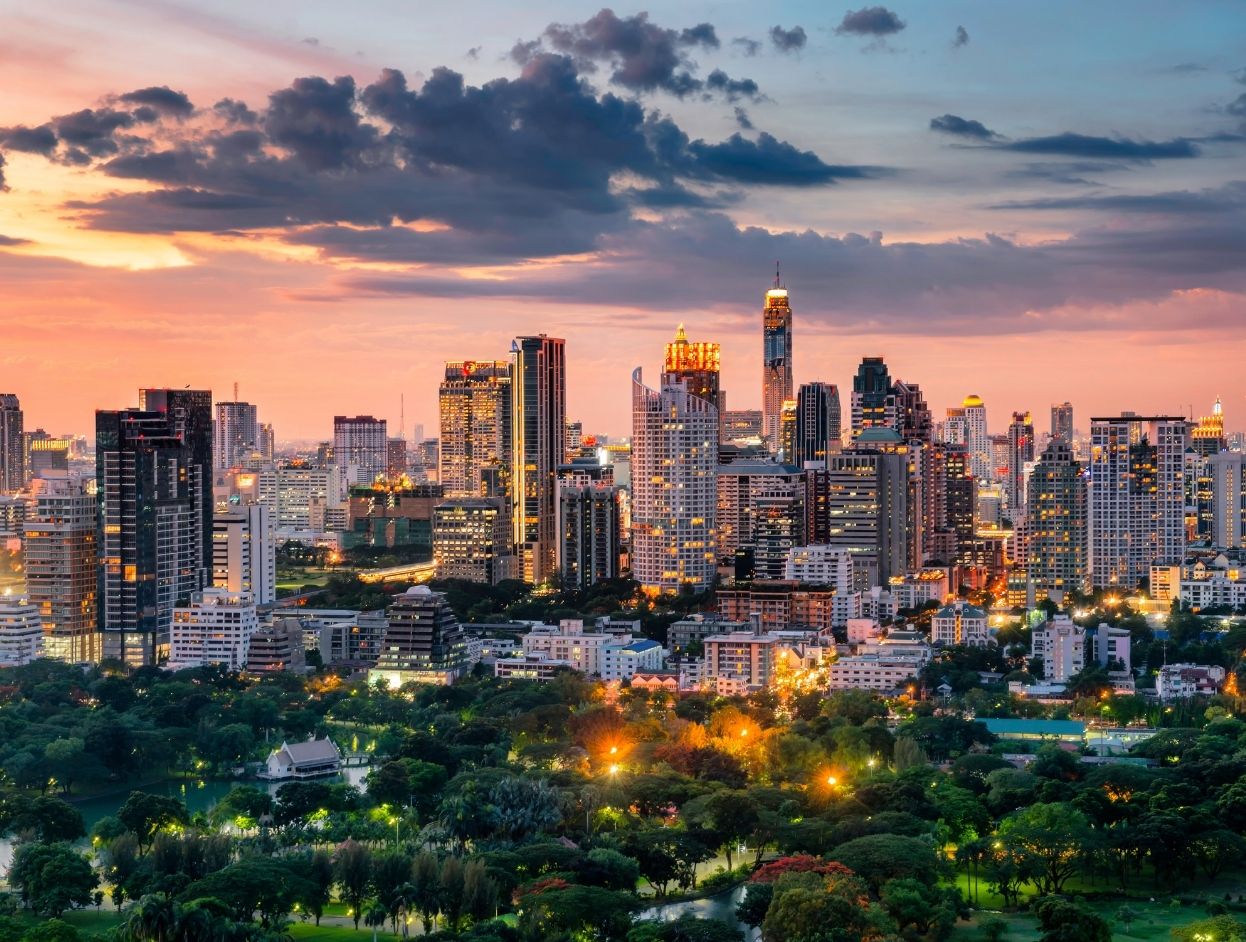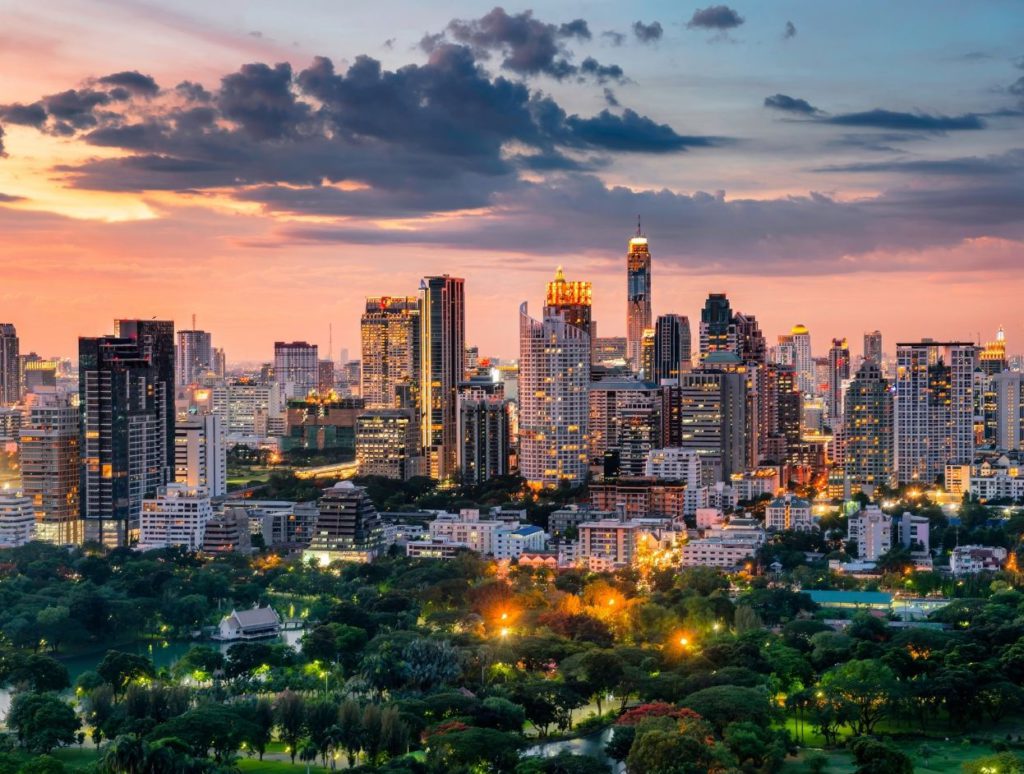 Indian restaurants in Silom
South Indian restaurants in Silom: Saravana Bhavan, Sugam South Indian, Taste of Chennai
Daily Eats: Brindawan, Sri Ananda Bhawan, Himali Cha Cha and Sons
Middle Eastern restaurants in Silom: Mohsen (Persian), Saman Turkish Restaurant, Al Saray (Lebanese)
Tourist attractions in Silom
Lumphini Park: The largest park in Bangkok, it is a rush of greenery in an otherwise jungle of concrete. A great place for a morning and an evening walk. There are also open air Zumba classes and happily roaming monitor lizards to spot (don't worry they are harmless).
King Power Mahanakhon: It is the tallest building in both Bangkok and Thailand. Apart from the height, the architecture is mindblowing with futuristic design. You can take in the city view or the sunset via a glass roof on the top and a drink at the rooftop restaurant.
Shri Maha Mariamman Temple: This is a 100-year old temple built in typical Tamil Dravidian style with a detailed gopuram in bright colours. There are several Tamil restaurants in the area and shops selling incense and garlands to visitors.
Patpong Night Market: A popular night market in the whole of Bangkok, Patpong is great for catching up on local food, souvenirs and handicrafts. It also has some kinky and questionable pubs, strip clubs and agogo bars.
Transportation for Silom
How to reach Silom from the airport: There is no direct subway line to Silom from Suvarnabhumi Aiport. You can take the airport line to Makkasan (THB 40) and switch to Blue line at Petchaburi till Silom or Sam Yan station (THB 25-30). Then you can take a cab from there. You can also switch to BTS dark green line at Silom station to Sala Daeng station but a cab will probably cost the same.
You can also get down at Ratchaprarop station on the airport line and take a direct cab to your hotel in Silom. From Don Muang Aiport, you can take a cab to Wat Phra Sri Mahathat BTS Station and travel till Siam station. Take a cab from there. A cab from either airport will cost you around THB 400 – 600 depending upon the vehicle.
Transportation from Silom: The area is connected to both MRT via blue line and BTS Dark green line. The city railway station at Hua Lamphong is also nearby connecting other cities in Thailand.
A unique way to see Bangkok is by using waterways on Chao Phraya River. Check out our blog on a full-day tour on a hop-on-hop-off water taxis and the attractions you can cover.
4. Indian Emporium & Chinatown
If you do not mind the crowd and wish to see the culturally rich and the chaotic side of the city, you can check out the area near Chinatown. Now Chinatown is a total blast of colours, sounds, smell and taste that will open all your senses to Bangkok. It is also the trading heart of the city.
Just near to Chinatown are Indian Emporium and Pharuhat Market both areas with several Indian shops and affordable restaurants. Although there are not a wide selection of hotels in the area.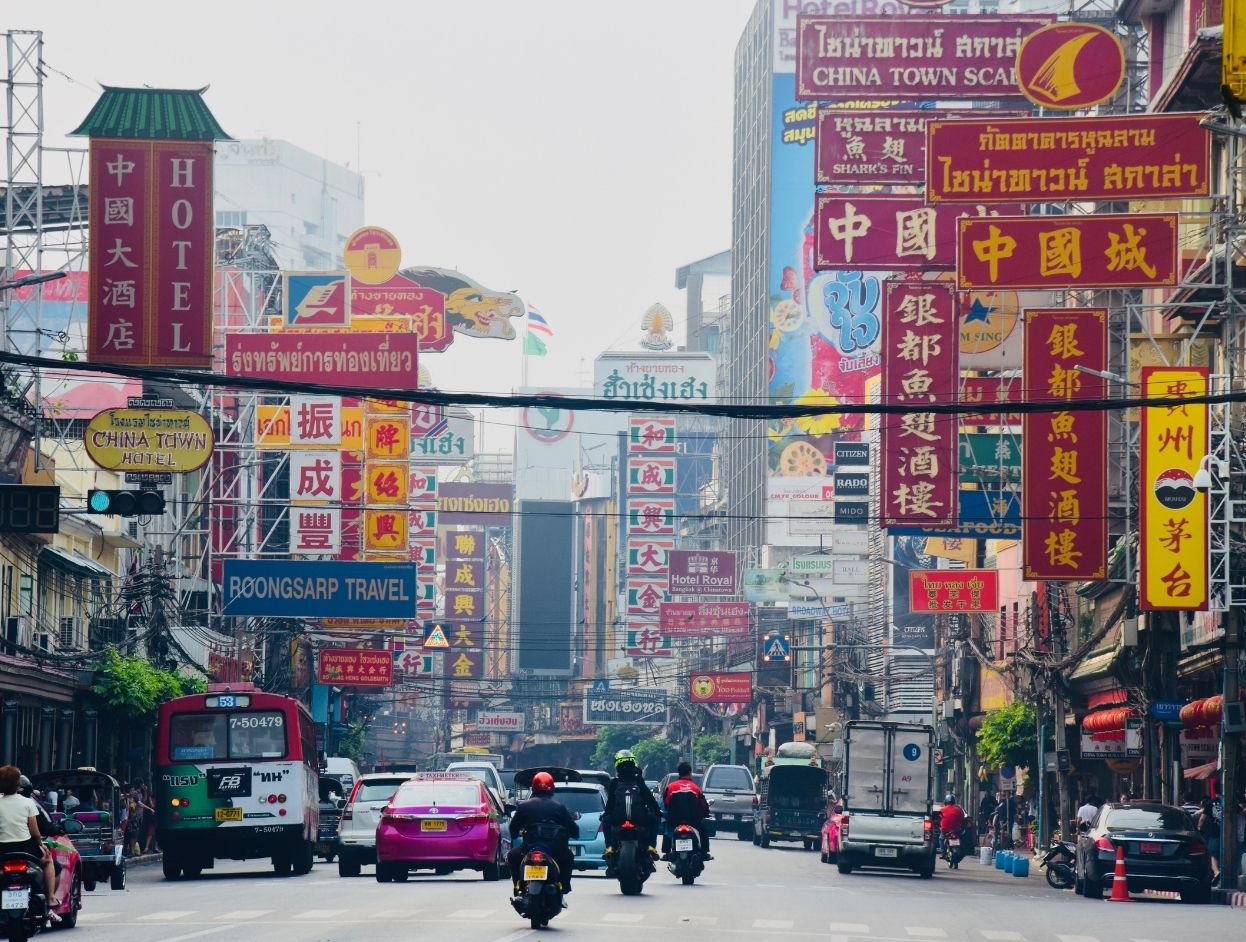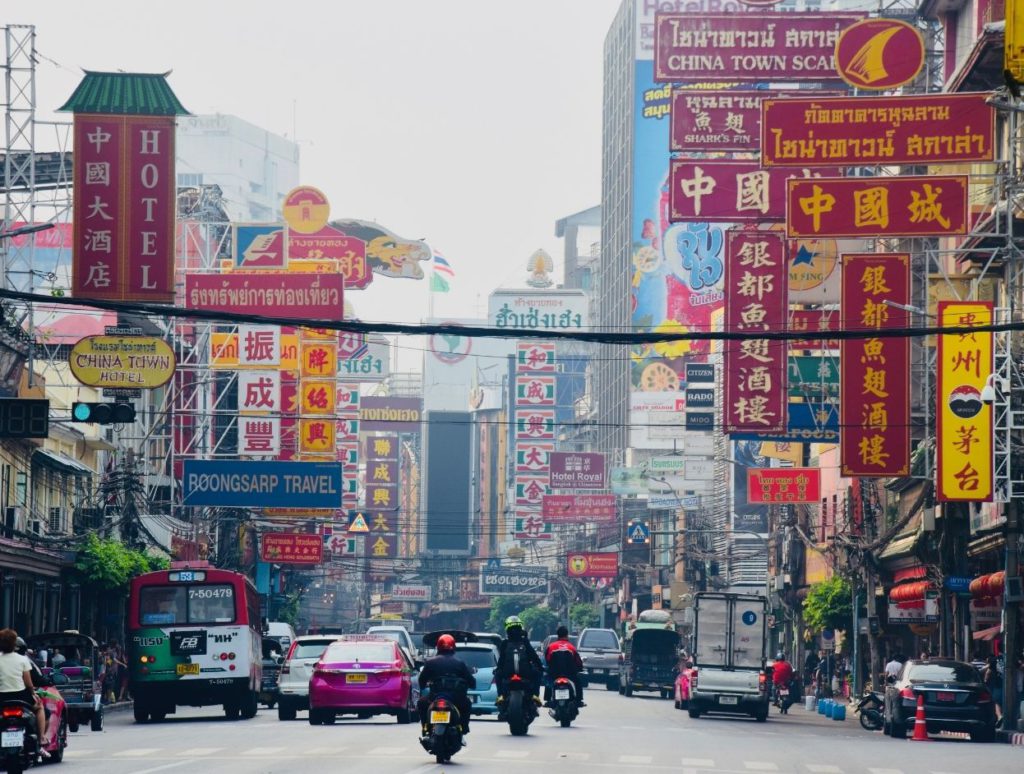 Indian restaurants in Chinatown
Indian restaurant Daily eats: Punjabi Masala Indian Restaurant, Indian Food Shop, Cha Cha
Indian Sweet shops: Punjab sweets, Om Umadevi (Shiva), Royal Rasoi
Tourist attraction in Chinatown
Yaowarat Road: The oldest part of the town and the commercial centre of Thailand, Yaowarat has lines of shops selling wholesale products. You will find street peddlers with household items, food carts, small restaurants with chairs in the open and a LOT of traffic. It is a must-visit!
Yodipman Flower Market: Flowers are an important part of Thailand and Thai culture. And this places is the centre point of all floral requirements of the town. You will find several dozen vendors under a huge roof selling marigolds, orchids, roses, lilies, ferns and other tropical flowers.
Gurudwara Sri Guru Singh Sabha: It is an important gurudwara in Bangkok and a place of worship and gathering for a large Sikh community in Thailand. Prayers are held every Sunday morning. The langar takes place on the 2nd floor and the prayer on the 4th floor.
Museum Siam: Museum Siam is an extremely techno-savvy place that the government built to define what does 'thai-ness' quintessentially means. The museum is divided into rooms and galleries, each with a cool multimedia feature explaining about culture and identity of Thailand.
Transportation for Chinatown
How to reach Chinatown from the airport: From Suvarnabhumi take the airport line to Makkasan (THB 40) and change to the MRT blue line at Petchaburi. Get down at Sam Yot MRT station (THB 35). You can walk from there or take a cab or a motorcycle taxi if you are alone.
From Don Muang station you can take a cab to Wat Phra Sri Mahathat BTS Station and travel to Siam BTS station (THB 45). From there take a cab to your hotel.
A cab from Suvarnabhumi Aiport to Chinatown will cost you around THB 320-380. A cab from Don Muang will cost pretty much the same. Toll tax is not included.
Transportation from Chinatown: Chinatown is well connected with MRT Blue line at 3 stations. The old town is also quite close and you can take a taxi to the area. Since the Chao Phraya River runs on the other side, waterways make a great way to see a lot of great places in Bangkok within a day.
Check out our guide on hop-on-hop-off water taxis on Chao Phraya River.
Save On Pinterest


Related Articles